Top 5 Trends of 2021 (So Far)
You may also like:
We're approaching the end of 2021 and it has been one interesting year.
Certain industries and markets have exploded onto the map, some seemingly out of nowhere. And other trends have been quietly growing, finally breaking out in 2021.
If you want to learn about the top 5 trends of 2021 (so far), read on.
1. NFTs Have Taken the Crypto, Art, and Collectible Worlds by Storm
The most impressive trend of 2021 so far has probably been the exponential growth of the non-fungible token (NFT) market.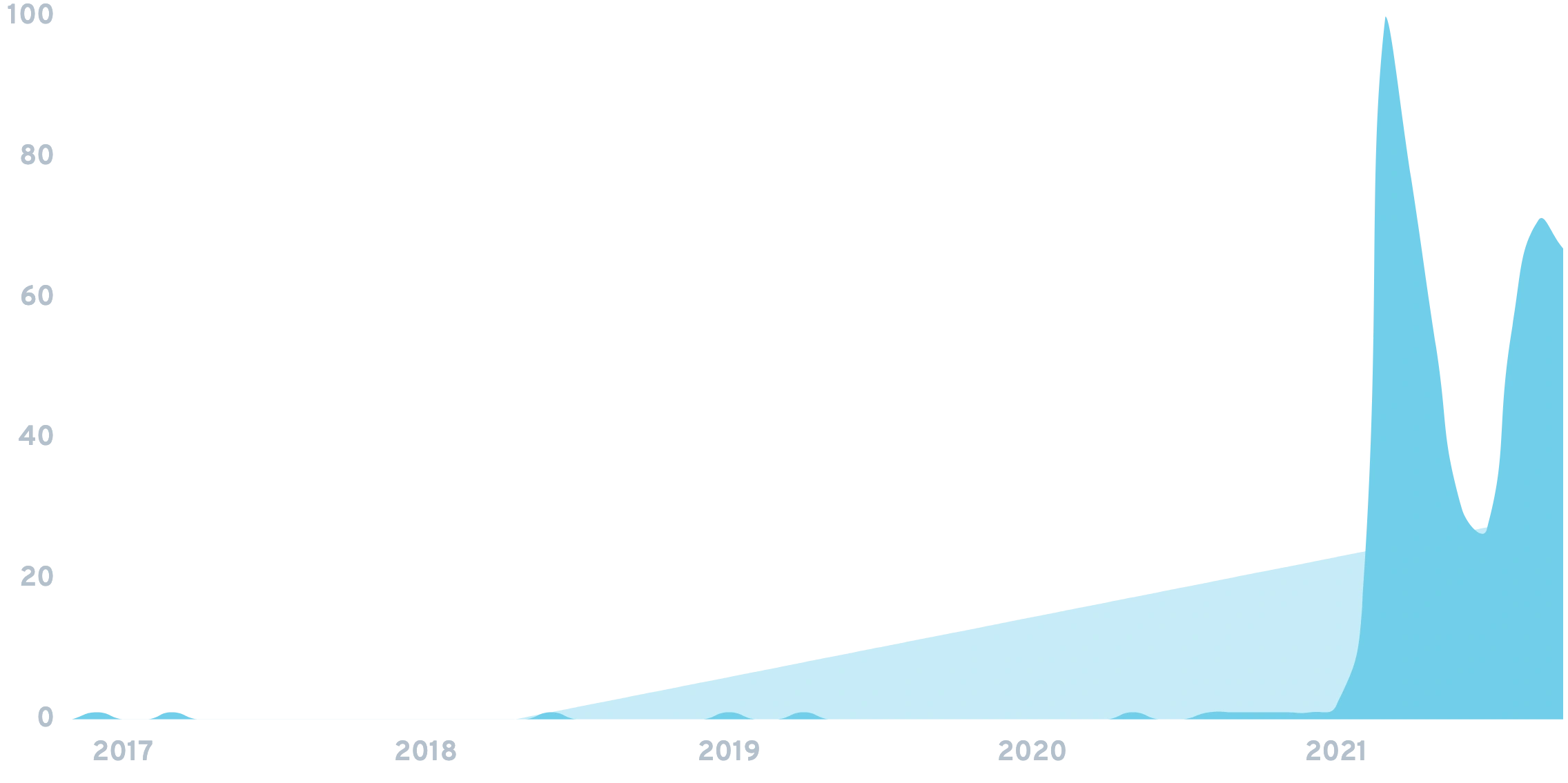 Searches for "Non-Fungible Tokens" have risen by more than 6,600% since 2017.
These non-reproducible tokens typically represent original works of digital/physical art, tweets, short video clips, and even sounds.
The market began years ago with the likes of CryptoPunks and CryptoKitties. But it has now expanded past what many could have imagined.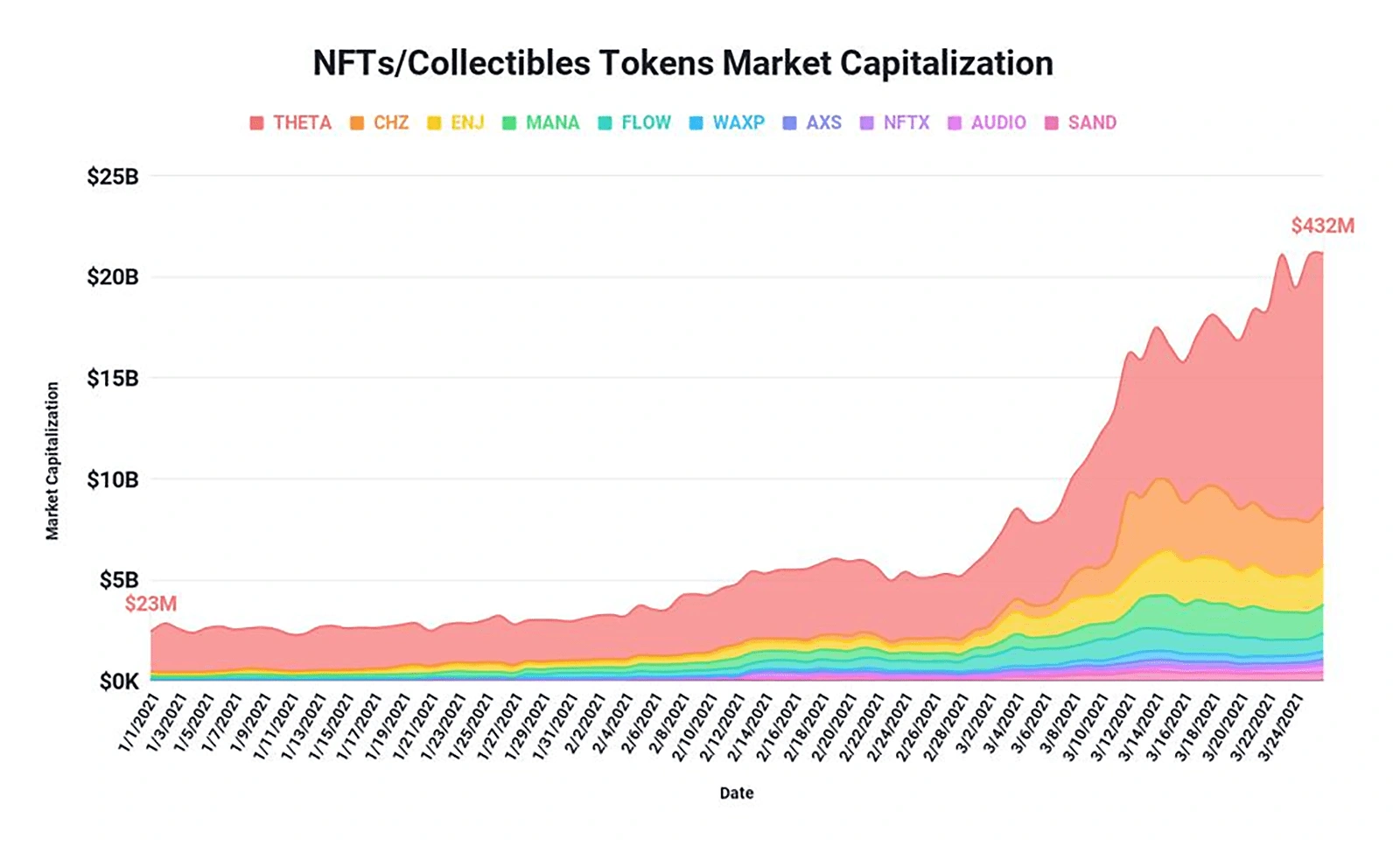 NFT Market during the first 3 months of 2021.
In just the first three months of 2021, the collective market cap of some of the largest NFT tokens grew by 1,785%.
On any metric you look at, the NFT market has grown at a rapid pace.
In fact, NFT trading volume for February of 2021 exceeded all of 2020 combined, coming in at $342 million in one month. This is compared to $200 million for the entire year of 2020.
According to Dapp Radar, NBA Top Shot made up over 65% (around $225 million) of total NFT trading volume in February.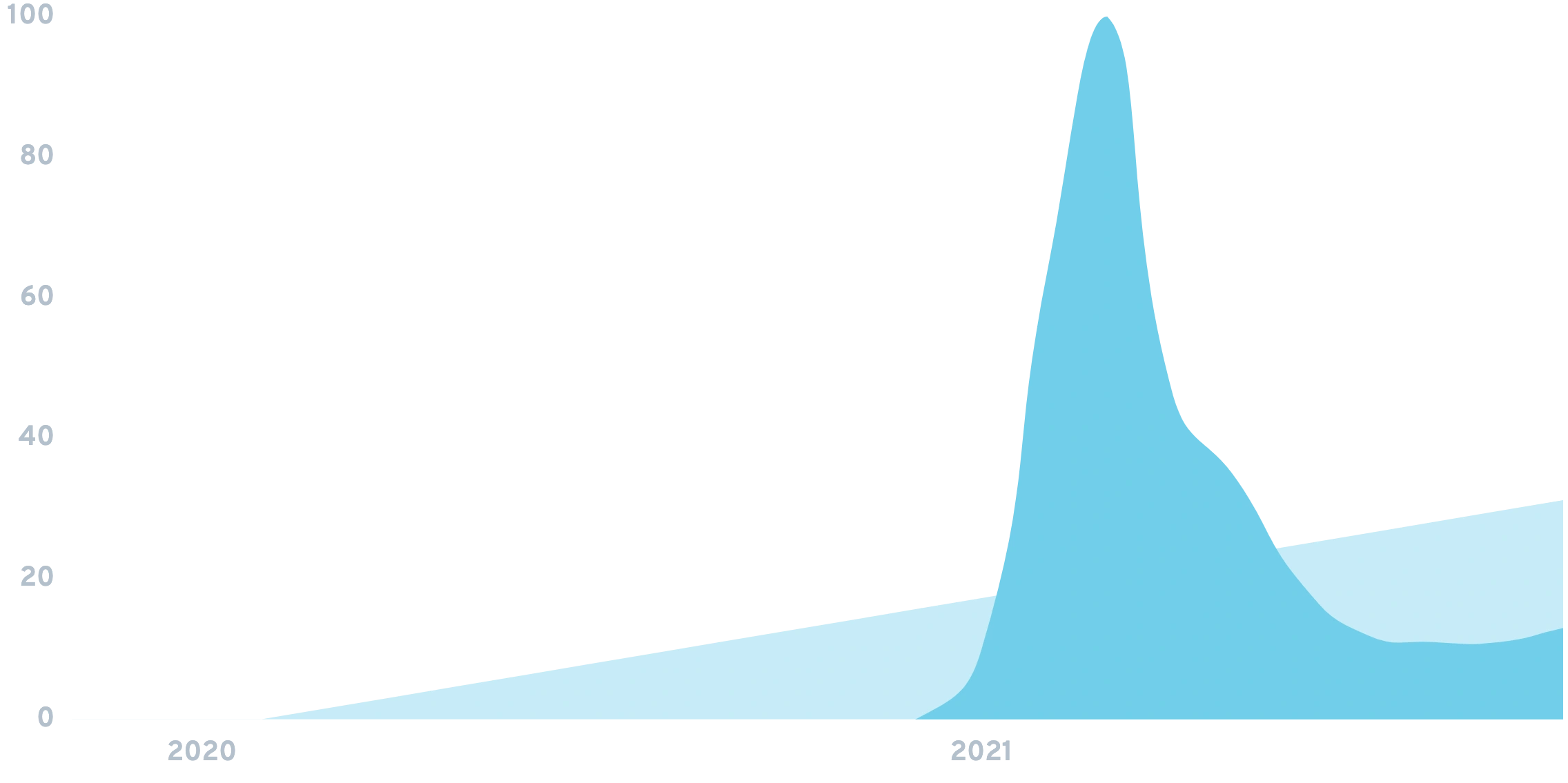 Searches for "NBA Top Shot" have increased by 1,200% in the last 2 years.
Because of this, Dapper Labs – the creator of the Flow blockchain that NBA Top Shot NFTs are traded on – raised $305 million in March, at a valuation of $2.6 billion. This deal alone raised over 8x more money than all the NFT-focused start-ups in 2020.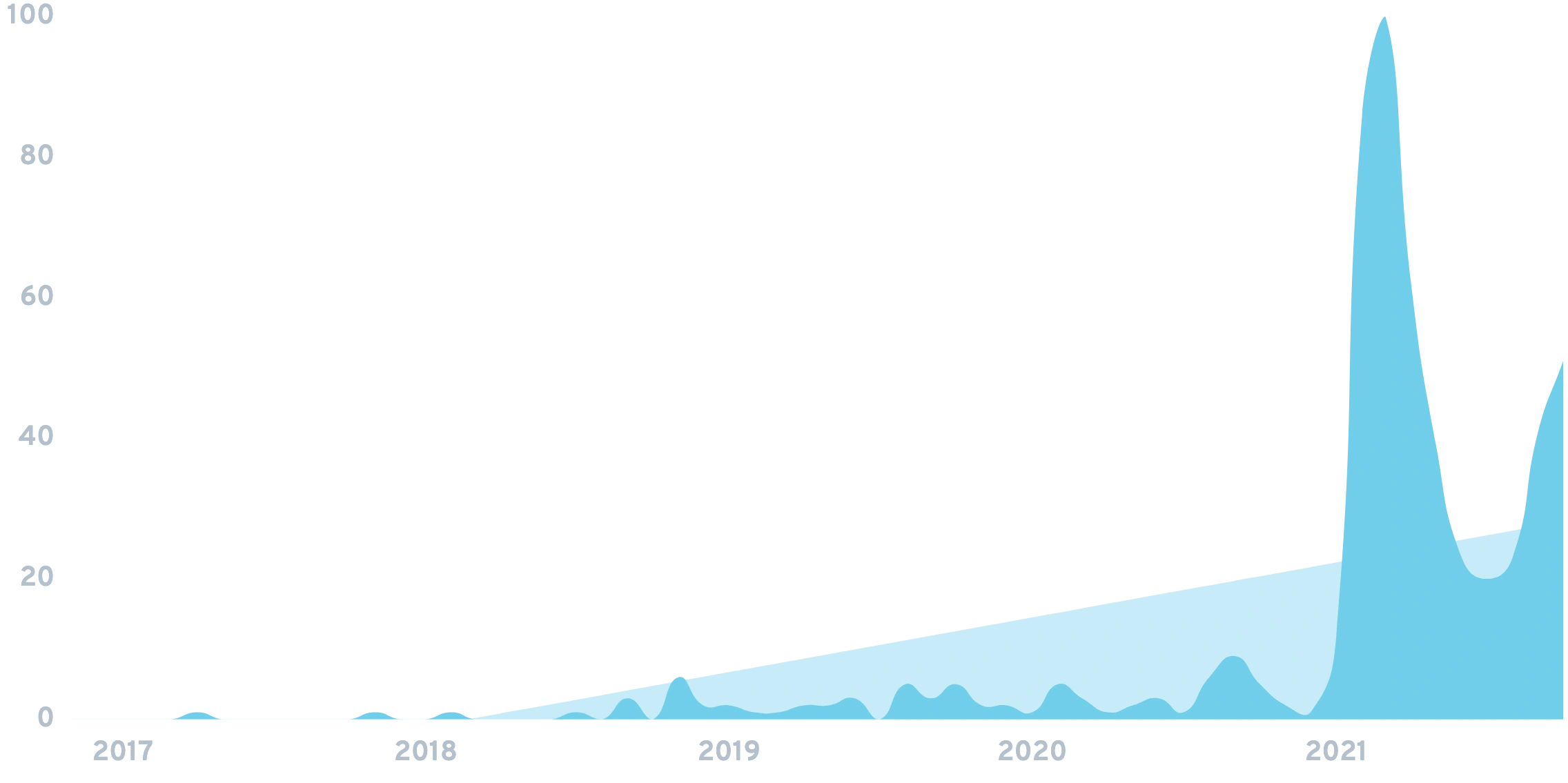 Searches for "Dapper Labs" are up by more than 5,000% since 2017.
In its first six months, NBA Top Shot has been responsible for nearly $500 million in NFT sales, spread across 800,000 accounts.
Before the Dapper Labs deal, investors had already injected $90 million into companies focused on the NFT/digital collectibles market so far in 2021.
One of the beneficiaries of this has been OpenSea. The company raised $23 million in a Series A round that included the likes of Andreessen Horowitz, Mark Cuban, Tim Ferris, and Naval Ravikant.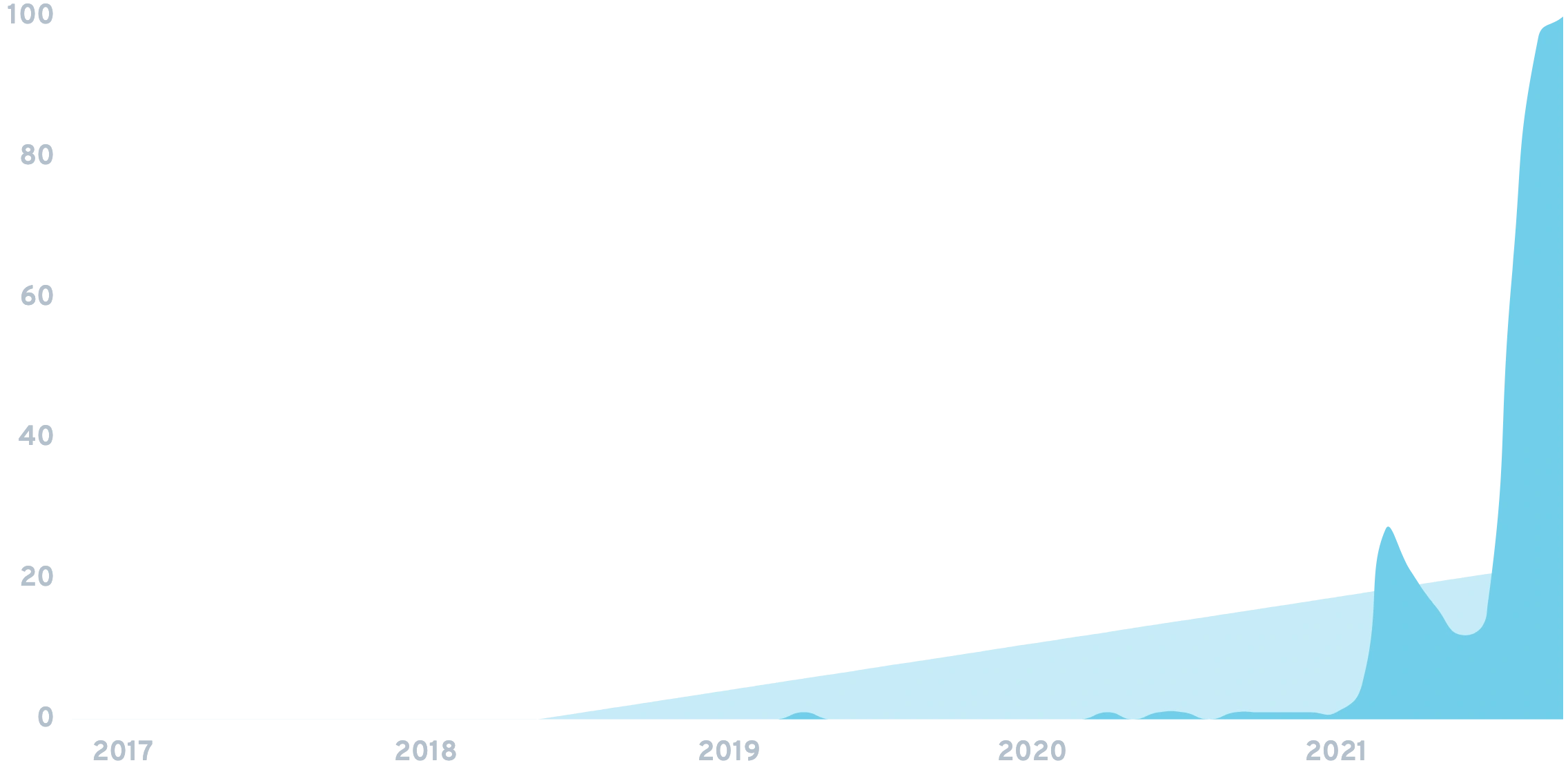 Search interest in "OpenSea" has grown by 99x+ in the last five years.
OpenSea operates the world's largest NFT and digital collectibles market. Because of the growth in this market, OpenSea has seen its daily transaction volume rise by more than 100x in the 6 months leading up to March.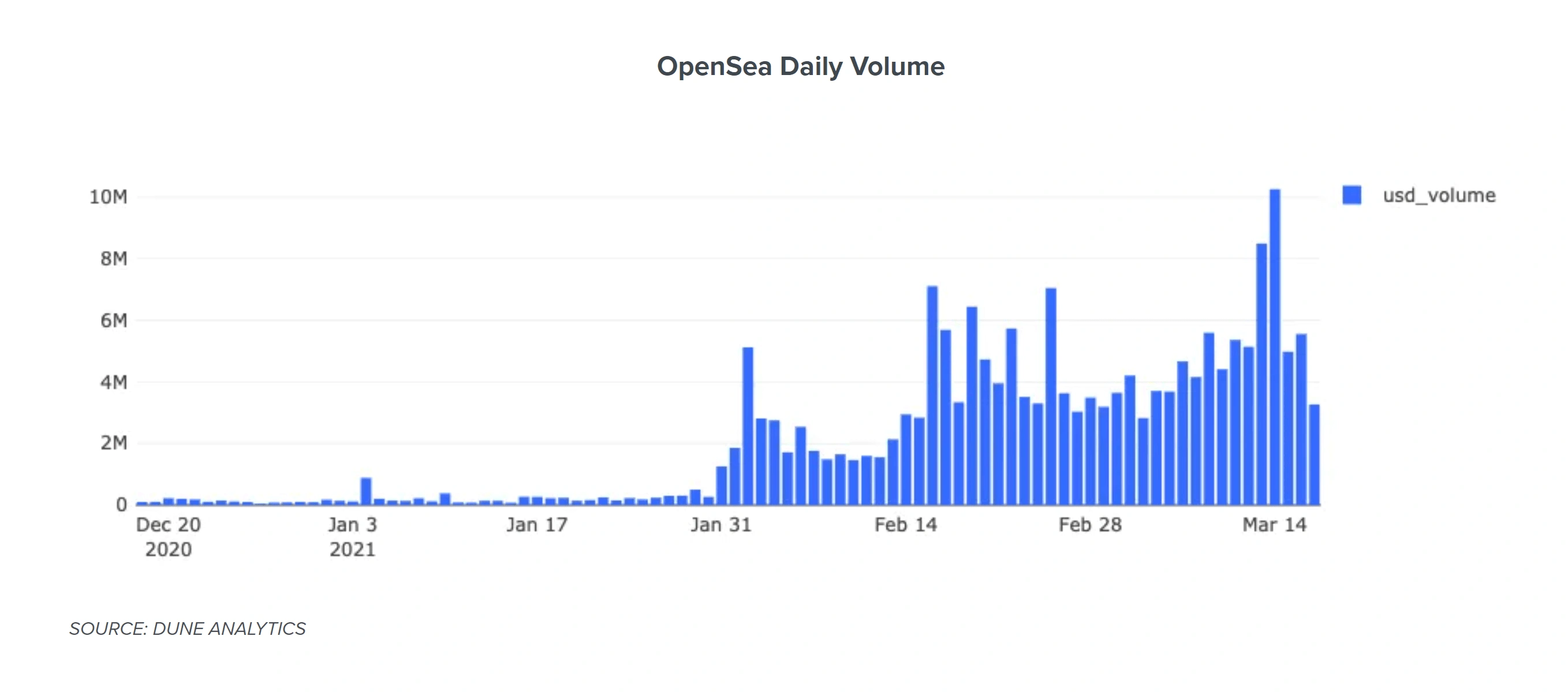 Source: Andreessen Horowitz
Total monthly NFT sales on OpenSea were more than $95 million for the month of February – up by almost 12x from the $8 million recorded in January.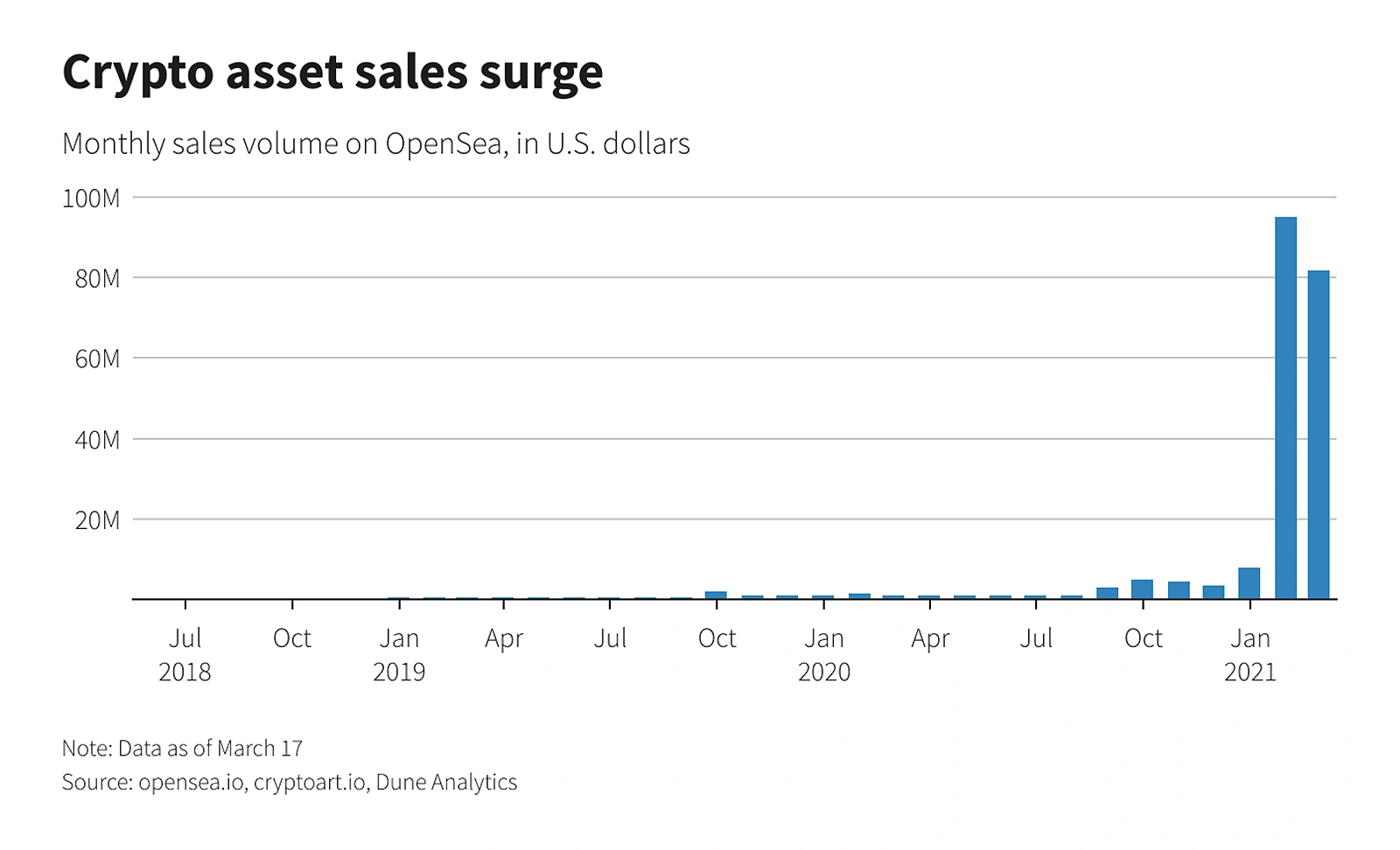 Total monthly NFT sales on OpenSea's marketplace.
Another big winner is Sorare. The start-up raised $50 million in a Series A led by Benchmark and Accenture, which also included famous marketer Gary Vaynerchuck and soccer star Rio Ferdinand.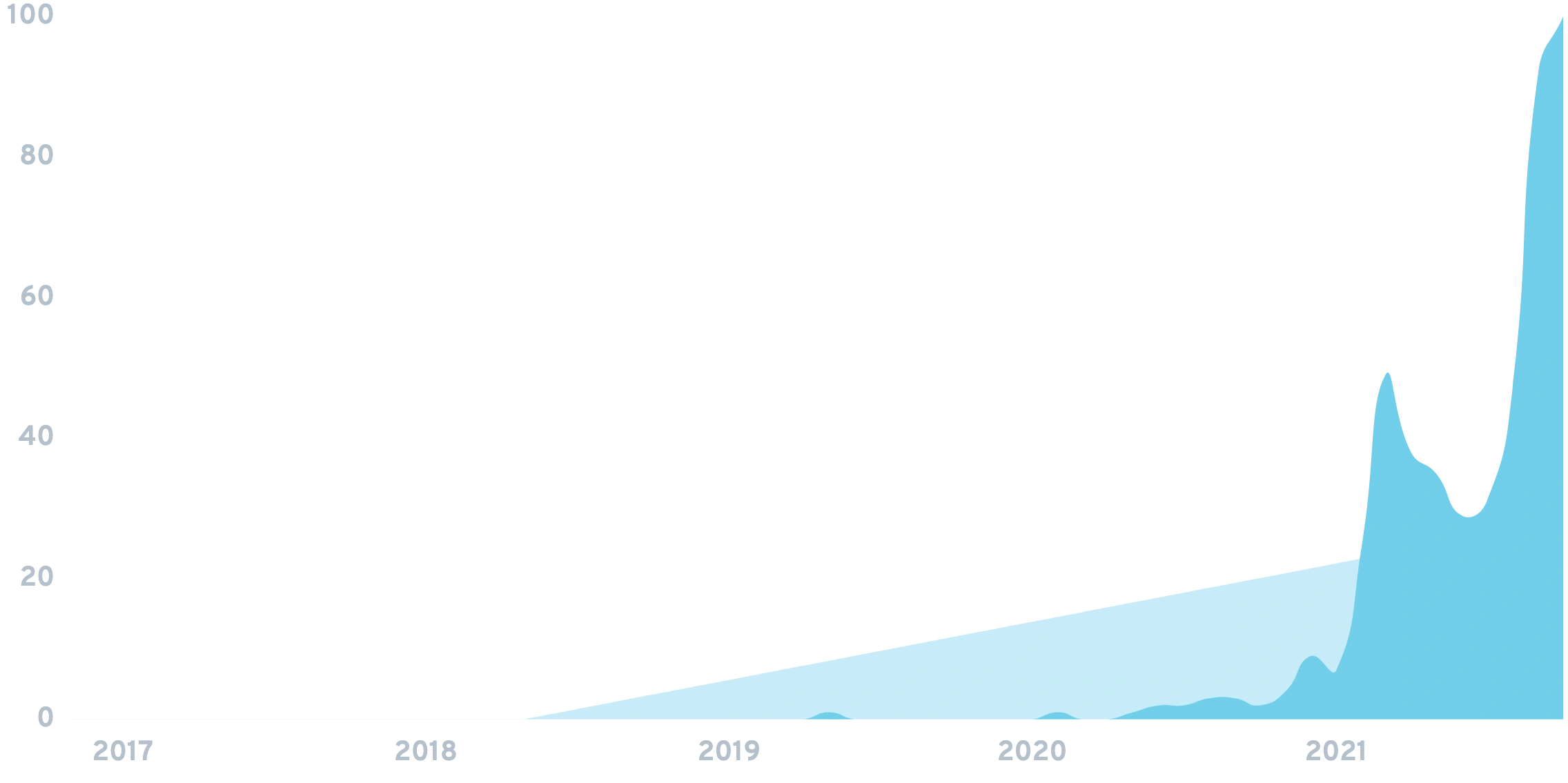 Searches for "Sorare" have grown by 99x since 2017.
Sorare has created an online fantasy soccer game that allows players to trade NFT-linked cards of European soccer pros.
In addition to record trading volumes and large funding rounds, single NFT sales have begun to reach astronomical values as well.
Famous digital artist Beeple sold an NFT-linked piece of art for a record-breaking $69 million back in March.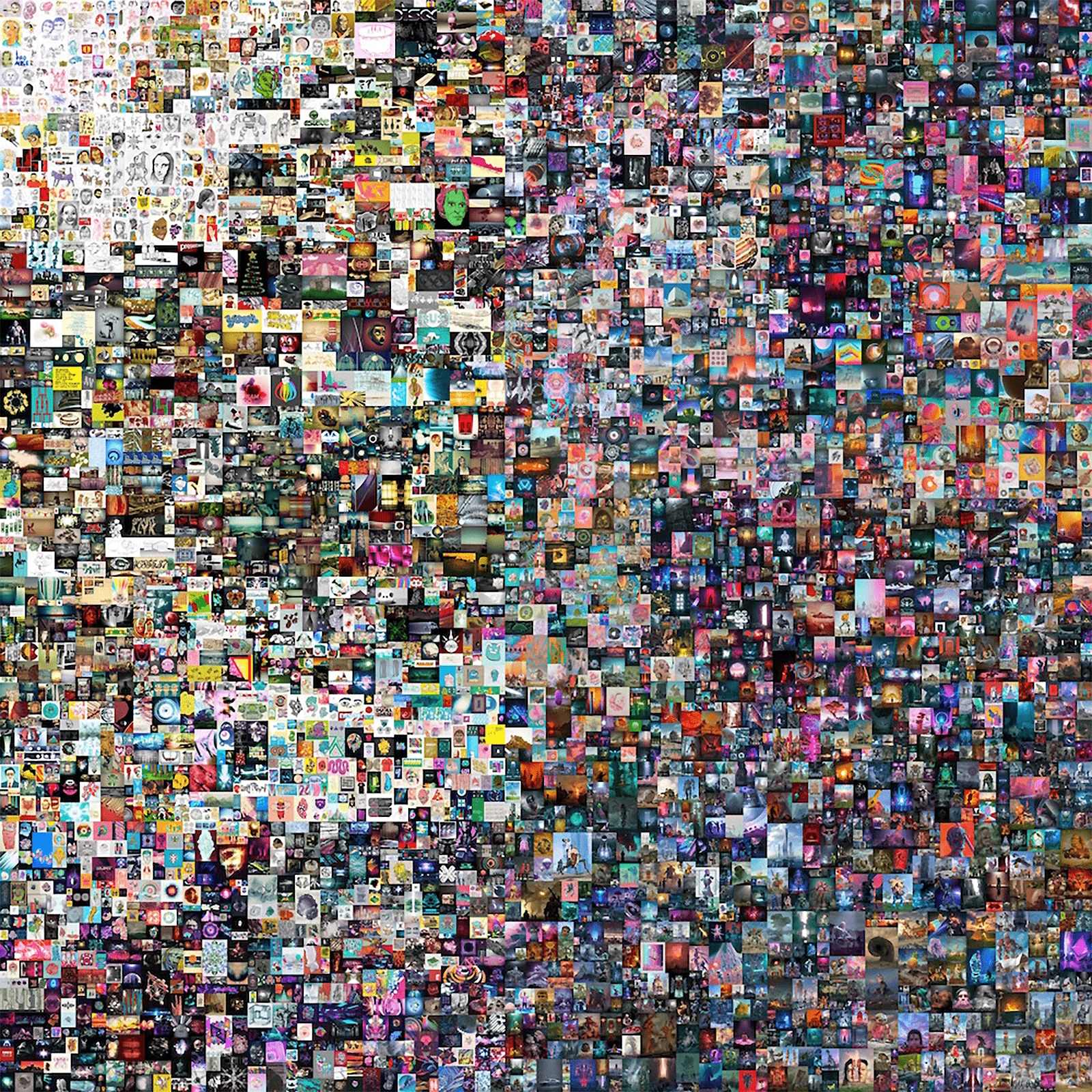 Everydays – The First 5000 Days by Beeple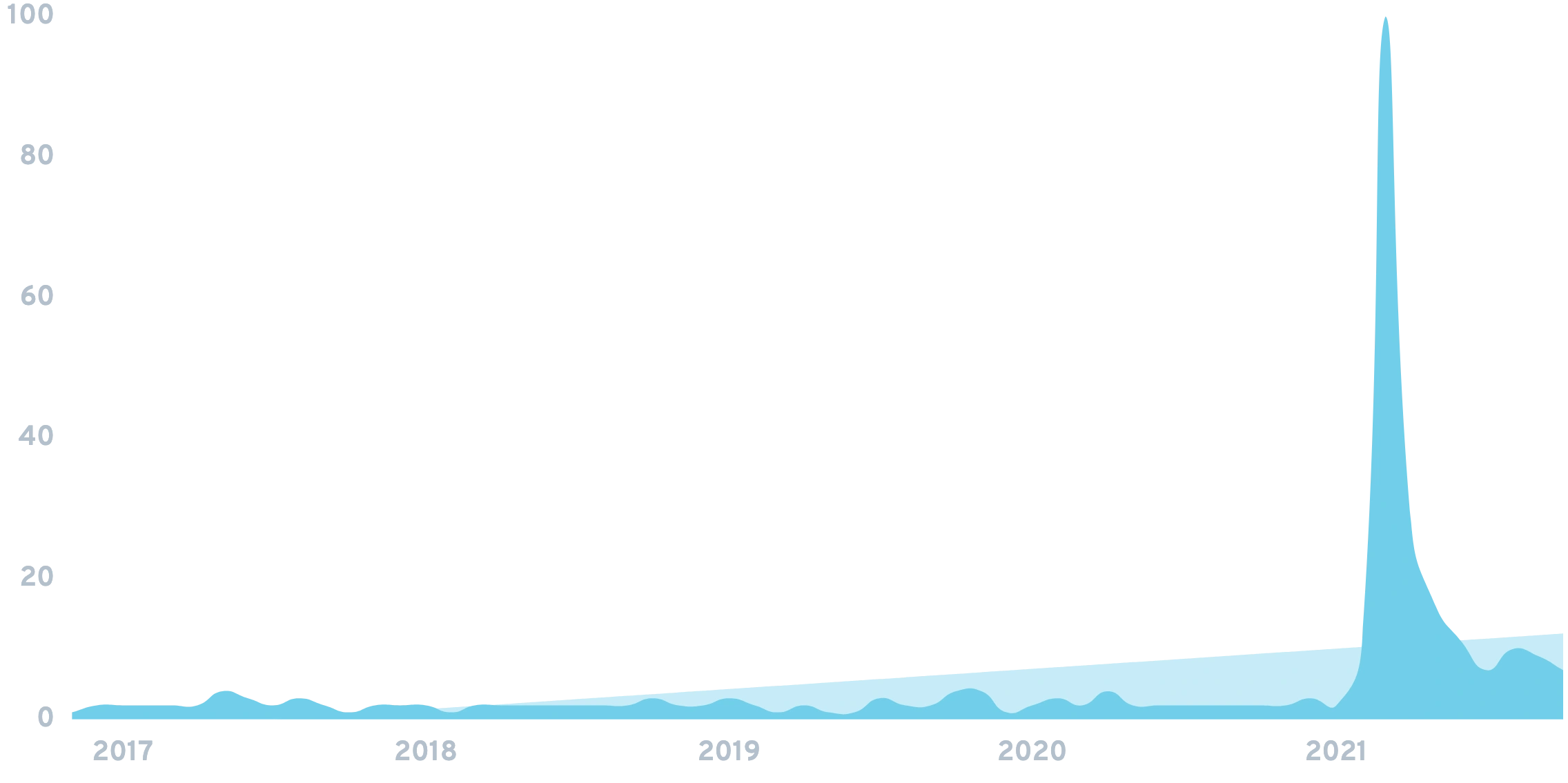 Searches for "Beeple" have jumped by 600% since 2017.
In addition, Twitter founder and CEO Jack Dorsey sold his first tweet for $2.9 million in March of 2021.
And it's not just tech founders and famous artists getting in on the action. Musicians like Grimes, Steve Aoki, 3LAU, and Post Malone have all sold digital artwork or albums as NFTs in 2021.
Just to show how much the market has grown since inception, two CryptoPunks were each sold for over $7.5 million on March 11. In fact, the top 60 largest CryptoPunk sales (ranging from $165.88K and up) all took place in 2021.
2. The Rise of the Retail Investor
One of the most prominent and sometimes outrageous trends of 2021 has been the rise of the retail investor.
Obviously, no one can forget the wild Gamestop short squeeze in January of 2021. But we can also see from the data that this trend is more widespread than that one event.
Credit Suisse found that retail trading now makes up around a third of all trading volume. For context, that number was under 20% for the last 4 years.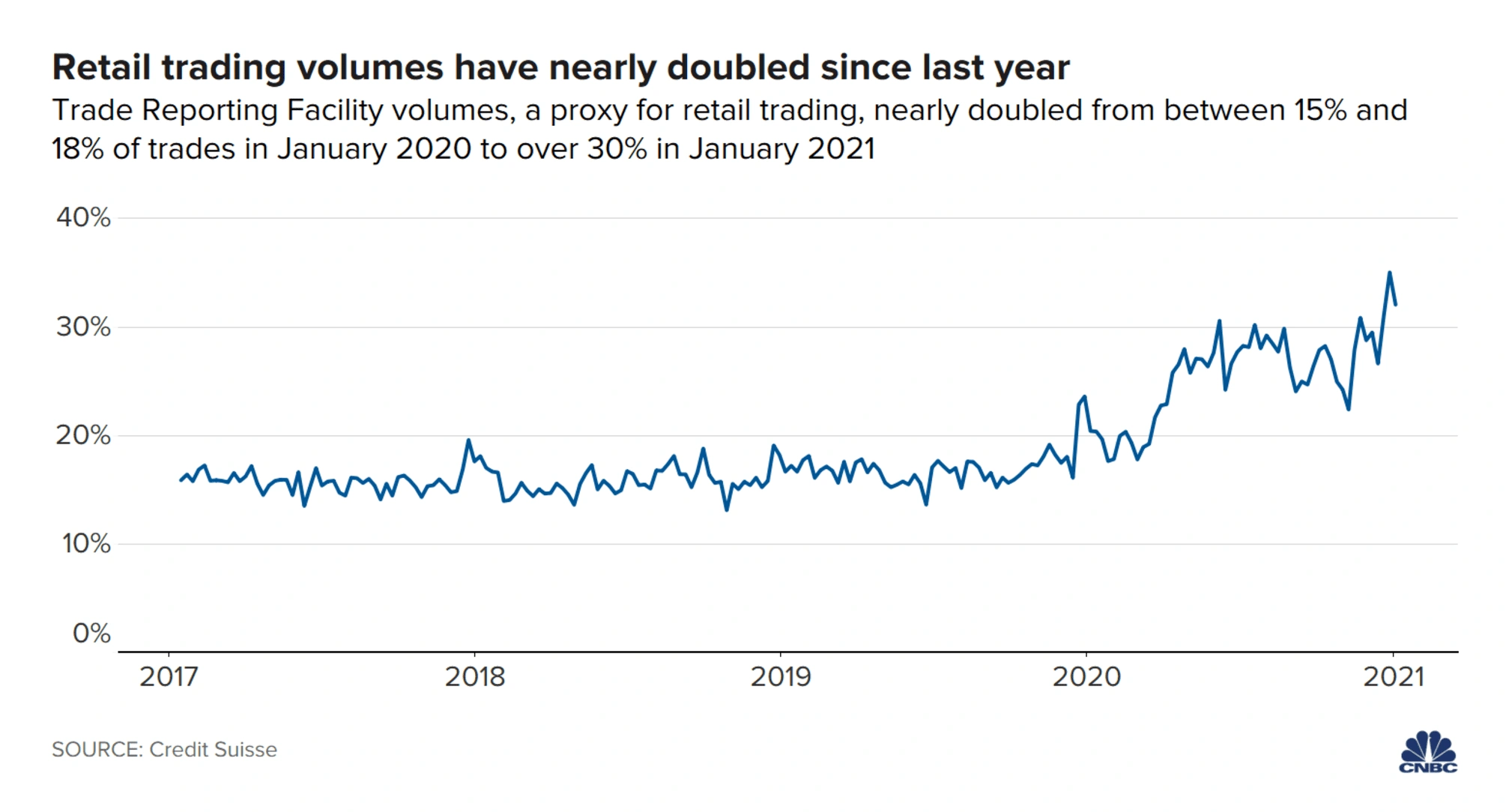 Retail trading volume as a percentage of the total trading volume.
In 2020, the average daily trading volume for U.S. equities reached a record high of 10.9 billion. And in January of 2021 alone, the average daily trading volume increased over 33% to 14.7 billion.
In addition, FINRA found that in February of 2021, trading in the equity over-the-counter (OTC) market grew by 2,000%.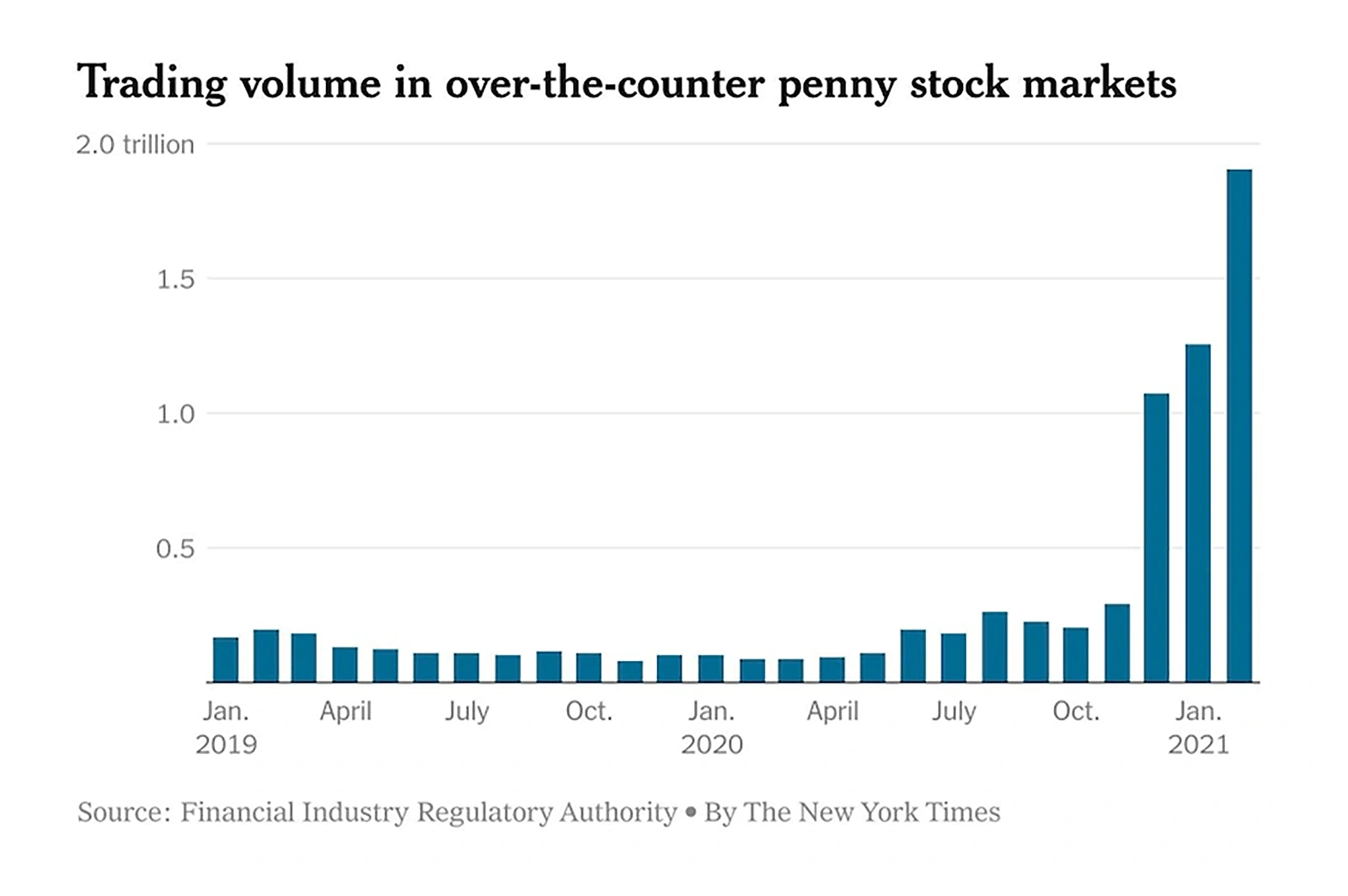 Monthly trading volume increased from roughly 200 billion in November to close to 2 trillion in February.
Since this is an area of the market that most institutional investors avoid or cannot invest in (think penny stocks), it is assumed that the vast majority of this volume is attributable to retail investors.
Many of the most popular online brokerages also saw a surge in new accounts and app downloads in February of 2021.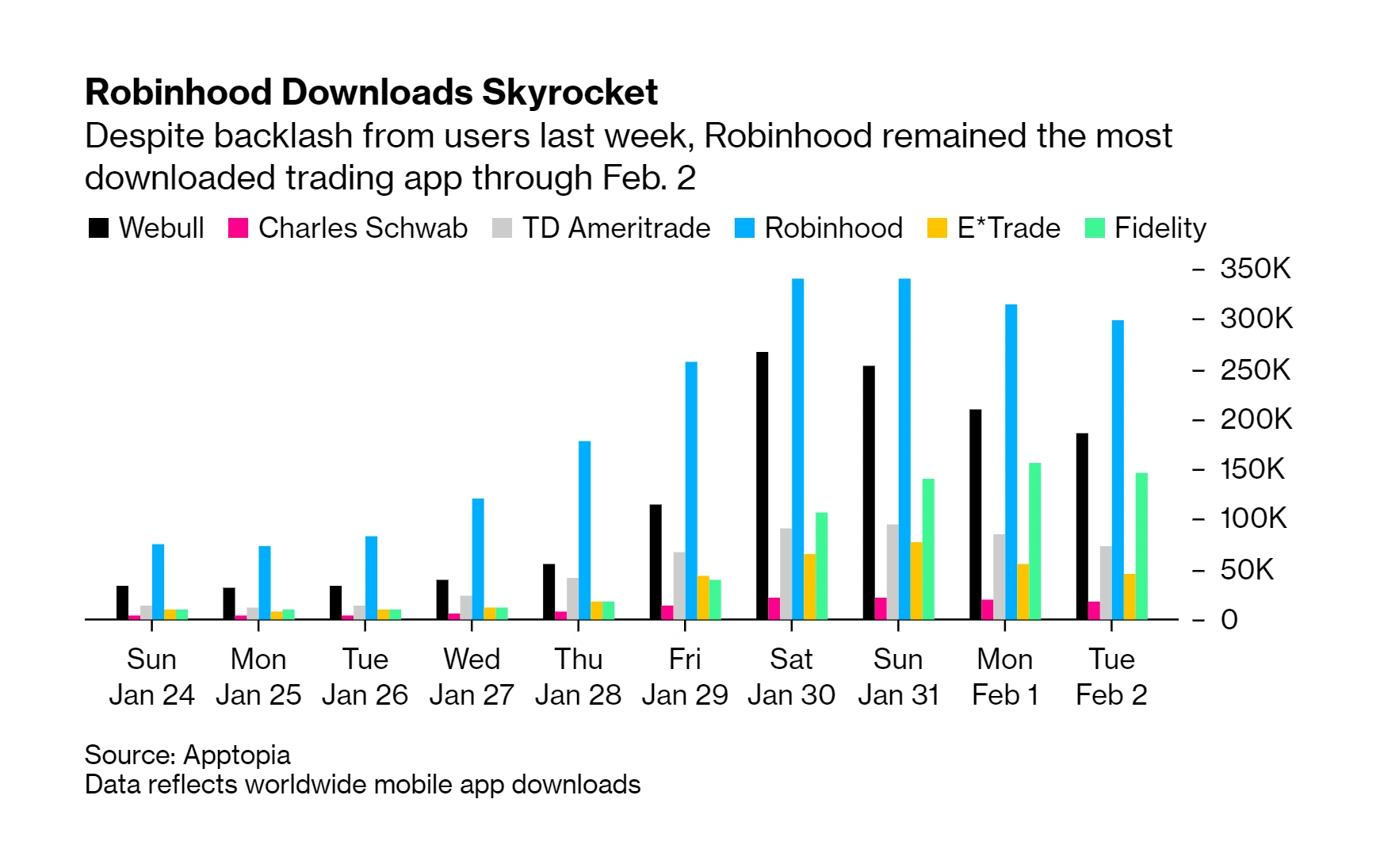 Daily downloads at the beginning of February.
Robinhood even experienced 600,000 app downloads in a single day during this time period.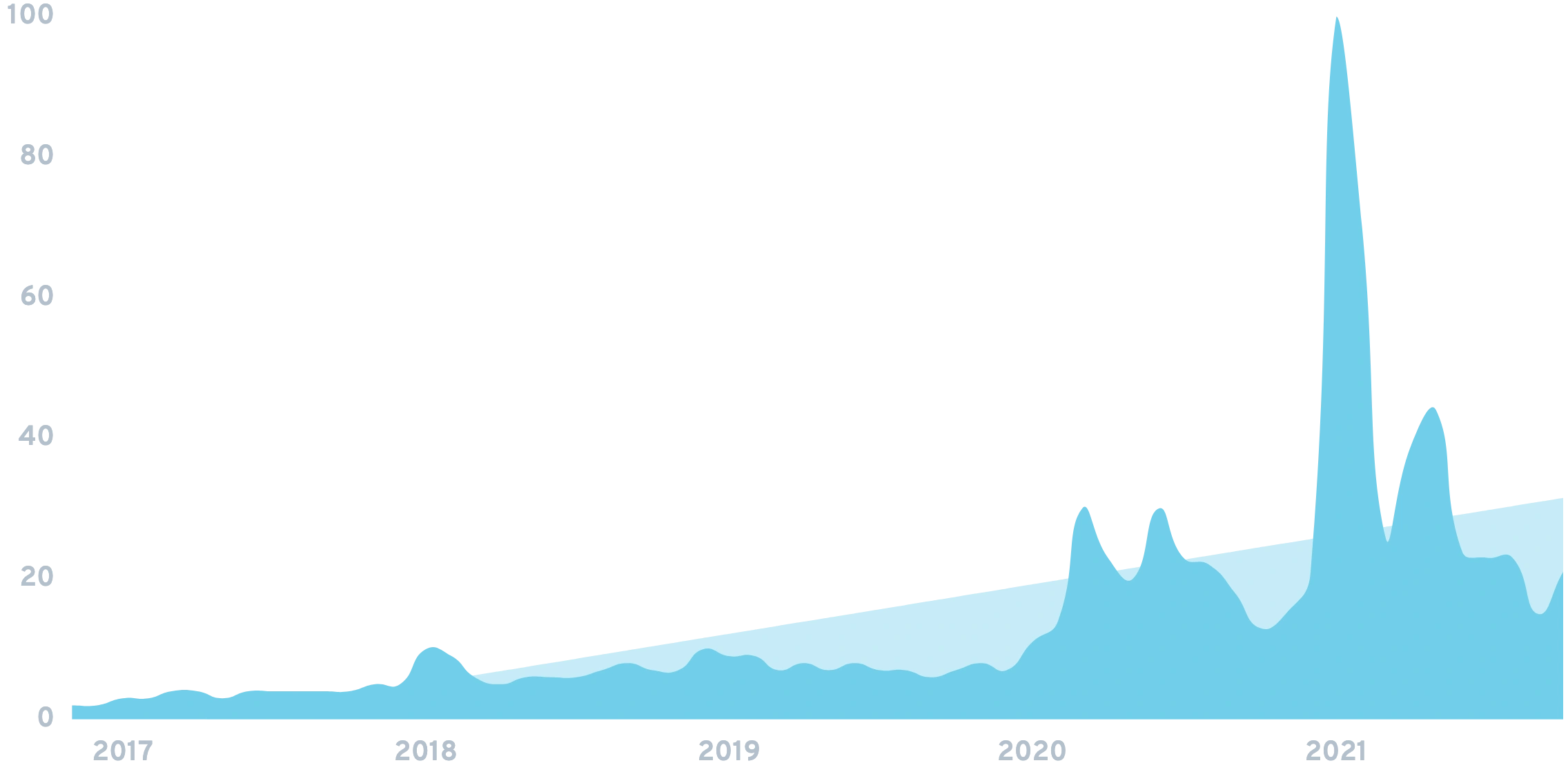 Searches for "Robinhood" have grown by 950% over the last five years.
In total, Robinhood added 6 million users in the first two months of 2021. That's almost half of the 13 million total users added from 2013 through 2020.
And while new purchases may have slowed some, volume is still much higher than it was in 2020. On a rolling 5-day basis, individual investors are still making close to $1 billion in new equities purchases as of March 2021. This is compared to around $100 million throughout 2019.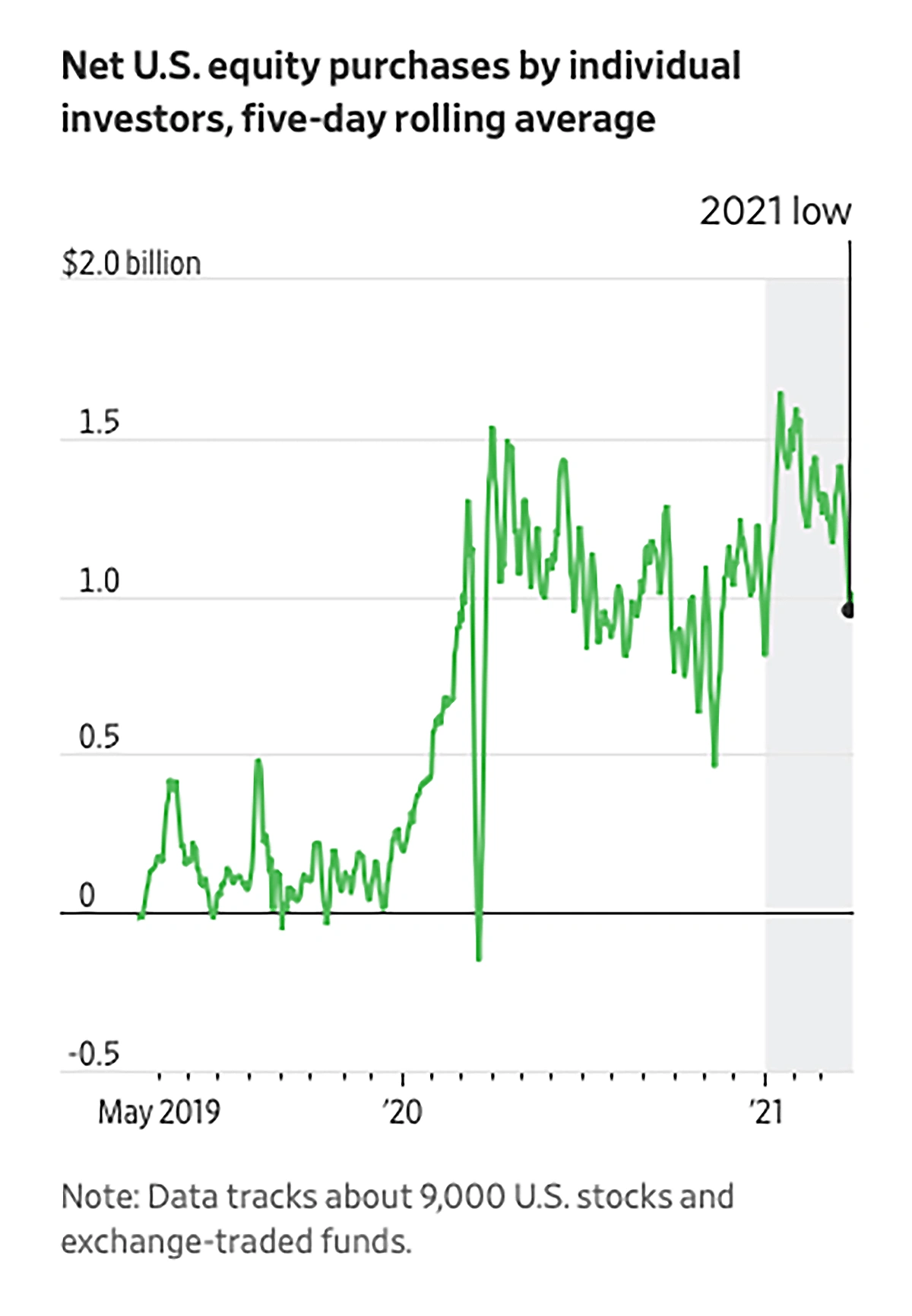 Source: The Wall Street Journal
3. eCommerce and M-Commerce are Taking Over the Retail Market
If there's one area of a global industry that has shifted in 2020-21, it's eCommerce.
U.S. eCommerce sales grew by 44% in 2020 – the highest year-over-year increase in recent memory.
Because of this, eCommerce's share of total retail sales jumped from around 15% to over 20%. That five-percentage point gain is unprecedented. For context, eCommerce made up about 14% of retail sales in 2018 and only gained, on average, roughly 1% year-over-year before 2020.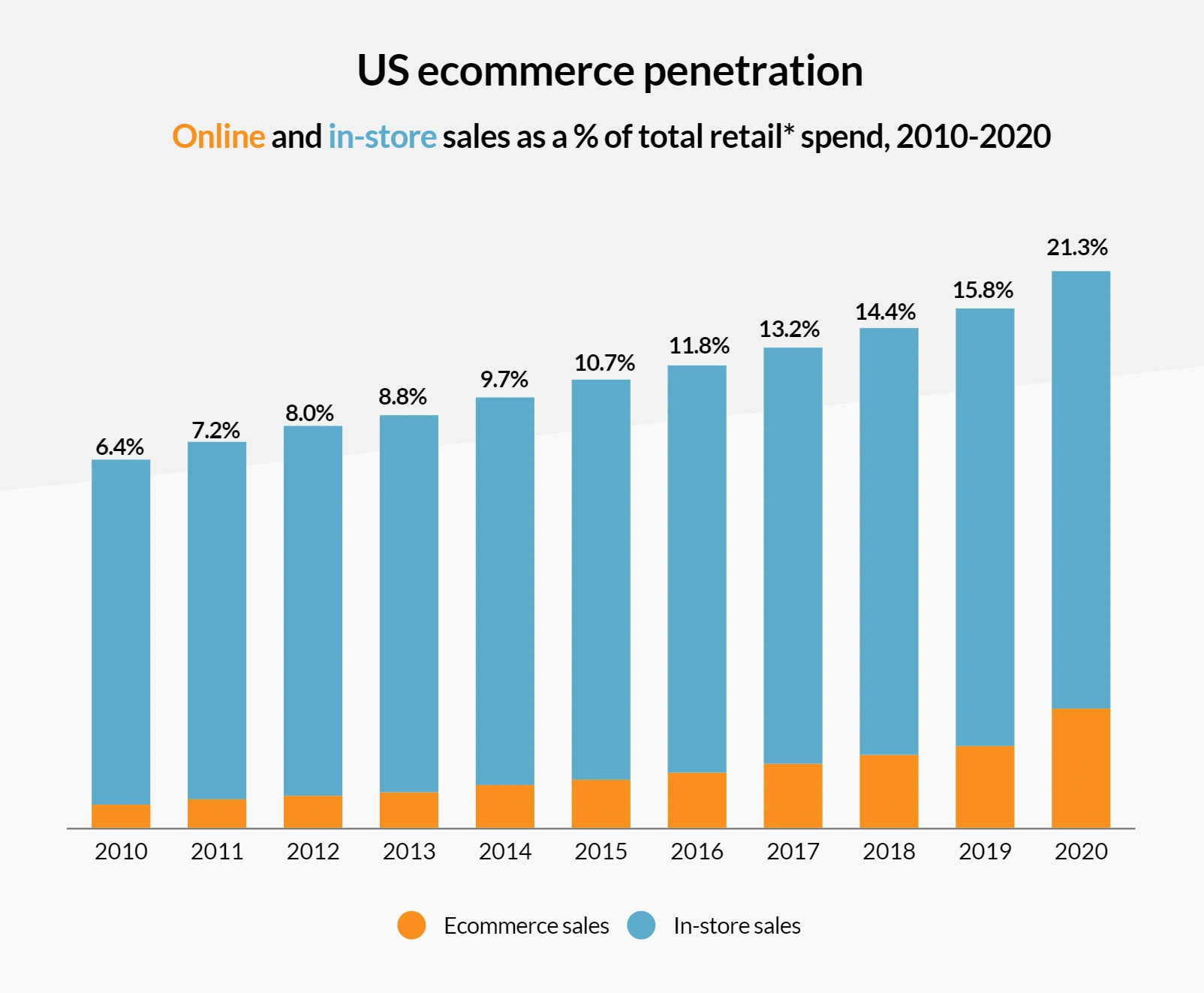 Ecommerce's share of total U.S. retail sales.
And this didn't all come on the back of Amazon either. Amazon's share of the eCommerce market in 2020 shrunk to 31.4% from 43.8% in 2019.
There are a few reasons for this. One is the shrinking divide between traditional retailers and eCommerce companies like Amazon. In 2020, companies like Walmart, Target, Kroger, and Best Buy collectively grew digital sales at something like 85% year-over-year.
On the other end of the spectrum, companies like Shopify are making it easier for smaller direct to consumer (DTC) brands to sell products online. In 2020, Shopify's gross merchandise value (the total of all sales on its platform) grew 96% to $119.6 billion.
And companies like Verishop are bypassing both digital and physical retailers altogether by curating brands for consumers.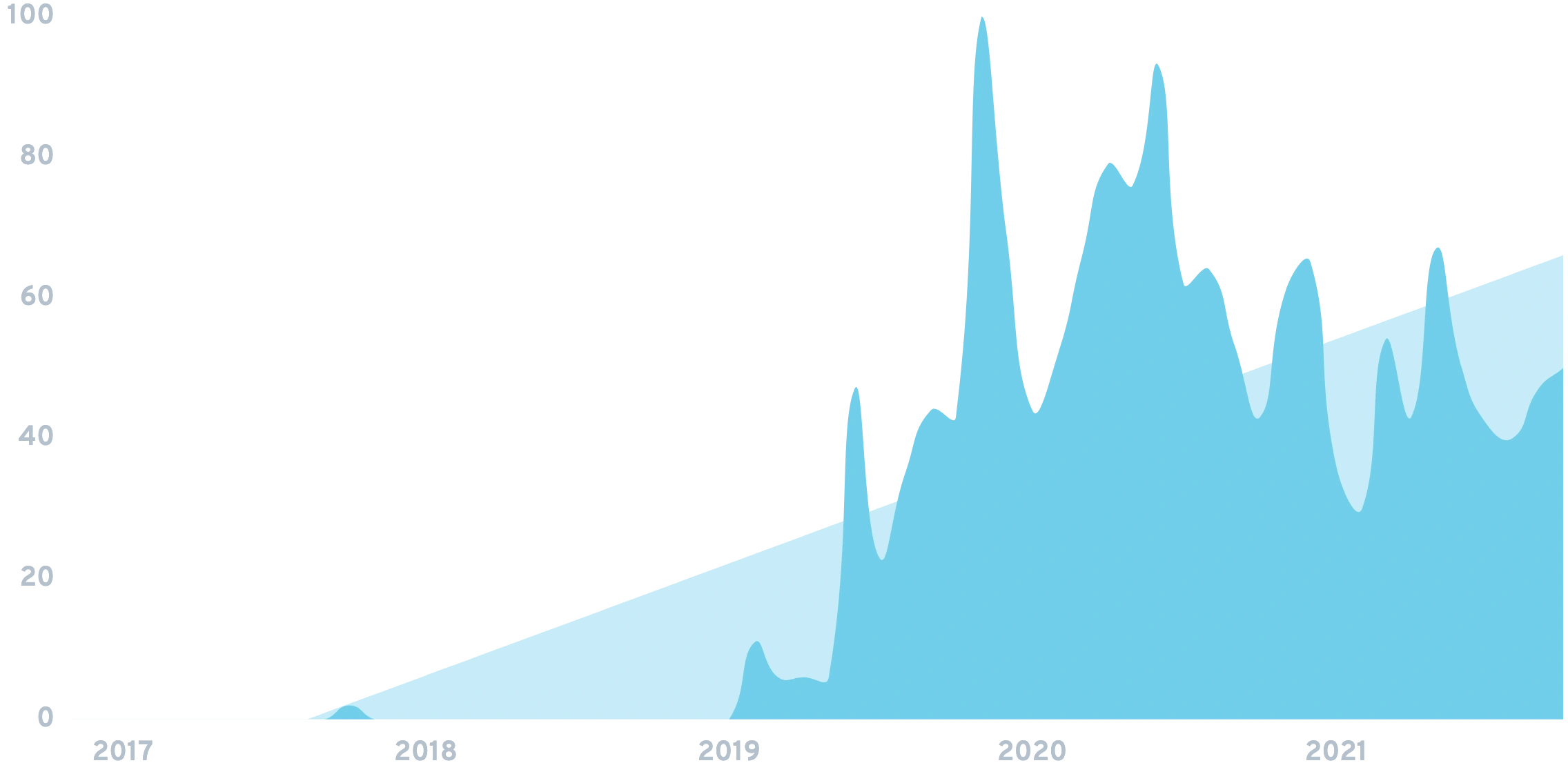 Searches for "Verishop" have grown by 4,900% over the last five years.
Mobile commerce (or m-commerce) has become a huge part of the eCommerce market as well. It's estimated the number of eCommerce sales made from mobile devices has grown from 52.4% in 2016 to 72.9% in 2021.
The m-commerce market is 3.5x the size it was in 2016 – reaching $3.56 trillion in sales in 2021.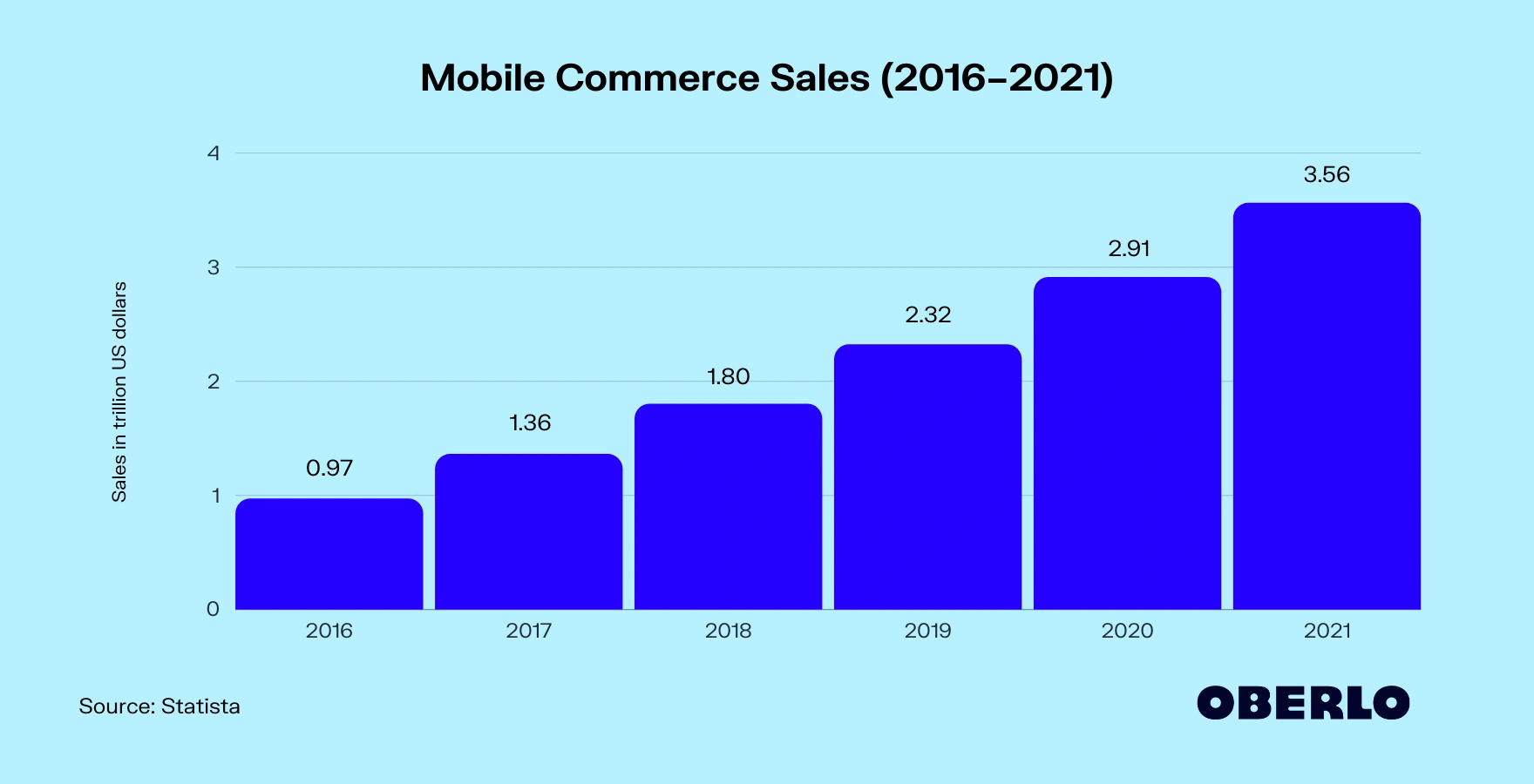 M-Commerce annual U.S. sales.
And this makes sense, considering 9 out of every 10 internet users say they access the internet with a smartphone. Only two-thirds of these users say they also use a laptop or tablet.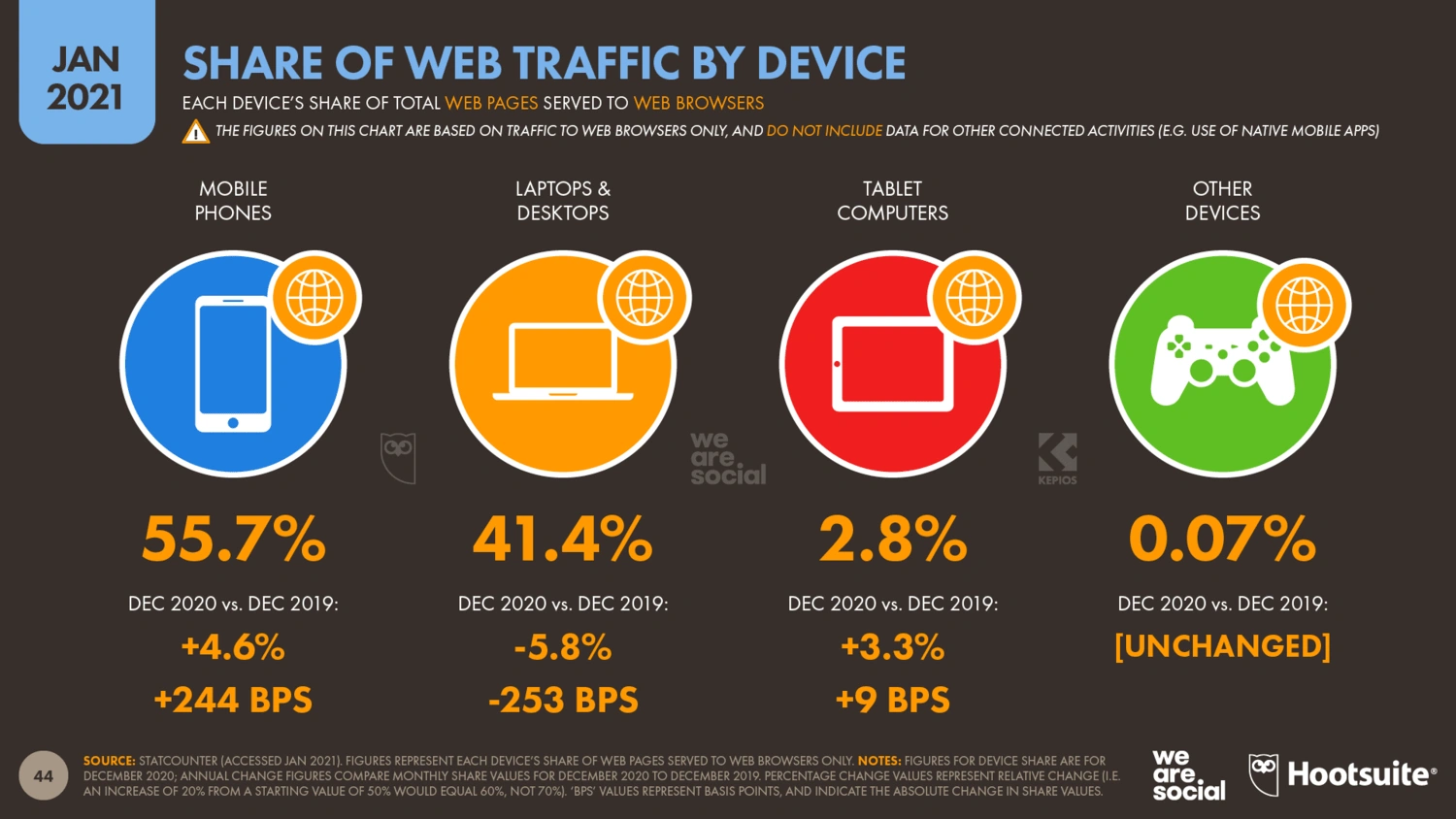 Mobile's increasing share of web traffic.
In addition, retailers can use their mobile apps to capture customer mindshare. This has shifted the focus to the mobile market. And with 67% of consumers claiming that they have downloaded a retailer's app, it's no wonder why many companies are focusing on this area of the market.
But mobile isn't just taking share from eCommerce competitors. M-commerce competition is seeping into the traditional retail store as well.
77% of U.S. consumers say they compare prices on their mobile device while shopping in-store. And 71% of these shoppers admit that their mobile device is now an important part of their in-store shopping experience.
This trend is especially pronounced in emerging markets, where the majority of internet users only have access to a mobile device.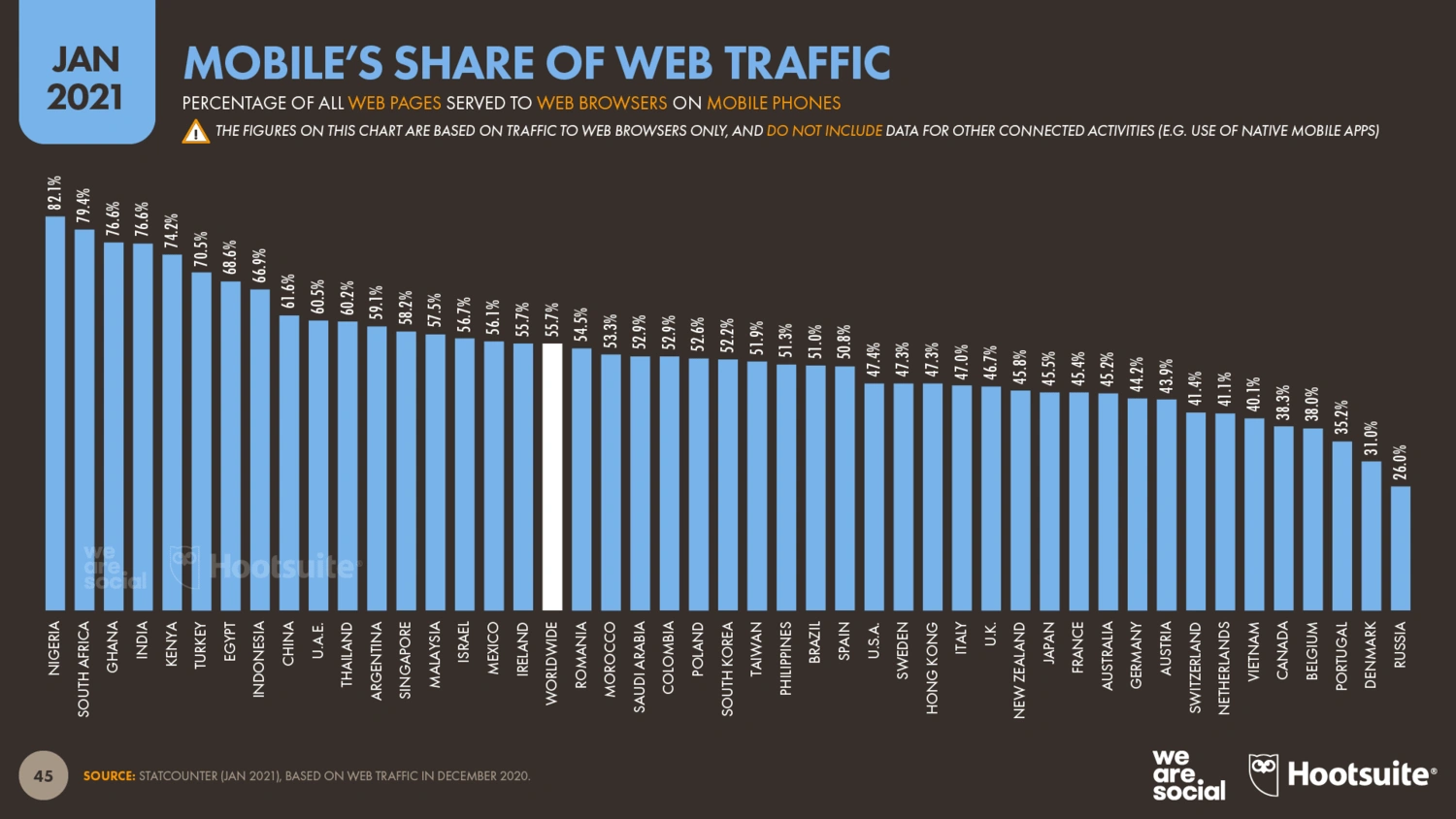 Source: DataReportal
You can see from the graph that developing countries like Nigeria, Egypt, Kenya, and Indonesia claim mobile's share of internet traffic exceeds 50%, even reaching 70% and 80%. In the U.S. and European countries, mobile's share is typically under 50%.
This adoption outside of the U.S. has allowed the m-commerce market to grow at a faster rate than the overall e-commerce market.
Overall, eCommerce and m-commerce have been taking a steadily growing share of the total retail market.
4. The Gig Economy is Becoming the Actual Economy
A lot of things changed during 2020. And a lot of these changes will not be permanent. One of the more permanent changes that has made its way into 2021 is the growth of the gig economy.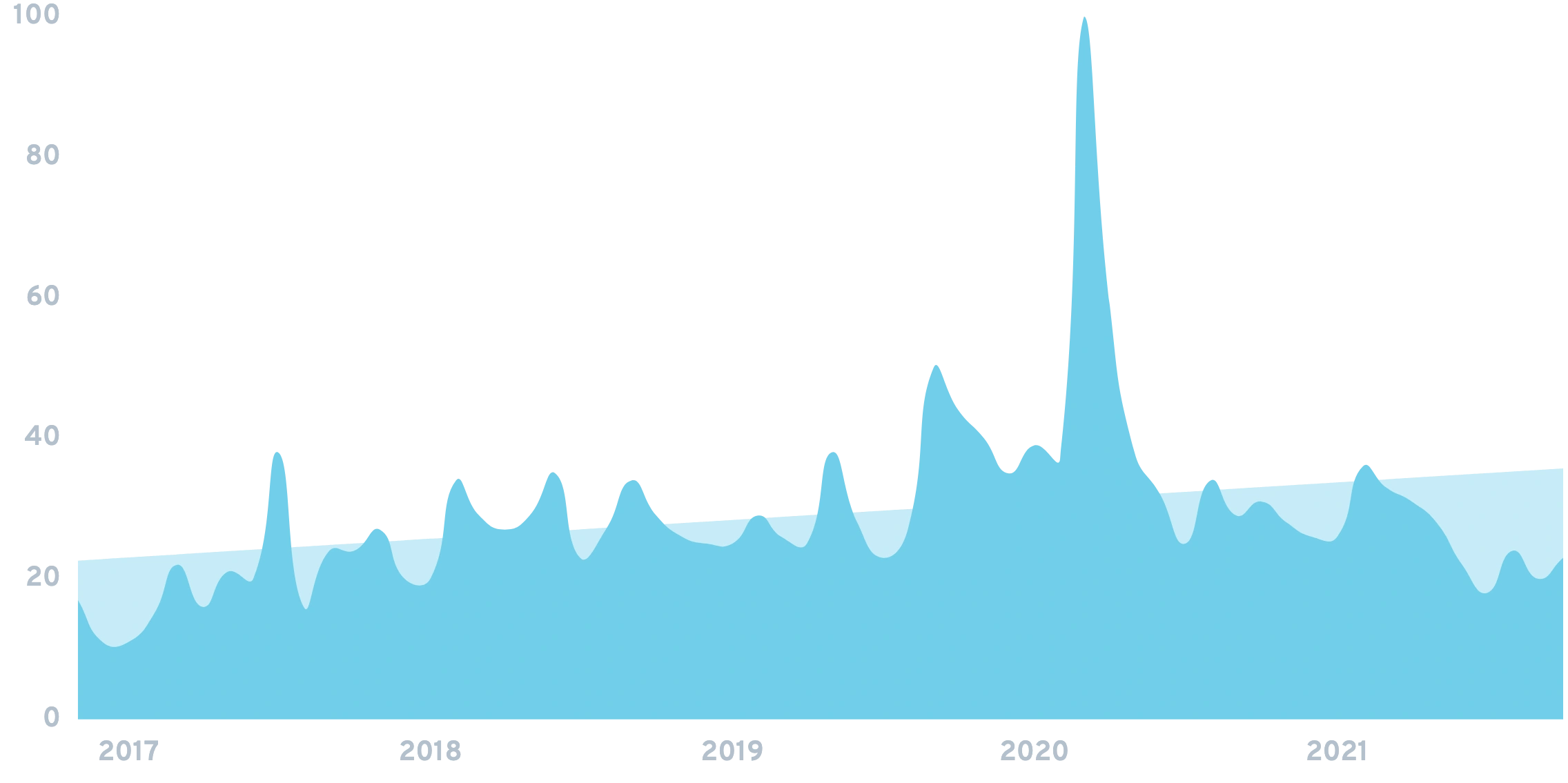 Search interest in the "gig economy" has risen by 35% over the last five years.
Many of these jobs used to be, and to some extent remain side hustles.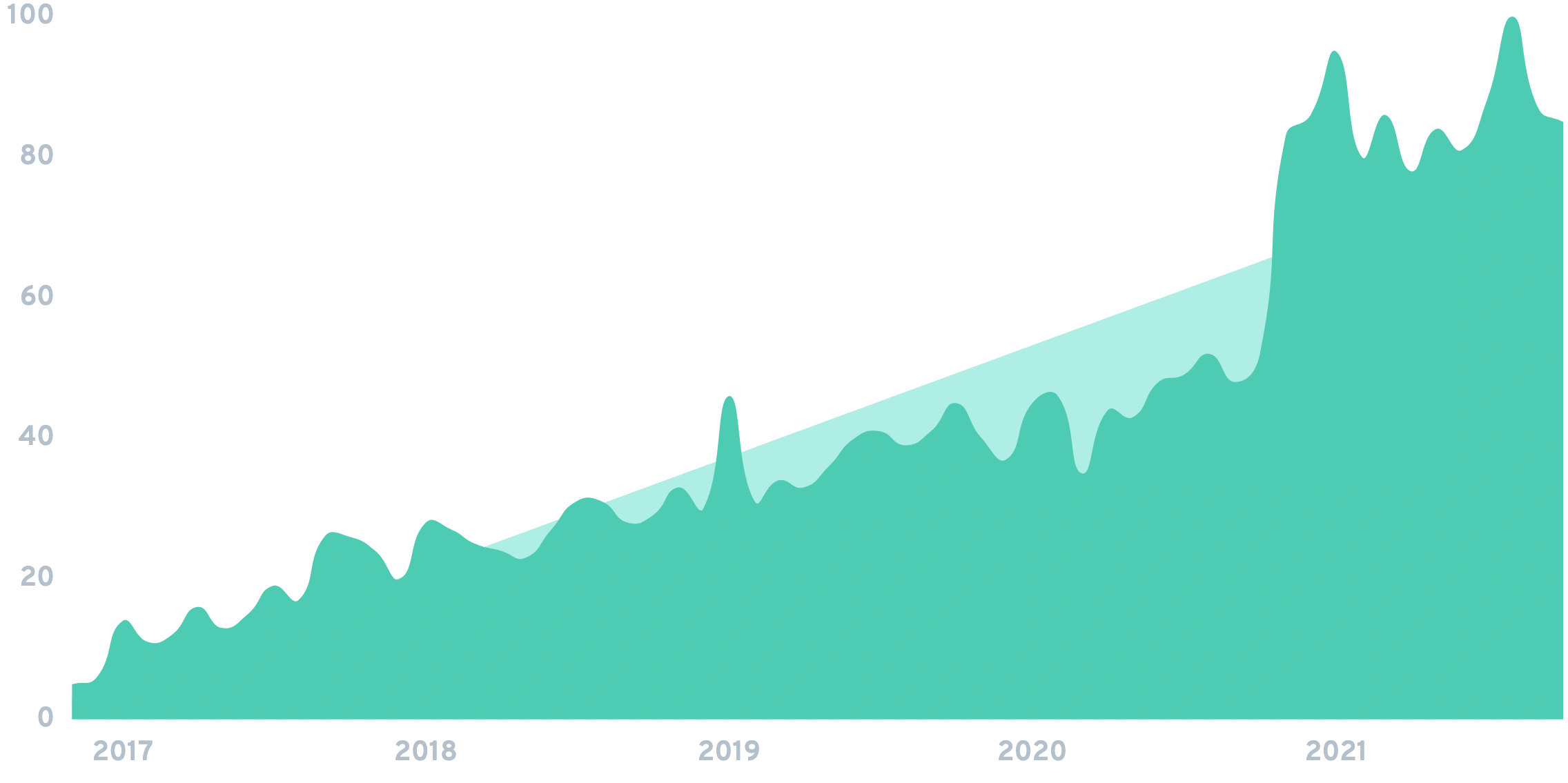 Searches for "side hustle" have grown by 1,600% since 2017.
But for a growing segment of the population, these opportunities are becoming their full-time career.
Just under 30% of freelancers said their freelance business is their only source of income, compared to 17% in 2014. And over half of these full-time gig workers say they feel more financially secure than others with traditional jobs.
And this mindset seems to be spreading as 67% of full-time workers said they were planning to leave their full-time job for a gig.
The transition seems to be helping with worker satisfaction as well. Statista reports that 80% of gig workers have said they are happy with their current job. In the traditional labor market, that number stands at 55%.
Pre-pandemic, more than one-third of the U.S. workforce was already engaged in some kind of freelance work. And it's estimated that by the end of 2020, 41% of the American workforce was doing some kind of freelance work.
This demographic tends to skew younger, as close to half of all millennials say they are doing some kind of freelance work. And 53% of working members of Generation Z are engaged in freelancing.
Payoneer found that roughly 70% of all the freelancers it surveyed were under 35. This number was boosted by freelancers living in Asia, however, where 82% of respondents were under 35. In North America, by contrast, only 47%were under the age of 35.
Because of this, this part of the market isn't expected to slow anytime soon.
Before the pandemic caused a drop in employment in labor force participation, the traditional U.S. labor force grew at an annual rate of about 0.6% from 2009-2019. By contrast, the freelance labor market grew by about 6% a year from 2013 to 2020.
And by 2027, Statista predicts that half of the U.S. workforce will be engaged in freelancing.
Compared to the rest of the world, the U.S. makes the most use of freelancers. And in the U.S., up to half of all jobs are now compatible with remote work.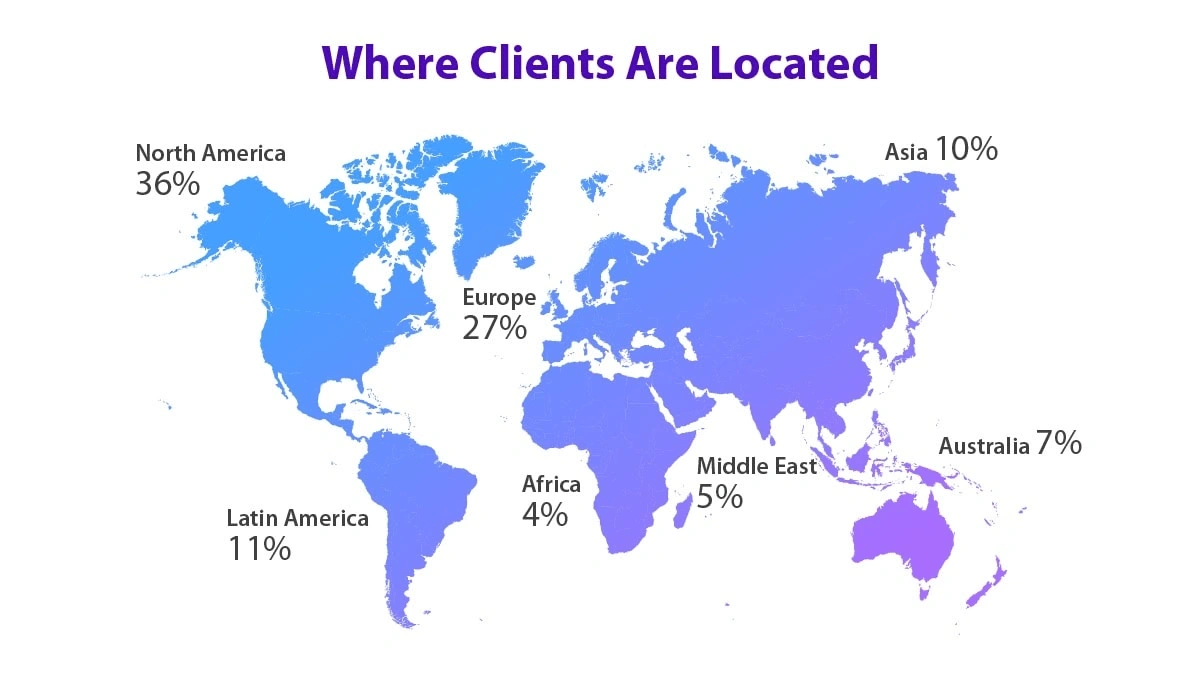 Freelancers reported that the majority of their clients were in the U.S. and Europe.
But the U.S. isn't the only country taking advantage of the gig economy. Globally, at least a fifth of all companies note that freelancers comprise at least 30% of their workforce. And over the last five years, half of all global organizations have reported a significantly increasing freelance workforce.
On top of this, 40% of companies have noted that they expect gig workers to take a more important role in their operations. And 80% of U.S. companies are planning to increase their use of freelance labor.
And it isn't just the largest companies that are taking advantage of the freelance market either. 71% of small and medium sized businesses (SMBs) in the U.S. have worked with freelancers in some capacity.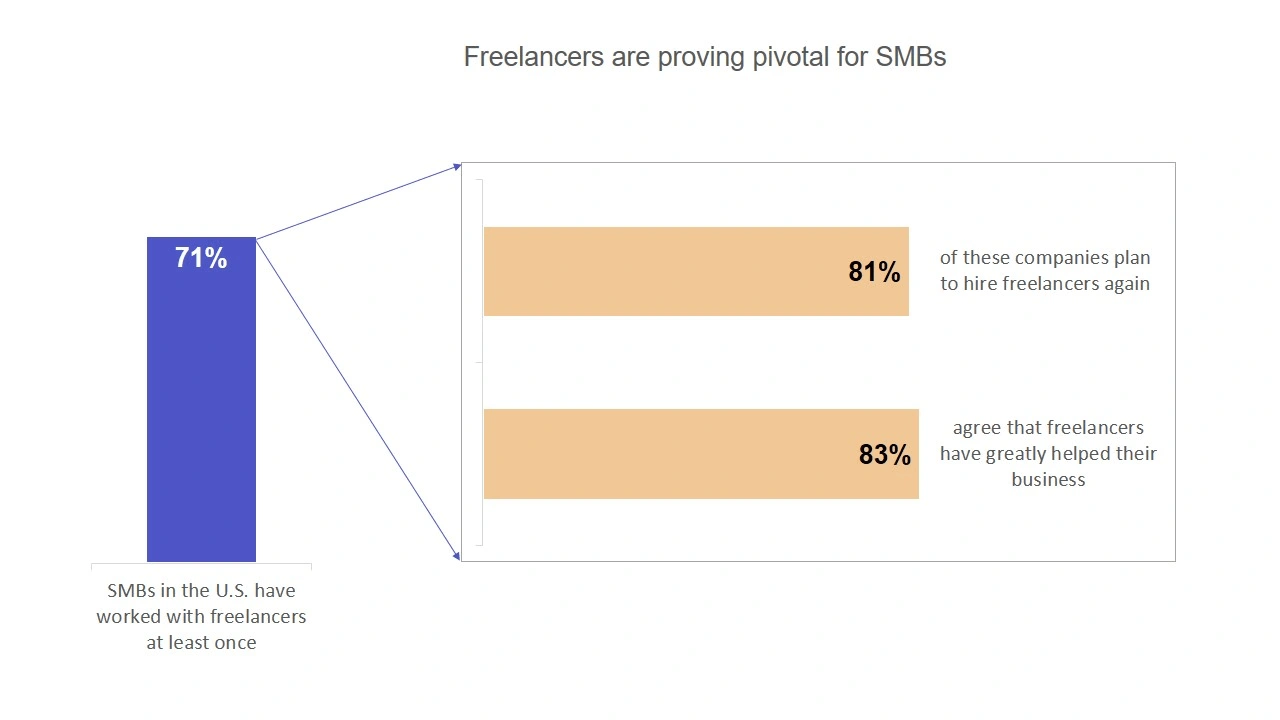 Source: Flexiple
A lot of this growth has been driven by the major freelancing platforms. In fact, it's estimated that about 73% of freelancers find work on major platforms like Upwork, Fiverr, Freelancer.com, Gigster, etc.
It's no wonder then that Upwork and Fiverr's stock prices have increased over the last year.
5. TikTok and Social Commerce are Changing the Way We Shop
Social commerce is completely changing the way we shop.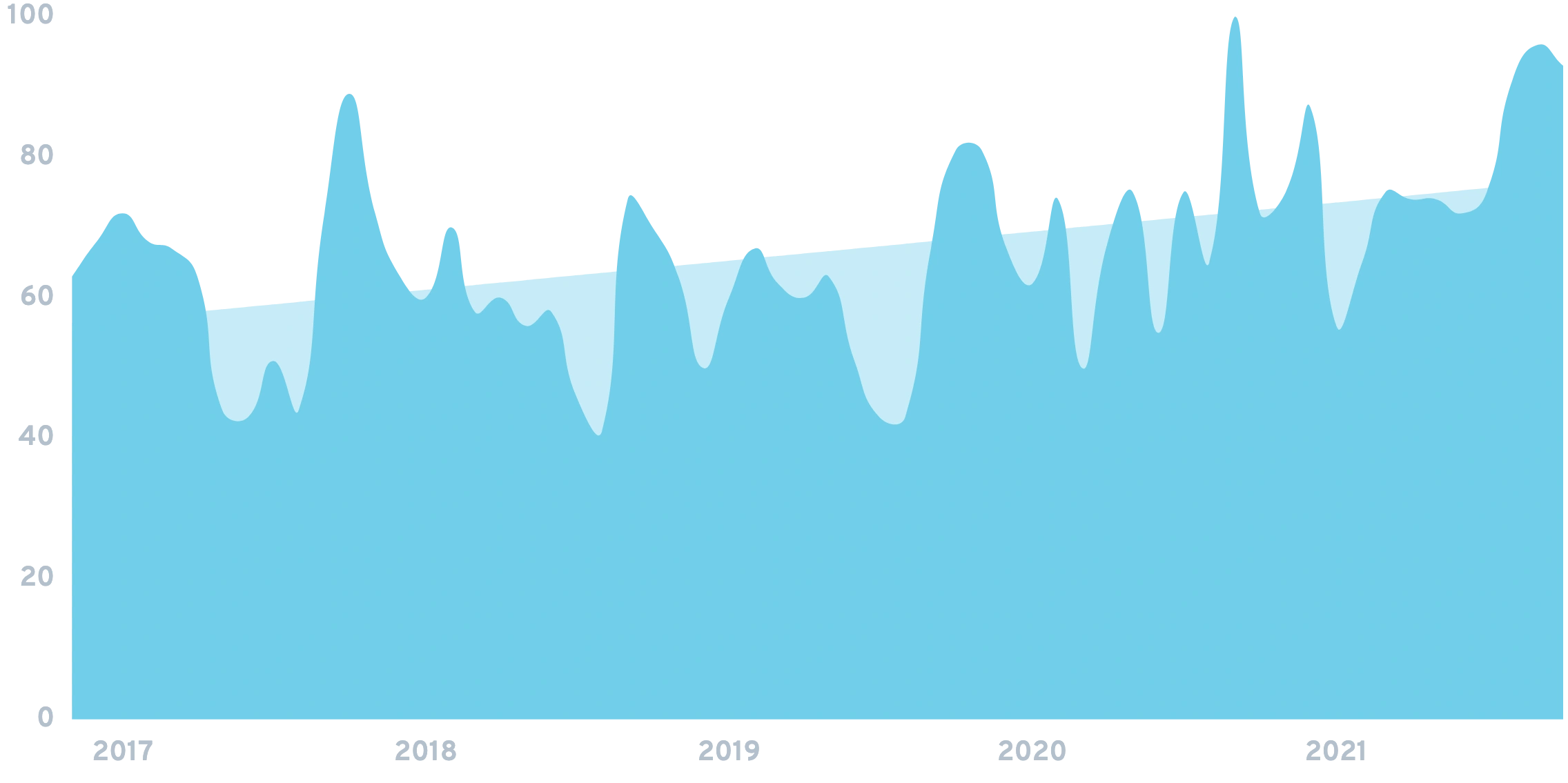 Search interest in "Social Commerce" is up 45% over five years.
Platforms that didn't even exist a few years ago are driving traffic to both physical and digital retailers alike. And because of this, retailers are increasingly turning to social media outlets to market and promote their products.
Obviously, the stalwarts of the social media industry are still going strong. 70% of consumers have reported beginning their buying journey on Facebook or Instagram.
But TikTok is making the biggest splash. TikTok was the seventh-most downloaded app of the last decade, despite being released 6 years into the decade. Now, the retail industry is looking to capitalize on its growth.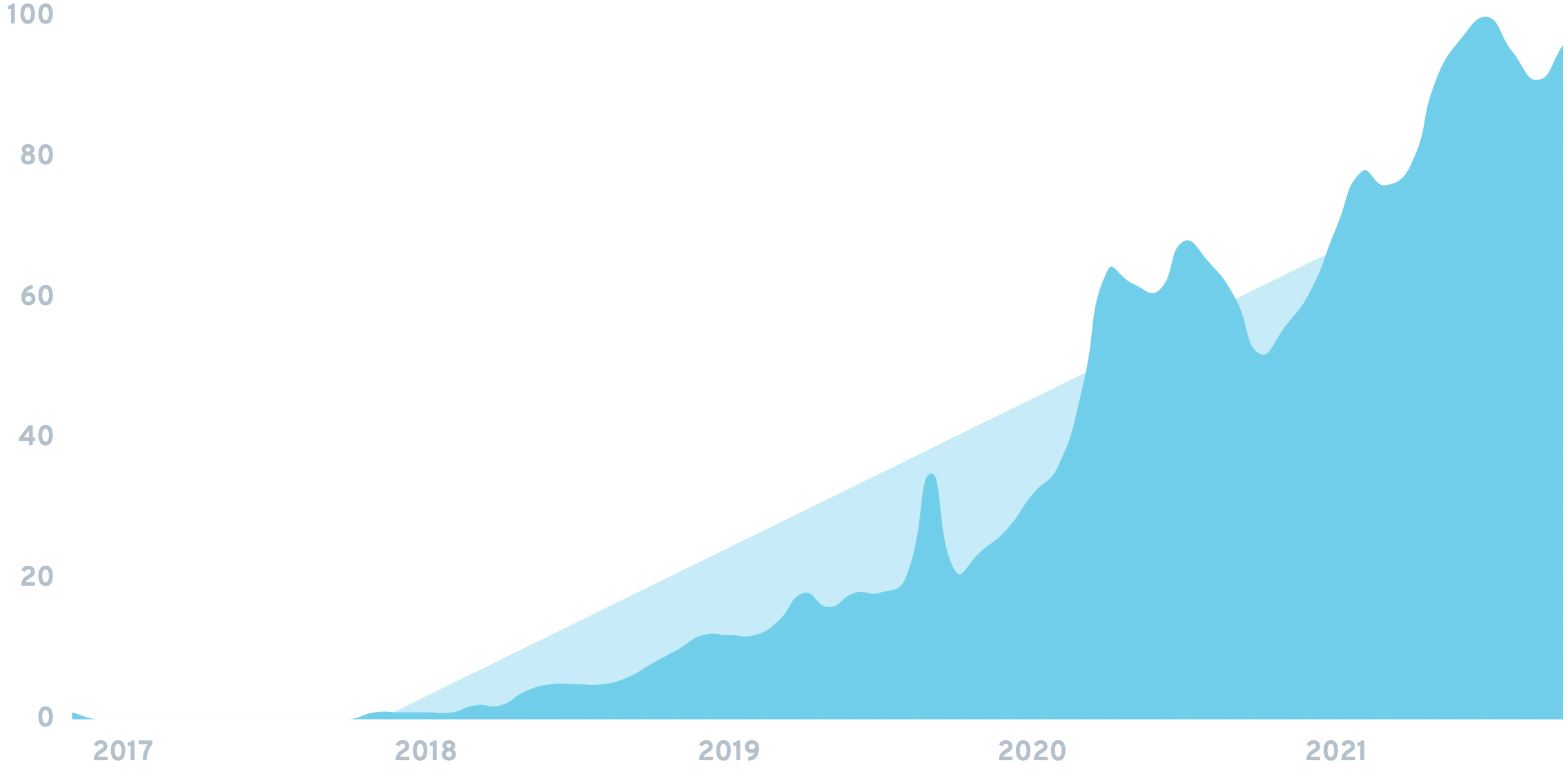 Search interest in "TikTok" is up by 9,500% over the last five years.
The retail industry expects to collectively spend $35.48 billion on digital advertising in 2021 – the most out of any industry in the U.S.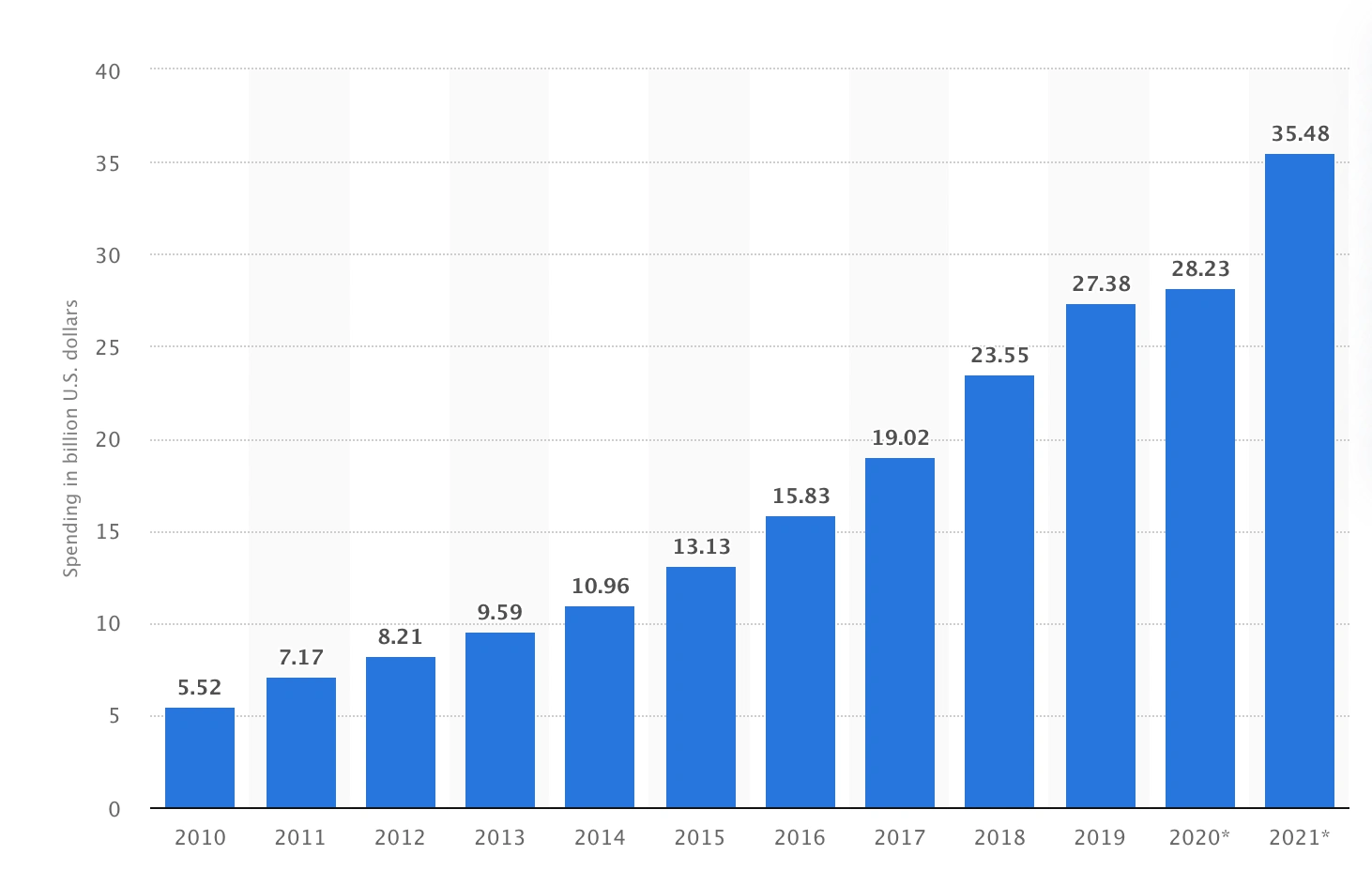 Annual digital advertising spend by the U.S. retail industry.
Much of this spend has traditionally been captured by the internet giants like Google, Facebook, and Instagram. But TikTok is looking to take a larger piece of the pie.
TikTok was already the most downloaded iPhone and Android app in 2020, coming in at a total of 850 million downloads.
Now the company is turning its eye to commerce and advertising. In late 2020, TikTok partnered with Shopify, allowing the platform to provide TikTok advertising for its merchants.
While TikTok has been steadily building up its ad platform, this new initiative actually allows Shopify merchants to place products into TikTok videos and advertisements.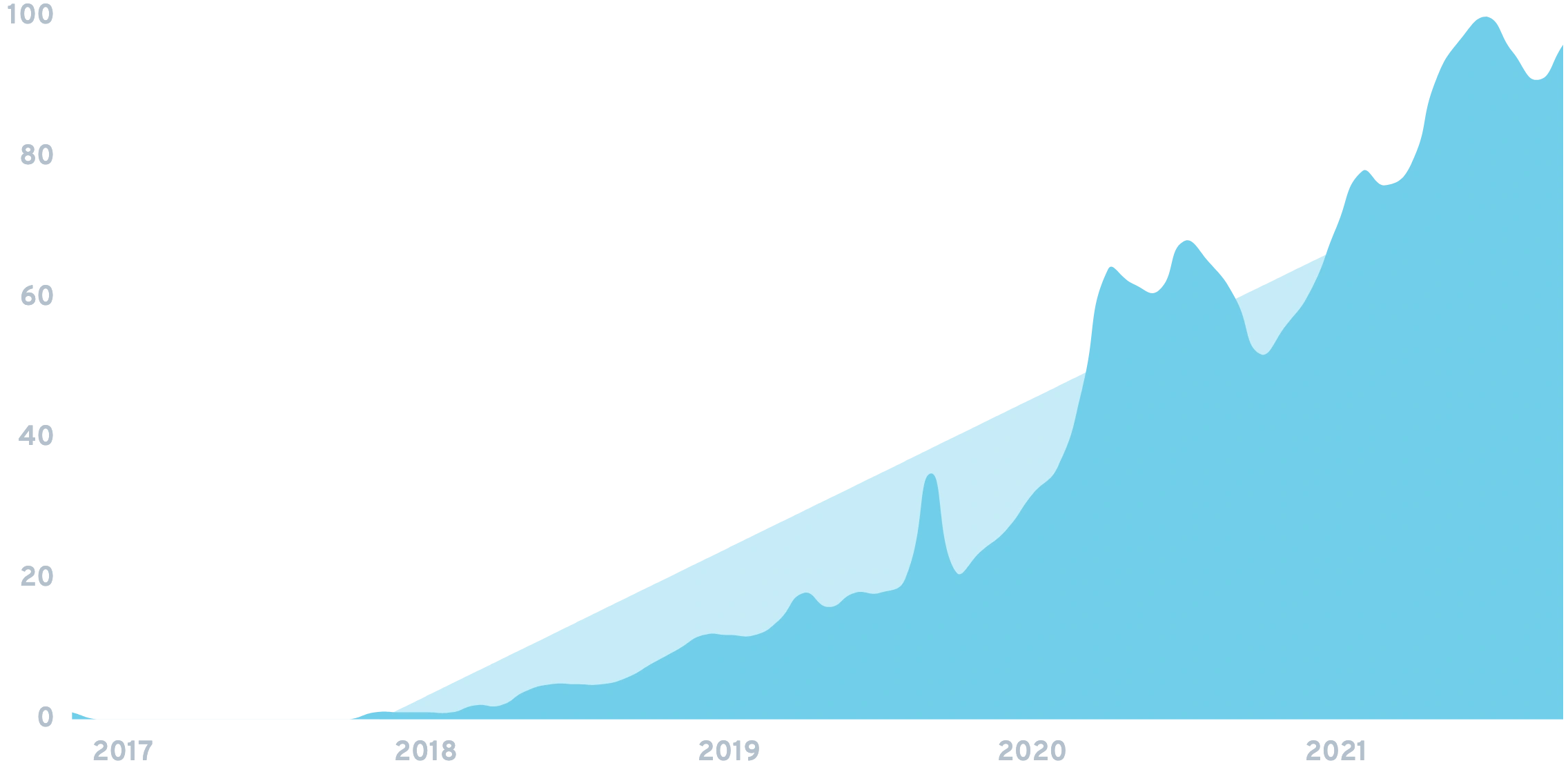 Searches for "TikTok Ads" have increased by 7,800% over the last 5 years.
On top of traditional ads, many retailers are also trying to tap into the TikTok influencer market.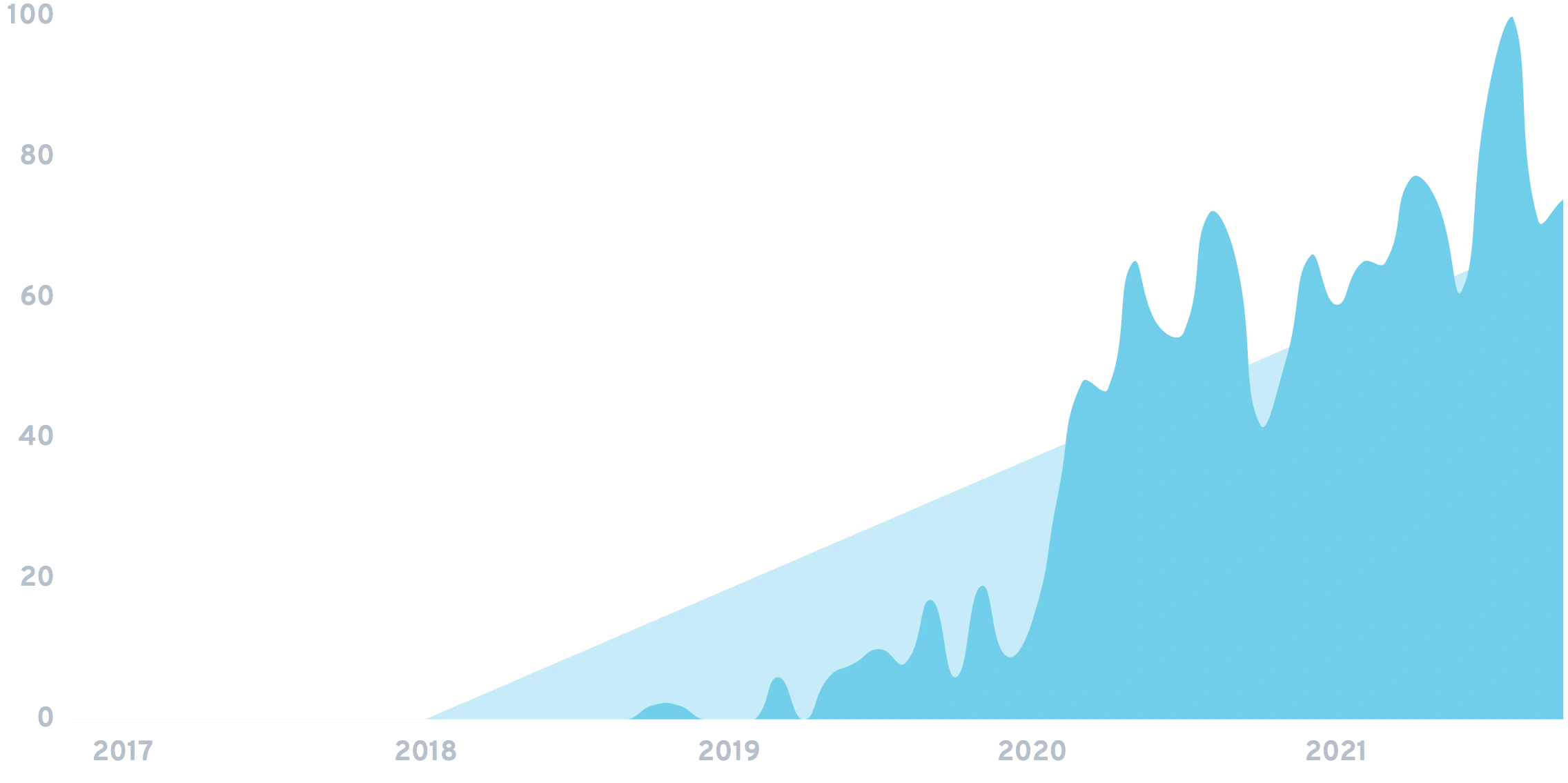 Searches for "TikTok Influencers" grew by 7,300% since 2017.
And with purported TikTok social media engagement rates of 17.96% for micro-influencers and 4.96% for mega-influencers, who can blame retailers and merchandisers for going this route. Compared to second-place competitor Instagram's micro and mega-influencer engagement rates of 3.86% and 1.21% respectively, TikTok campaigns look like a no-brainer.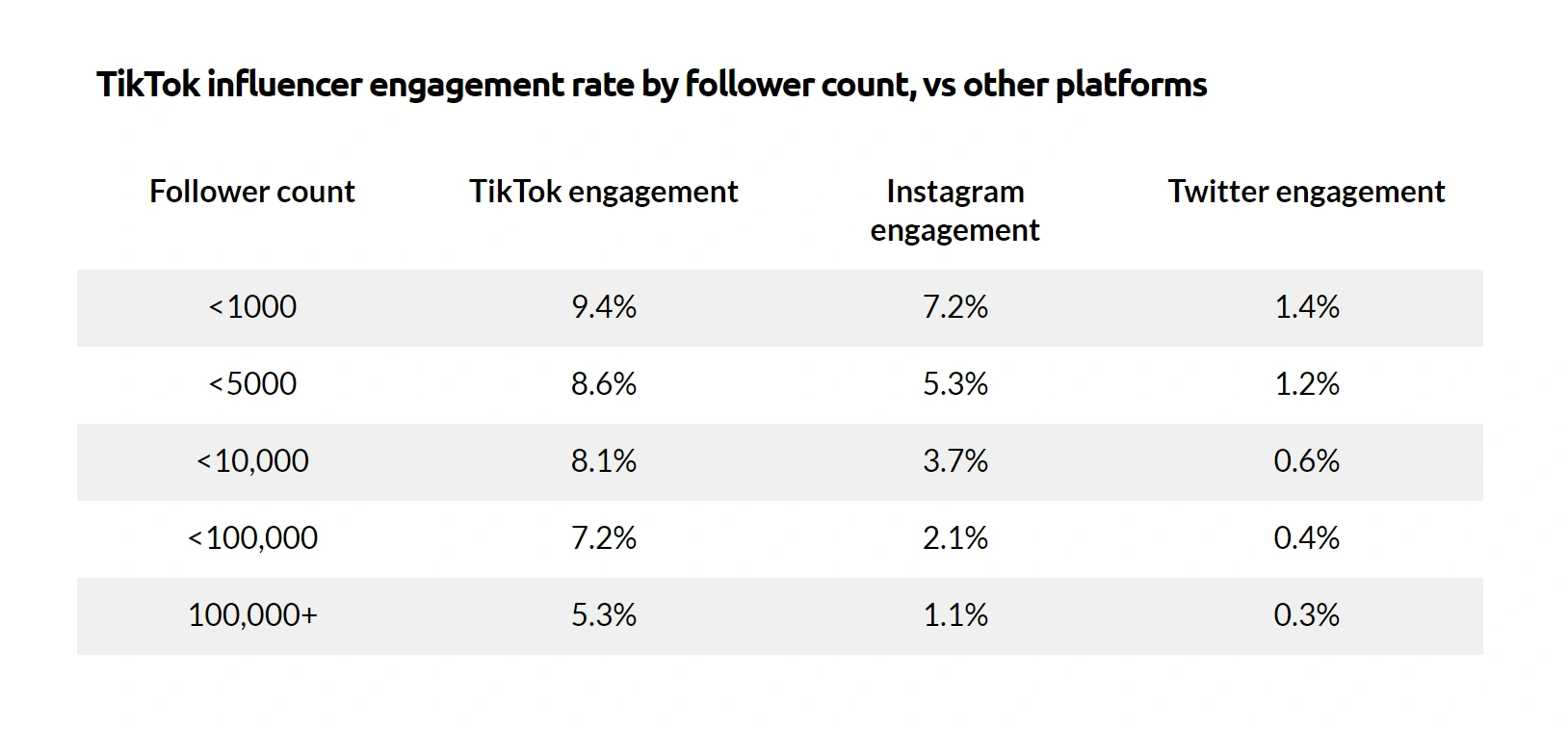 Source: Business of Apps
Conclusion
Those are the top 5 trends of 2021 so far.
Some of them were unexpected, and some of them began long before this year. But overall, these trends are seriously affecting how we do business and interact with each other in 2021.
Look for these trends to have a big impact on the rest of 2021 (and perhaps beyond).