How to Find Startups: For Entrepreneurs, Investors, Job Seekers
Most people rely on their network to find promising startups to invest in or join.
The truth is: it's hard to find high-growth startups before they become household names.
As a result, many people miss out on great opportunities to invest in or join the best startups before they become big.
So if you want to identify promising startups today, here are a few proactive methods to uncover the next big startups.
1. Browse Startup Directories
Most "trending startup" lists are created based on a person's subjective opinion.
The few lists that do use data to qualify trending startups typically analyze funding and employee headcount data, neither of which is helpful if you're trying to find startups before they become popular.
In addition, many companies raise a lot of money, hire many employees, and still fail.
Instead, Exploding Topics qualifies startups as "trending" based on data correlating with consumer interest; the brand name's historical Google Search volume.
We use this metric because if a startup has a strong, growing customer base, there's a good chance it will succeed. It isn't a perfect representation of the company's customer base, but it's the most accurate indicator we've found thus far.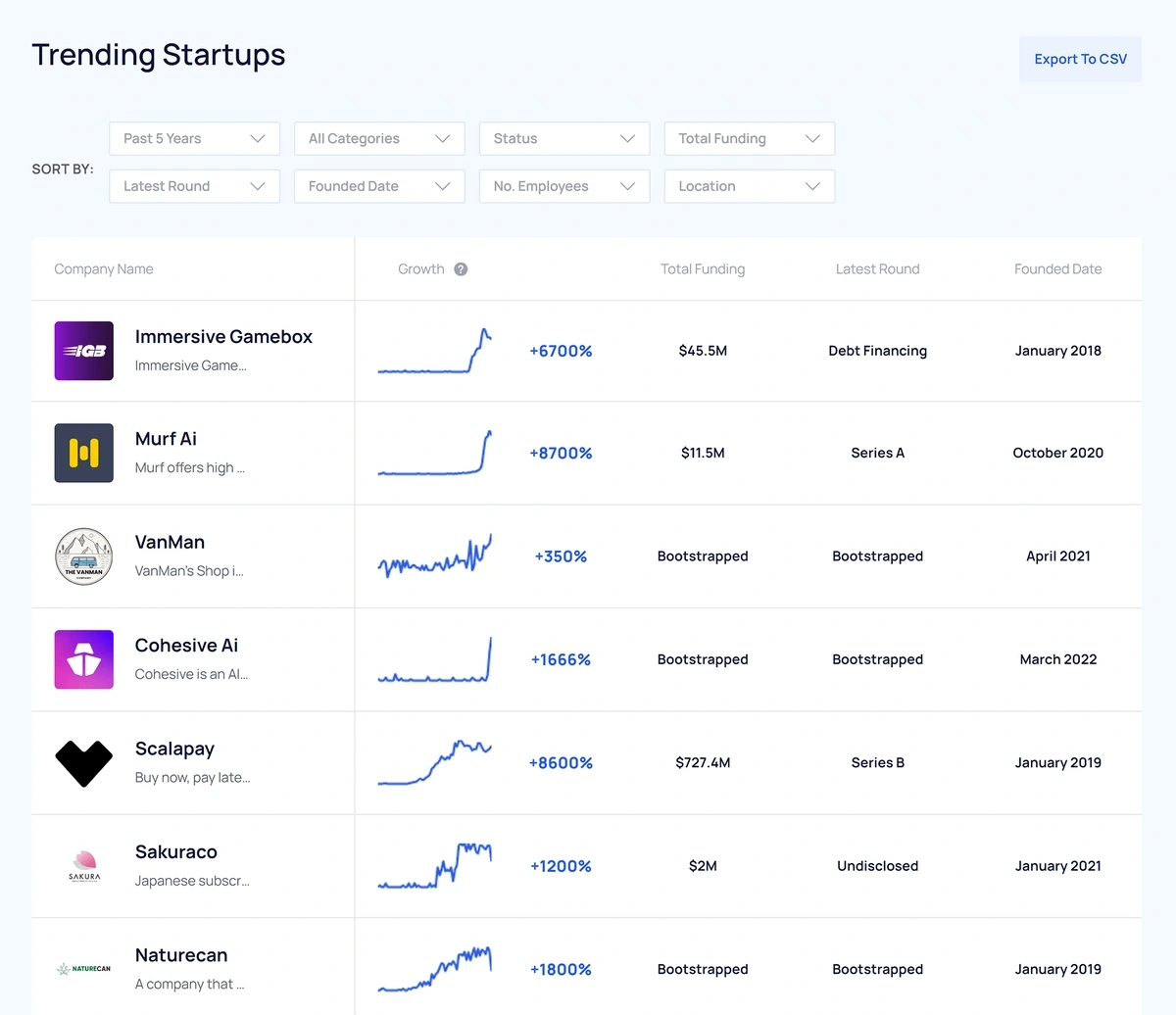 Exploding Topics also provides filters to sort by funding data, funding round, employee headcount, and other metrics useful in gauging a startup's growth stage and stability.
You can also click on any of the startups for more detailed information and other related trending topics and startups.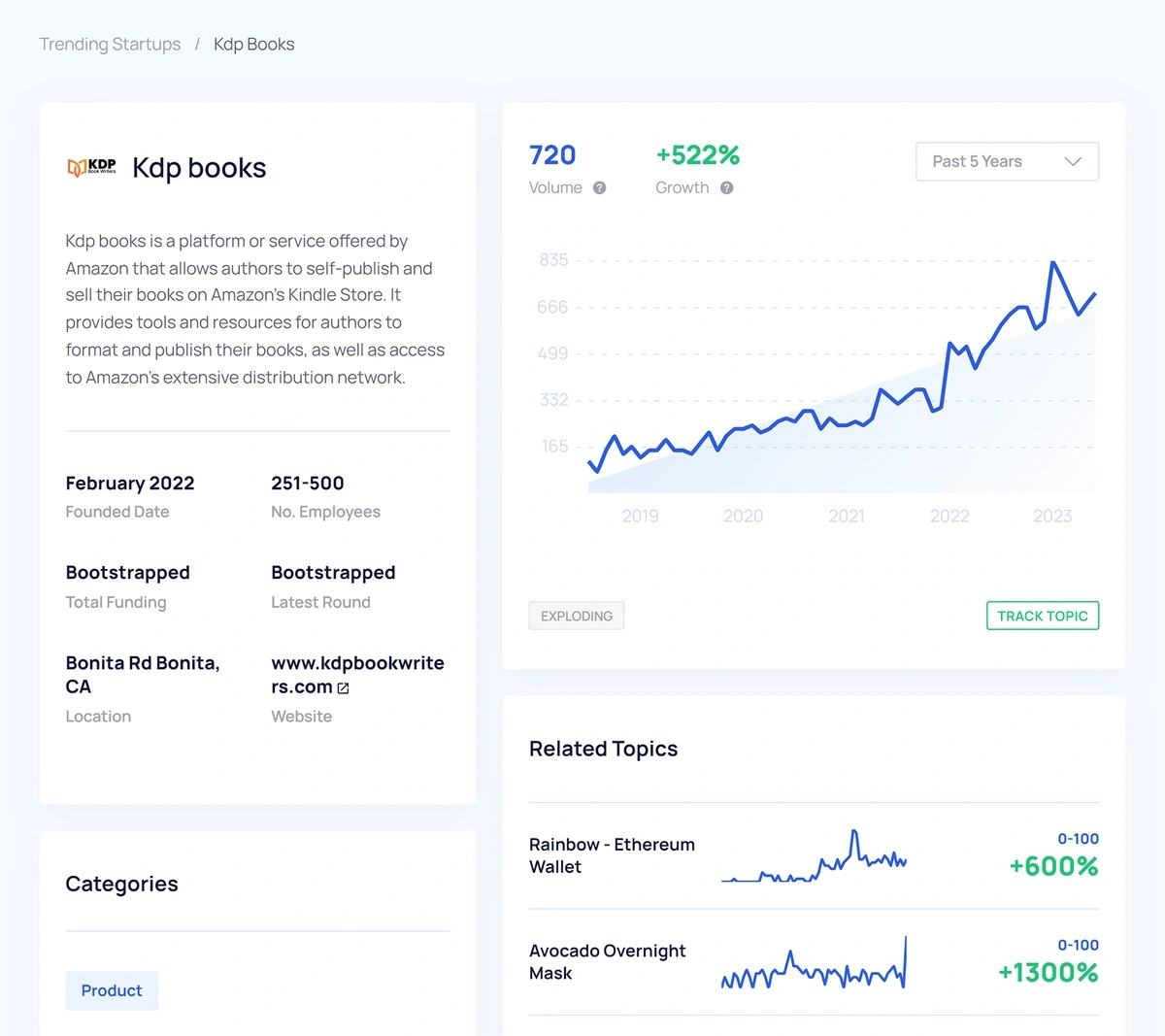 2. Track Trending Market Niches
Timing is key to any startup's success.
If the idea is too early and there isn't enough demand for the product, it won't work. However, if
a startup is too late to a market and the market is already saturated, there's also a good chance that startup will fail.
So one great way to find promising early-stage startup companies is to look at trending markets and niches and then look for the top companies in those spaces.
Websites like Globe Newswire, Allied Market Research, and Grand View Research provide free market reports with metrics like market cap size and compound annual growth rate (CAGR), which can be helpful for gauging market demand.
The problem is that it can be tricky to discover the best markets and niches to research.
To make it easier to find growing market niches, we created the Meta Trends database in Exploding Topics. It leverages artificial intelligence to comb the internet and identify growing market niches and the companies, keywords, and products associated with those market niches.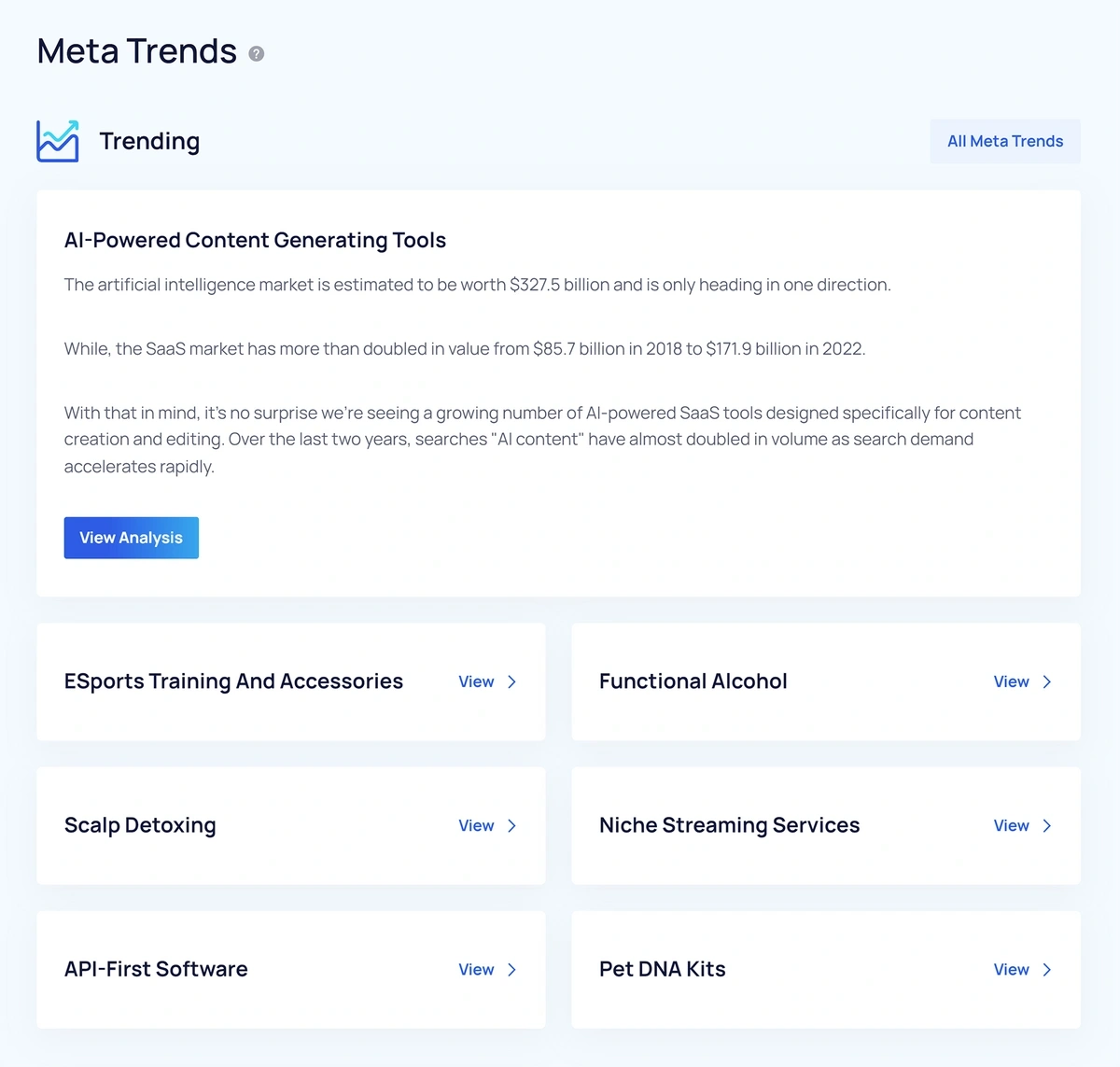 You can click on any meta trend (e.g., visual collaboration tools, enterprise fintech, DTC luxury brands, etc.), and you'll see a description of the meta trend, other related meta trends, and the trending startups within that market niche.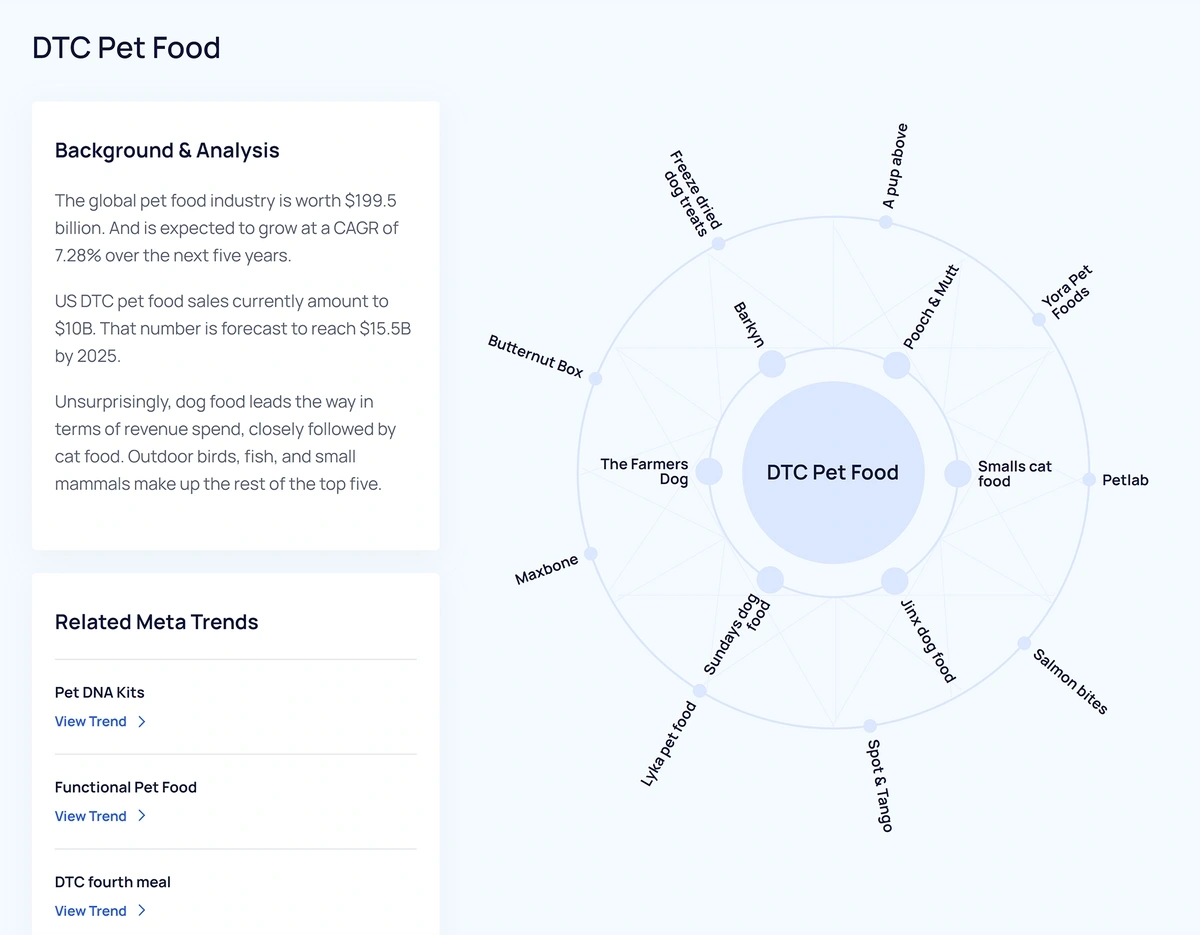 For example, if you're interested in the pet space and want to invest in a DTC pet food brand, you'll see that a few of the growing startups in the industry are Barkyn, The Farmer's Dog, and Smalls Cat Food.
You can click on any of the startup names and see a description of the company and its Google Search volume trend.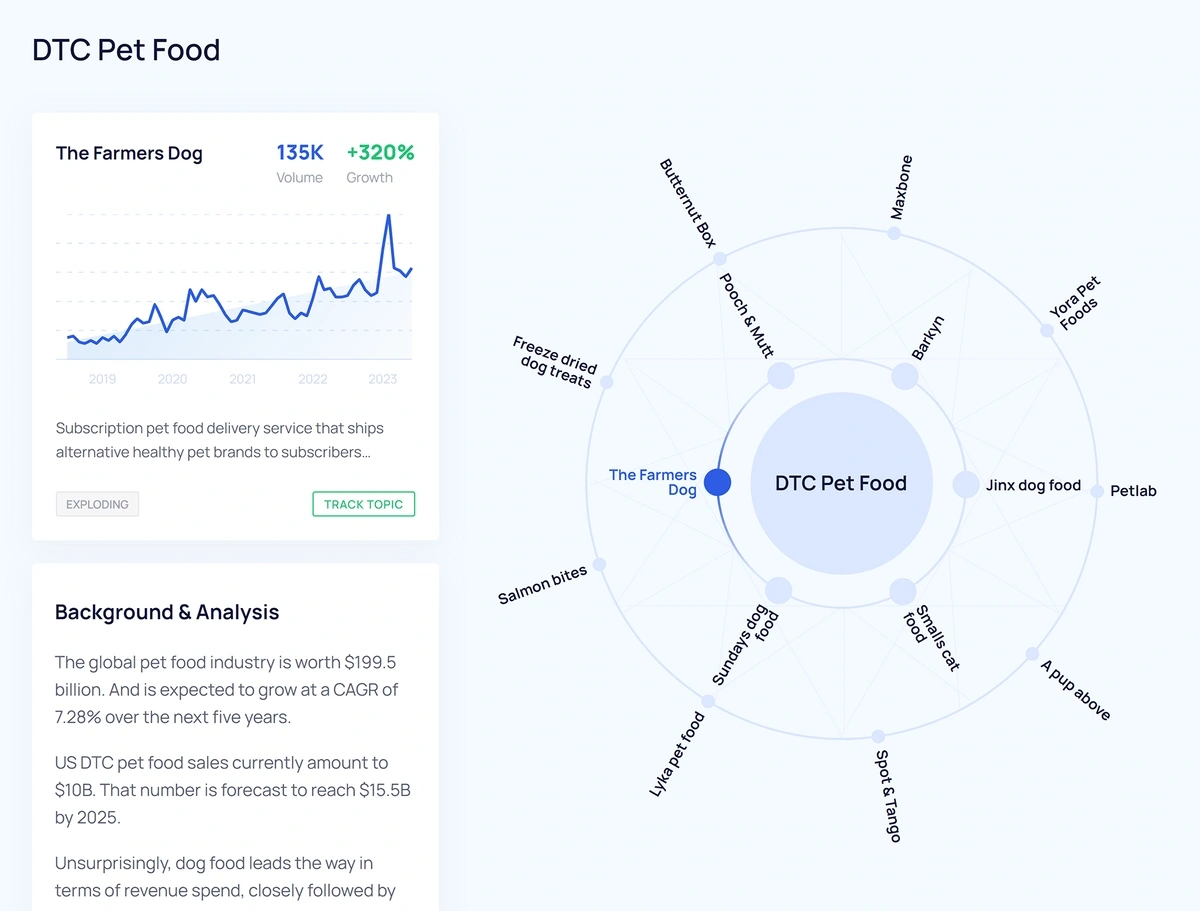 If you want to save the startup for more detailed research, click "Track Topic" and save it to a Project. Projects live inside the Exploding Topics dashboard and make it easy to track your favorite startups over time.
So how do you know that the trends in the Meta Trends database are reliable?
We realize that you're probably making major decisions based on these meta trends suggestions, so we wanted to ensure that each trend is selected by objective data – not an analyst's subjective opinion.
Here's the data-driven process we use to identify and qualify meta trends: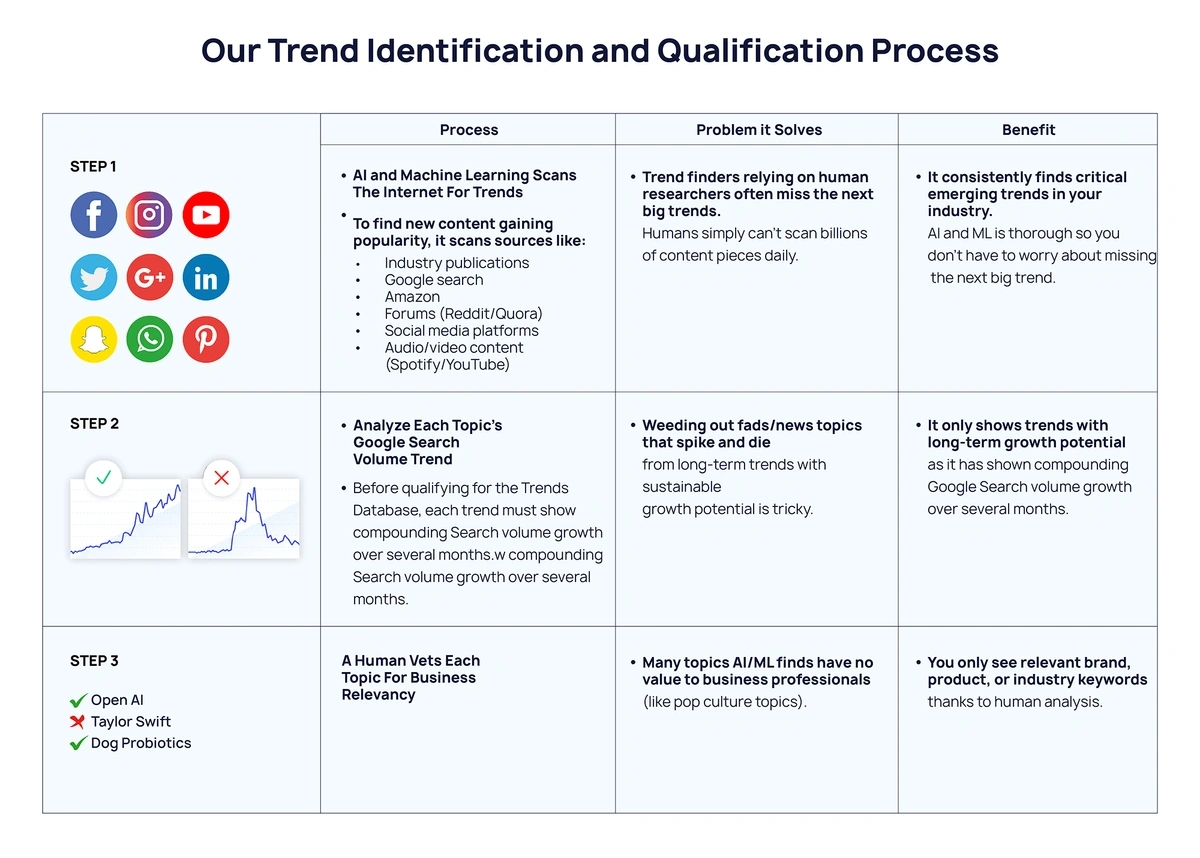 3. Search Startup Accelerators
A few of the most popular startup accelerators include Y Combinator, TechStars, and 500 Startups.
Most of these startup accelerators have a database of their portfolio companies, making it easy to quickly find new startups that may have open positions or are offering investment opportunities.
For example, Y Combinator's directory contains all of its portfolio companies, and you can filter by batch (summer or winter of each year), industry, region, status (active, inactive, acquired, public), and company size.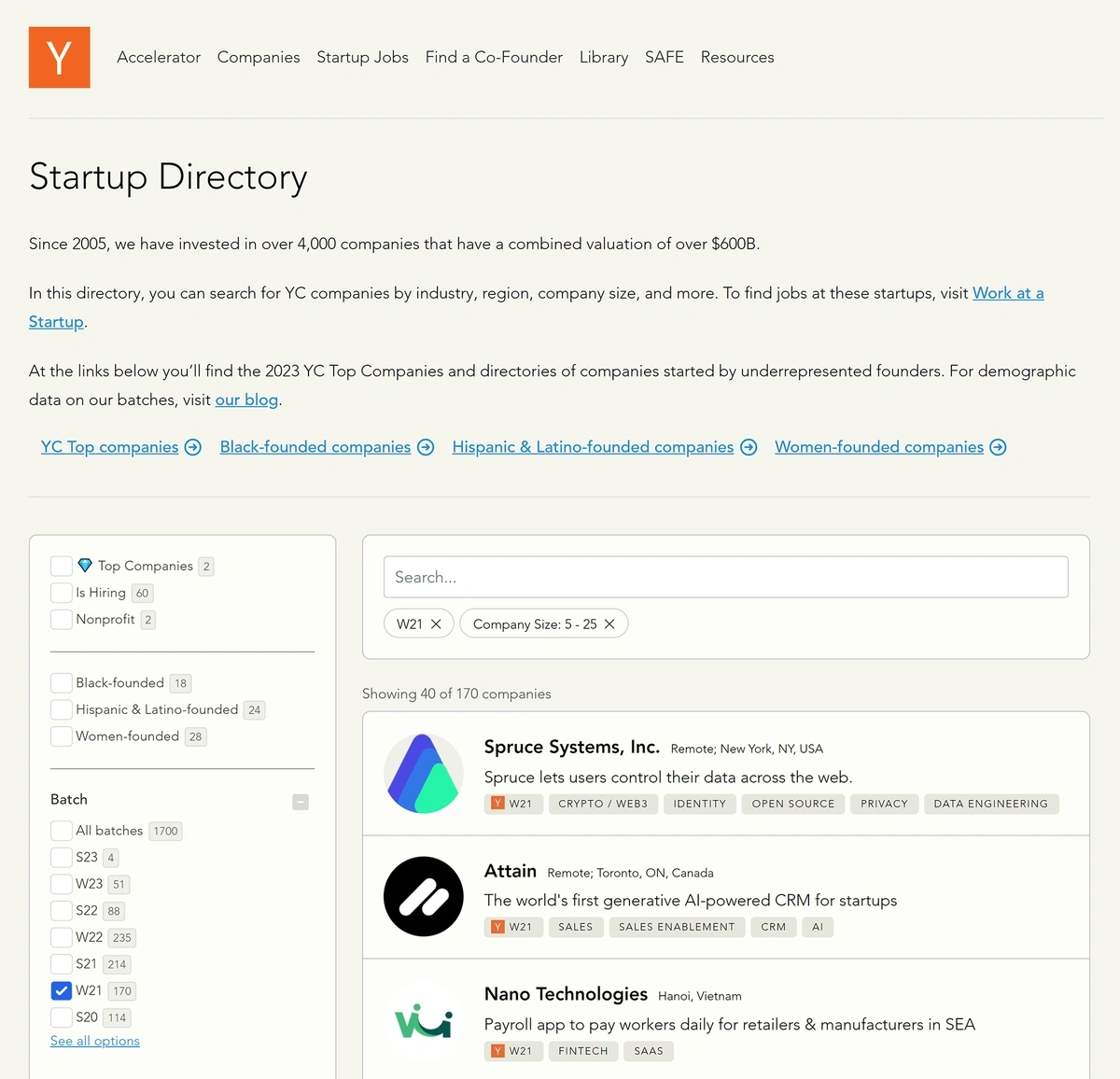 You can also click on any companies to view open positions, recent investment activity, and the founders' bios.
Many of these accelerators also have demo days at the end of the program. Demo days allow investors (usually venture capital firms) to attend and hear founders pitch their startups. Some demo days, like Y Combinator, are only available by invitation, but other accelerators, like TechStars, make their demo days available to the public.
4. Join Online Fundraising Platforms
Plenty of fundraising platforms make it easy for people to find and invest in startup companies online.
If you're an accredited angel investor, you can use a platform like AngelList to invest in "funds."
This is a super easy, hands-off method of investing. Rather than identifying, researching, and selecting a startup to invest in, you just select a fund leader (an experienced investor that leads the fund) and pledge a certain check size to that fund. Your investment is then spread across the startups that the fund leader selects.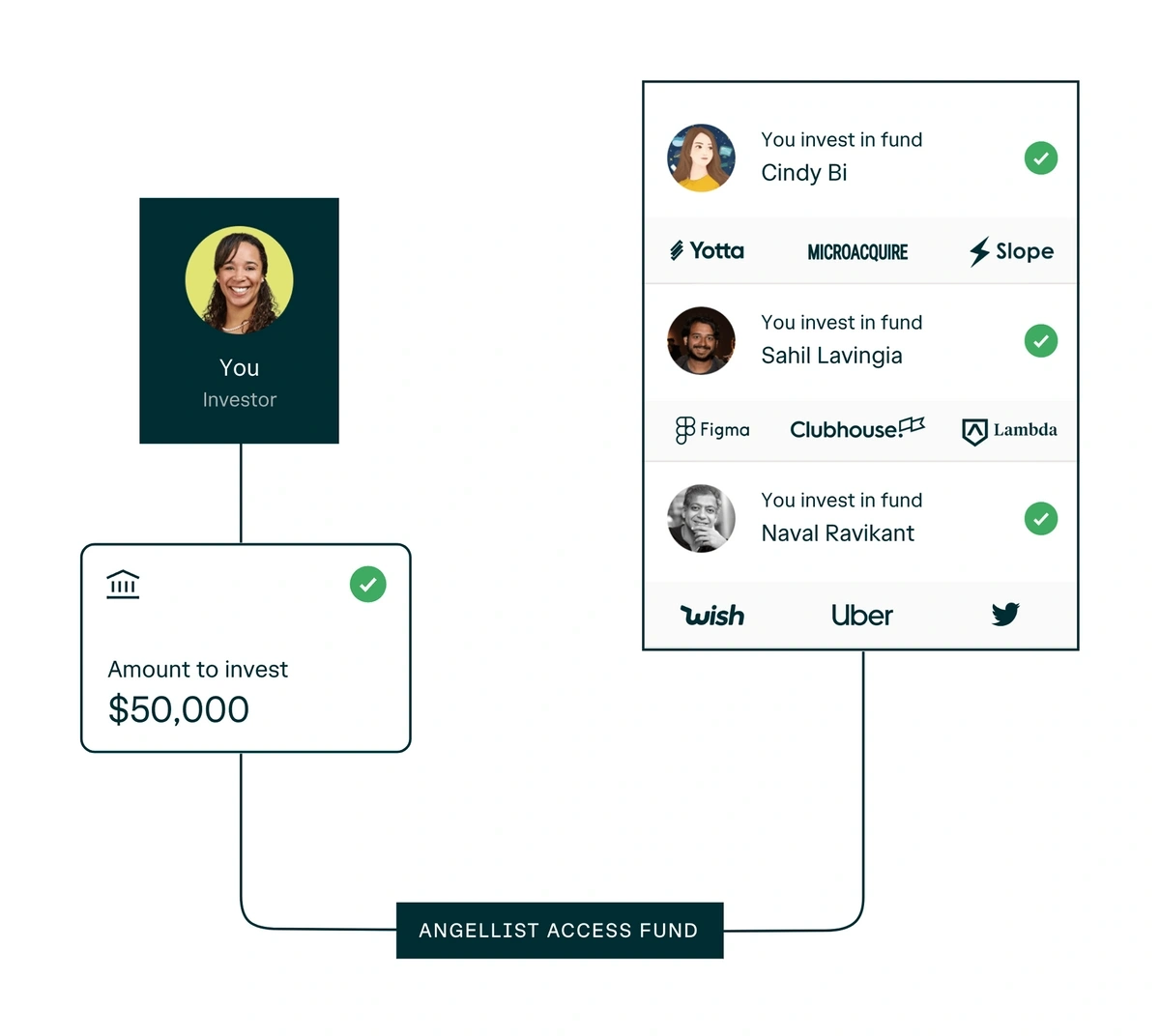 This makes investing easier for beginner investors and those that want to take a more passive approach to investing.
Many of these online fundraising platforms also offer job boards. For example, AngelList has a startup job board called Wellfound that you can browse for startup jobs.
The only drawback with these platforms is that you have to be an accredited investor to participate.
So if you aren't an accredited investor and still want to find a startup and invest a little bit of money (e.g., $100), consider using a crowdfunding platform.
WeFunder is an example of a crowdfunding platform.
Any startup or small business can create a profile and accept small investments from any user that signs up for the WeFunder platform.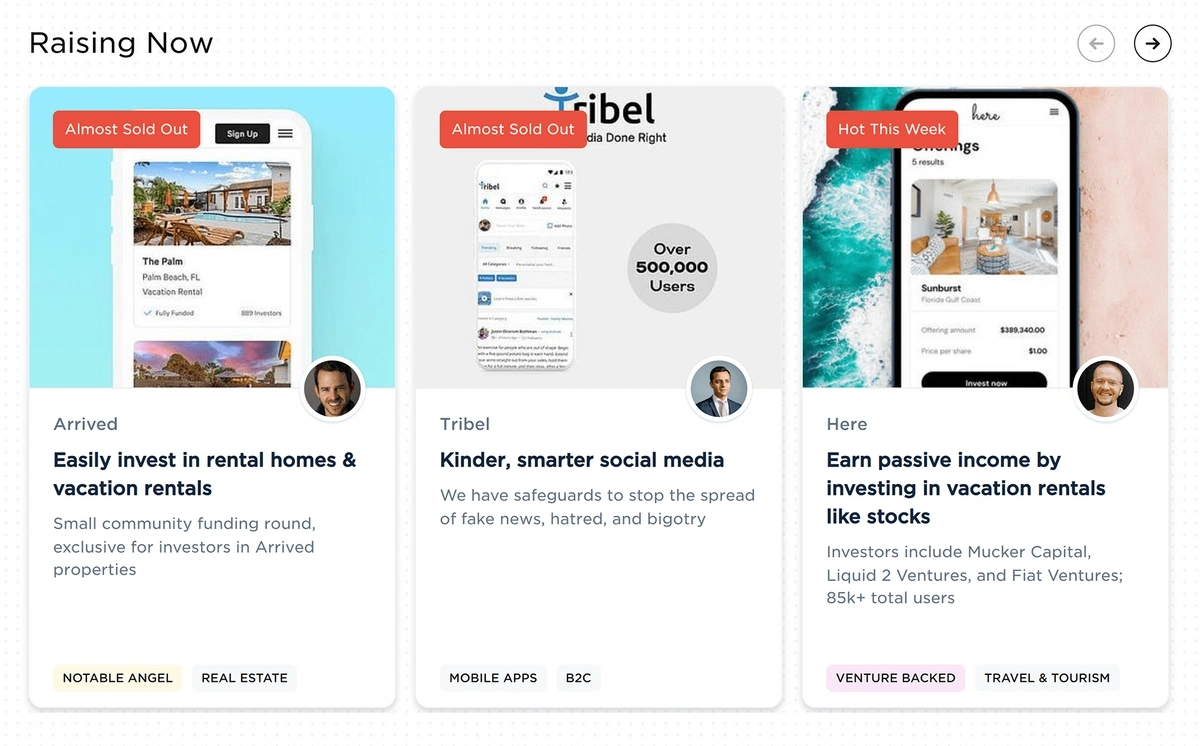 5. Companies You Already Use And Love
A key reason startups fail is that they don't find product market fit. So a great way to find companies that have found product-market fit is to identify the products and services you currently use and love.
Look at your recent credit card statement and view all of the startups you recently purchased from.
When you find a company you love, do more detailed research to gauge its growth trend. Some quick growth metrics you can find in a database like Exploding Topics or Crunchbase include:
Funding activity
Hiring activity
Acquisition history
You can also use a tool like Trends Search (an Exploding Topics Pro feature) to view the brand's Google Search volume trend, as this can give you an estimate of how it's growing in popularity:
For example, if you're using the software development program, Stackblitz, you could type the brand name into Trends Search and see that it's rapidly growing in popularity: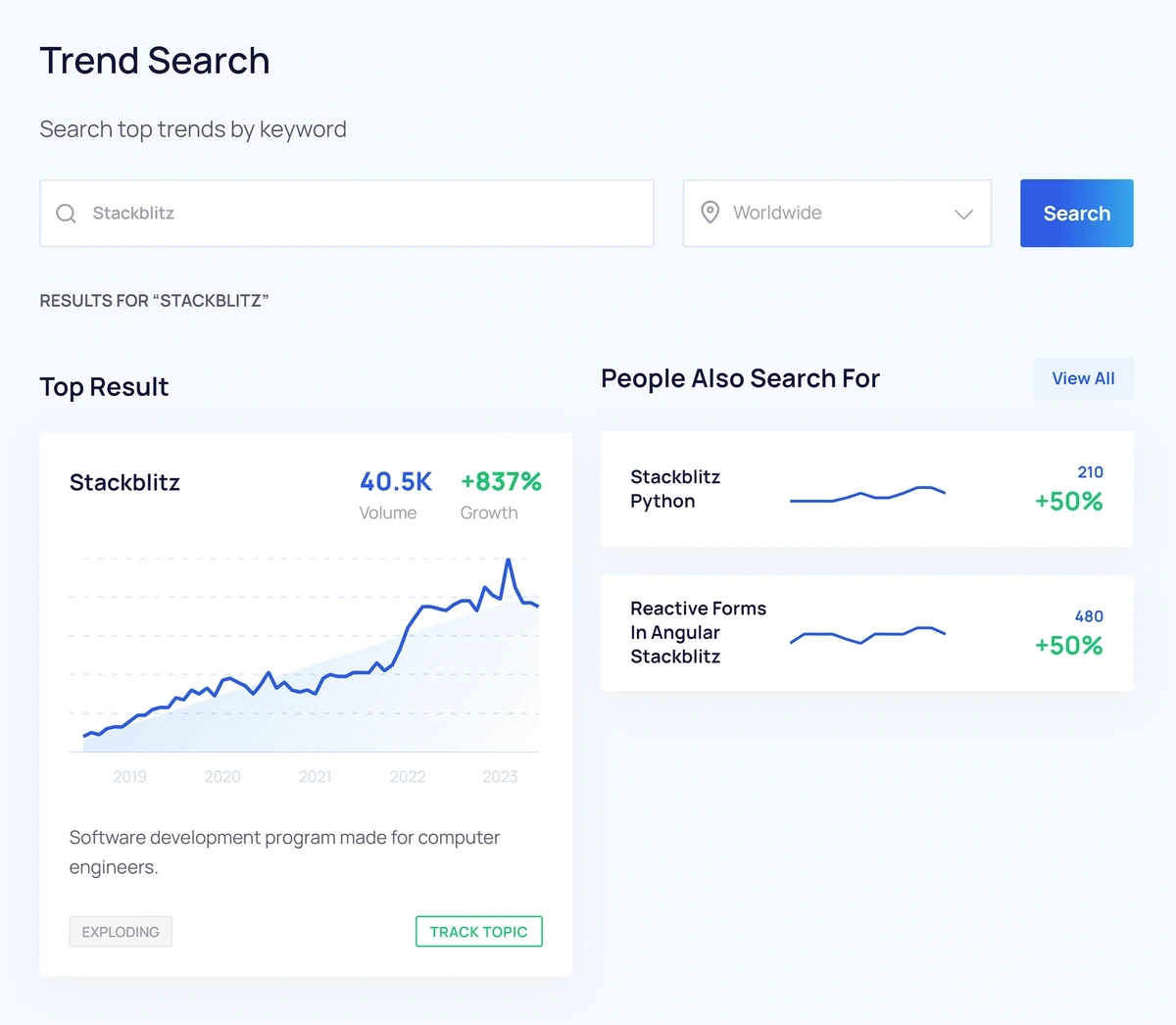 Create a list of these companies and then contact the founder or an executive on LinkedIn or through email to open a conversation.
When you reach out, mention that you're already a loyal customer and add a few specific reasons why you like the company.
Most promising startups receive hundreds of generic pitches, so showing them that you're already invested in the company can help you stand out. They'll also appreciate the customer feedback, which increases the likelihood that they'll respond.
Bonus: Level Up Your Professional Network
While the suggestions above are excellent methods to proactively find startups today, people with large, high-quality networks have an advantage in finding trending startups. You're also more likely to have an opportunity to invest or get a job at that startup if you're introduced to the founder or executive through a friend.
So here are a few bonus tips to improve your network and find more promising startups by building personal relationships.
Attend Conferences And Events
Famed investor Andrew Wilkinson stated in a recent podcast that his biggest mistake as an investor is betting on business ideas rather than founders.
Whether you're looking for a new job or investment opportunities, choose a company driven by a strong founder.
One of the best ways to meet a lot of founders and quickly get a feel for their capabilities is to attend conferences and events.
Some of the popular startup conferences that you can attend include:
The best way to make the most out of each conference is to develop a few deep connections with the right people.
So consider hosting small private dinners in the evenings. You can ask the conference manager for a list of other attendees and then send a dinner invitation to the people you want to connect with several weeks before the event.
Some conferences also have private Slack and Facebook communities for registered attendees so that you can connect before the conference.
If you're not sure how to host a party, Nick Gray's book, The Two Hour Cocktail Party, provides a simple step-by-step guide.
Connect With Influencers On Social Media
If you don't have time to attend events, you can also build relationships with people on social media.
The problem is that most people don't know how to build genuine relationships on social media.
It's tempting to send a pitch to an industry influencer and ask them to get on a quick Zoom call "just to connect." However, most industry influencers receive hundreds of these pitches each month and the calls rarely benefit the influencer.
As a result, you probably won't receive a response using that pitch.
A more effective way to connect with influencers and begin a relationship is by leaving thoughtful comments on their content.
After engaging with them in the comments section, send them a DM with an intelligent question about a post they recently published. The key to receiving a response from a busy person is to limit the entire message to one or two sentences and reference something they've said.
Assuming the person is a micro-influencer (less than a few hundred thousand followers), they'll probably notice that you've been commenting on their content and appreciate the support. As a result, most will respond to your DM.
Once you've had a few correspondences with that person, you could ask them about the startups they think are most promising.
Create Your Own Content
You can always initiate new relationships, but if you want to attract the right people to you so that you aren't always doing outreach, create your own content.
A few examples of people that have built strong followings across different platforms include:
You can build a following on any platform, so choose the one that you enjoy the most as consistency and content quality are the most important factors when creating content.
How to Begin The Startup Research Process Today
If you're not sure how to get started, the easiest method is to browse startup directories.
As many of these directories provide a seemingly endless list of startups, getting started can feel overwhelming. That's why Exploding Topics provides trend data so that you can quickly identify the startups that are gaining the most traction.
So start by selecting a category that interests you (health, pets, etc.) and then sort it by trend status (exploding). This will give you a list of the fastest growing startups in that category, along with other metrics like funding data and employee headcount.
You can browse the Exploding Topics Trending Startups database by starting a free trial today.