Top 11 Beauty Trends (2023-2024)
The beauty industry continues to evolve with new research and ingredient formulations, as well as new aesthetic trends.
Consumers are continually demanding ingredients that will pamper the skin and help them age gracefully. But women who are looking to achieve a bolder type of beauty are driving new trends like micro bangs and chrome makeup.
Check out our list of the top 11 beauty trends that are expected to influence the market in the coming years.
1. Astaxanthin Supplements
Vitamin C is often seen as a powerhouse antioxidant that's great for the skin, but astaxanthin is proving to be even stronger.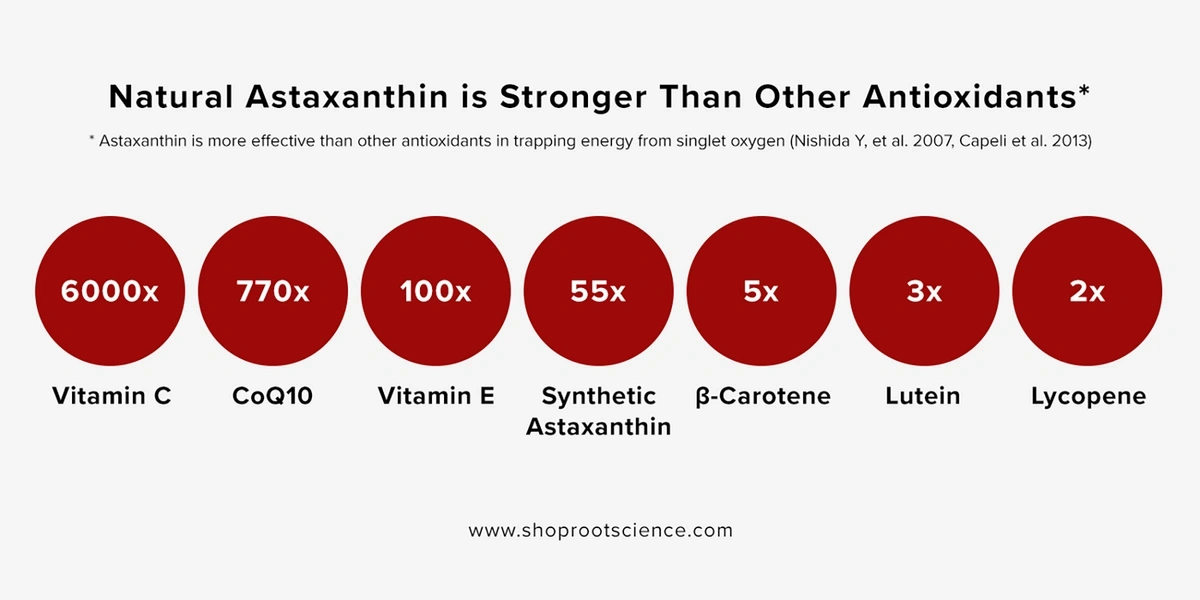 Research shows astaxanthin is 6,000x more antioxidant power than vitamin C.
This antioxidant comes from the carotenoid family and naturally occurs in marine organisms like microalgae, crustaceans, salmon, shrimp, and others. It's responsible for giving these things their pink appearance.
In humans, astaxanthin helps slow the skin's aging process and protects it from stress like UV exposure and pollution. It can also reduce hyperpigmentation, collagen breakdown, and wrinkle formation.
Astaxanthin can be found in many creams and serums, but consumers get the best results when they also take it as an oral supplement.
This taps into a bigger beauty trend: consumers using oral supplements to support their skin and hair from the inside.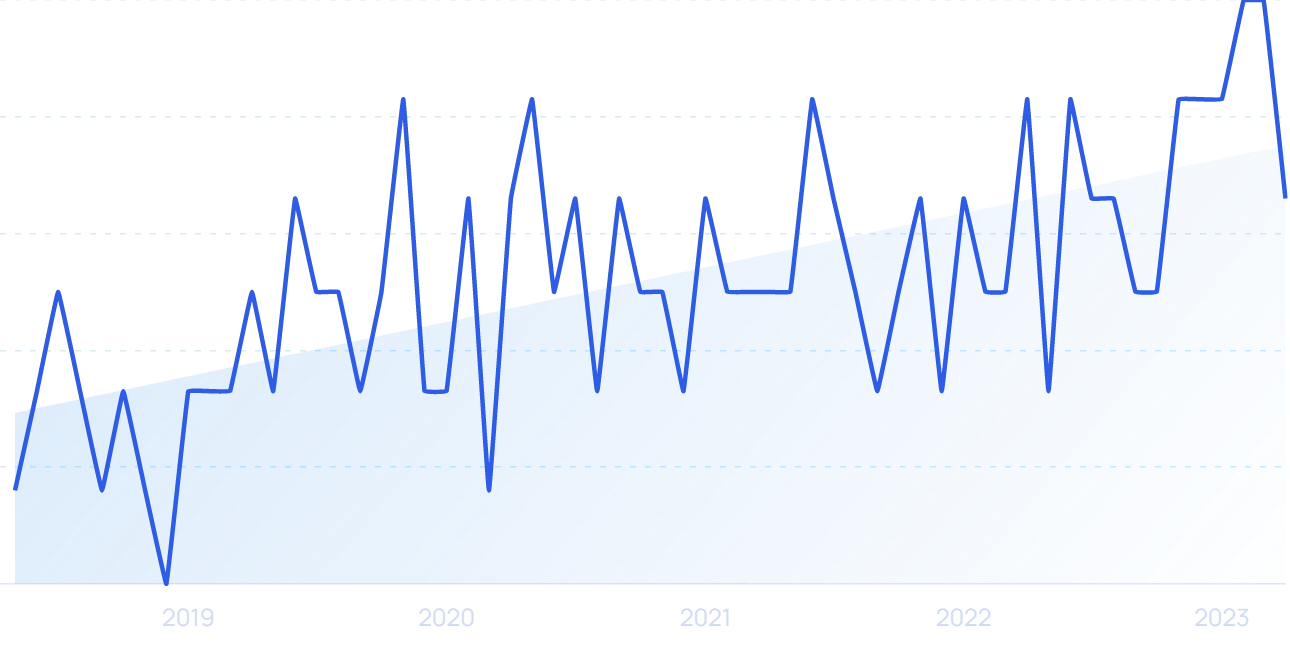 Search volume for "skincare supplement" is up 300% in the past five years.
Scientific research backs this up.
In a 2019 study of 50 women ages 35-65, participants were given supplements with a blend of vitamins and minerals. The study group showed marked improvements at week 8 compared to the placebo group. Noticeable results included improved firmness, hydration, and overall skin appearance.
As just one example, astaxanthin is part of the SuperBeauty supplement from Moon Juice.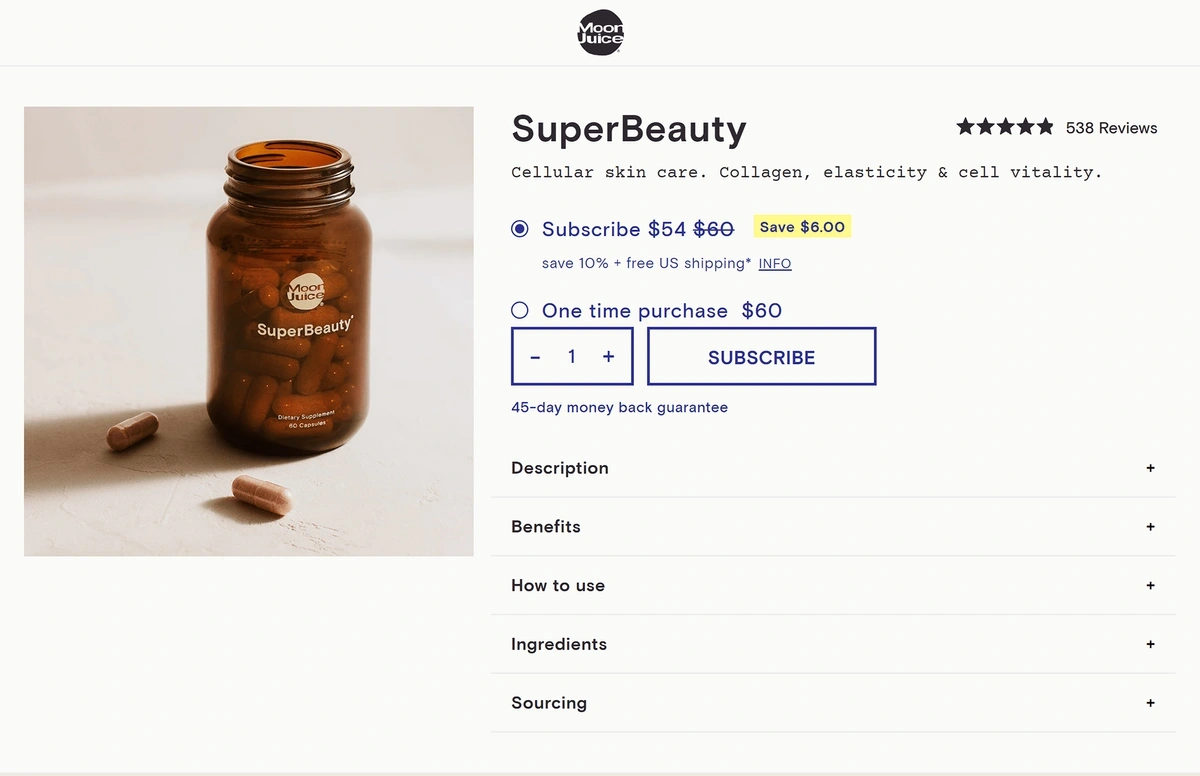 The SuperBeauty supplement from Moon Juice includes powerful antioxidants like astaxanthin, glutathione, and vitamin C.
2. Double-duty Concealer Serum
In many ways, the beauty industry is blurring the lines between skincare and makeup.
Concealer serum is one example.
It's part concealer that covers dark circles under the eyes and acne scars anywhere on the skin. It's also part serum, delivering the creamy texture and all the benefits of a moisturizer serum.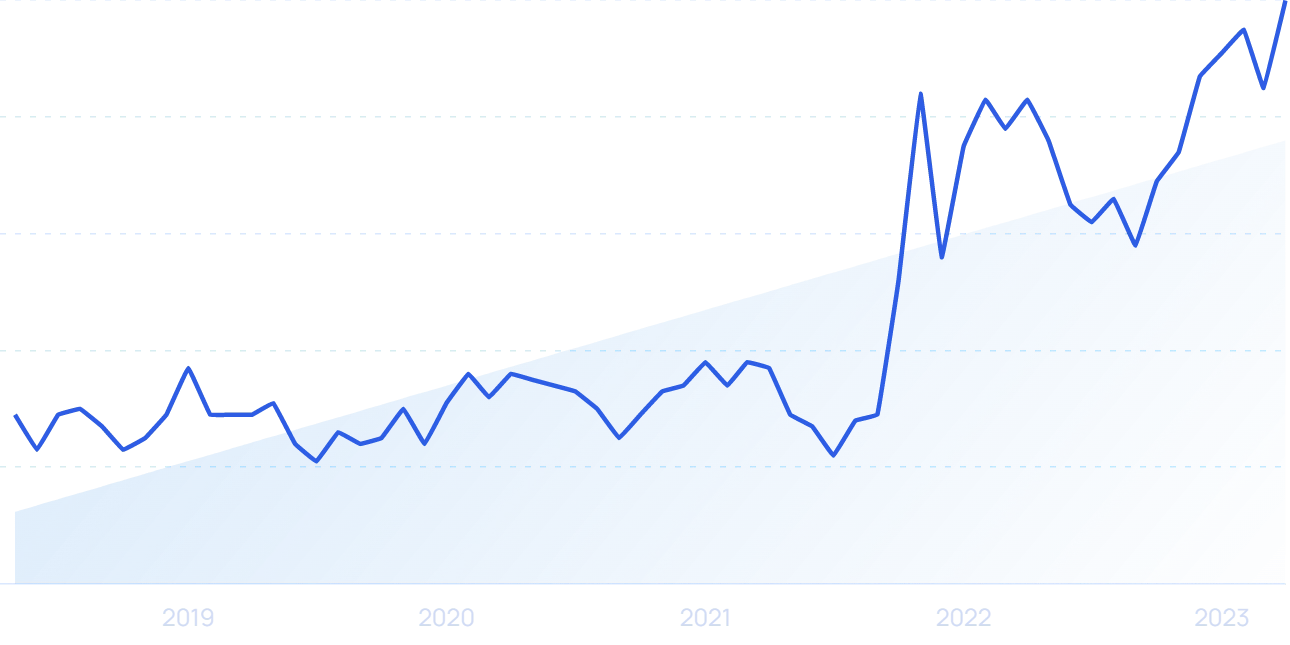 Search volume for "concealer serum" is up nearly 250% in five years.
Many consumers are choosing concealer serums because they're tired of traditional concealers becoming heavy and cakey in the under-eye area. Concealer serums blend into the skin well and offer the right amount of coverage.
Trinny London's BFF Eye is a concealer serum formulated with hyaluronic acid, vitamin C, and rosemary leaf extract.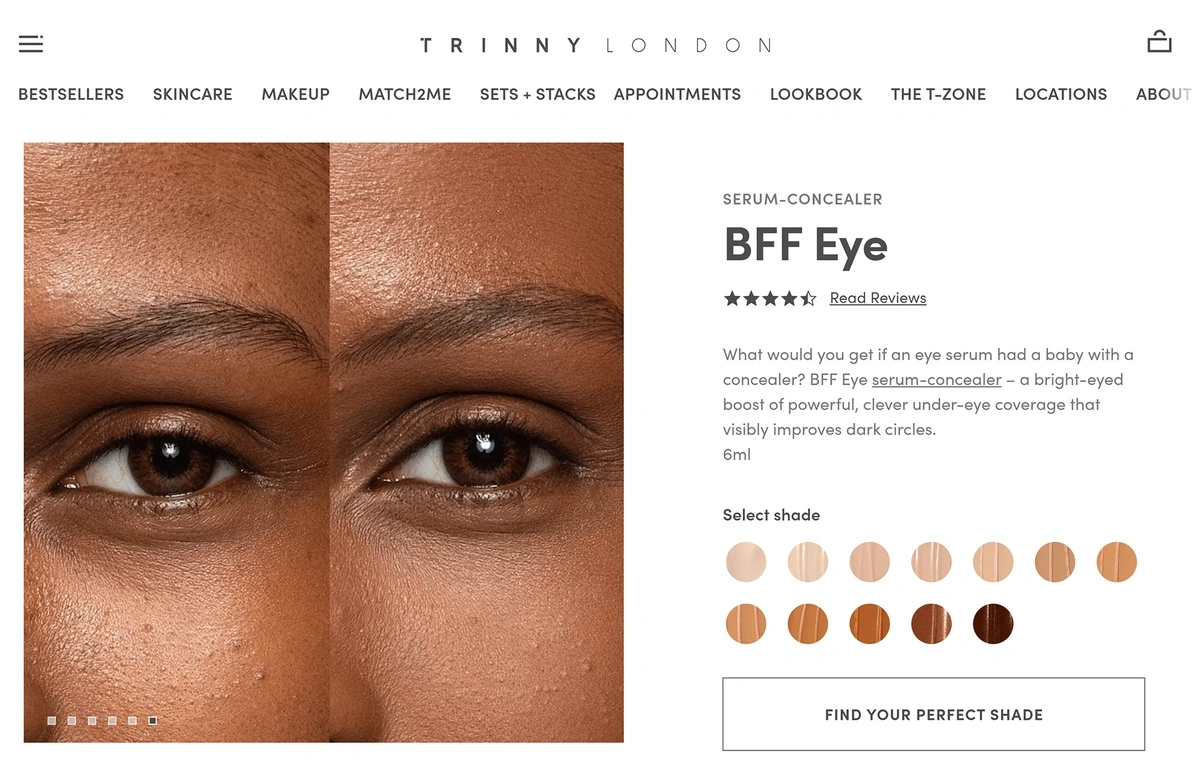 BFF Eye is a smooth formula that doesn't settle in the creases of the eye.
The brand says they sell a tube of this serum every 15 seconds.
NYX's Bare With Me concealer serum is another product that's gone viral.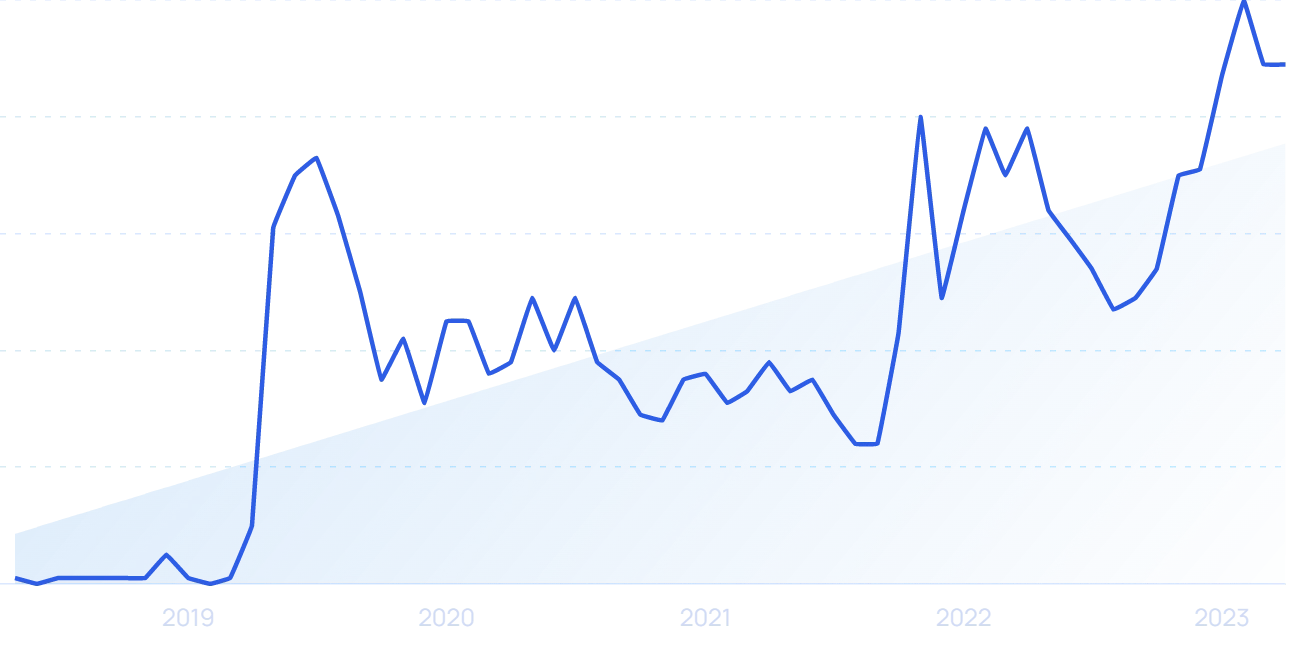 Search volume for "NYX Bare with Me" jumped in 2019 when it was released and jumped again in 2022-23.
It's a medium-coverage concealer that's made with green tea, tremella mushrooms, and cica extract.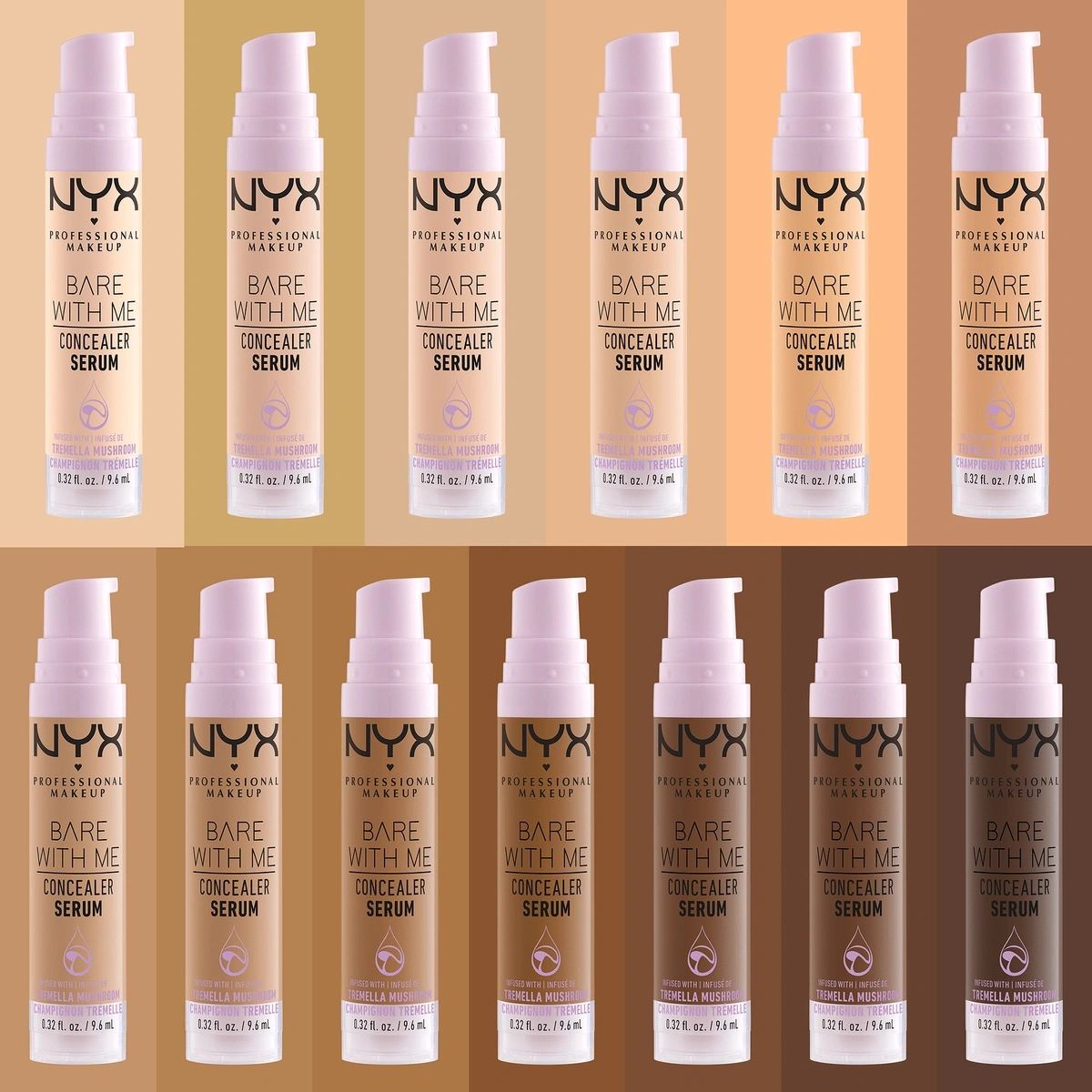 Bare with Me comes in 17 unique shades.
Because it blends so well and offers lightweight coverage, many women say they wear concealer serums on the days they want a no-makeup look.
This is particularly true for women who are following the minimalist makeup trend—having their makeup look like their own skin instead of weighed down by products.
3. Upgraded Under-eye Patches
Consumers who want to transform their tired eyes in the morning now have several upgraded under-eye patches to choose from.
The trend is all over TikTok—#eyemask has more than 280 million views and #eyepatches has nearly 155 million views.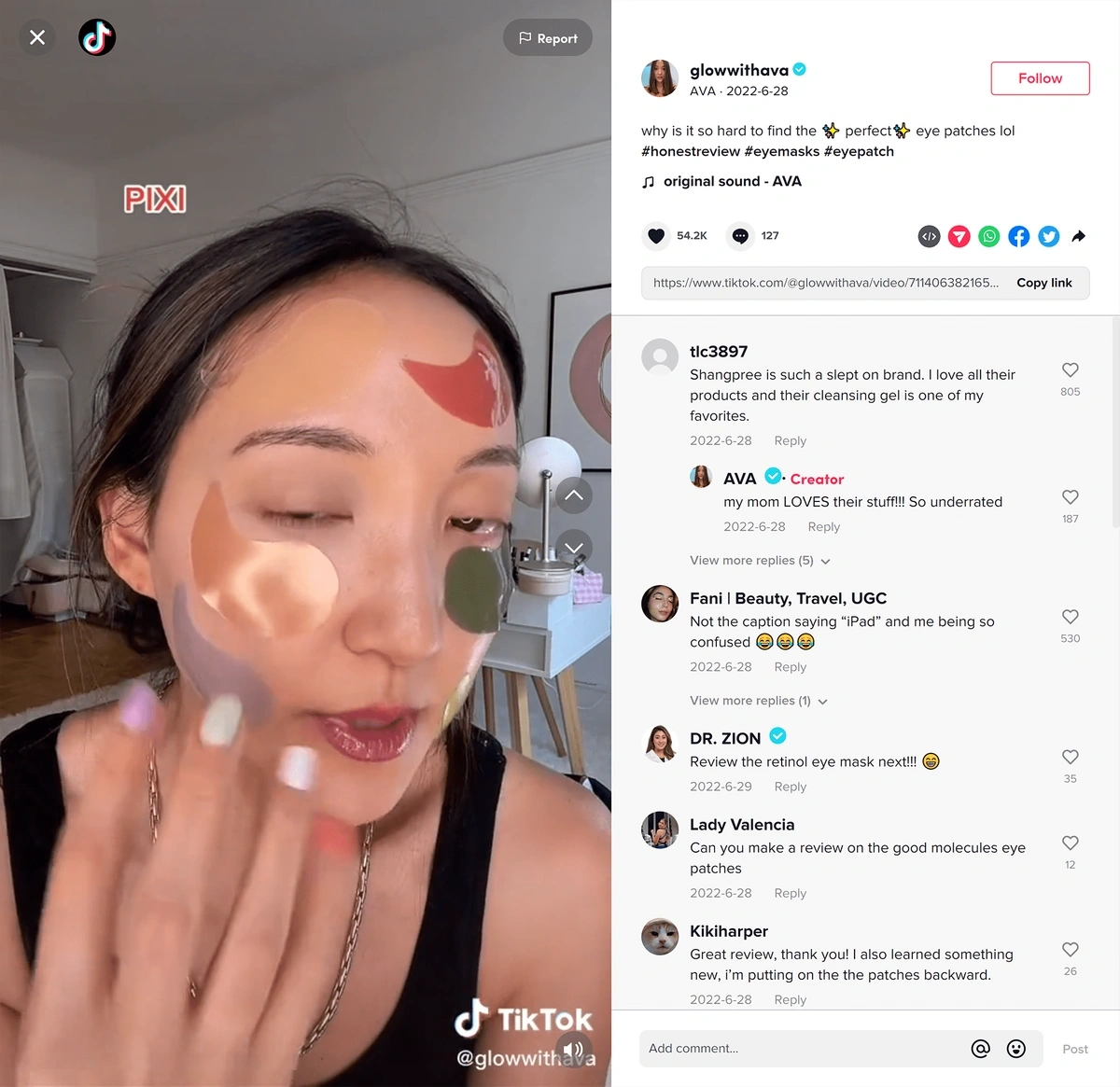 Beauty influencer @glowwithava recently reviewed several under-eye patches.
Consumers are reaching for eye masks for a number of reasons.
Because the skin under the eye is so thin, blood vessels easily show and create the dreaded under-eye dark circles. But there are also wrinkles, fine lines, and dryness around the eyes.
Eye masks can target all of these issues.
For example, Peter Thomas Roth offers 24k gold eye patches that they say lift and firm the skin around the eyes in as little as 10 minutes.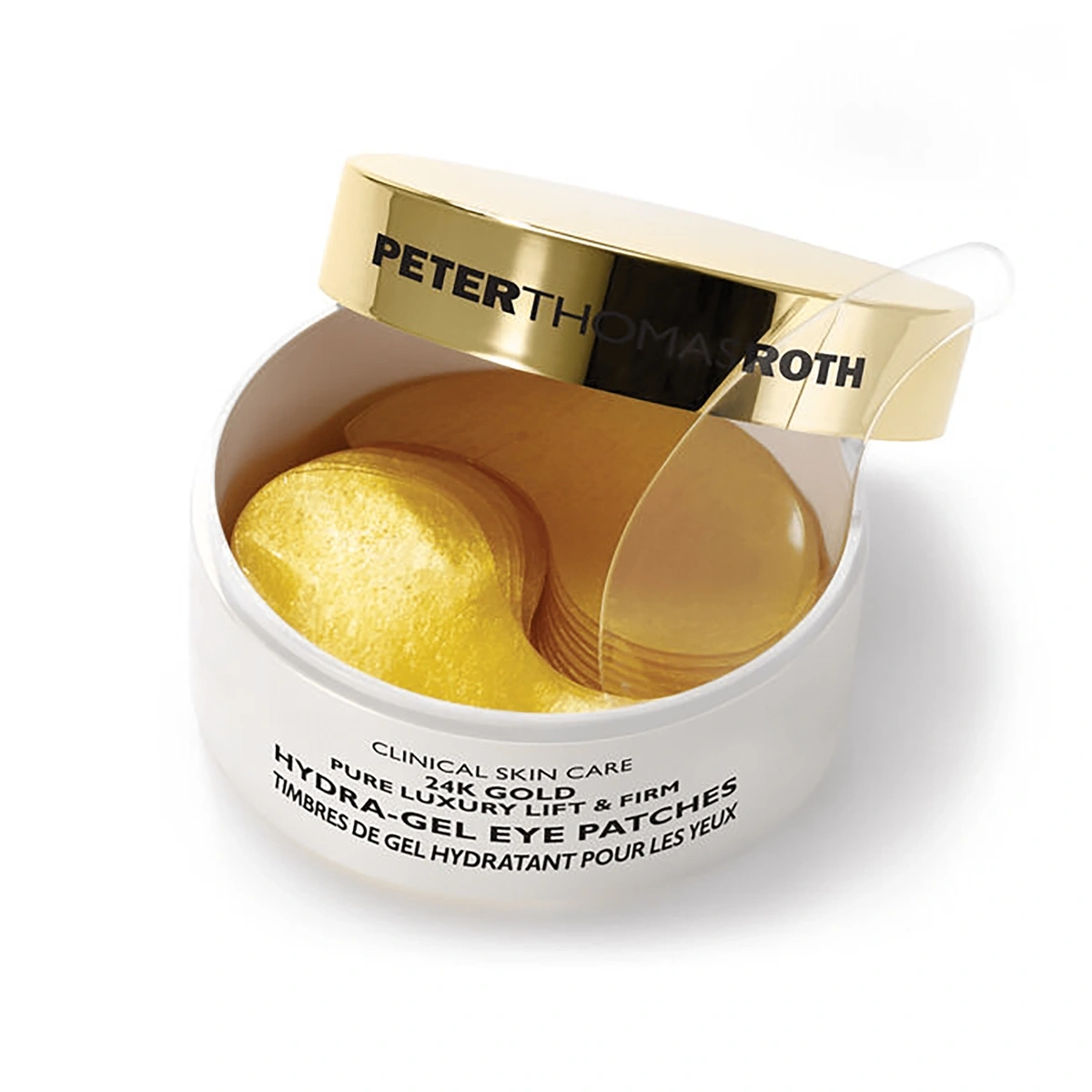 These eye patches from Peter Thomas Roth are infused with 24k gold and colloidal gold.
Eye patches have also recently gotten a sustainability upgrade.
Traditional eye masks are disposable and their active ingredients are absorbed after one use. But reusable eye masks can be applied and removed dozens of times, and users can utilize the eye patches in conjunction with their own favorite serums and creams.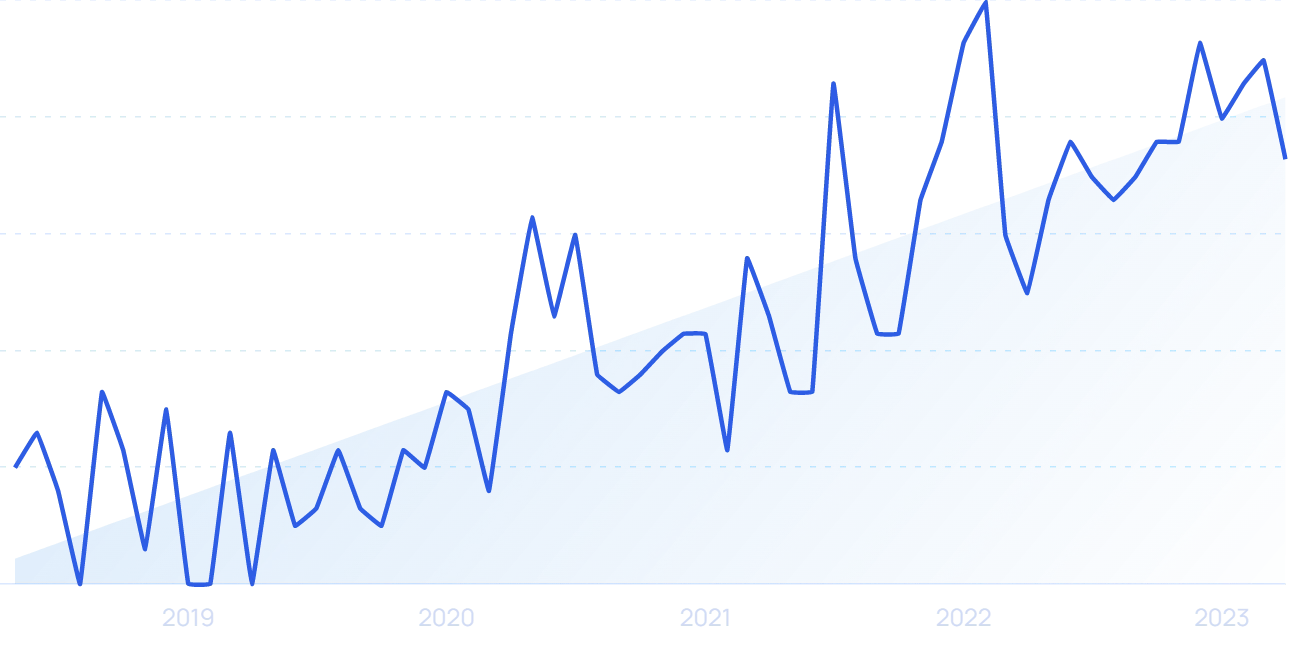 Search volume for "reusable eye mask" is up 266% since 2019.
Considering more than 50% of consumers say they'll pay more for products that are designed to be reused, sustainable products are an important new product category for beauty retailers.
Skincare company Dieux Skin worked with Bluebird, a sustainability consultancy firm, in creating their Forever Eye Mask.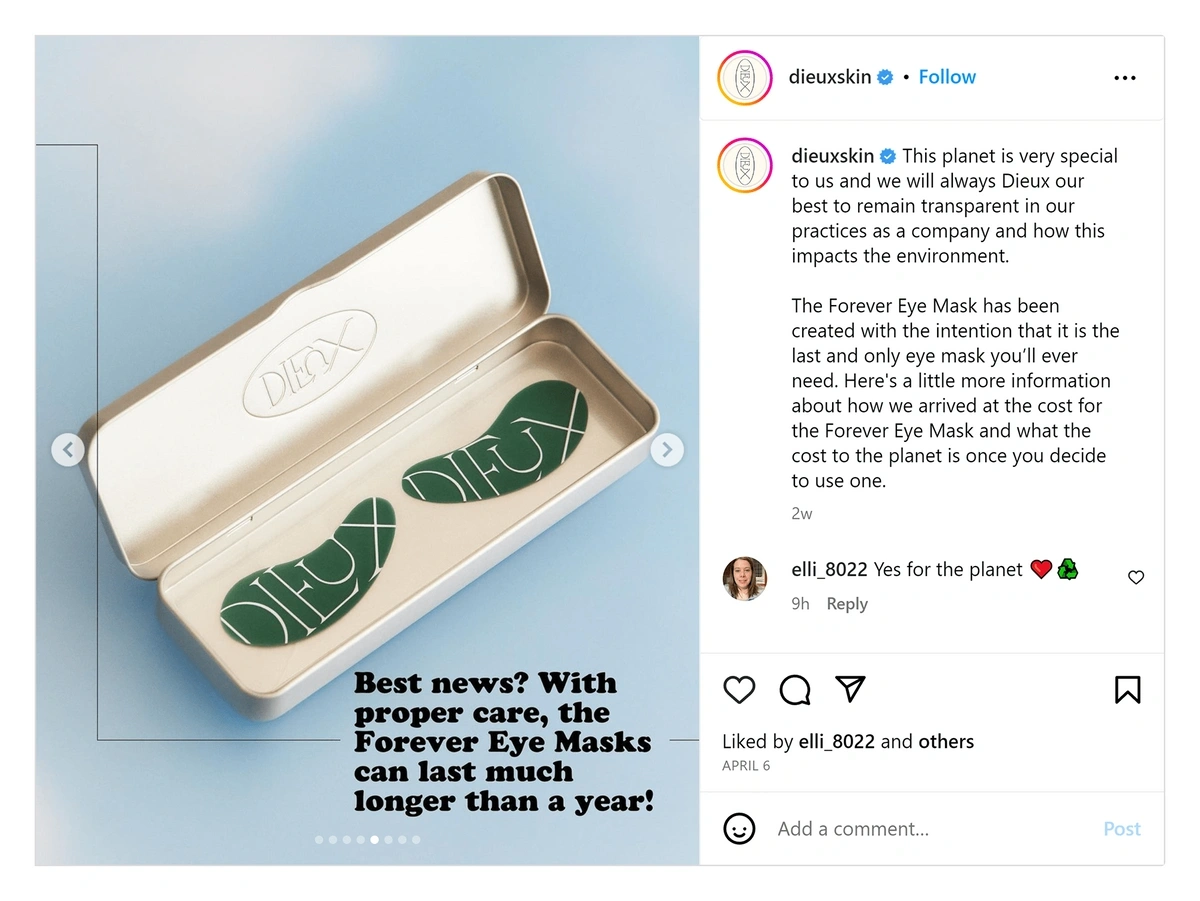 The Forever Eye Mask reportedly saves 3.1 kg of water and 1.4 kg of plastic waste per user every year.
In testing, the silicone-based product sustained daily use for an entire year before the logo started to fade.

Search volume for "Dieux Skin" has jumped 2,000% in the past five years.
4. Moisture Boost with Ceramides
In 2022, ceramides were named to the Top 5 Beauty Trends list by Whole Foods.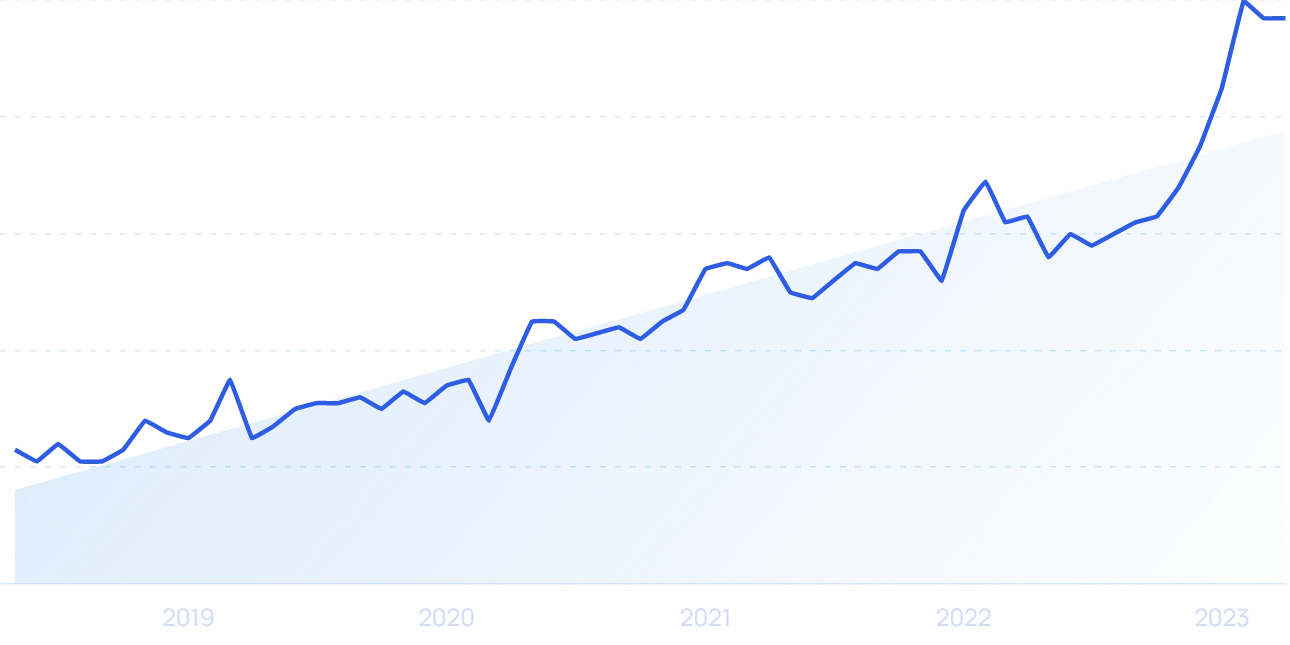 Search volume for "ceramides" is growing, up nearly 300% since 2019.
The trend list from Whole Foods was focused on clean skincare products with natural ingredients, and ceramides fit that bill perfectly.
Ceramides are a type of naturally-occurring fat that make up more than 50% of the skin's composition. They contribute to the skin's firmness and hydration, but they can be damaged by sun exposure and the aging process.
By adding ceramides back to the skin, consumers are hoping to increase hydration and get a plumper, firmer appearance to their skin.
InStyle ranks BeautyStat's Universal Moisture Boost Cream as the top ceramide moisturizer available today.
In addition to ceramides, it contains reishi mushroom extract, essential fatty acids, and hyaluronic acid.

The Universal Moisture Boost Cream is suitable for all skin types.
As with astaxanthin, ceramides are widely available in topical applications, but more and more consumers are now increasing the potency by taking them orally.
For example, the Boost beauty supplement from Paula's Choice includes ceramides with the goal of strengthening the skin's moisture barrier.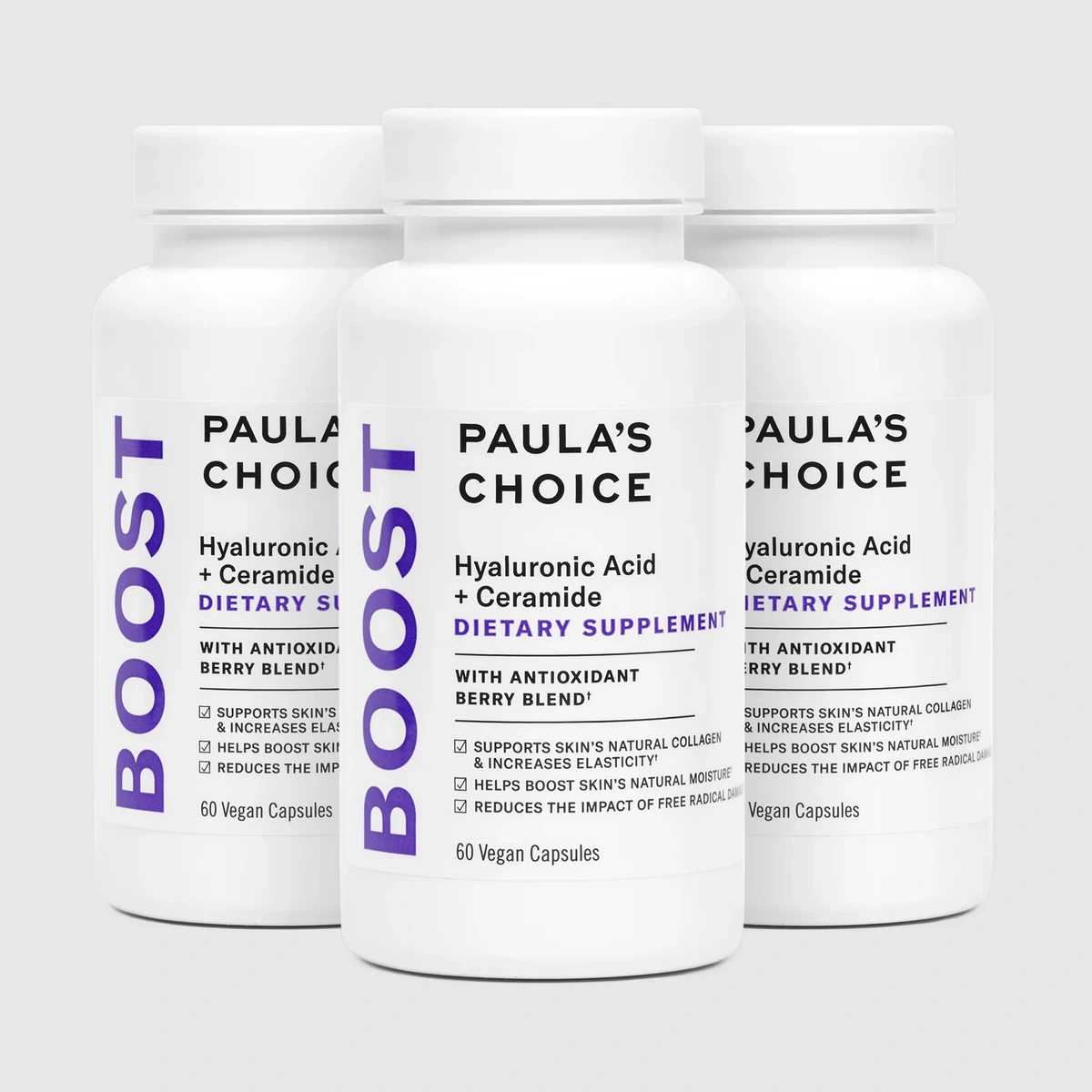 The oral supplement from Paula's Choice is the first of its kind at the beauty company.
5. Updated Rice Water Hair Treatments
Rice water treatments are trending beauty products for consumers who want to add shine to their hair and make it grow quicker.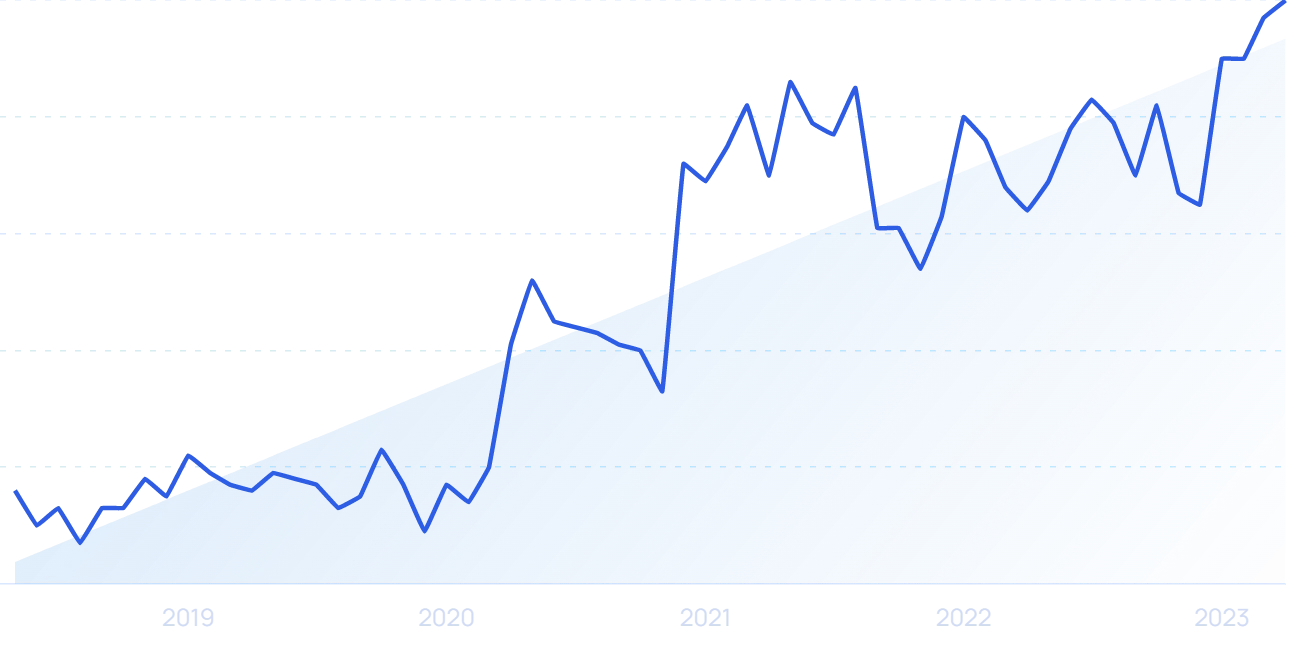 Search volume for "rice water shampoo" has increased more than 500% in recent years.
Hairstylists say that the vitamins and minerals in rice water include vitamins B and C, magnesium, potassium, selenium, amino acids, and more.
This trend actually began in Asian cultures hundreds of years ago.
During the 800s to the late 1100s, court ladies in Japan had beautiful floor-length hair. These women reportedly rinsed their hair every day in Yu-Su-Ru—the water used during the rinsing of rice.
Fast forward to 2023 and #ricewater has 690 million views on TikTok.
The social platform has popularized a DIY way to get rice water shampoo: rinse rice, save the water, and massage that water into the hair.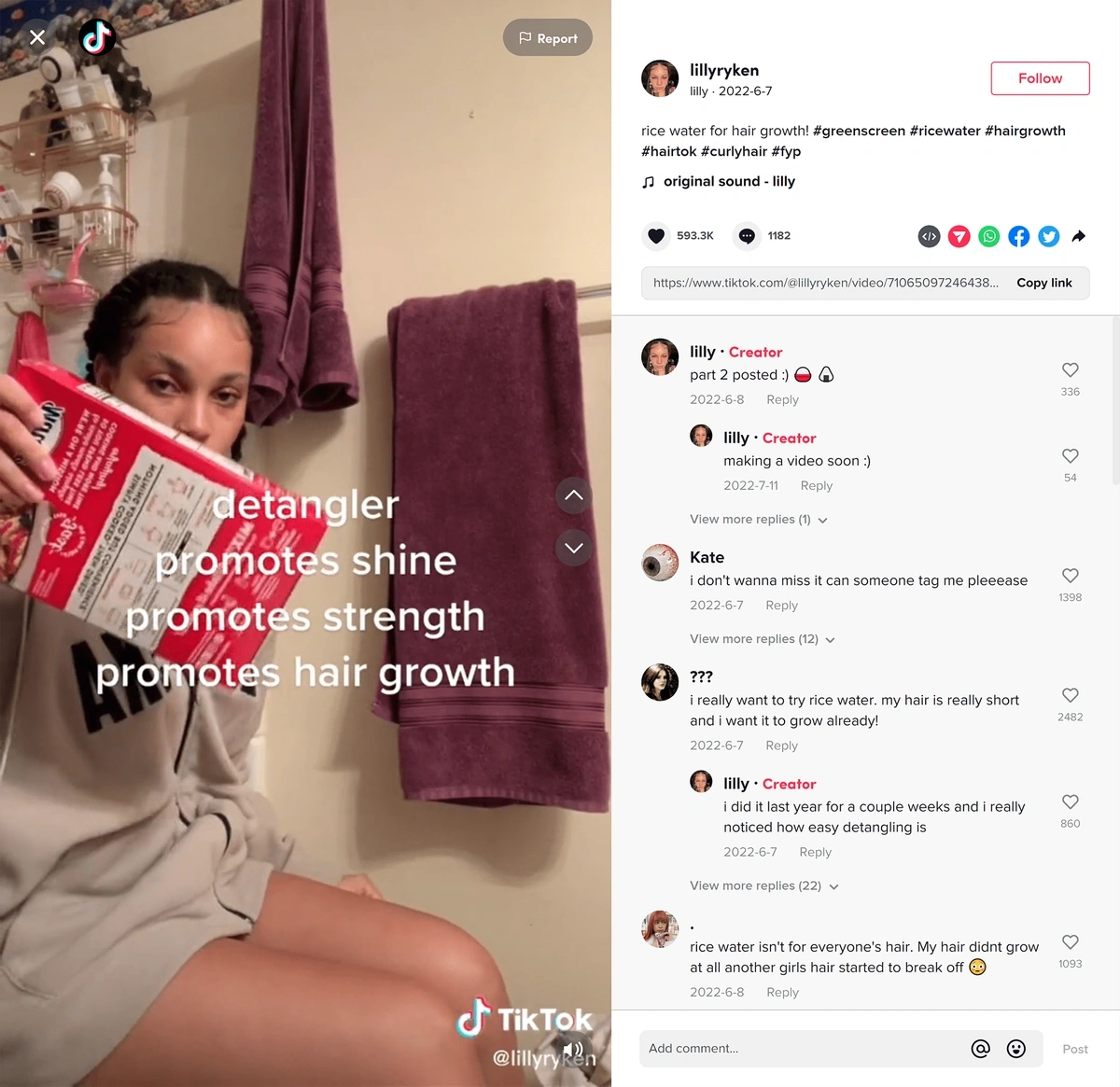 TikTok user @lillyryken had nearly 600,000 likes on her video about rice water shampoo.
For consumers who don't want to go the DIY route, haircare companies have come out with a plethora of rice-focused hair treatments.
Take Briogeo's Megastrength + Protein + Moisture treatment, for example.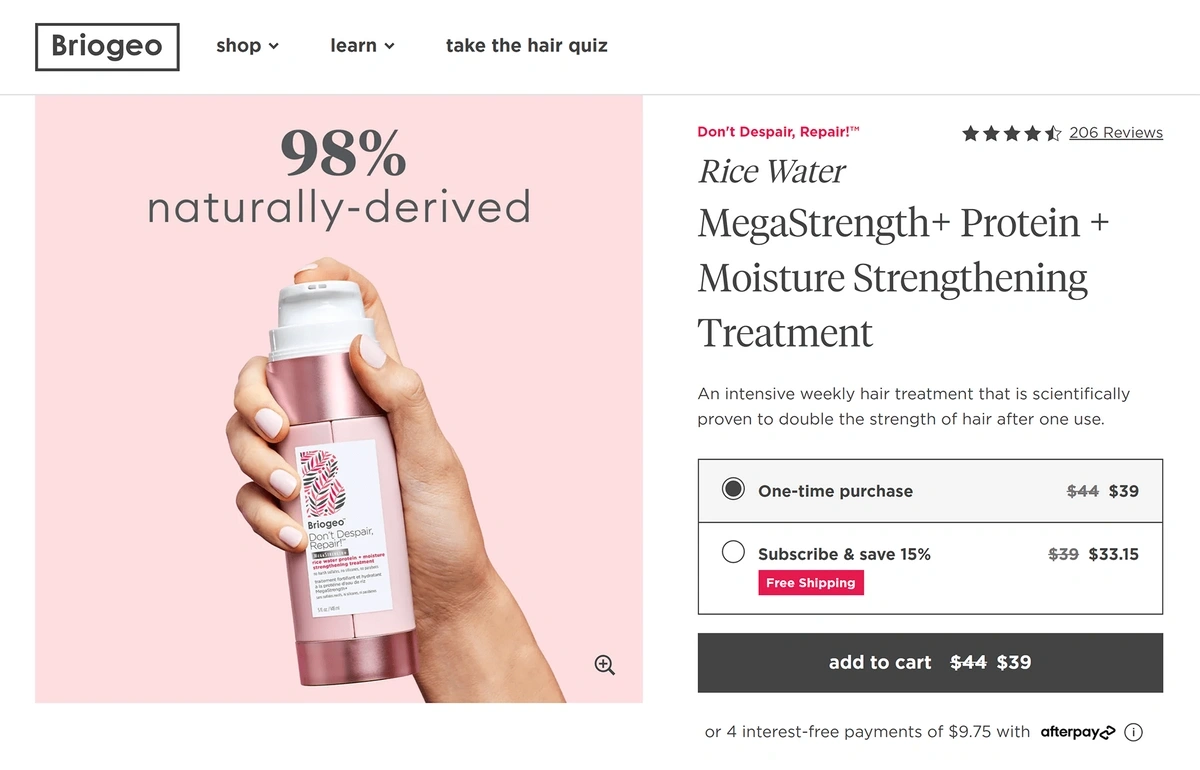 Briogeo's hair treatment contains rice protein along with rosehip oil, algae extract, and vitamins.
The product is formulated with rice water protein that protects hair from damage. It hydrates and strengthens the hair, too.
There is a catch to this trend, though, experts say. Two treatments per week for a maximum of 15 minutes is really all the hair can stand. That's because the protein left behind by the rice water can build up and irritate the scalp.
6. Camera-Ready Pimple Patches
Treating acne has traditionally been an embarrassing, painful process, but today's beauty consumers are getting help from pimple patches. And they're proud of it!
Justin Bieber was recently photographed out and about in Los Angeles wearing two pimple patches.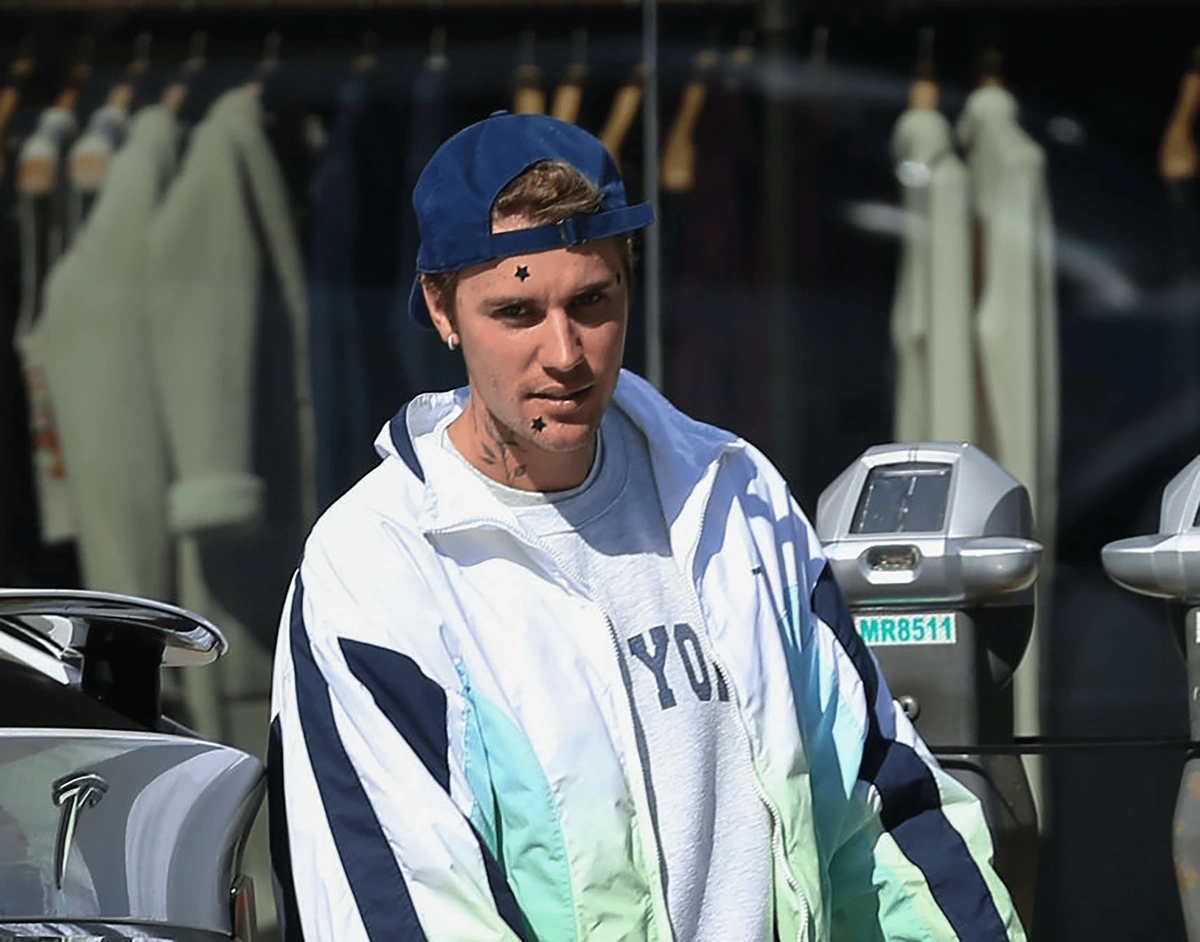 Justin Bieber wears Starface pimple patches.
These patches are made from hydrocolloid, a gel-like material that's used in wound healing.
They're able to protect acne from irritation and draw out impurities.
Bierber's favorite pimple patches from Starface have become incredibly popular in recent months.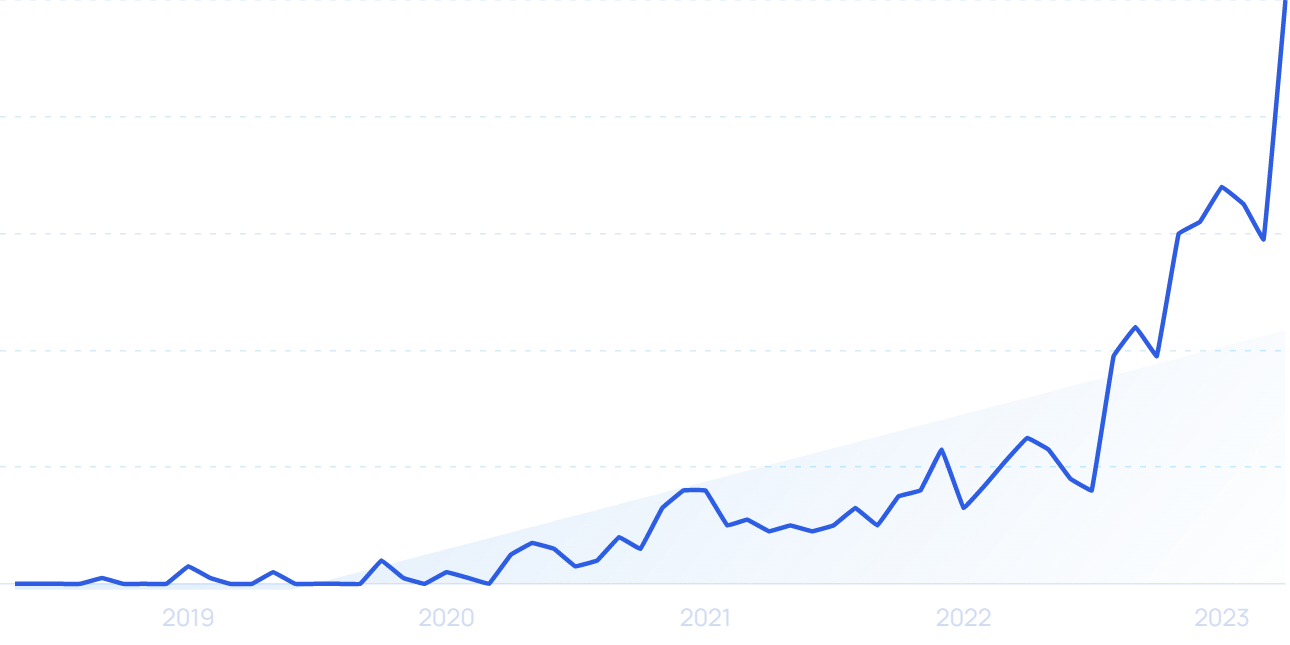 Search volume for "Starface pimple patches" has exploded in recent months.
The company has made a business out of treating pimples in a trendy, influencer-approved way.
Their original hydro-star patches come in a variety of colors—black, yellow, blue, and rainbow.
And, the company has collaborated with Hello Kitty on four different occasions to create a limited-edition pimple patch.
The design sold out in 72 hours and more than 10,000 people signed up on the waitlist.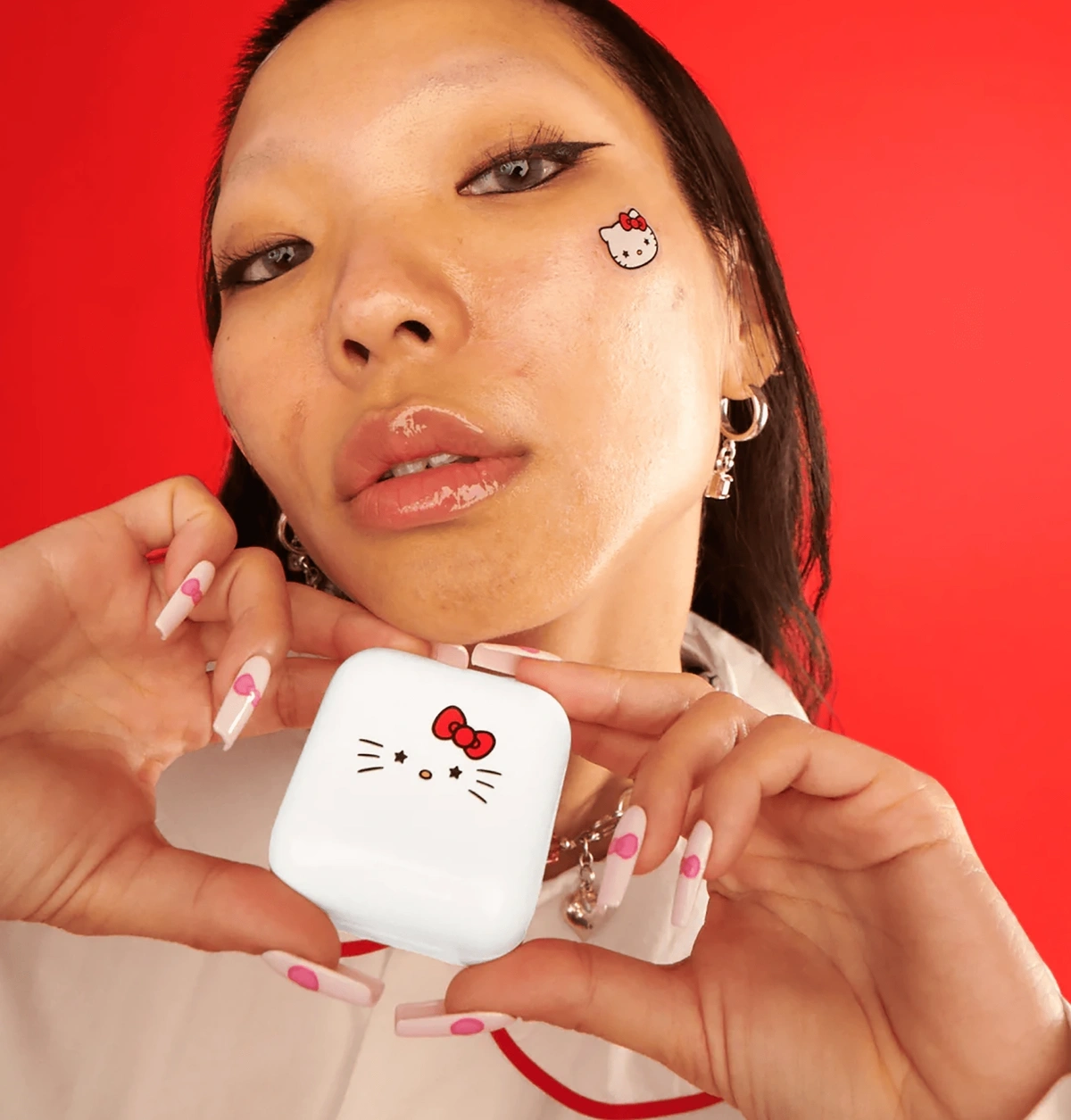 The Hello Kitty pimple patches came with a branded carrying case.
There are several skincare companies that are creating acne patches designed specifically for men, as well.
Disco, a Texas-based men's skincare company, offers their pimple sticker, which utilizes self-dissolving microneedles to treat pimples.
Another skincare company targeting men is Stryx.
Their pimple patches are opaque, appealing to men who are more modest about their skincare treatments.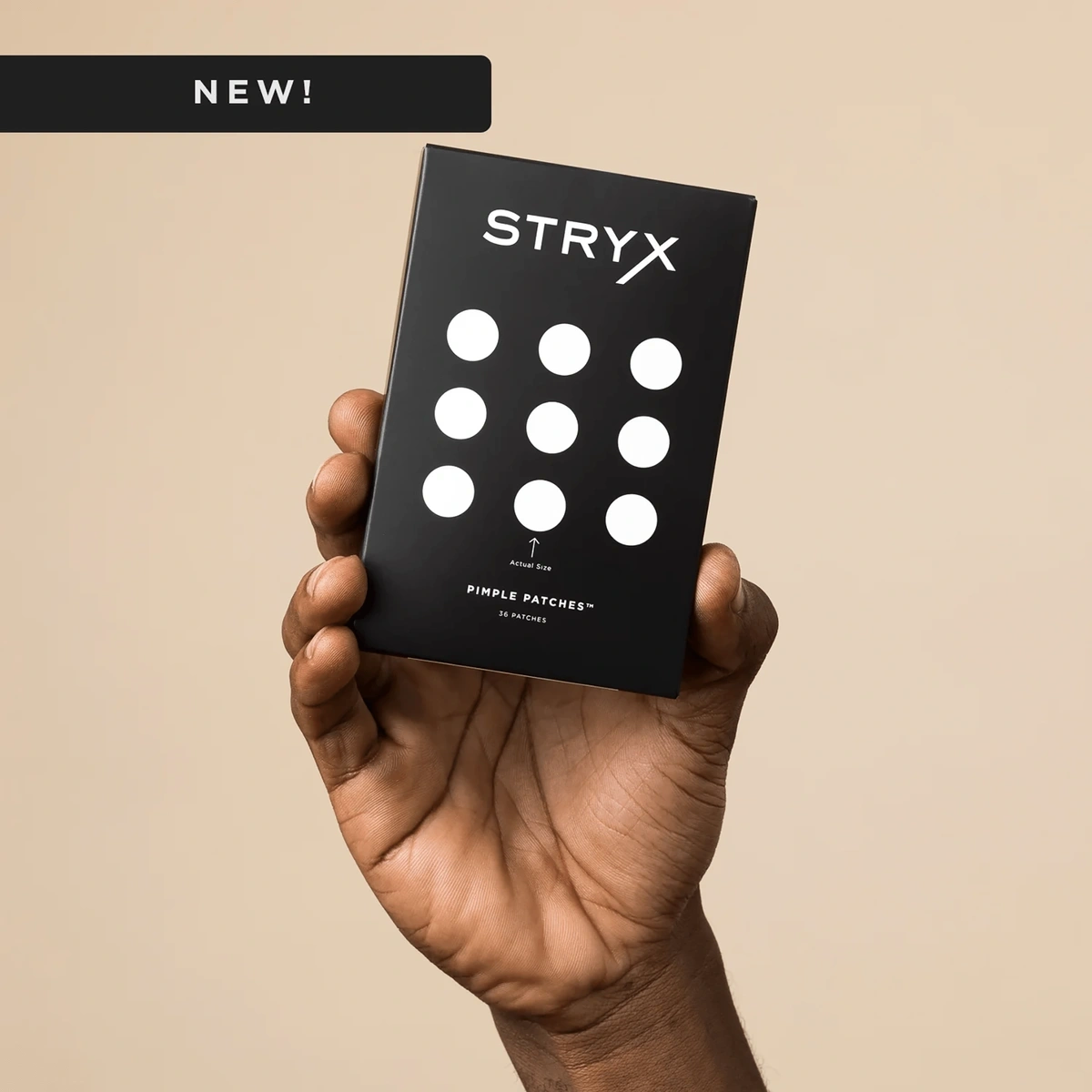 Pimple patches from Stryx are 100% hydrocolloid.
7. Preppy Hair and Skin Care
Preppy styles are trending in several sectors of the beauty industry.

Search volume for "preppy aesthetic" has skyrocketed in the past two years.
Beauty and fashion experts say that a large part of this trend is inspired by Gossip Girl and the show's main character Blair Waldorf.
Glamour reports that "preppy hair accessories" has seen a 4,200% increase in Google searches in recent months.
Hair bows, ribbon headbands, pearl-adorned clips, long sleek hair, and ballerina buns are a few of the ways this trend is showing up.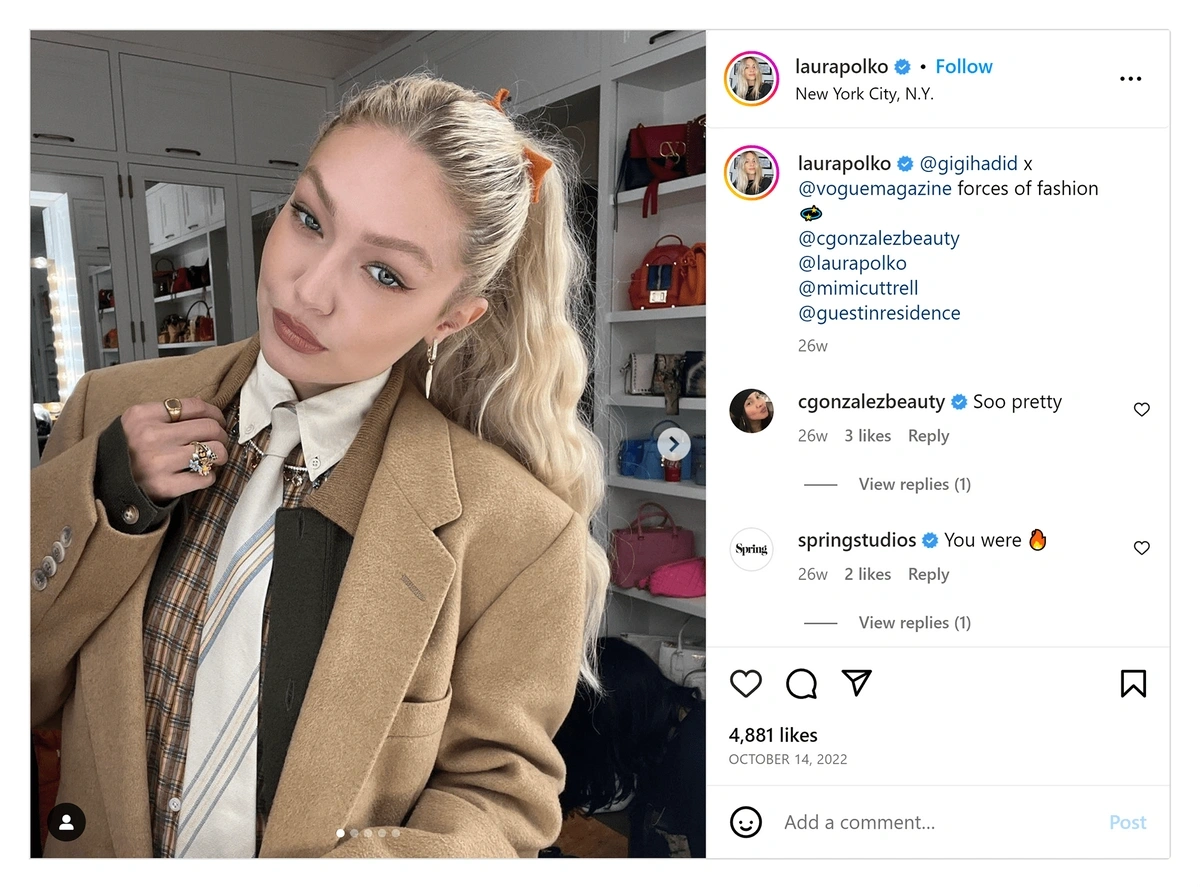 Preppy fashion and preppy beauty are trending on Instagram.
Preppy skin care is also gaining popularity.
This trend emphasizes a minimalist, clean look for makeup. But it also emphasizes the colors of the packaging and products themselves.
The color and appearance of the packaging is critical because many beauty consumers are displaying these products as decorative elements on their dressing tables or bathroom counters.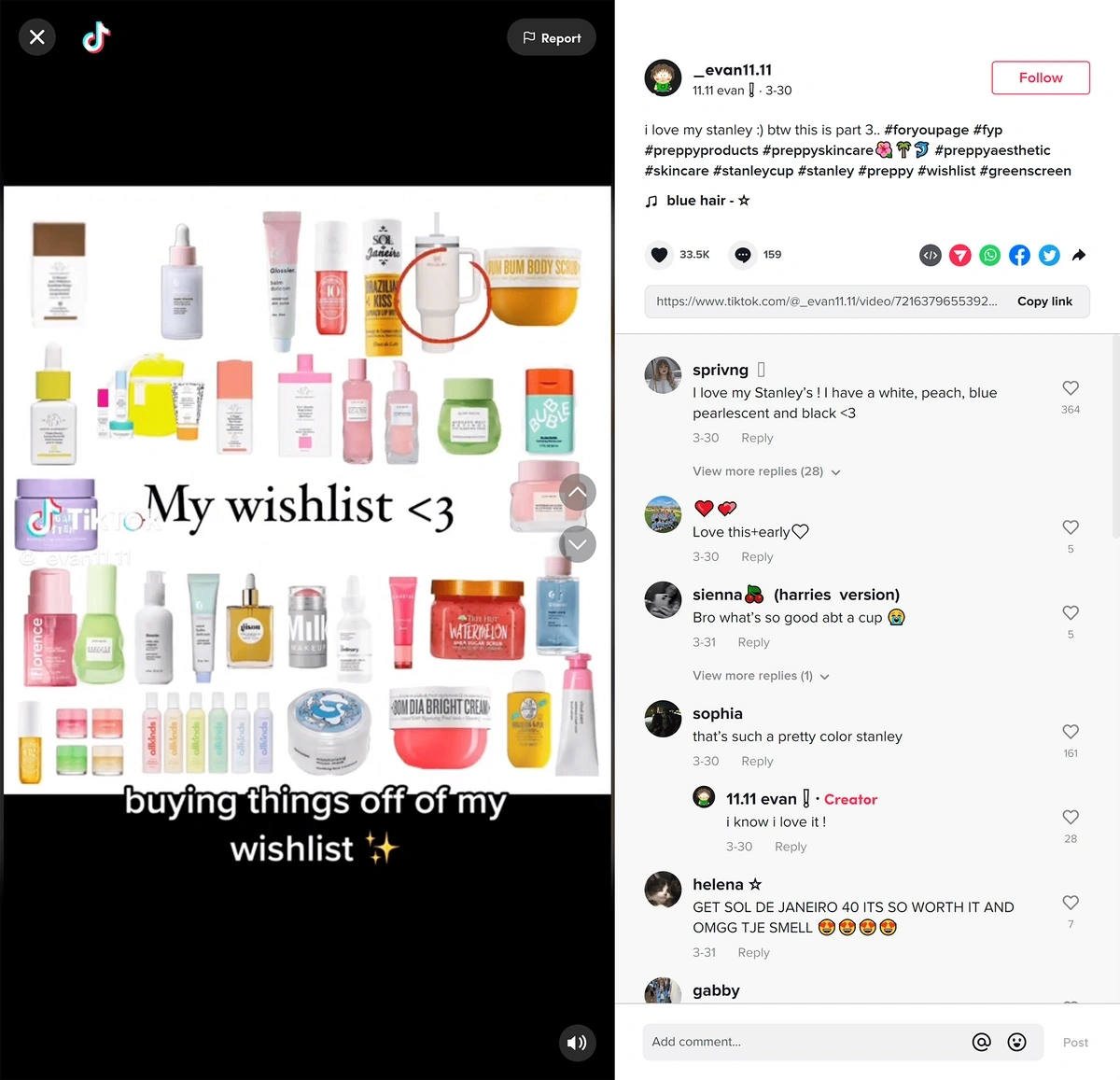 Preppy skincare products often feature bright or pastel packaging.
Drunk Elephant is one of the most popular preppy skincare companies.
Each product's packaging features a brightly colored lid. Consumers are so excited about displaying their Drunk Elephant products that the company started a hashtag just for that purpose: #drunkelephantshelfie.

Drunk Elephant shelfies have become popular on social media.
8. Chrome Accents
Metallics and iridescent colors are trending in makeup and nail products.
This is especially true for chrome, which has prompted the invention of the term "chromecore" to describe metallic-looking nails and makeup.
The most popular shades are silver, rose-gold, taupe, and brass.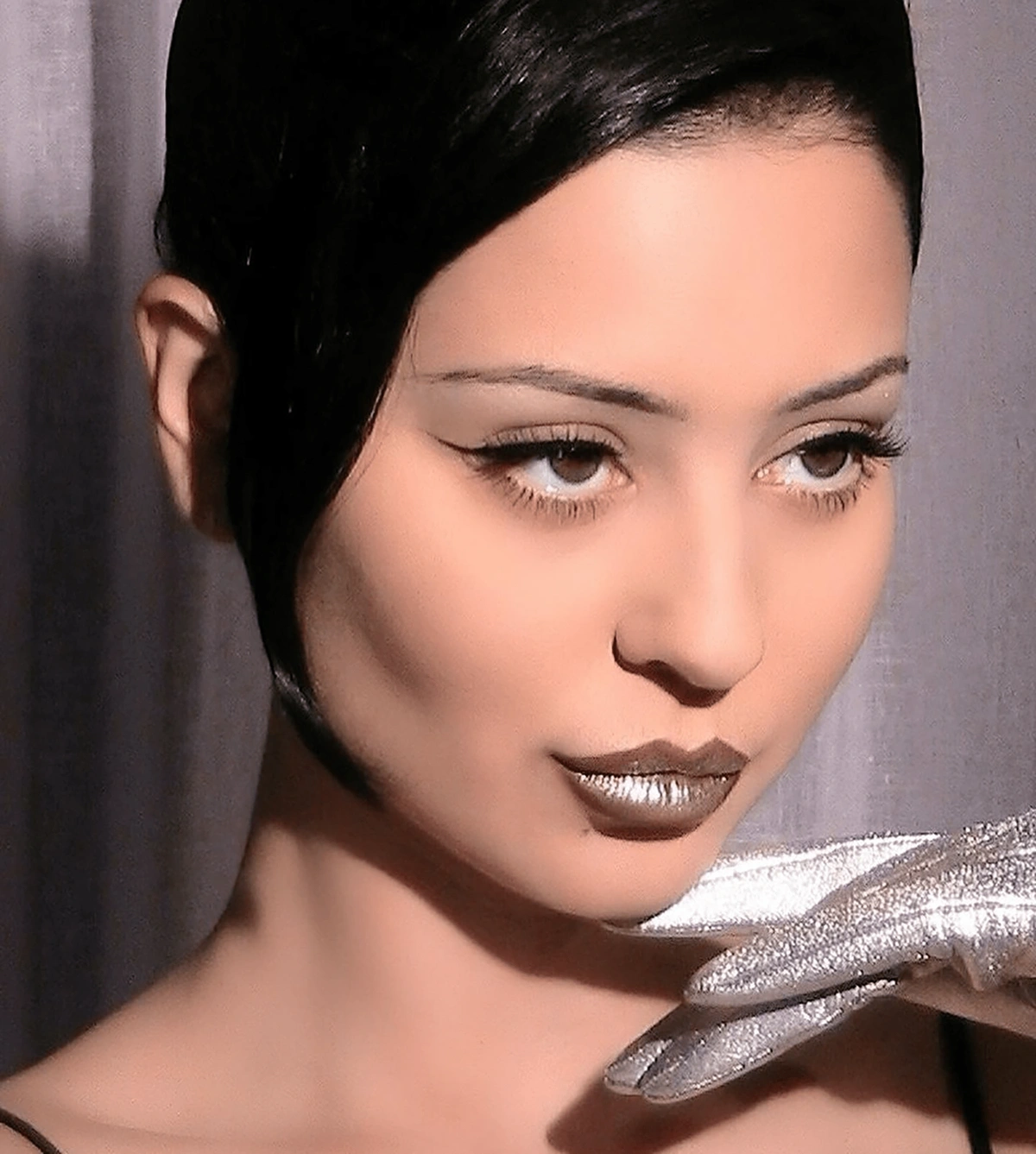 Rose-gold lips with a metallic shimmer are a popular trend in makeup.
MAC Cosmetics has reported a rise in sales of their metallic products. This includes products like their Dazzleshadow and Dazzleglass gloss.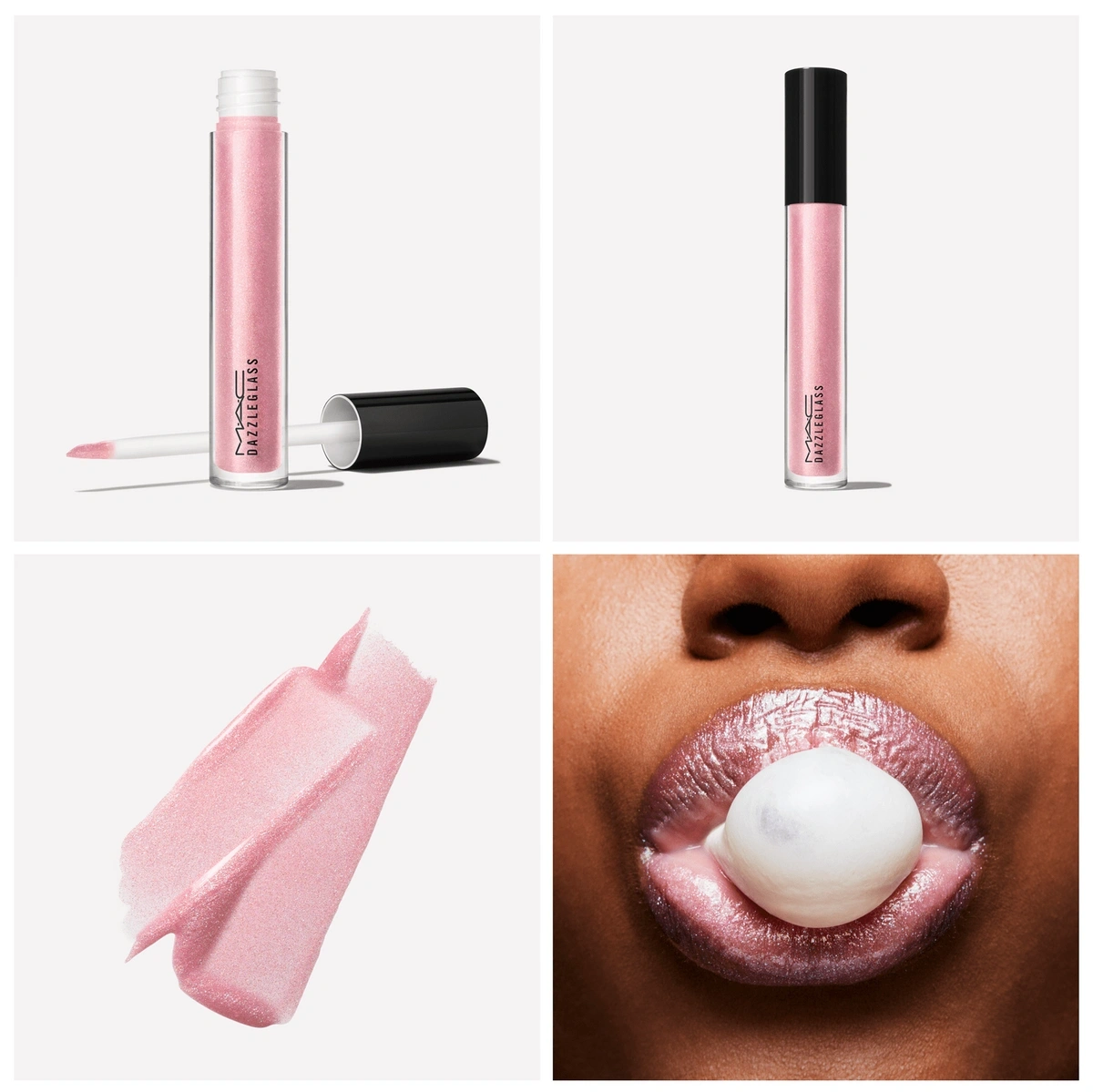 MAC Cosmetics' lip gloss comes in nine shades.
Consumers who want an even bolder chrome effect are using products like Danessa Myricks' Infinite Chrome Flakes.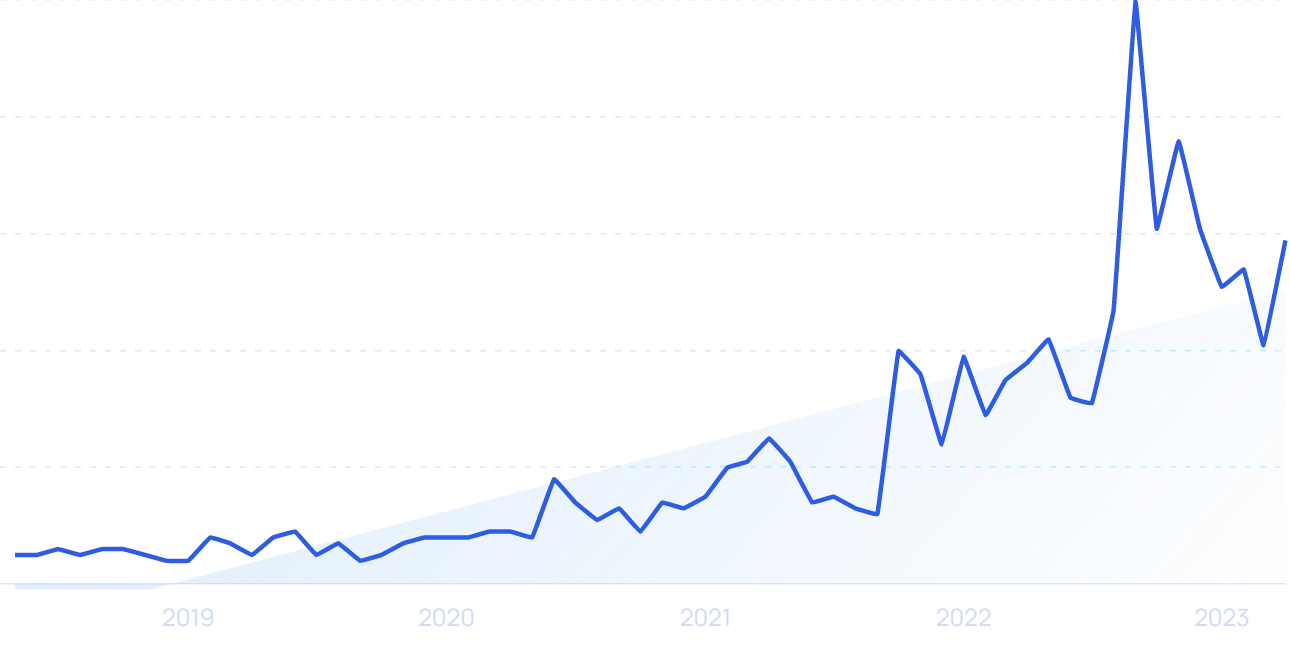 Search volume for "Danessa Myricks" is up more than 1,000% since 2019.
These flakes can be applied as an eye shadow or as a final touch to an existing eye shadow.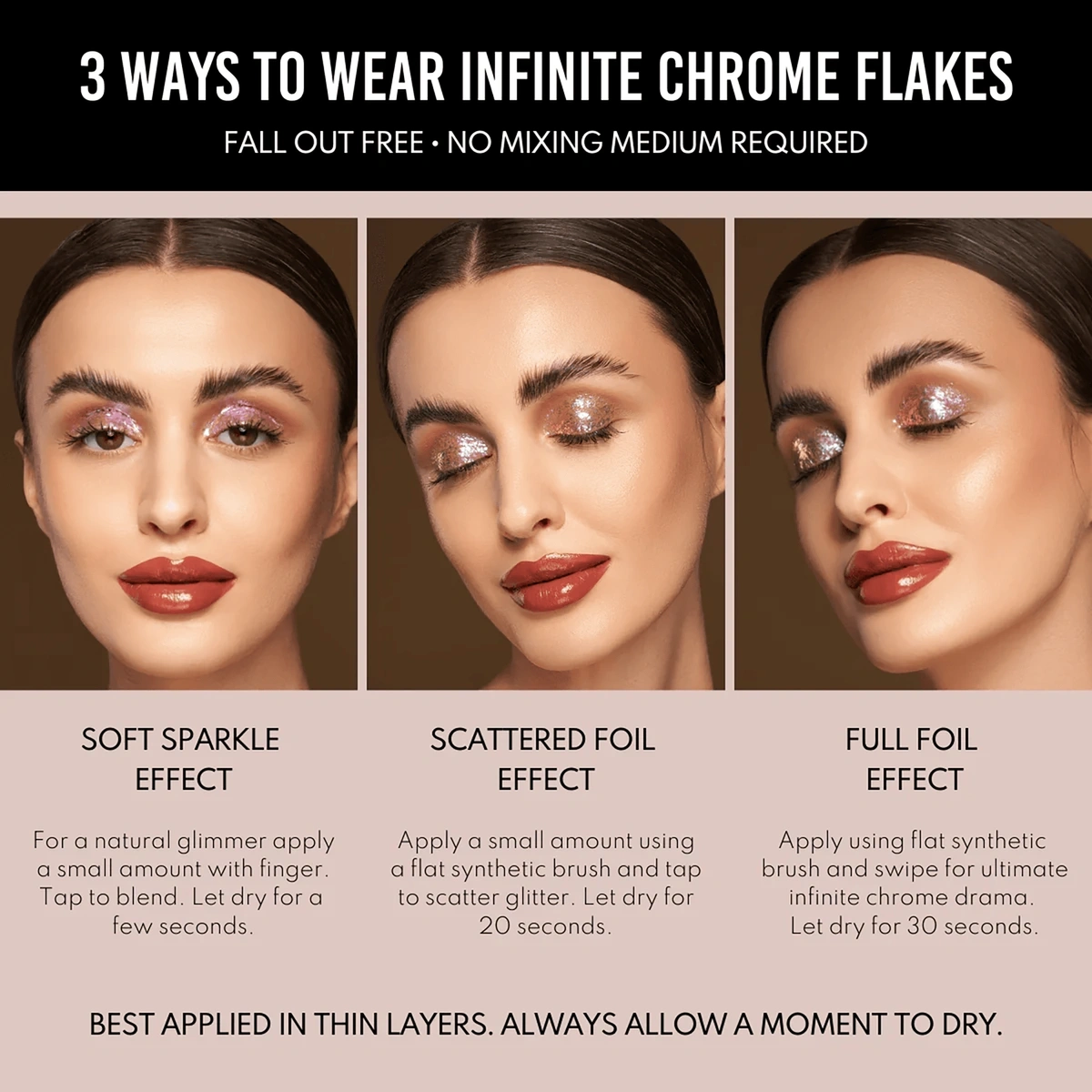 Infinite Chrome Flakes create a bold metallic accent.
Chrome nail polish and accents are another way the trend is showing up at fashion shows and on social media.
On Instagram, #chromenails has more than 2 million posts.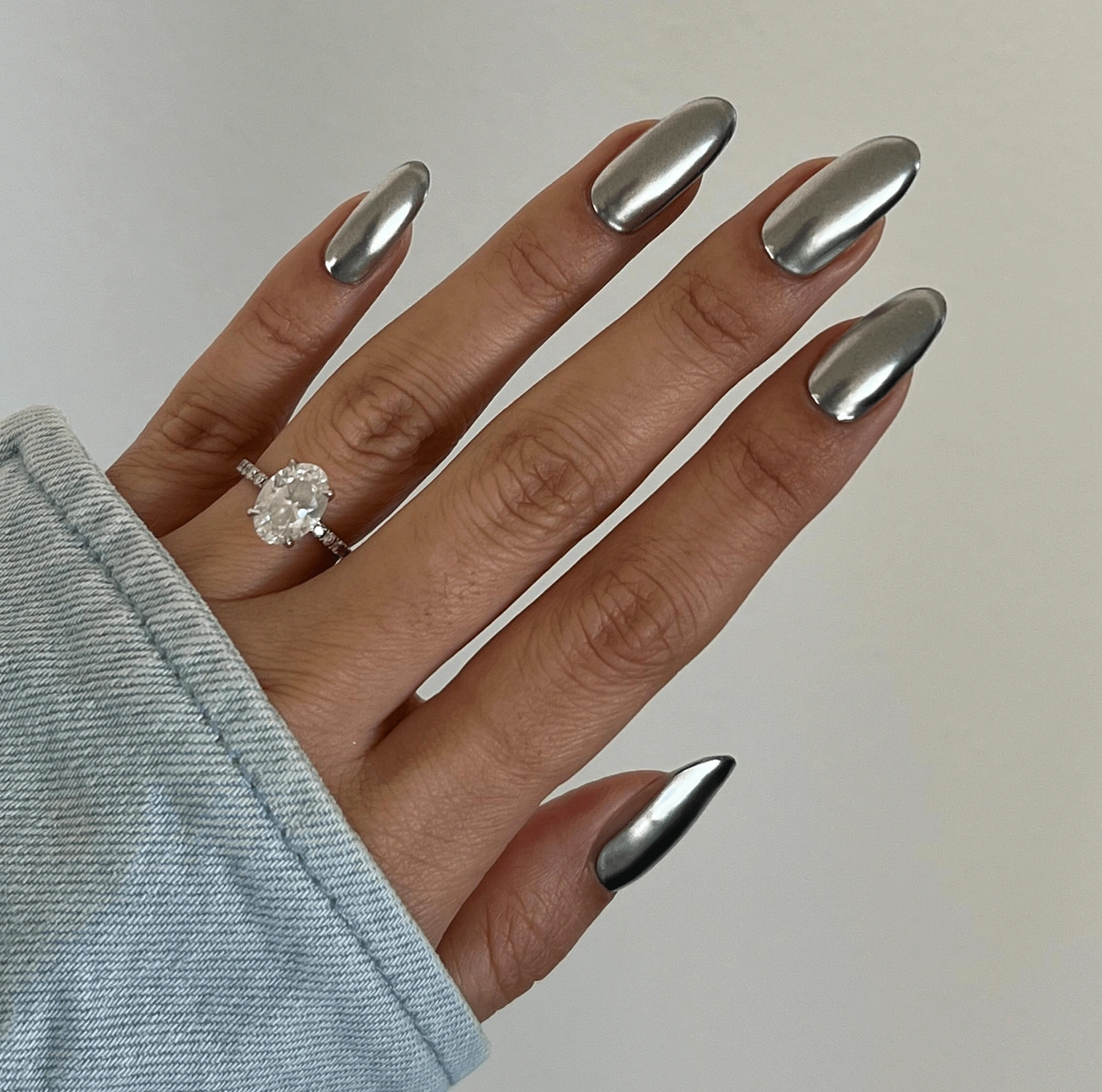 Chrome nails can be a subtle way to update a manicure.
At salons the chrome-effect product of choice is OPI's Tin Man Can. The product has become so popular that it's now difficult for nail salons to find.
Still, women are finding ways to recreate the chrome manicure at home.
Using metallic eye shadow is the most popular hack to get salon-quality chrome nails.
9. Red Light Therapy
Light therapy has been around for many years, but red light therapy is just now starting to trend in the beauty world.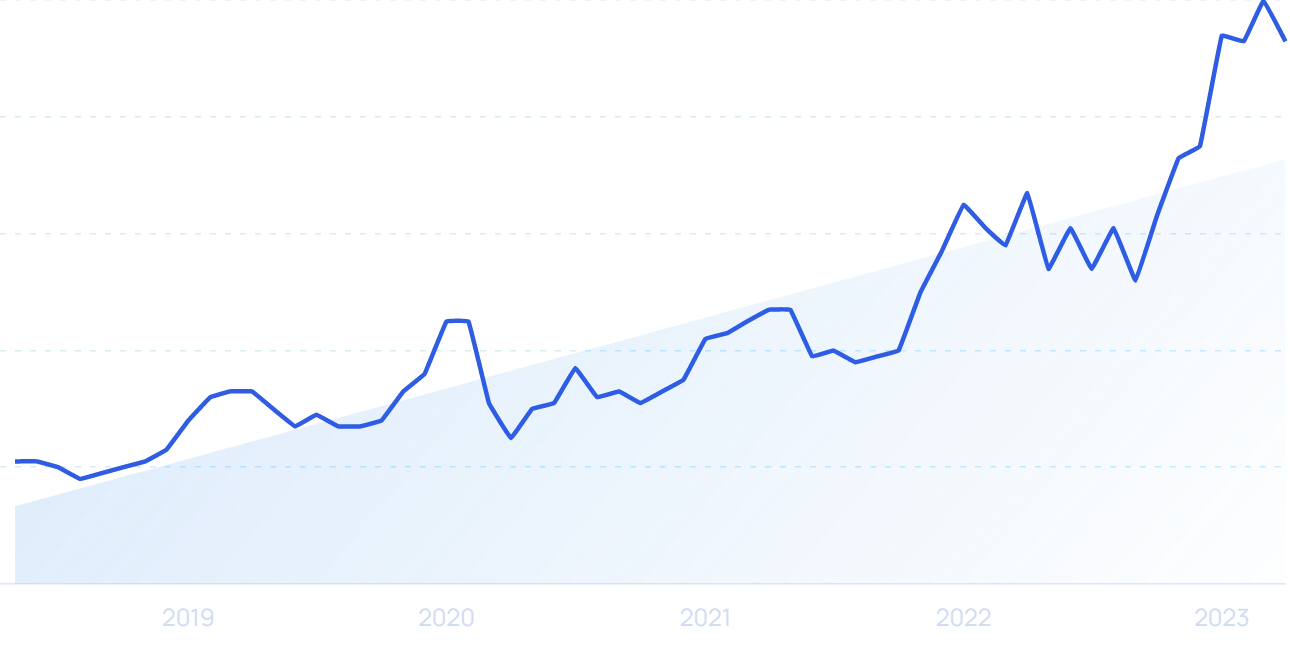 Search volume for "red light therapy" is up more than 300% since 2019.
The main idea is that this wavelength of light causes cells to create more energy and work more efficiently, so this specific type of therapy is able to rejuvenate the skin, decrease inflammation, and heal acne.
It's a painless process and it doesn't damage the skin.
Many dermatology offices and beauty spas offer red light therapy, but at-home options are becoming available too.
Although they're not as strong as in-office treatments, consumers enjoy being able to use at-home red light devices more often for maintenance.
Red light therapy devices come in two basic forms: a full face mask and a wand.
Omnilux offers a full face mask that's FDA certified.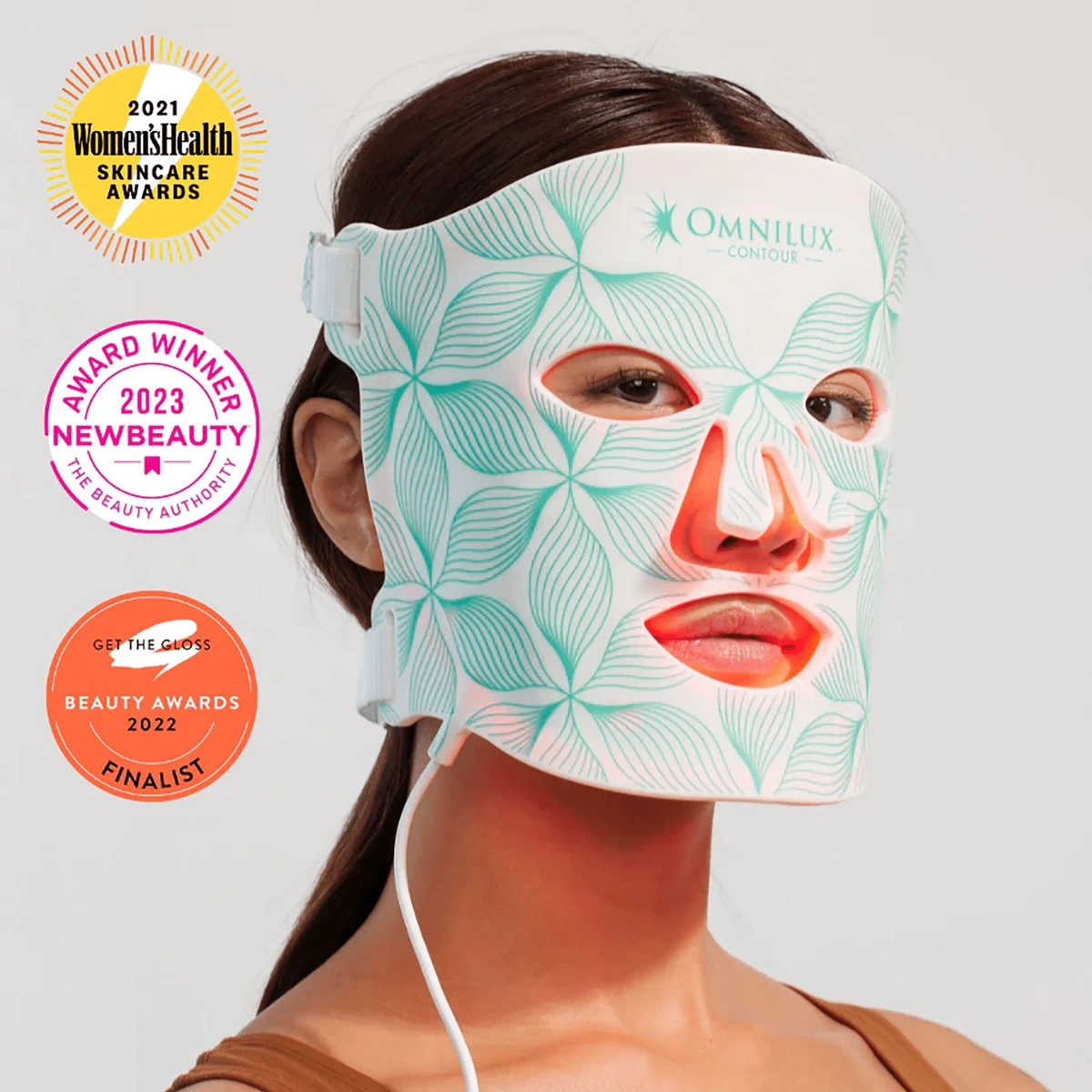 Omnilux's red light therapy mask can be used three to five times per week for 10 minutes each time.
In company studies, more than 95% of users reported firmer skin, less noticeable fine lines, and brighter skin after using the mask three times per week for four weeks.
The Solawave Advanced Skincare Wand is one of the most popular options for compact red light therapy.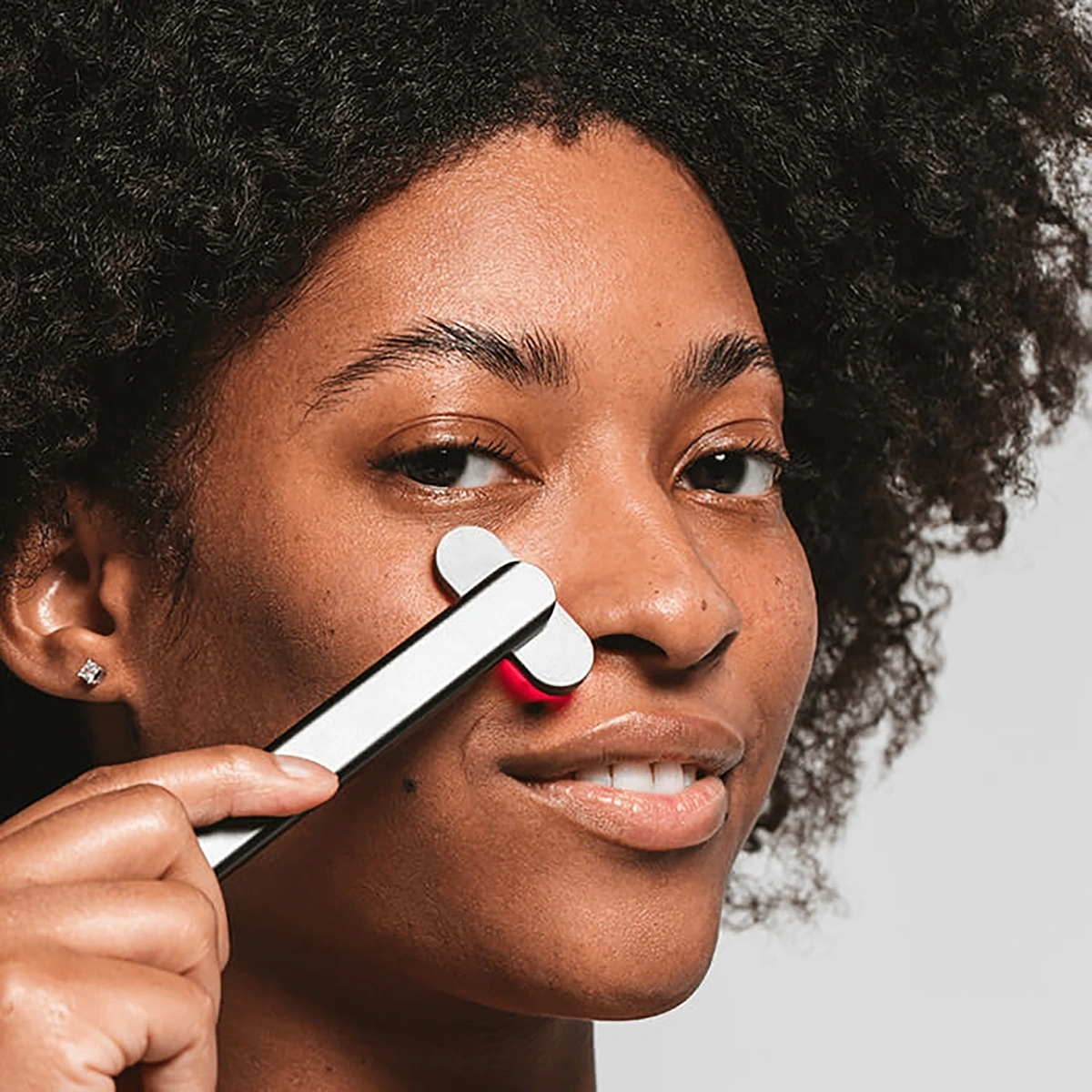 Users say the skincare wand delivers healthier and more hydrated skin.
The tool is a 4-in-1 product that combines red light therapy with microcurrent therapy, facial massage, and therapeutic warmth.
10. New Ways to Wear Fragrance
Today's beauty consumers are looking for a way to refresh the way they wear their signature scents.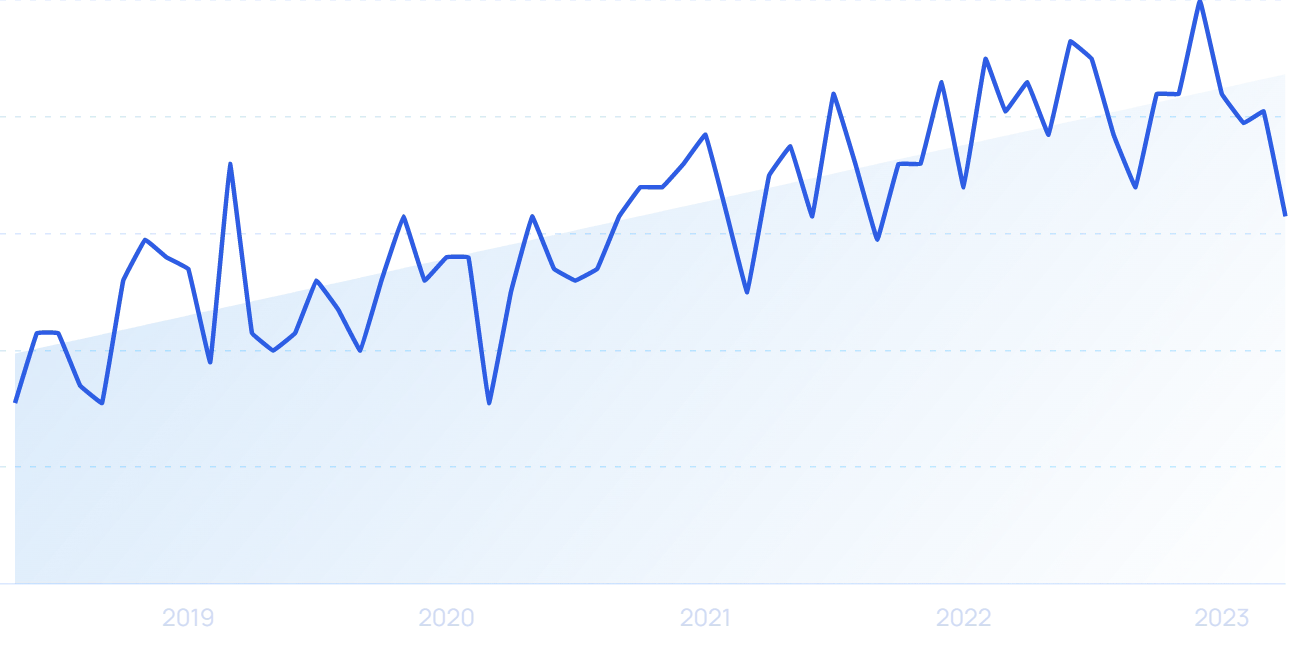 Search volume for "signature scent" is up 300% over the past five years.
One way they're doing it is with solid perfumes.
These fragrances often come packaged in a trendy refillable compact. This makes them convenient to carry and quick to apply on the go. And, they're the consistency of lip balm, so they're easy to rub into the skin.
Glossier's You is one of the best-selling solid perfumes. It has more than 6 million views on TikTok.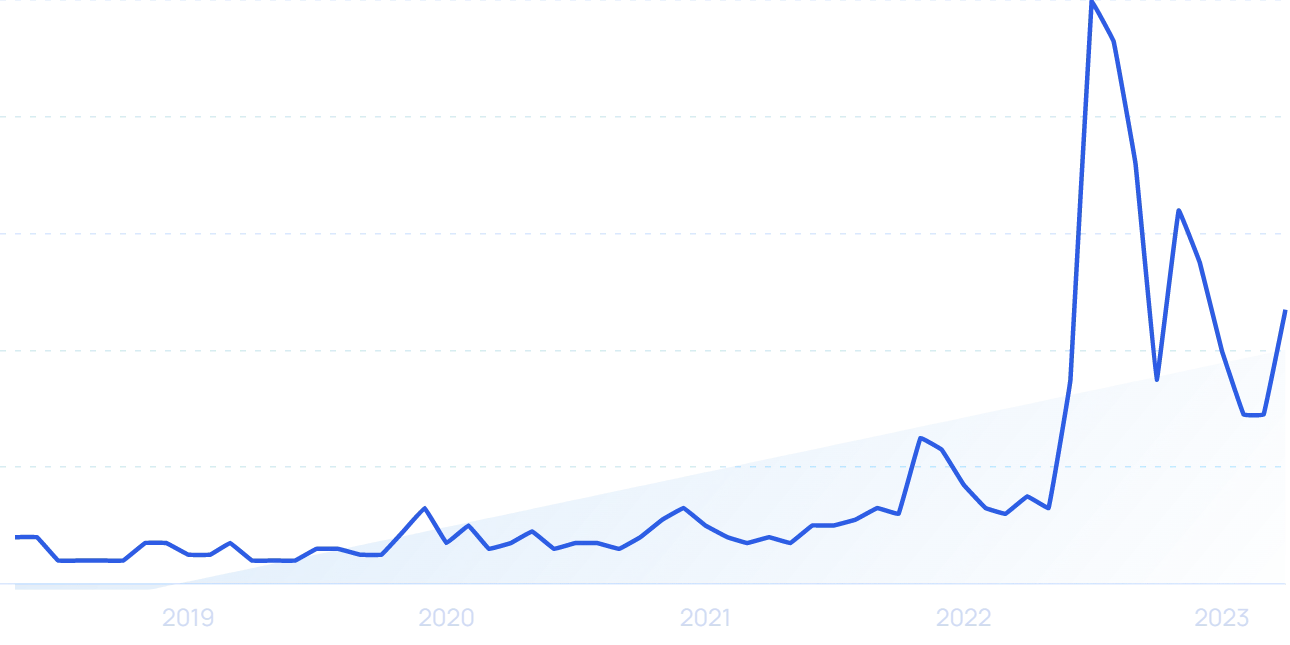 Search volume for "Glossier You" spiked when it was released and remains high.
The fragrance is solidified with an alcohol-free wax base.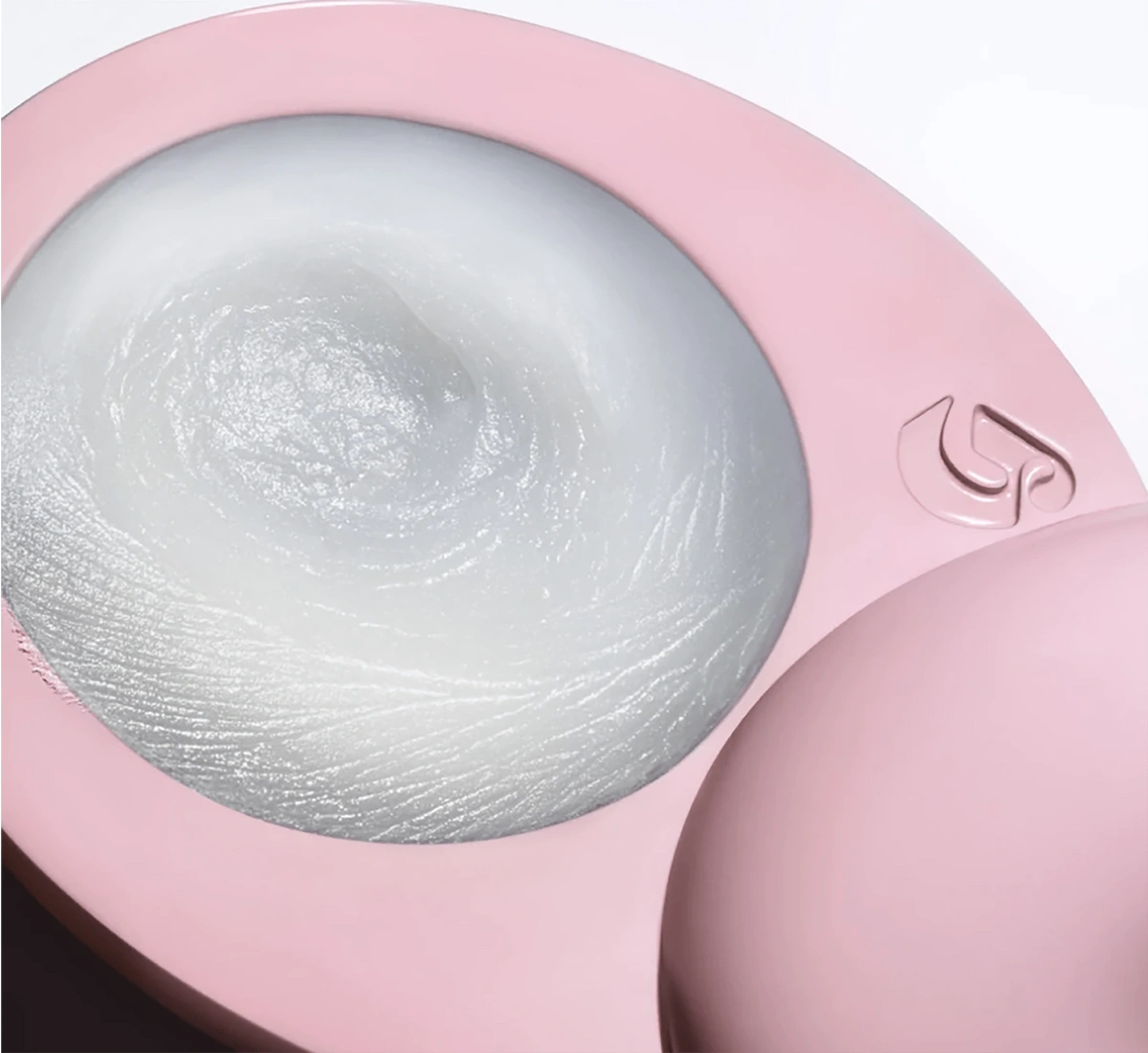 Glossier's You solid perfume has notes of iris root and pink pepper.
In recent months, consumers have been using perfume in their hair too.
As opposed to spraying regular perfume in the hair, these specific fragrances also include ingredients to nourish the hair. And, beauty experts say that using fragrance in the hair makes it last much longer than fragrance on the skin.
Take Gisou's hair perfume, for example.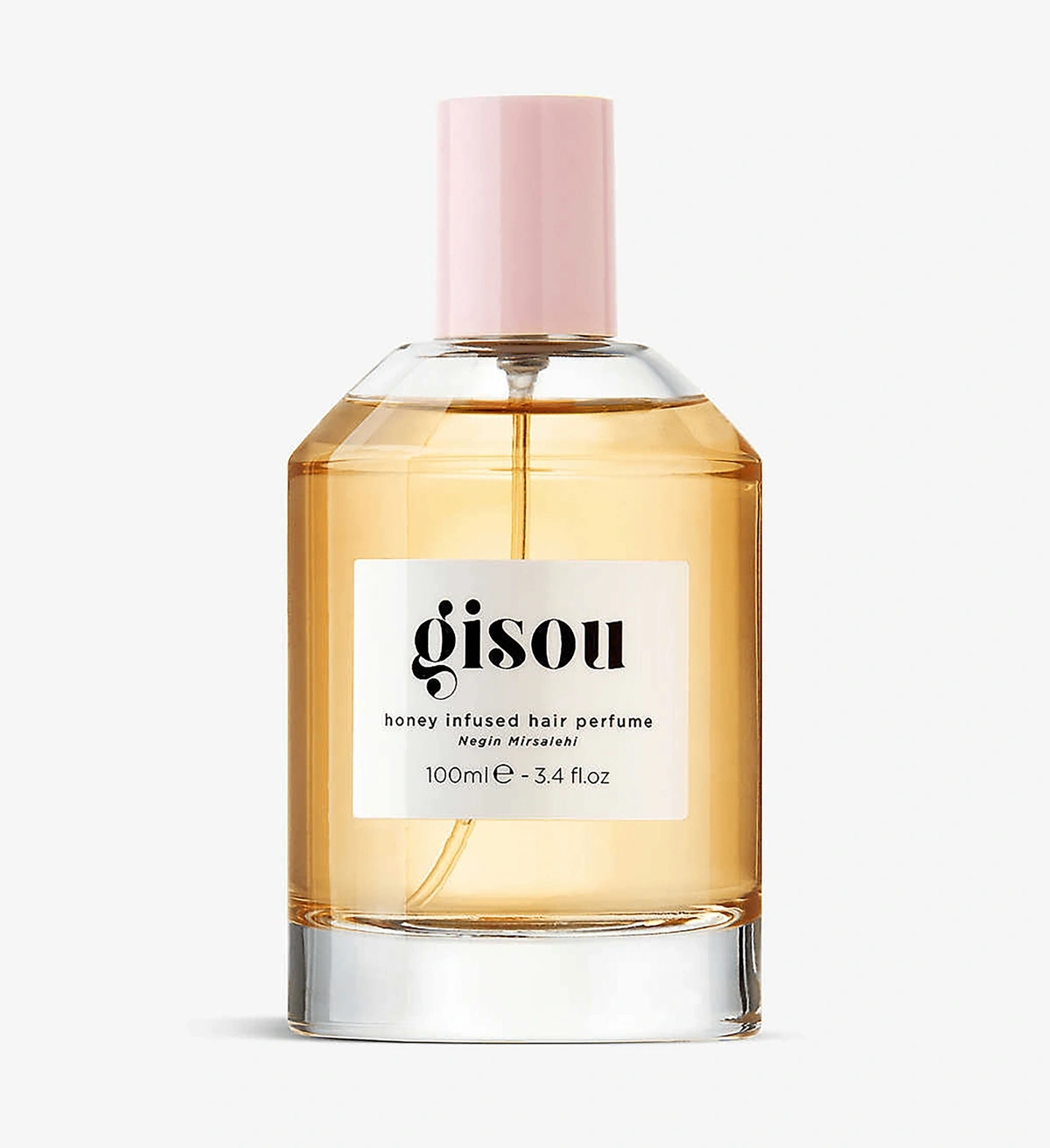 Gisou's hair perfume is a favorite of the Teen Vogue editors.
It's enriched with Mirsalehi Honey to add amino acids and antioxidants to the hair. It also contains argan oil for an extra boost of conditioning for the hair.
11. Bold Bangs
When New York Fashion Week wrapped up in February 2023, one major hairstyle trend was evident: bangs.
A variety of bang styles are trending. Curly bangs, full fringe, and choppy bangs are all popping up.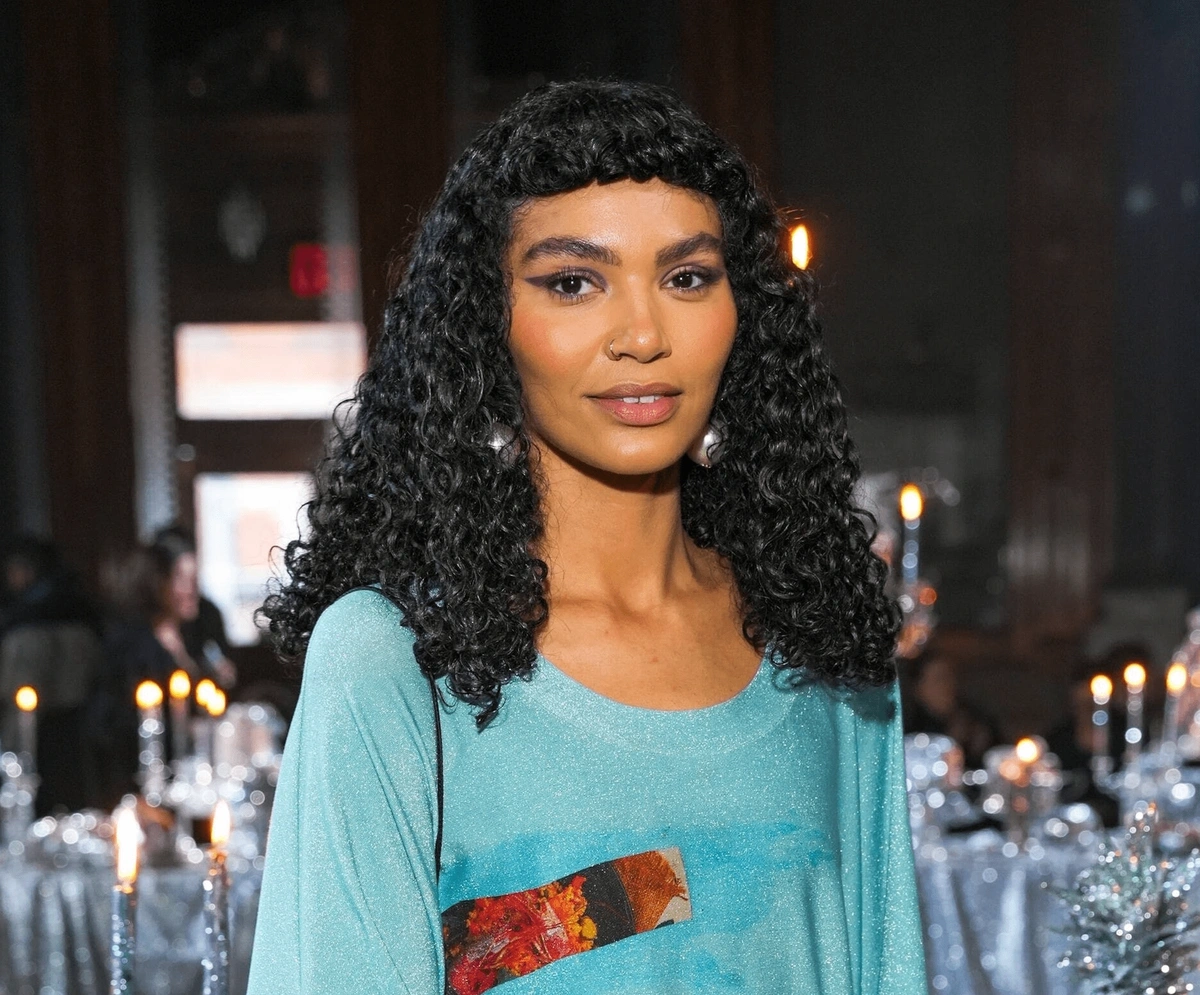 Short curly bangs show a bold contrast to long hair.
Curtain bangs—shaggy bangs that are shorter in the center and longer at the sides—are going to continue to be popular all year according to hair stylists.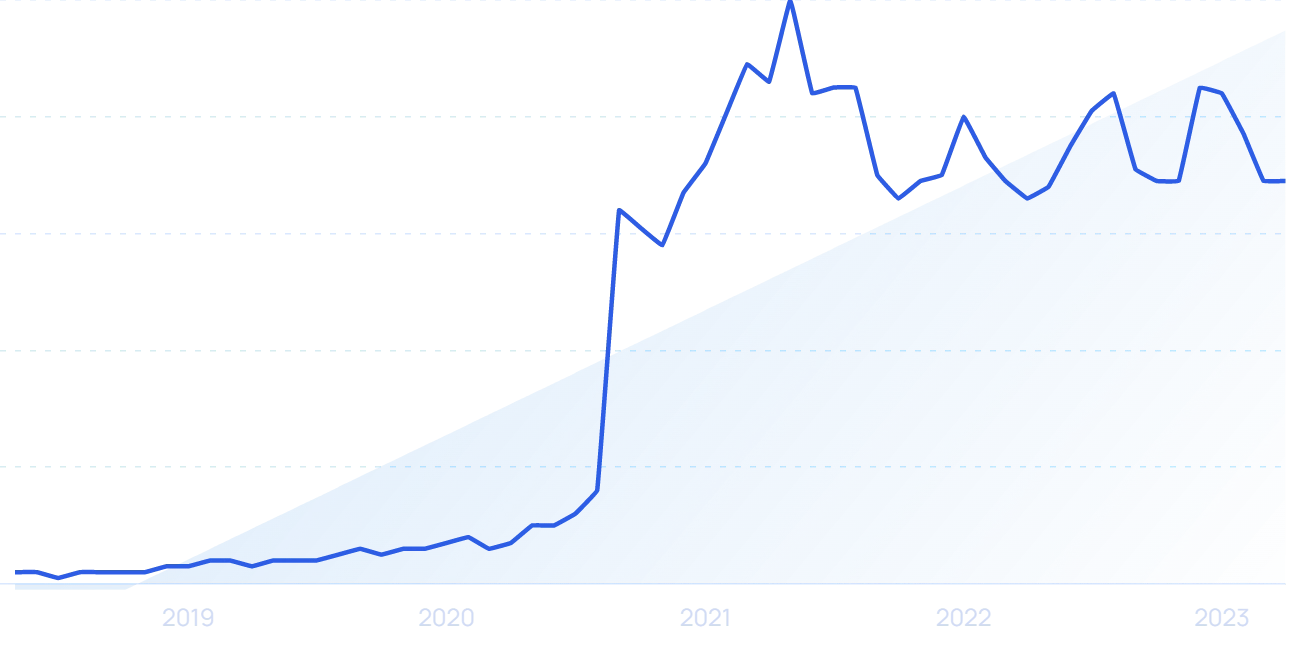 Search volume for "curtain bangs" skyrocketed in late 2021 and remains high.
Celebrities like Bella Hadid and Gabrielle Union are into this trend and #curtainbangs has 3.1 billion views on TikTok.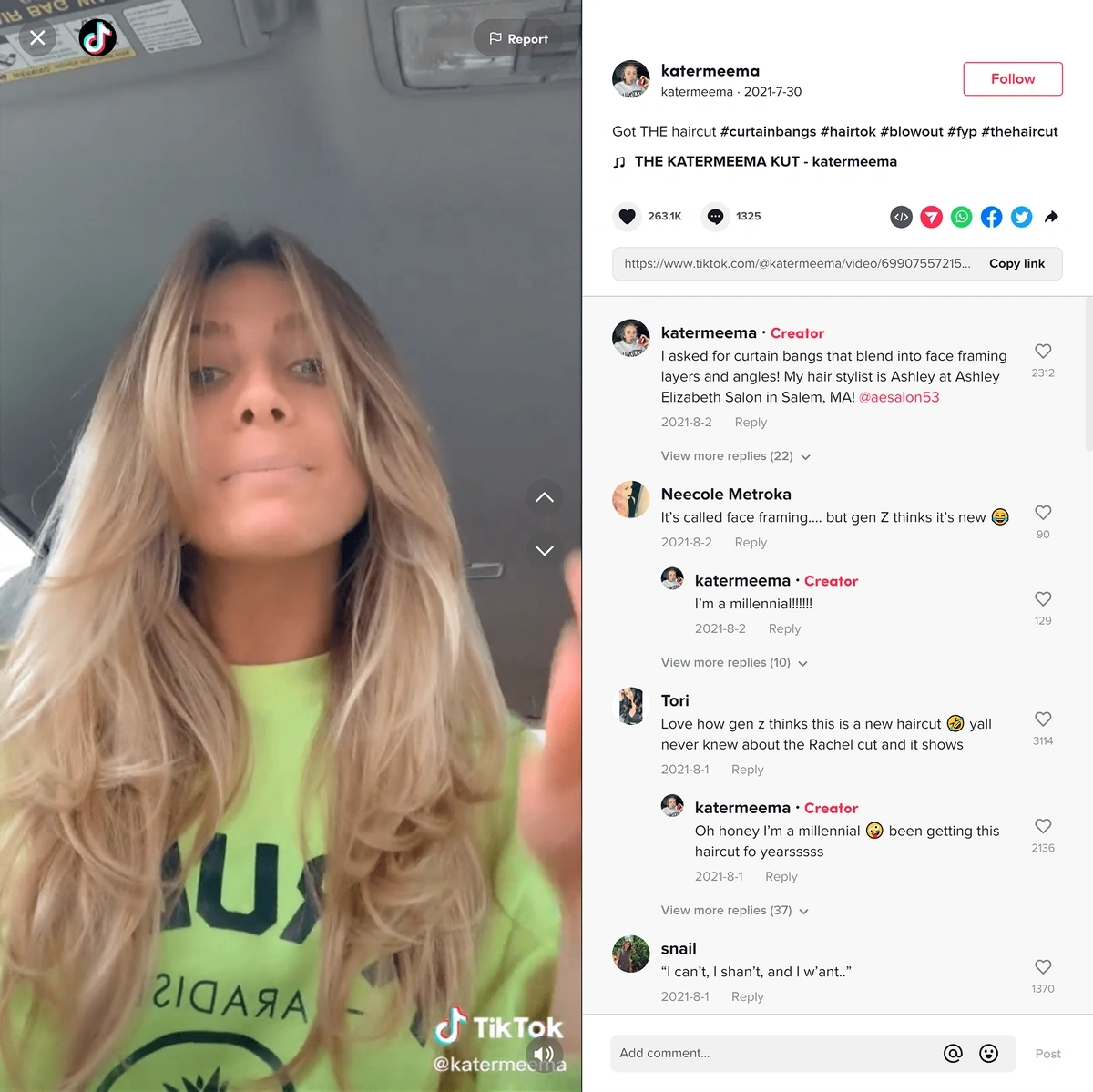 Curtain bangs are popular on Instagram and TikTok.
While curtain bangs are on the longer side and easy to wear, micro bangs are a short and choppy choice for women who want bolder bangs.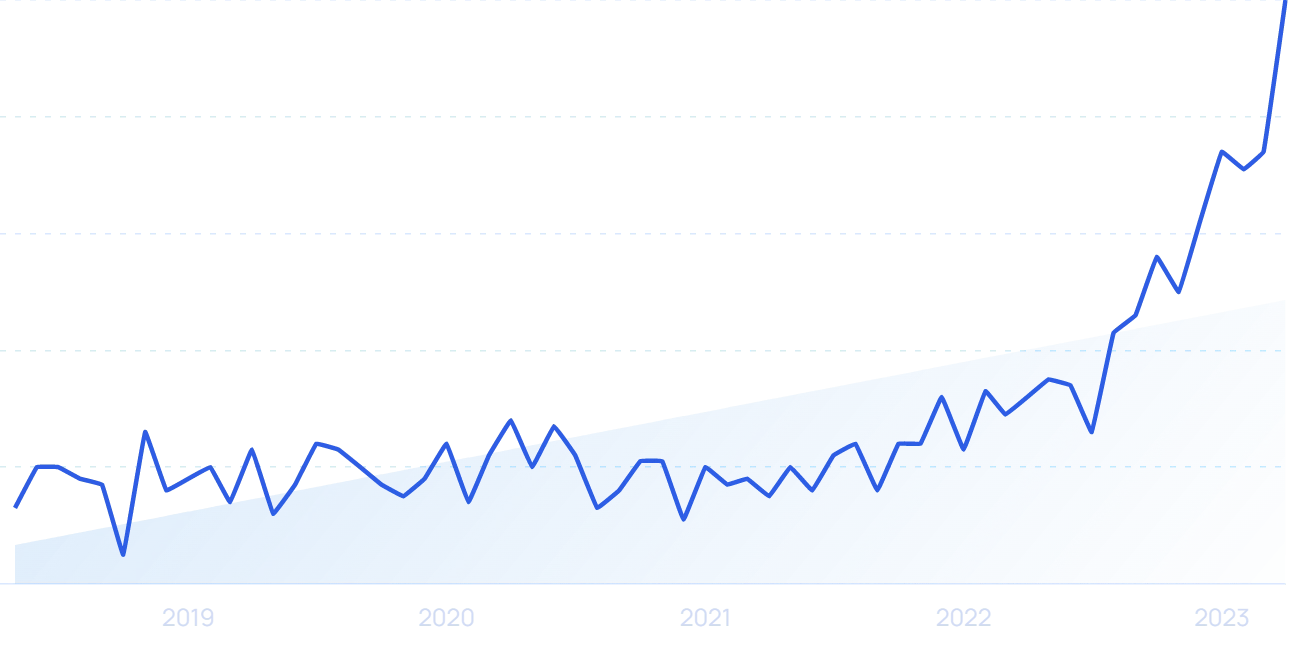 Search volume for "micro bangs" has increased almost 400% in recent years.
Audrey Hepburn originally popularized micro bangs as a feminine option, but today's women are utilizing this style as more of an anti-beauty beauty choice. This refers to women who are trying out bold looks that show off creativity instead of traditional beauty.

Florence Pugh wears microbangs as part of her bold style.
Conclusion
That wraps up our list of the top 11 beauty trends.
There's no shortage of new ingredients and trending formulations in the industry. Beauty consumers are now starting to look for products that will do double-duty and offer even more benefits for their appearance.
Many of these trends get their start on social media, and the influence of these platforms is expected to continue well into the future. As more consumers turn to social media to make their voices heard, look for beauty companies to adjust their offerings. This is especially true when considering clean, sustainable products and resurging trends like the preppy aesthetic.