Best Market Trend Analysis Tool for Detailed Insights & Tracking
If you want to use market trend data to guide business plans and act on new opportunities, you have to know how to analyze and interpret trend data. There are a number of ways to approach trend analysis — for example, some teams have a list of sites they regularly monitor — but a market research tool like Exploding Topics simplifies trend analysis because we:
Show you brand new market trends (across a dozen plus industries) and provide detailed background about each trend.
Display trend metrics in a clear, interactive graph so you can analyze search volume and growth rate over different time periods.
Provide private trend tracking tools so you can save trends you're interested in, review trend data, and observe how trend growth changes.
Exploding Topics saves you from spending hours doing your own research on market trends because our algorithm monitors hundreds of online sources (think search engine activity, social media sites like Facebook and Reddit, news outlets, and consumer behavior on sites like Amazon) for technical indicators of new trends, then our analysts vet all new market trends to compile the most important trend data for you. Every trend on our site has strong indicators of long-term interest, but we also gather years of data on each trend so you can see how interest fluctuates and use trend data to forecast future growth.
In this post, we explain how to use Exploding Topics to find new trends in your industry, analyze trend data, and track trends you're interested in. You can also start an Exploding Topics Pro Trial to learn about the newest market trends and see how our trend analysis and tracking features work.
Step #1: Learn About New Trends in Your Industry
There are three main ways you can discover new trends:
You can browse industry trends by category in the trend database.
You can read about new products, technologies, software, startups, (etc.) in weekly trend reports.
You can browse popular topics via the Meta Trends tab and see collections of related trends.
Let's talk a little about how these work.
First, our database serves as a hub for all trend data. Here, you can see all of the trends we've ever added to our site (with all of the associated trend data). But you can search trends by category, popularity, or recency and filter down to what is relevant to you. For example, if you want to search for early technology trends, you could select the "Technology" category, set the status to "Regular," and change the date range to "Past 3 Months."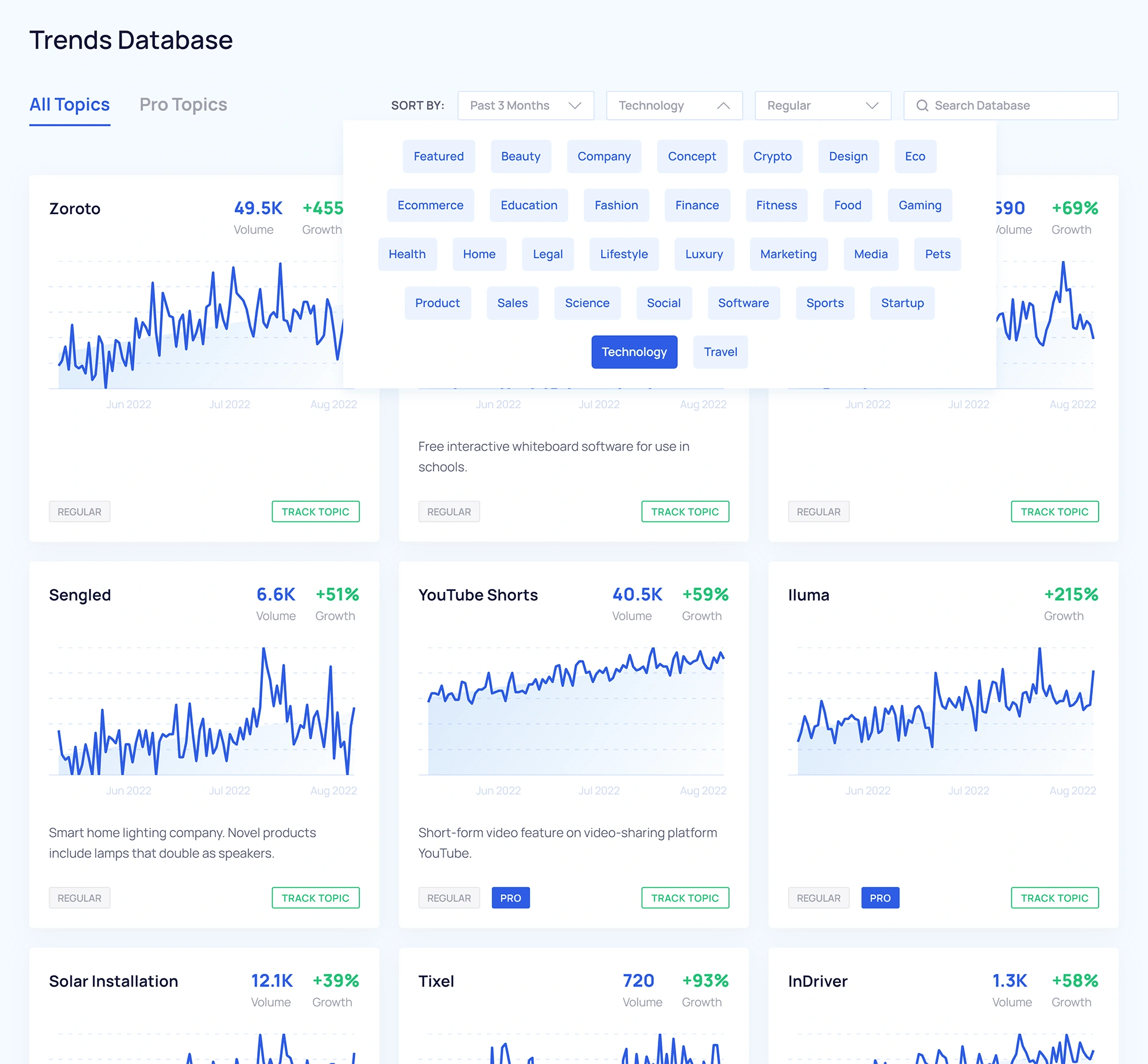 When you click on a trend, you can view all overview info, including a description of the trend, trend data like searches per month and trend growth, and relevant categories. We also show you related topics so you can easily continue searching and find other trends in your area of interest.
Note: The database has a standard search functionality so you can look up trends you've already heard about and see related trending topics. You can search global market trends or narrow your search to a specific location. Then you can save and track these trends in your private dashboard.
We also email trend reports at the start of each week so you can learn about the newest trends on our site. Each report has 10 new trends, covering a combination of categories, with valuable insights about each trend.
For example, here's a snapshot from a recent trend report. In it, you'll see an analysis of BuzzCast, an online event platform, explaining who they are, their target market, which businesses are already using their technology, and why there is a demand for their platform in the future.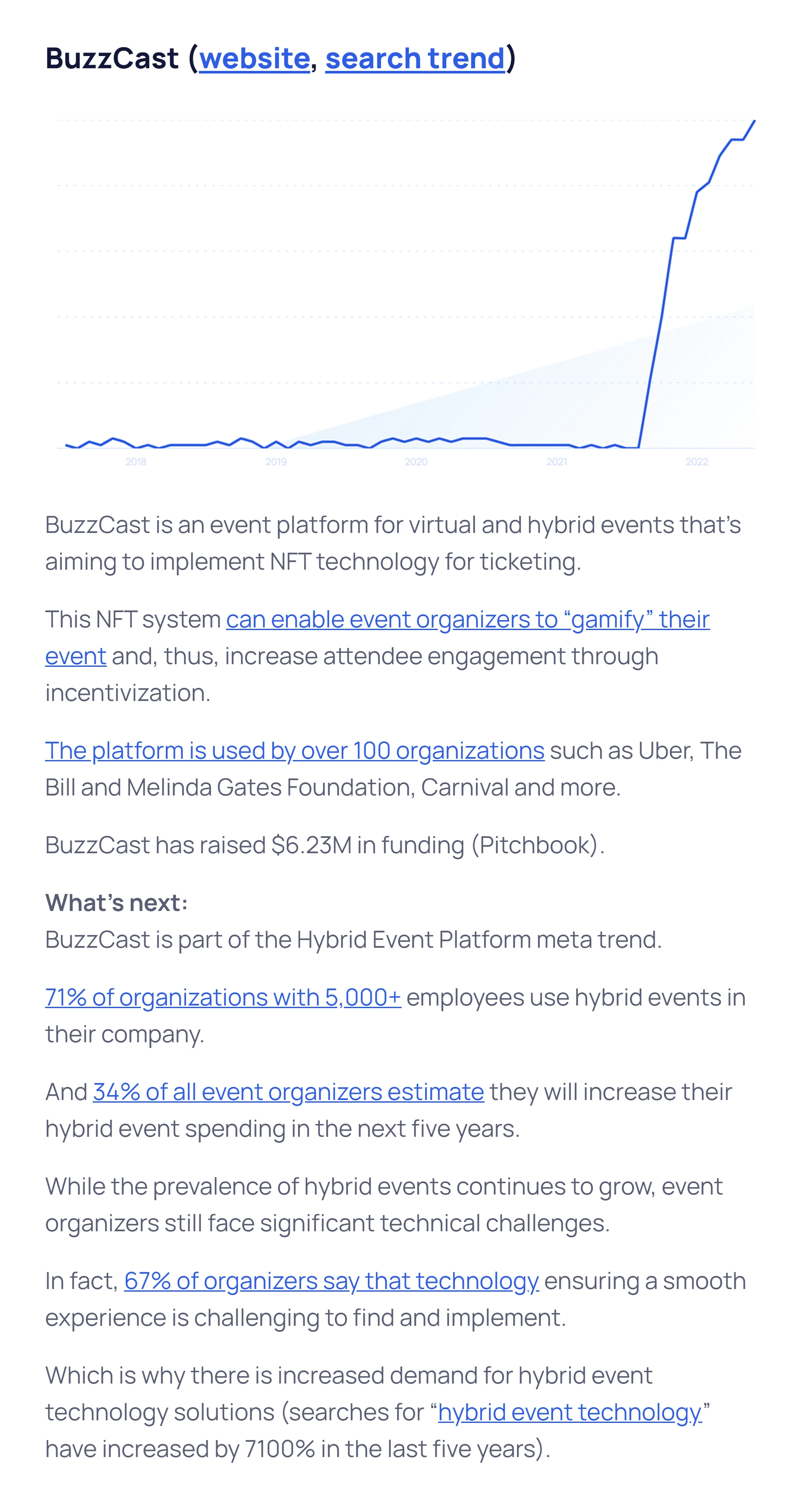 We provide a detailed background about each trend so that you can decide if you want to dig into trend metrics with our technical analysis tools or track trends in your dashboard. Plus, you can easily access other resources to learn about trending topics, as we link to all of the sites and sources we reference during our market analysis.
Lastly, you can search trends by topic in the Meta Trends library; this is helpful if you have a specific type of product, service, or technology you want to research. For example, say you wanted to learn about other software like BuzzCast, you could click into the "Hybrid Event Software" meta trend, see a quick analysis on the trending topic, and view all of the related trends. We also show you related meta trends, so you can click on related topics and view those trends, too.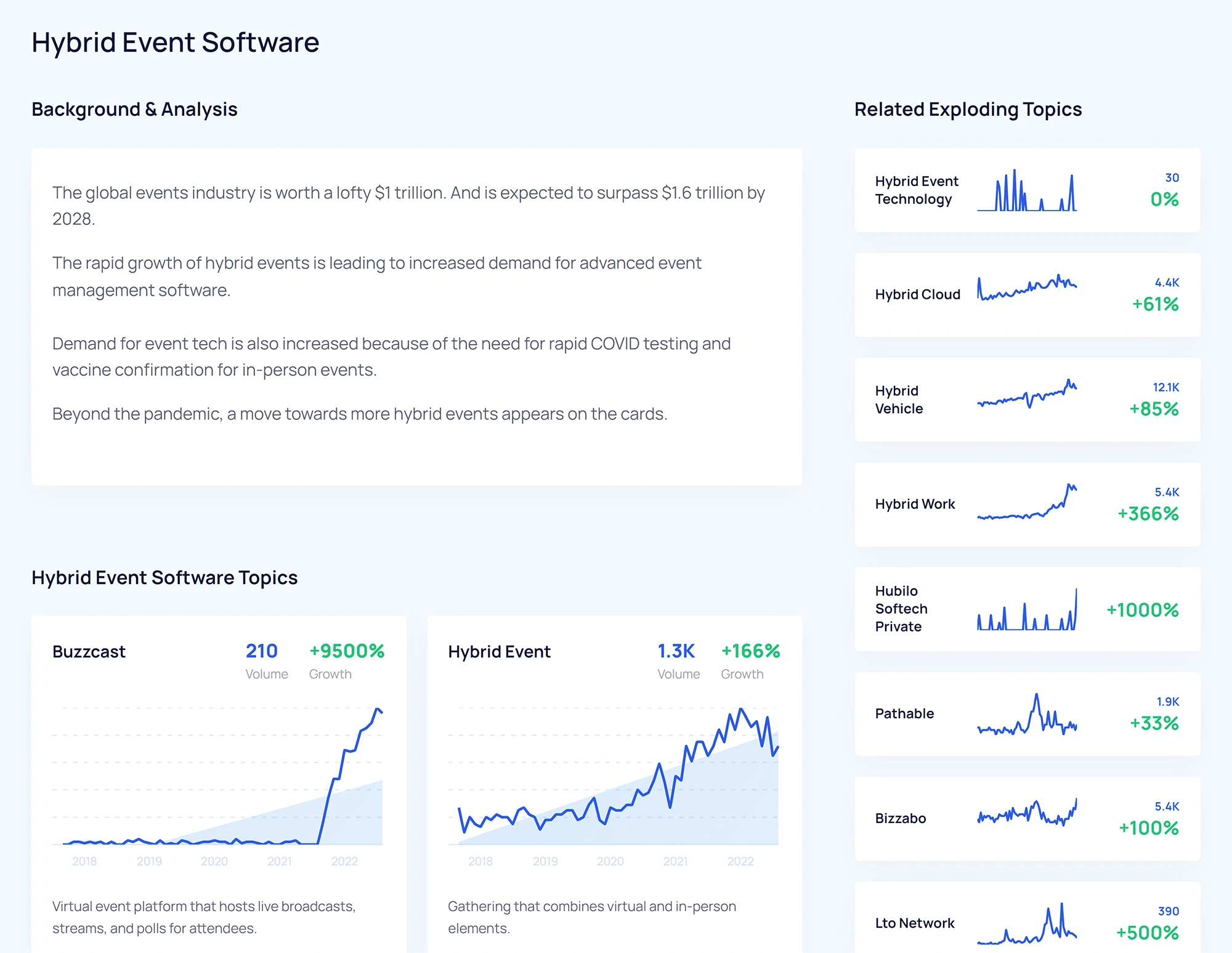 Our team handles a large portion of market trend analysis for you, then you can use our platform's tools to learn more about industry trends and track how popularity evolves.
You can also learn more about trend discovery in our guide: How to Find New Trends (Super Early) With Trend Spotting.
Step #2: Analyze Market Trend Data
Beyond learning and reading about new trends in your industry, you can perform a more technical trend analysis within the overview window. For example, let's look at BuzzCast.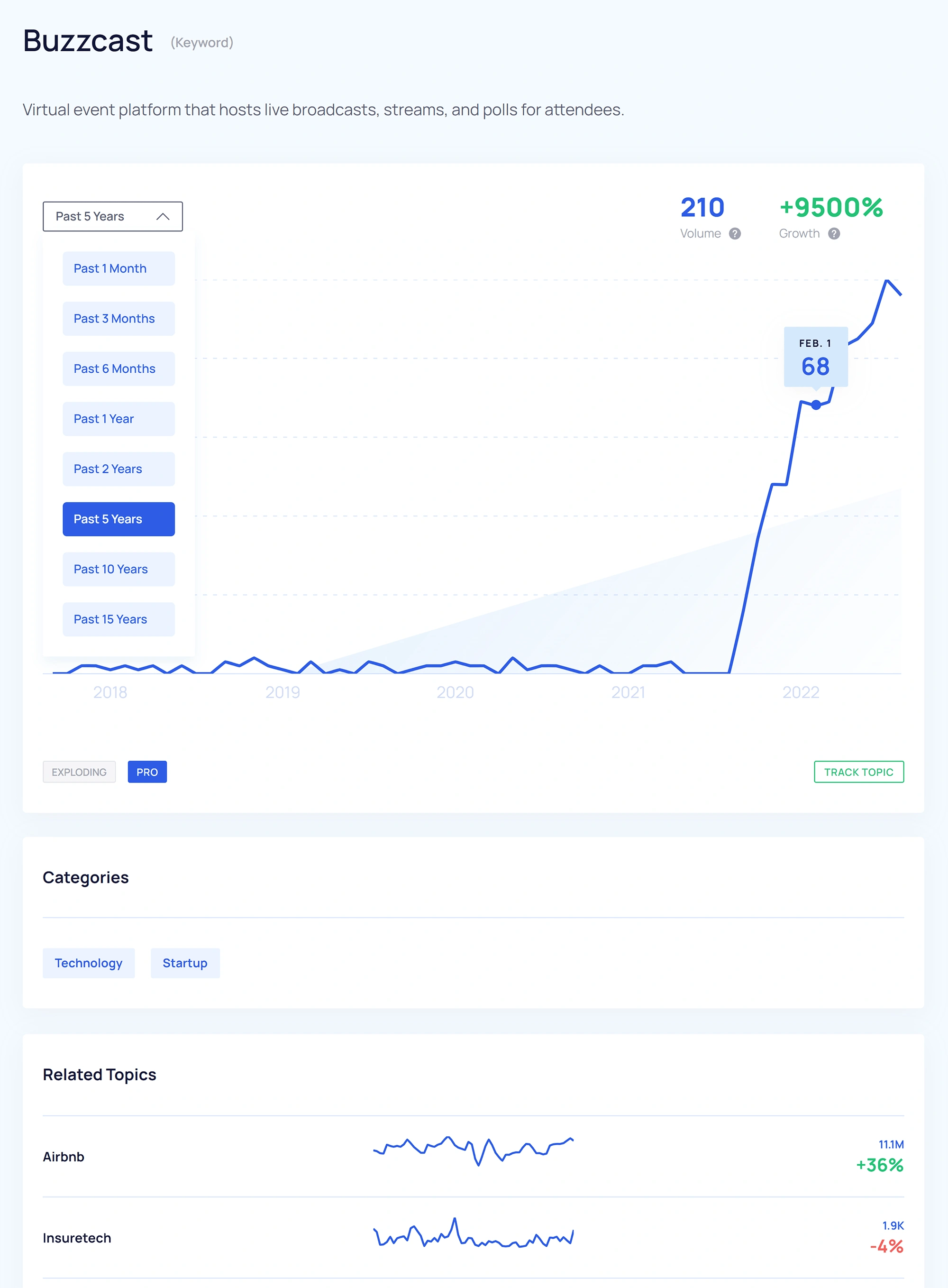 You can see trend data graphed out over the last five years — with interest really taking off in mid-2021.
Searches are represented by the solid line and the growth rate by the softer slope. You can move your mouse along the graph to view searches by day — below, we can see there were 68 searches for Buzzcast on February 1, 2022 — and you can tell if interest is trending up or down just by looking at the direction of the slope.
You can adjust the graph's timeline to view just the most recent trend data, or you can zoom out to get a bigger picture of the overall relevancy since the trend hit our database. Is the trend just now taking off? What do we predict for the future?
You can also look at the status of each trend to see if it is Regular, Peaked, or Exploding. We mentioned this briefly above, but let's explain what each of these statuses means:
Regular: These are really early trends that are just starting to take off. We don't have a ton of data about them yet, but all signs point to promising.
Exploding: These are already taking off and becoming popular (more well-known). There are still opportunities here but your competitors may already know about these opportunities. Act fast!
Peaked: This ship has (mostly) come and gone. These are still popular trends, in general, but there aren't many new opportunities here. Competitors and target audiences already know about these trends. However, there are always new ideas when you look at related topics.
All of this information lets you get a better idea of where the trend is at in its "lifecycle:" It's clear to see if trends are still in the early early stages, or if they've already started to become more well-known. Then you can strategically leverage trend data in the short term and plan for the future.
Then, you can save trends you want to track by clicking the "Track Topic" button from the overview.
Step #3: Track Trend Growth & Set Trend Alerts
You can monitor saved trends in your personal dashboard. Here, you can view all saved trends and organize them into Projects based on category or topic — this is convenient because you can:
Drop trends into the right Projects as you add them to your dashboard. (Your trend tracking dashboard always stays organized!)
Quickly browse Projects and find saved trends when you want to check in on growth.
Access market trend data from one central place instead of checking trend updates a dozen different ways.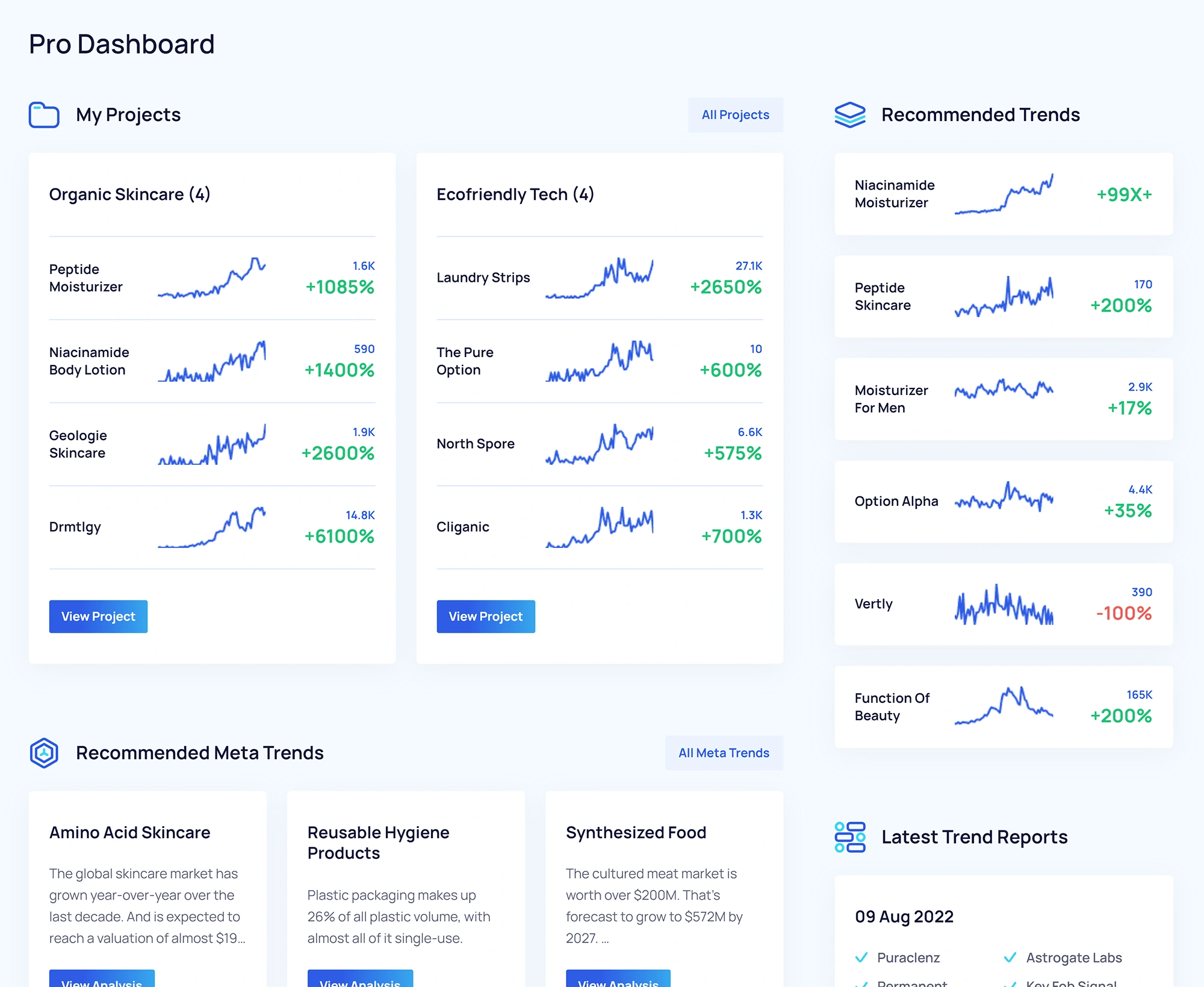 We also show you related trends and meta trends based on the info you have saved, so you can quickly add other topics to your trend tracking dashboard. (But we never share your data with other users so all trend tracking is completely private.)
We update our trend database daily so you can access the most current trend data and see new industry trends as soon as they're added to our site. You can also set real-time alerts for trend updates and we'll automatically email you if there is a substantial change in search volume or growth rate.
Note: You can also use the API to connect Exploding Topics with other reporting software and consolidate trend info in your business reports.
Start an Exploding Topics Pro Trial for $1
Exploding Topics is a market trends website with tools like:
A trend database, market trend reports, and meta trends library to help you find new trends in your industry.
Interactive trend graphs so you can easily analyze data and look at how interest in trends has shifted and evolved.
Trend tracking tools so you can save and monitor trend growth and stay updated on important trend changes.
Our trend analysts research and identify new market trends, looking just for the high-value opportunities that show long-term potential, so you can skip the more laborious steps of trend analysis and kickstart trend discovery with opportunities that have already been vetted by our team. Then, you can read important background about each trend, analyze current trend data, and track trend growth in a clear and easy way. Our platform doesn't require any training to learn or use — you can test our market research and trend analysis tools by starting an Exploding Topics Pro Trial.