10 Top Social Listening Tools (2023)
Social listening tools make it easy to identify the desires, concerns, and questions that are top of mind for your target audience.
Rather than spending time manually browsing through social media, forums, and blogs, you can use one of these tools to find—and even visualize— topics that interest potential customers.
The data gleaned from these platforms is useful for a number of marketing and business activities, including:
Connecting with influencers
Creating popular social media posts
Developing new products and services
Keeping track of brand sentiment
Improving your online presence
Not all tools are the same, though. We've reviewed 10 of the best social listening tools and created this comparison to help you find the right one for your needs.
1. Exploding Topics: Best For Social Listening Across All Channels
Exploding Topics is a trend spotting tool that lets you see how various terms and companies are growing in popularity among the public.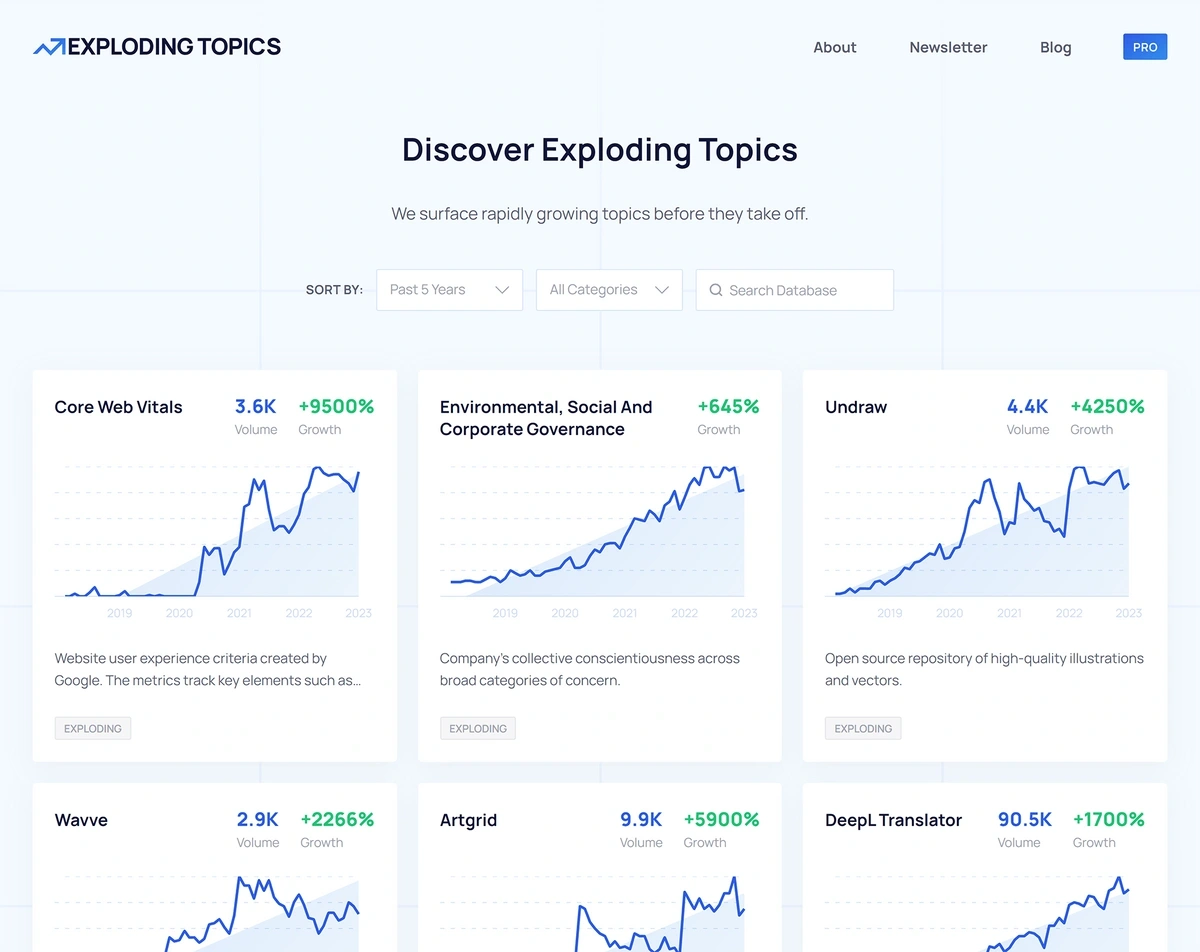 Its social listening features help you to:
Track changes in mentions of your brand
See which of your competitors are being discussed online
Get ideas for new products and services
Be first to know about emerging technology that could help or compete with your business
Stay on top of new trends set to impact your industry
We listen to conversations across social networks, blogs, news outlets, and other websites—then compile the data into one easy-to-read graph.
This means that no matter where your target audience hangs out online, you can get a good sense for the topics that they're interested in.
Using Exploding Topics is simple: simply type a term into our database search bar or select one of 30 categories to see related trending topics.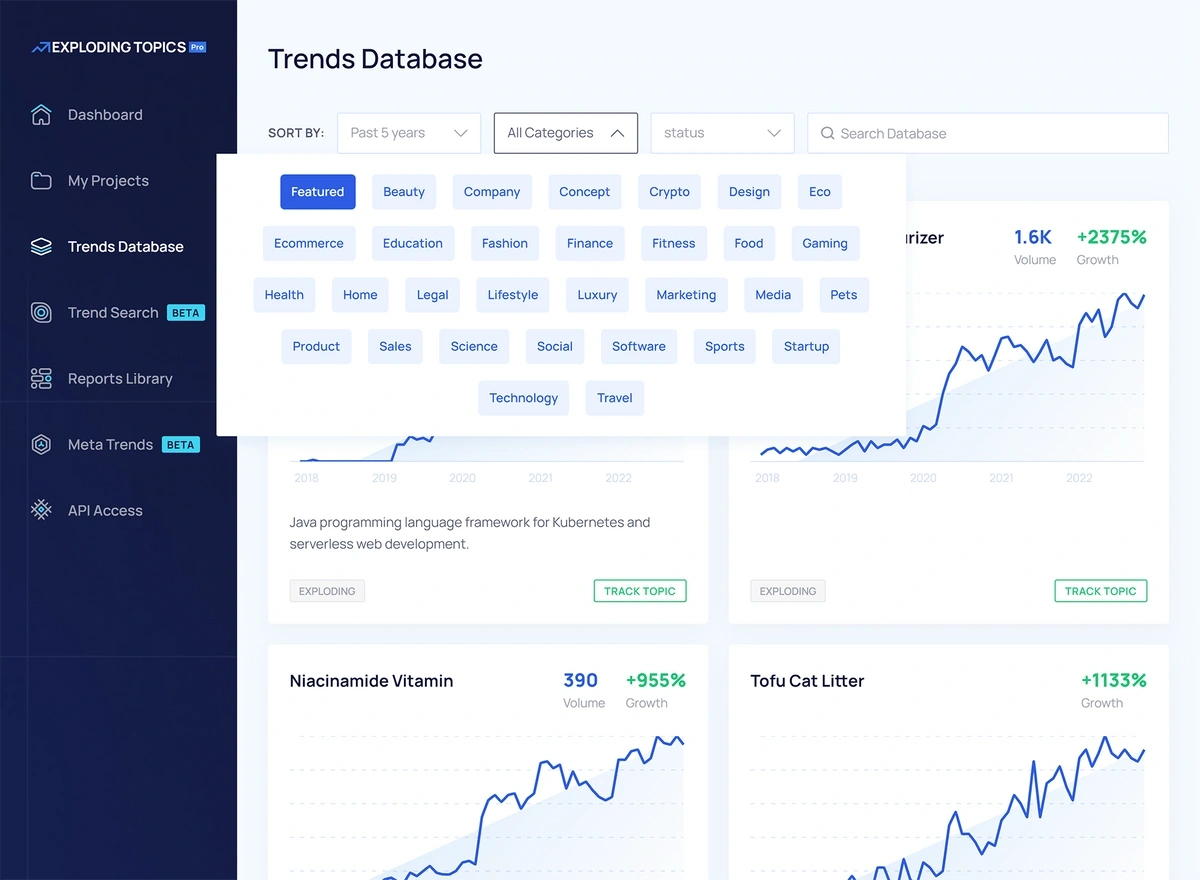 Each graph comes complete with data on search volume and growth over the selected time period. (Our data goes back 15 years, so you can really dig in and see how trends have evolved).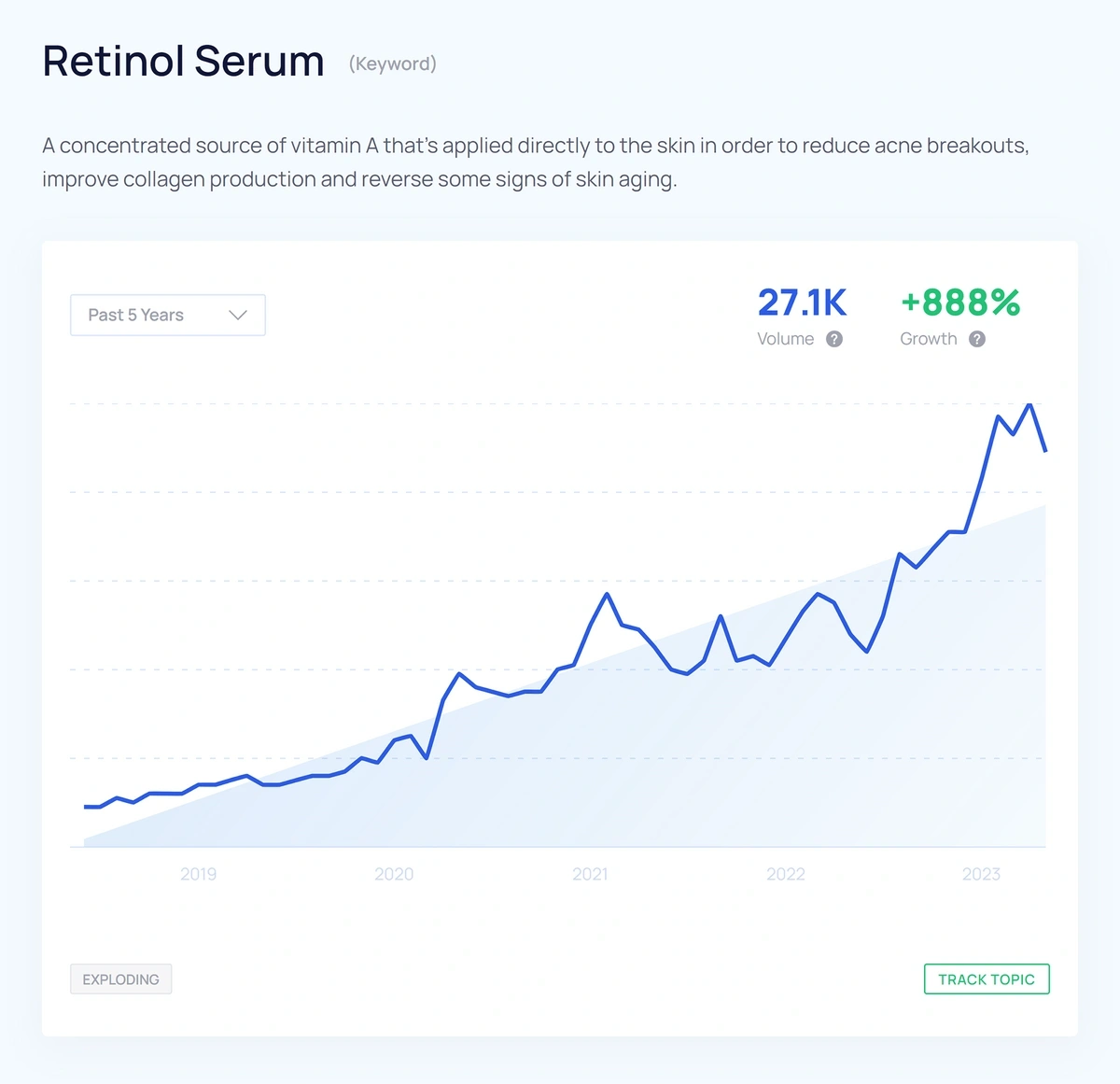 Timeliness is key when using social listening data—you want to make sure you're tracking what people are interested in right now, not what they were talking about a few weeks ago.
When you use Exploding Topics to spot growing trends, you're getting fresh, reliable data. Because we use a blend of AI tools and human expertise, we're able to update our trend spotting metrics every day.
2. Brandwatch: Best For Monitoring Brand Sentiment on Social Media
The Brandwatch platform helps companies monitor consumer sentiment around specific brand terms.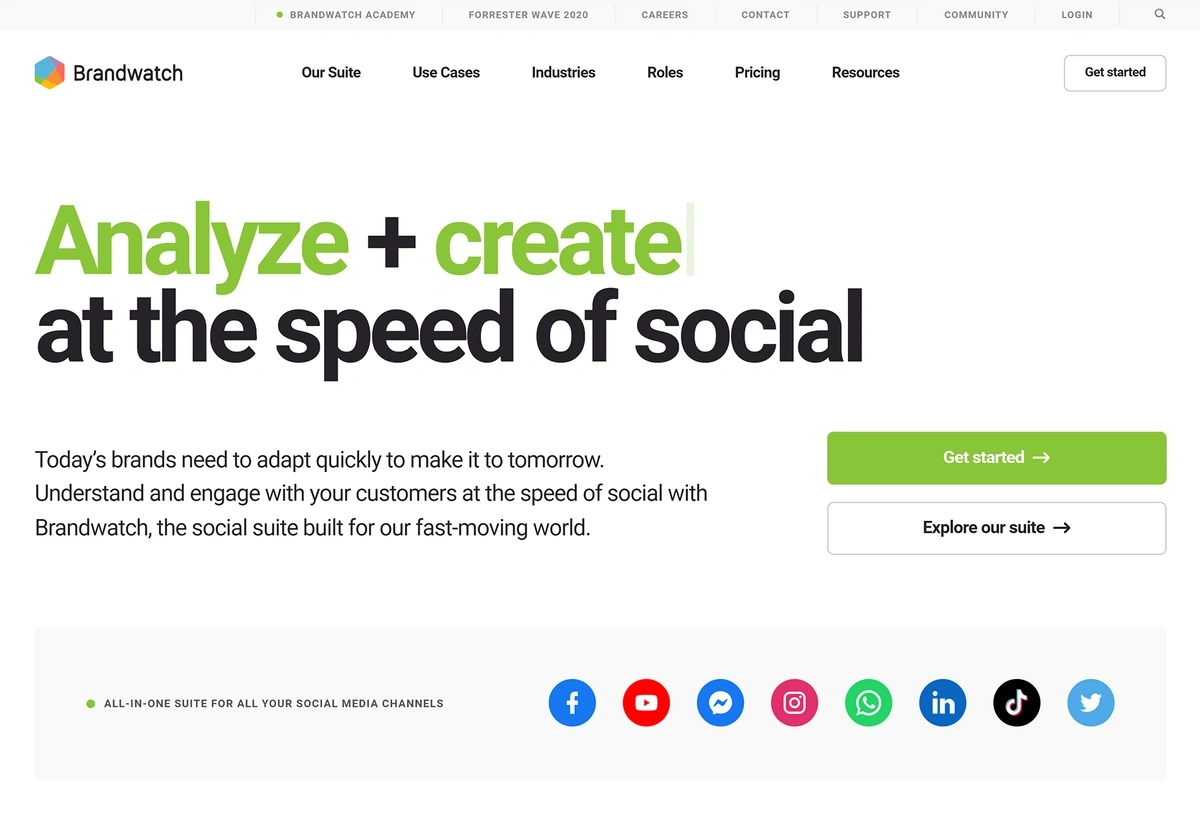 It's useful for marketers who want to:
Engage in brand monitoring on social media
See what keywords appear in your target audience's social posts
Engage directly with your audience
Identify brand advocates
Plan and manage social media content
Since Brandwatch is very focused on social media channels, it could be a good choice for companies that are trying to grow their brand presence or find user-generated content (UGC).
And because Brandwatch can notify you of positive or negative sentiment changes in your audience, it's also useful for brand reputation management.
There are a few different ways to customize your Brandwatch subscription, so if you're interested in using this tool you'll need to contact the company for a custom price quote.
3. Keyhole: Best for Researching Competitors
Keyhole is a real-time social media analytics platform that makes it easier to:
Monitor brand sentiment and mentions
Develop an influencer marketing campaign
Compare conversations across social media networks
See how people are discussing competitors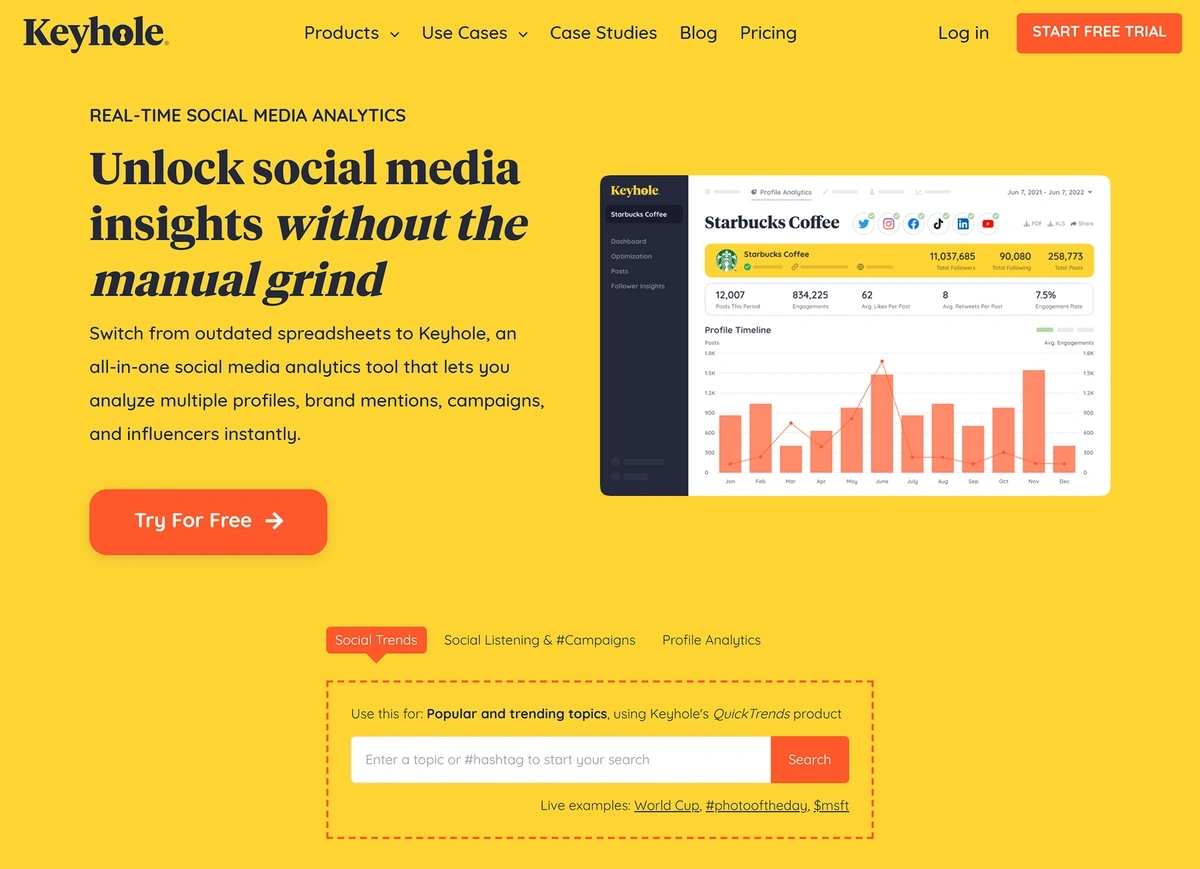 Like Brandwatch, Keyhole is good for companies that want to monitor sentiment about particular brands or search for mentions of specific keywords.
Ultimately, social listening data can help you remain competitive in your industry—and Keyhole shines here.
The tool includes a benchmarking feature that lets you compare your social account performance to that of top competitors. You can also see which influencers your competitors are using to amplify their brand.
Keyhole pricing is straightforward—you can choose from a variety of plans based on access to features, with prices starting at $79 per month (billed annually).
4. Brand24: Best For Multilingual Social Listening
Brand24 is another listening tool that offers similar features to Brandwatch and Keyhole—but it goes beyond social media platforms.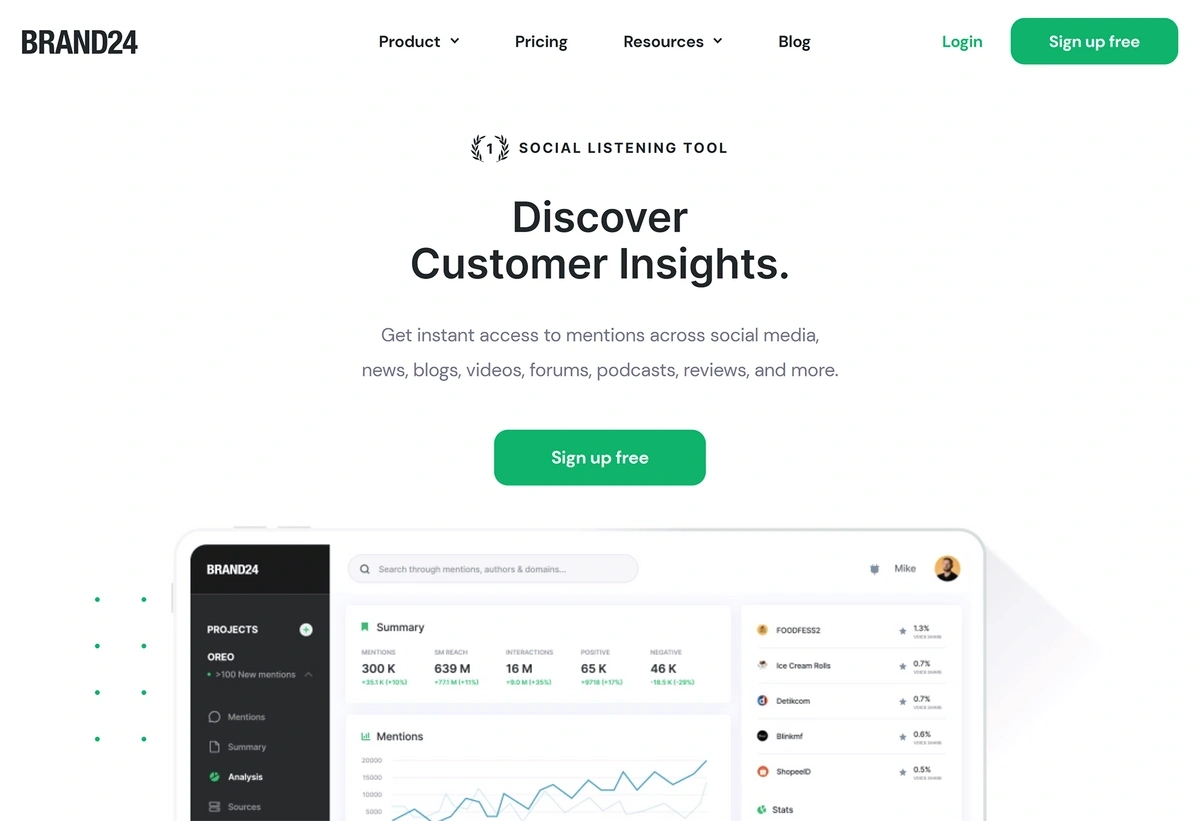 When using Brand24, you can monitor mentions and conversations across:
Social media
News sites
Forums
Review sites
App stores
With this data, you can develop insights about:
The social influence of potential brand advocates
How and in what context your brand gets mentioned online
Changes in the overall volume of conversations about your brand
Consumer sentiment toward your brand
Brand24 is a nice choice for global brands, as its social listening AI can detect keyword mentions in 108 different languages. This is useful if you need to assess changing sentiment across markets or take different actions based on region.
Access to Brand24 tools starts at $69 per month (billed annually).
5. BuzzSumo: Best For Finding Influencers and Brand Ambassadors
BuzzSumo is a tool that not only shows you what's trending now, but how evergreen (i.e. long lasting) existing content is.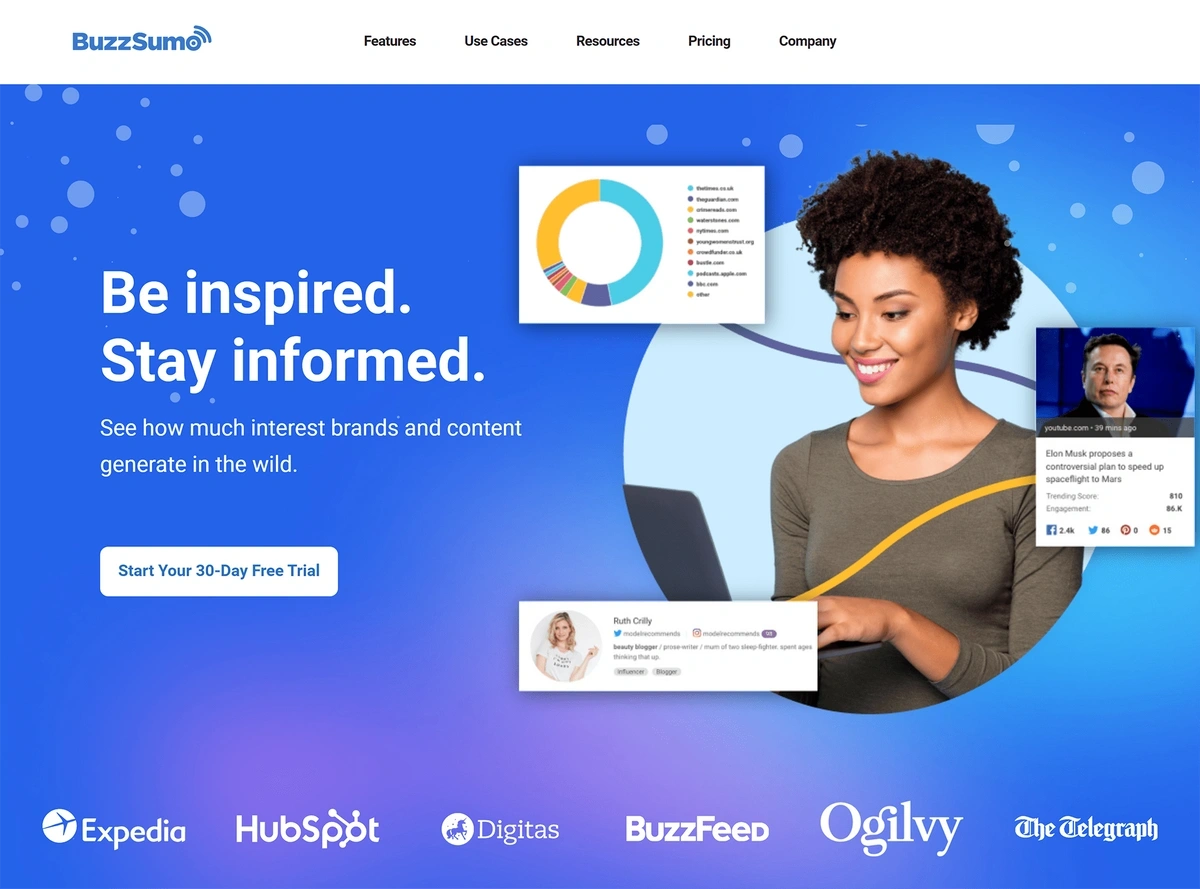 It's helpful for a variety of digital marketing initiatives, including:
Figuring out which topics and content links are most popular on social media
Identifying the top accounts sharing your content and acting as brand ambassadors
Connecting with influencers
Pinpointing relevant trending topics for your brand or industry
Conducting a competitor analysis and see what content is growing in popularity
Getting ideas for long-lasting content you can create once and keep benefiting from
The data you can view in Buzzsumo is very focused on social media and content marketing—so it's great to use when you need to stay up to date on social conversations.
If you're interested in browsing trends for product development purposes or to keep up with competitors, though, you may want to try another option on this list.
You can start using Buzzsumo's basic features for $95 per month (billed annually).
6. Sprout Social: Best For Planning a Social Media Strategy
Sprout Social is a listening tool that makes it easy to research, plan, and manage social content for your brand.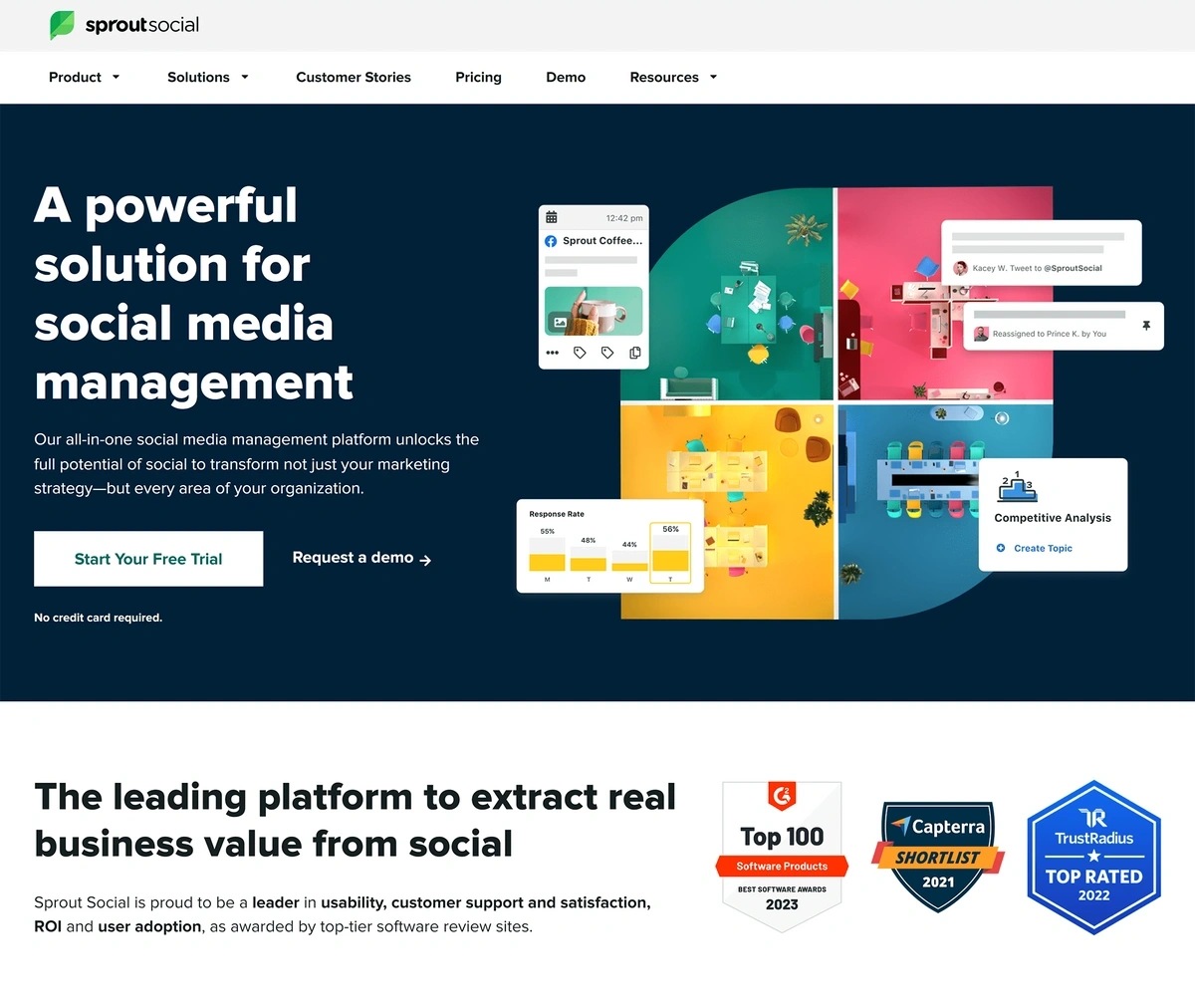 By incorporating Sprout Social features into your workflow, you can:
Track trending topics online and in your industry
Monitor social mentions on different platforms
Manage details about top brand advocates and influencers
Keep tabs on competitors' social media market share
Schedule social media content for posting
Post scheduling and account management is another big part of the Sprout Social interface. If you need a new social media management platform as well as a listening tool, it could be a good choice.
It's also a good alternative to BuzzSumo for anyone interested in a solution that combines influencer discovery with a social media listening tool.
Sprout Social plans start at $249 per month.
7. Agorapulse: Best For Social Engagement With a Team
Agorapulse is another content planning and social media monitoring tool—similar in some ways to Sprout Social.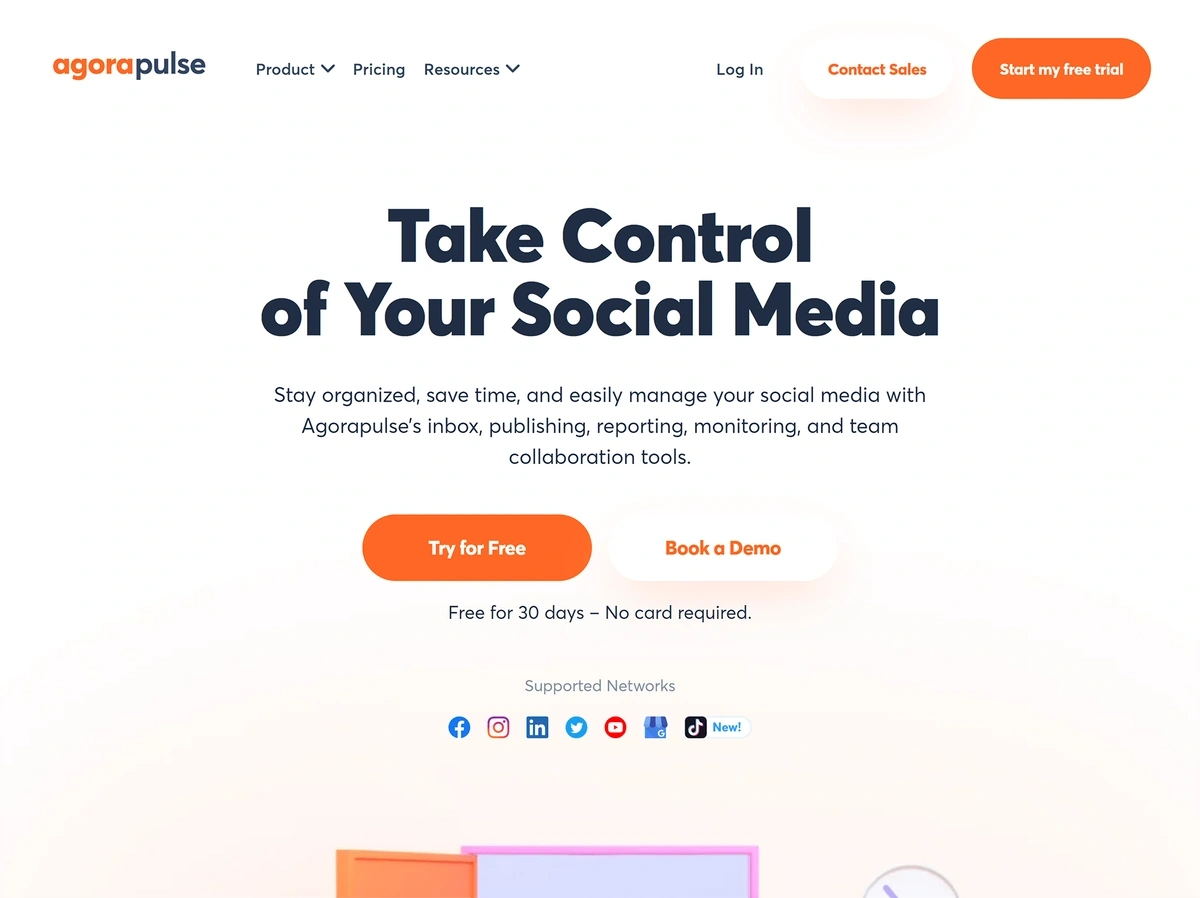 You can use the platform to:
Create saved searches and lists of social media posts
Engage with your audience without leaving the Agorapulse interface
Locate and repurpose useful UGC
Monitor online conversations about your brand and competitors
Plan and schedule social media content
The Agorapulse interface is heavy on organization—you can label tweets, posts, and competitor content for easy reference going forward.
You can also delegate actions and share content with your team, so it could be a nice choice if you're working with colleagues on a campaign.
The data provided by Agorapulse is limited to social media, though, so if you're interested in listening to conversations online or across other forms of media, you'll probably want to check out some other tools on this list.
Agorapulse access starts at $49 per user, per month (billed annually).
8. Talkwalker: Best For Multimedia Social Listening
The Talkwalker social listening tool covers multiple channels—social media, blogs, forums, and news sites.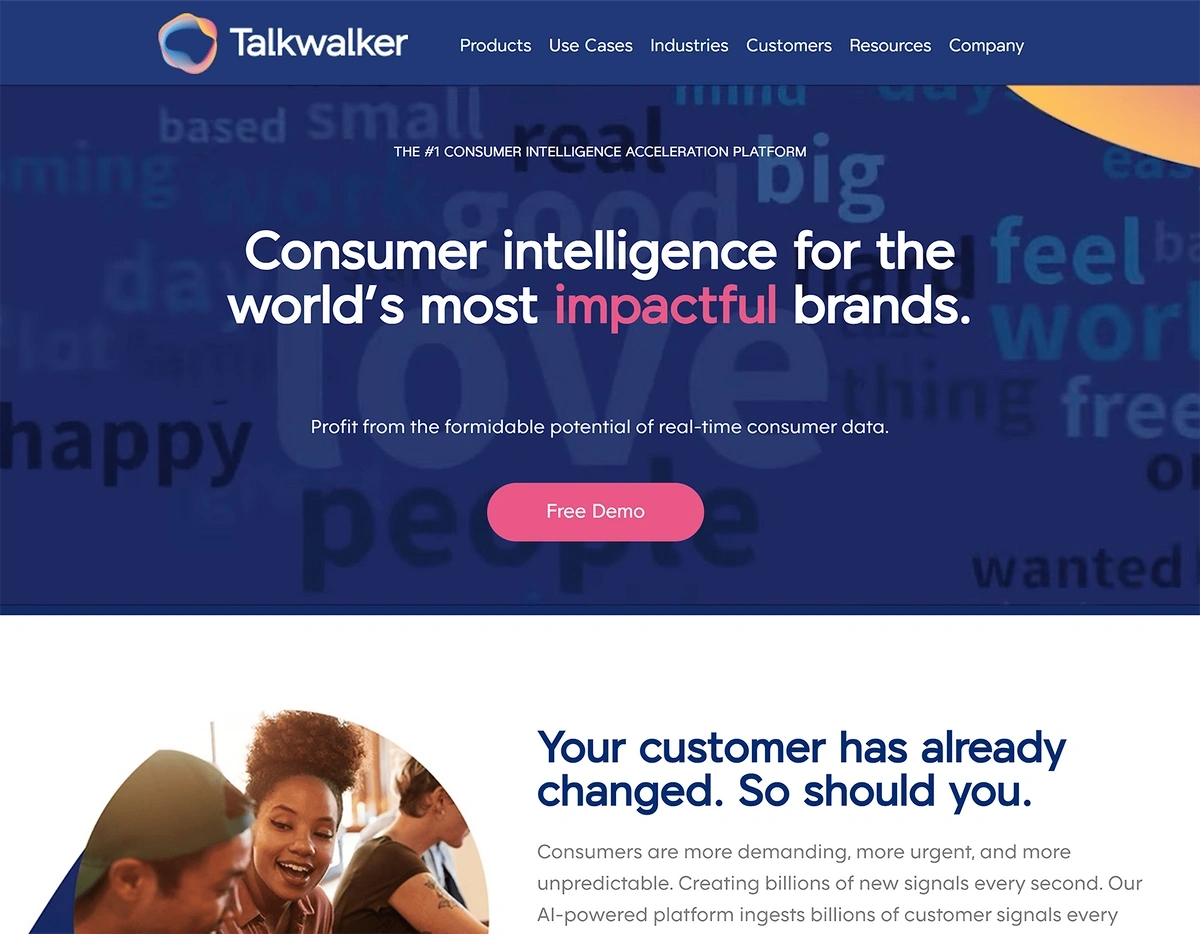 While its historical data isn't as robust as some other tools on this list—Talkwalker goes back five years, while Exploding Topics data goes back 15 years, for instance—you can still use it to:
Analyze consumer sentiment and brand awareness
Monitor industry trends
Dig into social data in over 187 languages
Set up notifications for changes in chatter related to your brand name
Build customized reporting dashboards
One interesting feature is that Talkwalker lets you track image usage over time, including brand logos and video stills. This could be useful if you need to monitor very visual media content, such as TikTok reels or Instagram posts.
It's free to use Talkwalker's brand alert software and conduct basic searches on social media content.
To gain access to full Talkwalker functionality, including its AI-enhanced brand sentiment analysis, you'll need to contact the company for a price quote.
9. Critical Mention: Best for TV and Radio Monitoring
Critical Mention is a media monitoring platform that allows you to conduct social listening that includes data from TV and radio broadcasts.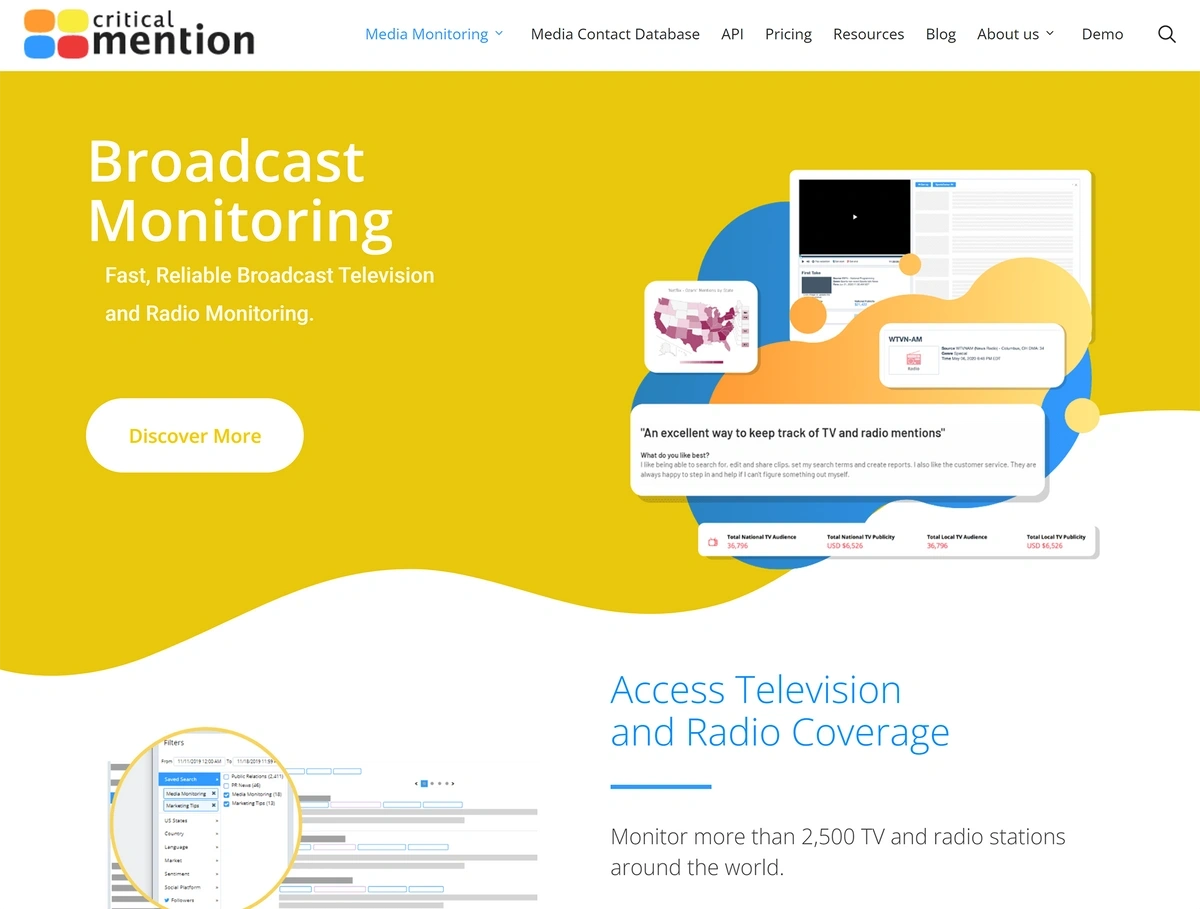 Its full feature set includes support for:
Finding and downloading news clips from the U.S., Canada, Europe and the Middle East
Monitoring conversations across social media, including YouTube
Locate brand mentions via online news outlets, blogs, and forums in more than 90 languages
Keeping track of brand mentions in podcast audio
The Critical Mention suite also includes a media contact database. If you're interested in social listening for public relations—especially when it comes to earning placements in more traditional media formats—then this could be a useful asset.
Like many other social listening platforms, Critical Mention uses a custom pricing model. Their website indicates they offer scalable packages for companies that are currently in a growth phase, but you'll need to get in touch with them for a quote.
10. Awario: Best for Building a Social Media Sales Pipeline
The Awario social listening offers many features that are similar to its competitors.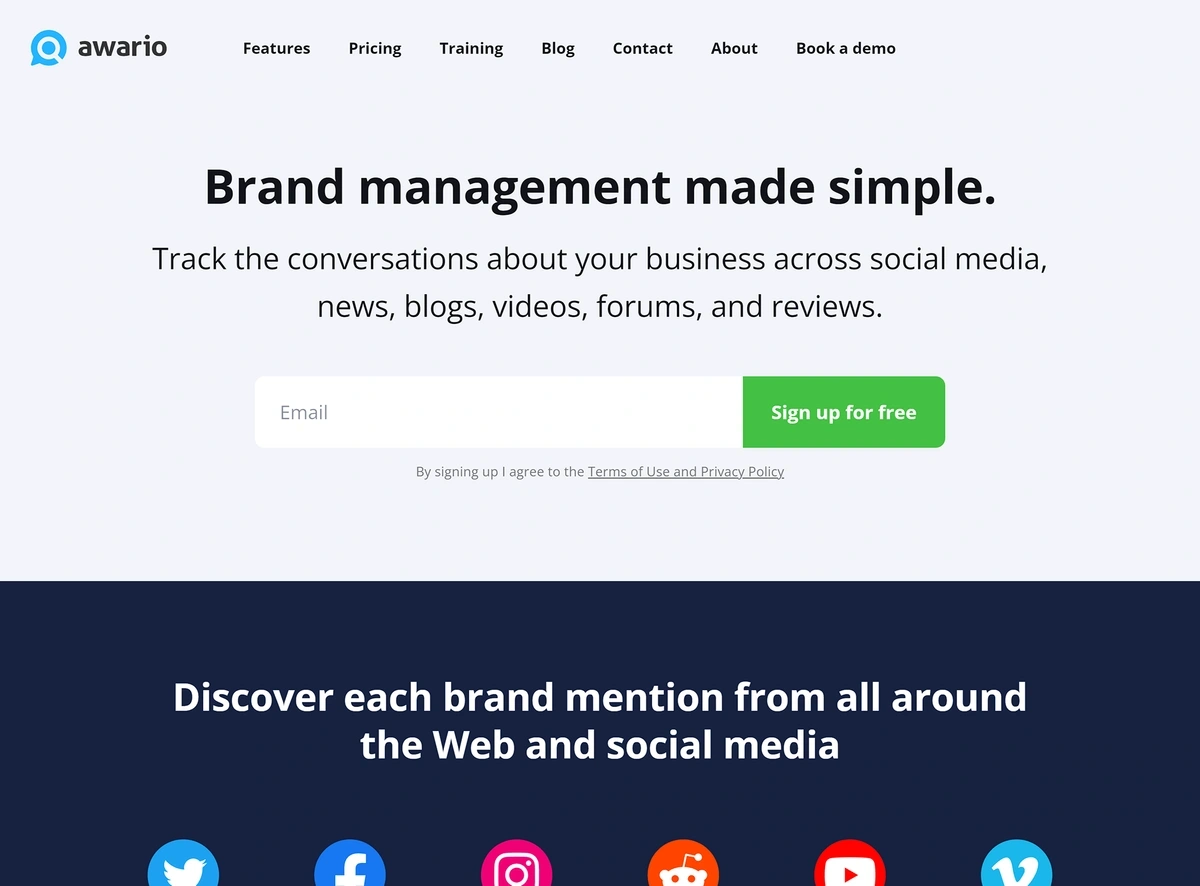 When using the tool, you can:
Track brand mentions across social media, forums, blogs, news outlets, and video sites
Monitor changes in brand sentiment and awareness
Research your audience's sentiment toward your competitors
Connect with influencers
Engage with social media users interested in your brand, including providing customer support
However, the tool stands apart in one specific area: social selling. Awario says that 85% of consumers are doing brand research online before making purchases—and you can use their platform to identify potential leads.
This feature makes Awario a potentially good choice for brands selling online, especially DTC e-commerce companies that may be taking orders directly through social networks.
You can get access to Awario for $24 per month (billed annually).
Conclusion
It's clear that many social listening tools lean heavily on the "social" side of the equation—they're focused on social media platforms and offer tools for scheduling and planning content.
While this is great if your business is based around social media, it can be restrictive at times. Your customers may be talking about terms of interest to your brand in other places, too, like on forums and in blog posts.
To get the most holistic, comprehensive picture of what your audience is interested in, you'll want to choose a tool that covers multiple channels—not just social networks.
Exploding Topics is a wide-ranging, continuously updated, and easy-to-use social listening tool suitable for a broad range of industries. From building a new content strategy to keeping an eye on competitors, you can do all of that and more with our data.
Give it a try for yourself—it's just $1 for your first two weeks of Exploding Topics Pro access.