10 Top Google Trends Supercharged Alternatives (2023)
Google Trends Supercharged is a Chrome extension that adds search volume data to Google Trends graphs.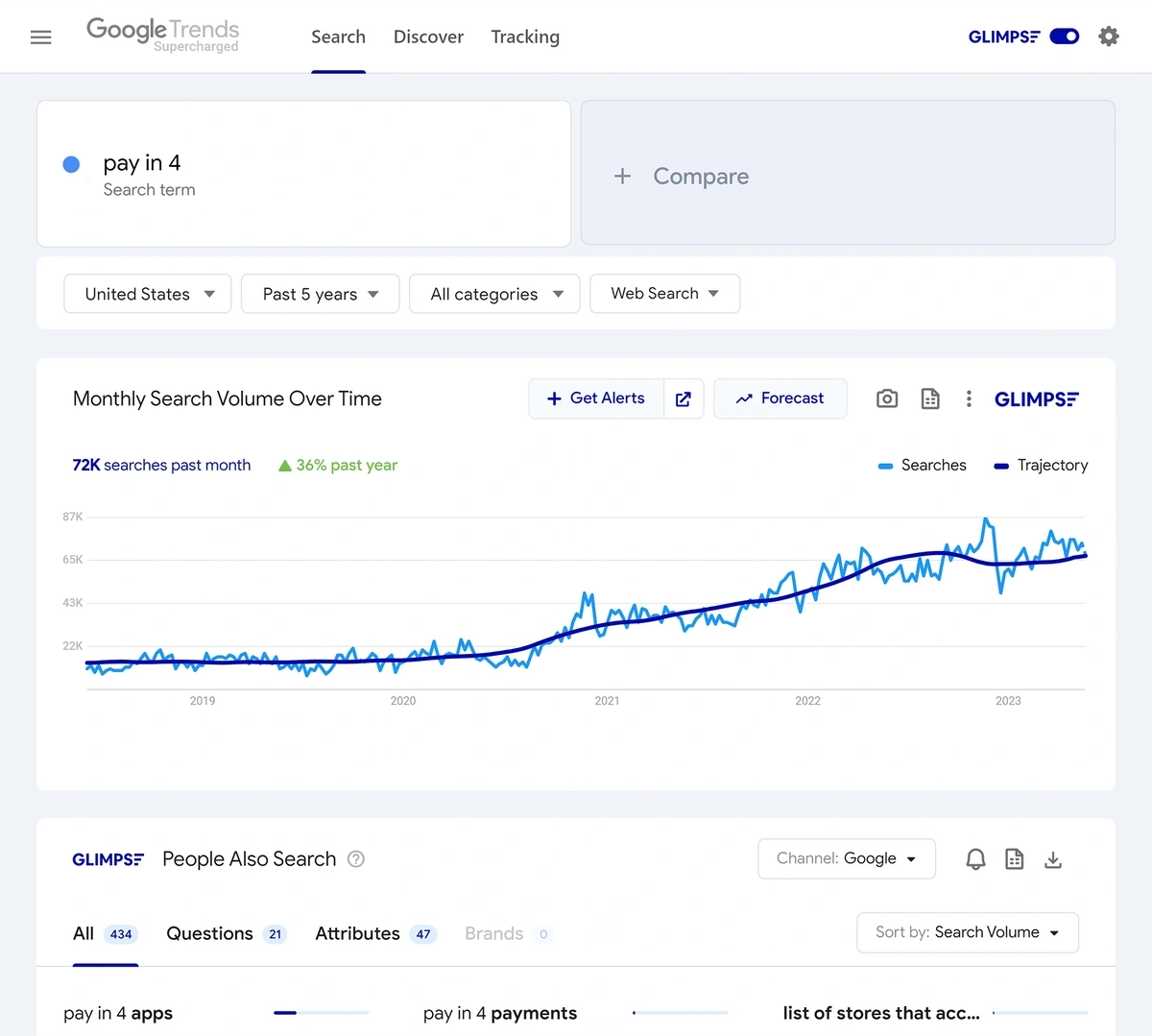 When you have the Google Trends Supercharged extension turned on, it replaces Google Trends metrics with actual search volume numbers.
You can toggle this view on and off in the upper right-hand corner of the Google Trends Supercharged screen, so you'll still be able to access normal trend views if you need to.
Google Trends Supercharged is free, but you're limited to 10 trend searches each month. After that, you'll have to select a paid plan starting at $40 per month (billed annually) or $49 per month (billed monthly). You'll also have to use a Chromium browser, as there's no Firefox or Safari extension available.
If you're interested in this extension, but aren't sure if it's quite the right tool for you, one of these 10 Google Trends Supercharged alternatives might be a good fit.
1. Exploding Topics
Exploding Topics is a trend spotting platform that tracks trending topics across multiple sources.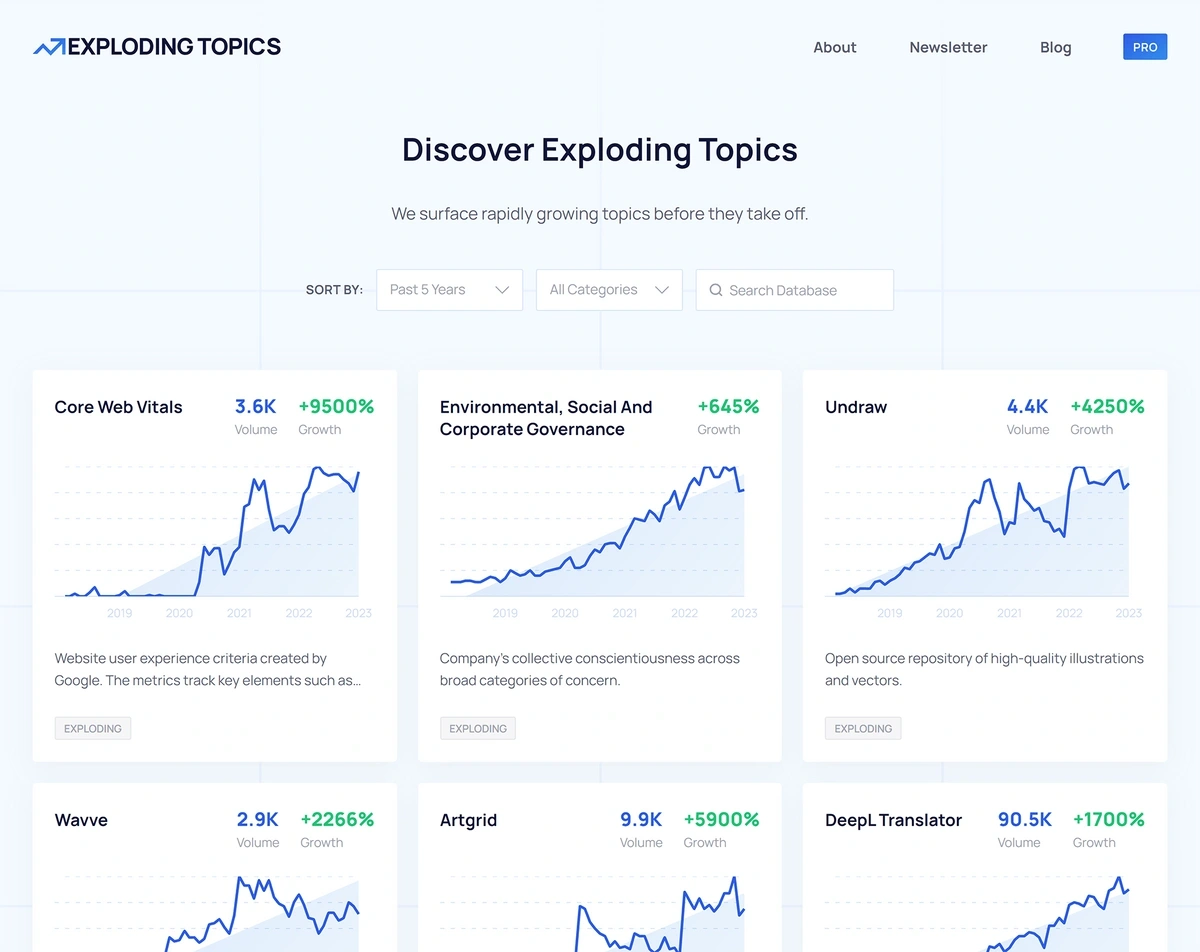 We use a blend of machine learning and human expertise in order to do this. First, our AI looks for trending topics broadly across the internet—if a topic is trending through Google search, on social media, or in the news, we'll catch it.
This is important because many people—including nearly 40% of Gen Z internet users—turn to TikTok instead of Google with their search queries. Which means that data alone won't be enough to pick up on some new trends.
After our tool collects raw data, our team of analysts reviews the trends. They consider historical fluctuations to evaluate which trends have the potential to keep growing.
As an Exploding Topics user, you can then explore this data in a few different ways:
Searching the entire Exploding Topics database
Reviewing the top trends in specific industries
Reading our weekly trend reports
Getting instant trend alerts
Each trend gets its own graph that shows fluctuations in popularity over time—and you can see whether the trend's growth is exploding, holding at regular levels, or has already peaked.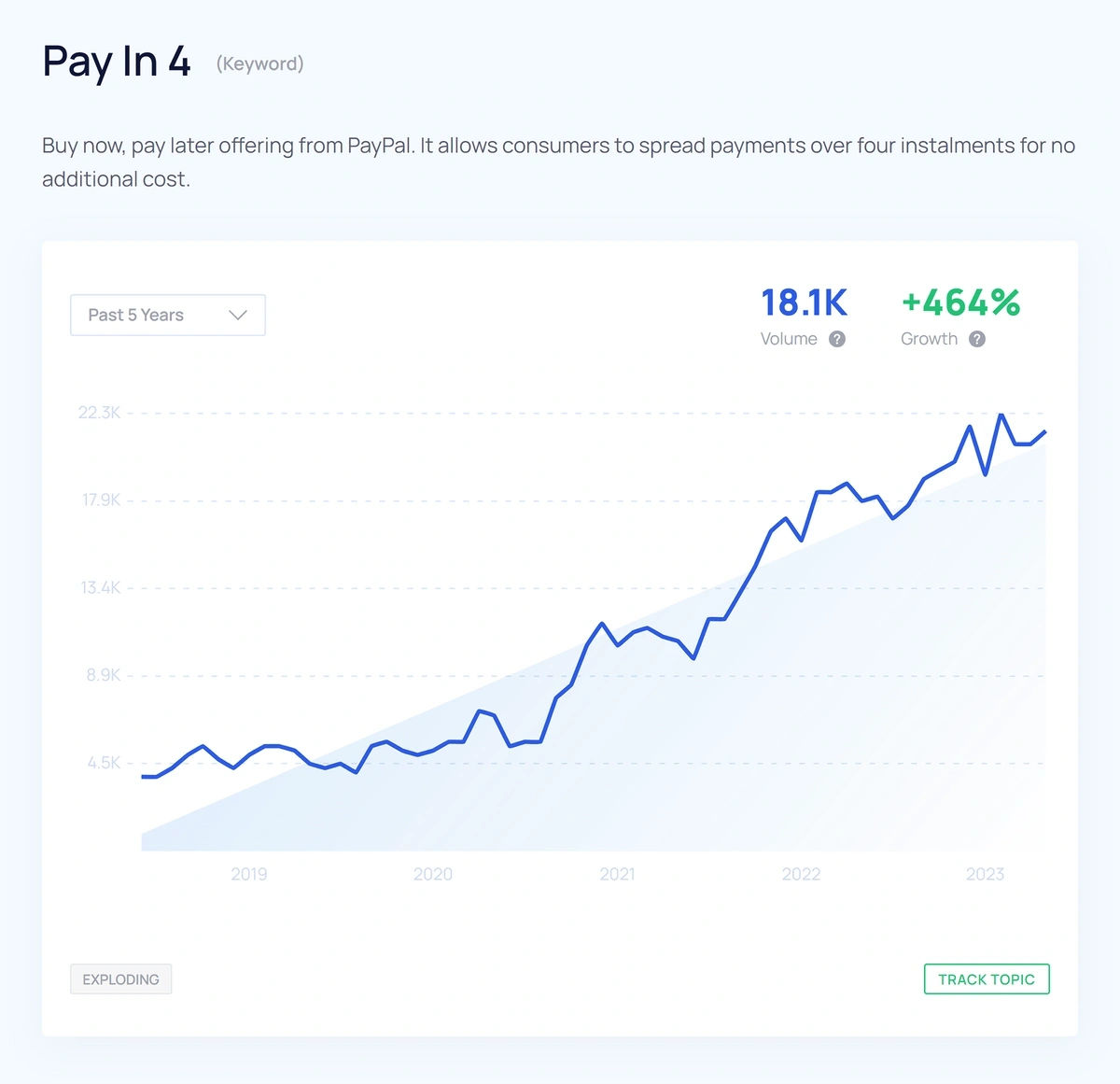 You can start your exploration for free right now by browsing over 30 trend categories right from our homepage.
2. Trendtastic
Trendtastic is a basic Chrome extension that inserts a Google Trends graph at the top of any Google search engine results page (SERP).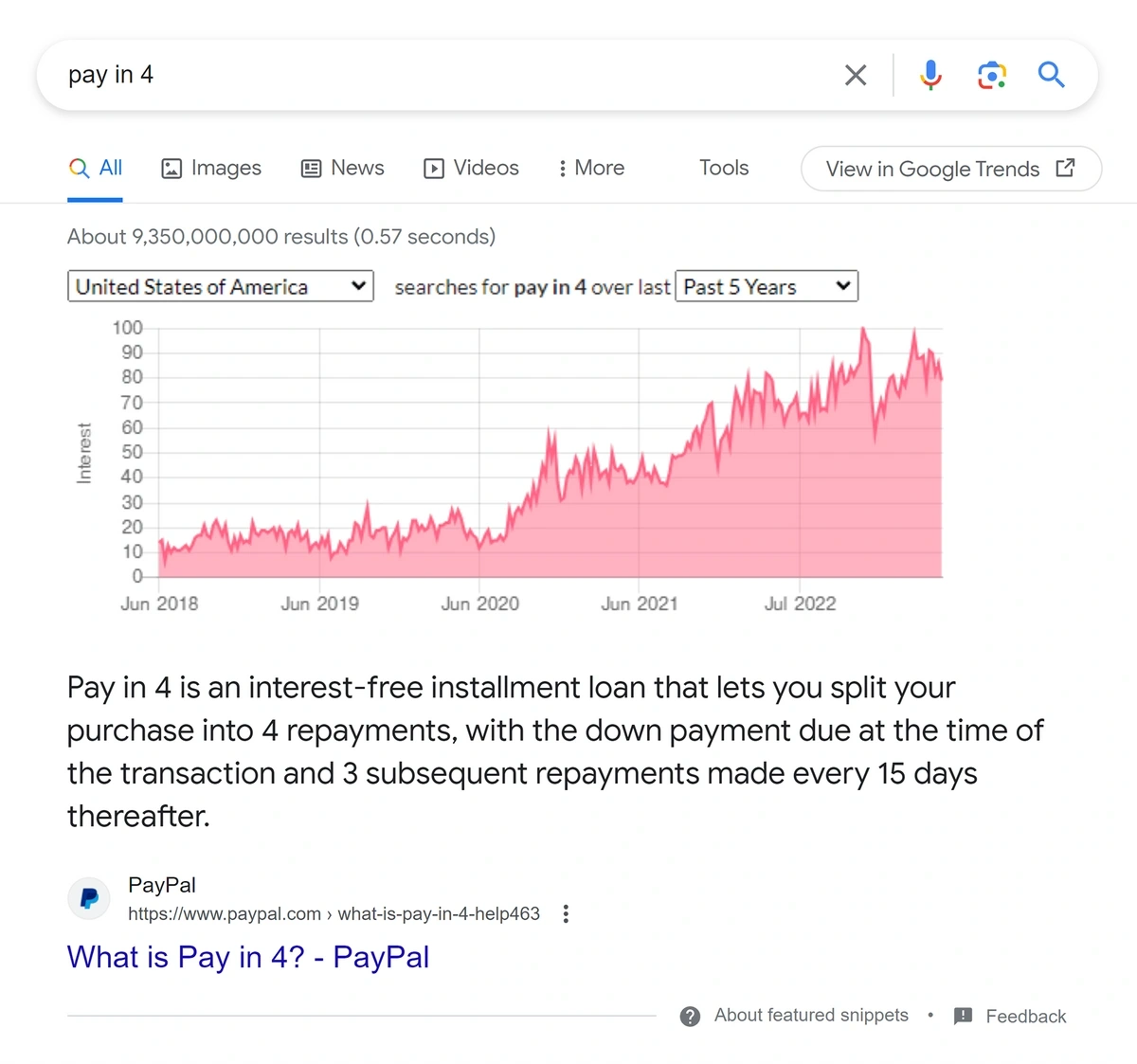 This extension uses the same zero-to-100 popularity scale as the stock Google Trends interface does. It doesn't show search volume like Google Trends Supercharged.
It's essentially a quick, easy, and free way to see Google Trends data right in your SERPs. You won't be able to compare trends, though—if that's important to you, you'll need to stick with the regular Google Trends website or try a different extension.
3. Trends Everywhere
Trends Everywhere is another Chrome extension that adds Google Trends data to your search results. It works with Google and DuckDuckGo searches.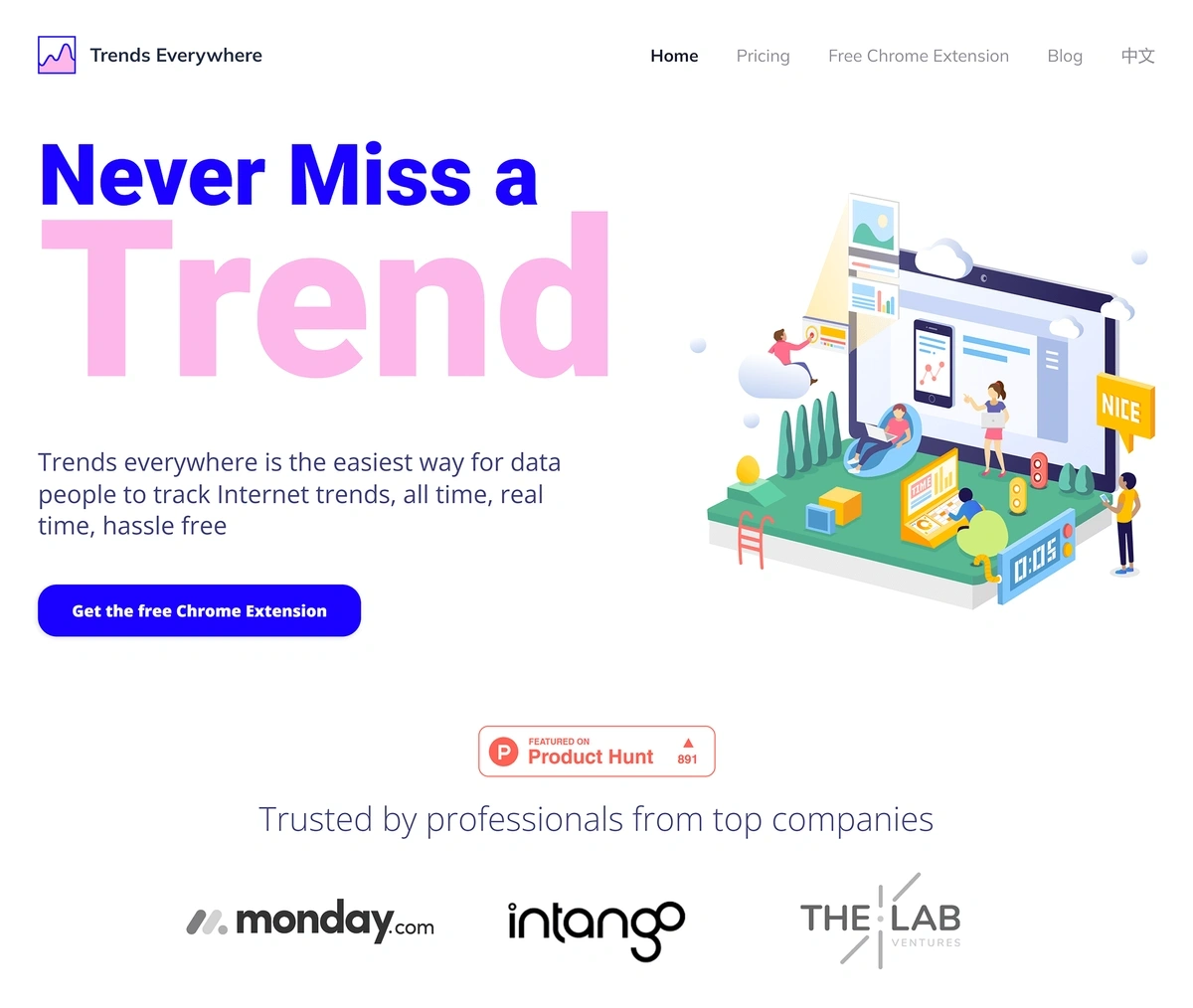 If you click the SERP graph, you can open up a larger version on the Trends Everywhere website.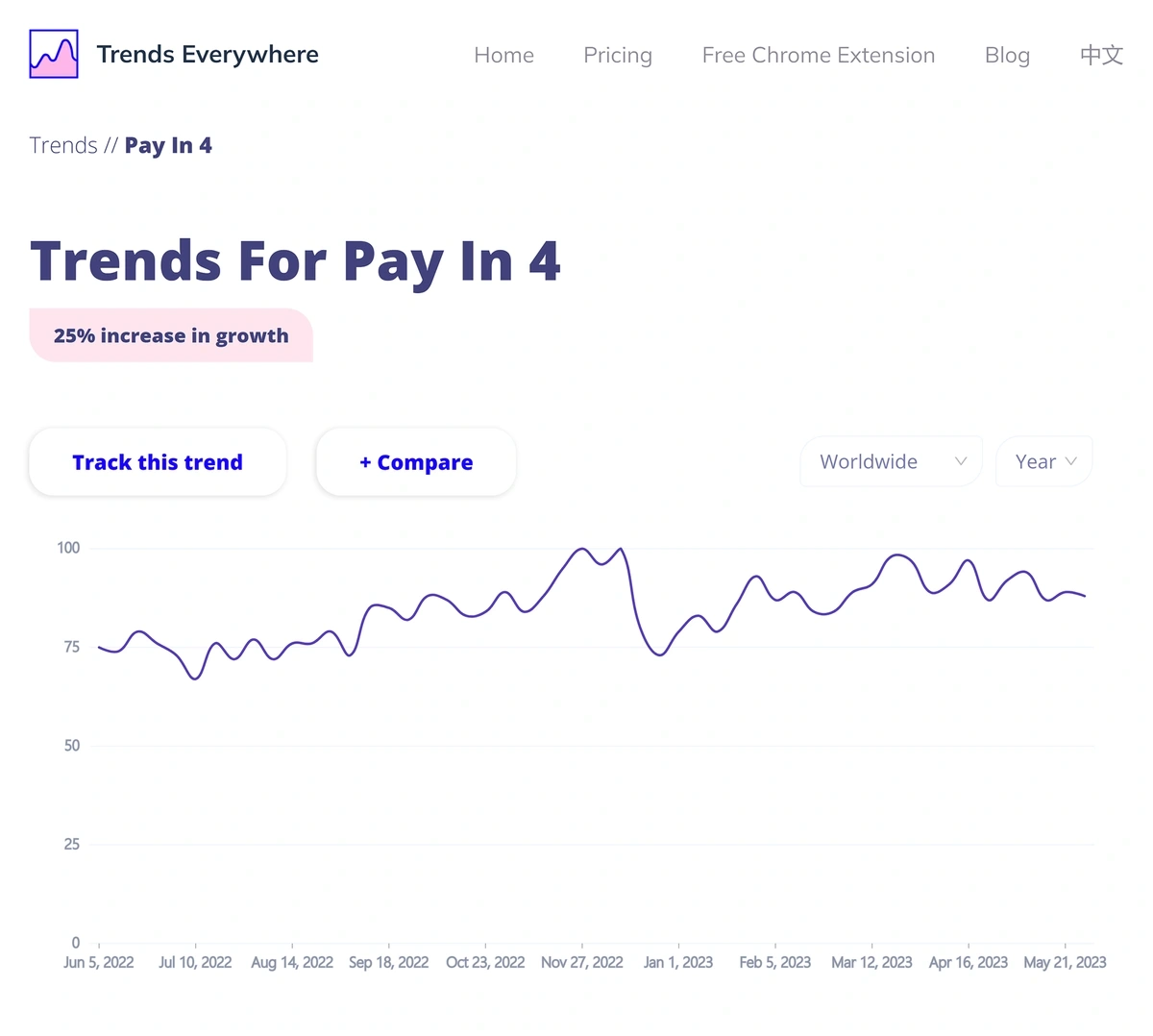 You can use Trends Everywhere on three searches per day. It applies the graph automatically, so it's easy to run out of free queries quickly. A paid plan, starting at $4.50 per month, unlocks unlimited queries.
4. Treendly
Treendly is a trend spotting website that refers to itself as "Google Trends on steroids."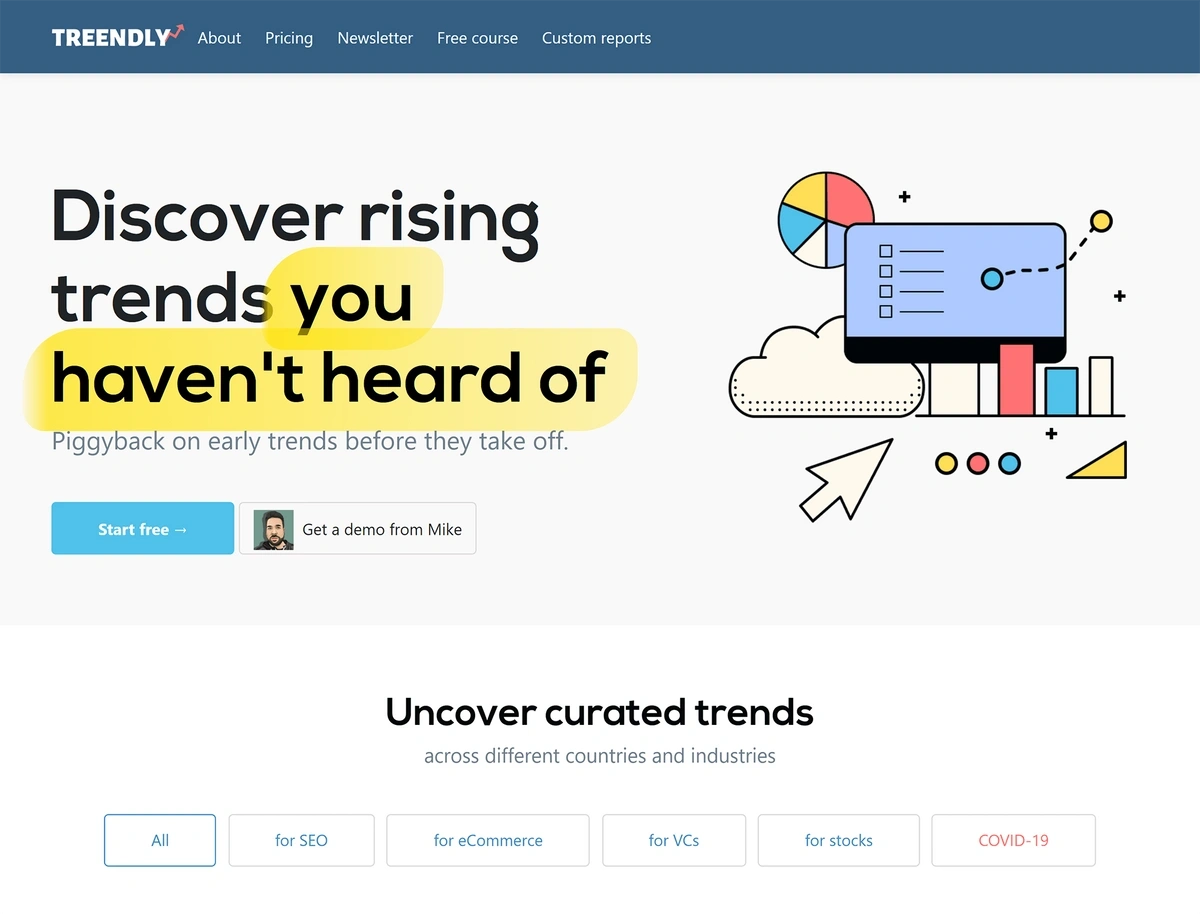 You can use the platform to see:
Fluctuations in trend popularity over a five year period
Current estimated monthly searches
Trend forecasts about whether the term is expected to grow in popularity
The bulk of Treendly's data is available through its website, but you can also install a chrome extension that adds basic trend charts to Google SERPs.
It's free to search an unlimited number of terms with Treendly. To access their entire library of trend data and track up to 25 terms, you'll need to upgrade to a paid plan starting at $99 per year.
5. Pinterest trends
Pinterest Trends works just like Google Trends, but its data is limited to searches performed on the Pinterest app or website.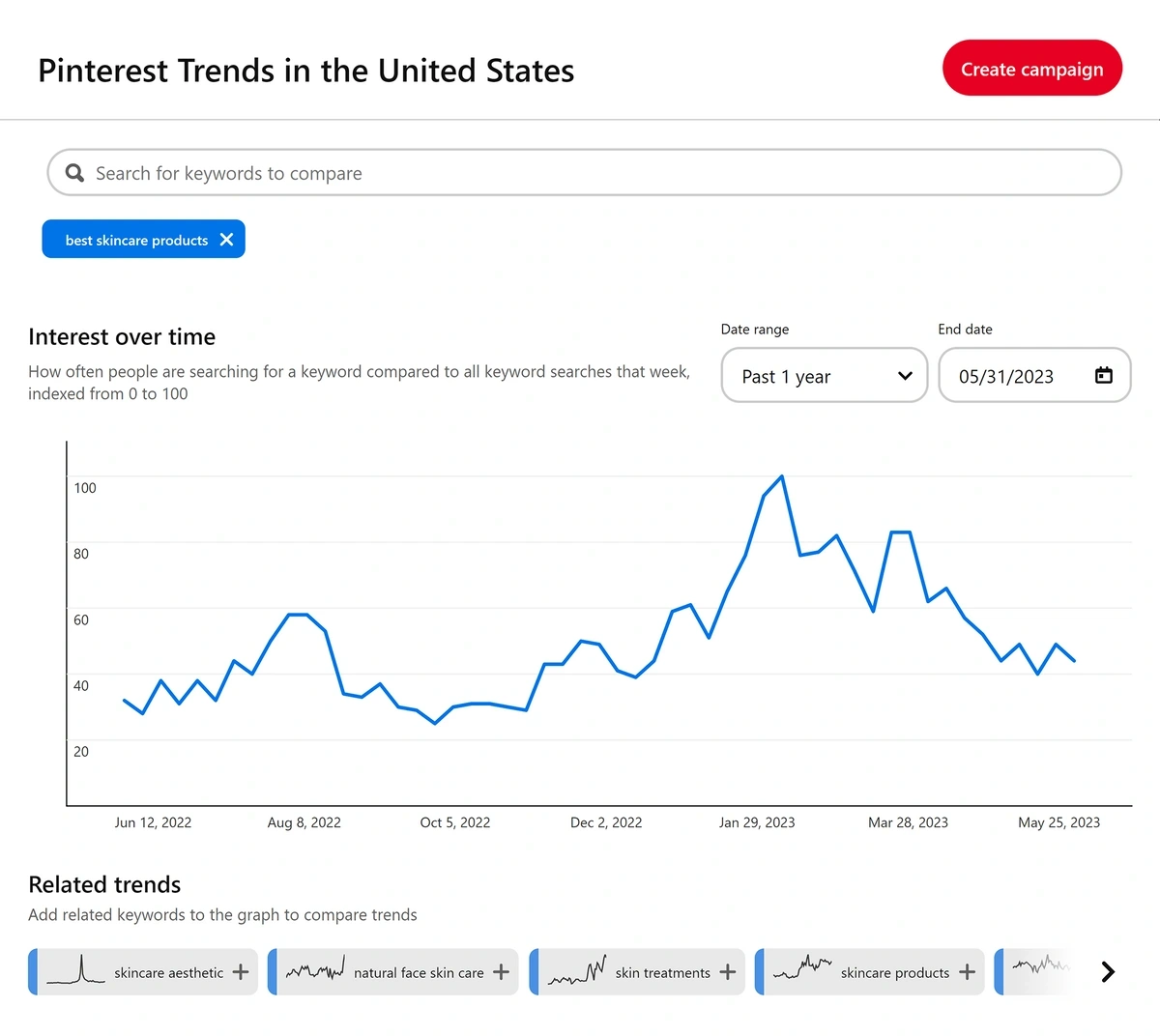 You can see fluctuations in trend popularity, demographic details about the people searching for that trend, and examples of related Pinterest content all in one place.
Not all users will find relevant trend data using this tool, though.
While it's possible to put just about anything on Pinterest, much of the platform's content focuses on:
DIY projects
Beauty and skincare
Consumer goods
Home decor
Fashion
DTC products
If your work doesn't fall into one of those categories, then Pinterest Trends might not be the best choice. But if you do rely on Pinterest for marketing purposes, it's worth checking out in addition to one of the more comprehensive or Google Trends-focused options on this list.
6. Semrush Market Explorer
Semrush Market Explorer lets users research trending keywords that are associated with a particular website.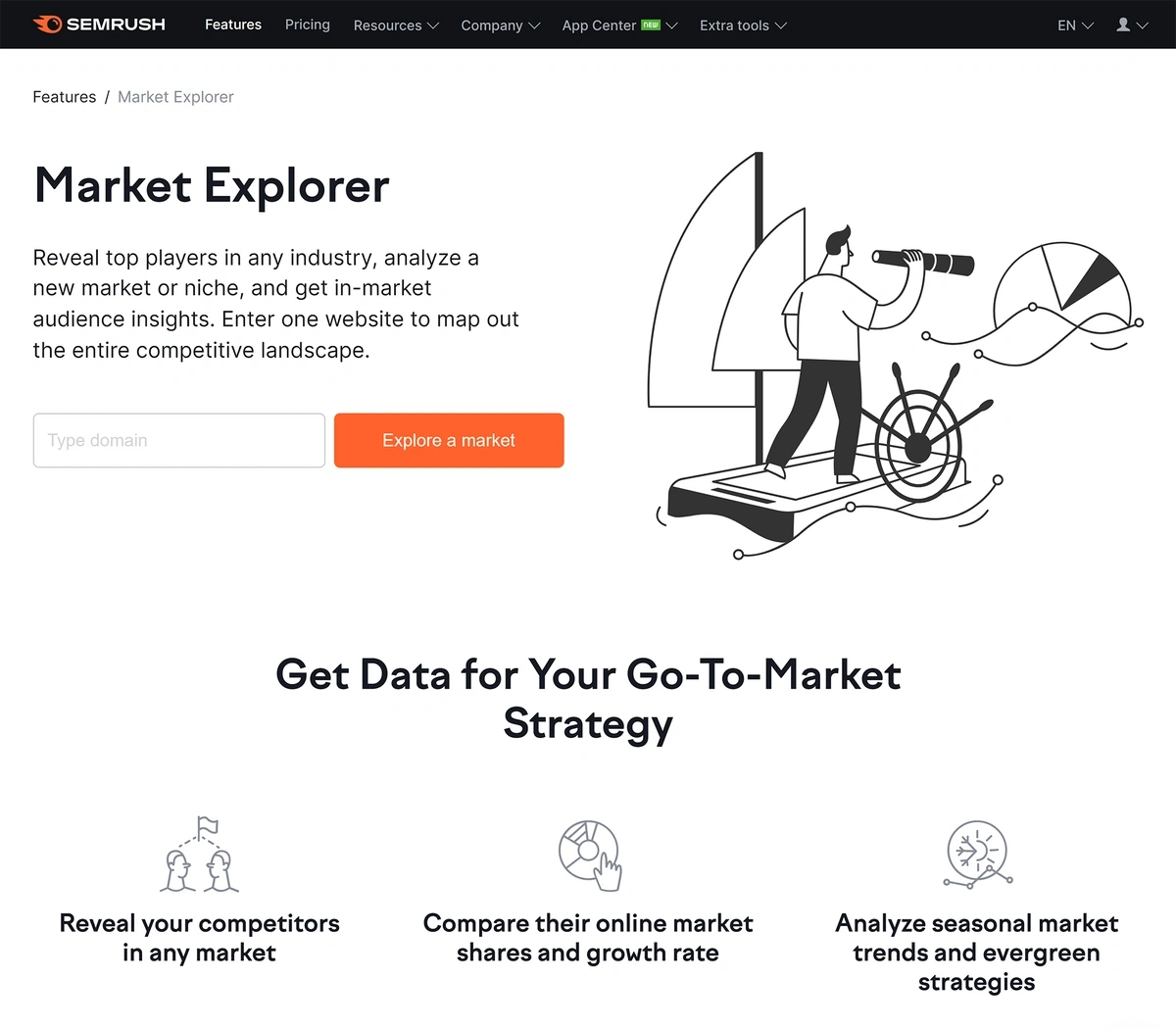 There are a few ways you can use the tool's data, but we think it's nice for seeing which popular search terms are bringing traffic to your competitor's websites. You can also check your own site to make sure that you're aware of the topics that your audience associates with your brand.
Market Explorer is part of Semrush .Trends, which also includes a traffic analytics tool, a competitor content tracker, and an audience analyzer.
This makes Market Explorer a nice option for brands that need to monitor how their competitors are reacting to different trends online. After using Market Explorer to identify specific trend keywords, you can then:
Identify other brands associated with trends
Pull traffic analytics for those competitors' sites
Research which trends are growing in popularity
Estimate your market share compared to competitors
Establish benchmarks for growth in trend-related searches
Monitor the type and frequency of content your competitors are creating
Basic Market Explorer data is free with a Semrush account. To see all of the trending keywords related to your queries—and use the complete slate of features listed above—you'll need to purchase a Semrush .Trends plan starting at $200 per month.
7. Bing Keyword Research Tool
The Bing Keyword Research Tool, part of Bing Webmaster Tools, works similarly to Google Trends.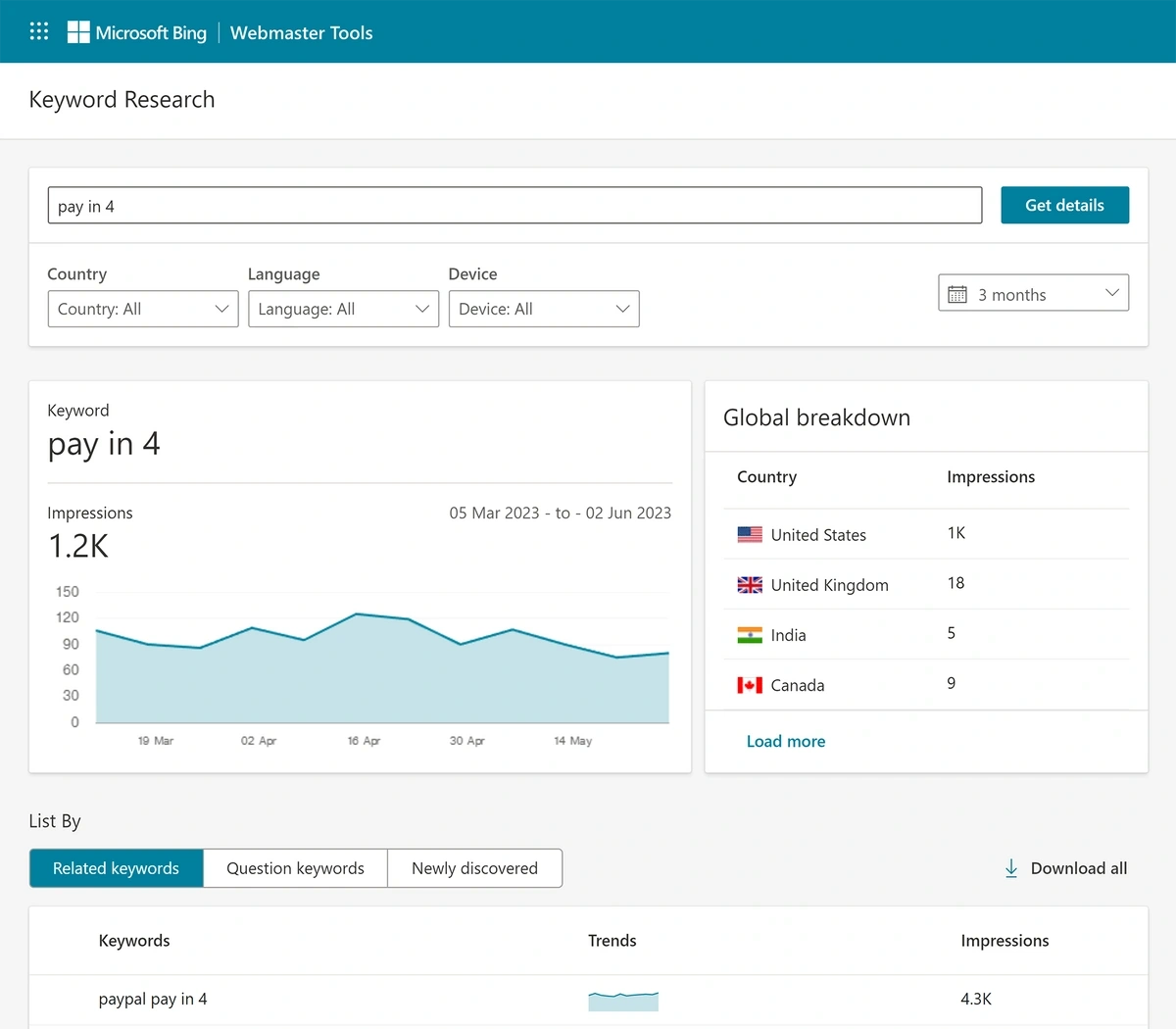 Simply search for a keyword and get a list of related terms accompanied by trend graphs.
If you mouse over the trend graphs, you'll be able to see how impressions for each term have changed. This gives you an idea of how a trend's popularity has fluctuated.
The tool is primarily useful for marketers who know their target audience frequently uses Bing.
Anyone conducting more general trend research will likely be better served by one of the other Google Trends Supercharged competitors discussed here.
8. Answer The Public
Answer The Public is a longtail keyword research that lets you see questions related to specific search terms—along with volume and average cost per click (CPC) data.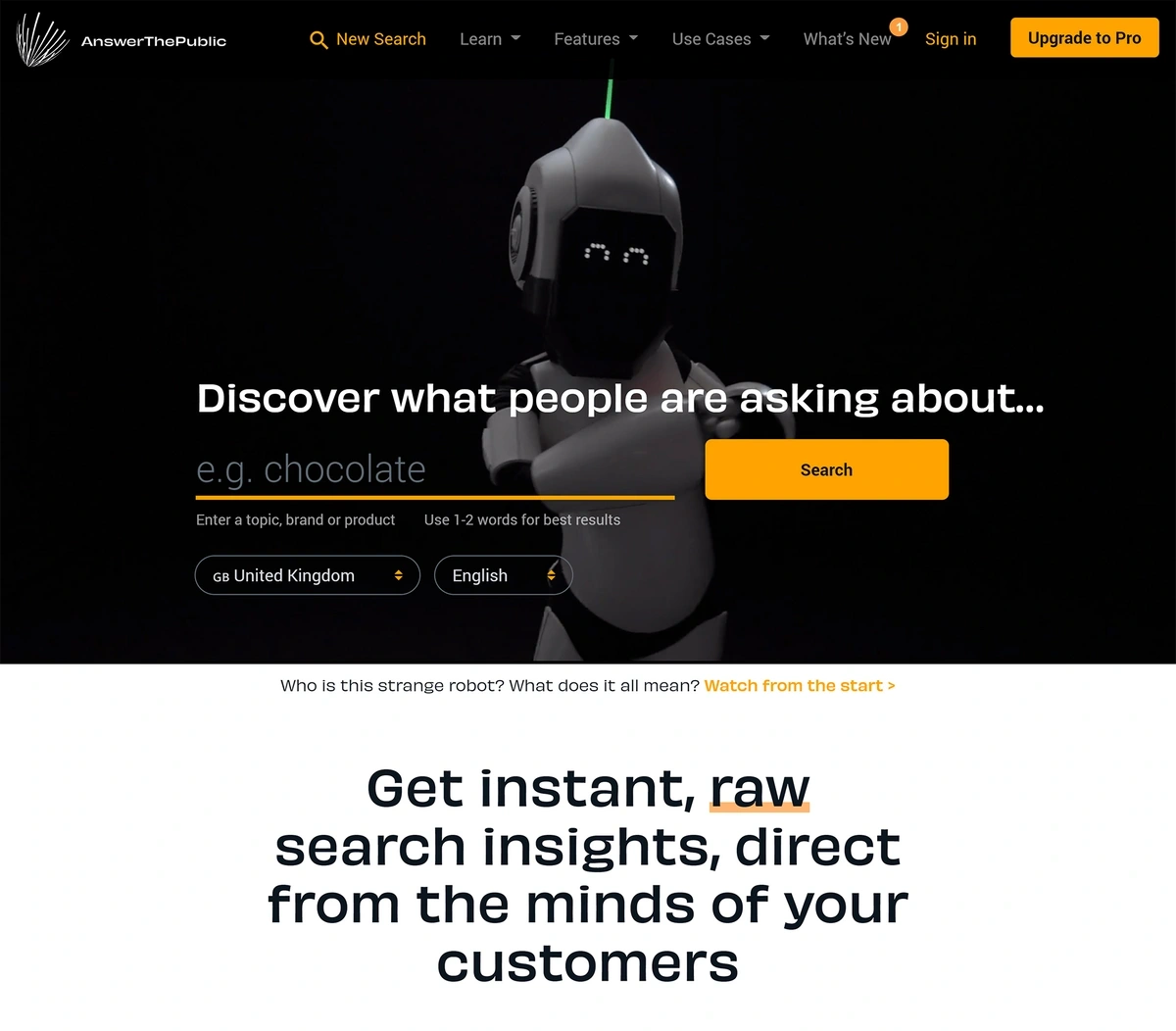 While it isn't specifically a trends tool, the information it provides can be useful when trying to discover connections between different trends and their related topics. (To go really in depth on trend connections, however, you'll want to explore meta trend research.)
Most people will probably find Answer The Public to work as a complement to tools like Google Trends Supercharged.
You can run three searches a day for free. To use Answer The Public more frequently, you'll need to upgrade to a paid plan starting at $9 per month.
9. Similarweb
Similarweb is a website analysis tool that lets you see how a website ranks in popularity compared to its competitors.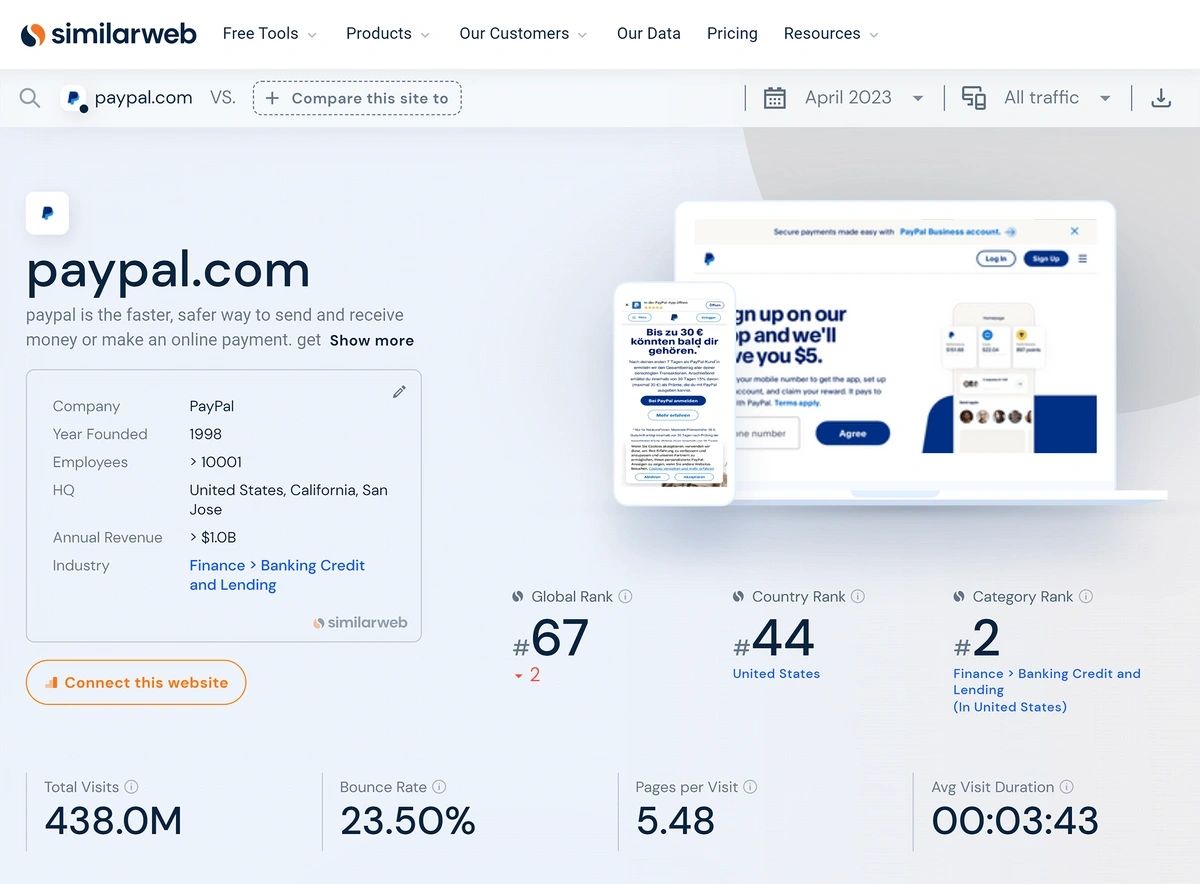 This rank is determined by analyzing public search traffic. Similarweb says this traffic "reflects your real world success"—but it's not the only indicator of popularity. The company's data relies on people actually visiting your website, and it is popular for a brand to be more popular in the real world than it is online.
This tool is best suited for companies that only operate online—such as an e-commerce store with no retail locations.
If that sounds like your brand, then you may like Similarweb. You can use the tool to see other metrics about a domain, too, including bounce rates and average pages visited per session.
Access to basic data is free through the Similarweb website or chrome extension.
10. Social Searcher
Social Searcher is a trend monitoring and social listening tool.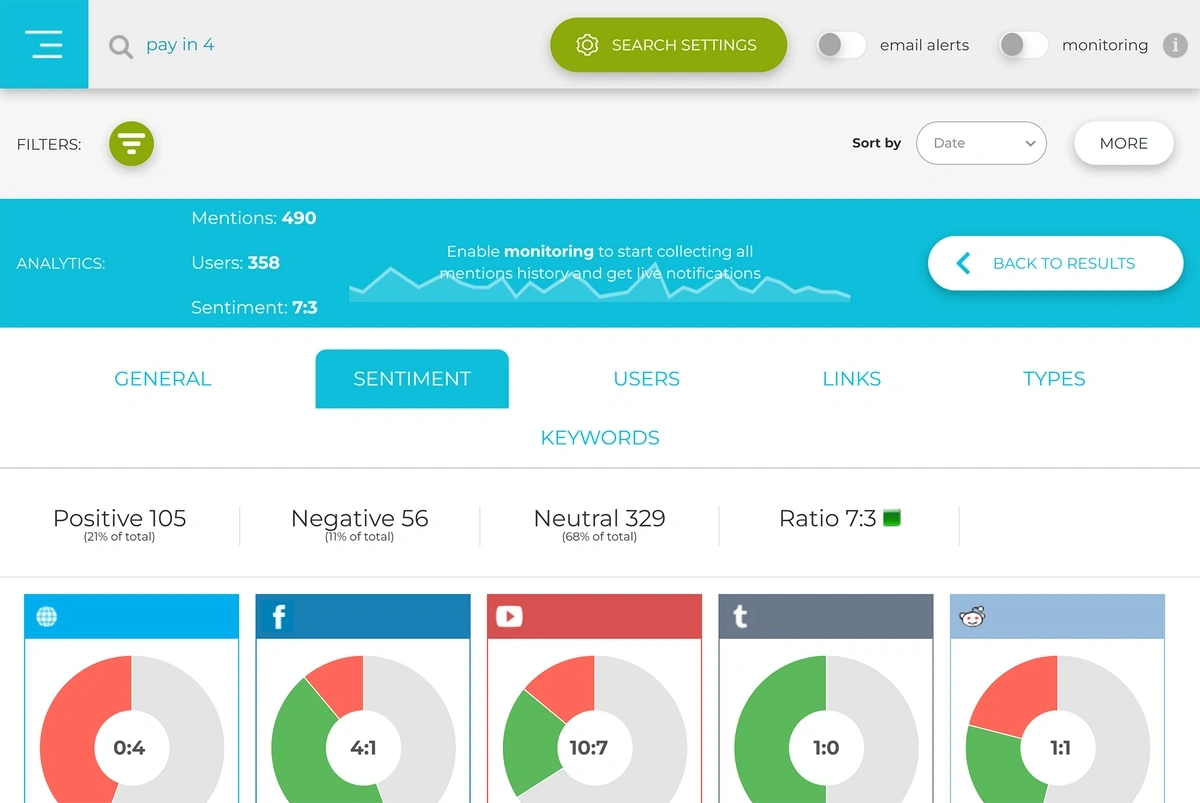 It looks at the frequency and content of discussions across platforms like:
Facebook
Twitter
YouTube
Instagram
Tumblr
Reddit
Flickr
Vimeo
When you type a term into Social Searcher, you can view trend graphs similar to those found in Google Trends, as well as:
Positive and negative sentiment analysis
Popularity of a topic by social platform, day, and time
Related hashtags and keywords
Popular accounts
Links to related content
If your brand relies on social media marketing, then Social Searcher might be a nice addition to your slate of trend research tools. You can conduct up to 100 searches per day for free and set up two email alerts.
For more functionality, you can purchase a Social Searcher subscription starting at €3.49 (about $3.77) per month.
Conclusion
Ultimately, the best Google Trends tool for your needs depends on your audience and your end goal.
If you need to know exact search volumes, then Google Trends Supercharged or an SEO tool like Semrush is probably the way to go.
If you don't need exact search volumes, and you know your customers typically use Google, then the standard Google Trends interface might be enough for your needs.
But remember—these tools only show you Google data. To get a really comprehensive picture of what's trending online, look for a trend tool that goes beyond Google search.