5 Best Trend Spotting Websites (2023)
In this post, we'll review 5 different trend spotting websites, starting with our own, Exploding Topics.
With Exploding Topics, you can:
Discover new trends before they take off.
Track trends you're interested in and access current trend data.
Receive weekly trend reports straight to your inbox.
We also review these tools:
Treendly
Trend Hunter
TrendWatching
Springwise
You can also explore our trend database yourself and see how our discovery and tracking features work by starting an Exploding Topics Pro trial.
With that, here are the top trend websites in 2023:
1. Exploding Topics
Exploding Topics is a trend forecasting platform with a database of 13,000+ trends, where you can spot trends by industry or topic, look up existing trends, access and analyze trend data, and track trends in a private dashboard.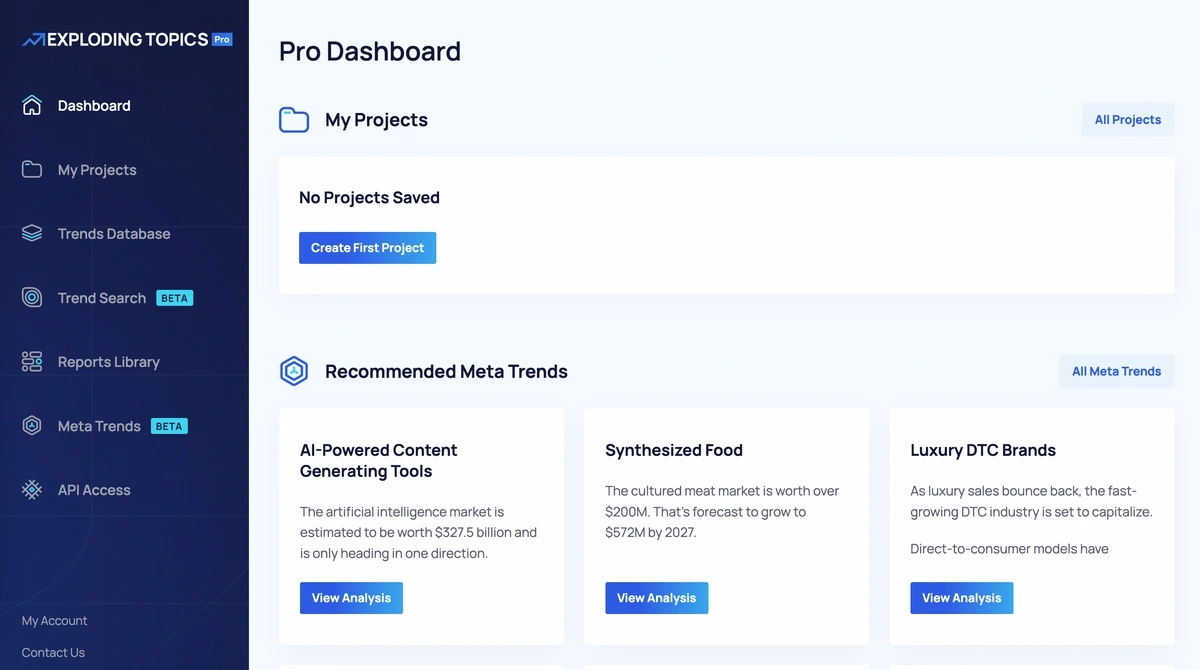 We are able to find up-and-coming trends (super early, before they're well-known) by using our proprietary algorithm to scrape online sources — such as search engines, social media sites, news outlets, forums, streaming services, eCommerce sites, and more — and spot signs of new trends.
Then, we have a team of trend analysts to review the data our algorithm pulls, filter out fads (for example, short lived trends like movie releases and pop culture events), and find high-quality trends that have signs of long-term interest and growth.
We find trends in most major industries like fashion, eCommerce, gaming, SaaS, design, food, entertainment, and lifestyle, so you can learn about new startups, technology, product categories, and concepts while they're still early trends.
Below we show you how you can use Exploding Topics to spot the newest (and most valuable) trends for your business.
Discover New Trends in Our Database
You can browse all industry trends in our database. Simply click on any of the categories and see all the trends that we're currently tracking. For example, let's look at the current trends in technology:
You can filter results by recency (new trends over the last 5 years vs. new trends over the last 3 months) or popularity (Regular, Exploding, or Peaked trends).
Here's what those categories mean:
Regular — the trend is still new with most people not aware of it. The trend hasn't taken off yet.
Exploding — the general public is slowly developing awareness of the trend
Peaked — the general public is fully aware of the trend and it's way past its early stages
Then, you can click on any particular result to see trend data like trend growth, search volumes, and related trends.
Plus, you can view this trend data over different timelines — for example, you can look at trend growth over the last 10 years, or zoom in on growth during just the past month — by adjusting the trend graph. We gather and store up to 15 years of historical trend data, so you have plenty of context to make informed decisions.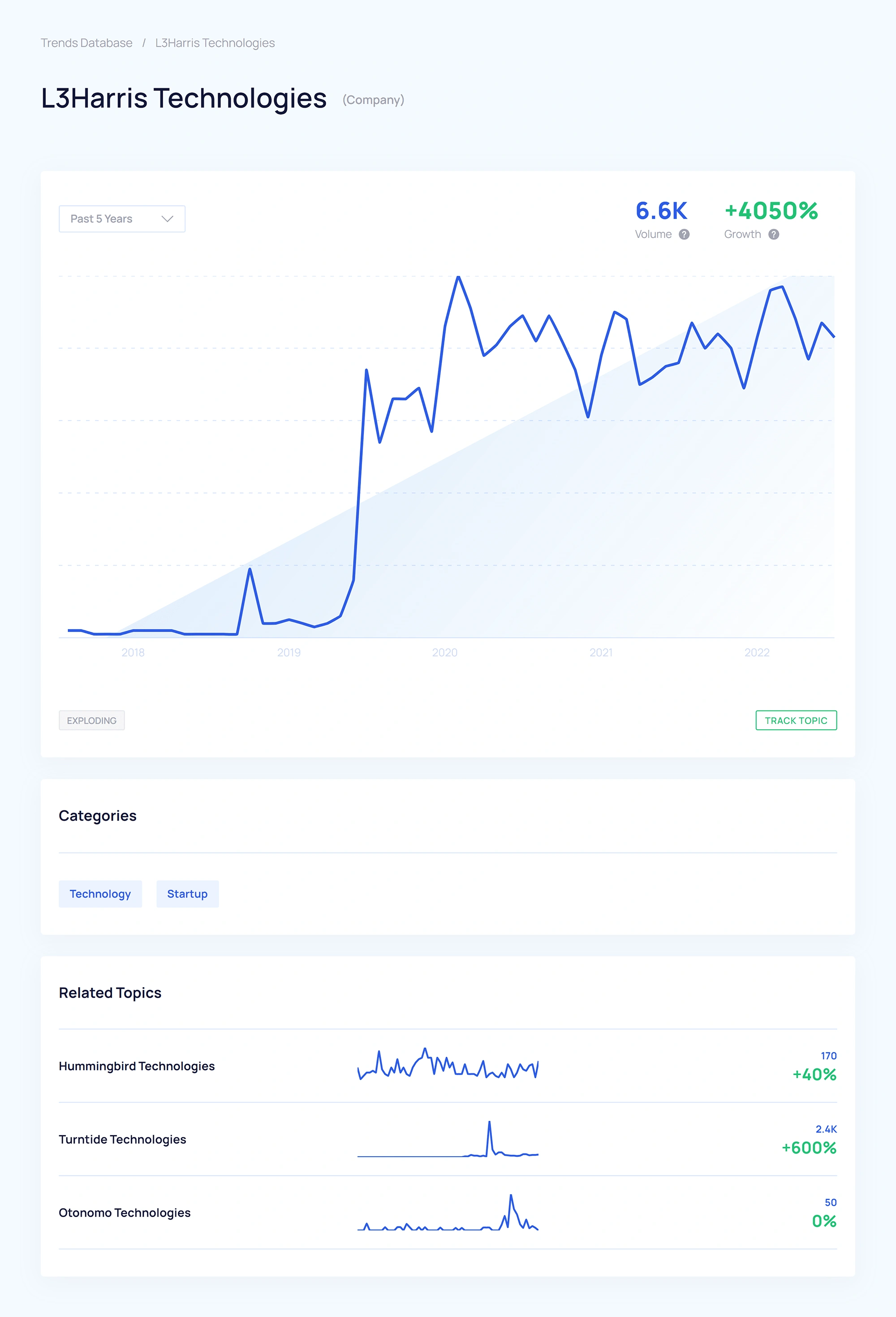 We update the Exploding Topics database daily, so you can view new trends, trend search volumes, and trend growth to stay on top of the latest industry developments. If you're interested in a trend, you can save it to your dashboard and track everything from one place.
Note: You can also use the search feature to 1) look up trends you already know about, 2) view trend data (such as additional trend suggestions, trend growth, and monthly search volumes), and 3) add those trends to your dashboard to track their growth. You can also filter your trend search by location, say if you wanted to view all of the latest trends in Italy.
Explore Trends Through the Meta Trends Library
The meta trends library is another great place to start trend discovery. Here, you can explore new trends by high-level topic. Click on any topic to see:
A background and analysis on the topic.
All of the trends that make up the meta trend.
Related industry trends.
For example, if you click on a meta trend like "Feedback boards," you see relevant trends like Upvoty, Leapsome, and other customer feedback software. You can click on these trends to analyze trend data, and you can add trends to your dashboard to track their growth.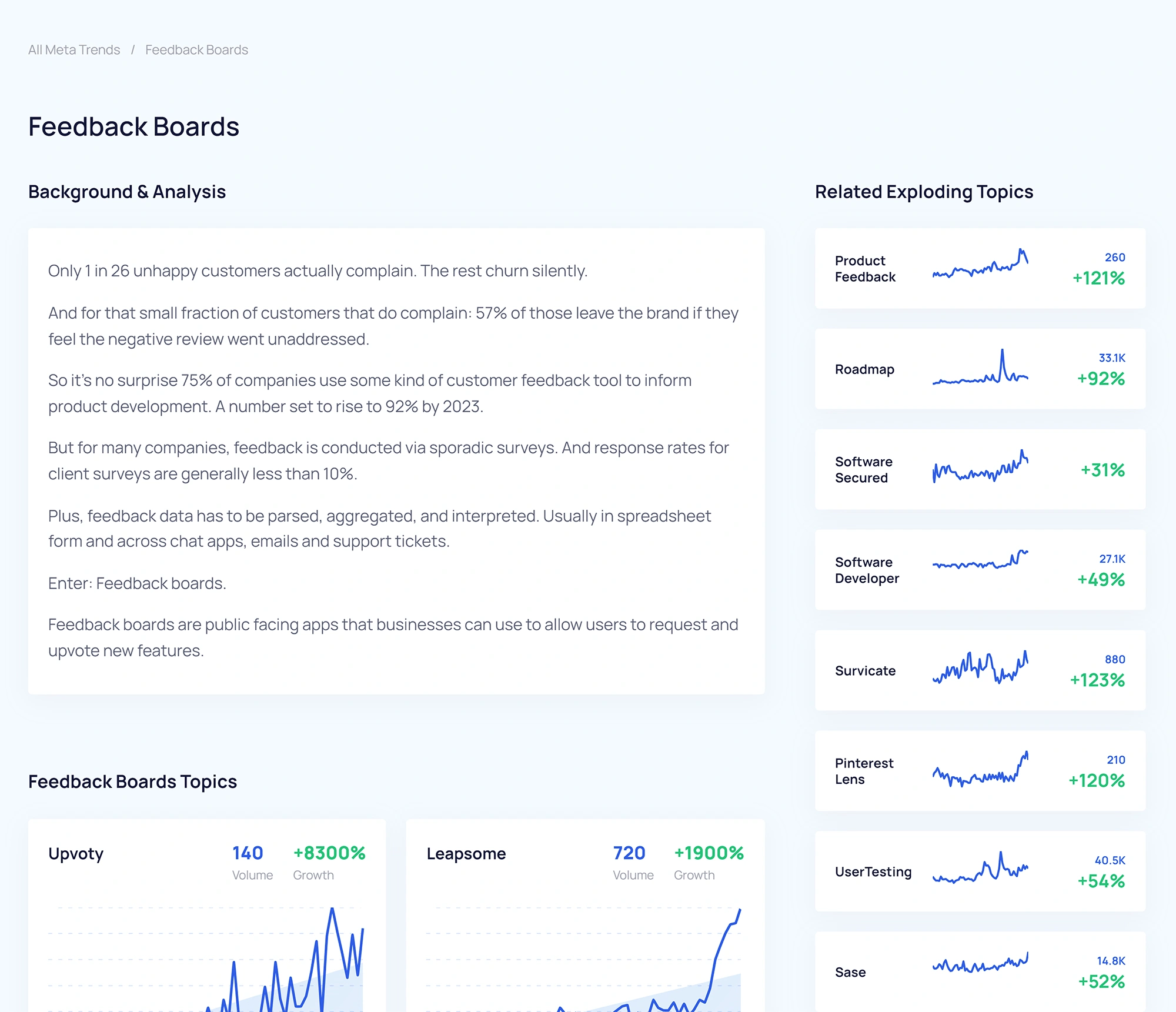 Stay Current With Our Weekly Trend Reports
We also email you trend reports at the start of each week to keep you up-to-date on the newest industry trends. Each newsletter covers 10 of the latest trends, across a variety of topics. We provide an analysis of each trend so you can understand more about its background and popularity, who the trend impacts, and how the trend might evolve in the future.
For example, one of our recent reports included a trending software startup, Juvo Jobs.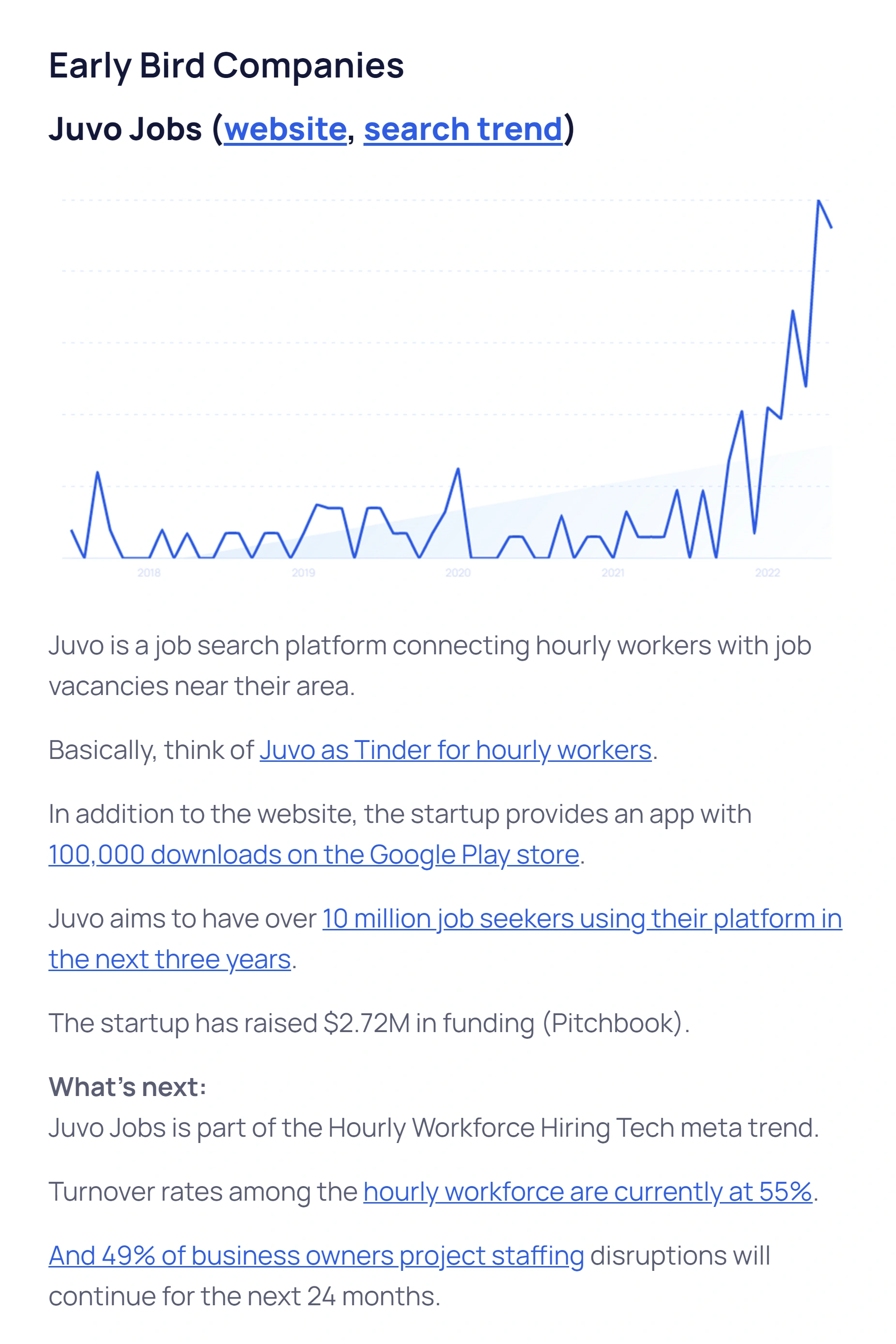 Then, we make it easy to find previous trend reports by storing all of your past trend newsletters in the Exploding Topics reports library.
Monitor & Analyze Trends in the Exploding Topics Dashboard
The Exploding Topics dashboard acts as a central point where you can track all of your saved trends. You can add trends to your dashboard from the database, search, or meta trends library by selecting the "Track Trend" option. Then, you can choose which project you'd like to add the trend to — this makes it easier to research trends in more than one category and maintain organization in your dashboard.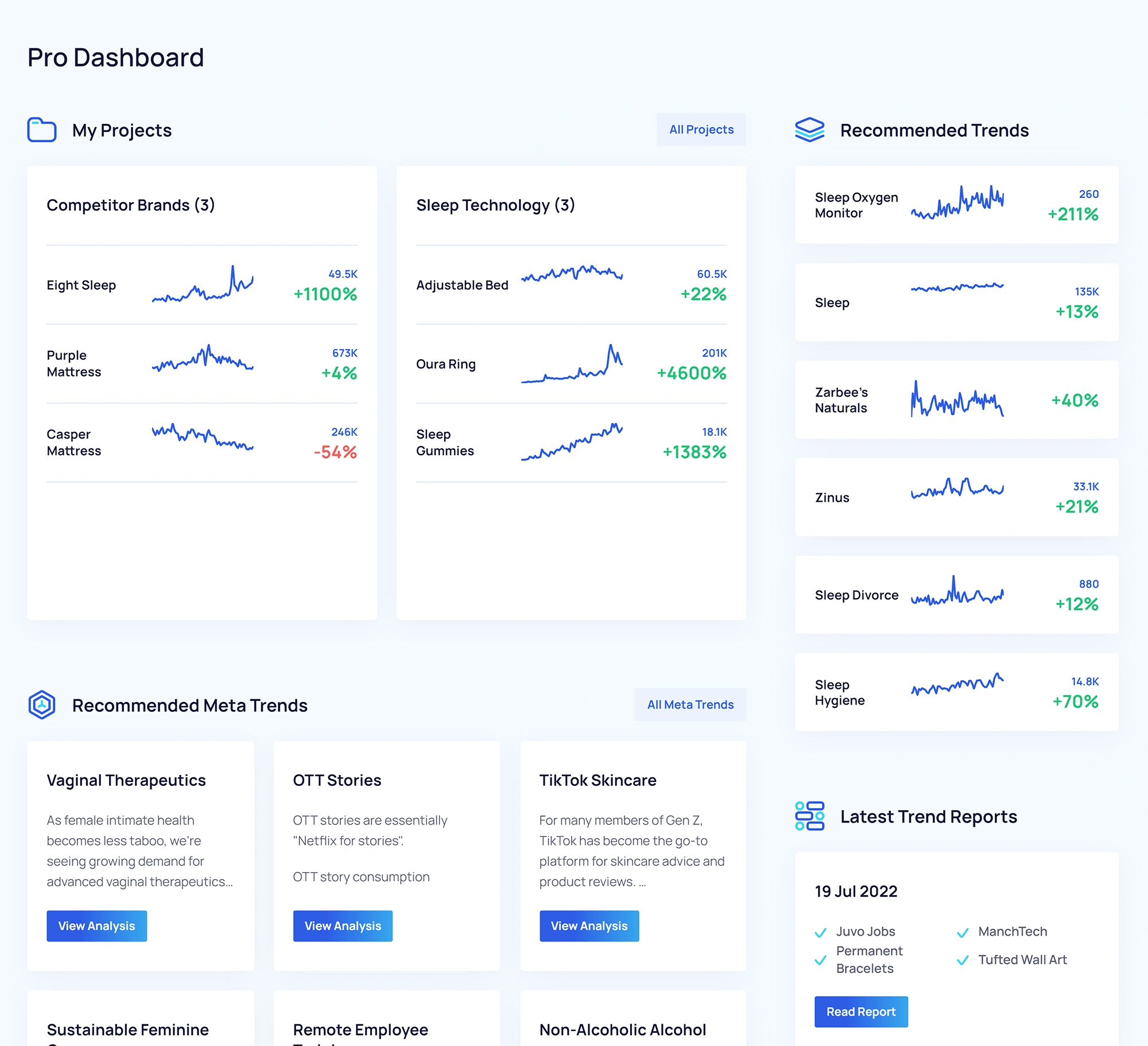 Adding trends to your dashboard lets you quickly check in on trend data and monitor trend growth into the future. You can also set up email alerts so you're instantly notified of any major trend updates.
We keep your trend dashboard private so other users can't see the trends you're tracking. However, we'll suggest new trends and meta trends for you based on your interests.
Exploding Topics works for business professionals, digital marketers, entrepreneurs, and investors (across all industries) who want to find really early trends without having to do in-depth market research themselves. You can start an Exploding Topics Pro Trial for $1 to see if we're the right tool for you.
2. Treendly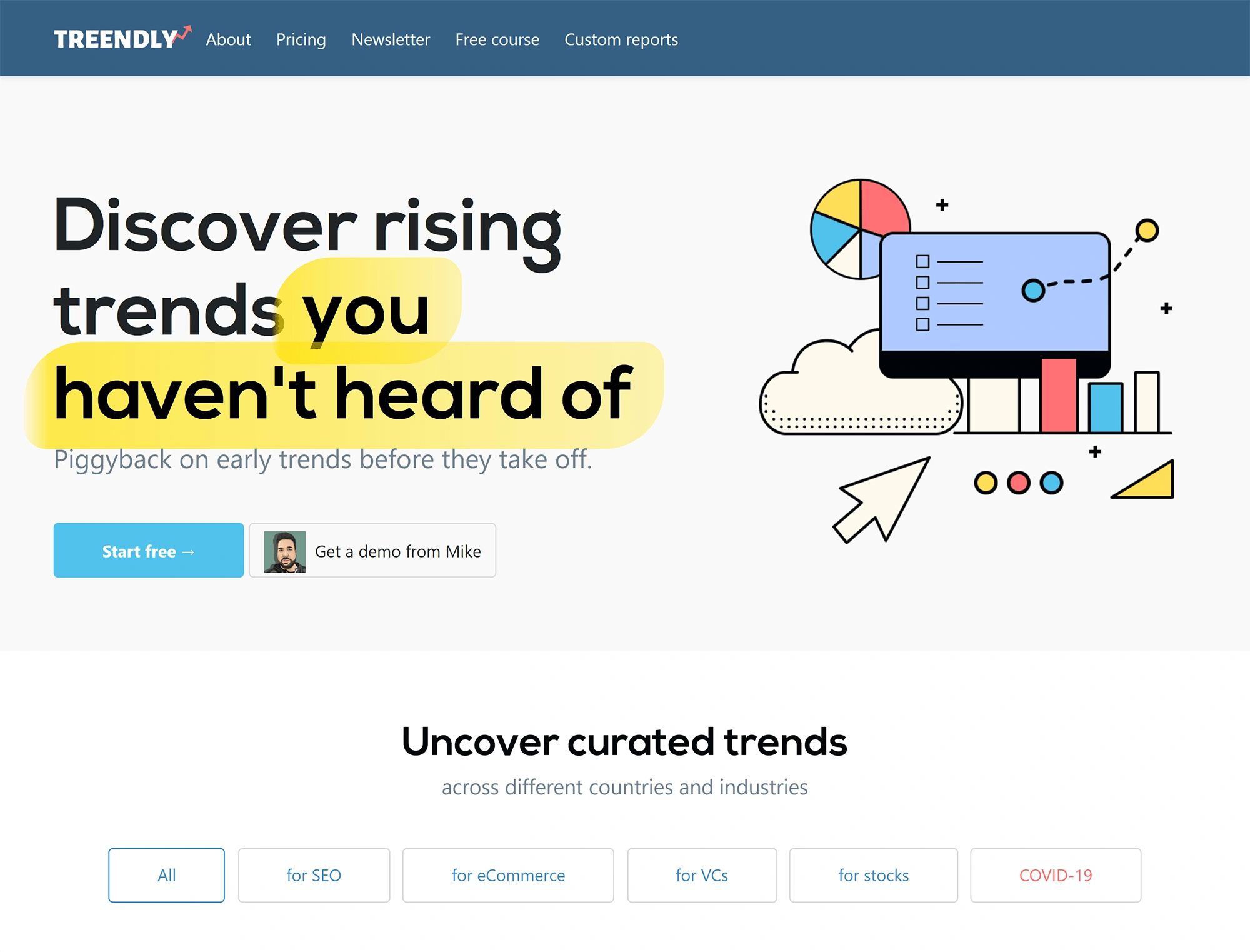 Treendly is another trends database that uses Google Trends with the Google Ads API to monitor online conversations and identify new trends. However, the category search on their site is a little more limited: you can choose from only four or five categories, like SEO, VCs, eCommerce, Stocks, and Covid-19. But they also have a search feature so you can manually lookup trends and view all relevant data.
Based on the categories and trends we can see on their site, it seems Treendly is best for finding new product ideas and startups, but has limited options for other categories like lifestyle, food, or health.
You can access some of Treendly's tools online for free, but they have two paid plans to accommodate different budgets. The Starter plan costs $99/year, and they offer custom quotes for their enterprise plans.
3. Trend Hunter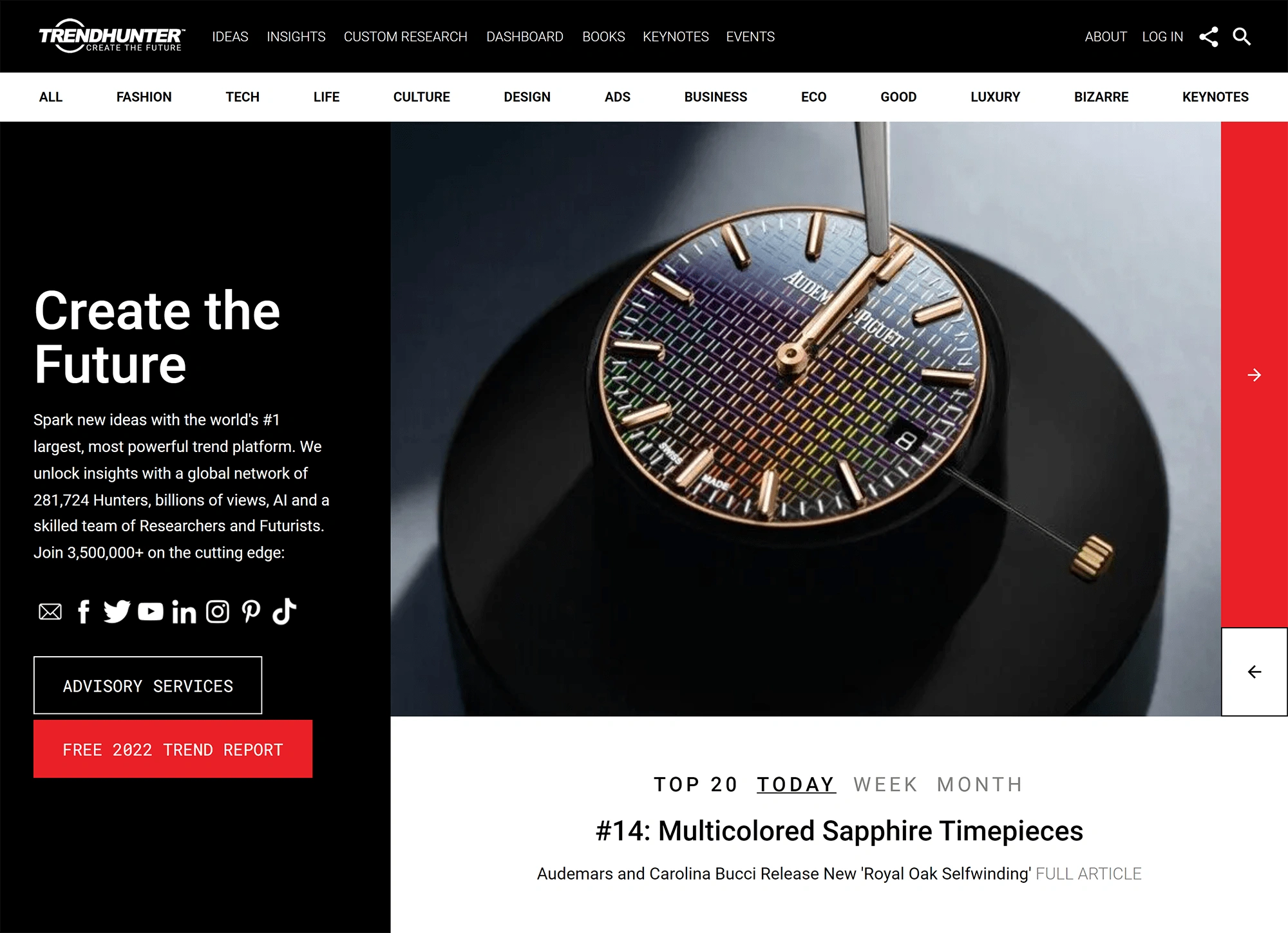 Trend Hunter is a platform where you can read about new trends in technology, fashion, lifestyle, design, food/beverage, luxury goods, eco-friendly products through curated blog posts. They also offer trend reports and newsletters, and custom research services. However, because Trend Hunter publishes new trend information in the form of blog posts, they don't always provide hard data about trends (like how many times the trend is searched per month or how interest in the trend has fluctuated over time); instead, you get more of a general background on the trend.
Because Trend Hunter's platform is primarily focused on lifestyle and culture trends, it's not ideal for teams who want to find trends in other categories or users who want detailed analytics for each trend — for example, investors who want to learn about new startup and investment opportunities.
Trend Hunter has tiered packages with different services to suit various user needs, and the entry-level plan costs $199 per month. If this service doesn't seem like a great fit, you can check out our list of Trend Hunter alternatives here.
4. TrendWatching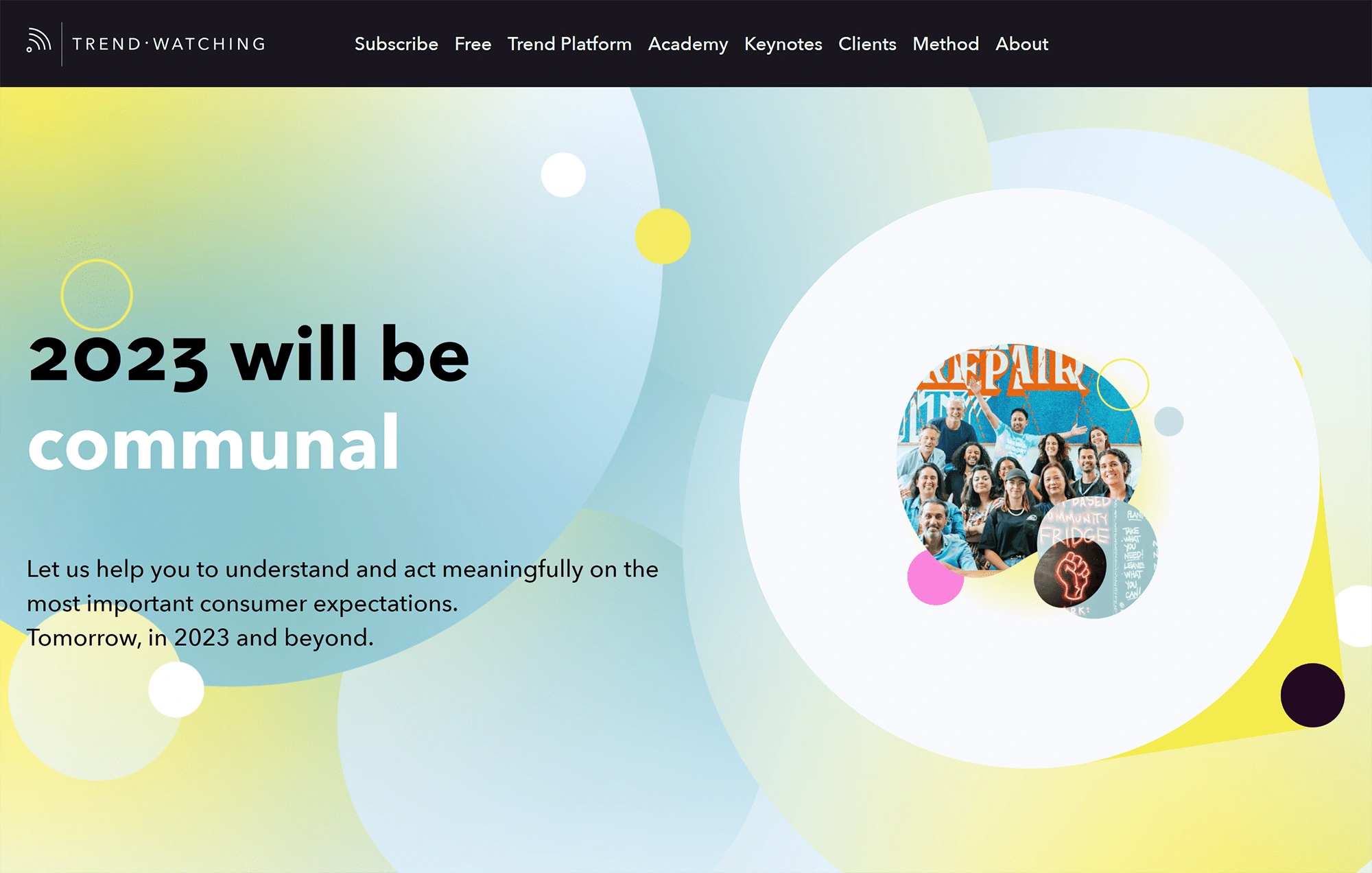 Trend Watching is a consumer trends and market research website that offers:
A self-service trend intelligence platform (called Amplify) so you can research new trends yourself.
Online courses and educational resources so you can learn how to gather, analyze, and act on trend data.
Custom services, like trend workshops and keynotes, so you can learn about new trends and analyze trend data with a professional from Trend Watching's team.
Weekly newsletters with articles, webinars, and other resources on new trends.
Trend Watching appeals to professionals, small teams, and enterprise companies alike because they offer all of these services separately and provide custom solutions (and pricing options). That said, reviews of the platform mention that some of the services can be rather costly; so it might not work for every team's budget.
Trend Watching offers three subscription plans — Small, Medium, and Large (based on business size) — for their trend spotting platform, Amplify. Subscriptions range in price from $249 to $999 per month.
4. Springwise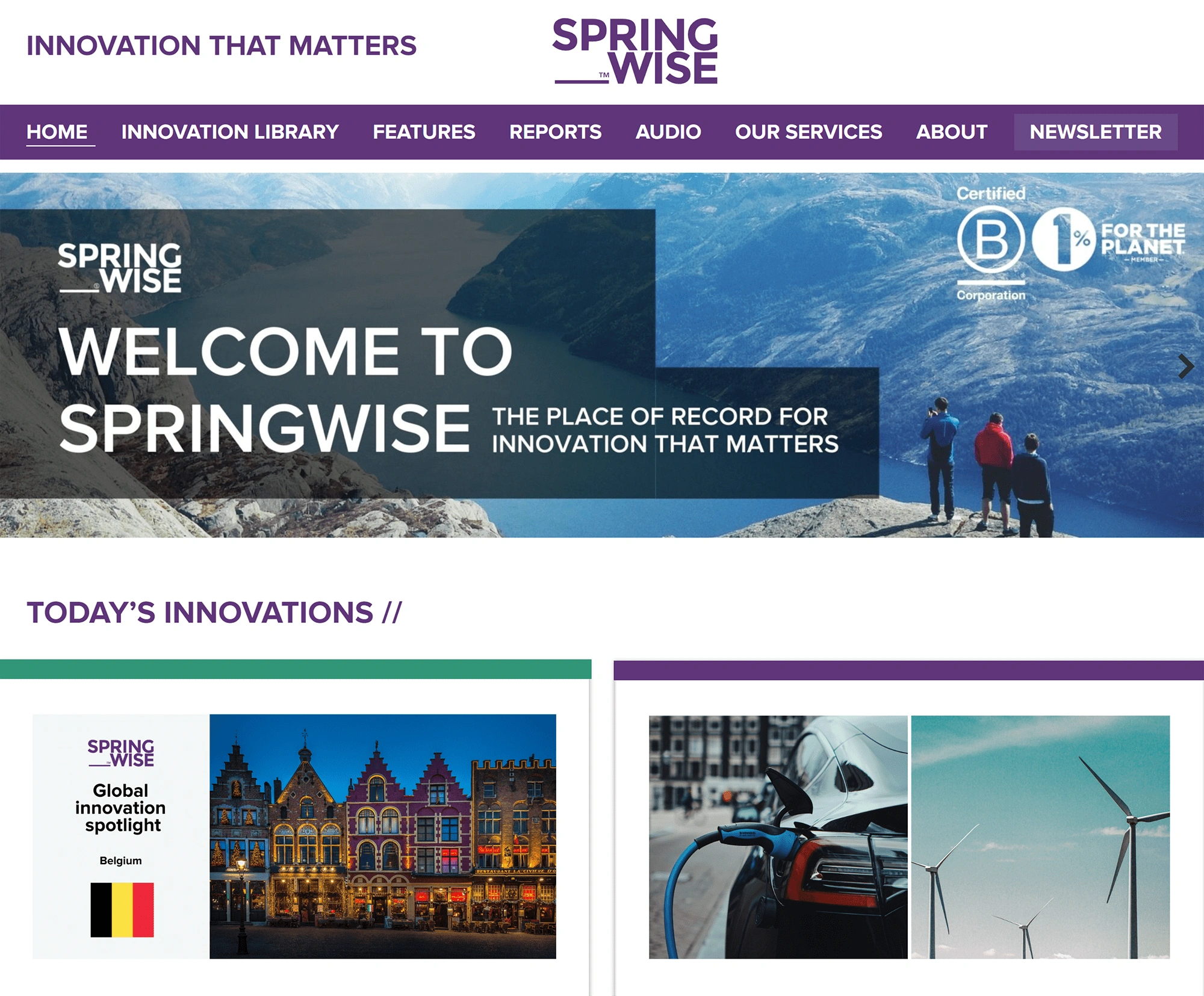 Springwise is a global innovations intelligence platform that you can use to learn about new innovations and interesting ideas. They offer an innovations library where you can read articles on new trends, as well as trend reports, email newsletters, and custom consultancy services. It's used by professionals in all industries, but appeals mostly to entrepreneurs, investors, and users who are interested in tech and eco trends. However, it's not the best for fashion, beauty, and other lifestyle trends.
All of the articles published on the Springwise platform are written by innovators and trend spotters with different backgrounds and from different parts of the world, so you can learn about hundreds of potential new trends every week. However, that also means you can't see actual data on these trends — it's all anecdotal information — so you'd need a supplemental tool, like Google Trends in order look up keyword volume and see other related topics.
You can explore Springwise's website and innovation articles for free, and they provide custom quotes for their more hands-on services.
Start Spotting Trends with Exploding Topics
Exploding Topics is a market trends website that's able to spot super early trends because we use our algorithm to (constantly) monitor online sites and consumer behaviors, gathering important trend data and looking for indicators of upcoming trends.
But it's our second layer of quality control that really makes a difference — every trend on our site has been vetted by our team to ensure there's long-term opportunity and interest. You can learn about new startups, cool business ideas, up-and-coming products, emerging technologies, software innovations, and other trending topics really early on, and leverage those opportunities long into the future.
Start an Exploding Topics Pro trial for $1 to demo our platform's features and receive early access to new trends (6 months before other users).