The Best Startup Directories To Research Startups
Whether you want to join a promising startup, research an emerging market, or research new investment opportunities, there are plenty of startup directories that can help you expedite the research process.
In fact, there are so many options that choosing one startup directory can be overwhelming.
To help you select the best startup directory for your needs, we chose the three best options for each of the following use cases:
Researching growth and funding data
Identifying recently launched startups
Researching startups that are hiring
For each startup directory, we'll discuss the metrics it provides on each startup, key differentiators that set it apart from other solutions, pricing information, and various pros and cons.
Let's jump into it.
Startup Directories With Growth and Funding Data
The startup directories below are excellent for investors and entrepreneurs that want detailed data on growth trends for startups at any growth stage. You'll find funding data, employee headcount, and other helpful metrics that can help you gauge a startup's trajectory.
Exploding Topics offers a database of bootstrapped and funded startups that you can filter by category (beauty, finance, sports, marketing, etc.), total funding, latest round, date founded, number of employees, and location.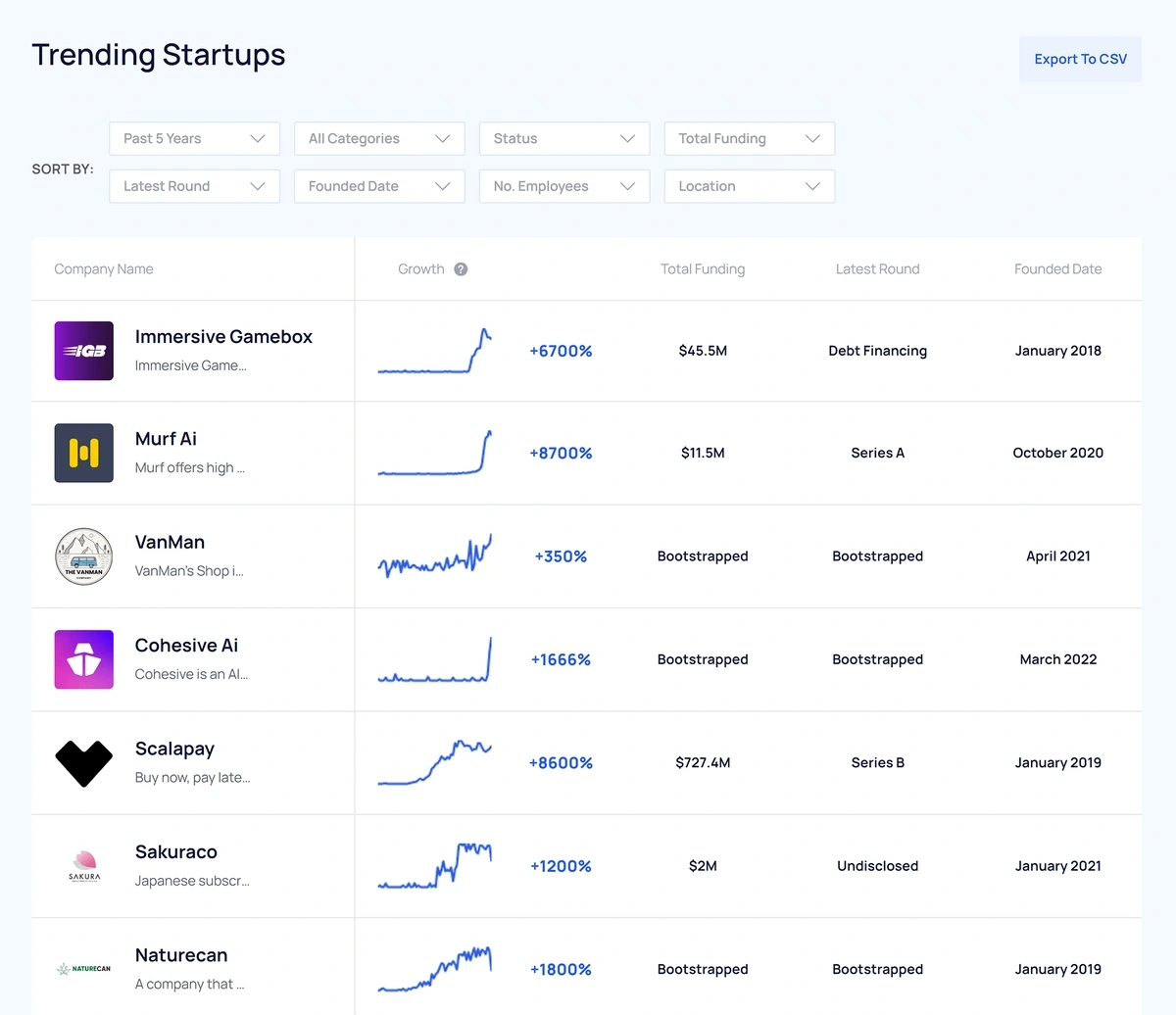 You'll also see a graph of the brand name's historical Google search volume from the past several years, which can help you gauge consumer interest in the startup over time and its general growth trajectory.
If you find an interesting startup, you can click on it to see key metrics (e.g., funding data, employee headcount, date founded, etc.), its Google Search volume trend, and other related topics and startups.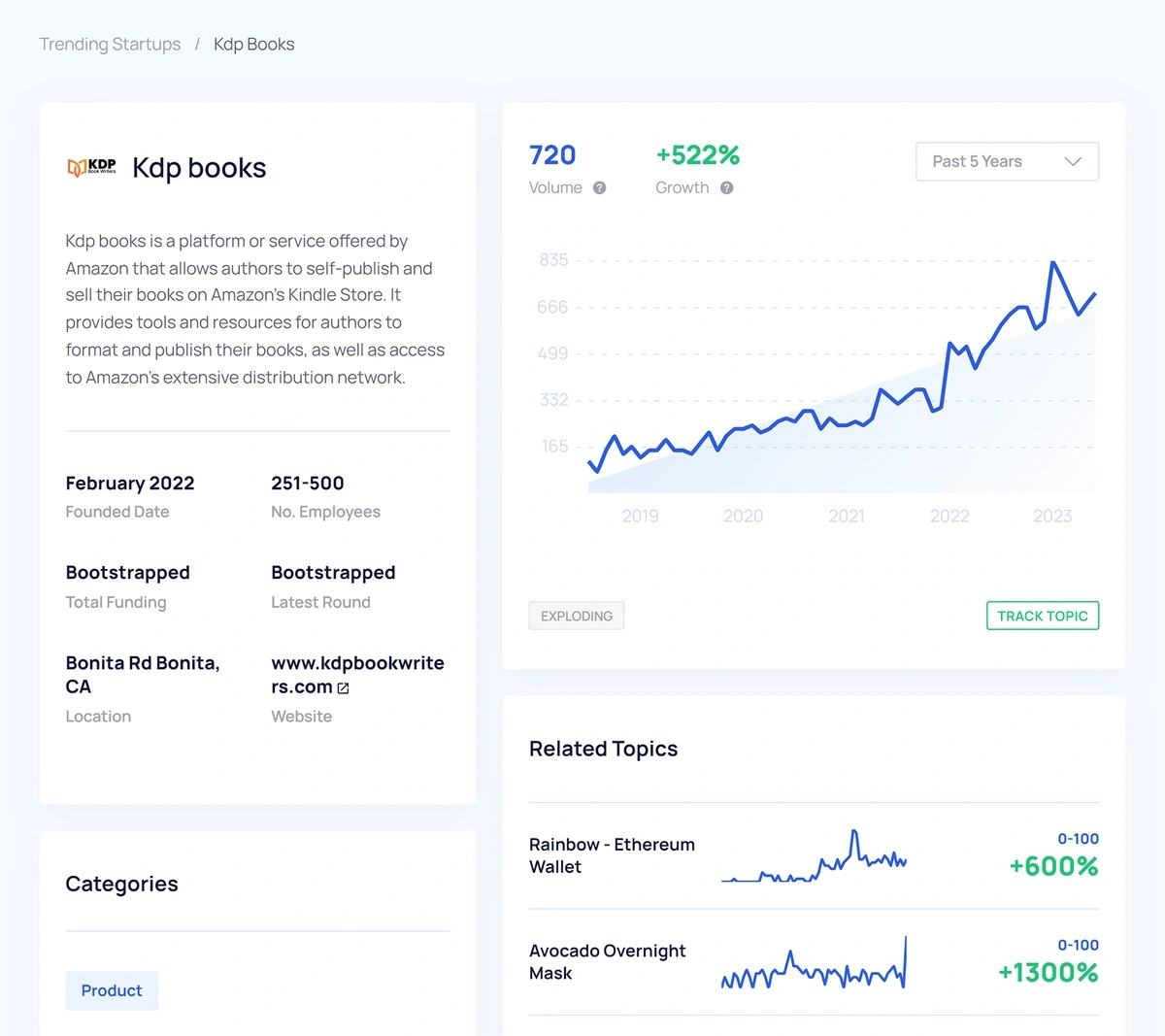 To monitor a startup, click "Track Topic" and add it to a Project.
You can create an unlimited number of Projects, name them anything you like (e.g., "Growing AI Startups," "Peaked Pet Companies," etc.), and add or delete topics from Projects with one click.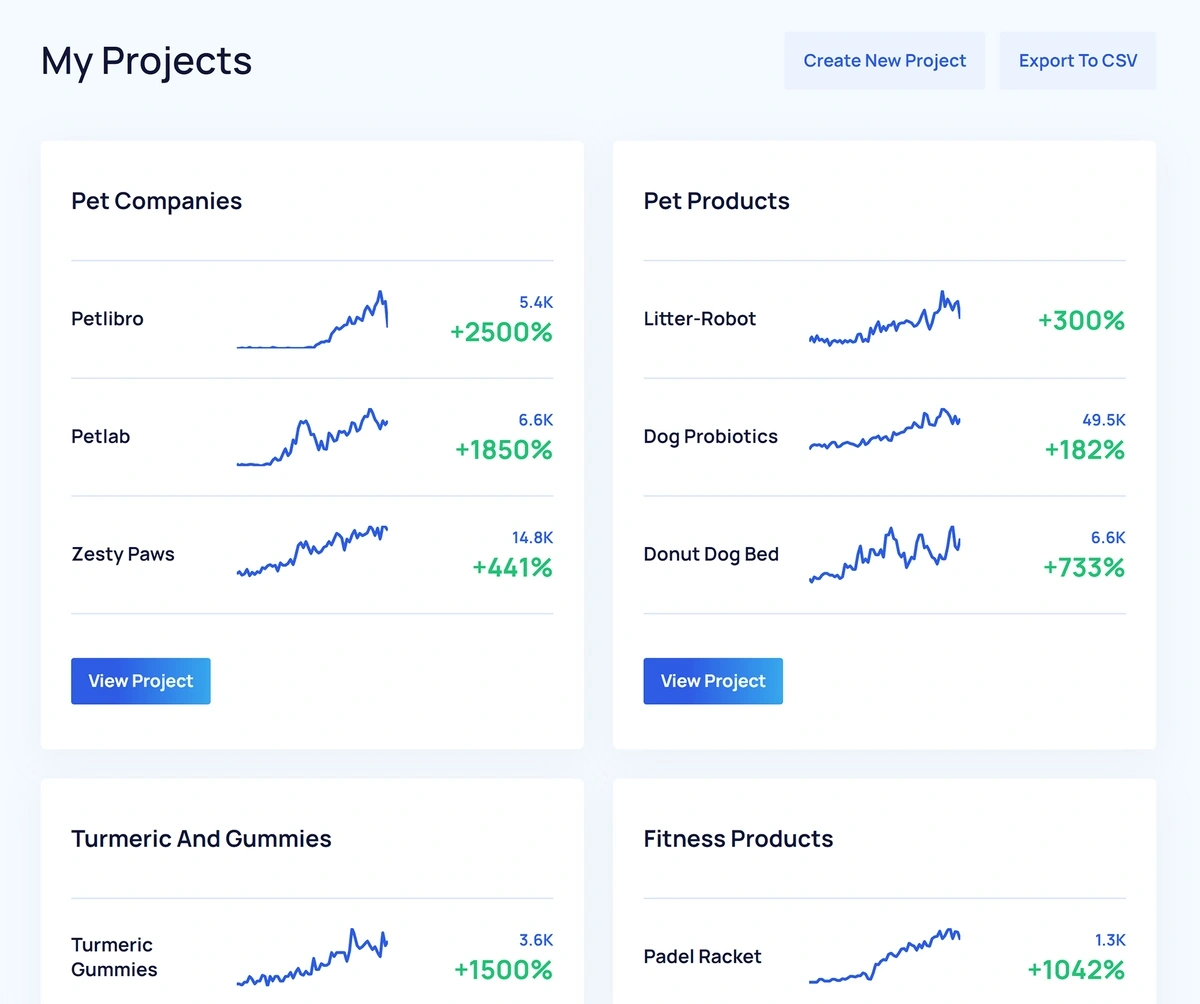 You can also find new products in the Trending Products feature and filter by average revenue, BSR (best seller ranking), price, average sales, review rating, and category (health, home, lifestyle, etc.).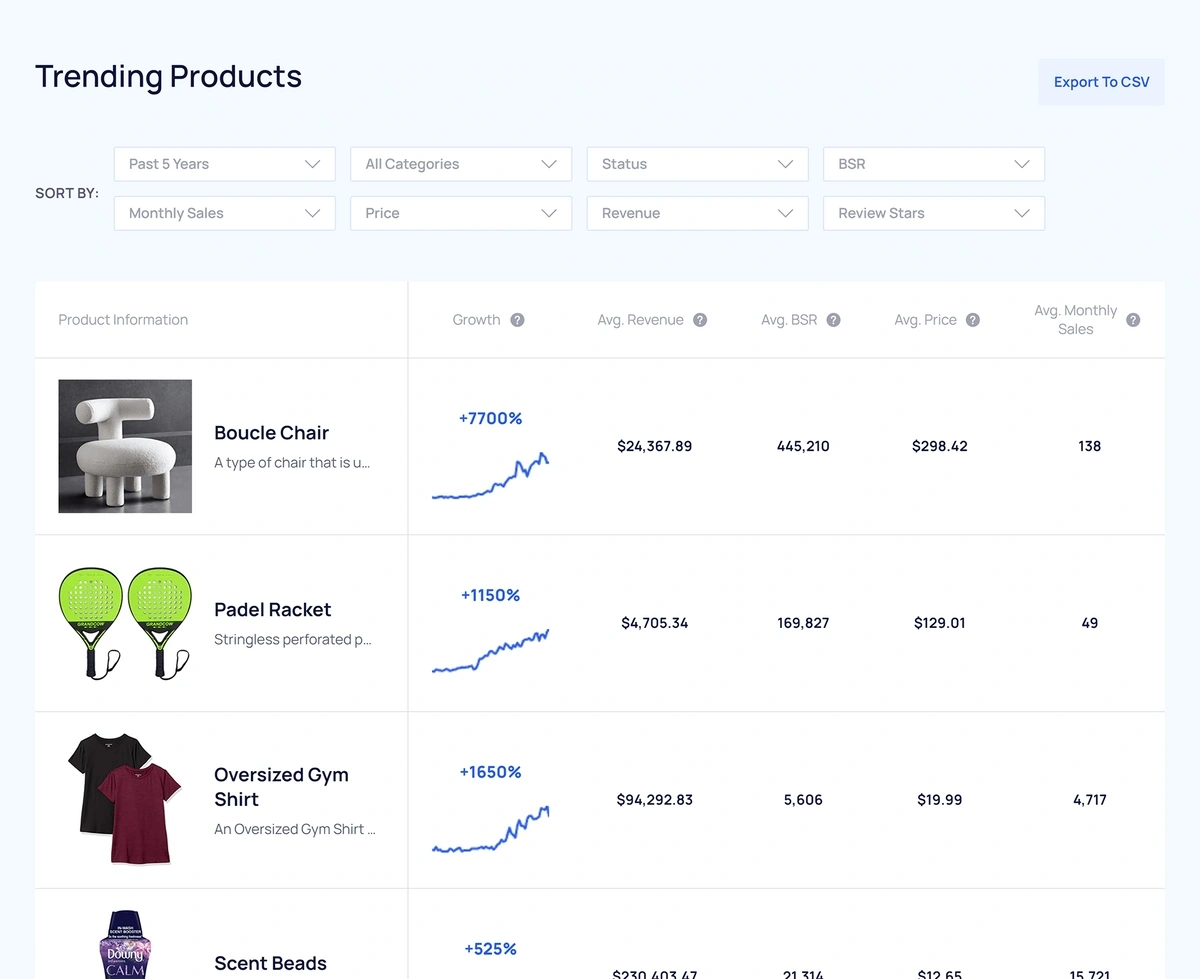 You'll also see a graph representing the keyword's search volume trend over the past five years. This makes it easy to estimate consumer interest in the product over time and predict future demand.
Exploding Topics also provides detailed market trend research features like:
Meta Trends: This feature shows you growing niches in larger markets and the growing startups, products, and keywords related to that trend.

Trends Search: ​​This feature lets you type in any keyword and provides a graph of its Google Search volume trend and other related trending topics.
Weekly Reports: Each weekly report covers four trending companies and products so that you can stay up-to-date with the latest trends in just a few minutes per week. Weekly Reports are sent straight to your inbox, but you can also access all past Weekly Reports inside the Exploding Topics dashboard.
You can use the free (limited) Trends Database now, or sign up for a trial of Exploding Topics Pro and access advanced features like Trending Startups and Trending Products.
Overview
Overview
Exploding Topics is a trend research platform that offers two databases relevant for startup research; Trending Startups and Trending Products. It offers the basic metrics you'd expect, but it's different from other directories as only trending startups/products are selected. Startups/products are qualified as "trending" based on its historical Google Search volume trend.
Pros

View trending startups/products (trend qualification is based on reliable data – not an expert's opinion).
View both funded and bootstrapped companies.
Additional trend features (Trends Database, Meta Trends, Trends Search) make it easy to research broader market trends.

Cons

There isn't an option for entrepreneurs to add their own startup/product – each product/startup is selected for the database based on trend data.
It isn't designed for finding fad products or brand new startups with no traction.

Free Plan?
Yes, there is a free plan
Pricing
Exploding Topics pricing starts at $39 per month.
Crunchbase offers a large database of companies ranging from recently launched tech startups to Fortune 1,000 companies.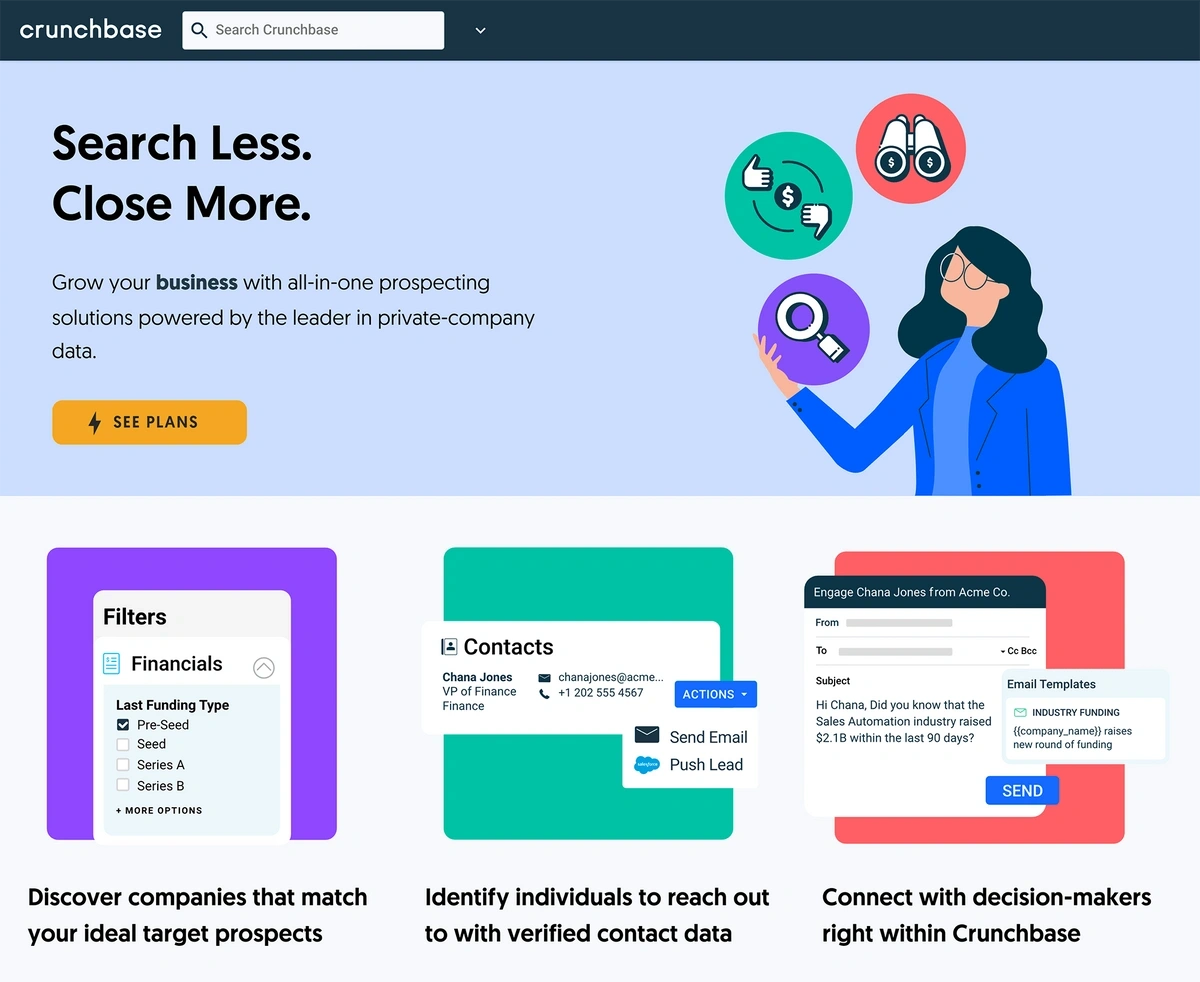 You can filter results by overview (industry, location, company size, etc.), financials (funding dates and amounts), company status (private vs. for-profit), and hiring activity.
If you click on any of the companies, you can view recent press coverage, key executives, board members, and contact information for some employees (on premium pricing plans).
The main drawback with Crunchbase's filtering options is that there isn't an intuitive method to filter by a niche industry. For example, there isn't an intuitive method to find B2B SaaS companies that sell healthcare software. You can search for "SaaS companies," or "healthcare companies," but it won't show you SaaS companies in healthcare.
Overall, it's an excellent tool for investors and entrepreneurs that want to find data on new and established companies.
Crunchbase allows anyone to create an account for their startup.
Overview
Overview
A robust database of new and established startups with advanced filtering options including general overview information (headcount, industry, location, etc.), funding data, and hiring activity.
Pros

Advanced filtering options with plenty of data ranging from financials to company employees.
The database contains millions of companies.
It offers verified contact information on higher pricing tiers.

Cons

It's not easy to filter by niche industry (e.g., "B2B SaaS marketing software").
It can be overwhelming to learn how to use.
As people can add their own data to the database, it's not always 100% accurate or up-to-date.

Free Plan?
Crunchbase allows you to view five companies per filter selected for free.
Pricing
Crunchbase's pricing starts at $29 per month billed annually. On this plan, users can view up to 1,000 companies per search and monitor up to 1,000 companies.
CB Insights is an enterprise product that organizes public and proprietary data on tech companies for investors and entrepreneurs to monitor competition, research new markets, and track industry trends.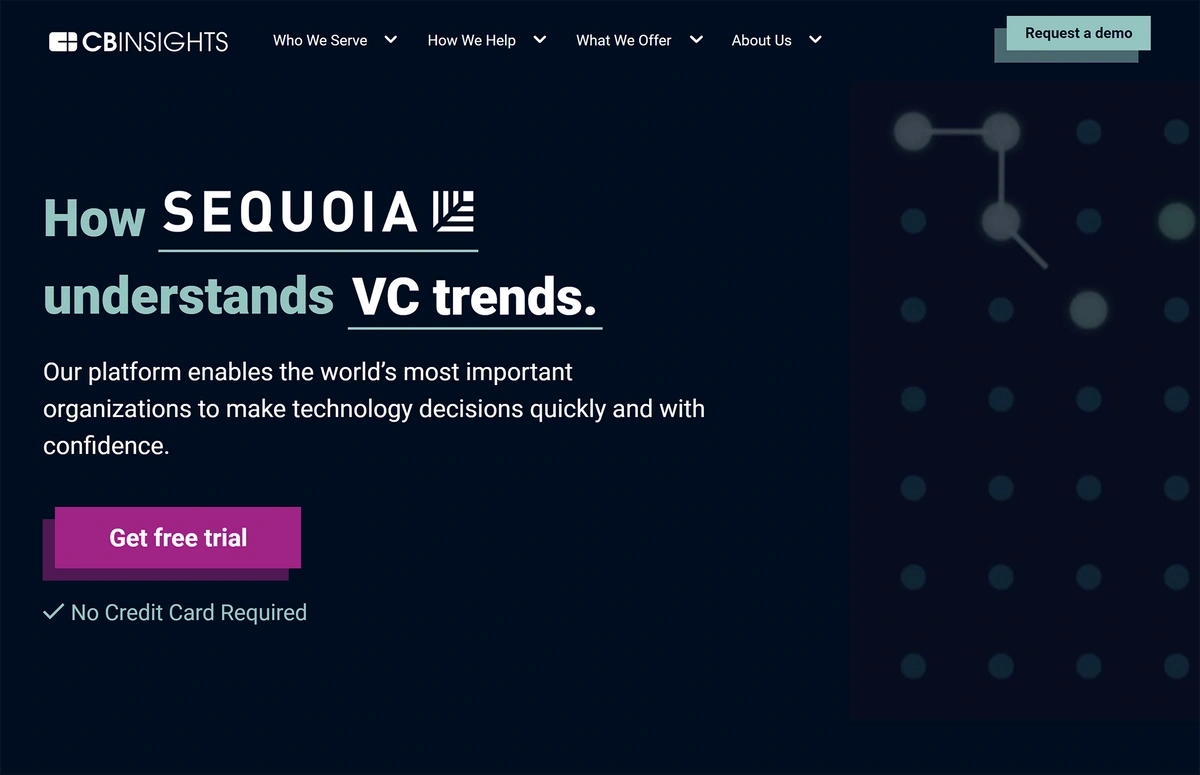 It offers all the basic information you'd expect, like funding data, employee headcount, hiring activity, and executive information. It also offers other unique features like a presentation builder, a Mosaic score (a proprietary metric that predicts company success or failure), and industry reports.
If you want more customized help researching a particular market, you can submit a call request with one of their analysts.
CB Insights sources most of its data through a network of investors and companies that use the platform. You can learn how to create a company profile here.
Overview
Overview
An enterprise database of tech companies for entrepreneurs and investors. Easily track competitors and markets with advanced filtering options including general overview information (headcount, industry, location, etc.), funding data, and hiring activity.
Pros

Consolidates extensive public and proprietary data into a simple searchable database.
You can talk to analysts if you get stuck.
Create presentations out of the data in a few clicks.

Cons

The database is limited mainly to tech companies.
It's an enterprise offering an unaffordable for most startups.
Data accuracy relies on users to tell the truth and regularly update information.

Free Plan?
No, there is no free plan.
Pricing
CB Insights does not offer any pricing information, though the founder has stated on podcasts that it costs thousands of dollars.
Startup Directories of Recently Launched Startups
If you want a list of new startups, here are a few resources to help you discover startups that have just launched or are still in beta testing.
Product Hunt is a list of the latest trending companies ranked by "upvotes" from the Product Hunt community.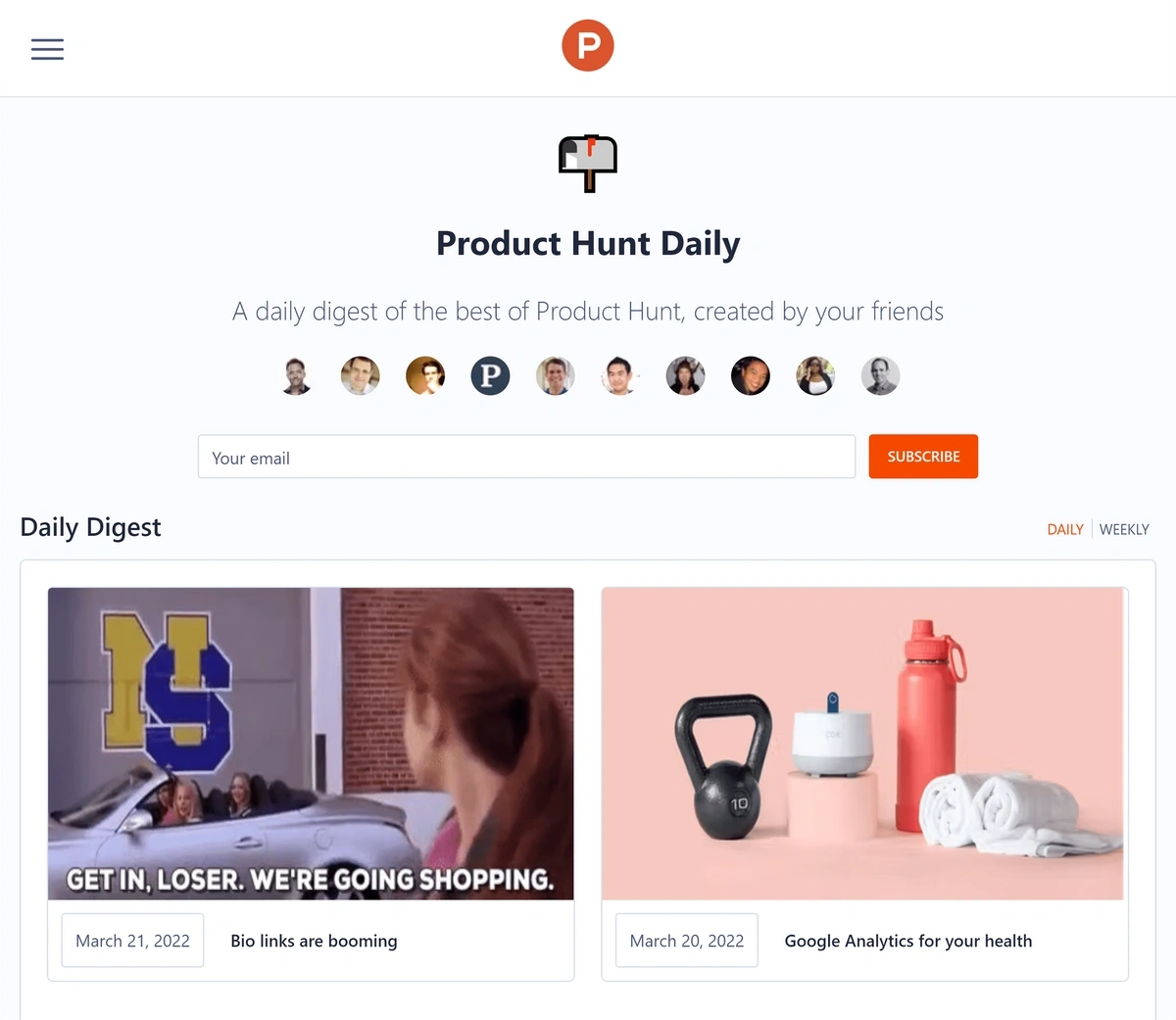 It focuses mainly on tech startups and is an excellent resource for founders to promote their new startup or side project.
A few companies that started on Product Hunt include Slack, Loomly, Robinhood, and Zapier.
Product Hunt also offers a comments section that allows you to read about others' experiences with the product, ask questions, and show support for your favorite products.
The downside of Product Hunt is that the ratings and rankings are often biased as founders with larger networks usually receive more upvotes. In addition, products that receive a lot of upvotes tend to receive more upvotes simply because they're more visible at the top of the list.
Anyone can add a product to Product Hunt (even if you don't own the product) as long as it doesn't already exist on the platform.
Overview
Overview
A list of recently launched tech products and startups ranked by "upvotes" from community members.
Pros

An easy-to-read list of new, popular products in the tech community.
Discuss with other users what they think of the product and ask the founder questions.
An excellent resource for founders to gain traction.

Cons

Rankings can be biased as founders with large networks naturally have more friends upvoting their products
The homepage only features brand new products and startups.

Free Plan?
Yes, it's free
Pricing
Product Hunt is free to use.
BetaList is a platform that connects early adopters with new startups in beta testing.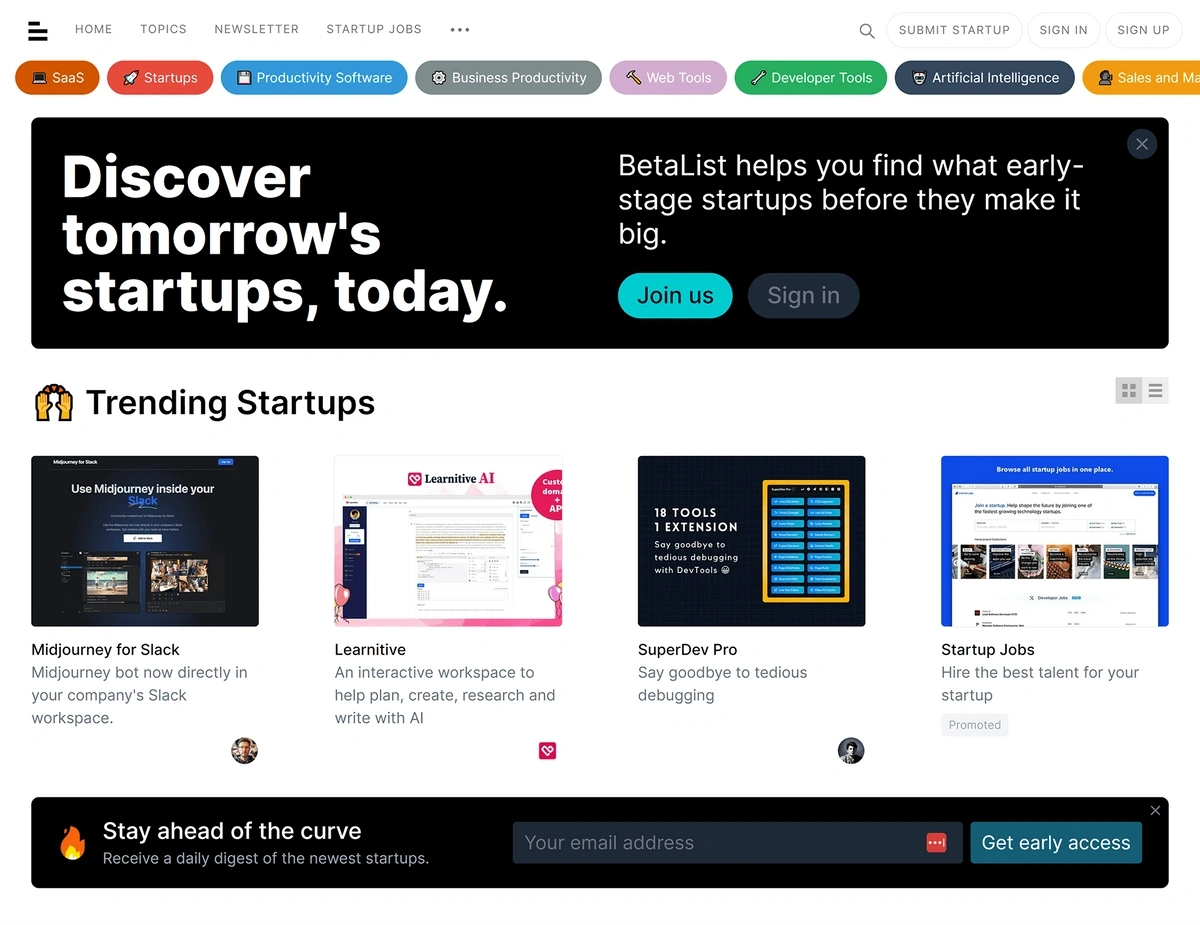 Founders pay to have their startups listed on the platform as it helps them gain early traction and collect user feedback before promoting it to the general public.
BetaList also promotes the most popular startups through the newsletter, which users say is even more effective than the website.
BetaList only accepts unreleased and newly-released products, so your product probably won't be accepted if you launched it several weeks ago. They also don't accept startups that have received extensive press coverage, as the idea behind the platform is that they promote under-the-radar startups.
Overview
Overview
Founders pay to have their brand new startup promoted on the BetaList platform and (if it's popular) newsletter. Users can sign up for the beta version and provide initial feedback.
Pros

Users can quickly sort through categories (dev tools, business productivity, etc.) and find recently launched/unreleased products.
Reviewers say that the community is very engaged and it can produce a decent number of signups.
Collect feedback before promoting the product to the public.

Cons

You must pay to list your startup and while it will definitely be posted on the website, you can't guarantee it will make it to the newsletter.
It's limited to unreleased/very recently launched startups.

Free Plan?
No, founders have to pay to list their products.
Pricing
BetaList charges founders a one-time listing fee of $99, but the database is free for anyone to browse.
BetaPage is a list of startups and products that are either under development, available through public or private beta, or live. Founders, freelancers, and indie hackers can create a free account and add their own products or any cool products that aren't currently on the platform.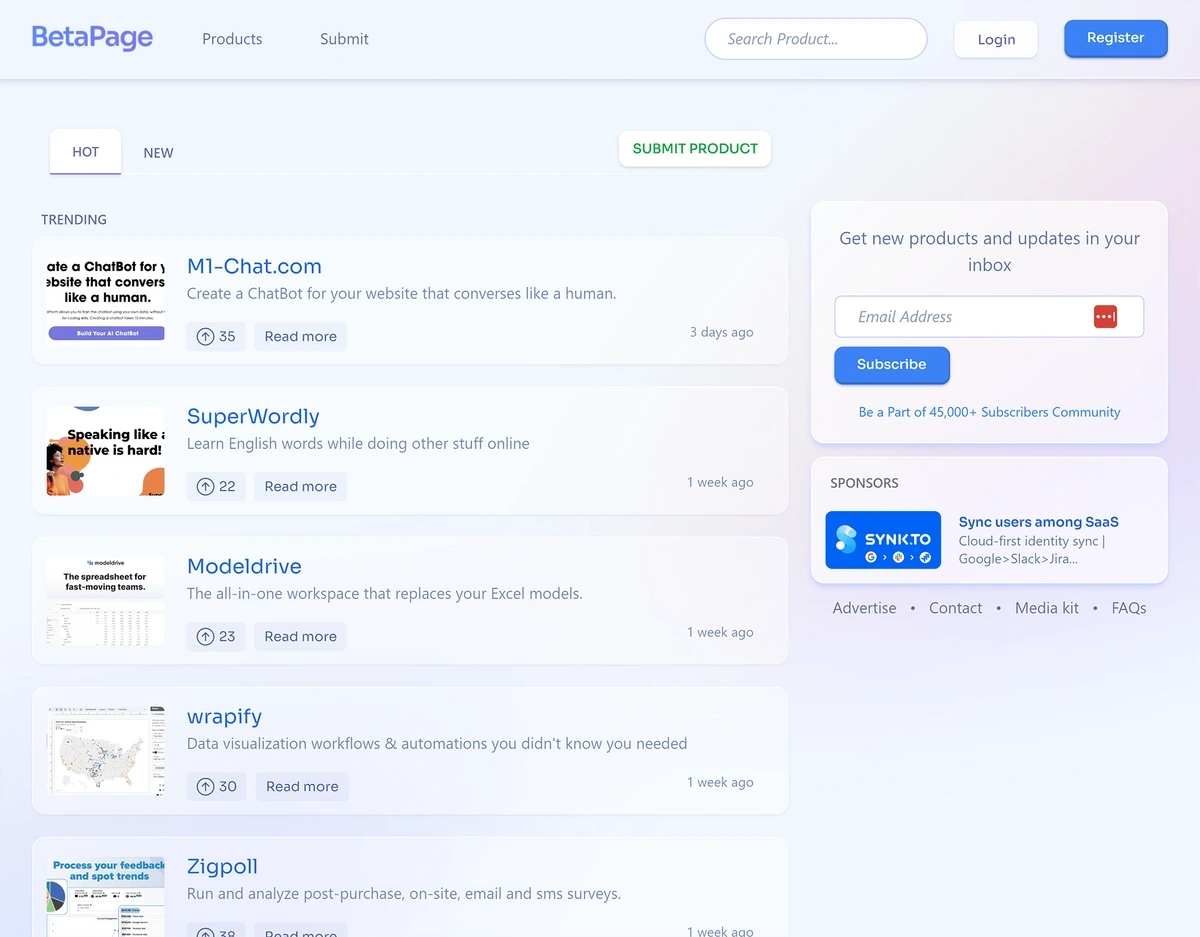 The front page is structured with two different lists; one for new startups and one for hot startups.
The BetaPage community can upvote their favorite startups, and the hot startups list is ranked based on upvotes from the community.
BetaPage also sends a newsletter that includes the hot trending products and sponsored products.
Overall, BetaPage is a great resource for founders that want to gain traction, collect user feedback, connect with investors, or find a co-founder.
Overview
Overview
Founders, freelancers, and indie hackers can add their own products or products they enjoy to BetaPage for free. The community can then upvote products they like and popular products are promoted to the top of the BetaPage.
Pros

It's a free resource for founders to list their products and gain early traction.
Founders can receive immediate feedback on their products from the community.
It's available to both live and unreleased products.

Cons

The hot product rankings can be biased as founders with larger networks tend to receive more upvotes.
It can take 45 to 60 days to get your product reviewed.

Free Plan?
Yes, you can add any startup/product to the platform for free.
Pricing
It's free to add products to BetaPage, but there are also sponsored options.
Startup Directories of Companies That Are Hiring
Whether you're looking for a job at a promising new startup or just want to gauge a company's growth trends, here are a few directories showing a list of startups hiring and their open positions.
7. Wellfound (Formerly AngelList Talent)
Wellfound is one of the most established startup job platforms available, and it features job openings at both early-stage startups and more established companies.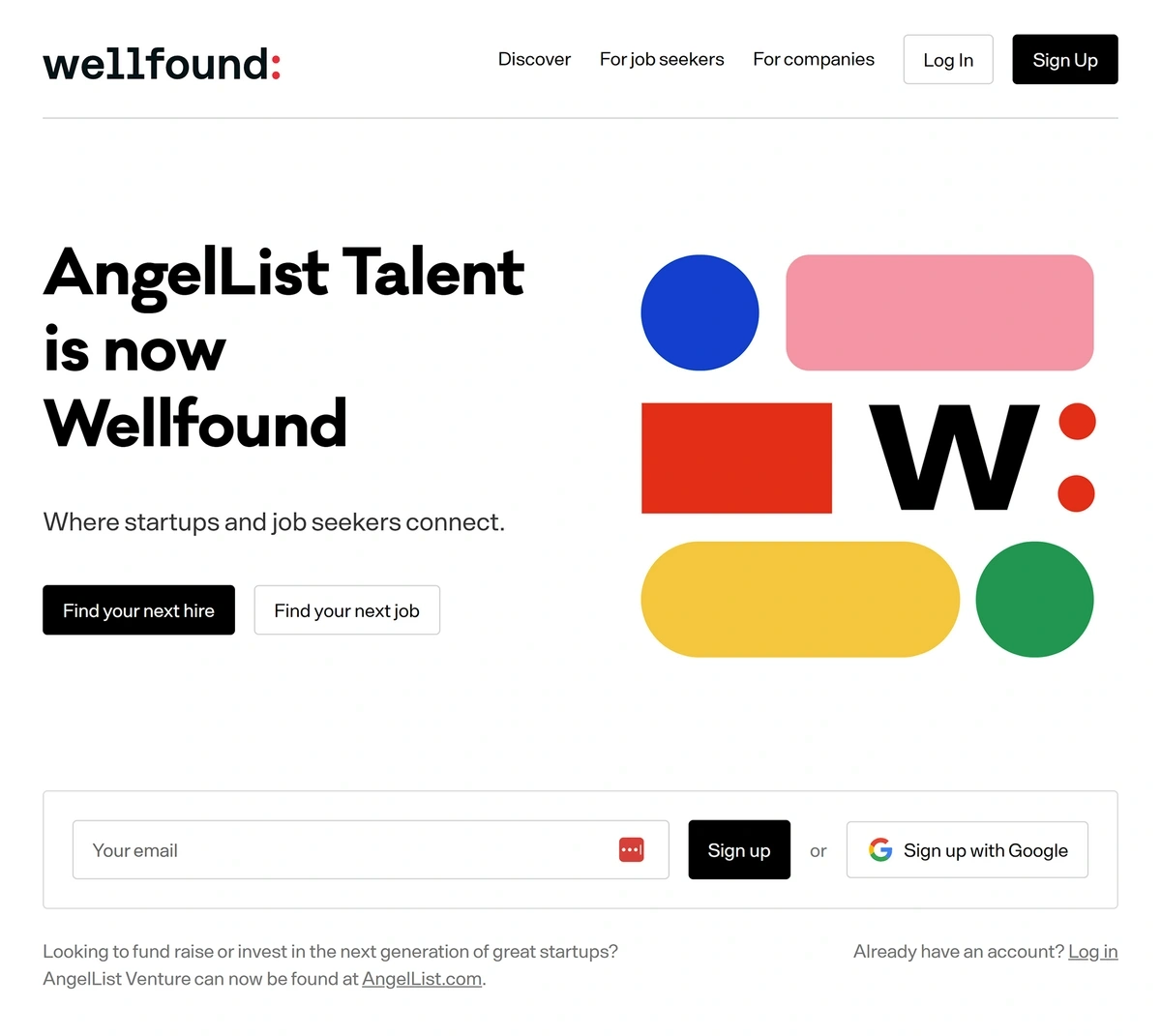 Recruiters can create a free company profile, post a job for free, and monitor applications in its free ATS (applicant tracking system).
They can also proactively search for talent by viewing candidate profiles, which include a bio, work experience, and even skill assessment scores.
On the applicant side, Wellfound allows anyone to create a free profile and search for jobs by industry (e.g., SaaS, healthcare, enterprise software, etc.), job role, and location.
When applicants find an interesting job, they can easily submit an application through Wellfound with just a few clicks.
Whether you're looking to hire new talent or just want to track your competitors' hiring trends, Wellfound is an excellent resource.
Overview
Overview
A resource for new and established startups to list jobs.
Pros

It's one of the most established startup job boards and attracts high-level talent.
It offers a mix of brand new and more established startups.
It's easy to track your competitors' hiring trends and it includes salary ranges.

Cons

The filtering options aren't excellent. For example, you can select to search for SaaS companies or healthcare companies, but there isn't a way to search for "SaaS healthcare companies."
Companies don't always take down their job posts after filling the position.

Free Plan?
Yes, candidates and companies can create a free profile.
Pricing
Candidates can browse the Wellfound platform for free and recruiters have a limited free version. The recruiter pro option starts at $349 per month.
Top Startups offers a database of startups and ranks them by funding and valuation amounts.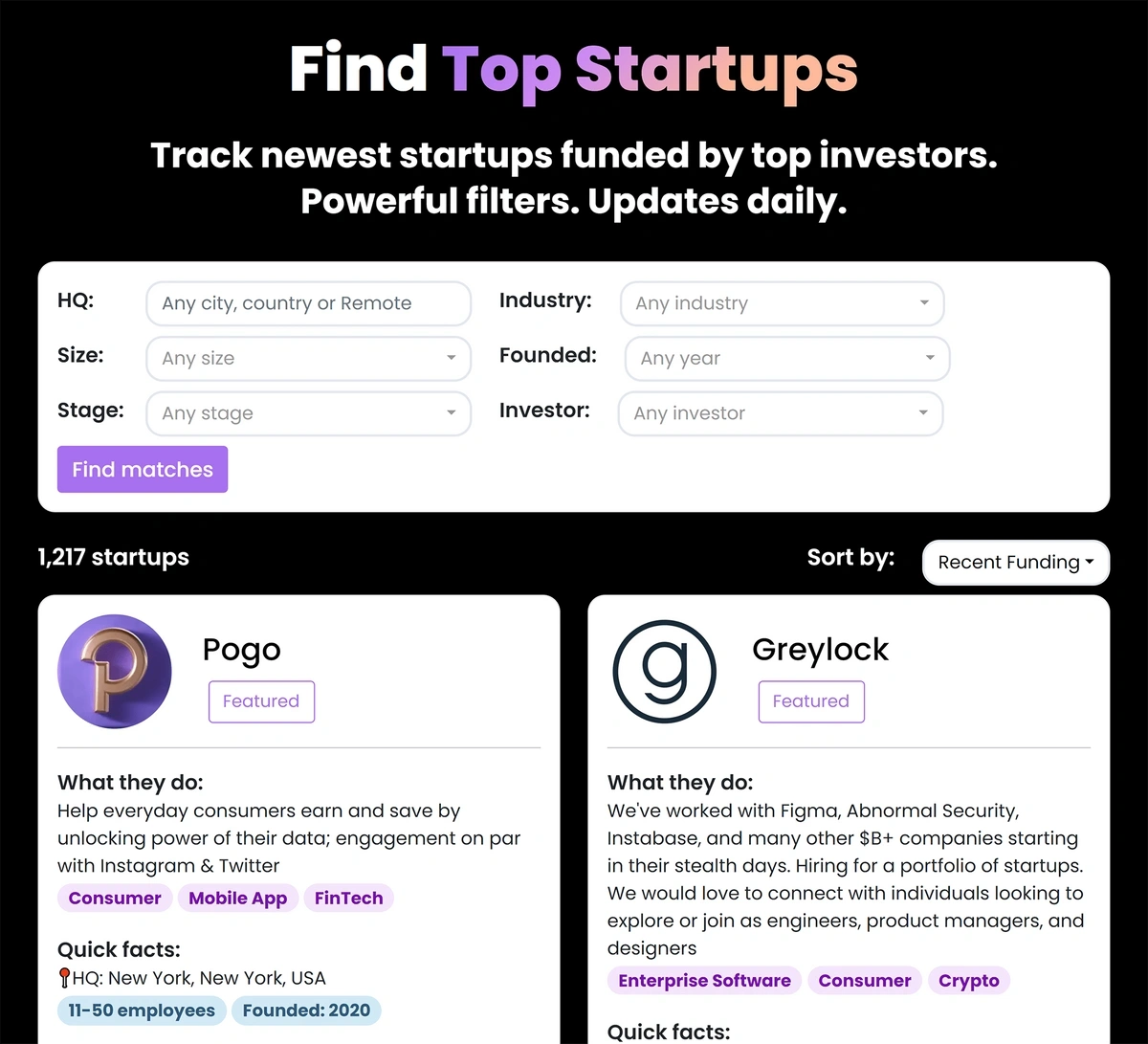 Users can browse the database for free and filter it by investor details, funding stage, size, headquarters location, and industry.
Company listings also include a link to all of the available job openings. Alternatively, you can use the Jobs feature to search for jobs listed by various companies in the database.
Another interesting feature is its free startup salary and equity database. This is an excellent resource for job candidates that want to know what they're worth and companies that want to know what they'll need to offer to remain competitive in the talent market.
All of the data collected for the salary and equity database is crowdsourced from user submissions (currently over 2,000), and you can sort the database by job title, location, company stage, and size.
Overview
Overview
A resource for funded startups to list their company and open job positions. It also offers an extensive salary and equity database.
Pros

Easily estimate the salary and equity job candidates should ask for/ companies should offer based on data collected from users.
Quickly find a list of jobs offered by well-funded startups and track competitive/market hiring trends.
The database is free to browse.

Cons

It mainly focuses on funded startups, so you won't have access to information on bootstrapped companies.
It doesn't contain data on as many companies as some of the other startup databases.

Free Plan?
Yes, it's free to browse the database.
Pricing
Top Startups is mostly free to browse and use.
Crunchboard is TechCrunch's job board, and any startup can submit a job for a fee.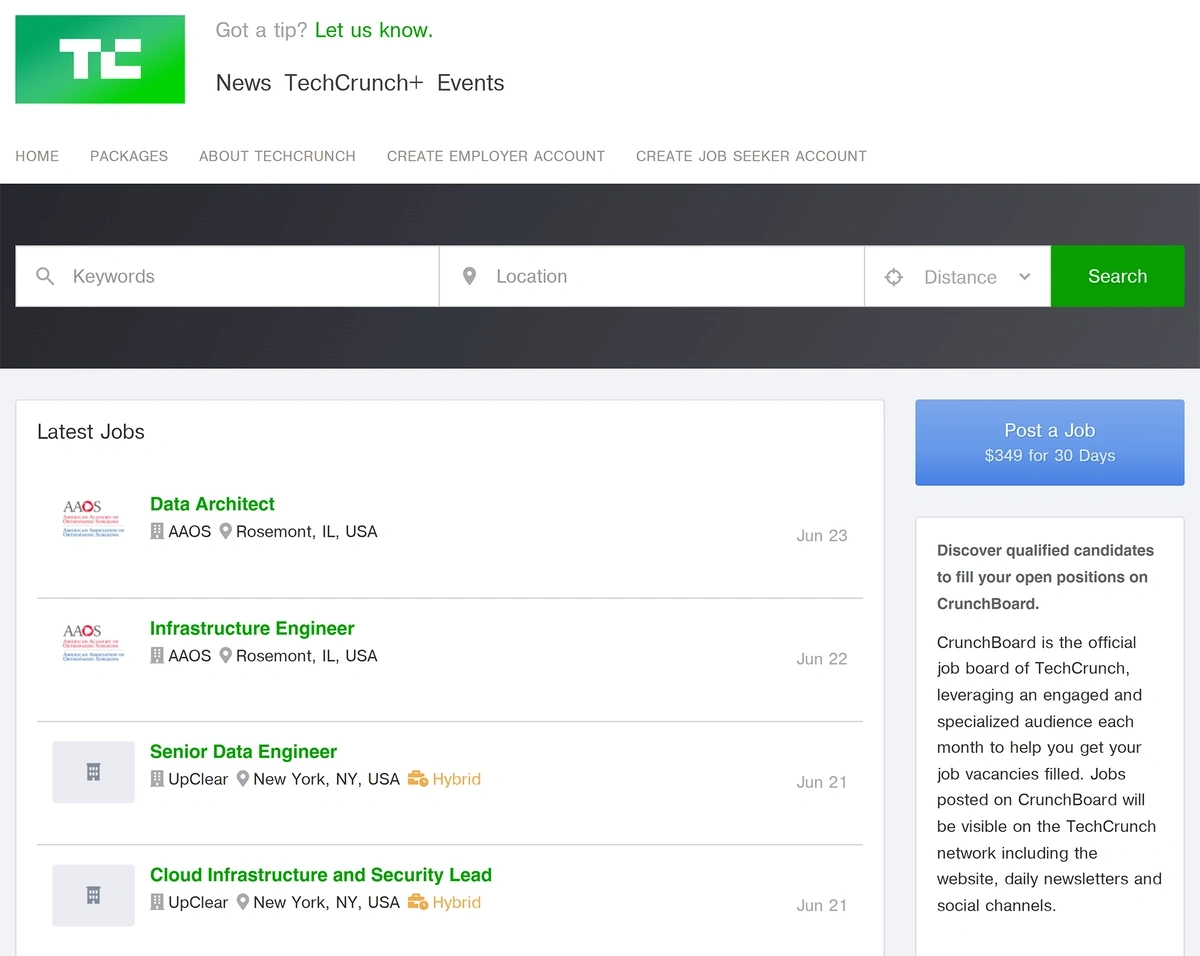 Jobs are promoted across the TechCrunch network, which includes the website, daily newsletters, and its social channels.
The database allows you to filter for jobs by location and keyword, and candidates can apply directly to any of the listed jobs.
The main benefit of Crunchboard is that TechCrunch already has a large network of readers (over 12 million according to the website), so it's easy to reach a large audience.
It's also a go-to resource for startups to post jobs, so it's easy to track hiring trends across a market or view open positions offered by your competitors.
Overview
Overview
A resource for tech companies to list job positions and for candidates to find jobs at tech companies.
Pros

The database is fairly robust as it's owned by TechCrunch and therefore leverages the TechCrunch audience.
It focuses primarily on tech companies.
You can browse jobs, with salary information, for free.

Cons

It only offers paid job post listings.
The filtering options are very limited. You can only search by location and keywords, and the job rankings are listed based on recency.

Free Plan?
It's free to browse the database, but all job posts are paid.
Pricing
It's free for candidates to browse. Pricing for recruiters to post a job for 30 days starts at $349.
Selecting a Startup Directory For Your Use Case
If you currently rely on social media or word-of-mouth referrals to find promising startups, consider using one of the directories above.
We built the Trending Startups database in Exploding Topics because we couldn't find a database that shows only trending startups based on reliable data.
While some startup lists show trending startups based on upvotes or expert opinions, none use objective data to classify a startup as "trending."
So if you want to browse trending startups in an easy-to-use database, you can try Exploding Topics Pro for free today.