8 Top Tracxn Alternatives (2023)
Tracxn is a startup information database with details on more than one million companies. Its in-depth data sets include information about funding activity and key decision makers—so it's a useful platform for:
Investors in the venture capital (VC) or private equity (PE) space
Corporations seeking to grow through mergers and acquisitions (M&A)
Startup founders interested in connecting with angel investors
Sales teams searching for new prospects
One of Tracxn's unique features is its data visualization service. Journalists can request customized infographics for publication—and get free access to Tracxn data sets.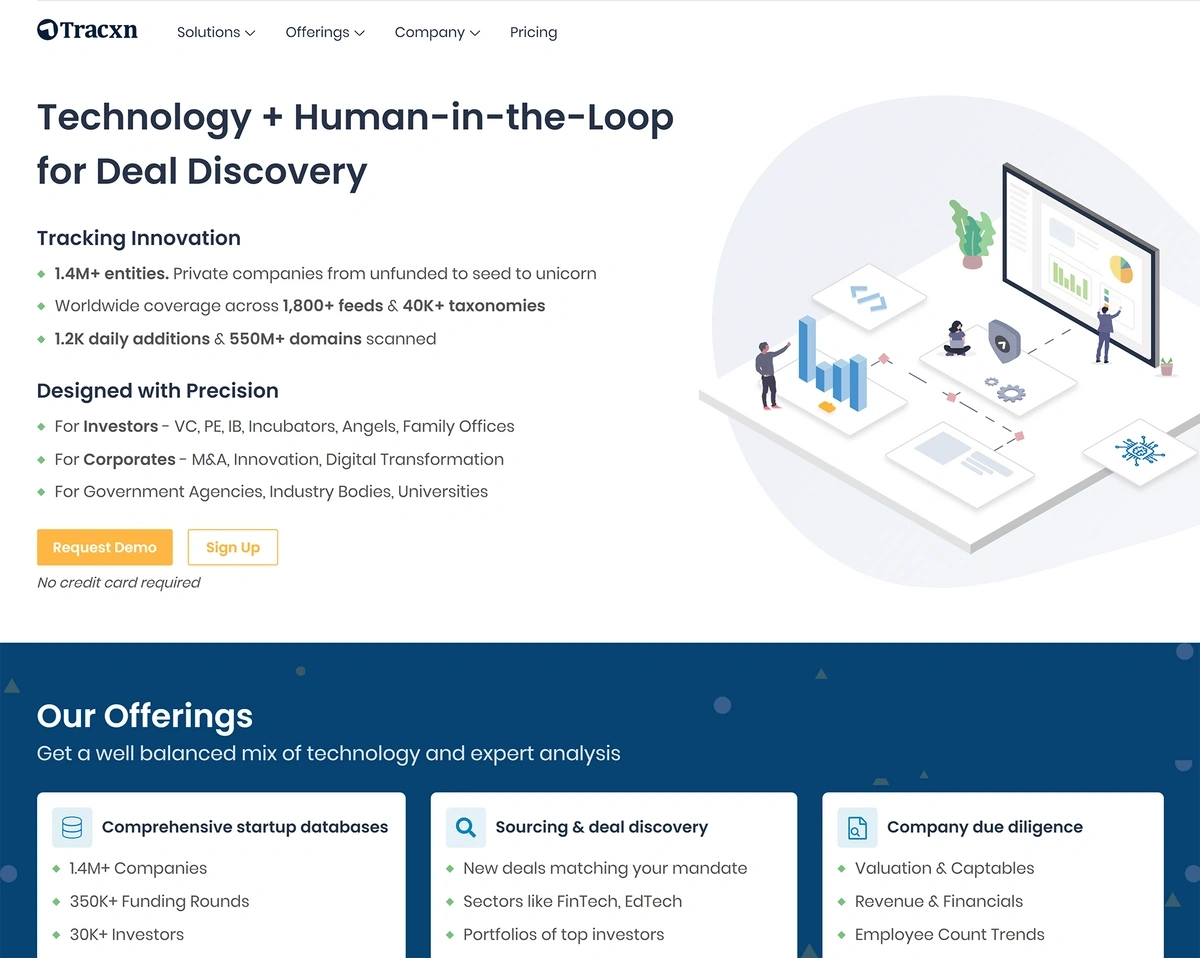 Tracxn isn't the only option for reliable startup data, though, regardless of whether you were interested in the platform for funding, investment, sales, or news purposes.
There are several Tracxn alternatives on the market—and some of them may be an even better fit for your needs.
In this guide, we'll break down the key details you need to know about eight of Tracxn's top competitors.
1. Exploding Topics: Best for Discovering New Startups
The Exploding Topics startup database is a fantastic way to identify potential investment opportunities before anyone else.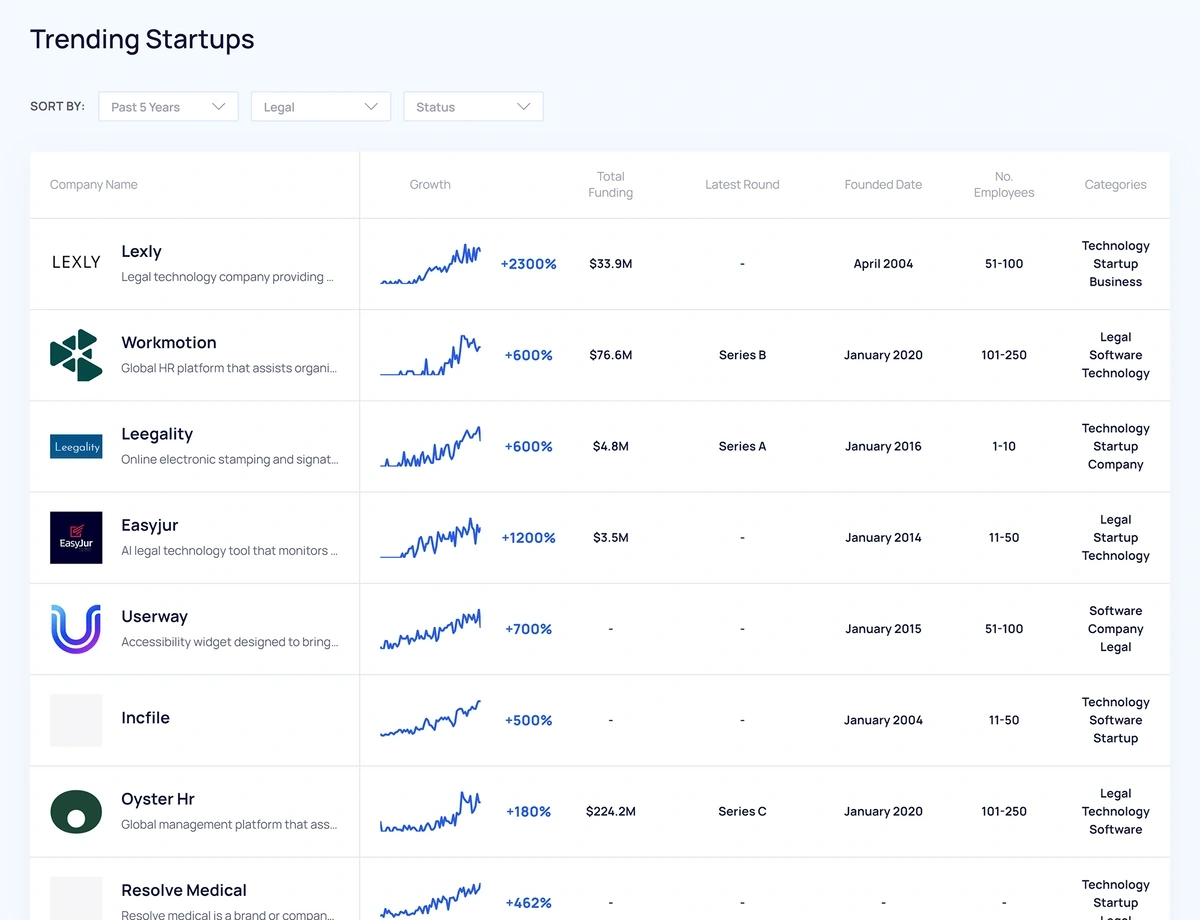 Like some other Tracxn competitors, we provide our users with information about funding stages, investments, and startup structure.
One of the big differences, though, is how much earlier Exploding Topics is able to surface this information.
Take VEED.io as an example. It's a SaaS startup that allows its users to create professional-looking social media videos with the help of auto-generated subtitles and templates.
Interest in this company has been steadily increasing over the past two years. According to Semrush data, VEED.io currently gets over three million organic visitors per month—an explosive amount of growth from where the company started in 2018.
Exploding Topics Pro users, though, have known about this growing startup since it first landed on our radar in December 2020.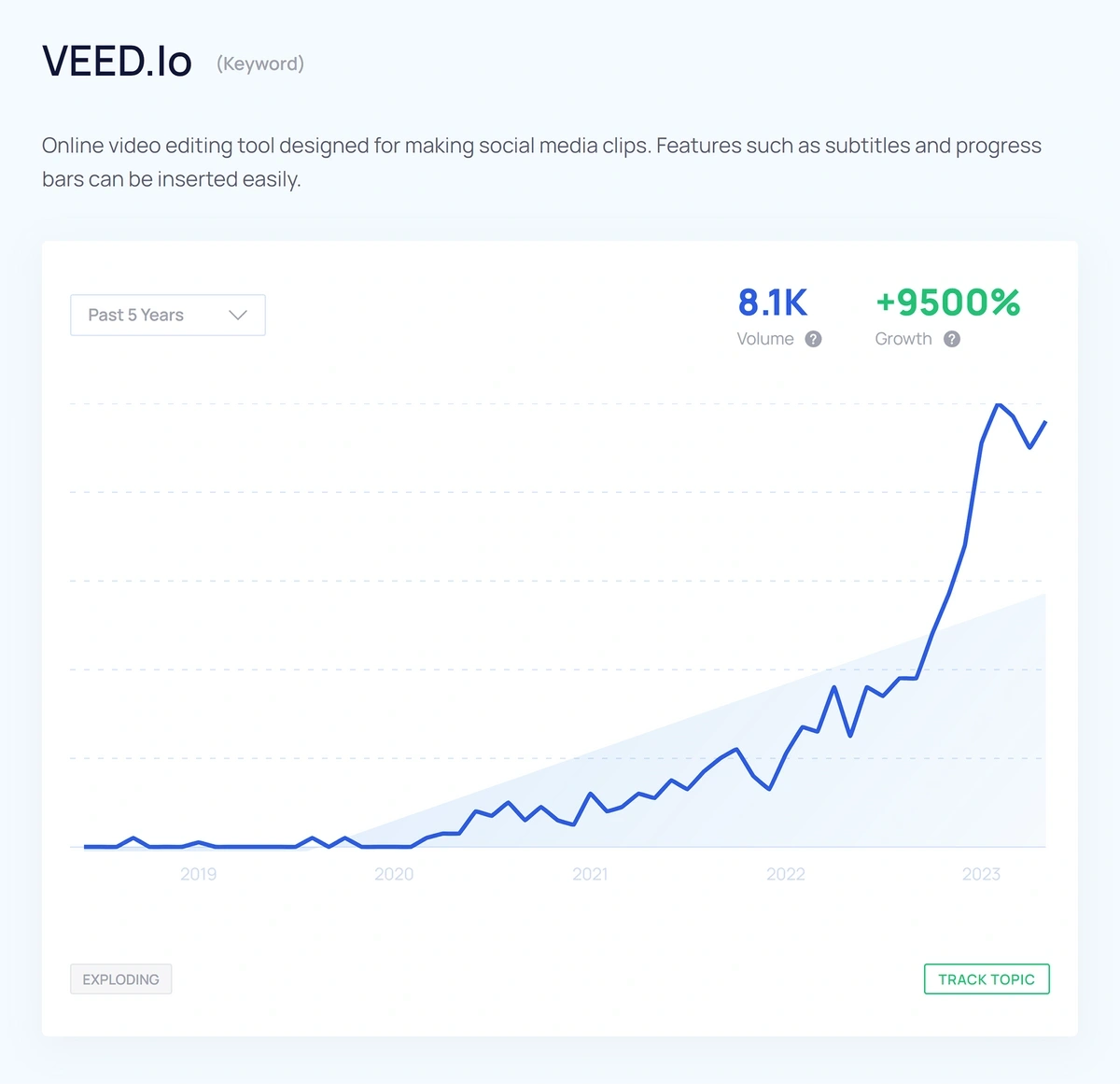 VEED.io was getting a little over 137,000 organic visits each month when we first took notice—meaning that our investment-focused users were uniquely positioned to take early action on this high-potential startup.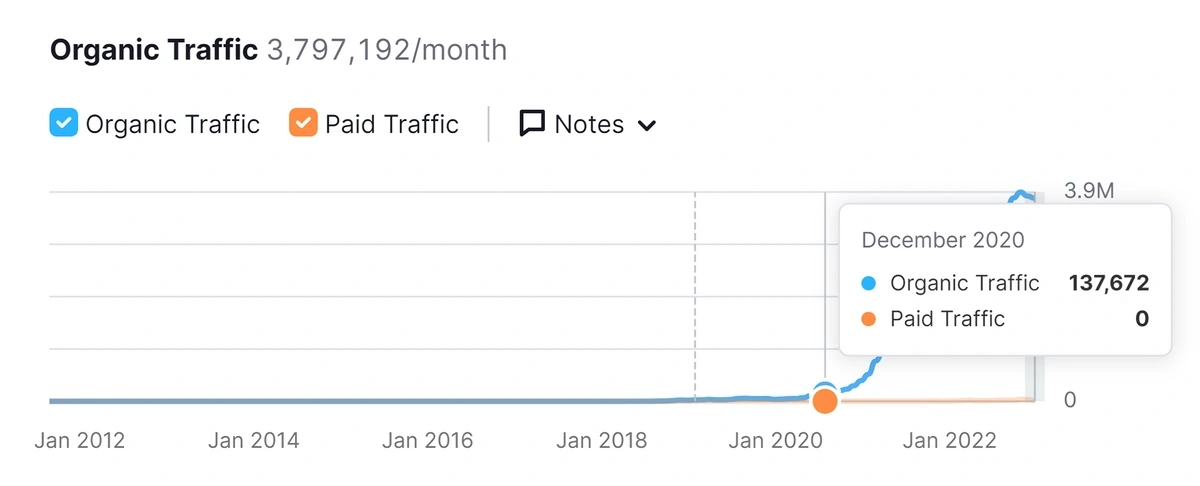 We're able to identify startups like VEED.io so early thanks to a blend of artificial intelligence and human expertise. It's similar to how we're able to find top trends—another benefit of Exploding Topics membership that's useful to investors researching up-and-coming markets.
If you'd like to give our startups database a try, it's just $1 for your first two weeks of access—and as little as $99 per month after that (billed annually).
2. Crunchbase: Best for Sales Prospecting
Crunchbase is a market research tool that can be used for investing, acquisition, and sales purposes.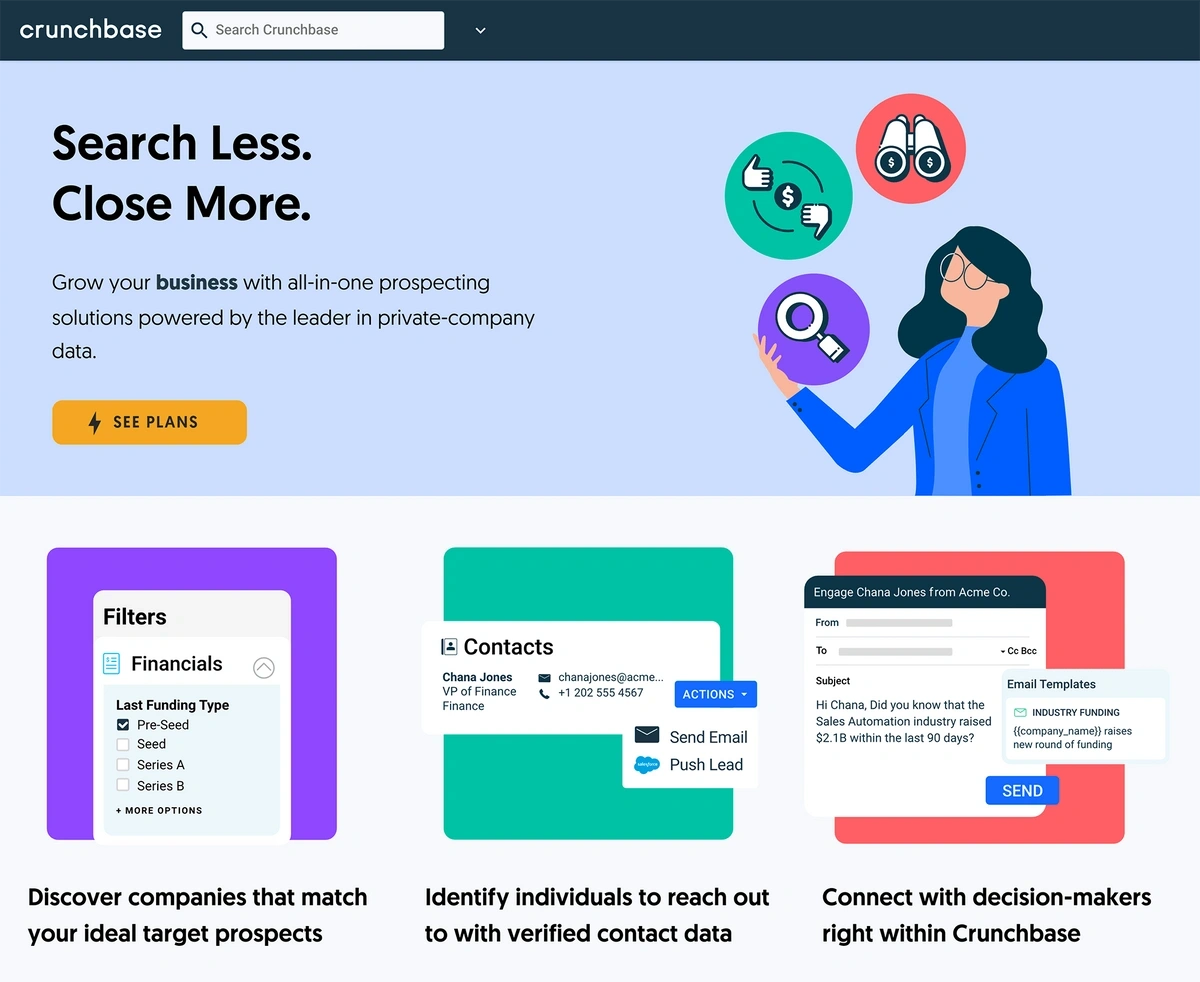 However, because Crunchbase allows its users to reach out to company decision makers through the platform, we think it's a particularly good Tracxn alternative for sales teams.
Besides finding startup contact information, you can use Crunchbase to:
Get details on total startup funding to date
See what funding round a startup is in
Research how long a startup has been in operation
Review a company's acquisition history
Find out who's investing in a startup, and what their portfolio looks like
You can view limited details about companies in the Crunchbase database for free. To see more details and get the contact information for prospects, you'll need to purchase a Crunchbase Pro plan for $49 per month (billed annually).
3. PitchBook: Best for Corporate M&A Work
PitchBook is a capital market intelligence database that provides useful insights for investors and M&A teams.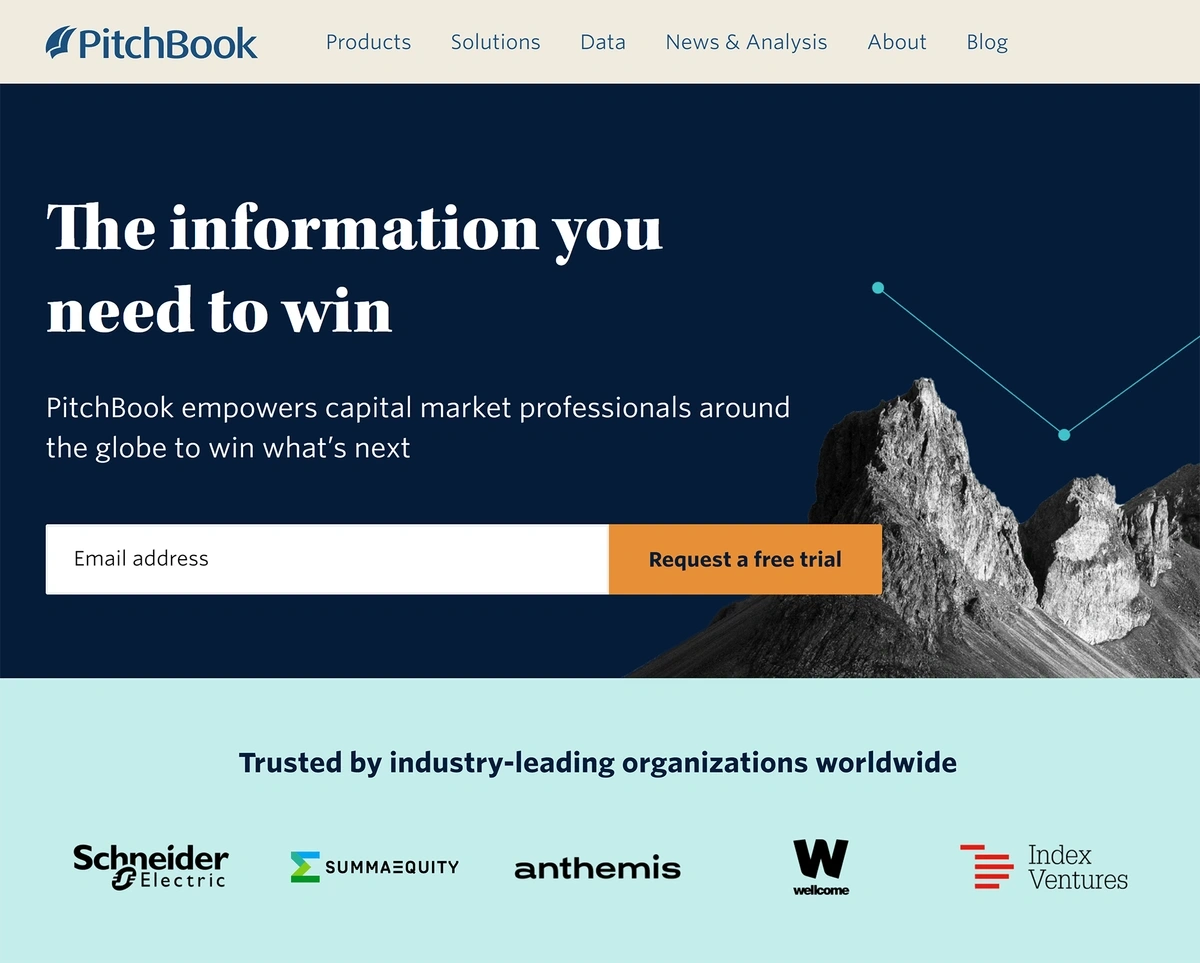 The PitchBook database includes information on more than three million companies and over 400,000 M&A deals. Its M&A overview feature makes PitchBook useful for anyone seeking to expand their company or portfolio through mergers or acquisitions.
When using PitchBook's M&A overview tool, you can:
See who acquired a company
Get insights into how closed deals were structured
Review purchase prices and company valuations
Dig into a company's financials
Find out who served as an advisor during a specific M&A deal
Get contact information for lead advisors on M&A deals
Pull comps to help ascertain what a prospective M&A deal might look like
If you're interested in using PitchBook as part of your M&A or investment research, you'll need to get in touch with the company for a demo, trial, and price quote.
4. Mattermark: Best for Building an Investment Portfolio
The Mattermark analytics platform offers up rich data on over four million public and private companies.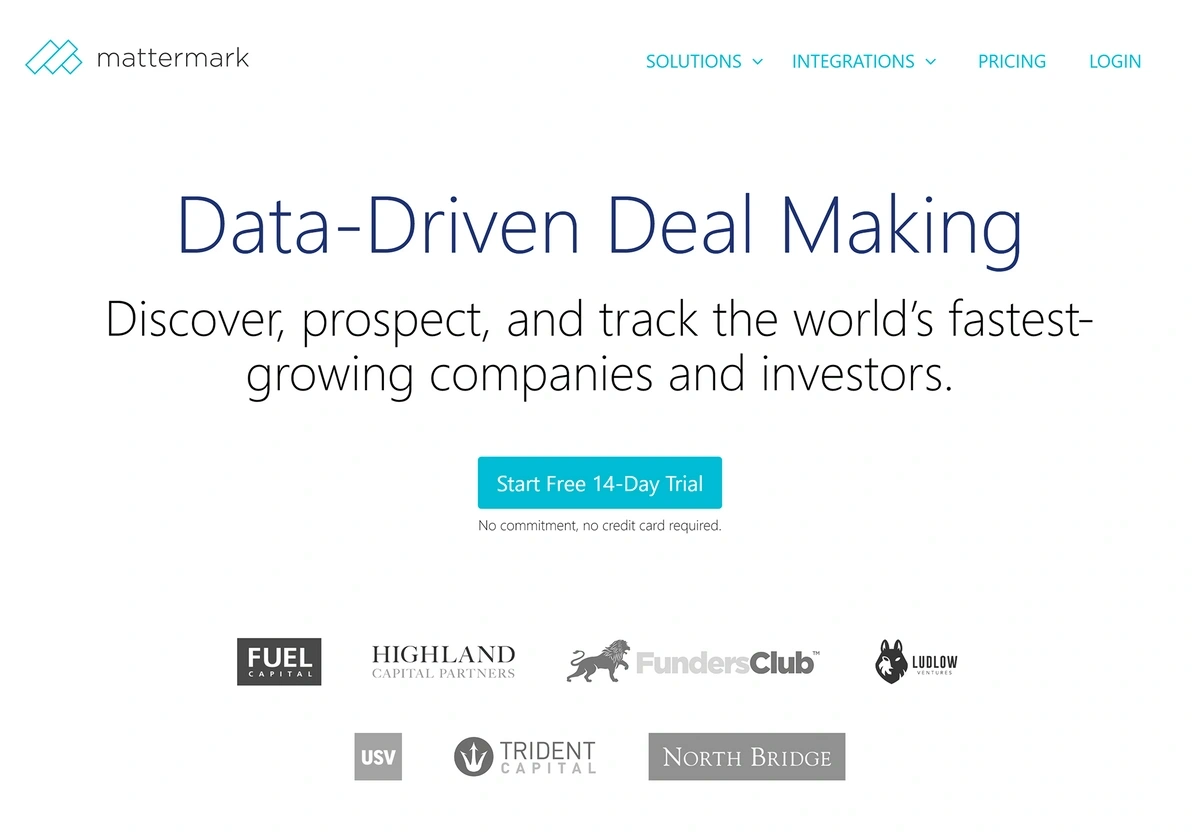 If you're working on building up your VC portfolio, you may like that Mattermark allows you to:
View a company's funding history
Identify startups that are ready for a new round of funding
Find companies in specific locations
Review metrics detailing how a company's headcount has changed over time
Look at data points including web traffic and media mentions
Identify the contact information for key decision makers at target companies
See information about who's already invested in a company
Mattermark also offers a Salesforce CRM integration, so it's also another viable option for sales prospecting.
You can get access to the entire Mattermark database for $49 per month.
5. CB Insights: Best for Competitor Research
CB Insights is a business intelligence platform that can be used for a variety of purposes, including tracking tech industry trends and conducting VC research.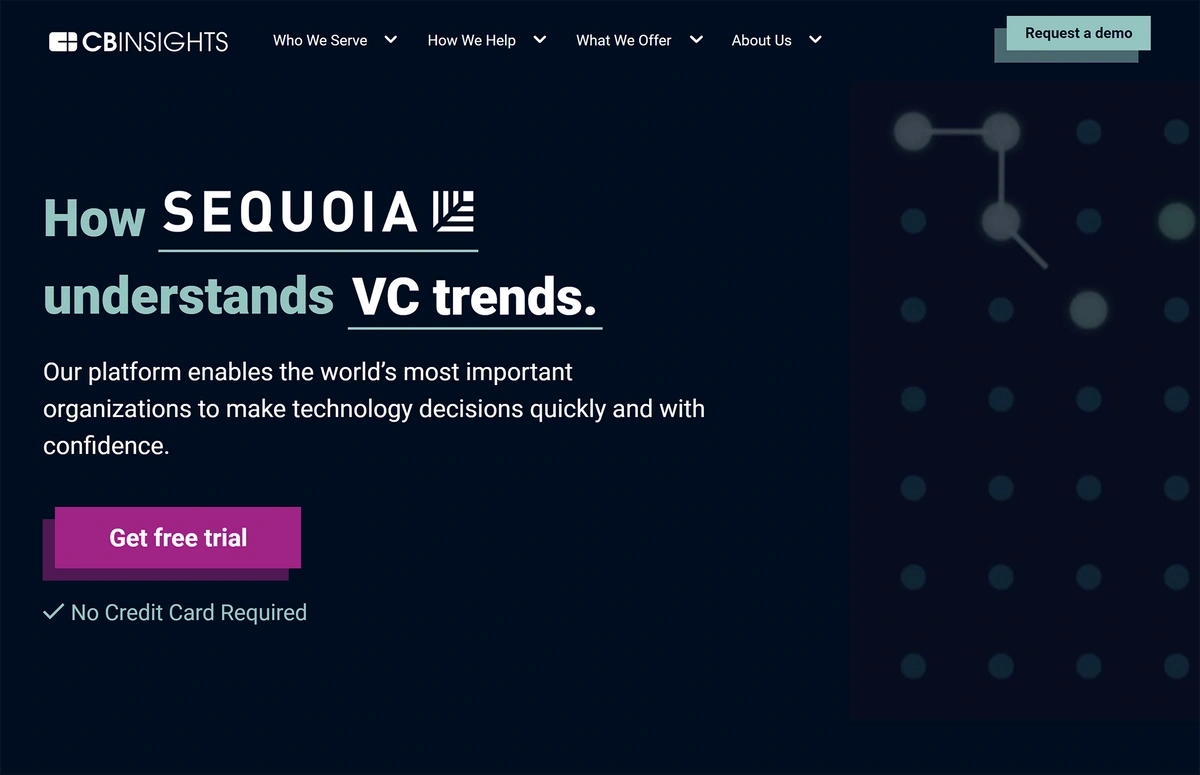 Its business relationships data is useful for startups, as it can help you track competitors' activity and anticipate market changes. When using CB Insights for this purpose, you can:
See who's investing in your competitors
Evaluate the funding stage your competitors are in
Research the size of closed deals related to competitors
Find out what tools and tech stacks your competitors are relying on
Review the current board members at competitor companies
Create predictions about future acquisition potential
VC and PE firms can also use CB Insights to get details on the companies their competitors are investing in.
While CB Insights offers different access levels depending on user needs, you'll need to get in touch with the company for a demo and a price quote.
6. Dealroom: Best for Founders Seeking Investors
The Dealroom database includes information on more than two million startups as well as over 120,000 investors.
Because Dealroom provides data on a wide range of investors—from angels to large firms—it's a nice choice for startup founders trying to source investment funds.
Dealroom also offers a unique investor matching tool that makes it even easier to find viable investment leads for your company.
Startups can use the Dealroom platform to:
Learn more about different investors' strategies
Dig into investors' portfolios and see who they are funding
See which funding stages investors are involved in
Find investors by country and sector
Dealroom's database includes information on investors in North America, Asia, Australia, and Europe, so it's a good solution for many startups and investors around the world.
Since there are a few different ways to use the Dealroom platform, you'll need to get in touch with the company to set up time for a demo and receive a price quote.
7. PrivCo: Best for Researching Private Company Financials
The PrivCo database is focused on private company data, and provides financial details on more than 700,000 entities in the U.S.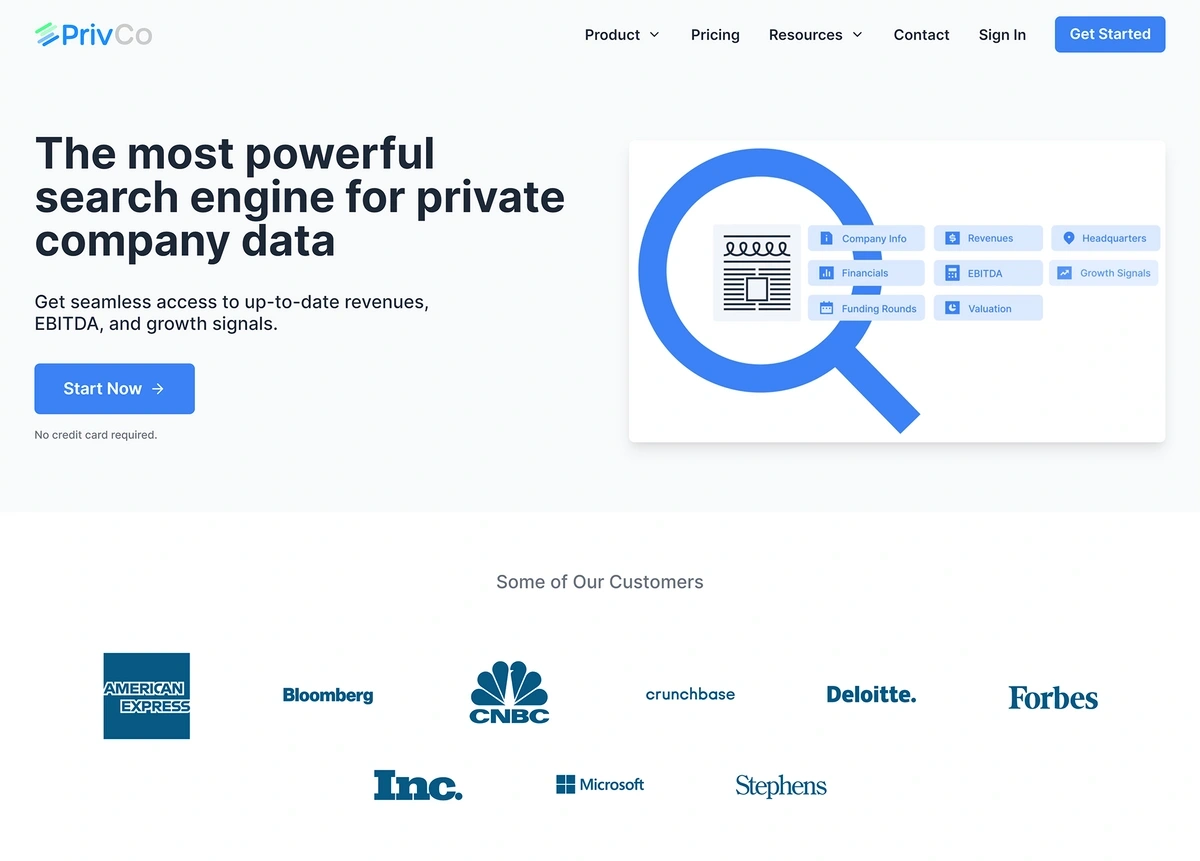 Investors can use the platform to:
Search financial data including revenue and valuation
Sort company profiles by location and funding stage
Assess company growth rates
Create watchlists to track companies of interest
The PrivCo platform may also be of interest to students studying business or investment banking, as they can use the tool to learn more about startup valuations and funding stages.
Access to the PrivCo database starts at $999 per year. Monthly billing plans and custom enterprise licenses are available as well.
8. Owler: Best for Startup Updates
Owler is another market research tool used by startups and investors—and it's quite good for getting newsworthy updates about companies of interest.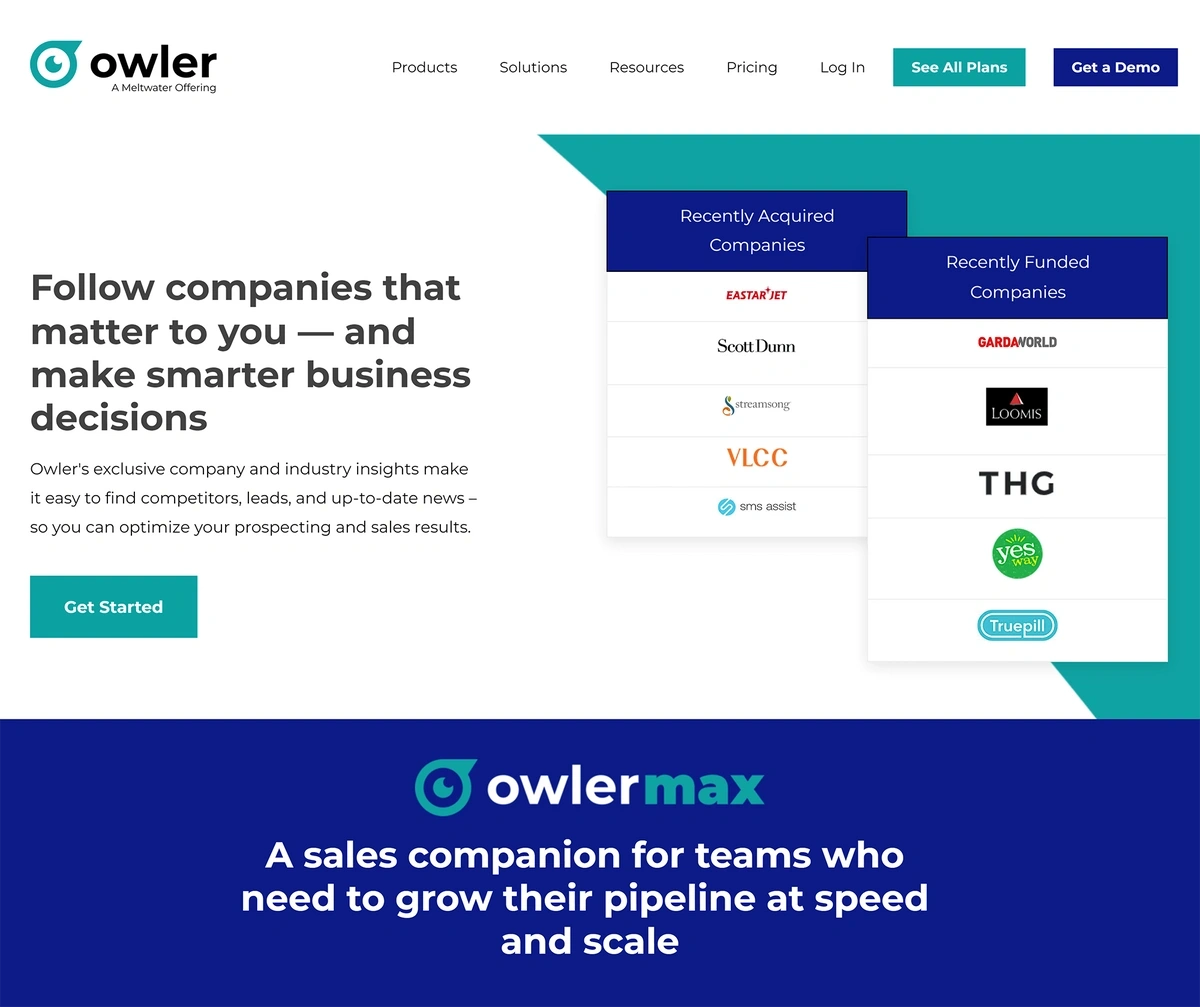 Whether you want to keep tabs on competitors, evaluate potential investment opportunities, or conduct research for a news story, you can use Owler to:
Research company revenue and funding history
See when a company was acquired, and by who
Monitor market shifts that impact companies of interest
Get daily emails about tracked companies' business activity
You can set up an Owler dashboard for free and add up to five tracked companies and three competitors.
If you need to go deeper, track more companies, or connect a CRM, you'll need to get one of Owler's paid plans—they start at $35 per month, billed annually.
Conclusion
Early insights into new and high-potential startups can make all the difference when it comes to building a successful investment strategy. A subscription to Exploding Topics Pro is one of the best ways to ensure you're finding valuable companies before your top competitors do.
More than 73% of the startups you can research via Exploding Topics can't be found in other databases at this time. If you're interested in Tracxn for startup investment research, take Exploding Topics Pro for a spin as well—it's just $1 for your first two weeks of access.