Best WGSN Alternative: Trend Forecasting, Tracking + Reports
WGSN is a well-known trend forecasting agency that offers both consulting services and a trend discovery platform, and they specialize in market research for beauty, lifestyle, and fashion industries. But they're not the best solution for everybody who wants a way to research early trends. WGSN's services are expensive, primarily tailored for global brands and already-established industry players (many potential new users are priced out of the conversation early on). Plus, a lot of professionals don't have a need for everything WGSN offers, and therefore, don't think it's worth the cost.
If you just want a more reliable way to identify new trends, perform trend analysis, and track trend growth, then there are much easier and budget-friendly WGSN alternatives — like our site, Exploding Topics!
Exploding Topics lets you research trends in dozens of industries: We're not just beauty and fashion trend forecasting, we also have trend data in categories like software, fitness, gaming, sports, eCommerce, sustainability, social media, technology, startups, etc. to give you a wider look at new opportunities that could be valuable for your business. All of our Pro users have access to the entire trend database, so they can explore trends in any category and learn about early trends as soon as they hit our platform.
So how does our platform work?
Our AI monitors social media platforms, online marketplaces, customer forums, news outlets, podcasts, streaming sites, and more to pinpoint early indicators of new trends. Then, our analysts review the trends our AI finds, looking only for opportunities that show signs of long-term interest and business value. Every trend that makes it to our database is analyzed and verified by our team so you're working with high-quality trend data (and you don't have to do that tedious digging yourself).
You can use Exploding Topics trend research tools to:
Find new trends and read detailed trend analyses done by our team.
Track and organize trends by topic.
Set email alerts for trend updates.
Monitor trend growth with the most current data — we update our platform constantly so you can log in and access current trend data any time you wish.
This guide explains how to use our trend forecasting platform so you can begin a Pro Trial and get started!
1. Discover & Research Trends via the Database
You can begin trend research from the Exploding Topics database — this is where we store all of the available, up-to-date trend data for all categories. Start by selecting a category to research, such as beauty, fashion, design, media, lifestyle, home, the list goes on...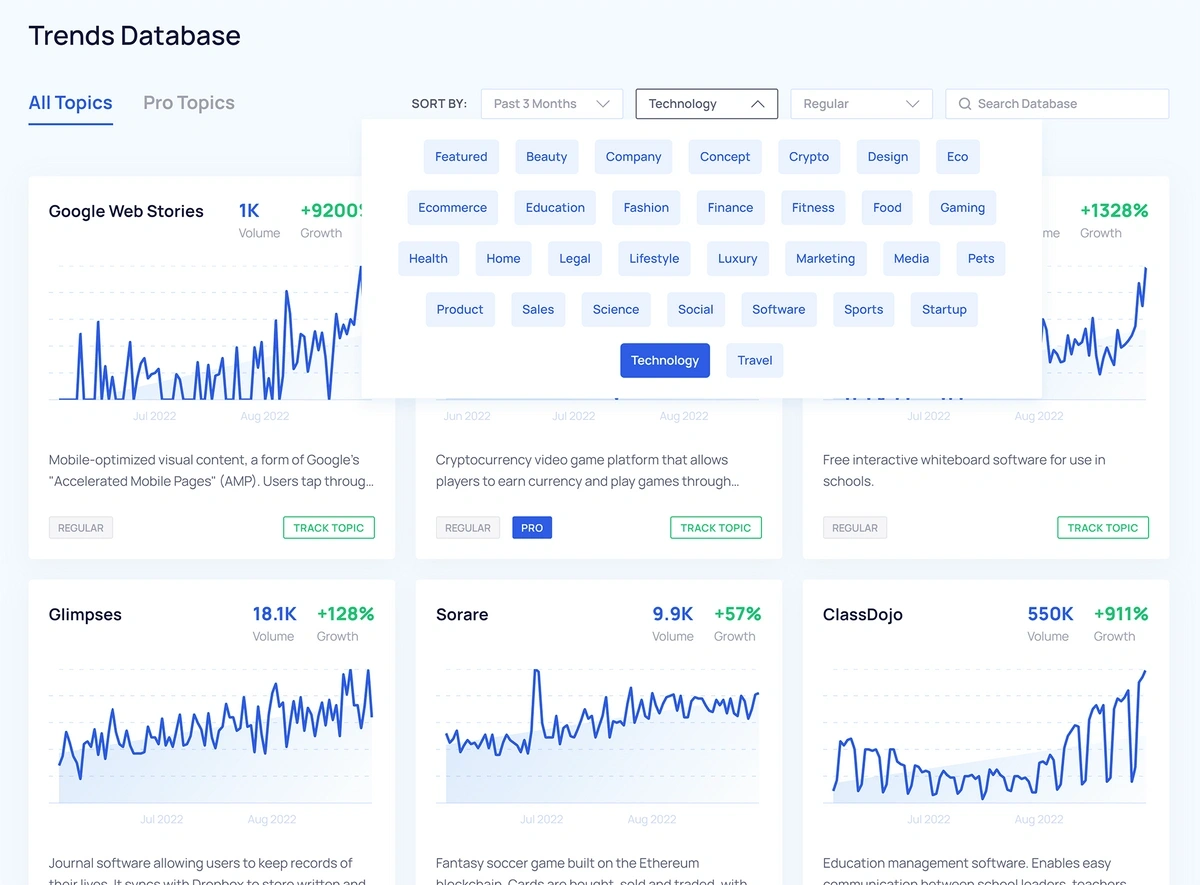 Then, you can sort results by date or status, or look up trends you've already heard of to see related opportunities. Here's how those options work:
Date: Change the date range to see trends that have shown steady relevancy over years, or filter down to the latest trends we've found over the past months.
Status: Update the status to Regular, Exploding, or Peaked to view super early trends vs. emerging trends vs. trends that are already popular (respectively).
Trend Search: Type any product, brand, topic, etc. into the search bar to see all of the data we have on the specific search and any trends that relate to your query.
Let's say you want to research consumer interest in online fashion shows: You can type "virtual fashion show" into the search bar and see the available trend data for that concept. Then we list other trends on our database that are relevant to your search so you can see related opportunities and a quick glimpse at their trend data.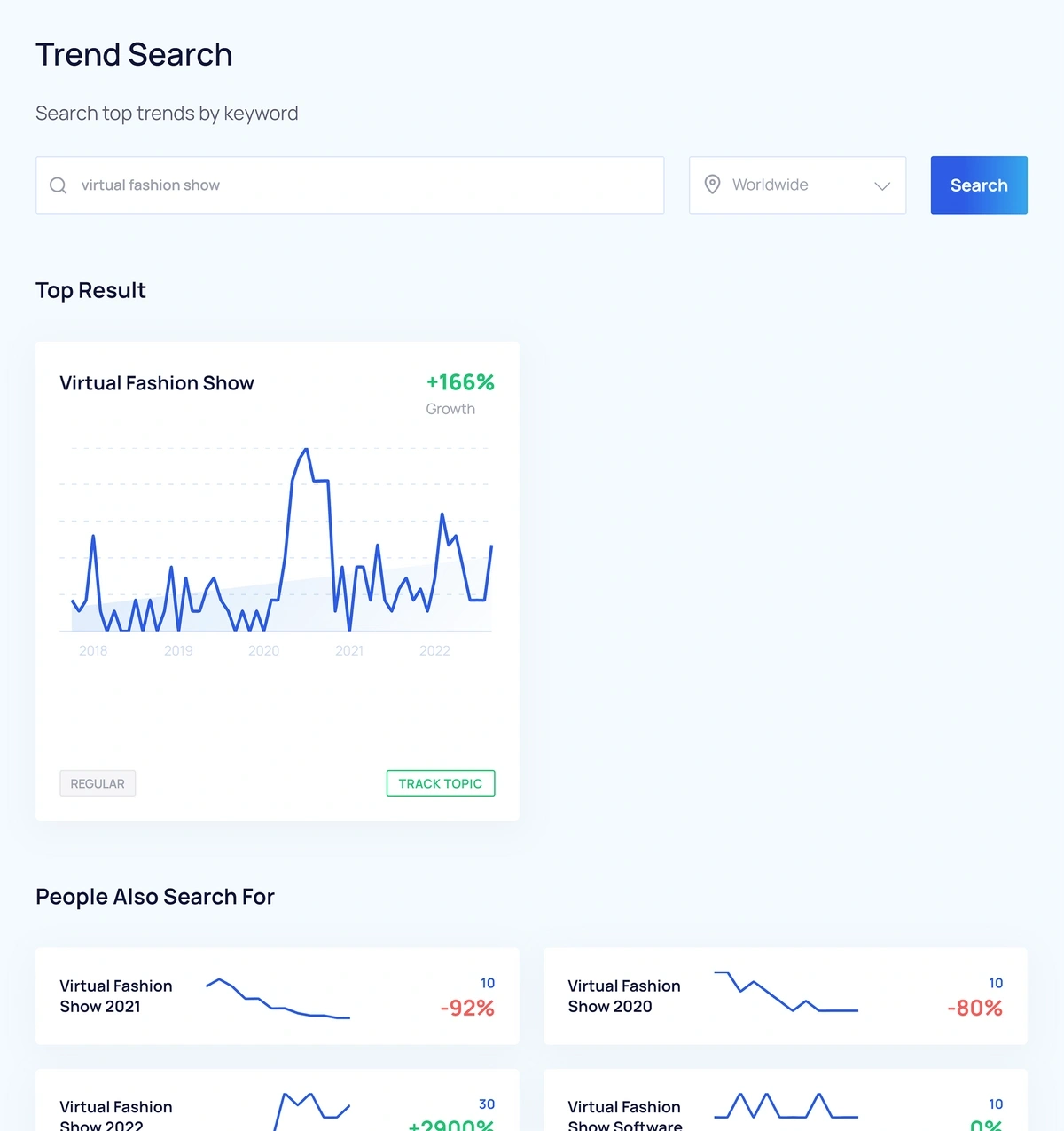 In the screenshot above, we can see virtual fashion show is a "Regular" trend (a.k.a., a trend that is already well-known and popular) and that interest in the trend spiked around 2020. Then, we can see the specific brands people are searching and interested in, like Hanifa and Balenciaga, and more specific searches, including "virtual fashion show software," "virtual fashion show platform," and "virtual fashion show 2022."
This view gives you a broad look at the opportunities surrounding your interest, and trend data helps you decide if trends are worth following — you can add trends to your dashboard by clicking "Track Topic" — or implementing in your business strategy.
You can click on any trend to open the overview window and view the current trend data. We list the trend search volume and growth rate — we also display that data in an interactive graph for clearer analysis — and show you relevant categories, trend status, and related trends.
For example, take a look at the overview for Palm Angels, a luxury street style brand from Los Angeles that started to become better well-known in 2021.
From the trend graph, you can see when searches for the brand started, when they started to take off, and how they've fluctuated since — you can even drag your cursor along the graph to see search volume by day.
Then, you can see that Palm Angels is an emerging trend, and already somewhat popular, by looking at the trend status. Finally, you can see related brands and their trend data below.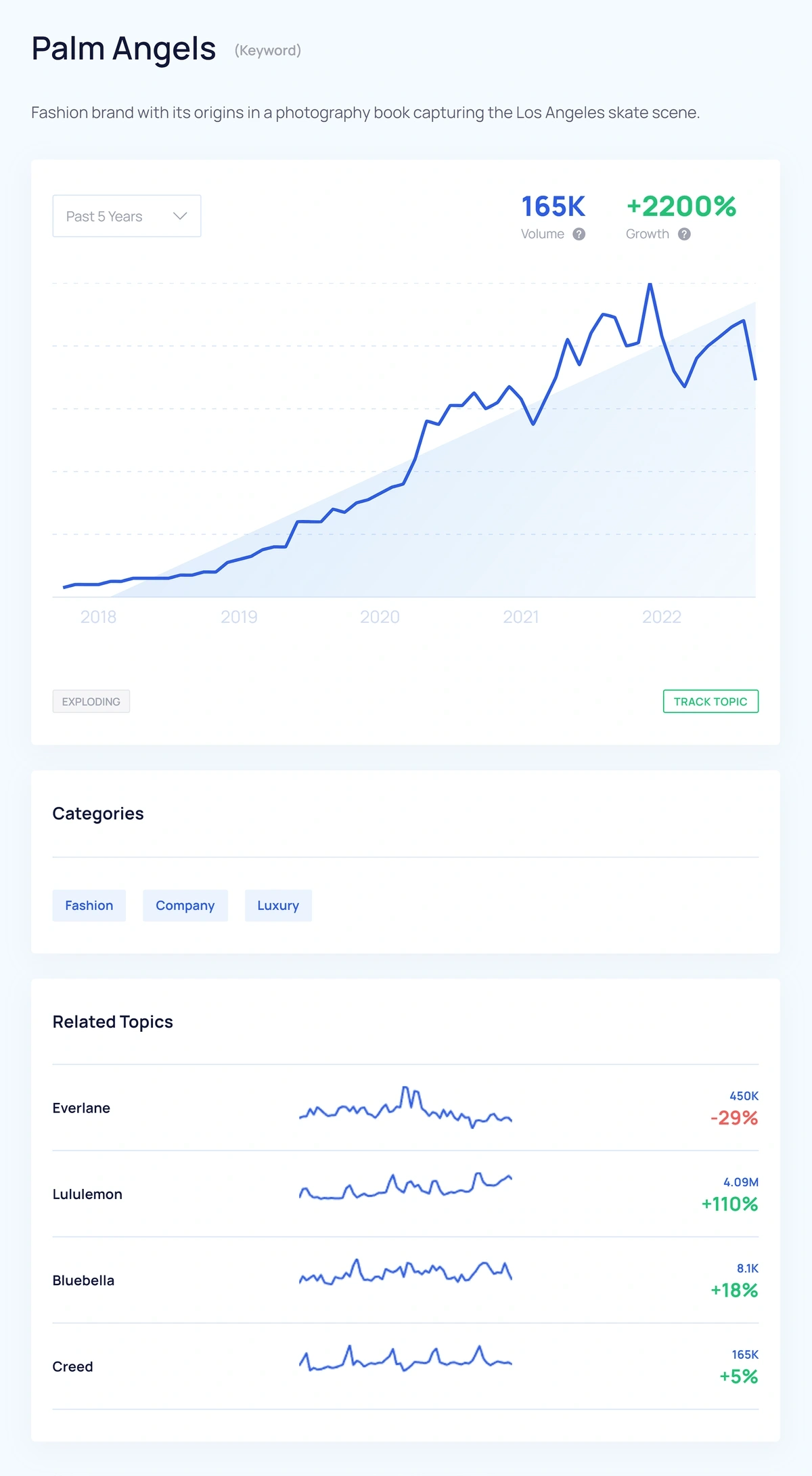 Read More: Best Market Trend Analysis Tool for Detailed Insights & Tracking
2. Analyze Collections of Trends & High-Level Trending Topics
You can also start trend research from the Meta Trends tab: This is where we organize collections of trends by higher-level topic, so you can look at types of products, software, and services, and other innovative concepts.
So instead of starting your search at the category level, you could click into Meta Trends and find topics like Antioxidant Skincare, Sustainable Feminine Care, DTC Self-Care Products, Portable Everything, Kits for Everything, Luxury DTC Brands, and more.
In the Meta Trend analysis, we display:
A quick summary and background so you can learn about how the trend originated and why it's becoming more relevant.
Trends that make up the Meta Trend, with a glimpse of the key trend data.
Lists of related topics and Meta Trends where you can continue your research.
Let's look at the Luxury DTC Brands Meta Trend as an example: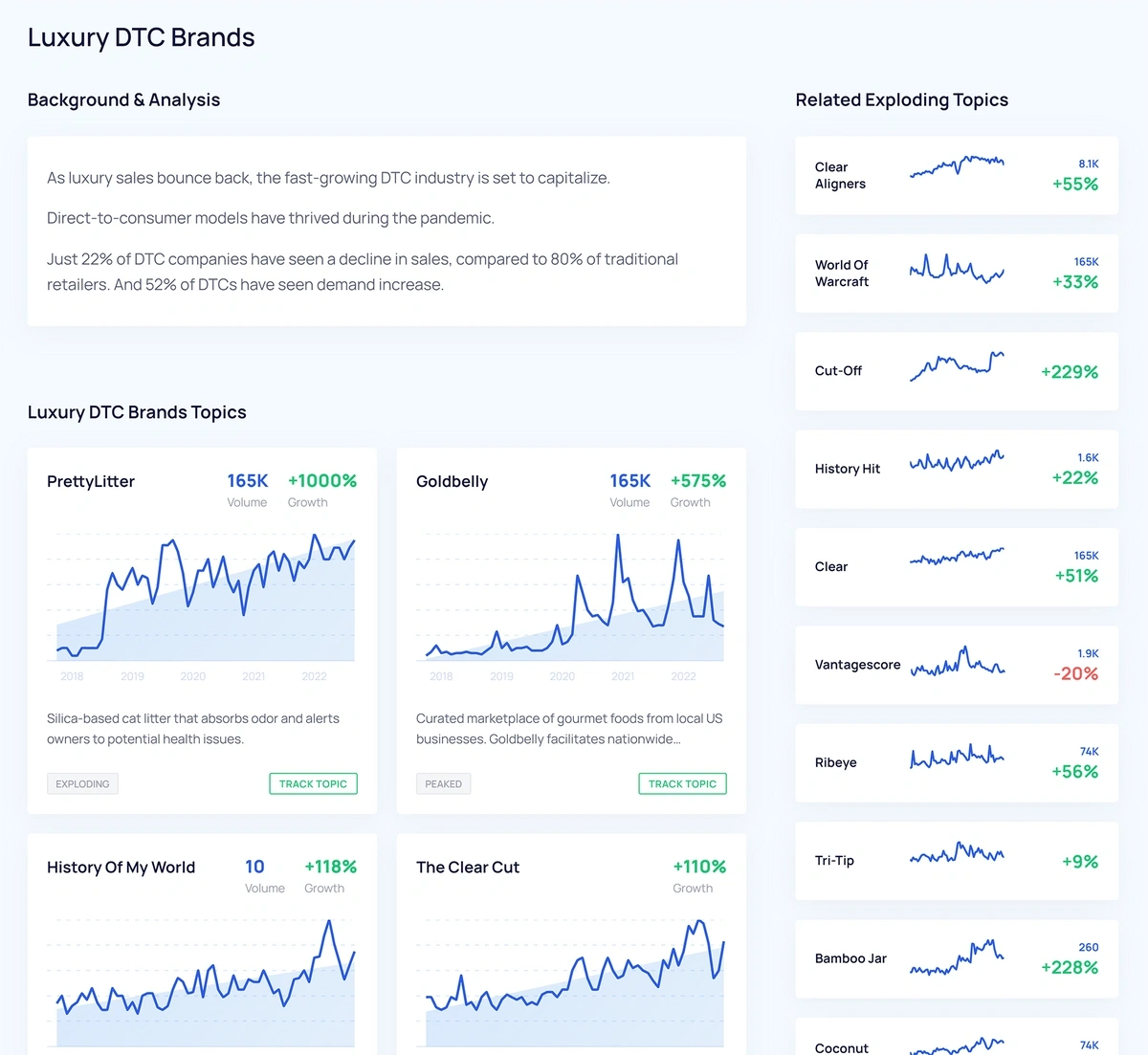 3. Access Weekly Trend Reports with Analysis on 10 New Trends
We also provide weekly trend reports with info on 10 of the most exciting (fastest-growing, promising) trends to have on your radar. Like our database, newsletters contain a mix of trends across industries, and we break reports into two sections — Early Bird Companies and Tomorrow's Product's Today — so you can learn about emerging brands and unique new products. We send trend reports to your email at the start of each week, but we also store them in the Reports Library so you can easily find and reference past newsletters.
Trend reports contain a detailed analysis with every trend, you can gather more context on the history of the trend, what target audiences and markets the trend impacts, how interest in the trend is expected to grow in the future, and how you can leverage trends in your business strategy.
For example, take our write-up for "mushroom decor" from a recent trend report: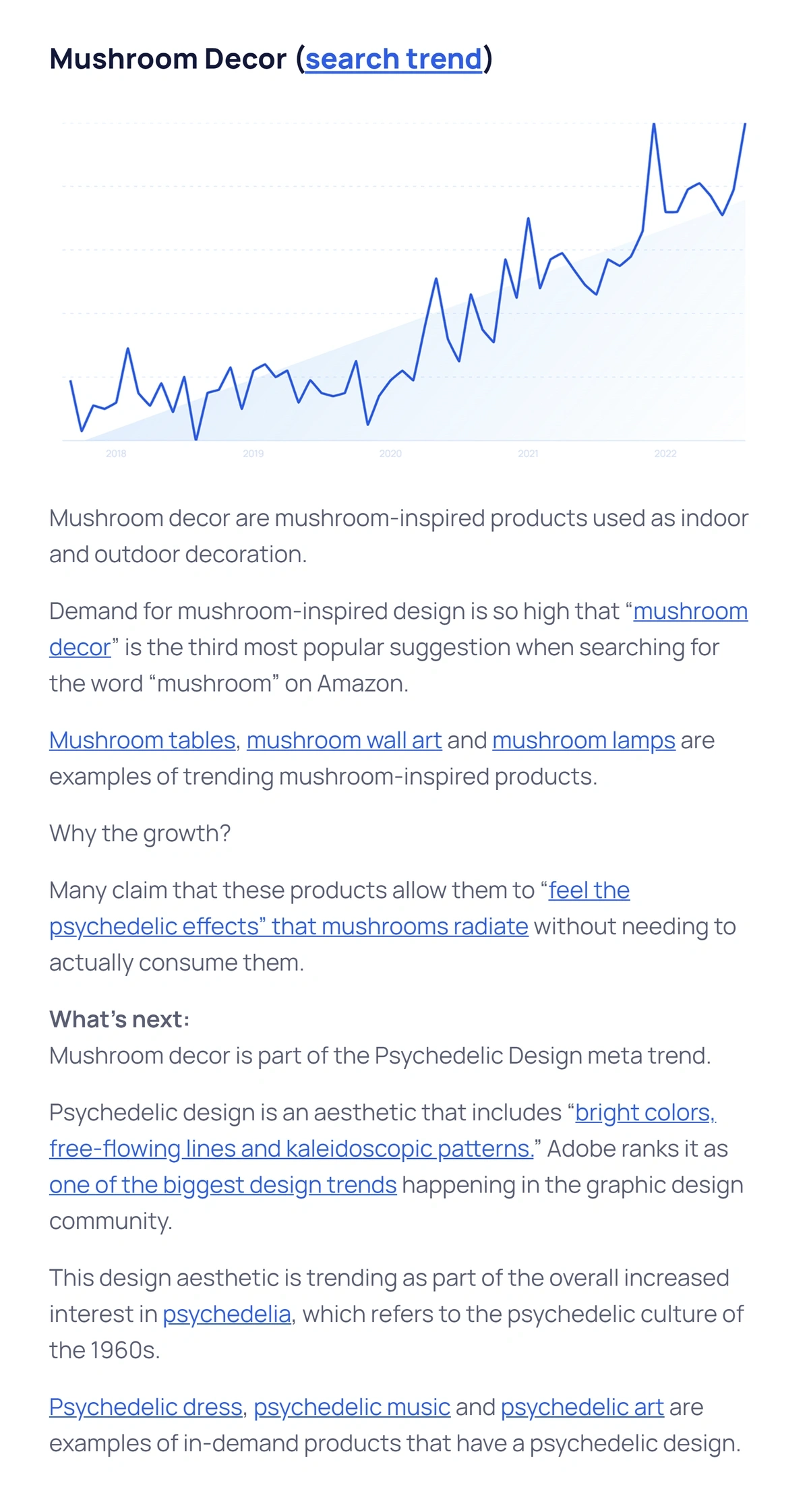 We explain:
What the trend is, which audiences are interested in it, and why interest continues to grow.
Where consumers are already shopping for this decor.
Which Meta Trend the trend fits into and details on related decor trends.
How interest in mushroom and psychedelic decor is expected to evolve.
Our trend reports keep you in the know about the most valuable new opportunities our analysts discover — we curate these reports each week with current insights, and we link to all of our sources so you can see where we collected our research (and do further reading on your own).
Want a preview of Exploding Topics trend reports? You can sign up for a free version of our email newsletters here.
4. Save Trends to Your Dashboard & Organize by Project
Then, Exploding Topics' online trend monitoring lets you track trends that pique your interest and provide value to your brand. Remember, you can save trends to your dashboard by selecting "Track Topic" as you research. As you save trends to your dashboard, we automatically prompt you to add them to a "Project." Projects let you save trends in different categories — for example, womenswear brands vs. organic skincare products — and keep your dashboard organized; this not only prevents clutter, but it makes it easy to find saved trends when you want to check trend data.
You can access saved trends via Dashboard or the My Projects tab, and you can add, remove, or edit Projects at any point. Here's a peek at what the dashboard might look like for a lifestyle brand: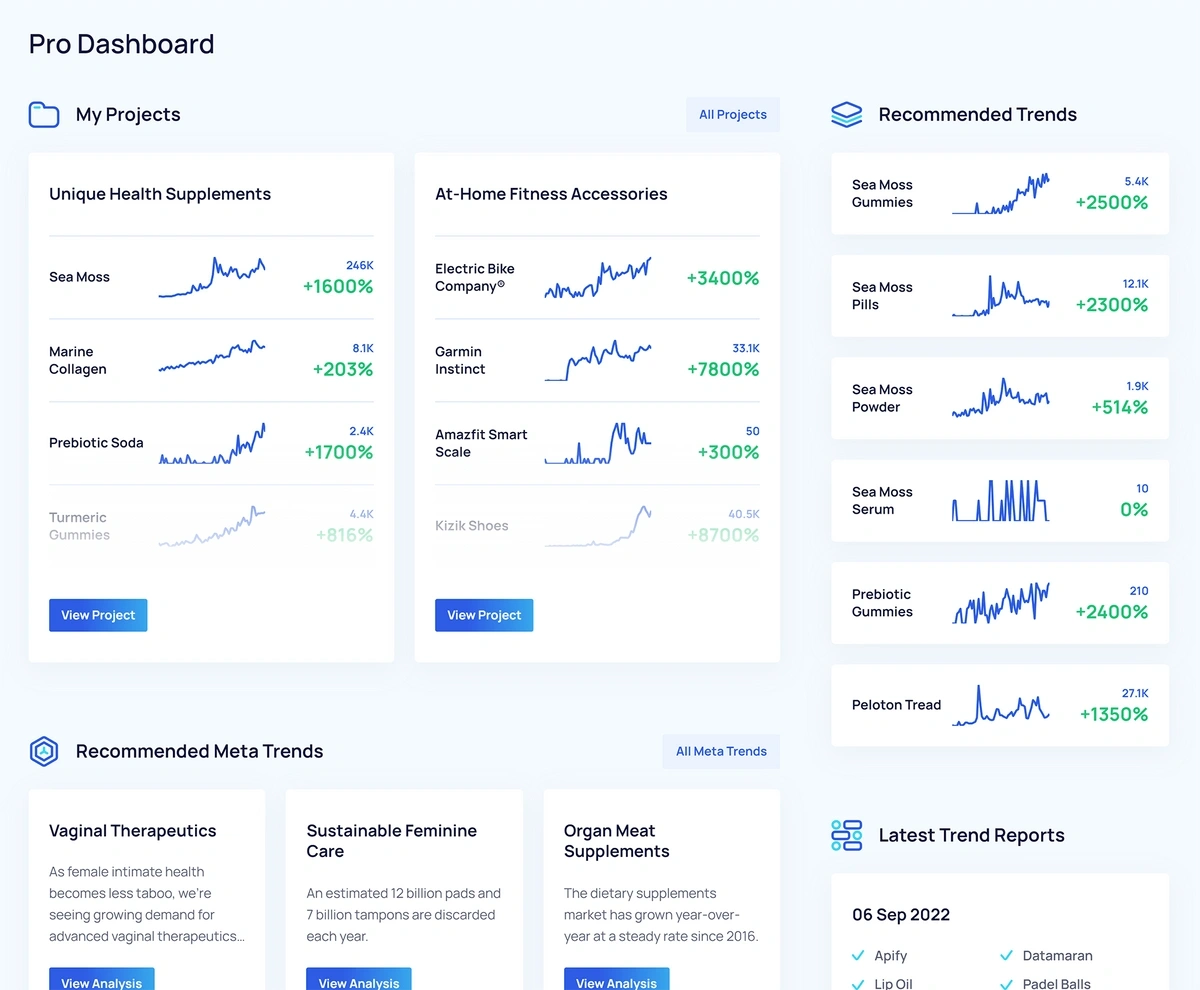 Your trend tracking dashboard also has recommended trends and meta trends so you can see other opportunities that relate to your saved projects; links to the latest trend reports; access to Exploding Topics API.
5. Monitor Trend Growth & Set Alerts for Trend Updates
Lastly, you can check on trends any time you wish just by logging into the platform and navigating to your saved projects. As we mentioned earlier, we update our platform daily so you're always viewing the latest trend data. But you can also set email alerts for trend updates and we'll notify you of significant changes to trend search volume or growth rate.
Our trend tracking tools make it easy to monitor trend growth on your own schedule and act on opportunities when the time feels right for your business. Exploding Topics also has an API so you can connect our platform with other market research software and consolidate trend data in the analysis and reporting tools you use in your daily operations (you can learn more about that here).
Get Started with a Pro Trial
Exploding Topics trend forecasting solution simplifies trend research so you can learn about, analyze, track, and leverage trend data for your own objectives. You don't have to rely on an expensive trend research agency to find and interpret data for you — instead, our team tackles the initial trend research and compiles data on our website, in a clear and comprehensive format, so you can reference trend data as you need it. Not to mention, our platform costs significantly less than WGSN (and we have multiple pricing options and never make you sign a contract).
You can start an Exploding Topics Pro Trial for $1 to demo our trend research features and decide if we're the best solution for your goals.
You can also learn about other WGSN competitors in our trend forecasting website comparison guide.