Future of FinTech (2023-2031)
The financial technology space is projected to reach $213 billion by 2024.
So it's clear that FinTech is on the rise.
But as technology and regulations continue to change, the FinTech space will need to adapt.
With this in mind, we present five ways the financial technology industry is set to change in the future.
1. Every Company Becomes A FinTech Company
Financial services are expected to generate approximately $37.3 trillion in 2026.
And the rise of embedded finance has enabled non-financial companies to grab a piece of this market.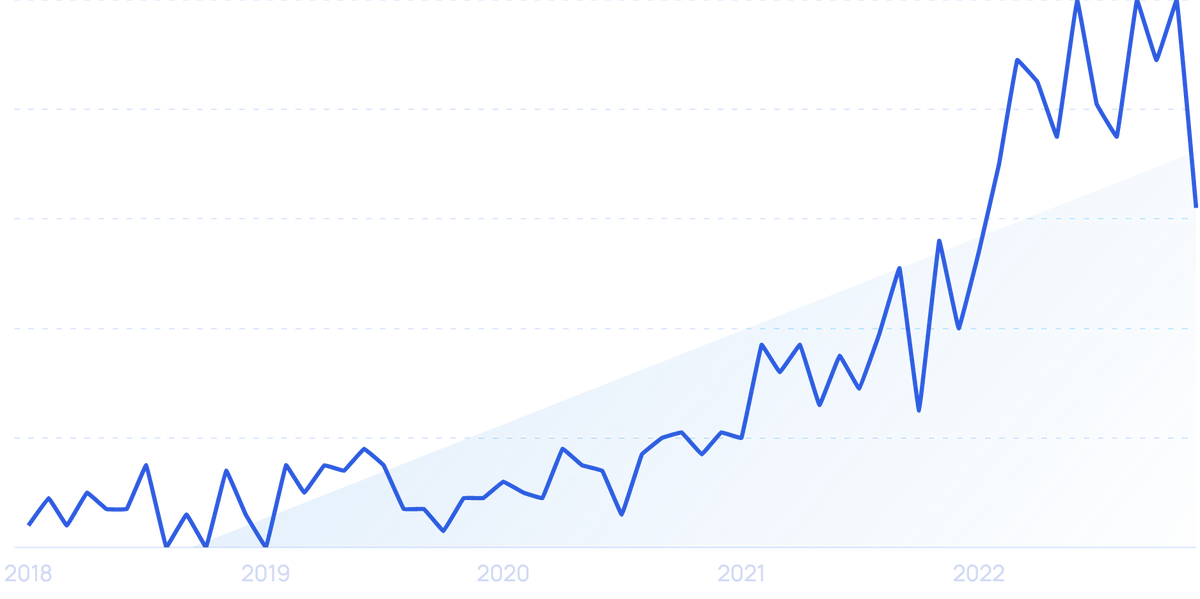 Searches for "embedded finance" have grown by 1,233% in the last 5 years.
Embedded finance enables non-financial companies to integrate financial services into their products and offerings.
We are already seeing this technology impacting several non-financial players.
For instance, earlier this year, Apple announced their own buy now, pay later (BNPL) service that lets customers split the cost of any purchase into four installments.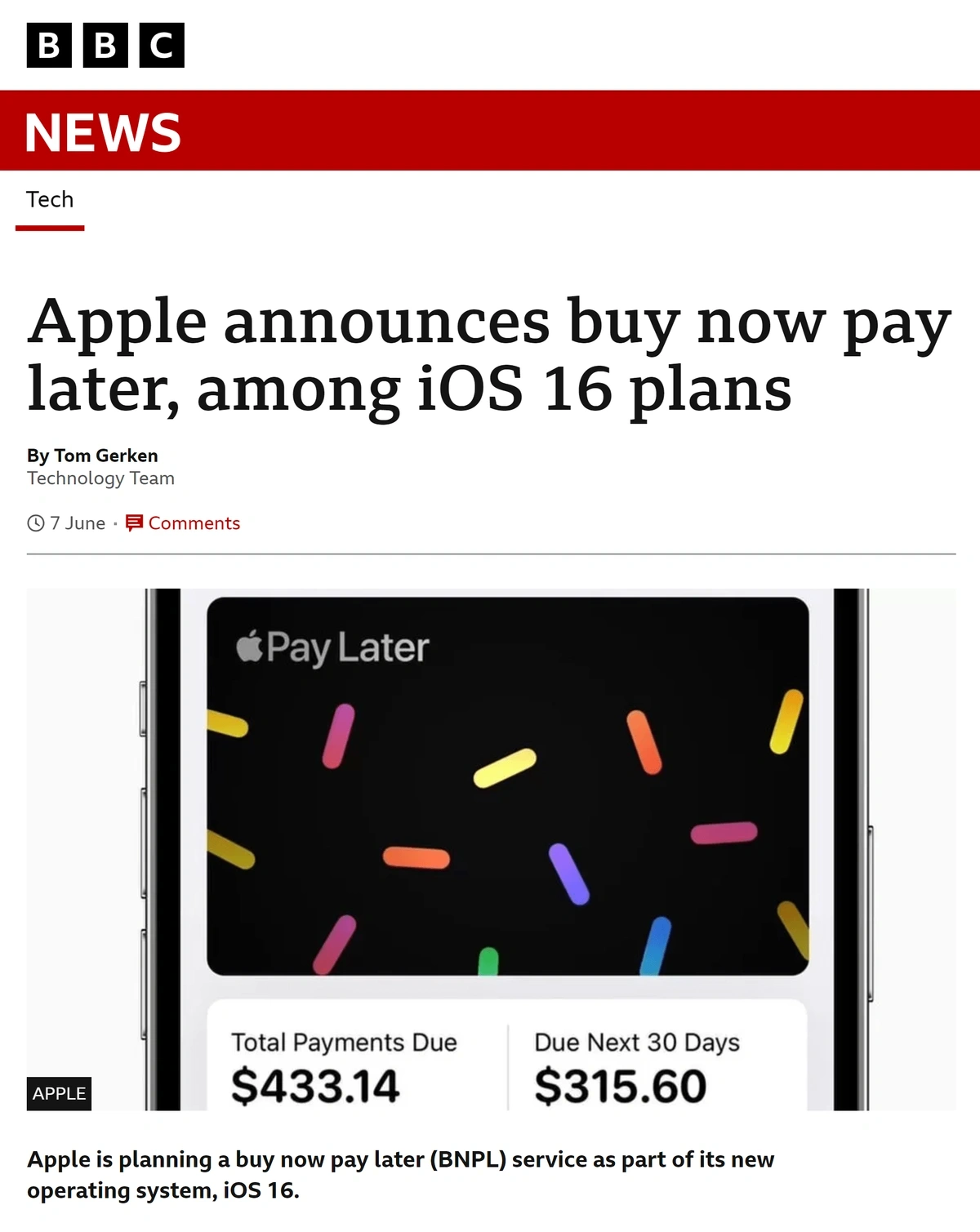 Apple's BNPL offering.
Uber, with the launch of Uber Money, aims to become a bank account for their drivers.
Notably, embedded finance is very consumer-facing.
Meaning that it is all about making it easier for the consumer to access capital and manage their finances.
And companies that aim to stay on track with consumer trends will have to implement a FinTech infrastructure within their offerings in order to make purchasing easy for customers.
That's why, as more companies continue to adopt it, embedded finance is forecasted to become a $7 trillion industry over the next 10 years.
In fact, Angela Strange (partner at Andreessen Horowitz) states that she expects "nearly every company to generate a significant amount of their revenue from their financial offerings".
So, in the not-so-distant future, even the smallest companies might offer their own financial solutions to make it easier for consumers to purchase, use and upgrade their products and services.
2. DeFi Changes The Financial Ecosystem
The blockchain FinTech market is forecasted to grow at a CAGR of 59.9% in the next six years.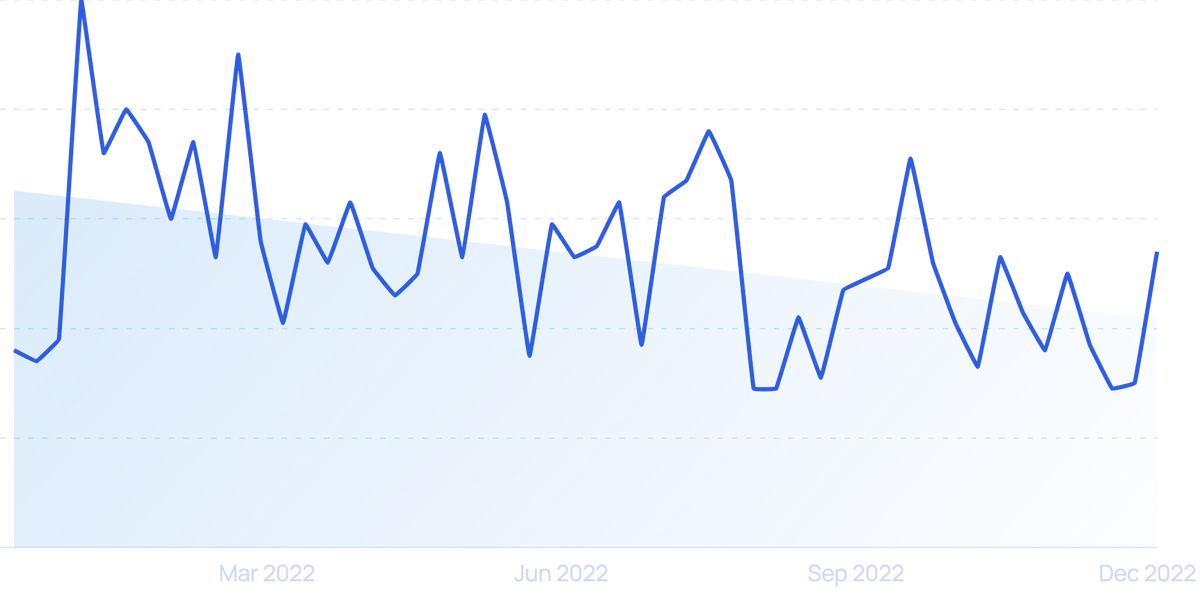 Searches for "FinTech blockchain" have grown by 50% in the last year.
And perhaps blockchain's most significant impact on this industry will be enabling a secure peer-to-peer, decentralized finance ecosystem.
The greater DeFi has already started to take off.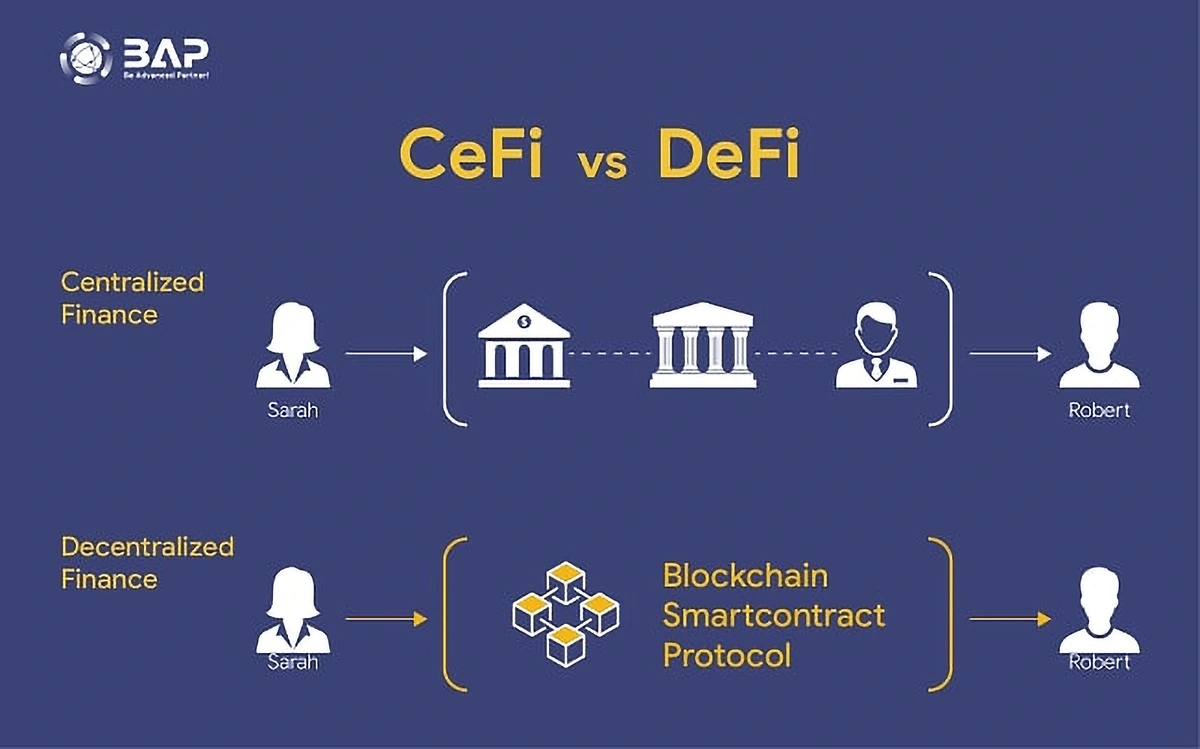 CeFi vs DeFi
The number of DeFi users increased over 40x in a two-year period.
Whereas the total value locked (TVL) in DeFi reached an all-time high of around $45 billion in December 2021.
Although the TVL in DeFi saw a sharp decrease in 2022 (following a decline in all major financial markets), the future outlook of this technology still shows promise.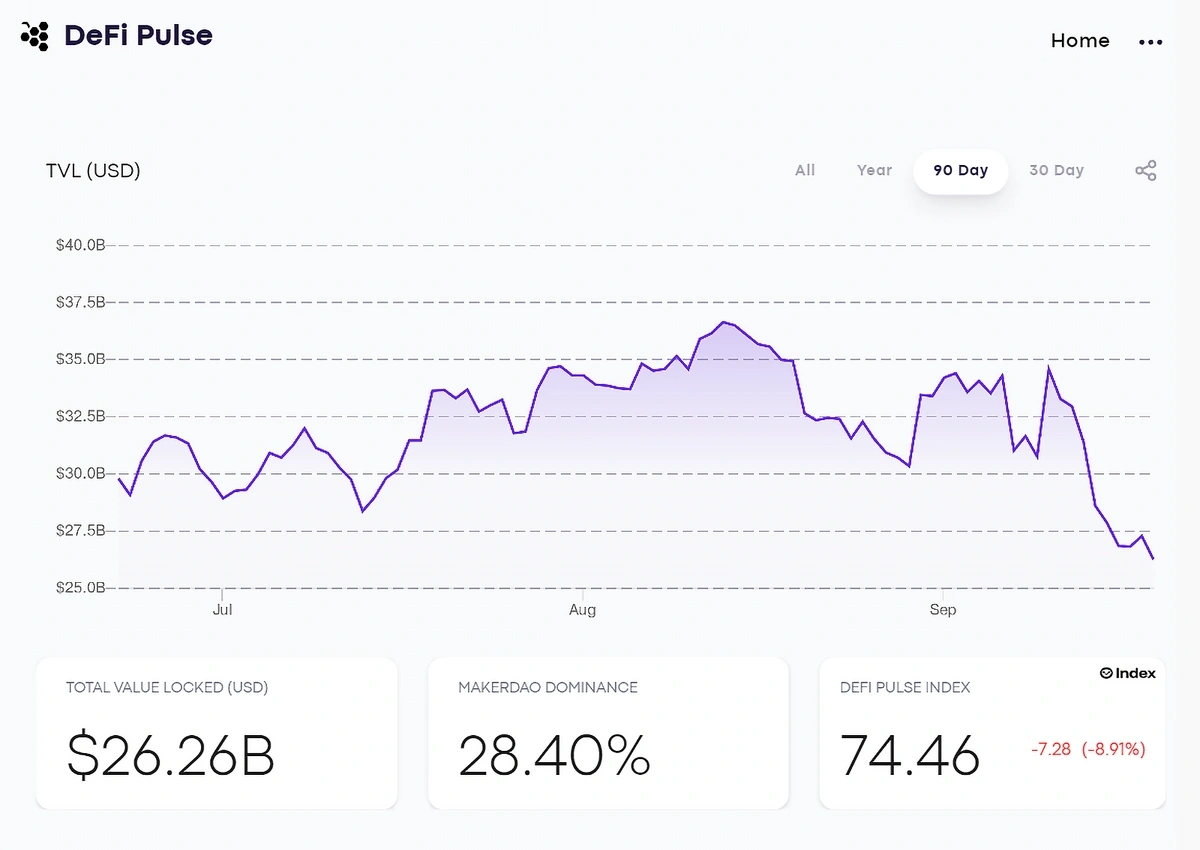 DeFi TVL over the last 12 months.
DeFi was estimated to grow an astounding 100x between 2021 and 2026.
Dubbed the "future of finance" and "the biggest thing in the history of finance," DeFi will likely become a significant competitor to traditional finance systems.
Therefore, a decade from now, how consumers manage their finances might look completely different.
Instead of using a bank to borrow money, consumers will use various peer-to-peer networks secured by the blockchain.
Even sending and exchanging money could be conducted all between individuals without the need for an intermediary.
Looking further on the horizon, this technology could even spell the end of the financial institution as we know it today.
3. Metaverse Payment Systems
Shopping might look entirely different in the next decade.
The rise of the metaverse will combine physical and online shopping. This means that people will be able to go into a 3D version of a store and browse their 3D items.
When they like a product, they can order it in the metaverse, and the product will be physically shipped to their real-life address.
This entire process is called metaverse shopping.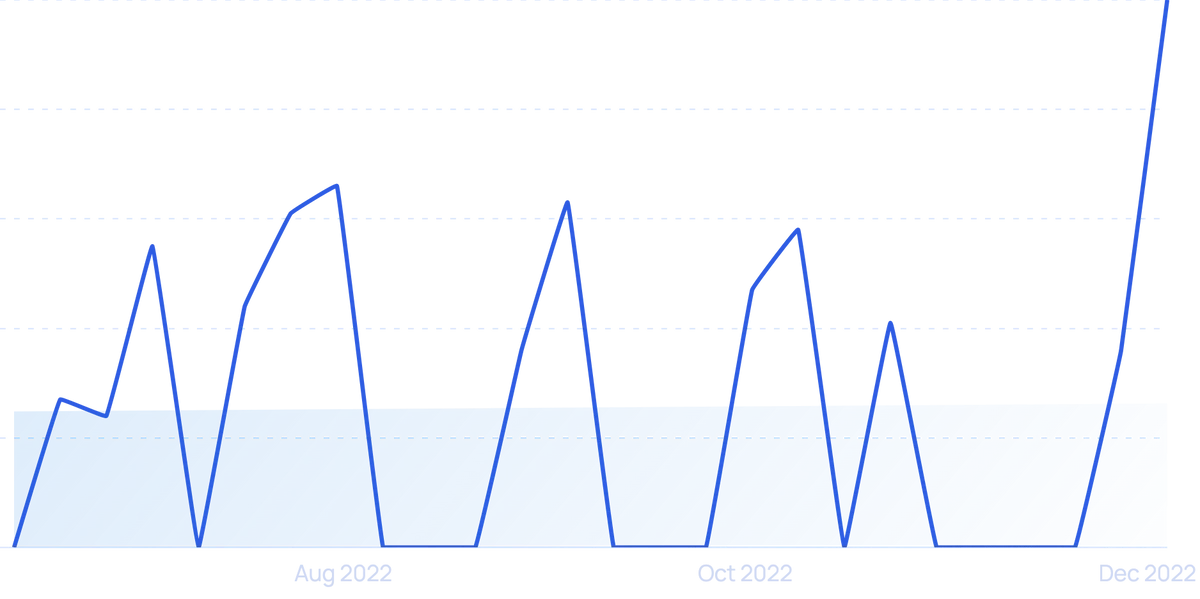 Searches for "metaverse shopping" have grown by 6,400% in the last six months.
The metaverse is forecasted to become a $13 trillion industry by 2030.
And it makes sense that there will be demand for a sophisticated payment system to support this growth.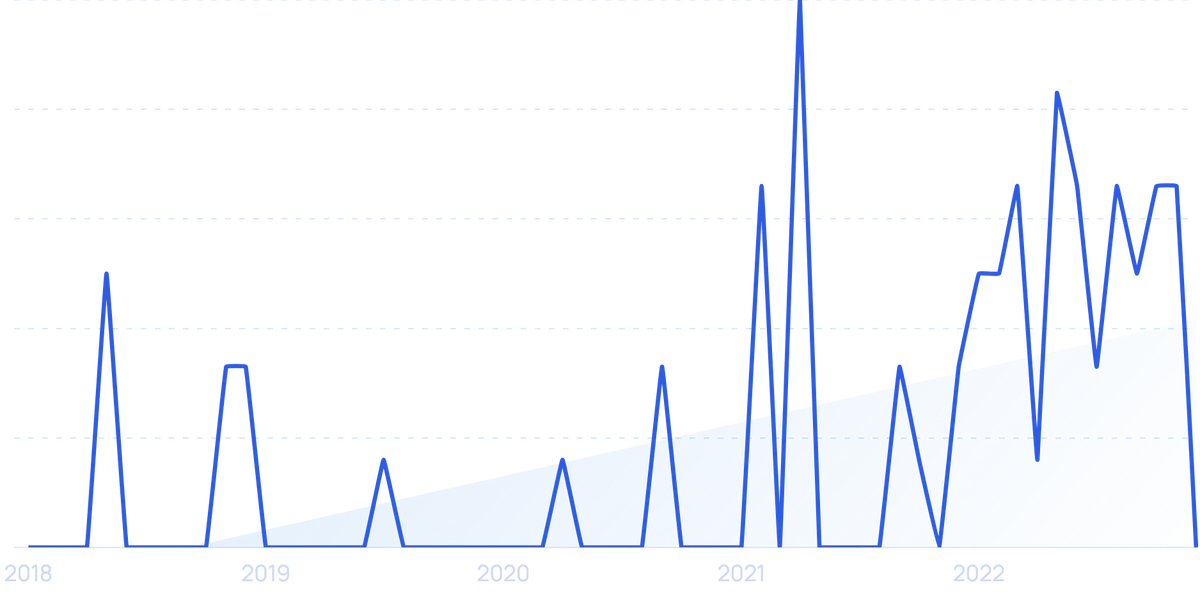 Searches for "metaverse payments" have grown by the last 5 years.
For metaverse commerce to work, the payment system has to be seamless.
(For example, having VR headsets capable of handling these transactions.)
Basically, once a user decides to buy an item, a payment notification pops up in the headset. This headset can recognize eye movements to see if the user approves this transaction.
Besides making this process immersive, integration is another potential challenge for metaverse payments.
Each metaverse might adopt their own cryptocurrency. Therefore, this situation calls for systems that can instantly exchange cryptocurrencies to ensure that the transactions go through quickly.
These challenges provide many opportunities for financial technology companies that want to solve them.
In fact, a number of major players have already jumped on this trend.
American Express has recently filed for a trademark to let people use their technology to make payments in the metaverse.
And Visa bought 150,000 NFTs as it looks to understand what a metaverse payment system might look like.
4. Quantum FinTech
Imagine a future where the financial services industry is heavily optimized and refined.
A world where money transfers happen in a second, fraudulent activity is almost non-existent and uncertain future predictions become a bit more certain.
This future will most likely be powered by quantum computers.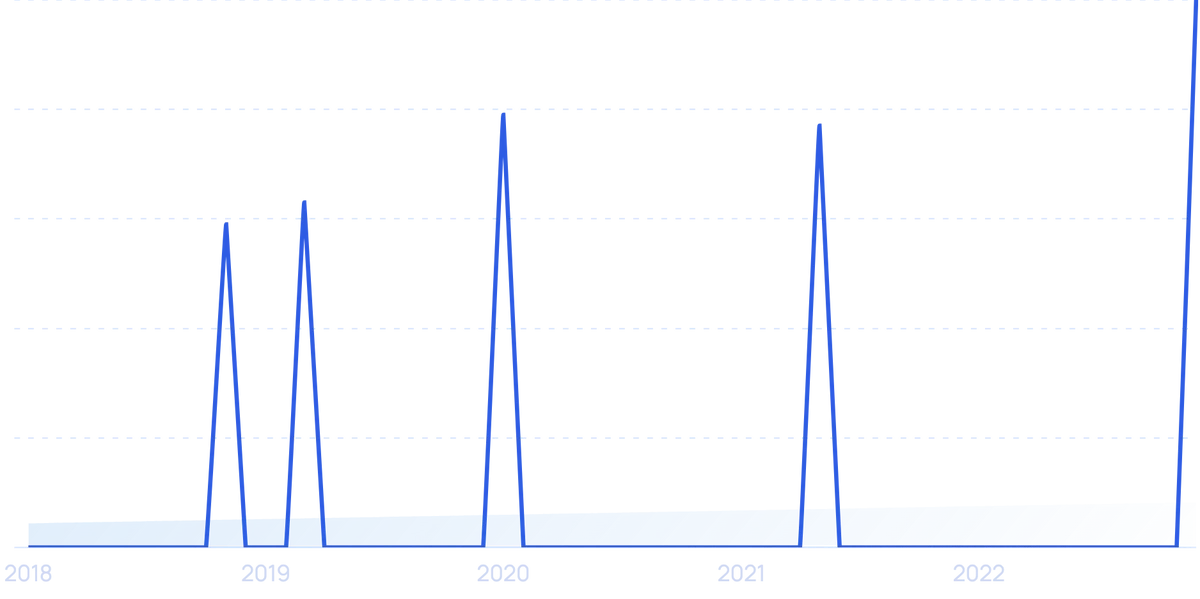 Searches for "quantum computing" have grown by 9,100% in the last 5 years.
Quantum computing's biggest advantage is that it is incredibly fast. A complex calculation that might take a supercomputer over a thousand years to complete can be completed within seconds via a quantum computer.
This speed enables companies to take in a vast amount of data and analyze it within minutes.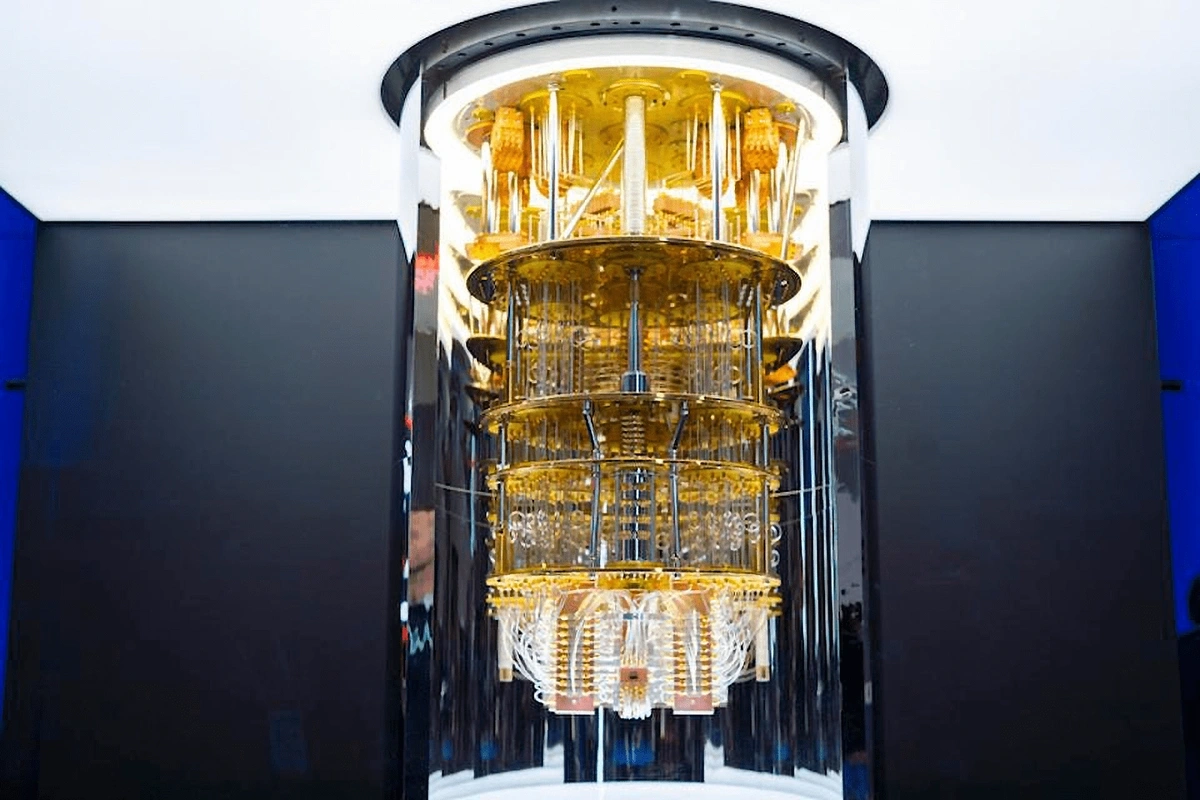 IBM's quantum computer.
The potential of quantum computing in the financial industry is already being studied by major players in this market.
JP Morgan and Goldman Sachs are examples of large banks that have unveiled plans to integrate this technology into their operations.
Even VCs have started to take notice.
Multiverse Computing, referred to as FinTech's first quantum computing startup, raised approximately $12 million in funding in late 2021.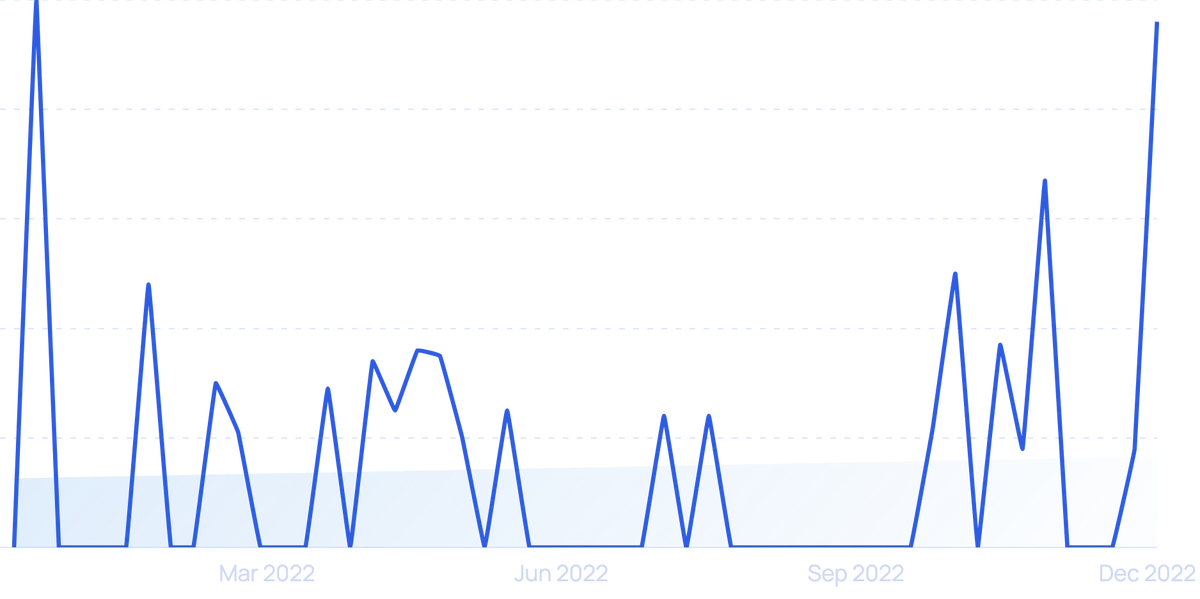 Searches for "Multiverse Computing" have grown 9,500% in the last 12 months.
Analysts believe that in ten years, banks and other financial institutions will not be able to understand their operations without quantum computing, highlighting this technology's future potential.
5. Africa Becomes a FinTech Powerhouse
57% of Africans do not have any bank account.
Whereas the population in Africa is estimated to double by 2050.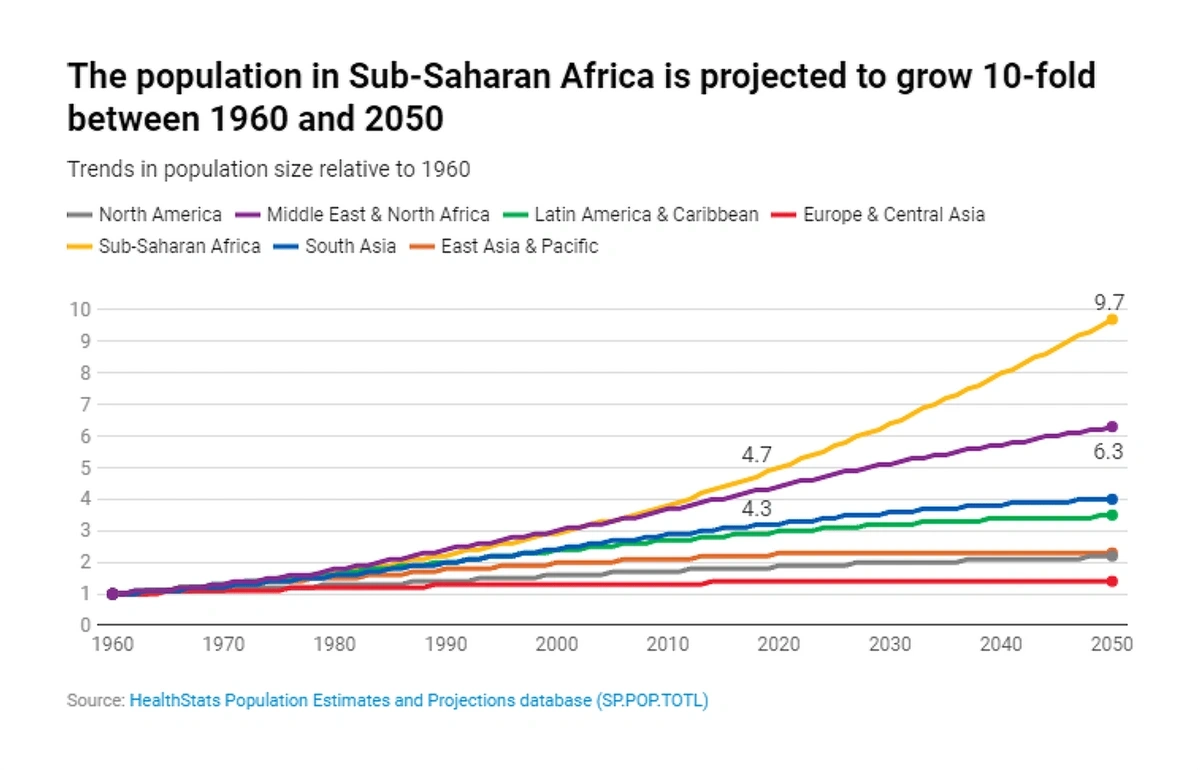 Trends in population size compared to 1960.
These two parallel trends represents an ample opportunity for African FinTech startups to grow.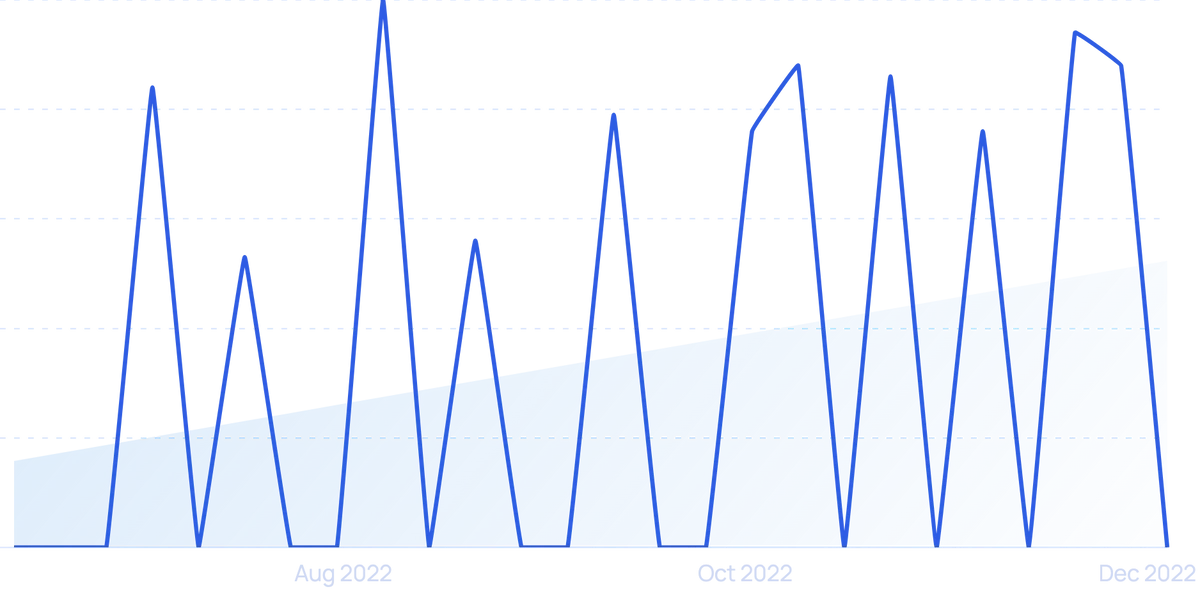 Searches for "African FinTech" have grown by in the last six months.
We're already seeing an influx of African startups offering financial services.
According to McKinsey, the number of African tech startups tripled to 5,200 in 2021.
And almost 50% of these startups fall under the FinTech category.
This trend is heavily driven by an increase in funding for these startups.
Tech funding in Africa grew faster than anywhere else in the world in 2021 (funding tripled to approximately $5.2 billion).
And FinTech companies received around 63% of all tech investments in 2021, highlighting the increased VC interest in African financial services.
Increased level of funding, combined with a growth in internet penetration rates, will give FinTech startups the necessary capital and infrastructure to serve this massive market.
Therefore, if current trends persist, Africa might see a massive spike in the FinTech market size in the next decade.
This is already happening, considering McKinsey estimates that FinTech sales in Africa will surge 8x by 2025.
Conclusion
This completes our analysis of the future of FinTech.
Increased competition, new powerful technologies and emerging economies will all have a significant impact on this market.
Therefore, this is an industry well worth monitoring in the coming years.