6 Global Consumer Trends to Watch in 2022-2024
You may also like:
Consumer preferences are constantly changing.
From changes in shopping habits to new technology, there's no question that businesses of all sizes need to keep tabs on ever-shifting consumer preferences.
If you want to learn about important global consumer trends to watch in 2022, read on.
1. Consumers Demand Control of their Data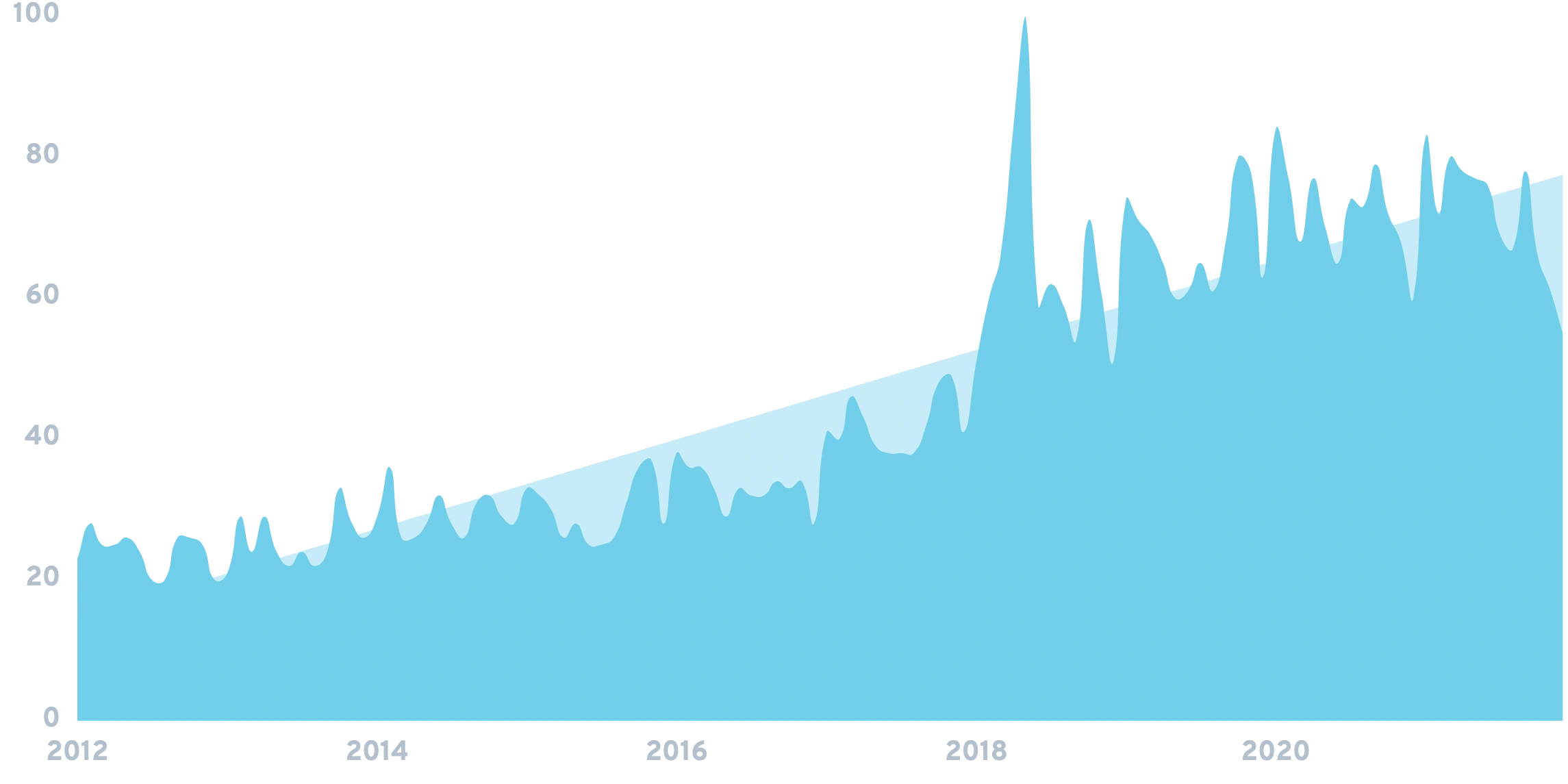 Google searches for "data privacy" have increased by 139% since 2012.

Consumers want to take back control of their own data.
In fact, a 2020 KPMG survey of more than 1,000 consumers found that 56% wished they had more control over their data.
And this increased focus on privacy is directly impacting consumer behavior.
In fact, according to McKinsey, 87% of North Americans said they would not do business with a company if they had concerns about its data practices.
More than half of consumers also trust a company more if it does not ask for information that is irrelevant to its product.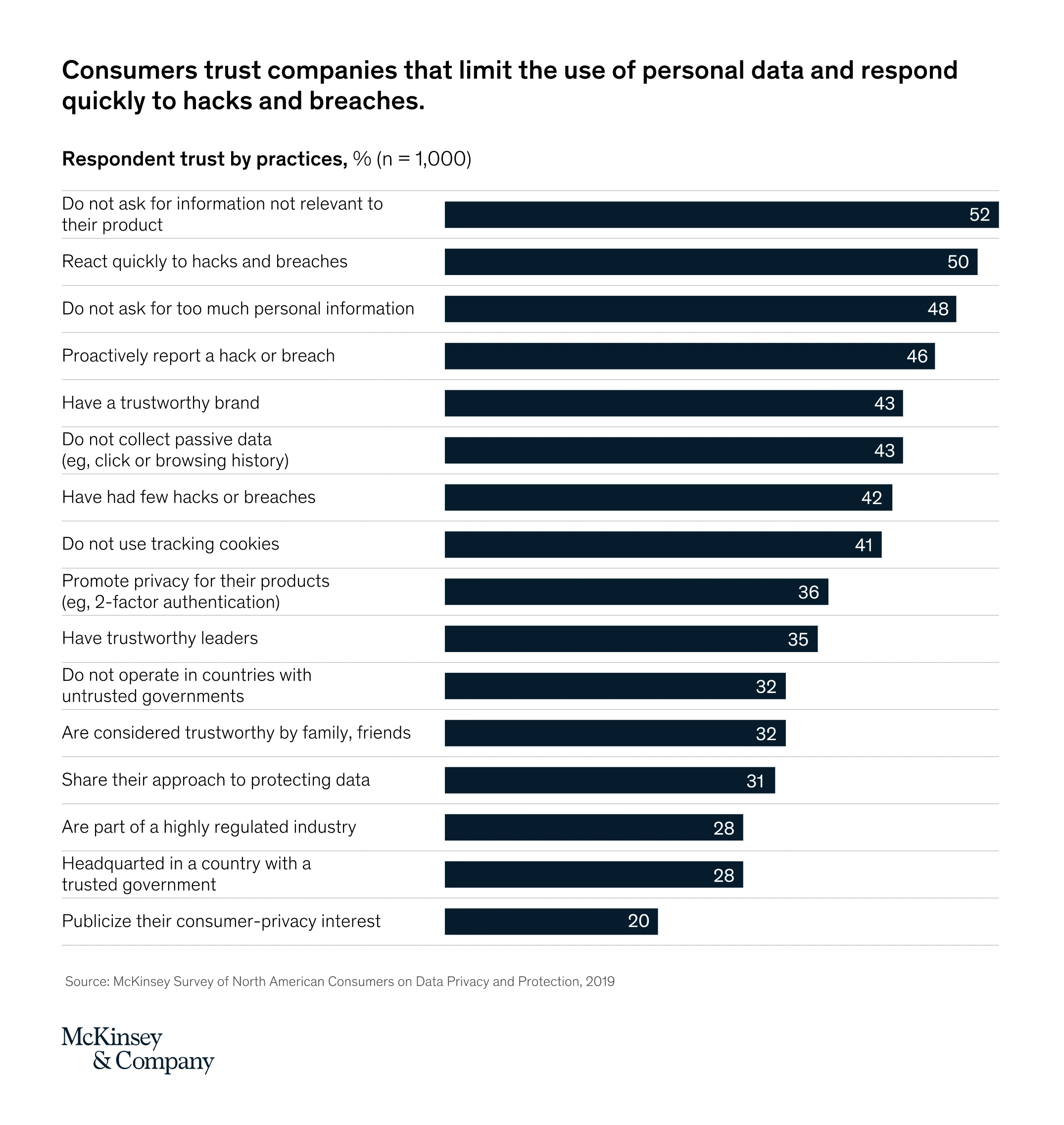 For many consumers, privacy even takes precedence over convenience.
In a recent study conducted by payment security company Paysafe, 82% of respondents felt there was an imbalance between security, convenience, and fraud protection.
And 48% of American consumers said they were willing to accept tightening security protocols if they would eliminate fraud.
After the adoption of the General Data Protection and Regulation Act (GDPR) by the European Union in 2018, legislative action has only increased. In 2019 alone, legislation related to consumer data was proposed in 25 U.S. states and Puerto Rico.
While most of the proposed bills have failed, California passed the California Consumer Privacy Act (CCPA) on January 1, 2020.
This Act gives California residents the right to ask businesses to disclose personal information they have collected on the resident. It also gives Californians the right to be notified before a business collects their personal information.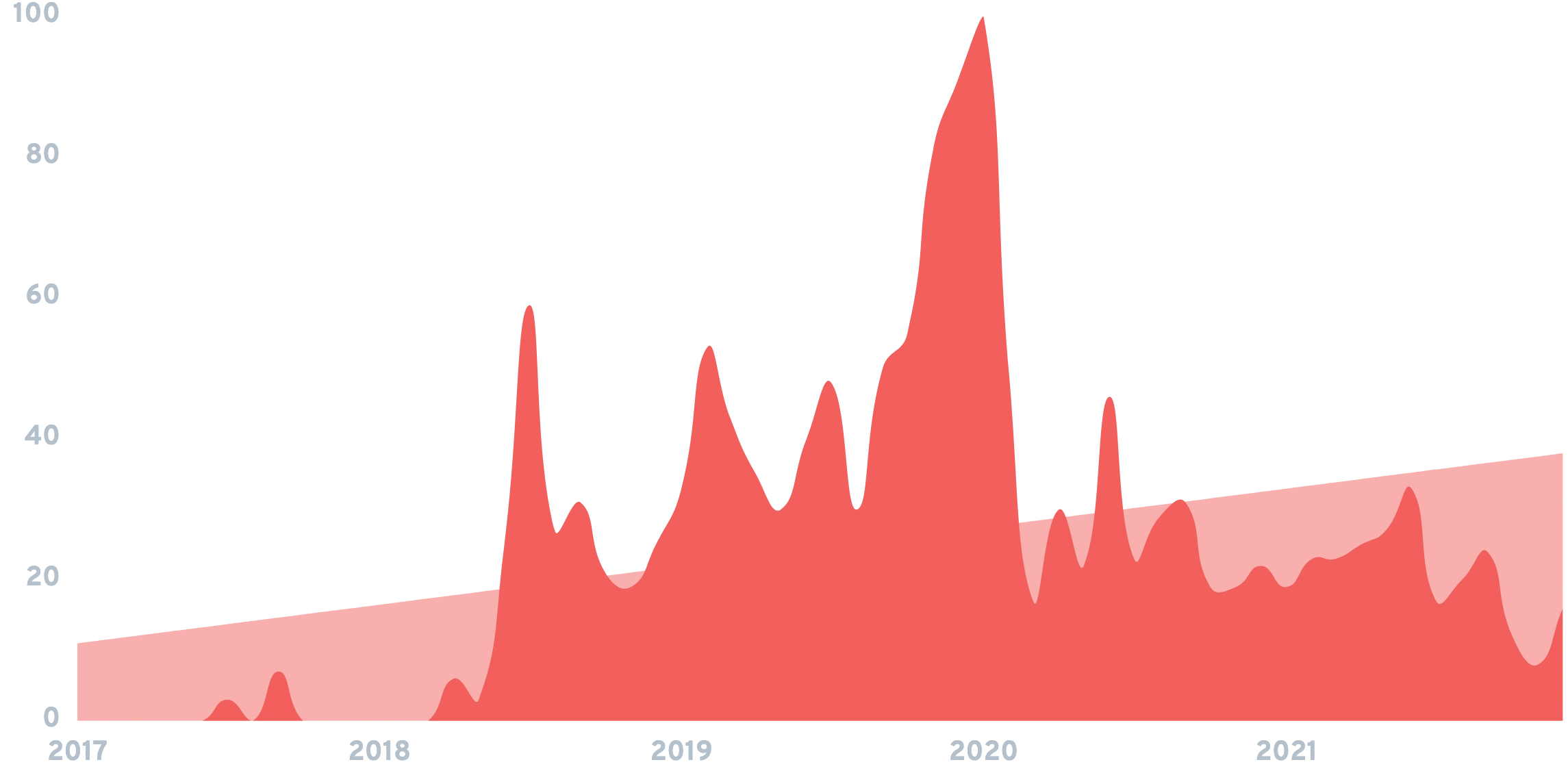 Searches for "California consumer privacy act" have increased by 1,500% over the last five years.
The largest of companies are also taking action. Apple announced that it would offer a way for consumers to sign into apps without giving data over to third parties.
While many marketers push back at these changes, consumers will likely exert further pressure on corporations and governments to protect their data.
90% feel that governments and businesses have a responsibility to protect their data.
However, 70% of consumers also say that they cannot trust those businesses to do so.
2. Augmented Reality Enhances the Customer Experience
As the shift to digital-first shopping continues, consumers are increasingly looking for a way to enhance their experience.
Augmented reality and virtual "try-before-you-buy" features are meeting this need.
Industry leaders estimate that 35% of people say they would shop online more if they could virtually try a product before buying it.
And according to a survey of more than 30,000 consumers, over half (51%) said the biggest drawback of online shopping was not being able to "touch, feel, and try a product".
This has led many of the largest retailers to simulate in-store shopping online.
Ulta's virtual try-on-tool GLAMlab has seen engagements increase 7x since the beginning of the pandemic.
Ulta's virtual GLAMlab.
L'Oreal's virtual makeup experience, launched in 2019, has doubled website engagement time and tripled conversion rates.
Kohl's announced a partnership with Snapchat, which enables the retailer to offer a Virtual Closet experience through the popular app.
This new feature is expected to expand the company's market to the more than 75% of 13 to 34-year-olds that Snapchat reaches.
Snapchat claims that their daily active users engage with AR content nearly 30 times a day, making them an ideal match for a retailer looking to include these offerings.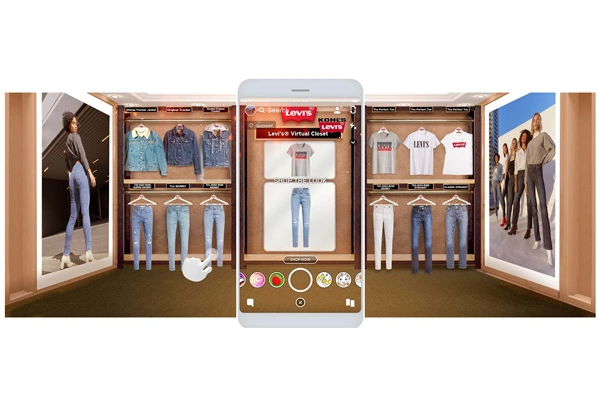 Kohl's Virtual Closet Tool in Snapchat.
Moreover, these tools are working. Shopify recently released data showing that products with interactive AR content displayed a 94% higher conversion rate than products without AR.
And in March 2021, the platform added built-in support for AR and 3D models.
3. Voice Commerce Becomes Starting Point for Purchases
There's no question that convenience has become a top priority for many consumers.
In fact, a report by the National Retail Federation found that 83% of consumers value convenience when shopping more today than 5 years ago.
Nowhere has this sentiment been more clear than in the adoption of voice commerce.
Devices like the Amazon Echo and the Google Assistant are often the starting point in modern retail transactions.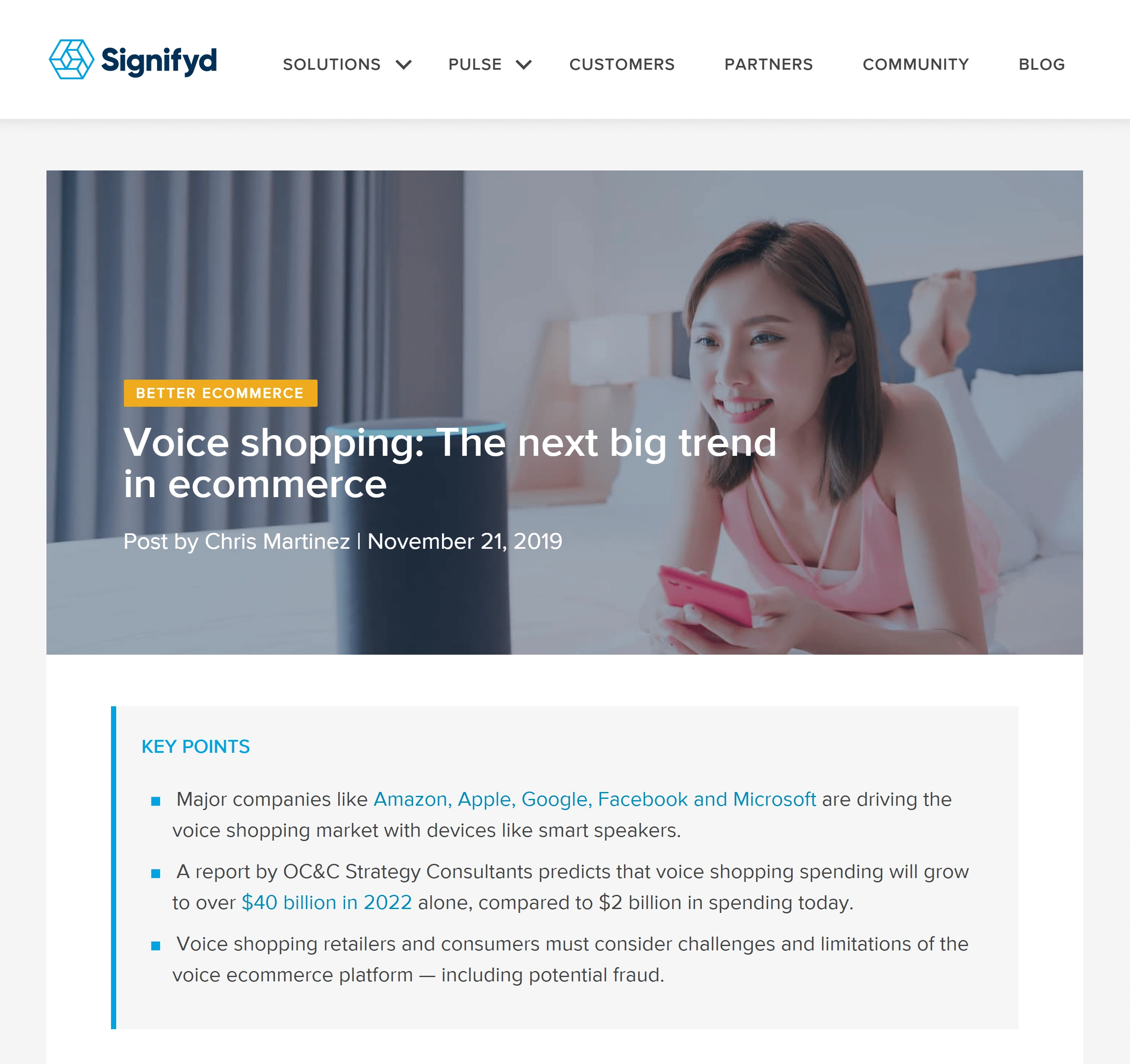 Consumers are increasingly using their voice to shop.
The voice commerce market is expected to be worth $40 billion this year. And companies like Amazon and Google are constantly finding more ways to make buying even easier.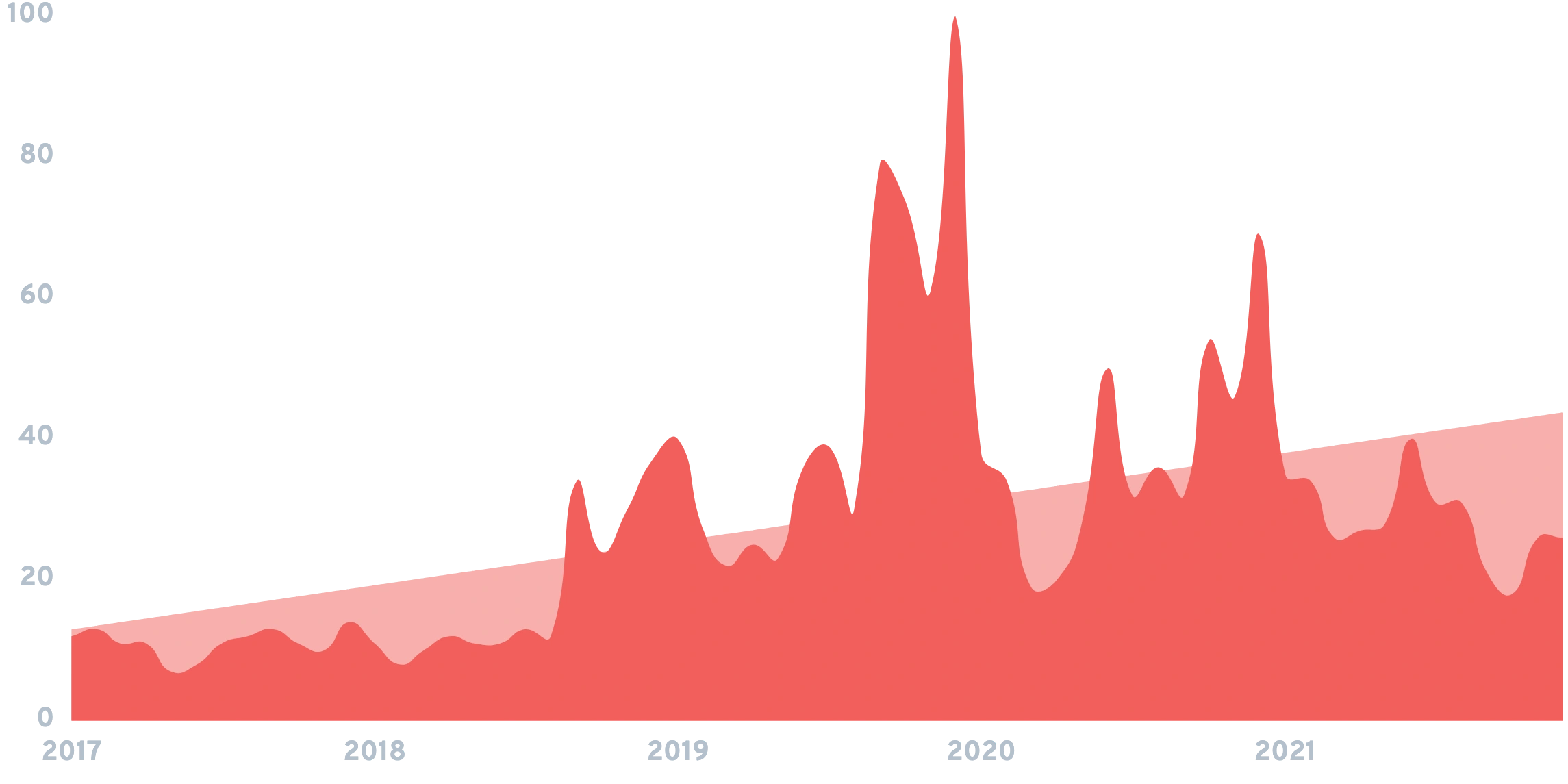 Searches for "echo auto", an Amazon product that allows the Alexa home smart hub to be added to the user's car, are up 116% since 2017.
A 2019 study found that 62% of regular voice-activated speaker users were likely to buy something through their device in the next month.
With 38.5% of the U.S. population expected to have used a voice assistant at least monthly in 2020, that number is likely grow larger in the future.
In fact, close to half (43%) of smart speaker owners used the technology to shop in 2020.
Digital assistants are also a form of lead generation.
The largest tech companies still own the market, with a few billion users and an installed base that is growing by the day.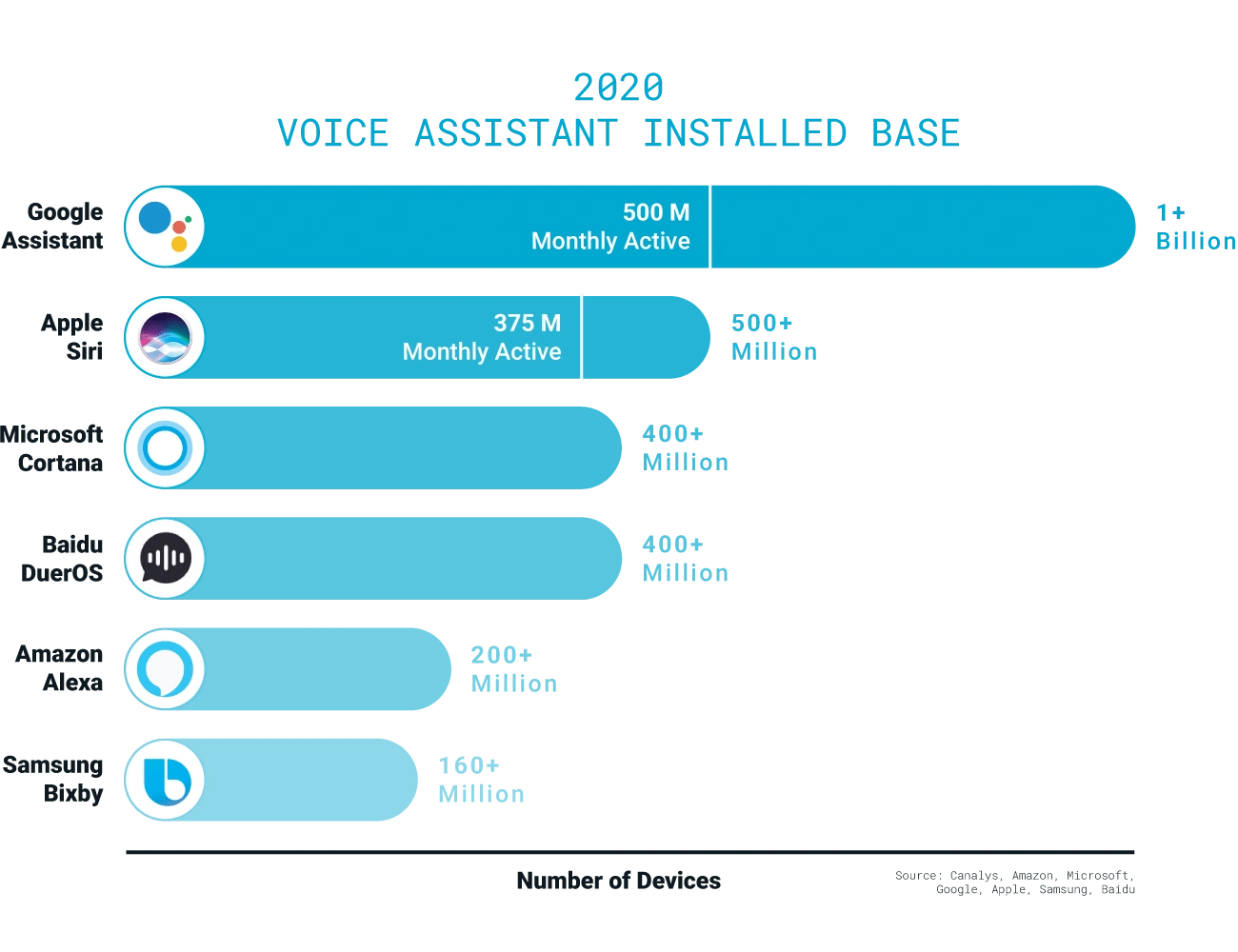 Google leads the pack in voice search with 500 million monthly active users and an estimated install base that reaches more than 1 billion people.
Large retailers like Walmart have even partnered with Apple to add Siri-enabled voice shopping on any Apple device.
4. Digital Wallets and Biometric Payment Usage on the Rise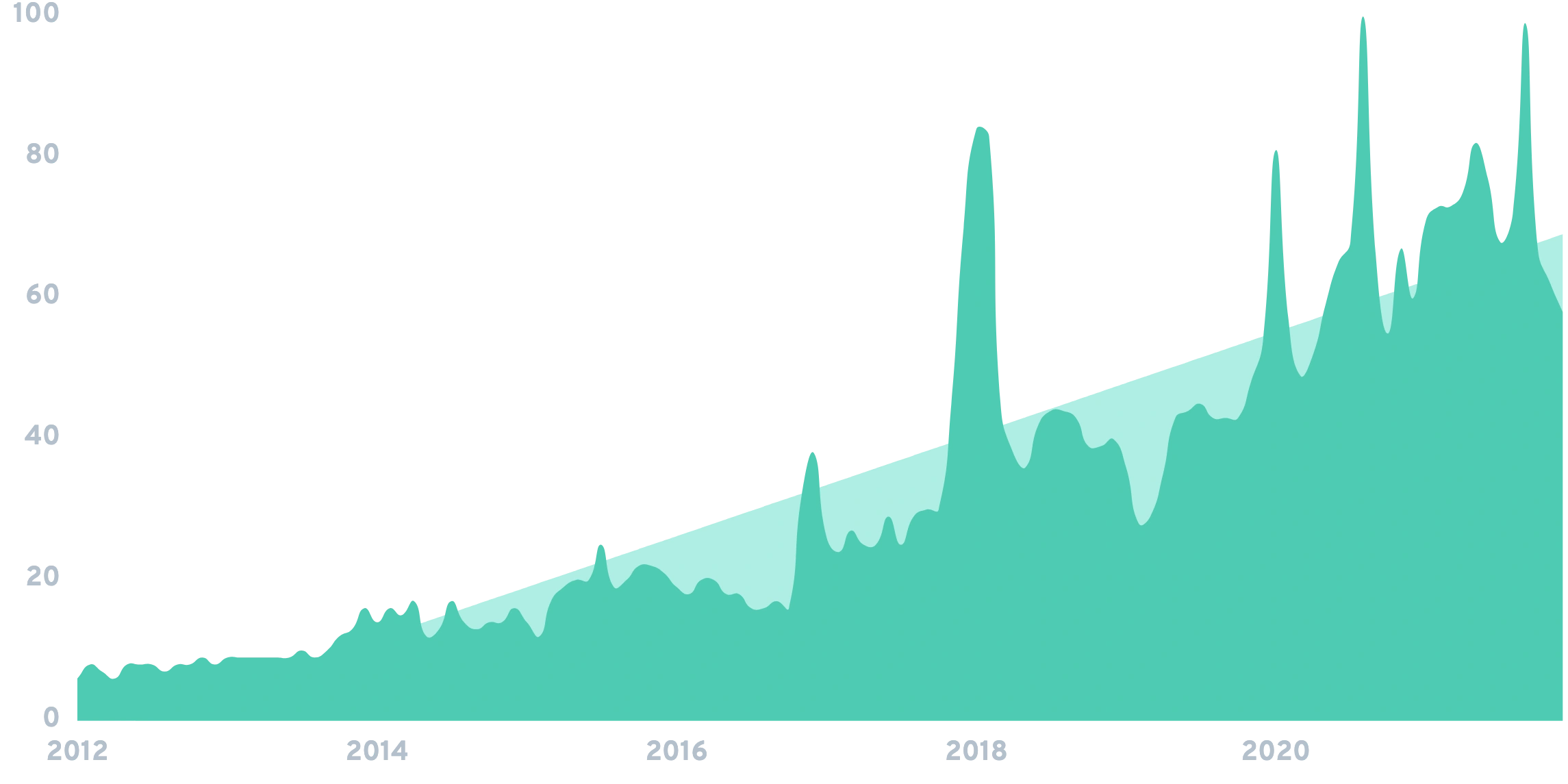 Searches for "digital wallet" are up 866% over 10 years.
As online privacy concerns rise, the use of digital wallets and biometric payments are taking center stage.
What is a digital wallet, exactly?
It's basically a digital version of someone's financial accounts.
Platforms like Apple Pay, Paypal, Google Pay, or Venmo allow users to pay for online goods and services from their devices without having to enter debit card or bank information into third party websites or applications.
Importantly, financial information entered into digital wallets are encrypted. And can only be accessed by authorized third parties.
Because of this, wallets can help alleviate certain consumer privacy and fraud concerns.
In fact, recent surveys indicate that roughly two-thirds of consumers feel more comfortable making online payments through a digital wallet rather than traditional methods.
According to Worldpay, 44.5% of all U.S. eCommerce transactions already take place through digital wallets.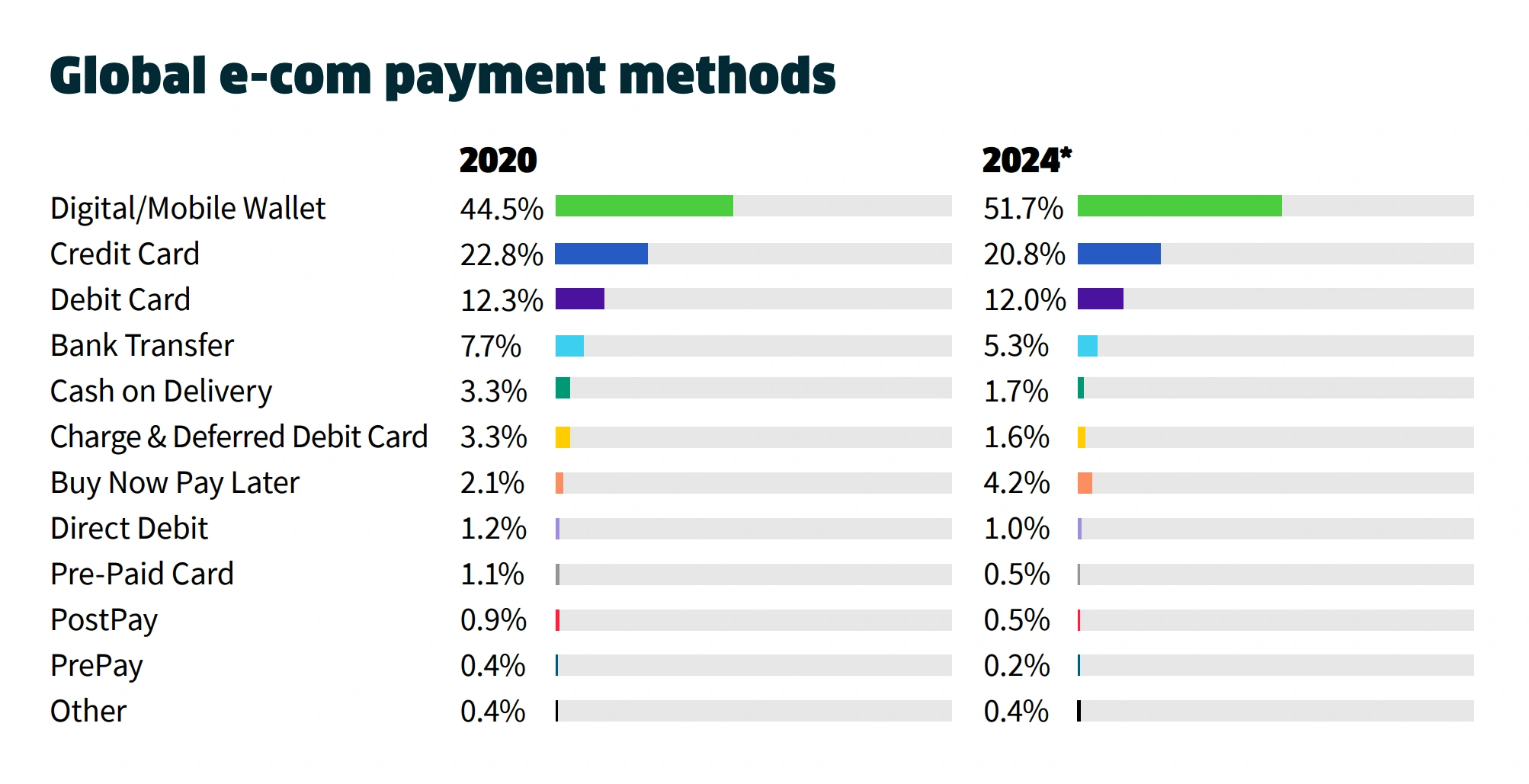 One industry study found that 44.5% of eCommerce purchases are made via a digital wallet of some kind.
And interest is rising, as 27% of all U.S. consumers say they would like to pay with their smartphones all the time.
Market research firm Juniper Research predicts that nearly half the world population is expected to use digital wallets by 2024.
The same study also estimates that U.S. annual spend per digital wallet is expected to increase to $6,400 in 2024 from $3,350 in 2019.
In addition, future growth may be boosted by increasing adoption of proximity mobile payment (PMP) in the U.S.
PMP occurs when a consumer pays with their mobile device while checking out in a physical store.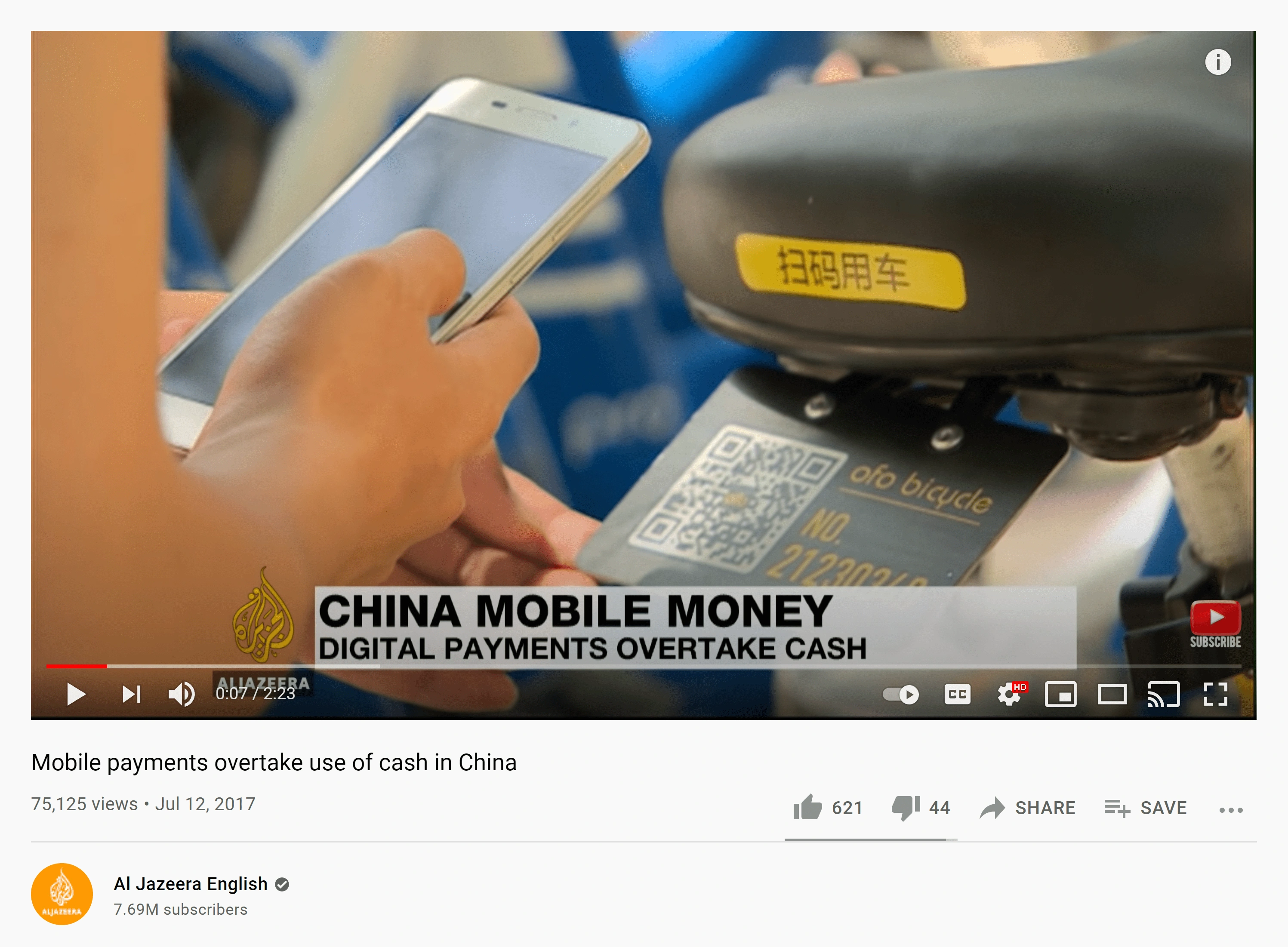 Example of a PMP shopping experience.
In China 81% of mobile phone owners made a proximity payment in 2019, compared to just 29% in the U.S.
Similar rates of PMP adoption in the U.S. could lead to an explosion of digital wallet usage.
Although adoption of PMP has been slow in the U.S, 2020 has had a meaningful impact.
Apple Pay added 66 million new users worldwide between September 2019 and September 2020, bringing its grand total to over 500 million. This means that as of late 2020, 51% of all iPhone users had activated Apple Pay, compared to 48% in 2019.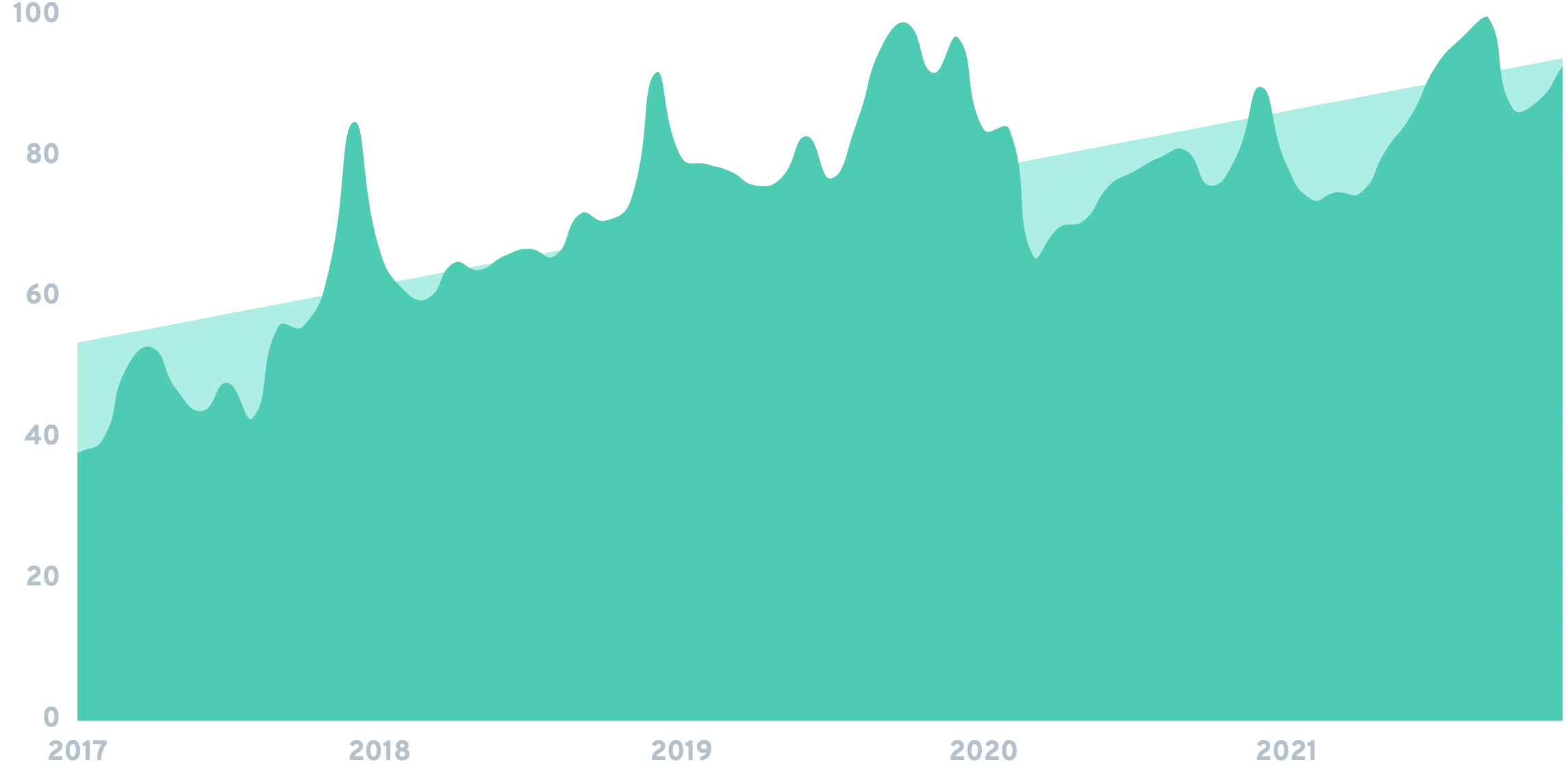 Searches for "Apple Pay" are up 144% since 2017.
Venmo has also seen significant user growth.
Consumers are increasingly finding it more convenient to pool their resources using a digital wallet vs a physical one.
Venmo's user base has grown from 10 million in 2017 to 52 million in 2020 (at a CAGR of 73%).

Searches for "Venmo" have grown at a rate of 237% over the last five years.
Square's Cash App has also seen significant growth over the last 24 months.

The payment company's peer-to-peer money transfer app allows users to pay vendors through the app, transfer money to friends, trade stocks, and even buy bitcoin.
Cash App also released its own debit card in 2017, the Cash Card, which seven million Cash App users now own.
After surpassing Venmo in total downloads back in 2019, Cash App has only continued to grow.
The cashless payment app reported 90 million downloads in 2020 as well as 30 million monthly active users.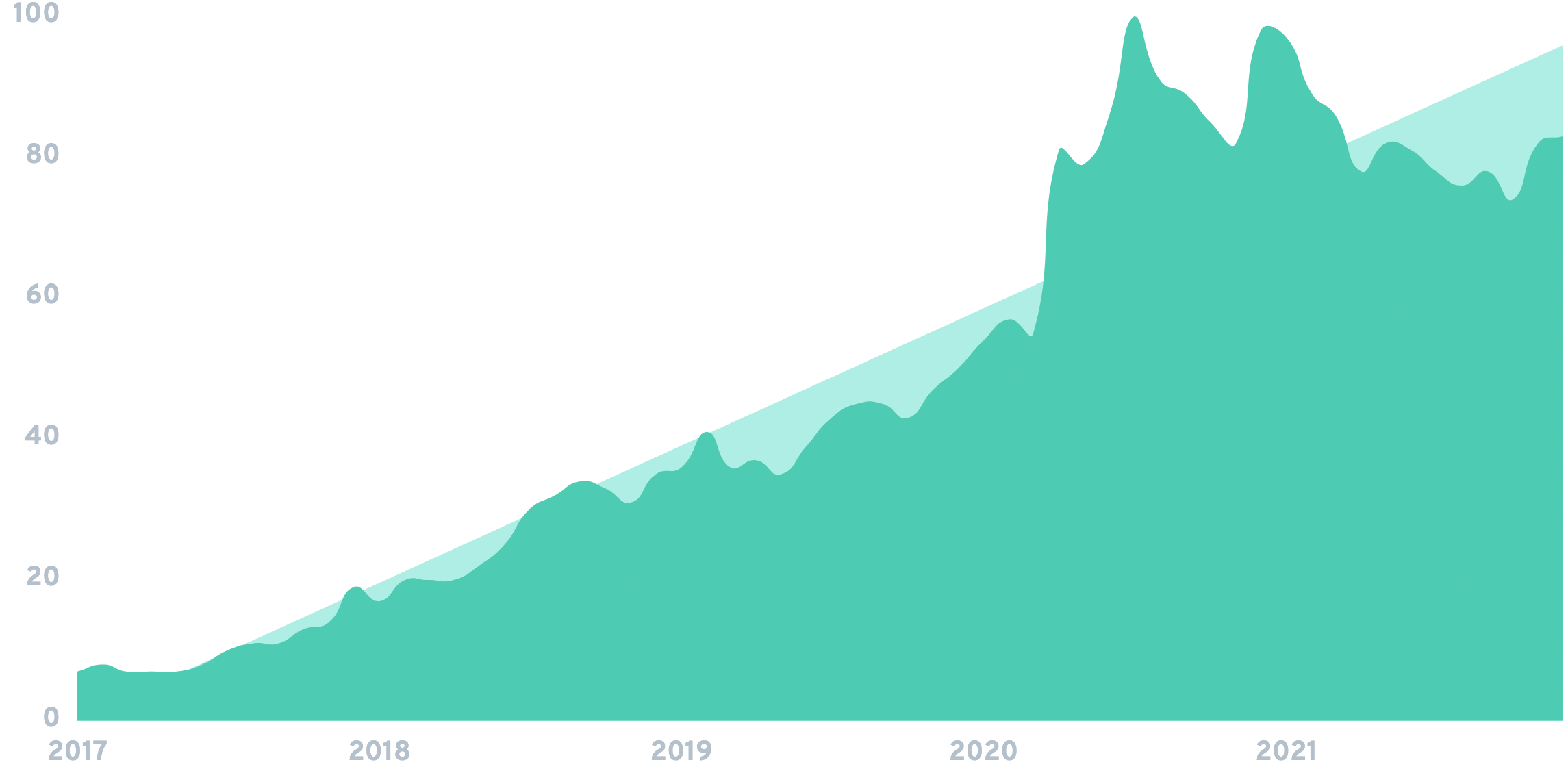 Interest in Square's "Cash App" has increased significantly over the last five years, growing at a rate of 1,085%.
Some of the largest U.S. banks have also gotten in on the action, developing their own mobile payment app called Zelle.
Zelle is a standalone app that allows peer-to-peer digital transfers, much like Venmo and Cash App.
The major difference, however, is that Zelle is integrated with many of the major banks' own mobile banking apps and technology, allowing peer-to-peer transfers between consumers' actual bank accounts.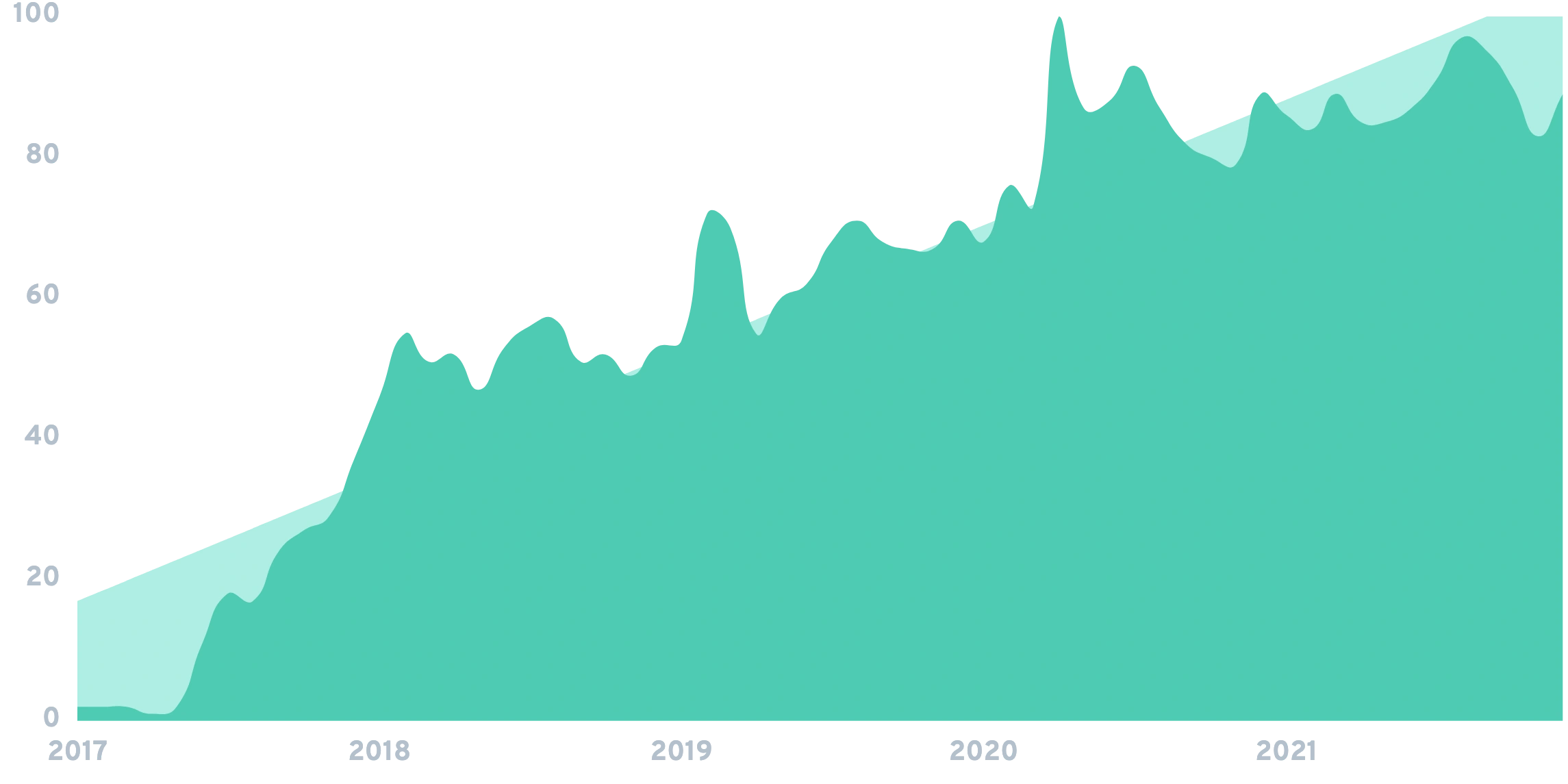 Searches for "Zelle" have increased by 4,350% since 2017.
Zelle has grown even faster than both Cash App and Venmo.
$133 billion was transferred through Zelle just in the first half of 2020. This is compared to $187 billion in all of 2019.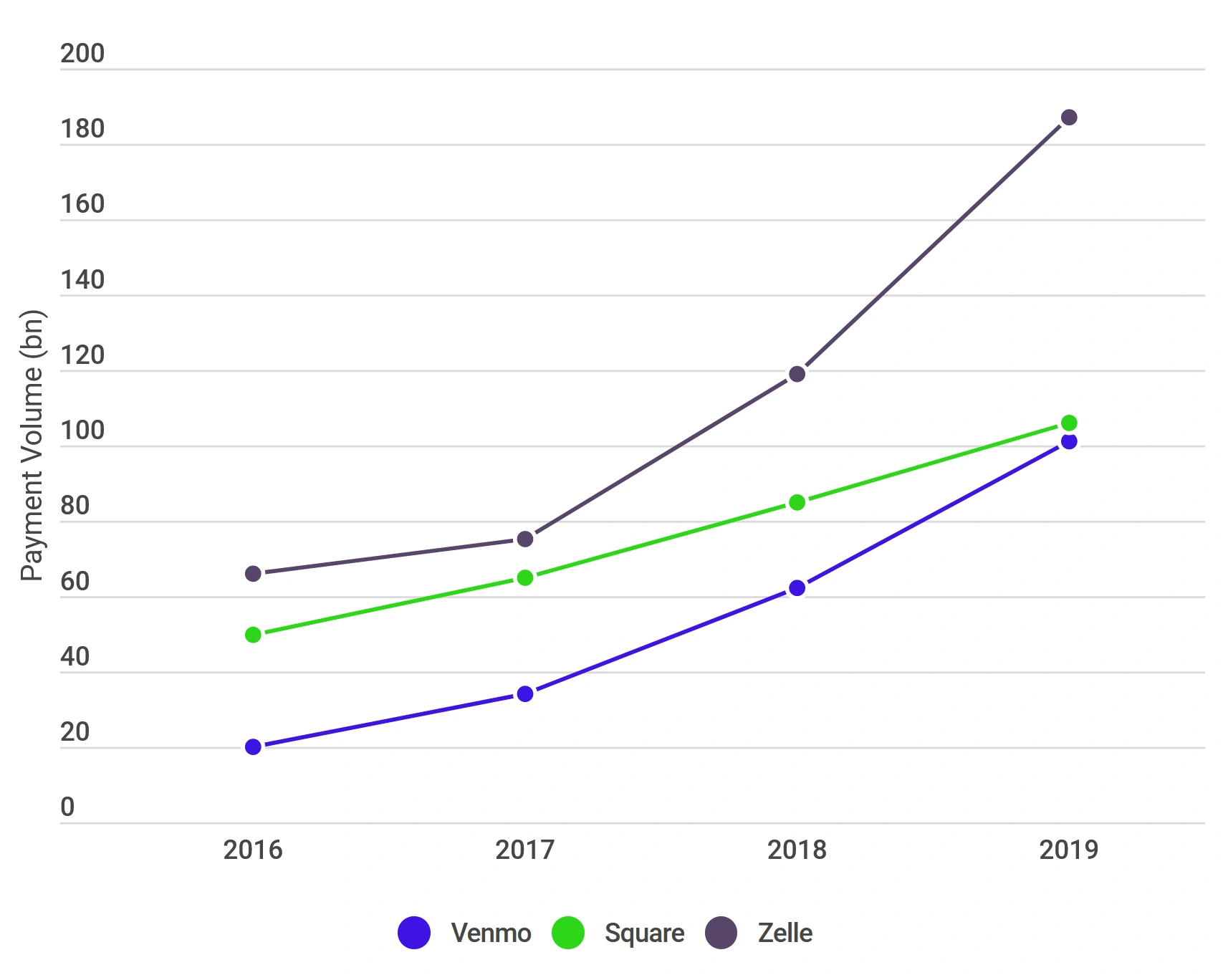 Source: Business of Apps
(Note: Square's total payment volume includes its seller business as well as Cash App. If only Cash App was included, Venmo may have a larger volume.)
Many of these digital wallets are secured by biometric authentication.
In a world where contactless payment is becoming the norm, consumers are demanding an easier form of verification.
Biometric authentication allows this. Instead of memorizing a PIN, consumers are now able to pay with the tap of a thumb.
Even with the potential privacy concerns, it is clear that many consumers prefer biometric authentication options.
In fact, a 2020 study found that 56% of consumers would prefer to use a biometric sensor on their payment card instead of a PIN.
This is doubly so for mobile phone payments, as 65% of consumers are already using biometric authentication on mobile devices.
And this number is poised to grow.
Over 75% of newly released mobile devices feature some form of biometric technology.
5. Consumers Want Local Shopping Options
Consumers are increasingly shopping locally. But doing it online.
This 1-2 punch satisfies a need for community as well as a desire for efficiency, sustainability, and convenience.
Hyperlocal delivery is basically delivery of goods from a close proximity.
This typically involves a physical retailer that also offers delivery or omnichannel services to local consumers.
As more consumers are turning to digital-first shopping, there is a chance for retailers to satisfy the need for convenience.
41% of consumers say that they are willing to pay extra to receive same-day shipping.
Annual on-demand consumer spending was about $57.6 billion in 2020, and it is only expected to grow.
In fact, the food delivery market alone is expected to reach $161.74 billion by next year.

A breakdown of annual on-demand consumer spending (2020).
Obviously, the typical food delivery giants like Grubhub and Uber Eats are taking advantage of this consumer trend.
But there have also been other startups to emerge in previously untapped niches.
One of the most successful is goPuff.
The Philadelphia-based startup operates as an online convenience store, delivering products ranging from over-the-counter medicine, wellness products, baby food, and alcohol.
goPuff picks the products up from a local drug store or convenience store and delivers them to the customer in 30 minutes or less.
The service is already available in 500 cities throughout the U.S., and the company has raised $3.4 billion in total funding.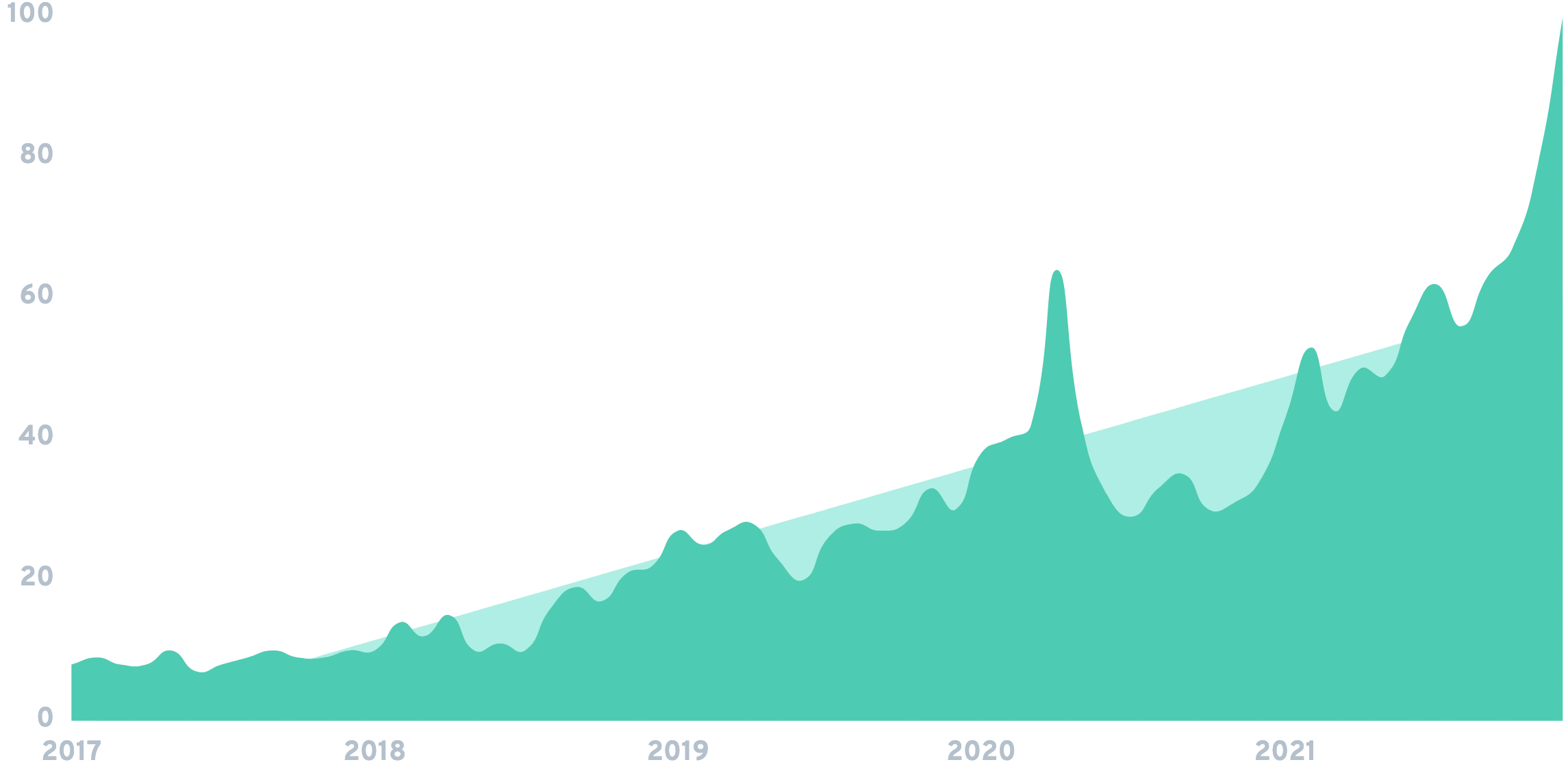 Search interest in "goPuff" has increased by 1,150% over the last five years.
6. Buying Habits are Largely Based on Reviews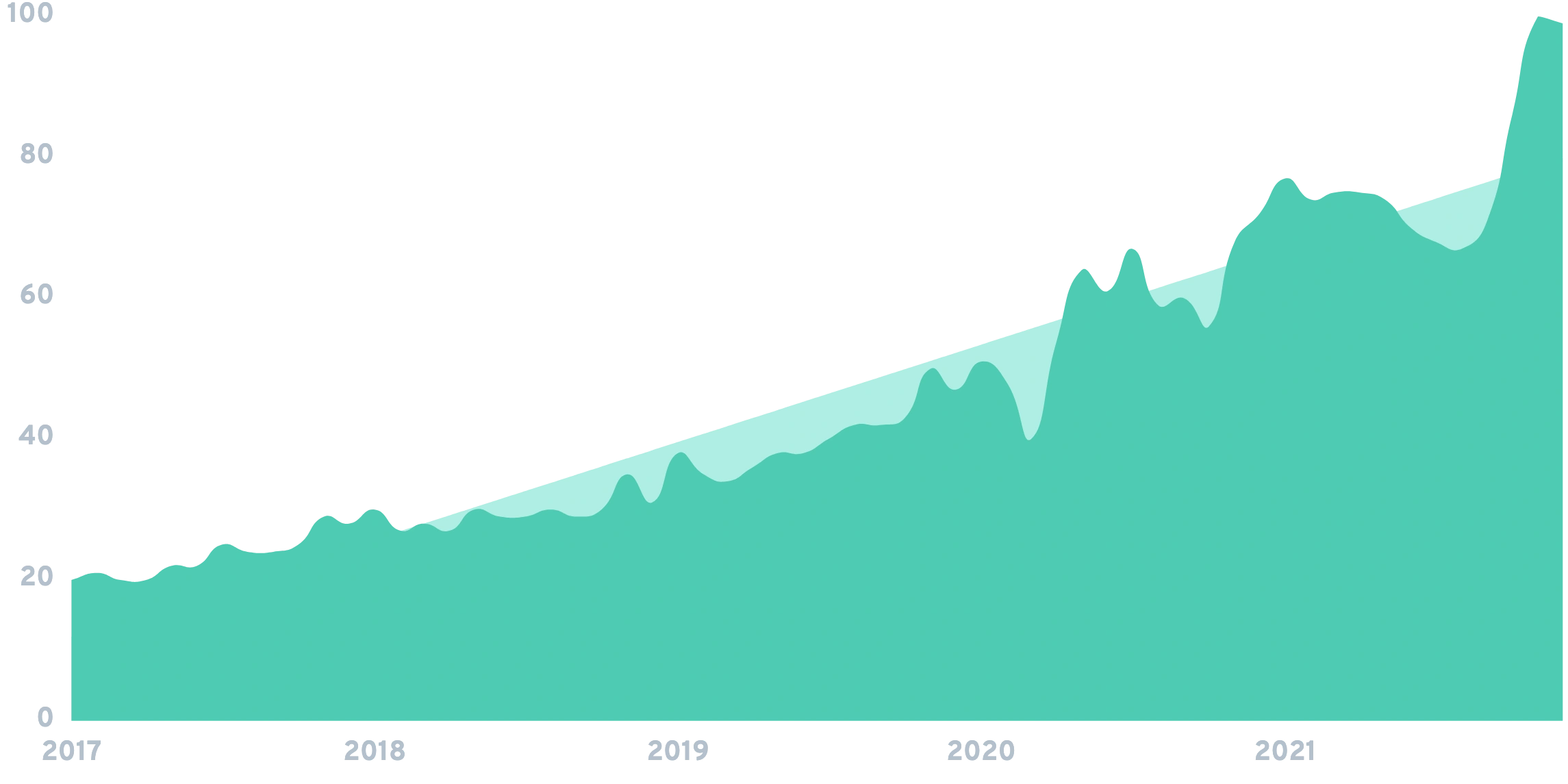 Searches for review portal "Trustpilot" are up 395% over the last five years.
When it comes to consumer buying habits, online reviews are affecting purchasing decisions more than ever.
A 2020 study by Trustpilot found that 89% of consumers worldwide read reviews before purchasing a product.
And over half of consumers read at least 6 reviews before purchasing a product.
This trend has increased since the start of the pandemic, as reviews assist in online purchasing decisions.
Power Reviews found that, by November of 2020, people who interact with online reviews were converting at a 25% higher rate than in 2019.
This trend isn't just limited to pure ecommerce goods.
Brightlocal, in its 2020 Consumer Review Survey, found that 87% of consumers read online reviews for local businesses in 2020.
That's up from 81% in 2019.
Reviews also help in discovering local business.
According to Podium's 2020 State of Reviews study, 21% of consumers said that reviews played a big role in their discovery of local businesses.
As for where consumers find and write these reviews, Google is by far the leader.
2% of the respondents in Podium's report said that they are most likely to turn to Google to see reviews.
Podium also found that 38% of users require at least a 4-star rating to even engage with a business.
The average consumer has slightly lower standards, but still demands a rating of 3.6 out of 5 to consider parting with their money.
It's hard to talk about reviews without addressing the proliferation of fakes.
According to Brightlocal's study, 81% of consumers believe they have read at least one fake review in the last year.
Google Chrome extensions like Fakespot can help in alleviating this, especially since the majority of reviews are written and viewed on Google.
Even with the prevalence of fake reviews, they remain a significant factor in consumer buying decisions.
As more people start their buying journey through a digital medium, expect the importance of online reviews to increase.
Conclusion
That's all for the top consumer trends happening right now. We hope this list helped provide you with important consumer insights to help you plan for the next 2-3 years.
If there's one thing that ties many of these trends together, it's technology. Technology in fintech (digital wallets), social media (social shopping) and AR (VR/AR shopping) are driving many of the trends on this list.
The pandemic certainly accelerated most (if not all) of these shifts. But many of them are poised to continue growing even as the world opens up and people return to their daily lives.