A Platform to Stay Ahead of New Trends in Technology
In our experience, we've noticed most discussions of technology trends tend to be a list of predictions or opinions of what will be hot this year (often written by a tech blogger or influencer in the tech space). And most of the trends they mention are already pretty popular — by the time you're reading about these trends, most people have already heard of them.
So while these lists are helpful because you can get insights from others in the tech space and learn about popular trends, they don't help you discover new trends before they're well-known. And they don't keep you up-to-date on trends because they're just static lists.
That's where trend forecasting platforms, like Exploding Topics, come in.
Our trend forecasting platform monitors dozens of online sources — including news sites, social media platforms, podcasts and YouTube channels, forum sites, and more — to detect trends in tech, products, and companies, super early, before most mainstream sources have even picked up on it. You can save and track trend growth, and we send new trend reports each week so you know about the latest trends as soon as they're on our site.
In our post, we list some of the most popular technology trends in 2022 and explain how you can use Exploding Topics to discover new trends in technology before everybody else knows about them.
If you're interested, you can start a trial of Exploding Topics for $1.
Examples of "Top Technology Trends in 2022" Items That Aren't Actually That New or Insightful
To see what we mean about the latest tech trends lists not being that useful, here are some of the latest technology trends we're seeing in the 2022 lists.
Quantum computing
Edge computing
Cybersecurity mesh
Artificial intelligence & machine learning
Extended reality (including augmented reality & virtual reality)
Robotic process automation
Blockchain technology
NFTs (otherwise known as non-fungible tokens)
Cryptocurrencies (a.k.a. Digital currency)
5G
These reports also mention things like technological advancements in cloud computing, smarter smartphones, better technology for remote work, and improved 3D printing.
But as we mentioned before, none of these are "breakthrough" trends — chances are you've heard of Bitcoin and VR before. These reposts just list common, popular trends – often things that have been popular for many years already.
For example, the first trend on this list "quantum computing" has been around for decades, and outside of a short spike in late 2019, its popularity has been pretty steady for the past several years.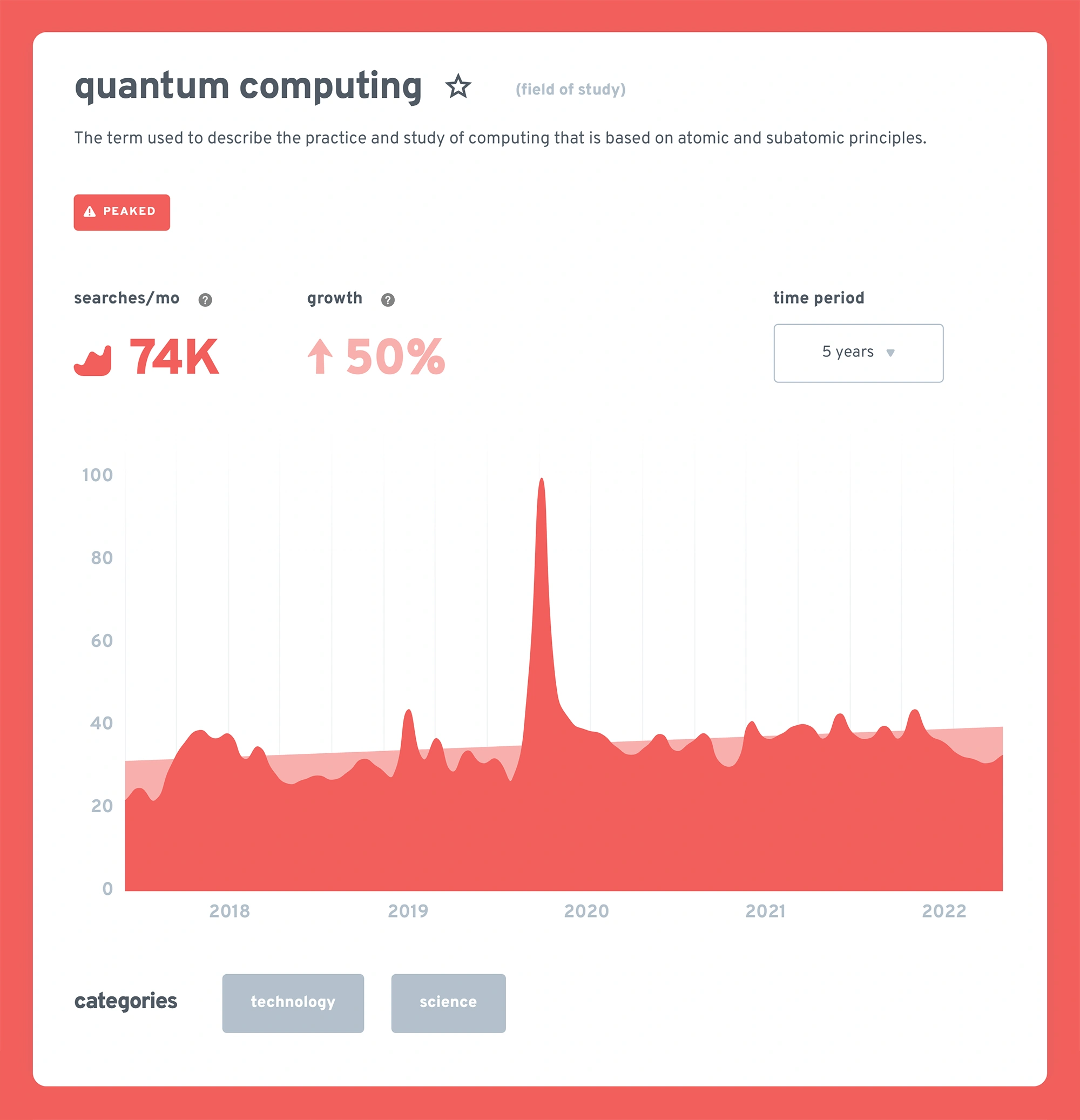 "Edge computing" is another that's talked about in these lists as a "new" trend, but it's actually been a popular search term and topic of conversation since 2018. While there are surely still opportunities in the space, anybody just hearing about edge computing in 2022 is four years behind other industry experts.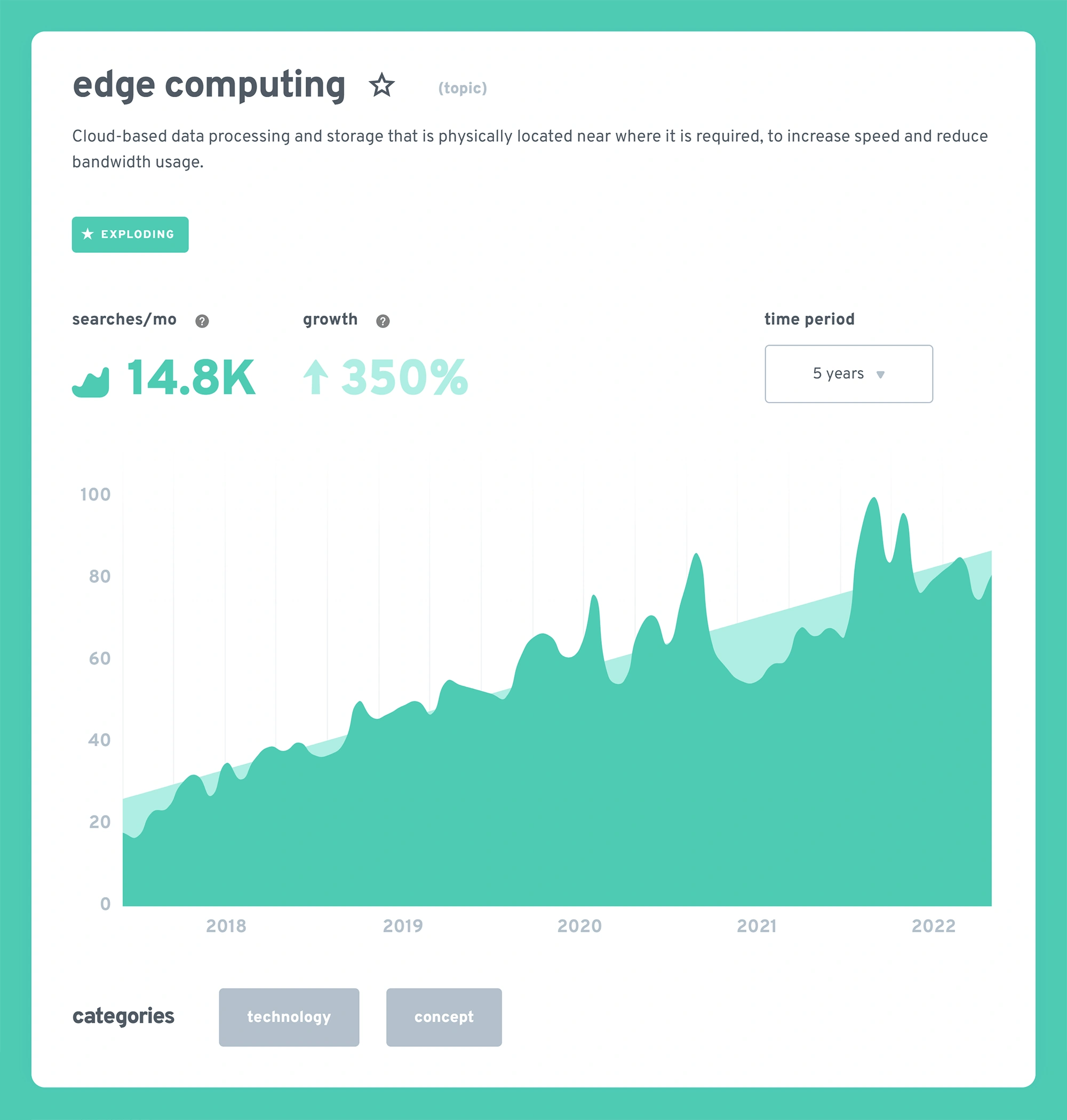 That said, item #3 on our list above, "cybersecurity mesh", is a newer trend, but it's still one that hit our radar a year ago at the beginning of 2021 when searches for it started to spike.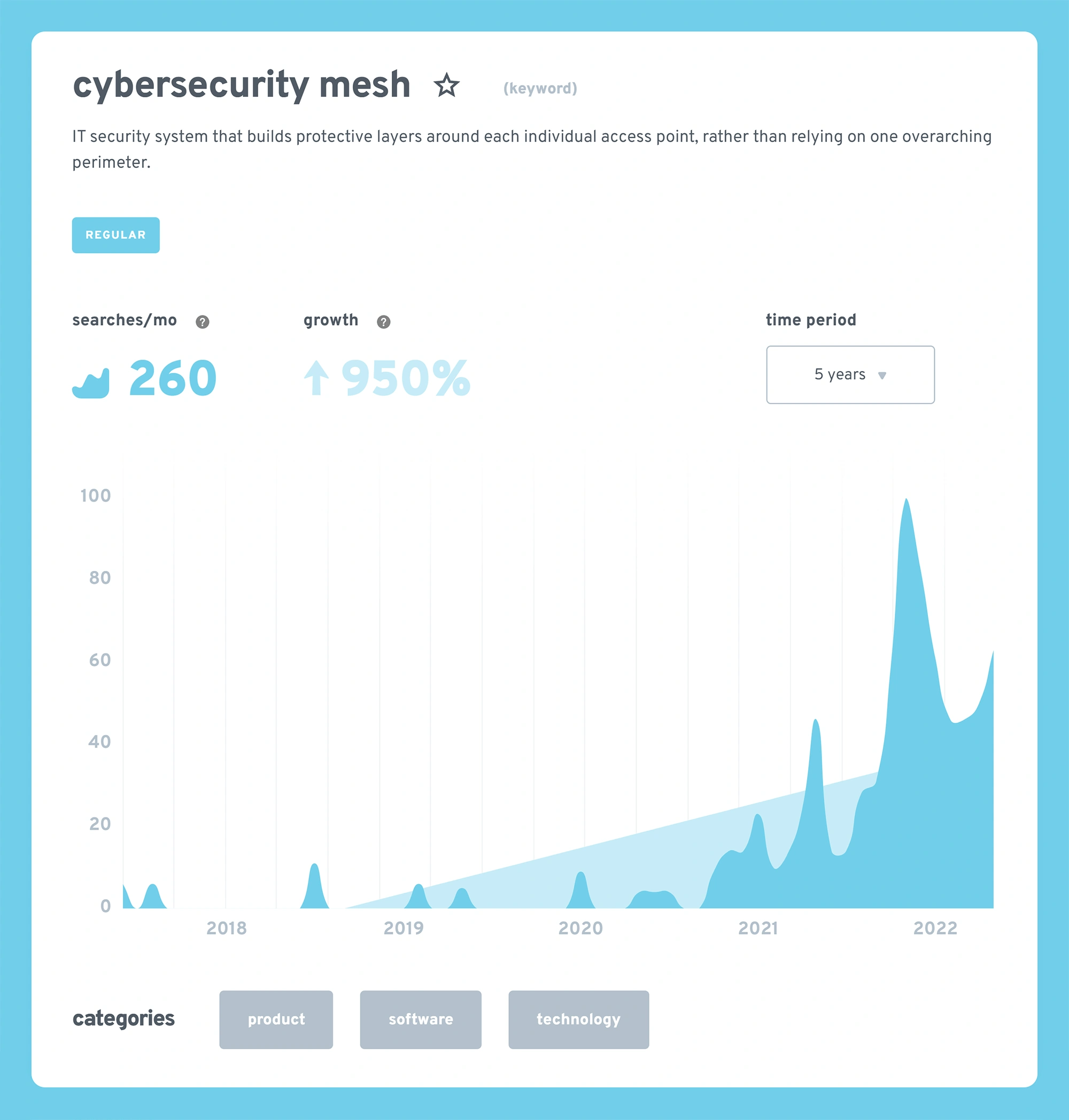 And this is why we built Exploding Topics. Because for teams that want to know about the absolute newest tech trends before the masses, simply reading other people's opinions of what will be popular next year isn't enough. You need a system or tool that will scour the web and report back trends that are just starting to take off.
Our algorithm can detect even the smallest blip of a trend, and our database is constantly updated with new trends. You don't have to wait for yearly trend reports or know exactly what to search for. You can log into our database, select a category, and discover all of the newest trends in the space. Then you can use our dashboard to track the trends you're interested in and see how they evolve. You can look at trend data across different timeframes, as well, to see their popularity in the past and predict how that will extend into the future.
Discover & Track New Technology Trends in Exploding Topics
Let's look at each of these features in more detail.
Use the Database to Explore Upcoming Trends
First, you can access new tech trends in the Exploding Topics database. Just select "technology" from the categories drop-down to filter the results. (We include trends across dozens of industries too so you can see technology trends in healthcare, fitness, marketing, media, eCommerce, etc.) You can also filter the results by timeframe and popularity; so for example, if you want to view the newest, most popular tech trends, you can narrow down the results to include just "Exploding" trends that were added to our database in the last month.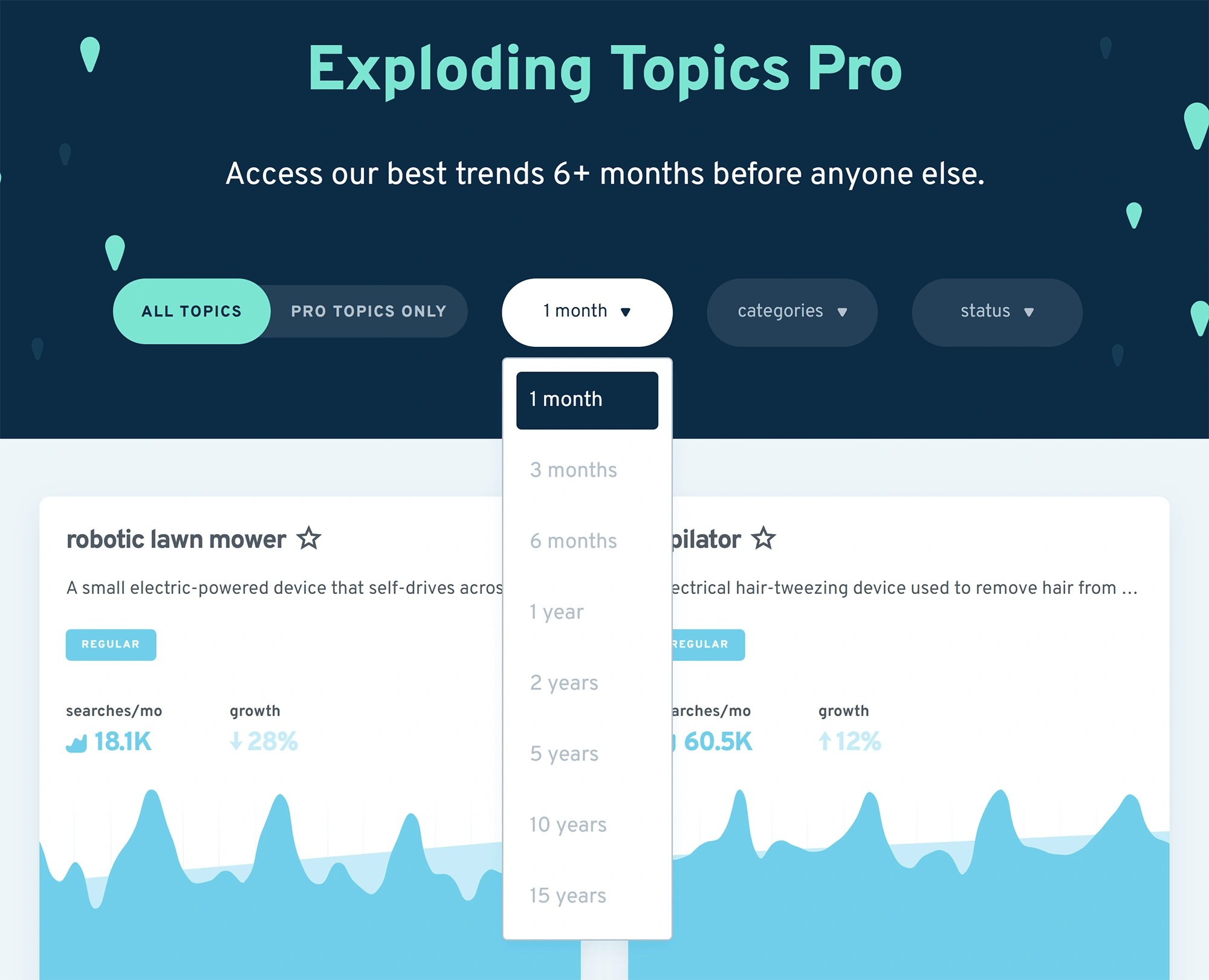 You can view important trend metrics from this page, including searches per month and trend growth rate. You can also open the trend overview to view this data over a longer timeline and see how interest in the topic has fluctuated in past years. We include related trends in the overview, as well, so you can easily see other related trends in your area of interest.
When you spot a trend you're interested in, you can "Star" it to save it to your dashboard. There, you can organize trends by project and monitor trends into the future (more on that later).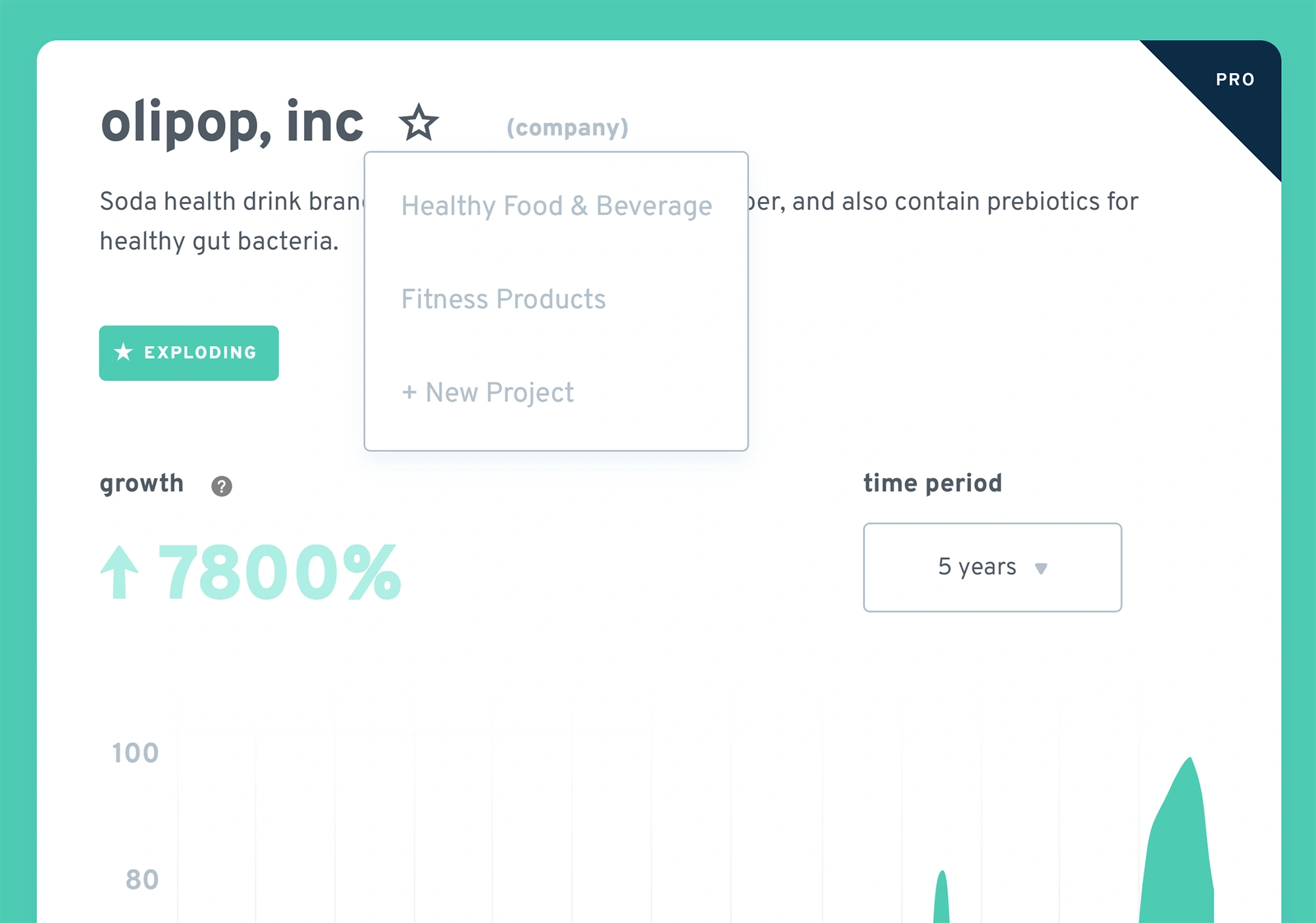 Every trend on our database goes through a human curation process to ensure long-term viability. You won't see information about new Microsoft products, smartphone updates, or events like WWDC because the interest in those is short-lived — we categorize those topics as fads. Instead, information on new apps, SaaS companies, startups, and other emerging technology is included because there is potential for long-term interest in those types of trends.
Receive New Trend Reports Every Week
You can also discover new trends in our weekly trend reports. We send these to your email every Monday so you have details on the newest trends at the start of each week. Just like our database, these reports include trends from a combination of topics and industries so you get a broad look at what's up and coming.
Every report lists 10 of our latest trends with some background on the topic, we even include related technologies and trends within these reports when they're relevant.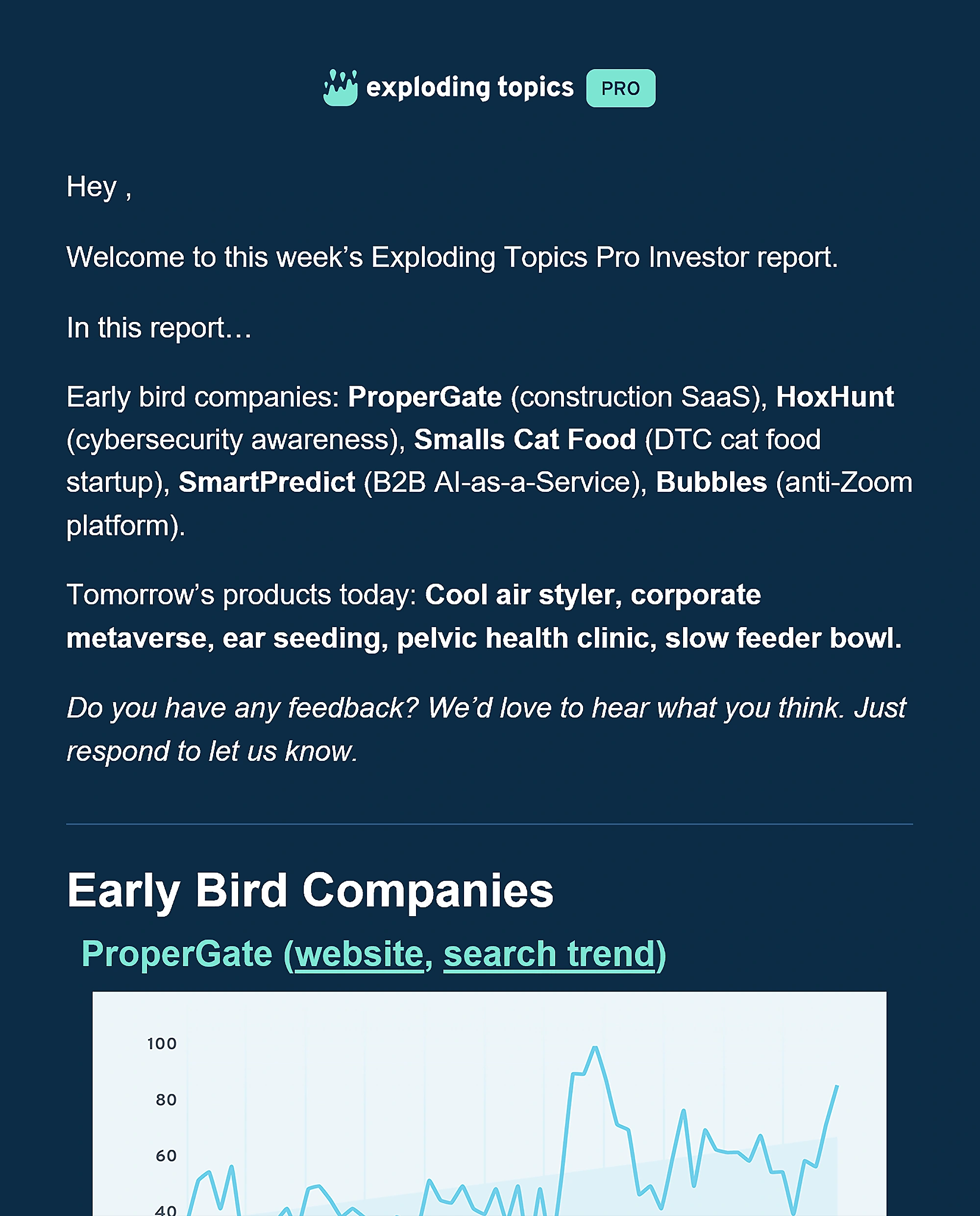 You can read all of the recent trend reports in the Exploding Topics Reports Library, too.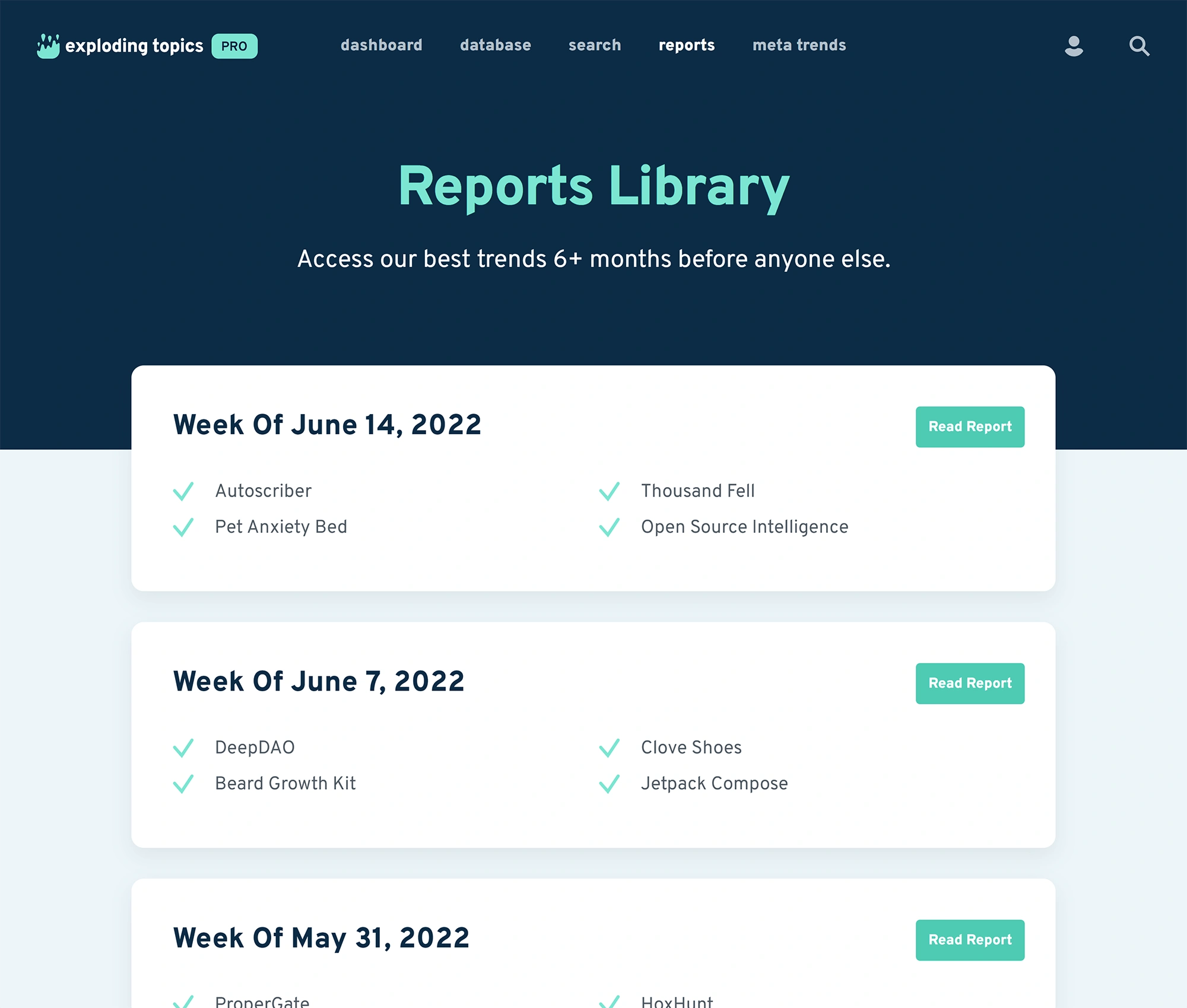 Search & Track Trends That Are Already On Your Radar
Exploding Topics also has a search feature so you can look up tech trends you're already interested in and review the trend data. Start by typing any word or phrase into the search bar, and we'll show you all of the relevant trends in our database. You can also filter results by region if you want to view trend data for just one country (e.g., Worldwide vs. the United States).
For example, say you want to research the popularity of Mark Zuckerburg's Metaverse and gauge overall interest in the idea of the "digital world" — you can look up these concepts in Exploding Topics, view trend growth to see how it's evolved throughout previous months and years, and access other trends that relate to your search. Then, any trends you find and want to track can be added to your dashboard for future reference.
Access Meta Trends & Discover Related Opportunities
We also provide a library of meta trends to aid trend discovery — these collections of trends all represent a higher-level trend or concept so you can look at broad topics and easily see all of the trends that fall under that umbrella.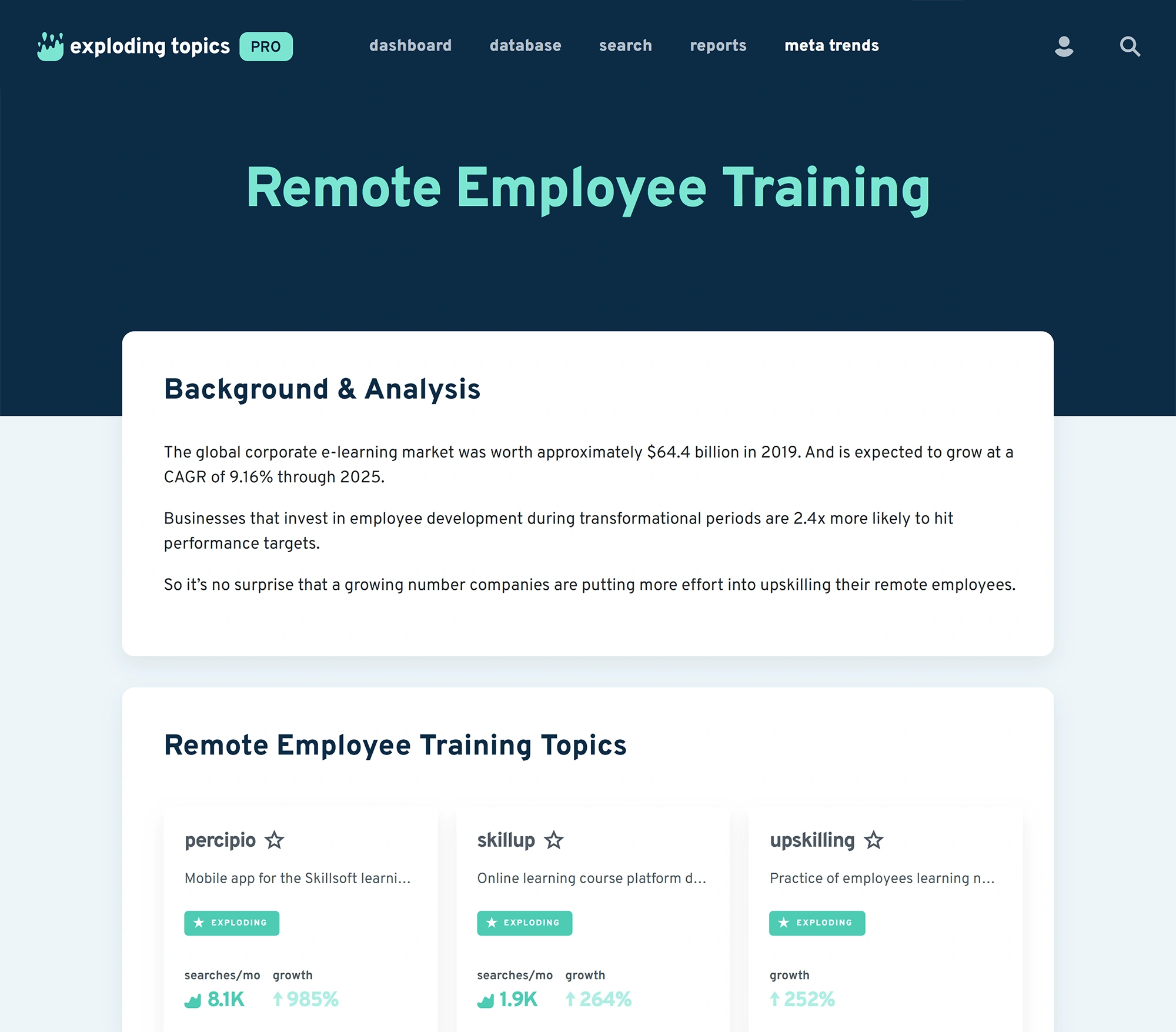 For example, a topic like "Remote Employee Training" includes all of the tools and technologies remote businesses are implementing to simplify the digital transformation and enable real-time team collaboration, like mobile apps to keep employees connected, upskilling platforms to train staff, and automation software to improve productivity.
We also display other related trends and meta trends within these pages so we're always showing new trends that might interest you.
Track All of Your Trends in the Exploding Topics Dashboard
You can track all of the trends you're interested in on the Exploding Topics dashboard. Every trend you "star" is automatically saved in the dashboard for quick and easy reference. But you can also create dedicated projects to organize trends by area of research. For example, say you work for a lifestyle and wellness company and want to track new health supplements and fitness technologies, you could create separate projects for each topic of interest and save trends accordingly.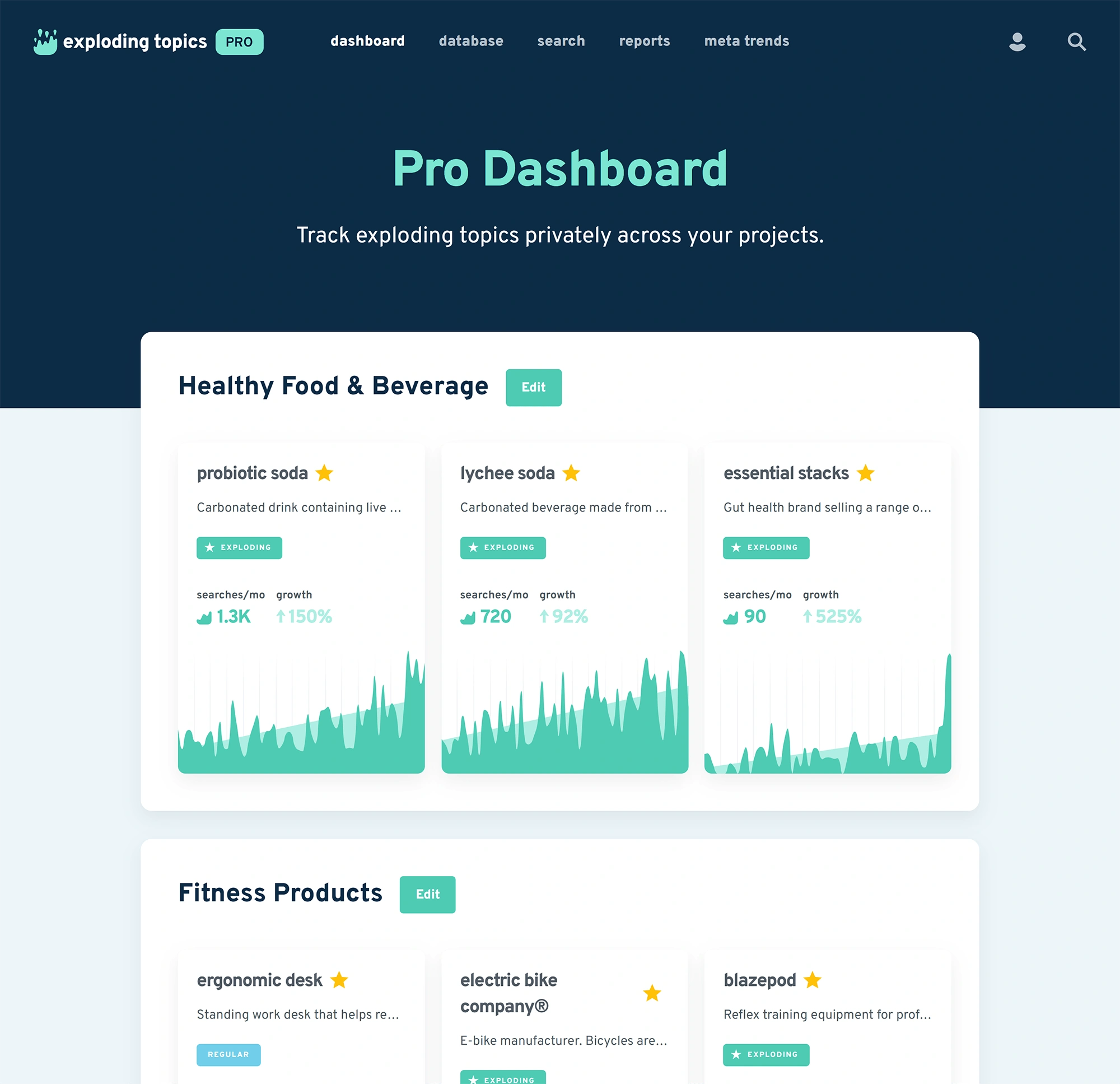 We update our platform every day so you can always access the most current trend information. You can also set email alerts for trends so you're instantly notified of any major updates. Then, you can monitor these trends into the future, reference their growth graphs, and use insights to guide future decision-making.
Our dashboard also suggests similar trends based on what you have saved; this way, you can always stay on top of the newest tech trends and star interesting trends for future tracking.
Note: Exploding Topics also has an open-source API, so you can connect our platform with other data analytics software in your daily operations and reference our trend information from those reporting tools. You can find your unique API key under the API tab; then integrating systems is as easy as copying and pasting this key to the tool you want to integrate with.
Get Started with Exploding Topics
The most important difference between "top tech trends" lists and trend forecasting platforms like Exploding Topics is: Reviews about popular tech trends talk about concepts, products, and ideas that people already know about, while trend forecasting shows you what's going to be popular. So trend forecasting helps you get ahead of new trends in technology before they're super well-known. And we give you all of the tools to look at historical trend growth, track trend interest into the future, and discover new trends in your area of research.
You can explore our trend database on the website for free to see how it works, but our Pro subscribers receive:
Access to trends 6 months before they're available to the public.
Trend tracking features.
A search tool and meta trends library to discover and track other upcoming trends.
Weekly premium trend reports and access to the Exploding Topics Reports Library.
Custom API to integrate with other software in your tech stack.
Start a trial of Exploding Topics for $1 to unlock full access to our database and test the rest of our trend tracking features.