Top 10 Best AI Video Generators of 2023
2023 has been a whirlwind year for artificial intelligence, and new tools are popping up every day that are making our lives easier in unexpected ways. Generating video content in minutes which used to take days, is one of the latest breakthroughs.
So in today's guide, we're breaking down the top picks for the best AI video generators of 2023. We'll talk about the pros and cons of each one, and which ones you should try out first when you're ready to start generating more video content.
Our Top Picks
1. InVideo
Text-to-video generation using AI
Create AI voiceovers
Access a huge library of stock footage
Free templates for quick video creation
InVideo AI's video generator offers a range of features that make it stand out from the crowd and earn a top spot on our list.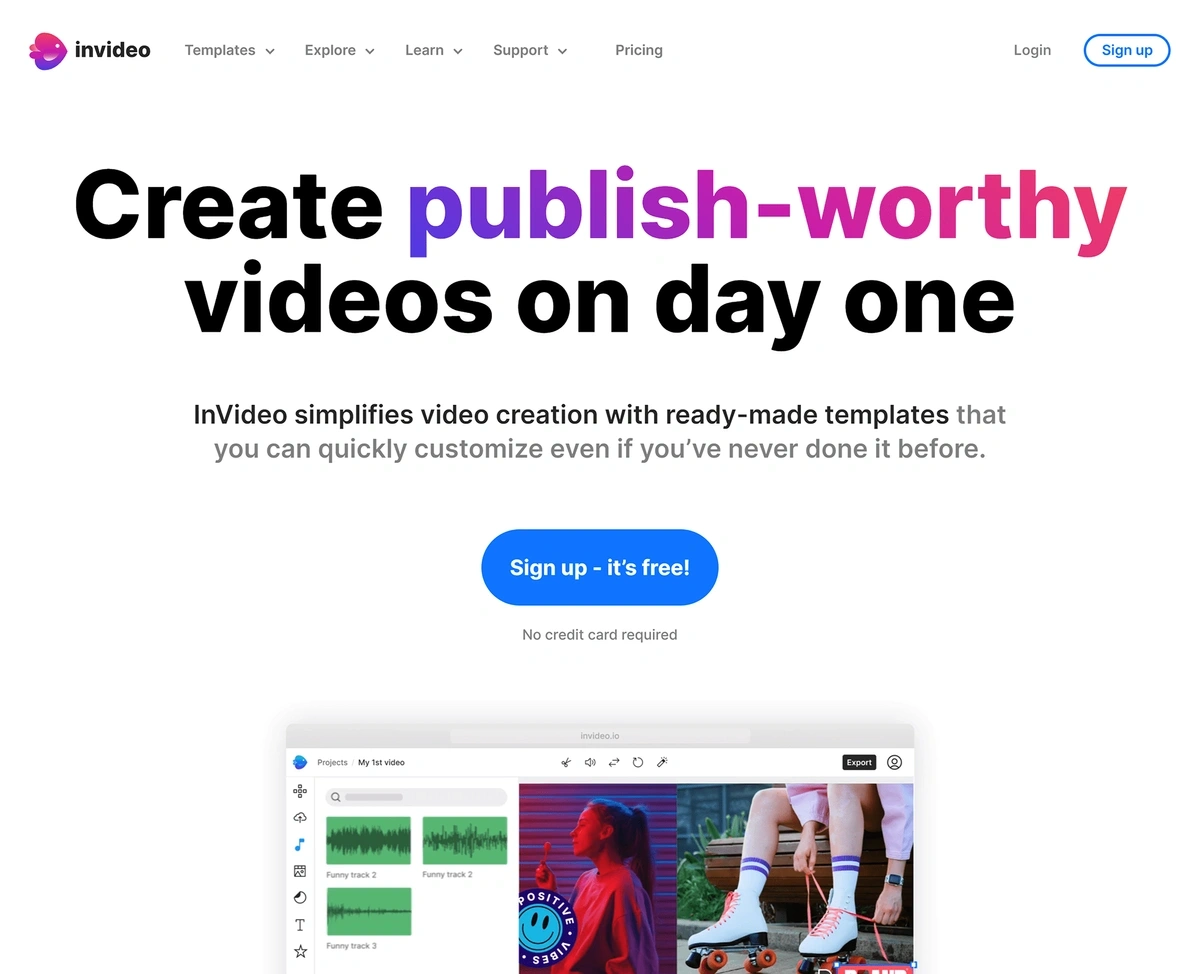 The standout feature of InVideo's tool has to be its text-to-video generator. Start by inputting your script in InVideo's editor. You can use AI to generate your script or write it from scratch. When your script is to your liking, hit the Create Scenes button.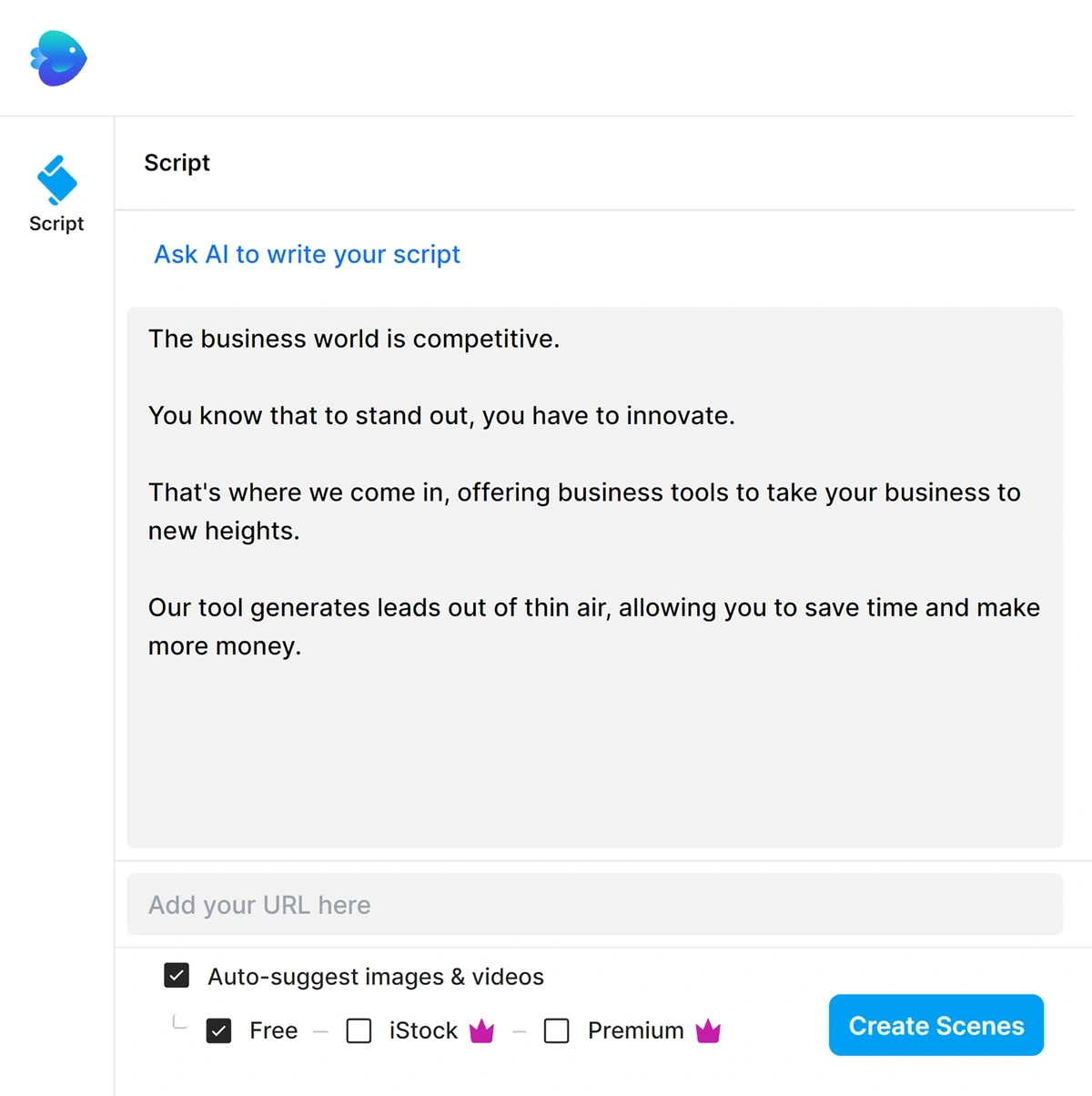 InVideo will compile your script into a full video, with stock footage and transitions. You can always make changes to the default templates to get your final video just right. As you can see below, InVideo turned our short little script into four scenes.
InVideo also offers AI-powered voiceovers, bringing your content to life with remarkably human-sounding voices. While you might not win any awards, you can reduce the creation of simple marketing, training, and sales videos to a few minutes.
Pricing
As for pricing, InVideo is aiming low. You can try all of the primary features out in a free trial. And when you want to upgrade, you can choose from the Business Plan at $15 per month, or the Unlimited Plan at $30 per month.
Both options remove the watermark from your videos and give you access to premium media and stock footage, but the Unlimited Plan offers more video exports.
Pros and Cons
Pros
Ready-made, customizable templates
Quick conversion of articles or blogs into videos
AI-powered voiceovers included
Cons
Precise video editing is not possible
Not worth it if you don't create a lot of videos
2. HeyGen
Customize your avatar
Generate video from text
Huge library of templates
Choose different voices
HeyGen is another top pick on our list of best AI video generators. This app won our hearts due to its simplicity and ease of use. As soon as you load up the app, you're poised to jump right into creating your next video.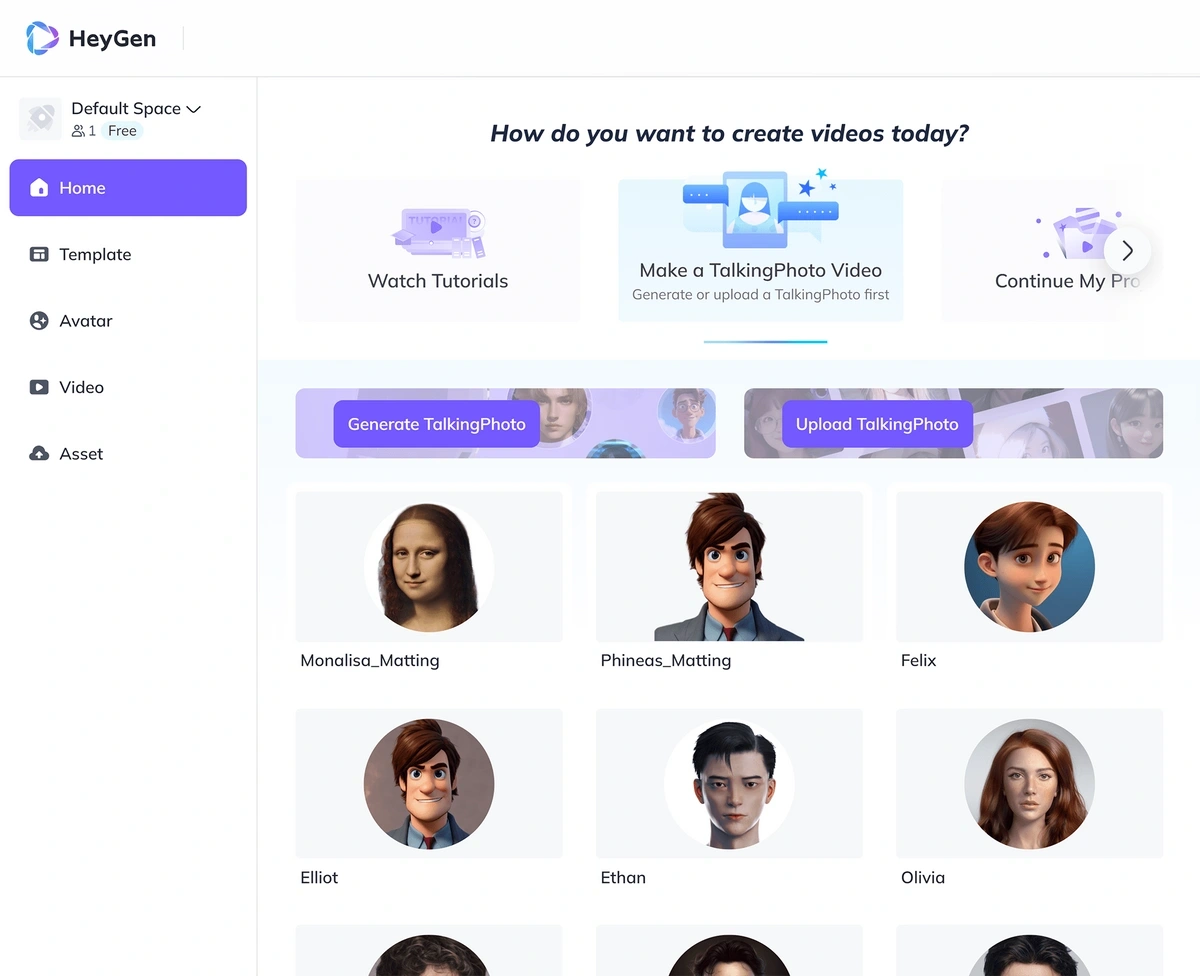 The primary feature is text-to-video generation. You can input your script or just type a few lines, and then select one of the avatars to read it for you. While text-to-video is a common feature in AI video generators, HeyGen stands out with its avatar customization.
Sure, you can use one of the premade avatars. There is a huge library to choose from, and you'll be able to make a video quickly using one of them. But if you really want to stand out, you can create or even upload your own unique avatar.
When your avatar and script are ready, you can hit the Submit button, and HeyGen will craft your video. Seeing your creation come to life immediately is quite impressive.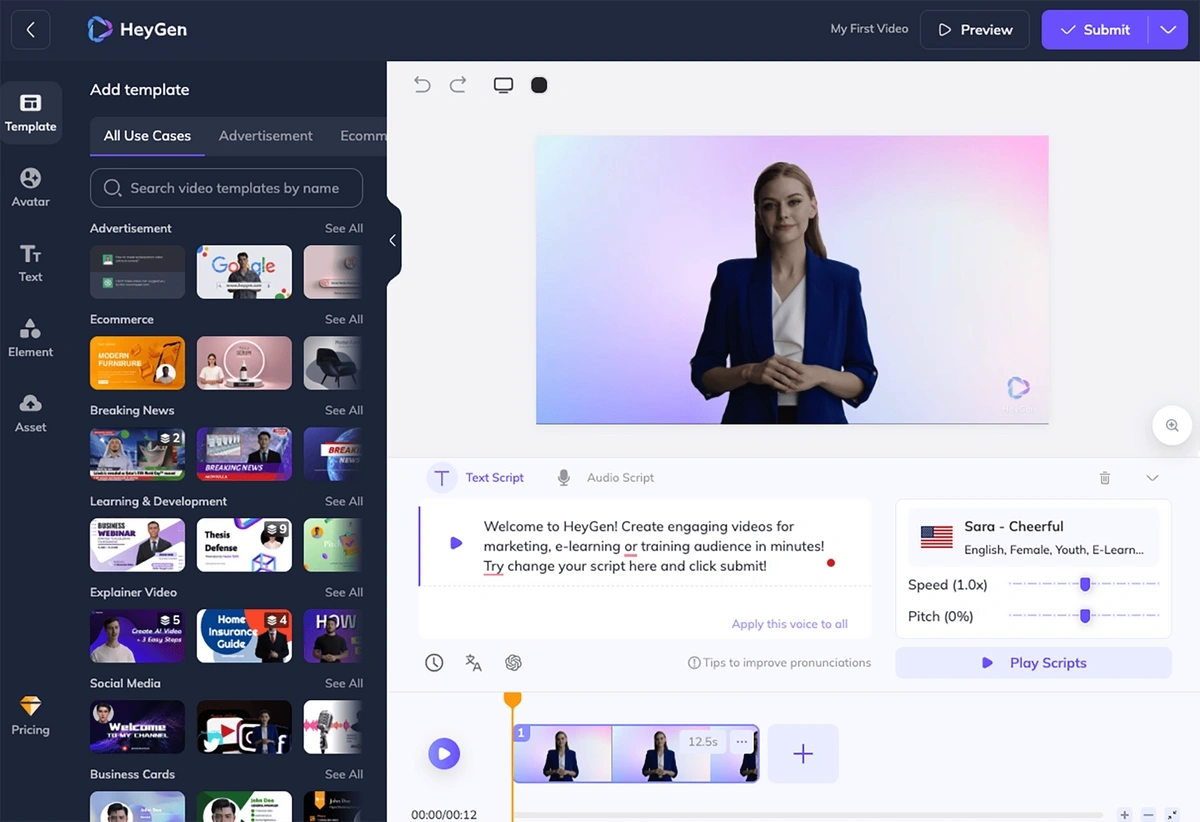 Pricing
You get one free credit for up to one minute of video creation to try out HeyGen. After that, you'll need to sign up for one of their paid plans. The Creator Plan starts at $48 per month, while the Business Plan starts at $144 per month.
Each plan removes the watermark from your videos and gives you access to premium voices and captions. If you create a lot of videos, you'll quickly burn through credits, meaning you'll need to pay for more. So, HeyGen can get expensive for high-volume users.
Pros and Cons
Pros
Loads of templates to choose from
Uploaded your own unique avatar
Huge selection of AI voices
Cons
Can get expensive
Free plan is limited
3. VEED
High level of video editing capabilities
Plenty of premade templates
VEED makes our list of best AI video generators thanks to its extensive editing features. Once you create your account and load up the app, you can get started from scratch with a new video or use a premade template.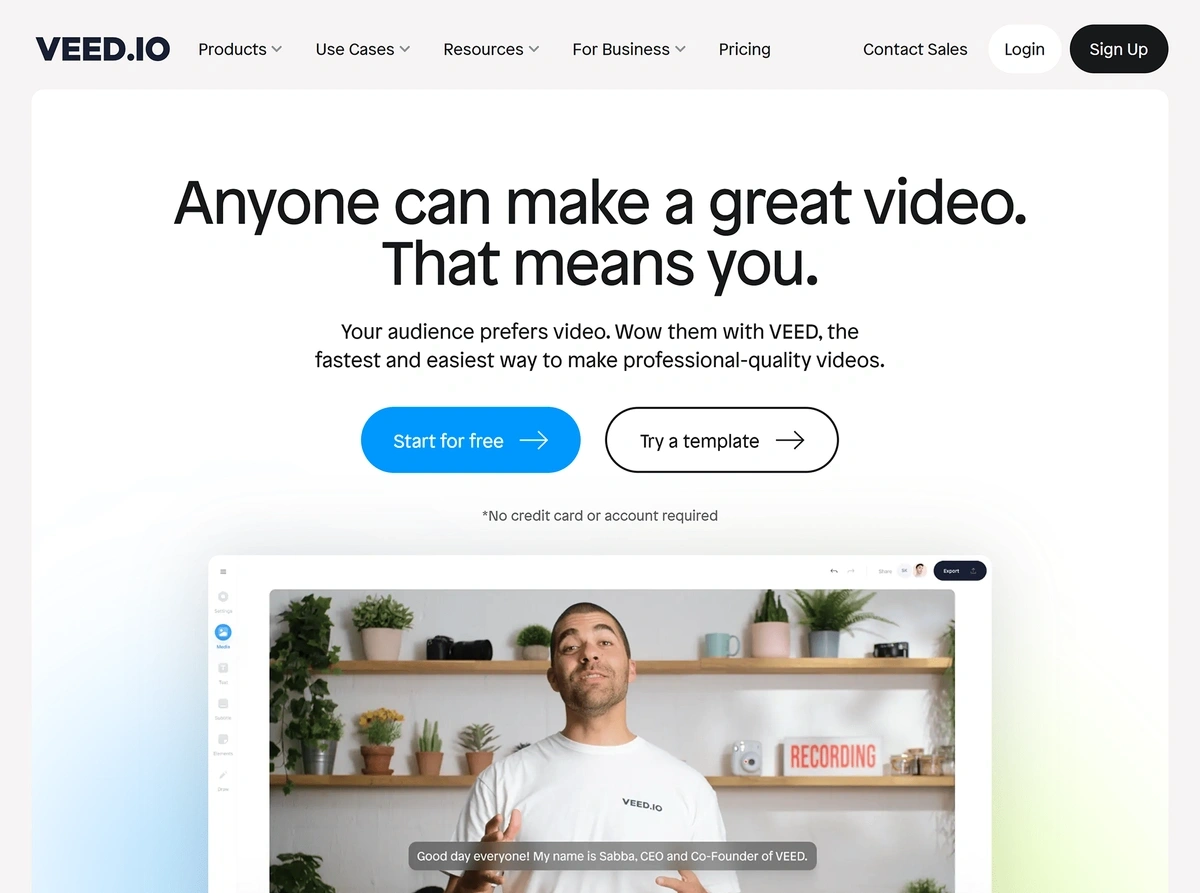 While VEED does not have as extensive a library of AI avatars, they do have a seemingly endless selection of templates to choose from.
Whether you start with a blank slate or select one of their templates, you'll be able to customize it with stock videos and music.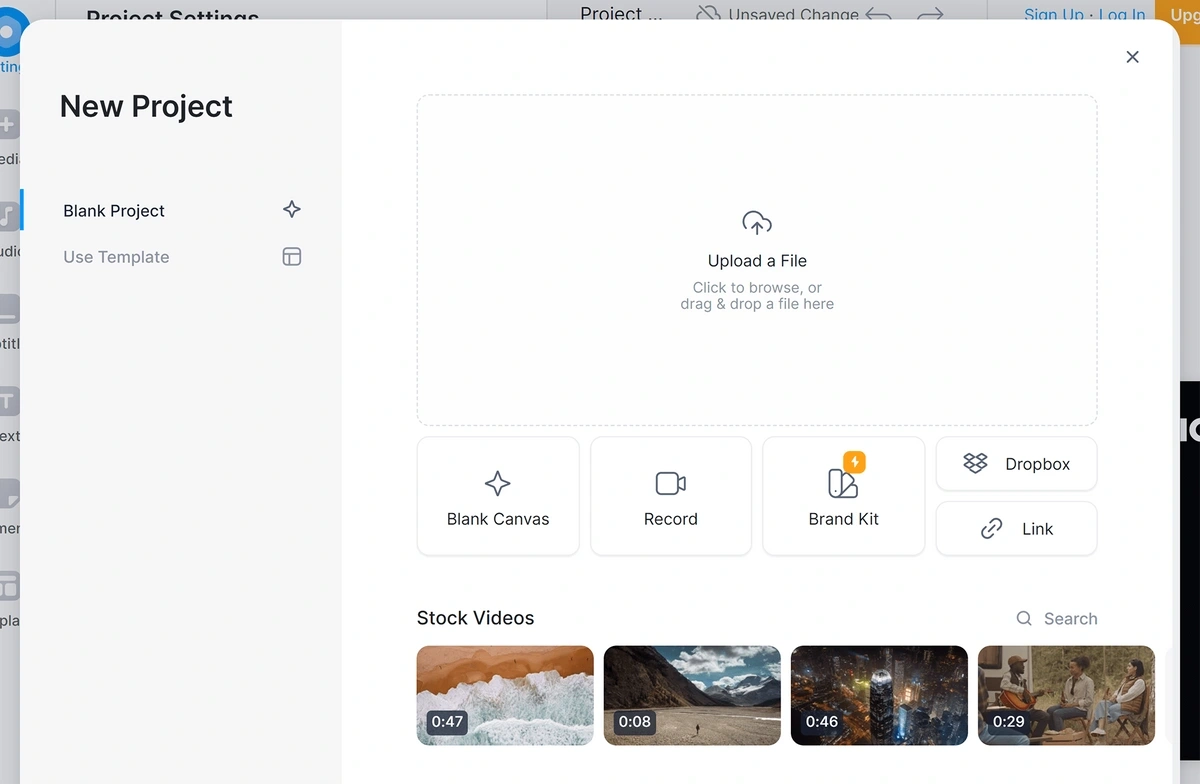 Once your project is underway, you can see where VEED really shines: video editing.
The built-in editing features give you precise tuning capabilities, similar to what you would find in a standalone editing app. Between transitions, filters, and audiovisual effects, you can create a masterpiece in a few minutes.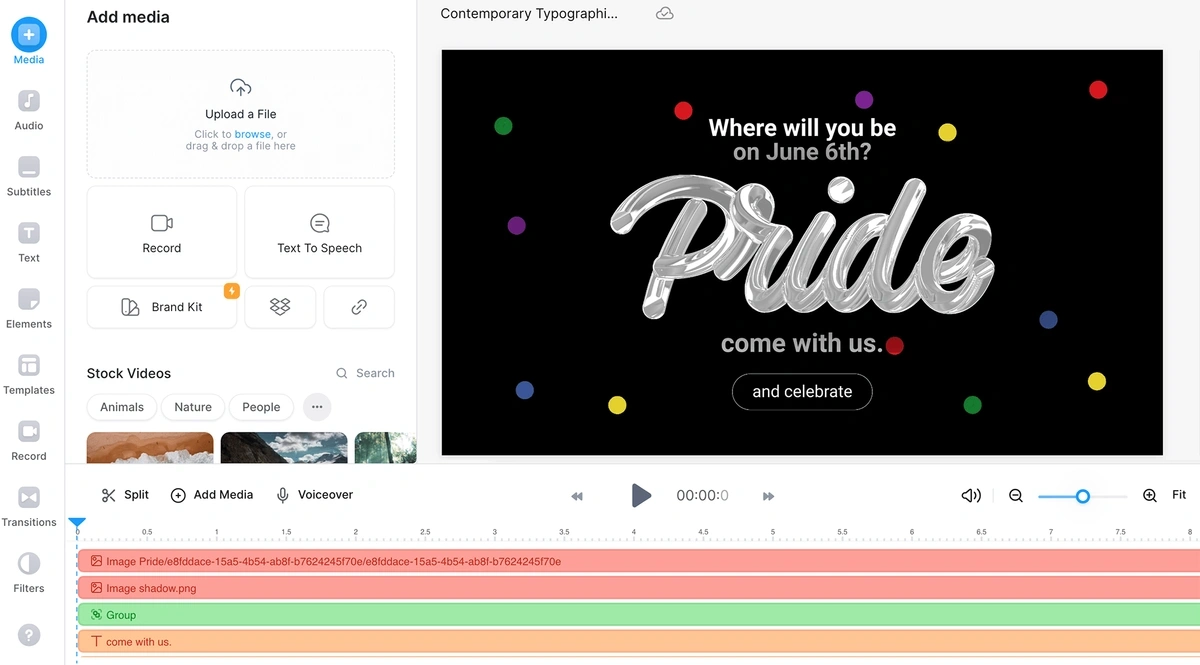 Pricing
VEED offers several different pricing options to cater to the widest possible audience. If you just want to try it out and don't mind a watermark on your videos, you can opt for the free plan.
If you need a little more customization and unlimited high-resolution output, you can opt for one of the paid plans. The basic plan is only $18 per month. This plan is ideal for most creators. But if you want more access to the subtitle, translation, and AI editing tools, you will need to opt for the Pro plan for $30 per month, or the Business plan for $59 per month.
Pros and Cons
Pros
Extensive editing capabilities
Plenty of pricing options
Useful transcription features
Cons
Free plan is limited
Not many AI avatars to choose from
4. Pictory
Text-to-video
AI transcription
Turn a blog post into video
Pictory takes up the number 4 spot on our list of best AI video generators thanks to its ease of use combined with its expansive set of features.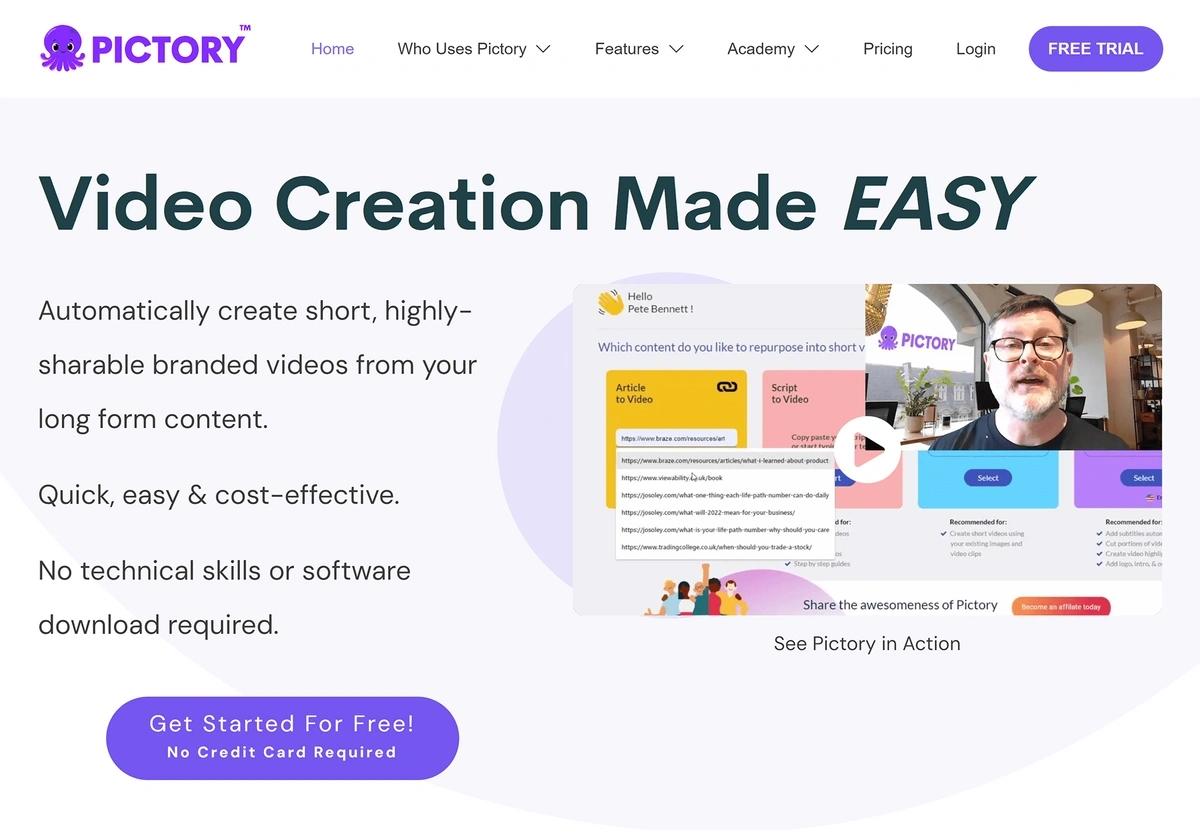 As soon as you log in, Pictory prompts you to start a project, whether it is a text-to-video creation, editing a video, transcribing, or even using the advanced AI to summarize an existing video or create a collage.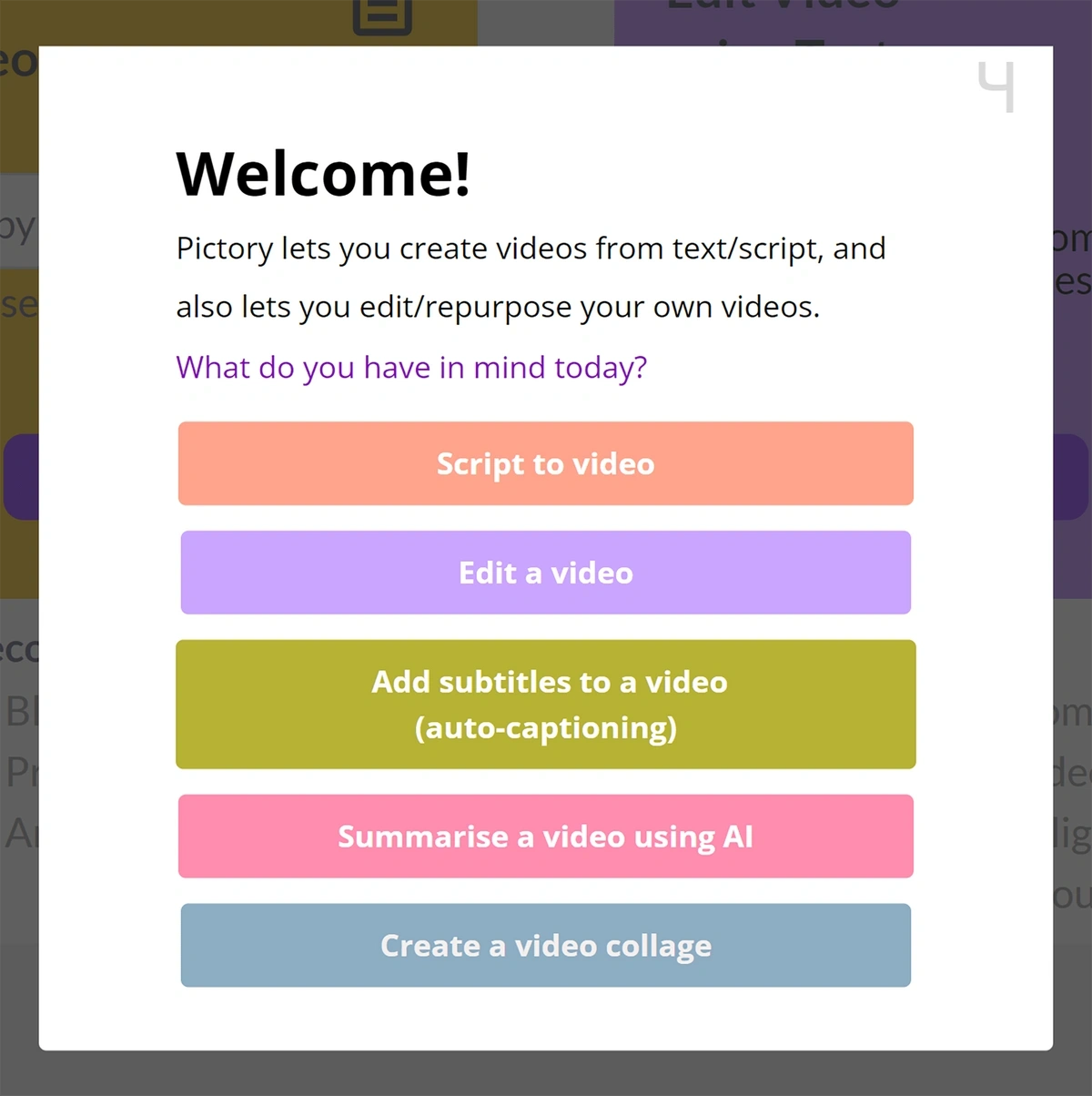 Like many AI video generators, its core feature is to generate video from text input. But what makes Pictory particularly special is the ability to generate a video from an existing blog article, simply by inputting the URL.
Let's see what this looks like when we take an article about Python Operators and tell Pictory to turn it into a video: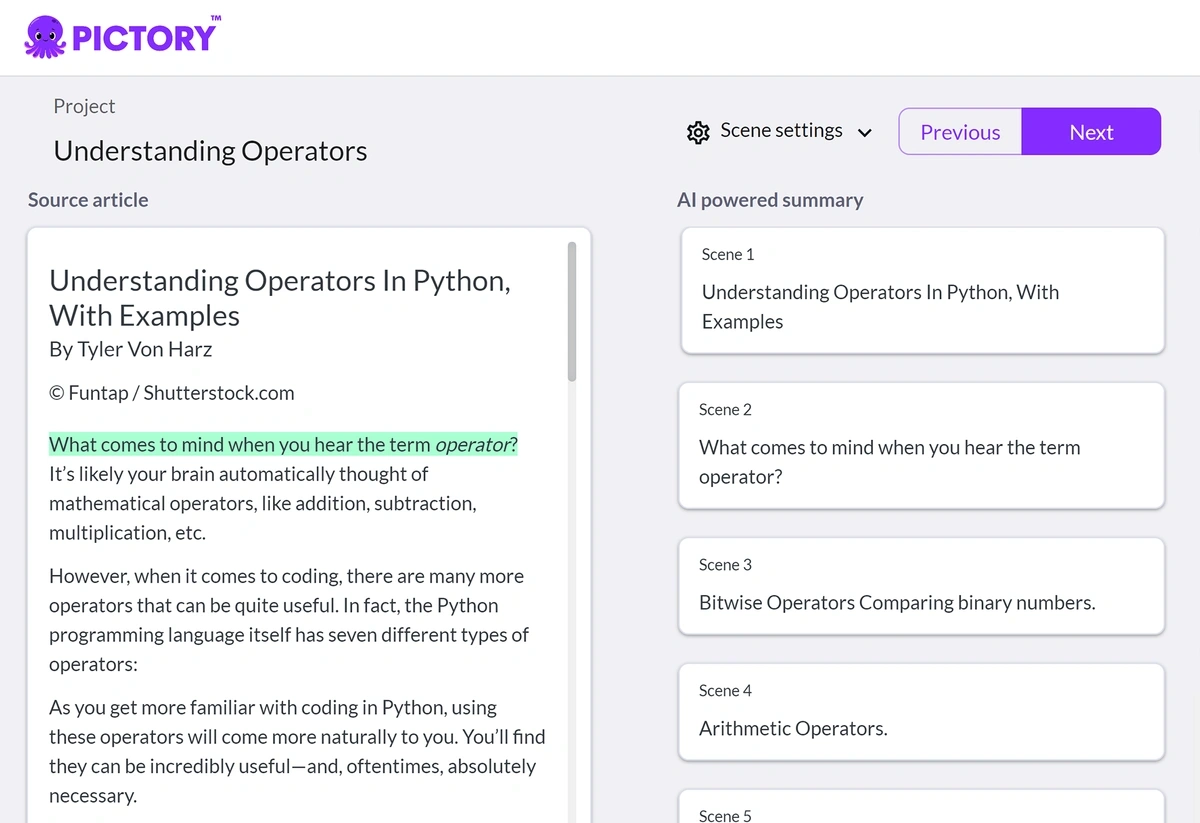 You can see Pictory immediately creates an AI powered summary. Hitting the next button will allow you to select a template. After that, Pictory does all of the work in the background, and you are presented with a set of images and transitions with text overlay.
From here, you can edit your video to your heart's content, and preview or download it when you are ready.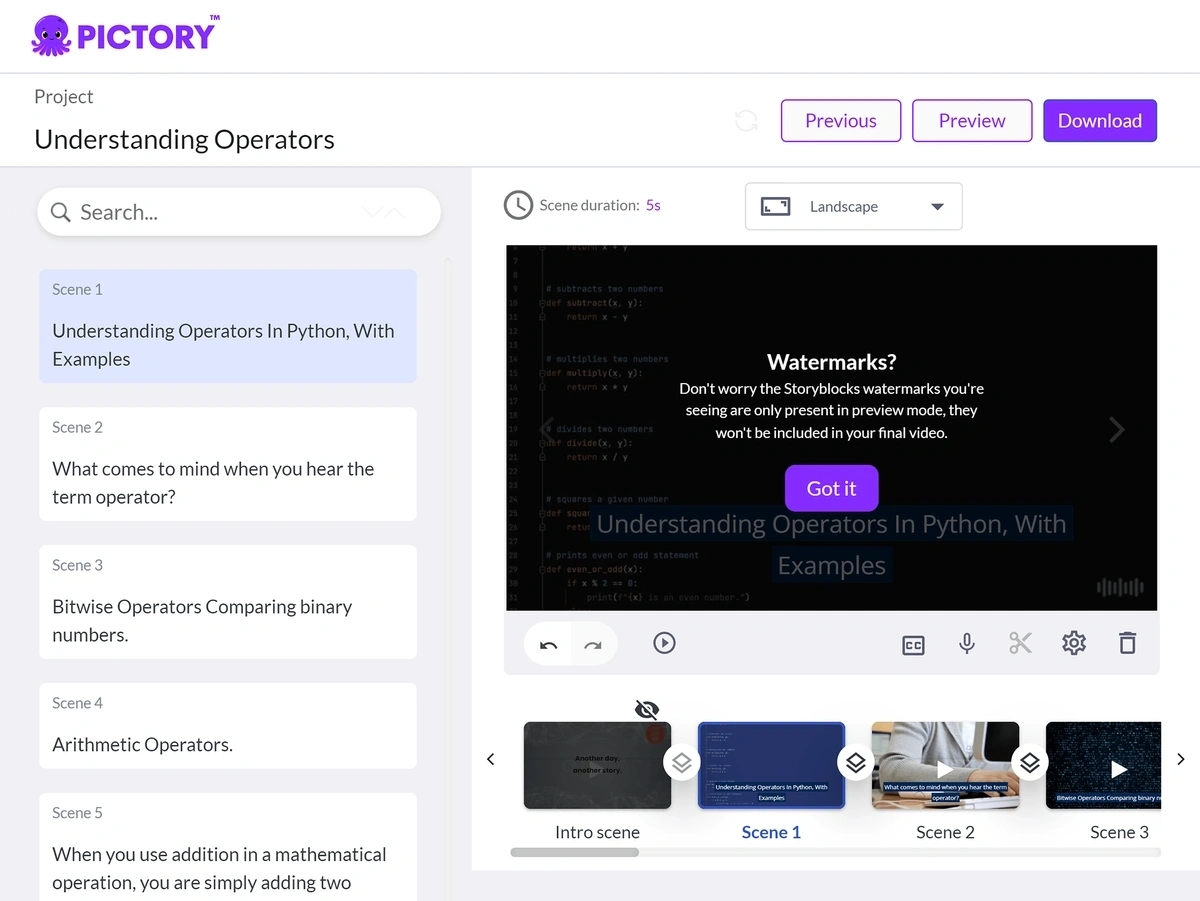 Pricing
While Pictory does not offer a free plan, they do give you a trial version to try things out. When you're ready to upgrade, you have three options to choose from. The Standard Plan is $19 per month and comes with access for 1 user.
If you want more features, you can opt for the Premium Plan at $39 per month. For small teams who need access to the most features and the highest limits, Pictory offers a Teams Plan for $99 per month.
Pros and Cons
Pros
Super easy to use
Plenty of editing features
Generous free trial
Cons
No free plan
Limited editing features
5. DeepBrain
Best selection of AI avatars
Competitive stock footage library
Use ChatGPT to write your scripts
DeepBrain earns a spot on our list, thanks to its extensive avatar library and ChatGPT integration.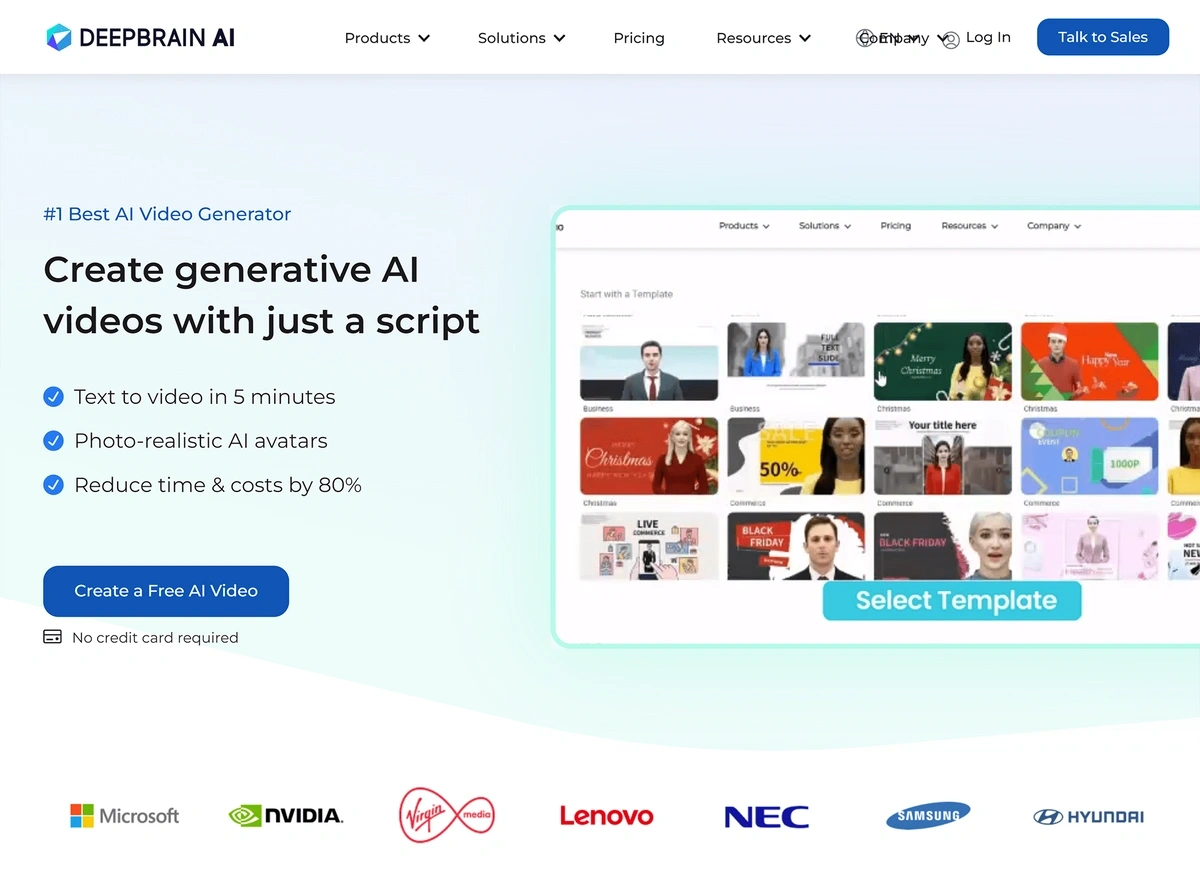 As soon as you boot up the app, you're prompted to start your video with the aid of ChatGPT to write your script. You can ask a simple question or tell it to write a more complicated and in-depth script. Just select your template, and you're ready to get started.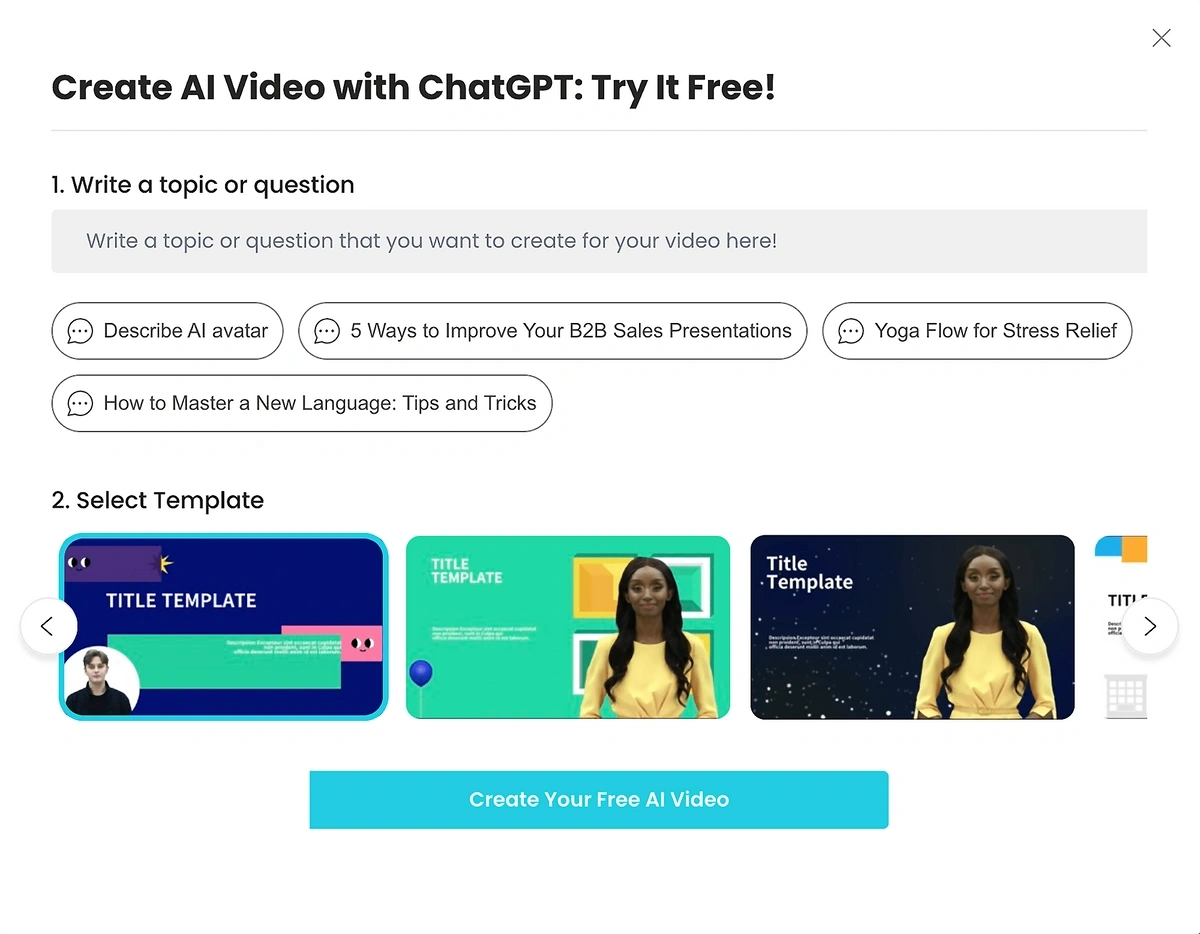 Here is where we see DeepBrain come to life: with its extensive avatar library. You can choose from over 100 avatars, and even upload your own if none of the premade ones fit your criteria. You get full control over how your avatar looks and sounds, and can fine tune its nuances in minute detail.
Pricing
DeepBrain is one of the pricier options on our list, and the complete absence of a free tier only drives this point home. If you don't need to create more than 10 minutes of video on a monthly basis, you can opt for the Starter Plan, which is $30 per month.
The Pro Plan starts at $225 per month, with a sliding scale pricing model jumping to $600 per month for high-volume users. If this still isn't enough for you, the Enterprise Plan is your best bet. But you'll have to reach out to the sales team to cut a custom deal.
Pros and Cons
Pros
Great selection of AI avatars
ChatGPT integration
Loads of customization options
Cons
Relatively expensive
Limited video allowances
6. Steve AI
Fast creation of animation videos using text
Ability to convert blogs to videos instantly
Audio file to video conversion
Steve AI makes our list of best AI video generators due to its patented AI technology that allows you to create unique cartoon and animated videos. The AI picks the most relevant creative media assets for your video, making the process seamless and efficient.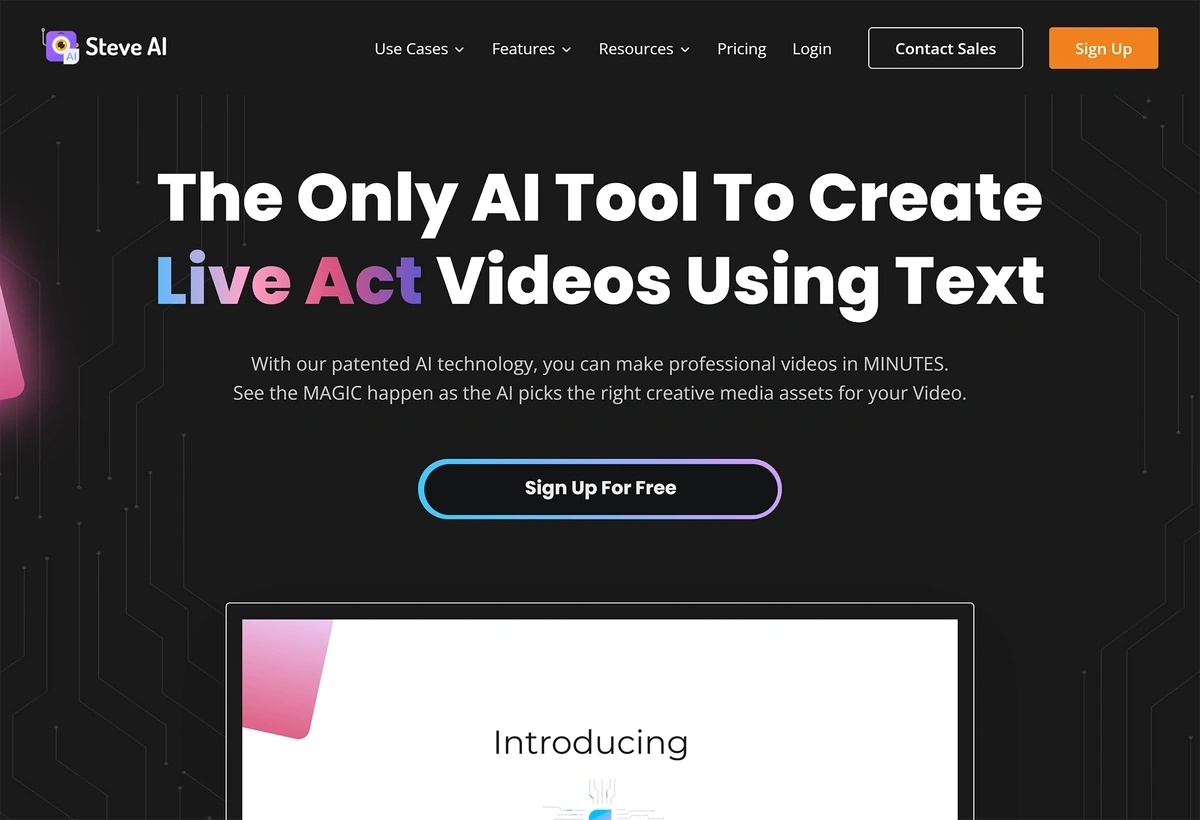 Besides offering a clever take on animated AI videos, Steve AI's standout feature is its ability to convert text to video in a flash. You simply paste your text in the script editor or let the AI handle that process too. It is really hands-off.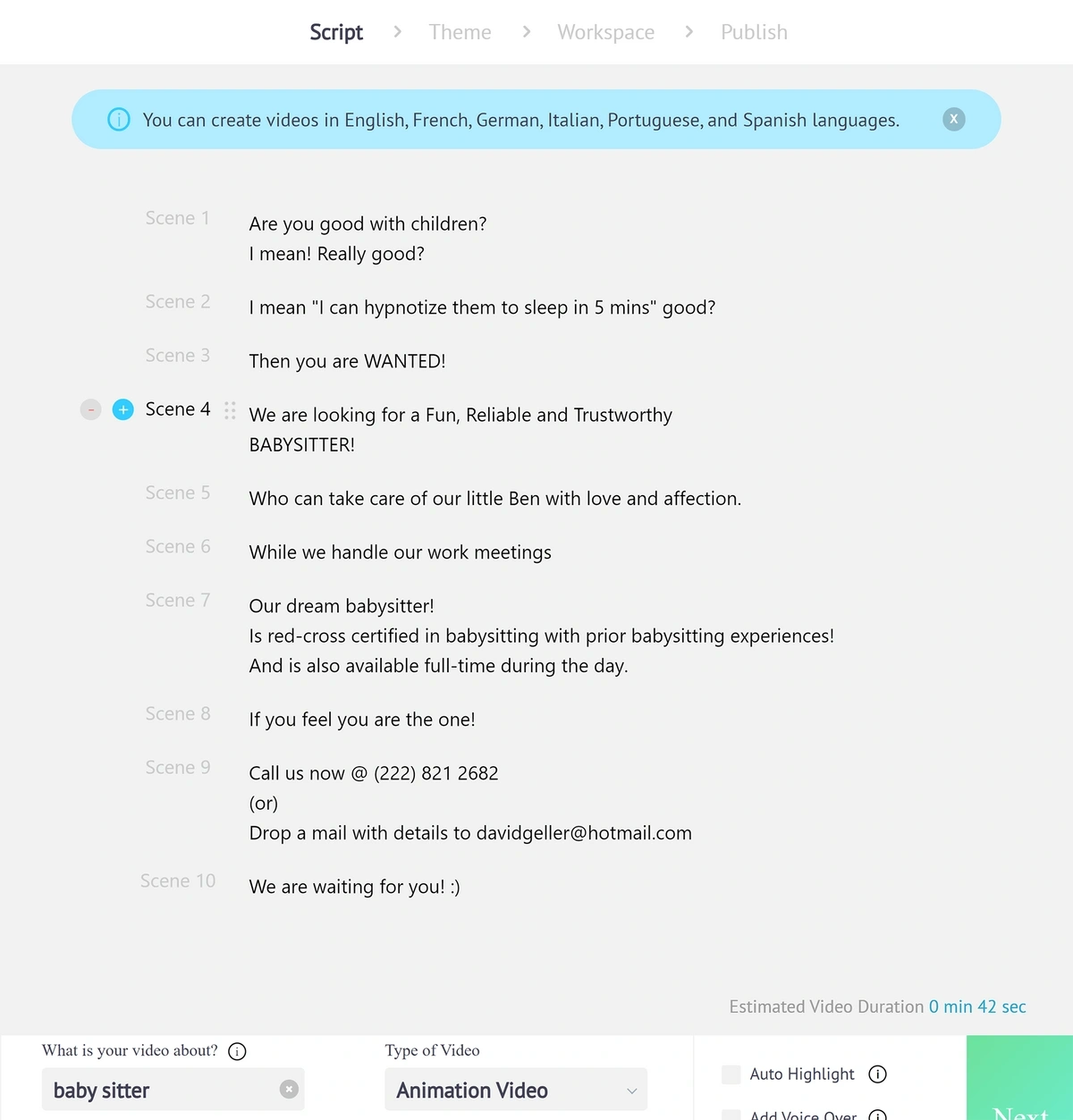 After your script is done, the AI picks the most relevant assets without breaking a sweat, and compiles them into a set of scenes. From here, you can modify each scene to your liking, with transitions, effects, and audio.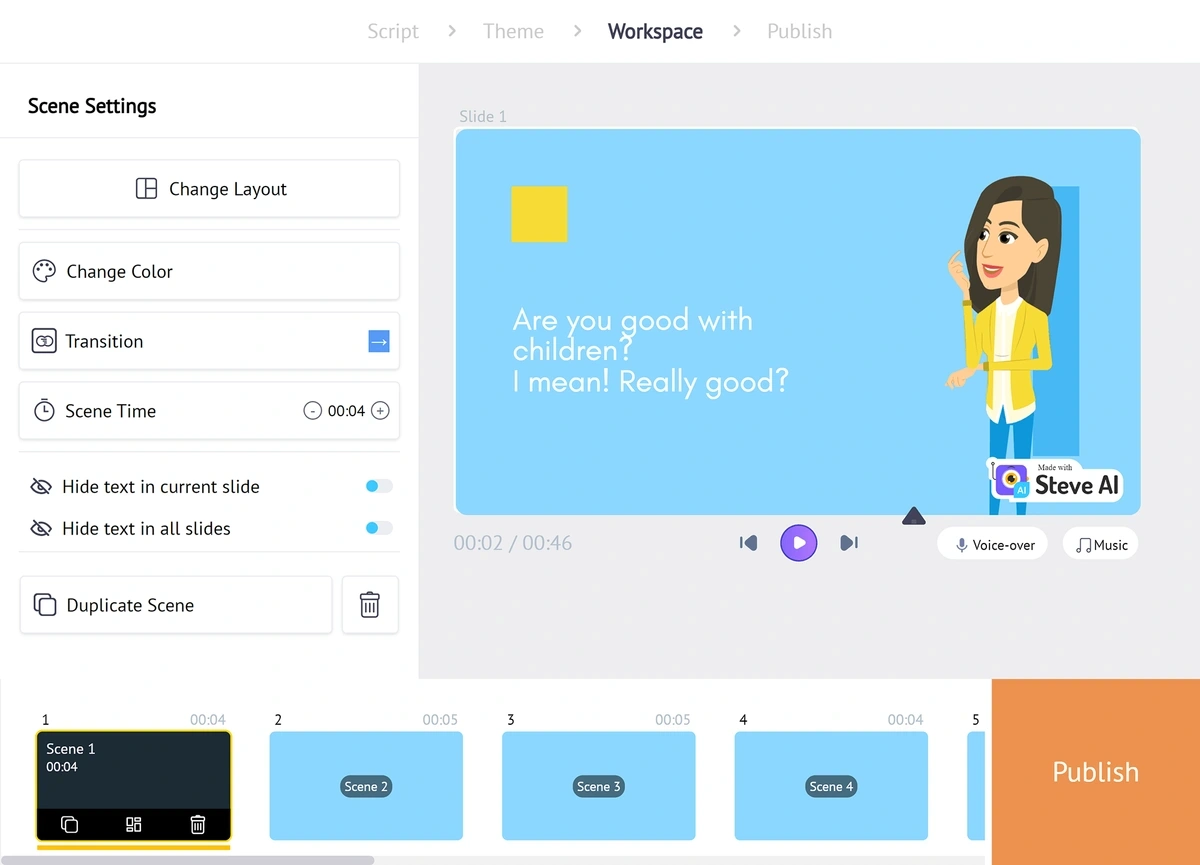 Additionally, if you have a blog post that you want to turn into a video, you can simply paste the URL into Steve AI, and the AI will convert your blog into a video in seconds.
Pricing
Steve AI offers three different pricing options. The Basic plan is $20 per month, which provides access to the core features of the platform. The Starter plan is $60 per month, offering more advanced features and capabilities.
For those who need the full suite of features, including advanced editing tools and priority support, the Pro plan is available for $80 per month.
Pros and Cons
Pros
Fast and efficient video creation from text
Large collection themes and templates
Decent video editing suite for customization
Cons
Pricing may be a bit high for some users
Starter plans may feel limiting
7. Lumen 5
Plenty of stock footage to use
Convert blog posts with just a URL
Generous free version
Another good pick is Lumen5. Like many AI video generators, Lumen5 specializes in turning your text into video.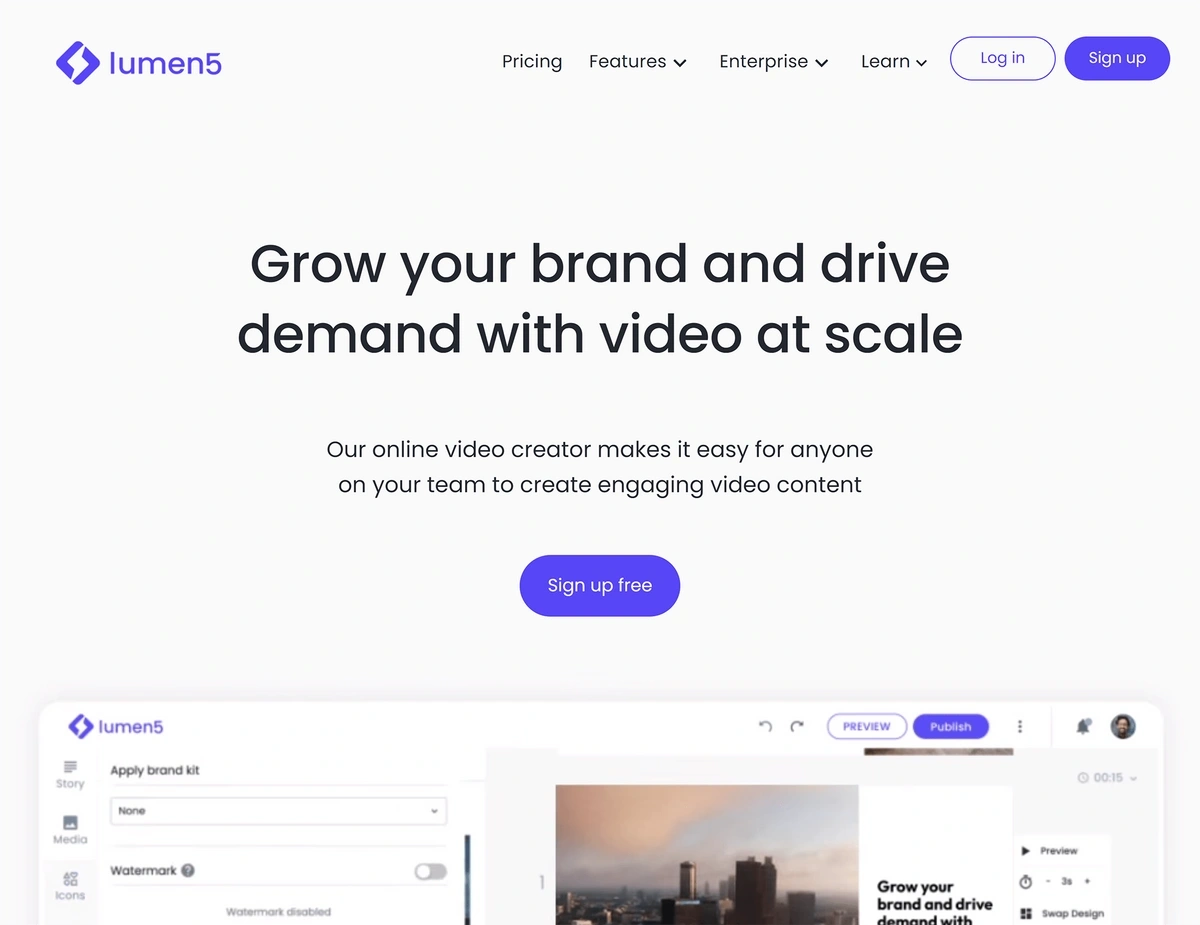 However, with Lumen5, you'll notice a more streamlined and slimmed-down process. What's more, they have a generous free version if you just want to try things out.
As soon as you boot up the app, you're prompted to select one of three methods for creating your video: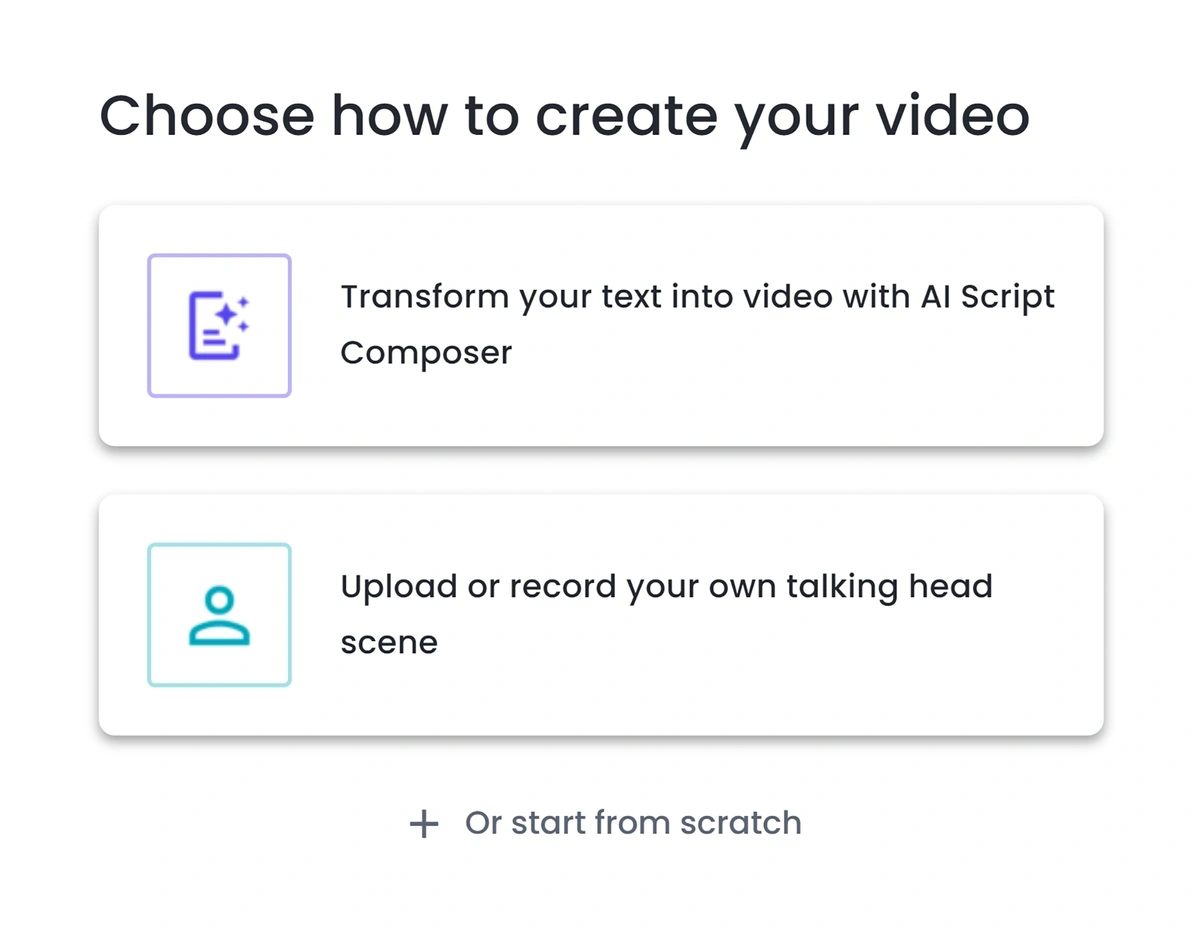 Selecting "transform your text into video with AI script Composer" brings you to the next screen, where you'll be able to either import an existing blog post, or write your own script from scratch.
You can really see the magic happen if you opt to import an existing blog post. Just paste the URL in the text box, and Lumen5 automatically builds it into a script.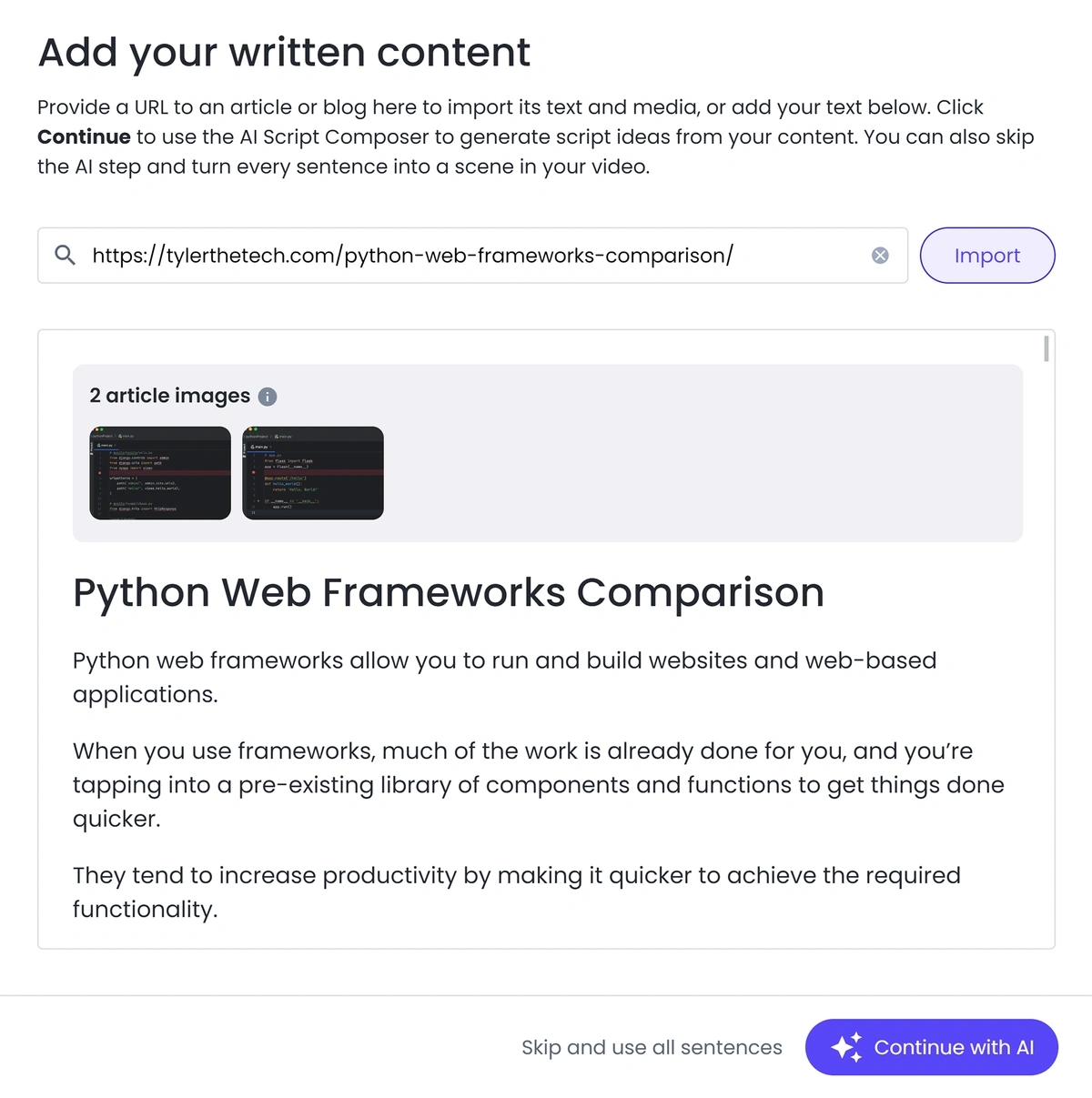 From there, Lumen5 will turn your script into a video, separating each section into individual scenes. Now, it's up to you to edit and add any effects to your video. Here is where the only drawback to Lumen5 becomes apparent: limited editing and templates.
Since Lumen5 takes a more streamlined approach than some of the other options on our list, and you won't find as many extensive editing features. However, you still get plenty of stock photos and videos to bring your creation to life.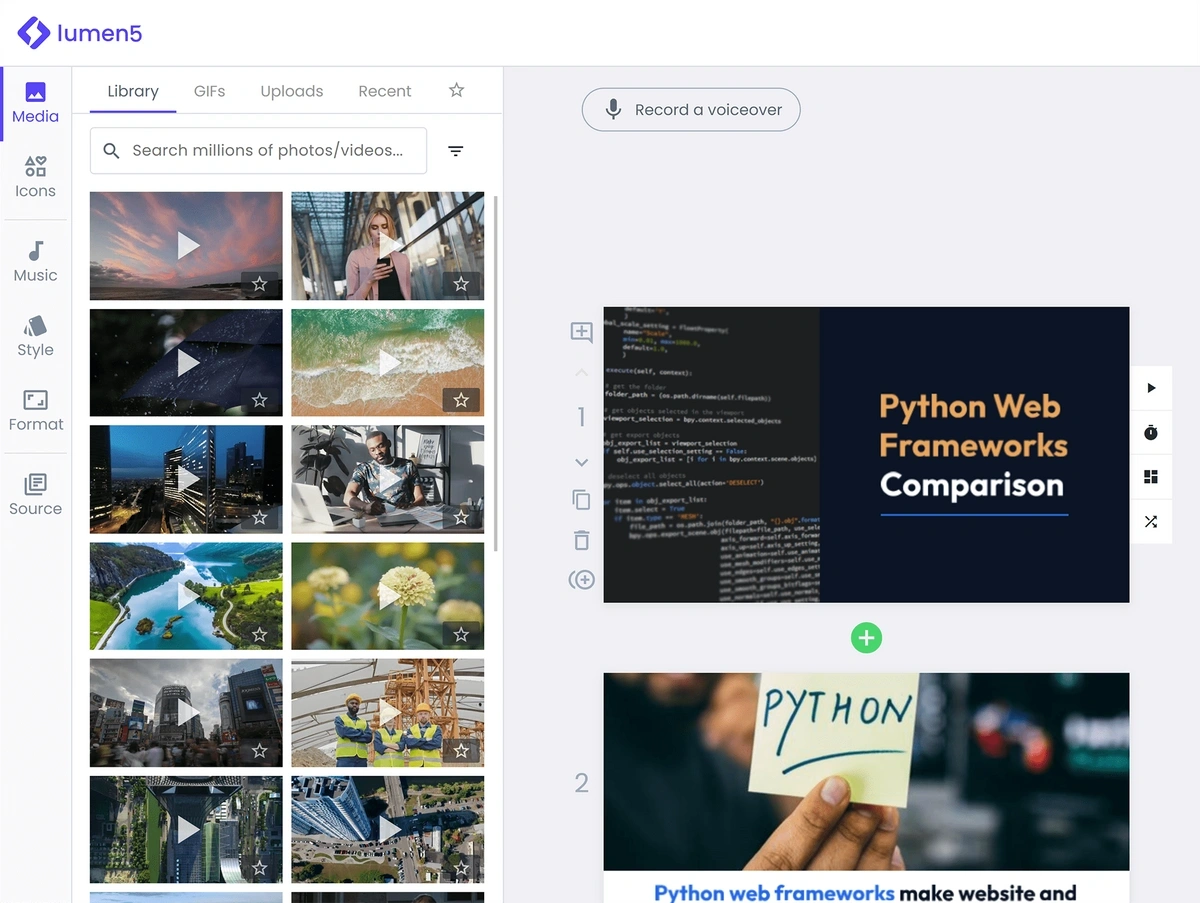 Pricing
Lumen5 offers a free community plan with basic features, which is a great option for those who are just starting out. For more advanced features, and to remove the watermark from your videos, they offer a Basic plan at $29 per month.
The premium plans offer benefits such as higher video quality, more stock media, and faster rendering times. If you want the best quality and options, you'll have to opt for the Starter plan at $79 per month, or the Professional plan at $199 per month.
Pros and Cons
Pros
Ability to transform blog posts into videos
Extensive library of stock photos and video footage
Cons
The free plan has limited features
Premium plans are relatively pricey
8. Elai
Text-to-video conversion with AI avatars
Ability to convert videos from multiple sources
Plenty of templates to choose from
Taking up the number 8 spot is Elai.io, another text-to-video generator powered by AI. While it offers the usual text and blog-to-video conversion, Elai.io's standout feature is its ability to convert text into video content using AI avatars.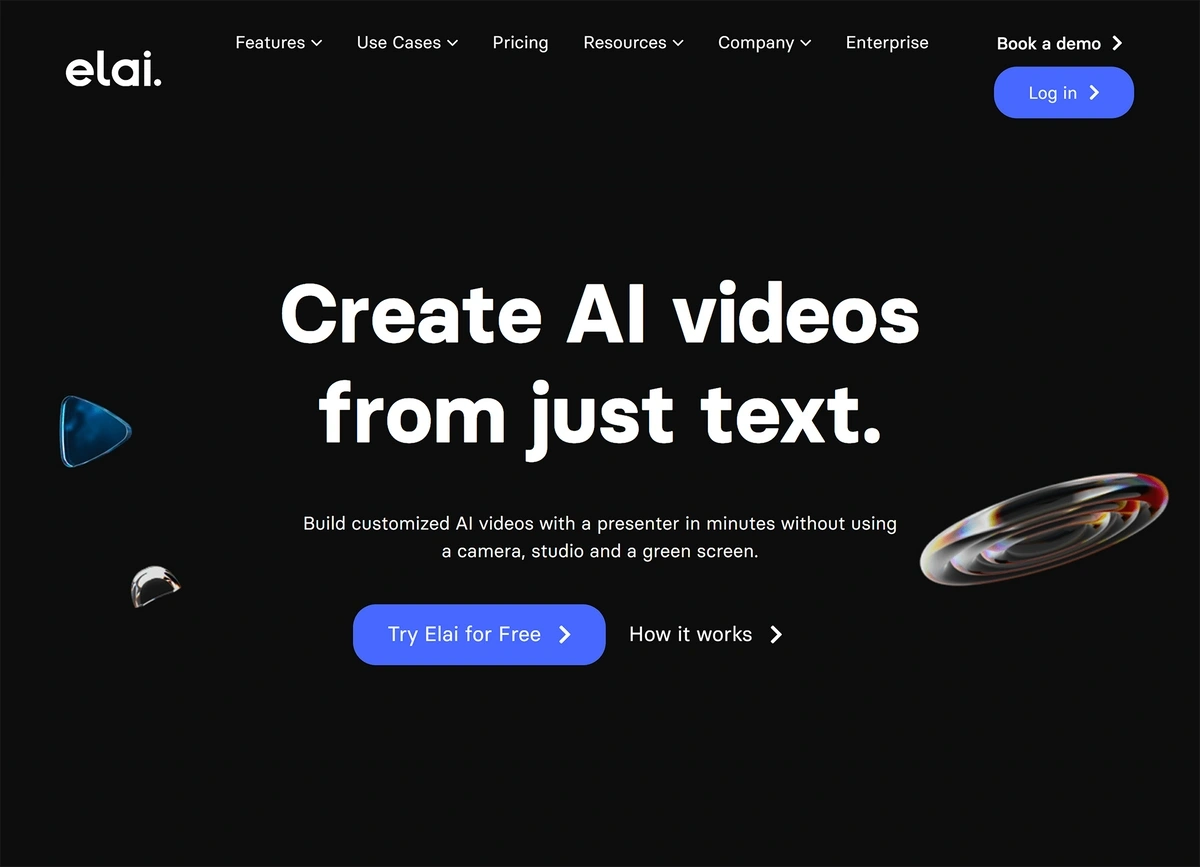 You simply input your text, and Elai.io will generate a video with an AI avatar narrating your content. This feature is particularly useful for content creators who want to create engaging video content without the need for filming or editing.
Upon logging into the app, you can pick from several options for creating your videos: using a template, creating a storyboard, converting an existing blog post, or even uploading a PDF to convert it into a video.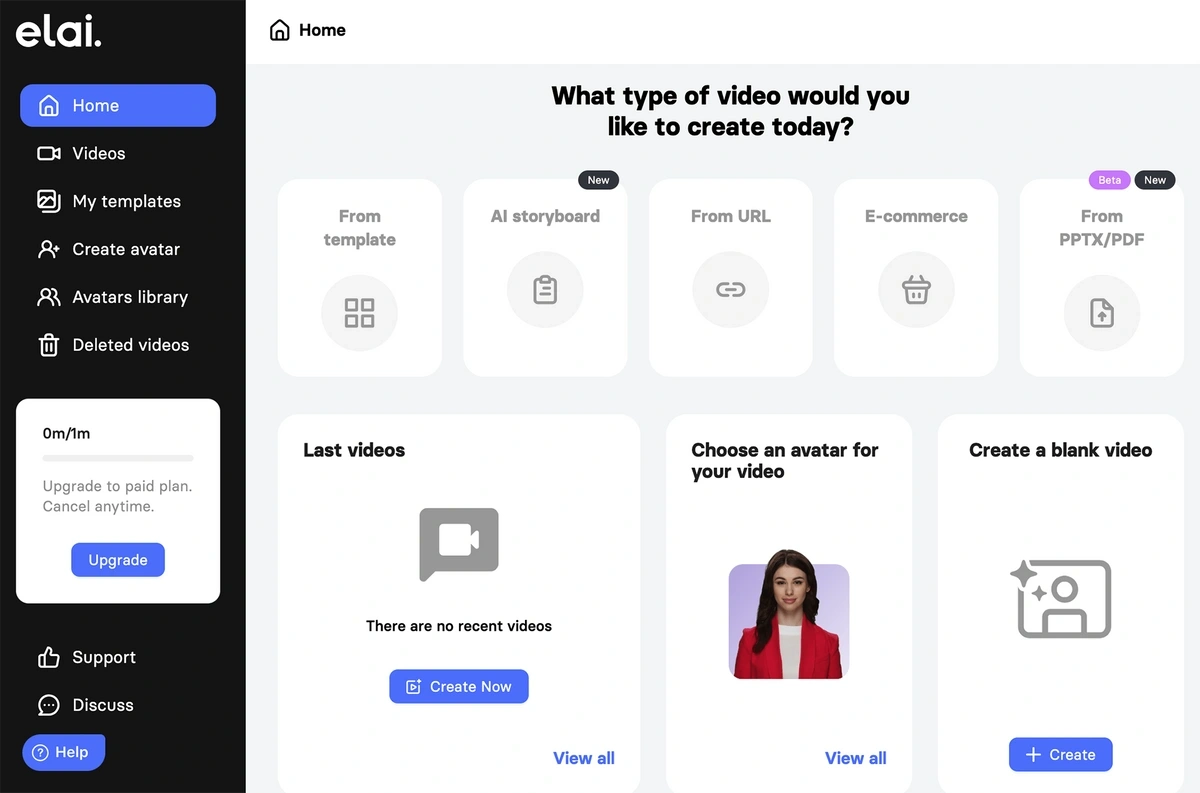 From here, you can also browse existing avatars or jump into creating your own.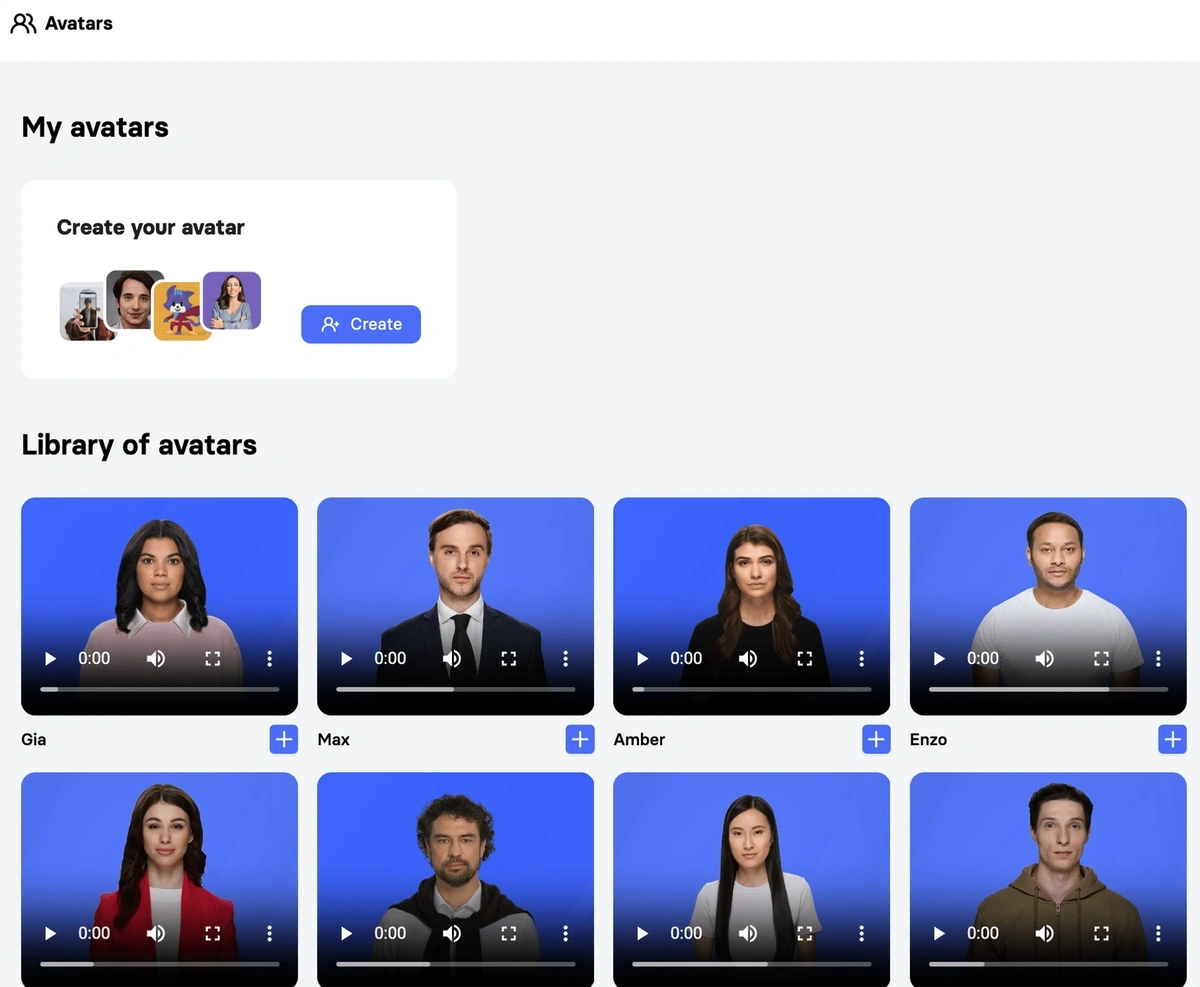 While many AI video generators offer avatar functionality, Elai stands out by giving you several different ways to create your own personal avatar. You can record a few minutes of yourself talking, generate an animated avatar, or even turn a single photo into a talking-head-style avatar.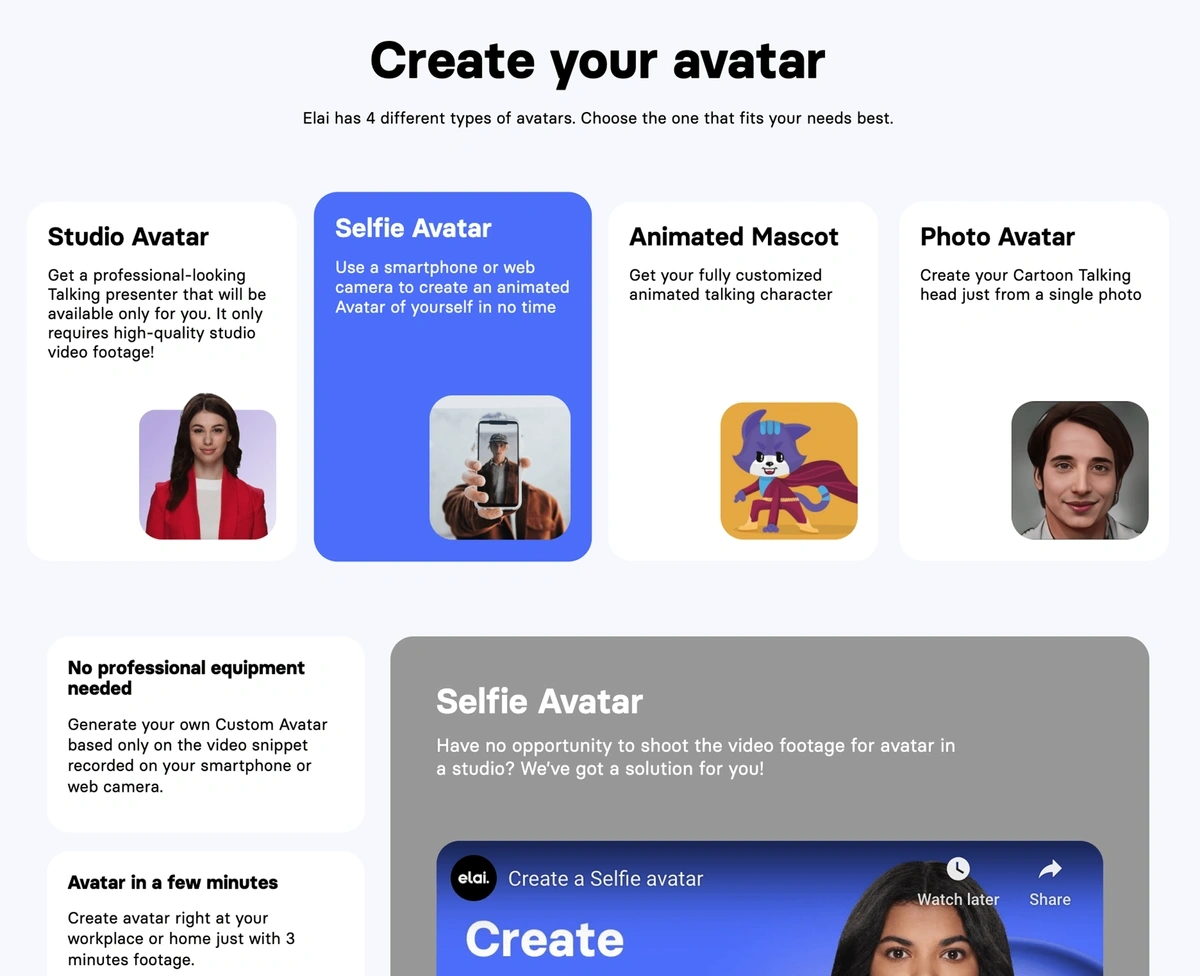 Pricing
Elai.io offers a free trial, which is a great option if you just want to dip your toes in the water. For more advanced features, they offer premium plans starting at $23 per month.
The premium plans offer benefits such as premium voices, custom music upload, and Ultra HD 4k video avatars. Pricing is very flexible with Elai, and you can determine how much you'd like to pay based on how many videos you want to generate.
Pros and Cons
Pros
Extensive avatar creation abilities
Ai storyboard features
Create videos from PDF files
Cons
Premium plans can get very expensive if you generate a lot of videos
Limited video editing features
9. FlexClip
1080p video generation
AI image generator built-in
Decent video editing suite
FlexClip made its way onto our list of best AI video generators thanks to the expansive feature set you get for the price. While it isn't entirely unique–it offers text-to-video using AI just like any other app—it does it all at a tempting price.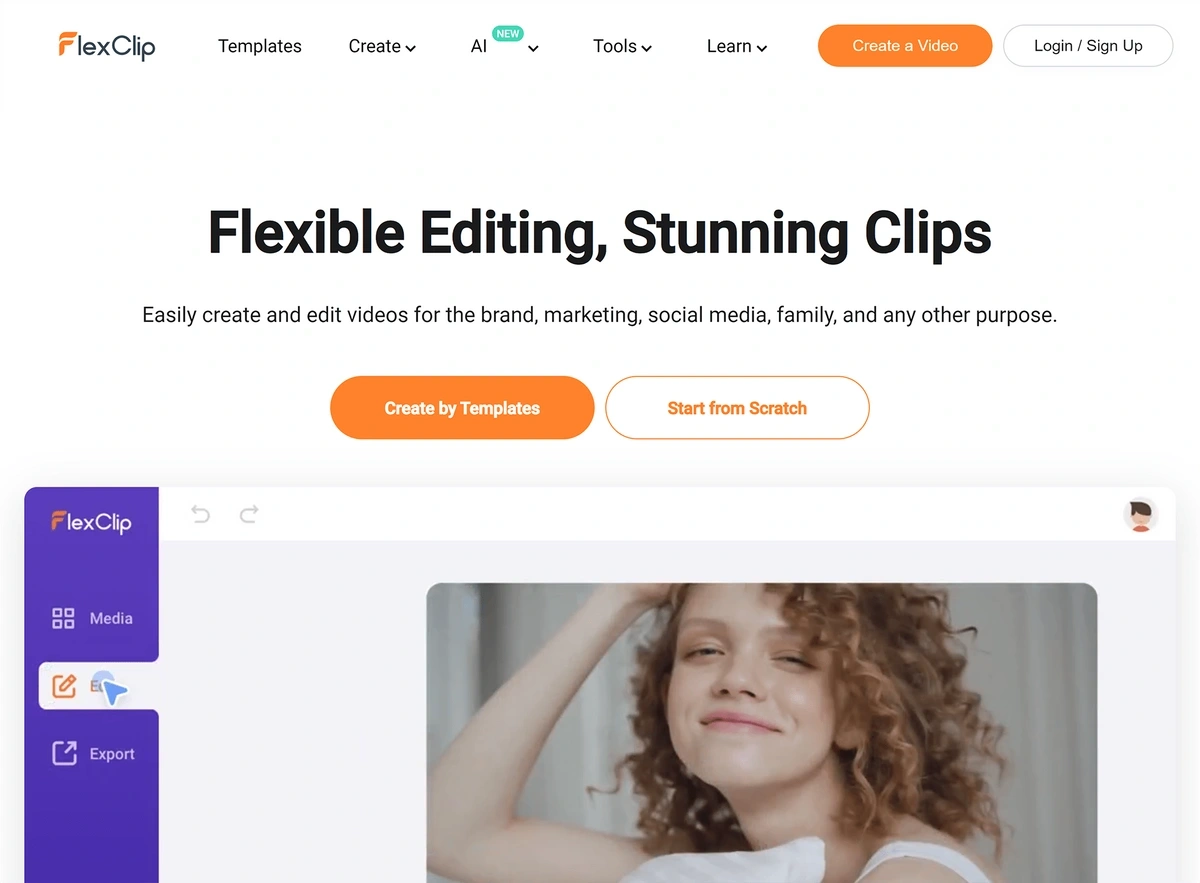 Upon logging into the app, you're thrust right into the video creation process. You can choose text-to-video, premade templates, or upload your own files to get started.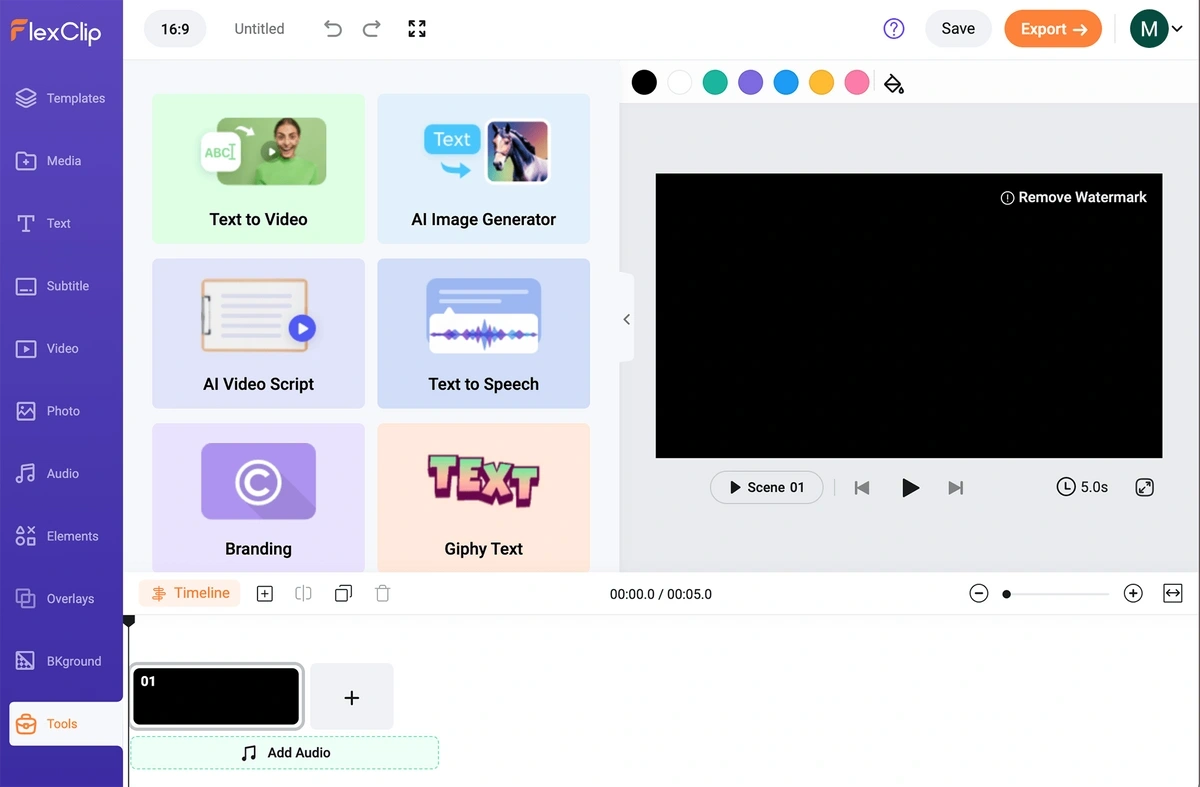 One interesting feature that makes FlexClip an attractive choice for the creative professional is that AI image generation is built right in.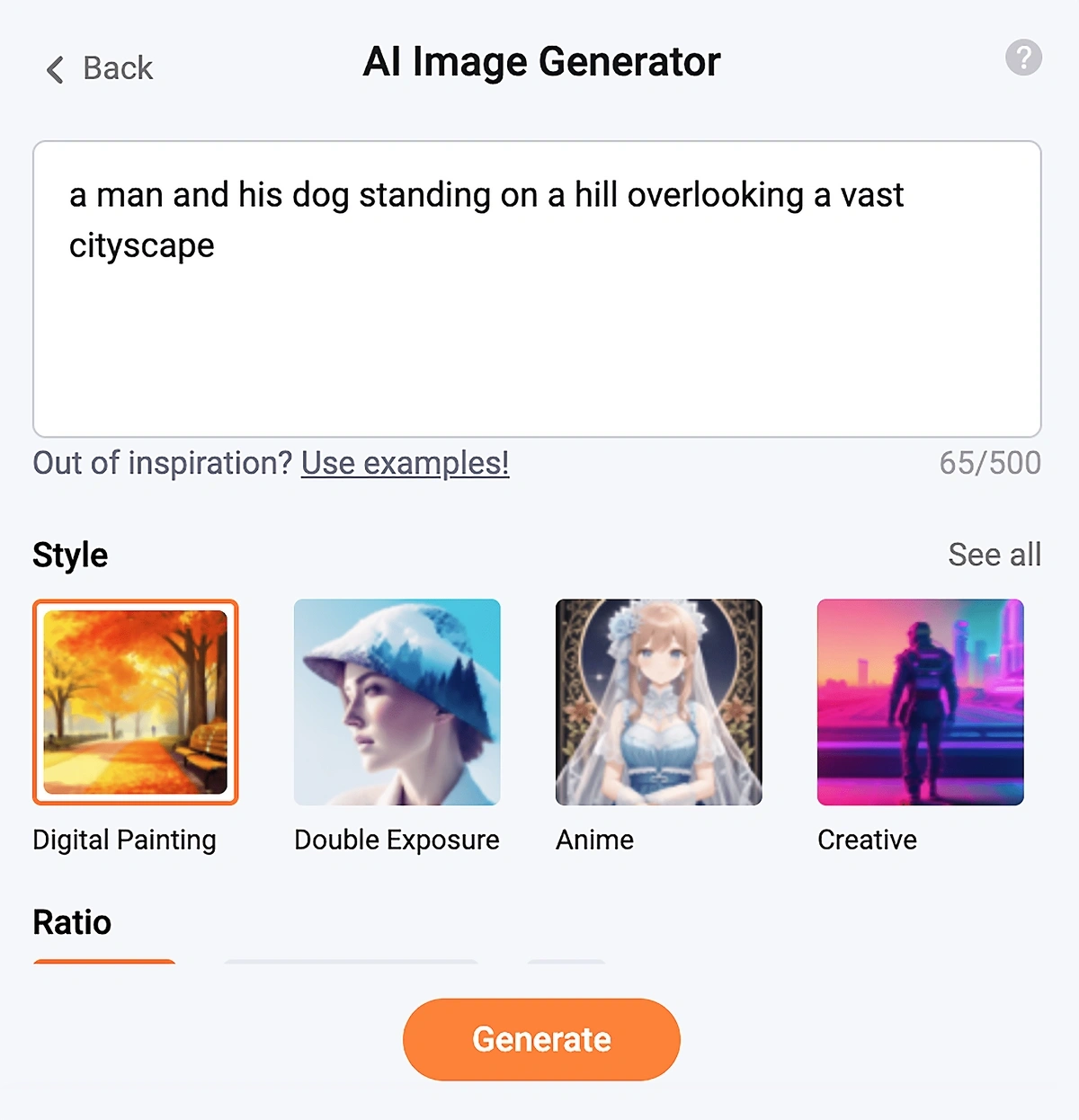 If you're familiar with AI image generators, this will come as a welcome surprise. You don't need to settle for stock footage that might have been used by other people. Instead, you can create your own unique art to put into your video.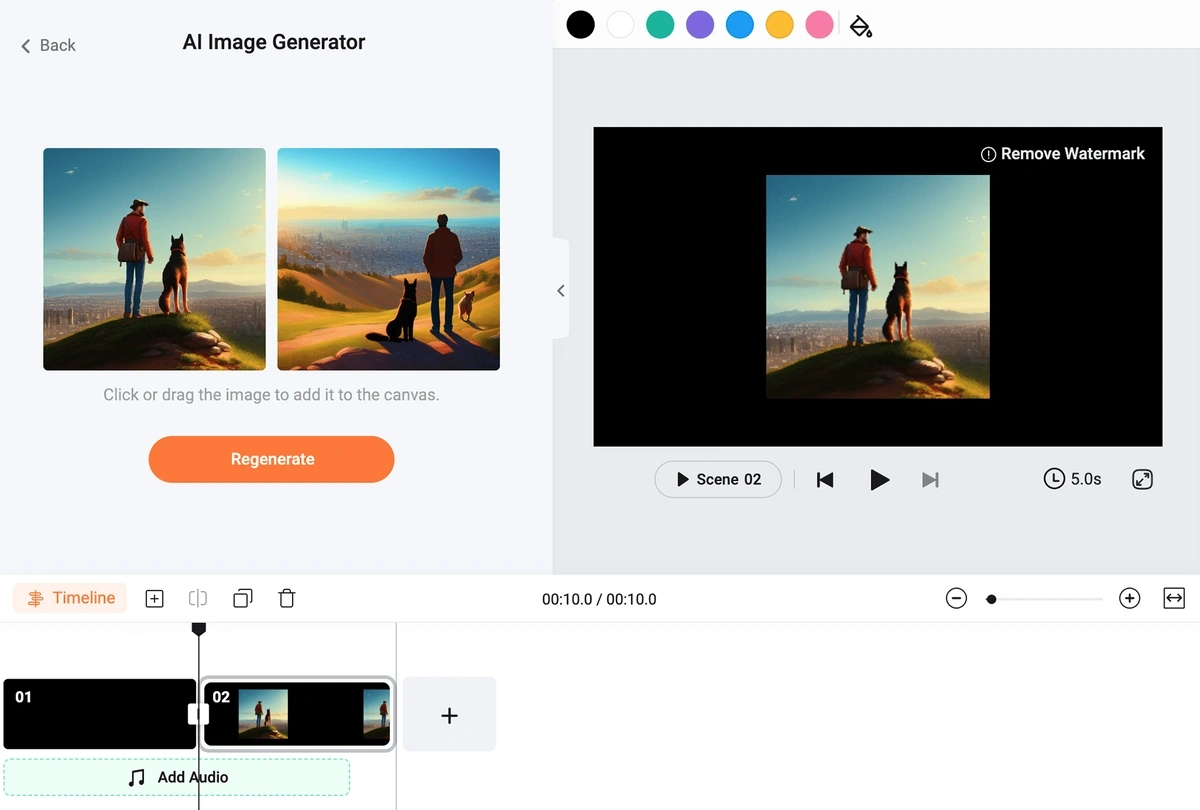 Pricing
You can start using FlexClip with a free trial, just to try things out. After that, you can upgrade to the Plus plan for $20 per month or the Business plan for $30 per month. That price gets cut in half if you pay annually, which makes this a more attractive option.
Pros and Cons
Pros
Built-in AI image generation
Includes cloud storage for your videos
Relatively inexpensive
Cons
No resize option yet (only 1920x1080 pixels)
No AI avatar functionality
Pricing plans could be more flexible
10. Colossyan
Decent selection of AI avatars
Plenty of stock photos and videos to use
Our number 10 pick is Colossyan, offering a range of standard features you'll find in most AI video generators. Similar to Lumen5, Colossyan is more slimmed down and simple than many of the other options on our list.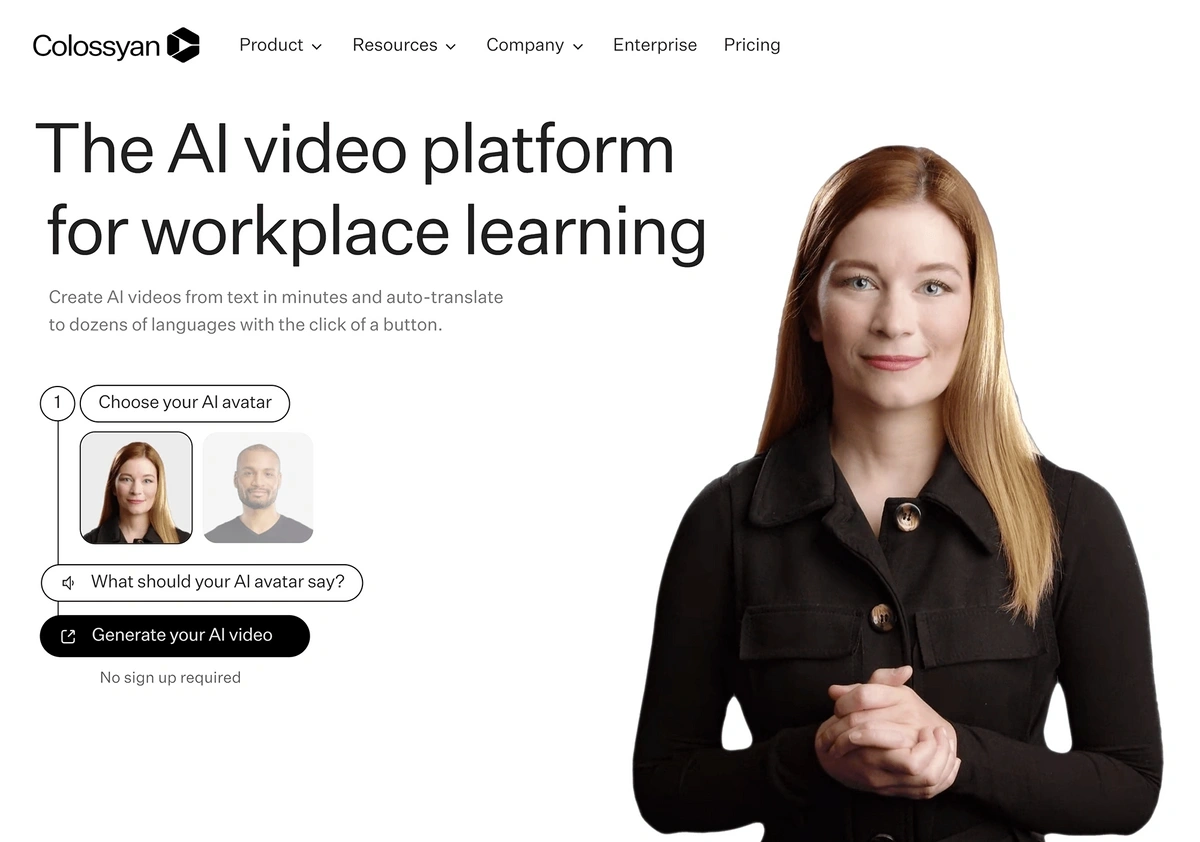 Its editing options might be limited, and you can't convert videos from multiple sources like articles or documents. But it makes up for it by providing a streamlined approach to creating videos with AI avatars.
As a result, it might be the best option for corporate internal communications as opposed to single content creators. If you want to make a quick explainer video to send out to your staff, you don't need to fuss with all of the extras and effects that might waste valuable time, and instead focus on putting a face to a name.
You can quickly get started by selecting a premade avatar. From there, you can choose stock footage from the vast library of included images and videos.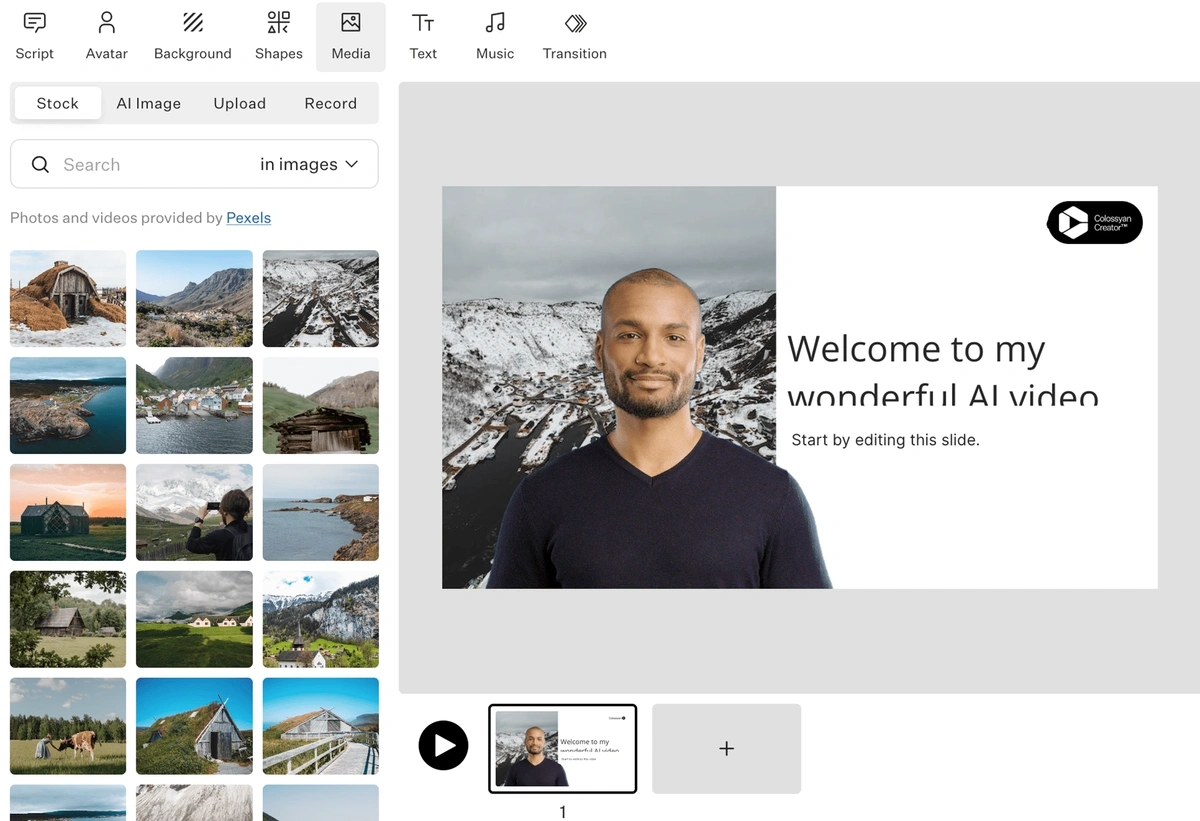 Pricing
Colossyan lets you get started for free, and they offer several flexible pricing options when you want to upgrade.
You can opt for the Starter plan at $35 per month, which gives you a sliding scale pricing model if you need more than the allotted video credits. For instance, if 10 minutes of video per month is not enough, you can slide the scale up to 60 minutes of video, which will run you $192. Volume users might be better with the Pro plan, which starts at $120 per month.
Pros and Cons
Pros
Selection of premade AI avatars
Uploaded your own media, photos, and audio
Straightforward and easy to use
Cons
Limited options for source material and scripting
Very expensive for volume users
Wrapping Up
Whether you're a beginner just starting to navigate AI video or a seasoned creator seeking to streamline your workflow, there's a tool tailored for you. Despite their varying strengths and weaknesses, these AI video generators hold a common thread: they have the potential to change video content creation, saving you both time and effort.