10 Growing Crowdfunding Startups (2023)
You may also like:
The COVID-19 pandemic led to significant growth in smartphone-based investing apps like Robinhood and niche financial communities on sites like Reddit. Importantly, this also led to a newfound interest in pooling resources for investment purposes: also known as crowdfunding.
Crowdfunding, which is simply sourcing small amounts of money from a large number of people, is a relatively new industry with a size of around $17.9B as of 2022. However, that's projected to more than double by 2030.
Crowdfunding is attractive for a few different reasons. Investors can access assets that are usually reserved for accredited investors, like commercial real estate. And niche investments, like art, sports collectibles, and movie memorabilia are usually too expensive for the average investor to afford. But are now accessible thanks to crowdfunding.
Scroll below for our list of exciting crowdfunding startups that are changing the game for fundraising worldwide and providing access to exotic investments to millions of new investors.
1. Republic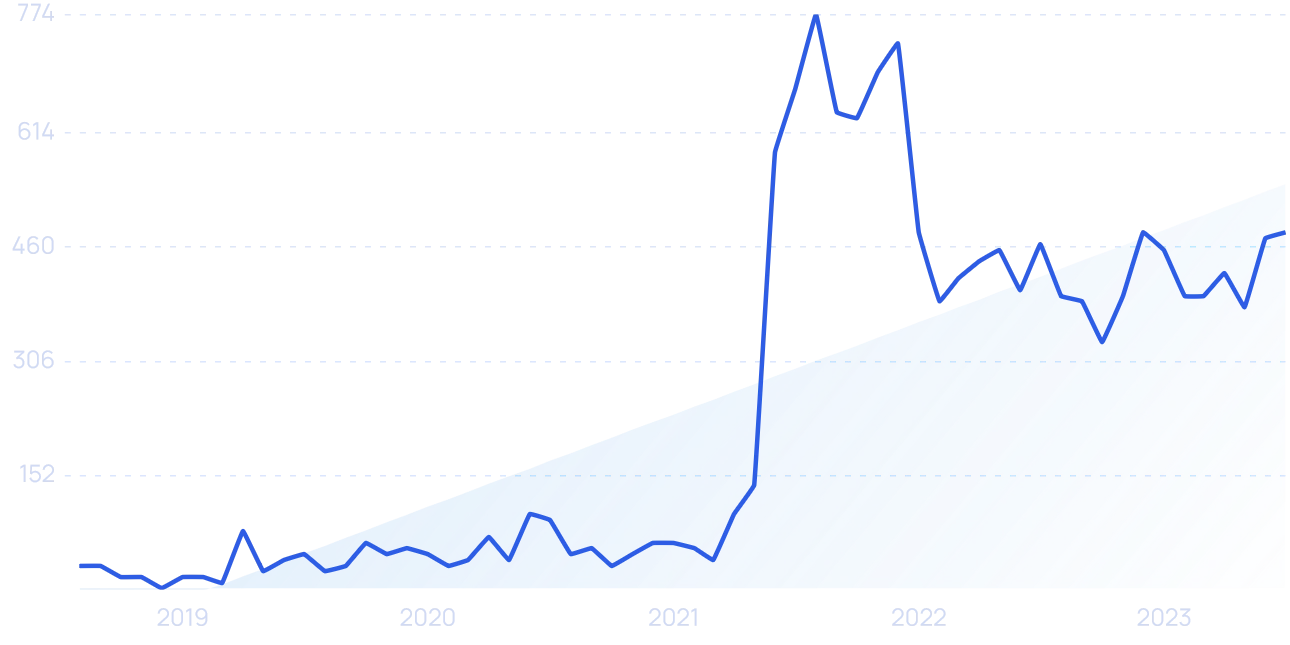 5-year search growth: 2100%
Search growth status: Regular
Year founded: 2016
Location: New York City, New York
Funding: $214M (Series B)
What they do: Republic's team has identified several investment areas where Millennials seem to be most interested: crypto, real estate, video games, and startups. With innovative opportunities like "city funds" that focus on real estate in Miami, Austin, and similar dynamic cities, investors get access to exotic assets that are more interesting than your typical index fund. Republic has already facilitated over $1B in investments from over 2.5M people globally, and their team has expanded to six countries. Backed by brand names like Motley Fool, Galaxy Digital, and Binance, the future looks bright for the NYC-based Republic.
2. Spotfund
5-year search growth: 700%
Search growth status: Regular
Year founded: 2015
Location: New York, New York
Funding: $1.5M (Seed)
What they do: Spotfund's platform helps folks fundraise for charities and causes without charging any platform feeds to the fundraiser. Trusted by brands like Marvel, Tao Group, Creative Artist Agency and more, their streamlined process also allows users to share their campaigns in social media-friendly formats while having access to Spotfund's customer care team.
3. Patreon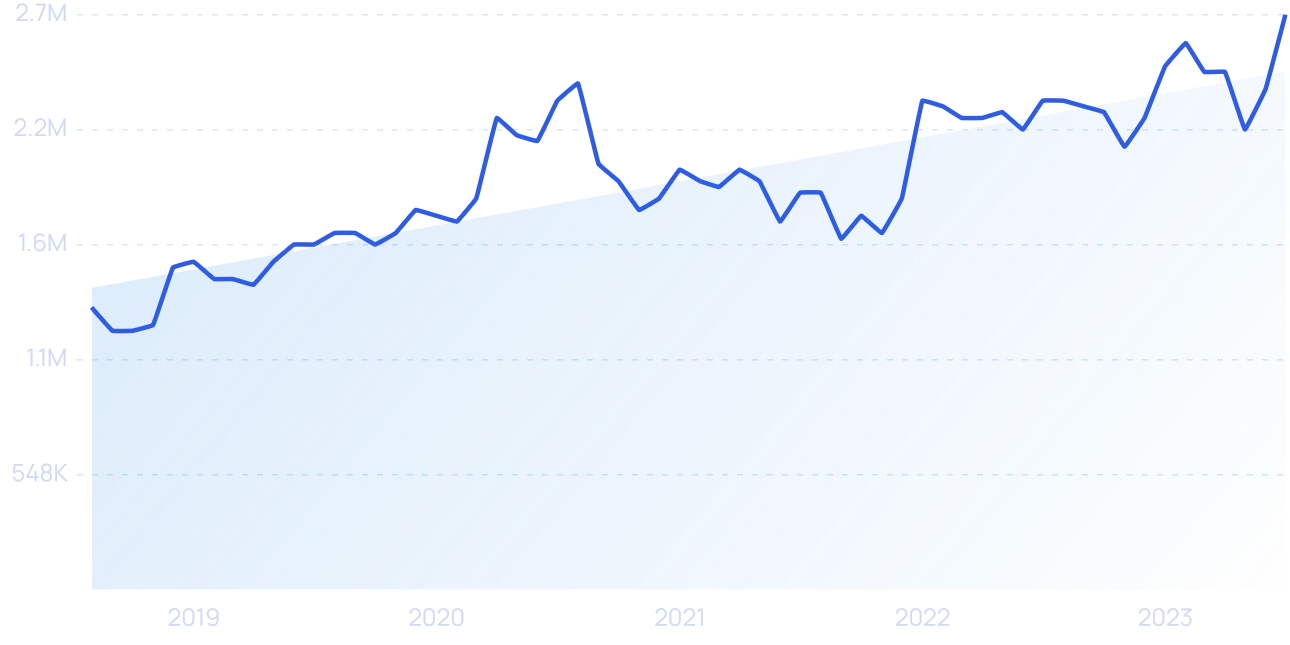 Search growth status: Exploding
Year founded: 2013
Location: San Francisco, California
Funding: $353.3M (Secondary Market)
What they do: Patreon's crowdfunding platform has taken off since its inception in 2013, with over 6 million patrons joining in the last 3 years alone. Creators can set up a profile on Patreon displaying their craft, their music, or whatever other creative projects they're working on. "Patrons" or supporters, can then set up monthly or one-time donations to support their favorite artists. Creators on Patreon make $1B annually, and Patreon itself now boasts a staggering $4B valuation (post-money).
4. YieldStreet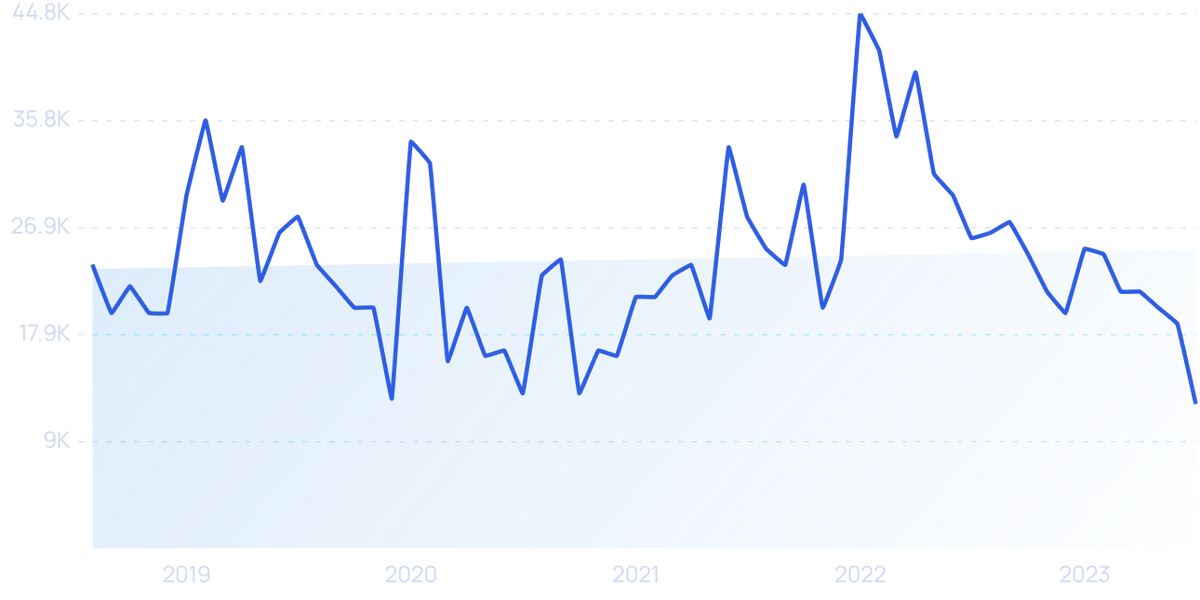 5-year search growth: -23%
Search growth status: Peaked
Year founded: 2015
Location: New York City, New York
Funding: $728.5M (Debt Financing)
What they do: Since its inception, over $1.8B has been raised on YieldStreet's alternative investment crowdfunding platform. Boasting a membership base of over 400,000, YieldStreet's early 2015 start helped it get ahead of the curve in terms of its crowdfunding competitors.
5. Fundrise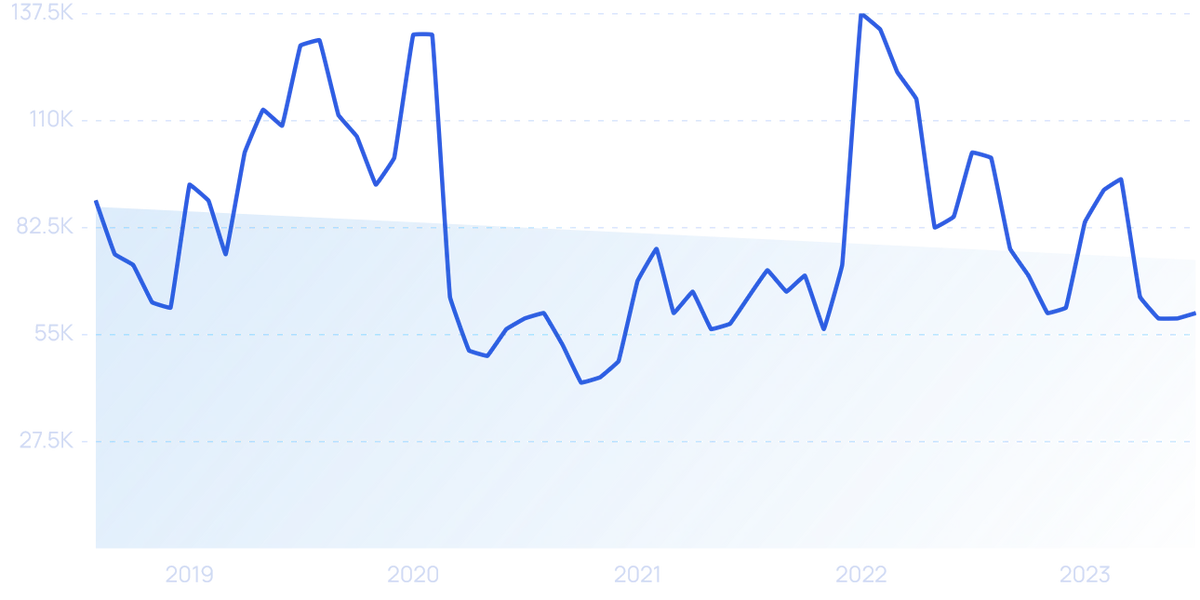 5-year search growth: -25%
Search growth status: Peaked
Year founded: 2010
Location: Washington D.C.
Funding: $355.5M (Corporate Round)
What they do: When it comes to investment types, real estate has one of the highest barriers to entry. It takes region-specific knowledge, industry connections, and multiple forms of financing to own a successful real estate portfolio. Enter Fundrise. Fundrise lets everyday investors own a portfolio of high-quality institutional level real estate usually reserved for the uber-wealthy. With over 330K active investors, $7B in total asset transaction value, and $194M earned in net dividends, Fundrise is one of the major players in the crowdfunded world of real estate.
6. Realty Mogul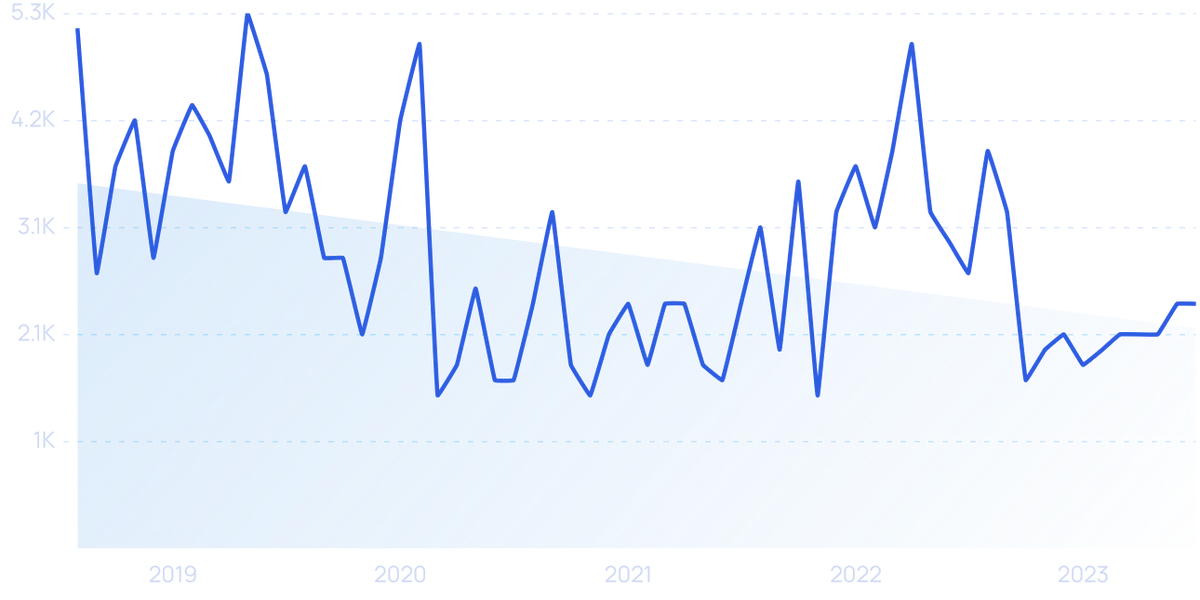 5-year search growth: -33%
Search growth status: Peaked
Year founded: 2012
Location: Los Angeles, California
Funding: $45.1M (Series B)
What they do: A crowdfunding startup that is 100% focused on real estate, Realty Mogul's base boats 245,000 investors, $950 million plus invested, and over $5.5B in deals available for investment. With an acceptance rate of only 1.1%, this means that out of 30,000 potential deals that Realty Mogul has done due diligence on, only 300 commercial properties were accepted.
7. BackerKit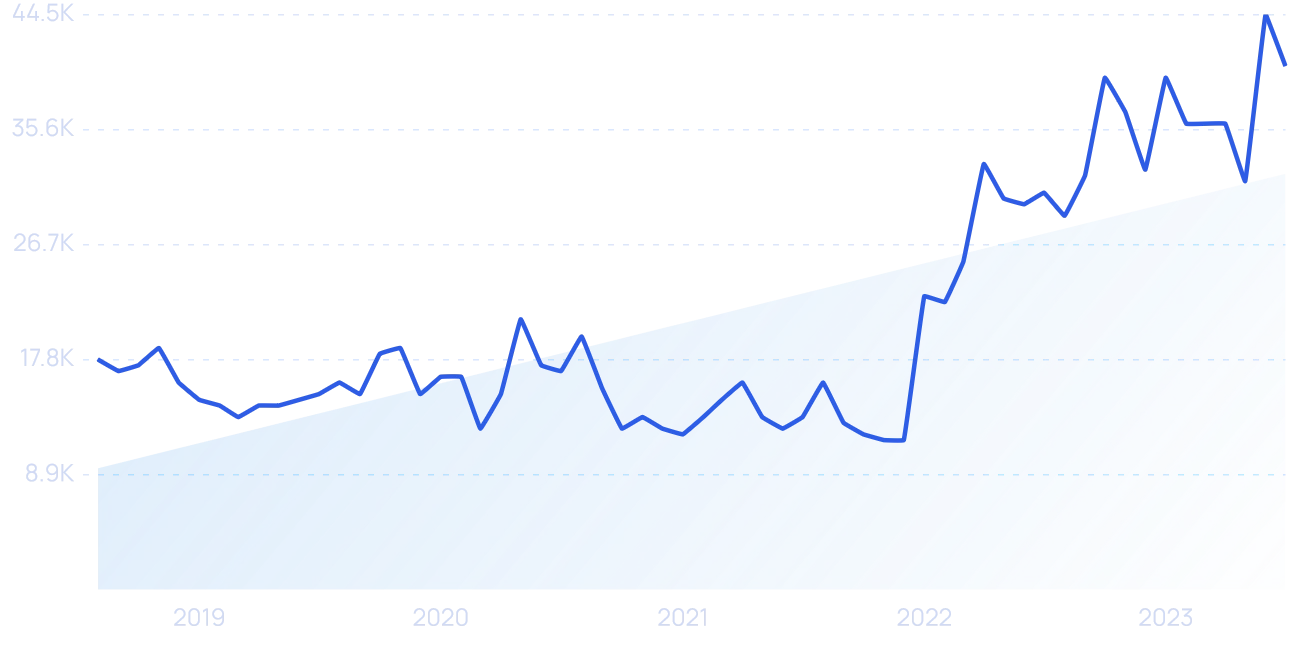 5-year search growth: 144%
Search growth status: Exploding
Year founded: 2012
Location: San Francisco, California
Funding: Undisclosed (Pre-Seed)
What they do: So you've launched a successful crowdfunding campaign and the dollars are rolling in. Great. Now, what do you do? BackerKit recognized the immense amount of work that goes into managing campaigns, pledging gifts, delivering rewards, and keeping the community you've just built engaged and informed. Backer Kit's software manages the whole crowdfunding process from start to finish. Creators who partner with BackerKit typically earn 15% more than those who don't. $370M has been raised on BackerKit, with a vibrant Creator user base of over 10,500+ using their proprietary software to manage campaigns.
8. FundRazr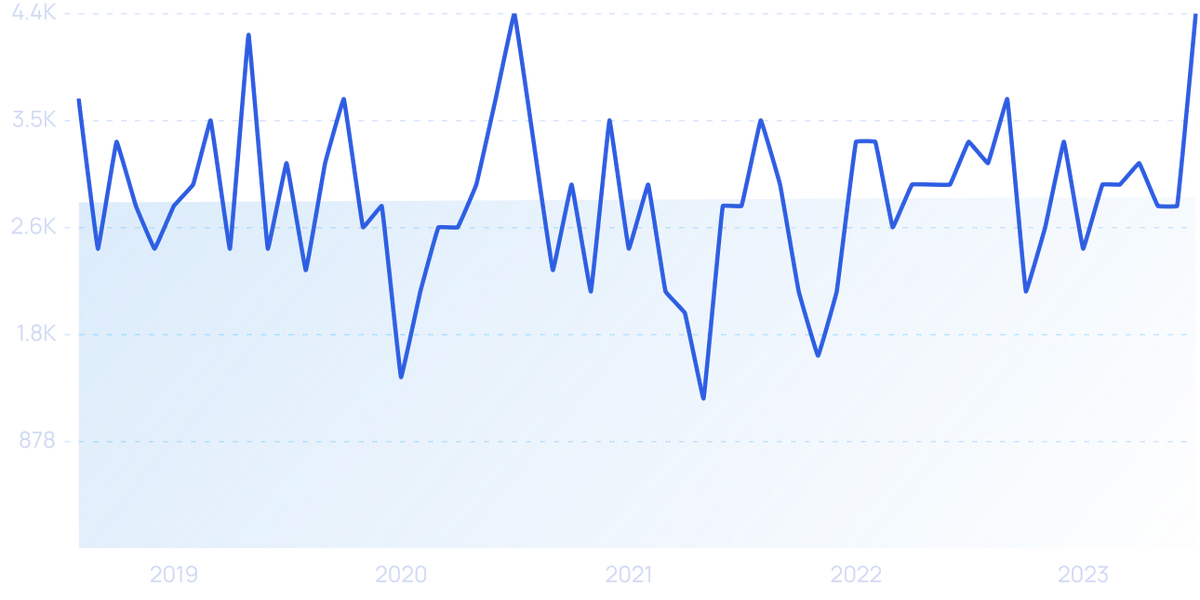 5-year search growth: 267%
Search growth status: Peaked
Year founded: 2008
Location: Vancouver, Canada
Funding: $245K (Pre-Seed)
What they do: Crowdfunding-as-a-service isn't a common phrase, but FundRazr's free online platform aims to put powerful cloud-based crowdfunding software in the hands of organizations and individuals who need it most. Named as a top 10 crowdfunding site by Forbes, FundRazr has launched over 200,000 fundraising campaigns and raised over $220M since they began. Think of FundRazr like PayPal. Instead of a separate fundraising website or portal, FundRazr integrates into an existing website and embeds donation functionality directly on-site.
9. Rally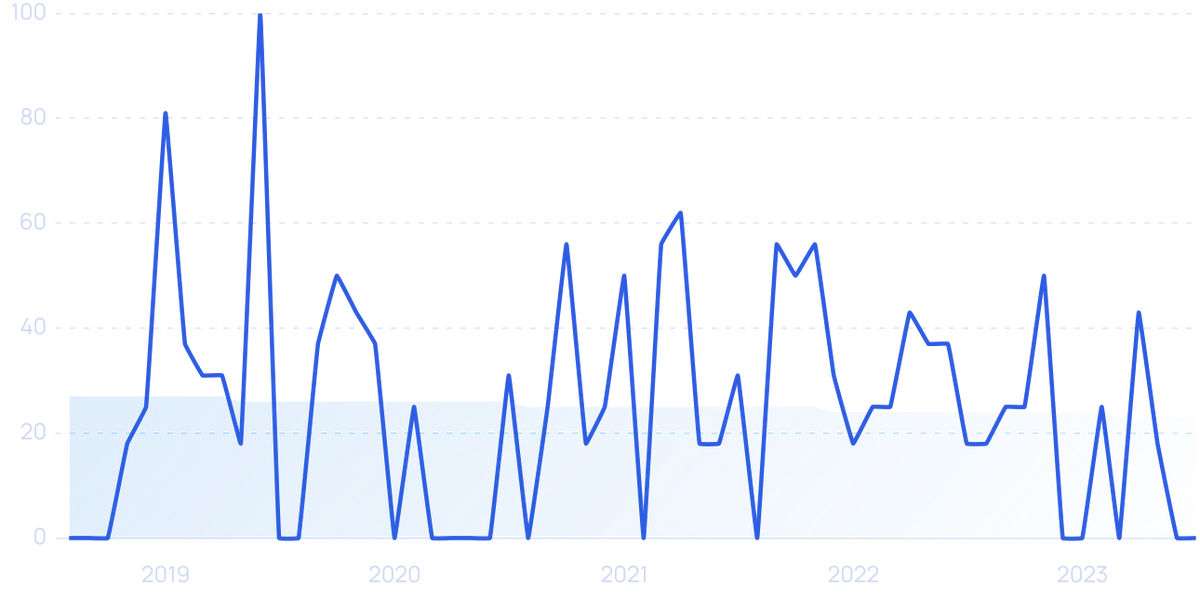 5-year search growth: 200%
Search growth status: Peaked
Year founded: 2016
Location: New York, New York
Funding: $109.1M (Series B)
What they do: Before Rally came along, it was difficult or near impossible to buy partial shares in rare, tangible assets like signed guitars or first edition Pokemon cards. Today's Millennial investor is interested in more than index funds and 401K's, and Rally recognized that gap in the marketplace. By offering $11 shares in limited edition Michael Jordan Air Jordan's, or an original edition Shakespeare from 1685, investors can own physical assets that are nearly priceless (or way too costly to buy individually). Rally has earned widespread praise from publications like Forbes, WSJ, Bloomberg, as well as numerous Millennial-created investing podcasts.
10. Fundable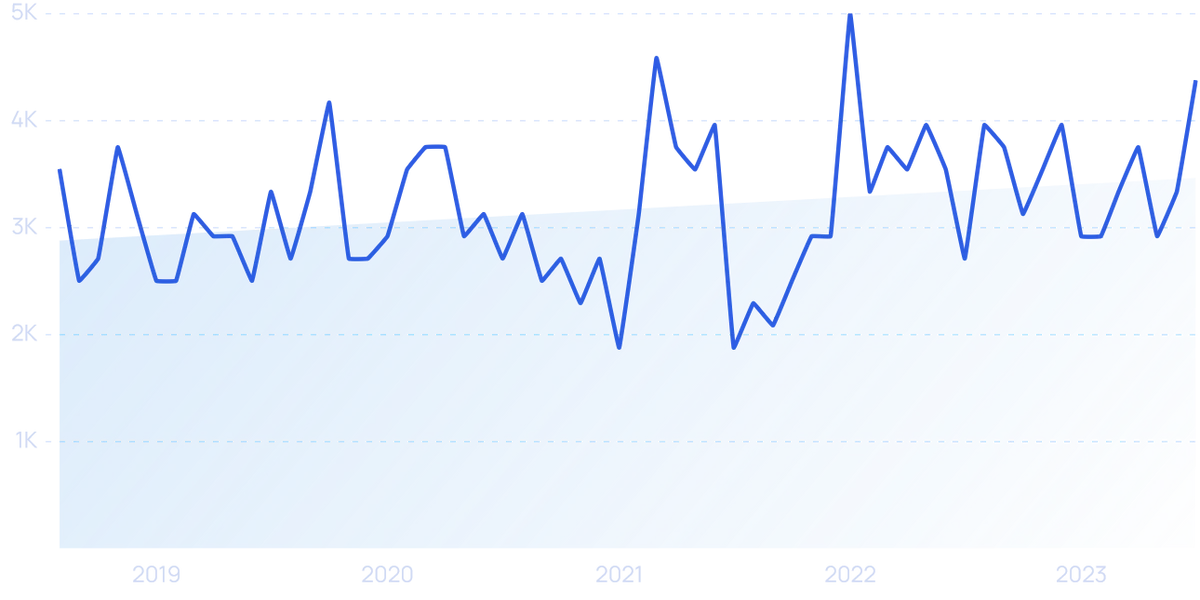 5-year search growth: 36%
Search growth status: Regular
Year founded: 2012
Location: Powell, Ohio
Funding: Undisclosed
What they do: Instead of focusing on individuals and sourcing crowdfunding, Ohio-based Fundable has taken a different approach. Crowdfunding solely for companies. Over $615M has been funded to various startups that were seeking an alternative route to traditional fundraising (like venture capital and equity investors.) Fundable operates by taking a percentage of investments raised through its platform.
Conclusion
As Millennials and Gen Z continue to enter their peak earning years, crowdfunding platforms are likely to become even more significant than they are today. With a totally different investment thesis than older generations, crowdfunding represents investing in things that have real meaning and impact for the people investing in them.
Follow these startups as the democratization of investing continues to unfold worldwide to traditionally underrepresented and underserved groups of young investors.