How to Find Startups to Invest In (Tools and Strategies)
Most investors rely on their network to find the best up-and-coming startups to invest in, though this strategy has a few drawbacks.
First, deal flow quantity and quality is directly correlated with your network, which is a major disadvantage for newer investors and those with smaller networks.
It is also not a particularly proactive investment strategy, which means you'll probably miss out on deals in newer industries or megatrends with which your network isn't familiar.
So if you're serious about finding the best startups to invest in, here are a few methods to proactively research new startups.
Exploding Topics
If you want to proactively research startups to invest in, start by finding megatrends with sustainable growth.
Rick Heitzmann, the founder of FirstMark Capital, says, "We believe that the best opportunities don't always walk into our office. We identify and research megatrends and proactively reach out to those entrepreneurs who share a vision of where the world is going."
If you select the right megatrend, your chances of making a good investment increase significantly as you've narrowed it down to just a few companies with a first-mover advantage.
So how do you discover new megatrends, and better yet, how do you determine if it's a sustainable megatrend?
We couldn't find an easy answer to this question, so we built Exploding Topics to answer it for us.
Today, Exploding Topics is a database of over 13,000 manually approved trends to help uncover exciting new trends you didn't even know about.
How to Use Exploding Topics For Startup Research
When you look at the Exploding Topics database, you'll find thousands of keywords that have shown promising Google search volume growth over the past several months/years.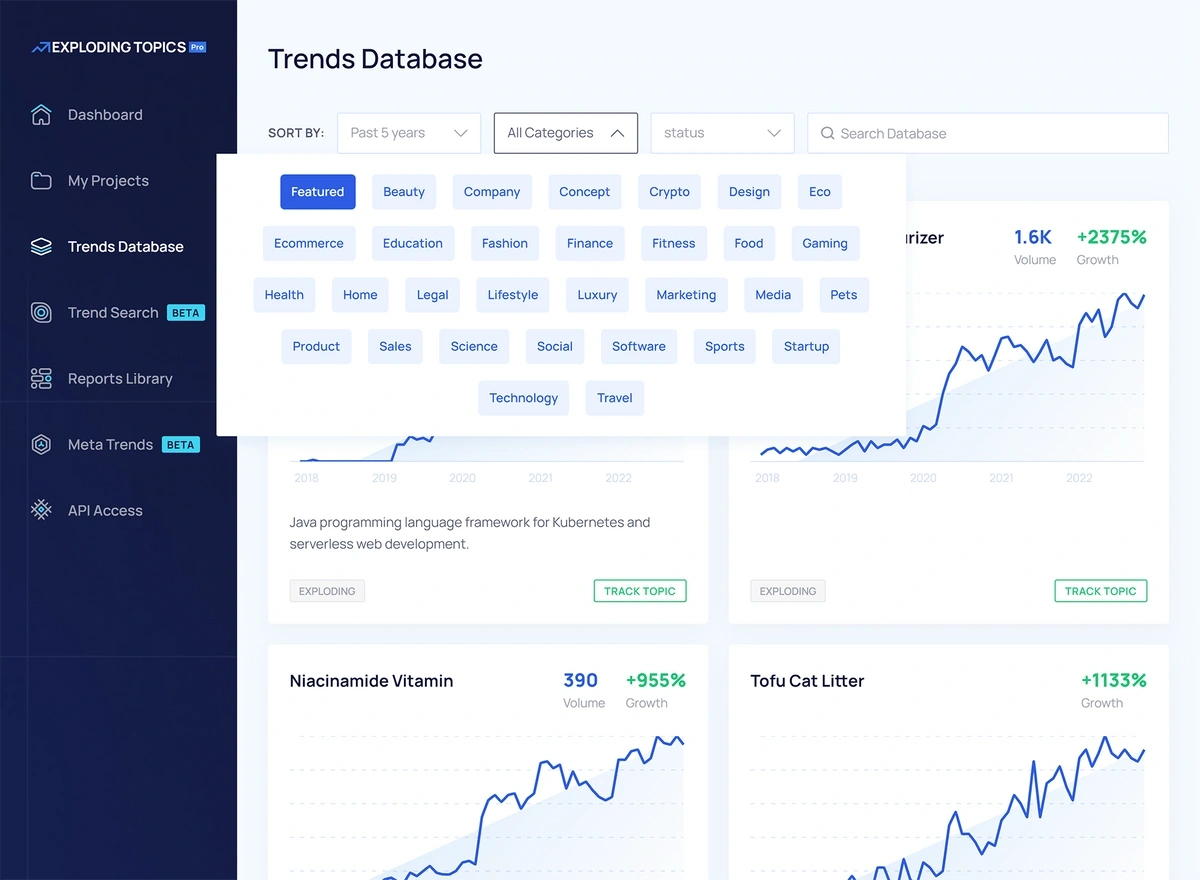 These topics, which include companies, products, and industry keywords, can help you discover interesting megatrends you never knew existed.
For example, if you invest in the Fintech space, you'll see that search volume for the term "embedded finance" is exploding. That might be a niche you'll want to invest in, so you can click "Track" to save it to a project.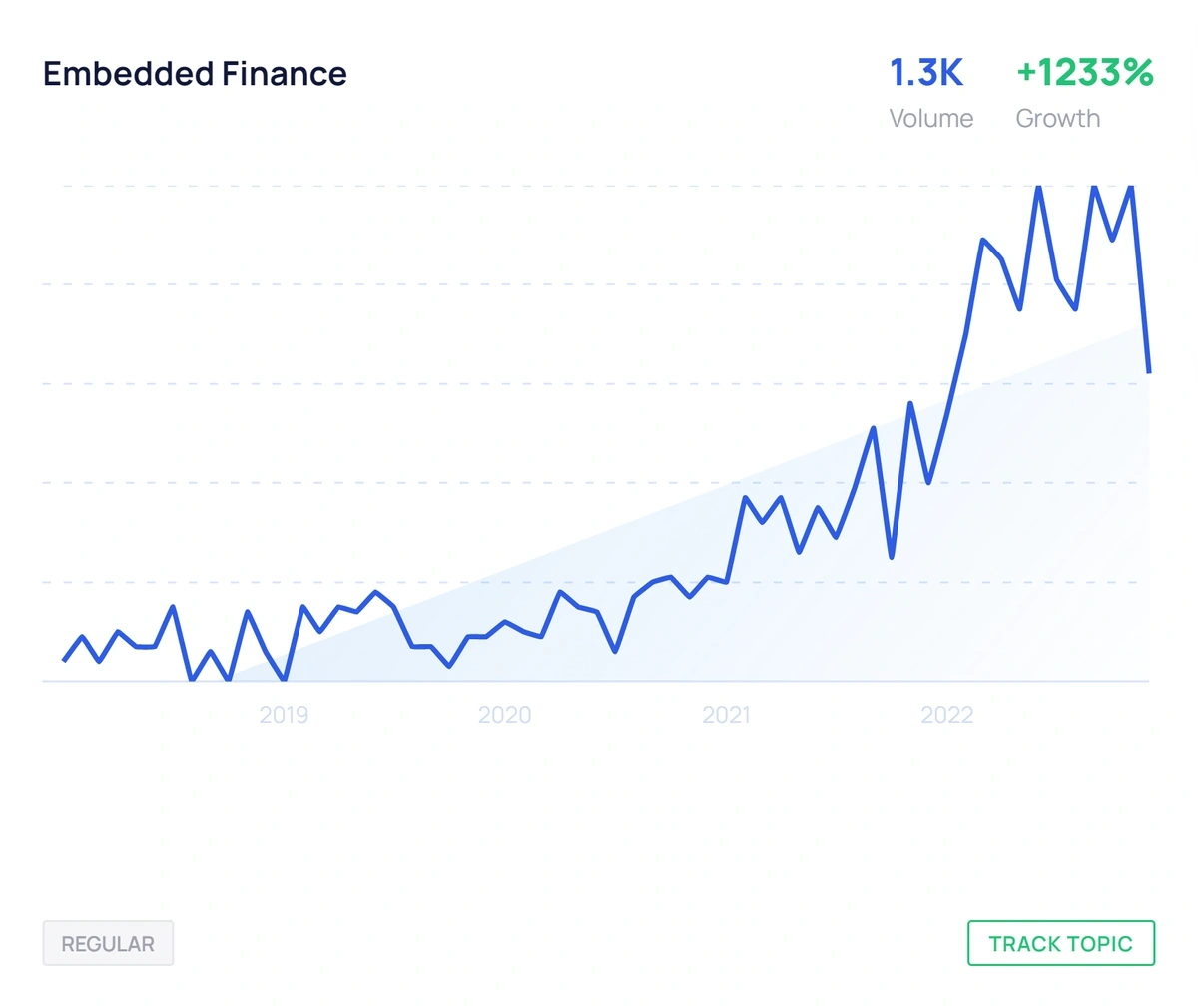 Similarly, you'll see that the company GoodLeap has seen steady search volume growth over the past several years.
So you might want to research financing for residential solar fintech trends and either invest in this company directly or one of its competitors.
As you can see, Exploding Topics makes it easy to find the unknown unknowns – the new trends you didn't even know existed. Once you've uncovered a trend, you can research it in more detail and find other startups in the space.
How Does Exploding Topics Find and Determine Trends?
Plenty of tools can generate a list of popular topics frequently mentioned across the internet.
However, most of the topics on these lists are irrelevant to investors.
So we wanted to make sure that the trends listed in the Exploding Topics database were both:
Relevant to business (rather than celebrity gossip or pop culture trends)
Sustainable (steady growth on an upward trajectory rather than a fad)
So a key differentiator between Exploding Topics and other topic generators is that we leverage both AI and human data analysts to approve each trend.
Here's an overview of how we collect trend data.
First, the Exploding Topics algorithm scans the internet (Twitter, YouTube, Reddit, Amazon, Google, etc.) and flags frequently mentioned topics.
Then, a human analyst manually combs through the data and throws out trends that don't have any business value.
Once a trend is approved, it is added to the database.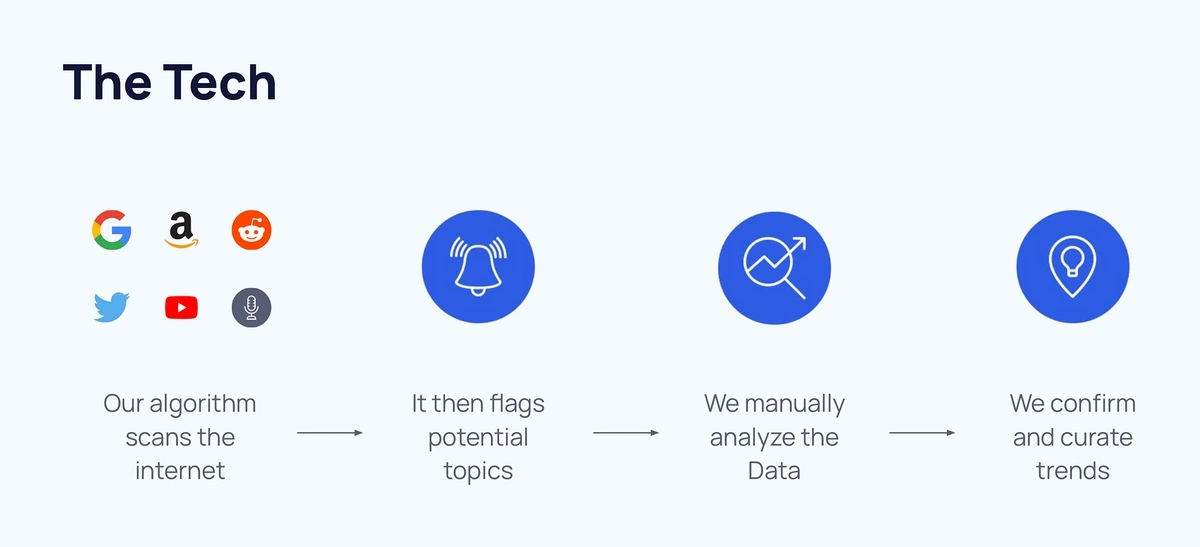 Objection: How do I know each trend in the database is a real trend and not a fad that might die in a few weeks?
We use Google Search volume data to evaluate each keyword and only include those that have shown compounding growth for an extended period of time (usually six months or more) are added to the Trends Database.
Assuming a topic is steadily growing at a compounding rate for several months, there's a good chance it hasn't peaked yet and is worth considering during your investment research.
Additional Exploding Topics Pro Insights
The Trends Database is the core feature you'll use most frequently, though there are a few other features that Exploding Topics Pro users can access:
Weekly Reports: This is a weekly email that introduces you to five trending startups and five trending products.
Meta Trends: If we notice that multiple trends are related (perhaps several startups in a new emerging industry), we'll list them together in the Meta Trends report.
Trends Search: While the database shows you trends you didn't even know existed, Trends Search allows you to search a keyword you already know about and access its Google search volume trend history.
To see for yourself how Exploding Topics can help you find relevant startups to invest in, you can test out the free Trends Database now!
Crunchbase is a database of thousands of startup companies, and investors can find key metrics for each startup, like fundraising history, industry, team, location, and size.
For example, you could easily filter by these metrics to find early-stage startups founded in the last two years that have raised between $3-5 million, operate with a team of 11-50 people, and are in the blockchain industry.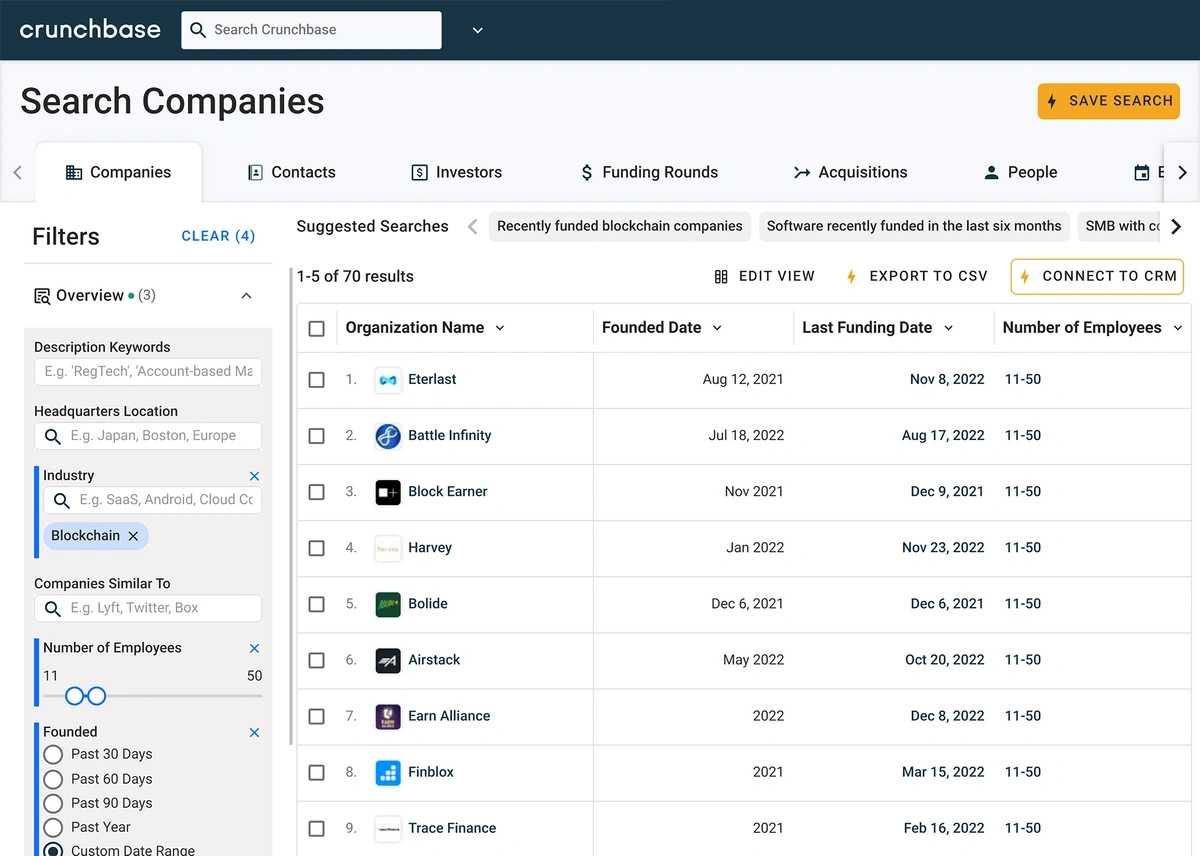 So after using a tool like Exploding Topics Pro to find new emerging industries, you can use a tool like Crunchbase to find companies in that industry.
While the free version of Crunchbase allows you to see up to five companies for free, the pro version gives you unlimited access to the database and also offers a selection of more advanced features like:
More detailed company data and buy signals
Create custom company lists and alerts
CSV export
Sync with Salesforce
Crunchbase can be used by anyone, though it tends to target venture capitalists and employees at venture capital firms.
AngelList is a great place for angel investors to find investment opportunities. It's designed for accredited investors who don't really want to put in the work to research new industries and companies and prefer to invest alongside other investors.
AngelList has three main offerings for investors:
Rolling Funds: Subscribe quarterly and invest alongside notable venture capitalists. You can change your investment size and goals each quarter.
AngelList Access Funds: This allows you to write a single check and invest in hundreds of high-quality deals and funds led by top investors. This improves the diversification of your investment portfolio and helps reduce risk.
Syndicated Investments: This gives you more control over your investment portfolio as you can invest in startups on a deal-by-deal basis alongside leading investors.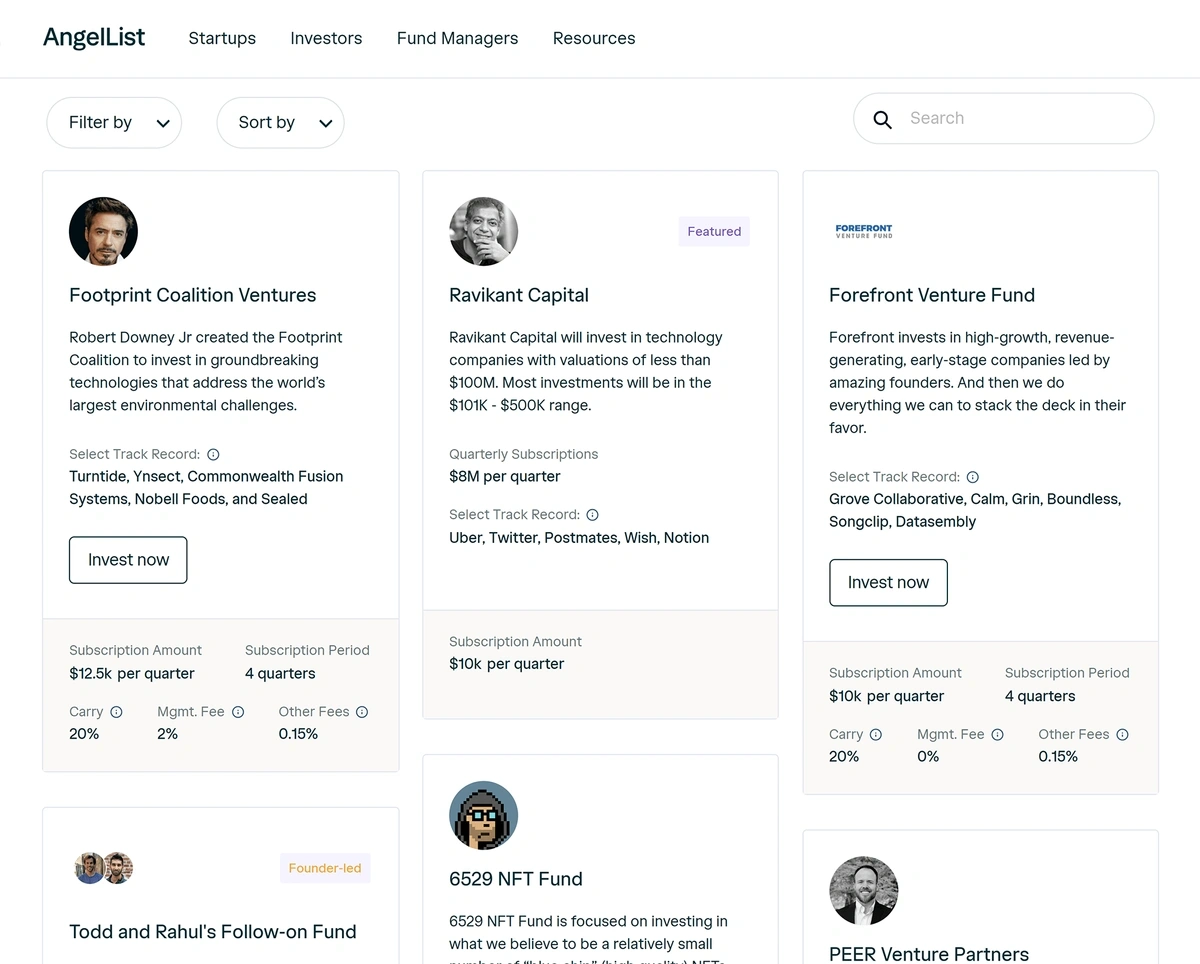 Another interesting offer they have are Demo Day funds, which works along Y Combinator and allows users to invest in YC companies from that year's batch.
AngelList has a higher barrier to entry as they require that users have either worked in, invested in, or advised a startup and are accredited investors.
Kickstarter is a crowdfunding platform that allows anyone (rather than just accredited investors) to invest a small check in a project. Projects can be anything from a book to an app, and creators can create backing pledge offers of between $1 to $10,000 for U.S. based projects (it's a similar amount for other countries as well).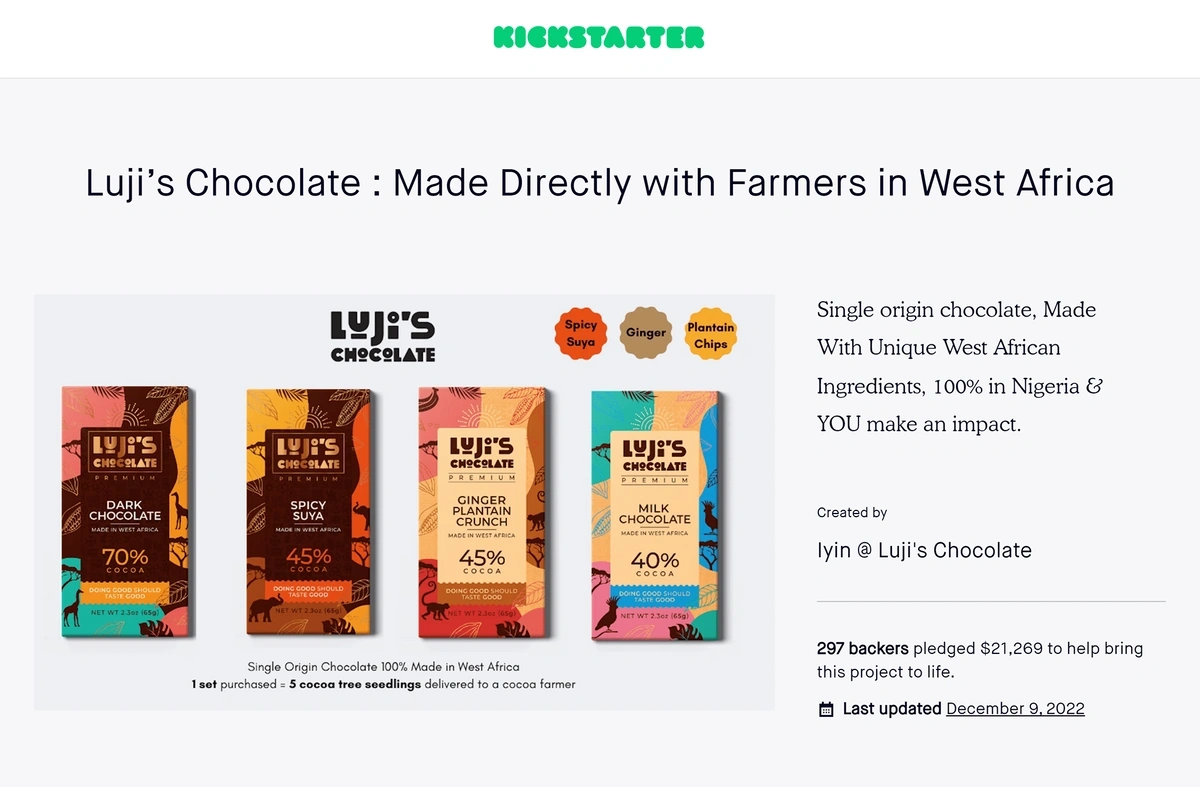 The backer's credit card is charged if the project meets the fundraising goal, though if it falls short, backers don't pay a cent.
However, pledging to a kickstarter project isn't the same as making a startup investment because creators retain 100% ownership of their work. So while you won't have any equity in the company, you might receive free products or other rewards, and creators are required to give you growth updates.
So while Kickstarter isn't a traditional investing platform, it can be a great place for non-accredited investors to support projects they love.
Twitter is a great place to stay up-to-date with industry trends, as plenty of investors, founders, and other entrepreneurs are active on the platform.
While it's not really a search platform, you can use it to curate a useful information diet.
To make the most of Twitter, follow investors and other industry leaders.
For example, if you plan to invest in fintech companies, search "fintech investor" and then sort by People: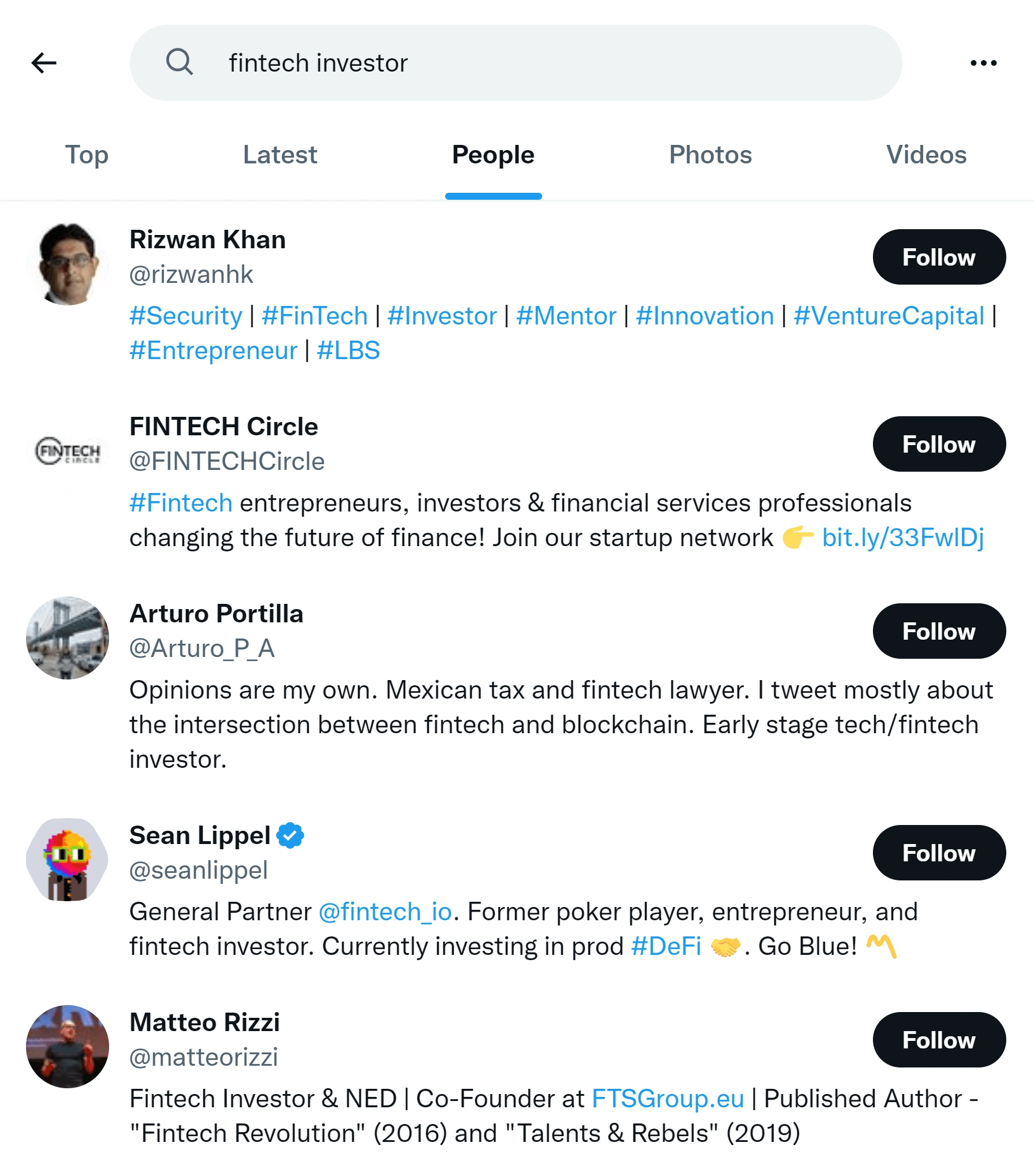 Another option is to find people you already follow and respect and then find the people they follow. For example, I follow Andrew Wilkinson and found that he follows fintech investor Sheel Mohnot, so that's another person I could also follow.
As you can see, Twitter isn't really a platform that allows you to proactively research investment trends, though it can certainly help you stay up to date with general industry news.
Twitter is also a great platform to create real relationships with other industry influencers. For example, if there are a few people that you want to know, you can start by commenting on their posts and engaging organically. Once they've seen you engaging organically, you can send a private message to take the relationship to the next level.
Keep in mind that the best way to build a relationship with someone is to help them out, so make your initial DM a "give" rather than an "ask."
For example, if you notice that the influencer is looking for hiring recommendations, look in your network and see if you can recommend someone.
Attending Conferences
For every successful startup, there are usually several failed startups with similar ideas.
So what separates the failed ones from the successful ones?
A key difference between startups that fail and those that succeed is the leadership team.
So in addition to researching trends and company valuations online, talk to people in real life.
This is a key reason why attending conferences is another great way to find startup investment opportunities.
Some of the popular startup conferences that you can attend include:
If there's a particular industry that you want to invest in, you can also attend a conference for that particular industry. For example, if you want to invest in fintech, you could attend the New York Fintech Week event.
The key to making the most of these conferences is to focus on creating a few deep connections rather than handing out as many business cards as possible.
So consider contacting interesting co-founders attending the conference and plan a small group dinner.
Here's a great example of how ChartMogul's founder hosted a dinner for a handful of people the founder wanted to get to know:
Big thanks to Nick & the @chartmogul team for their incredible hospitality at the founders dinner at #SaaStr #P9family https://t.co/UyWfpxd4tK pic.twitter.com/H32ulcJ5rg

— Mark McDermott (@mr_mcd) September 28, 2021
Podcasts
Podcasts are another great way to stay updated on the latest trends and learn about new startups. Unfortunately, podcasts are similar to Twitter in that they don't allow you to proactively search trends or startups, but they can help you keep a pulse on the industry.
So how do you find the best podcasts to listen to?
If you're interested in investing in a particular industry, you can find podcasts either about that industry or hosted by investors in that industry.
If there is a particular investor you respect, you can also do a deep dive on that person and listen to several episodes they've done across various podcasts.
For example, if you like Garry Tan's investing strategy, you can do a quick Google search and find all of the podcasts he's been on:
Podcasts are unique because they give you a broader understanding of how a person thinks about certain trends, and they usually reveal industry nuggets that can send you in the right direction for further research.
Demo Days
Another great way to find startups to invest in is to attend demo days. For example, Stonks allows you to find Demo Days, and accredited investors can invest in them live.
On live demos, founders can pitch their products, and people can send questions in the chat.
Even if you don't invest in these startups immediately, it can be a great place to learn about current industry trends, and you can receive an intro to the founders and build a relationship.
Mentorship Programs
Another great way to find an outstanding team of founders is to offer mentorship. This makes it easy for you to find founders and work alongside them before investing any of your money.
So it's almost like getting a free trial period with the business and its team.
Finding mentorship programs is relatively easy.
One option is to connect with entrepreneurship programs at local universities. To give you an example, Arizona State University offers an entrepreneurship program called Venture Devils that connects new founders with local mentors. It also offers a demo day where investors can invest in the companies.
So ask around at your local universities if they have a mentorship program.
Another option is to become a mentor for an accelerator. For example, the accelerator IMPACT allows you to apply to become a mentor.
While you may or may not be able to invest directly in the company you're mentoring, it is a great way to build lasting relationships.
Companies You Use
A key reason startups fail is that they don't find product market fit. One of the easiest ways to validate if a startup has product-market fit is by being an organic customer.
So look at the companies you're currently using and ask if you can invest in the ones you love the most.
Obviously, you should still do due diligence before making an investment decision, though it can be a great way to find under-the-radar companies.
Bonus: Creating Content
While there are plenty of different ways to find startups to invest in, investors with strong personal brands typically don't have to actively look for excellent startups to invest in because great founders seek them out.
So one of the best strategies to generate high-quality deal flow is creating content and building a strong personal brand.
There are plenty of different mediums you can leverage to create content. Here are just a few of them along with a specific example you can check out:
While it doesn't matter what medium you choose, the key is picking one and being consistent with your publishing schedule.
Start Your Startup Search Today
Whether you're an established investor or just getting started, filling your deal flow pipeline can be a daunting task.
So to get started, take just one step today and research some new emerging markets.
You can Google around or talk to friends, though if you want to approach this problem more efficiently, try using the free Exploding Topics Trends Database today and browse some of the most promising trending startups.