How to Find Trending Topics: Free and Paid Tools
You can find trending topics by browsing social media platforms, industry websites, and forums like Reddit and Quora. However, you'll soon discover that this trend discovery process is time-consuming and inefficient.
It might take you hours to discover just one promising trend, and even then, you'll still have to do more research to uncover data to prove it's a trend with promising potential rather than a fad that will disappear in a few months.
So instead of showing you various methods to manually dig through data to find trending topics, we'll introduce you to a handful of the most popular trend discovery tools that do the hard work for you.
Here's our detailed analysis of the most popular trend discovery tools available and how you can use them to speed up the trend discovery process.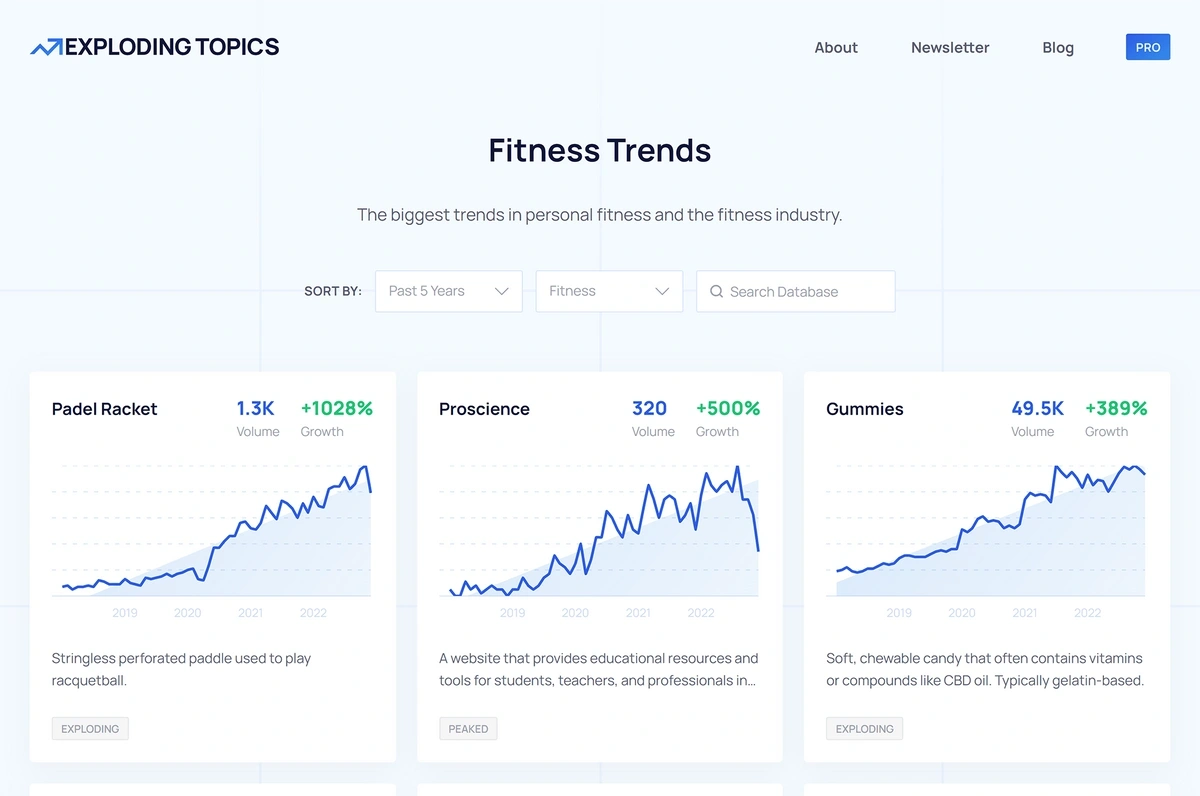 There are plenty of trend discovery tools available, though what really sets each one apart from the competition is the following criteria:
Time and effort: How quickly can you discover a trend? Do you have to personally read through reports and content (e.g., a content aggregator), or are the trending topics served directly to you?
Relevancy: Are the suggested trends relevant to your industry, or do you have to sift through many noisy trend suggestions to find one good one?
Thoroughness: Are they only scraping trend ideas from a single industry publication? If so, you'll only have access to trends that a particular source deems relevant.
Data reliability: How does the platform determine whether or not a topic is a trend? Is it based on a person's opinion, or is there statistical data supporting the growth of that trend?
As you'll see below, many trend discovery tools seem similar at first glance, though the trends you'll uncover will vary drastically depending on the criteria above.
We tried various trend discovery tools, and after failing to find one that sufficiently checked the boxes above, we decided to build Exploding Topics.
Below, we'll give you an overview of how it works, and then we'll discuss how it checks the boxes of the four criteria outlined above.
How Exploding Topics Works
Exploding Topics' flagship feature is the Trends Database, a searchable database of 13,000 manually vetted trends.
You can sort the database by category (e.g., beauty, finance, food, gaming, pets) and filter by trend growth status (Exploding, Peaked, and Regular), which is determined by Google Search volume data.
You'll see that each topic inside the database (e.g., "KudaBank" and "Scalapay") is a product, industry term, or company keyword.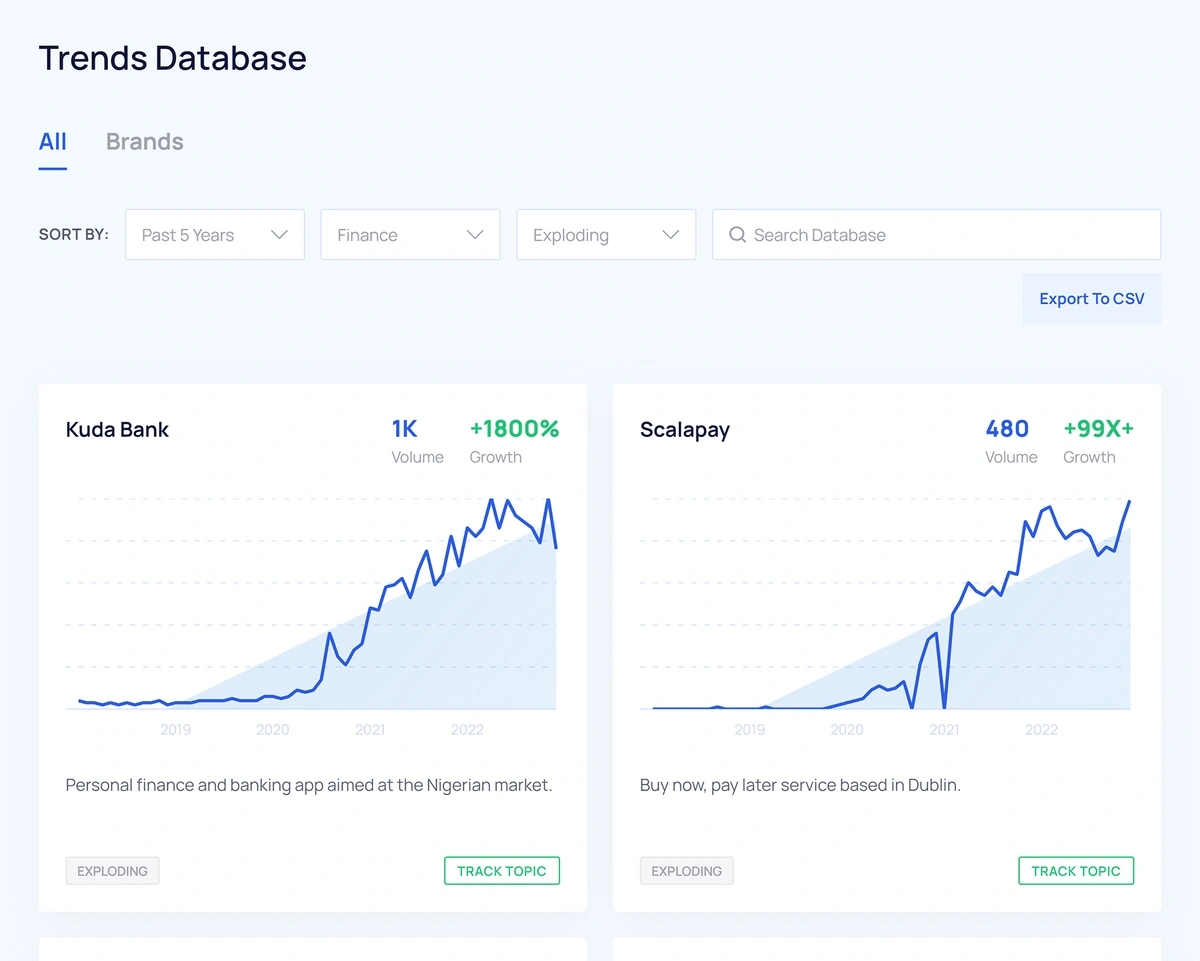 If you find an interesting trend, you can save it to a Project by clicking "Track Topic." Projects live in the main dashboard and make it easy to monitor a trend's growth status over time.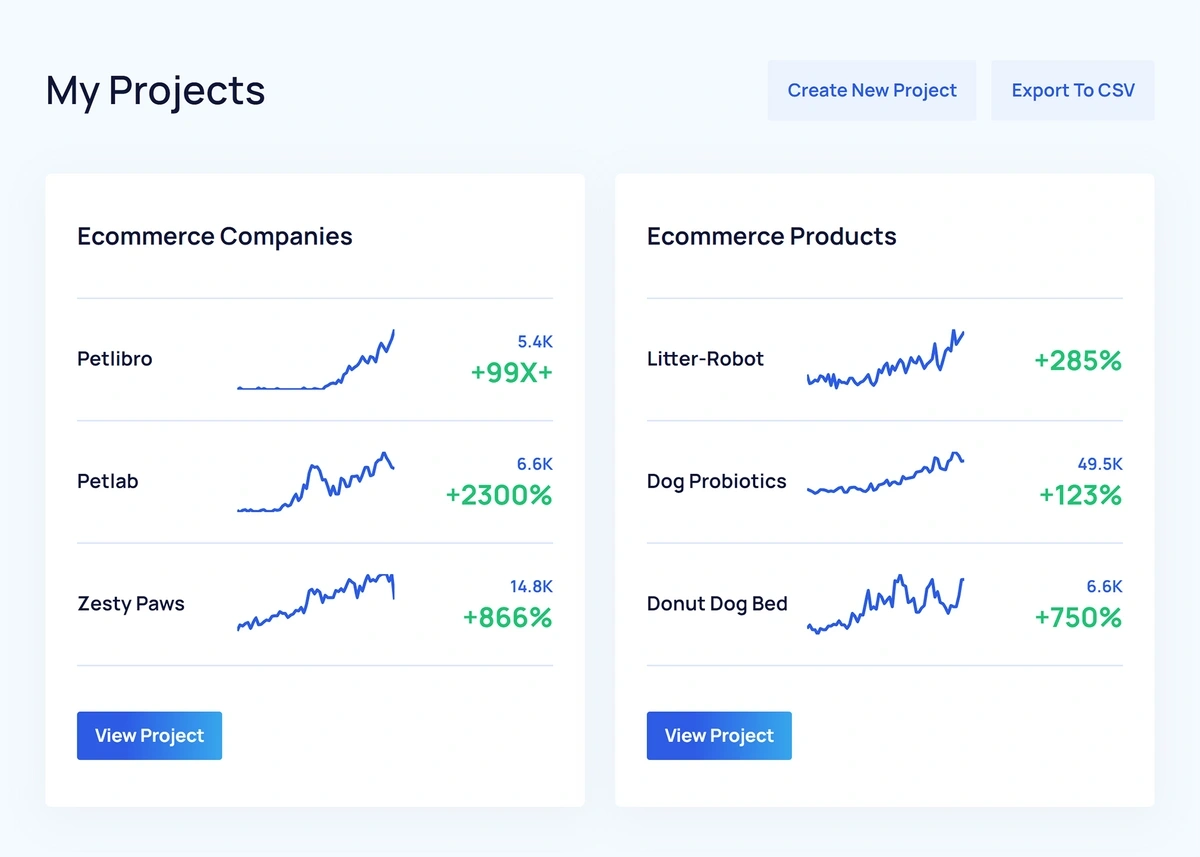 To see for yourself how it works, you can try out the free Trends Database today!
Exploding Topics offers a handful of other features as well. However, let's first discuss how each trend is sourced and qualified, as this is a significant reason why Exploding Topics is a premium trend discovery tool.
How Exploding Topics Identifies and Qualifies Trends
A key differentiator between Exploding Topics and other trend tools is that it uses a combination of AI and human analysts to find and approve topics before adding them to the Trends Database.
Here's how it works:
AI scrapes data from sources like Reddit, Quora, Google Search, Amazon, YouTube, podcasts, and other news sources to identify popular topics. It then flags popular topics for human analysis.
A human then researches each flagged topic and approves only those that have shown steady growth over an extended period of time and have business value.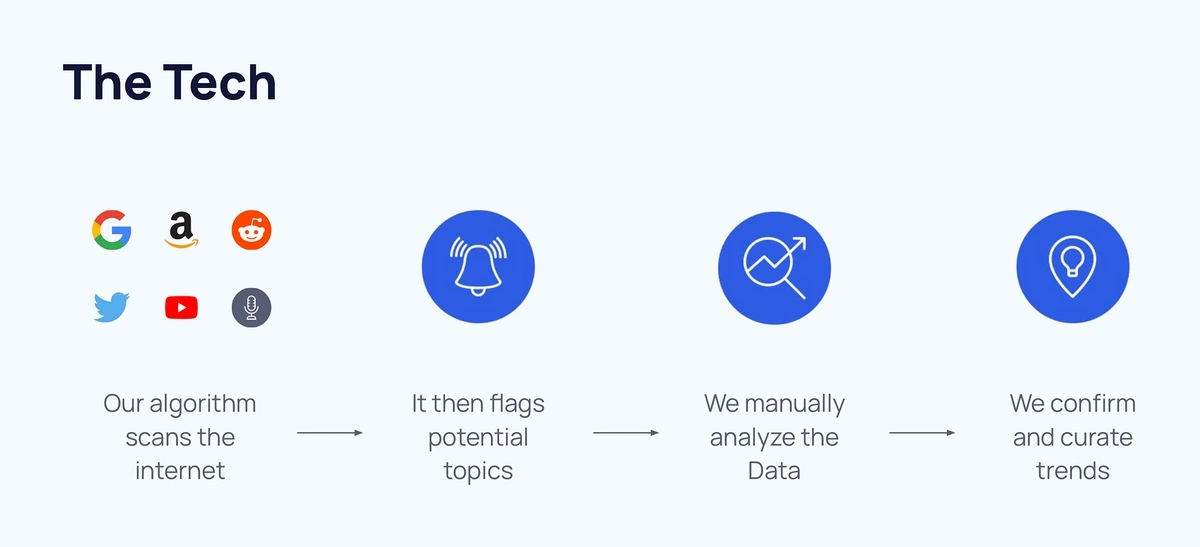 AI is perhaps the most effective method for creating a thorough list of trending topics, as it can quickly scrape millions of web pages.
So while AI is unlikely to miss any promising trends, the downside is that it will also probably capture a lot of irrelevant topics.
For example, it will likely pull a lot of pop culture topics like movies, celebrity news, or songs that have little to no business value.
So our secret sauce to providing only high-quality trends is using a human analyst to confirm each topic is relevant to business and shows sustainable growth patterns before adding it to the Trends Database.
This way, you don't waste time sifting through irrelevant topics and only see highly-quality industry trends.
In addition, we wanted to use data to qualify each industry trend. So instead of just adding any trends that our analysts find interesting or using data from a limited sample size, we use Google Search volume to determine trend growth.
Google Search volume is perhaps the most reliable method to measure trend growth as it measures the global population's interest in that keyword for as far back as 15 years.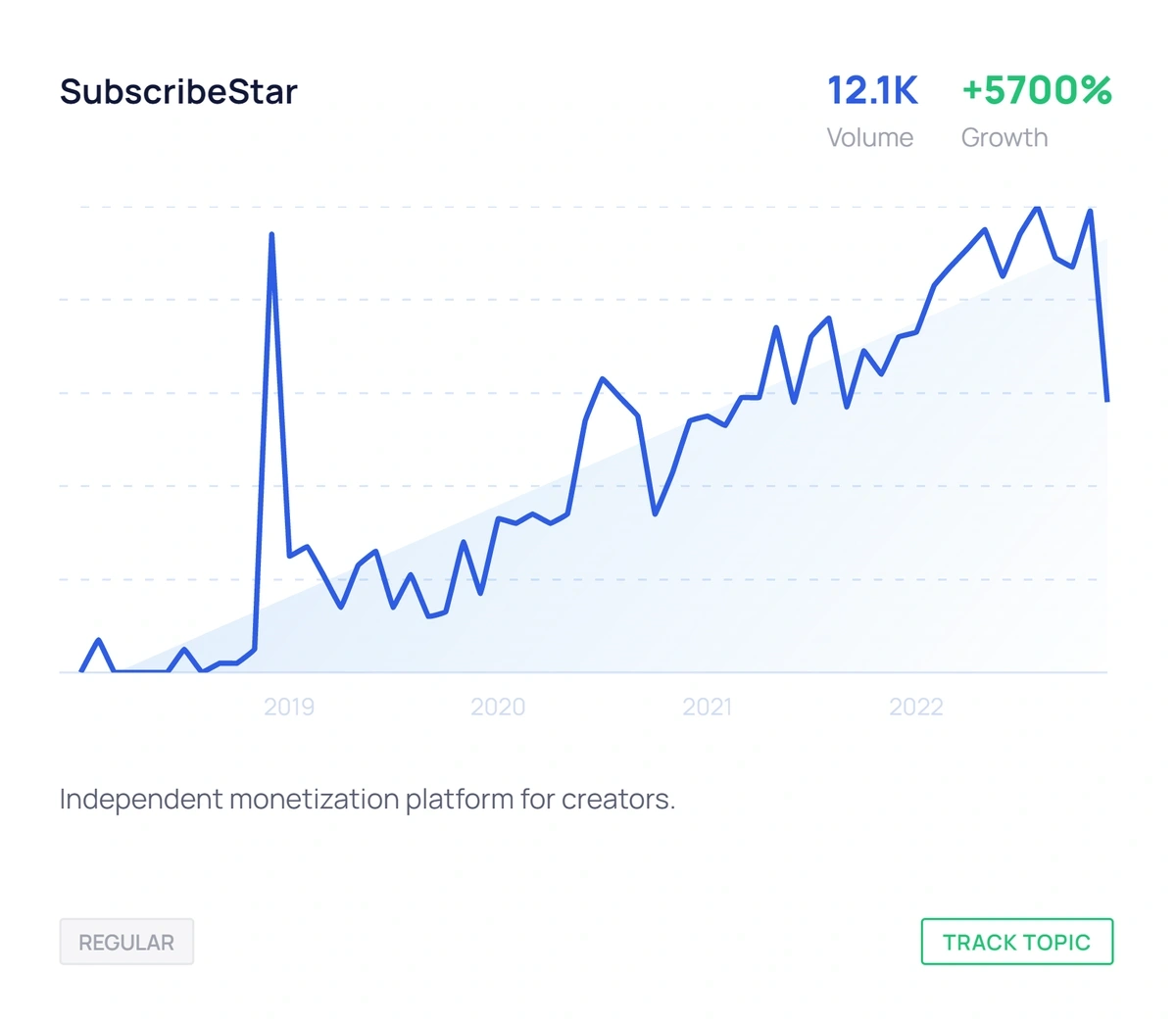 If a keyword has shown steady growth over the past several years (the default is five years), it will probably continue to grow for years to come. While this isn't always the case, we've found it is the most reliable data to gauge a trend's potential.
Additional Features
The Trends Database is Exploding Topics's flagship feature, though you'll also find a handful of other helpful features that make it easy to identify and confirm trends. Here are a few of them:
Trends Search
The main value of Exploding Topics is that it brings trends to your attention.
However, we realize you might already have a topic in mind and just want to view its Google Search volume history. So with Trends Search, you can type in any keyword and generate a report of its historical search volume trend in real time along with other related topics: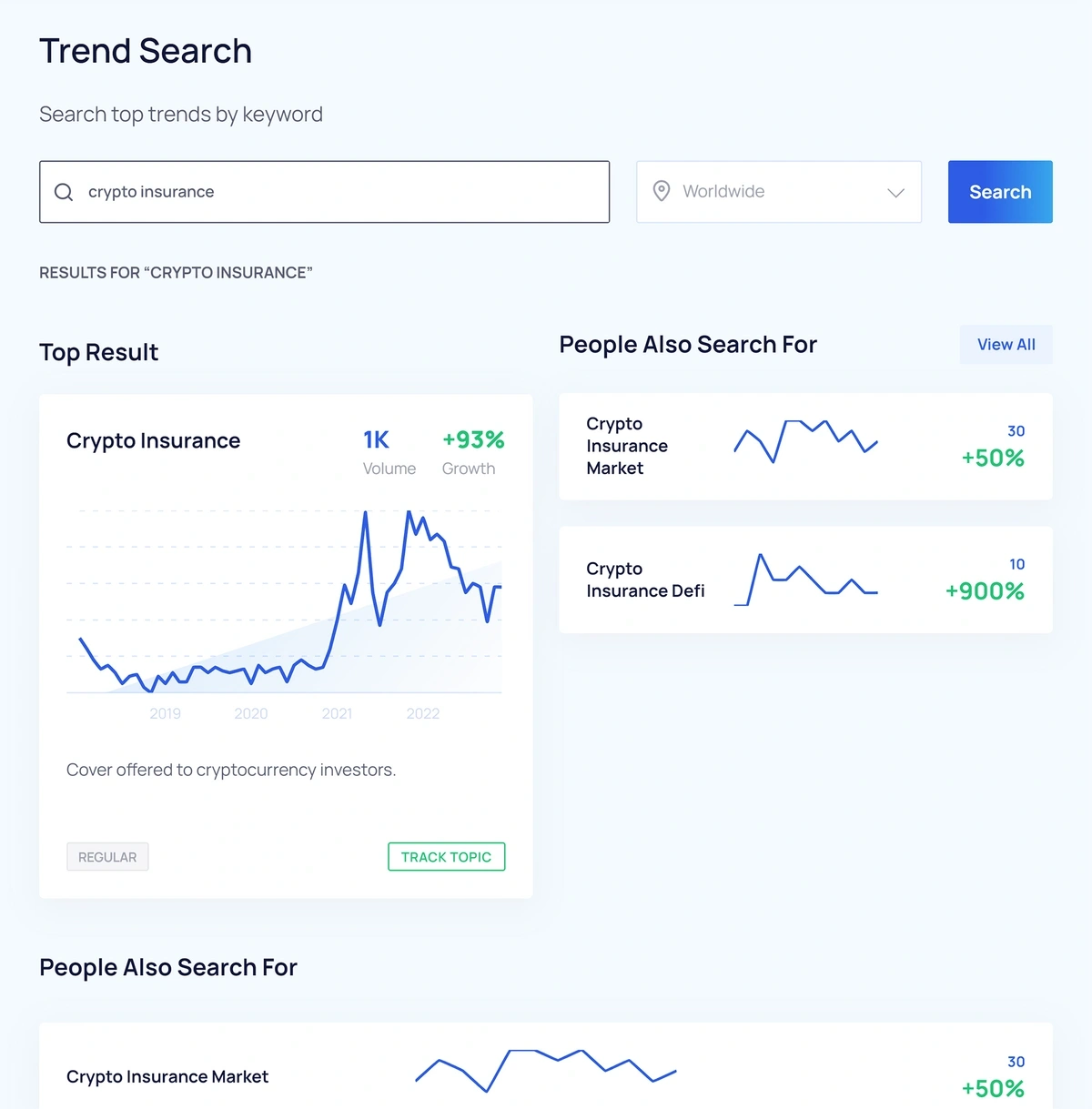 Meta Trends
When a new popular product or company enters the market, it's often related to a broader industry trend. For example, the explosive growth that companies like Beastcoast and Fnatic are experiencing is likely thanks to the growth of the larger Meta Trend, eSports.
So to help you uncover the more encompassing industry trend, we built Meta Trends.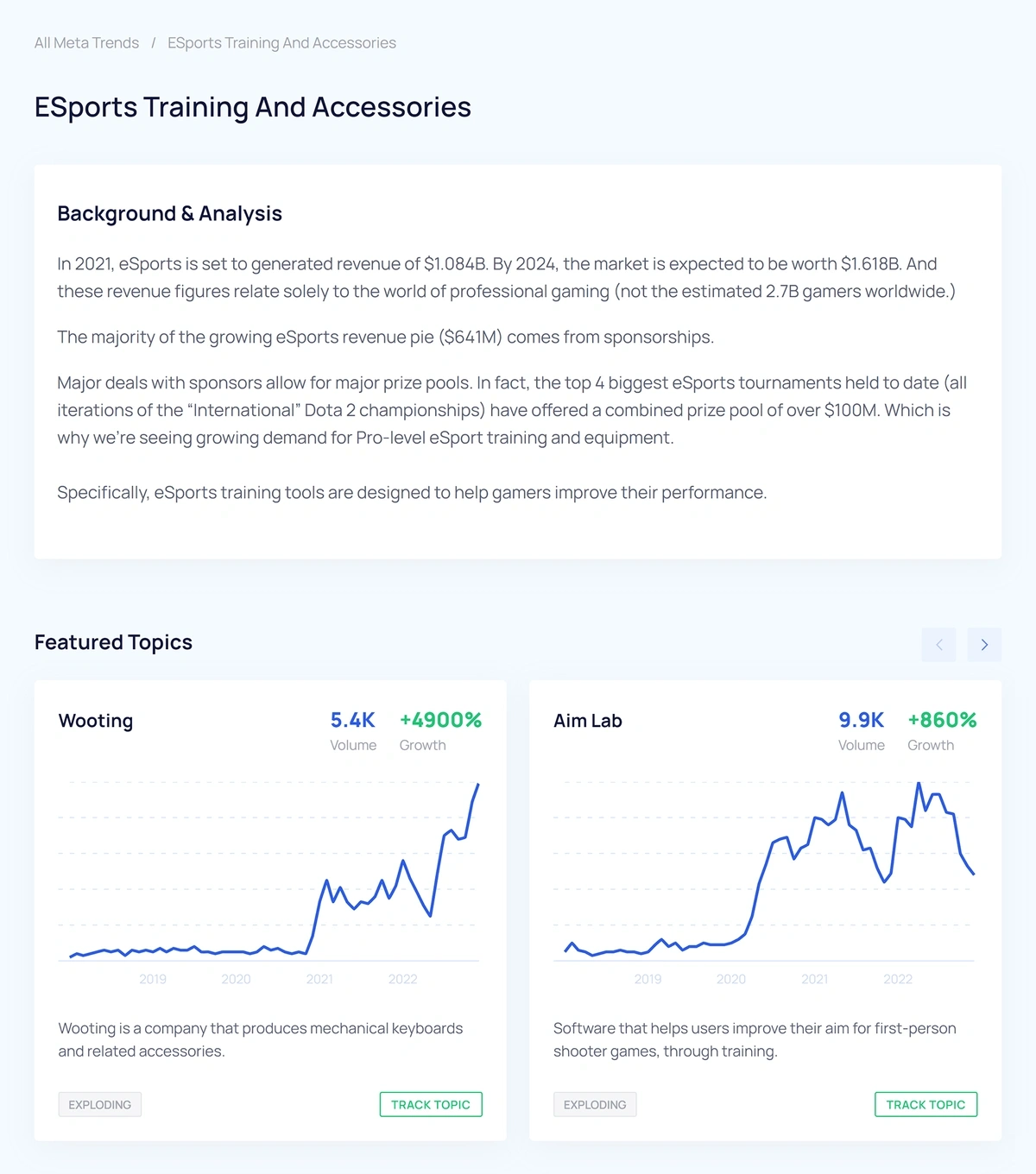 Weekly Reports
If you don't have time to check the Trends Database daily, you can still stay on top of popular trends with the Weekly Reports newsletter. Each Weekly Report contains five trending products and five trending companies to keep you up-to-date in five minutes each week.
Criteria Overview
​​As we mentioned earlier in the post, we'll evaluate each tool based on the following criteria. So here's how Exploding Topics stacks up:
Time and effort: The Trends Database lets you find relevant industry trends in seconds. Simply sort by category, and you'll have instant access to dozens of promising industry trends.
Relevancy: A human analyst manually vets each trend before adding it to the Trends Database, so each trend is guaranteed to be relevant to its category.
Thoroughness: Exploding Topics uses AI and machine learning to scrape millions of web pages. Specifically, it pulls from sources like Google Search, Reddit, Quora, podcasts, social media, YouTube, and industry publications.
Data reliability: Exploding Topics uses Google Search volume data to determine the growth status of each trend. We've found this is the most reliable method to predict a trend's future growth as it pulls data from the global population's search activity.
If you want to see how easy it is to find trends with Exploding Topics, you can jump into the free Trends Database now or try out the Pro version, which contains premium trends and unlocks access to other features like Trends Search and Meta Trends.
Trend Hunter offers a database of trends that allows you to search by topic (e.g., Fashion, Tech, Culture, Design).
If you find an interesting trend, you can click on it and see a basic definition and a handful of images.
So how does Trend Hunter determine whether or not a topic is a trend?
First, it uses AI to scrape the web and find new topics. If the team thinks the topic is interesting, they add it to the trend database.
Once a topic is added, you'll see the following metrics:
Popularity: This score is calculated based on how many Trend Hunter users upvote the topic.
Activity: This score is calculated based on the clicks the topic receives weekly.
Freshness: This score is calculated based on how recently it was added to Trend Hunter's report.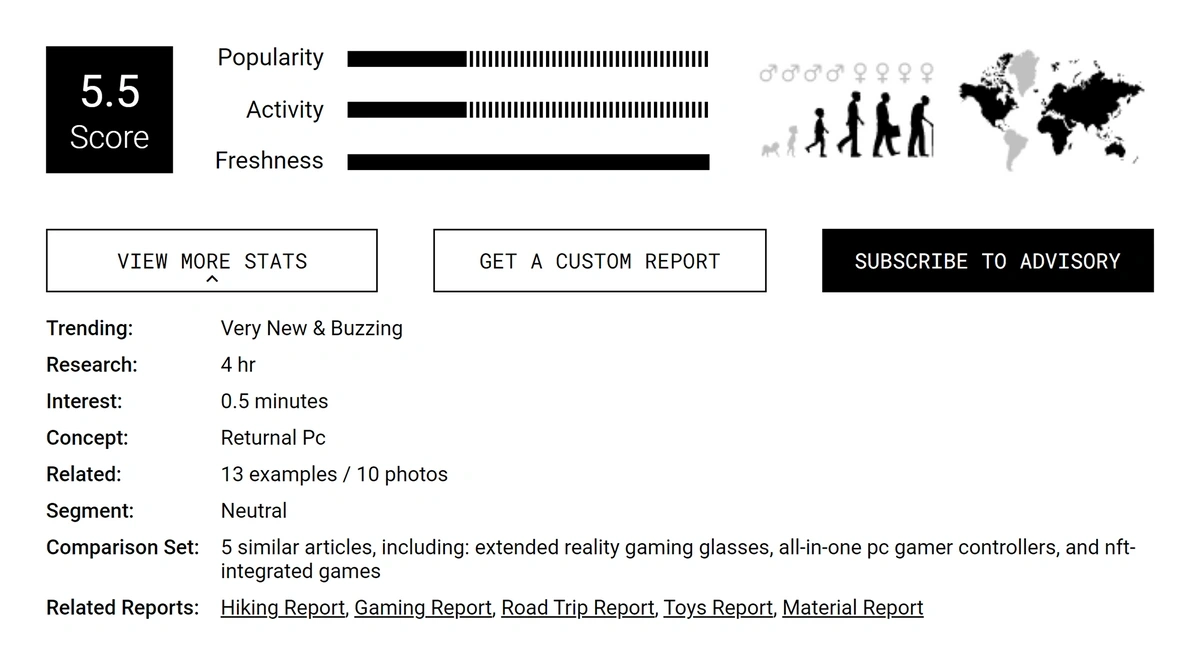 Note that these scores are calculated in relation to other trends inside the Trend Hunter database. For example, if the average trend in Trend Hunter's database receives 200 clicks per week from Trend Hunter users, a trend with 300 clicks per week from Trend Hunter users would have a high activity score.
So while this data may be interesting, it isn't particularly reliable as it is based solely on Trend Hunter's user data.
Criteria Overview
Here's how Trend Hunter levels up with the criteria we established earlier:
Time and effort: You can find new trends in a few minutes – just search a category and it will provide a list of various topics.
Relevancy: Trend Hunter allows you to sort by category and the topics in each category seem fairly relevant.
Thoroughness: It uses AI and machine learning to scrape the internet for topics, so there is a wide range of trends.
Data reliability: Perhaps the biggest issue with Trend Hunter is data reliability. First, topics added to the database are very recent. Many of them were first discovered by AI days ago, which makes it difficult to predict whether that topic is a fad that will quickly dissipate or a promising trend that will continue to grow in popularity for the next several years.
Additionally, a trend's status is determined purely based on the Trend Hunter audience's engagement with that topic. Unfortunately, this is a very small sample size, and the audience likely isn't from your industry. So it's difficult to accurately assess your target market's interest in that trend based on this data.
Google Trends is a free research tool that allows you to search for any specific keyword, and it will give you trend data like:
Search volume patterns (though not exact search volume metrics)
Search demographic data
Related topics suggestions
Related queries suggestions
It is an excellent tool to explore search patterns of trends you know about, though there are more efficient tools for finding trends.
While some related topics and query suggestions are helpful, many are unrelated to the originally searched topic. For example, these are the suggested topics and queries for the term "cryptocurrency:"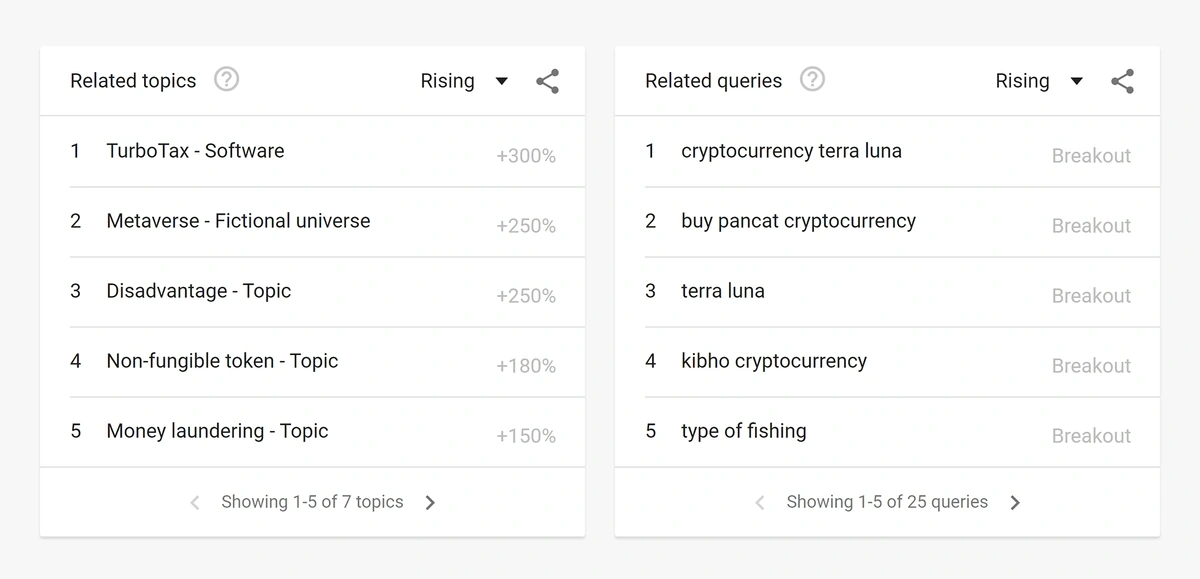 Criteria Overview
Time and effort: The biggest issue with Google Trends is that while it makes it easy to measure a trend's popularity and growth, it doesn't surface new trends for you. Instead, you have to find the topic first and then use Google Trends to look up its trend status.
Relevancy: Given that you must find the trends first, relevancy isn't really a factor.
Thoroughness: Given that you must find the trend first, thoroughness isn't really a factor.
Data reliability: Google Trends data is extremely reliable as it comes directly from Google. It also measures popularity from all Google searches across the globe, so you don't have to worry that the data is pulled from a sampled audience that isn't from your target demographic.
Glimpse's main tool is a Chrome extension that augments Google Trends data.
So you can go to Google Trends, type in any topic, and in addition to all of the traditional data you'd receive from Google Trends, Glimpse will also give you access to:
Exact search volume data (rather than just the trend data)
Related trending topics
Channels discussing that topic (TikTok, LinkedIn, Reddit, etc.)
People Also Search For topics
Topic map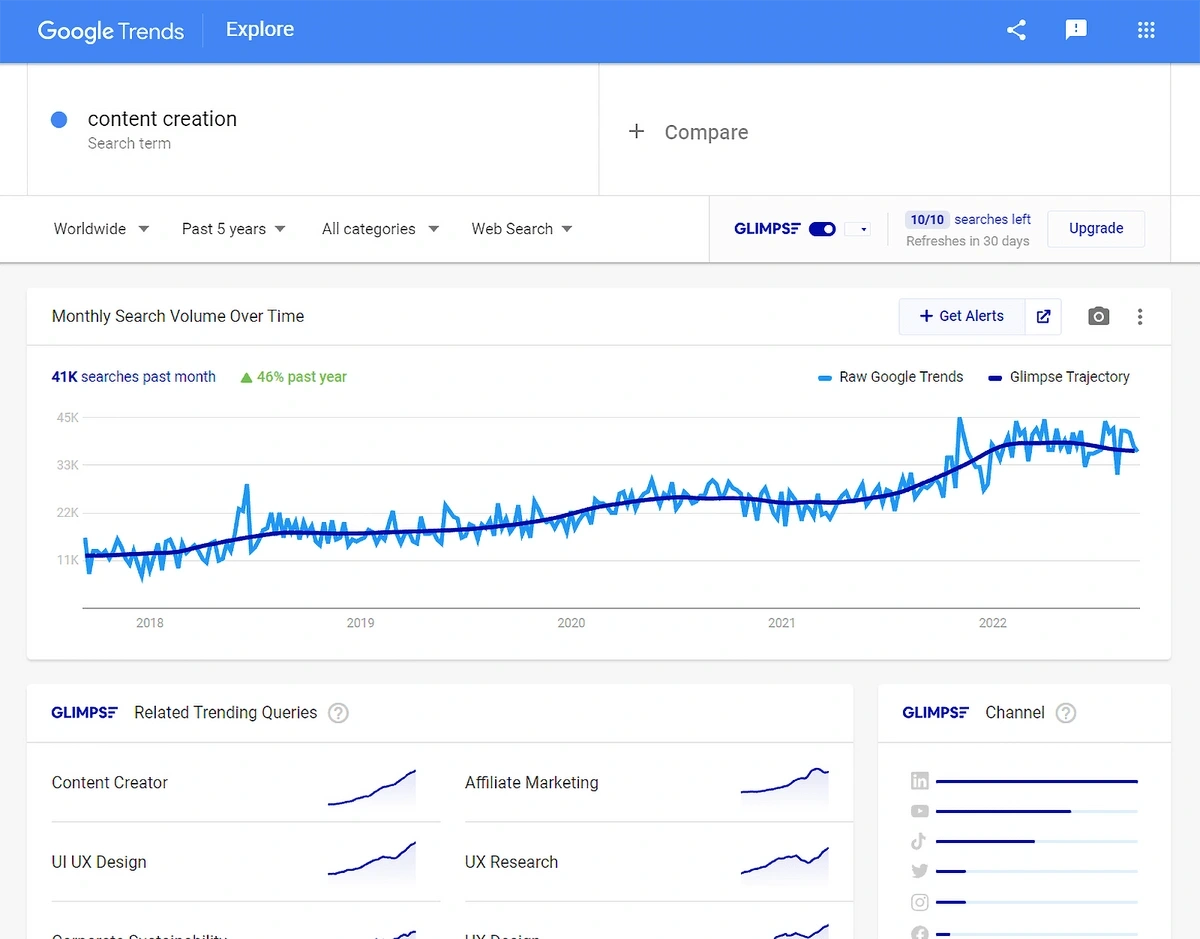 To track a particular trend, you can create an Alert inside the Google Trends dashboard, and it will send you either an auto alert (triggered by a significant change in search traffic) or a recurring alert at a quarterly, monthly, or weekly cadence.
Glimpse also offers a database of trends for various categories. It gathers data by scraping sources like TikTok, Amazon, and Reddit and then provides a list of topics with search volume trends.
Criteria Overview
Time and effort: Glimpse allows you to browse 12 different trend categories (each with a handful of subcategories) and shows you a few topics for each category. Therefore, it's relatively easy to find new trends.
Relevancy: Glimpse does not state that they use human analysts to clean the trends added to categories, so you might have to sort through some noise to identify quality trends.
Thoroughness: It uses AI and machine learning to scrape the web for different topics, so you can expect a thorough list of trends.
Data reliability: It uses Google Search volume history to track trend growth status and allows you to sort by highest volume or highest growth.
TrendWatchers is a tool designed to discover popular TikTok and YouTube trends.
You can search the main database by category (e.g., beauty, education, kids, self-care, etc.), and then it generates a list of popular topics. Pro users can further filter topics by growth status (rising trend, early trend, peaked trend, etc.).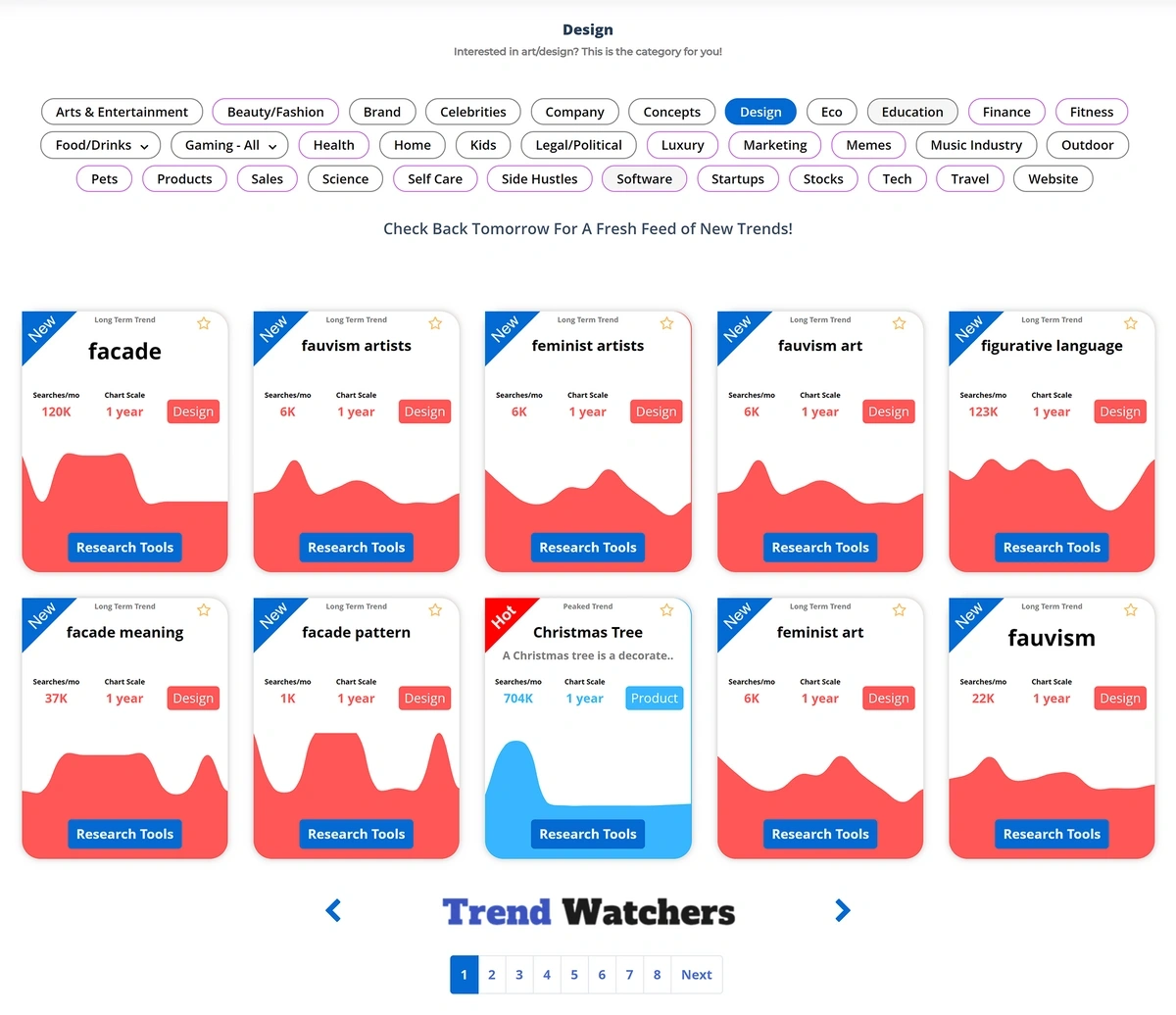 TrendWatchers provides each trend's total monthly search volume and a search trend graph.
TrendWatchers doesn't offer specific details on how they source trends, though one drawback is that some of the trends aren't highly relevant to the categories.
Nevertheless, if you want a tool that makes it easy to find trending searches on YouTube or TikTok, TrendWatchers can help.
Criteria Overview
Time and effort: Finding new trend suggestions only takes a few seconds. Just select the category, and you'll see a list of keywords that have received a lot of recent searches.
Relevancy: Unfortunately, there is a lot of noise in the trend database as topics are selected purely based on keyword popularity. After scrolling through the database, you'll see that many of the suggested trends aren't relevant to the topic. For example, under the Education category, one of the suggested topics is "Jurassic park cast."
Thoroughness: It only pulls keyword search volume data from TikTok and YouTube, so it might not be a great sample audience for B2B companies.
Data reliability: Perhaps the biggest issue with TrendWatchers is data reliability. First, all trend data is based on keyword volume from just a handful of months or weeks. Therefore, many qualified topics are likely fads that will dissipate over time. However, using keyword search volume from TikTok and YouTube search engines is a great data source for YouTube and TikTok creators.
SparkToro Trending is an interesting research tool designed to be the "Front Page of The Web Marketing World." It tracks trending Tweets and delivers an organized list of the most shared content by active web marketers on Twitter.
Here's how it works:
Any marketer can connect with the tool (you'll see an option to do so when you arrive on the SparkToro Trending landing page).
SparkToro tracks the tweeted URLs from connected accounts.
Then, each URL receives points for the number of accounts that tweeted that link. It also weighs the quality of links (though not based on follower counts).
The algorithm decays the Tweet over time unless it continues to earn new engagement.
Here's what the dashboard looks like:
This is an excellent tool for digital marketers to stay updated with the latest general marketing trends.
Unfortunately, it isn't a searchable database where you can look for specific topics or news.
In addition, the data is pulled from any marketers who choose to add themself to the database, so the aggregated results are based entirely on who signed up for the tool.
Criteria Overview
Time and effort: SparkToro Trending only lists links to popular Twitter content, so if you want to identify new trends, you have to either hope that the trend is in the title or read through each post to identify the trend. In addition, it is just a list of popular content rather than a searchable database, so there isn't a way to search for a particular topic.
Relevancy: Much of the content is irrelevant, and there isn't a method to sort or filter the content to find specific information. While it's designed for marketers, it's not all marketing-related material. For example, the source discussing the passing of an influencer isn't necessarily relevant to marketers trying to find digital marketing trends.
Thoroughness: All data is sourced from Twitter users who signed up to contribute to SparkToro's Trending platform. Therefore, it's a very small selection of digital marketers (many of whom follow Rand Fishkin) and therefore isn't a particularly diverse sample size.
Data reliability: The data is aggregated based on the popularity of content shared by the members, so there isn't any statistical evidence that the trends shared in the content have potential.
Trends.co is a content-based platform that offers a selection of market research-style articles that analyze topics that the editors believe will become important trends.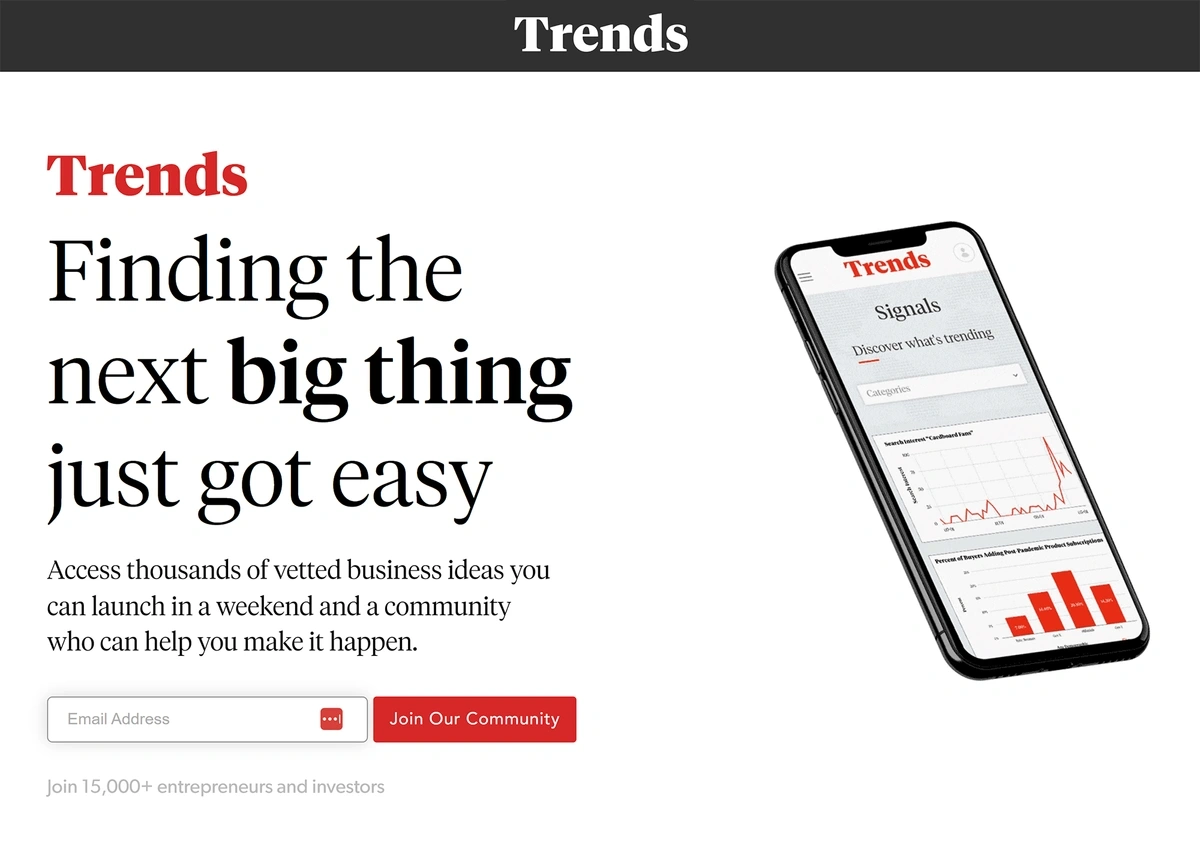 The Signals tab is the most relevant place to search for trend data, as you can sort by categories like education, beauty, marketing, and SaaS.
In each category, you'll find a list of different articles that analyzes various data on specific topics.
Each article contains data-driven information like search volume trends, venture capital funding data, and market size statistics.
So while each article contains quality data, it's still not the most efficient method to find trends, as you'll have to scan through many articles to generate a list of trending topics.
Nevertheless, it is an excellent source to find a deep-dive article on a single industry trend.
Criteria Overview
Time and effort: Trends is mainly a media company, so you must read through the reports to uncover new trends. While you can just skim the titles, there aren't that many articles to sort through, so it's better for deep diving into a particular trend rather than discovering new trends.
Relevancy: The trends are manually curated and thoroughly researched, so they are highly relevant to each topic category.
Thoroughness: Each trend has a deep-dive report, so the content associated with the trend is very thorough. However, the downside of the deep-dive report style is that there are only a handful of trends in the database.
Data reliability: Each trend report has detailed data, including keyword volume history, market cap, sales statistics, and more. The only downside is that a human (rather than data) decides which trends to cover. This means that the topics selected for analysis aren't necessarily the most promising trends for that industry.
Buzzsumo is a content ideation tool commonly used by SEO and content marketing professionals. It offers a trending topics feature that scans social networks and aggregates the most popular posts published in the last 24 hours.
All trends are divided into feeds like News, Marketing, Tech, Science, and Business, though you can also create your own feeds based on a combination of general topics, domains, and/or countries.
The trends in the database are listed in order by their Trend Score, which is a proprietary calculation based on social shares over time. It also shows total engagement across Facebook, Twitter, Pinterest, and Reddit.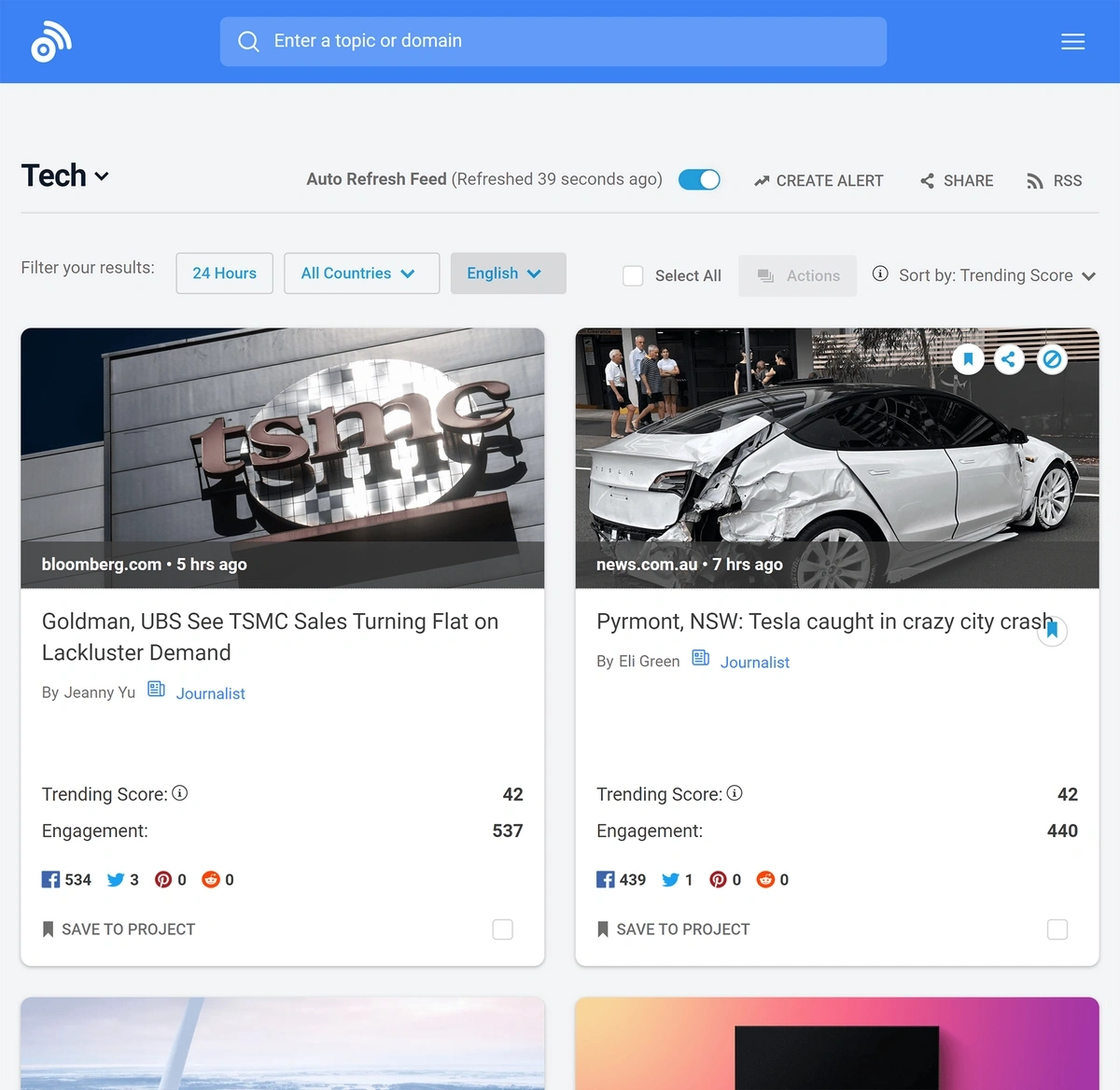 As you can see, Buzzsumo is mainly designed to guide marketing campaigns. So while it doesn't provide specific trending topic suggestions, it does show you recently trending content in a particular industry across social platforms.
Criteria Overview
Time and effort: Buzzsumo is essentially a content aggregator – so you'll probably have to read multiple articles it surfaces to identify key trends.
Relevancy: Buzzsumo allows users to sort by category, though it's clear that many topics aren't particularly relevant to each category. For example, under the Tech category, you'll see in the screenshot above that there's an article on the Capitol riot investigation. For B2B users, this information isn't very useful.
Thoroughness: Buzzsumo scans Pinterest, Facebook, Twitter, and Reddit to identify trends. So you'll only receive topic suggestions based on content that is popular on those social media platforms.
Data reliability: Buzzsumo determines trending topics based on the content's engagement data within the past days/weeks. So even if a topic is trending now, there's no guarantee that it will be trending in the next several years.
Awario is a social listening tool with a trending topic feature similar to Buzzsumo. You can enter a general keyword (and negative keywords) into its search bar, and then Awario produces a list of content containing that keyword. The content sources it uses include:
Twitter
Facebook
Instagram
Reddit
Vimeo
News/Blogs
Web
Each list is ordered by recency, though it also includes total reach data. For example, below is a list of the most popular content for the term "content clusters." You can then click on any of the posts to read the full piece of content.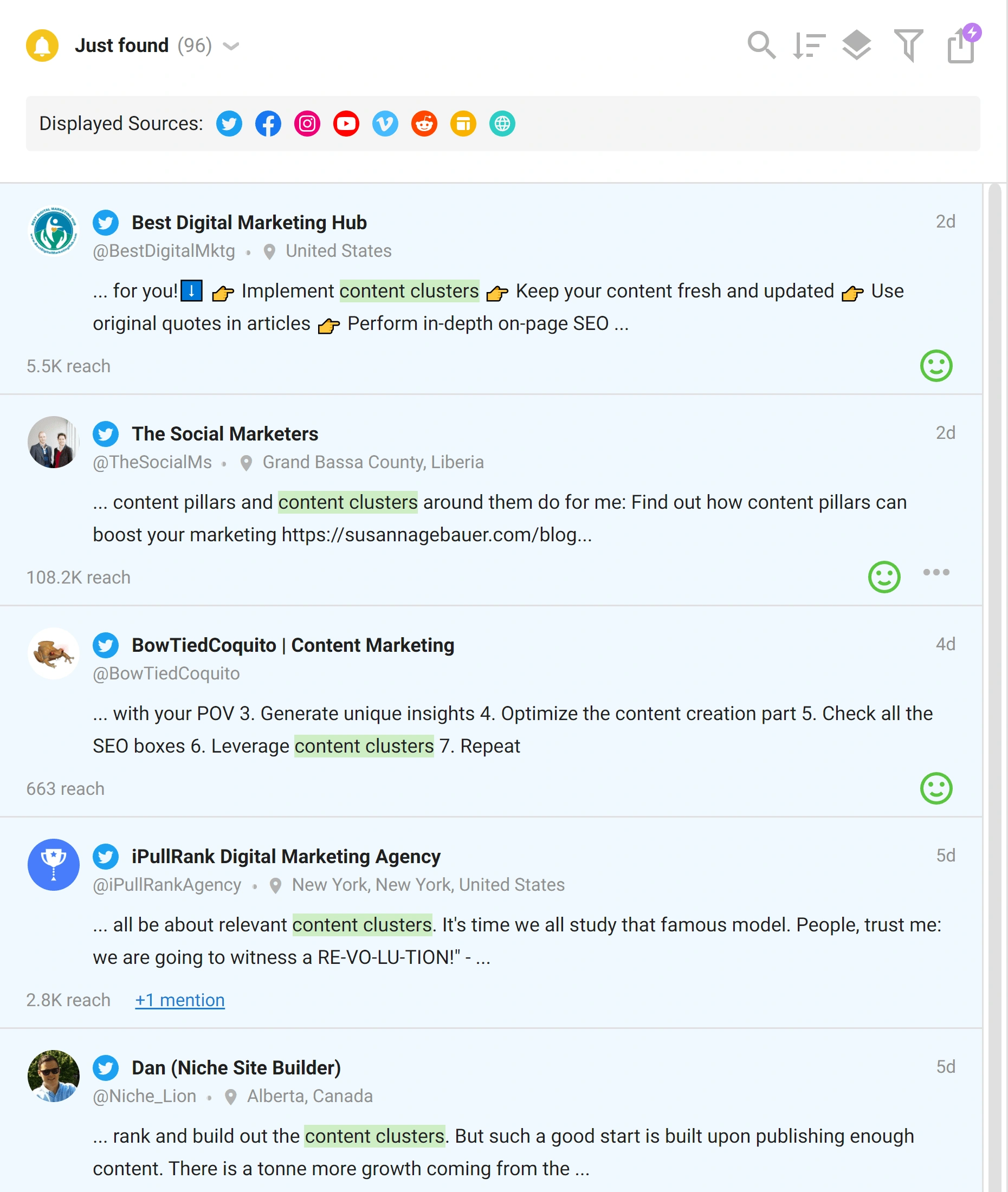 Awario's trending topics feature is primarily designed for content marketers who want to find popular content on a particular topic.
Criteria Overview
Time and effort: You have to think of the general topic you want to track, so you'll still have to manually search for topics yourself.
Relevancy: Awario shows you any post mentioning the keyword, so the posts may or may not be relevant to you. However, it does allow you to add negative keywords to refine notifications.
Thoroughness: Awario scans most of the web, including popular social media platforms, forums, and blogs, so it is a very thorough sample of data.
Data reliability: The posts that Awario surfaces are ranked by social media engagement and recency. Given that the content included is designed to be recent, a lot of what you uncover may be fads rather than sustainable trends.
Ahrefs Content Explorer allows you to type in any topic and it will automatically pull up a list of the most popular pages and websites on that topic.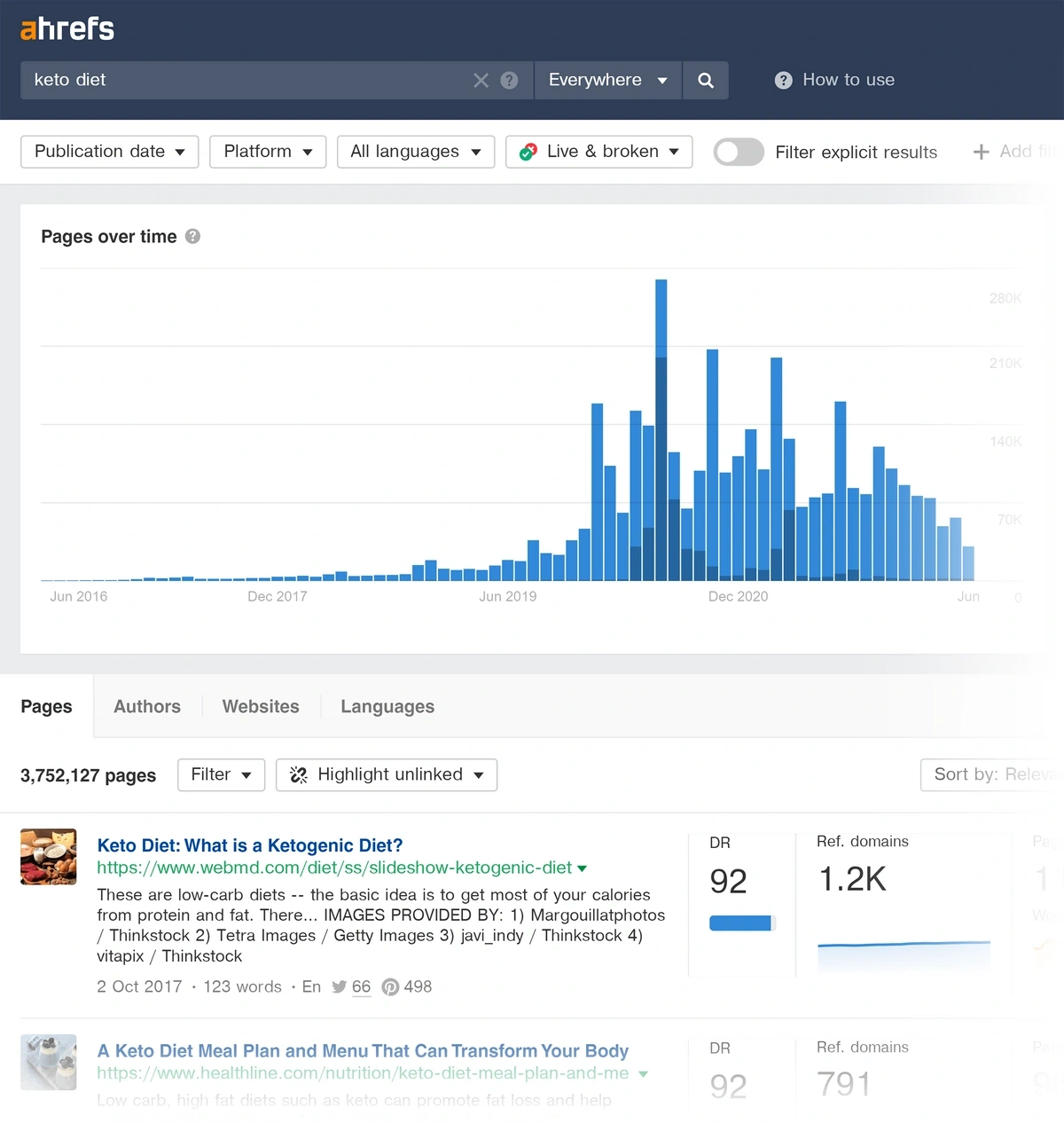 For each article, you'll be able to see the website's domain rating, the referring domains, page traffic, and traffic value.
You can also sort by news, publication date, and platform to filter the results.
You can then read through the most popular content to identify new industry trends or uncover new content ideas.
Criteria Overview
Time and effort: The Content Explorer is essentially a content aggregator, so you'll have to manually skim through the titles or read each piece to identify trends.
Relevancy: The content shown to you contains the keyword you searched for in the title. Therefore, most of the results are fairly relevant to the searched topic.
Thoroughness: The Content Explorer uses AI to analyze all the content across the web, so it's usually quite thorough.
Data reliability: Ahrefs uses its own traffic metrics and domain rating scores to determine what content to add to the Content Explorer. The reliability of these metrics (particularly its traffic metrics) is debated constantly.
Start Identifying Trending Topics Today
Today, plenty of trend discovery tools make it easy to quickly find trending topics without manually scrolling through social media or relying on your network.
If you want a tool that makes it easy to find relevant and data-driven trends quickly, try Exploding Topics.
You can quickly find a list of relevant trends in the free Trends Database or unlock our most promising trends with Exploding Topics Pro. With Exploding Topics Pro, you'll also be able to access advanced features like Projects, Trends Search, and more.
Try it out today, and let us know what you think!