How to Find New Trends (Super Early) With Trend Spotting
There are a few common methods we see recommended for finding and researching trends:
Some sites suggest referencing "current trend" reports to learn about what's popular in your industry.
Some recommend free sites like Google Trends to see common search terms and other trending topics.
Others explain how to manually check online sites like forums (like Quora and Reddit), social media (Twitter, Facebook), podcasts and streaming sites (Spotify, YouTube), and news sites to see what your customers and competitors are talking about and learn about upcoming opportunities.
But there are serious (and time-consuming) issues with these methods:
The "current trend" reports cover trends that are already popular, so you can't learn about new trends before people are already talking about them (or your competitors have already jumped on early opportunities).
Popular sites like Google Trends are more designed to let you research trends you already know about; you can't necessarily discover new trends with this resource unless you know where to start.
Manually doing this market research is time-consuming and if you don't have a background in analyzing trend data it can be hard to find viable opportunities.
So if you want to learn about new trends super early on, before they're well-known, you need a trend spotting (otherwise called trend forecasting) platform — like Exploding Topics — because they monitor all of the different online resources and conversations and detect indicators of up-and-coming trends, topics, products, and more. Trend spotting lets you stay ahead of new trends, which is super valuable if you want to learn about early tech trends, growing startups to invest in, or new products and services in your industry.
Our Exploding Topics trend database spans 12+ categories — and has data on over 11,000+ trends — so you can use it to find new trends for nearly any industry. We update our platform daily, and we send you weekly trend reports to keep you in the loop about the newest trends on our database. Plus, you can track any trend you're interested in from our private trend tracking dashboard.
In our post, we explain how to find new trends with Exploding Topics trend discovery and tracking features so you can begin a Pro trial and get started.
1. Explore the Trend Database to See New Trends by Category
The easiest way to find new trends is by exploring the Exploding Topics trend database. Our unique algorithm is constantly monitoring online sources (think news sites, search engines, social media sites like LinkedIn, and forum sites like Reddit, and even streaming platforms like Spotify) to spot early signs of upcoming trends. And our team of analysts does a round of quality control to ensure every trend that makes it to our database shows signs of long-term interest. For example, you're not going to see Twitter trends like hashtags on Exploding Topics — but we will display data on new social platforms and apps, like YouTube Studio.
We update our database daily with new, vetted trends so you don't have to do the deep market research yourself. Just select a category from the homepage menu, and our website displays all new trends for that industry. We cover trends in fashion, crypto, eCommerce, technology, gaming, software, startups, health, fitness, and more.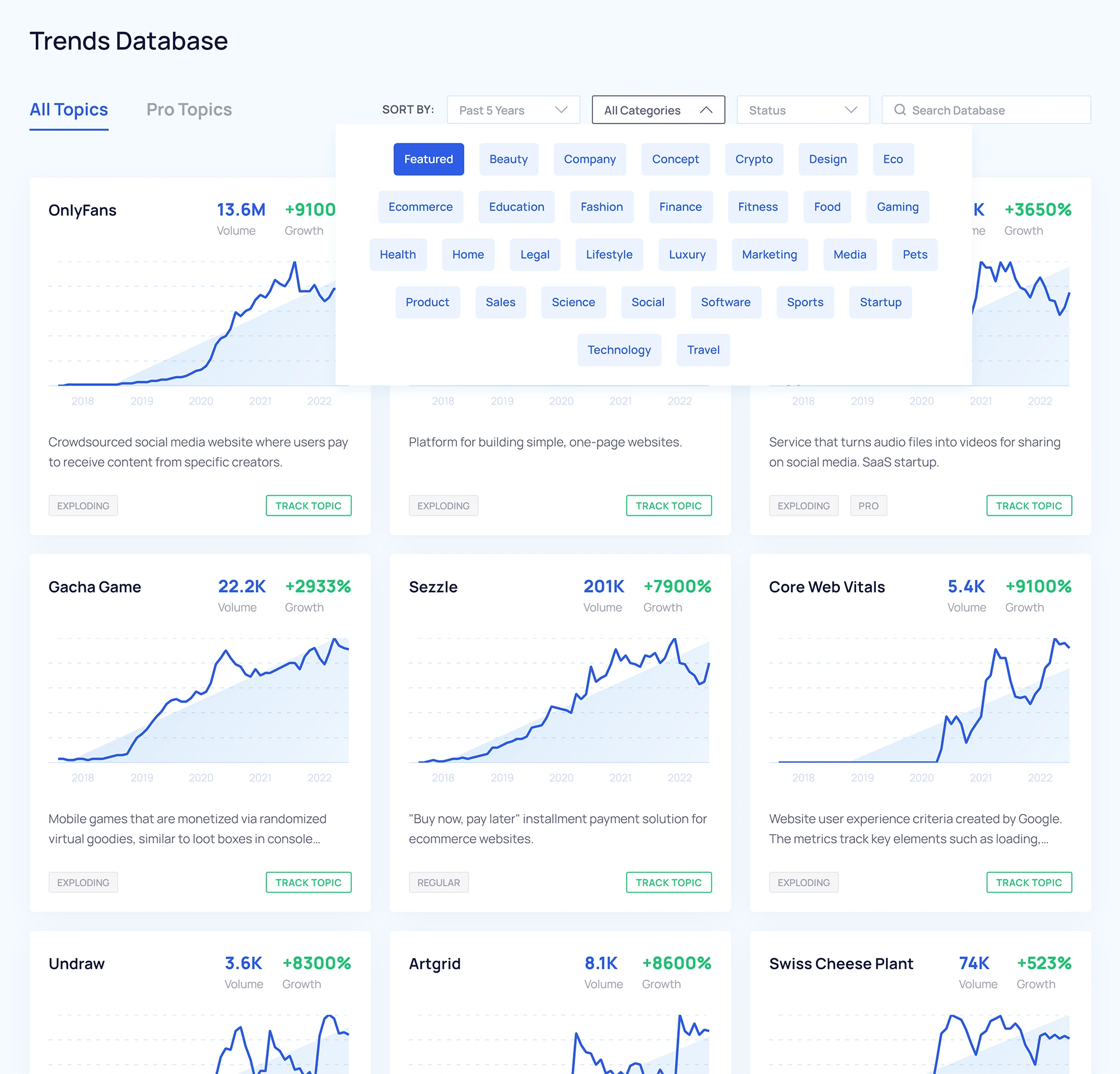 You can filter trends by recency (new trends in the last year vs. new trends in the last month) and popularity (early trends vs current trends). You can click on any trend you're interested in to open the overview details and analyze trend data. We display:
A quick description of the trend.
The trend growth rate.
Data on the number of searches per month — we collect up to 15 years of historical trend data so you can view trend graphs over different time frames.
A list of related topics.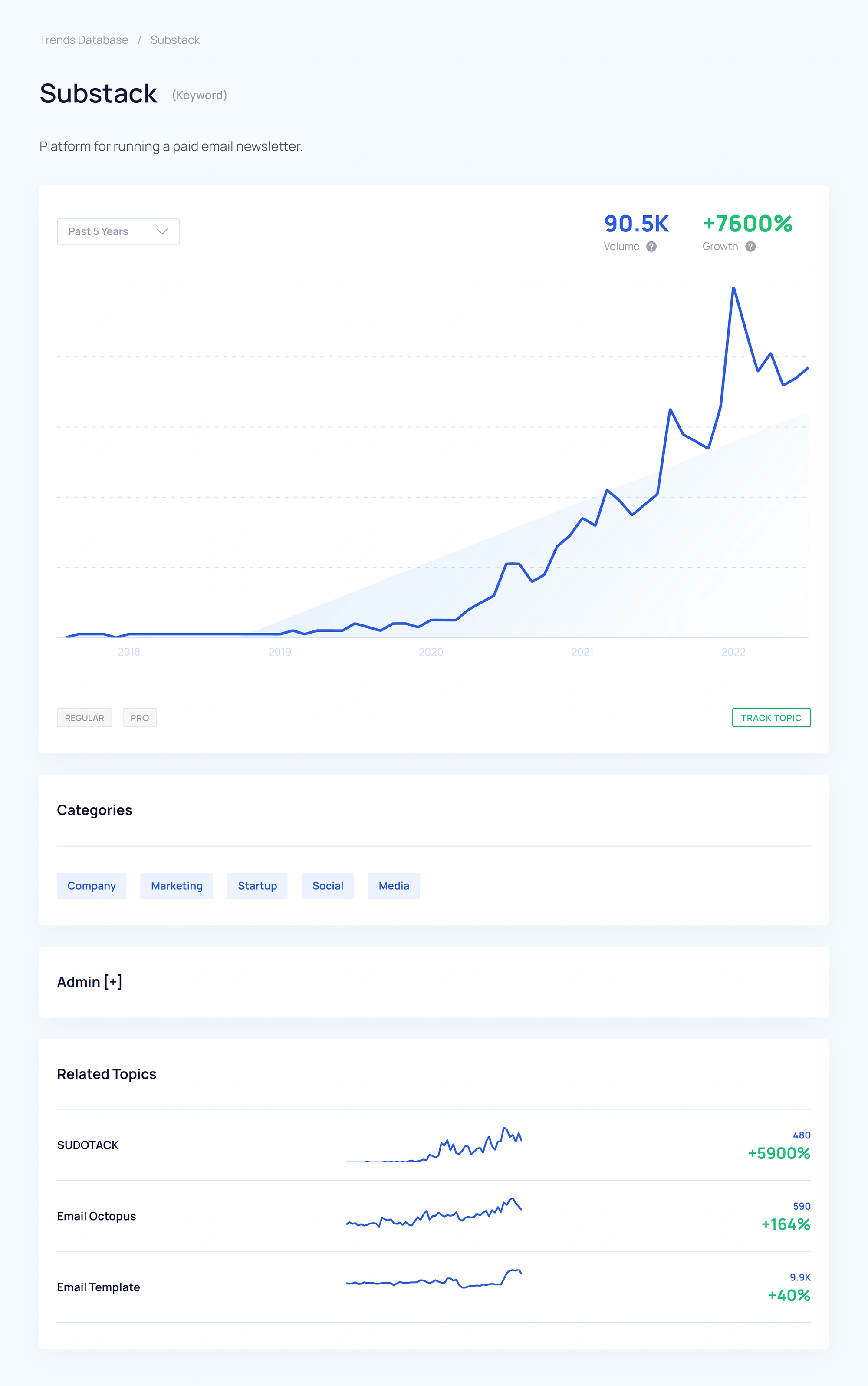 Then, you can save trends to your dashboard — by clicking "Track Topic" — to monitor their growth and set alerts for trend updates (more on that in step 3).
Exploding Topics Extra Trend Discovery Tools
In addition to our trend database, Exploding Topics has a search feature and meta trends library to help you find new trends in different ways. Here's how they work:
Exploding Topics Search feature serves a similar function as Google Trends — you can research trends you already know about, filter by region, and see trend metrics, related popular topics, and other trending searches. Our search makes it easy to look up specific keywords, products and services, or new trends in technology (etc.) that you've heard about elsewhere, and track trend data in Exploding Topics.

The meta trends library lets you search trends by specific topic — instead of category — and view all of the trends that make up that topic. For example, you can click into something like "DTC self-care products'' and see trends like TikTok influencers, Liteboxing (a new exercise app for at-home boxing workouts), and Skinkraft (an emerging skincare company). We also display brief background on the trend and a list of related topics.
Read More: ​​How to Identify Market Trends with Trend Forecasting Software
2. Check Weekly Trend Reports for Info on Newest Trends
We also curate and send weekly newsletters to keep you updated on the newest trends. The Exploding Topics trend reports hit your inbox at the start of each week and cover 10 new trends. Our reports aren't limited to one industry or topic; we cover a variety of categories so you can find trends you might not have ever known to research.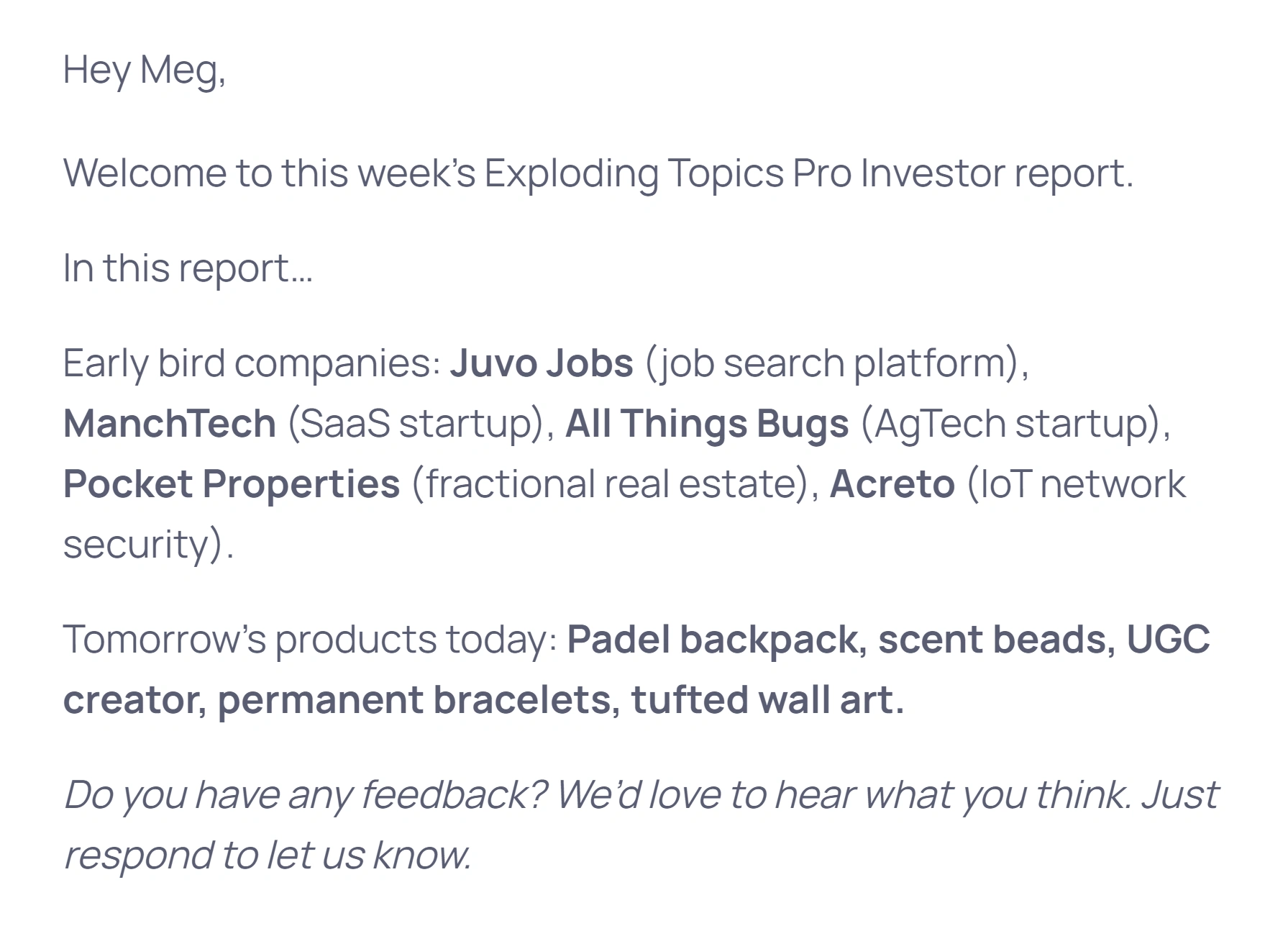 In our weekly reports, you can read a detailed background on each new trend — like details on the history of the trend and why the trend is becoming relevant today. We also cite our sources so you can visit other helpful links to learn about these trends (if you want to do more digging). For example, here's a little bit of detail from a recent trend newsletter: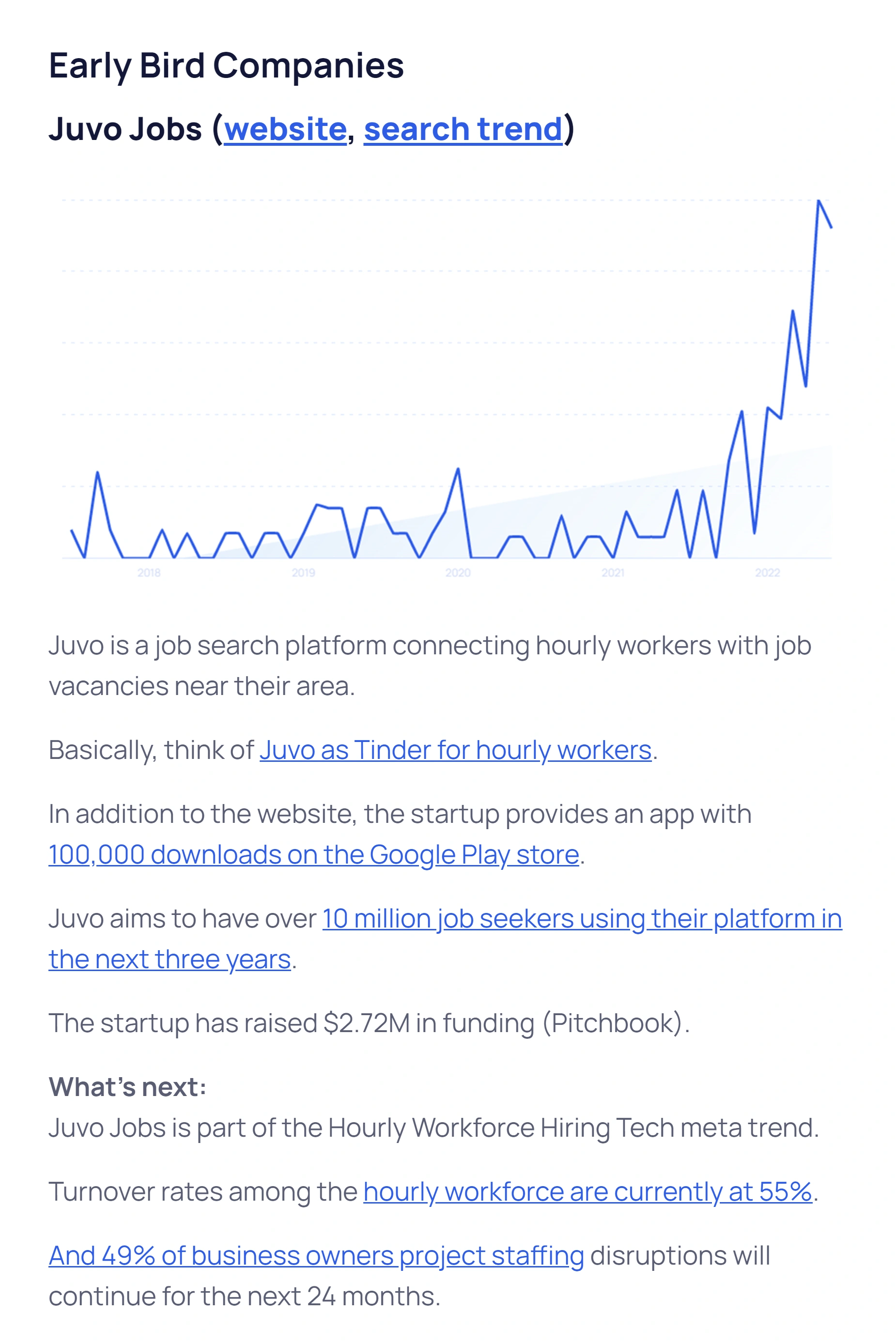 We also provide a trend reports library within the Exploding Topics dashboard so you can easily access and view past trend reports.
3. Save & Track Trends In Your Personal Dashboard
Then, you can save and track any trend you're interested in through the Exploding Topics dashboard. We also provide a Projects feature so you can organize and group saved trends by topic or category.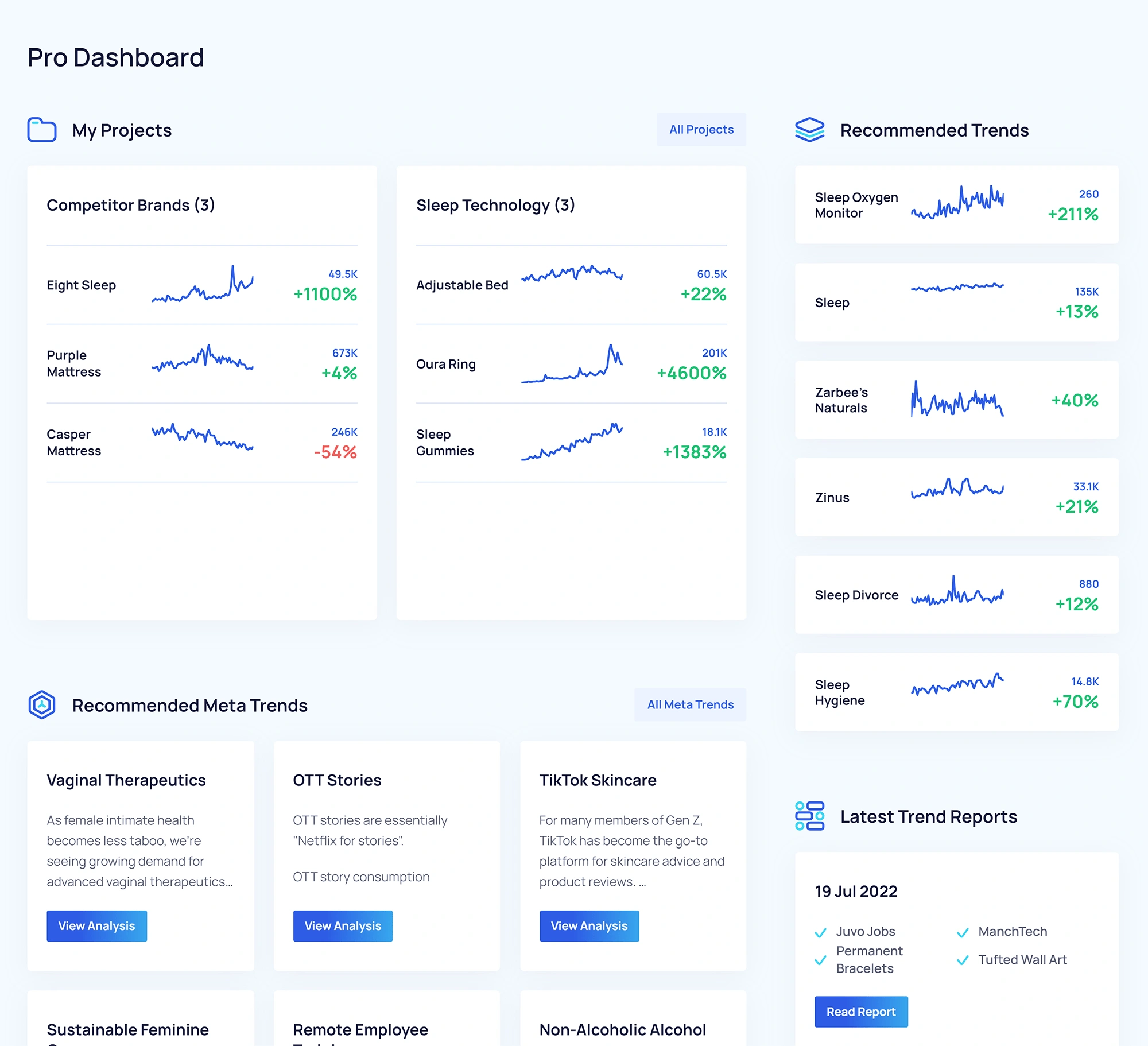 Our trend tracking dashboard lets you quickly check in on saved trends (any time you want). And since we update our platform daily, you're always looking at the most up-to-date trend information. You can also set real-time trend alerts to be notified of major trend updates; such as significant changes in traffic or growth rate.
All trend tracking is completely private — other users can't view your trends dashboard. However, we do use trend data to suggest other new trends that relate to your interests.
In the trend tracking dashboard, you can:
See all saved trends, click to view updated trend information, and analyze trending content with current data.
Save other recommended industry trends.
View related meta trends.
Access recent trend reports.
You can also connect the trend dashboard with other reporting or data analytics software with the Exploding Topics API key.
Get Full Access to Exploding Topics Trend Spotting Platform
Exploding Topics makes it easy to discover and analyze new trends before they're super popular because we scrape online sites to gather all relevant trend data and show you what's up-and-coming in your industry. Our trend spotting website is easy enough that anybody can use it without training: Log in, select your category, and we'll show you new trends as you browse. And we provide a number of features to enable trend discovery and systematically track trend growth.
Our platform is a great resource for media brands, marketing agencies, business owners, consultants, investors, entrepreneurs, (and other professionals who want to find and track market trends) to guide investment decisions, business ideas, and marketing strategies such as new content ideas.
Start an Exploding Topics Pro Trial to explore our trend discovery and tracking features and learn more about pricing.