How to Find Trends (Super Early) in 2023
Most trend discovery advice involves scrolling through social media, scanning trend spotting websites, and digging through industry reports.
Though you'll quickly find a few issues with this process:
Manually searching for trends is time-consuming. Whether you're scanning industry forums, scrolling social media, or digging through industry reports, there's a lot more noise than signal. You'll waste a lot of time trying to find one quality trend.


Most trend discovery tools provide reactive trend suggestions. Many trend discovery websites show trends that are already popular – so you'll probably miss out on the first mover advantage. Alternatively, some trend tools show trend data on any topic, but you have to already know about the topic. (This is how Google Trends works.)


Many trend discovery tools vary in accuracy (and may be biased). Every trend discovery website qualifies trends differently. If an individual researcher selects the topics, the trends may be biased and lack supporting data. Or if the website does use data to qualify trends, it might be based on a small (and potentially biased) data set – like their website visitors.
So here are a few of our favorite trend discovery methods to help you quickly find high quality trends (before they've peaked).
Even if you've already heard of some of these methods, we'll give you pro tips to improve your trend spotting process and find better trends in less time.
1. Use a Trend Spotting Website
​​A trend spotting website does the hard work of finding emerging trends for you.
Just sort by topic category (like health, beauty, technology, crypto, gaming, etc.), and you'll quickly see a list of trending topics.
So it's arguably the fastest and most passive method to find new trends.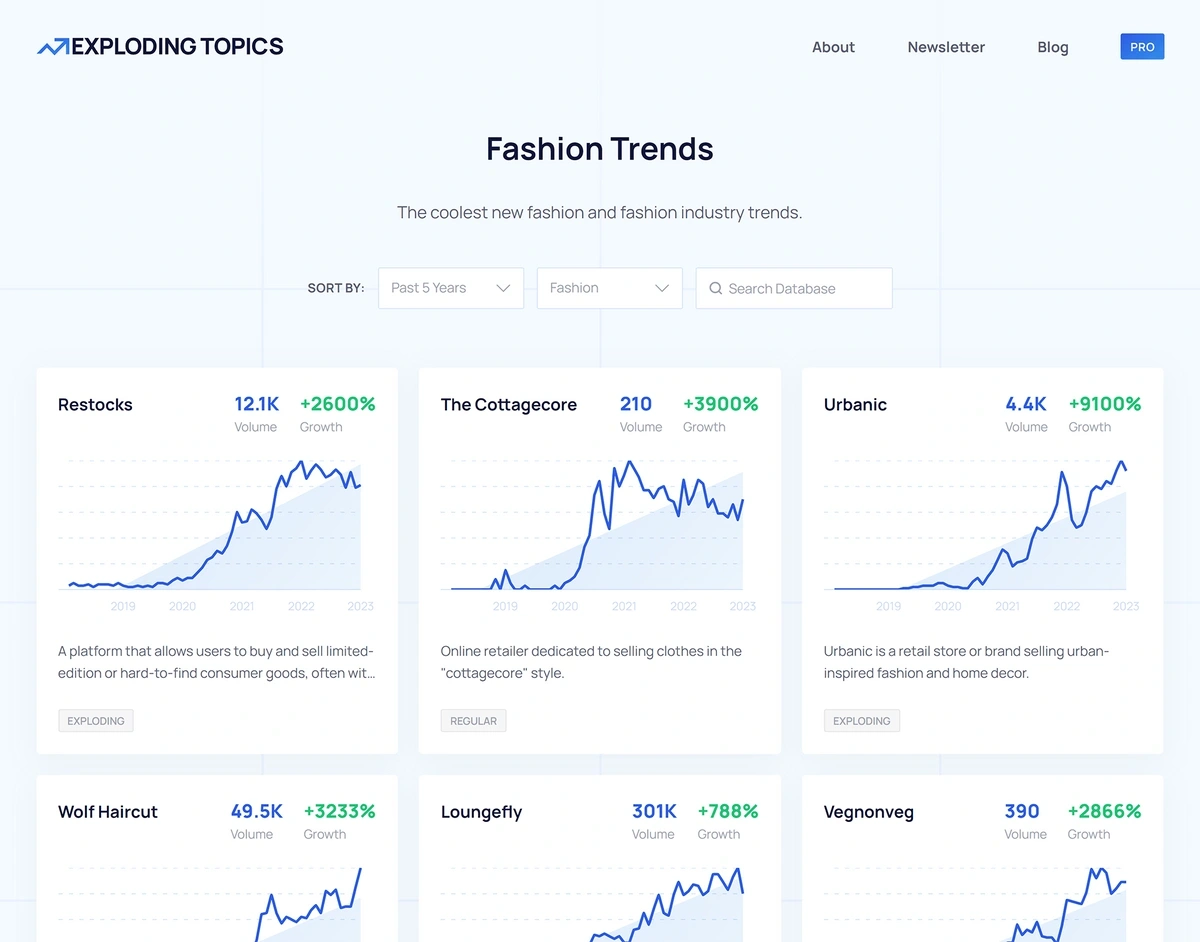 The biggest challenge with using a trend spotting website is finding one that consistently produces high-quality trends.
We've tried every trend spotting website available, and found that trend quality varies.
For example, some trend spotting websites suggest trends that:
Already peaked
Are irrelevant to business
Are fads rather than sustainable trends
Worse, some trend spotting websites fail to identify key rising industry trends altogether.
To solve these trend quality issues, we built Exploding Topics.
The secret to our trend quality standards is a detailed qualification process that combines AI and human analysis.
Here's an overview of it:
AI and machine learning scans the internet (Google, Reddit, Twitter, Spotify, YouTube, etc.) for popular topics.

Human analysts can't consume every piece of content on the internet – but AI can! So using AI minimizes the possibility of missing a key rising industry trend. Scanning the entire internet (rather than a handful of select sources) also minimizes bias.

We check Google Search trend data for each topic identified by AI.

If you're making an investment decision based on trend data, you want to ensure that the trend will continue to grow over the next several years. So to mitigate fad suggestions, we verify each topic's growth potential by analyzing its Google Search volume trend.

If the topic's search volume trend showed steady compounding growth over the past several months/years, that's a positive sign that the topic will be an important trend for the coming trends.

Qualifying topics are checked for relevancy by a human analyst.

AI and machine learning usually identify pop culture topics, like TV shows, music, and celebrity news, which are irrelevant to business. So to keep the trends relevant to business analysis, a human analyst manually reviews each topic for relevancy before adding it to the database.

When you look at the Trends Database, you'll see that each topic in the dashboard is either a brand name, industry search term, or product keyword.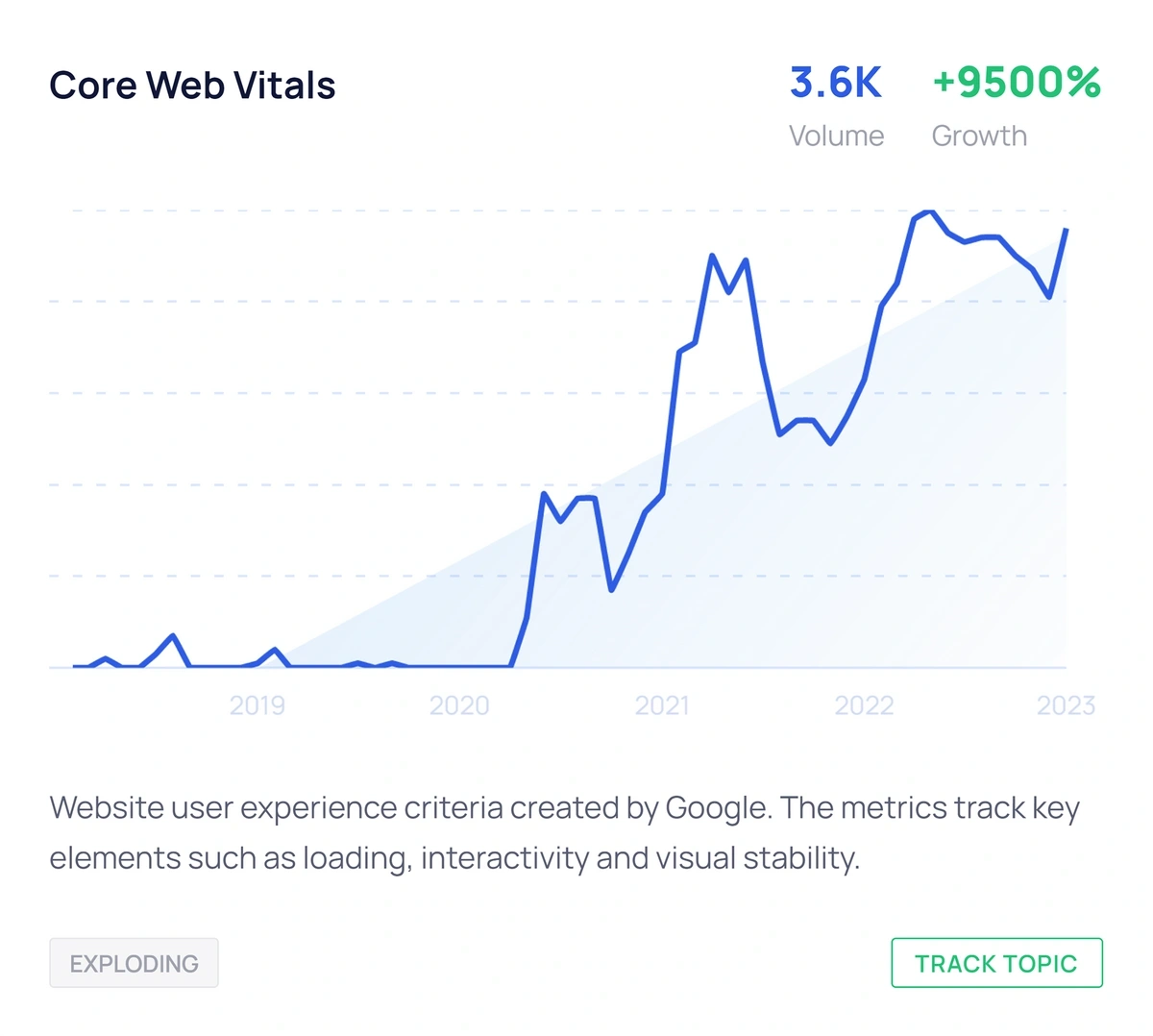 The benefits of this trend qualification process are:
It's unlikely you'll miss a new emerging trend because AI and machine learning scans billions of webpages and social media platforms (like Spotify and YouTube) to find emerging topics.
You never have to sort through noise because a human analyst checks that each trend is relevant to business analysis.
Trends are unbiased because they are selected based on a global data sample (Google Search volume) rather than a person's or group's subjective opinion.
You'll find trends rather than fads because each topic must show compounding search volume for several months before joining the trends database.
So how do you use Exploding Topics to find trends?
Step 1. Explore the Trend Database to See New Trends by Category
The Trends Database currently has over 10,000 trends, and it's updated daily so you don't miss emerging trends.
To use it, sort by category (fashion, crypto, eCommerce, technology, gaming, software, startups, etc.), and you'll see a list of trends along with a graph of their Google Search volume history: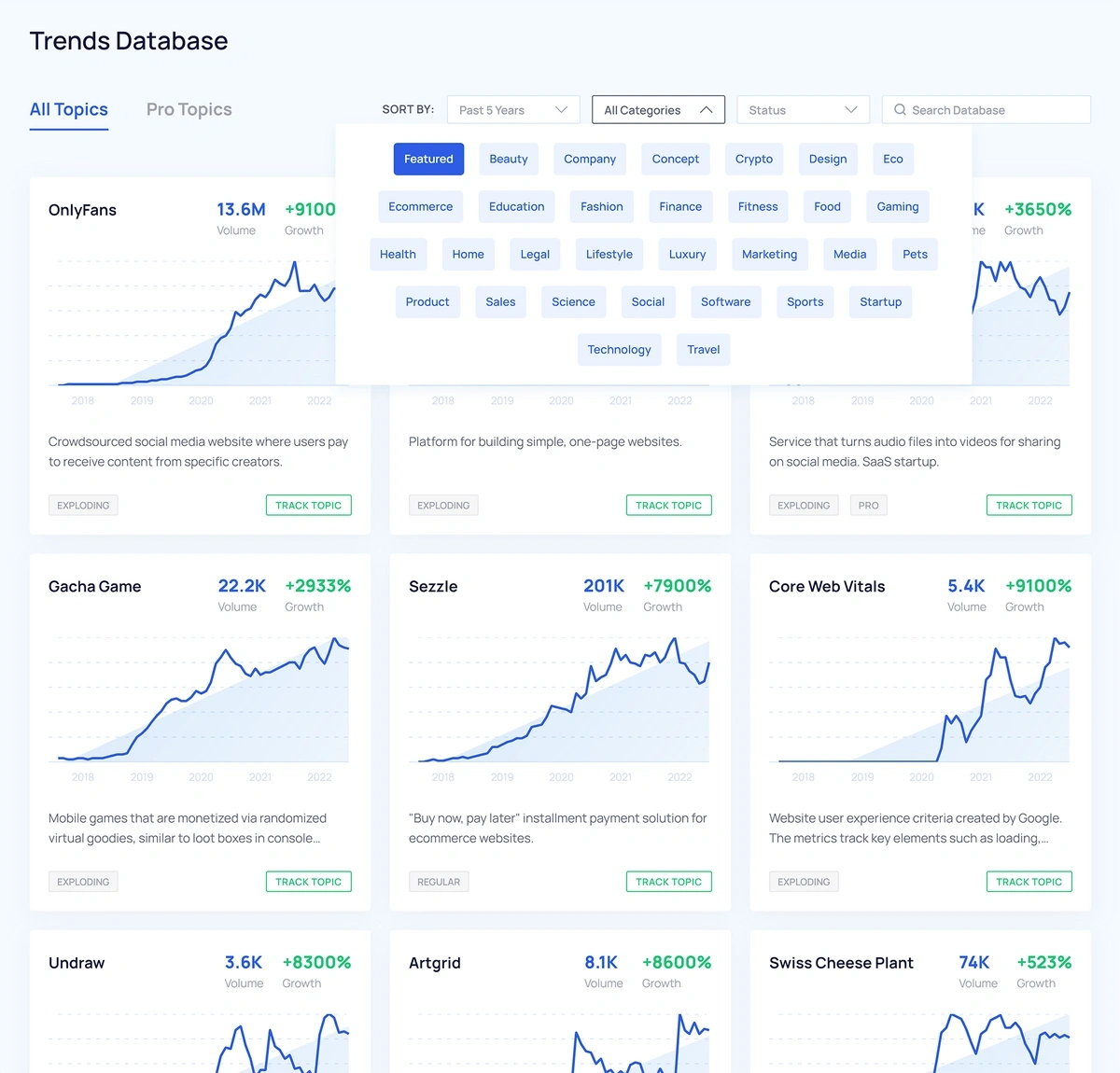 You can also filter by timeline (ranging from 3 months to 15 years) and growth status (exploding, regular, and peaked), which is determined by Google Search volume growth.
When you find an interesting topic, you can click on it to see more details like total search volume, related topics, and even a definition.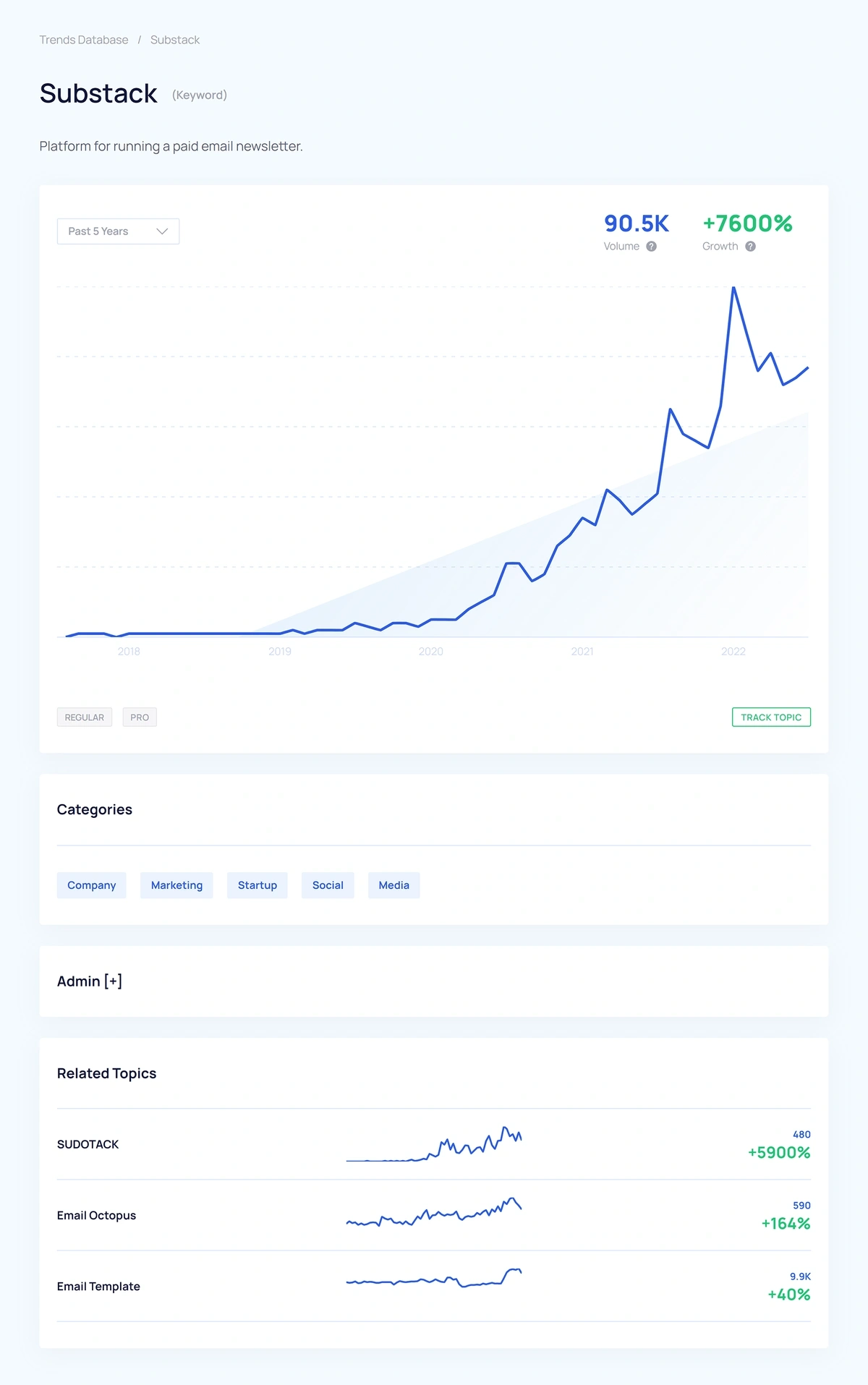 If you want to save it, click "Track Topic" and you'll be able to add it to a Project (more on that in step 3).
The best part?
You can use the Exploding Topics Trends Database for free right now! We reserve the best trends for Exploding Topics Pro users, but you'll still be able to find thousands of relevant trends using the freemium version.
Exploding Topics Extra Trend Discovery Tools
In addition to the Trend Database, Exploding Topics has a search feature (called Trends Search) and Meta Trends library to help you find new trends in different ways. Here's how they work:
Trends Search is similar to Google Trends — you can research trends you already know about, filter by region, and see trend metrics, related popular topics, and other trending searches. Trends Search makes it easy to look up specific keywords, products, and brands you've heard about elsewhere, and track trend data in Exploding Topics.




The Meta Trends library lets you search trends by specific topic — instead of category — and view all the trends that make up that topic. For example, you can click into something like "DTC self-care products'' and see trends like scalp massager, Solawave (a product that uses electricity, heat, red light therapy and massage to soothe skin), and Lolavie (an organic beauty brand).


Read More: ​​How to Identify Market Trends with Trend Forecasting Software
Step 2. Check Weekly Trend Reports for Info on Newest Trends
We also curate and send weekly newsletters to keep you updated on the newest trends. The Exploding Topics Trend Report hits your inbox each week and covers ten new trends (five trending products and five trending companies). Our reports cover a variety of categories so you can find trends you might not have thought to research.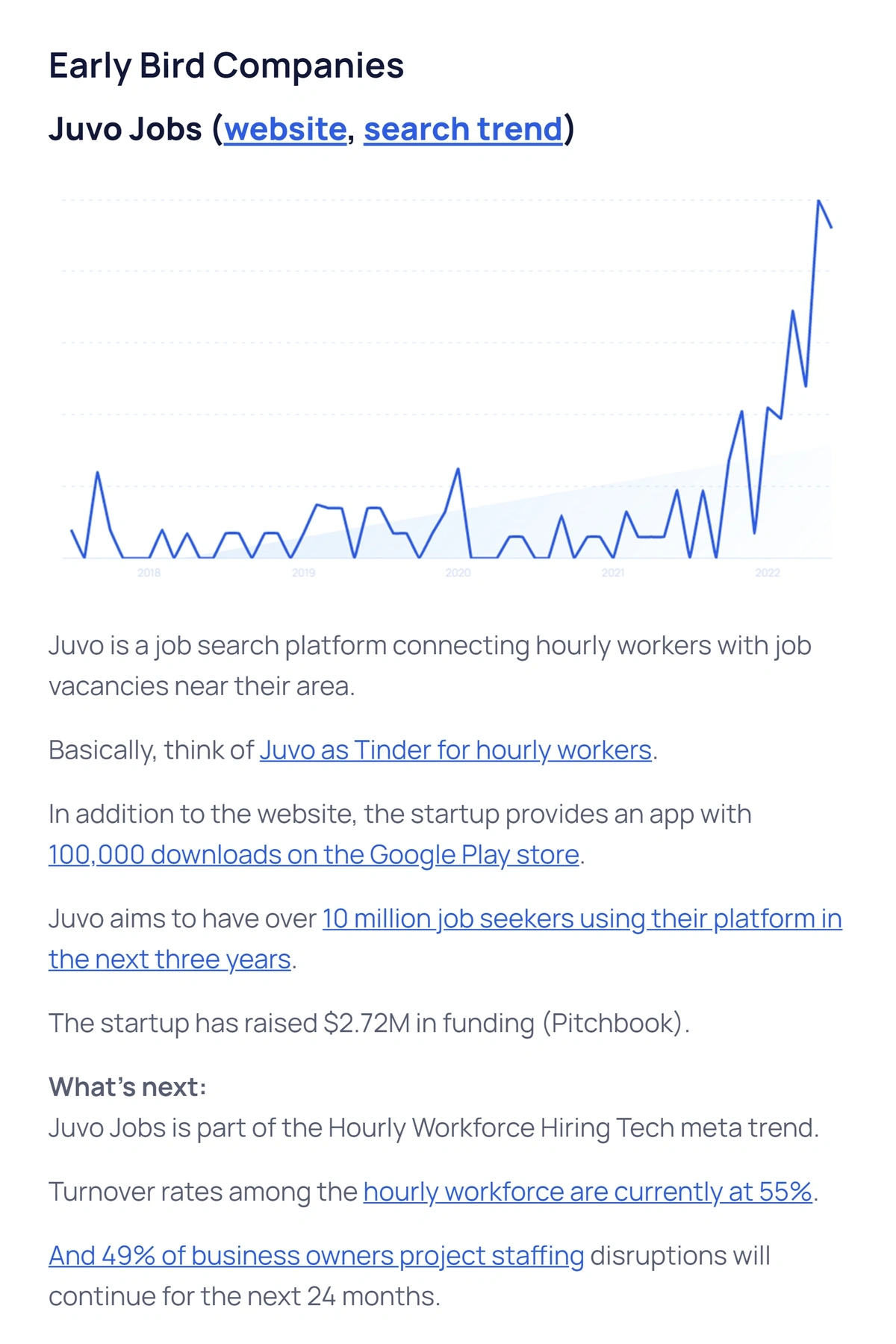 In our weekly reports, you can read a detailed background on each new trend — like details on the history of the trend and why the trend is becoming relevant today. We also cite our sources so you can visit other helpful links to learn about these trends (if you want to do more digging). For example, here's a snapshot from a recent trend newsletter:
If you didn't get a chance to read one of the emails, you can view past trend reports in the Trend Reports library within the Exploding Topics dashboard.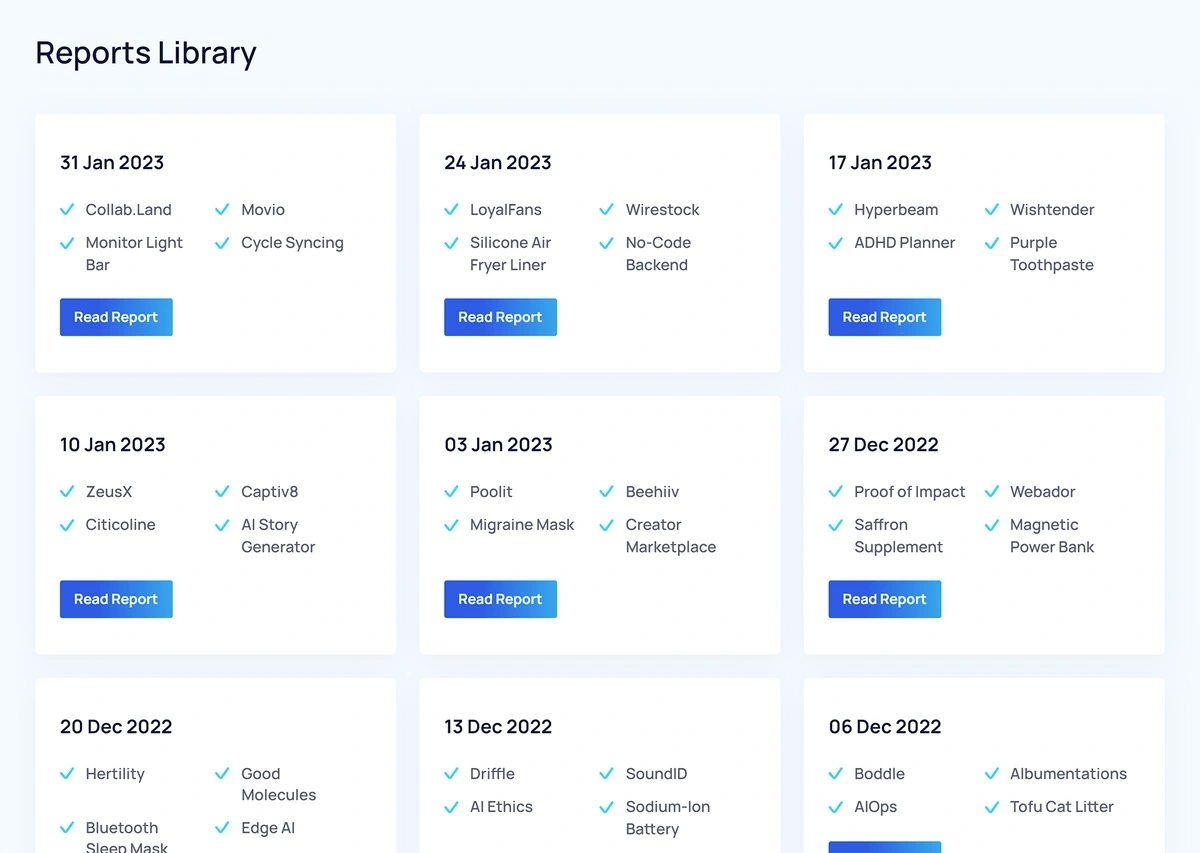 Step 3. Save and Track Trends In Your Personal Dashboard
Once you find an interesting trend, you can save it in the Projects dashboard.
Just click "Track Topic" and then create a Project (or add it to an existing Project):
For example, if I'm researching the eCommerce space, I might create the following three Projects:
Ecommerce Companies
Ecommerce Products
Ecommerce Niches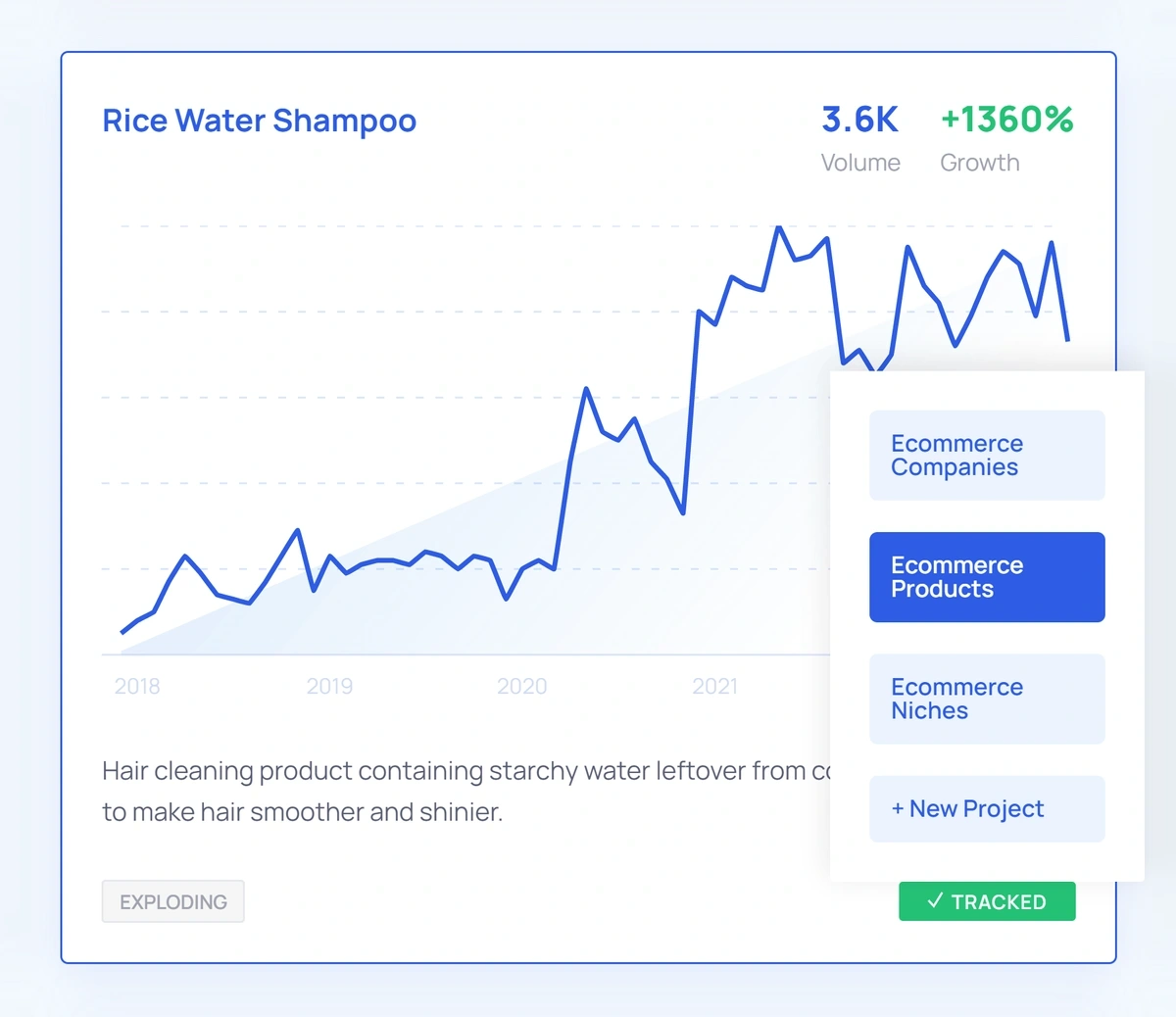 Then, I can easily see all of the topics organized in the "My Projects" dashboard: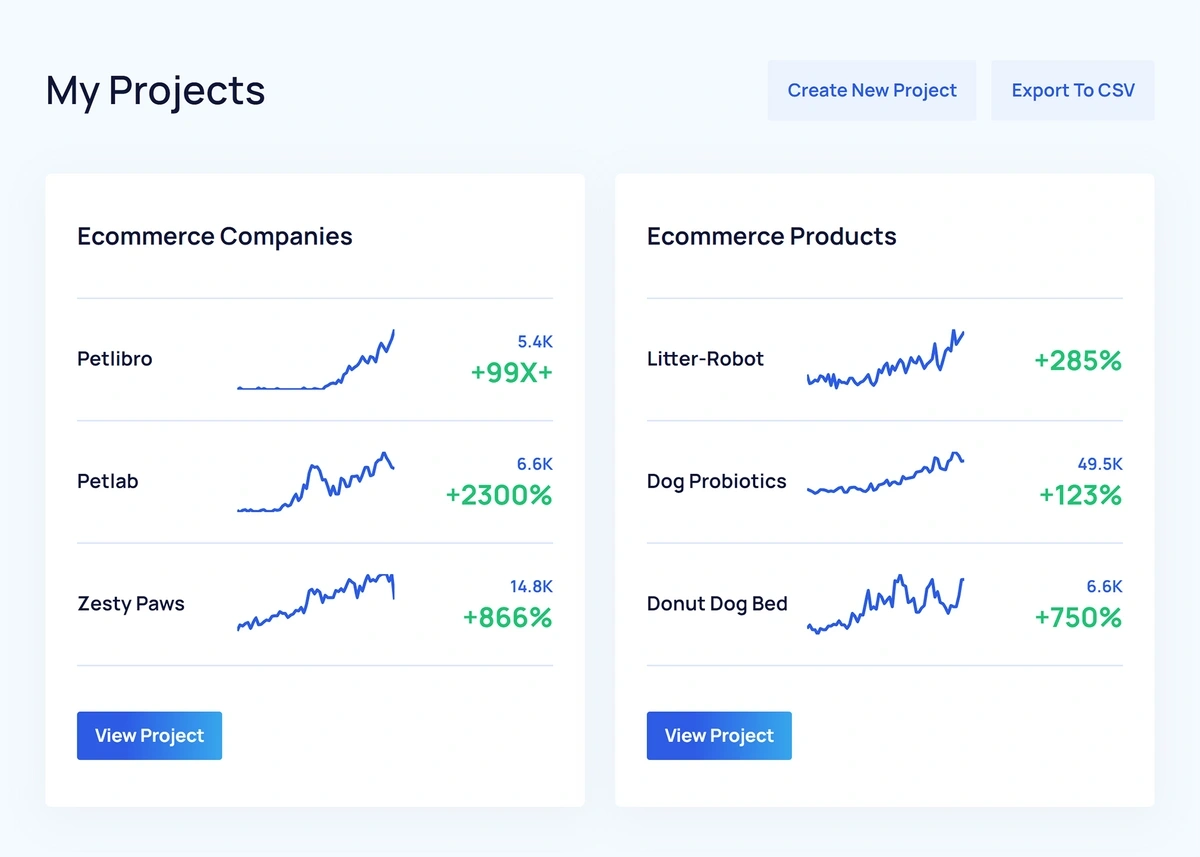 The trend tracking dashboard lets you quickly check in on saved trends (any time you want). And since we update our platform daily, you're always looking at the most up-to-date trend information. You can also set real-time trend alerts to be notified of major trend updates, such as significant changes in traffic or growth rate.
All trend tracking is completely private — other users can't view your trends dashboard. However, we use trend data to suggest new trends related to your interests.
In the trend tracking dashboard, you can:
See all saved trends, click to view updated trend information, and analyze trending content with current data.
Save other recommended industry trends.
View related meta trends.
Access recent trend reports.
You can also connect the trend dashboard with other reporting or data analytics software with the Exploding Topics API key.
To find new trends today and unlock more advanced features (like trend tracking and weekly reports) sign up for Exploding Topics Pro today!
2. Strategically Track Social Media
Social media platforms can help you find early trends, though aimlessly scrolling through your feed is time-consuming and probably won't yield great results.
So to help find quality trends efficiently, here are three pro tips we'll discuss:
Use a social listening tool
Follow a curated list of influencers
Track current trends with a content discovery tool
Use a Social Listening Tool
Social listening tools are typically used for brand monitoring, though you can also use them for trend discovery by tracking keywords, brand mentions, and hashtags.
For example, if you know of a general meta trend like bitcoin, you can track that keyword and quickly see the most popular social media content on that topic.
Similarly, you could track a brand like Mixpanel and see all of the mentions of that brand.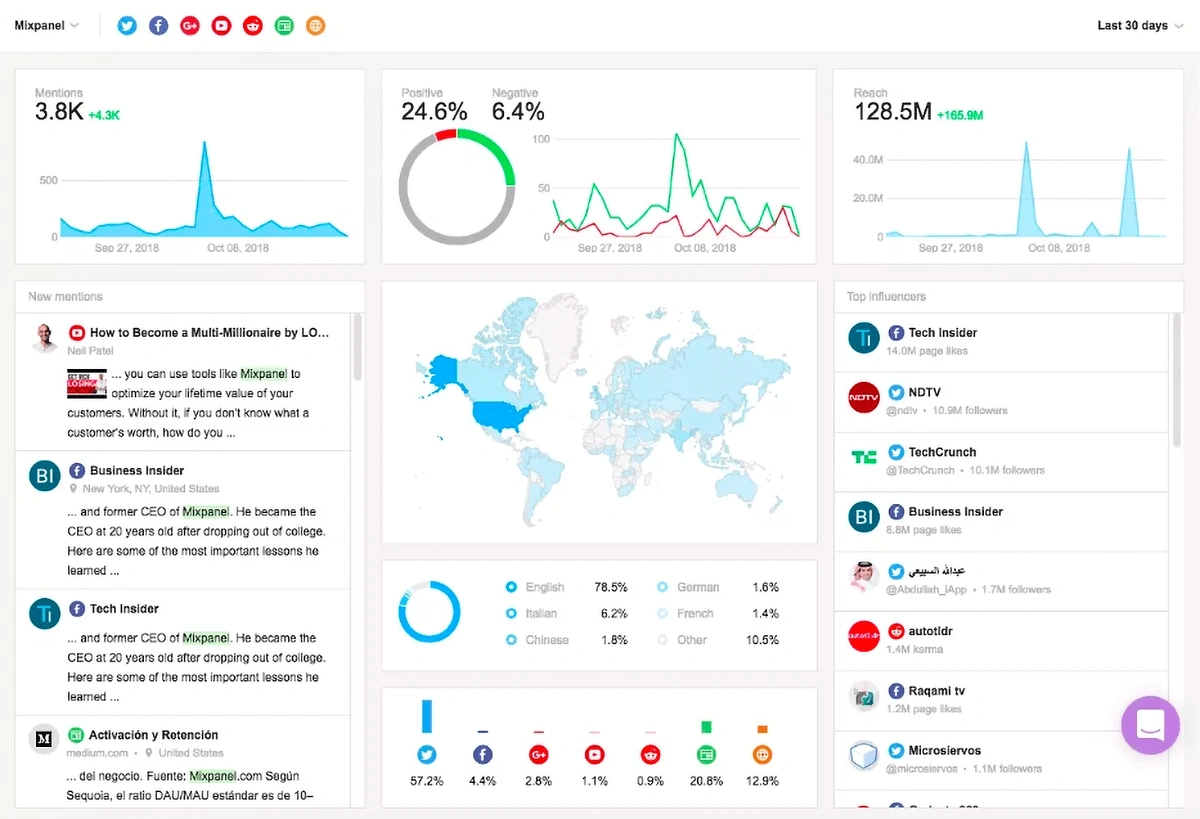 Some popular social media listening tools include Hootsuite, Awario, and Brand24.
Follow a Curated List of Social Media Influencers
You can also curate a list of reputable social media influencers in your industry and regularly skim their content for new trends.
If you want to go the extra mile, you could create a unique Twitter or LinkedIn account to follow influencers and industry leaders for a particular trend you're researching.
Then, you'll have a content feed explicitly tailored to the trend you're tracking. While you'll probably still have to sort through a lot of noise to find relevant trends, it can be a great way to keep a pulse on the industry.
The main drawback of this method is that trend information will be skewed exclusively to the opinions and ideas of a handful of people. However, it's much better than aimlessly scrolling social media.
Track Current Trends With a Content Discovery Tool
If you're specifically looking for trends for content ideas, you can use a tool like Buzzsumo or Ahrefs's Content Explorer. These tools let you search for a general topic and then provide a list of the most popular content for that topic.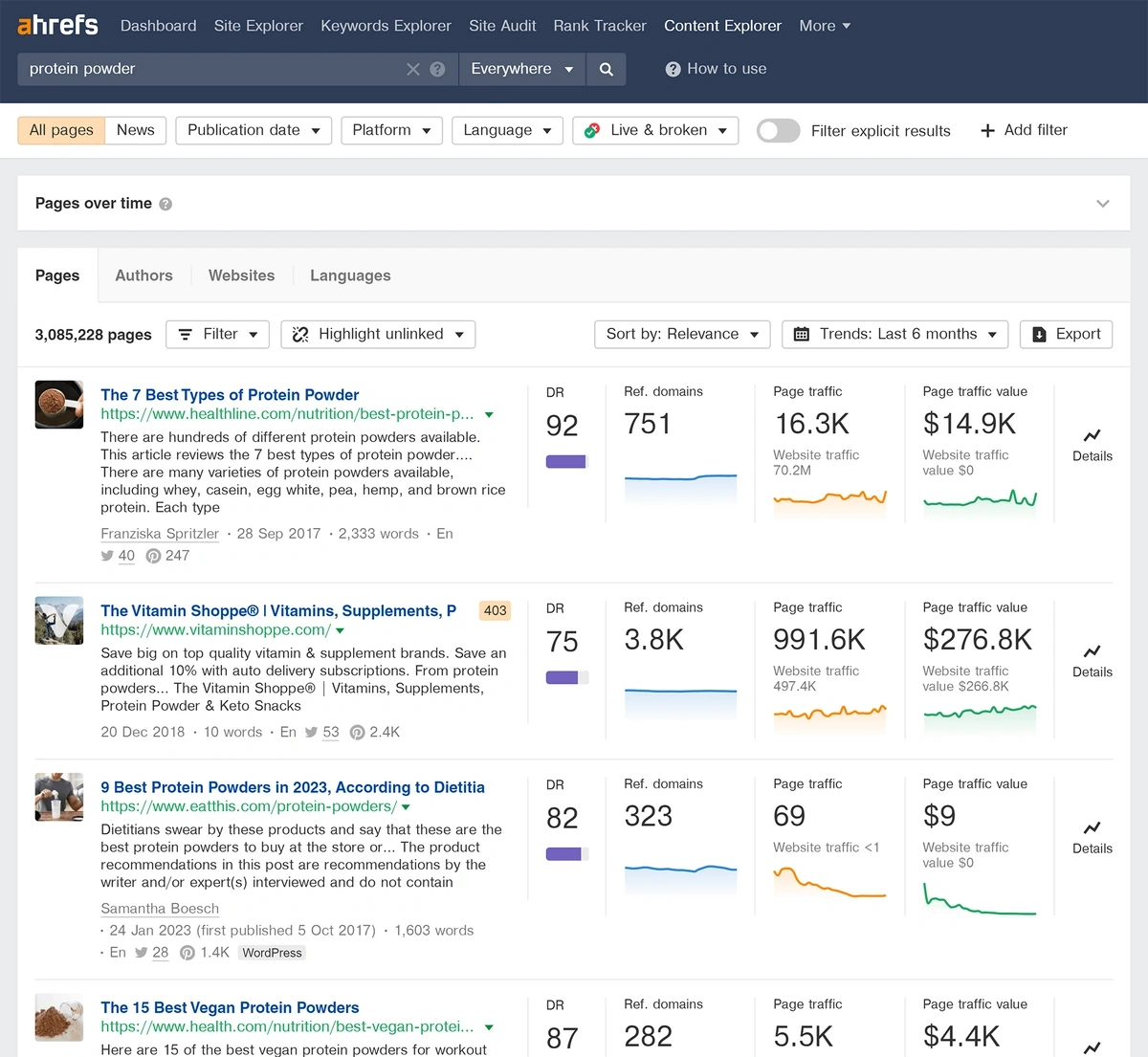 This is a great way to figure out what topics are currently trending so that you can capitalize on the buzz with your own unique content.
The drawback with these tools is that they only show content that's popular in a recent time period. So if you're trying to find sustainable trends for product development or business ideas, you'll probably have to sort through many fad topics to find a handful of sustainable trends.
3. Pay For Access to Industry Leaders
Industry influencers are excellent resources for identifying and learning about industry trends. So if you're about to make an investment decision based on an industry trend, it's a good idea to talk to an industry expert before investing.
The problem is that:
Most industry leaders don't share their best trend ideas publicly on social media.
Industry influencers receive many one-on-one conversation requests, so most are turned down.
Fortunately, there are a few ways you can pay for access to industry leaders. Here are three we'll discuss:
Join paid communities and masterminds (Slack, Facebook, etc.)
Pay for a call (Clarity.fm, Respondent.io, etc.)
Attending conferences
These strategies let you chat one-on-one with experts you otherwise wouldn't be able to access.
Join Paid Communities and Masterminds
Most Slack and Facebook communities are free, and engagement is typically relatively low.
However, a handful of paid communities give you direct access to world-class experts.
The founders include the previous VP of Marketing at HubSpot and other SEO influencers that typically aren't available for one-on-one consultations. However, they regularly jump into Slack discussions to answer member questions and are an excellent resource for trend discovery.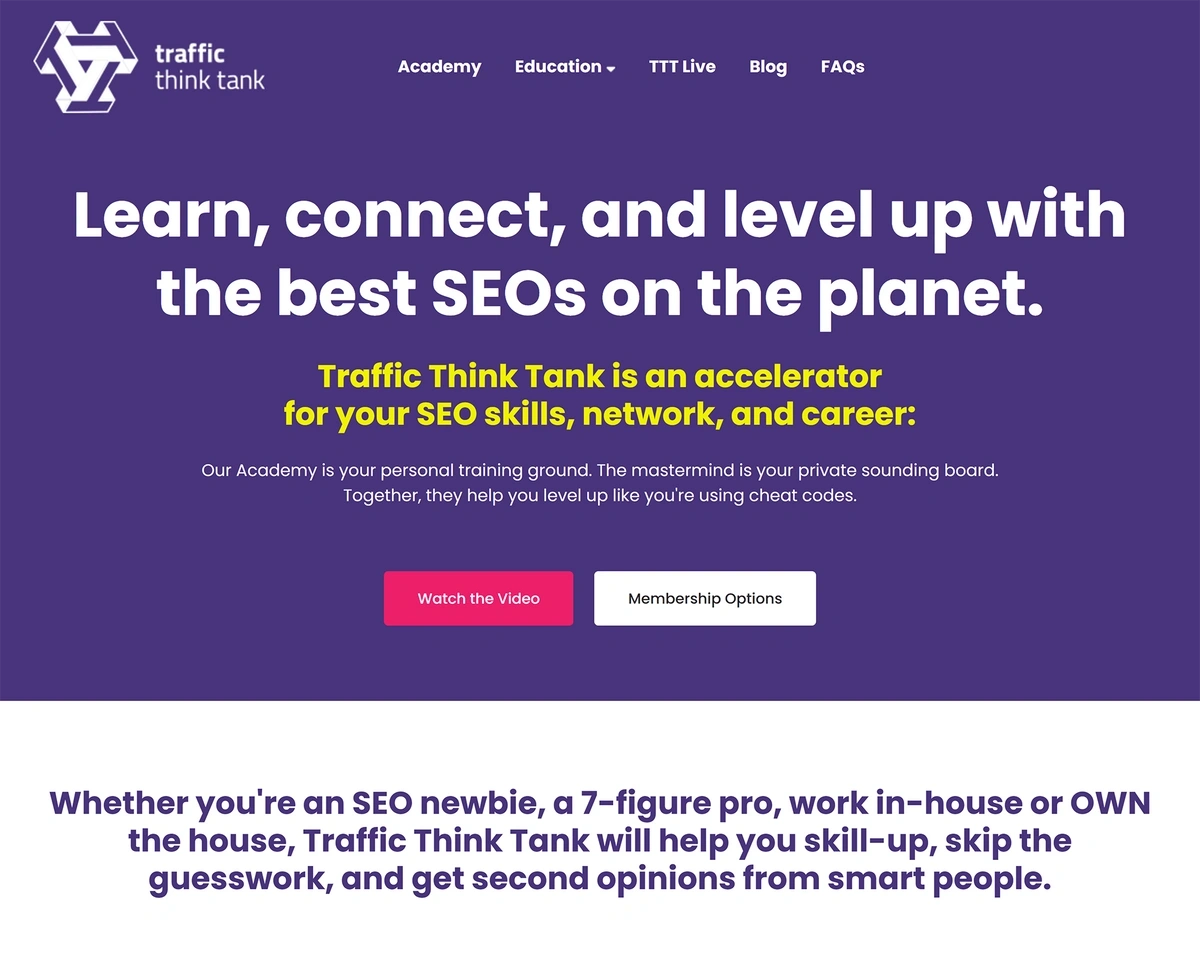 These industry leaders receive so many messages and emails that they rarely have time to give everyone a personalized response. However, as a member of Traffic Think Tank, I receive responses from them in a matter of hours.
Pay For a Call
Another great way to find trends is to get on a one-on-one call with industry experts.
While most experts decline the request to get on a one-on-one call, platforms like Clarity.fm and Intro make it easy.
For example, Intro allows you to book a call with people like Sam Parr (founder of The Hustle), Neil Parikh (co-founder of Casper), and Alexis Ohania (founder of Reddit).
While you don't necessarily need to talk to a major influencer to learn about industry trends, these platforms make it easy to access industry experts.
In addition, most influencers and experts feel more at ease on a one-on-one call and tend to divulge more trend predictions than they might publicly reveal.
Attend Conferences
Conferences are also a great way to learn about new industry trends. From chatting with speakers and industry leaders to scanning the conference agenda, you'll be able to pick up themes and identify leading industry trends.
While some conferences are expensive to attend, plenty of free conferences and even meetups attract top industry influencers.
Alternatively, if you can't afford to attend the conference, you can attend by volunteering.
4. Track Competitor Movements
If your competitors invest substantial resources into a particular trend, it's probably worth researching.
To stay on top of competitor movements, you can track them manually in a spreadsheet or leverage competitive research tools like Crayon.co and Klue. (Or, if you're just looking for topic ideas for your next marketing campaign, look at your competitors' blog and video content topics.)
To track competitor movements manually in a spreadsheet, here are a few specific things you can track:
Hiring trends: Track open positions at your competitors' companies. For example, if you see them hiring many AI engineers, that's a good sign that the industry is rapidly adopting AI.
Positioning trends: Track how your competitors change their positioning statements. For example, if they previously called themselves an app debugging tool and now call themselves a mobile observability tool, that's a good signal that mobile observability is a new trend.
Content marketing trends: Look at their content strategy and see the topics they're creating content for and which are most popular. Also, which topics and trends receive the most engagement from their audience?
News and press releases: Are your competitors releasing any new features or launching new products? Did they recently raise a new funding round, and from which VC firms?
Partnerships and Acquisitions: Track who your competitors partner with and acquire. For example, Kellogg noticed that healthier breakfast foods were a rising trend and therefore acquired RXBar to stay up-to-date with consumer trends.
Whether you're planning to invest in a particular industry, formulating a marketing strategy at a competing brand, or planning to build a startup in a particular industry, competitive intelligence is essential to making a safe bet.
However, be sure to combine competitive trend tracking with other more proactive trend discovery strategies, as competitive intelligence is a reactive trend discovery process by nature.
So you'll never have the first mover advantage if you rely solely on competitive intelligence.
5. Analyze Customer Data
The best way to discover profitable trends is to determine what pain points customers are willing to pay money to solve.
So to find promising trends, look at customer data by:
Analyzing customer reviews and industry survey data
Conducting customer (or potential customer) interviews
Hire a trend consultant
Let's discuss these in more detail.
Analyzing Customer Reviews and Industry Survey Data
Reviews are a great way to monitor trends because customers give you hints of what they like and don't like about competing products.
To analyze reviews at scale, you can use a tool like Thematic. It lets you upload a list of reviews and then uses AI to find common themes in your reviews.
These themes can help you uncover customer pain points and trends that nobody else is talking about yet.

You can also use industry surveys and report data to find industry trends quickly. For example, if you sell a product to marketing professionals, you can comb through HubSpot's State of Marketing Trends survey for trends.
A quick web search of "(your industry) trends report" will usually help you surface the latest trends.
Conduct Customer (Or Potential Customer) Interviews
One-on-one interviews with customers help you go deeper into pain points, and you can even ask them outright what trends they're interested in and what they predict the industry will look like in the coming months and years.
To conduct these interviews, you can use a tool like Discuss.io and interview your existing customers. Discuss records the interview for you, and it also has sentiment analysis and theme-finding features to help you quickly identify common trends from the customer interviews.
If you don't have any customers yet, you can also use a tool like Respondent.io. It lets you book a customer research call with industry professionals to learn more about trends and collect other customer research data.
Hire a Trend Consultant
If you have a substantial budget, you can also use a platform like WGSN to hire a trend consultant to provide detailed trend analysis on a particular market.
Services like WGSN collect original trend data across various industries and can help guide strategic decisions based on that intelligence.
This is a much more costly service, but it might be a good option if you're making a multi-million dollar bet.
Start Finding Trends Today
There are plenty of different ways to find trends, but the trend discovery process you use will impact:
The quality of the trends you find.
The time you spend searching for trends.
While all the trend discovery tips above work, our favorite method is using a quality trend spotting website, as it does the hard work for you.
All you have to do is type in a topic and it spits out a list of under-the-radar trends related to that subject.
To see for yourself how Exploding Topics can help you find better trends faster, sign up today!