The Future of Transportation
Thanks to advancements in technology and a growing awareness of the need for sustainable mobility, a transportation revolution is already underway.
But in many cases, these advancements haven't fully hit the private market yet.
Plenty of attention has been given to electric vehicles, automated driving, and micromobility over the last few years, but industry leaders say that there may be a pivotal point of adoption coming very soon.
What were once considered futuristic modes of transportation, like eVTOL aircraft, may become reality by the end of the decade.
This report delves into five key areas that are shaping the future of transportation: electric vehicles (EVs), automated driving, electric vertical takeoff and landing (eVTOL) aircraft, high-speed rail, and micromobility.
The Future of Electric Cars
Rising environmental concerns, consumer demand, and federally-imposed targets are expected to push the electric vehicle (EV) market over the tipping point in the near future.
In August 2021, the Biden administration announced an executive order that would make half of all new vehicles sold in 2030 electric. The overall goal is to cut greenhouse gas emissions.
Although the goal isn't law, it did receive backing from manufacturers like GM, Ford, and Chrysler.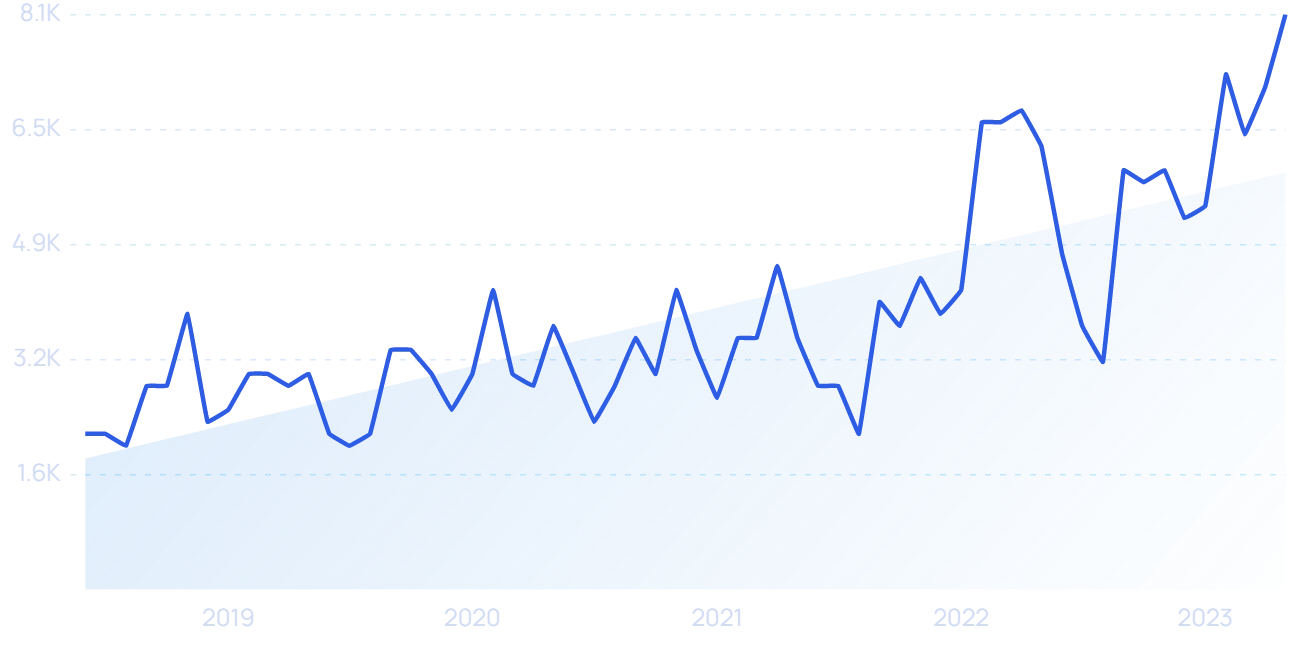 Search volume for "sustainable transportation" has increased more than 300% in recent years.
Many consumers are on board with the transition to EVs, too.
A 2023 survey from Deloitte reported that 62% of Americans still say their next vehicle will have an internal combustion engine, but 36% say they'll choose some variety of EV for their next vehicle.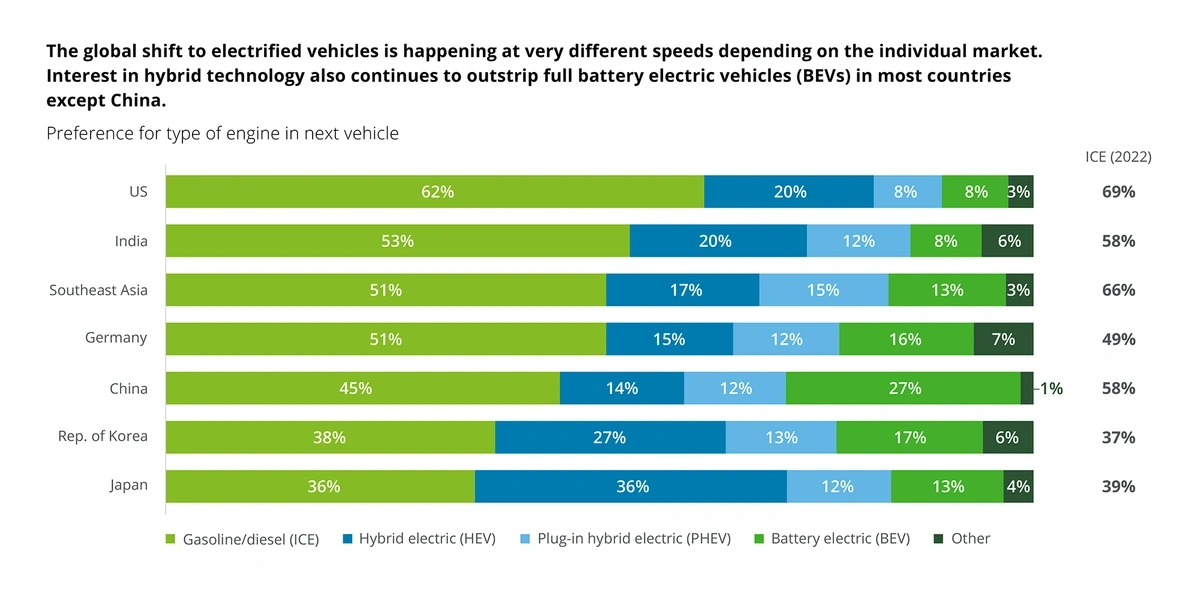 More than one-third of Americans say their next vehicle will be an EV.
These consumers are drawn to the lower fuel costs and lower emissions associated with EVs.
Demand is expected to grow rapidly in the coming years, according to an analysis by Bloomberg.
Their research shows that the tipping point of EV adoption occurs when EVs make up 5% of new car sales.
The United States crossed that tipping point in the summer of 2022.
Bloomberg analysts expect EV sales to make up 25% of new car sales by the end of 2025.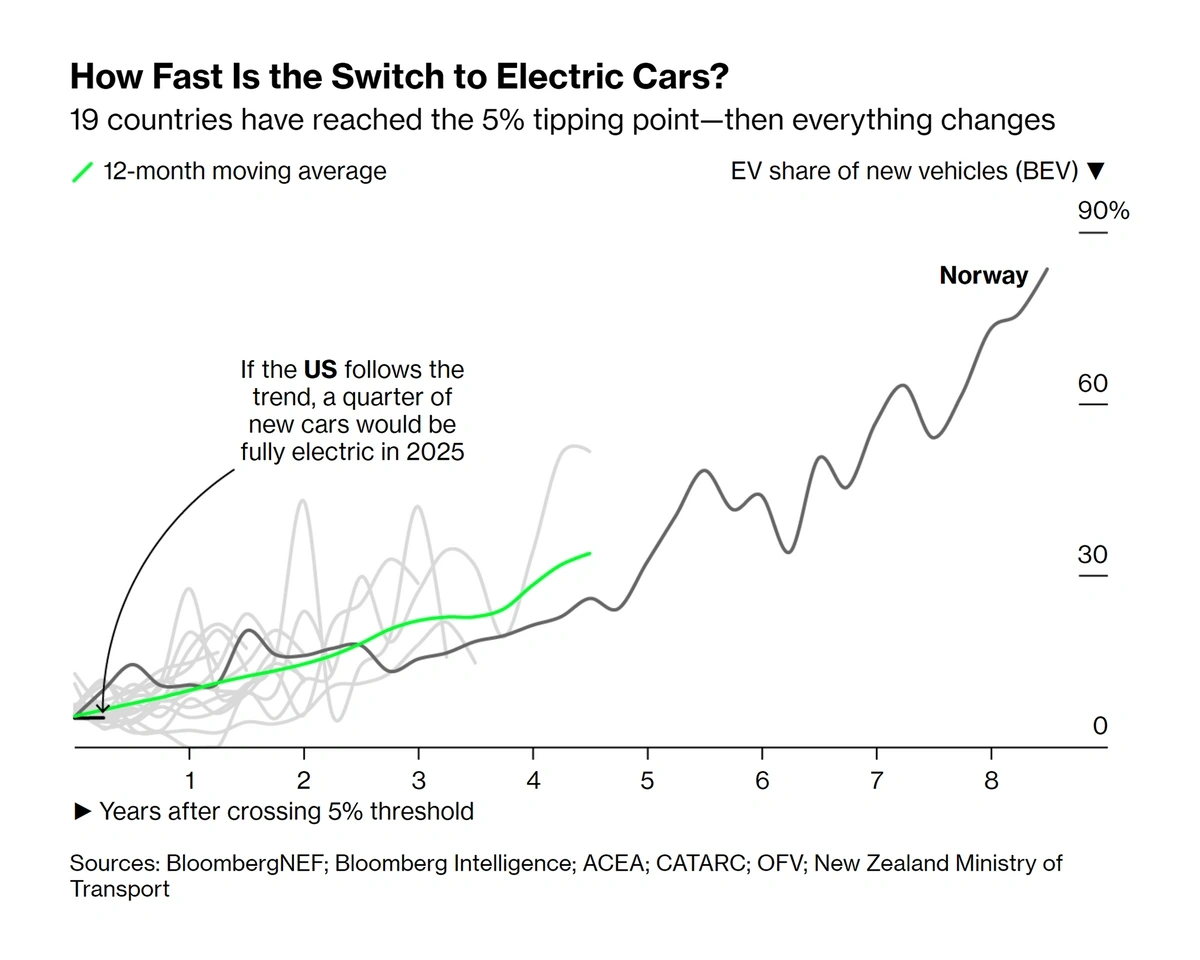 Using Norway as an example, Bloomberg analysts say EV adoption in the U.S. could grow exponentially in the coming years.
Aside from the federal government, many state governments are expected to regulate sales of non-electric vehicles in the coming months.
California and Washington have already made moves to ban the sale of vehicles with internal combustion engines in the coming years.
As of March 2023, seven states had announced plans to phase out these types of vehicles.
Maryland, the latest state to adopt a ban, says that it will result in a reduction of 6,000 tons of nitrogen oxide pollution and a reduction of 82 million metric tons of carbon dioxide emissions between 2026 and 2040.
The Future of EV Infrastructure
The lack of EV infrastructure continues to be a concern for many and could slow the transition to electric vehicles, especially in rural areas of the United States.
As of May 2023, there are more than 53,000 EV charging locations in the United States.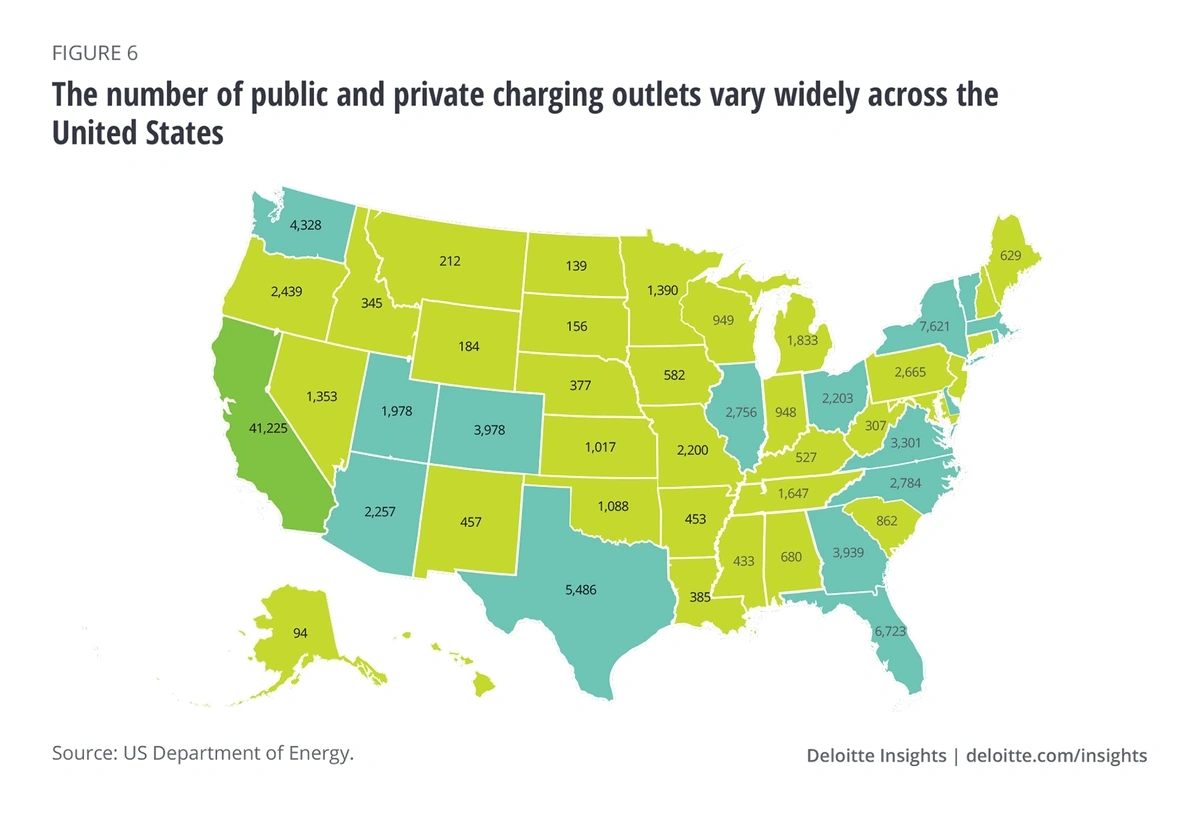 California, by far, has the most EV charging outlets in the country.
Charging ports operate at one of three speeds.
With Level 1 equipment, charging can take more than 50 hours. Level 2 takes 4-10 hours.
The final speed—called direct current fast charging (DCFC)—charges in 20-60 minutes.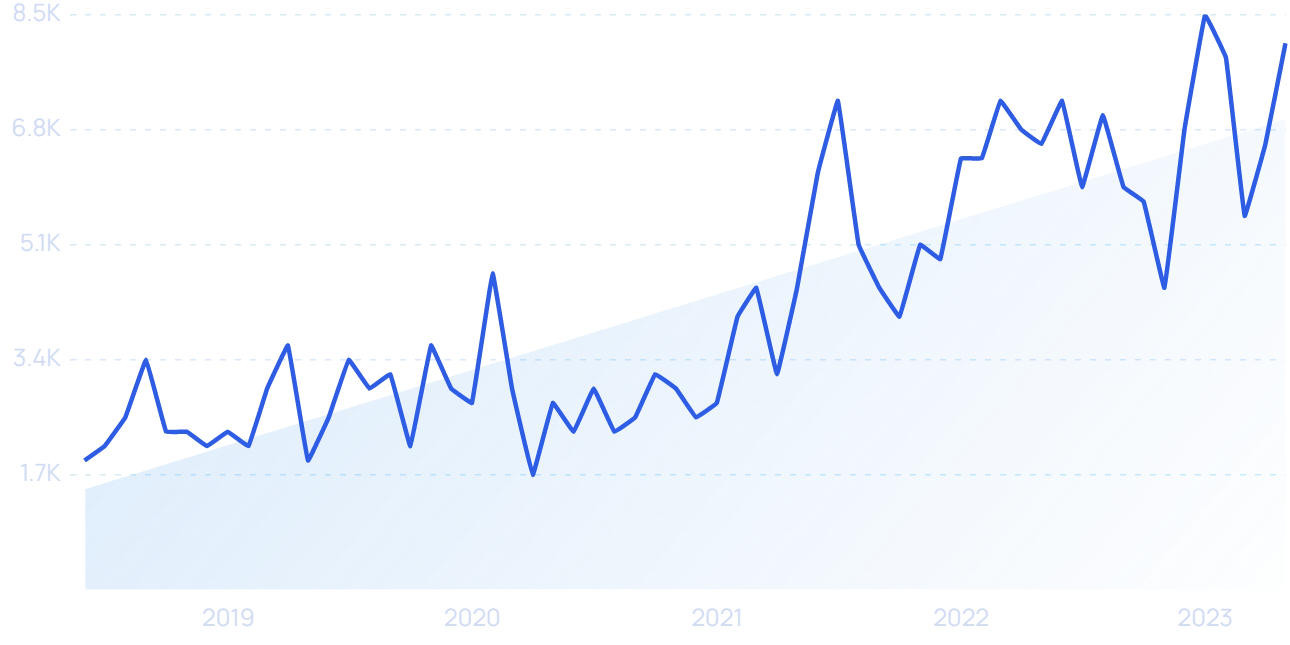 Search volume for "DC fast charging" is up more than 300% in the past five years.
In the entire U.S., there are only 40,000 DCFC ports.
In New York City alone, there's an expected shortfall of 40,000 EV ports by 2030.
Currently there are only 117 DCFC chargers in the city; 5,500 more need to be built by 2030.
Recent legislation has been pouring money into the EV infrastructure market, though, with the goal of creating a network of 500,000 EV charging stations across the country.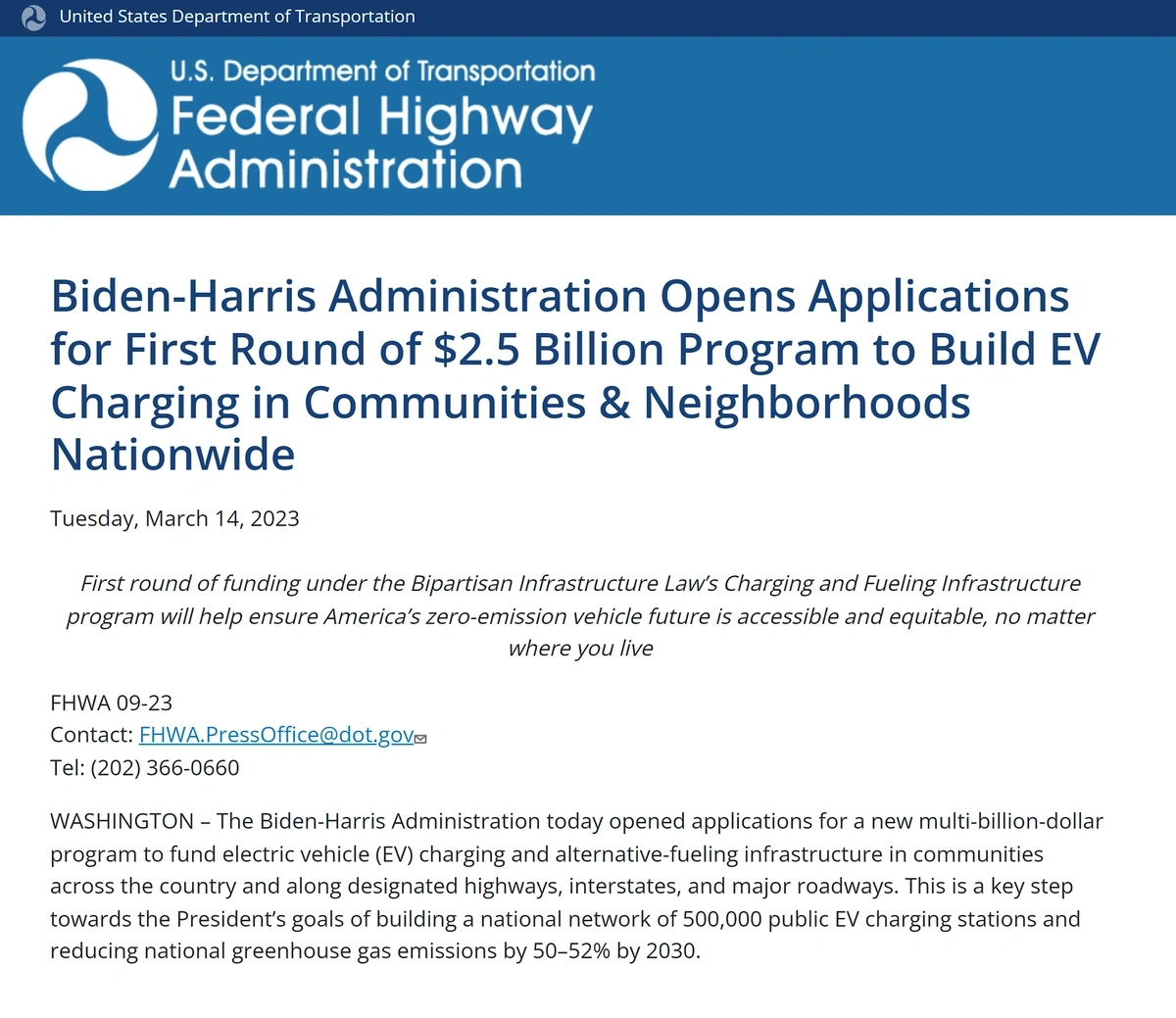 Recent government funding opportunities are encouraging future investment in EV infrastructure.
The most recent funding opportunity opened in March 2023.
The Charging and Fueling Infrastructure program provides $2.5 billion in grants for the future construction of EV charging stations, especially in underserved areas.
EV infrastructure investments are also coming from private entities.
At CES 2023, Mercedes-Benz announced intentions to build a charging network in North America.
It includes 400 hubs and 2,500 high-powered chargers to be built by the end of 2027.
The Future of Automation in Transportation
The autonomous driving segment of the transportation industry could generate hundreds of billions of dollars by the end of the decade, according to research from McKinsey.
By 2035, revenue from autonomous driving systems could top $400 billion.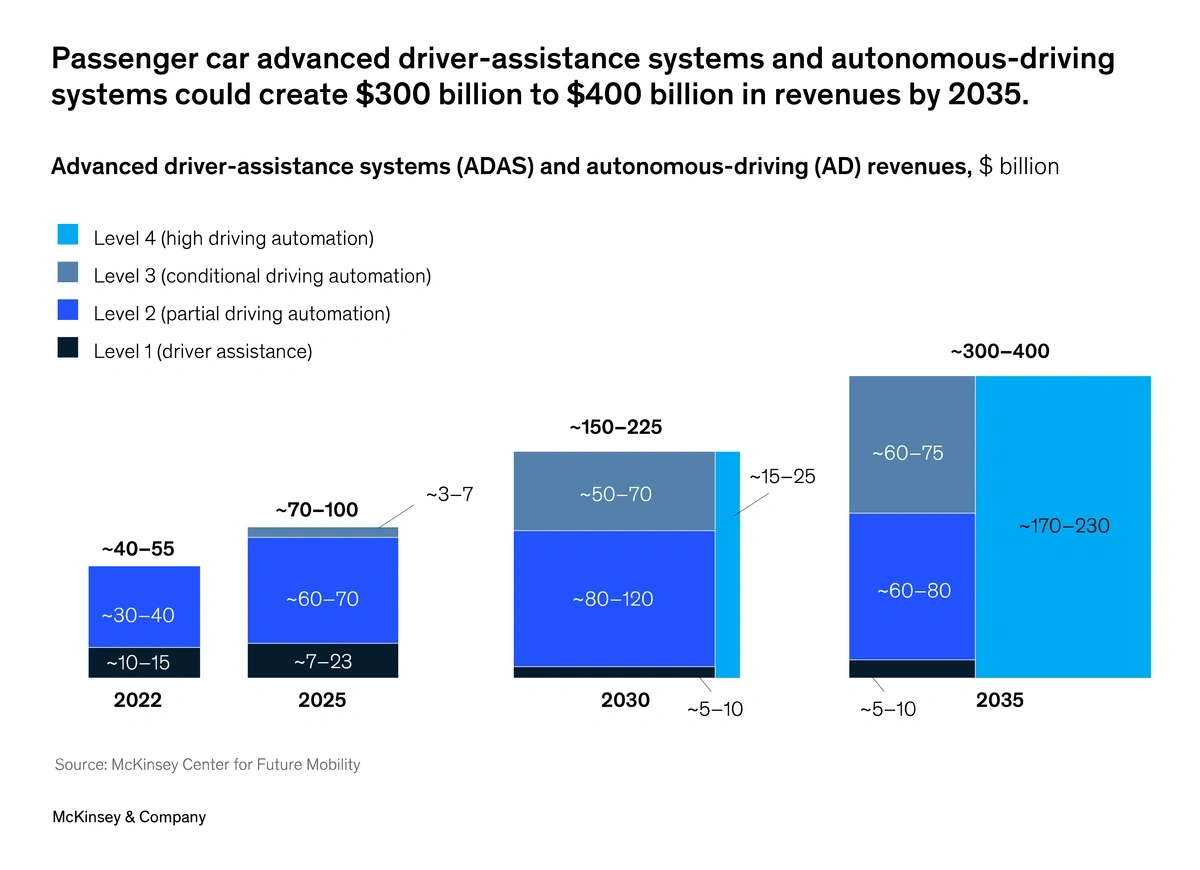 McKinsey's research shows the potential revenue from autonomous-driving systems.
Fully-autonomous vehicles haven't hit the market just yet, but many self-driving features have already arrived.
Things like hands-free steering, adaptive cruise control, and lane-centering steering are examples of lower levels of autonomous driving.
The U.S. National Highway Traffic Safety Administration has set six levels of autonomous driving to guide future development in this sector.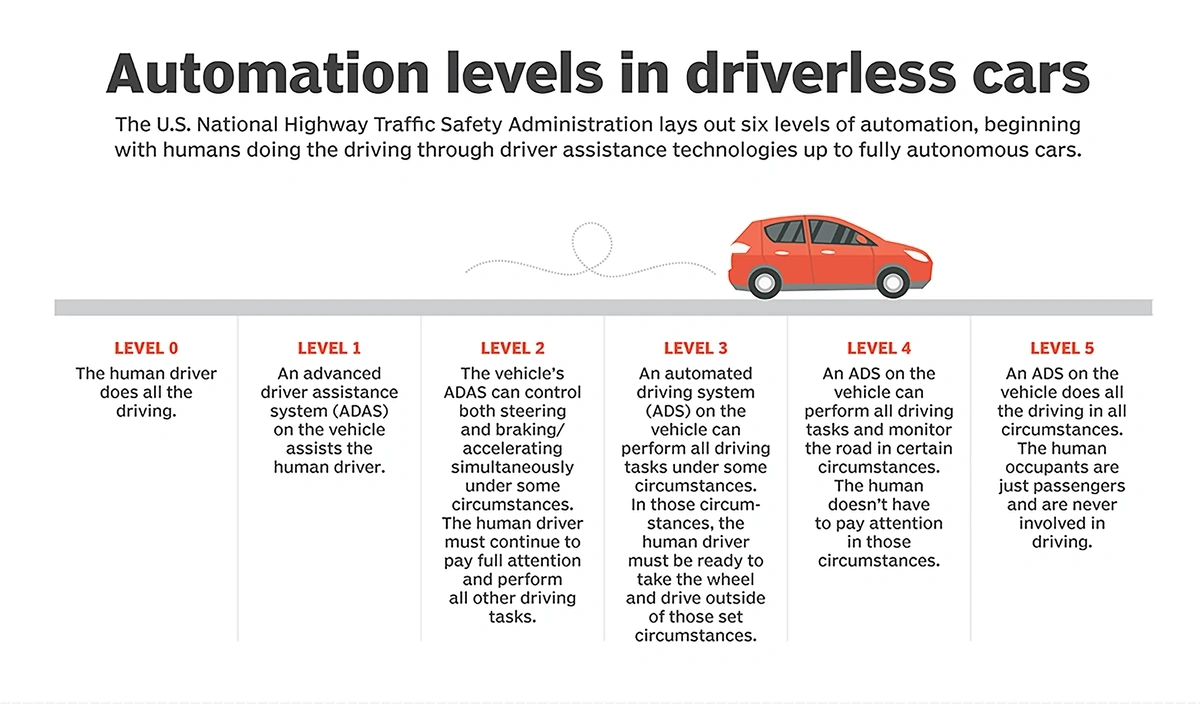 The NHTSA ranks autonomous vehicles depending on necessary human involvement.
Level 0 is fully-human driving.
Level 1 includes things like assisting the driver in braking or accelerating, but not at the same time.
The levels increase in complexity and autonomy all the way to Level 5, which is when drivers are never expected to drive. They only intervene if they wish to change something.
Current vehicles have reached Level 4, which means they are fully autonomous and will stop themselves in the event of a failure but are still bound by geofencing and adverse weather, but these cars aren't available to the public.
But Mercedes-Benz leaders say privately-owned Level 4 vehicles are possible by the end of 2030.
The auto manufacturer will release their first Level 3 vehicle when the 2024 EQS and S-Class models hit the market. But, due to approvals, these vehicles are only allowed to operate in Nevada.
Meanwhile, in Germany, Bosch recently began testing Level 4 vehicles on public roads in any weather.
Driverless taxis are already on the road.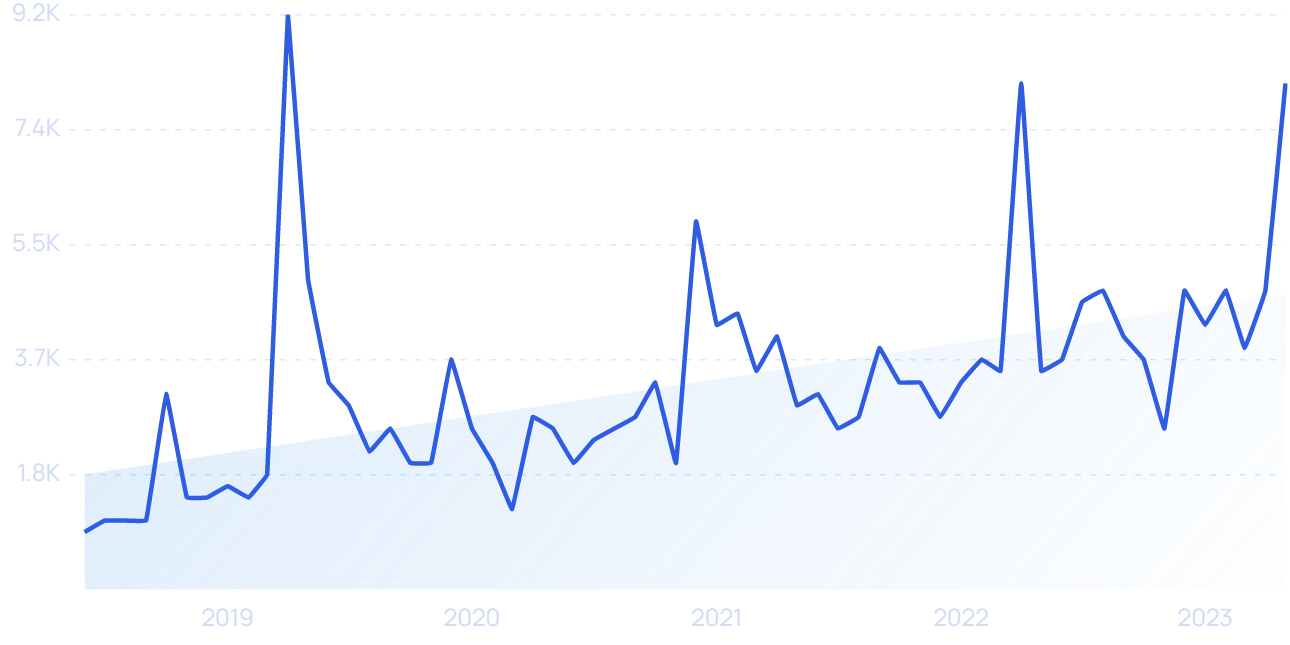 Search volume for "robotaxi" is up 780% in the past five years.
Amazon's Zoox and Google's Waymo are the most popular robotaxis.
Zoox first arrived on the streets of San Francisco in February 2023. The taxis travel at a max speed of 35 mph and can carry up to four people.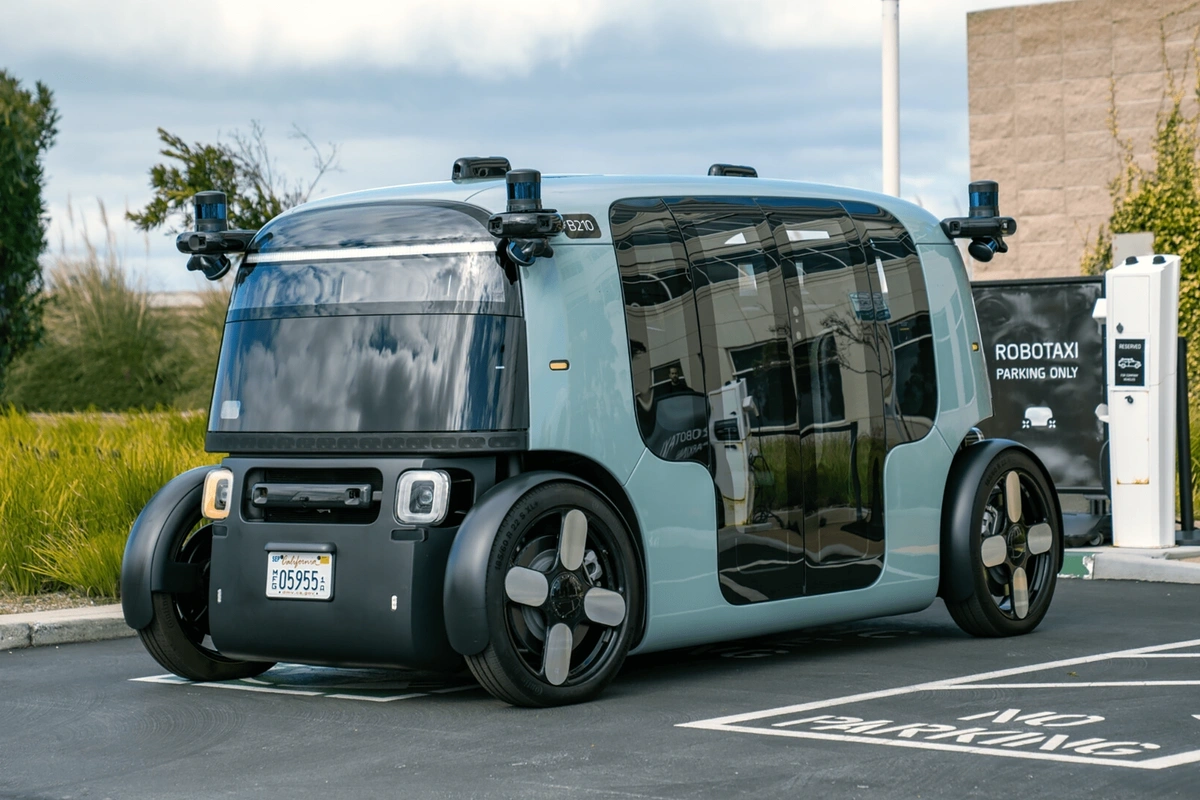 Zoox cars don't have a front or back but feature two rows of seats opposite of each other.
As of right now, Zoox is only available for employees who are traveling between Zoox offices.
Another critical aspect of the future of autonomous vehicles is driverless trucks.
Chinese startup Inceptio Technology is already testing Level 4 autonomous trucks on the roads in China.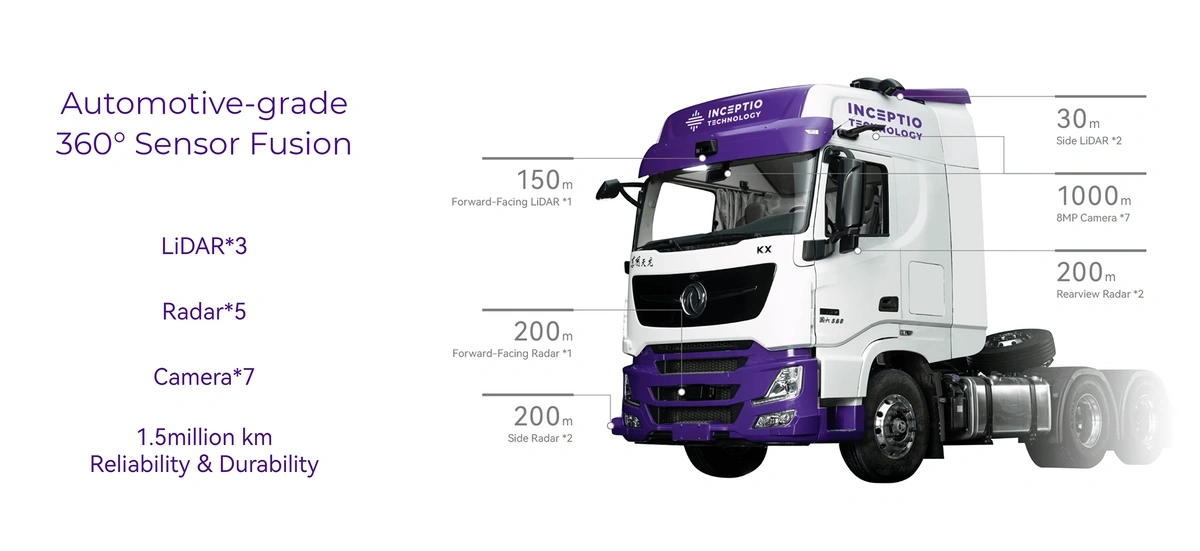 In the United States, Aurora Innovation is planning to launch fully driverless trucks in Texas by the end of 2024.
The company launched autonomous shipping terminals in Dallas in April 2023. A Houston terminal is slated to open in the second half of the year.
The trucks in their pilot program are currently hauling 50 truckloads per week with the goal of increasing that to 100 loads by the end of 2023.
These trucks are carrying freight for companies like FedEx, Uber Freight, and Schneider.
Gatik, a California-based company focused on B2B hauling, is taking a different approach to autonomous trucking by focusing on the miles between stores and micro-fulfillment centers, the "middle mile."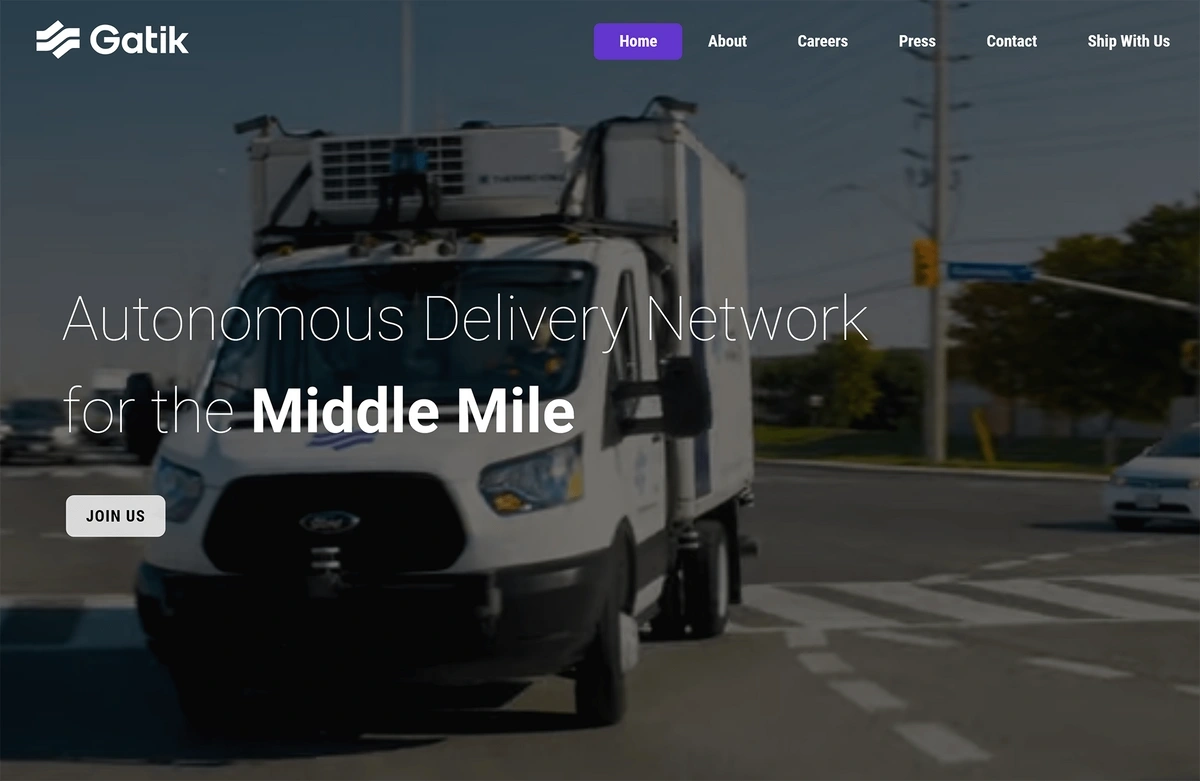 Gatik is investing in short-haul autonomous trucks.
Their trucks are small and travel short distances.
In early 2023, Gatik and Kroger's Dallas distribution network signed a deal that will utilize Gatik's autonomous box trucks to transport Kroger's fresh products from the fulfillment center to multiple retail locations.
However, as the development of self-driving cars and trucks moves ahead, safety is a top concern. And, it's a concern that could dramatically influence the future of the transportation industry.
In 2023, California's legislature began working on a law that would require self-driving trucks to have a human operator in the cab at all times.
In a 2023 survey from AAA, only 9% of participants said they trusted self-driving vehicles and 68% said they were afraid of the implications of the technology.

The number of people who were afraid of self-driving technology increased by 13% in the last year.
The Future of eVTOL Aircraft
One transportation development that's combining both electrification and automation is eVTOL aircraft.
The acronym stands for Electric Vertical Take-Off and Landing.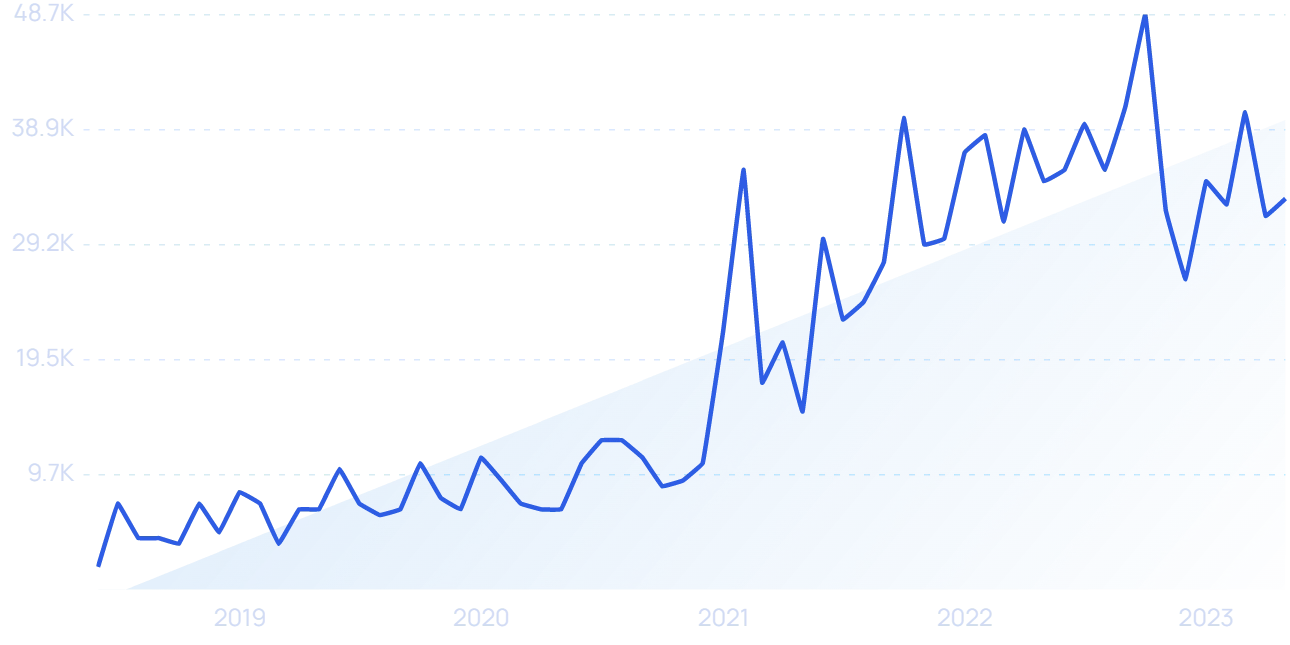 Search volume for "eVTOL" is growing, up 1,600% in the past five years.
These are battery-powered aircraft that take off and land by going straight up or down—no runway required.
And, many manufacturers are building eVTOL aircraft with the goal of them being autonomous.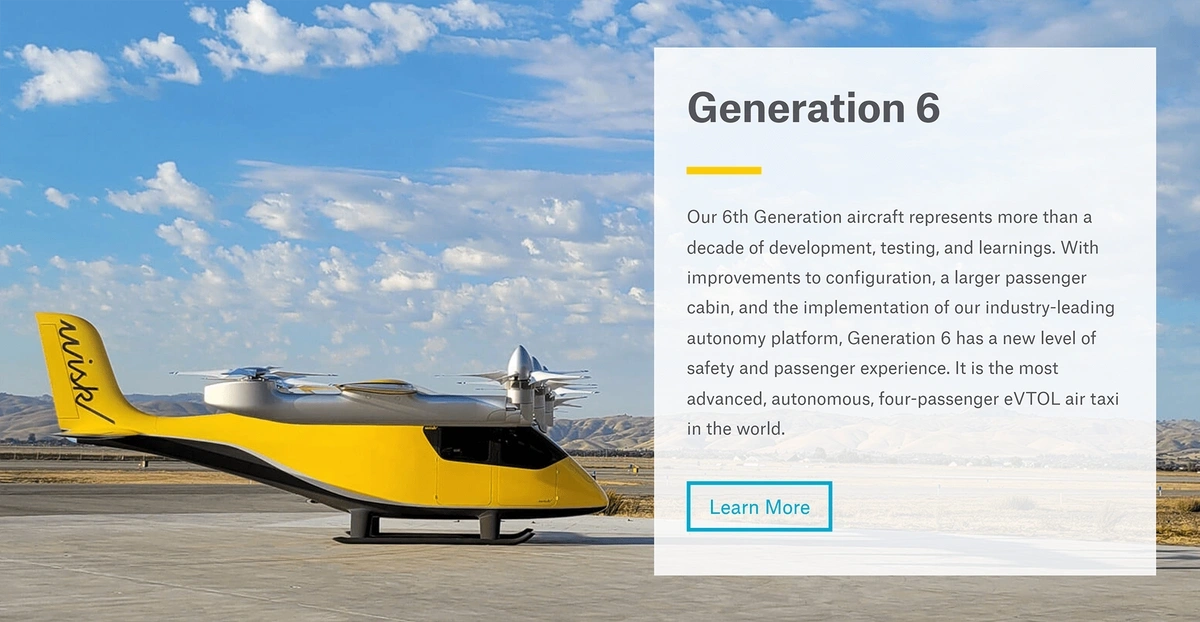 The Wisk eVTOL aircraft is an autonomous air taxi.
Proponents of these flying aircraft say they're much quieter than helicopters and have redundancy systems that make them safe.
In the future, eVTOLs could be used to transport goods and people.
They are currently in the testing phase with approximately 200 companies vying to be the first to get their aircraft approved by the FAA.
German-based Volocopter aims to have their eVTOL aircraft operational by the Paris Olympics in 2024.
Their model features 18 rotors and nine 30 kg battery packs. It seats two people.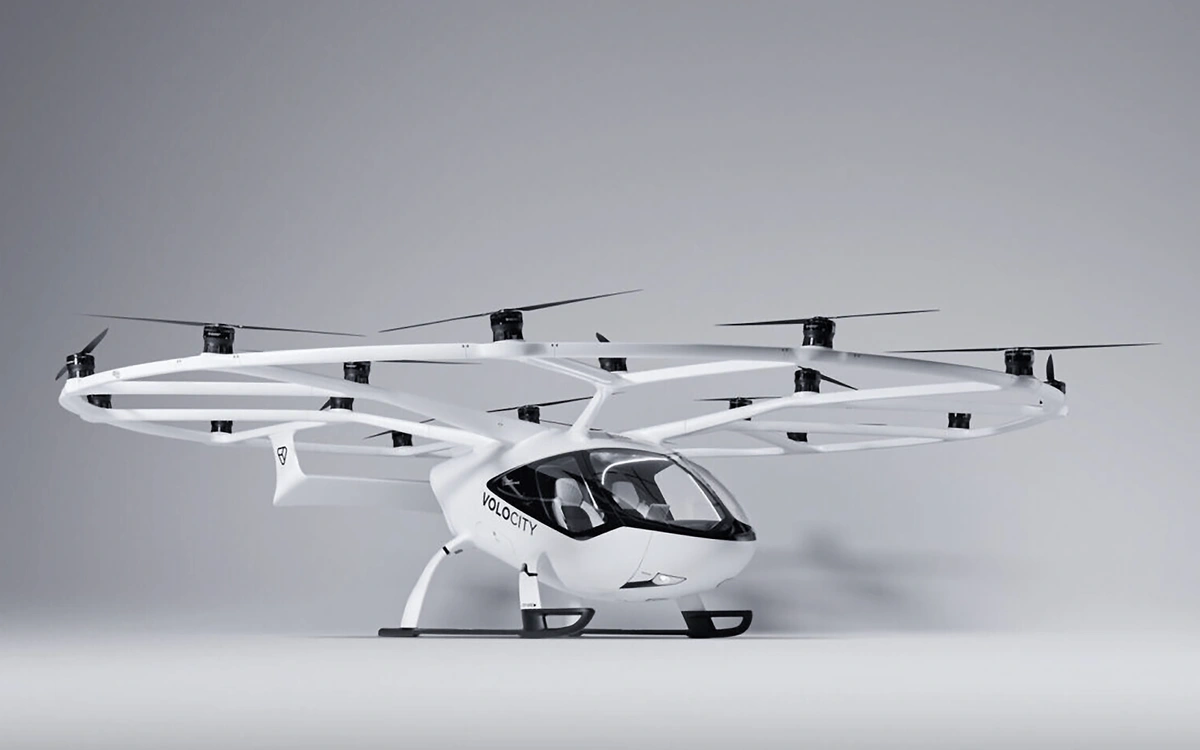 The VoloCity model has already been in 1,500 test flights.
Volocopter has plans to deploy a five-seat model in 2026.
Joby Aviation is another player in the eVTOL aircraft space.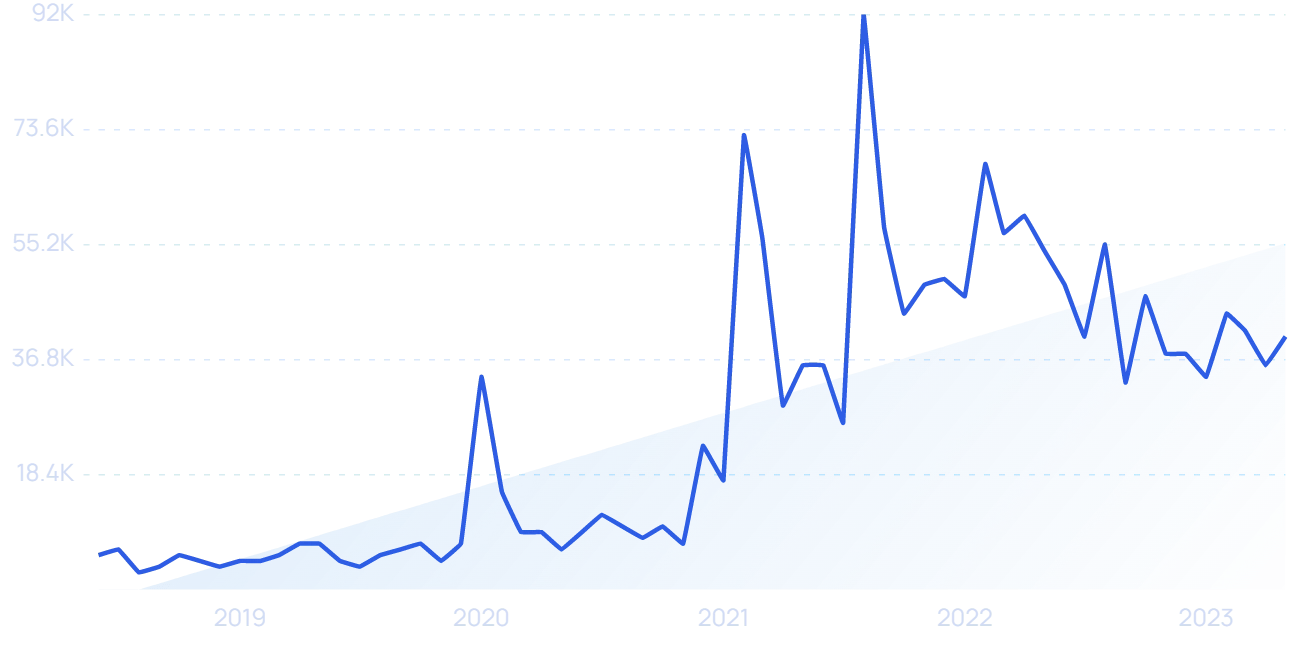 Search volume for "Joby Aviation" is up more than 600% in recent years.
Their eVTOL model features six electric motors and has a 150-mile max range.
In April 2023, the company secured a $55 million contract with the Department of Defense.
This was in addition to Joby's existing Agility Prime contract with the Air Force.
In all, Joby has a $131-million investment from the military to build eVTOL aircraft.
The company plans to have full approval for their commercial air taxi by 2025.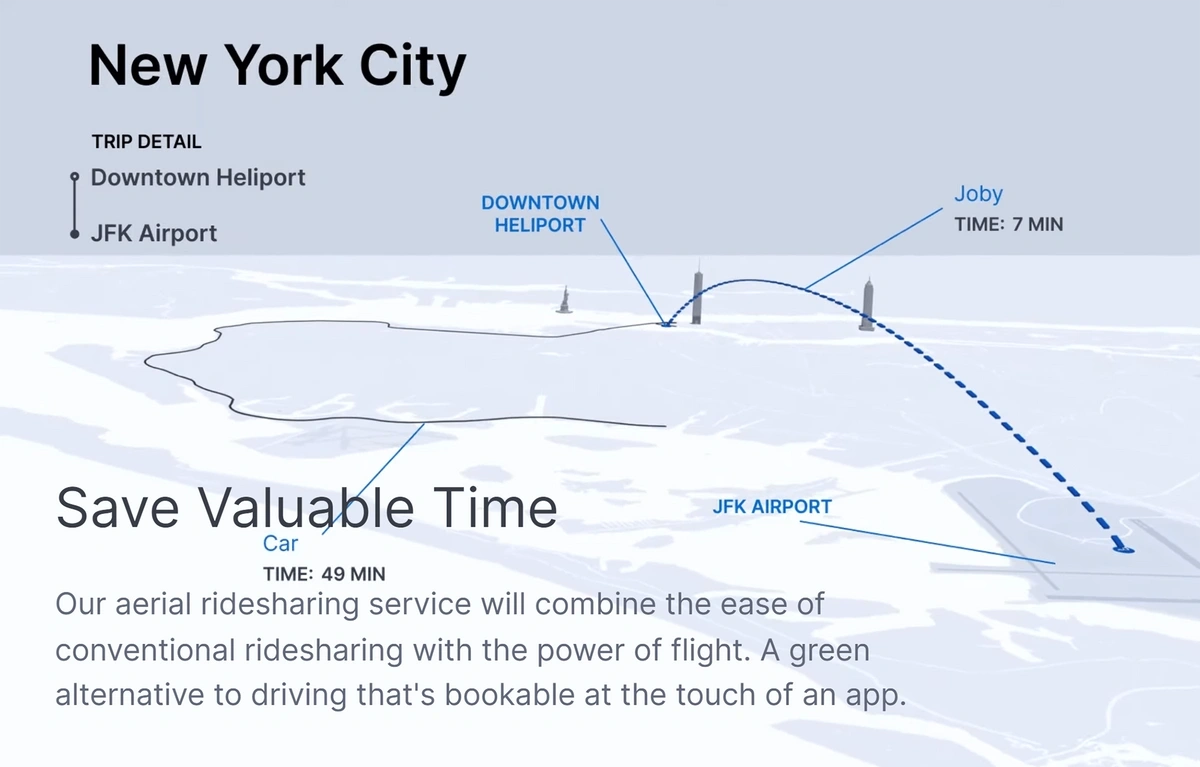 Joby Aviation is planning to launch air taxis in major metropolitan areas like New York City and Los Angeles.
By 2030, McKinsey estimates air taxis like these will make 20,000 flights per day and carry 70,000 passengers per day.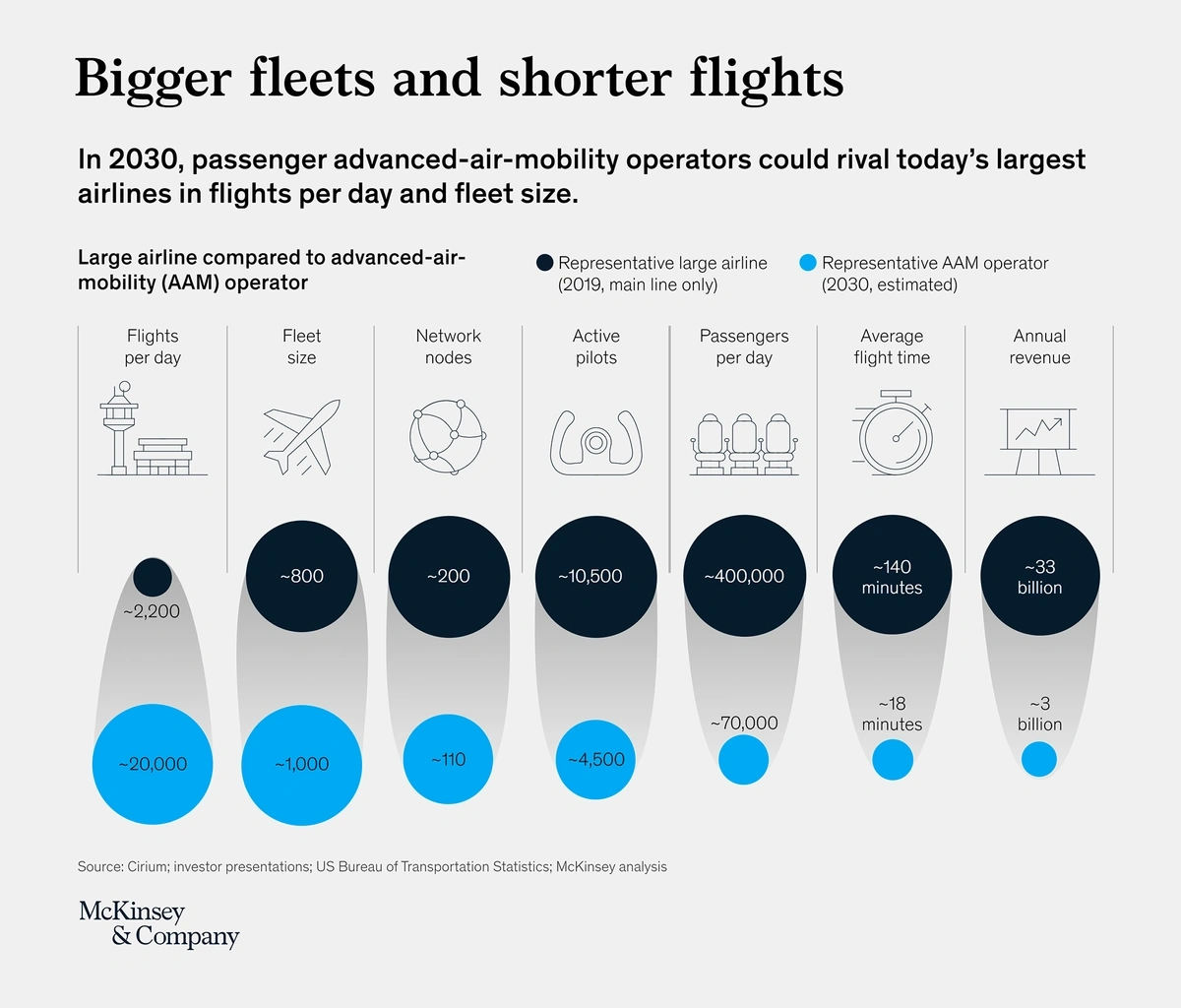 McKinsey estimates show the average flight time could be just 18 minutes.
The Future of High-speed Rail
High-speed rail (HSR) is a transportation solution that's been hugely popular in Europe and now many believe it's finally going to come to fruition in the United States.
Data shows HSR is efficient and puts off very little carbon emissions.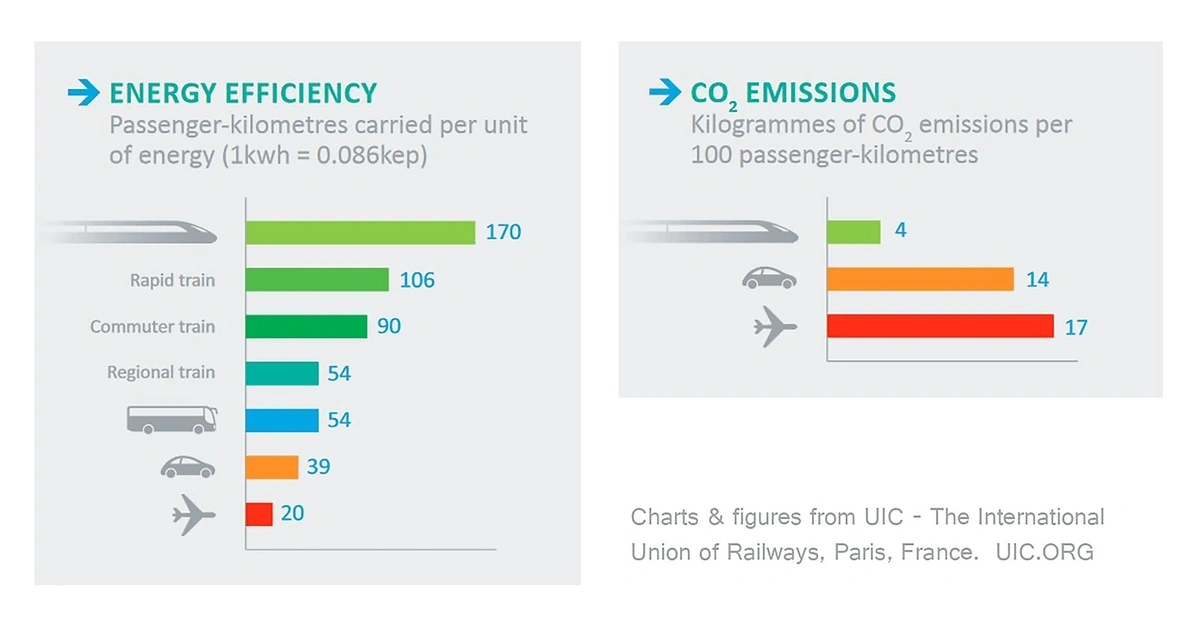 HSR is more efficient than other types of trains.
For example, the HSR running between Paris and Marseille creates 12 pounds of carbon dioxide emissions per passenger, but that same trip in a car puts off 190 pounds of emissions per passenger.

HSR is more environmentally-friendly than other forms of transportation over hundreds of miles.
In addition to the climate benefits, the American Public Transportation Association says that investing in the future of HSR could create thousands of new jobs, increase economic activity, and reduce the nation's dependence on foreign oil.
Right now, the United States has just 375 miles of track available for trains traveling 100 mph or more.
But several projects are on the horizon.
Brightline is a passenger train operating in southern Florida.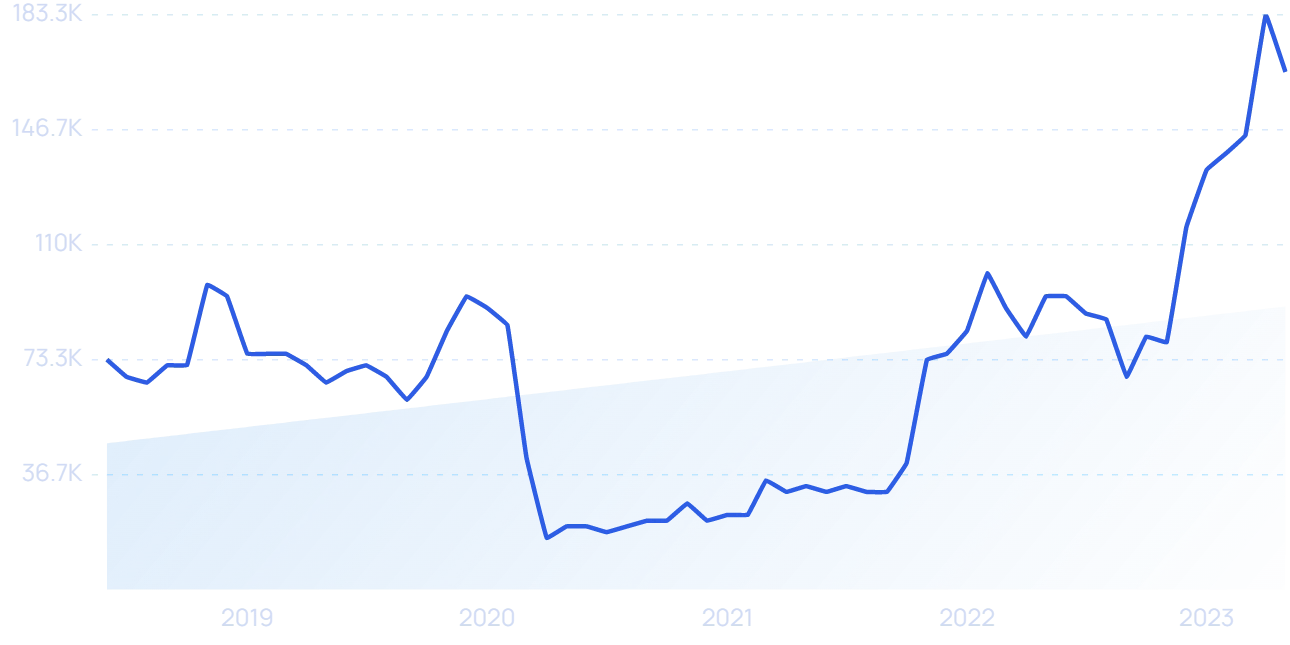 Search volume for "Brightline" is up more than 100% since 2019.
One of their diesel-electric trains recently broke the company's speed record by reaching 130 mph on a stretch of track between Orlando International Airport and Cocoa, Florida.
Beyond Florida, Brightline has been cleared to build a $10 billion HSR route running between Las Vegas and Los Angeles, a 218-mile trip covered in just 2 hours and 15 minutes.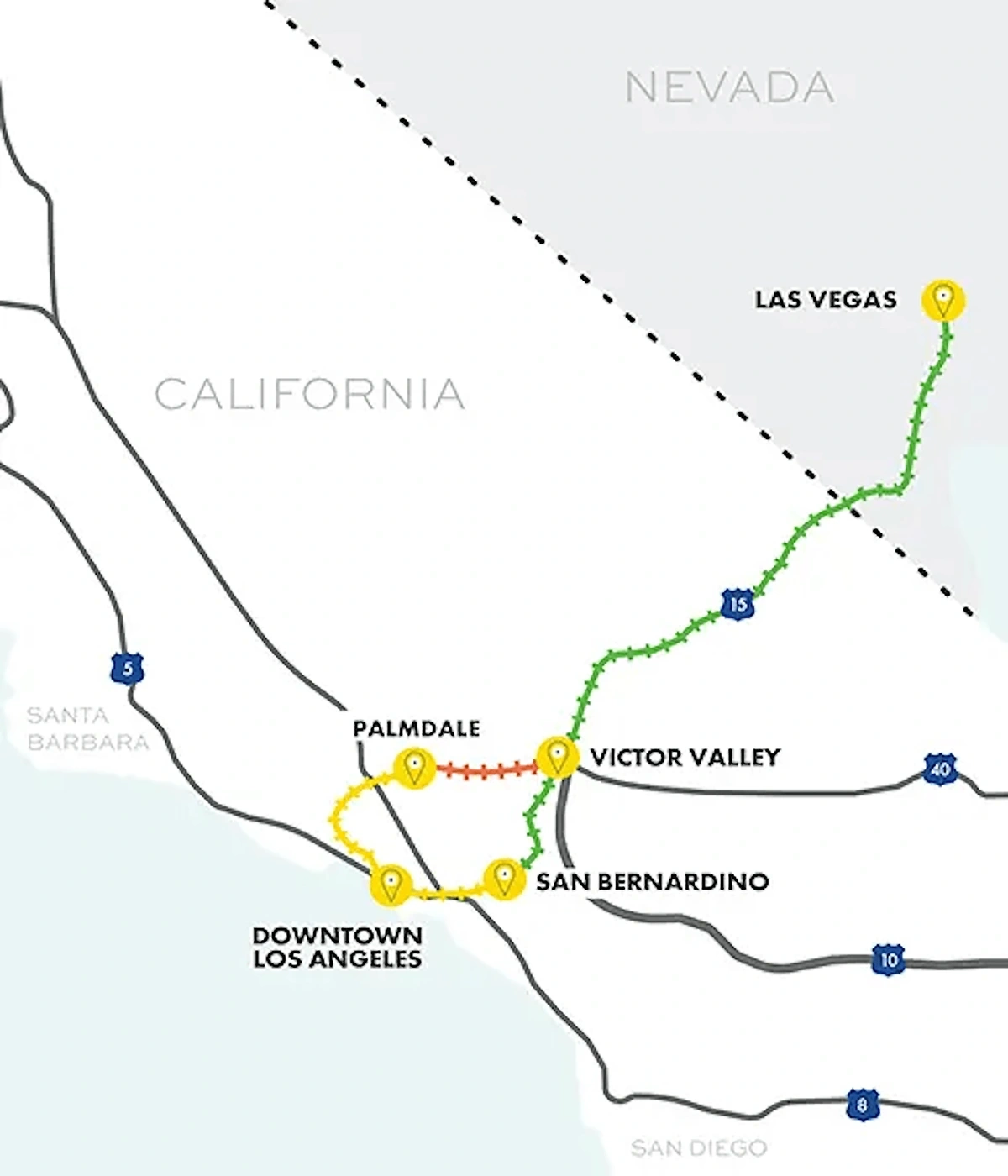 Brightline plans to complete the green route by 2027 and expand to the yellow and red routes in the future.
These trains will be electric and run at speeds up to 200 mph.
Construction is slated to begin in late 2023 and the project is expected to be completed by 2027.
Brightline also has plans to create HSR lines in California, Texas, Oregon, and British Columbia.
The publicly-funded system of California High Speed Rail is also currently under construction.
When finished, it will connect San Francisco and Los Angeles, and there are plans to eventually extend the route to Sacramento and San Diego.
More than $9.8 billion has been invested already.
Leaders say the tracks will be open by 2030.
Other states are also starting the conversation about HSR.
The Michigan legislature put $100 million in a recent budget proposal with the goal of encouraging HSR developments.
The Future of Micromobility
Globally, the micromobility market is valued at $180 billion. By 2030, experts say that number could more than double and reach $440 billion.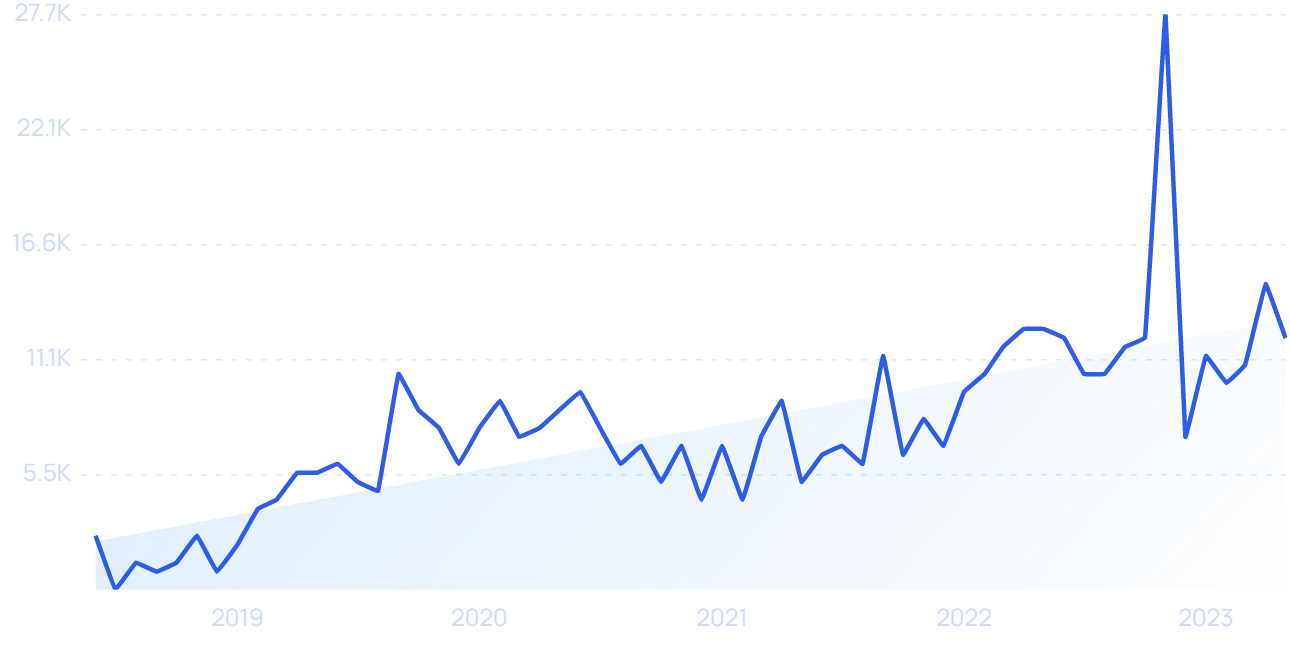 Search volume for "micromobility" has increased more than 300% in recent years.
Micromobility includes small personal transportation vehicles that travel less than 15 mph. The vehicles are either electric or human-powered.
Things like e-scooters, Vespas, Segways, and standard bikes are all included in this category.
Between 2018 and 2019, Asia accounted for 60% of investments into micromobility companies and North America accounted for just 28%.
But from 2020-2022, investment in North America surged to take over 42% of the nearly $4 billion in total investments.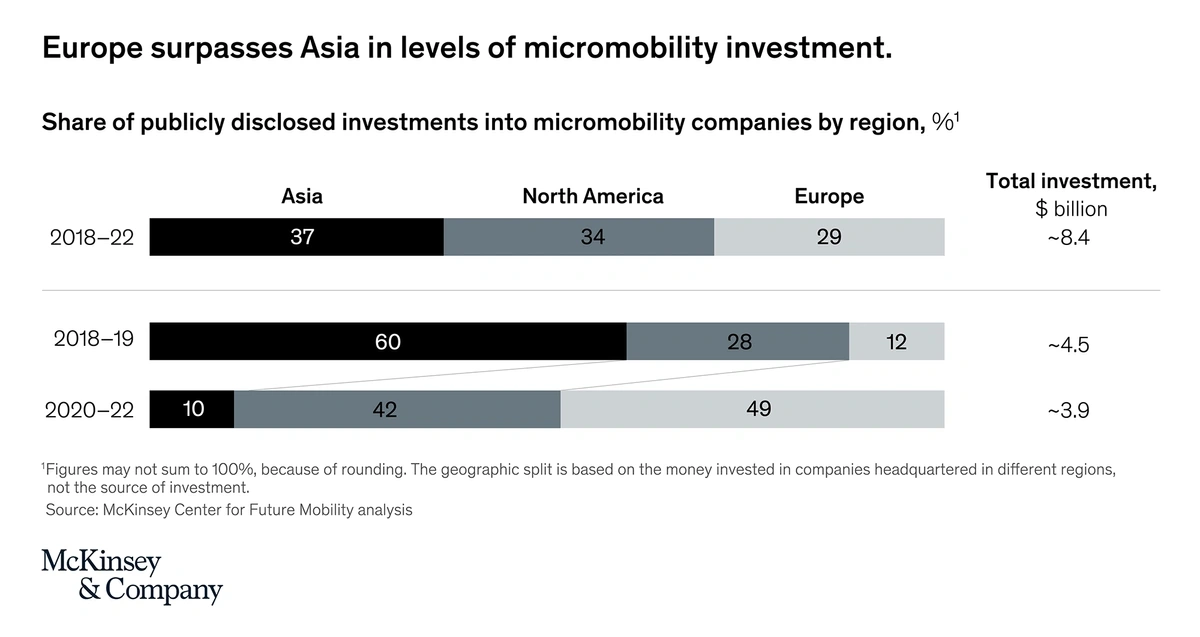 Micromobility investments in North America are growing.
E-scooter companies have garnered the most attention from investors.
In fact, nearly 90% of micromobility investment between 2020 and 2022 went to companies like these.
E-scooters are one of the most popular options for consumers taking advantage of micromobility.
Of the approximately 128 million trips utilizing micromobility in North America each year, 62.2 million of them use e-scooters.
One e-scooter startup is Texas-based GOTRAX.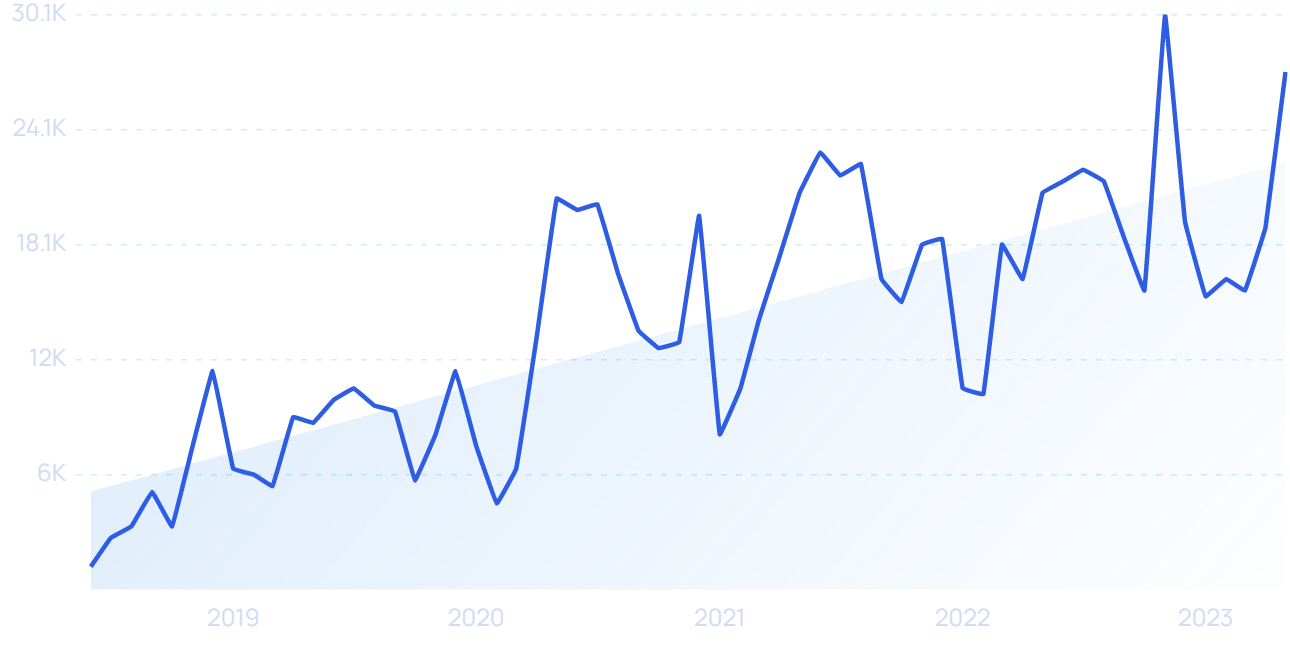 Search volume for "GOTRAX" is up more than 2,000% in the past five years.
The company offers more than a dozen e-scooter models.
The latest model, the G6 electric scooter, has a max speed of 20 mph and can run for up to 45 minutes per charge. Recharging takes approximately 6 hours.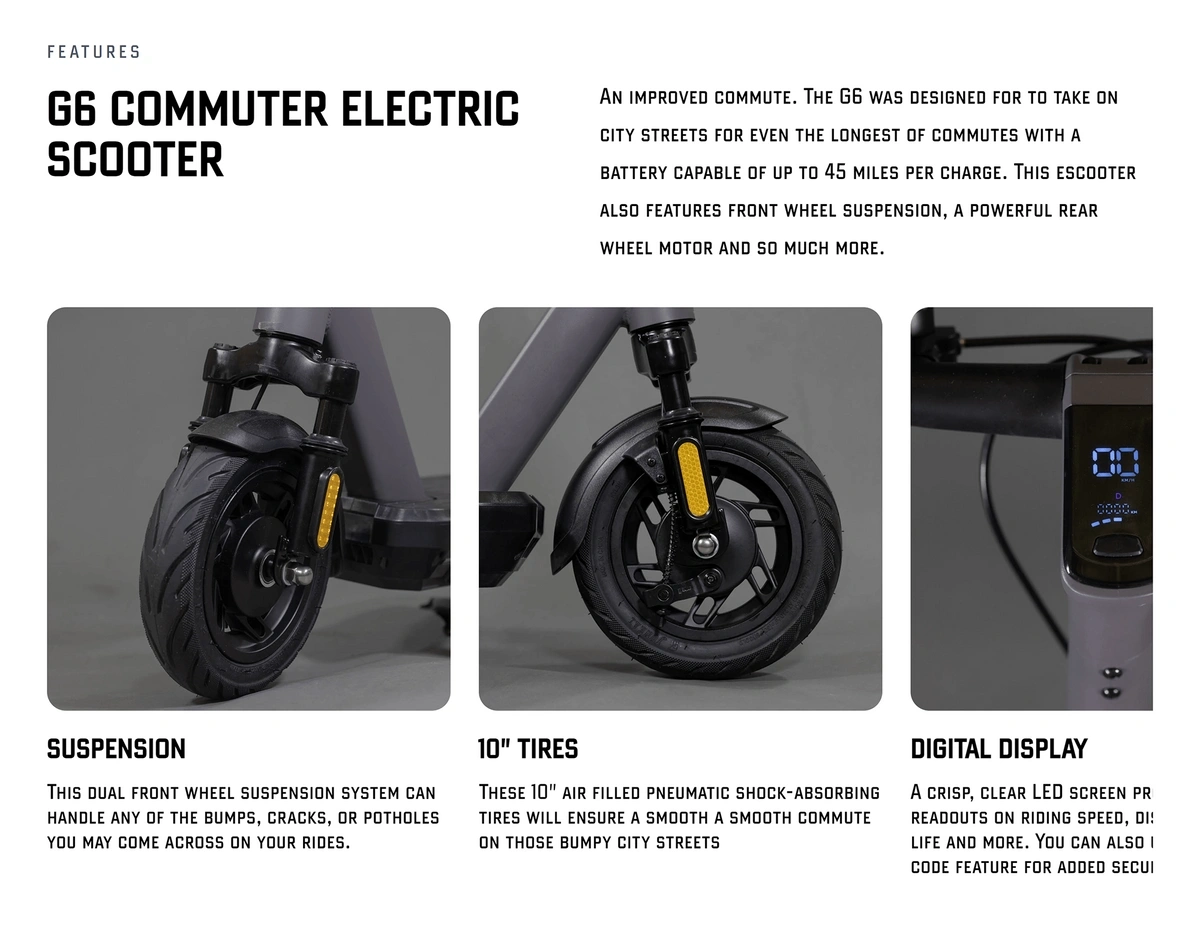 The G6 model is ideal for individuals commuting in a major city.
In all, GOTRAX has sold more than 1 million e-scooters.
Some DTC e-scooter companies are also offering subscription programs.
Take Unagi, for example.
The company does sell scooters directly to consumers, but 90% of their business comes from an All-Access monthly rental program.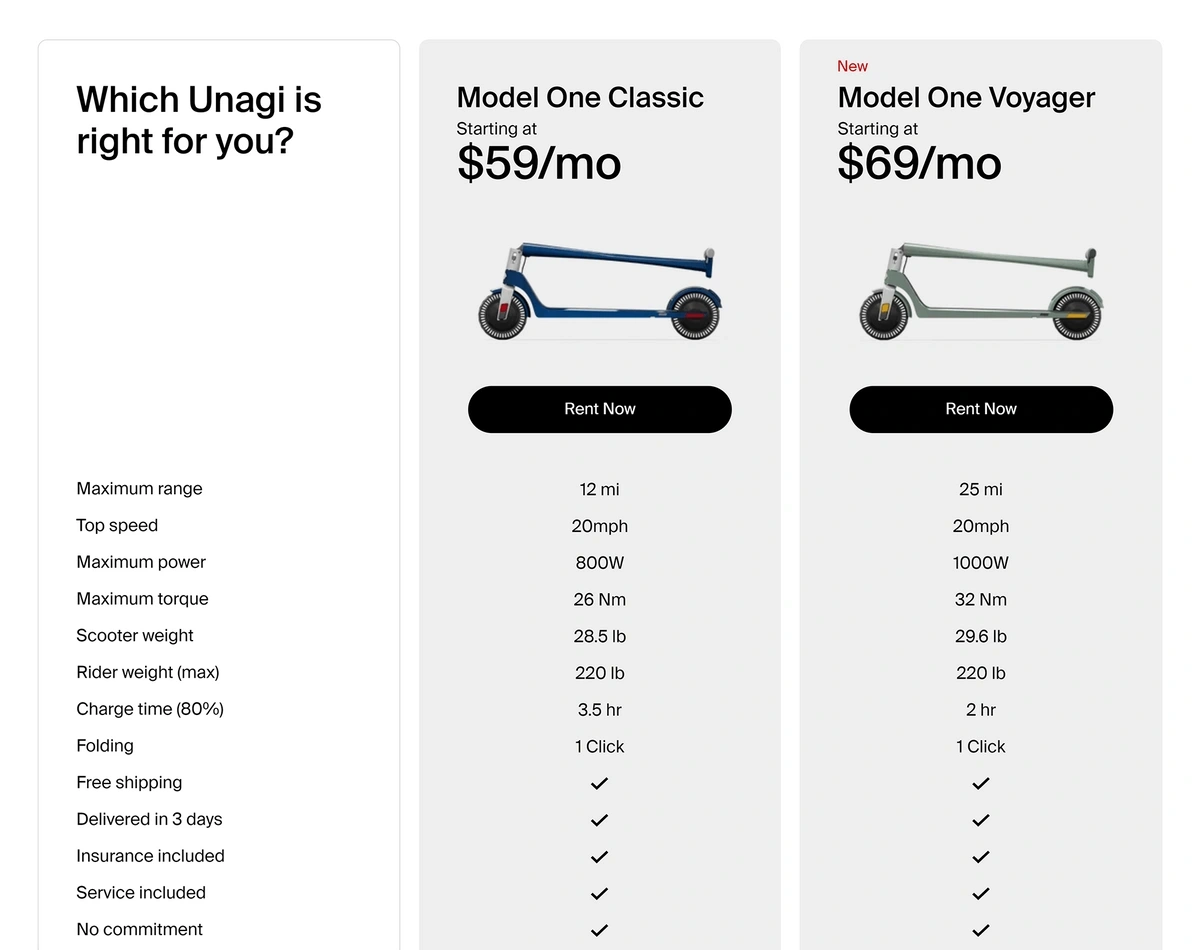 Unagi offers two options for their All-Access subscription program.
Consumers can purchase the subscription via Best Buy and Unagi leaders hope to partner with enterprises to offer the subscription to employees in the near future.
In addition, Unagi closed a $29.3 million funding round in early 2023 and leaders say they'll be profitable by the end of the year.
Even with the growing consumer adoption of micromobility, the market's future hinges on the safety and infrastructure of available micromobility traffic lanes.
A report from Boston Consulting Group shows that 35% of individuals don't use micromobility as often as they'd like because of the insecure bike lane network.
Echoing that statistic, other research shows cities that add infrastructure for two-wheeled vehicles see a nearly 50% increase in micromobility activity over those that don't add infrastructure.
The city of Reno, Nevada, ran a micromobility infrastructure pilot program from June to October 2022 that included removing a lane of traffic and replacing it with a micromobility lane. There were also bike stop lights and bike boxes at intersections.
City leaders said the conflict rate between all road users decreased, and nearly half of survey respondents said the changes would make them more likely to walk or bike downtown.
New York City and Boston are also implementing infrastructure changes in the future to promote the use of micromobility.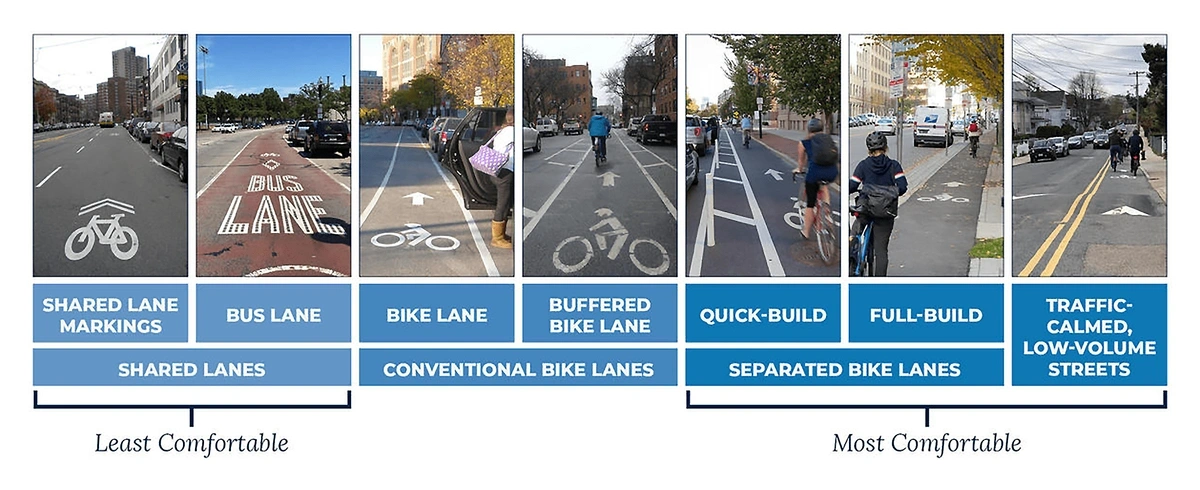 Safe bike lanes are a necessity in order for micromobility to truly take hold in major cities.
Conclusion
The transportation industry is poised for a remarkable transformation fueled by advancements in electric vehicles, eVTOL aircraft, and transportation infrastructure.
These technologies hold immense potential to address climate change and create more efficient transportation systems. Many transportation leaders say these new systems can also lead to major economic returns.
As the future unfolds, government regulations and consumer sentiment will also play a role in transportation advancements. New technologies may be a hard sell at first, but startups who can offer consumers the most desirable transportation options stand to benefit in the coming years.