The Brand Guide to Generation Alpha
The rise of Generation Alpha has begun. The oldest members of this generation are just now reaching their teenage years, but business leaders are already preparing for the opportunity that this generation brings to the marketplace.
Brands will need a deep understanding of Generation Alpha's characteristics, values, and expectations in order to engage them and earn their loyalty. In fact, many brands are already designing products and marketing strategies aimed at capitalizing on Gen Alpha's influence over their parents' purchasing decisions.
Through this guide, we'll provide a comprehensive breakdown of the individuals in Gen Alpha including their unique traits, preferences, and aspirations. We'll also discuss how brands can begin positioning themselves to appeal to this generation and pave the way for long-term success in the dynamic marketplace of the future.
What Is Generation Alpha?
Individuals in Generation Alpha were born (or will be born) between 2010 and 2025. That makes this the first generation to be born fully in the 21st century.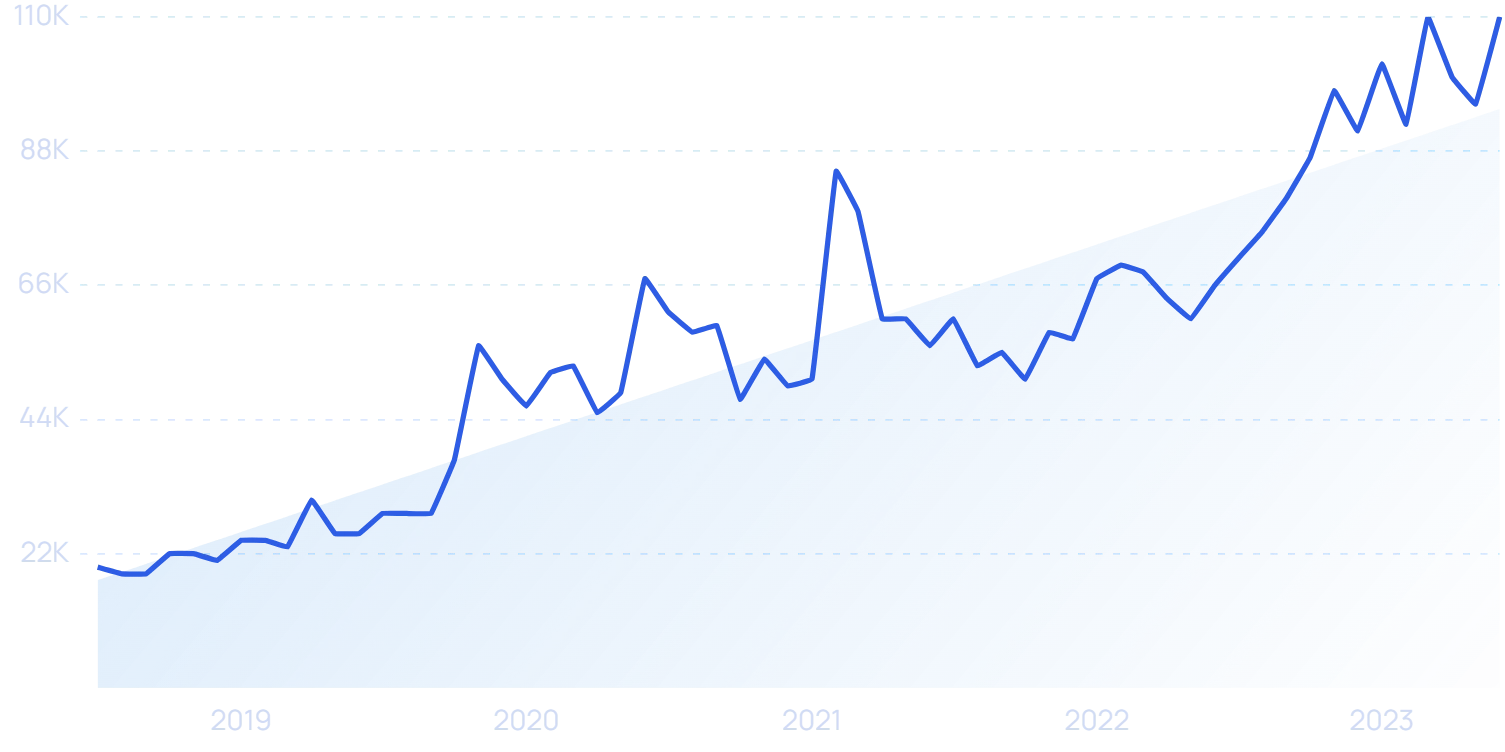 Search interest in Generation Alpha has grown steadily in recent years.
By 2025, it's estimated there will be 2 billion members of this generation.
By 2030, Gen Alpha will make up an estimated 11% of the global workforce.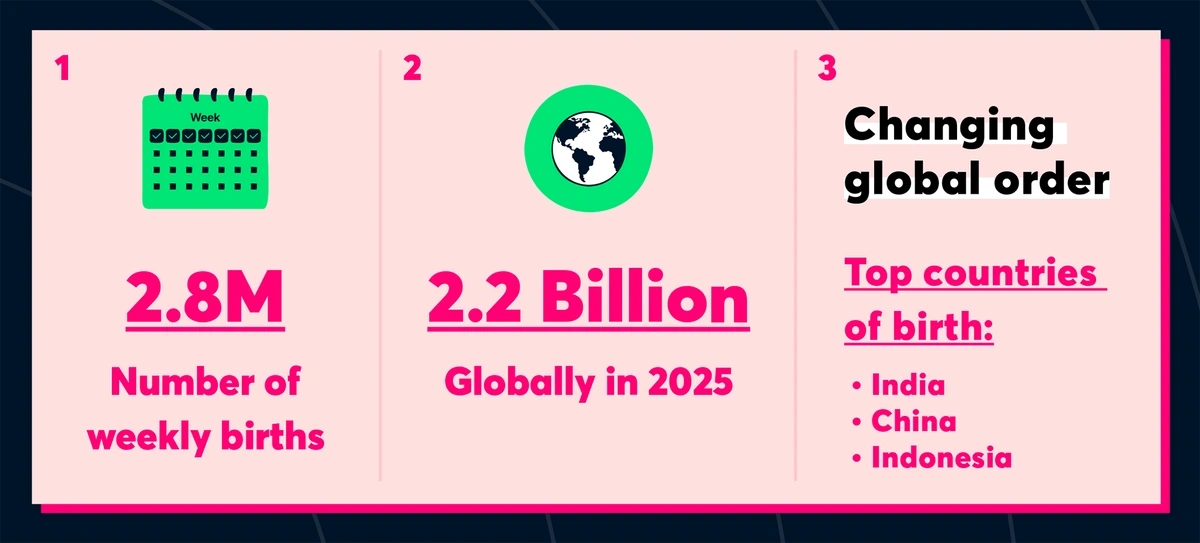 Nearly 3 million Gen Alpha individuals are born each week.
Even today, this generation is impacting global economics.
In Europe, research found that in 82% of households with kids ages 1-6, the children influence the toys that parents are buying.
Beyond toys, 13% of parents say the kids influence their kitchen appliance purchases and new car purchases.
In another study, 60% of parents said their Gen Alpha kids are either "somewhat" or "very" influential in the purchases they make.

A further 80% say their families give equal weight to the opinions of kids and adults when making purchasing decisions.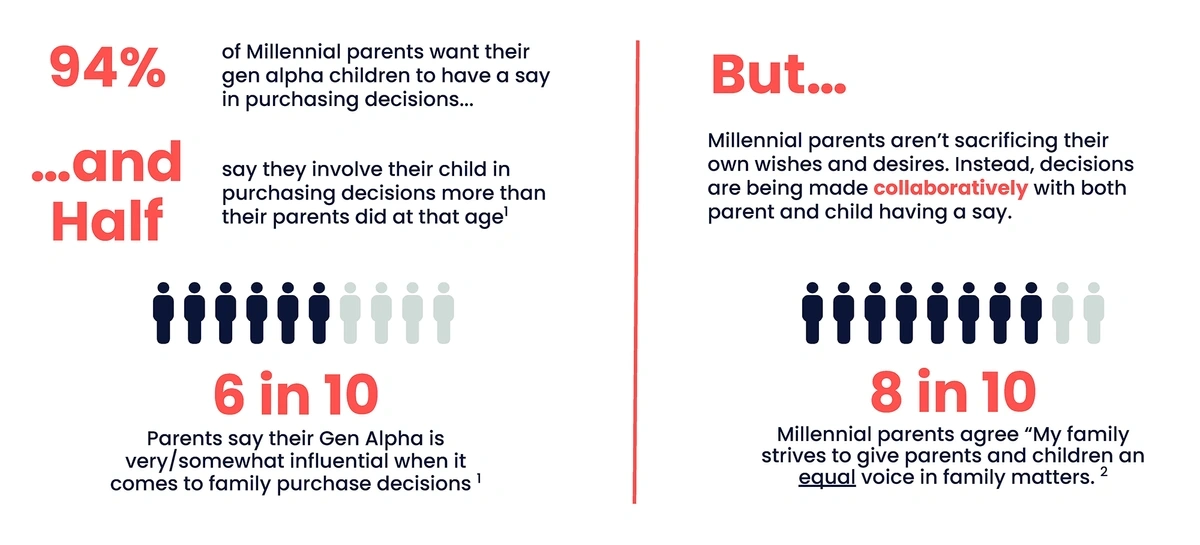 Surveys show parents are paying attention to the preferences of their children when making purchases.
With Generation Alpha having such a powerful economic pull before they even hit their teen years, this group represents an enormous opportunity for businesses.
Since this generation is the most digitally fluent and globally exposed generation ever, the process of building brand affinity can start almost from birth.
Now is the time for brands to recognize the characteristics that define Generation Alpha and what's important to them. Let's get to it.
Generation Alpha Is the First Generation of True Digital Natives
In 2010, the first year of Generation Alpha, the first iPad was released, Instagram debuted, and "app" was the word of the year.
This generation has never known a world without the internet or smartphones.
Using devices is already so ingrained in these children that some are calling them Generation Glass.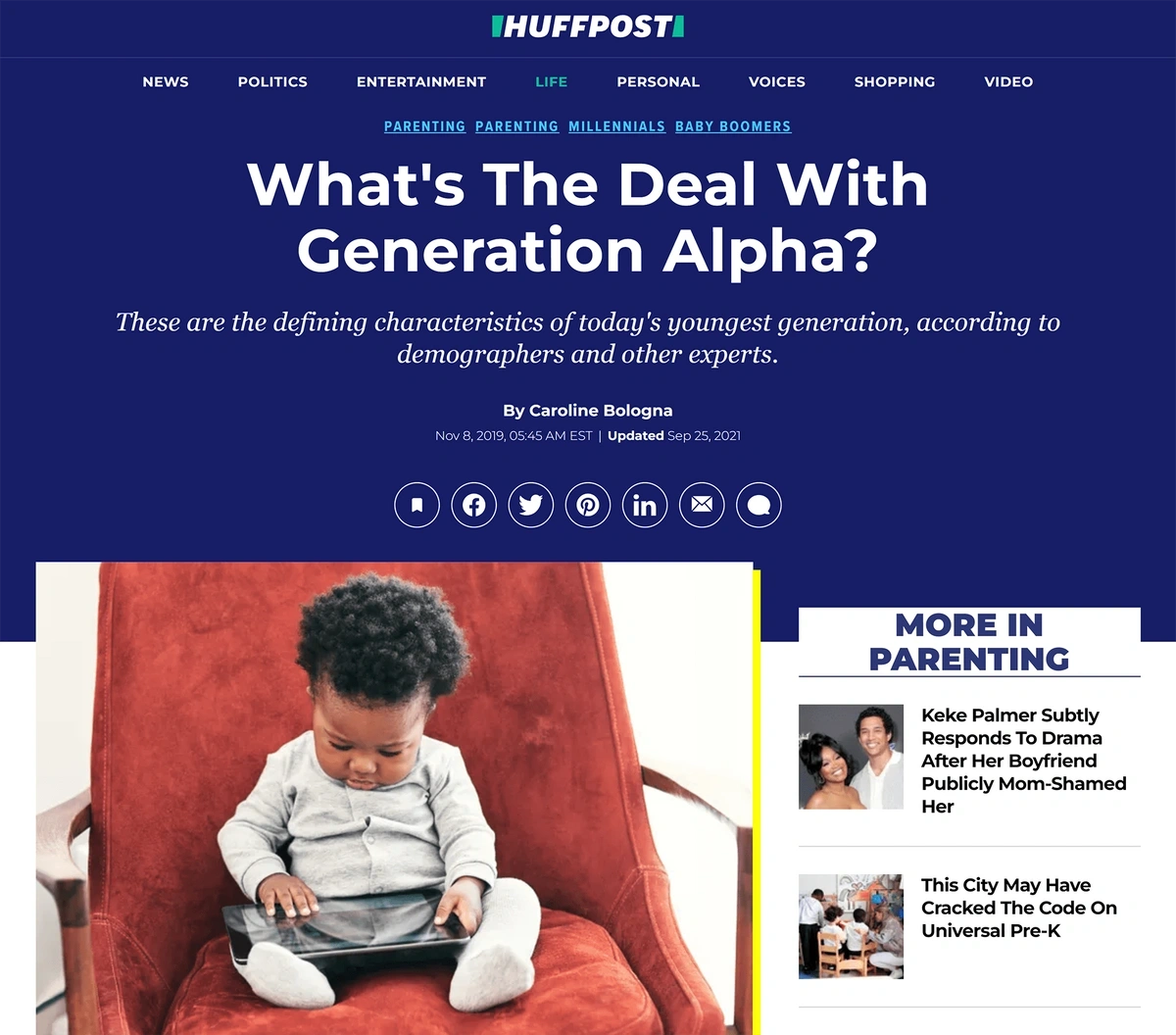 It's believed that the omnipresence of technology in formative years will lead to shorter attention spans and impaired social formation.
One expert says devices are something Generation Alpha individuals consider as an extension of their own consciousness.
In fact, more than half of all Alphas already own a tablet and 43% own a smartphone.
Insider Intelligence estimates there will be 8.8 million Gen Alpha smartphone users in 2023. By 2026, that number will grow to more than 10 million.
There are several smartphone companies that cater especially to Generation Alpha.
Gabb is one.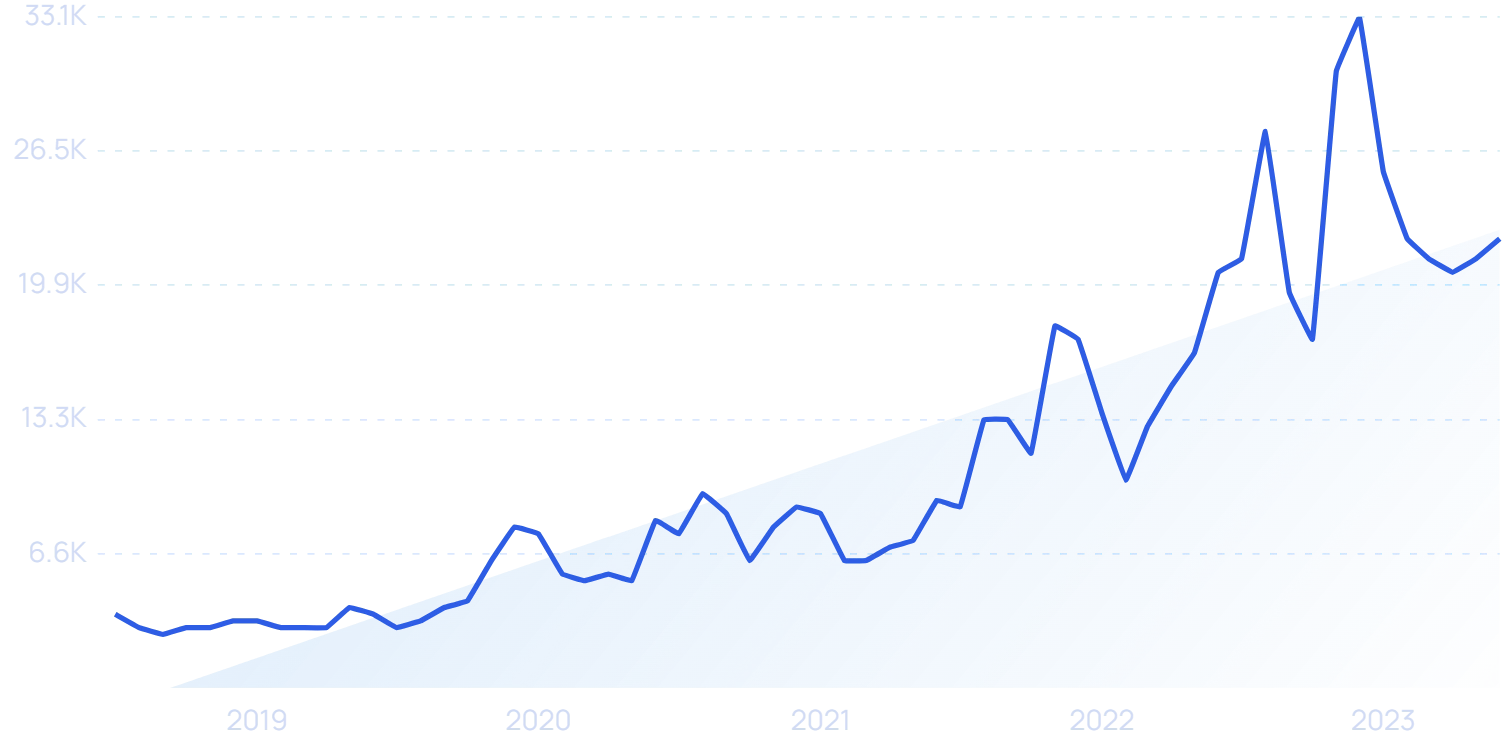 Search volume for "Gabb" is up more than 500% in recent years.
The company offers just two smartphone options with each one being specifically designed for kids.
Their phones do not have access to the internet. That means parents don't need to stress about their Gen Alpha kids being on social media or downloading non-approved apps.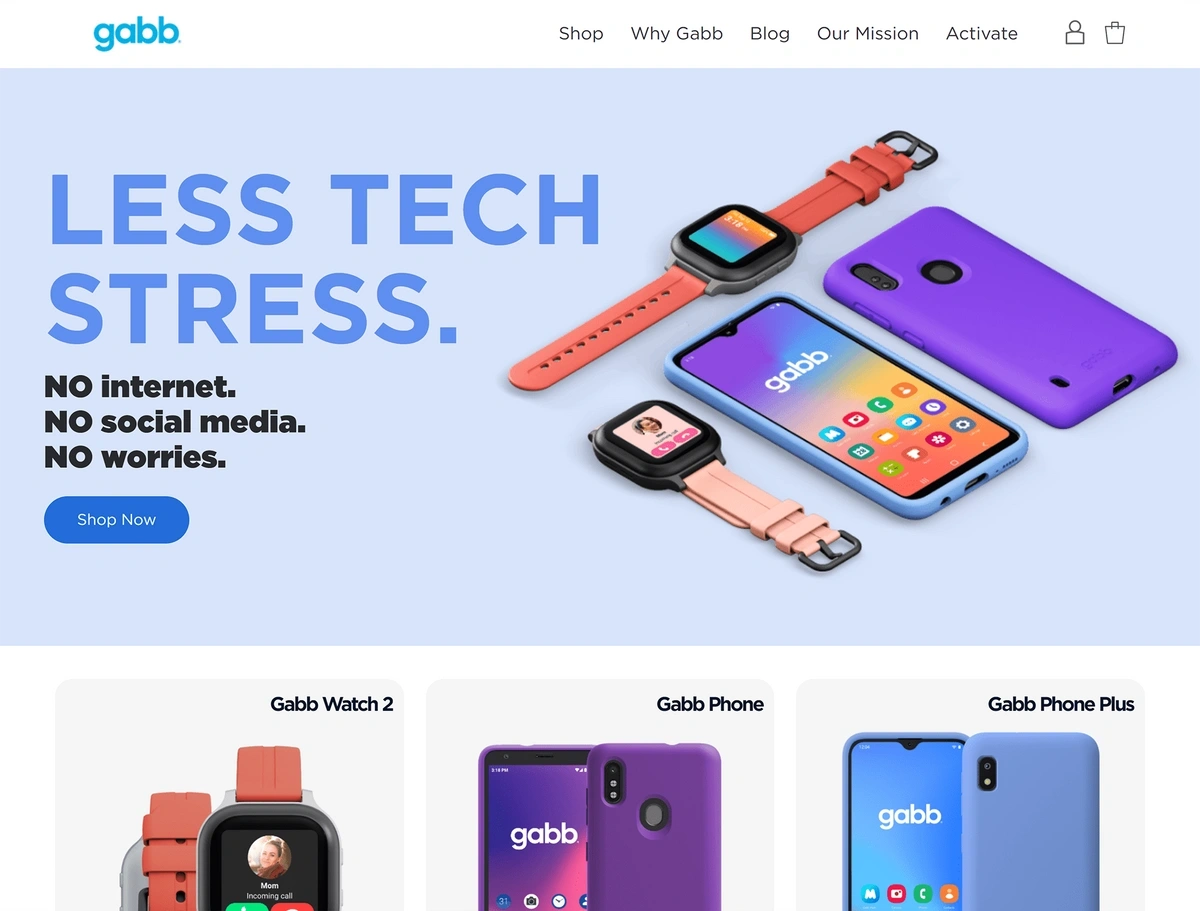 With enhanced safety features, Gabb's smartphones appeal to parents of Gen Alpha.
The Gabb messaging feature also automatically flags inappropriate content like bullying, explicit material, or questionable links.
In terms of other tech devices, the adoption of VR lags behind but still represents a sizable portion of Gen Alpha.
A survey from Morning Consult showed 11% of Alphas own a VR headset and 26% live in a home that has a VR headset.
Even toddlers and preschoolers in Gen Alpha are using screens frequently.
The survey from Morning Consult showed 38% of parents to kids ages 0-4 say their children spend 1-2 hours on screens each day.
For kids ages 5-7, 46% of parents say they spend 1-2 hours on screens per day.
For older Gen Alpha kids, ages 10-12, more than half of parents say their children spend 3-6 hours online per day.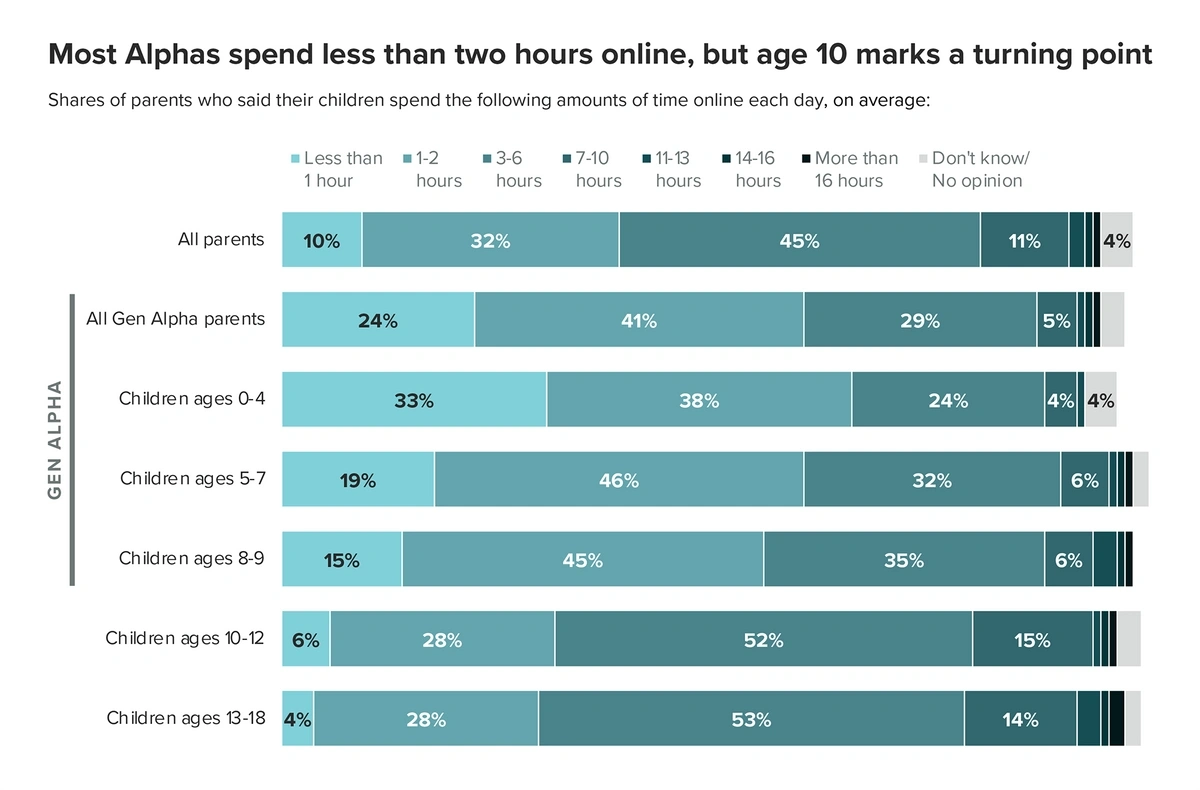 More than one-third of Generation Alpha kids are spending 3-6 hours online per day.
The brands they're most familiar with are totally digital, too.
In a survey of 7-14 year olds, YouTube was named the coolest brand. Netflix came in second.
Amazon and Disney made the top five, as well.
The only non-digital brand Gen Alpha chose in this survey was McDonalds.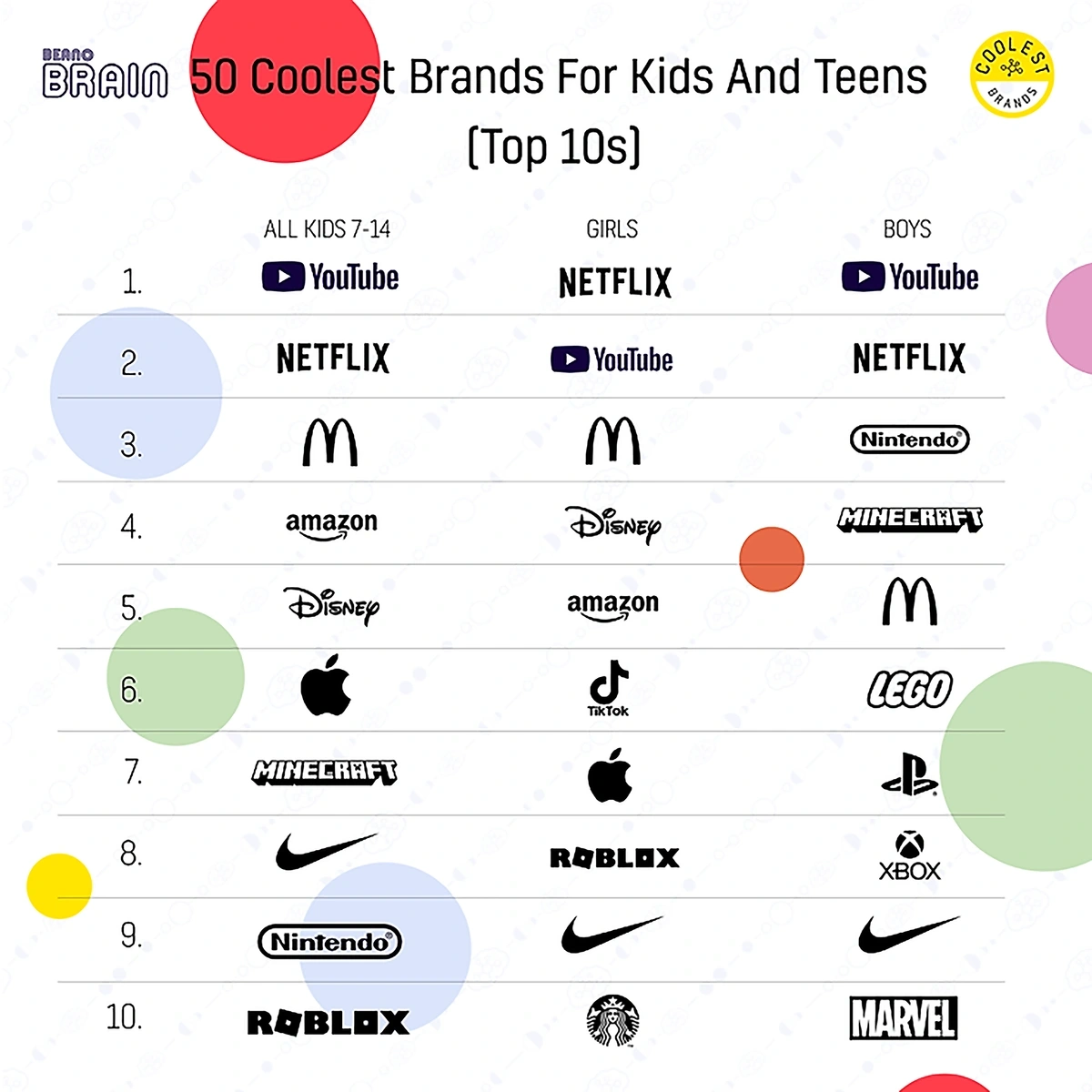 YouTube and Netflix captured the top two spots in this survey of Gen Alpha's favorite brands.
YouTube Is Generation Alpha's Favorite Platform
Those in Gen Alpha are using their devices and digital prowess to stay connected to everything they enjoy—friends, influencers, products, and brands.
YouTube is the clear favorite among Generation Alpha.
Aside from the study listed above that ranked YouTube as the generation's favorite brand, these kids also use YouTube more than any other content outlet.
The U.S. Precise Advertiser Report showed that 86% of kids ages 2-12 have recently consumed content from YouTube.
In addition, 43% of kids named YouTube as their favorite platform or app.

YouTube was the favorite app of 43% of the children surveyed.
This interest is driven, at least in part, by the fact that Gen Alpha isn't old enough to be on traditional social media networks yet.
The generation's love of YouTube is so deep that nearly one-third of kids in the United States between the ages of 8-12 want to be a YouTuber or vlogger when they grow up. That's more than any other future occupation.
Some Generation Alpha kids are already living that dream as a kidfluencers.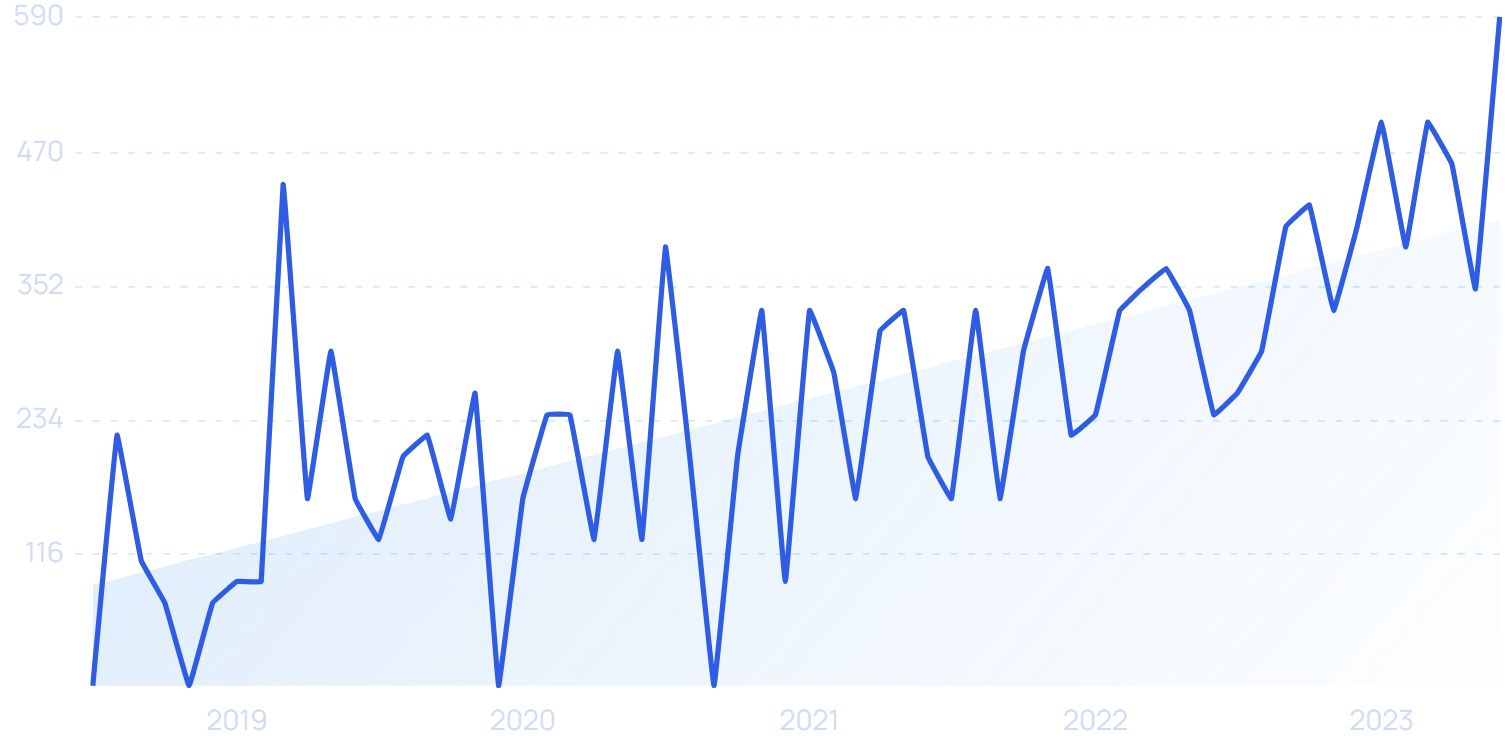 Search volume for "kid influencer" jumped dramatically in 2022.
Ryan Kaji is one of the most successful Gen Alpha influencers on YouTube.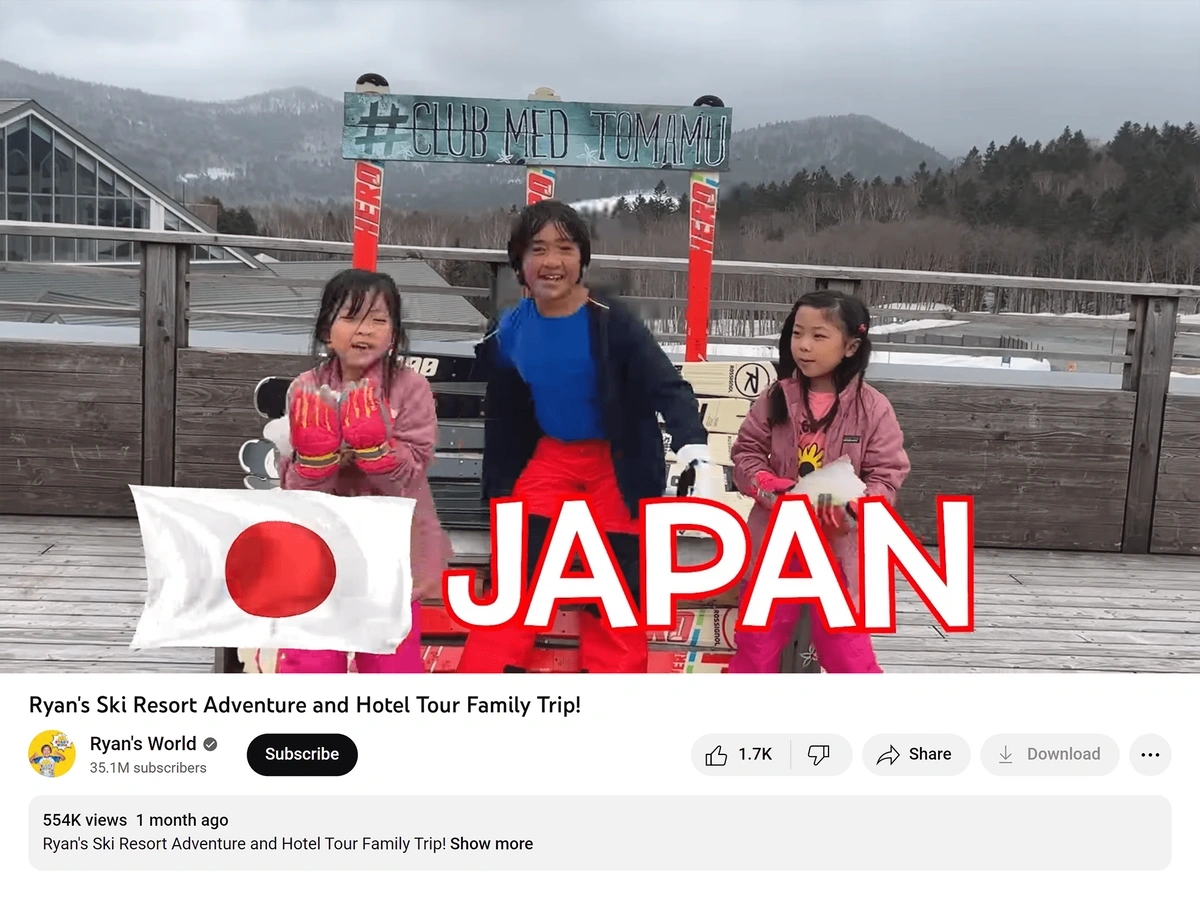 Ryan's YouTube page recently uploaded a video that followed his family during a skiing vacation in Japan.
The 11 year old has nearly 35 million followers on the platform.
His videos are a mix of toy unboxing, family vacations, science experiments, and games.
Like other influencers, Ryan creates videos that showcase various brands for his Gen Alpha followers.
His videos feature a wide variety of brands like Club Med, Dole, Walmart, and others.
Another incredibly popular YouTube influencer page is Like Nastya.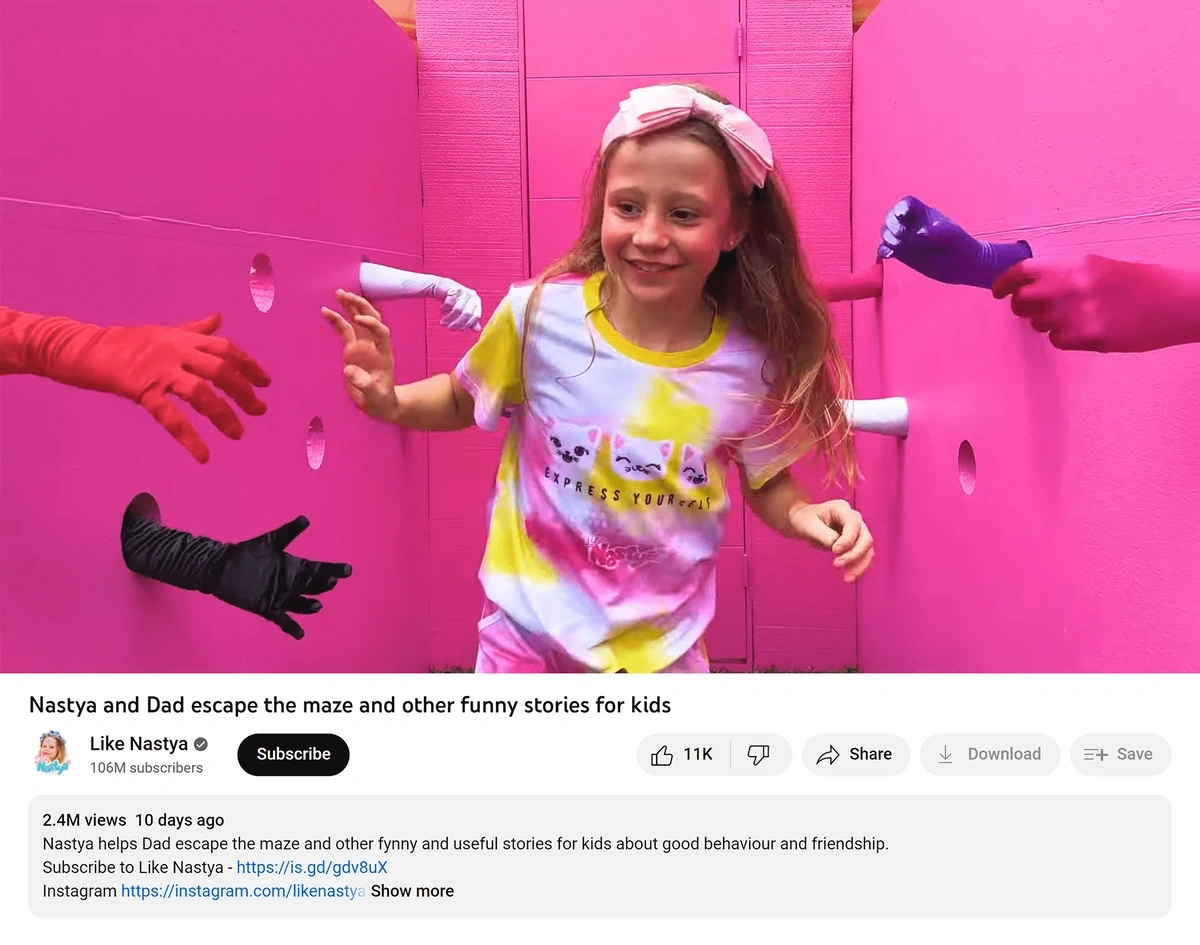 Nastya posts YouTube videos from all over the world.
Nastya is nine years old and has already amassed more than 106 million subscribers.
She reportedly brought in $28 million in influencer income in 2022.
Research shows 18% of children 8 years old and younger follow a personality on YouTube. When looking at just 5-8 year olds, that number jumps to 27%.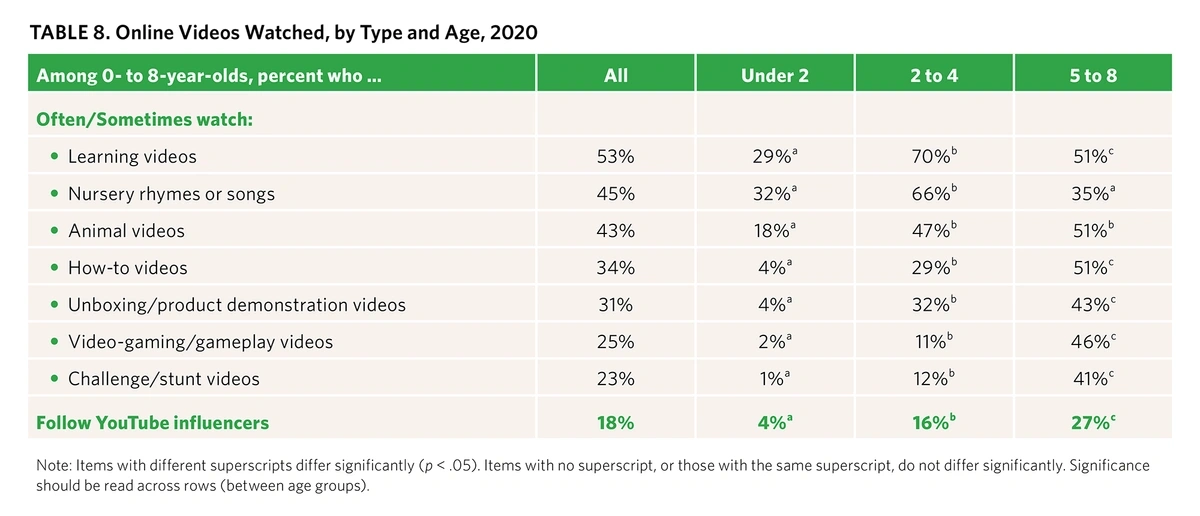 More than one-quarter of 5-8 year olds follow a YouTube influencer.
Kidfluencers are likely to continue to be popular on YouTube as more Generation Alpha kids reach the tween years and become more interested in lifestyle videos.
In addition, big brands like CoverGirl, Heinz, Band-Aid, Disney, and Mattel are continuing to invest in this type of influencer marketing as a way to begin building lifelong relationships with potential customers.
And with good reason. Surveys show 61% of 10-12 year olds say they'd want to purchase an item if they saw it featured by their favorite YouTube or Instagram influencer.
Generation Alpha Kids Over 10 Are Likely to Switch to TikTok
Research shows that kids begin shifting away from YouTube and gravitating toward TikTok as soon as age 10.
Additional research echoes this data.
TikTok was the most downloaded app in 2022—672 million downloads.
And, many of those downloads were tweens.
GWI reports an 18% increase between 2021-22 in the percentage of 13-15 year olds who say they use TikTok at least weekly.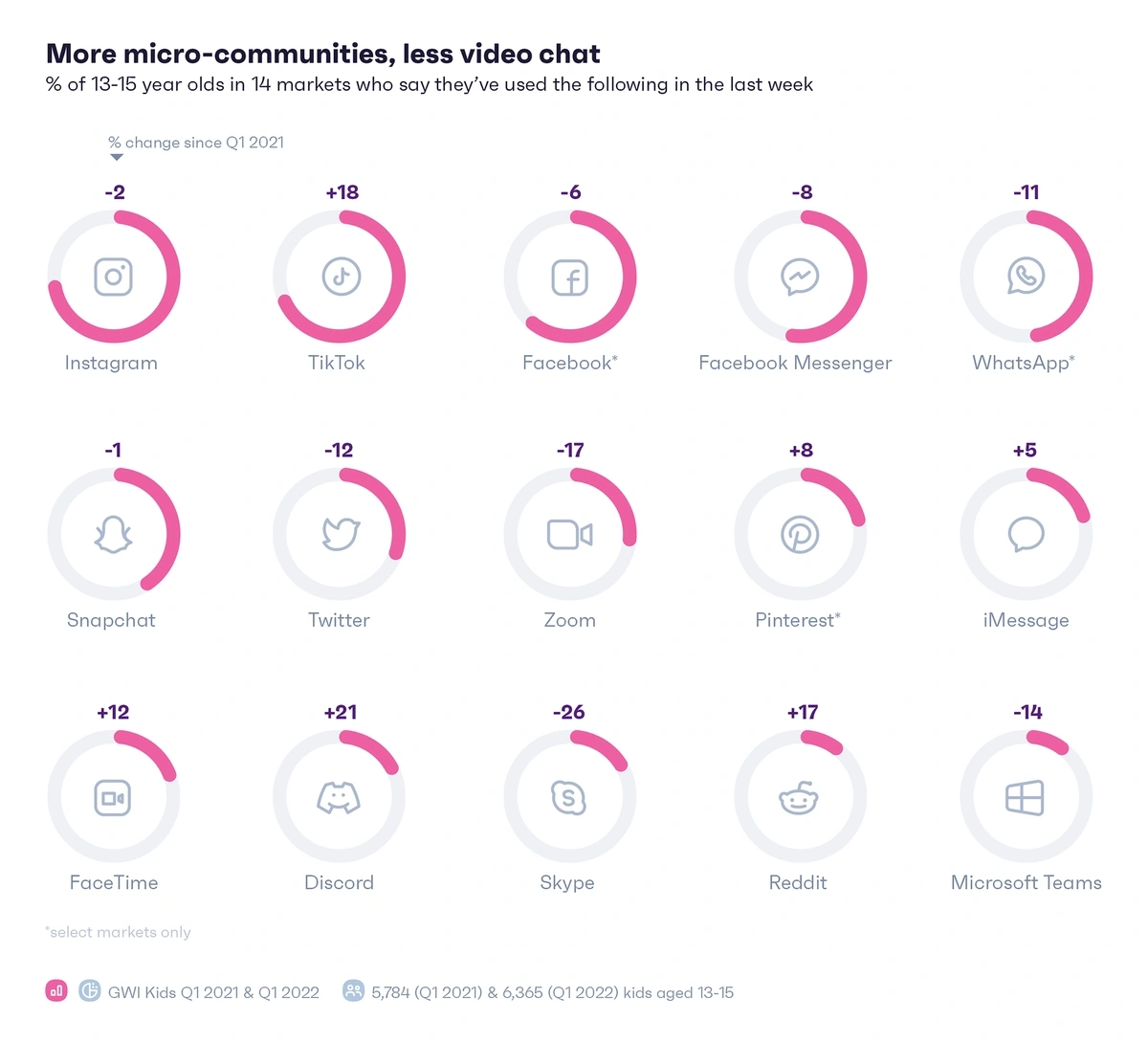 TikTok use among tweens is growing.
As of 2020, more than 18 million TikTok users were under the age of 14.
To protect young kids, TikTok users under the age of 13 can't post videos or comment, but they can still view content. That content is meant to be curated for a younger demographic.
But many Gen Alpha kids are scrolling through their parents' TikTok and posting videos.
This is the case for 10 year old North West, daughter of Kim Kardashian and Kanye West.
She posts TikTok videos with friends and family, but also features products from Kim's skincare brands.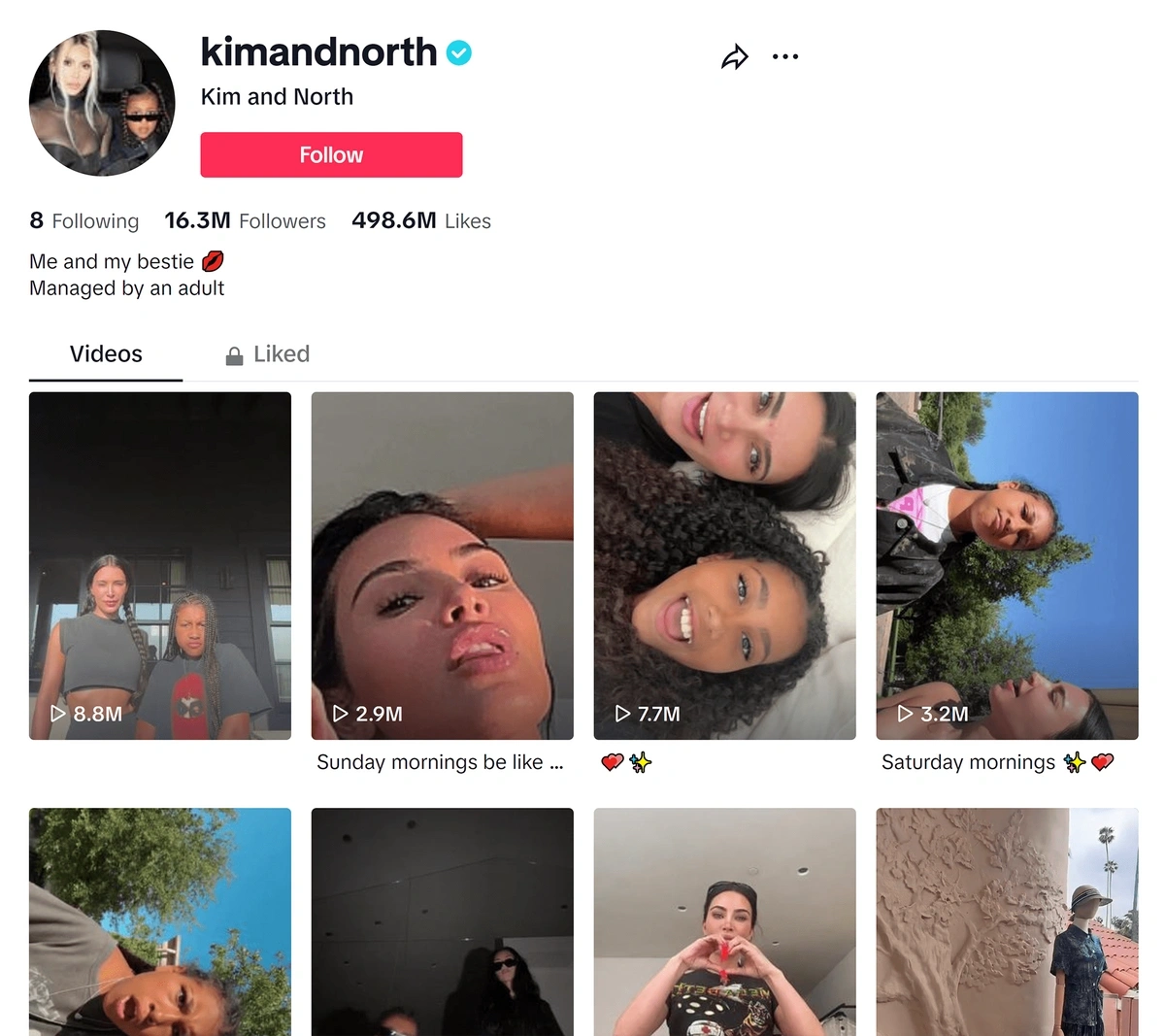 The TikTok account is managed by an adult but the content is created by 10-year-old North.
Some non-celebrity Gen Alpha kids have also become stars on TikTok via their parent's account.
In one example, @wren.eleanor—an account featuring videos of a 4 year old—has more than 17 million followers.

The TikTok account @wren.eleanor is run by Wren's mom.
For Gen Alpha kids and parents that want a safer, more private TikTok-like experience there's Zigazoo Kids.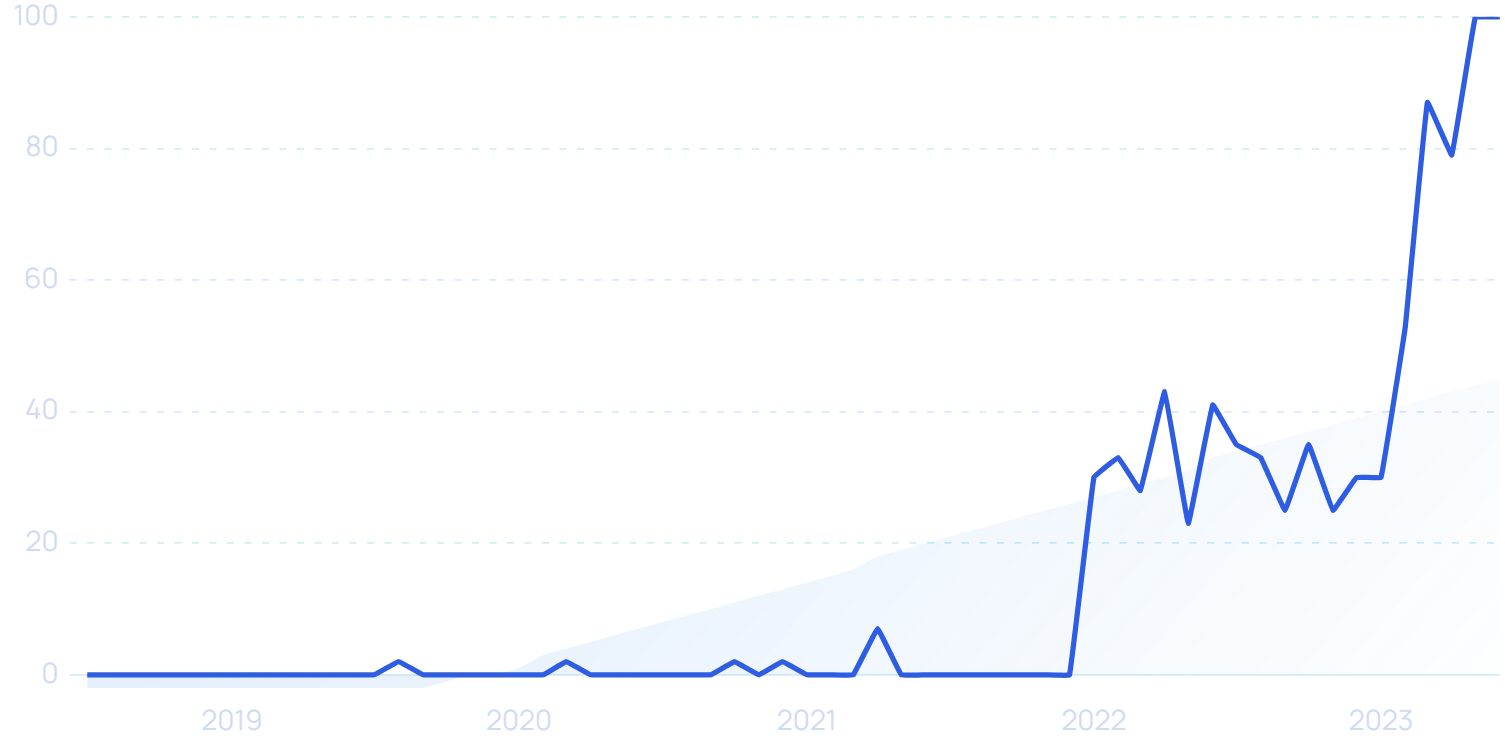 Search interest in "Zigazoo Kids" skyrocketed in 2023.
Built and launched during the pandemic, Zigazoo is a video-focused app that presents young kids with various challenges and prompts them to answer the questions with their own videos.
It's aimed at kids 3-12 years old, and each child needs a parent verification in order to sign up.
And, all videos go through a human moderation process to make sure they're appropriate for young kids and to ensure the kids don't reveal any personal information in the video.
Within one month of launch, the platform already had 100,00 videos.
They've now racked up more than 3 million installs and brands like Amazon, Paramount, and Mattel have a presence on the platform.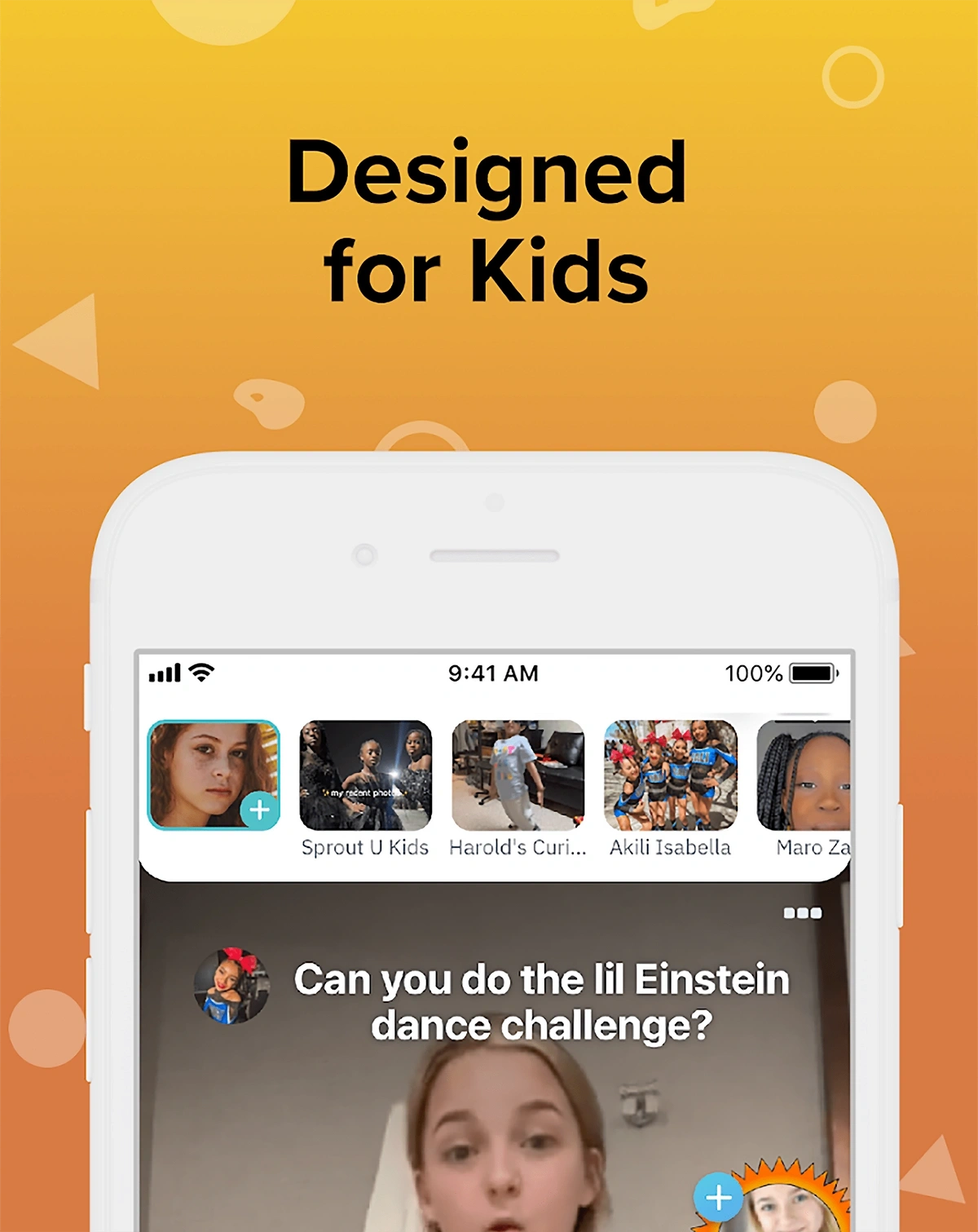 Zigazoo leaders say all videos on the platform go through a human moderation process.
Generation Alpha May Be Highly Educated in Non-traditional Ways
The oldest Generation Alpha kids experienced a huge shift in education during the pandemic. It's fitting then that experts say a hallmark of Generation Alpha will be non-traditional education.
Still, Generation Alpha is expected to become the most-educated generation ever.
Because individuals in Generation Alpha are often impatient and expect instant access, look for education to move away from traditional lectures and toward hyper-personalized learning.
This type of teaching is already making its mark in the education sector and much of it is powered by AI.
Educational platforms like Khan Academy and Duolingo are currently piloting AI tutoring assistants.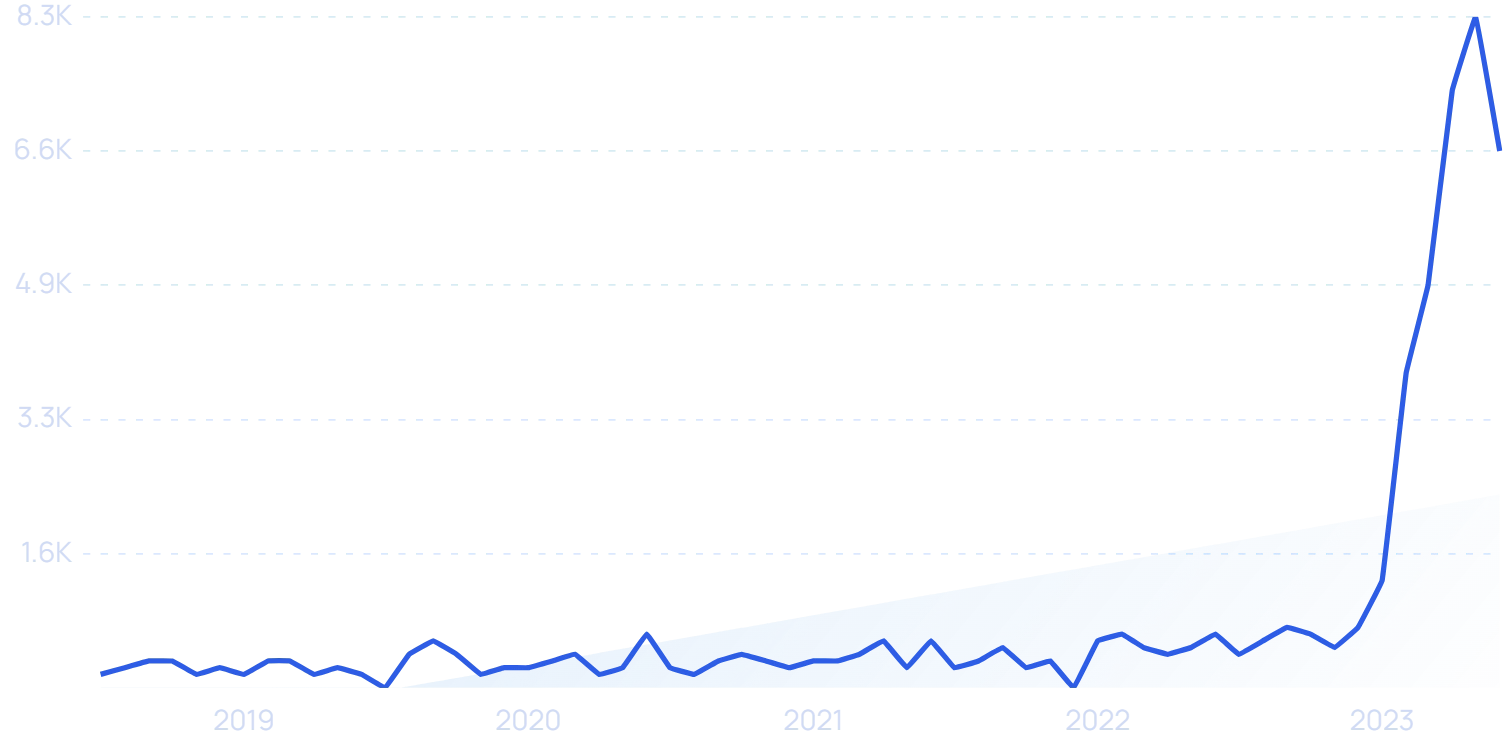 Search volume for "AI tutor" has jumped more than 2,000% in recent months.
Khan Academy's AI tutor is named Kahnmingo. It doesn't give students answers. Instead it asks open-ended questions meant to reinforce learning and move students toward the answers.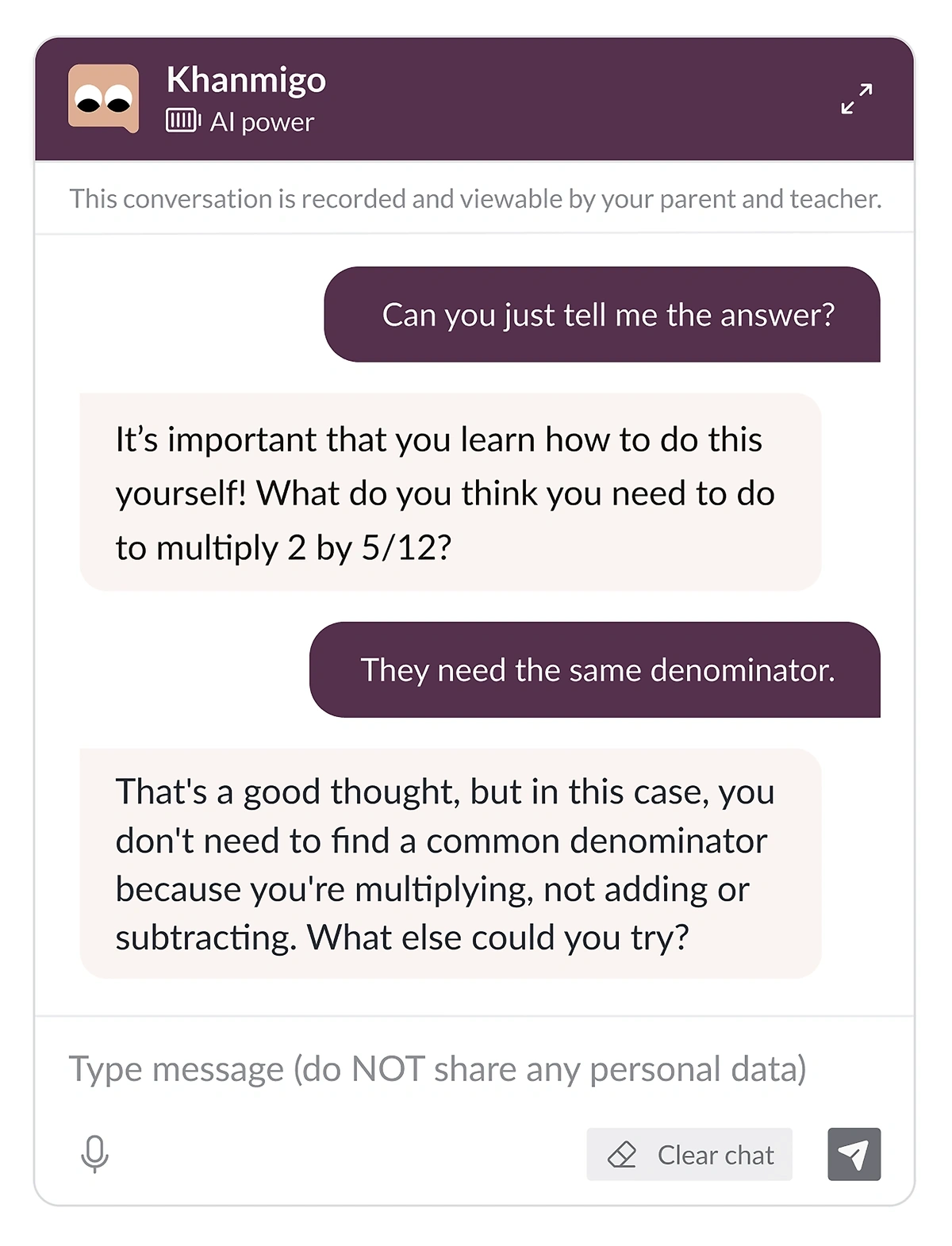 Khan Academy's AI tutor can help students work through math problems.
AI-powered tutors can coach kids in writing papers, as well.
Students can input their entire paper into OpenAI's ChatGPT and it will generate specific comments regarding what could be improved.
As Generation Alpha ages, experts predict they'll continue to choose non-traditional routes of education after high school.
One expert says this is partially due to the rising cost of college.
In 1980, a four-year degree was just over $10,000 (adjusted for inflation). By 2019, that number was up to nearly $29,000—a 180% increase.
According to one prediction, the cost of college in 2030 could hit $31,000 per year.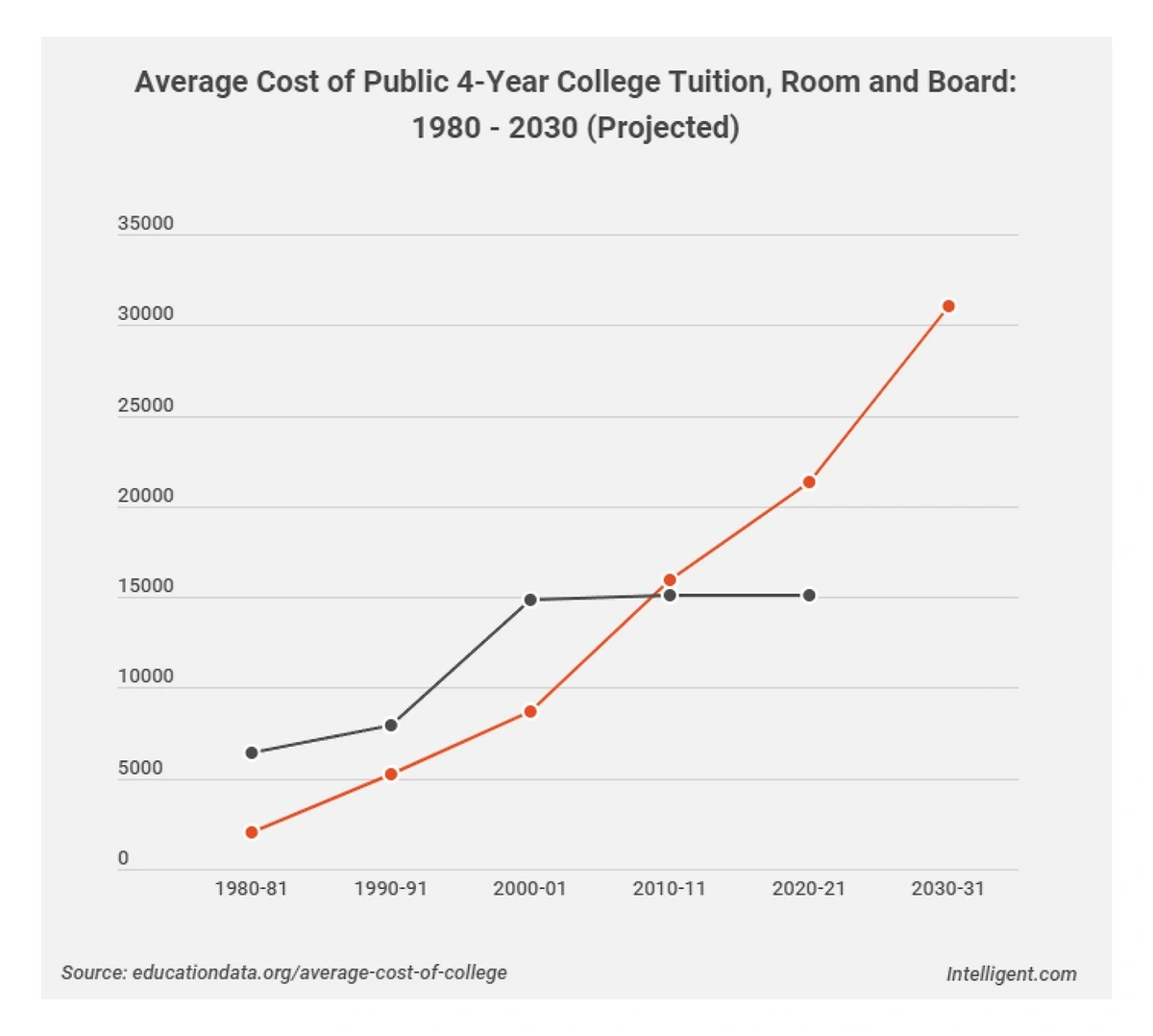 The cost of college is rapidly outpacing the federal minimum wage.
Aside from cost considerations, Gen Alpha's non-traditional learning styles could change the way colleges operate.
The College 2030 report from Barnes & Noble Education reports that just 33% of college students today want classes to be fully in-person. Nearly 50% would prefer a hybrid model.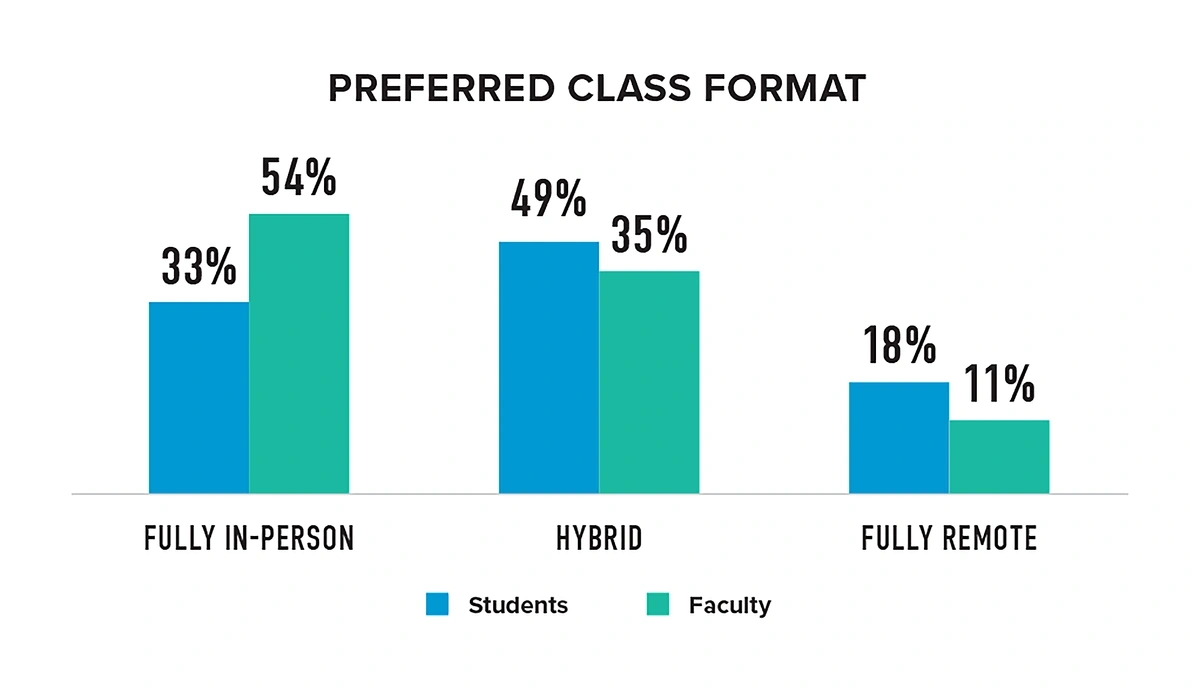 College students today prefer a hybrid learning environment.
With Gen Alpha's preference for digital interactions, the number of hybrid or remote college classes is likely to increase.
Another reason why Gen Alpha may pursue non-traditional education is because they're following their own passions, making a living from freelancing or starting their own businesses.
As of 2022, 43% of Gen Z had worked freelance in the past year and nearly two-thirds of Gen Z say they've started, or intend to start, their own business.
It looks as though this trend for flexibility and remote work will continue with Gen Alpha.
There's already a new trend taking shape among young people: the passion economy (also known as "the creator economy").
As an alternative to the gig economy, the passion economy is made up of "creators with a purpose."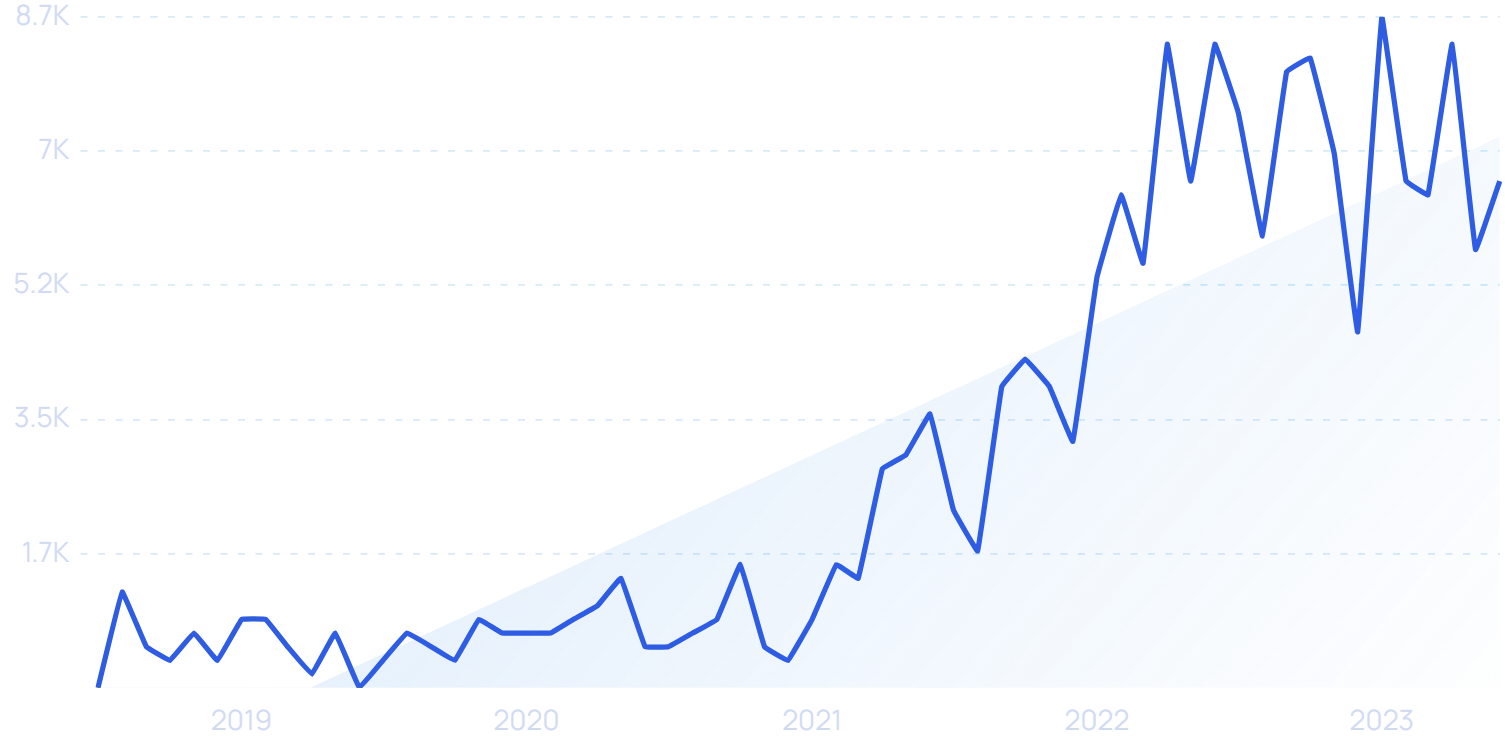 Search volume for "creator economy" has increased more than 7,000% in recent years.
These people are motivated to start a brand, business, or community, usually on digital platforms, that's focused on a shared passion. In short, they're monetizing their skills to create passive income.
Many are saying the passion economy is the future of work.
Alpha Is the Most Racially Diverse Generation Ever
Generation Alpha currently makes up 13% of the population and these kids are the most diverse generation ever in the United States.
Just 71% are white only, 15% are black only, and 26% are Hispanic.

Nearly 30% of Gen Alpha is a race other than white.
Not only are these individuals more diverse themselves, they also expect to see a focus on diversity in society.
More than half of Gen Alpha says treating everybody equally is important to them.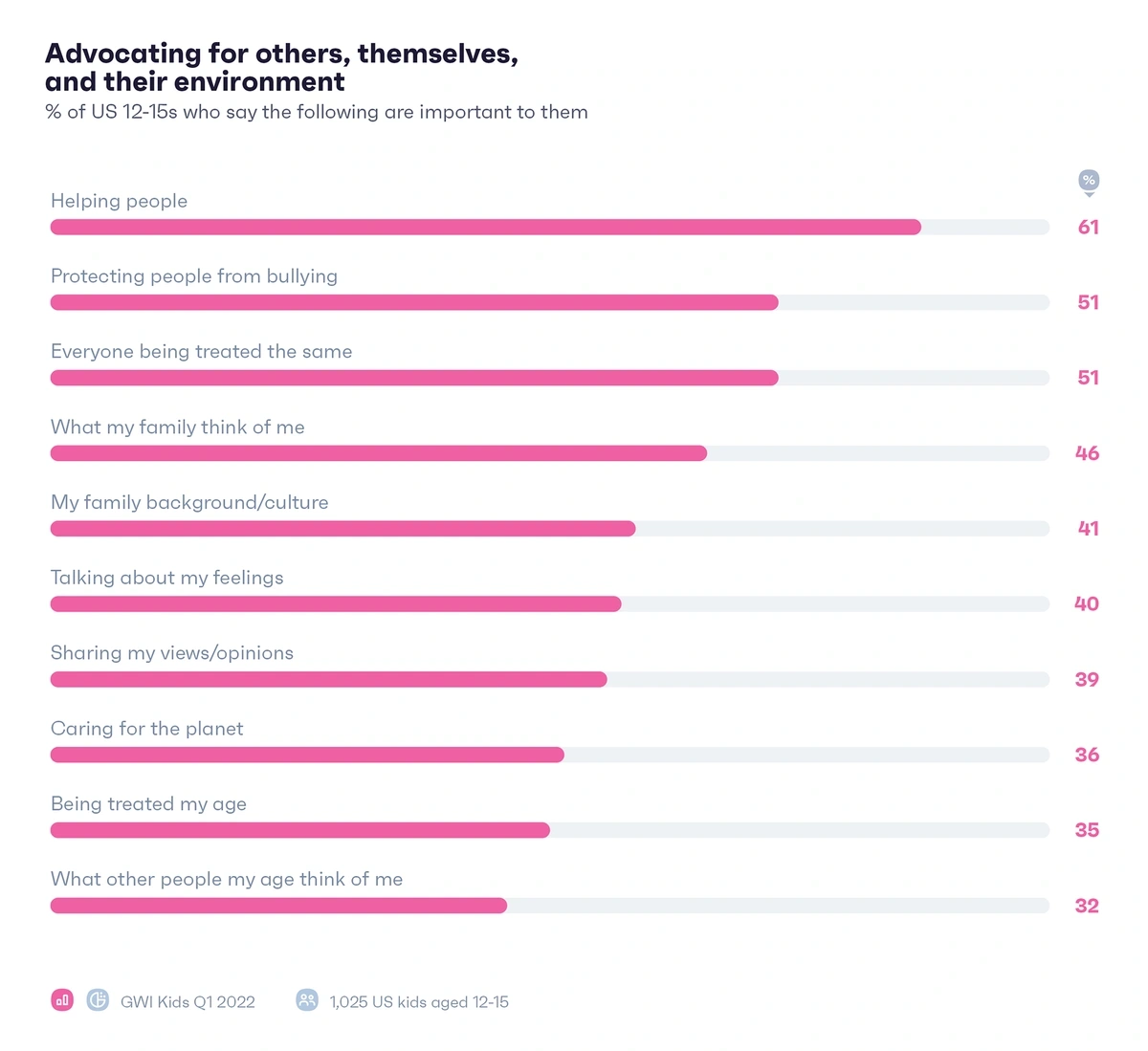 Diversity and equality are important to Gen Alpha kids.
One-third of older Gen Alpha kids say diverse representation on screen is important.
The 2021 Disney movie Encanto is one example of diverse representation aimed at Gen Alpha.
It was Disney's first all-Latino cast, and many Gen Alpha parents took to social media to praise the movie.
Disney made headlines again when it cast a black woman to play Ariel in the remake of The Little Mermaid.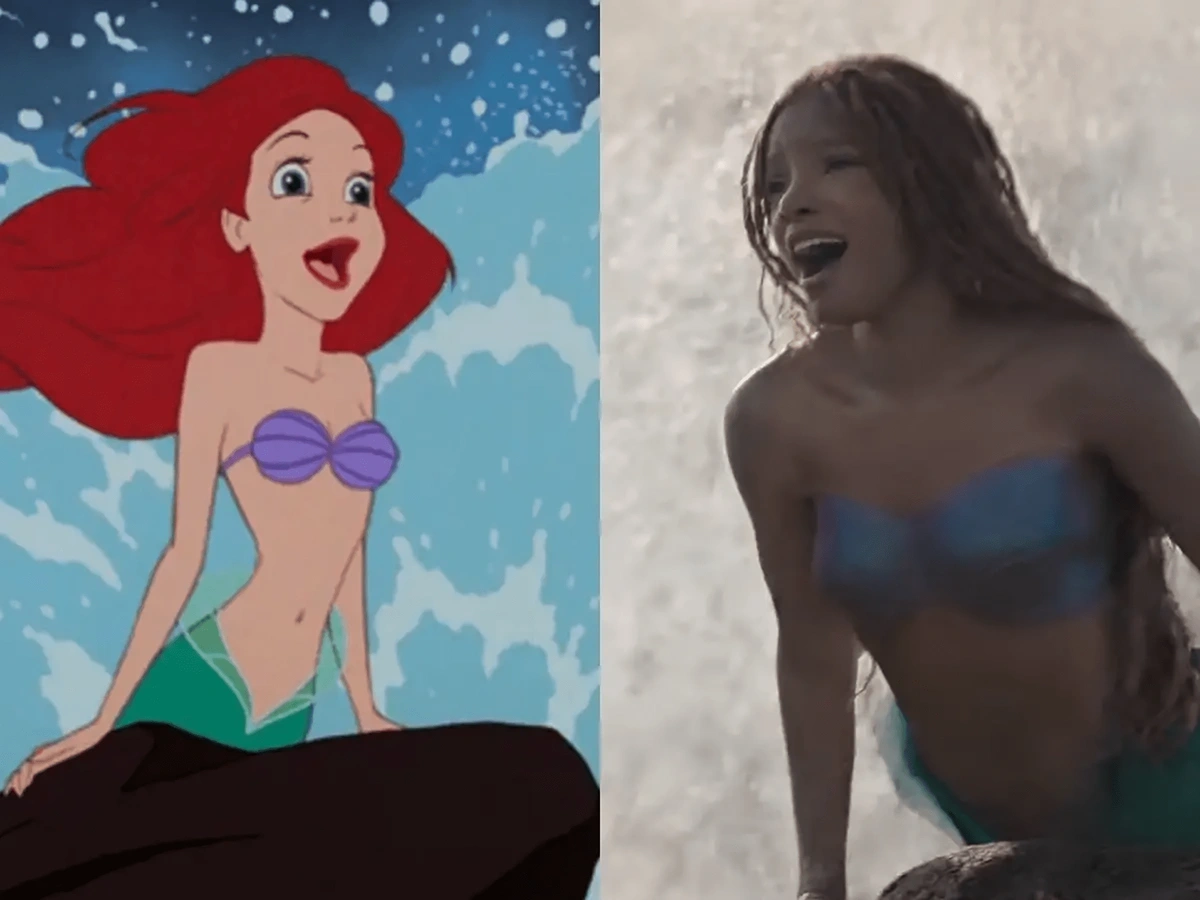 Actress Halle Bailey played Ariel in the 2023 version of The Little Mermaid.
Beyond the big screen, other businesses are already incorporating diversity into their products and ad campaigns in order to appeal to Generation Alpha.
Survey data shows this is important to the parents of Generation Alpha, too.
Nearly 80% of all parents say they consider diversity when they're buying toys.
When considering parents between the ages of 19-24, that number jumps to 88%.
One example is Crayola crayons.
The brand released 24 new skin-tone colors in 2020 that were specially designed to represent children across the globe.

Crayola introduced 24 new shades to their Colors of the World product.
Even toy food is becoming more diverse.
Generation Alpha kids can now play with Middle Eastern-inspired pitas, kebabs, and tabbouleh, or Japanese-inspired sushi and dumplings.
The Mental Health Challenges of Generation Alpha
According to a report from Morning Consult, 37% of Generation Alpha parents believe their children are worse off than they were as kids when it comes to mental health.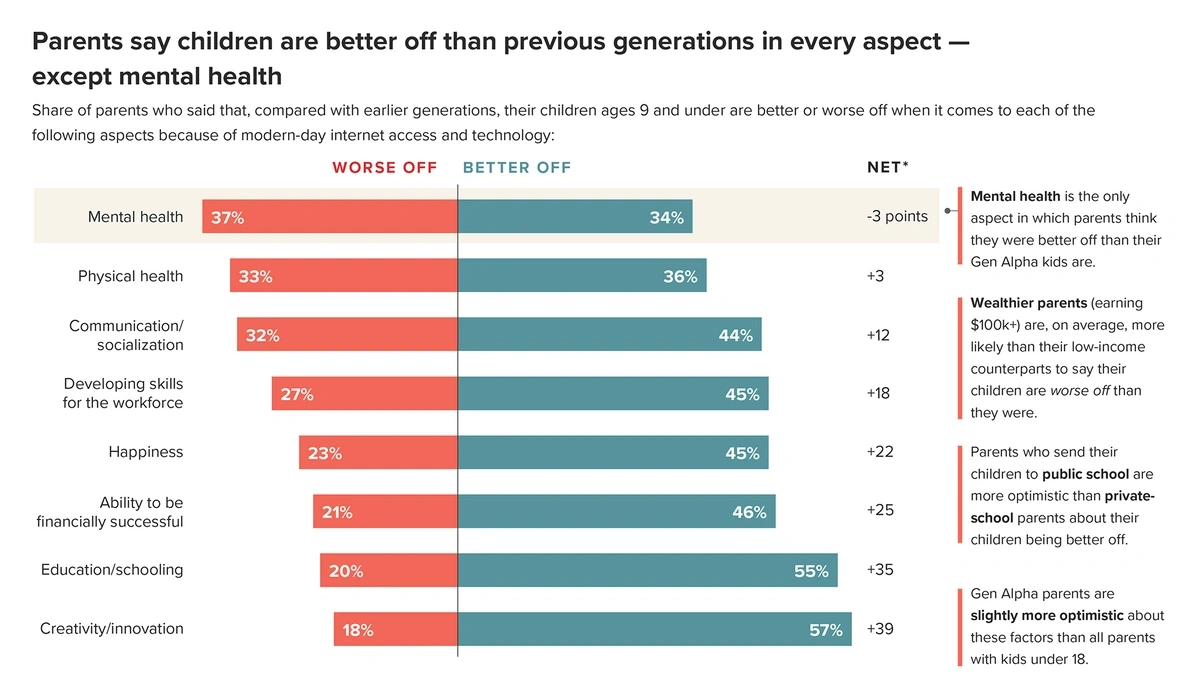 Mental health was the only area in which parents believed they were better off than their children are now.
A 2022 survey found a large gap in mental well-being between the oldest and youngest generations.
The Mental Health Million Project surveyed 220,000 people across the world and found that only 7% of people older than 65 were "distressed and struggling" while 44% of participants between 18-24 years old were in the "distressed and struggling" category.
Mental health issues are already showing up in older Gen Alpha kids.
According to Mental Health America, more than 1 in 10 youth (ages 12-17) are experiencing depression that severely impacts their ability to function in daily life.
And, the CDC reports that 1 in 6 children ages 2-8 have been diagnosed with a mental, behavioral, or developmental disorder.
The mental health crisis among kids has progressed so far that the U.S. Preventive Services Task Force, an independent panel of medical experts, now recommends anxiety screenings for all children beginning at age 8.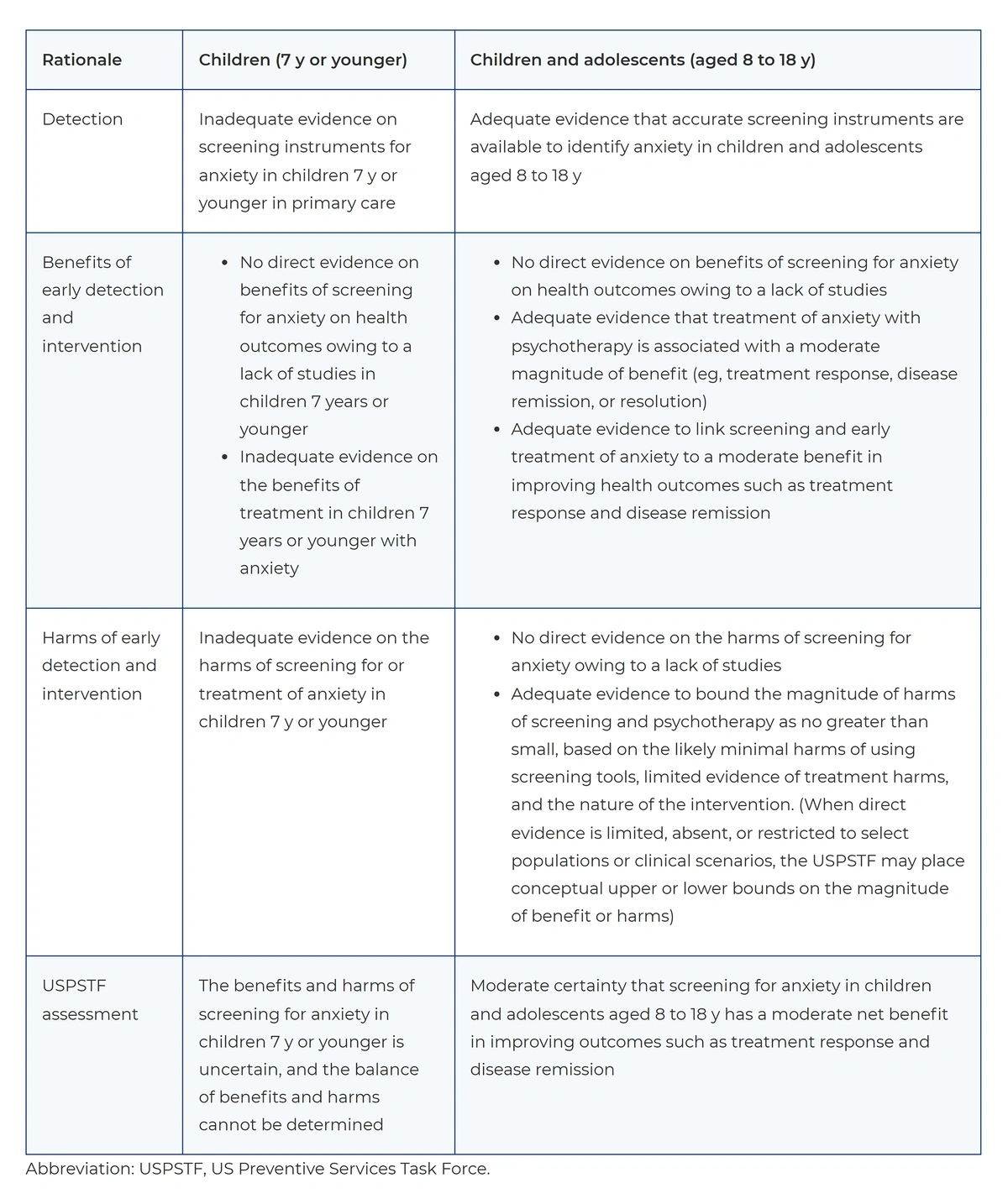 The medical panel reported that screening young children for anxiety could potentially improve the treatment and outcomes of mental health issues.
Experts say the pandemic worsened the mental health of Generation Alpha, but it's not the only cause of the decline in mental well-being.
Many Generation Alpha parents point to social media as one of the main culprits of depression and anxiety among youth.
In one survey, only 35% of parents believe social media has a positive impact on their children's mental health. That's down from 43% in 2022.
A full 50% of parents in that survey said they believed the mental health of their children had declined in the last year because of social media.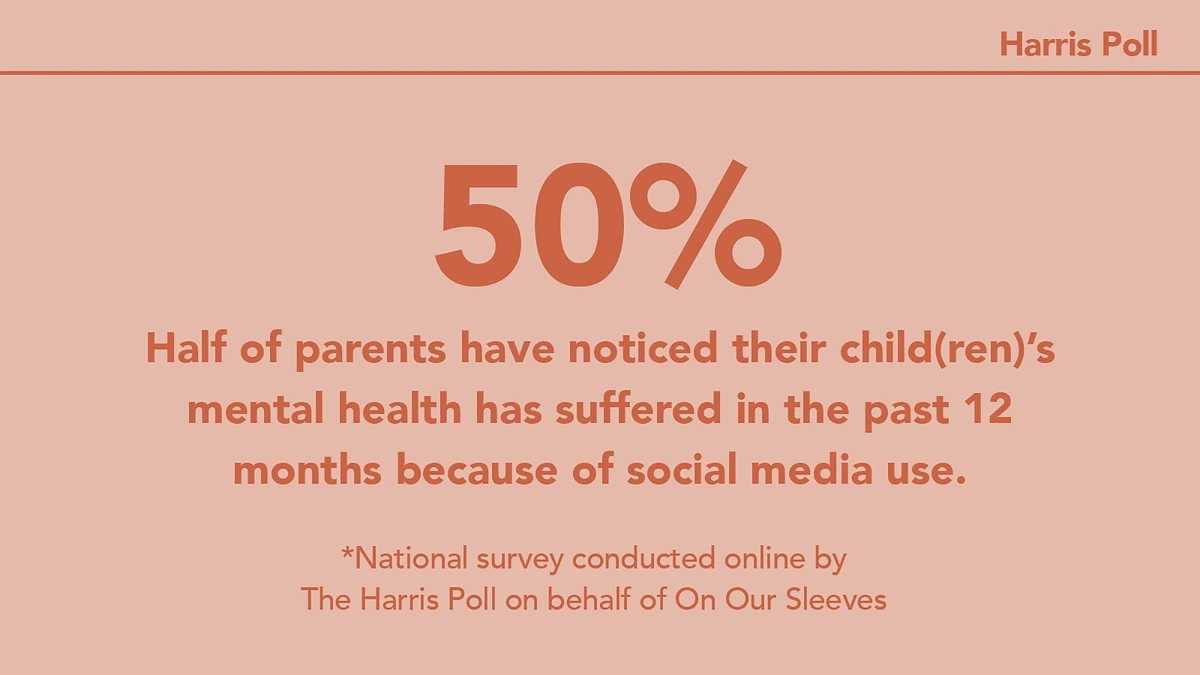 Half of parents surveyed reported that social media had contributed to their children's declining mental health in the past year.
A group of Senators, who are also parents of young children, are pushing for tighter regulation of social media and a ban that prohibits all of Generation Alpha from using the platforms until they turn 13.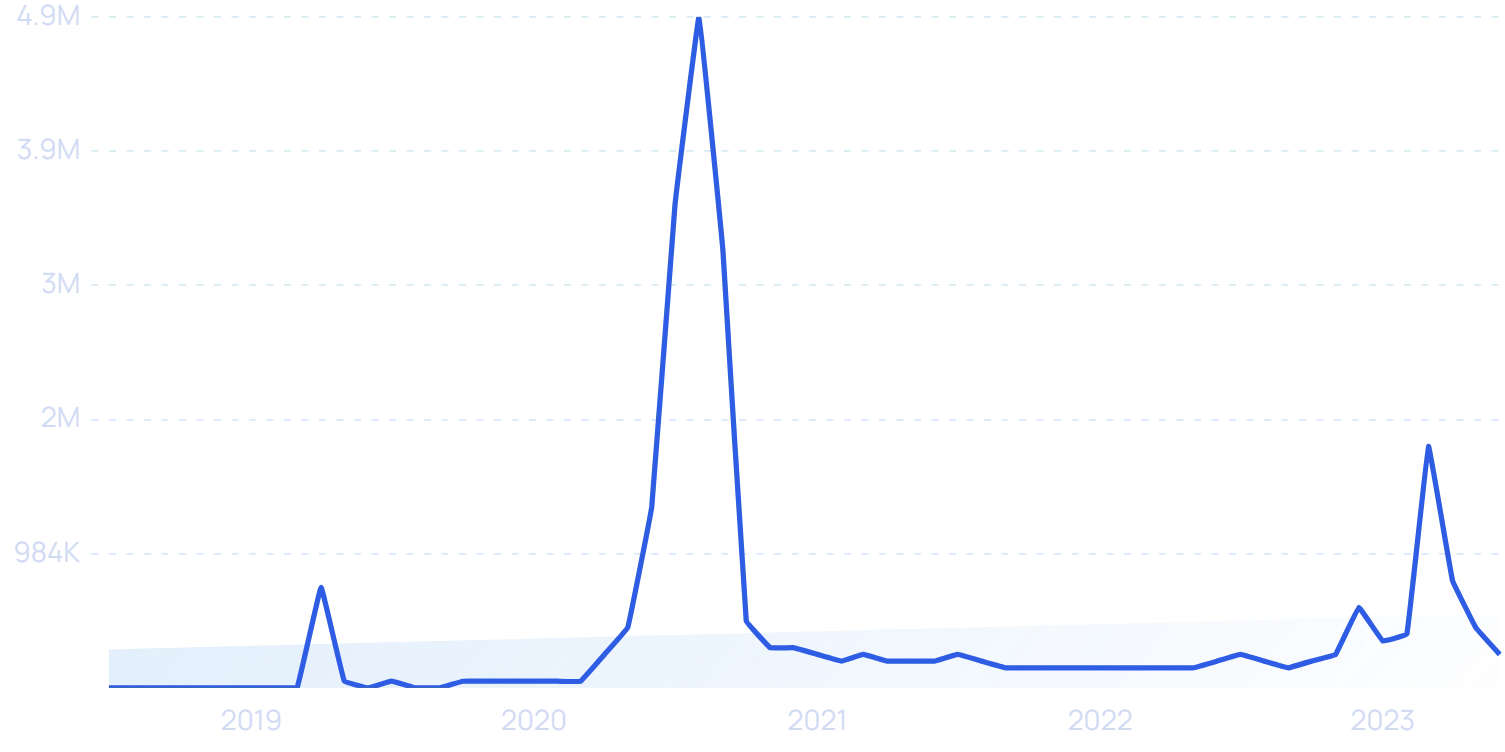 Search interest in "TikTok ban" periodically grows when action takes place in federal or state governments.
While the causes of this decline of mental health in Generation Alpha are varied, so are the solutions.
Many of them start at home with parents of Gen Alpha kids.
Research shows that 75% of children 9-11 years old turn to their parents first when they're having a hard time with stress or anxiety.
Psychologists are urging parents to destigmatize worrying and anxiety in order to help children realize that it's normal to have these kinds of feelings.
Organizations and businesses are also attempting to normalize mental health struggles. It's likely this will continue as Gen Alpha reaches the teenage years.
In one example, LEGO released a new line of minifigure characters in their LEGO Friends Universe digital platform that were more neurodiverse than ever before.

LEGO hopes these characters will help destigmatize mental health challenges.
One character has ADHD and one has social anxiety.
Generation Alpha May Continue Trends of Non-traditional Family Life
The majority of individuals in Generation Alpha in America are being raised in households that look very different from households of the past.
From 2015-19, the average age of first marriage for women was 28 years old. That was up from 26.3 during the years 2006-10.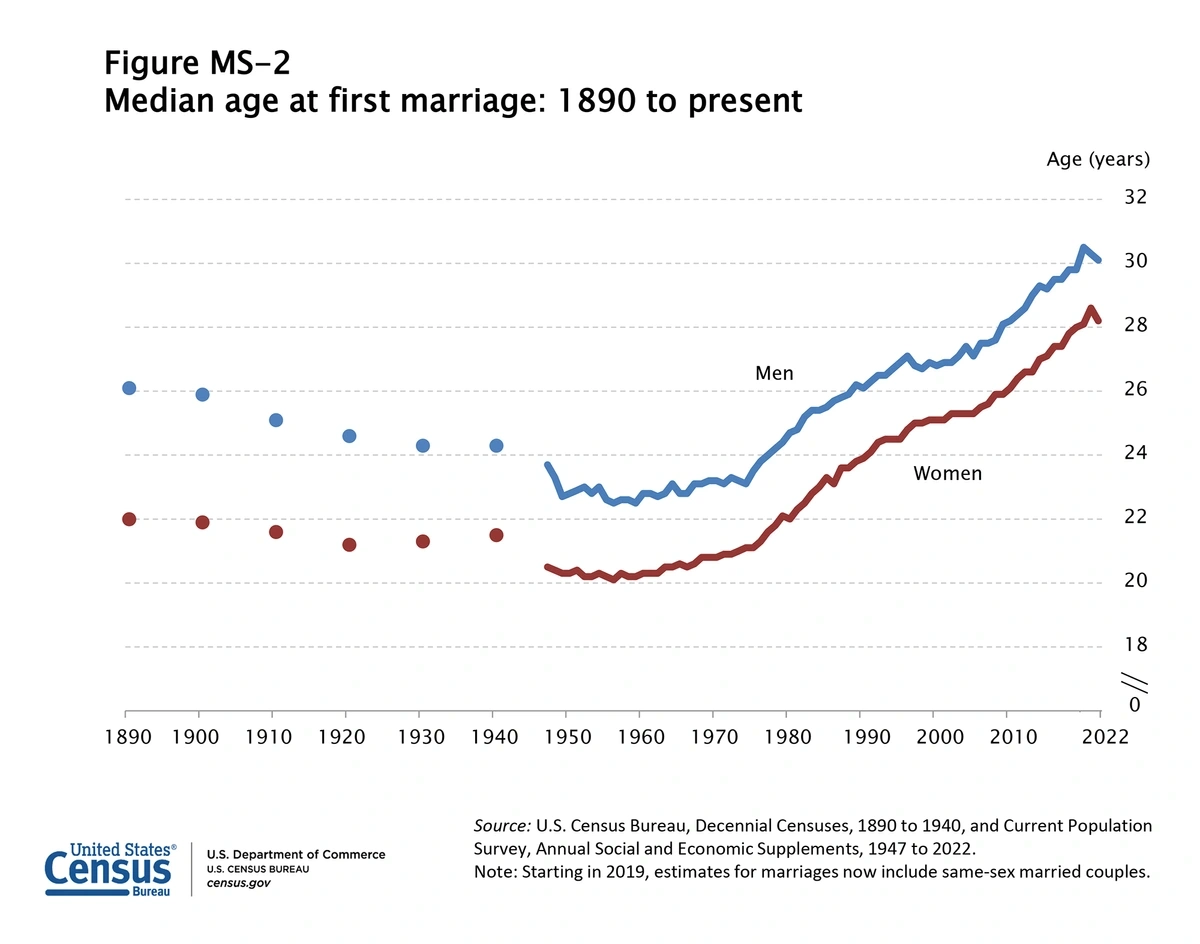 The age of first marriage continues to climb.
The age of first marriage has been climbing since the 1960s. If the trend continues, many in Generation Alpha may not be married until their mid-thirties.
And, that's assuming they get married at all.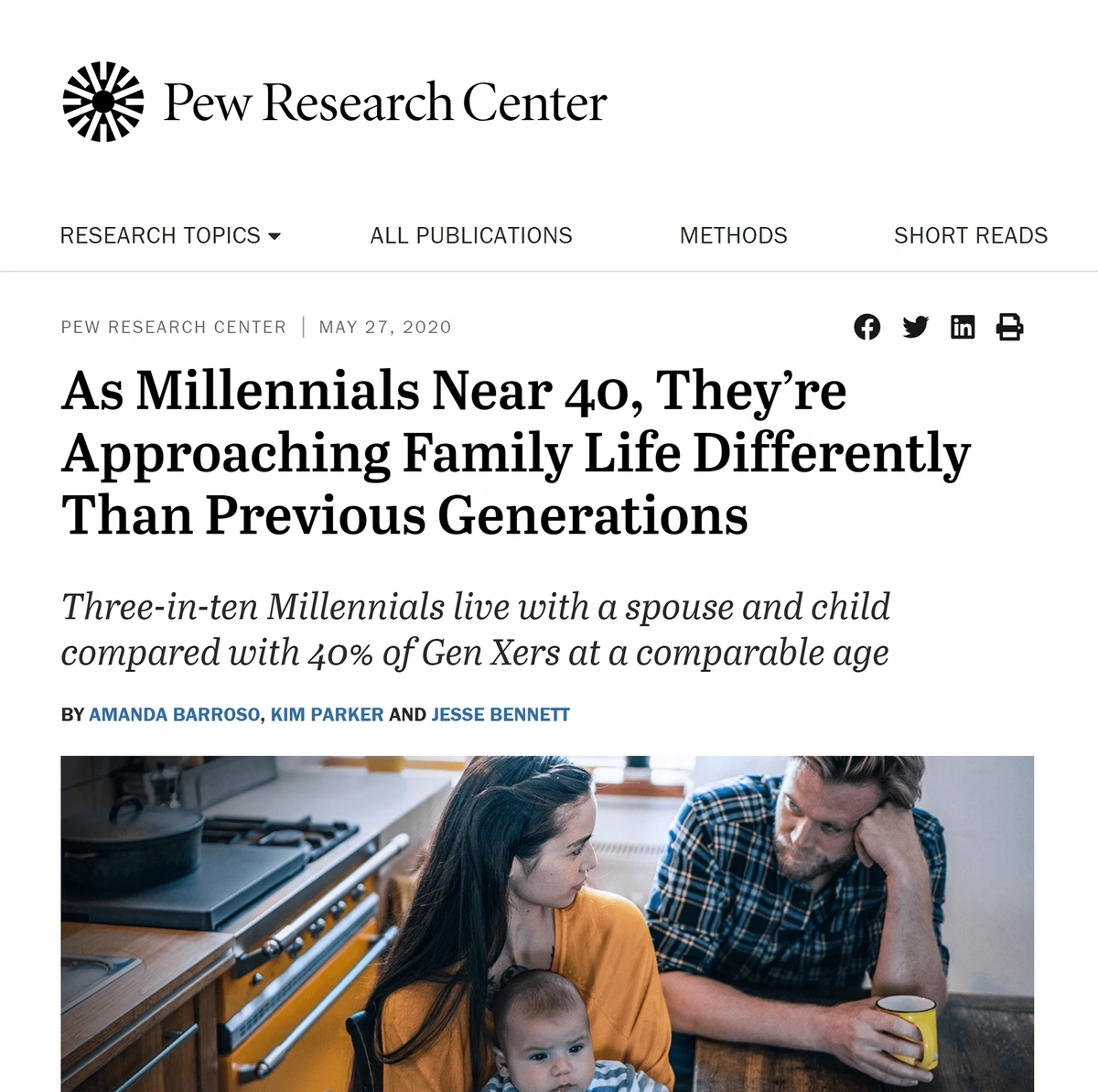 The parents of Generation Alpha are taking a non-traditional approach to family life.
The number of unmarried Millennials, many of them parents to Gen Alpha kids, has set a new record-high.
According to the Pew Research Center, only 44% of Millennials between the ages of 23-38 are married.
Looking at individuals who were at the same point in life as Millennials are now, 53% of Gen Xers were married, 61% of Boomers were married, and 81% of Silents were married.
Again, when comparing this trend across generations, it looks likely that choosing to stay single is a trend that will continue within Generation Alpha.
Instead of living with married parents, many Gen Alpha kids are living with cohabitating parents or living with one parent or the other due to divorce or separation.
In the U.K., the number of cohabitating but not married families grew nearly 26% between 2008 and 2018.
The Pew Research Center reports that 12% of Millennials live with their Gen Alpha child(ren) without a spouse.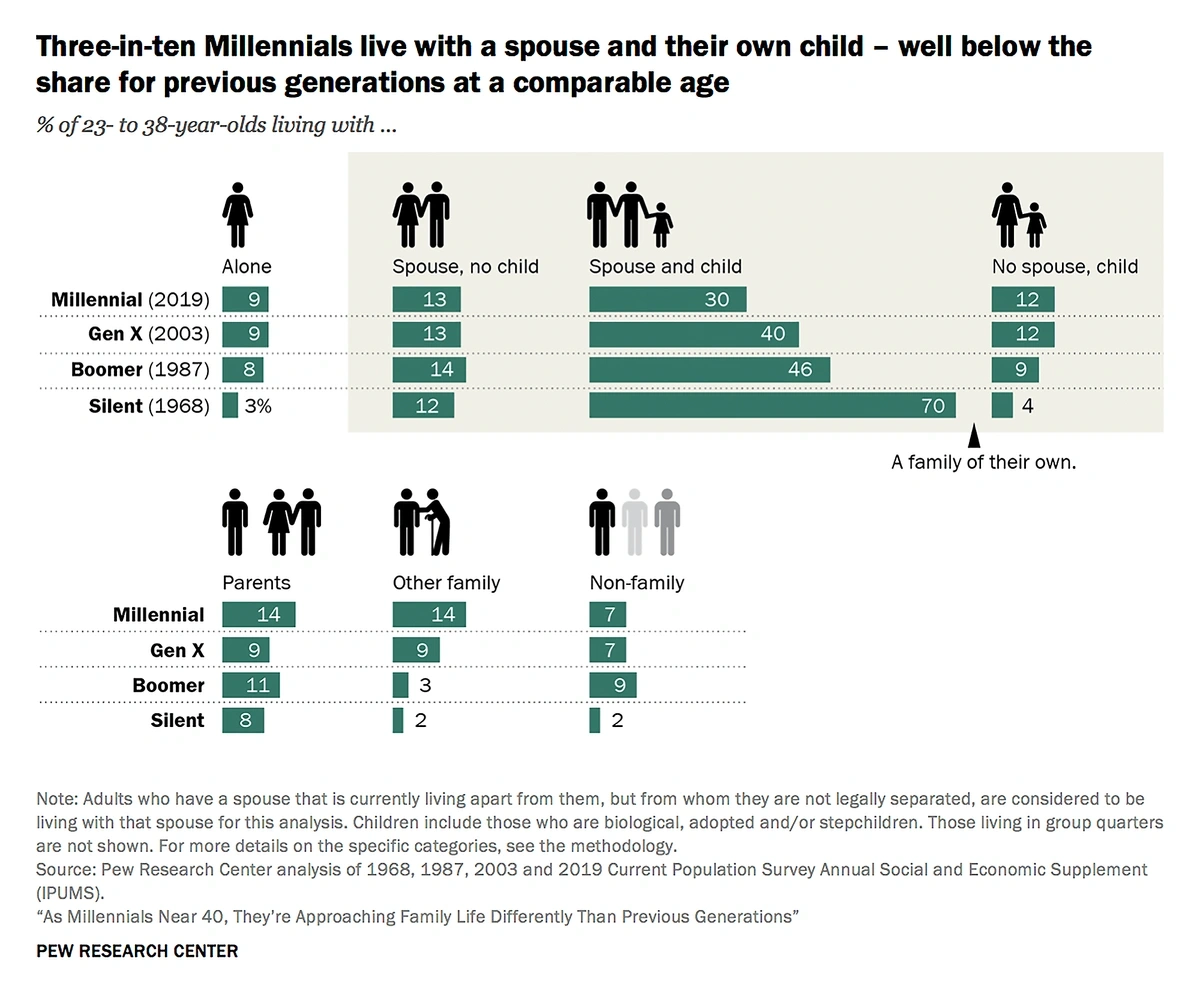 Only 30% of Millennials live with a spouse and child.
In all, the number of children living with a single parent totals more than 19 million.
Another familial trend that's impacting Generation Alpha is multigenerational homes.
Data shows the number of multigenerational homes in the United States quadrupled between 1971 and 2021. In 2021, 18% of the U.S. population lived in a multigenerational household.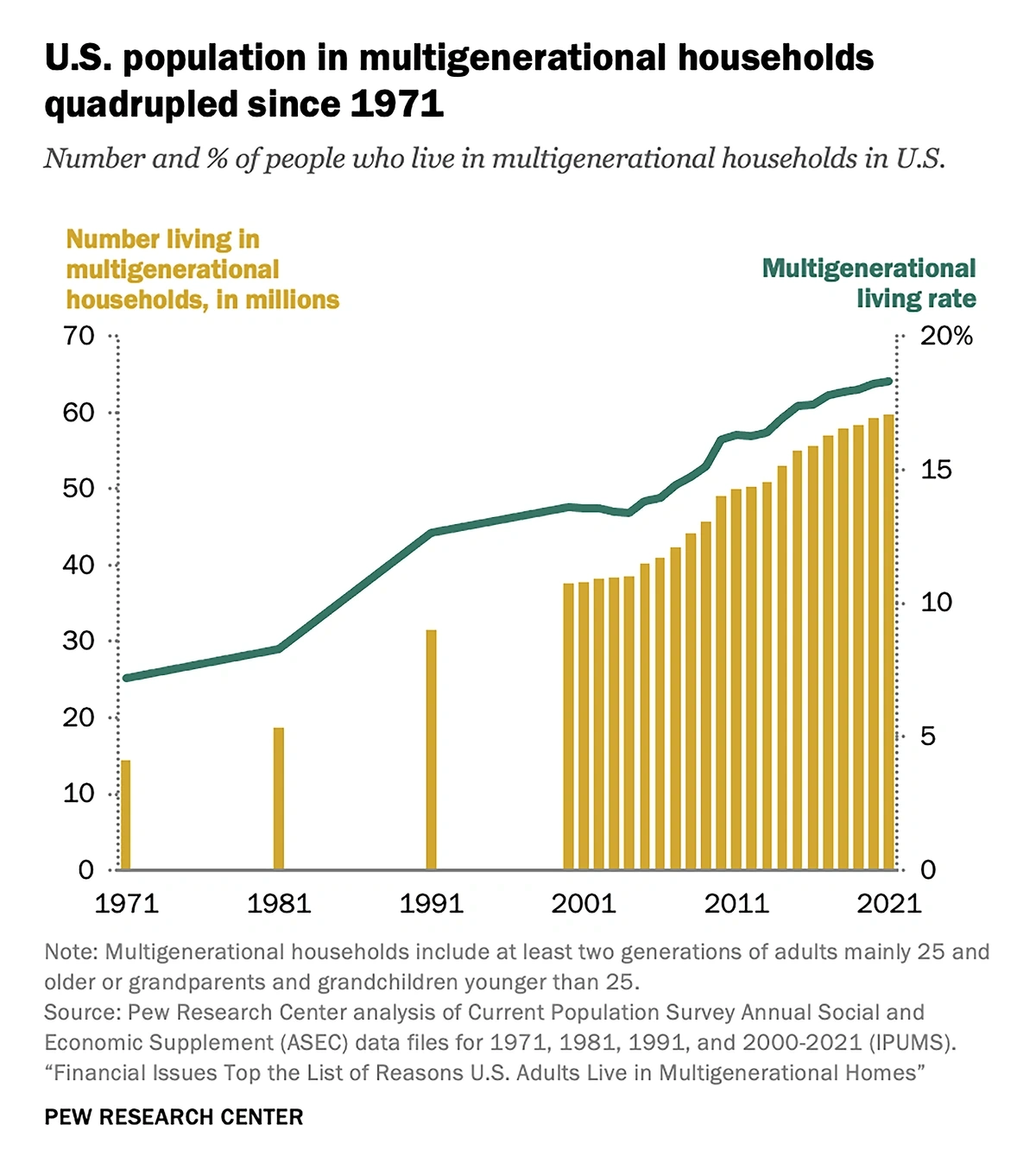 More than 15% of the U.S. population lives in a multigenerational household.
In 11% of these households, an adult is providing childcare for a child that's not their own.
This means that Gen Alpha may be spending more time with their grandparents or other family members than previous generations.
It also means that Gen Alpha may follow the trend of Gen Z and live at home for an extended period in adulthood.
Even though the families of Gen Alphas may be structured differently, family is still a major priority for them.
In one survey, 71% of Gen Alphas said family was the most important thing in life.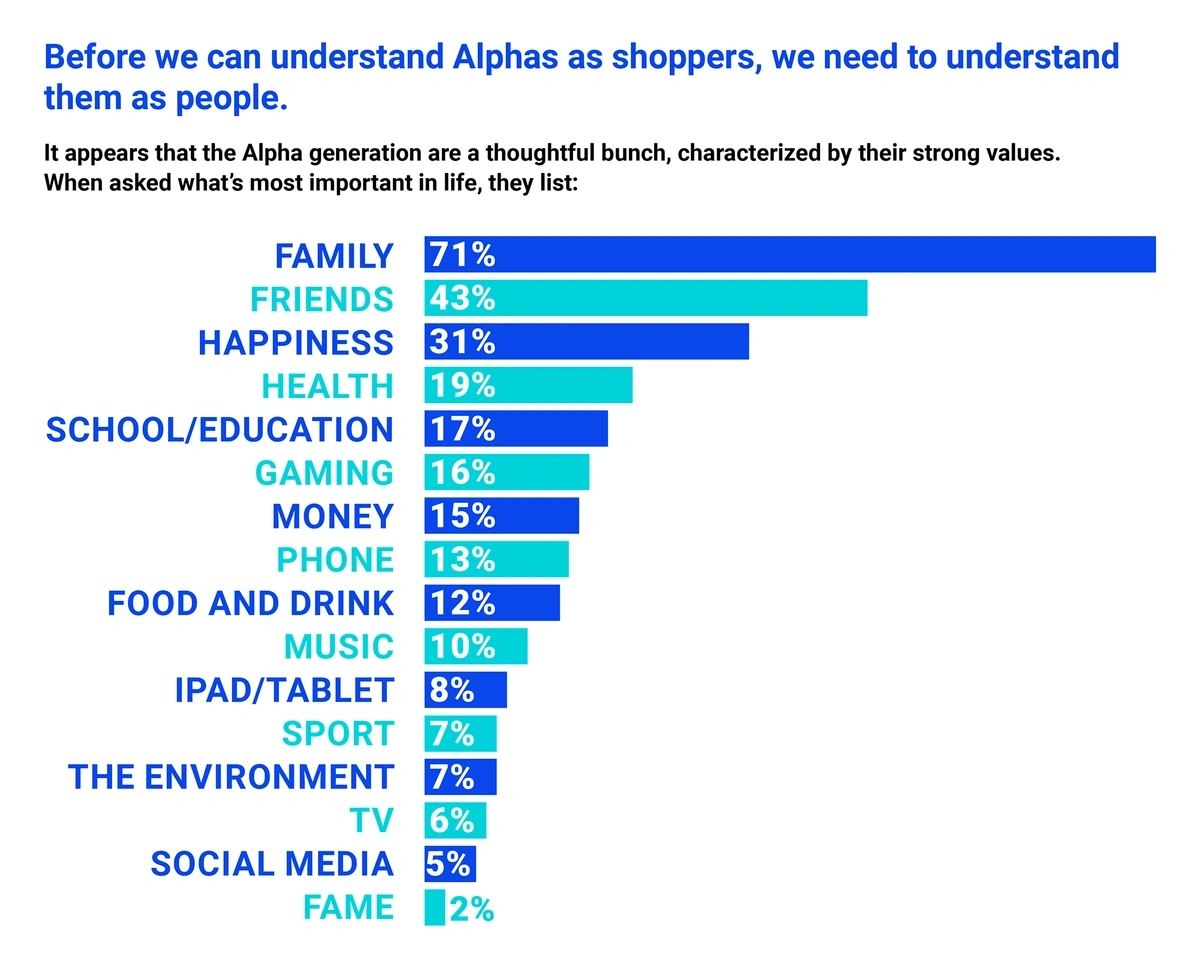 Family, friends, and happiness ranked as the top priorities for Generation Alpha.
Many Generation Alpha Kids Are Being Raised on Plant-Based Food
A few recent studies give us a peek into the food preferences of Generation Alpha.
A survey from Morning Consult showed that Gen Alpha parents are already pointing their children toward healthy food choices.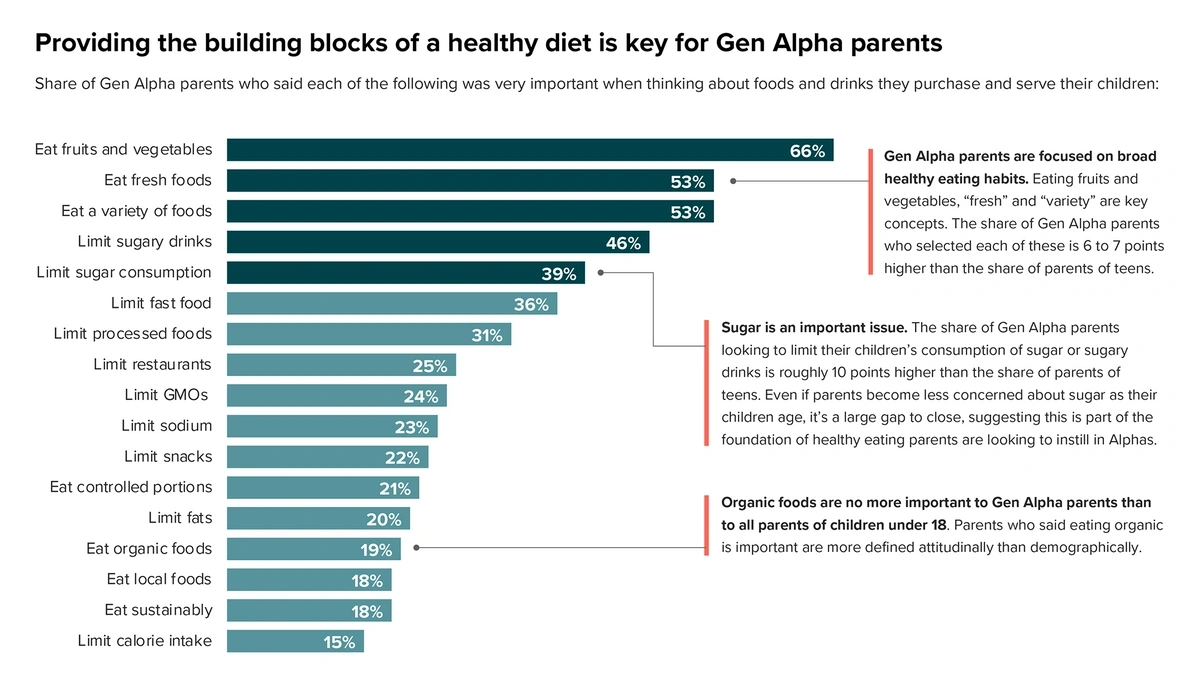 Generation Alpha parents prioritize healthy eating for their kids.
In particular, parents are emphasizing fresh foods, like fruits and vegetables, with their Gen Alpha kids.
Surveys show that more than 70% of Millennials with kids say they're eating plant-based meals more often.
As of 2018, 7.5 percent of Millennials and Gen Zers had adopted a vegetarian diet.
Millennials and Gen Zers are the two generations to be most interested in a vegan diet, according to McKinsey.
As the popularity of plant-based foods continues to gain momentum, it seems likely that Gen Alpha will follow in the footsteps of the generations before them.
Parents of Generation Alpha children are putting an emphasis on healthy foods right from birth.
CPG industry leaders say parents are looking for clean-label, organic baby foods that are free from added ingredients.
Cerebelly is one baby food company that's capitalized on the opportunity to give the parents of Generation Alpha what they want.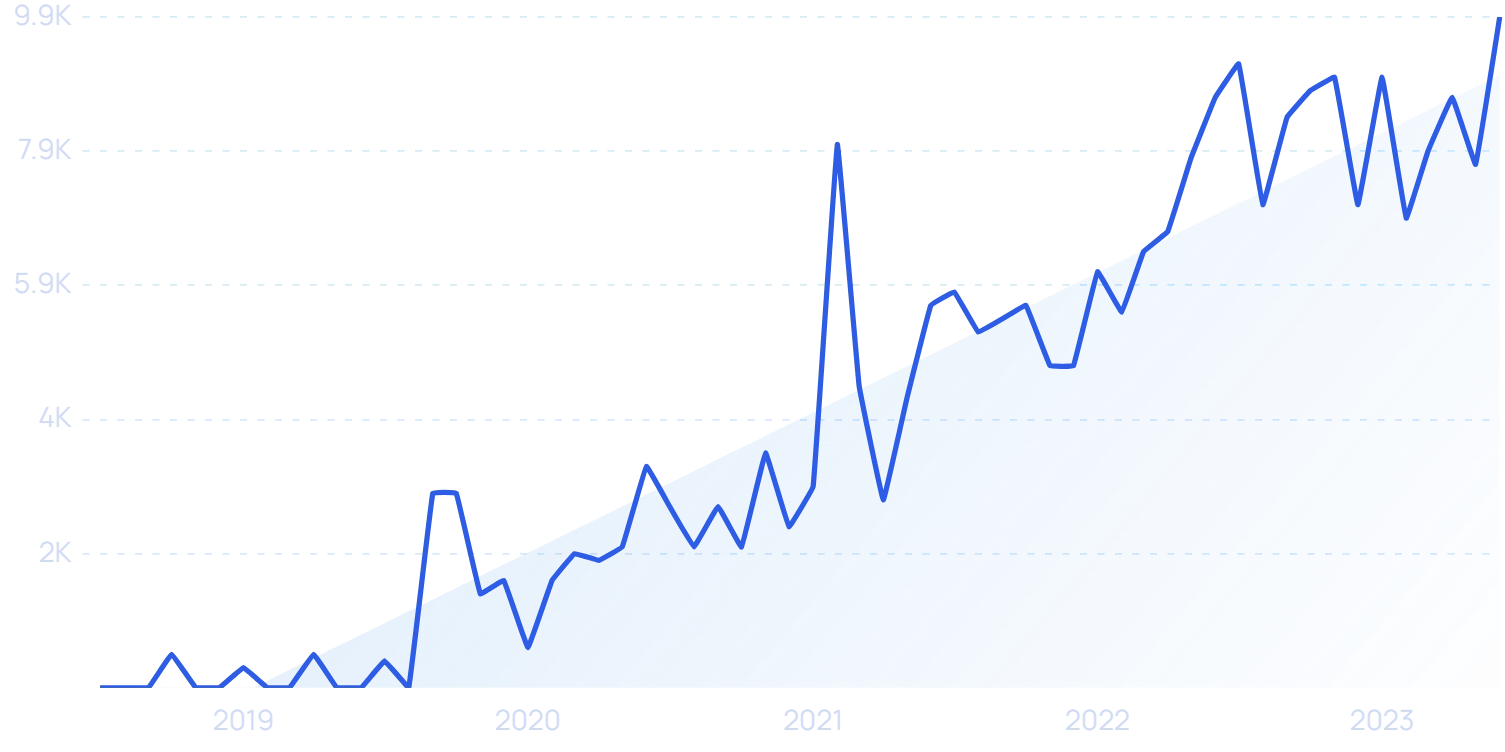 Search volume for "Cerebelly" has increased more than 8,000% in recent years.
The brand's baby food is specifically formulated to aid a baby's developing brain. The food is always organic and free of added sugars.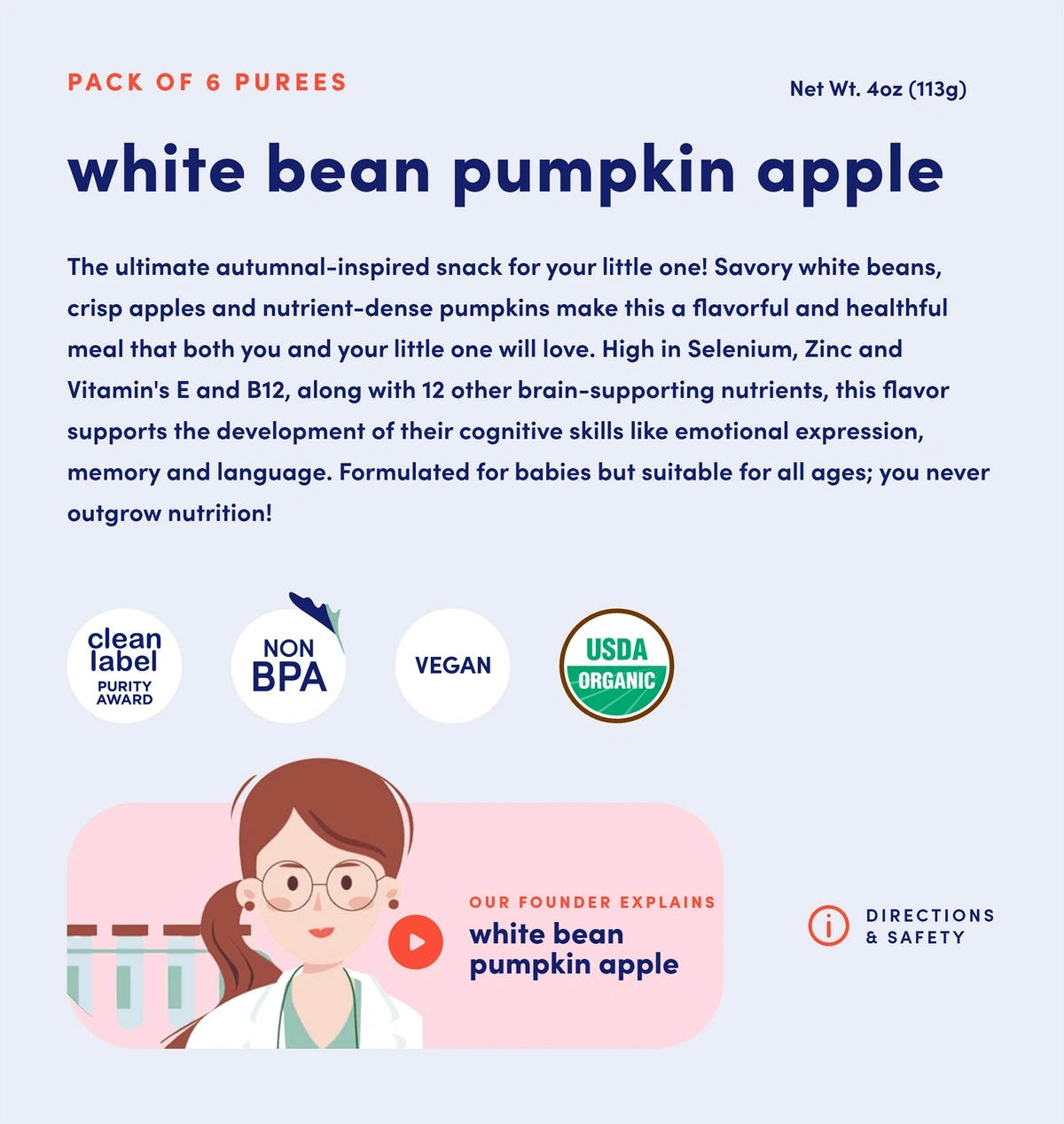 Many of Cerebelly's purees are vegan.
Cerebelly has also been awarded the Clean Label Purity Award, a distinction that comes from a non-profit group that advocates for food product safety.
As Gen Alpha grows, it seems that their access to plant-based food will continue.
Many elementary schools are now offering plant-based options for students.
In 2021, Impossible Foods began offering their plant-based meat to school cafeterias.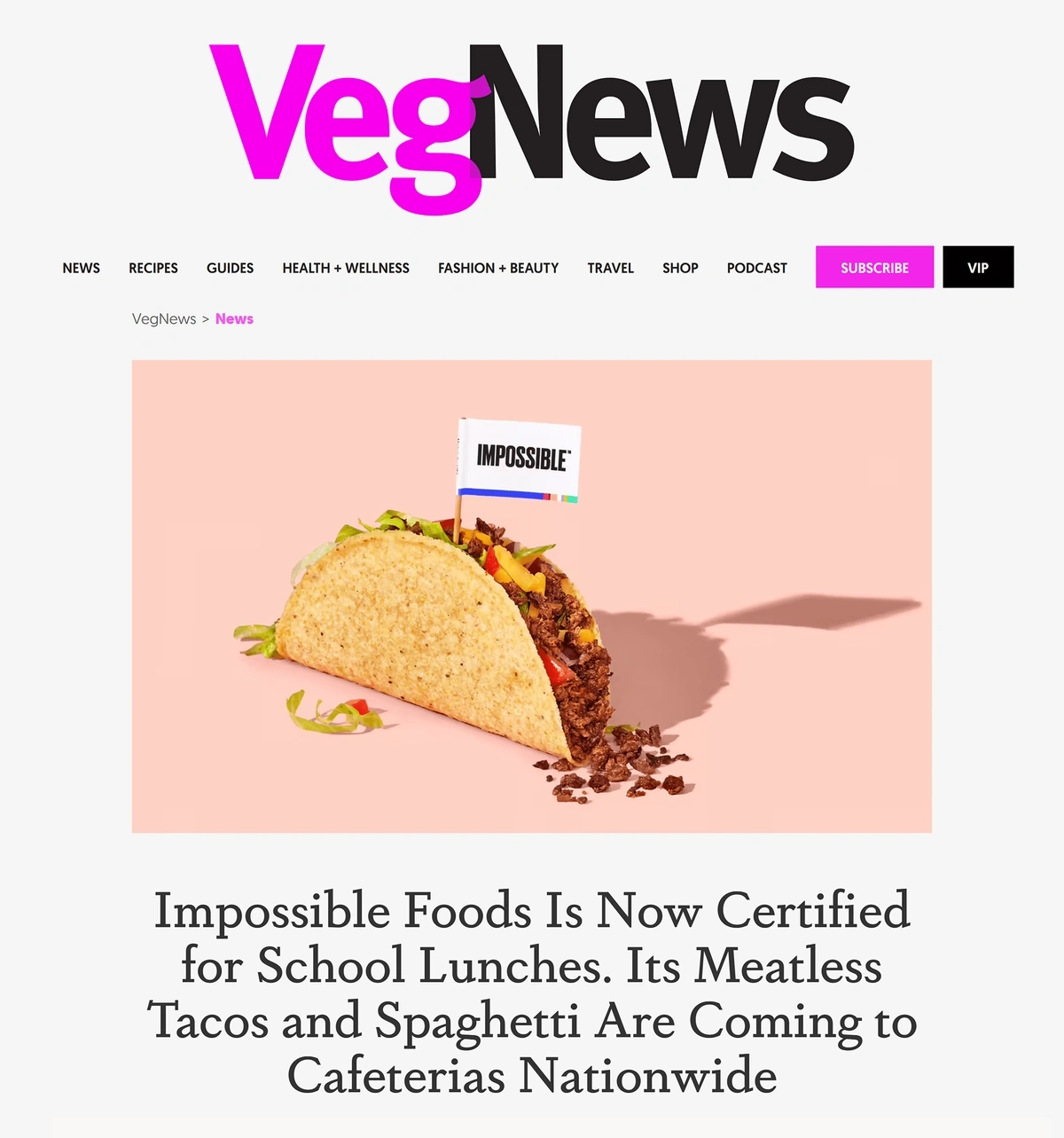 Plant-based meat from Impossible Foods was given a Child Nutrition label, enabling the company's Impossible Burger products to be served in schools.
The New York City school district serves meatless meals to its students every Monday and operates four fully vegetarian school cafeterias.
As Generation Alpha reaches their teenage years, it's likely that they'll be influenced by the food they see on social media.
This impact is already being seen in Gen Z.
According to the IFIC's 2023 Food and Health Report, 71% of Gen Z has seen food and nutrition content on social media in the past year. That's the highest of any generation.
Most of this content comes across on Facebook, but YouTube, a big favorite of Generation Alpha, is the second-ranked platform.
TikTok, another platform aimed at up and coming Gen Alpha kids, is influencing this space too.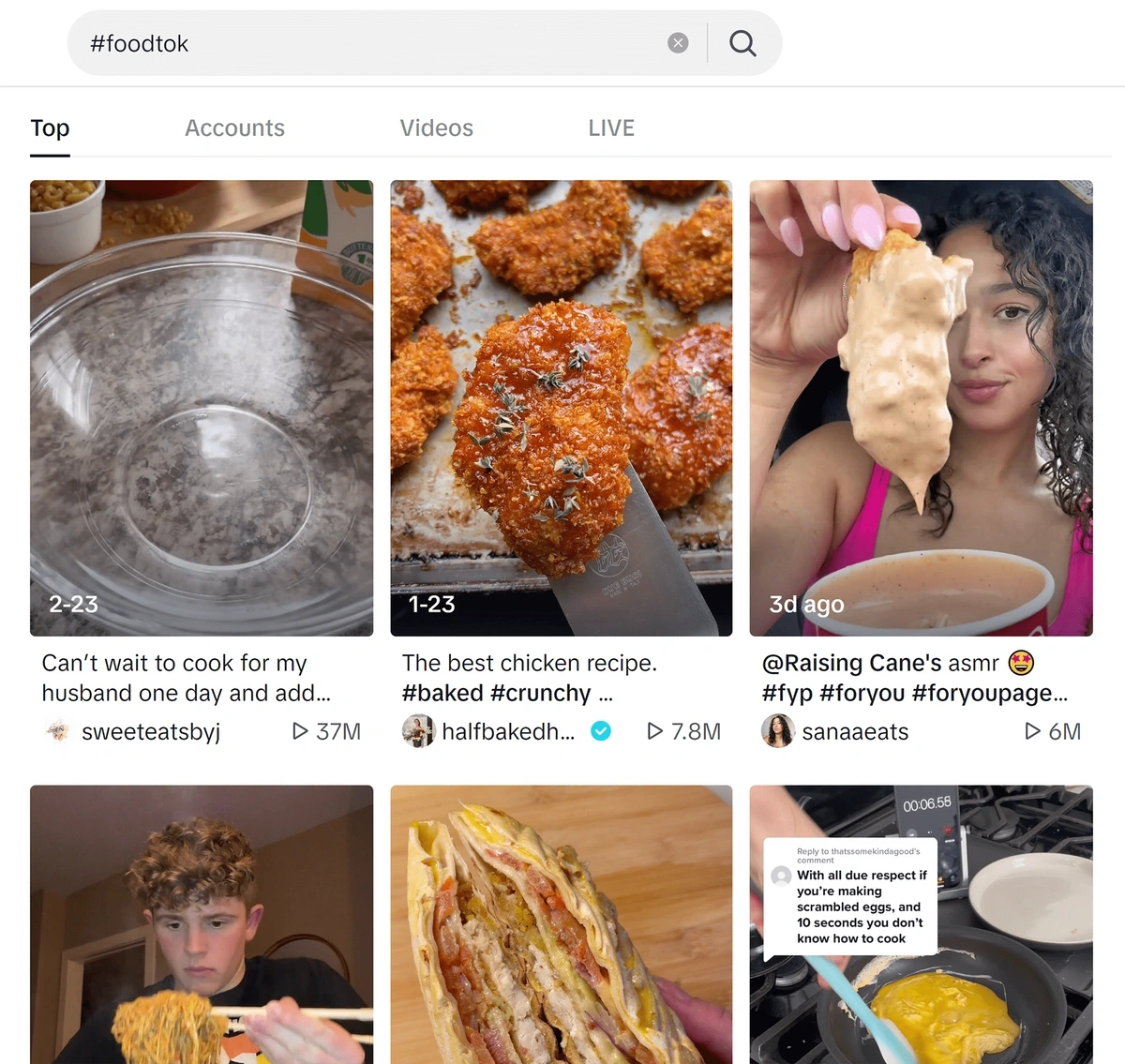 #Foodtok has billions of videos on TikTok.
More than half of Gen Z says they find inspiration for new foods on TikTok.
With this in mind, it's likely that we'll see brands continue to invest in marketing to Generation Alpha on social media.
Chipotle has already had incredible success in marketing to young people via TikTok.
Their videos have more than 52 million likes and their page has 2.2 million followers.
Chipotle's social media content predominately features customers from Gen Z and countless young people have participated in the brand's viral challenges like #ChipotleLidFlip and #GuacDance.
In February 2023, the company announced it would feature new menu items that were invented by two Gen Zers on TikTok: the "Keithadilla" and the "Fajita Quesadilla Hack."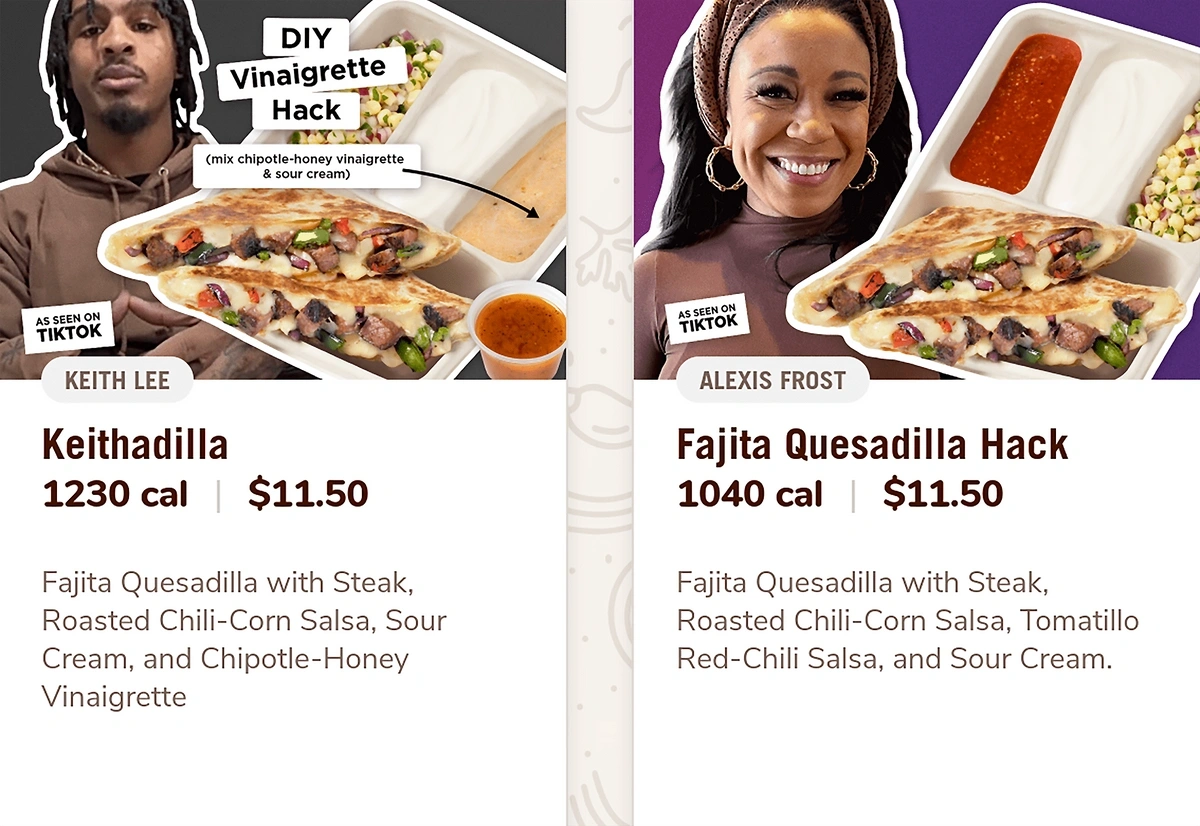 The TikTok-inspired menu items launched nationwide in March 2023.
Generation Alpha Already Wants to Save the Planet
Some are referring to individuals in Generation Alpha "upagers"—kids that are more socially aware at a young age.
This increased social awareness includes concerns about the environment.
Nearly 40% of Gen Alpha say caring for the planet is important to them and 46% of teens are interested in the environment or climate change.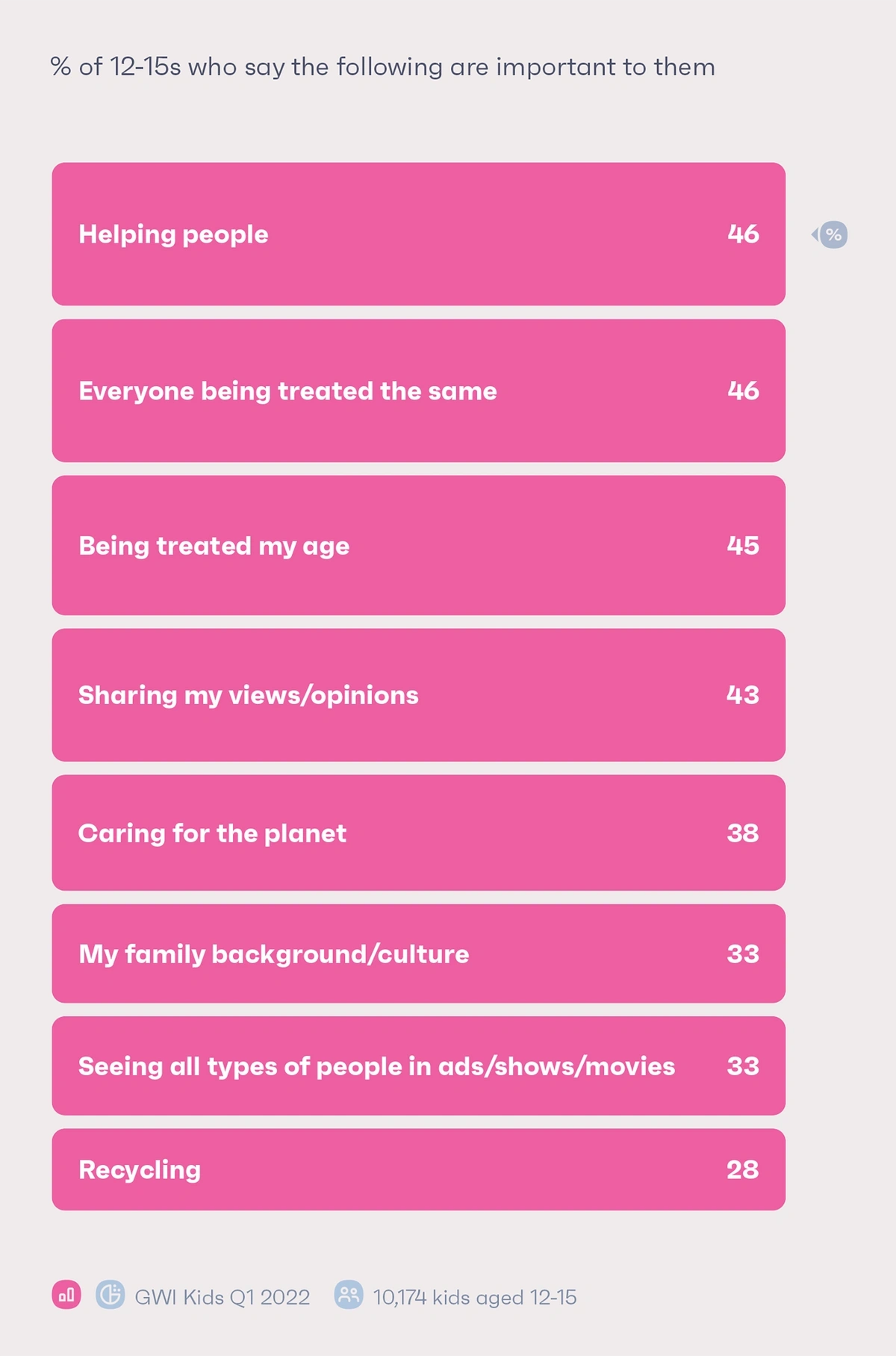 Caring for the planet is important for many Gen Alpha kids.
In a study commissioned by U.K.-based Modern Milkman, 71% of kids ages 7-12 reported being worried about climate change. Their top concern is the impact of climate change on animals and the natural ecosystem.
But more than 90% of the kids surveyed said they believed their personal actions could have a positive impact on the environment.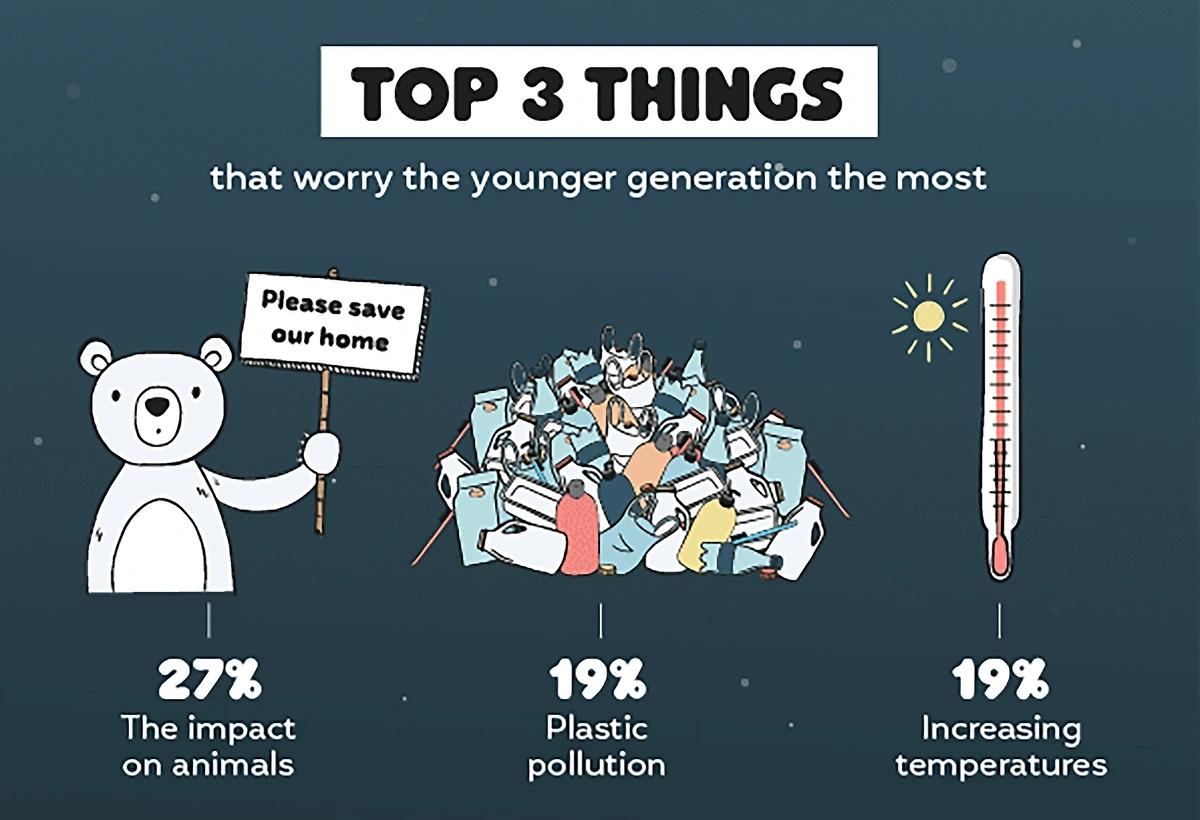 Children are most worried about the impact climate change could have on animals and their habitats.
Many in Gen Alpha are planning to turn their personal actions into a career.
A survey from Wunderman Thompson reported that 63% of Gen Alpha kids say they'd like to have a job helping to save the planet.
And, they're starting to have an influence, even now.
In fact, 80% of parents say their Generation Alpha children have made them more environmentally aware and that has influenced their actions or consumption decisions.
The environmental conversations are going both ways. Millennial parents are teaching their children about sustainability too.
More than 70% of Millennials report that they've been teaching their children about sustainability.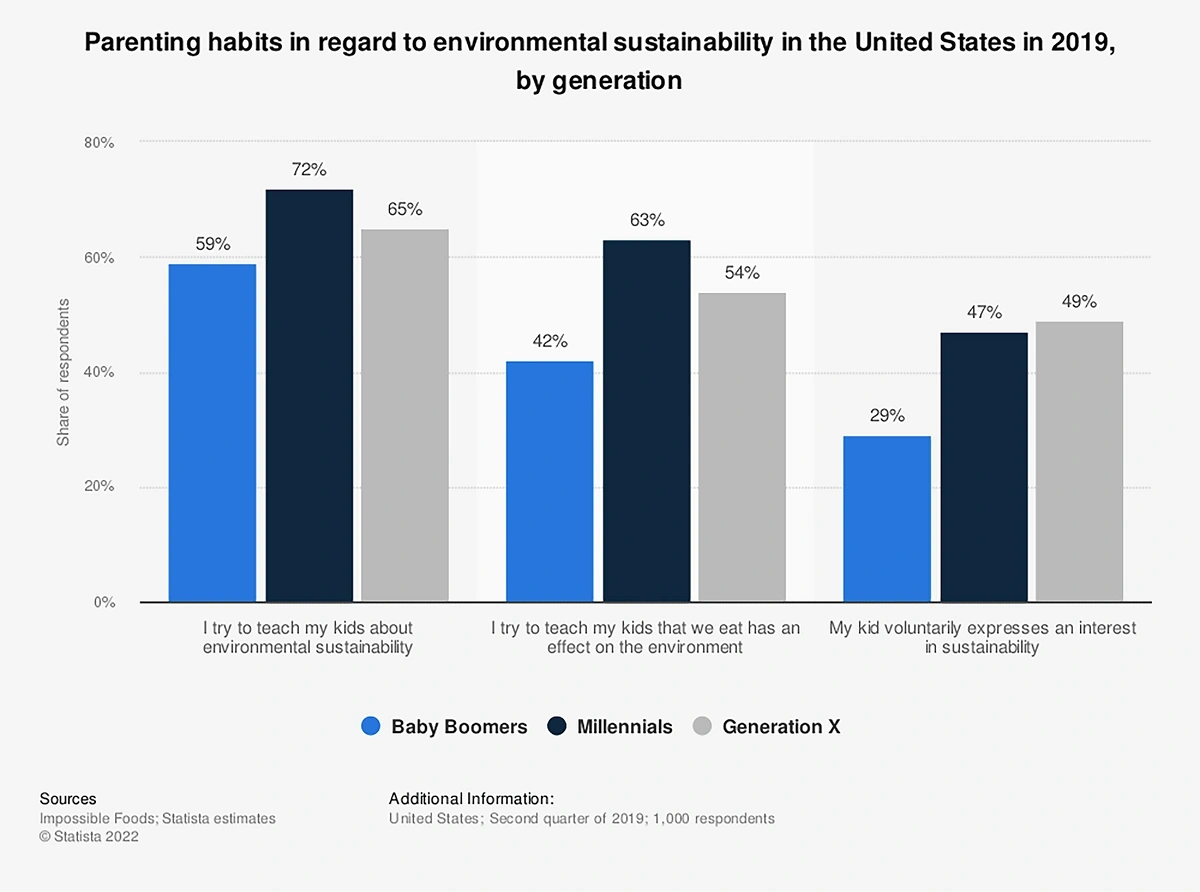 Millennials report talking to their kids about sustainability more than other generations.
Many parents are also looking for sustainable products to buy for their Generation Alpha kids.
Gen Zers and Millennials are the generations that are most likely to look for sustainable clothing, according to recent surveys.
Mightly, Pact Apparel, and Mini MATE are three brands that appeal to these parents because of their sustainable manufacturing processes and organic materials.

Mightly's clothes are Global Organic Textile Standard (GOTS) Certified.
There's an increased demand for eco-friendly toys for Generation Alpha, too.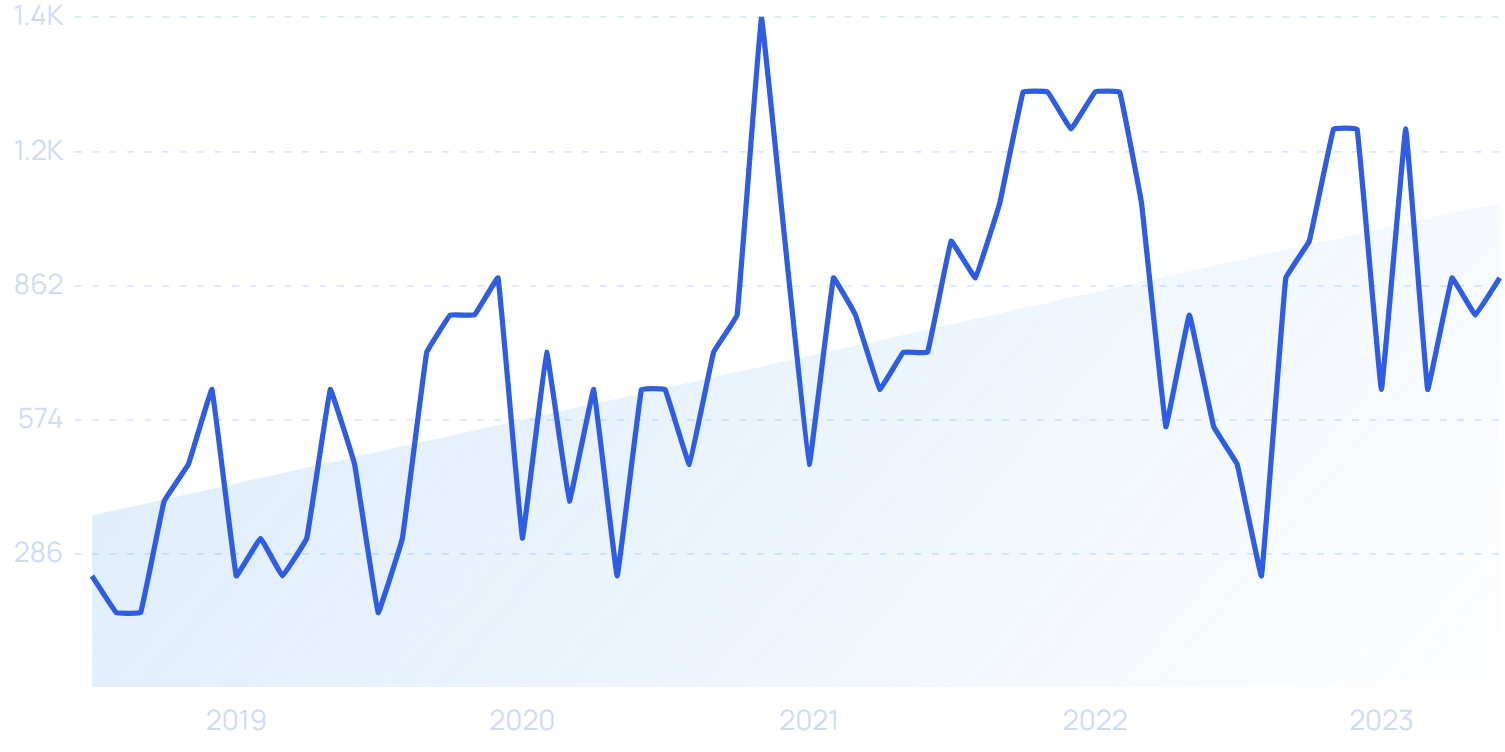 Search volume for "sustainable toys" is up nearly 4,000% in the past few years.
The classic Rubik's Cube got a sustainability makeover in early 2023.
The toy is now made of 100% recycled plastic and comes packaged in sustainable unbleached paperboard.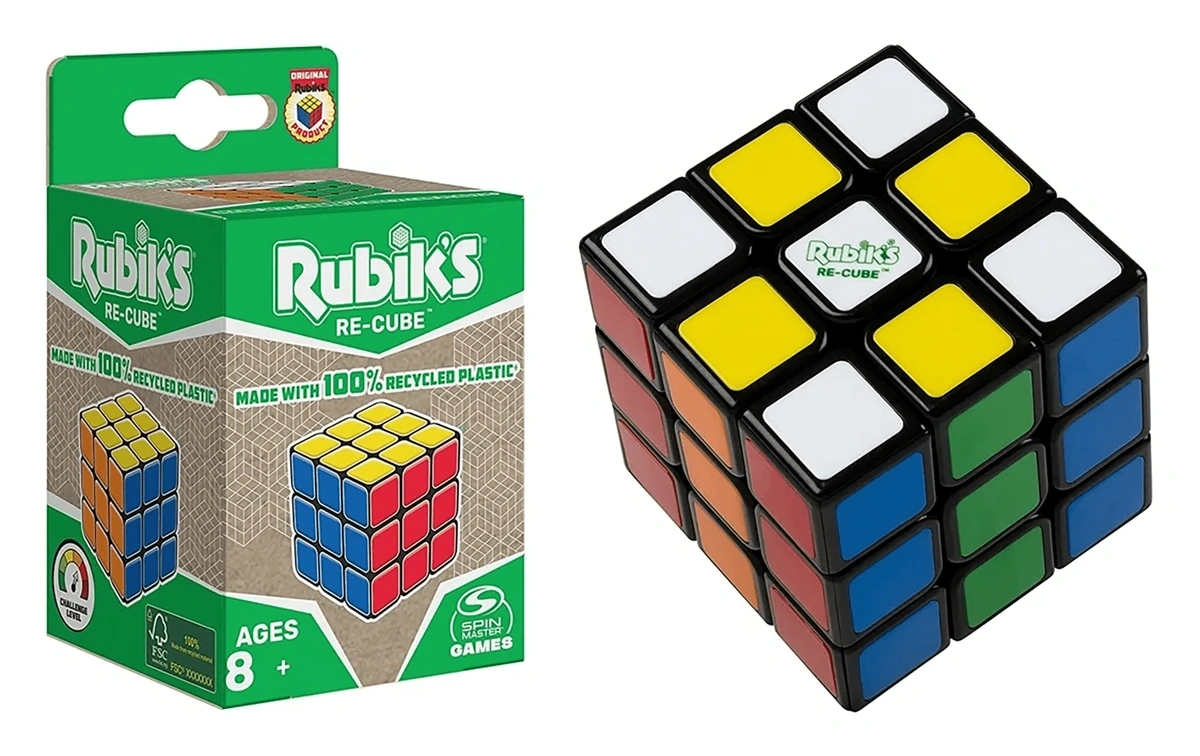 This Rubik's cube has been cleverly re-named as the Rubik's Re-Cube.
There are also newly-released toys that aim to teach Generation Alpha about the environment.
Take Playmobil's Wiltopia, for example.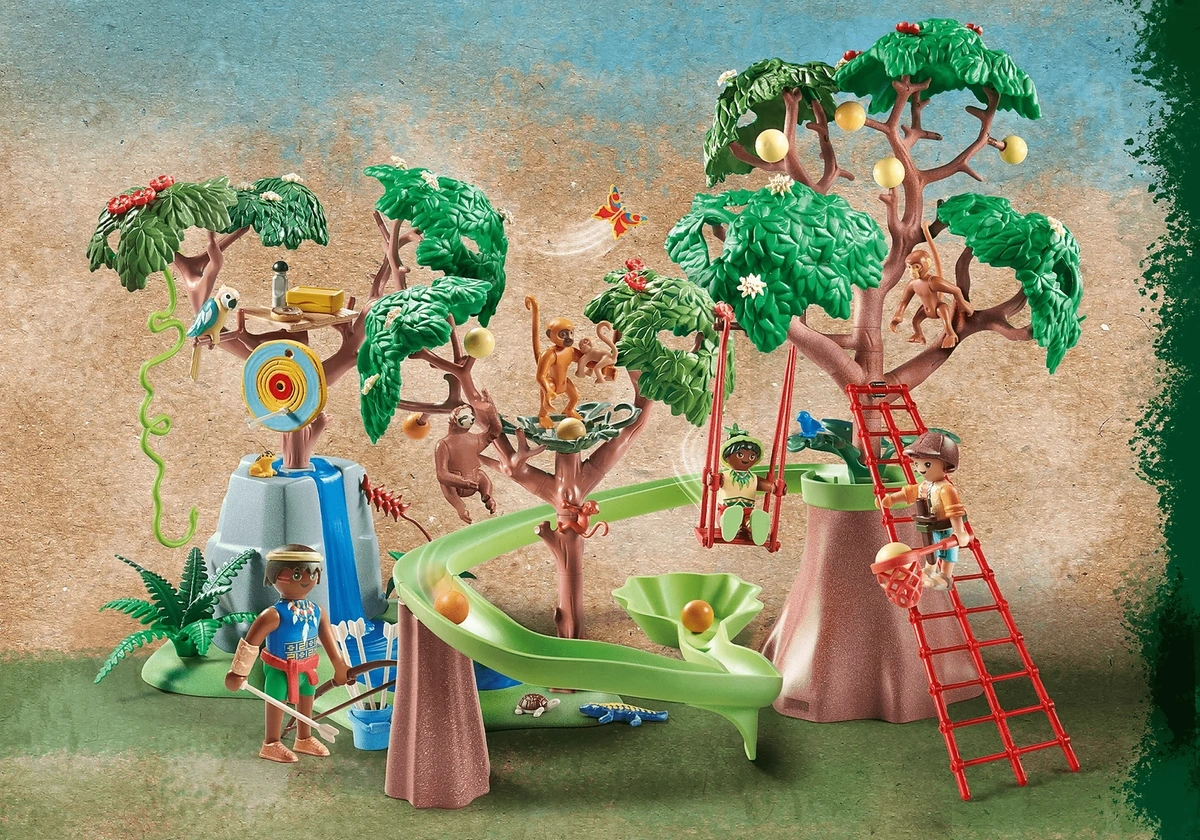 The Wiltopia product line emphasizes unique habitats that are vulnerable to climate change.
It's a tropical jungle playground set that's made of 80% recycled materials.
The set features several animals who call the jungle home like a sloth, monkeys, and a crocodile.
It also connects with an app that takes Generation Alpha kids through the animals' habitat and teaches them about the vibrant ecosystem.
How Brands Can Reach Generation Alpha
As we emphasized earlier in this guide, Generation Alpha is already making their presence as consumers known. They are influencing their parents' purchasing decisions today and, within the next few years, they'll have disposable income of their own.
In today's world, brands still have the best chance of reaching Generation Alpha by marketing to the kids and their parents.
Marketing via digital platforms like YouTube and TikTok is a critical step for brands that want to become known among Generation Alpha.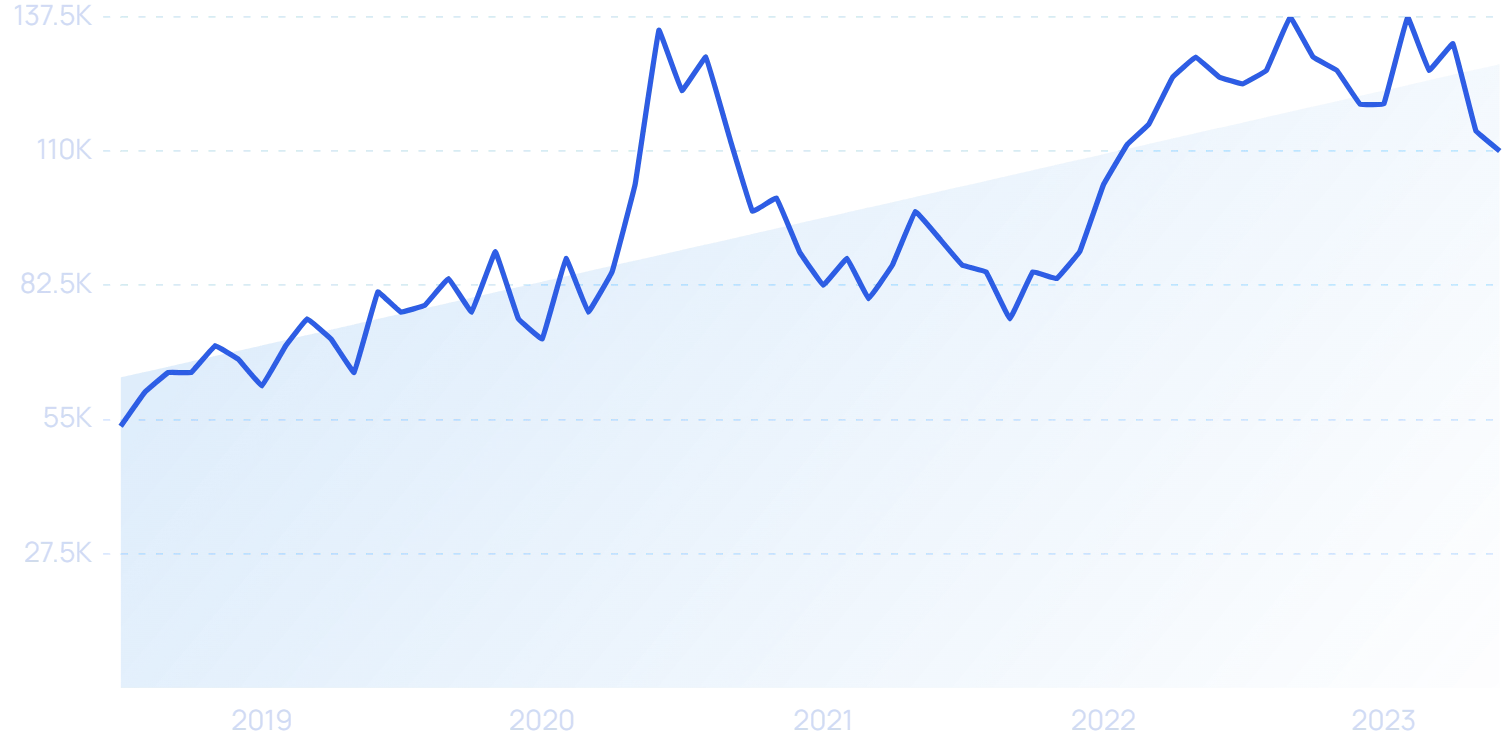 Search volume for "YouTube ads" has climbed more than 100% in recent years.
Video is huge for this generation. On average, kids between the ages of 4-15 watch 85 minutes of YouTube per day. And, they spend 80 minutes per day on TikTok.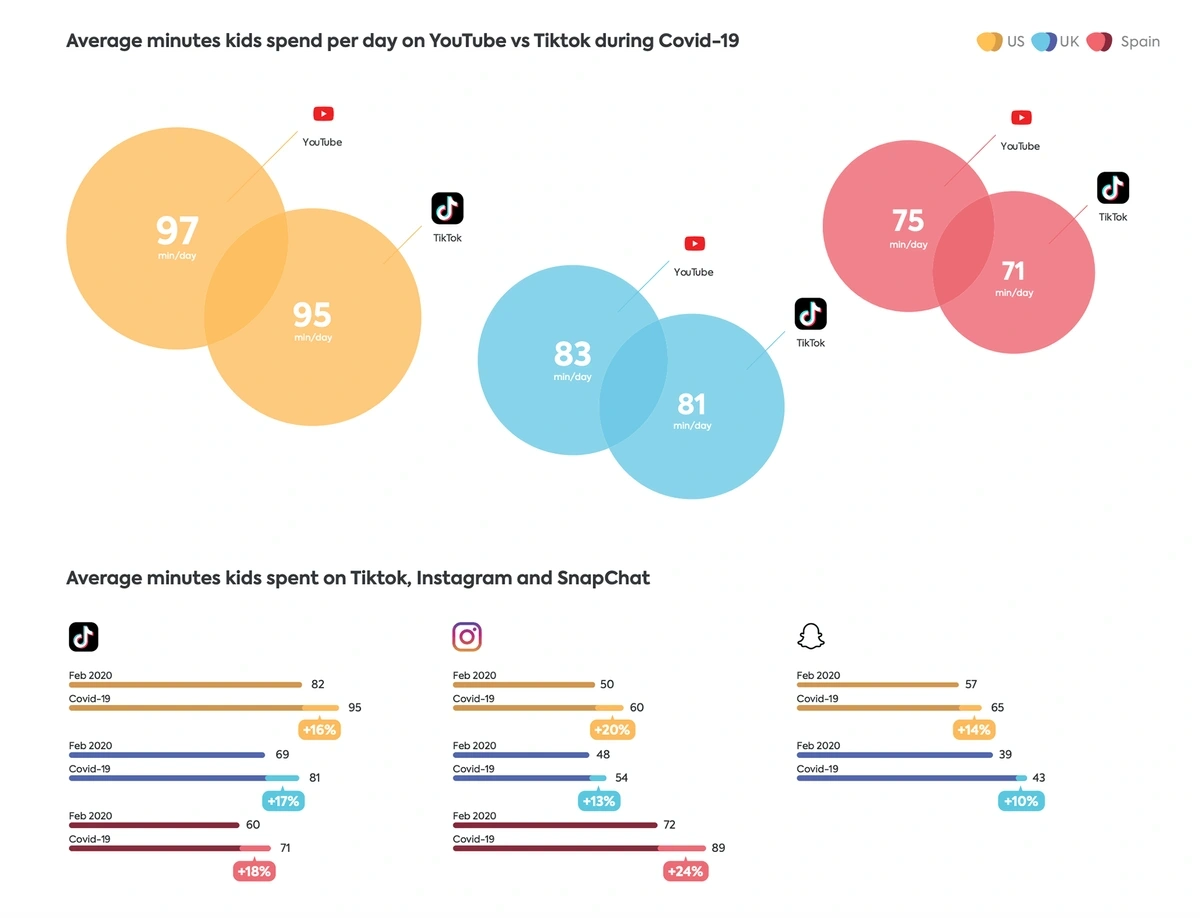 During the pandemic, kids began using video apps like YouTube and TikTok even more than before.
But, as these kids grow, brands will need to adapt to their preferences. This means keeping on top of new social media platforms and, most likely, diving into the metaverse.
Immersive marketing gives brands the best chance of engaging Gen Alpha consumers and bringing them back for more.
This type of marketing is in its infancy in Roblox, Minecraft, and Fortnite, but watch for it to expand as more Generation Alpha kids become teenagers.
As these children begin their journey toward financial independence, predictions show that Generation Alpha will have the largest spending power in history.
Look for brands to emphasize authenticity and transparency as they market to Generation Alpha.
As a digital-first generation, Gen Alpha teens and adults will be surrounded by VR/AR, fake news, deep fakes, and the like. This means they'll be even extremely savvy when it comes to detecting a brand's true motives.
This includes a brand's commitment to sustainability.
As previously discussed, sustainability is an important social cause for Generation Alpha, and it's very likely they'll be able to spot greenwashing even from a young age.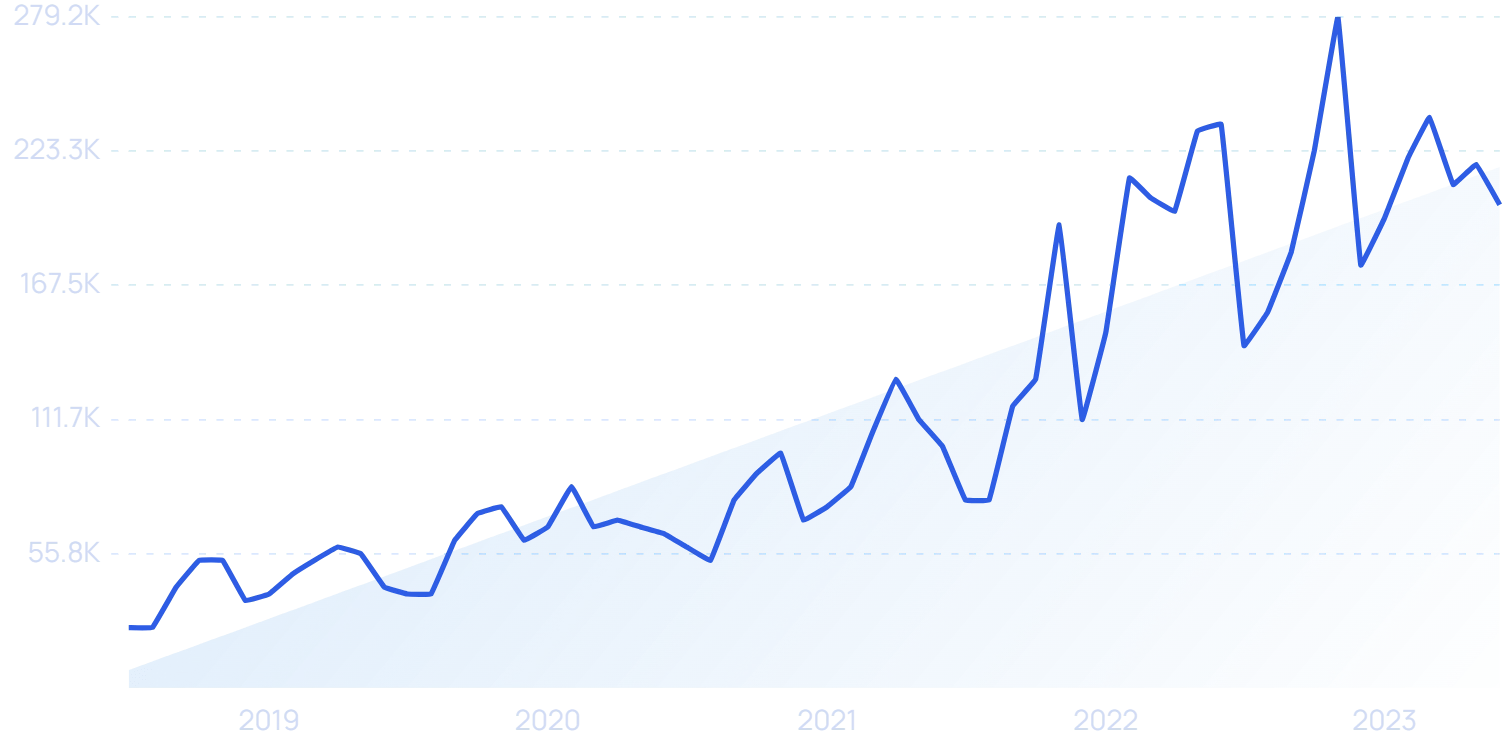 Search interest in "greenwashing" has grown more than 600% in recent years.
Gen Z is already leery of sustainability claims. In one survey 88% of Gen Zers said they don't trust ESG claims from brands.
Brands will likely have success in weaving facts about their eco-friendly practices into their overall brand stories. Sustainability cannot be a stand-alone marketing focus.
Lush Cosmetics is an example of a company that's already marketing to young people by putting sustainability at the forefront.
The company holds digital events that bring in sustainability experts and also invite their customers to interact with one another.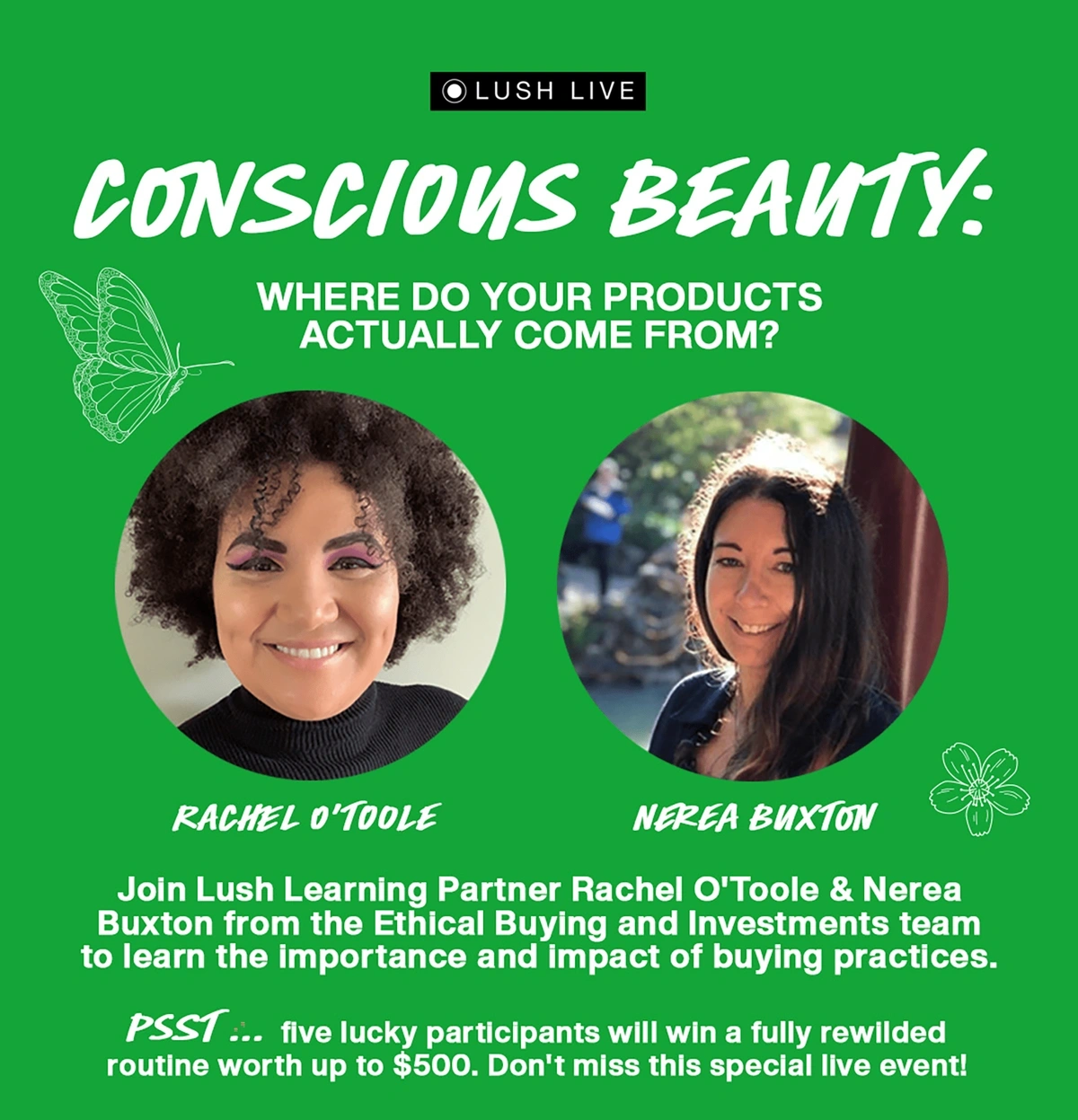 Lush Cosmetics utilizes online events as part of their marketing strategy.
The company also uses "naked" packaging for several of their products like conditioner bars, shampoo bars, and bubble bath bars.
They've also committed to a variety of sustainability goals like creating energy-efficient stores, reducing transportation emissions, and developing closed-loop water systems at their manufacturing facilities.
The brand has plans to invest more in its YouTube presence in the coming years.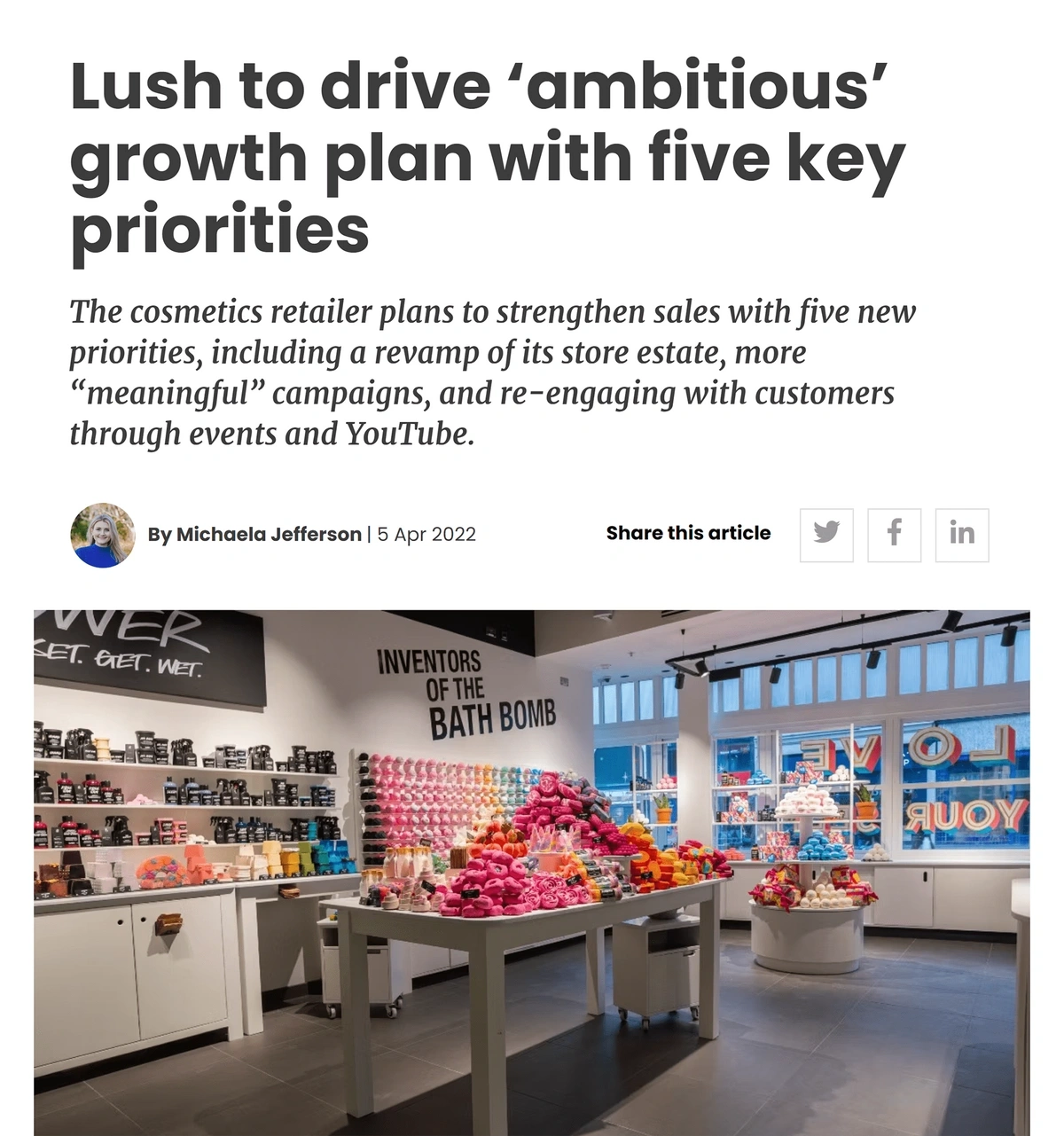 YouTube marketing is set to be a key factor in the growth of Lush Cosmetics in the coming years.
Conclusion
Generation Alpha's unique characteristics and needs are still developing, but this generation has already made a few points clear. They are a diverse set of individuals who are tech-savvy, digitally fluent, and concerned about the environment.
As this generation begins to influence their parents and grow into their own financial independence, an opportunity for brands to shape the future of consumerism is emerging. To be successful, brands will need to adapt quickly to the changing preferences of Gen Alpha and the platforms where they spend most of their time.
For brands to connect with Generation Alpha, they'll need to prioritize authenticity and transparency in their messaging. Brands that can demonstrate a commitment to environmental responsibility have the potential to strongly engage this generation and position themselves as the trusted partners in the lives of Generation Alpha.