11 Free and Paid Market Analysis Tools For 2023
Market analysis is an extensive process that usually requires multiple tools to complete.
So instead of giving you an overwhelming list of market analysis tools (many of which provide overlapping metrics), we selected the best tools for each step of the market analysis process.
We'll discuss how to use each tool for market analysis, its pros and cons, and pricing details.
1. Exploding Topics – Best For Discovering Emerging Market Trends
Emerging trends, by definition, aren't actively discussed online.
As a result, most people spend hours reading industry publications, consuming industry influencer content, and scanning market reports to find hidden trends. This isn't the best way to allocate your time, and even the best trend hunters often overlook the next big trends.
So we built Exploding Topics to discover under-the-radar trends for you.
The flagship feature is the Trends Database, which has 14,000 trending topics. Each topic is a brand, product, or industry keyword. You can sort by category (e.g., fashion, beauty, marketing, tech, finance, pets, etc.) to quickly find relevant trends applicable to business use cases.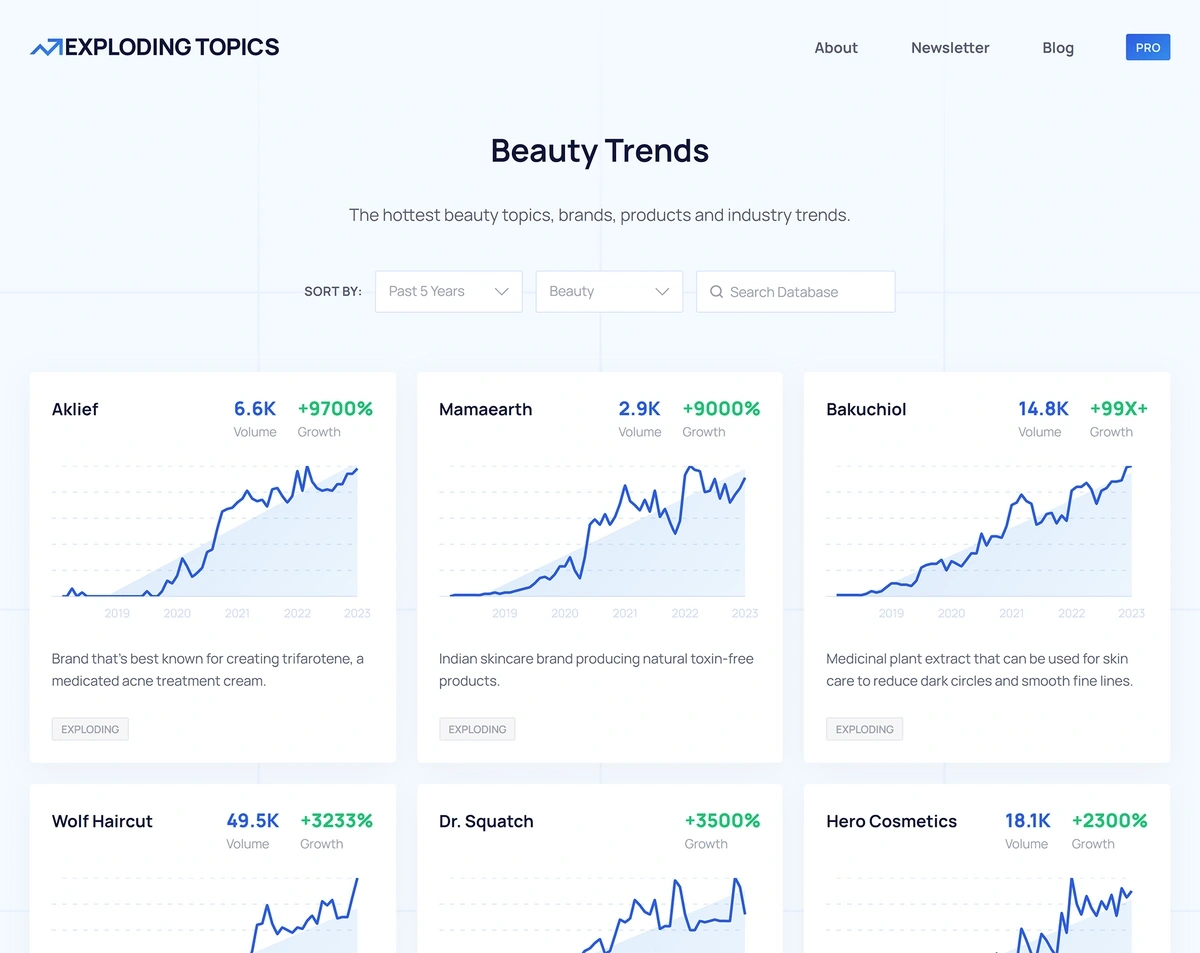 So how does Exploding Topics find emerging trends? Will it miss the next big emerging trends?
And more importantly, how do you know these trends have long-term growth potential and aren't just fads that will disappear overnight?
Here's an overview of our stringent trend identification and qualification process: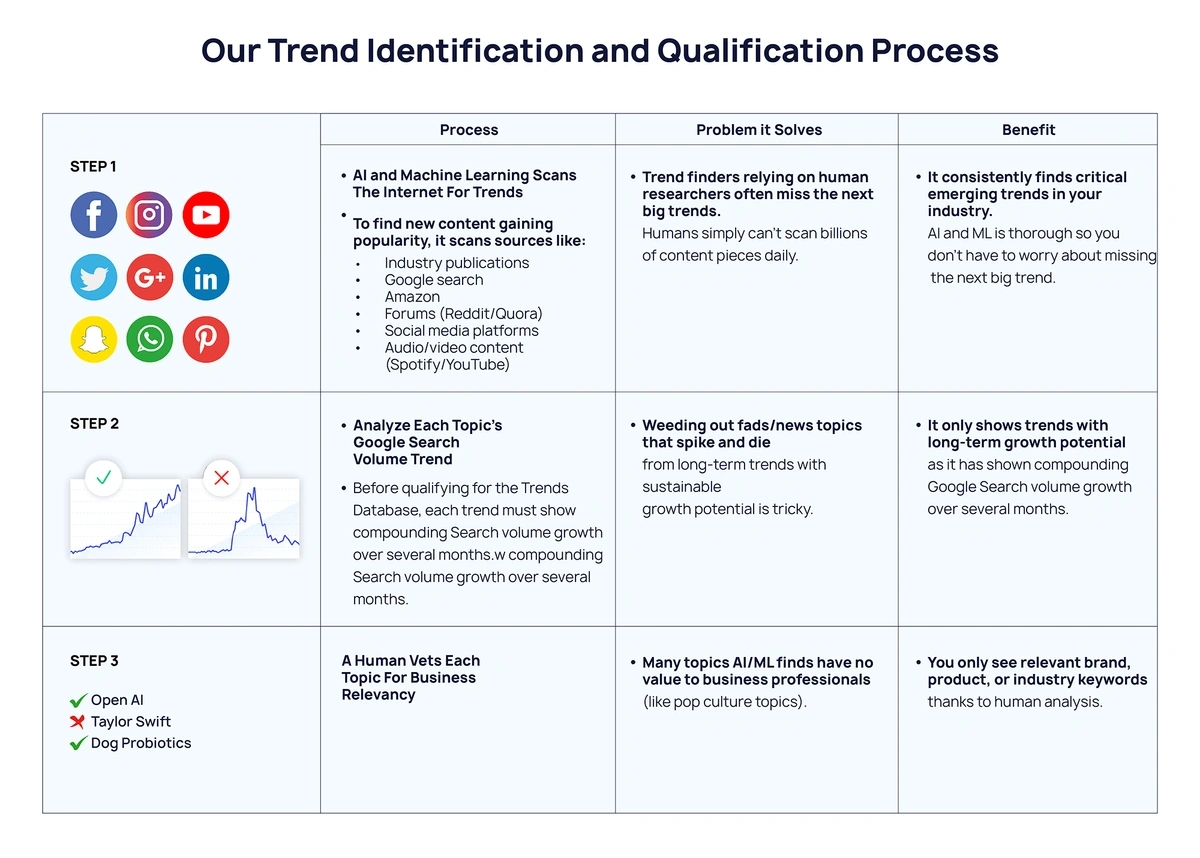 In addition to the Trends Database, Exploding Topics Pro also offers a handful of other features that are helpful for market trend analysis:
Projects: Once you find an interesting trend in the Trends Database, the Projects feature lets you save it for more detailed market analysis.
Weekly Reports: Each Weekly Report provides a detailed analysis of five trending products and five trending startups so you can effortlessly stay up-to-date with the latest industry trends.
Trends Search: The Trends Database is great for discovering new trends, but Trends Search is great for accessing a report of any keyword's historical Google Search volume trend along with other related keywords and search suggestions.
Meta Trends: There are usually niche trends within a larger market. So if you just want to find the products, brands, and keywords riding that niche trend, you can use the Meta Trends feature. An example of a meta trend is "Remote Employee Training," and the Meta Trends feature shows you the brands and products associated with that meta trend.
You can try Exploding Topics Pro for free today to try all of these features yourself and unlock more premium trends.
How to Use it For Market Analysis

Find emerging trends (products, brands, and industry keywords) in seconds.
Assess a topic's stability and long-term growth potential at a glance thanks to historical Google Search volume.
Analyze any keyword's growth trend thanks to historical Google search volume from the Trends Search feature.
Receive new trends in your inbox each week.

Who is it For?

Investors researching new markets and looking for trending startups.
Entrepreneurs and business leaders monitoring new industry trends to maintain a competitive edge.

Pros

High quality, relevant trend data – AI and ML scans the internet to find emerging trends and we gauge each topic's future growth potential with historical Google Search volume. Then, a human checks topics for business relevancy.
Ease of use – Find trends in seconds by filtering the Trends Database rather than reading endless industry publications, scanning social media, and attending events.
Free – View thousands of trends for free in the basic Trends Database or upgrade for access to premium trend ideas.

Cons

It's not a breaking news source – It's designed to surface emerging trends with long-term growth potential.
No team of research consultants – Exploding Topics is more affordable than most enterprise tools as it doesn't employ a team of consultants.

Free Plan?
Yes – There is a free version of the Trends Database.
Pricing
There are three plans with prices starting at $39 per month (billed annually). All Exploding Topics Pro plans grant access to all premium trends, Meta Trends, and the reports library.
2. CB Insights – Best For Analyzing Market Size and Funding Trends
CB Insights is a robust market research platform geared towards tech companies. It offers juicy company data like financing, valuations, IPO and M&A exits, business relationships, private company ratings, management team ratings, patent analytics, key team leaders, new mentions, and analyst insights.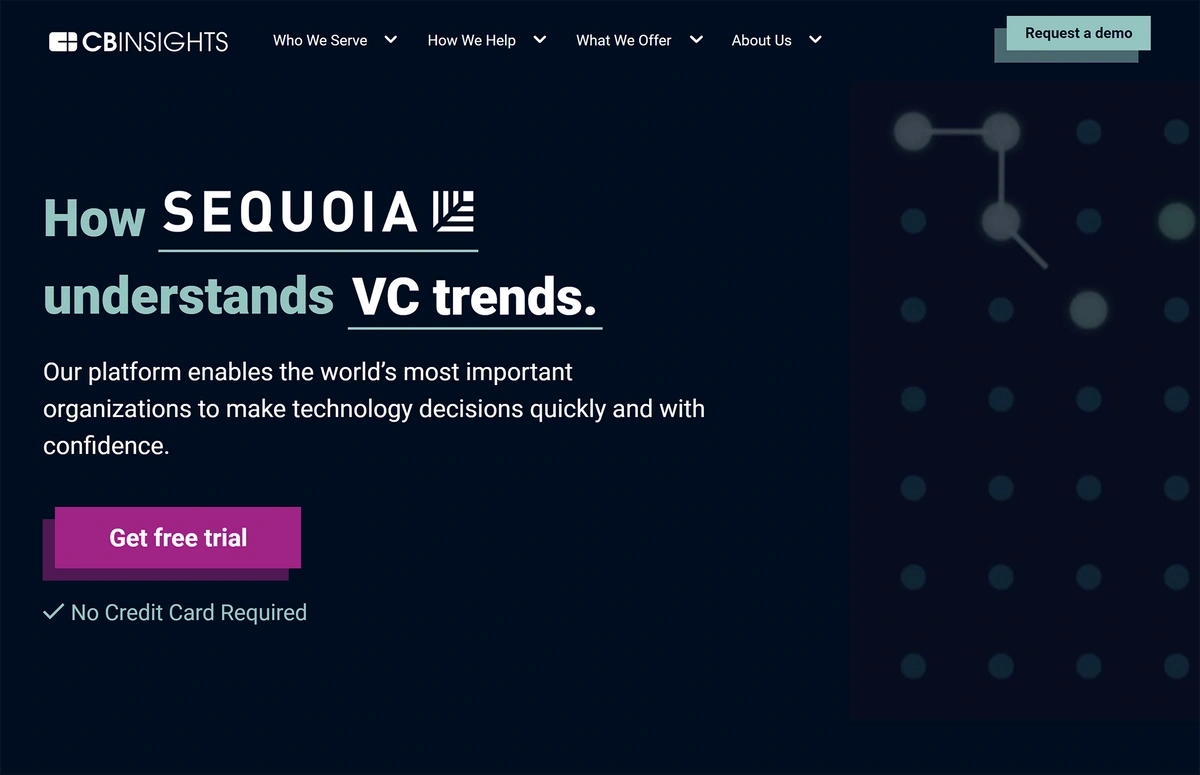 In addition to individual company data, it also offers broader market data.
Its market sizing tool makes it easy to estimate the size (TAM) and compound annual growth rate (CAGR) of virtually any market. You can also filter results by geography, identify adjacent industries, and more.
CB Insights offers plenty of other tools as well, like data visualization, a mobile app, a Chrome extension, and more.
How to Use it For Market Analysis

Find public and private data on various tech companies' financial status and strategic movements.
Read market trend reports to learn about broader market signals.

Who is it For?

VC firms that want to keep tabs on funding trends, analyze markets, and research startups.
Tech founders that want to research new market opportunities.
Executives that need competitive intel to make strategic decisions.

Pros

Access private data: The analyst briefings provide users access to exclusive private company data.
Clean organization: It's excellent at organizing disparate data into useful metrics.

Cons

Focuses primarily on tech companies: It might not be the best option for consumer brands.
Enterprise product: It might not be feasible for smaller companies to purchase.

Free Plan?
They offer some free market reports.
Pricing
CB Insights doesn't list its pricing, though it is an enterprise data tool, and they advertise that it's priced accordingly.
3. Census Business Builder – Best For Analyzing Geographical Consumer Spending Data
If your target market lives in the United States, the Census Business Builder can provide detailed consumer insights based on a specific location.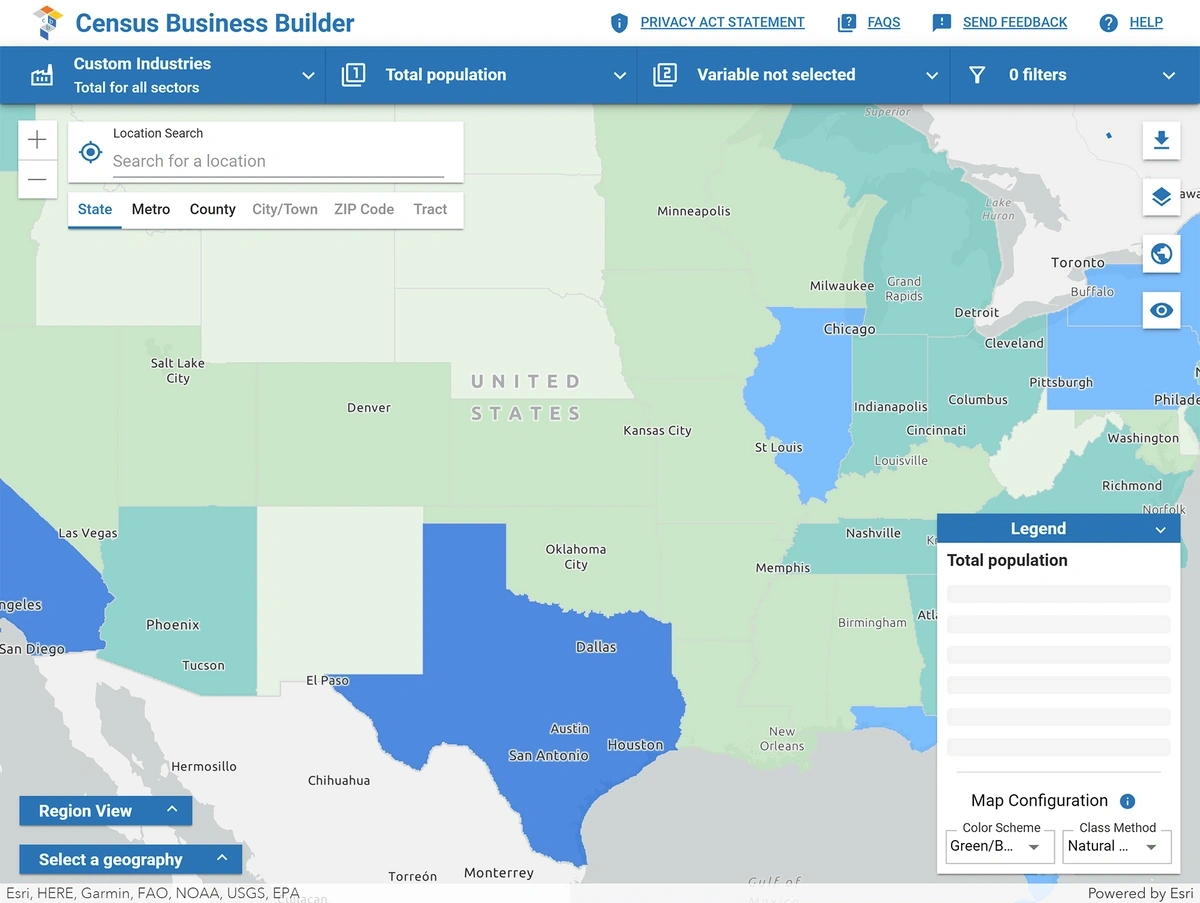 For example, if you're planning to open a new restaurant in Albemarle county, you can look up consumer spending data on dining out in Albemarle county.
You'll also be able to see the total population for that area, along with other detailed consumer data like average household income, demographic data (age, gender, race, etc.), and more.
The Census Business Bureau collects its data through surveys and other primary research methods, which they explain in detail on their data overview page. The data is also updated annually, so it's always relatively recent.
How to Use it For Market Analysis

Find detailed consumer insights (education, spending on particular products, etc.) for specific geographic locations.

Who is it For?

Retail leaders researching new geographic markets for expansion.
Investors researching the best geographic areas to allocate capital.

Pros

It's free.
Consumer insights are very specific, like average spending on clothing or dining out for a particular zip code.
Data is fairly accurate as it's collected by the Census Bureau and consistently updated.

Cons

It only provides geographical market data, so it's really limited to brick and mortar market research.
It doesn't provide insights – just metrics and statistics that you have to turn into insights.

Free Plan?
Yes – It's entirely free
Pricing
The Census Business Builder is free to the public, making it a great tool for both large and small businesses.
4. Owler – Best For Obtaining Competitor Revenue Estimation
Owler is best known for its company revenue estimation tool. So if you're trying to figure out how big a particular company is, Owler can help.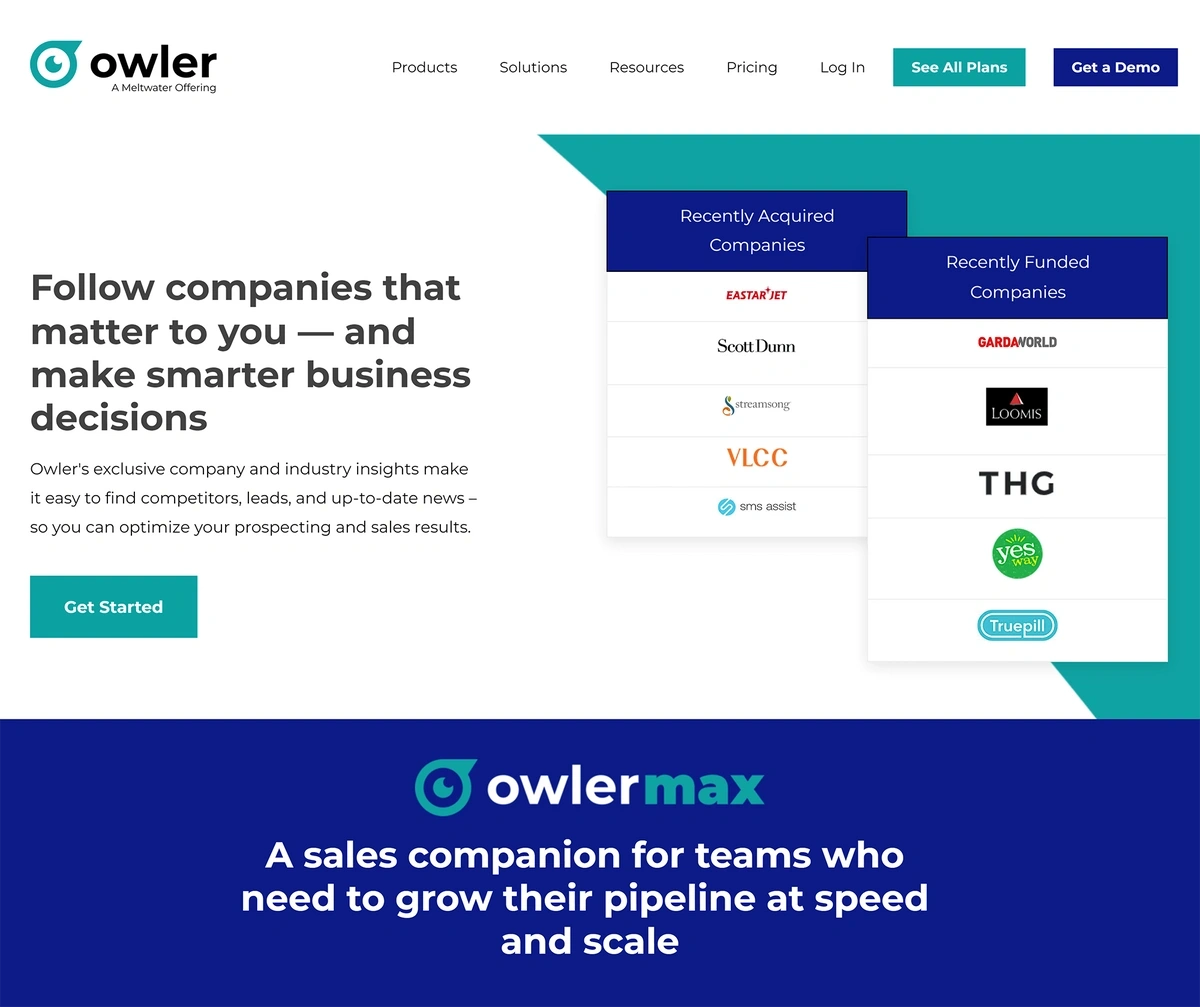 The biggest question is the accuracy of Owler's revenue data.
All of Owler's financial data is sourced from SEC filings for public companies, and estimations for private companies are based on algorithms and AI, as well as input from the Owler community and verification by an in-house data science team.
So while the private company data isn't always 100% accurate, it can still give you good ballpark estimates.
It also offers data on funding estimations, acquisitions, employee headcount, executive movements, company press releases, and even competitors.
You can also create alerts, curate a newsfeed, and save a list of companies.
How to Use it For Market Analysis

Find financial information like revenue and key hires for top companies in your market.
Set alerts to stay up-to-date with the latest competitor movements.
Estimate company health of top players in any market with access to details like CEO approval ratings.

Who is it For?

VC firms that need access to revenue data, M&A activity, and other financial information on companies in a particular market.
Tech founders that want to research top companies in a particular market.
Executives that want to monitor competitors' key movements.

Pros

Public and private data: Most of the data is crowdsourced, so it isn't available publicly on the web. Though they also pull from some public sources like SEC filings to fill in the gaps.
Easily track companies: You can set alerts and create your own newsfeed to stay on top of critical trends.
Affordable options for startups: Unlike some of its enterprise competitors, Owler has cheaper pricing plans (and even a free option) for smaller companies and startups.

Cons

Crowdsourced data isn't always accurate, and some reviewers complain that a lot of the data is subpar.
Reviewers claim that its data lacks the detail of its enterprise competitors, so even though it provides a general overview of competitors, you can't drill down to access more specific data.

Free Plan?
Yes, they offer a generous free plan.
Pricing
Owler offers a limited free plan, and its first paid plan starts at $35 per month.
5. Jungle Scout – Best For Ecommerce Demand and Sales Forecasting
Jungle Scout is usually considered an ecommerce platform for beginner dropshippers, though it also has value for ecommerce and even retail market researchers.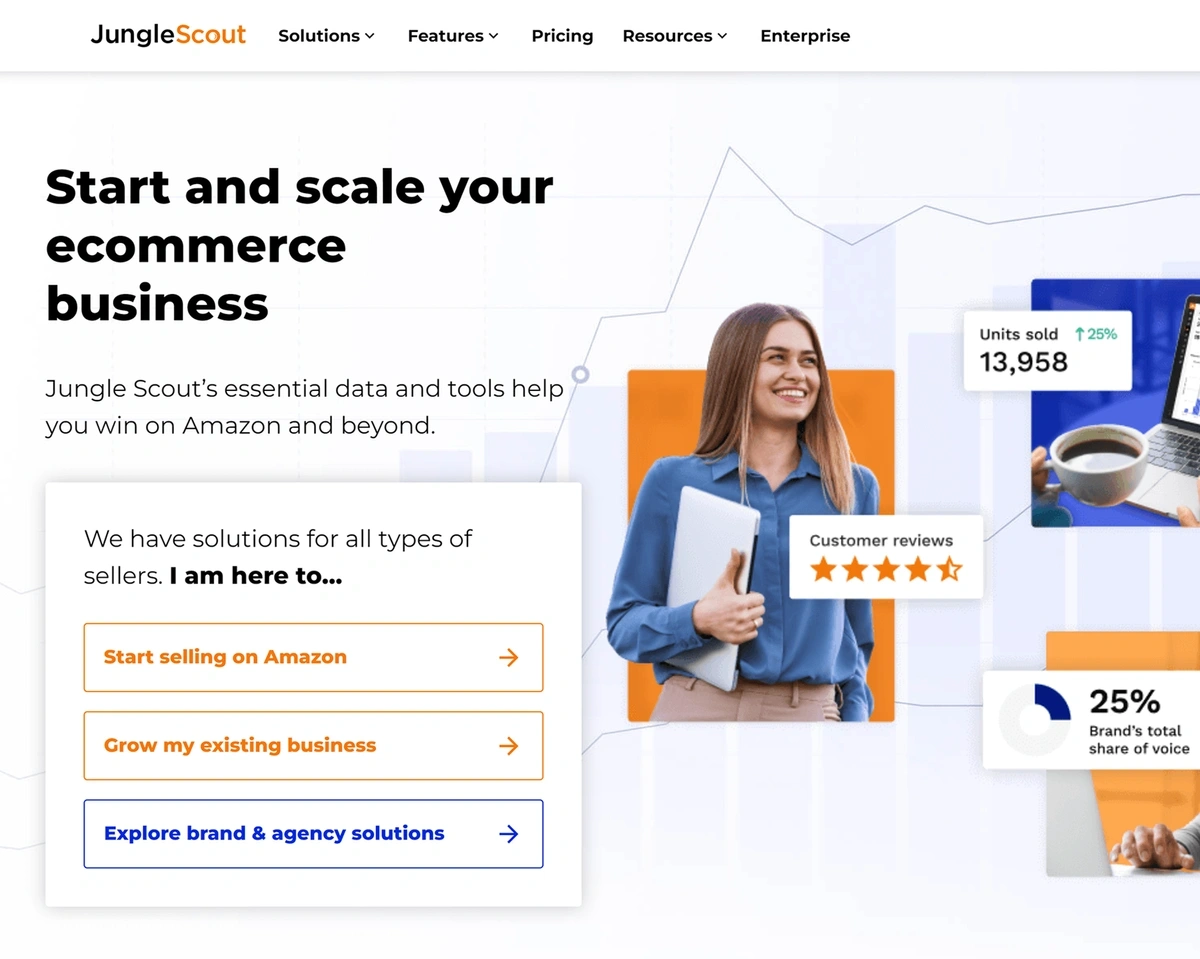 The Pro Chrome Extension lets you gauge demand for a new product and even analyze pricing and profitability.
Specifically, it provides data on average monthly sales across all categories, average sales rank, average retail price, average reviews, and the average monthly revenue for each product.
It also offers a helpful profit calculator so that you can estimate the profitability of each product.
In addition to its market research tools, it also has some other helpful features, like a category trend database, product rank tracker, and keyword research tool.
How to Use it For Market Analysis

Find detailed product pricing information with retail price supplier prices, as well as historical pricing trends.
Estimate demand with metrics like the total number of units sold.
Gauge a product's popularity over time and estimate its future growth potential with the product rank tracker.

Who is it For?

Ecommerce store owners that want to estimate product demand and profitability.
Retail executives that want to see a general estimation of product demand.

Pros

Valuable product pricing and demand metrics: These data points are typically difficult to uncover and Jungle Scout provides them in an easy-to-use tool.
Beginner friendly: In addition to a simple user interface, Jungle Scout provides plenty of walkthrough videos on how to use the tool and even execute ecommerce market research.
All-in-one tool for dropshippers: If you're starting a store, it's easy to find your products, connect with suppliers, and even build your store within Jungle Scout.

Cons

Its data set is limited to Amazon and its database of dropship suppliers, so it might not be the best resource for retail companies.
It's primarily a dropship platform, so the price tag will include a lot of features many established ecommerce owners will never use.

Free Plan?
No.
Pricing
Jungle Scout has three pricing tiers ($29, $49, and $84 per month billed annually). Each pricing tier is differentiated by premium features like review automation, PPC analysis, historical product and keyword data, and more.
6. Crayon.co – Best For Tracking Competitive Movements
Crayon is a competitive intelligence tool that uses AI to track competitor movements like marketing strategy, hiring trends, product updates, and more.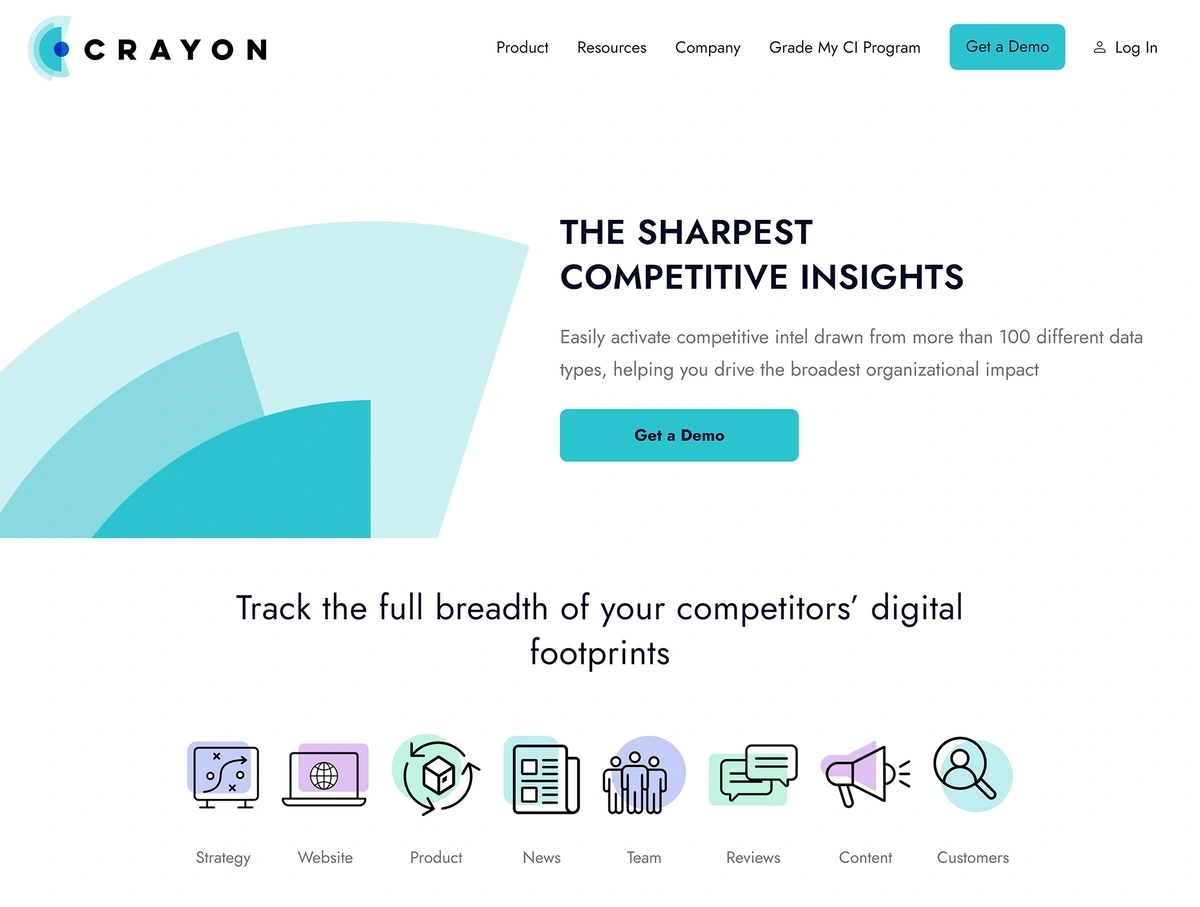 So whether you're analyzing a new market and want to see how the top brands are positioning themselves or keep up with your current competitors, Crayon can help.
Here's an overview of the main competitive intel data it provides:
Marketing strategies: AI tracks competitors' content marketing efforts by scanning blog posts, videos, social media, and even downloadable guides.
Positioning and messaging: AI tracks competitors' web copy, messaging, product promotions, and web page design changes.
PR and news updates: It tracks press releases about new partnerships, product launches, key executive hires, and funding rounds.
Team and hiring trends: View new positions they're hiring for and any key executive roles.
Product, pricing, and packaging: See product removal and product launch data.
Customer reviews: Track competitors' reviews, top complaints, and what customers like.
Customer and partnership networks: See which partners they're actively working with and even those with whom they've terminated a relationship.
How to Use it For Market Analysis

Track your competitors' every movement from marketing strategies and messaging to hiring trends and funding data.
Receive alerts and digests to effortlessly stay on top of your competitors.

Who is it For?

Executive leaders that need to stay on top of their competitors and learn about the trends they're investing in.
VC firms that want to track the top players in a particular market they're considering investing in.

Pros

Valuable competitive intel: While most of the data it provides is publicly available, it organizes it into a single platform.
Excellent organization: It uses AI to automatically assign each data point (like a social post or product launch) to a particular category to make it easy to find.
Team collaboration: You can add notes and communicate with team members directly inside the dashboard.

Cons

It's primarily designed for sales teams, so you might end up paying for a lot of features you'll neve use (like battlecards).
It requires training to get the hang of it according to reviewers.

Free Plan?
No.
Pricing
Crayon.co doesn't publicly list its pricing information, though it is an enterprise product.
7. Semrush – Best For Tracking Competitor Digital Marketing Strategies
Semrush offers plenty of market research data in its Market Explorer feature, including market TAM, target audience demographics, socioeconomic, market share data, and more.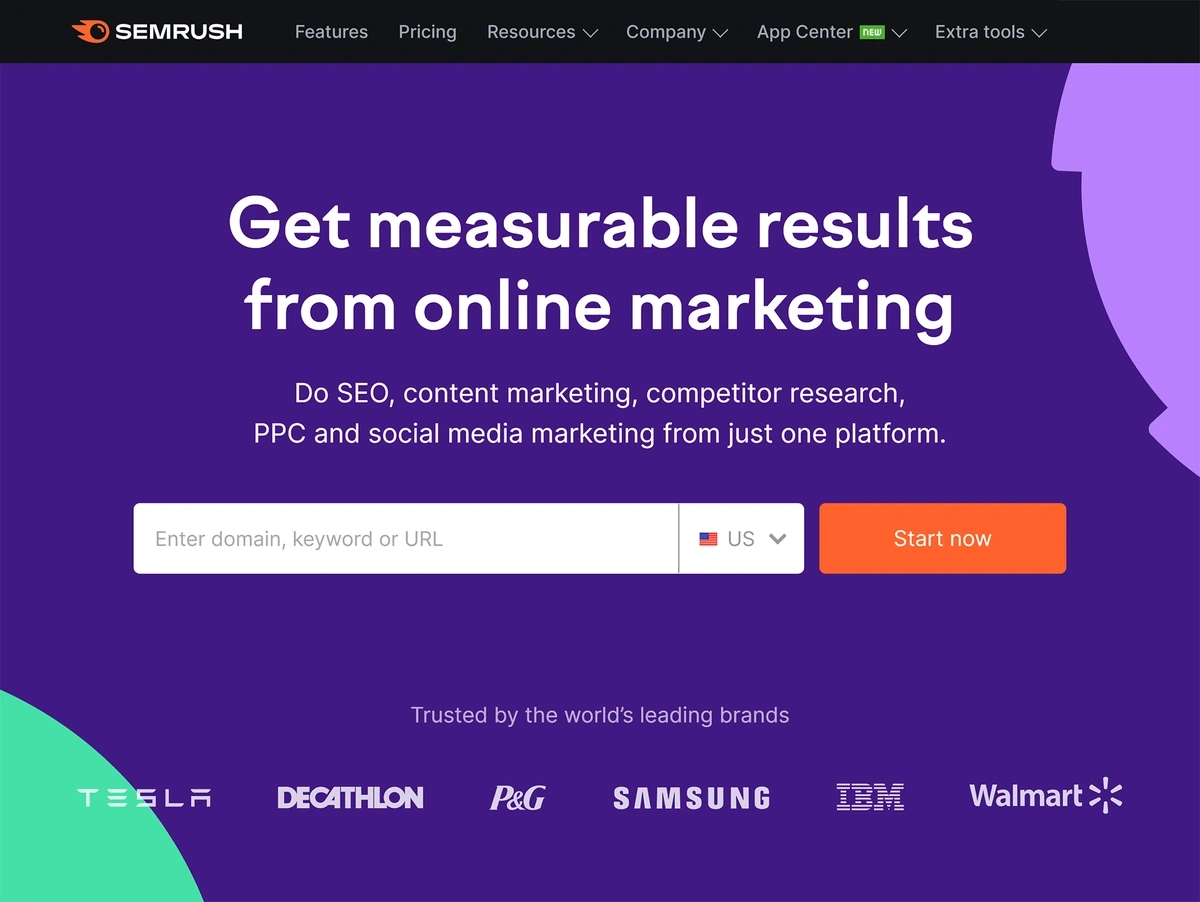 However, it's best known for its digital marketing and search engine optimization tools.
You can extract valuable marketing insights on any competitor and quickly reverse engineer its:
SEO strategy: See top-ranking pages, organic keywords, search traffic trends, domain ratings, and more.
PPC strategy: See competitors' paid keywords, Google ads, landing pages, and more.
Backlink strategy: View the most linked-to pages, backlink audit, backlink gaps, and more.
Social media strategy: This aspect of the tool is still largely in beta, but Semrush is steadily building out a social media management tool that allows you to schedule posts, monitor conversations, and track analytics.
Content marketing strategy: The writing assistant can help you with content briefs and track blog posts.
It's relatively affordable and a great go-to-market research tool as it collects a variety of market data.
How to Use it For Market Analysis

View market TAM, target audience demographics, socioeconomic data, and more in the Market Explorer feature.
Track competitors' marketing strategies to identify the latest marketing trends and assess the difficulty to break into any market.

Who is it For?

Executive leaders that need to track the top competitors' movements and marketing strategies.
Investors that want to learn who the top brands in a market are and assess general market demand trends.

Pros

Competitive marketing intel: Semrush has plenty of marketing intel features designed specifically for market analysis, like market share estimation, demographic data, and more.
Multi-purpose tool: Many companies already need an SEO tool, so it can aid you with both market analysis and be your primary SEO tool.
Historical trend data: Instead of just looking at who's currently leading the market, Semrush also offers historical data on traffic and other metrics.

Cons

You must already have a subscription to Semrush to purchase the Market Explorer feature, so it might be too expensive for those who don't need an SEO tool.
It provides great surface level metrics, but you can't really go deeper. In addition, all of the market data is based primarily on traffic, which doesn't always equate to revenue.

Free Plan?
No – You must be a paid Semrush subscriber to purchase the Market Explorer feature.
Pricing
Semrush's three pricing plans are $119.95, $229.95, and $449.95 billed monthly. Pricing tiers are differentiated by the number of projects, tracked keywords, and results per report.
8. Brandwatch – Best For Tracking Online Customer Discussions
Tracking online customer discussions is a great way to gauge a market's general popularity and demand.
However, scanning social media, Quora, Reddit, and industry discussion forums is time-consuming and often unrealistic for most people.
So to solve this problem, Brandwatch allows you to track various keywords and then identifies conversations online containing those keywords or phrases.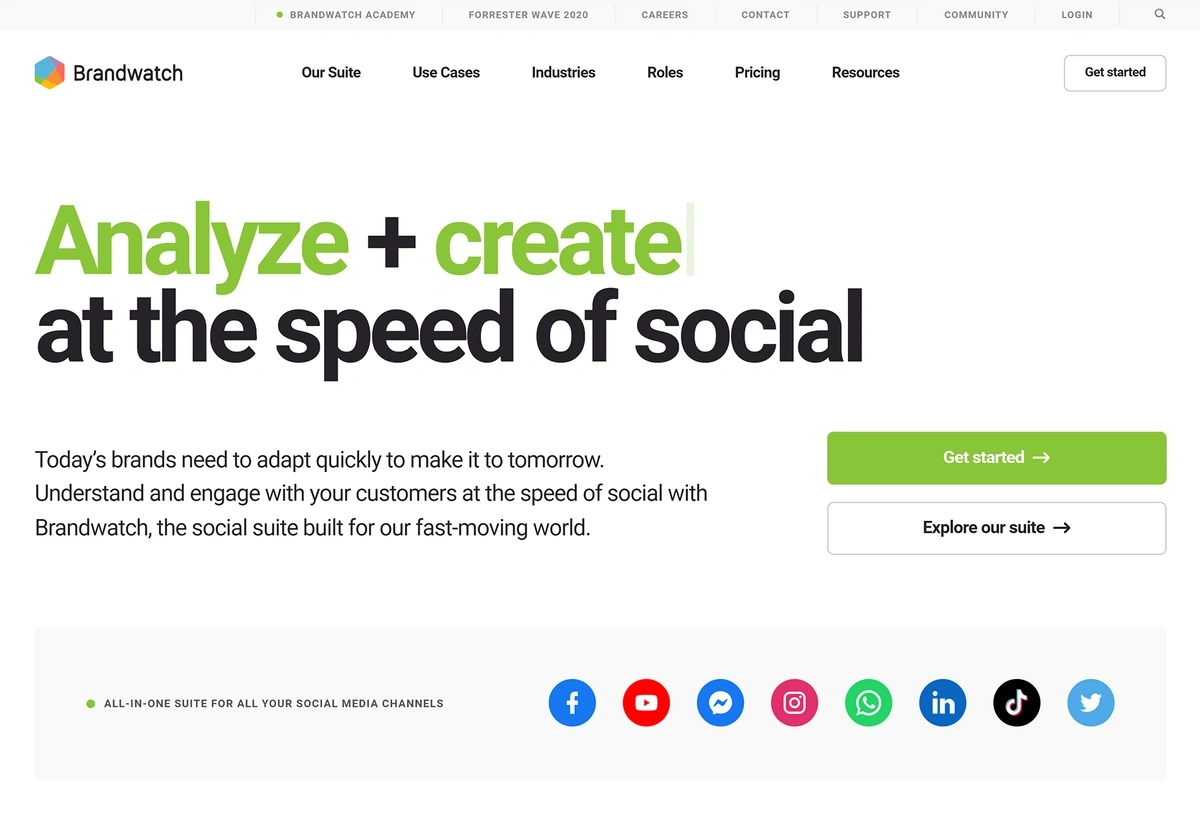 This makes it easy to quickly gauge specific pain points in a market and general sentiment around a topic.
For example, if you're analyzing the AI content writing market, you can use Brandwatch to track keywords like "AI content tools" or top competitors in the space like Jasper.ai or Copy.ai.
Brandwatch then provides keyword mention trends, conversations by sector, and other popular similar topics.
In addition to tracking social media platforms, it also pulls data from across the web rather than just one particular data source (like a specific industry forum).
How to Use it For Market Analysis

Learn about your target audience's pain points/desires by monitoring keywords.
Identify leading brands and gaps in the market by monitoring brand mentions and tracking negative sentiment.
Track market interest over time with access to historical mention data dating back to 2010.
Create surveys and focus groups to do more in-depth market research and ask specific questions.

Who is it For?

Entrepreneurs that want to launch a new product or service and want to learn more about what the target market wants, their pain points, and what the leading brands do well/poorly.
Executives that want to identify gaps in their competitors' to develop products and services that better serve their target audience.
Investors that want to learn more about a market's popularity, why people are interested in specific trends, and gauge a market's general demand.

Pros

Learn about the pros/cons of competitors directly from customers: You can track brand mentions and sort by positive and negative sentiment analysis to learn what people like/dislike about top competitors.
Historical data gives you trends, not just data points: Most brand monitoring tools show you what's currently popular, but Brandwatch gives you a rich overview of a keyword's trend over time.
Market research surveys: Most social monitoring tools are part of larger social media management platforms, but Brandwatch leans more towards a market research platform with its survey capabilities.
Quickly create reports: Brandwatch can automatically generate reports for you that you can send to stakeholders.
Find industry influencers: Brandwatch shows you who the leaders in a given market are and then you can track what they're talking about and even reach out to them to learn more about the market.

Cons

What people say online doesn't always reflect their actions: Just because people say they love a particular market trend doesn't mean they'll buy the products/services in that market.
Social listening on some platforms is limited: Several reviewers have mentioned that some platforms (TikTok and Meta were frequently mentioned) are limited due to privacy issues.

Free Plan?
No.
Pricing
Brandwatch does not offer any pricing information publicly, though third party sites estimate that it starts at $800 per month.
9. Reviews.ai – Best For Analyzing Reviews at Scale
It's important to figure out the gaps in any market you plan to invest in, and reviews are a great way to identify those gaps.
Reviews.ai makes it easy to extract key market insights from reviews by scanning thousands of competitor customer reviews at once, and then providing reports of commonly mentioned phrases and general sentiment analysis.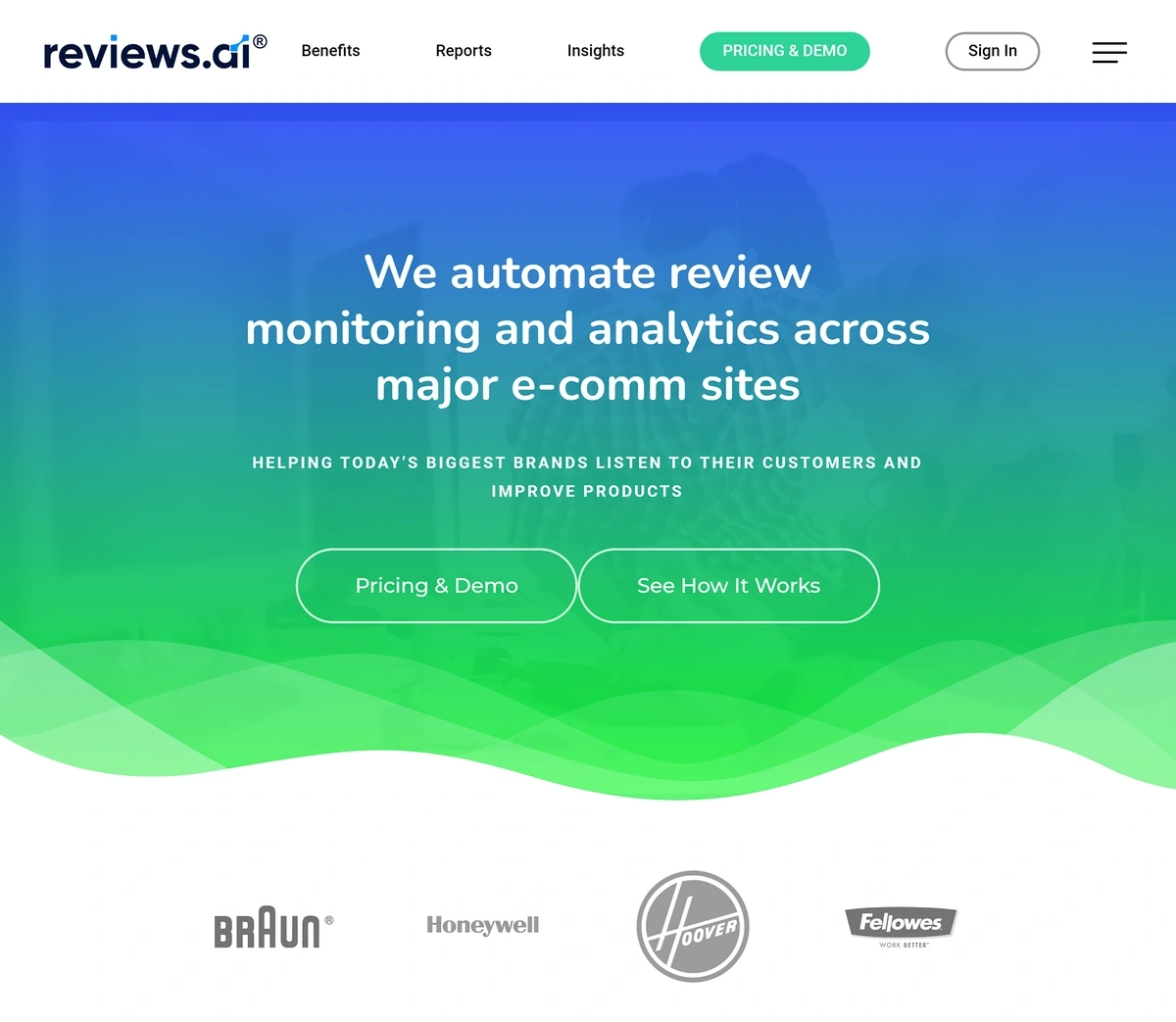 For example, it provides a word cloud of commonly mentioned keywords and then lets you drill down to any particular keyword to see commonly associated sub-keywords.
You can also sort keywords by sentiment to learn what customers like and dislike about your competitors' products so that you can identify market gaps and make better strategic decisions.
How to Use it For Market Analysis

Scan thousands of reviews and extract insights in a matter of minutes.
Find common pain points associated with competitor products/services to identify gaps in the market.
Identify specific use cases for the products/services in a particular market.

Who is it For?

Entrepreneurs that want to learn more about the competitive landscape before launching a business in a market.
Business leaders that need to keep an eye on the top competitors and identify pain points to deliver better products/services..

Pros

Quickly scan thousands of reviews from various platforms (Amazon, competitor websites, etc.).
View insights extracted by AI that show you sentiment and key pain points for competing products.
It's fast and scalable allowing users to track over 10,000 products and monitor over 15 major retail sites.

Cons

It's designed specifically for ecommerce brands rather than B2B brands.
Reviews aren't always a perfect measure of a product/brand's success as some brands actively work to generate more five star reviews from only satisfied customers while others do not. There's also the possibility of fake reviews.

Free Plan?
No.
Pricing
Unfortunately, Reviews.ai does not offer any pricing information.
10. Remesh – Best For Collecting Qualitative Data at Scale via Chat
Remesh is a survey alternative tool.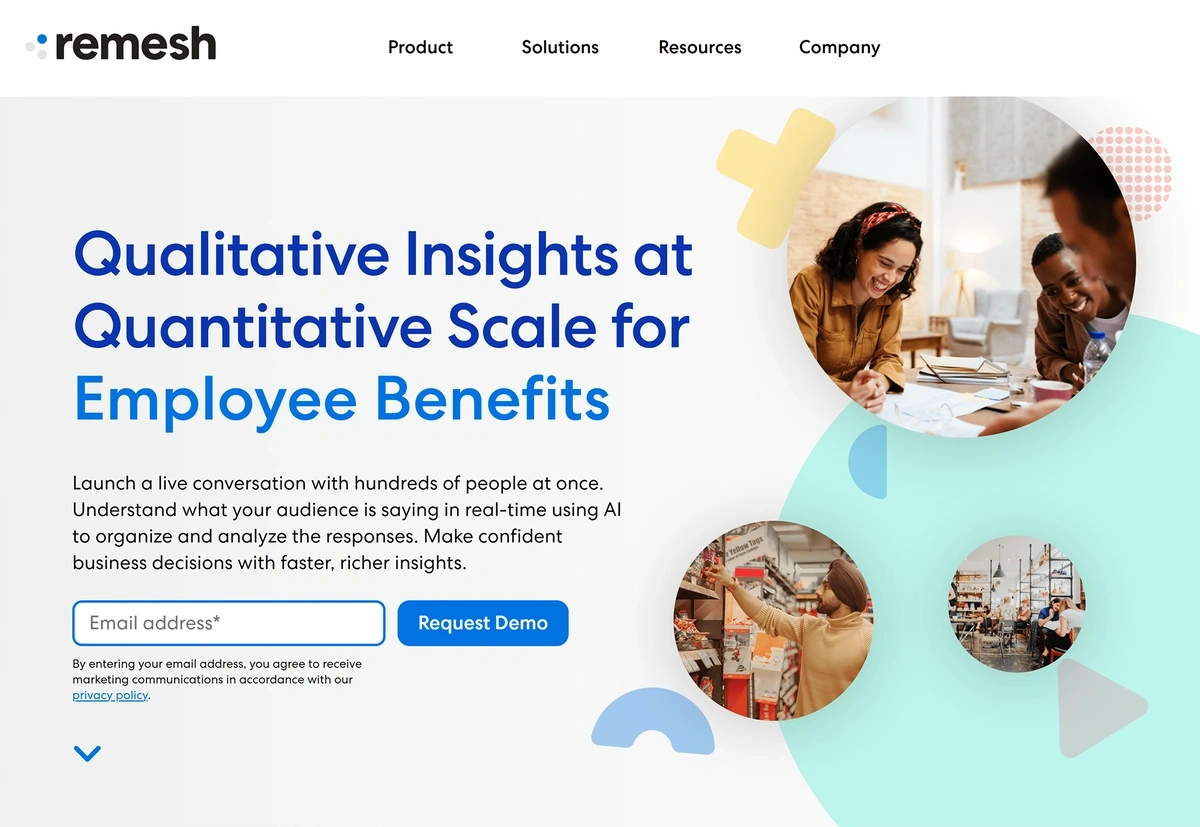 Instead of sending surveys and collecting responses over a period of time (e.g., several weeks), Remesh allows you to conduct live polls with thousands of respondents in real-time.
You can also ask for feedback on product concepts and media. For example, if you're about to run a video campaign, you can send the video and ask respondents for their overall feedback.
A key differentiator that makes Remesh unique from survey tools is that it pulls popular survey responses and then shows those comments to other respondents to see if they agree or disagree with the statement.
You can also ask respondents follow-up questions to their responses to dig deeper into interesting comments.
Once the survey is complete, AI can analyze the most popular responses and provide a detailed report.
One note is that while Remesh allows you to segment the audience you survey by demographic and even ask screening questions, it's not a great tool for more specific audiences (like B2B audiences) simply because all of the data is captured in real-time and therefore has a more limited audience than some of the more traditional survey tools.
How to Use it For Market Analysis

Validate product concepts and business ideas through audience surveys.
Identify the most popular opinions by allowing respondents to rate each others' responses.
Receive detailed insights rather than just survey data thanks to AI analysis.

Who is it For?

Entrepreneurs that want to validate their business ideas and identify the market's pain points.
Business leaders that are launching new products (potentially to new markets) and need feedback from the market.

Pros

You can specify the audience you want to survey by asking screening questions and defining the demographic.
Surveys are conducted in real-time so that you can ask follow-up questions and even ask respondents to rate each others' responses.
AI extracts insights from the data rather than forcing you to comb through all of the responses to find patterns.

Cons

It's primarily for consumer products with large target audiences as it can be difficult to get a B2B audience to take a survey in real-time.
Survey participants aren't always very engaged – especially with open-ended questions.

Free Plan?
No, but you only pay if you actually interview someone.
Pricing
Unfortunately, Remesh does not offer any pricing information.
11. Respondent – Best For Conducting Live Interviews
If you're trying to interview a very specific target audience, Respondent is a great place to find those potential customers and schedule live interviews.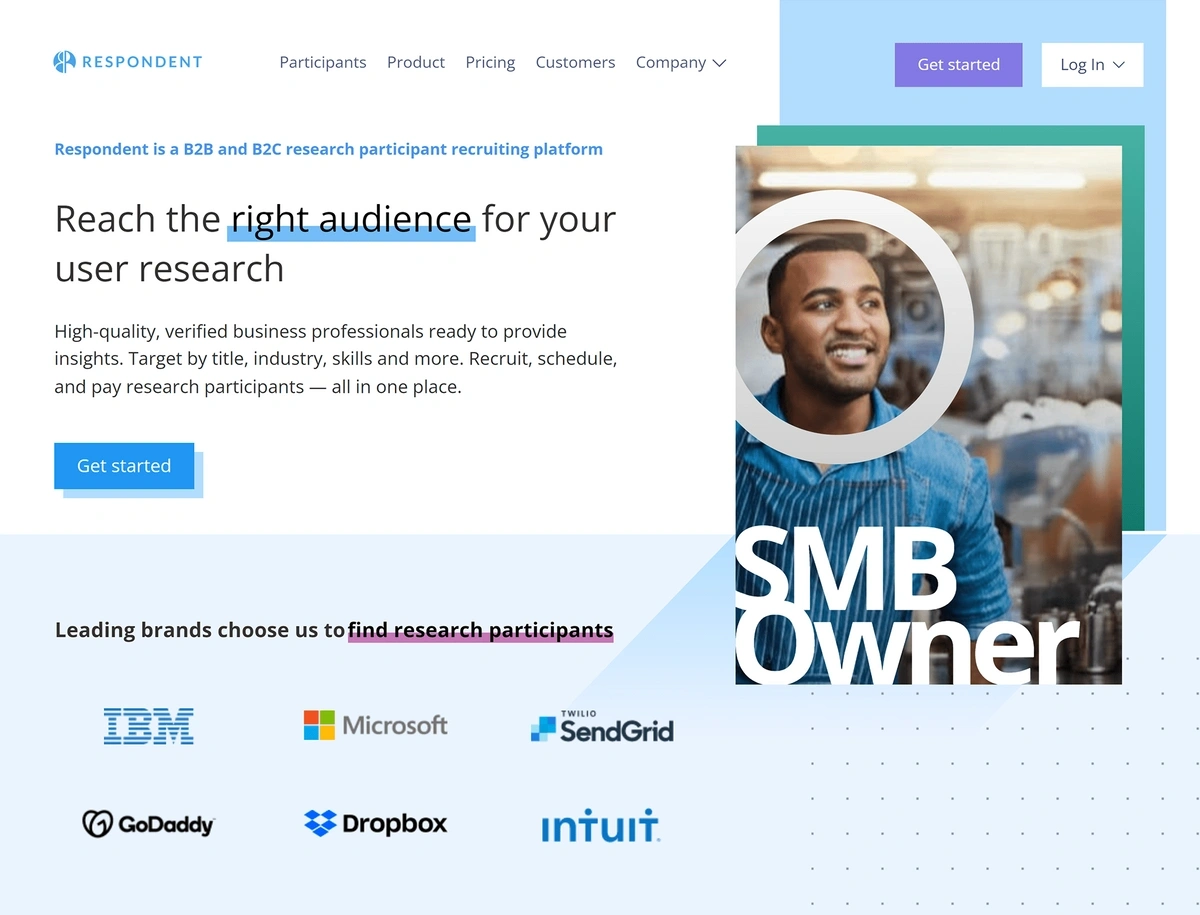 Unlike most other platforms, Respondent is geared towards a B2B audience, so you can interview software developers, marketers, executives, startup founders, and other professionals.
For example, if you want to interview a marketing professional that hired a PPC agency, Respondent can help you do just that.
Scheduling interviews is also super easy.
Simply create a project describing who you want to talk to and any specific screening questions. Then, Respondent pushes that project to its verified participants.
Once you have a match, you can schedule the call and pay participants directly through Respondent. So if you're trying to learn more detailed information about your ideal buyer persona and don't have an audience, Respondent is a great option.
How to Use it For Market Analysis

Find and chat with your ideal prospects without doing any cold outreach.
Find survey respondents for your ideal target market to learn more about market trends.

Who is it For?

Entrepreneurs that want to interview their target audience one-on-one to learn more about their pain points and gaps in the market.
Investors that need more information on a market before investing in a startup in that space.
Business leaders that need to stay on top of consumer demands.

Pros

Effortlessly find and connect with your ideal prospects even if you don't have an audience. No more cold emailing.
Designed specifically for B2B, so it fills in the gaps that most market research platforms (like Surveymonkey or Pollfish) lack.
Flexible pricing as you set the incentive and only pay when you actually interview/survey a person.

Cons

The quality of respondents varies, especially as you get into higher level executives.
It can quickly get expensive as they charge half of the incentive fee.

Free Plan?
No, but you only pay if you actually interview someone.
Pricing
Respondent charges 50% of the incentive fee you offer to speak with your target audience. They also offer credit bundles of over $10,000 if you plan to speak to a lot of people.
Start The Market Analysis Process Today
Market analysis doesn't have to be an overwhelming process that consists of endless Excel spreadsheets with random metrics.
Select a few tools from this list to get only the data you need to make a more informed investment decision.
If you want help identifying relevant trends, start by researching emerging trends in the free Exploding Topics database.
If you'd rather unlock premium trends and other more advanced data analysis features, you can jump into Exploding Topics Pro today.