11 Market Analysis Tools For 2023 (And How to Use Them)
Market analysis is an extensive process that usually requires multiple tools to complete.
So instead of giving you an overwhelming list of market analysis tools (many of which provide overlapping metrics), we selected the best tools for each step of the market analysis process.
Here are the tools we'll discuss below:
For each tool, we'll discuss how to use it for the market analysis process, pricing details, and more. Let's jump into it.
1. Exploding Topics – Best For Identifying Under-The-Radar Market Trends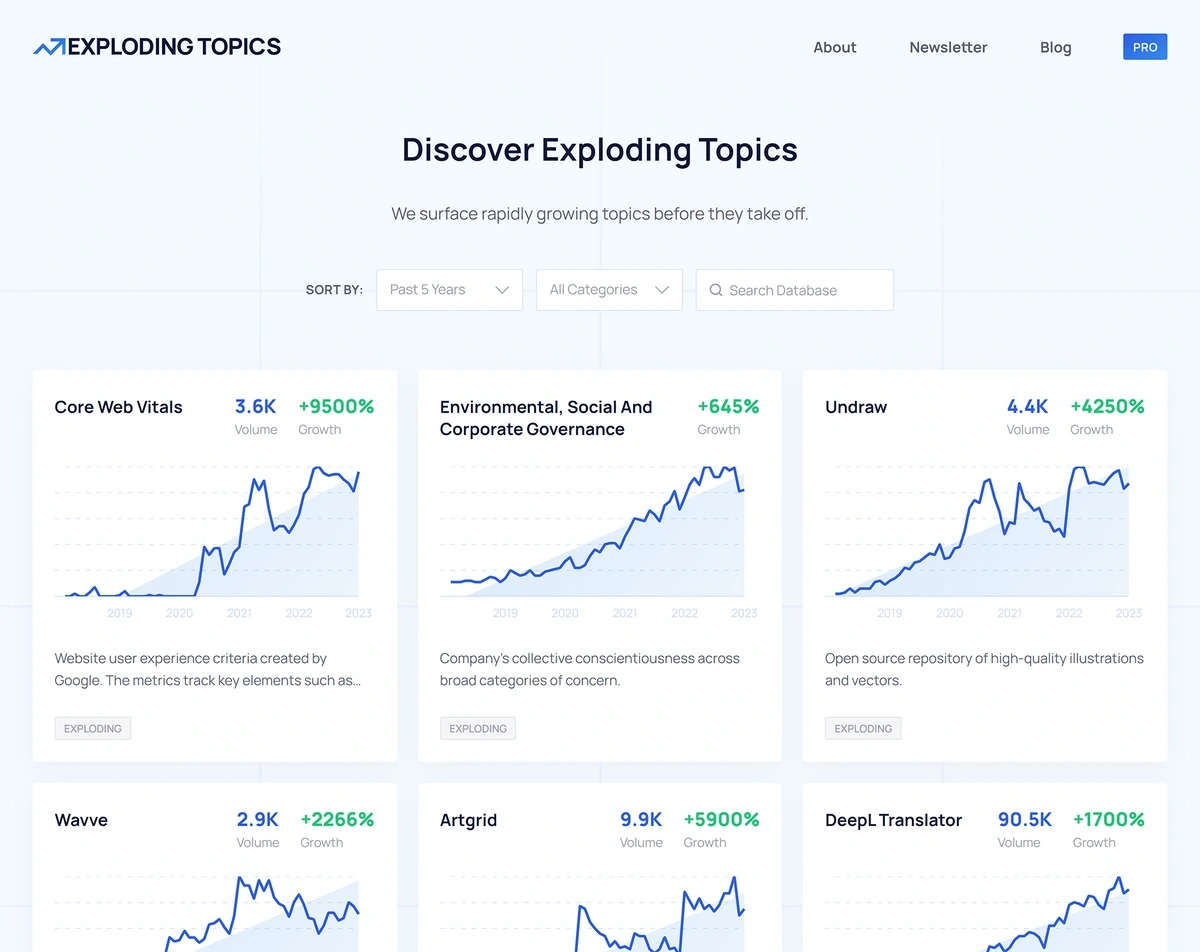 Analyzing the right market trends is the first step in any successful market analysis strategy.
However, finding the right market trends to analyze is deceptively tricky.
Even if you're constantly reading industry publications, following industry influencers, and reading relevant market reports, there's still a chance that you'll miss under-the-radar trends.
(Not to mention that it's very time-consuming to comb through all of this content regularly!)
So what if there was a tool that did all the research for you and just provided the relevant trends in a concise database?
This is what Exploding Topics does!
It uses AI and machine learning to scan the web (Google, Reddit, YouTube, Spotify, etc.) for popular topics. A human analyst also manually vets each trend for relevancy before adding it to the database. (More on our detailed trend qualification process below.)
Now you can quickly generate a list of high-quality, under-the-radar trends in seconds.
Just sort by category (e.g., fitness, sports, health, finance, etc.) and Exploding Topics shows you the most promising industry trends (product terms, industry keywords, brand names, etc.) for that category: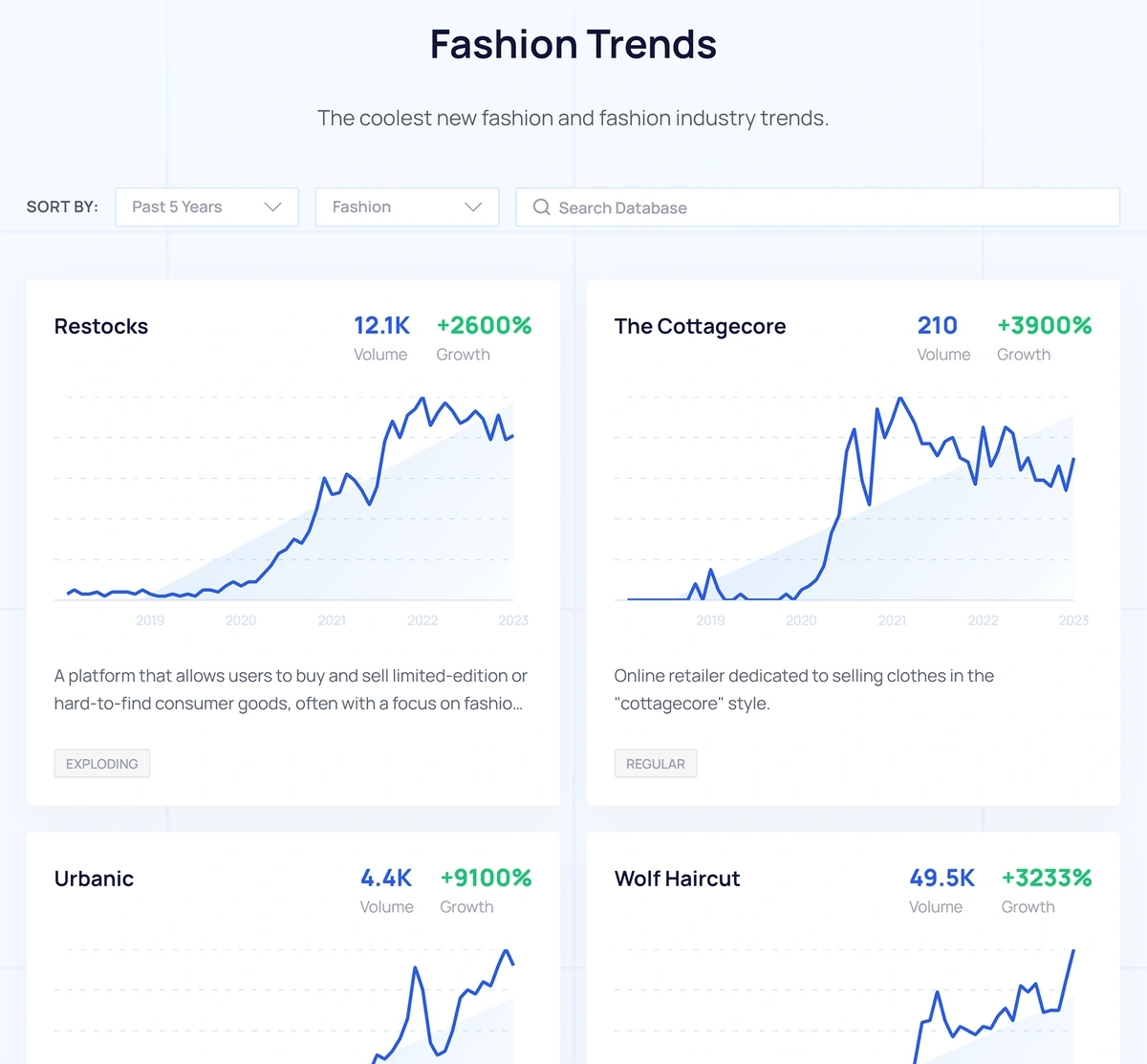 You can jump into the free Trends Database now or keep reading for a more detailed product overview.
There are five main features available to Exploding Topics Pro users:
Trends Database
Projects
Trends Search
Reports Library
Meta Trends
Trends Database
The Trends Database is our flagship product – it shows you the most promising under-the-radar trends with the click of a button.
You already saw the free version above, but the premium Trends Database gives you access to exclusive trends unavailable in the freemium dashboard. Premium users can also sort by trend growth status (e.g., Exploding, Regular, or Peaked).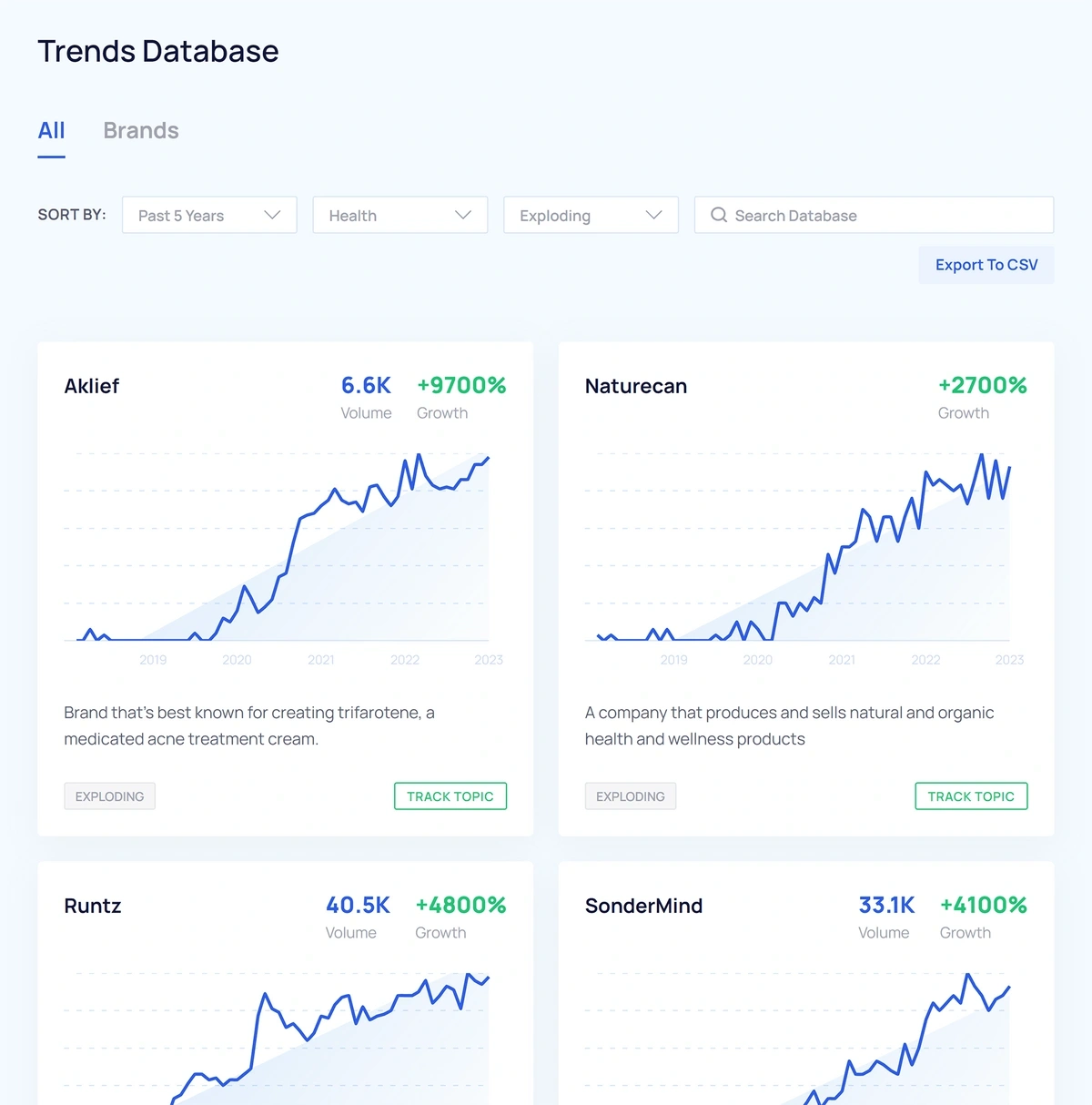 So instead of reading through endless industry publications and tracking influencer content, Exploding Topics identifies the most promising trends for you.
Objection: How do I know that Exploding Topics will find the latest under-the-radar trends, and how can I be sure the trends listed are high quality?
Data quality is the most critical factor when selecting a trend spotting website. If the trend spotting website provides poor trend suggestions – or worse – fails to pick up on promising trends, you'll have to revert to tracking trends manually.
So here's an overview of our trend discovery and qualification process.
Step 1: AI and machine learning scans billions of data sources to discover topics that have gained significant traction.
Exploding Topics rarely misses under-the-radar trends because it literally scans the entire internet to find topics and phrases that are gaining traction. Some of our sources include Google Search, podcasts, YouTube, Reddit, and Amazon.
AI and machine learning then flags popular topics to move to the next step.
By leveraging AI and machine learning, Exploding Topics can provide under-the-radar topics before mainstream industry influencers and publications start discussing them. This gives you the first-mover advantage so that you stay ahead of the curve.
Step 2: Each topic is backed by Google Search volume trend data.
Most trend spotting websites select trends based on topics that a single researcher or sample group thinks will be popular.
This trend selection strategy introduces a lot of bias that can negatively impact trend quality.
Exploding Topics minimizes this problem by selecting trends based on data – Google Search volume trend data, to be exact.
There are a few reasons why we use Google Search volume data to qualify trends:
Google Search volume data isn't sampled – it's gathered from a global audience. If you only select data from a particular industry or group, it might be biased.
Google Search volume data is a great way to gauge interest in a trend over time. You want to ensure that the topic isn't a fad and has shown steady growth over an extended period.
So once a topic is flagged, it has to show a compounding Google Search volume growth trend over the past few months to move onto the final qualification step.
Step 3: A human researcher manually vets topics for business relevancy.
​​Many topics that meet the two criteria above aren't relevant to business analysis. For example, some topics might be movie titles, celebrity news, and other pop culture topics.
So we have a human analyst manually vet each topic before adding it to the Trends Database so that you never have to weed out irrelevant trends.
This three-step trend qualification process is a key differentiator that makes Exploding Topics a leading trend discovery tool.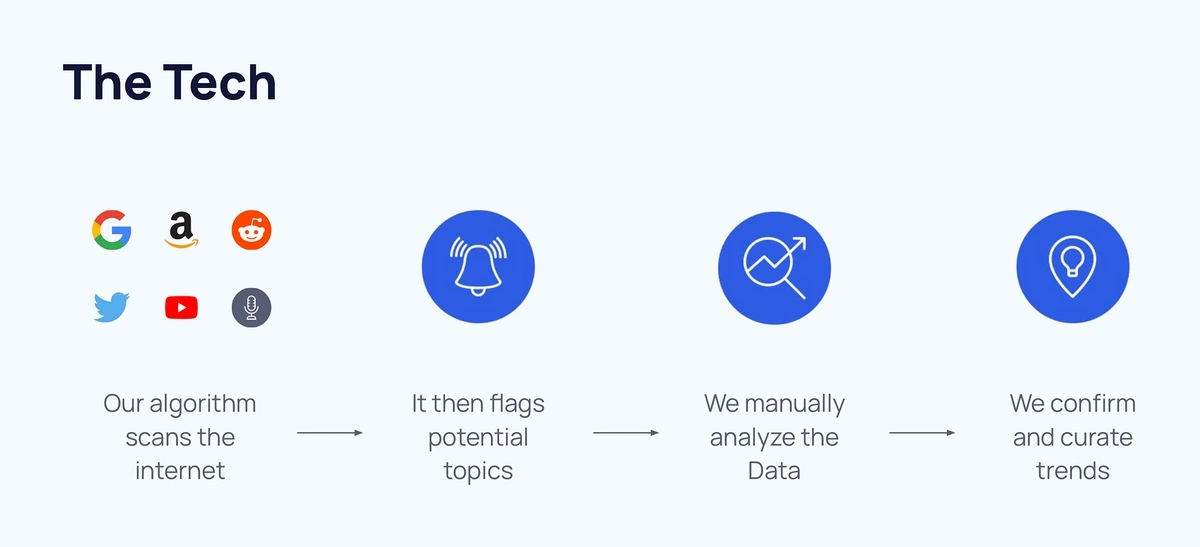 Projects
Once you find an interesting trend in the Trends Database, the Projects feature lets you save it for more market analysis.
Just click "Track Topic" and create a new Project or add it to an existing Project for further analysis: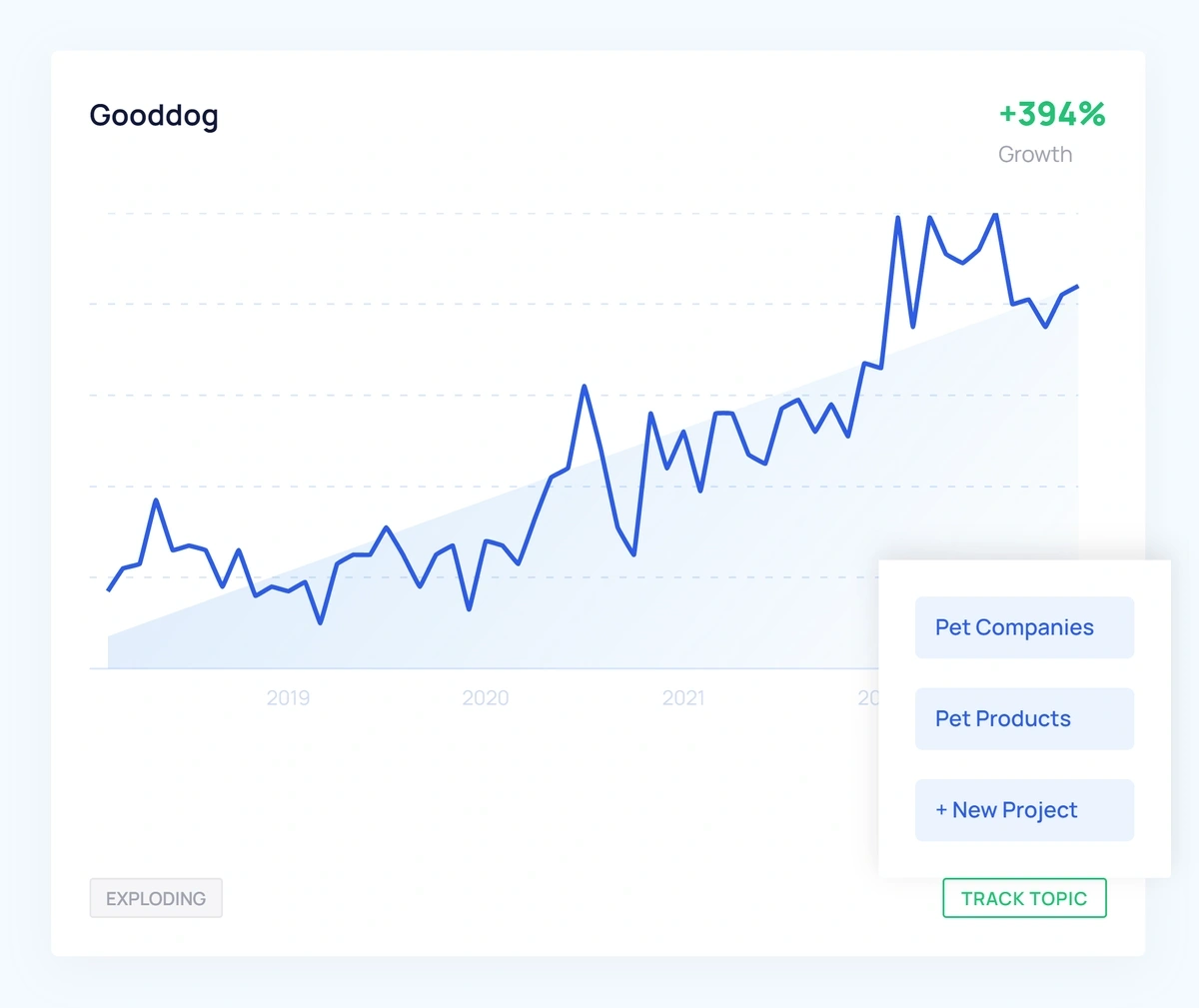 Then, you'll be able to see all of your Projects in one clean dashboard: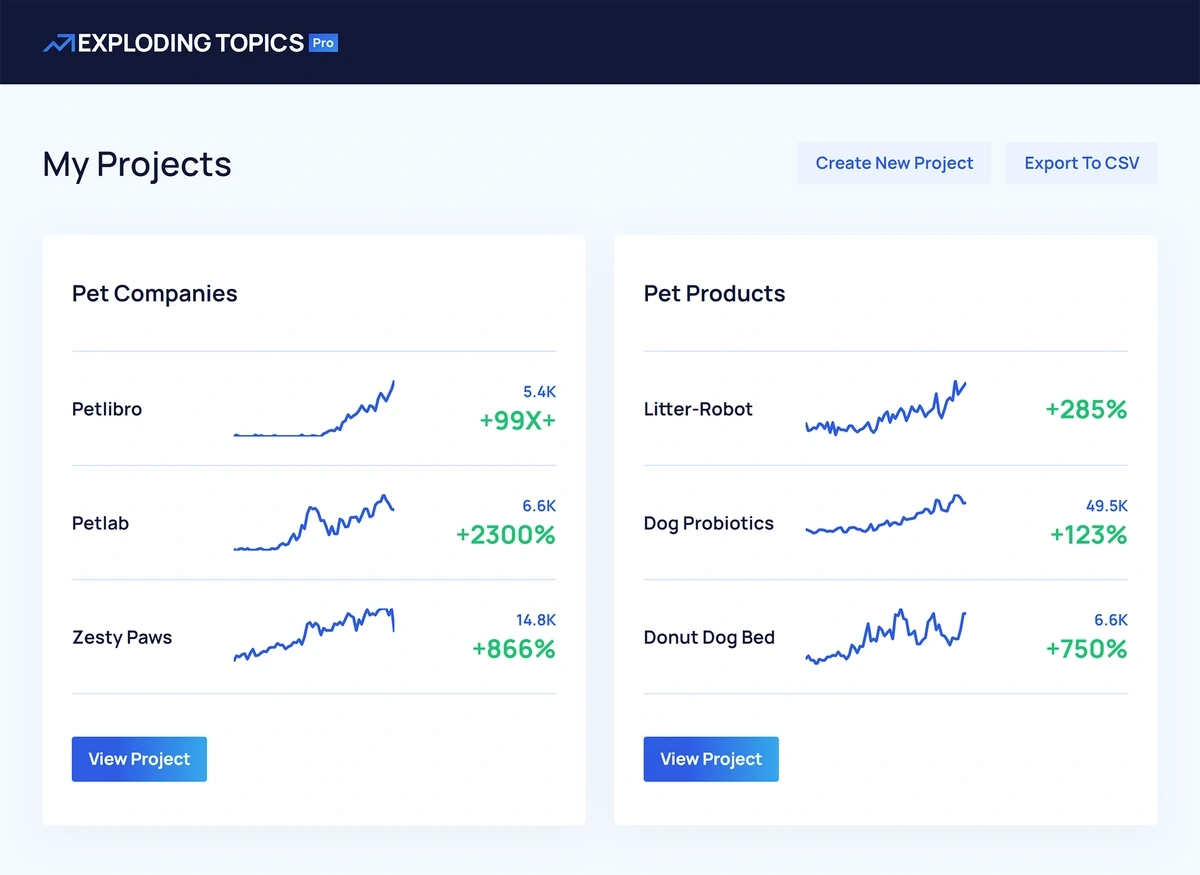 Weekly Reports
You might not remember to search for new trends each week, so we'll send you a Weekly Report to your inbox once per week. Each Weekly Report includes a detailed analysis of five trending products and five trending companies.
You can sign up for our Weekly Reports now, or you'll automatically receive them when you become an Exploding Topics Pro user.
Trends Search
The Trends Database is excellent for discovering new market trends – but what if you already know of a topic and just want more information on its Google Search volume history?
We built Trends Search for this scenario.
Just type in any keyword and it instantly creates a report with Google Search volume trend history, related keyword suggestions, and more: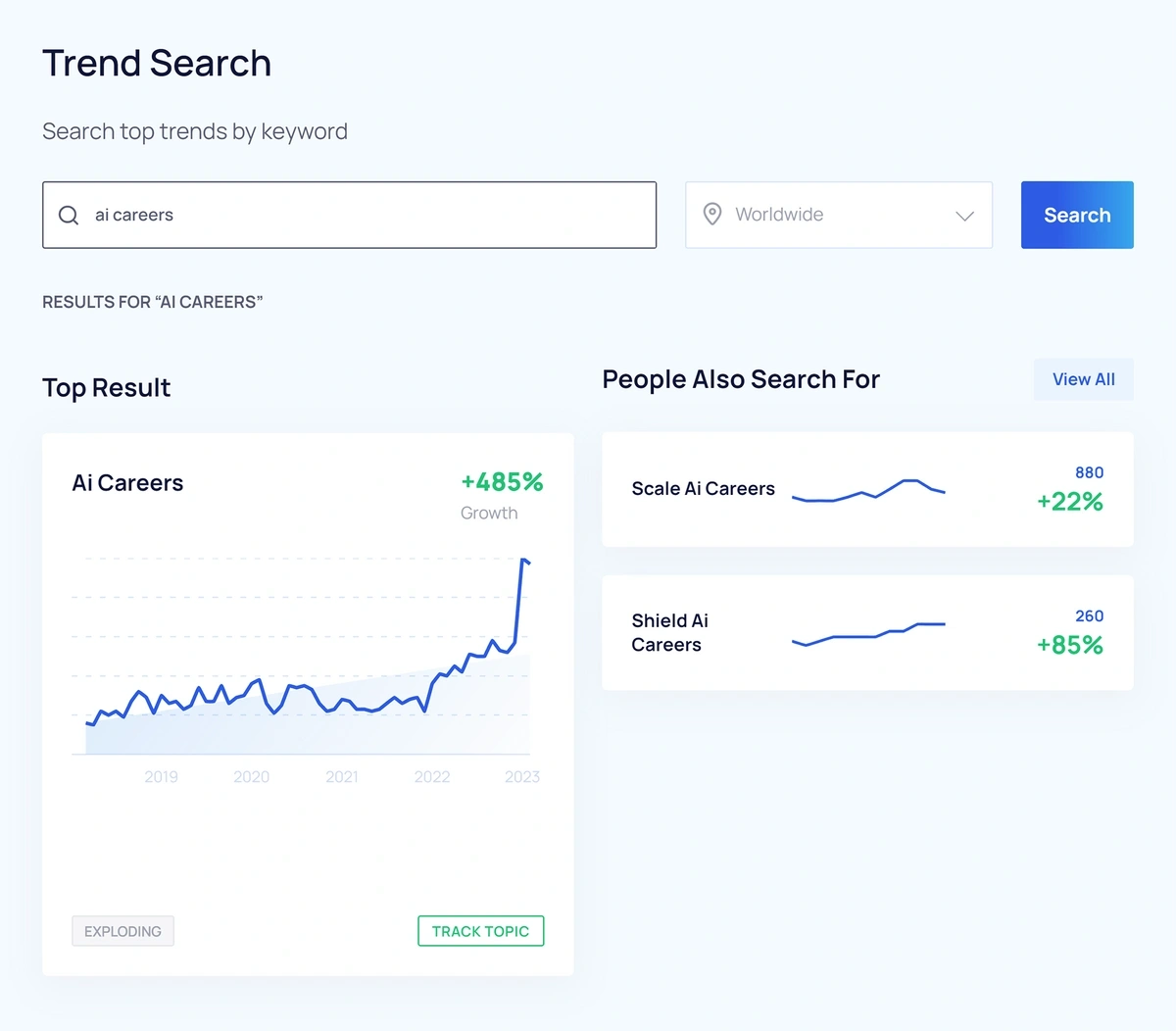 It's similar to Google Trends, though you can easily add any topics directly to your Project dashboard and you can also see similar search terms.
Meta Trends
You'll notice that many exploding brands and products in the Trends Database have some underlying commonalities.
For example, "Plaid," "Openpay," and " GoCardless" are all trending brands.
What's the common theme that unites them all? They're all enterprise fintech companies.
So "Enterprise Fintech is a Meta Trend that you might want to explore in more detail.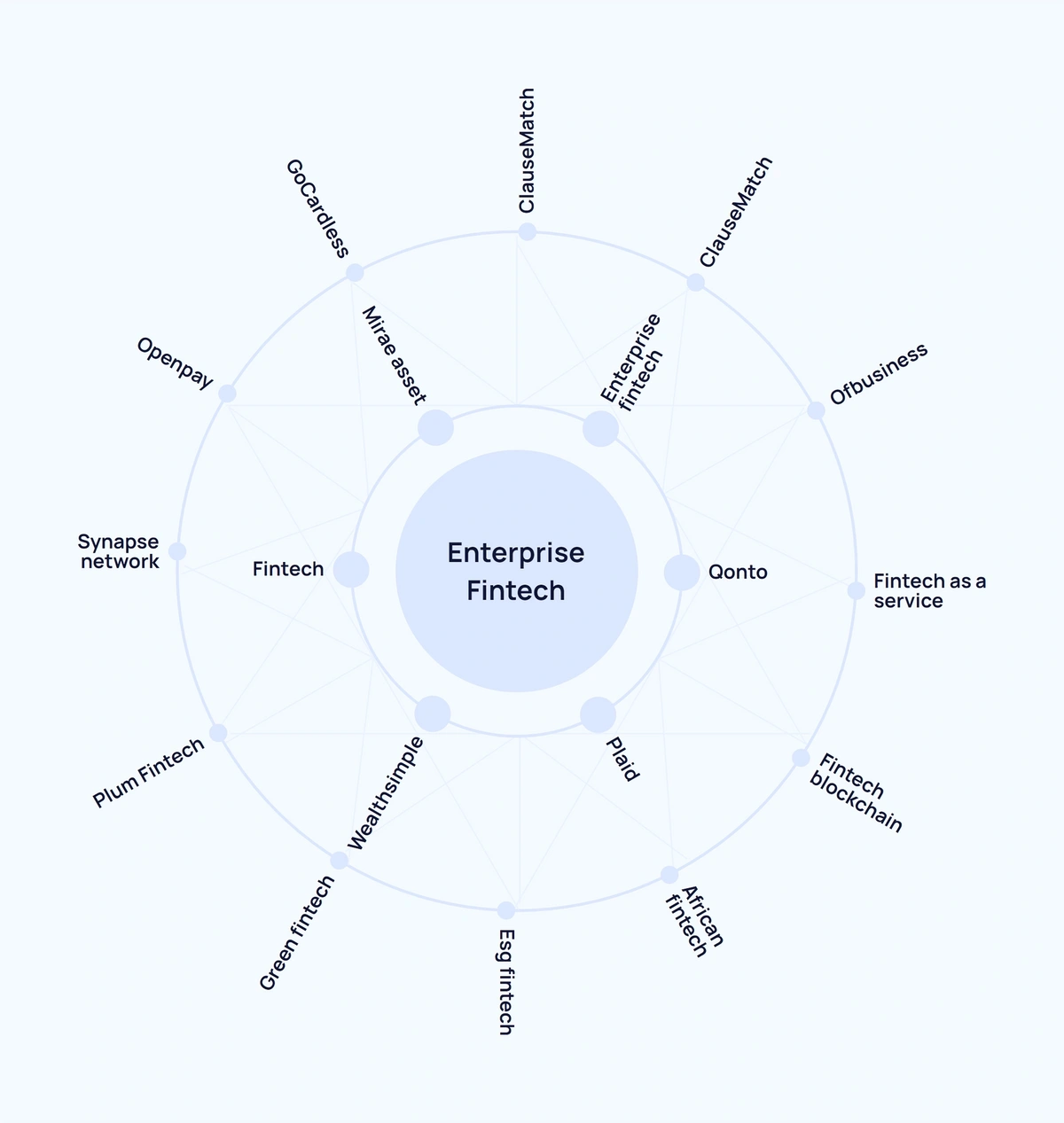 To help you uncover these meta trends, we created a feature inside Exploding Topics that does this for you. You can scroll through the various categories (B2B, DTC, machine learning, sustainability, etc.) and then click on any meta trend for more detailed analysis: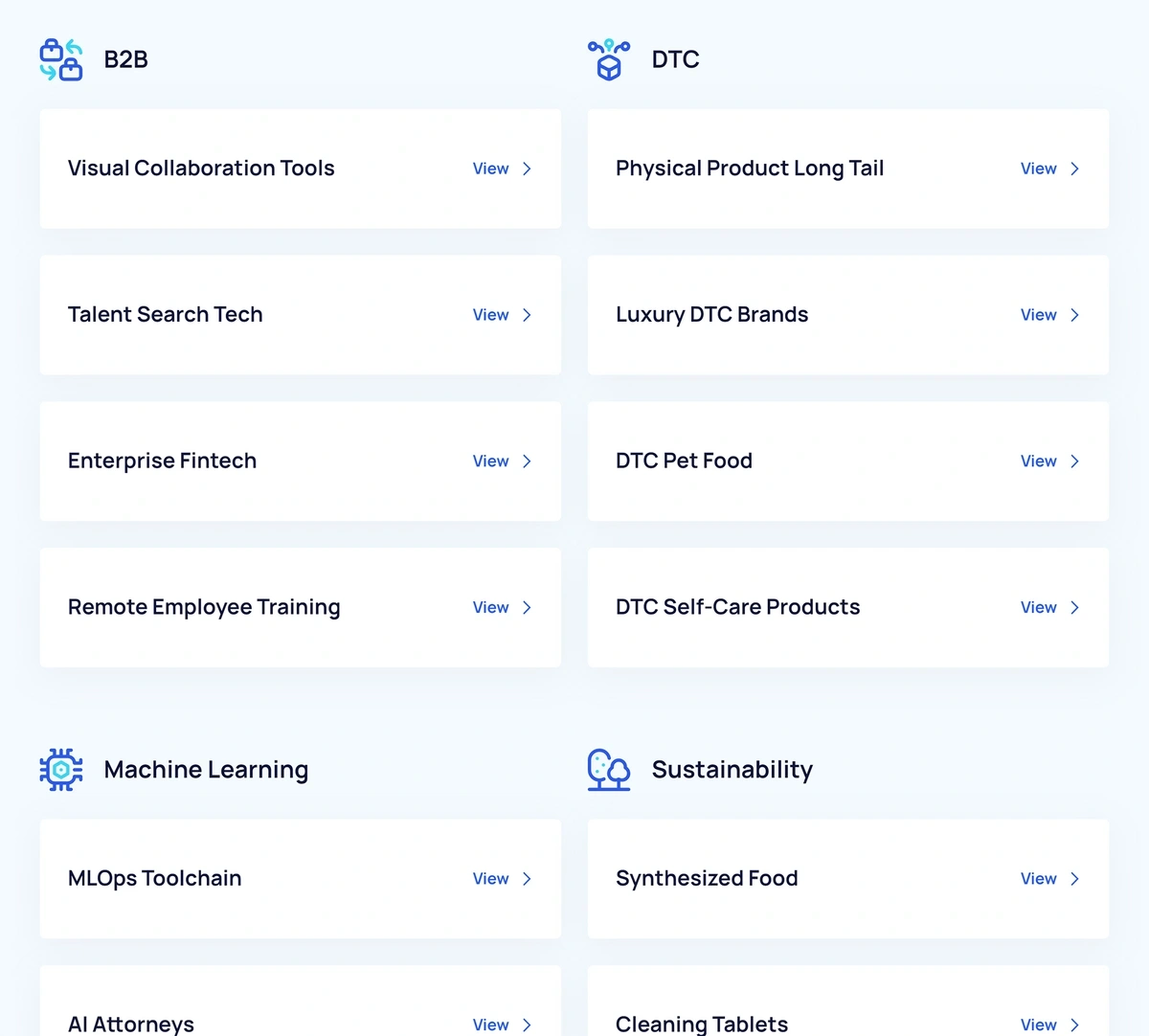 To see for yourself how Exploding Topics works, you can try the free Trends Database now. Or, if you want to unlock premium trends and other advanced market analysis features, try Exploding Topics Pro today!
Pricing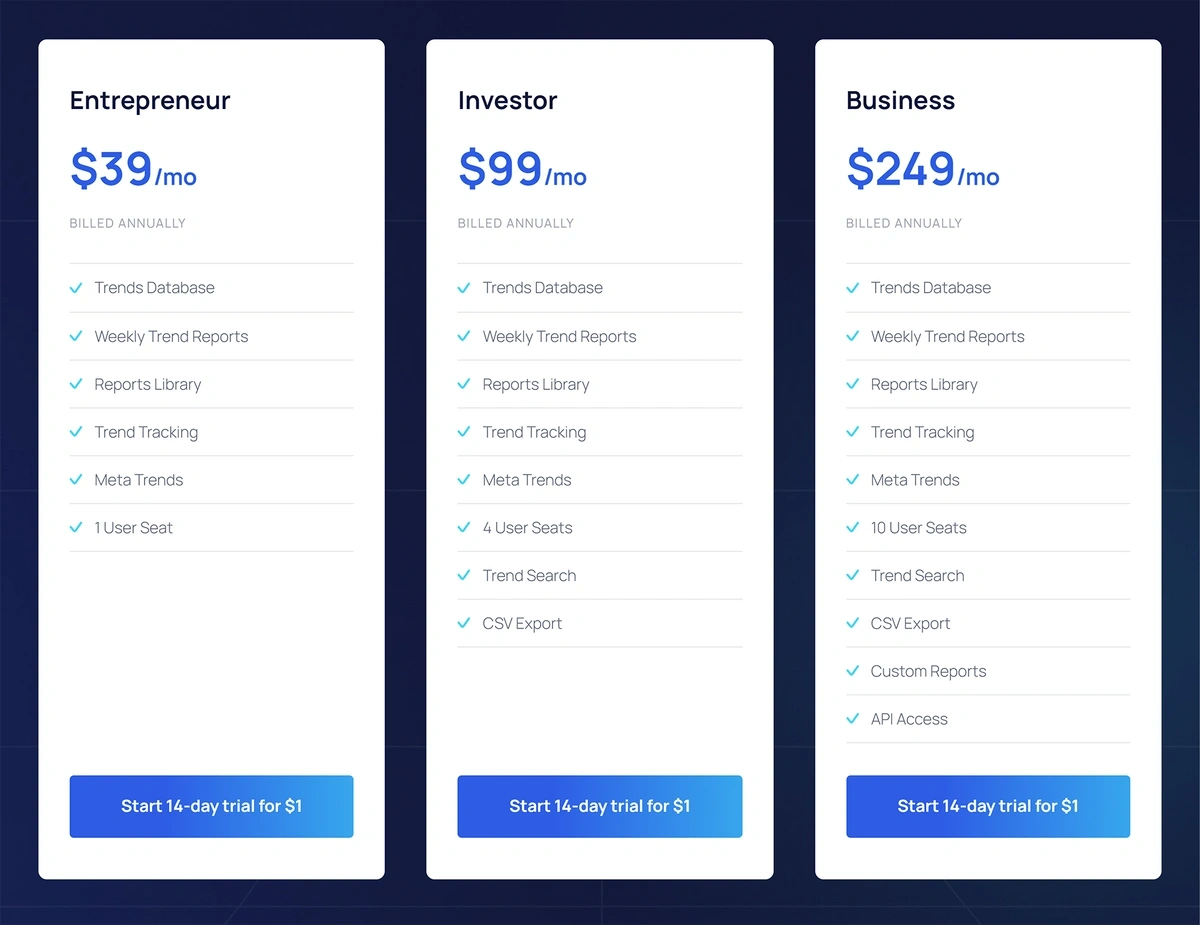 2. CB Insights – Best For Analyzing Market Size and Funding Trends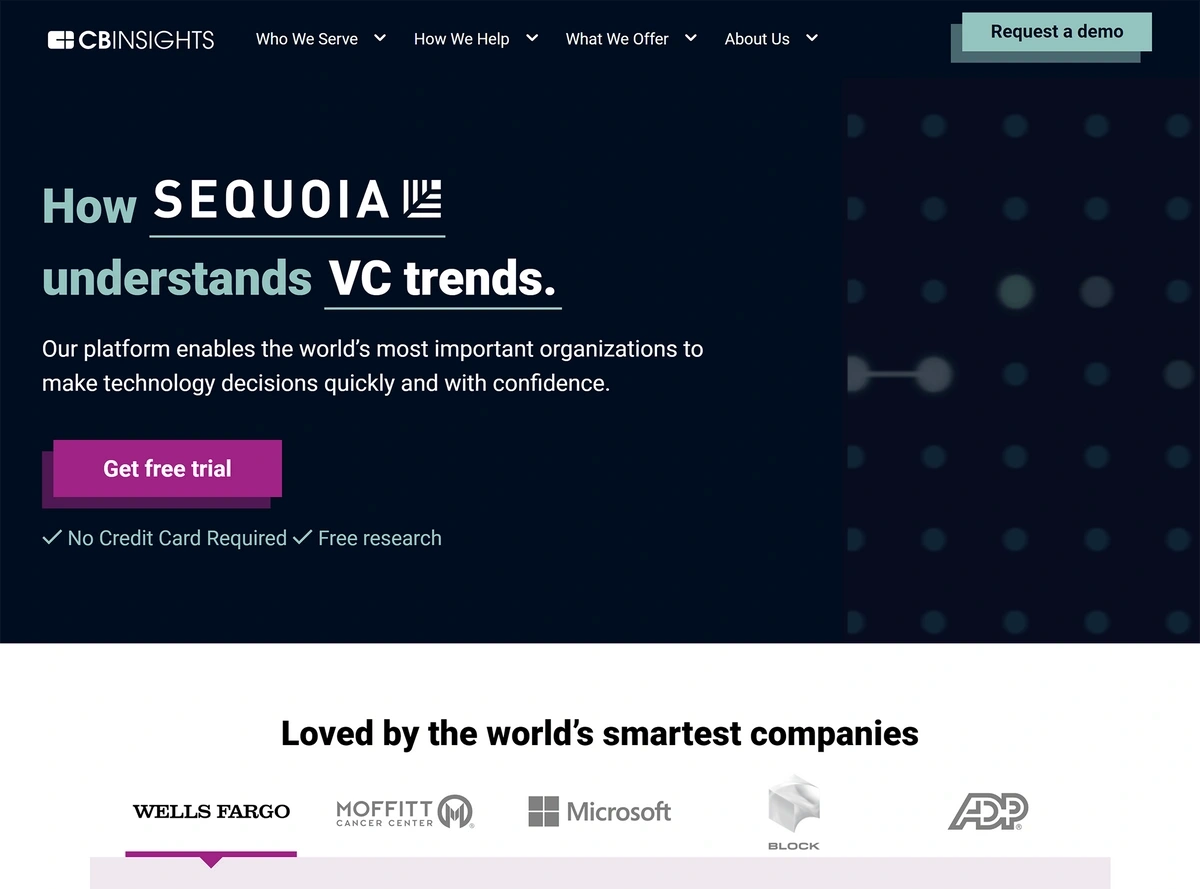 CB Insights is a robust market research platform geared towards tech companies. When I say "robust," I mean it offers the following data (on both public and private companies):
Financing
Valuations
IPO and M&A Exits
Business relationships (partnerships, clientele, etc.)
Private company ratings
Management team ratings
Patent analytics
Key people
New mentions
Analyst insights
In addition to individual company data, it also offers broader market data, which we'll discuss in more detail below.
First, it has a comprehensive market sizing tool that makes it easy to estimate the size (TAM) and compound annual growth rate (CAGR) of virtually any market. You can also filter results by geography, identify adjacent industries, and more.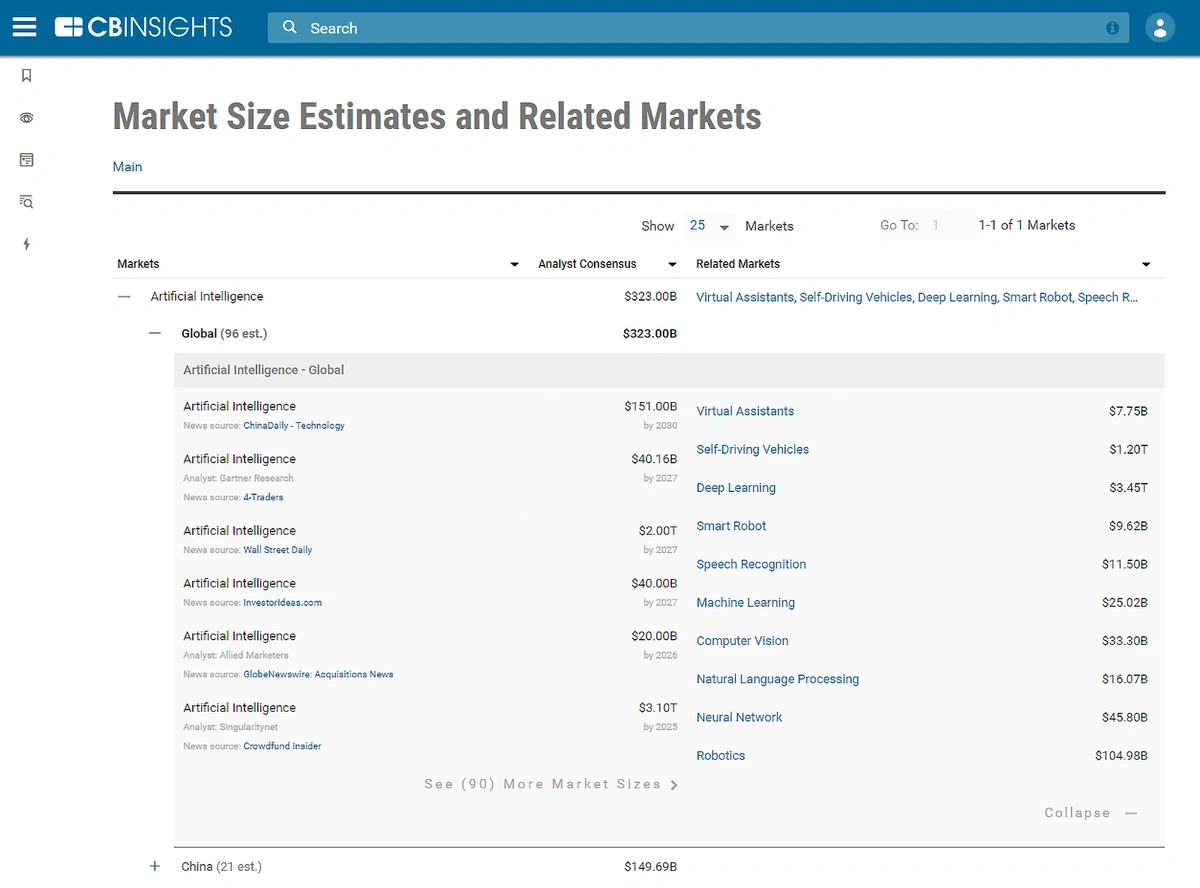 So how accurate is CB Insights' data?
In a report on its market size estimator tool, CB Insights revealed its data collection methods:
"...the CB Insights machine intelligence platform now mines millions of unstructured articles and reports to extract market sizing estimates. The result is the world's largest and most current data set of market sizings, currently at 12,050 markets across 1,700 industry analysts.
Using the mined information, we now can provide the "Street Expectation" equivalent for market sizings–what we refer to as the Industry Analyst Consensus (IAC)."
CB Insights also offers real-time data on company funding so that you can stay up-to-date with the latest VC trends. For each company, you'll be able to see the total funding amount, funding round, lead investor, and more information.
If you want competitive intel, CB Insights also offers a Mosaic Score. This calculation averages a company's momentum, market, money, and management.
CB Insights offers plenty of other tools as well, like data visualization, a mobile app, a Chrome extension, and more. You can also integrate it with your existing tech, like Salesforce, Slack, Monday.com, and more.
While it's easy to get lost in all the platform's features, the main use cases it advertises are:
Understanding tech markets
Anticipating competitor strategies
Creating a tech strategy
Connecting with tech vendors
Digital transformation
Pricing
CB Insights doesn't list its pricing, though it is an enterprise data tool and is priced accordingly. Here's a breakdown of the different pricing packages: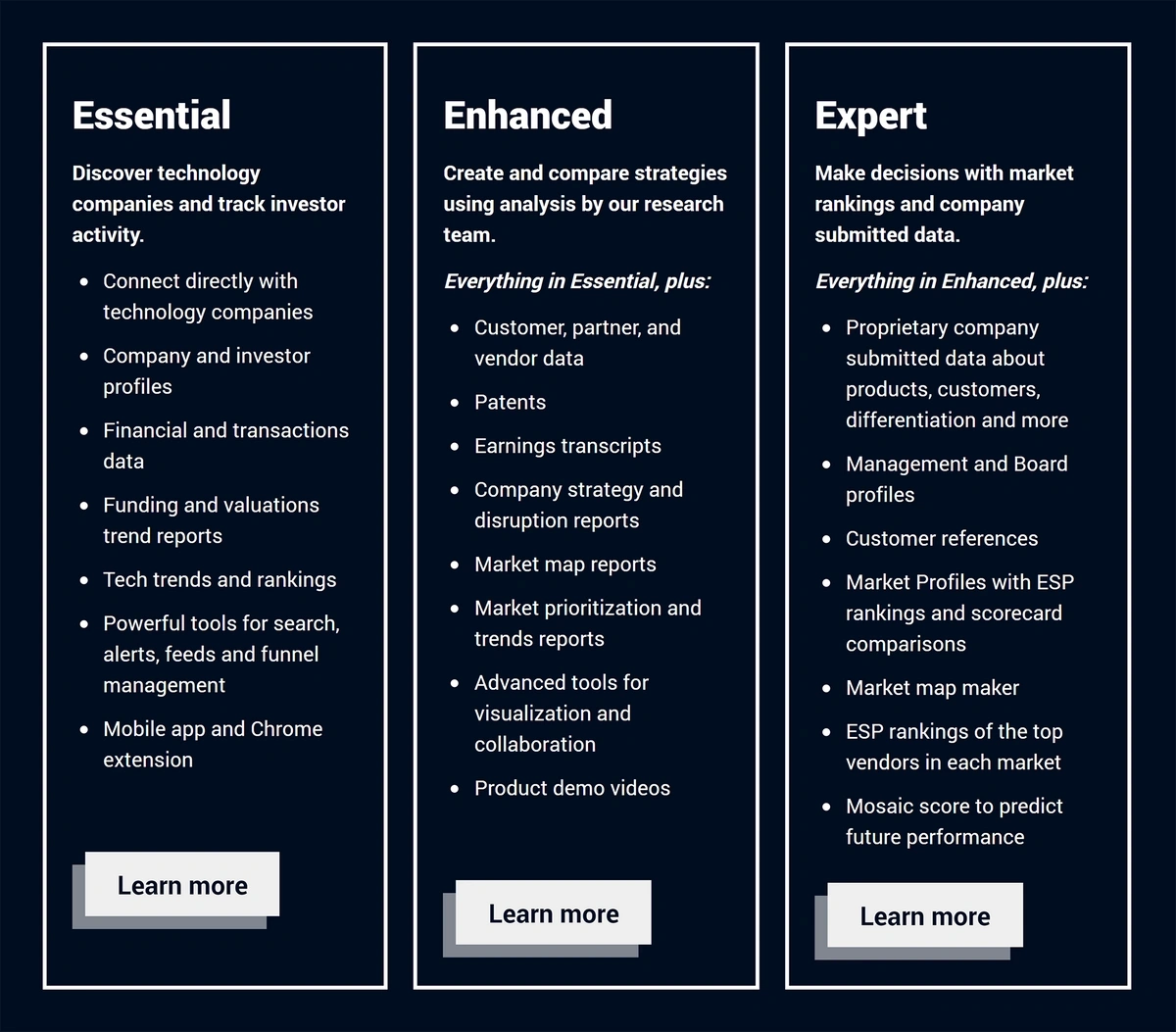 3. Census Business Builder – Best For Analyzing Geographical Consumer Spending Data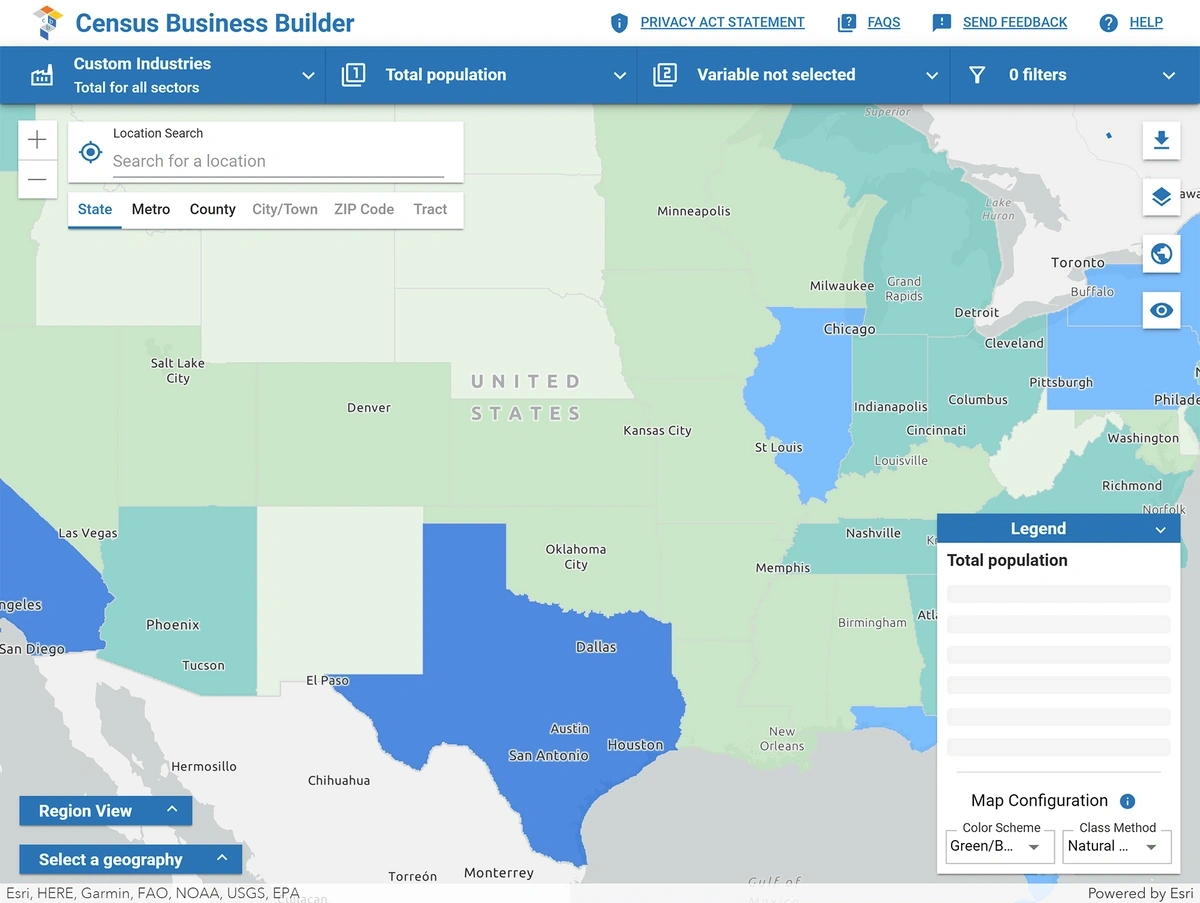 If your target market lives in the United States, the Census Business Builder can provide detailed consumer insights based on a specific location.
For example, if you're planning to open a new restaurant in Albemarle county, you can look up consumer spending data on dining out in Albemarle county: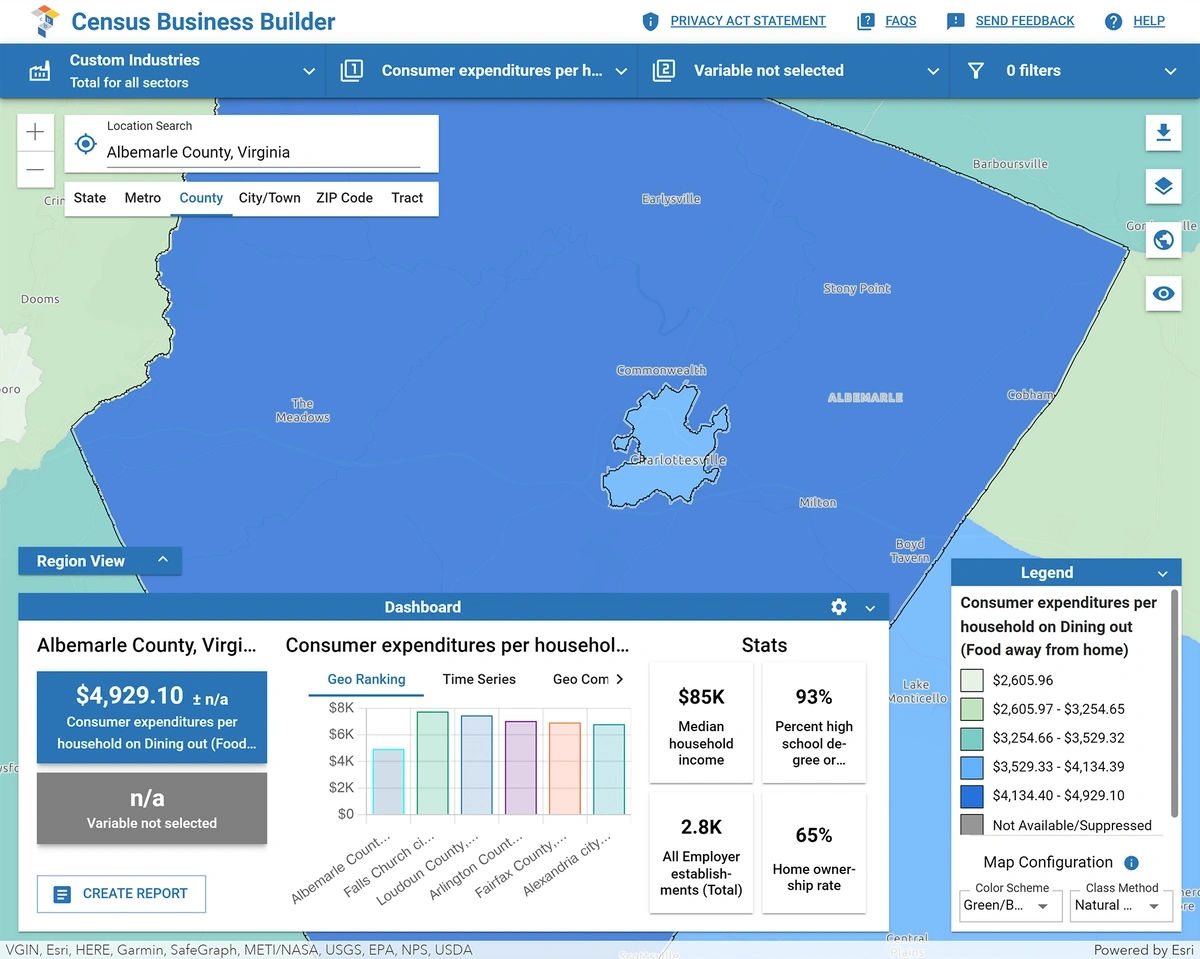 You'll also be able to see the total population for that area, along with other detailed consumer data like average household income, demographic data (age, gender, race, etc.), and more.
The Census Business Bureau collects its data through surveys and other primary research methods, which they explain in detail on their data overview page. The data is also updated annually, so it's always relatively recent.
So if you're opening a brick-and-mortar store, it's a great tool to estimate consumer behavior trends.
The data is also fairly reliable – most of it is gathered by government-conducted surveys.
Pricing
The Census Business Builder is free to the public, making it a great tool for both large and small businesses.
4. Owler – Best For Obtaining Competitor Revenue Estimation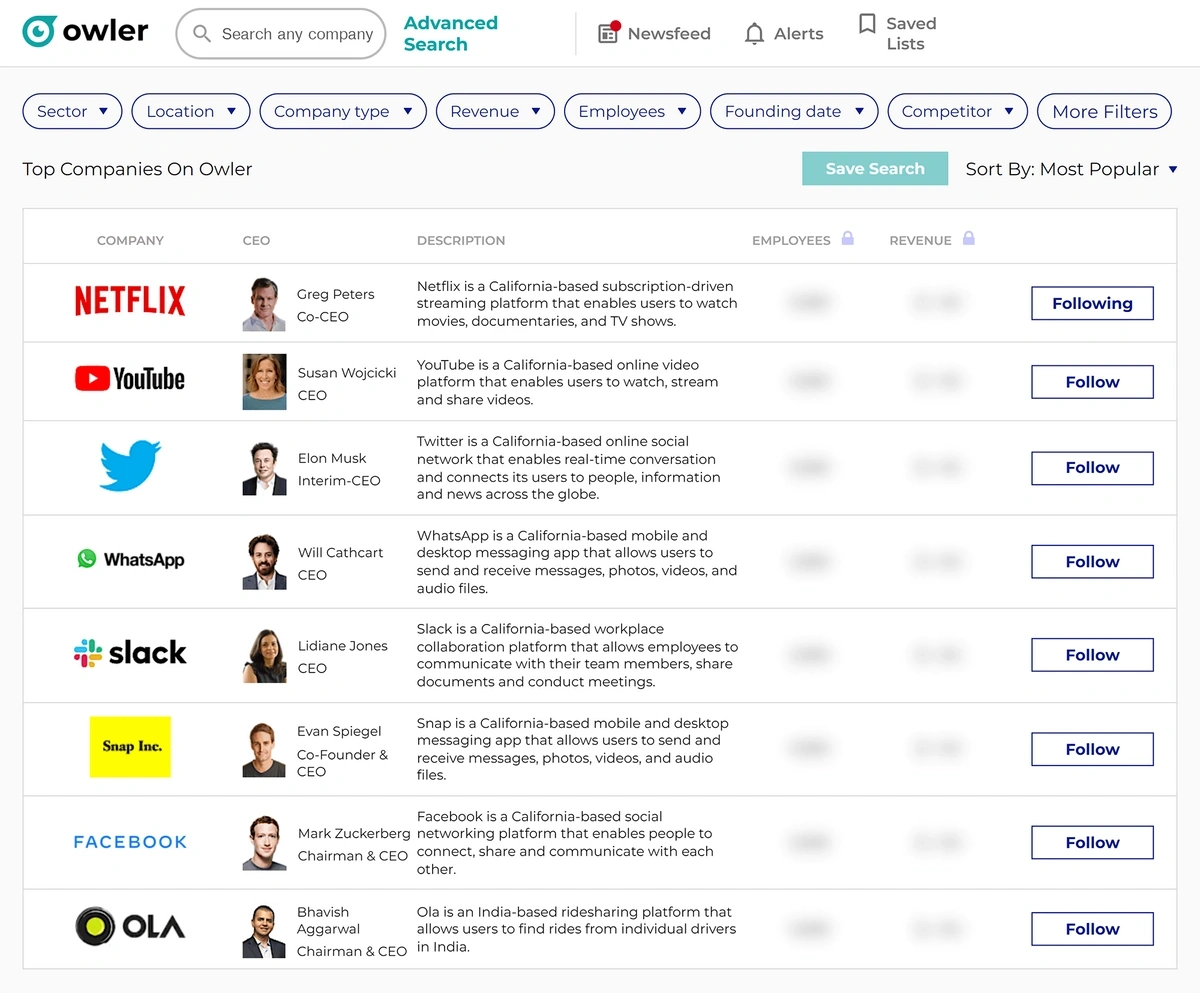 Owler is best known for its company revenue estimation tool. So if you're trying to figure out how big a particular company is, Owler can help.
The biggest question is the accuracy of Owler's revenue data.
All of Owler's financial data is sourced from SEC filings for public companies, and estimations for private companies are based on algorithms and AI, as well as input from the Owler community and verification by an in-house data science team.
So while the private company data isn't always 100% accurate, it can still give you good ballpark estimates.
It also offers many of the same metrics as CB Insights. For example, you can view key company executives, funding estimations, acquisitions, employee headcount, company press releases, and even competitors.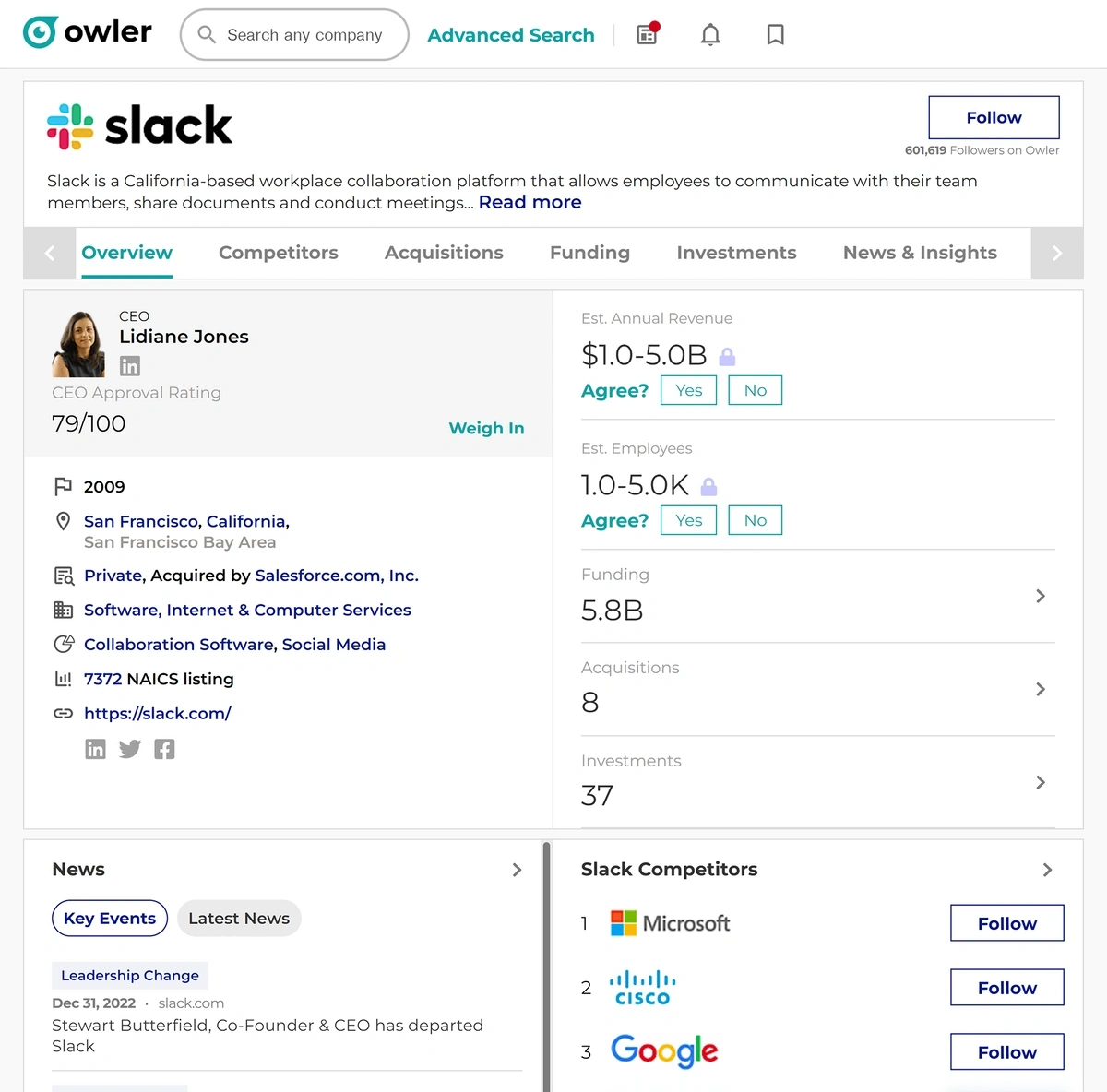 The database is easy to search, and you can filter by the company sector, revenue, competitor, employee size, location, founding date, and more.
You can also create alerts, curate a newsfeed, and save a list of companies.
Pricing
Owler offers a limited free plan, and its first paid plan starts at $35 per month: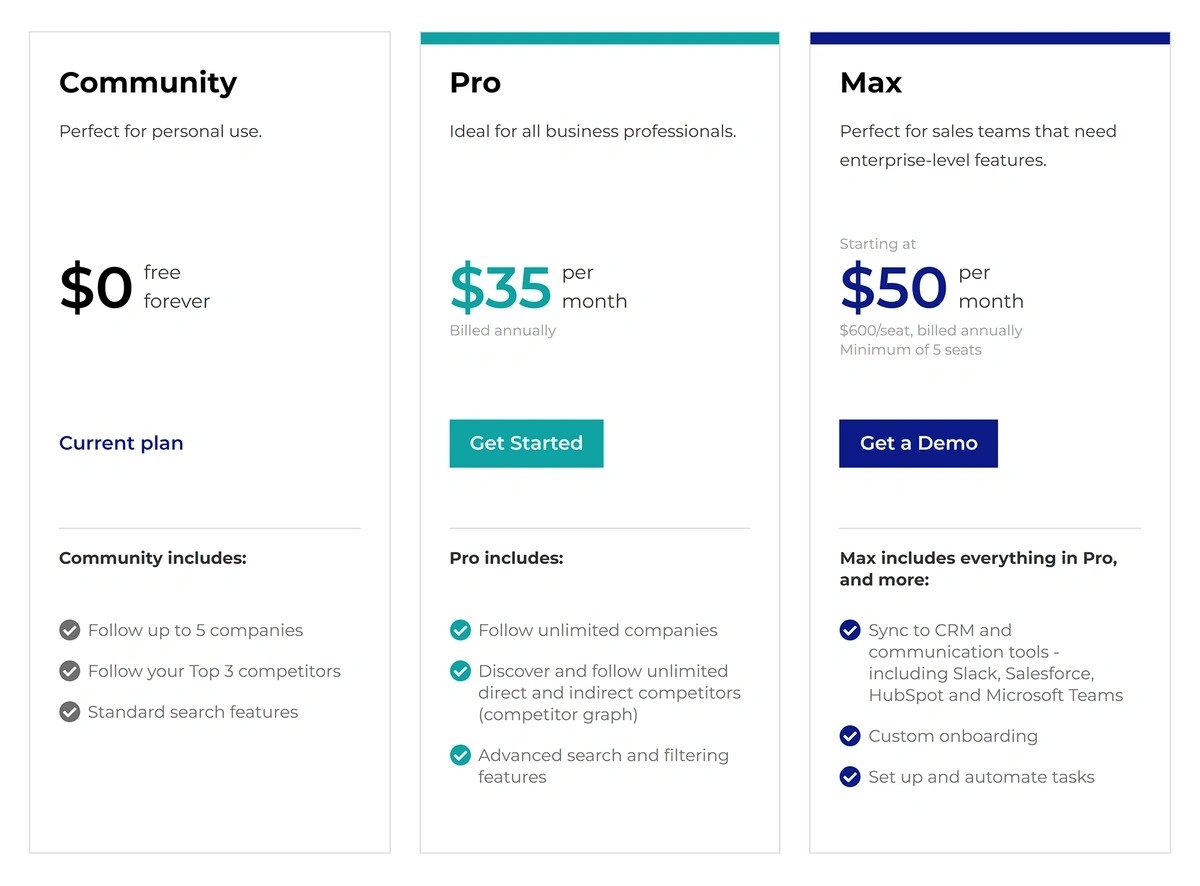 5. Jungle Scout – Best For Ecommerce Demand and Sales Forecasting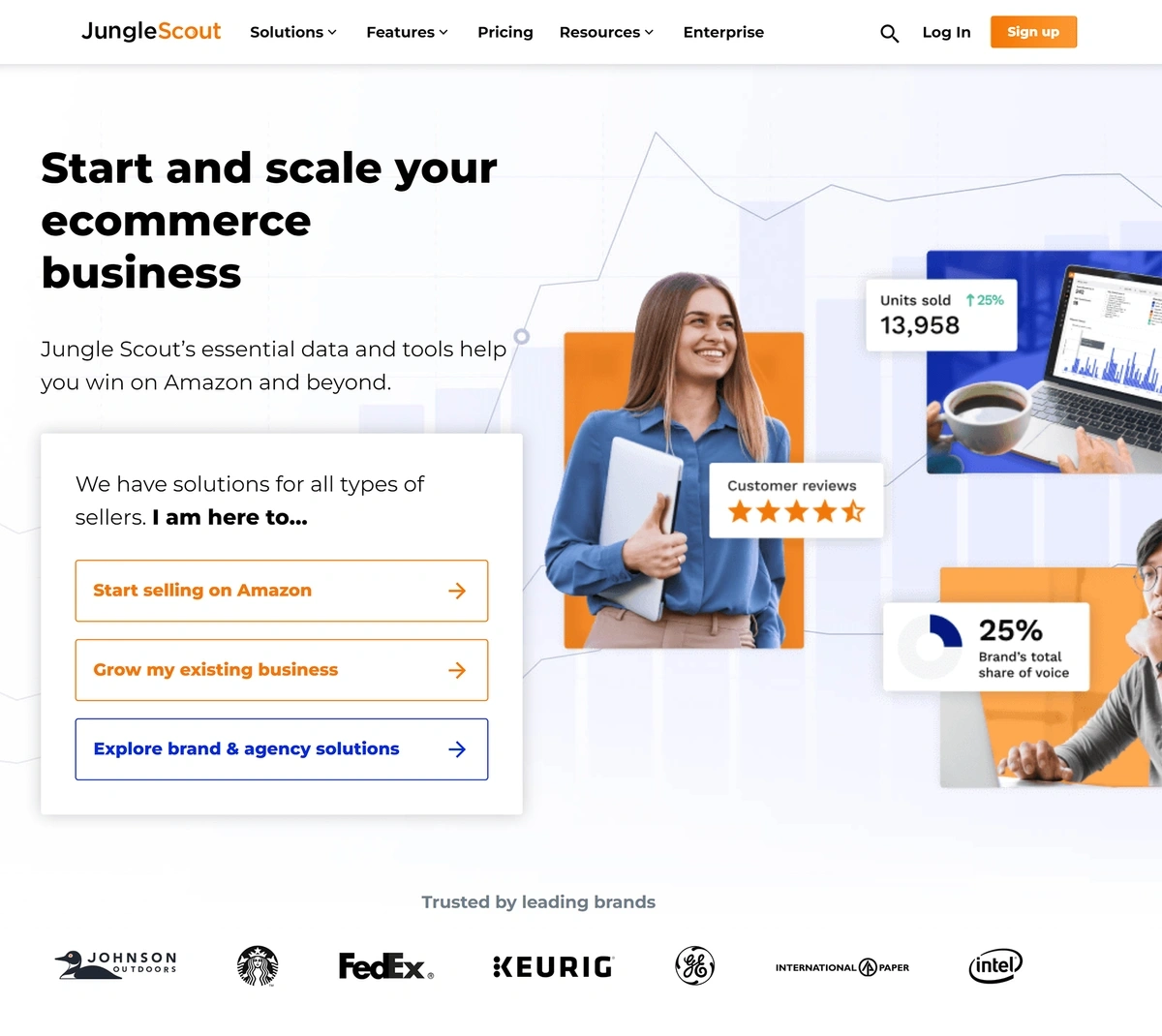 Jungle Scout is usually considered an ecommerce platform for beginner dropshippers, though it also has some real value for ecommerce and even retail market researchers.
The Pro Chrome Extension lets you gauge demand for a new product and even analyze pricing and profitability.
For example, this search for office chair seat cushions reveals a handful of useful insights, including:
The average monthly sales across all categories
The average sales rank
The average retail price
The average reviews
The average monthly revenue for each product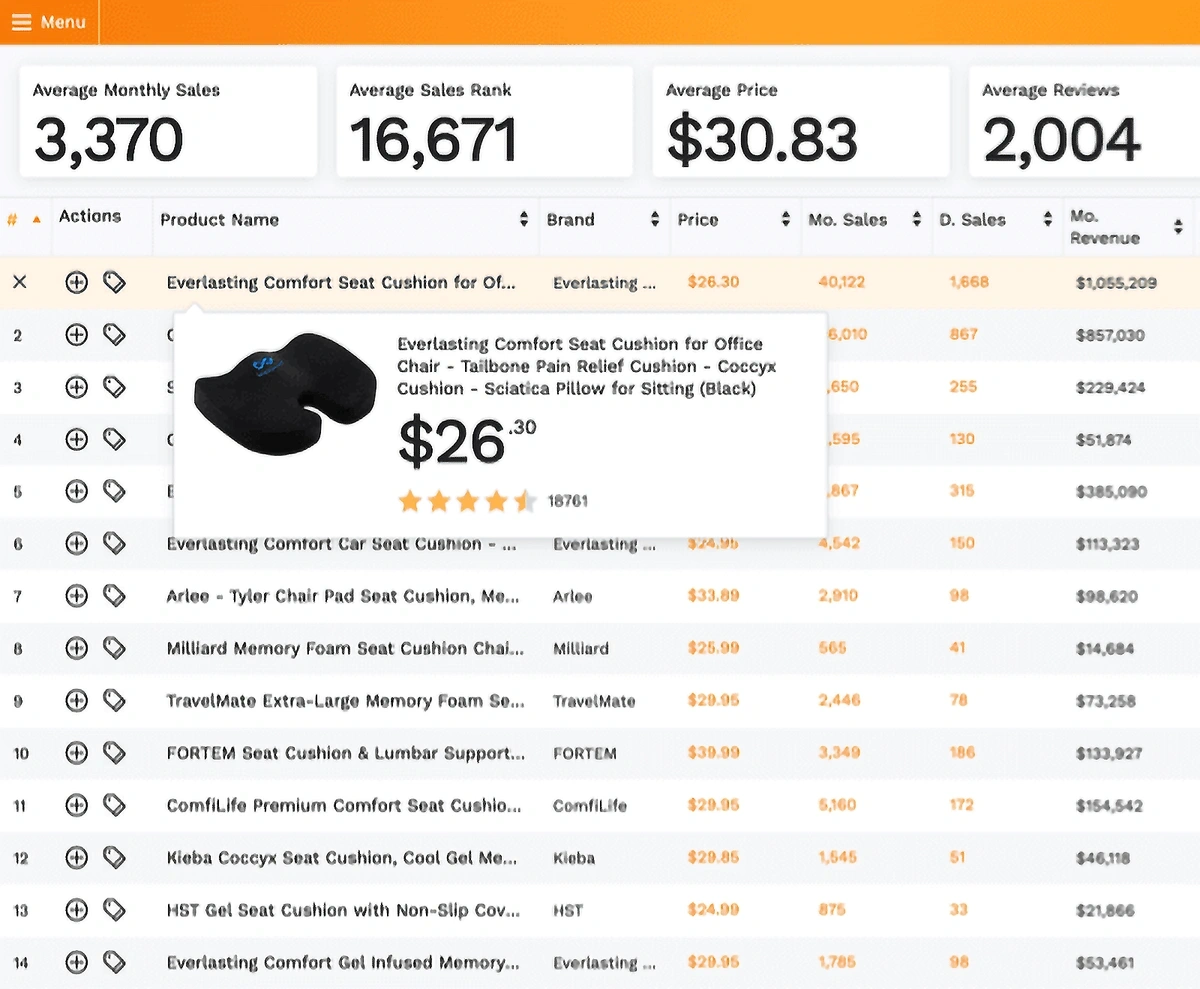 It also offers a helpful profit calculator so that you can estimate the profitability of each product.
So how does Jungle Scout get its data?
First, Jungle Scout only tracks products on Amazon, so it won't be able to track data for products sold on third-party platforms.
They have a full page that outlines its sales and revenue tracking algorithm, AccuSales, though here's a quick overview directly from Jungle Scout:
"AccuSales™ is composed of specialized algorithms updated at the product category level and by country frequently, ensuring the most up-to-date information is available."
Overall, it's a great way to estimate product demand and profitability for ecommerce companies.
It also offers a host of other helpful features, most notably:
Product Tracker: Track a product's popularity over time with metrics like rank, inventory, units sold, and more.
Opportunity Finder: This is essentially Jungle Scout's keyword research tool which allows you to type in any keyword and then shows Amazon search data for that keyword, like 30 day and 90 day search trends, demand scores, and product-specific information like units sold, inventory, pricing, and rank.
Category Trends: Track the top 100 products for any category or subcategory on Amazon and see a detailed overview of reviews and sales history. This makes it easy to assess the potential of any particular category.
Rank Tracker: If you're about to invest in a new product line, this makes it easy to see the historical interest in a keyword ranking over time. You can even reverse-search a group of ASINs and view keyword performance history.
Pricing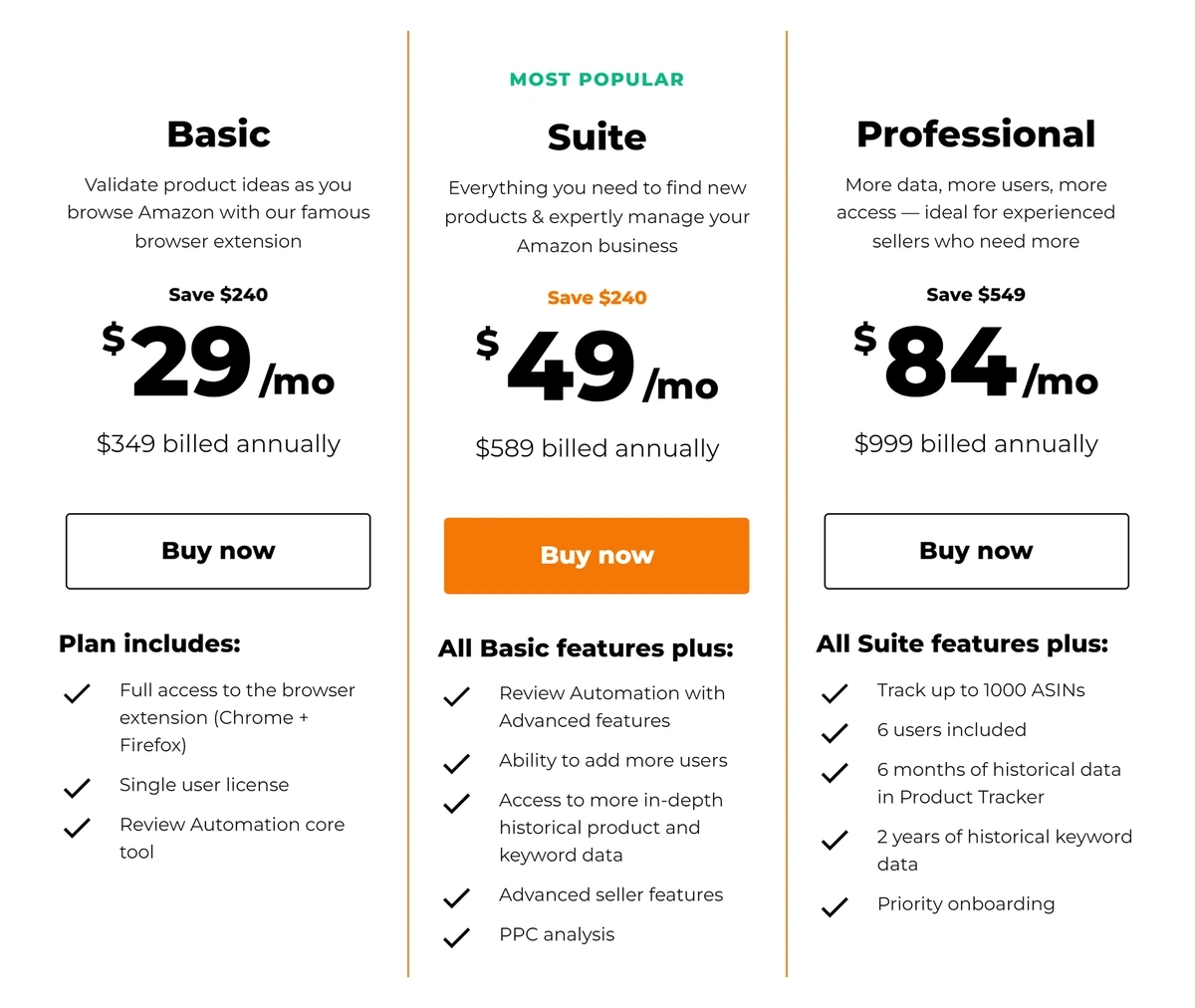 6. Crayon.co – Best For Tracking Competitive Movements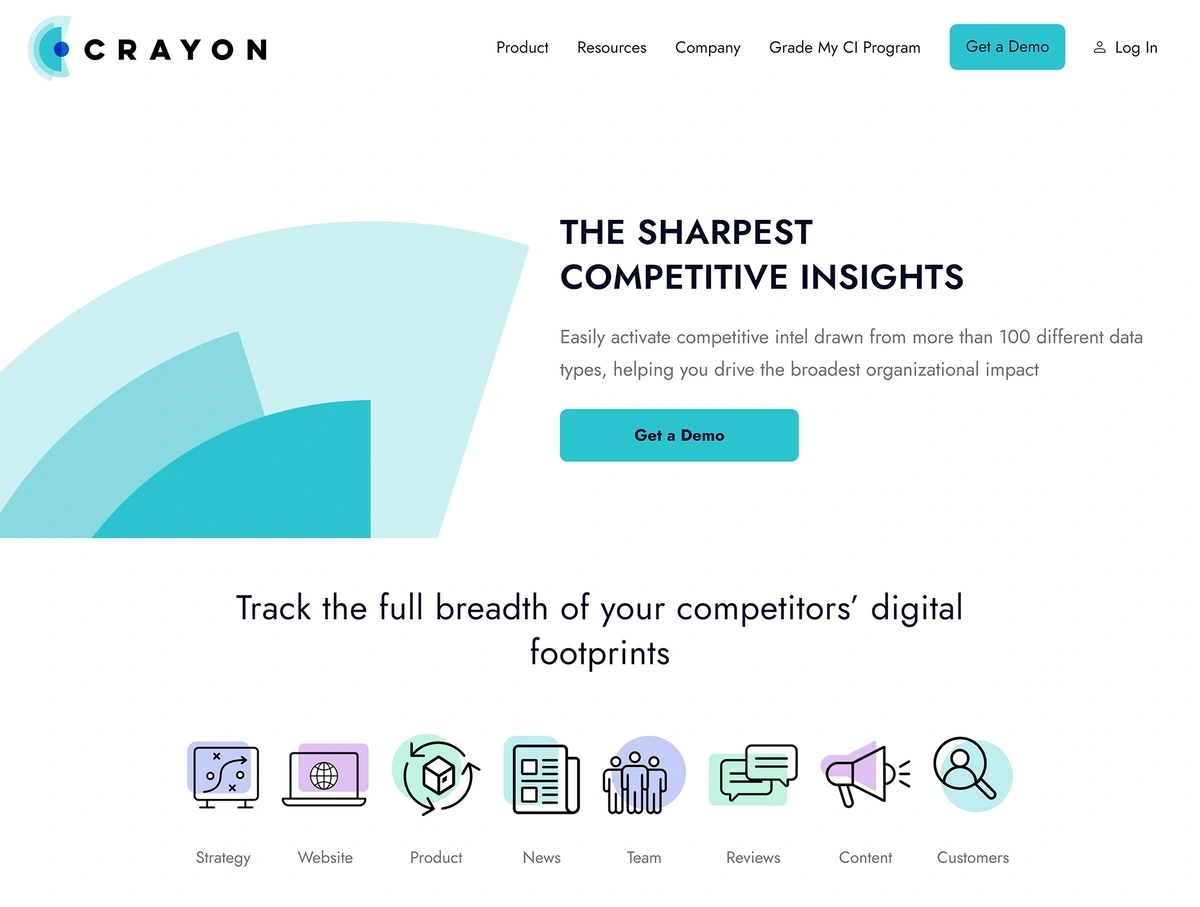 Crayon is a competitive intelligence tool that uses AI to track competitor movements like marketing strategy, hiring trends, product updates, and more.
So whether you're analyzing a new market and want to see how the top brands are positioning themselves or you just want to keep up with your current competitors, Crayon can help.
It's a very comprehensive tool, so here's an overview of the main competitive insights it tracks:
Marketing strategies: It tracks your competitors' content marketing efforts by using AI to scan blog posts, videos, social media, and even downloadable guides.
Positioning and messaging: Crayon tracks your competitor's web copy to keep you up-to-date on messaging shifts, products they're promoting, and even web page design changes.
PR and news updates: Crayon scans the web and social media for PR and news updates mentioning your competitors. This means you'll know about new partnership announcements, product launches, key executive hires, funding rounds, and more.
Team and hiring trends: You can track competitors' general hiring trends, including positions they're hiring for and any key executive roles.
Product, pricing, and packaging: Instead of manually tracking price changes, Crayon dynamically tracks this data for you. It also shows you product removals and product launches.
Customer reviews: Crayon scrapes your competitors' reviews to see what their top complaints are so that you can fill the gap in the marketplace.
Customer and partnership networks: You can see which partners they're actively working with and even those with whom they've terminated a relationship.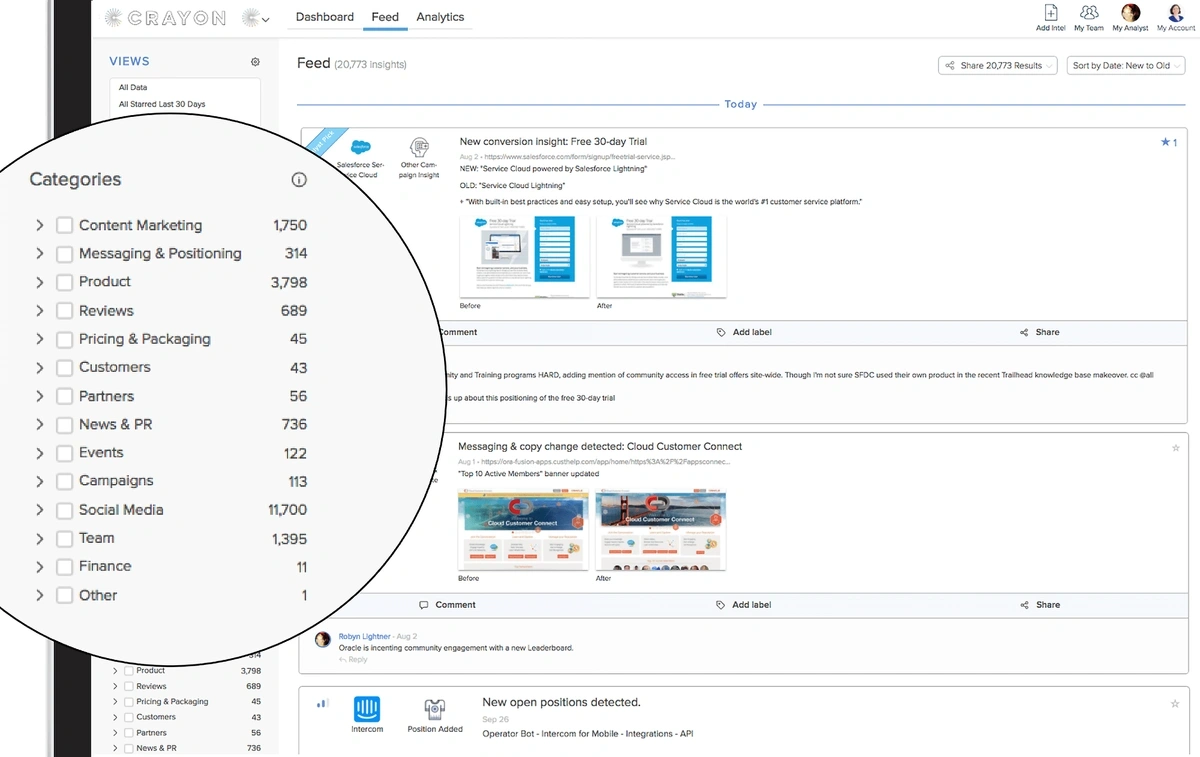 This data makes it easy to keep an eye on competitor movements without manually scanning through their website or searching for press releases. As a result, you can make better business decisions and you'll never be surprised by their movements.
Pricing
Crayon.co doesn't publicly list its pricing information, though it is an enterprise product.
7. Semrush – Best For Tracking Competitor Digital Marketing Strategies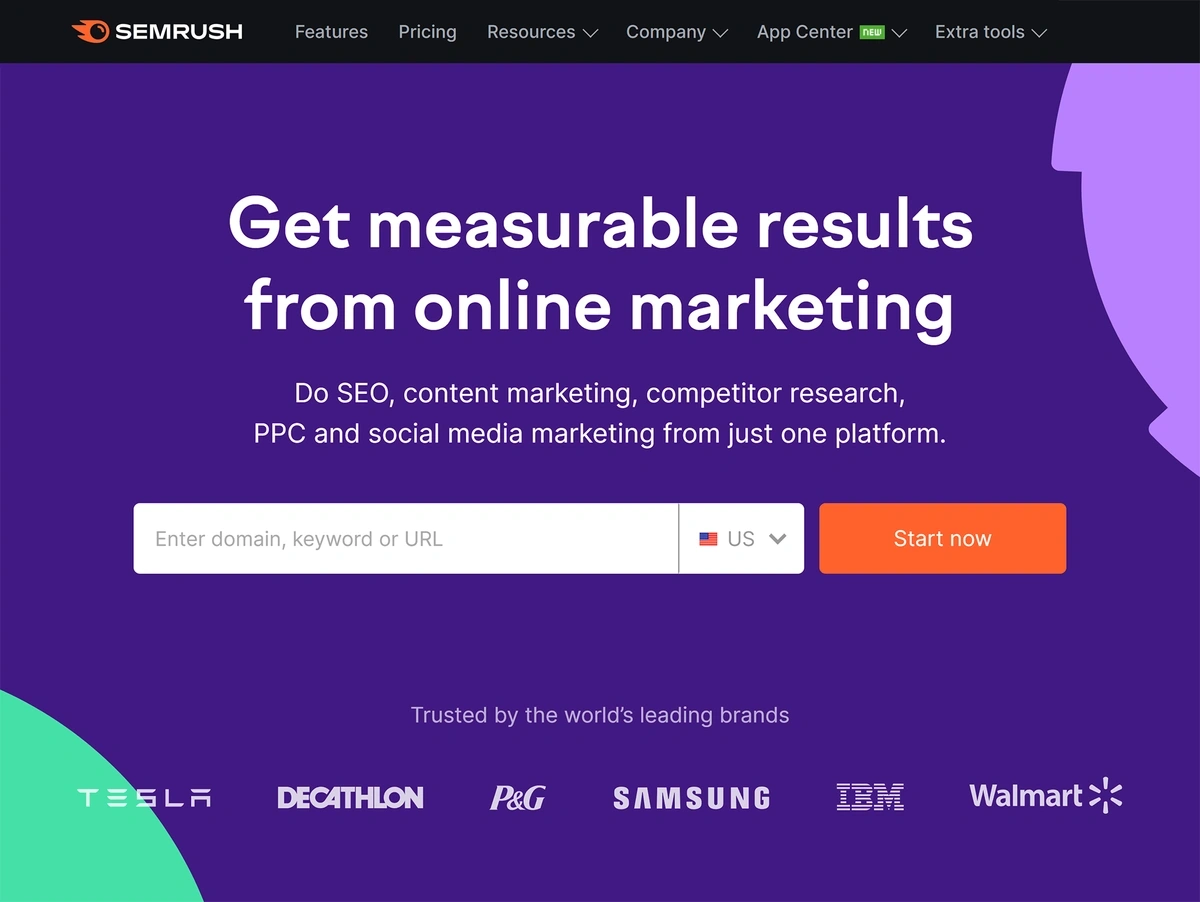 Semrush offers plenty of market research data in its Market Explorer feature, including market TAM, target audience demographics, socioeconomic, market share data, and more.
However, it's best known for its digital marketing and search engine optimization tools.
You can extract valuable marketing insights on any competitor and quickly reverse engineer its:
SEO strategy: See top-ranking pages, organic keywords, search traffic trends, domain ratings, and more.
PPC strategy: See competitors' paid keywords, Google ads, landing pages, and more.
Backlink strategy: View the most linked-to pages, backlink audit, backlink gaps, and more.
Social media strategy: This aspect of the tool is still largely in beta, but SEMrush is steadily building out a social media management tool that allows you to schedule posts, monitor conversations, and track analytics.
Content marketing strategy: The writing assistant can help you with content briefs and track blog posts.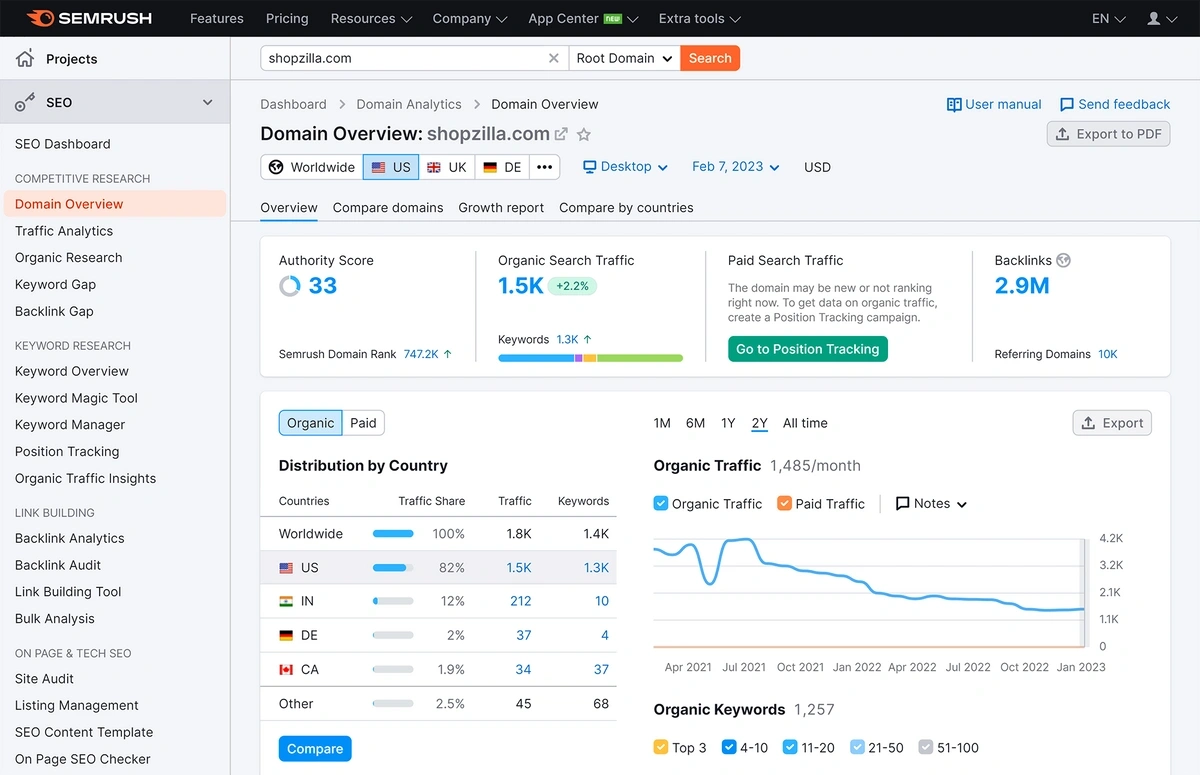 It's relatively affordable and a great go-to-market research tool as it collects a variety of market data.
Pricing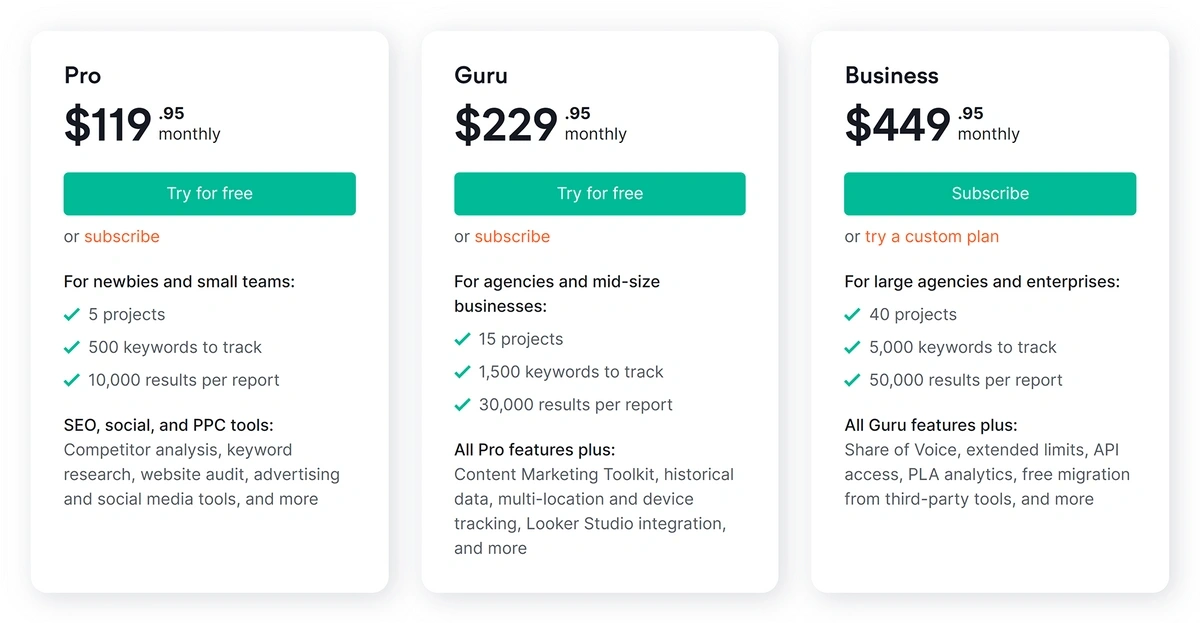 8. Brandwatch – Best For Tracking Online Customer Discussions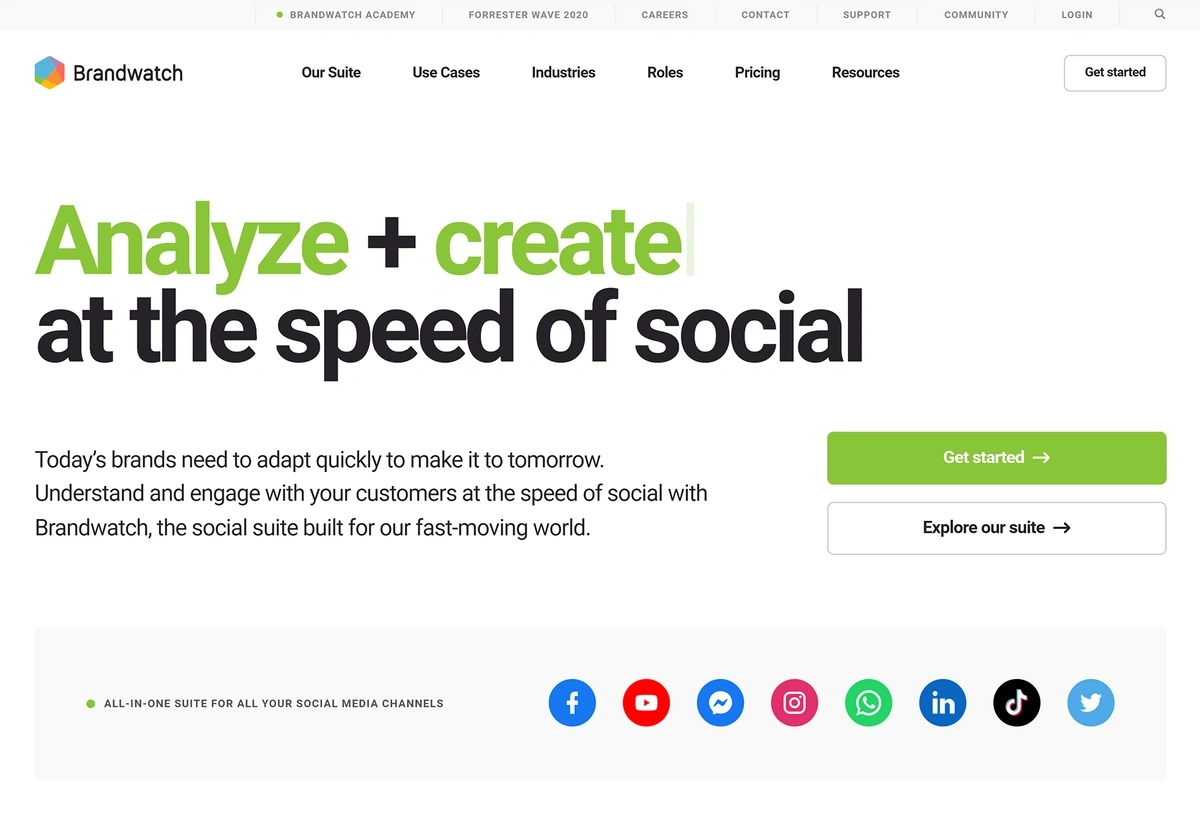 Tracking online customer discussions is a great way to gauge a market's general popularity and demand.
However, scanning social media, Quora, Reddit, and industry discussion forums is time-consuming and often unrealistic for most people.
So to solve this problem, Brandwatch allows you to track various keywords and then identifies conversations online containing those keywords or phrases.
This makes it easy to quickly gauge:
Specific pain points in a market
The general popularity of a topic over time
Sentiment around that topic
For example, if you're analyzing the AI content writing market, you can use Brandwatch to track keywords like "AI content tools" or "AI generated content."
You can also track the brand names of top competitors in the space, like Jasper.ai or Copy.ai.
Brandwatch then provides the following data for any keyword or hashtag:
Keyword mention trends (how often it's mentioned over time)
Conversation by sector (which industries are talking about it)
Top similar topics
Here's a sample report: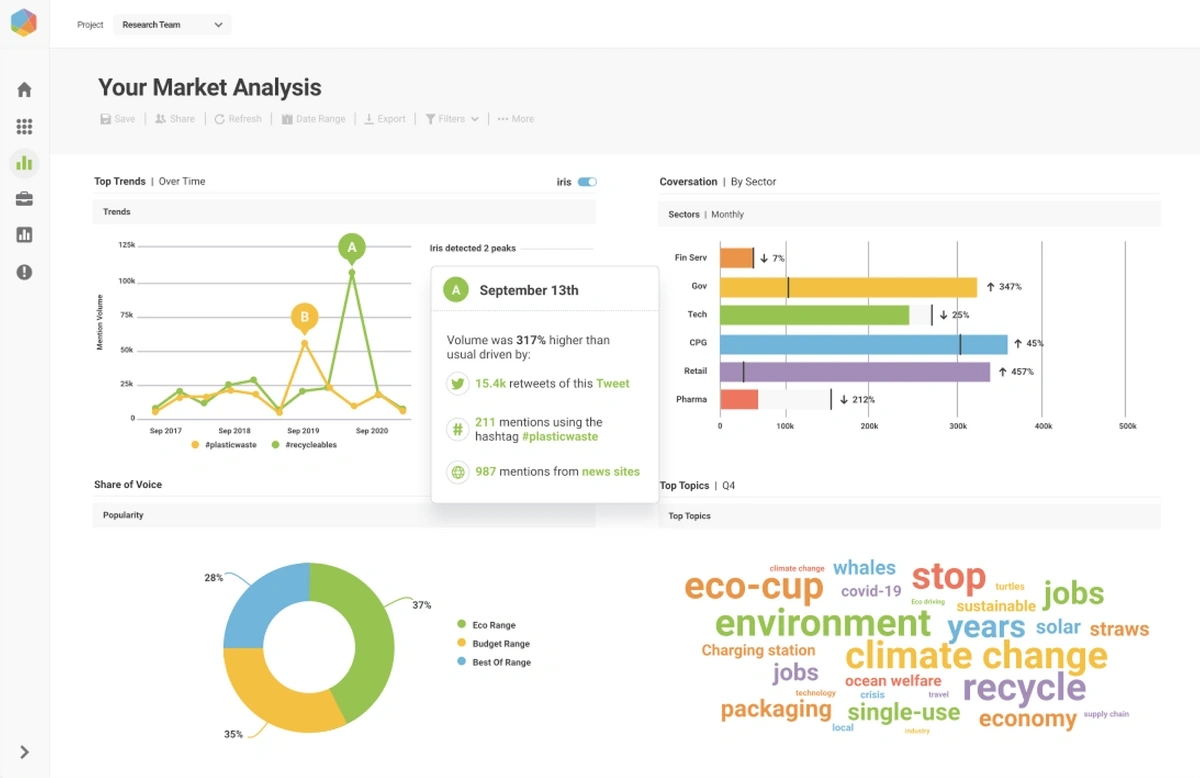 This report helps you quickly gauge customer interest, sentiment, and pain points for a certain market without manually scrolling through social media and industry forums.
In addition, Brandwatch pulls data from across the web rather than just one particular data source (like a specific industry forum).
Using the entire internet as a data source (rather than pulling from sampled data sets) reduces bias and improves data quality. For example, if you only read David Gerard's Reddit forum, your opinion of Bitcoin would be very different than if you read the CryptoCurrencies subreddit.
If you're analyzing an entire market, it's important to account for differing opinions to predict the future demand for a market accurately.
Pricing
Brandwatch does not offer any pricing information publicly, though third party sites estimate that it starts at $800 per month.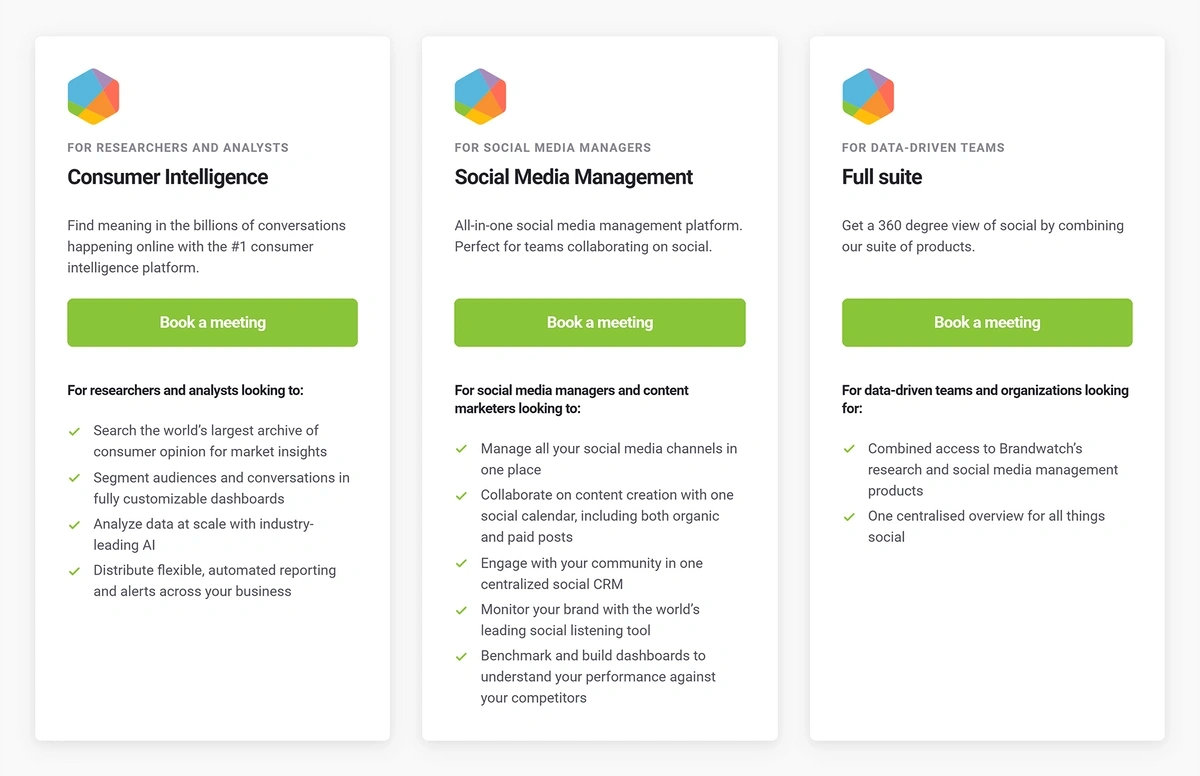 9. Reviews.ai – Best For Analyzing Reviews at Scale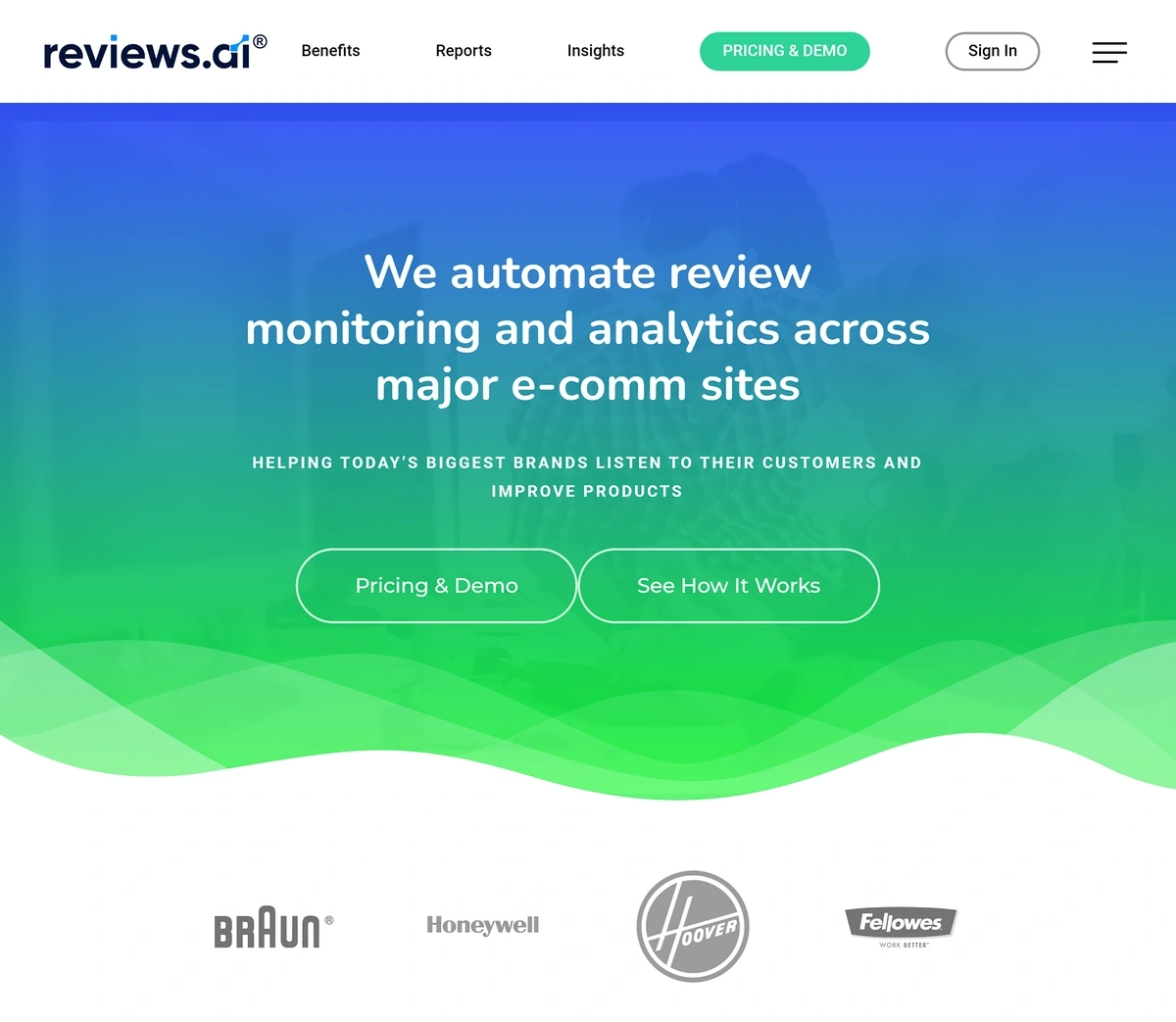 It's important to figure out the gaps in any market you plan to invest in, and reviews are a great way to identify those gaps.
The problem is that it's nearly impossible to manually comb through thousands of competitor customer reviews and extract valuable insights.
So to solve this problem, Reviews.ai scrapes review data from various review sources and then provides an overview of customer sentiment and key pain points.
Specifically, it provides a word cloud and lets you drill down to any particular keyword to see commonly associated sub-keywords.
For example, in the product review analysis below, you can see that commonly mentioned words in positive reviews for this product (a sausage) include "vegetarian" and "vegan."
On the other hand, negative reviews commonly mentioned "taste" and "recipe."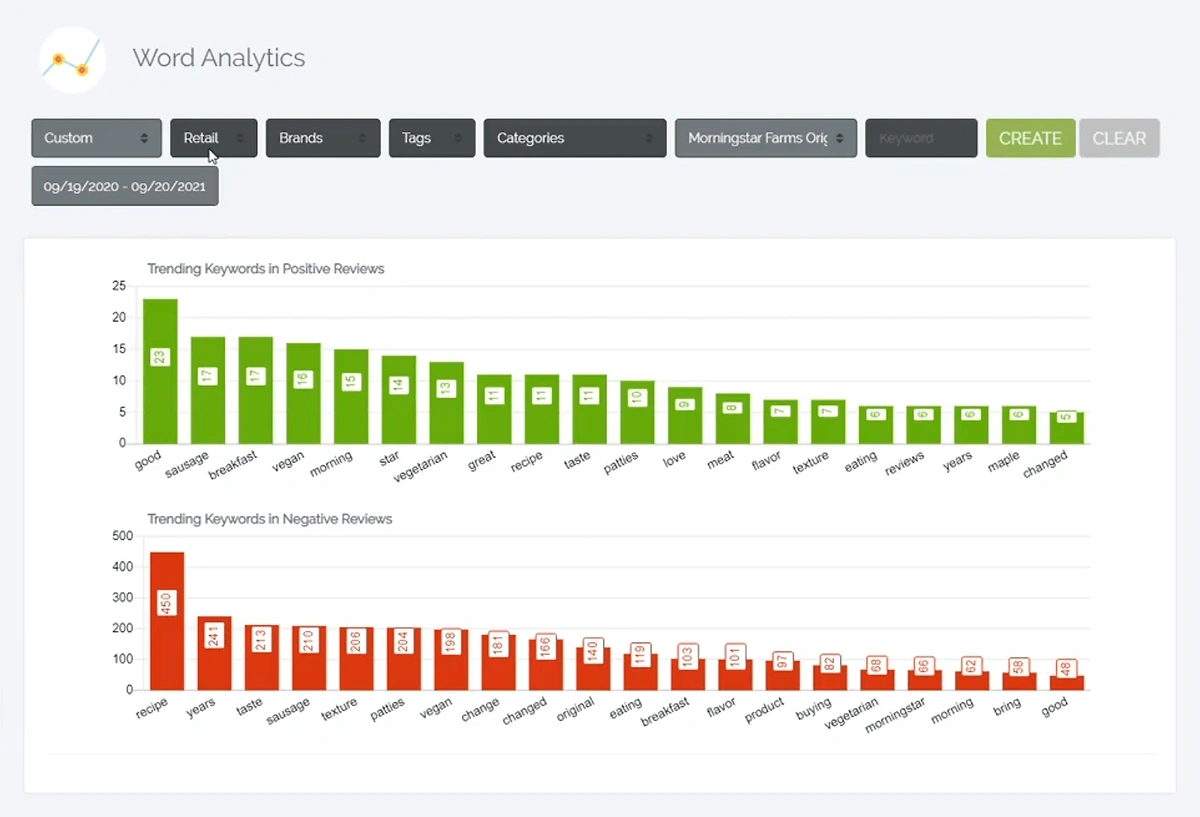 These insights help you see what the target audience values and key pain points associated with the customer experience and product features of existing solutions.
This helps you quickly identify market gaps and make better strategic decisions.
Pricing
Unfortunately, Reviews.ai does not offer any pricing information.
10. Remesh – Best For Collecting Qualitative Data at Scale via Chat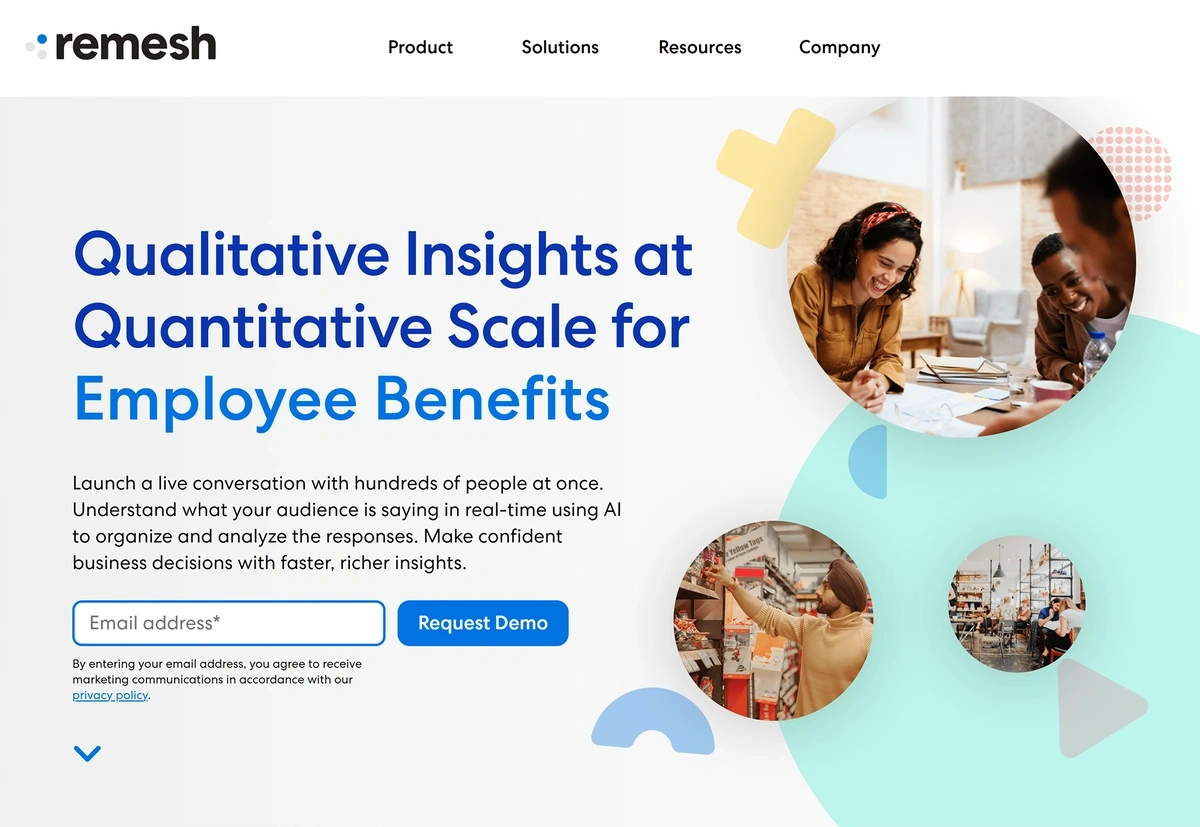 Remesh is a survey alternative tool.
Instead of sending surveys and collecting responses over a period of time (e.g., several weeks), Remesh allows you to conduct live polls with thousands of respondents in real-time.
You can also ask for feedback on product concepts and media. For example, if you're about to run a video campaign, you can send the video and ask respondents for their overall feedback.
A key differentiator that makes Remesh unique from survey tools is that it pulls popular survey responses and then shows those comments to other respondents to see if they agree or disagree with the statement.
For example, one respondent mentioned that the biggest benefit of milk alternatives is that they are better for the environment. So Remesh then showed that benefit to other respondents live on the poll and asked if they agree or disagree with the statement.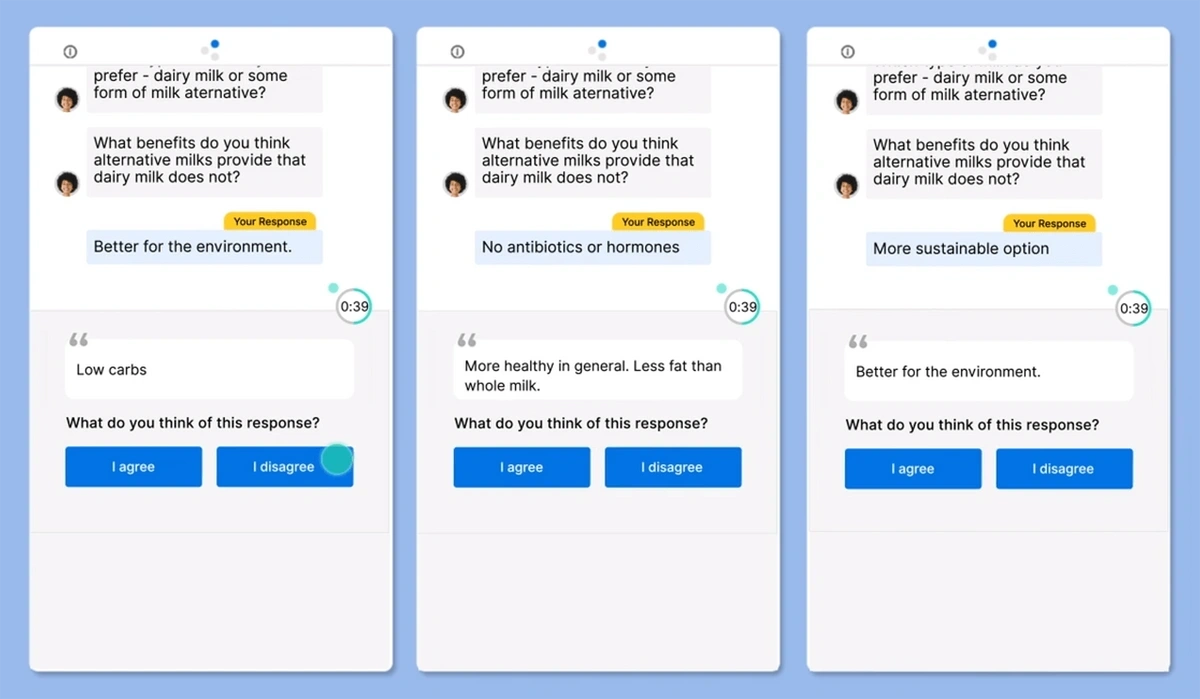 You can also ask respondents follow-up questions to their responses to dig deeper into interesting comments.
Once the survey is complete, AI can analyze the most popular responses and provide a detailed report.
You can also slice and dice the data based on respondent demographics (age, gender, etc.) and export it for further analysis.
One note is that while Remesh allows you to segment the audience you survey by demographic and even ask screening questions, it's not a great tool for more specific audiences (like B2B audiences) simply because all of the data is captured in real-time and therefore has a more limited audience than some of the more traditional survey tools.
Pricing
Unfortunately, Remesh does not offer any pricing information.
11. Respondent – Best For Conducting Live Interviews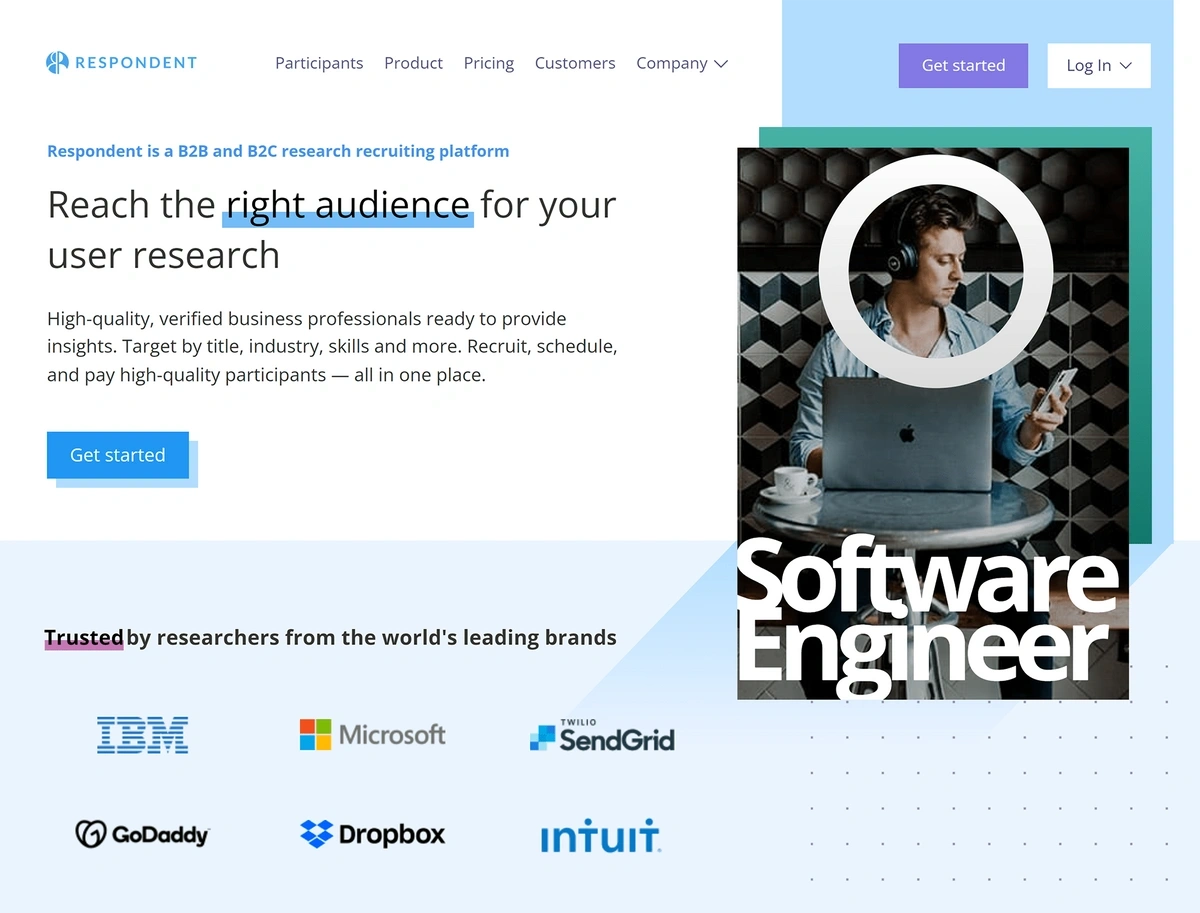 If you're trying to talk to real customers who have used a specific product or service, Respondent is a great place to find those customers and schedule live interviews.
Unlike most other platforms, Respondent is geared towards a B2B audience, so you can interview software developers, marketers, executives, startup founders, and other professionals.
For example, if you want to interview a marketing professional that hired a PPC agency, Respondent can help you do just that.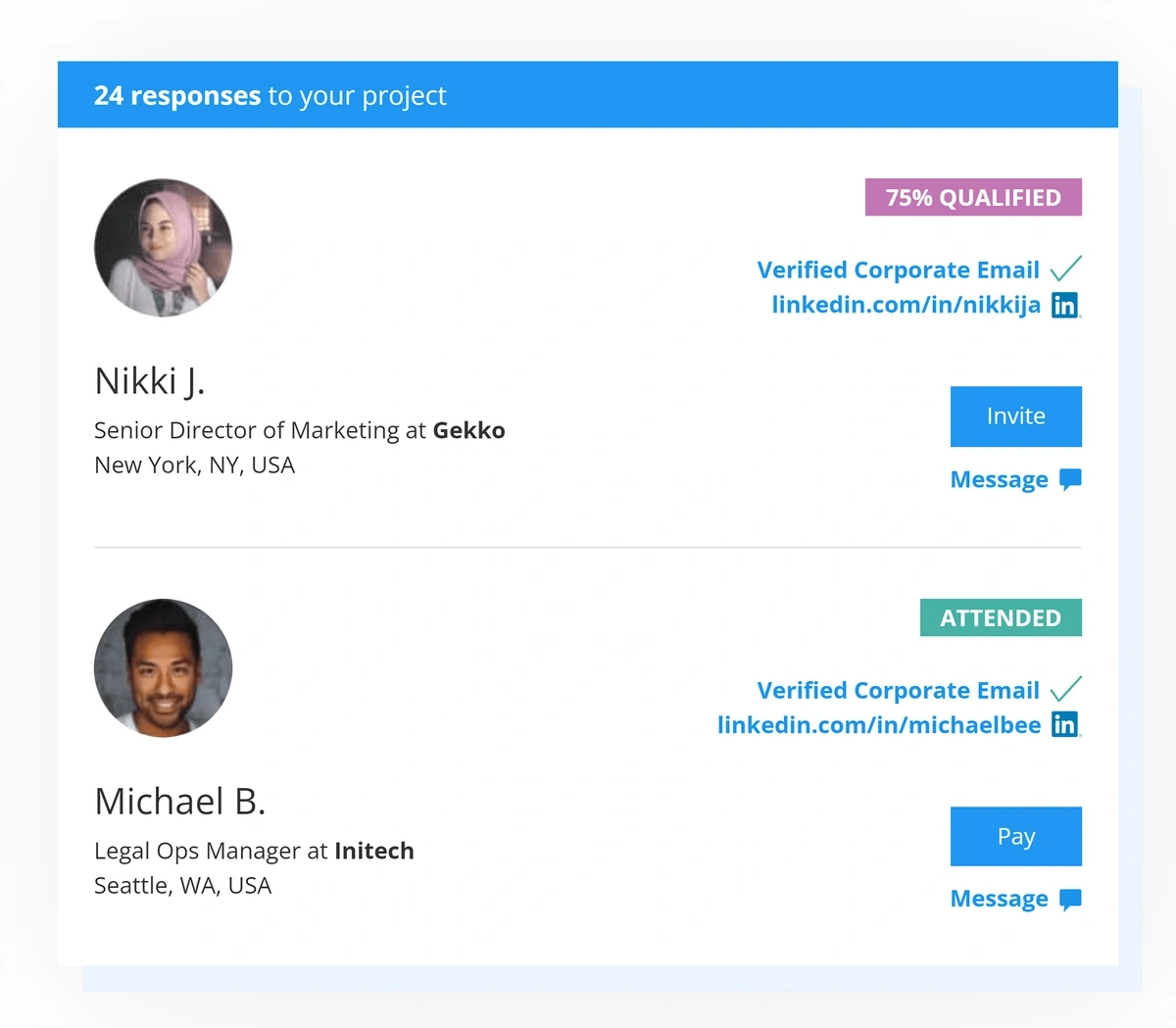 Scheduling interviews is also super easy.
Simply create a project that describes who you're looking to talk to and any specific screening questions. Then, Respondent pushes that project to its verified participants.
Once you have a match, you can schedule the call and pay participants directly through Respondent. So if you're trying to learn more detailed information about your ideal buyer persona and don't have an audience, Respondent is a great option.
Pricing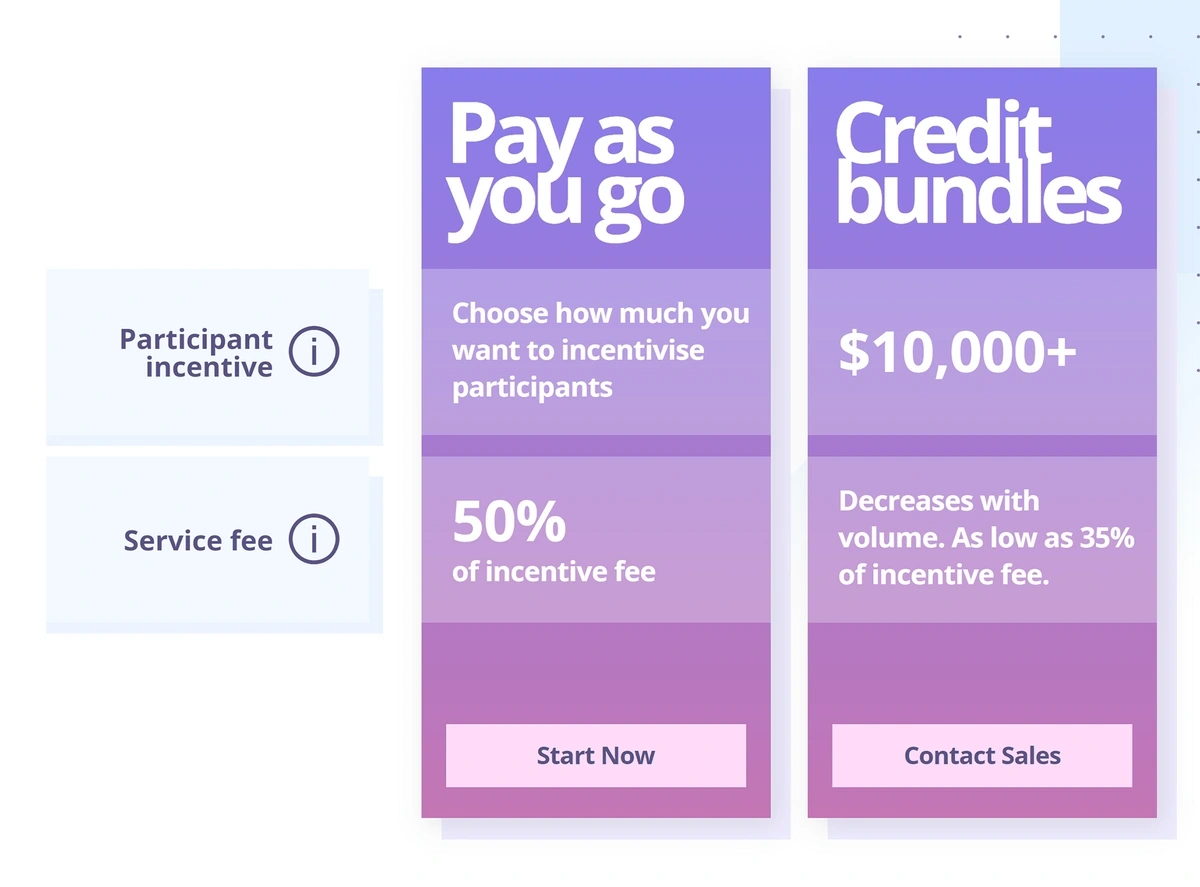 Start The Market Analysis Process Today
Market analysis doesn't have to be an overwhelming process that consists of endless Excel spreadsheets with random metrics.
Select a few tools from this list to get only the data you need to make a more informed investment decision.
If you want help identifying relevant trends, start by researching emerging trends in the Exploding Topics database. You can use the free version, or if you'd rather unlock premium trends and other more advanced data analysis features, you can jump into Exploding Topics Pro today!