11 Best Market Intelligence Software Solutions (2023)
Many software solutions offer market intelligence data, though each one tends to take a slightly different approach to the research process.
So to help you quickly find the market intelligence data you want, we divided these tools into the following categories:
Tools for identifying new industry trends
Tools for surfacing market report data
Tools for monitoring competitor activity and marketing efforts
Tools for tracking public and private financial data
Tools for collecting qualitative consumer data
Below are our top picks for each category, along with detailed analysis of how each one works.
Best Tool For Identifying New Industry Trends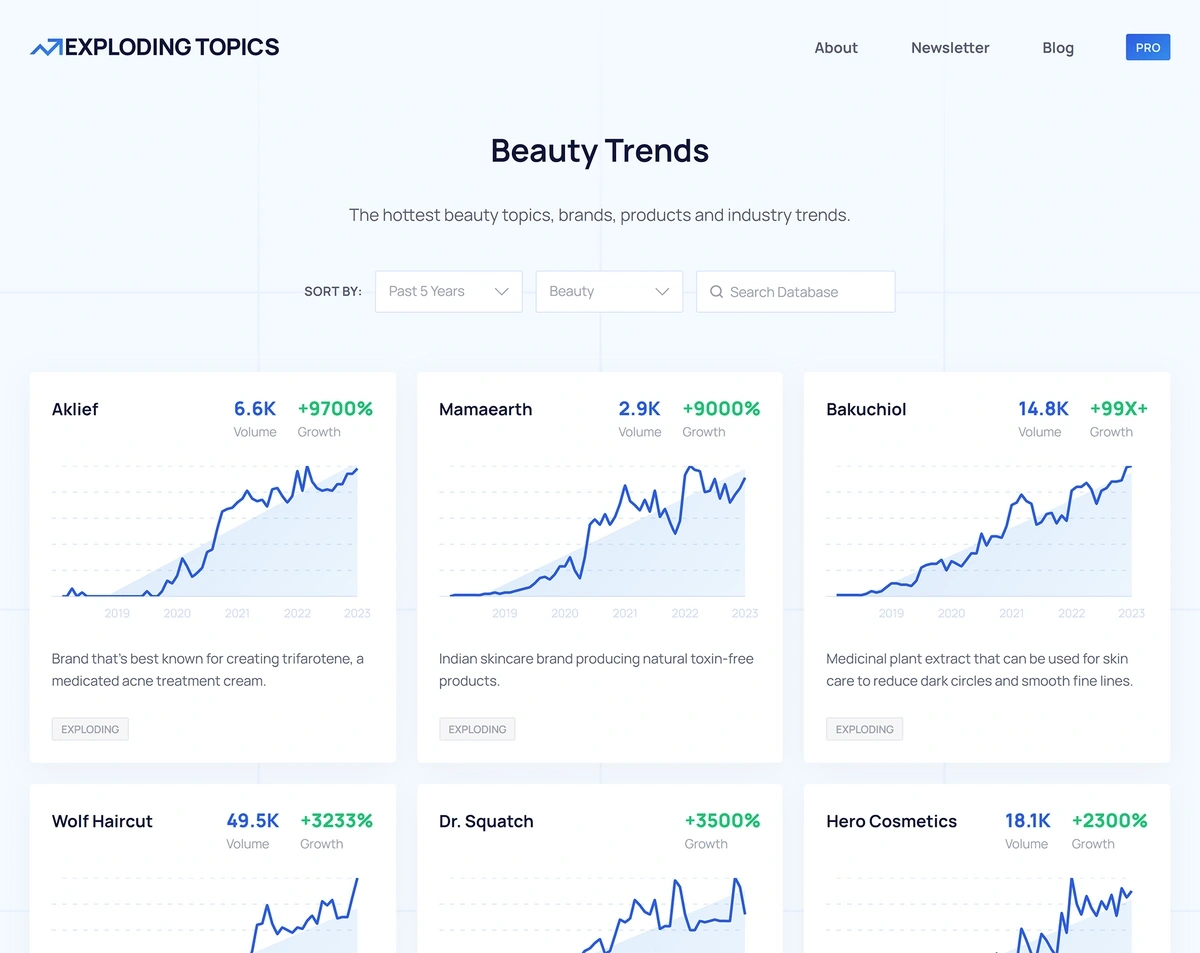 Many market intelligence solutions allow you to search for a specific topic, and then they surface exclusive market reports.
While these reports are useful for extracting specific insights on a particular company or niche, the main problem with them is that you have to already know about the topic to surface the trend data.
So how can you uncover up-and-coming trends you haven't heard of yet?
While you can discover new trends by combing through market reports, scrolling Twitter, and talking to your network, this process is inefficient and doesn't always yield valuable insights.
In addition, if your network is already discussing a trending topic, it might be too late to take action and achieve first-mover advantage.
So to solve this problem and make it easy to quickly find under-the-radar trends, we built Exploding Topics.
The flagship feature of Exploding Topics is the Trends Database, which contains 13,000 data-backed and manually approved trending topics.
You can sort the database by category and trend status to quickly identify trends relevant to your industry.
For example, if you're in the beauty industry, you can easily sort by the "Beauty" category. Then, Exploding Topics provides a list of topics (companies, products, and search terms) and their growth trend over the past five years (measured by Google Search volume).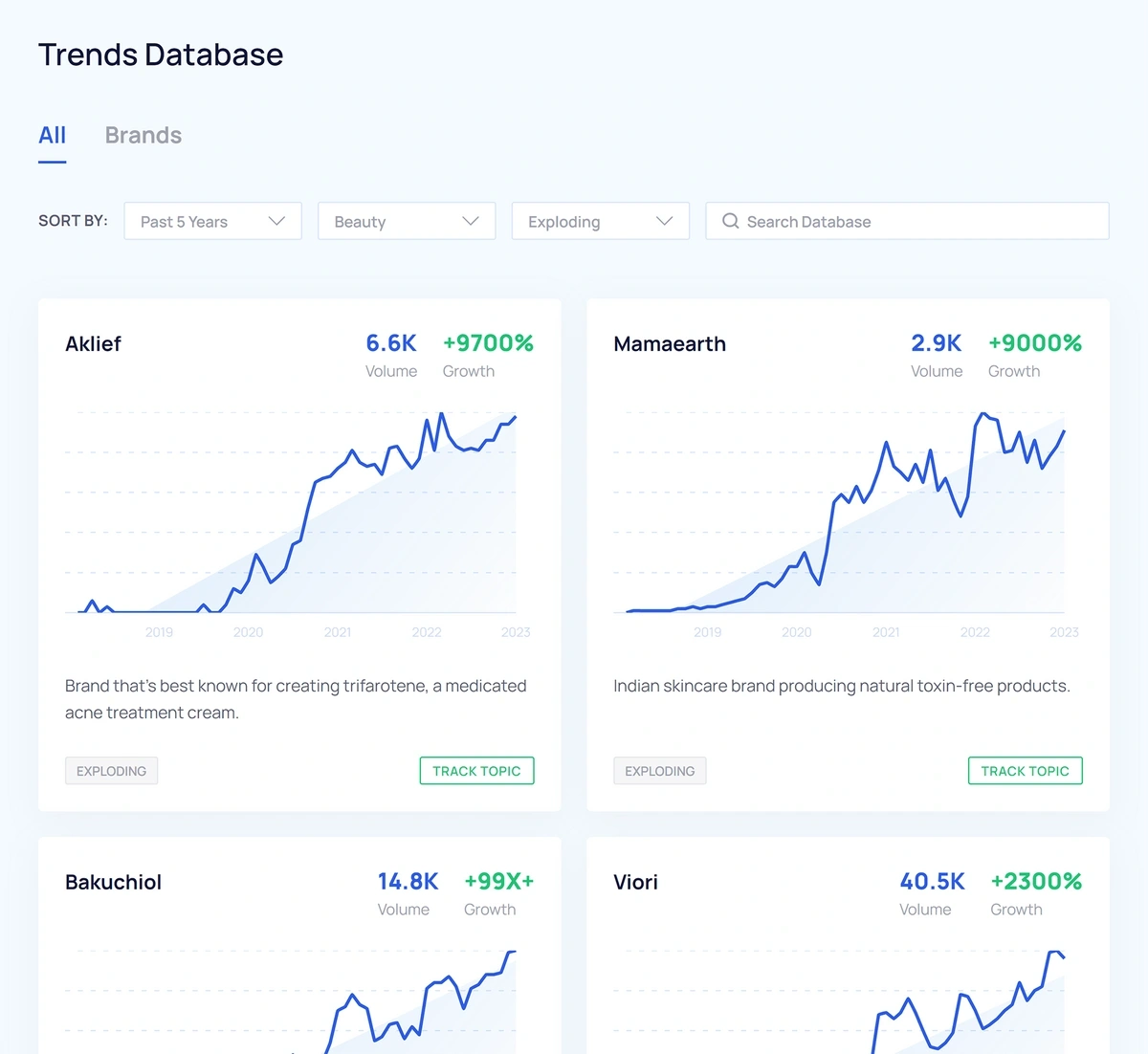 This way, you can uncover trending industry topics you never knew existed in seconds.
Once you identify a relevant topic that deserves more detailed analysis, you can click "Track Topic" and create a new Project (or add it to an existing Project). Projects live inside the main dashboard and make it easy to track the most relevant topics at a glance.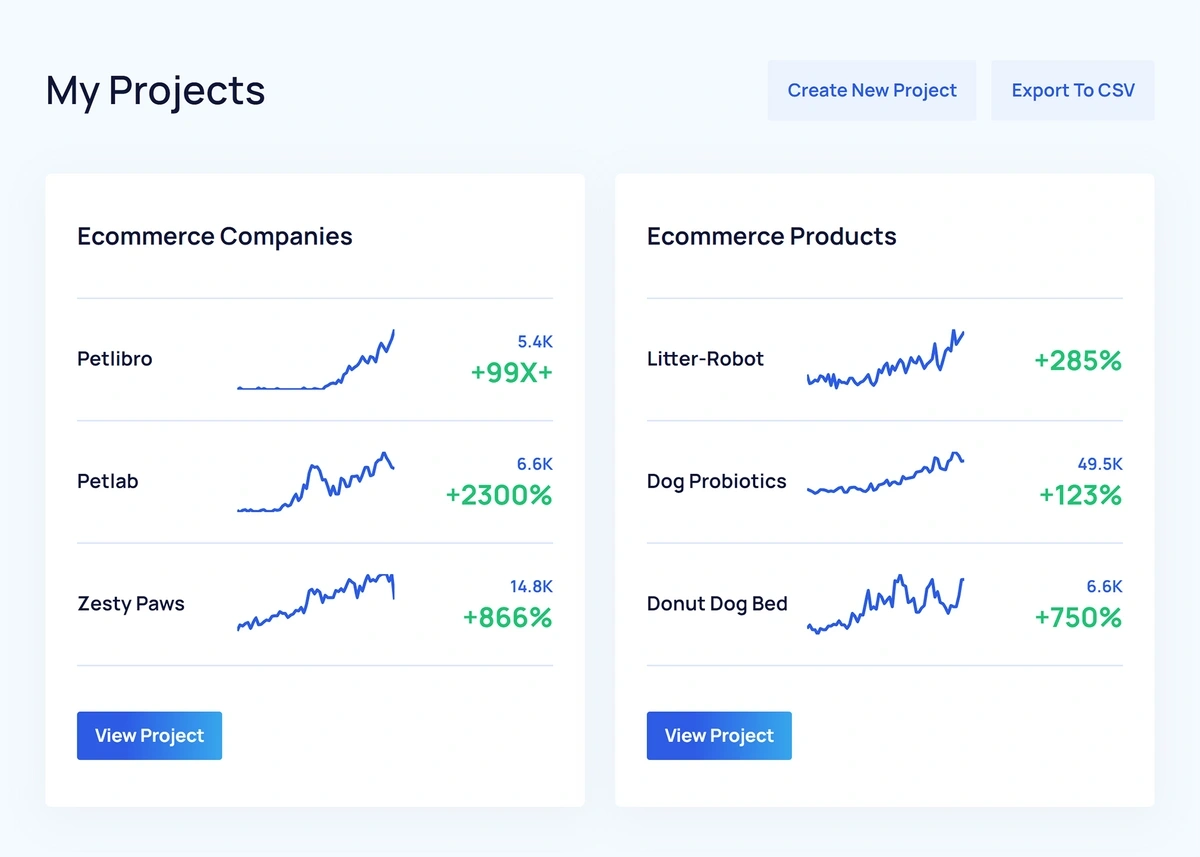 So how do I know that the trends in Exploding Topics are data-driven and reliable?
A key difference between Exploding Topics and other trend identification tools is that we use both AI and human analysts to qualify topics before adding them to the Trends Database.
Here's our exact topic identification and qualification process.
First, AI and machine learning scans thousands of data points across sources like Amazon, Reddit, Twitter, YouTube, Google Search, and podcasts to identify commonly mentioned topics.
It then flags topics that have shown steady growth over the past several months.
Next, a human analyst manually reviews each topic for relevancy.
When analysts review a topic, they check that:
It is a legitimate trend rather than a fad (we use Google Search volume history to measure trend status).
It's relevant to business and isn't a pop culture topic (e.g., celebrity news, movie titles, song titles, etc.)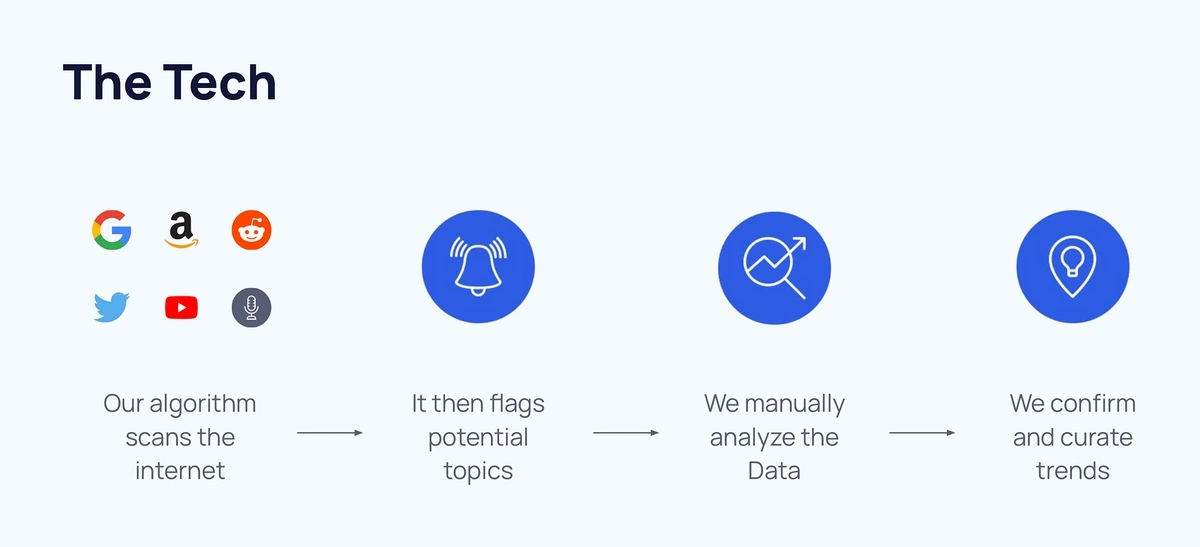 This process ensures that each trend added to the database is signal rather than noise so that you can find critical trends in a matter of seconds.
To see for yourself how the Trends Database surfaces trending topics, you can browse the free version now or jump into Exploding Topics Pro to access our premium trends and create and save Projects.
In addition to the Trends Database, Exploding Topics also offers a handful of other features that make market trend analysis easier. Here are a few of them:
Weekly Reports: If you don't have time to search the Trends Database each week, you can receive our weekly reports directly to your inbox. Each weekly report contains a list of five trending products and five trending companies to help you keep a pulse on industry data.
Trends Search: While the Trends Database is designed to bring new industry trends to your attention, we realize that you might already know of some topics and just want a report of that keyword's historical Google Search volume.

For this reason, we created Trends Search, which allows you to pull up a report on any keyword on the fly. Here's an example:



Meta Trends: Most trending products and companies are part of a larger industry trend.

So to help you identify broader trends and related companies and products, we created the Meta Trends Database.


The Meta Trends database includes information on the meta trend and introduces you to other related companies and products.
To see for yourself how Exploding Topics can help you uncover valuable market trend data and make more informed decisions, explore the free Trends Database today or unlock more advanced features and premium insights with Exploding Topics Pro.
Best Tools For Surfacing Market Report Data
Contify calls itself a market and competitive intelligence software platform that aggregates news from over 500,000 sources, including company websites, trade reports, regulators, press releases, job portals, and social media. You can also add your own sources, like industry forums or trade publications.
Contify then uses AI to sift through the data and eliminate duplicate topics. From there, a human analyst does a quality check and identifies any noteworthy trends.
Following this process, Contify delivers the news to users in the following distribution channels:
Personalized news feed dashboard
APIs and webhooks
Email Reports
Users can also access the data through RSS feeds, docs, PDFs, and more.
Several G2 reviewers mentioned that the news can be rather broad and somewhat overwhelming, though there are plenty of great insights within the articles.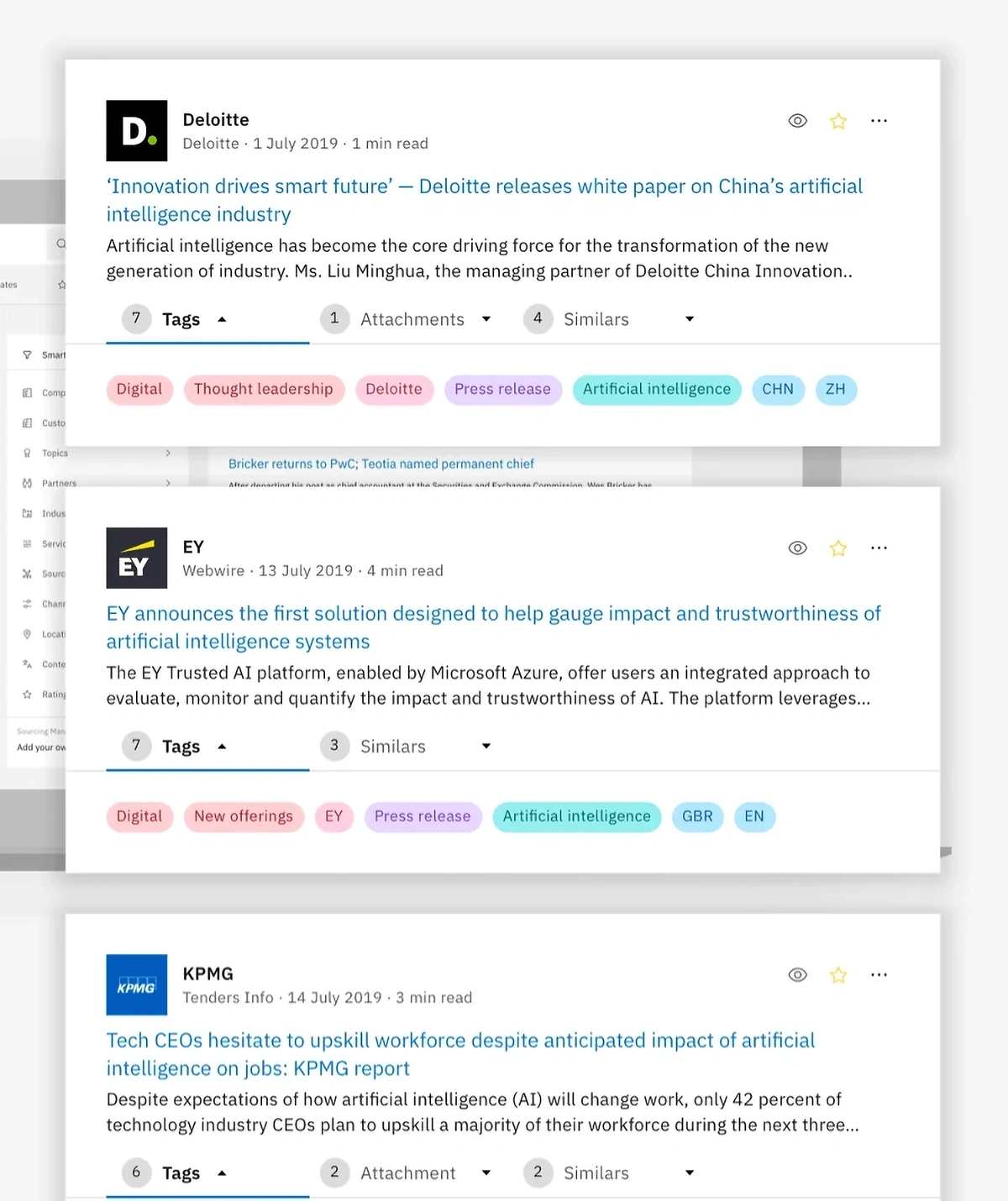 To visualize the data and spot key market trends, you can create custom dashboards that monitor competitor movements.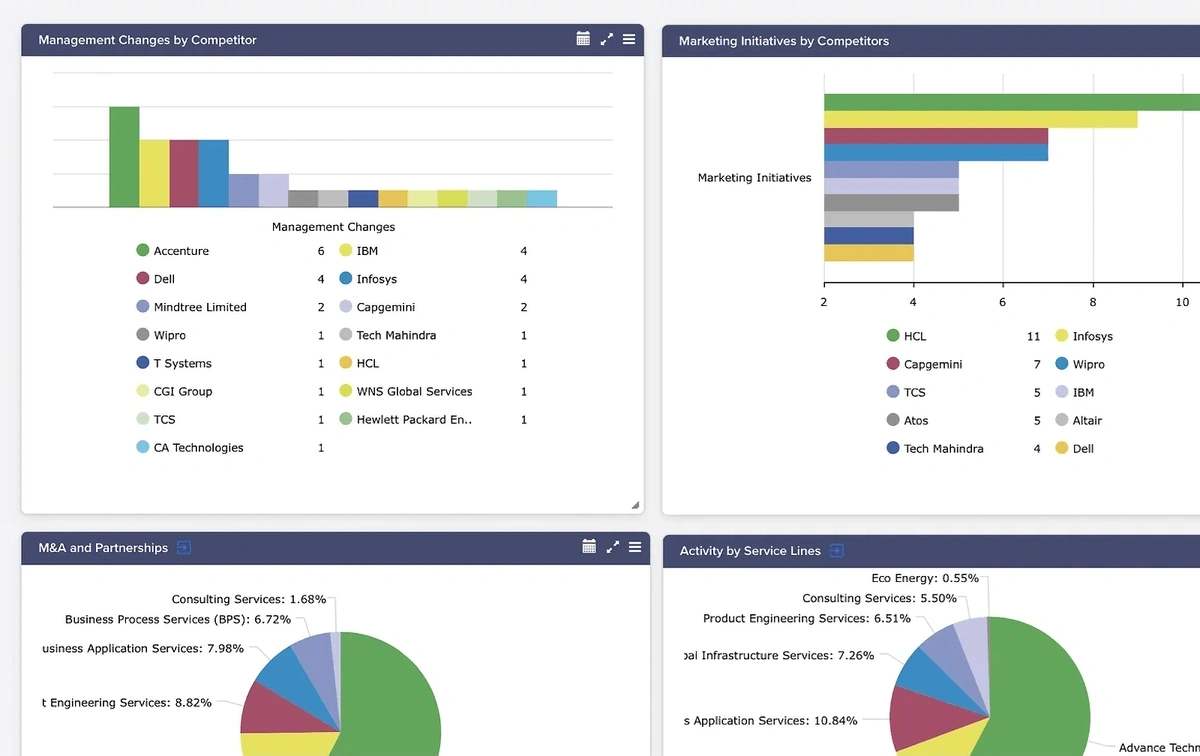 You can also comment and share content internally to keep your team aligned.
Finally, Contify offers a Competitor Website Tracking feature that allows you to track:
New products and landing pages published on competitor's website
Web page design evolution, thanks to historical screenshots
New marketing strategies and promotions
AlphaSense is an enterprise market intelligence platform that uses AI to scan public and private data sources like SEC filings, earnings transcripts, industry journals, regulatory content, and broker research.
So instead of searching through Google to find critical company data, you can quickly do a search in AlphaSense by keyword and company to find premium data.
For example, if you wanted to learn about Microsoft's performance from last year, you could access the earnings call inside AlphaSense. In addition, AlphaSense's AI can identify key mentions like gross margins, revenue, subscriptions, and more inside the call recording transcript. It can also detect sentiment so that you can quickly find pain points.
In addition to searching individual documents, you can also perform a keyword search to quickly find data for a particular topic from a particular company.
If you want to stay up-to-date on that query, you can set an alert to receive weekly email notifications with a digest of relevant news.
To share the information with a team member, AlphaSense offers a collaboration tool to annotate and send research to co-workers.
AlphaSense's primary customer base are enterprise companies and the majority of those in the S&P 500 use it for market research and competitive landscape analysis.
ReportLinker tracks over 100,000 sources in real-time and then uses AI to extract industry trends to help you make more informed business decisions.
To use the tool, you can search any topic or market you're interested in, and the dashboard will provide you with a list of publications discussing that topic. It also offers data on specific topics like total mentions in publications over time, most commonly mentioned companies, and countries where it's most popular.
To sift through the news feed efficiently, ReportLinker offers 25 different filters ranging from market insights (e.g., market trends, forecast, market regulations, and market size) to company insights (e.g., partnerships, client wins, strategy, production development, M&A, and VC funding).
For example, here's a report for the market trends, mergers and acquisitions, and production data for the topic "green hydrogen."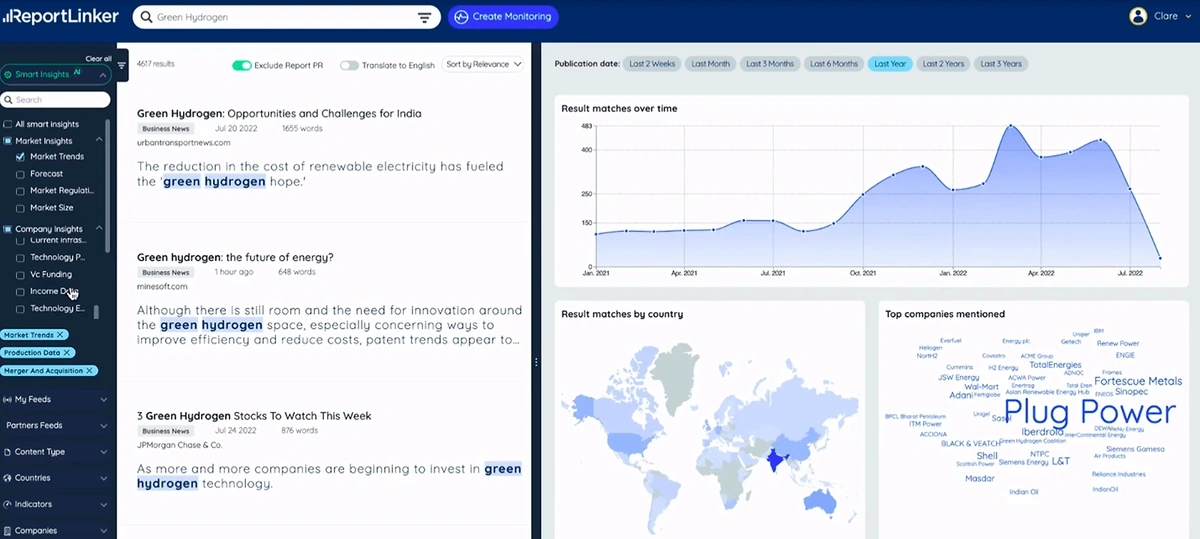 In short, ReportLinker makes it easy to find relevant reports that most traditional search engines can't access, and it also uses AI to aggregate data across those reports into bite-sized trend data.
To stay up-to-date with the latest market trends, ReportLinker allows you to create personalized email notifications. For example, if you're in the green hydrogen space, you can set ReportLinker to send you a weekly email with custom filters like partnership data, client wins, and product launches.
Best Tools For Monitoring Competitor Activity and Marketing Efforts
Crayon is a competitive intelligence software solution that uses AI to help you track the following data on your competitors:
Go-to-market strategy: AI aggregates data from disparate data sources across the internet to identify trends in how competitors define their value proposition.
Marketing and online presence: AI tracks messaging and design changes on your competitor's website to alert you of branding shifts.
Product and pricing strategy: Crayon can track your competitors' product updates in real-time, including launches, removals, and release notes. It also alerts you to any pricing changes.
News and announcements: Track your competitors' press releases so that you know about funding rounds, partnership announcements, and other critical information.
Leadership movements and hiring trends: Keep a pulse on key executive hires and open positions to analyze your competitors' investment strategies. For example, if you notice they're hiring machine learning developers, you might need to look into your own machine learning strategy. It also provides a bird's eye view of employee reviews to gain insight into the company's strengths and weaknesses.
Customer reviews: This feature identifies how customers are underserved to give you a competitive edge and better position your product/service.
Partner network: Discover which companies your competitors partner with and who they broke partnerships with (it identifies removed logos) to uncover new revenue opportunities.
As you can see from its main features above, Crayon focuses exclusively on tracking competitor data and claims to aggregate the information from millions of data sources.
To make the data more actionable, you can also create customizable reports or battlecards using Crayon's free templates.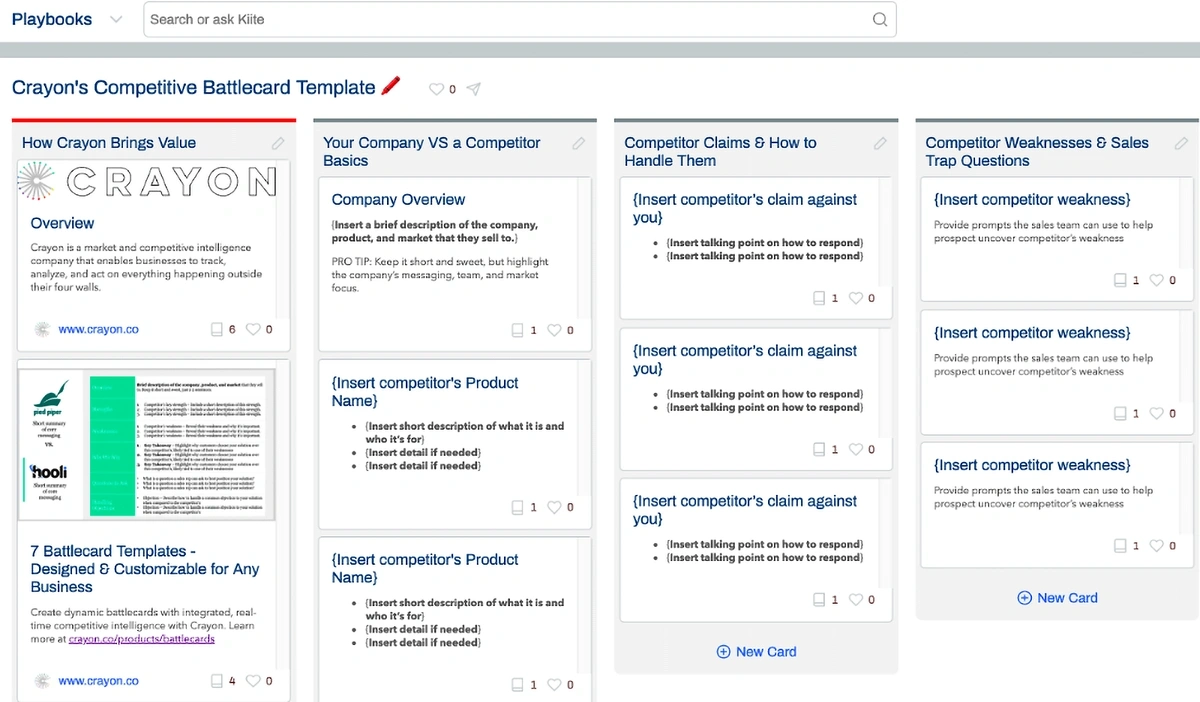 Similarweb is an excellent tool for uncovering competitive marketing trends. The free version gives you access to SEO metrics like website traffic and backlink data, as well as other analytics data like bounce rate, average visit duration, and pages per visit.
It also offers demographic data like visitor age, gender, and even other categories and topics the competitor's visitors frequently browse.
The Pro version unlocks more competitive analysis data and allows you to compare several of the top competitors in your industry.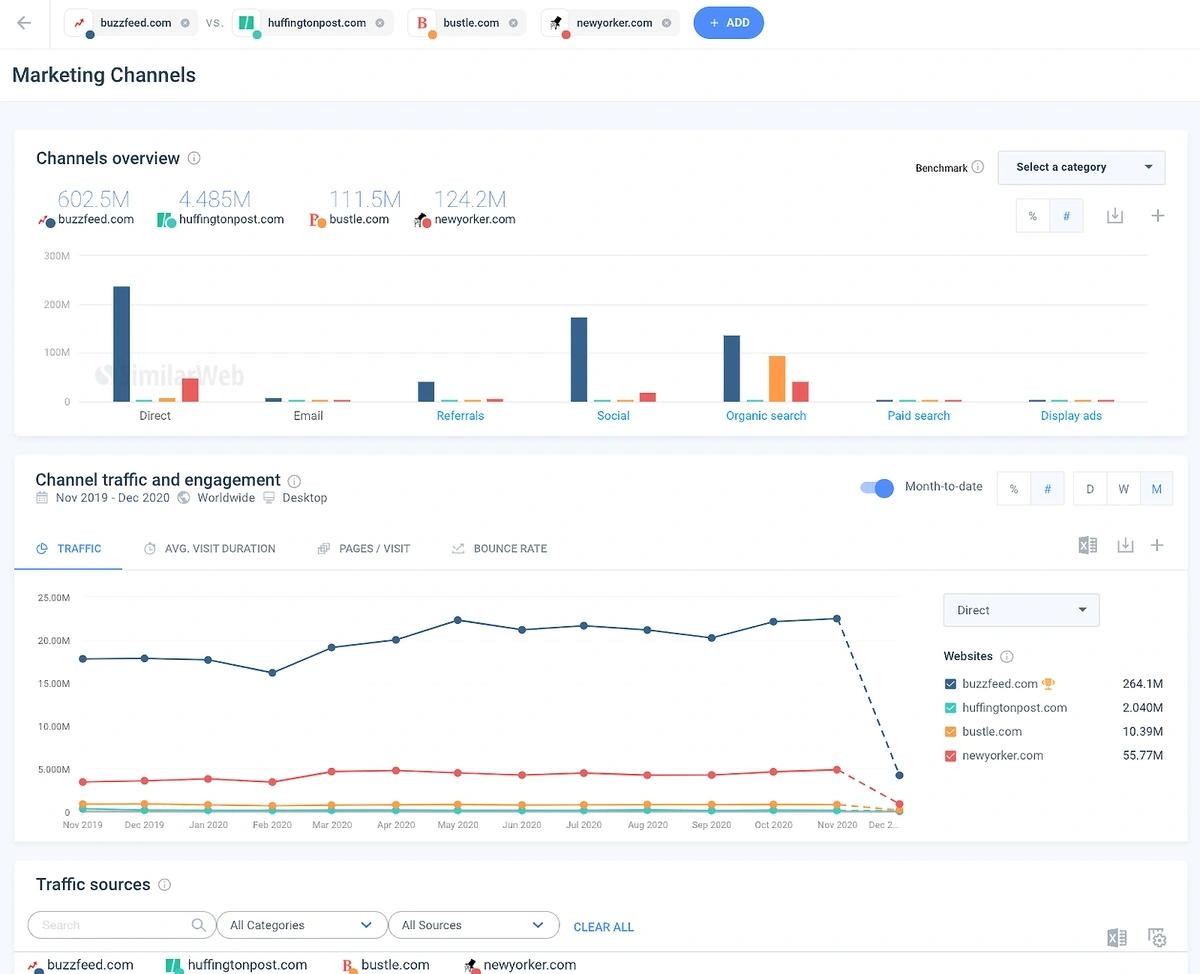 The business performance trends dashboard even shows conversion rate and stickiness estimations for the top competitors.
You can also use Similarweb for consumer analysis. Type in any keyword, and Similarweb will give you a list of the top websites those searchers frequently browse and how loyal they are to those brands.
In short, Similarweb Pro is a great tool to help you better understand a competitor's digital marketing strategy and your consumers' online behavior.
Semrush is a well-known SEO solution, though it also offers a Market Explorer feature that makes it easy to assess your market landscape.
The Market Explorer tool offers two main features; competitor analysis and category analysis.
Both features feature allows you to see data like:
Market share ownership
TAM and SAM
Market traffic and cost
Top keywords and trending keywords
Market demographics
Traffic sources
Market traffic trends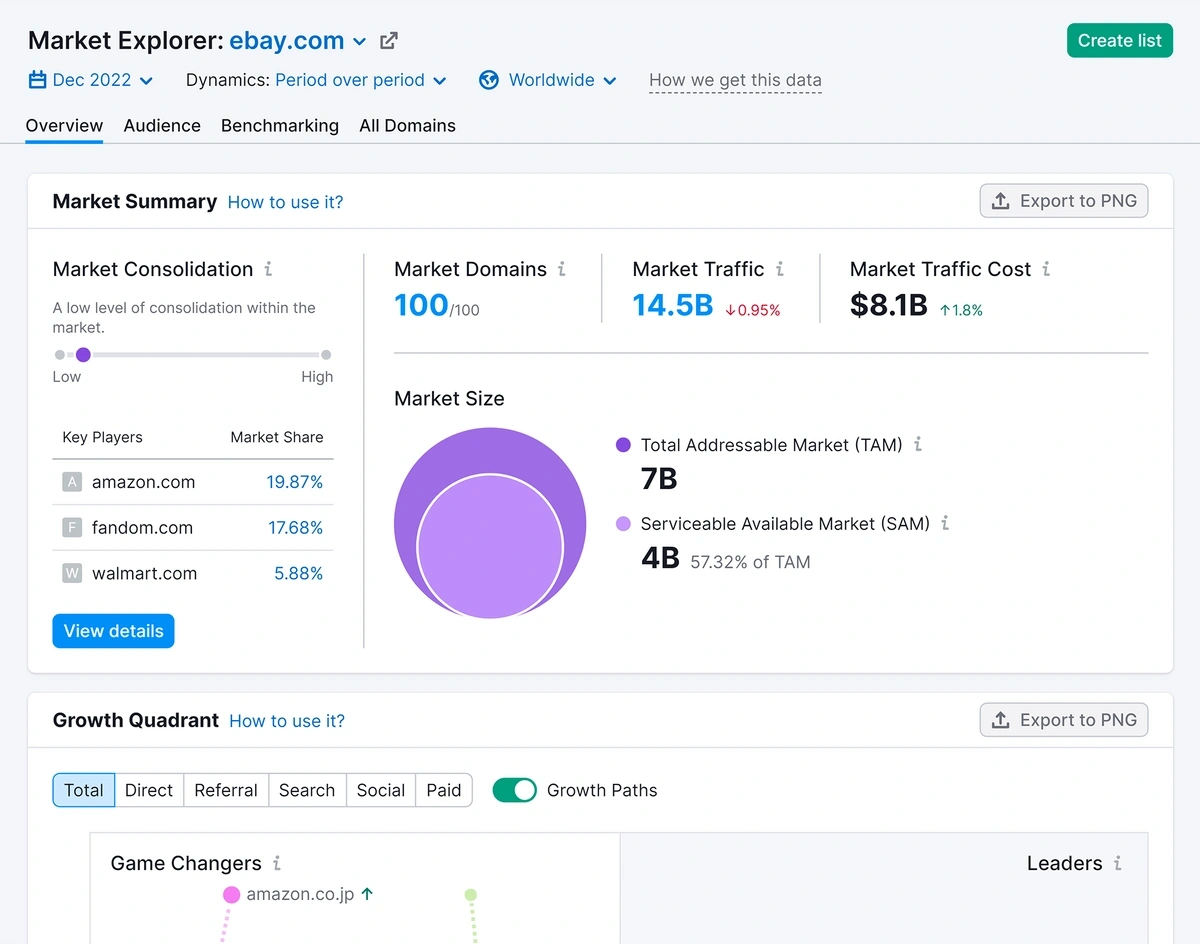 It also offers detailed Audience and Benchmarking data like:
Socioeconomic data (employment status, household income, education level, etc.)
Social media preferences
Age and gender
Detailed traffic breakdowns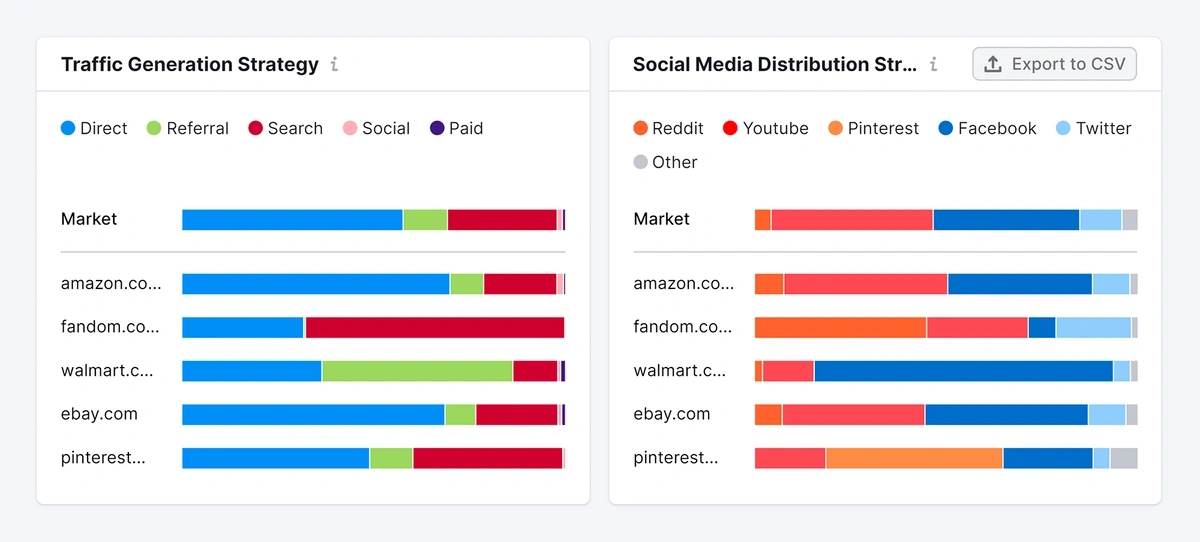 You can also upload a list of competitors to monitor specific competitors' movements.
In addition to its Market Research feature, you can also use Semrush to track your competitors' SEO strategies with robust keyword research and rank tracking features.
Best For Tracking Public and Private Financial Data
Pitchbook tracks companies, investments, investors, funding data, service providers, and people across public and private markets.
To get started, you can sort by industry, and then Pitchbook provides funding trend data, relevant news, and a snapshot of industry metrics (e.g., companies, investments, investors, etc.).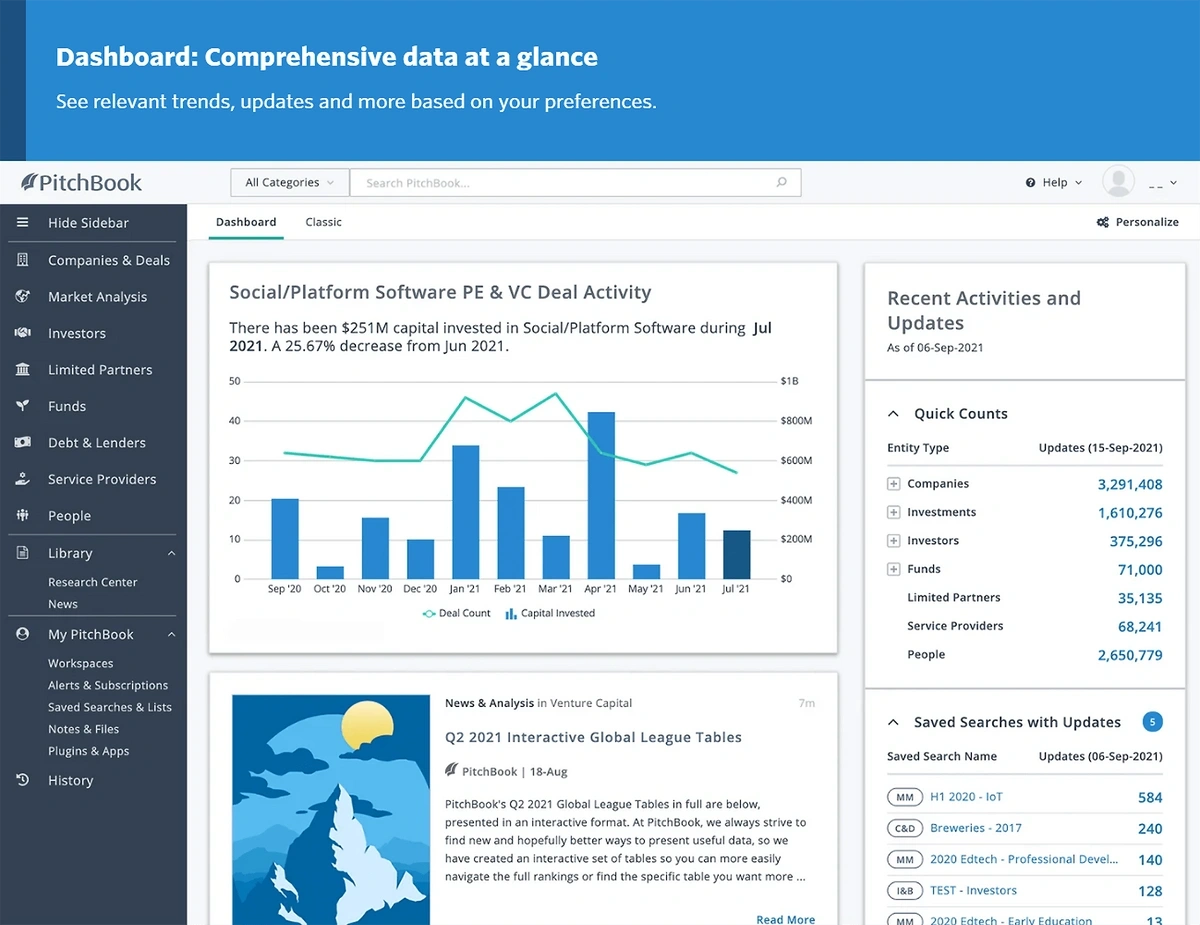 You can also access detailed funding and acquisition data on particular companies, including total amount raised, deal history, board members, investors, valuation, and more.
Pitchbook also integrates with CRMs to make taking action on the data easy.
Crunchbase is an excellent tool for monitoring industry investment trends and acquisitions. The live database contains information on over two million companies and offers advanced filtering options like:
Industry
Funding amount
Employee count
Founded date
Series round
Recent leadership hires
Recent layoffs
You can also upload your own list of companies, and Crunchbase will find funding and acquisition data for you.
Crunchbase also sends automatic industry trend updates based on your recent browsing history, or you can request specific alerts.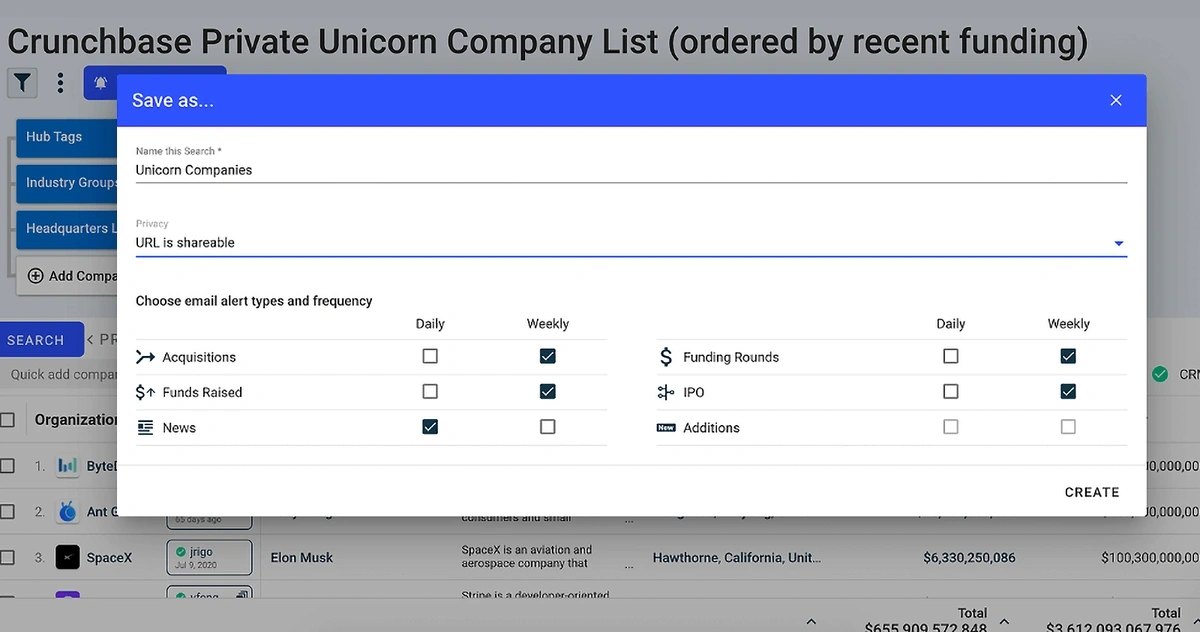 The database is updated in real-time and uses various data sources, including artificial intelligence and machine learning, investor relationships, community contributors, and a team of human researchers.
While it doesn't offer much data on broader market trends (e.g., industry market cap, demographics, etc.) Crunchbase is an excellent option for accessing accurate funding data.
Best For Collecting Qualitative Consumer Data
While there are plenty of market and competitive intelligence tools that aggregate existing data, another option is to run your own study to gather specific consumer data.
SurveyMonkey makes this easy.
If you already have an audience, you can quickly create a survey using one of SurveyMonkey's survey templates, and its AI intelligence will help you optimize the questions to ensure the data is accurate.
If you don't have an audience, you can still create your own consumer reports with SurveyMonkey's market research solution, which surveys a custom audience for you. For example, if you run an ecommerce beauty store, you could create a survey to understand how millennial American female consumers shop online.
Then, SurveyMonkey's Audience solution will run that survey to a specific demographic, like females in their 30s living in the United States.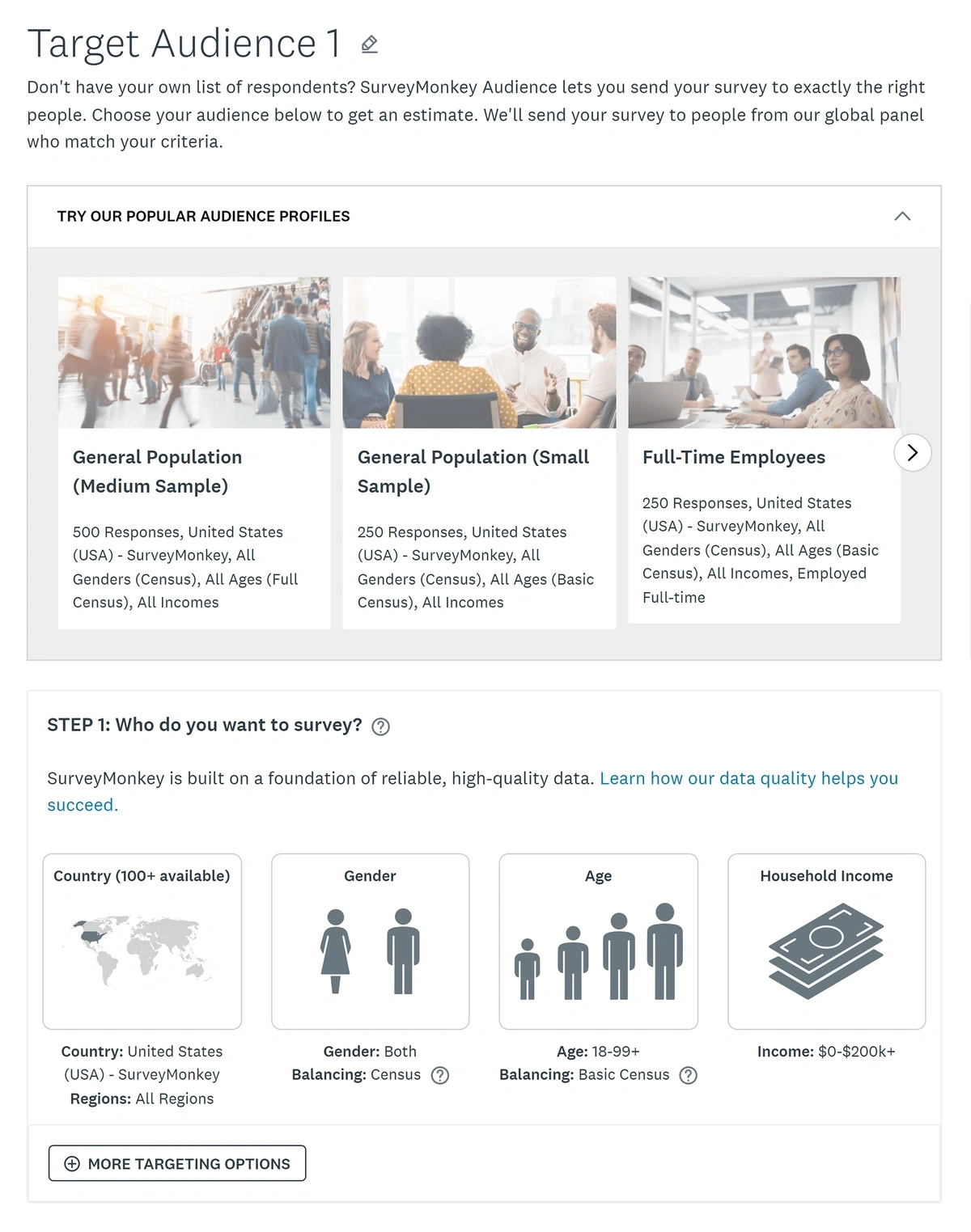 This is an excellent way to generate first-hand consumer trend data and give you a competitive edge in the market.
Pollfish is another survey tool that's very similar to SurveyMonkey.
You can easily build a survey with its pre-made templates and then run it to your own list or purchase quality responses for a specific demographic.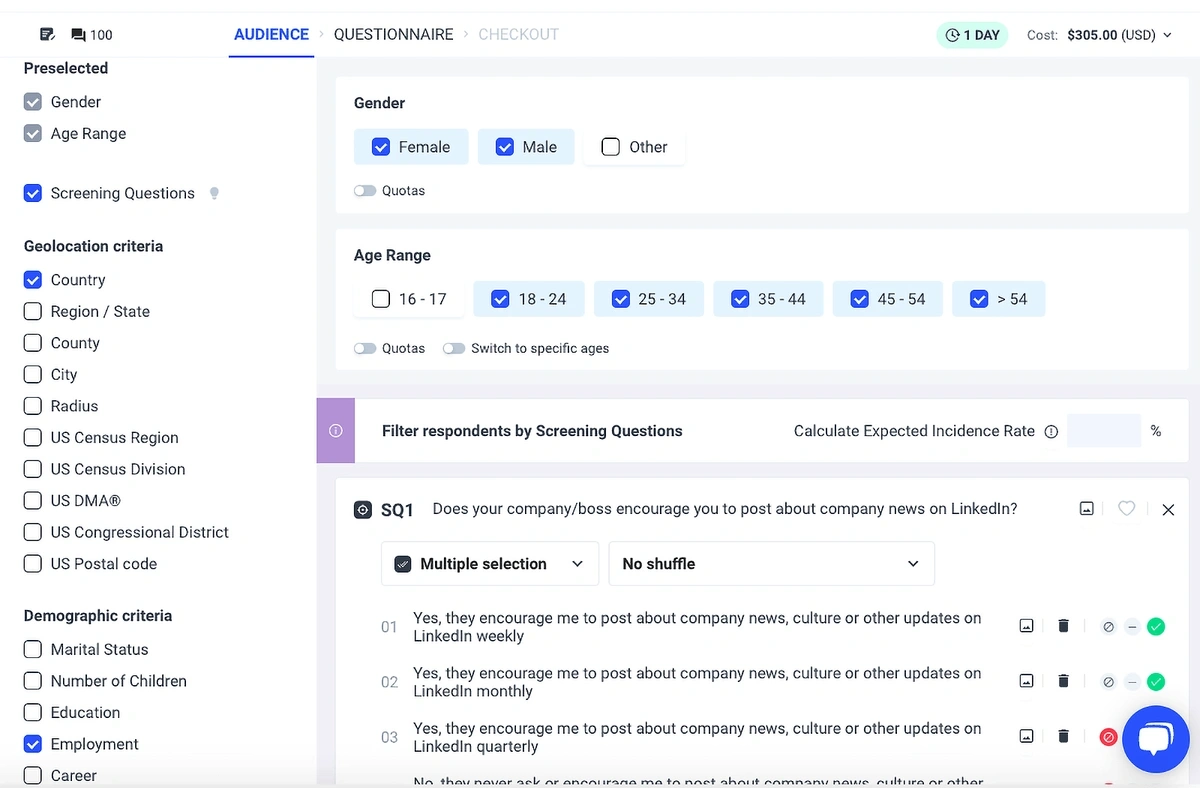 Pollfish sources respondents from its 120,000 plus manually vetted partner apps, and you only pay for qualified responses that fit the targeting criteria you requested.
It also has AI fraud detection, which automatically throws out responses that don't meet their quality guidelines.
Pollfish's survey pricing starts at $0.95 per complete response, so it's very competitive with SurveyMonkey.
Selecting The Best Market Intelligence Tool
It's easy to get lost in endless spreadsheets of market intelligence data, so start by identifying what type of data you want to collect.
Then, select one of the tools above that is designed to capture that data.
If you want a reliable tool that helps you quickly uncover up-and-coming industry trends, consider trying Exploding Topics. You can try out the free Trends Database now, or unlock premium trends and other advanced features with Exploding Topics Pro.