Global Mattress Market Size, Growth, & Trends (2023-2029)
The global mattress market continues to grow steadily year over year.
Demand is on the rise, and budgets for home furnishings and bedding are also climbing.
With that in mind, we'll cover these key mattress market statistics.
Mattress Market Highlights
The global mattress market is worth over $50 billion
By 2029, the global market is expected to surpass $70 billion
The global mattress market is growing at a CAGR of 5.36%
The North American mattress market is valued at $13.04 billion
Spring/coil mattresses have a market share of 66.52%
Mattress Market Size
As of 2023, the global mattress market is worth an estimated $52.45 billion.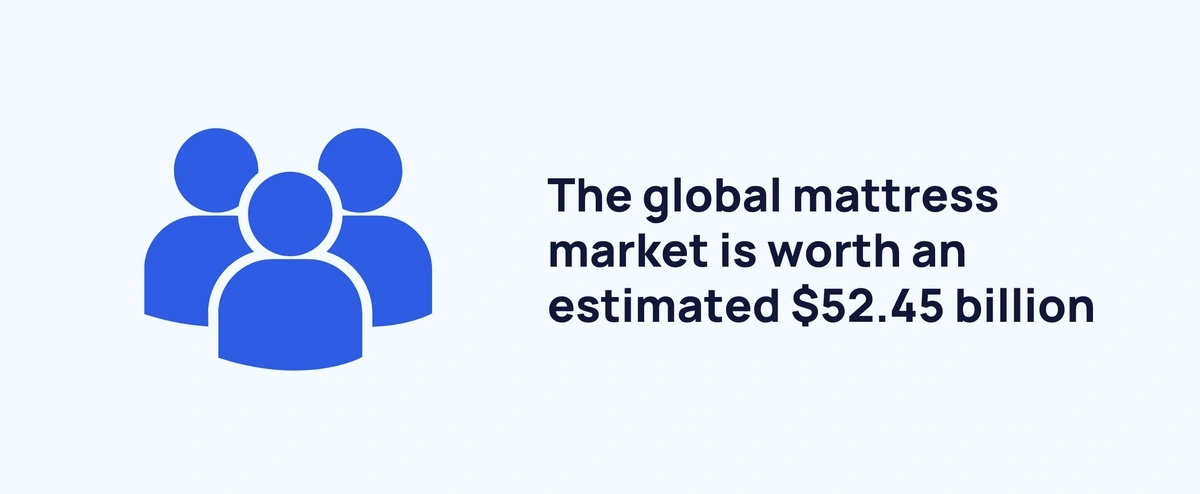 Several factors are contributing to the steady growth of the market, including expanding budgets and the increased construction of housing units. Also, new DTC mattress brands (Casper etc.) have pushed consumers to buy new mattresses more often.
Historical data shows significant growth over the past half-decade. In 2017, the mattress market was valued at only $27 billion. By 2020, this had jumped to an estimated $32.61 billion. However, GlobeNewswire's 2019 prediction of a $43 billion valuation by 2024 has already been exceeded.
Sources: Fortune Business Insights, Zion Market Research
Mattress Market Growth Projections
The worldwide mattress market was valued at $49.24 billion in 2021.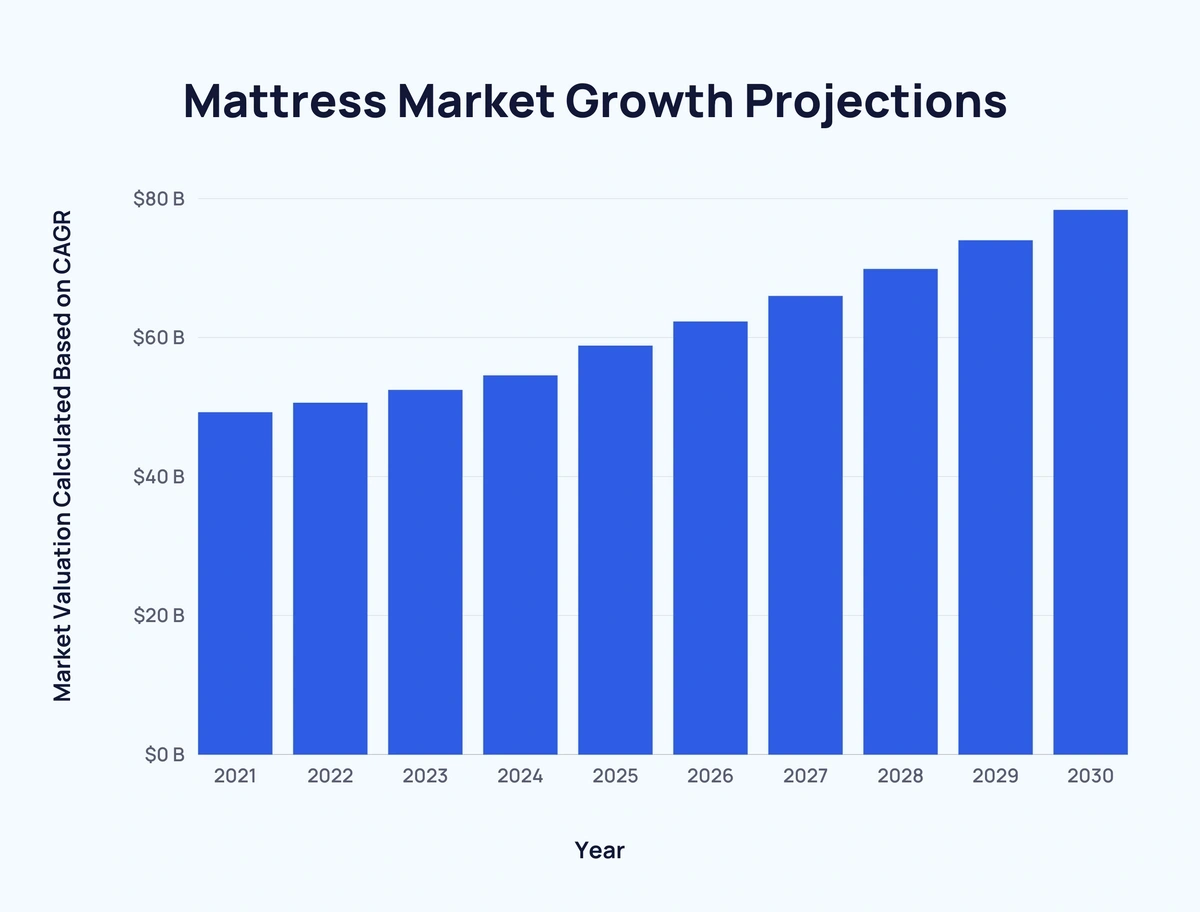 The market is expected to reach $78.34 billion by 2030 at a compound annual growth rate (CAGR) of 5.9%.
Here's a look at how the mattress market is set to progress:
| | |
| --- | --- |
| Year | Market Valuation Calculated Based on CAGR |
| 2021* | $49.24 billion |
| 2022* | $50.61 billion |
| 2023 | $52.45 billion |
| 2024 | $54.54 billion |
| 2025 | $58.82 billion |
| 2026 | $62.29 billion |
| 2027 | $65.97 billion |
| 2028 | $69.86 billion |
| 2029 | $73.98 billion |
| 2030 | $78.34 billion |
*Historical figure
Sources: Fortune Business Insights
Growth Drivers in the Mattress Space
The major catalysts behind the continued growth of the mattress market include:
An increase in housing construction resulting in greater demand
In the US, the number of homes continues to climb year over year, rising from 132.29 million in 2011 to 141.95 million in 2021 - an increase of 7.3%.
While in Europe, single-occupancy households in EU countries have risen by 28.5% between 2009 and 2021.
Rising consumer spending on home furnishings
US consumer spending on furniture and bedding has grown year-over-year since 2009 from $83.2 billion to an estimated $119.8 billion in 2021. That's an increase of 44%.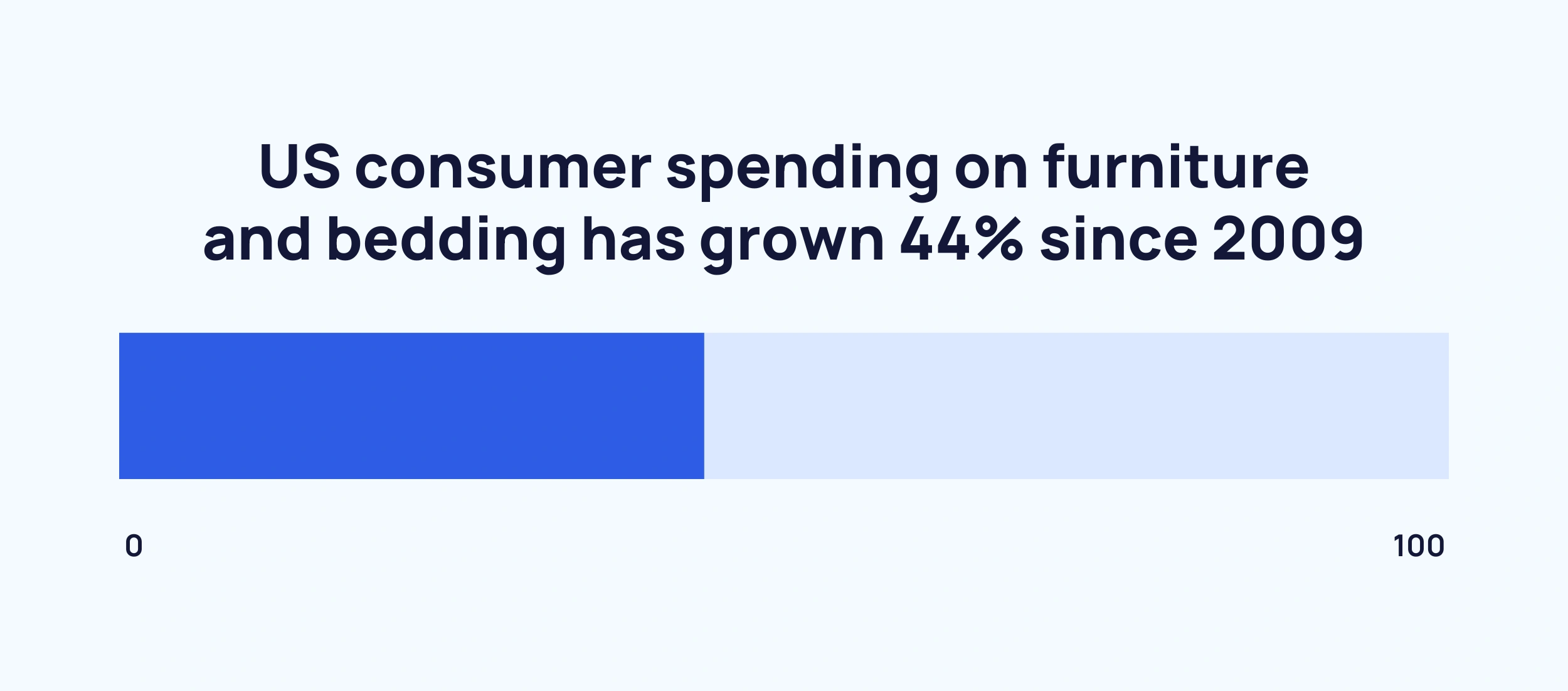 It's a similar story in the UK, where furniture and home furnishing purchases have risen from £14.46 billion ($17.11 billion) in 2012 to £26.63 billion ($31.51 billion) in 2021.
Sources: Fortune Business Insights, US Census Bureau, Eurostat, Furniture Today, Office for National Statistics (UK)
Key Players in the Mattress Market
Paramount Bed Holdings (Japan)
King Koil (US)
Kingsdown (US)
Southerland Bedding Co (US)
Tempur Sealy (US)
Simmons (US)
Sleep Number (US)
Grupo Pikolin (Spain)
Greiner AG (Austria)
Sheela Foam (India)
Purple (US)
Nectar (UK)
Casper (US)
Helix (US)
Tuft & Needle (US)
Sources: Mordor Intelligence, Fortune Business Insights, TraQline
Mattress Market Geographic Breakdown
North America dominates the mattress market with a 2023 market share of approximately $13.92 billion. The market is forecast to grow at a CAGR of 3%, reaching $15.67 billion by 2027.
Given the number of key players based in the country, it is unsurprising that the US is the major driving force behind North America's mattress market dominance. In fact, the US sleep economy is valued at $87.84 billion. And is expected to rise to $95 billion by 2024.
Europe is seeing rapid growth in the mattress market. The European mattress segment is valued at an estimated $11.19 billion as of 2023. And is expected to grow to $13.01 billion by 2027 at a CAGR of 3.84%.
Southeast Asia is an emerging market in the mattress space. The market may only be currently valued at $800 million, but it is set to grow at a relatively high CAGR of 6.7%, reaching $1.04 billion by 2027.
Sources: Statista, Frost & Sullivan, Statista, Statista
Mattress Market by Type
Spring/coil mattresses have a majority market share at 72.18%.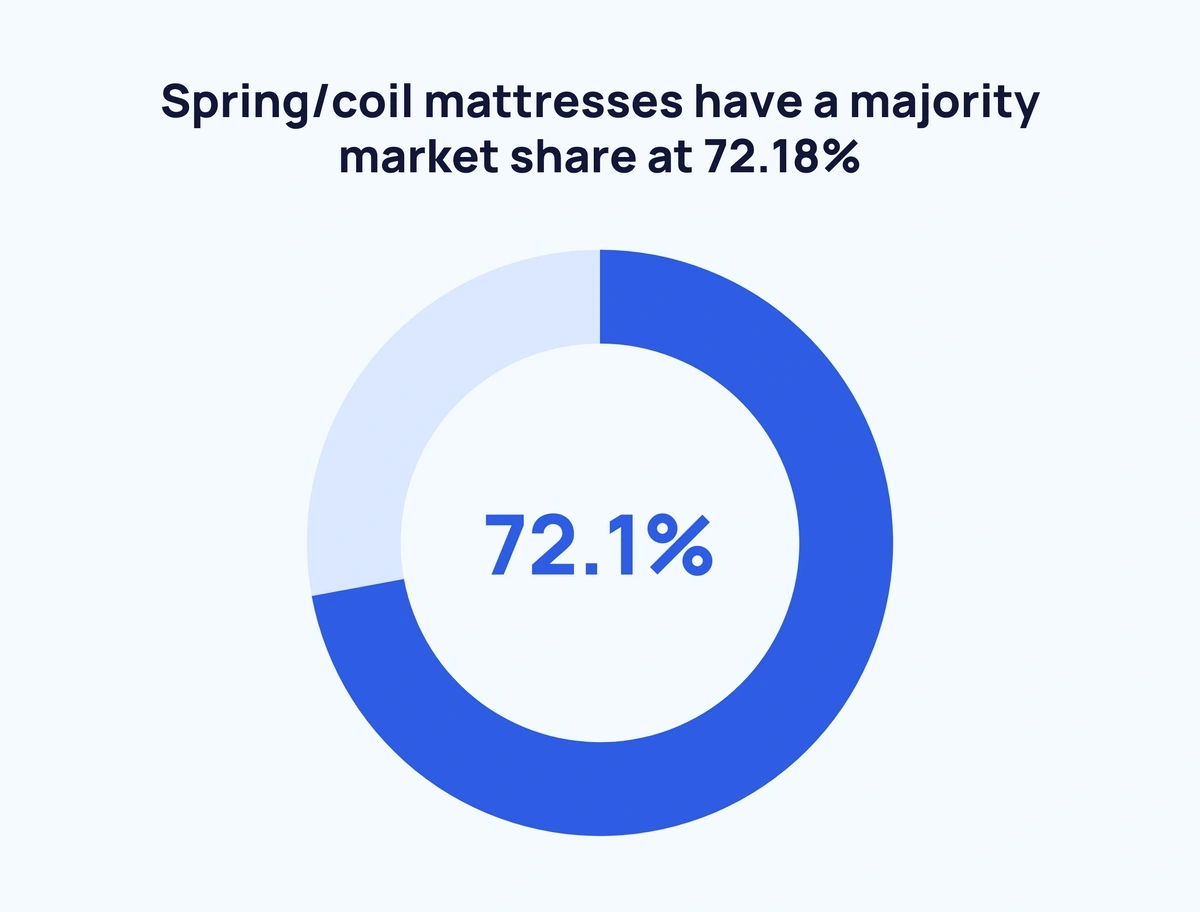 Foam ranks second with roughly one-third of that total. While latex currently has less than half of foam's market share.
The cost of a mattress varies hugely depending on the type. The average hybrid ($2,050) or latex queen mattress ($2,000) costs about double the price of a queen-size innerspring ($1,050) or foam mattress ($1,050).
Here's the full breakdown of average US mattress costs by type in 2021:
Mattress Type
Average Unit Price
Twin
Queen
Innerspring
$600
$1,050
All-Foam
$500
$1,050
Latex
$1,100
$2,000
Hybrid
$1,150
$2,050
Sources: Fortune Business Insights
Mattress Market Consumer Preferences
Preference for the type of mattress appears to be split:
34% think pillow-top mattresses are best
22% think hybrid mattresses are best
22% think foam-only mattresses are best
Around 4 in 5 (83%) people agree that comfort and support are important features of a mattress.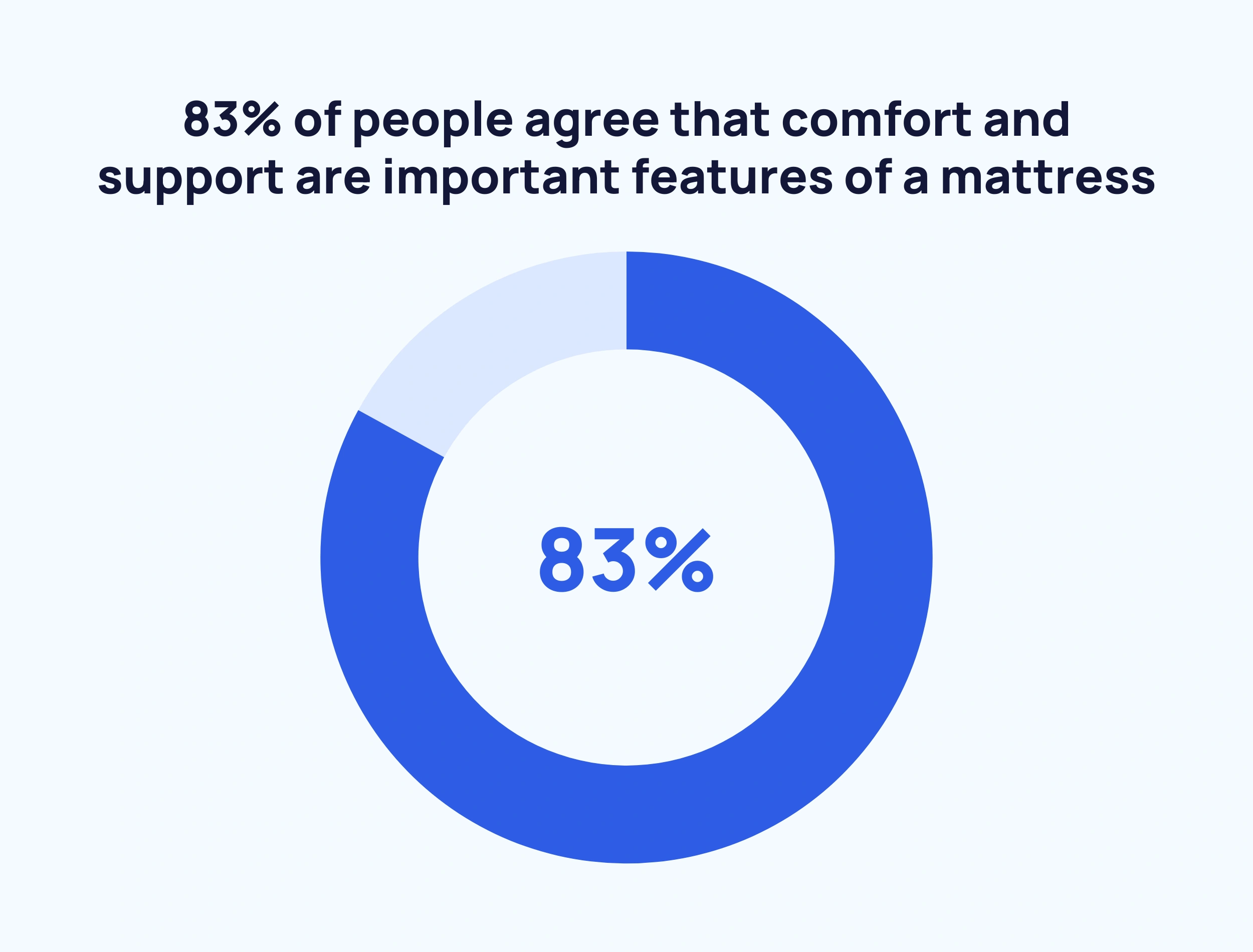 While more than half of people say that size and thickness (57%) and materials/construction (56%) are key features.
2 in 5 people (40%) claim reputation is important. And just 16% are concerned with technology in mattresses.
The features considered to be most important to comfort/support are:
Back support - 43%
Firm - 33%
Pillow-top - 26%
Soft - 20%
Contour to the body - 20%
Motion isolation - 14%
Sources: Mattress Clarity, BedTimes
Conclusion
The mattress market may not be exploding, but steady growth looks assured.
A combination of improving technology, developing regional markets, increased demand, and larger budgets is set to keep the industry in good shape for the foreseeable future.