5 Retail Technology Trends to Watch in 2023
The retail market is a hyper-competitive space.
That means brands are constantly looking for ways in which they can capture more customer attention and streamline their back-end operations.
Retail technology platforms can guide brands toward achieving both of those goals. Recent innovations like artificial intelligence, augmented reality, and big data are changing the way retailers do businesses and the way consumers shop.
Keep reading to learn about the top five trends in this space and see the latest offerings in retail technology.
1. AI Technology Improves Retail Logistics and Inventory Management
The potential value of AI in the global retail industry is between $400 billion and $800 billion per year according to McKinsey.
One major way in which retailers are using AI is logistics and inventory management.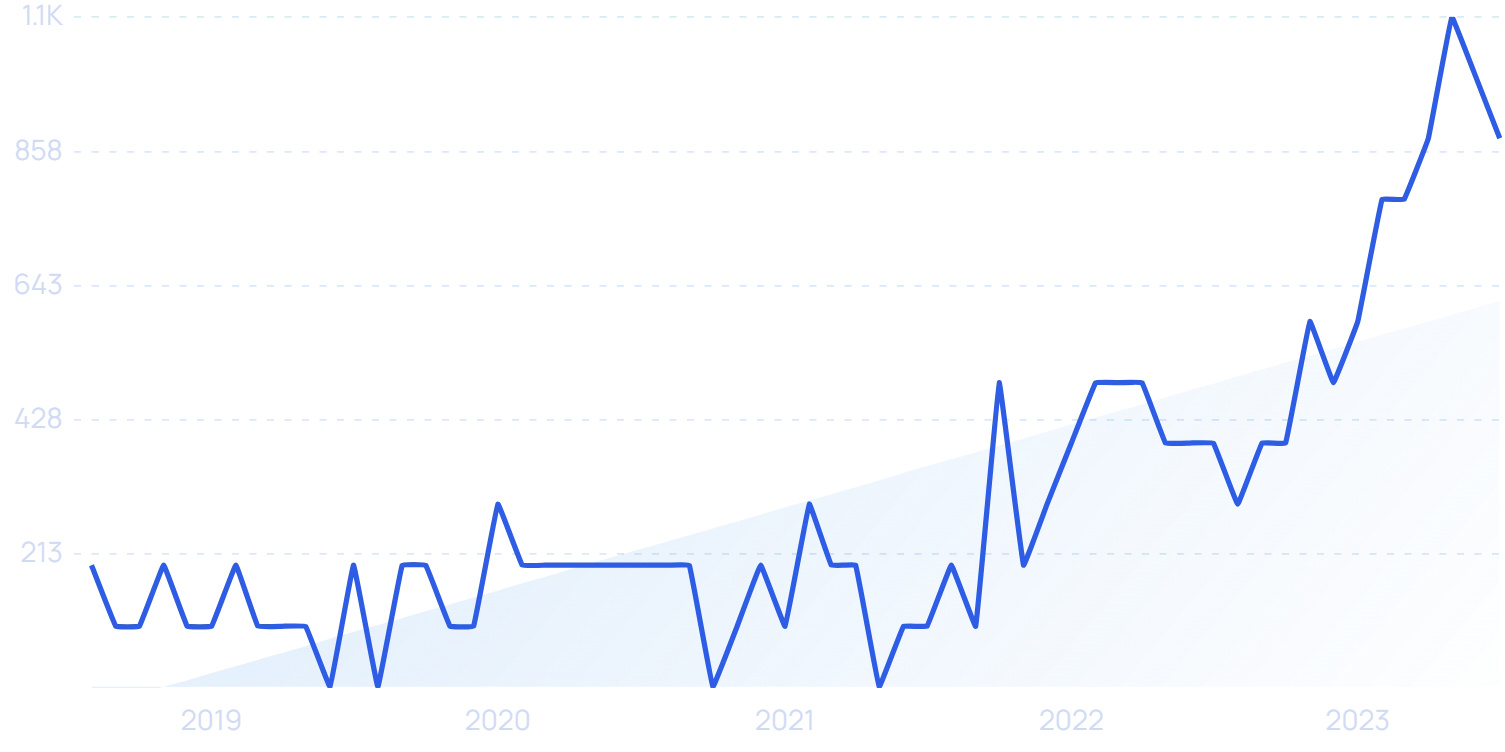 Search interest in "AI supply chain management" has been on the rise since 2022.
Supply chain volatility is the top concern for 33% of retailers in 2023. And, half of these retailers are making moves to improve their inventory management tools this year.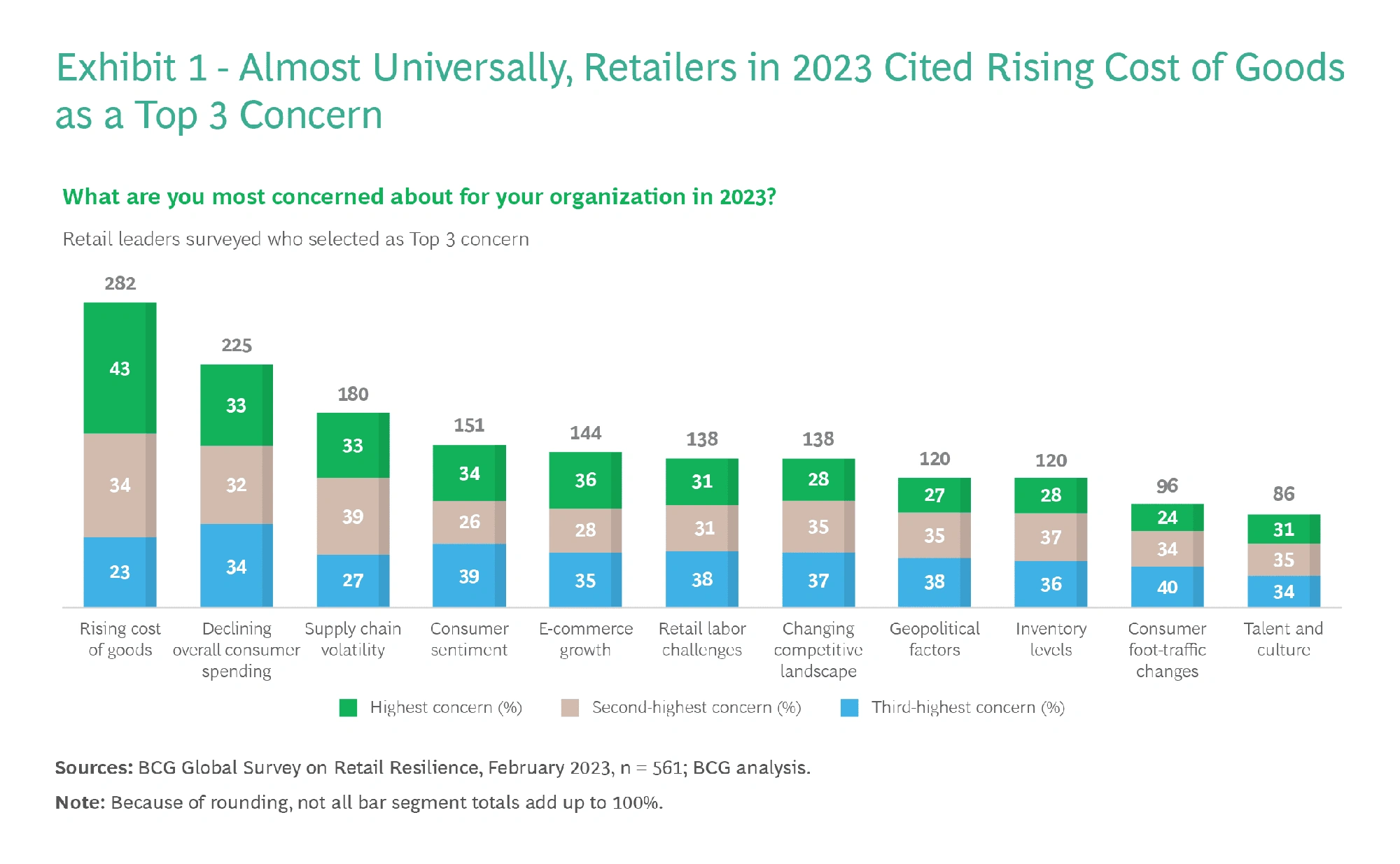 Rising costs, declining spending, and logistical volatility were the top concerns among retailers in 2023.
AI platforms have the power to analyze real-time inventory factors, see the entire supply chain, and reduce volatility.
This tech can also help mitigate another top concern for retailers in 2023: the rising cost of goods.
AI enables retailers to take more proactive steps that can keep costs down.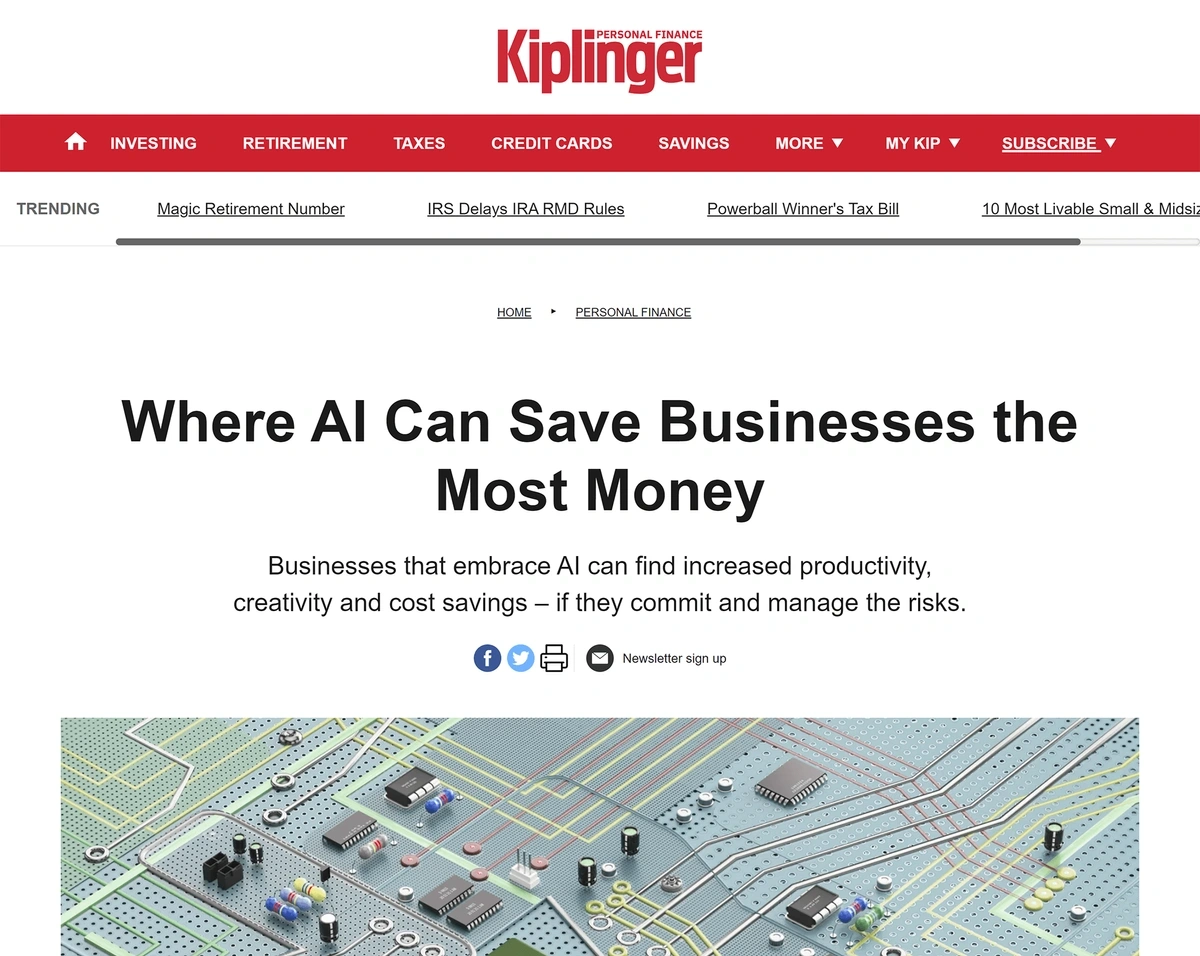 Kiplinger reports that AI delivers bottom-line value to retailers.
Some of the largest retailers in the U.S. are already implementing automated supply chains driven by AI and ML.
In April, Walmart announced that 65% of its stores would be serviced by automation by 2026.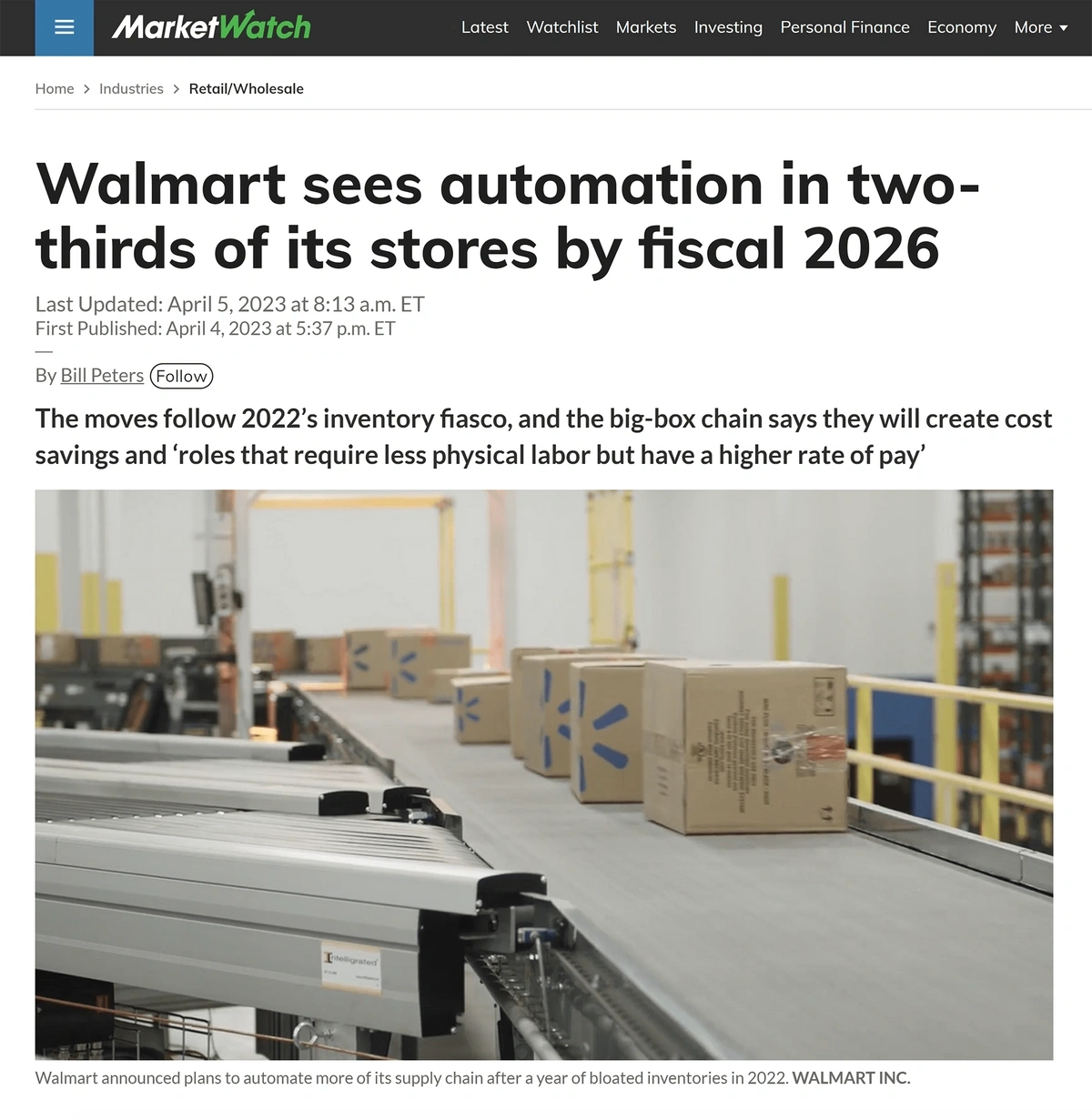 Many retailers, like Walmart, are implementing AI solutions in order to save costs and increase efficiency.
Company officials say this will result in a 20% improvement in average costs per unit.
Other retailers are using AI to forecast inventory demand.
A survey from Retail Systems Research showed that more than 70% of retailers expect that AI-enabled analytics will dramatically change their forecasting by 2025.
AI forecasting may be especially helpful for fashion retailers.
At H&M more than 200 data scientists use AI to identify local trends.
Their AI platform looks at everything from store receipts, to data from loyalty programs, to merchandise returns. The platform also looks at outside data it gathers from the internet.
H&M then looks to the trends its AI platform has predicted and adjusts their ordering and inventory accordingly.
On the other hand, retailers like Wayfair are using AI and ML to promote specific products to shoppers based on geography.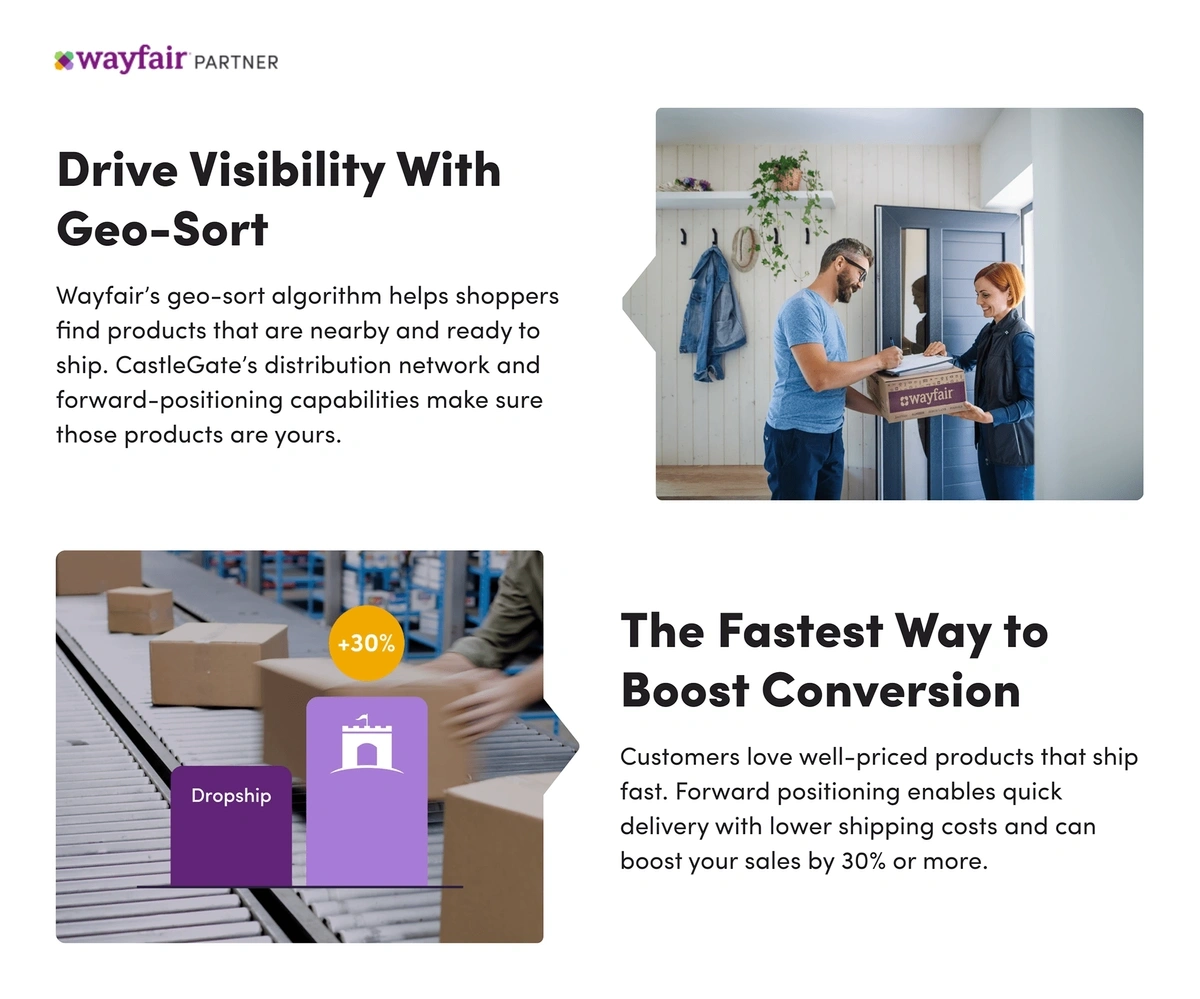 Wayfair promotes its CastleGate's distribution network as part of its geosort algorithm.
This "geosort" technology uses AI to identify and promote relevant products to customers who are also close to the products in geographic terms.
The company says the average shipping distance today is about 1,000 miles. But, with this technology they can decrease that to just 250 miles without impacting product relevance or customer satisfaction.
In the end, Wayfair says this will result in lower shipping costs, which will allow them to cut prices and improve customer retention.
2. Automated Pricing Technology Takes Advantage of Big Data
The current economic climate is challenging, to say the least. That makes pricing a serious struggle for retailers.
Increased cost-of-living expenses have hit consumers hard and looming recession warnings have been circulating for more than a year.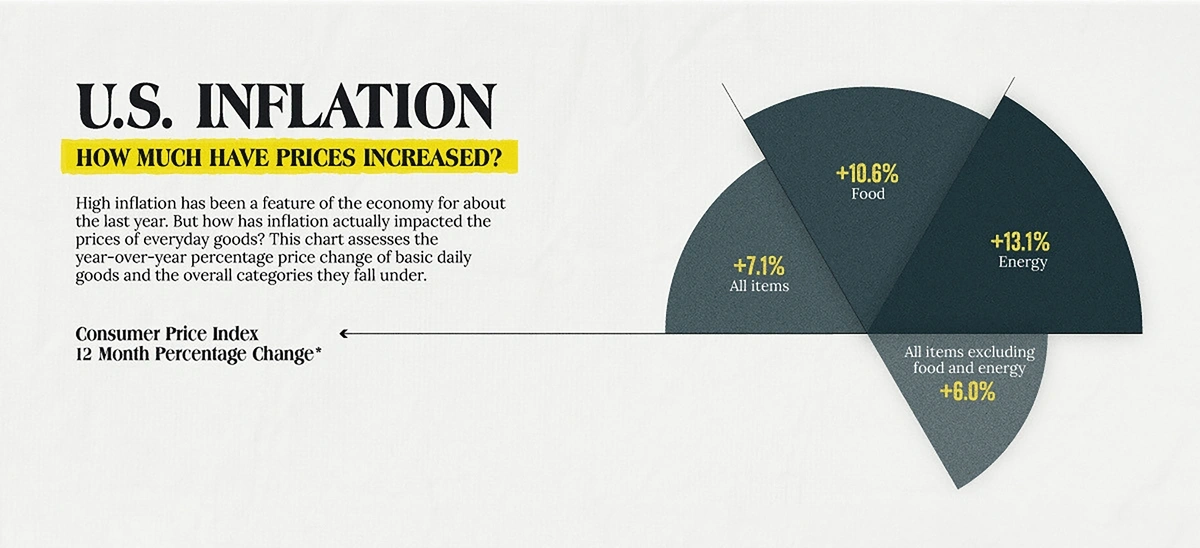 Inflation has led to a 6% increase on the cost of goods (excluding food and energy).
But researchers from IRI, a market research firm, report that price sensitivity, the price difference a shopper would need to be offered in order to switch to a different product, has decreased dramatically in recent years.
Their report shows that consumers are 20% less price sensitive than they were in 2019, signaling that Americans are willing to pay higher prices for retail goods.
But The Economist reports that price sensitivity may be increasing again, especially in lower-income households.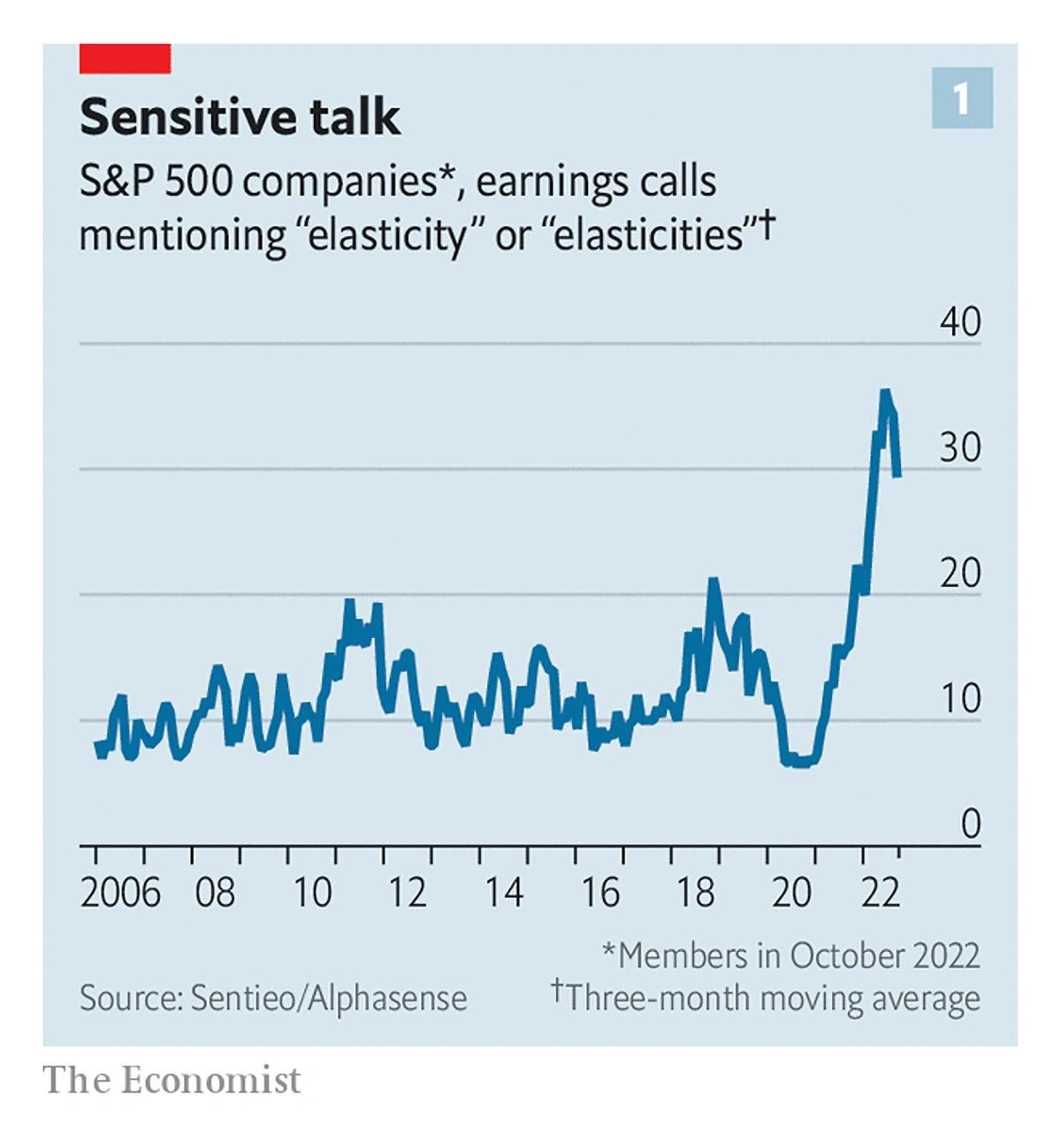 The number of companies discussing price elasticity, a concept closely related to price sensitivity, increased dramatically in 2022.
On the retailer side, some brands are still trying to recover from pandemic-related issues while ensuring margin growth.
In the face of ever-changing demands, more and more retailers are turning to pricing automation.
Statistics show approximately 20% of retailers are currently embracing pricing automation technology.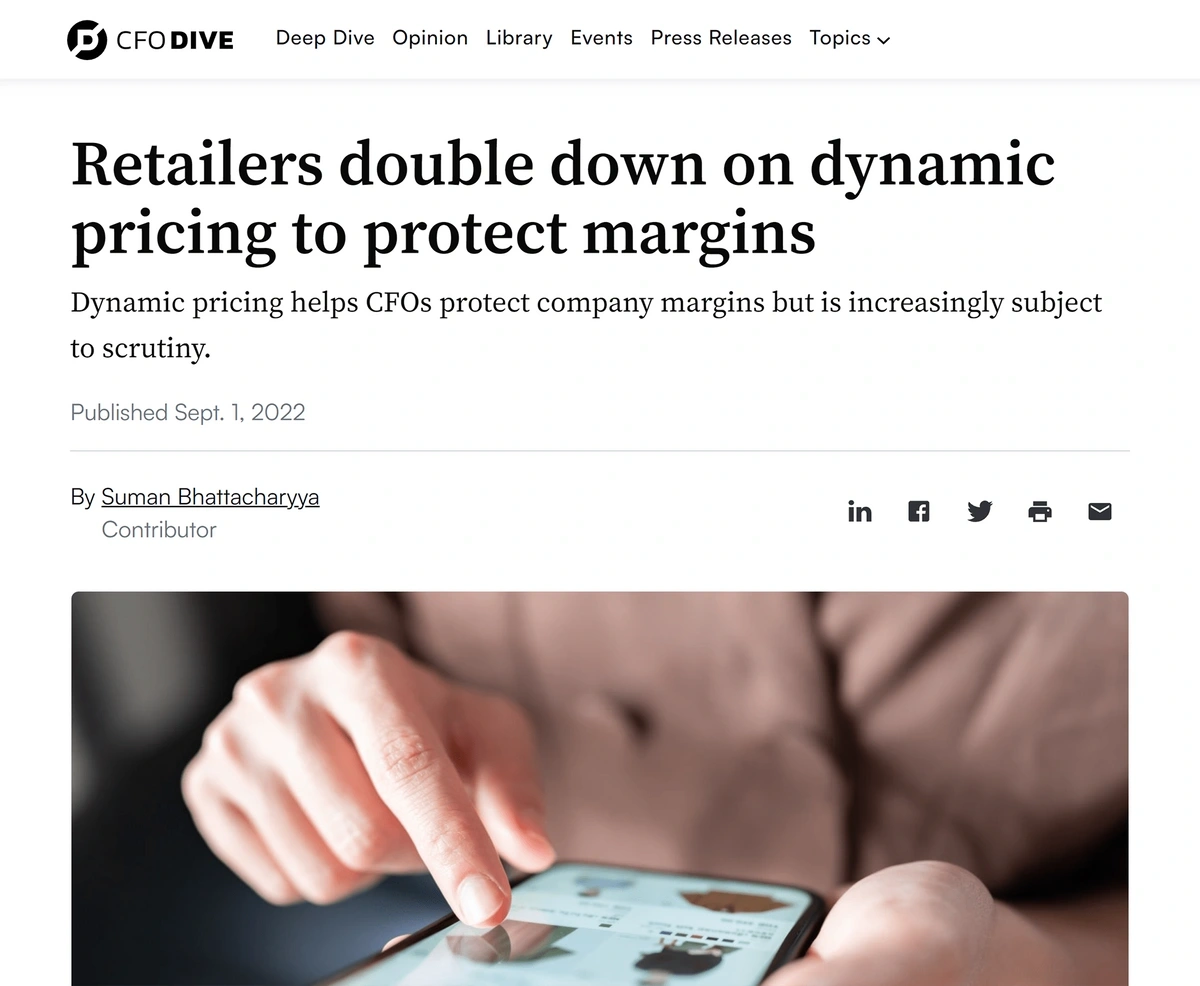 AI-powered dynamic pricing looks to be a key strategy for retailers moving into the second half of 2023.
Pricing automation software makes it possible for retailers to employ dynamic pricing, adjusting their prices on account of demand, competition, and sales history.
Big data and AI are the two powerhouses behind dynamic pricing.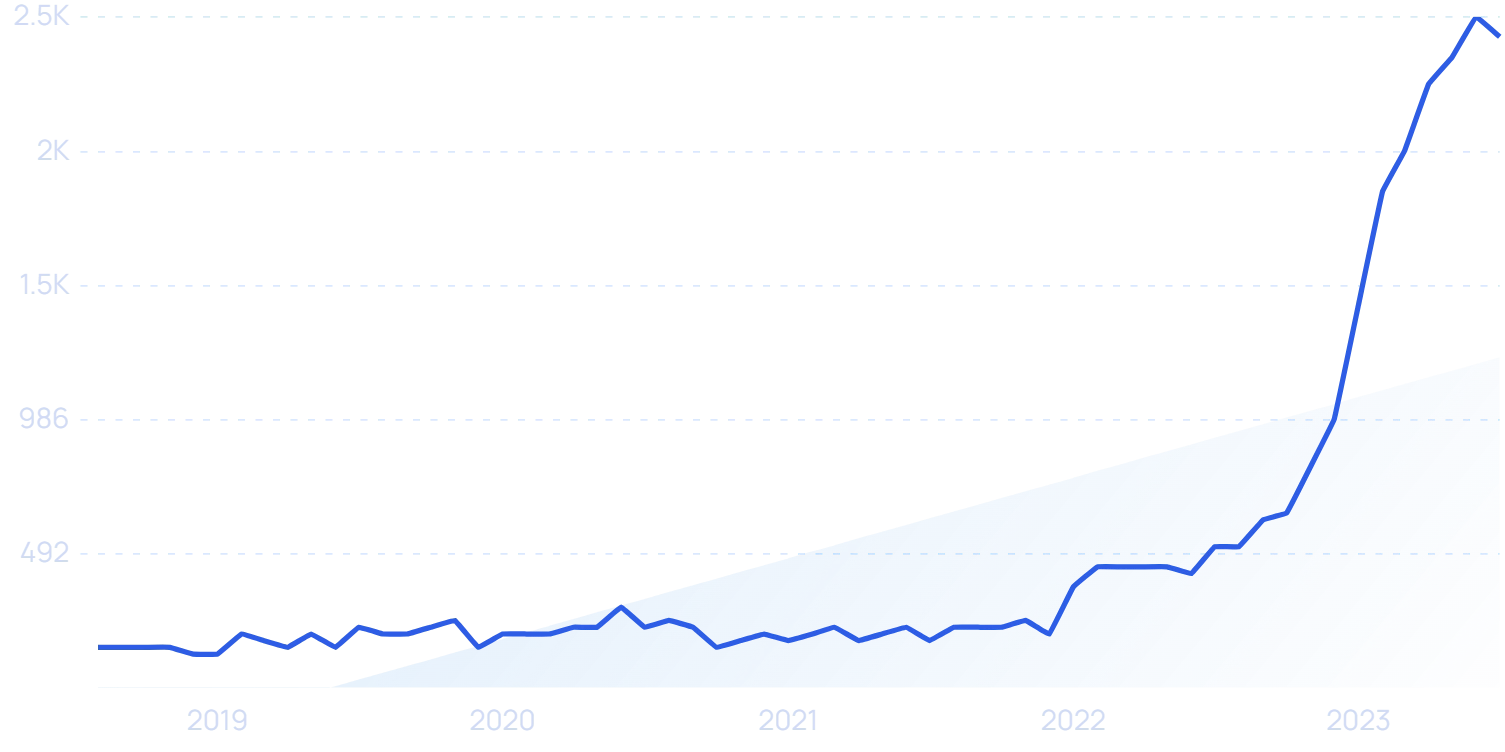 Search volume for "AI pricing" has increased more than 1,500% in the past few years.
Massive amounts of data related to consumers, competitors, and the market at-large can be analyzed by AI within minutes.
One retailer remarked that, ten years ago, prices would be analyzed against the competition every five or six months. With AI, retailers can adjust their prices daily, sometimes even several times each day.
Amazon reportedly changes prices on millions of items every few minutes.
AI is so important to the future of retail pricing that 73% of C-suite leaders say it will be a key strategy to use as they embrace new pricing models.
A few tech startups have jumped into the dynamic pricing space and have posted notable funding rounds in 2023.
Datasembly is a Virginia-based startup that provides market intelligence for retailers that want to power dynamic pricing models.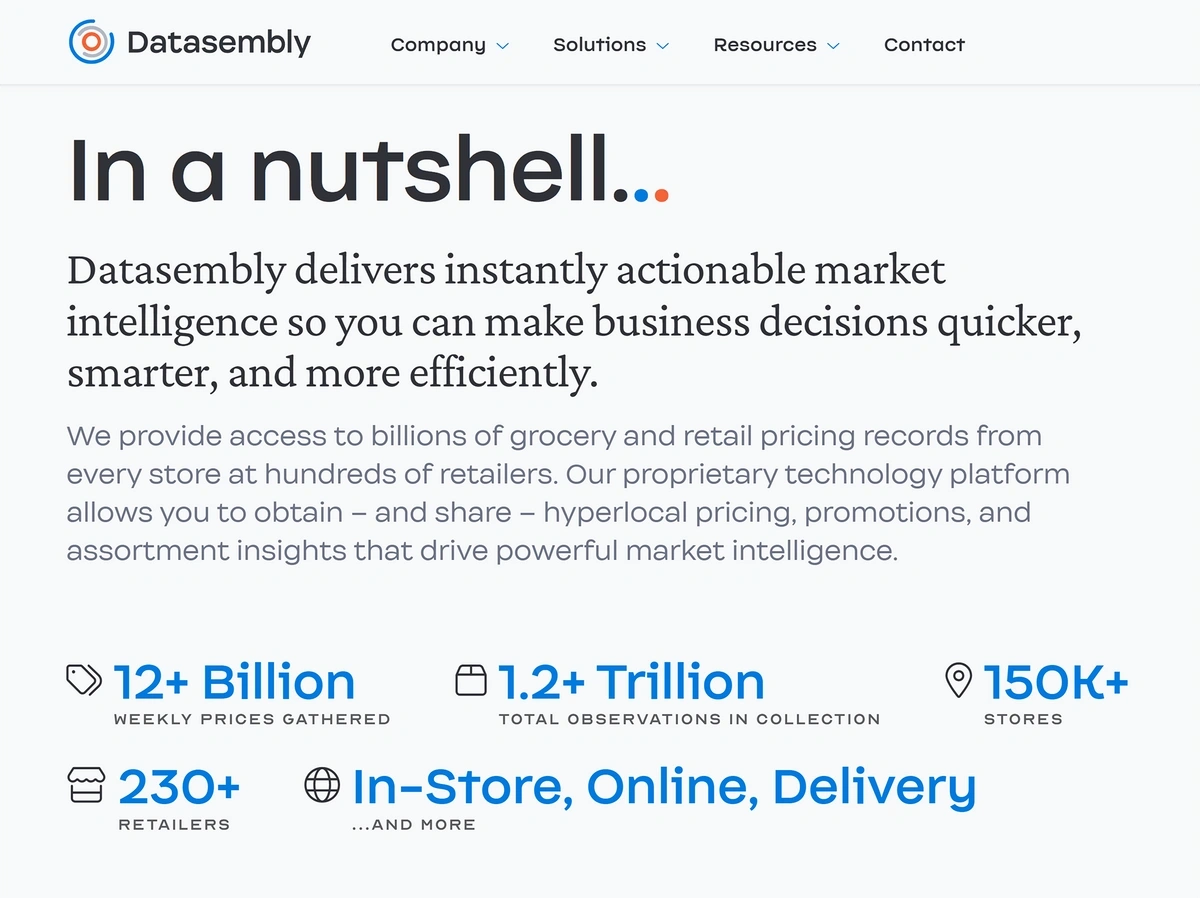 Datasembly provides retailers with access to billions of data points.
Their platform monitors more than 12 billion prices from in-store, online, and delivery retailers.
The startup raised $16 million in mid-2023 to bring total funding to $34.8 million.
Luca is another startup in this space. The company was founded by two individuals who had previously worked to develop Uber's dynamic pricing.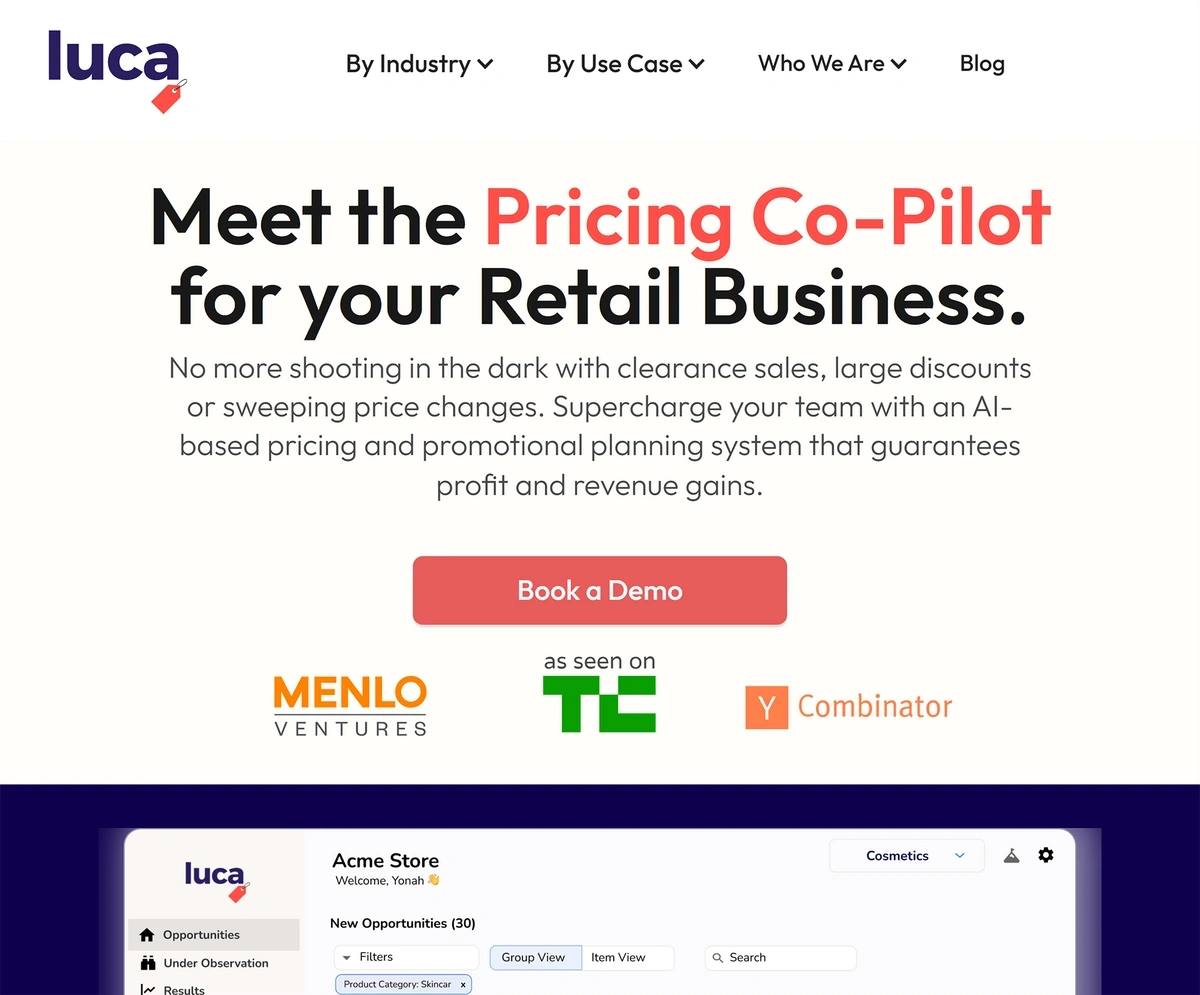 Luca's AI pricing platform monitors and analyzes a wide range of big data.
Their AI platform offers a pricing engine that analyzes the brand's historical sales data and inventory availability, as well as competitor data. Then it automatically analyzes how products would perform at various price points.
Retailers can then accept the pricing suggestions and put them into place. Luca continues to monitor pricing afterward in order to alert retailers to any negative trends.
The startup raised $2 million in seed funding in mid-2023.
3. AI Video Analytics Used for Gathering Consumer Data
Brick-and-mortar retailers are increasingly adopting AI video analytics to understand consumer behavior and improve store operations.

Search volume for "AI video analytics" has increased more than 700% since 2019.
The obvious application of this type of technology is to address theft and other retail security concerns.
The National Retail Federation reports that shrinkage, defined as theft, loss, or waste, is a $100 billion problem for retailers—that's more than 1.5% of revenues.
Their report also points out that nearly 30% of retailers are already using or planning to implement AI-powered video analytics.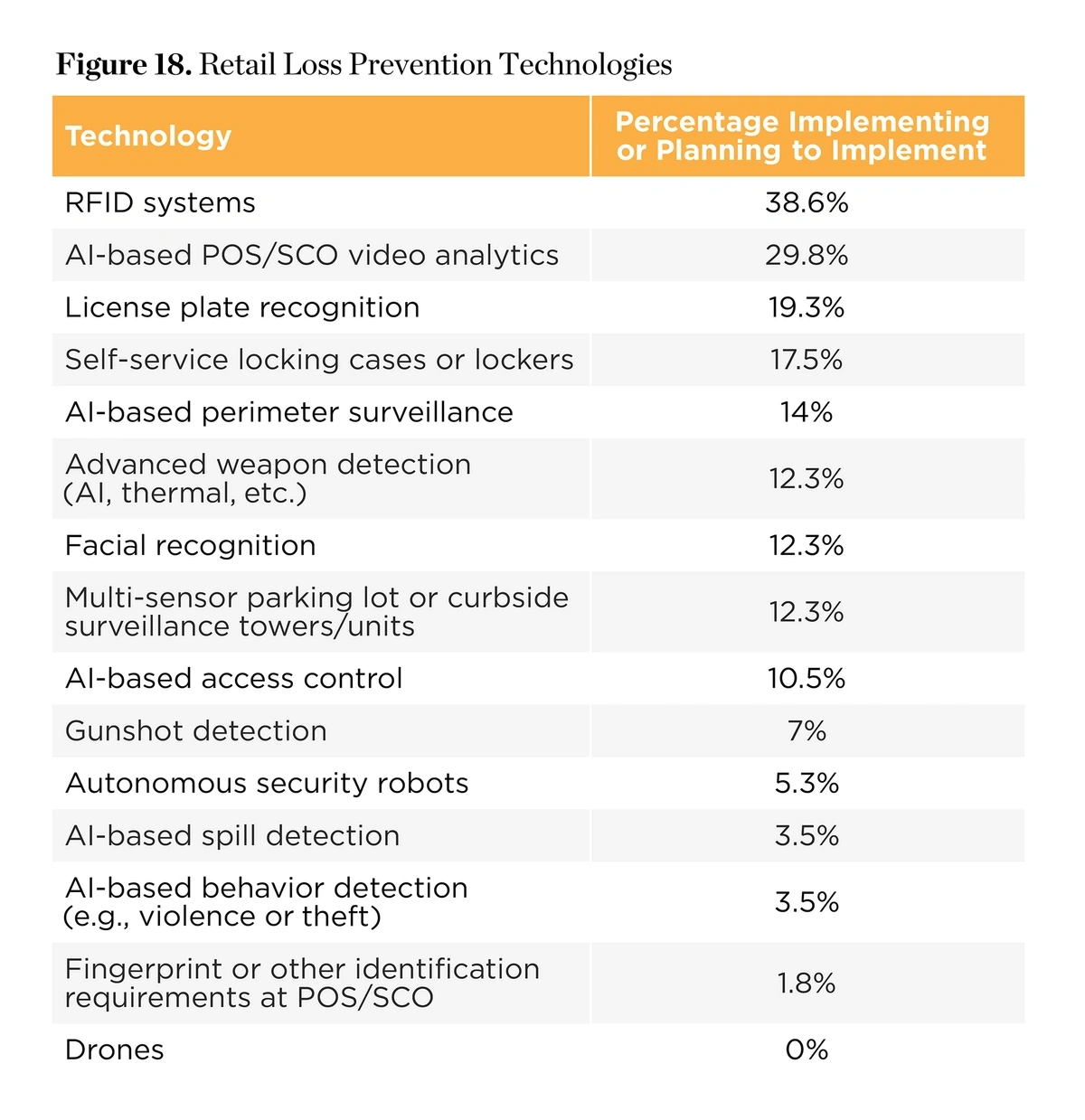 AI-powered video analytics are a top loss prevention technology for retailers.
Aside from monitoring loss and security, this type of technology is also capable of providing day-to-day insights to retailers.
This includes analysis of inventory levels, customer counts, consumer traffic patterns, time spent in the store, layout efficiency, and more.
For example, if an AI video platform identified a repeat shopper in the store, the platform could automatically send a coupon to the shopper's smartphone.
A 2022 research paper takes the concept of this technology even further.
The researchers suggest that computer vision can be used to record customer emotions as they shop, things like an upturn of the corners of the lips or the furrowing of the eyebrows.
Some video analytics platforms are producing advanced heat maps of retail stores. Not only can retailers see popular patterns in movement among consumers, they can see the emotions shoppers experienced as they progressed through the store.
4. In-store Augmented Reality Improves Customer Experience
Survey data shows that retail customers want to have an engaging shopping experience every time they shop.
Nearly two-thirds of shoppers say they'd become a loyal customer if a retailer offered them a more compelling shopping experience.
Offering augmented reality (AR) is one way retailers are giving consumers the experience they want.
A NielsenIQ survey reported that more than half of shoppers would like to use AR to assess products and 56% of them say using AR makes them more confident about the quality of a product.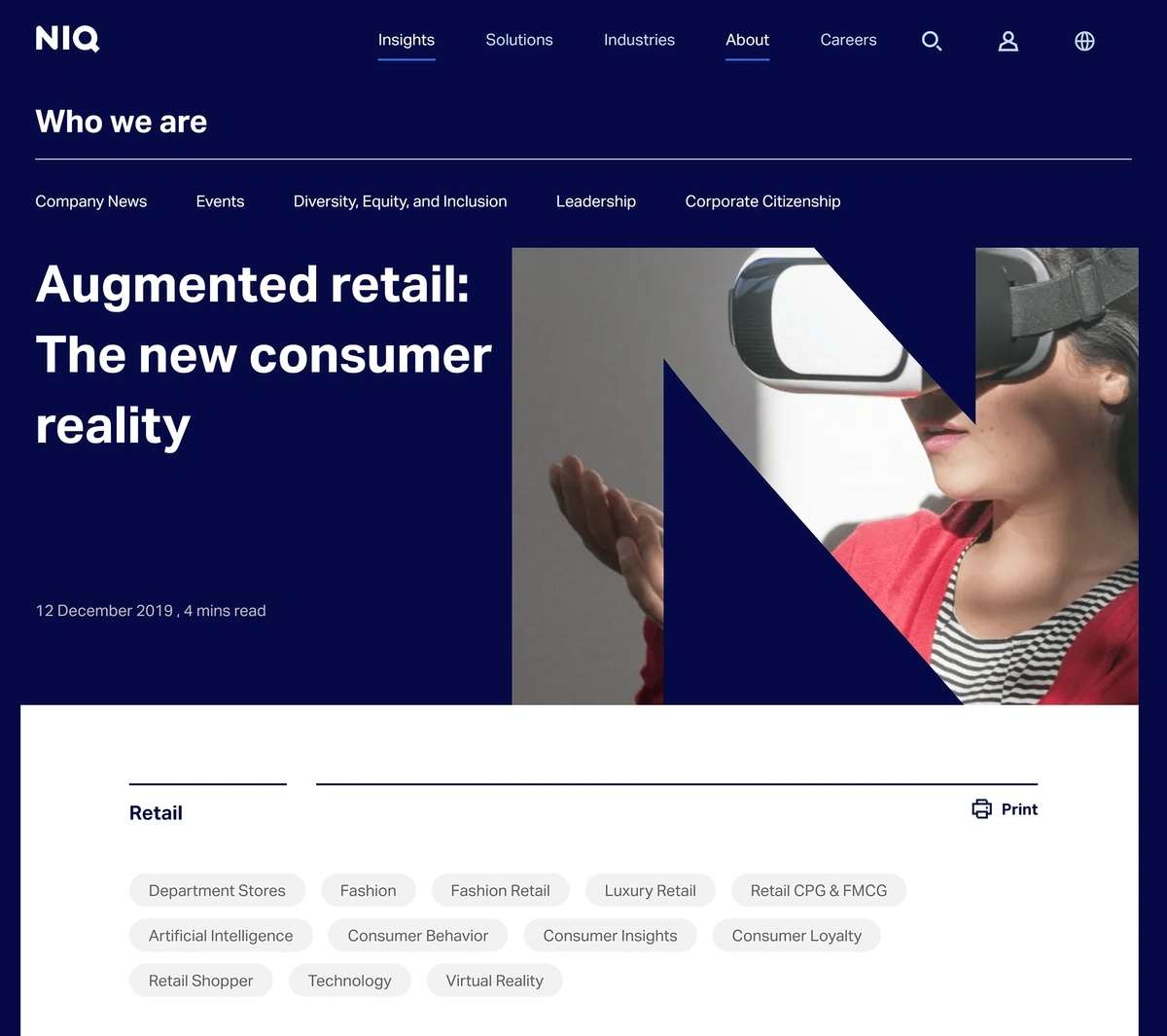 NeilsenIQ reports that many consumers want to use AR to research and assess products.
Some retailers are beginning to offer AR in their apps.
Apps from IKEA and Wayfair enable customers to use AR in order to see how furniture would look in their home.
Sephora and L'Oreal have brought AR to apps so that cosmetics consumers can try on makeup virtually.
And, many retailers are going a step further to also implement AR solutions in their brick-and-mortar stores.
H&M began testing AR-powered smart mirrors in their COS US stores in 2022.
These mirrors see which products a shopper brings into the fitting room and offer personalized style recommendations.
Smart mirrors throughout the store also offer virtual try-on experiences.

With smart mirrors, H&M hopes to improve the customer shopping experience.
Snap, the company behind Snapchat, has demoed an in-store smart mirror too and hopes to offer it to retailers that are trying to increase brick-and-mortar engagement.
This type of AR mirror essentially looks like a giant smartphone.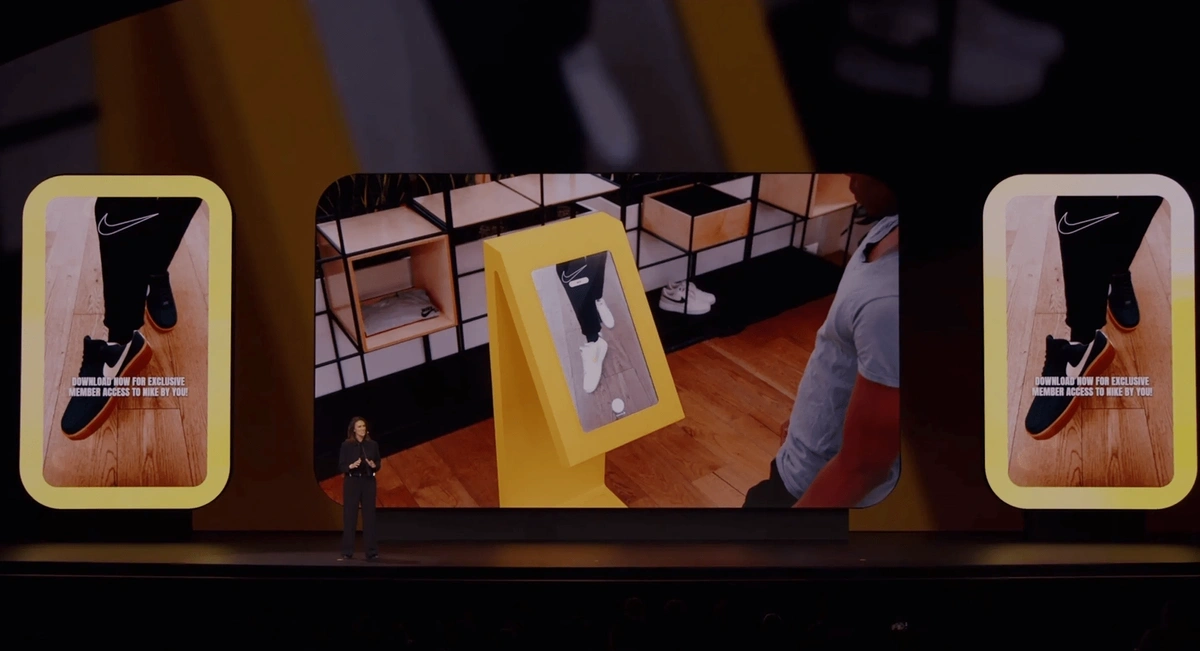 Snap's AR mirrors come in small and large sizes.
Their mirrors are currently in use in Men's Warehouse and Nike stores.
Snap officials say these smart mirrors will lead to a deeper connection with the product as well as a greater likelihood of purchase from the customer.
Their data says 35% of customers worldwide would go out of their way to visit a store with AR smart mirrors.
Overall, the virtual fitting room market is predicted to grow at a CAGR of more than 20% through 2030. It will reach $18.31 billion by that year, experts predict.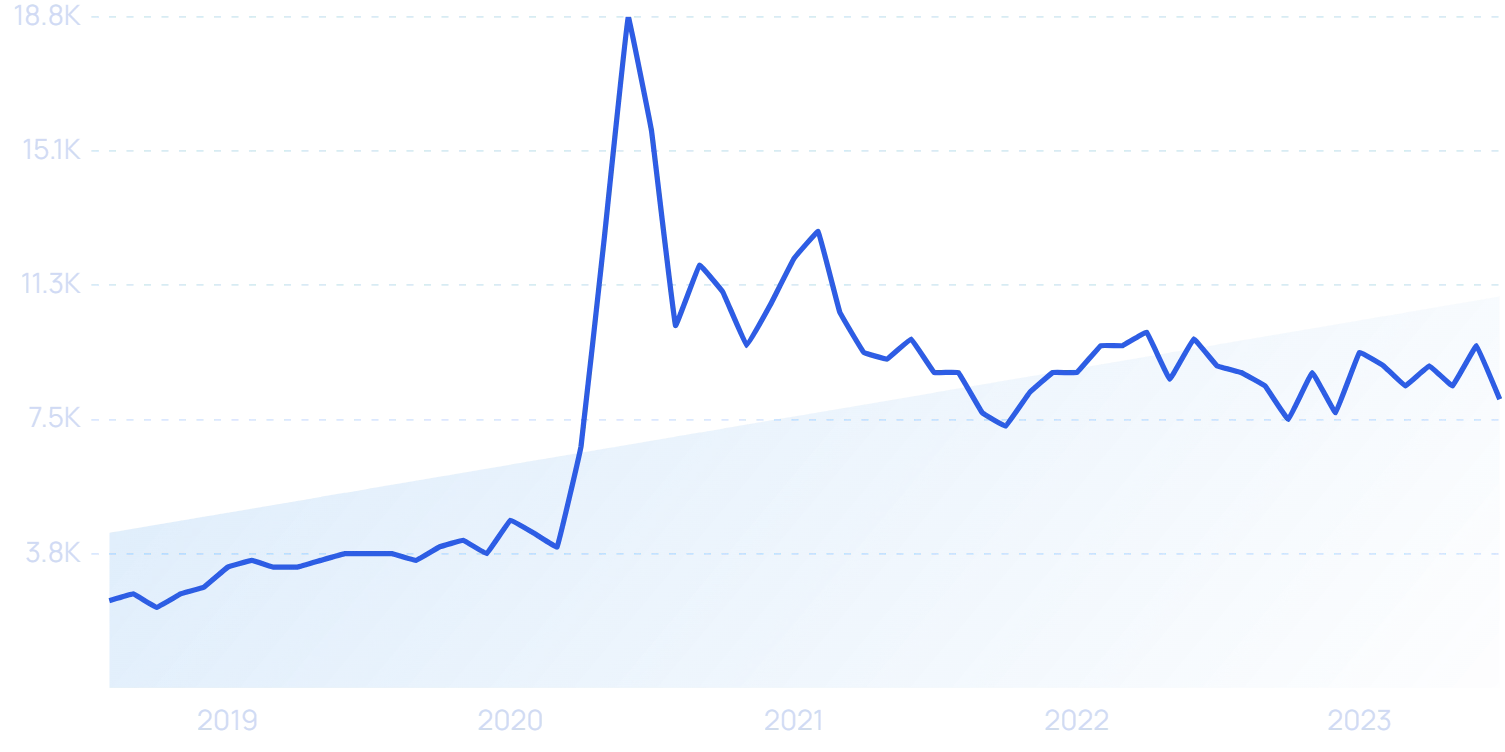 Search interest in "virtual try on" jumped in 2020 and remains high.
One AR expert within the fashion industry says 50% of brick-and-mortar retailers will incorporate AR into their operations within the next 10 years.
5. Generative AI May Add Billions to Retail Profits
According to Accenture, more than 90% of retail executives say generative AI will play a role in their business strategies in the next three to five years.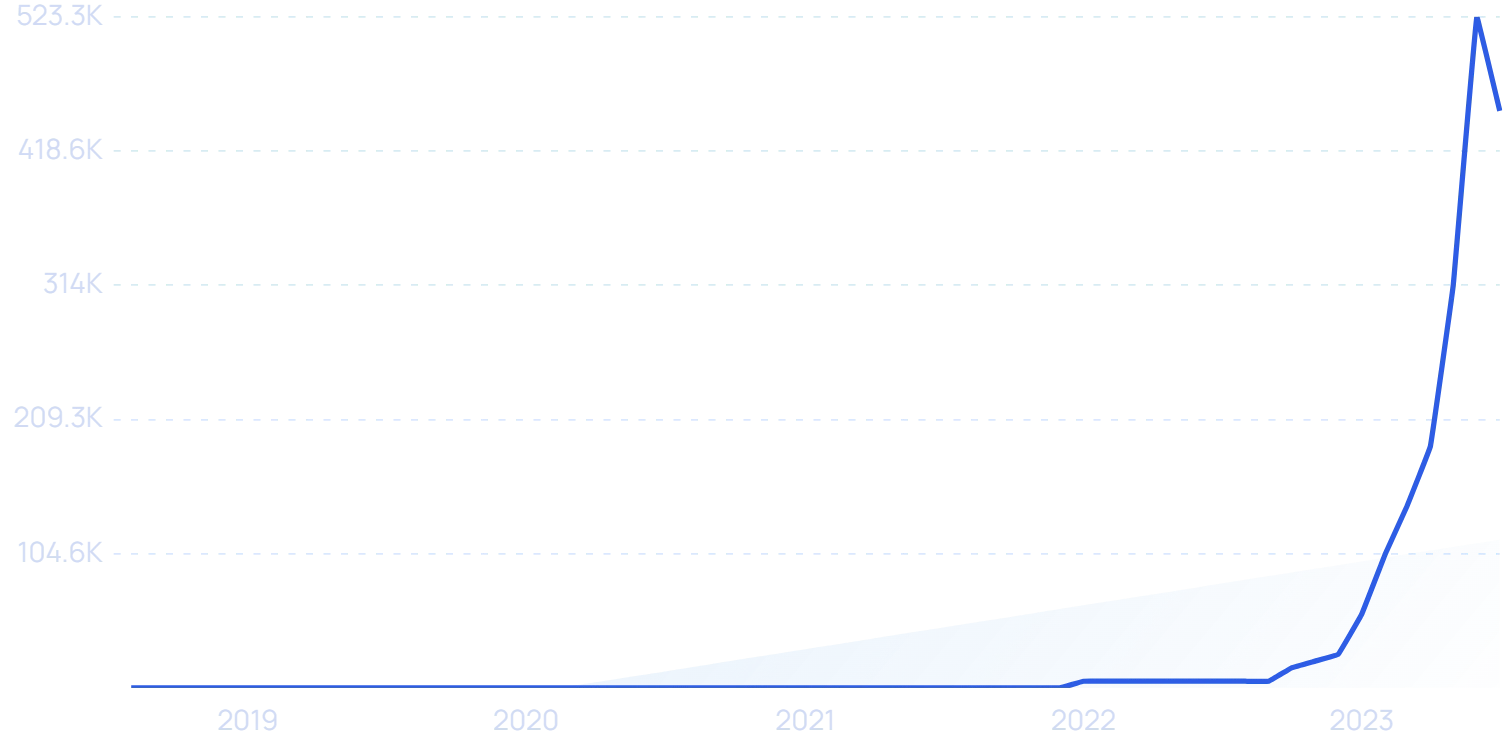 Search volume for "generative AI" has jumped nearly 9,000% in recent months.
It's likely that generative AI will be employed in both customer-facing and back-end retail operations.
The global impact could be huge.
McKinsey estimates generative AI could add up to $275 billion to the profits of apparel, fashion, and luxury retailers within the next five years.
The firm says the impact in the overall retail and CPG market could hit $660 billion per year.
Microsoft predicts the technology will boost Australia's retail sector by $9 billion annually by the year 2030.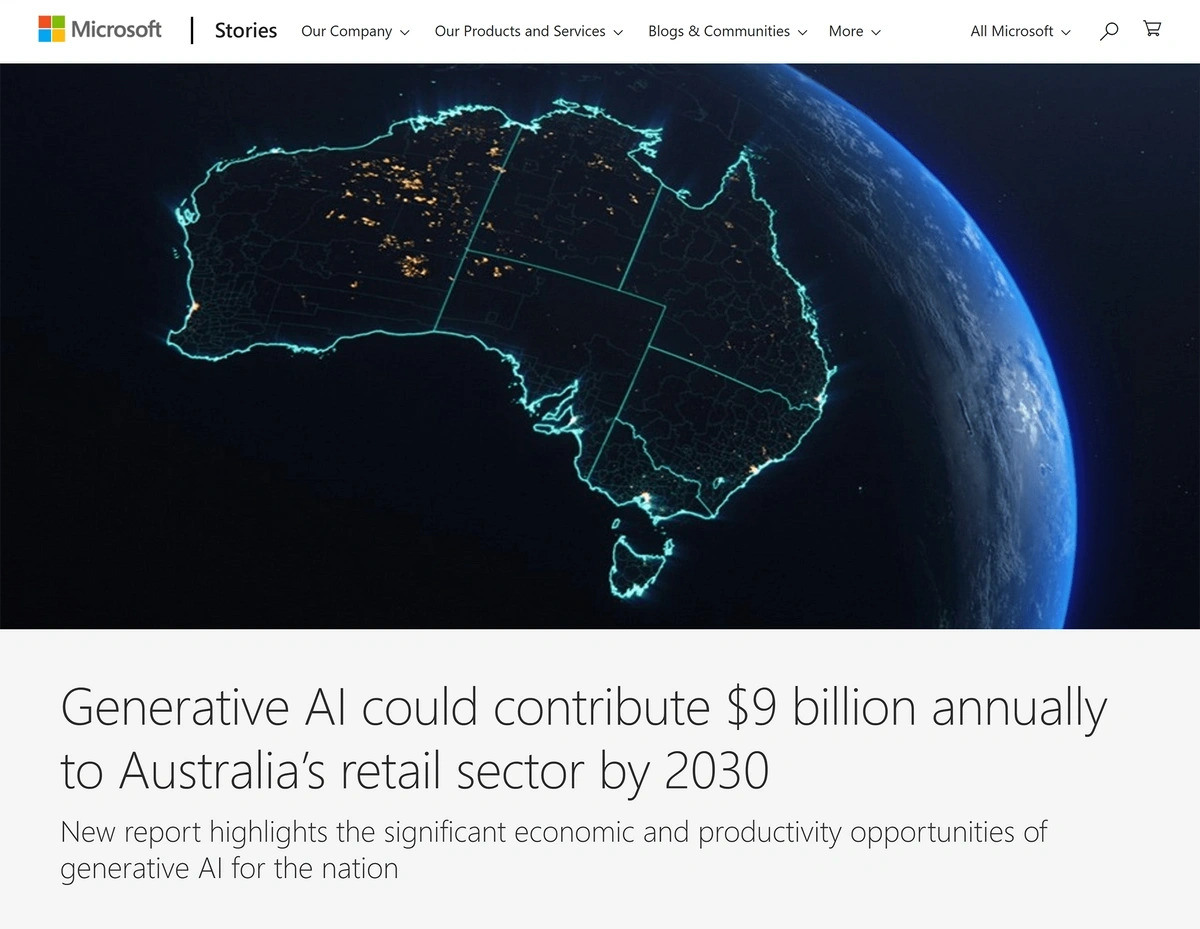 A report from Microsoft estimates that generative AI will have a multi-billion-dollar impact on the retail sector.
One of the main ways in which retailers are already taking advantage of generative AI is by the use of chatbots.
These chatbots are trained on the company's support knowledge and can independently respond to a wealth of customer questions.
This is different from rule-based bots, though. The latest chatbots understand natural language queries and can respond with personalized answers to different customers.
This improves the efficiency of a retailer's customer service and also eases the burden on overworked employees (the quit rate in retail is currently 3.3% so far in 2023).
Approximately 88% of customers have interacted with a chatbot in the past year and about 70% of them were satisfied with the interaction.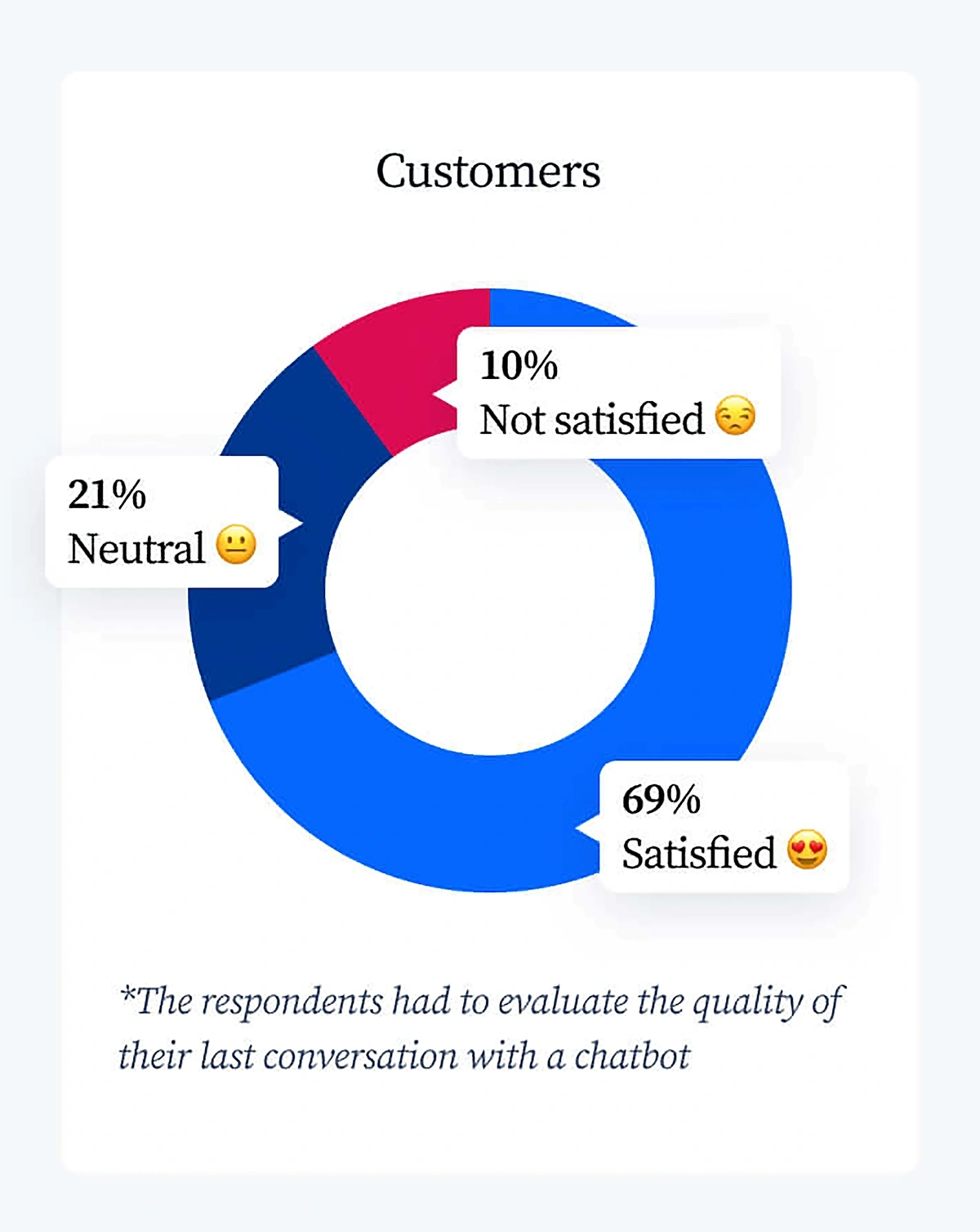 The vast majority of customers were satisfied after they conversed with a chatbot.
Many retailers are also adopting generative AI in order to quickly churn out hyper-relevant marketing and sales content.
In a survey from Insider Intelligence, more than 80% of marketers said the content produced by generative AI was good or even better than human-generated content. And, 88% said it saved their company time and money.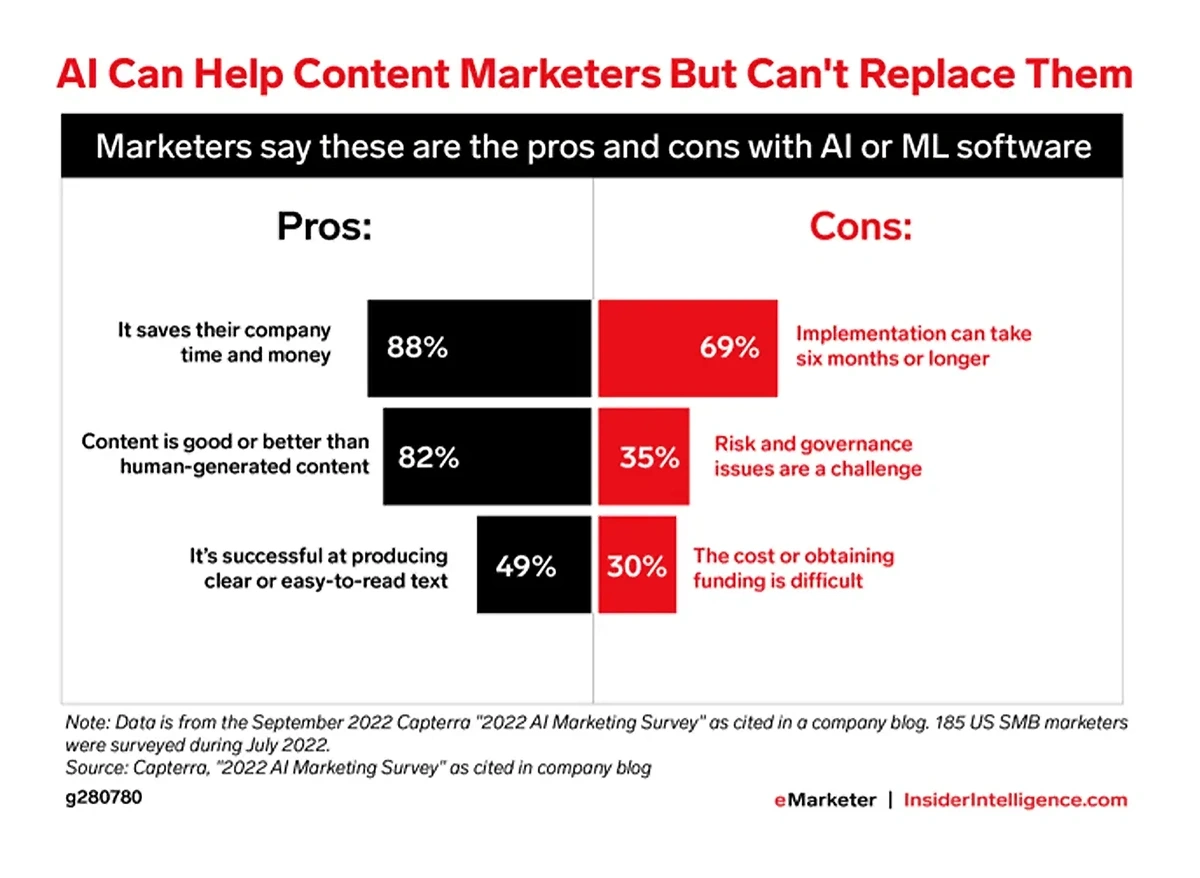 Retail marketers are using generative AI solutions to save time and money.
Retailers who are active on social media, for example, can use generative AI to make a TikTok video, an Instagram image, or other social content focused on recent trends.
This tech can also be used to generate personalized emails for customers and write engaging product descriptions.
Generative AI is also helping retailers bring images to life. This is especially true in the fashion industry.
In one example, designers can upload sketches to an AI platform and the platform will generate several iterations of that style with various color and fabric choices.
There's an Instagram user called @str4ngething who posts images showing just how far generative AI can take fashion for retailers. Most of her images combine current-day trends with Renaissance fashion.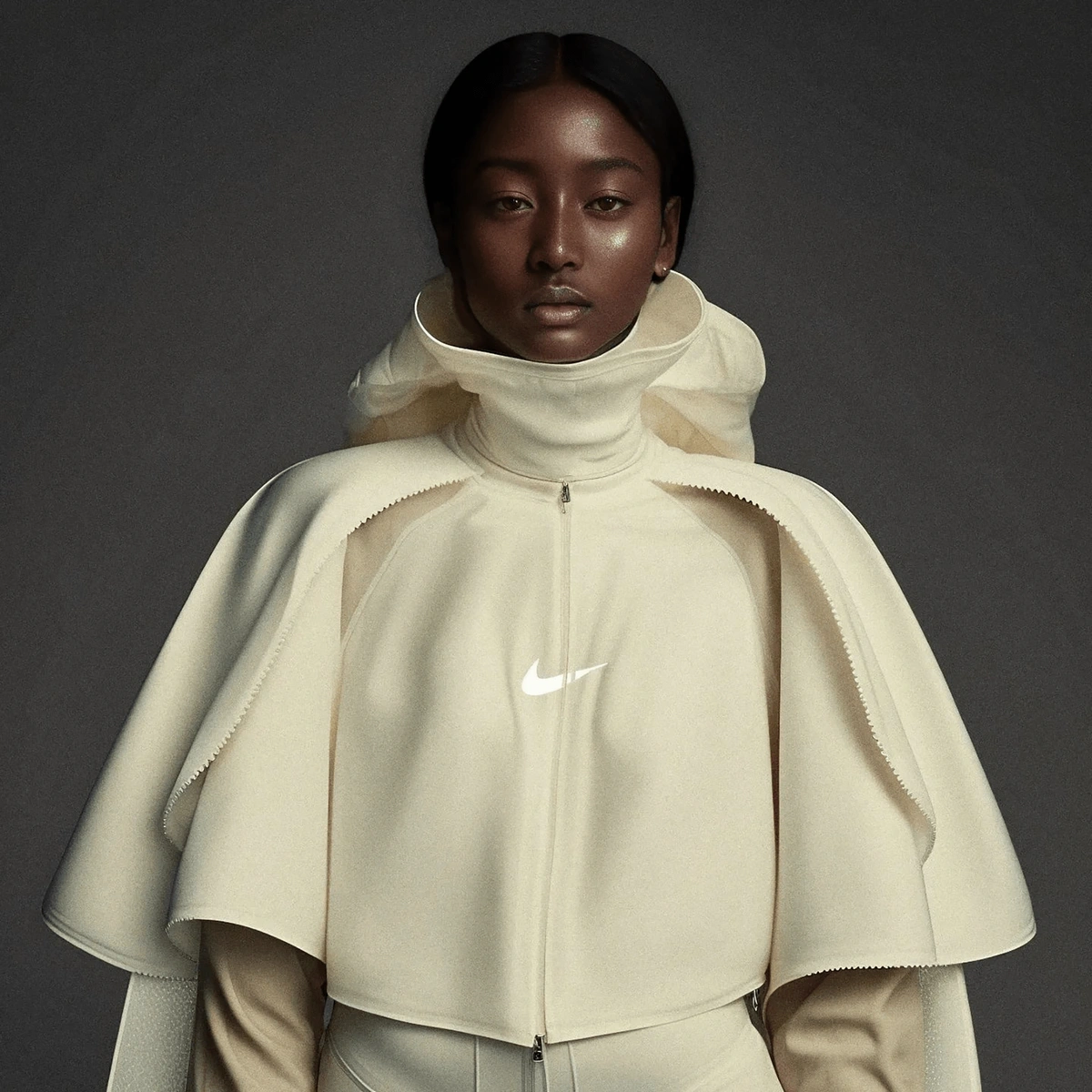 The Instagram account recently posted this tracksuit/Renaissance cape concept.
In another example, fashion retailers are using generative AI to create images using virtual models.
These AI fashion models can be custom designed to be whatever race, gender, age, or size fashion retailers desire.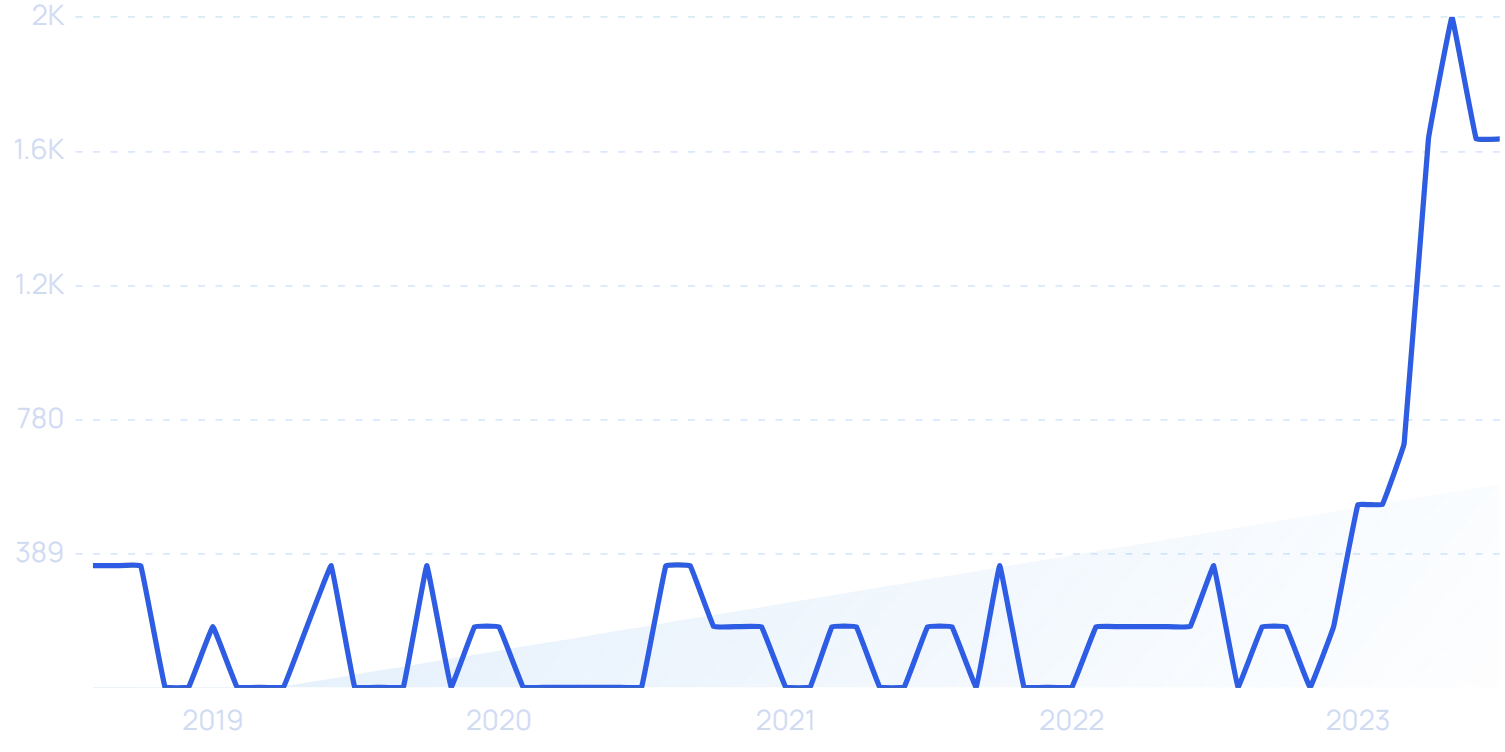 Search volume for "AI fashion models" has jumped more than 600% in recent years.
Levi's began testing AI fashion models in March 2023.
The retail brand partnered with AI company Lalaland, a startup that's raised more than $2 million to date, to create the models.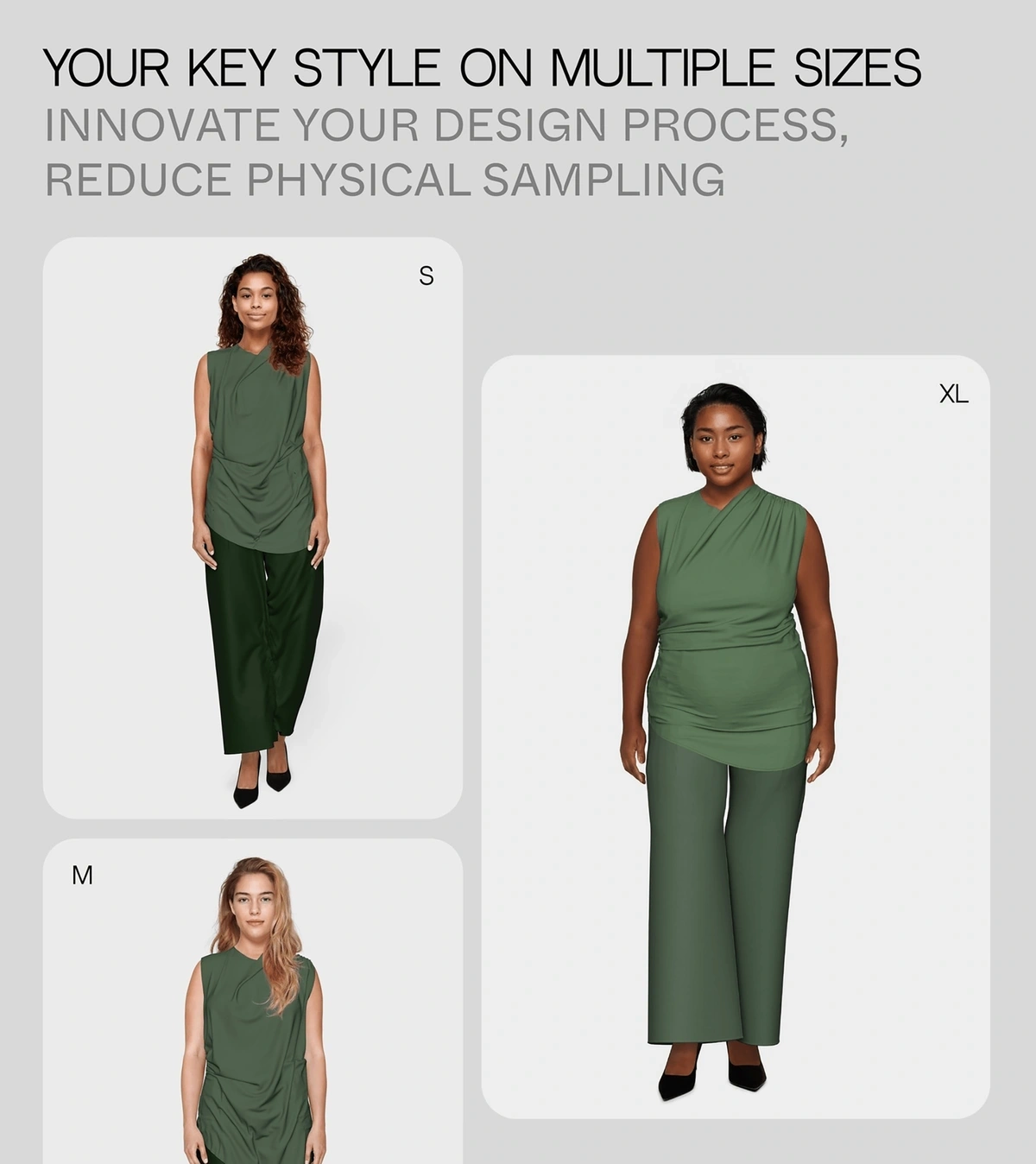 Lalaland's AI models can display clothing on people of all sizes and races.
Conclusion
That wraps up our list of the top five trends in retail technology.
AI is already playing a huge role in this space and its impact is likely to grow well into the future. As retailers look for more insight into the customer journey, AI is likely to be an important tool for data gathering and analysis.
In the same way, retailers are looking to use the smartest tech solutions they can in order to drive revenue and increase business efficiency. Tools like AI will save retailers time and ease the burden placed on their staff.
But each of these tech trends has the ultimate goal of attracting consumer attention and ensuring purchases. Features like AR and personalized content are set to drive significant growth in the retail sector.