8 Important Mobile App Trends for 2021-2025
You may also like:
Global mobile app revenue is projected to hit $693 billion this year.
That's up from $581.9 billion in 2020.
With all that potential revenue comes massive opportunity. But also competition.
That's why we put together this list of the year's biggest mobile app trends.
So whether you're a coder, entrepreneur, investor or journalist, watch these trends to stay ahead of the game.
1. Privacy Is Getting More Focus
Data privacy is becoming a top priority for many app users.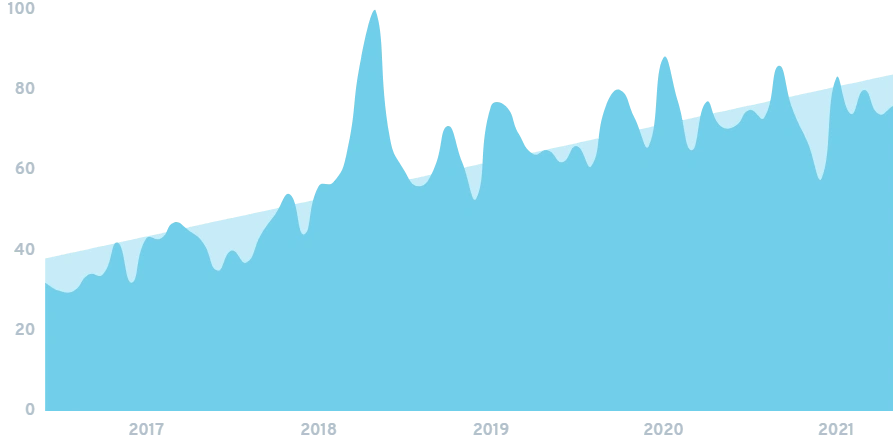 Google searches for "data privacy" are up 146% since 2016.
According to a recent study by Cisco, 32% of adults have switched companies or service providers based on their data or data-sharing policies.
(Privacy is also part of the reason people are switching away from some Google apps. More on that later).
Web apps and mobile apps involved in this trend include:
End-to-end encrypted messaging apps like Telegram.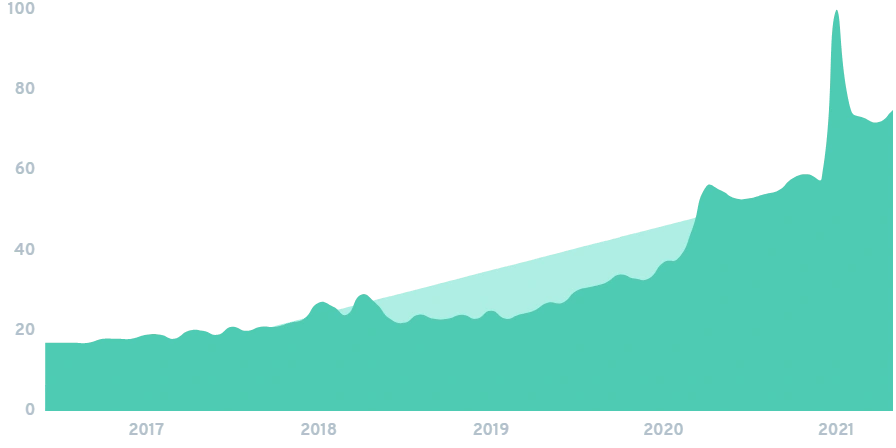 Telegram, thanks largely thanks to its strong focus on privacy, is seeing explosive search growth.

Privacy-focused browsers like Firefox and Brave.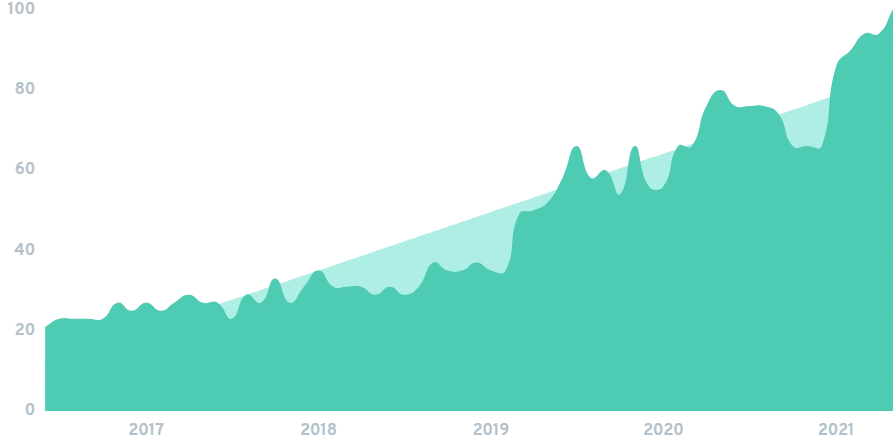 Searches for "Brave" are up 291% since 2016.
The cookie-free search engine DuckDuckGo (which also offers a tracker-blocking Chrome extension and standalone mobile web browser).

Searches for DuckDuckGo have been taking off.
Plus there are more advanced solutions like Pi-hole, which operates at the network level.
All in all, privacy is definitely a trend that anyone in the app space will need to keep an eye on this year.
2. App Developers Embrace Low-Code and No-Code
The low-code/no-code movement is one of the most important software development trends happening right now.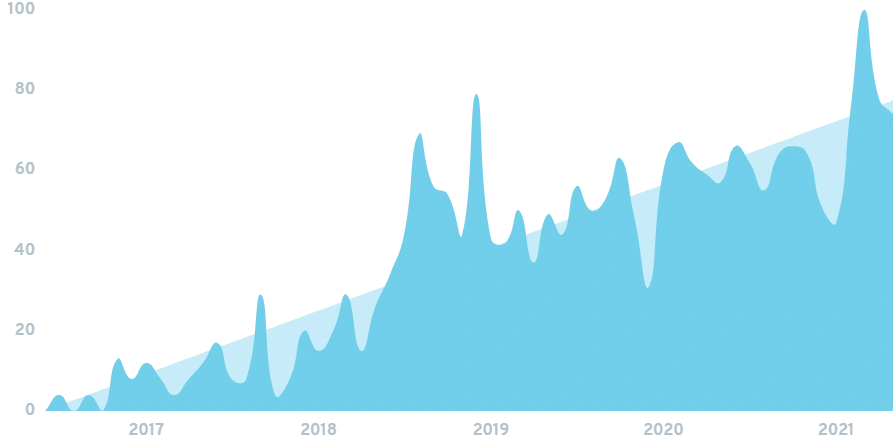 Searches for "low-code" are up 5400% over the last 5 years.
Now, pretty much anyone can build a killer app. No coding skills required.
(Or if you are a developer, low-code tools provide lots of shortcuts.)
For example, Zapier offers plug-and-play integrations with other services and applications.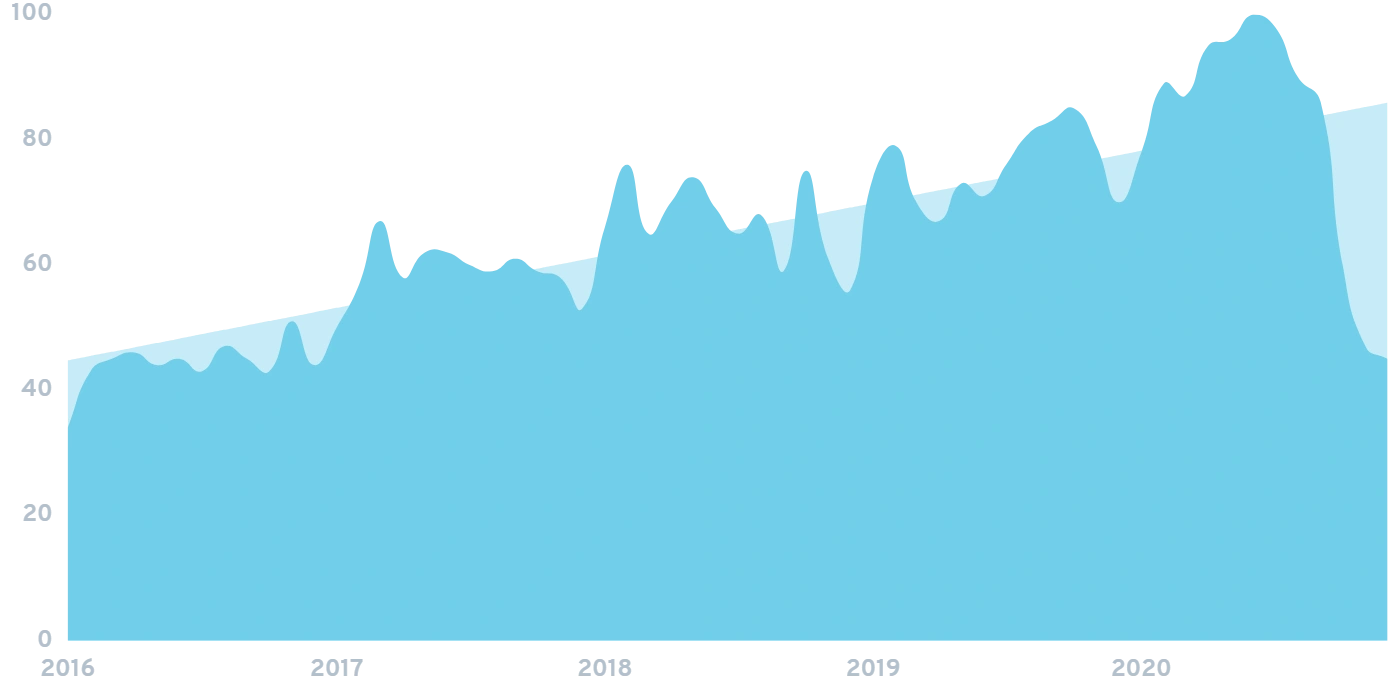 Searches for "Zapier" over time. They took a big dip recently, but are still relatively up over the long-term.

While Bubble lets non-technical designers and entrepreneurs build full web apps.
And in January, Google acquired the no-code mobile app platform AppSheet.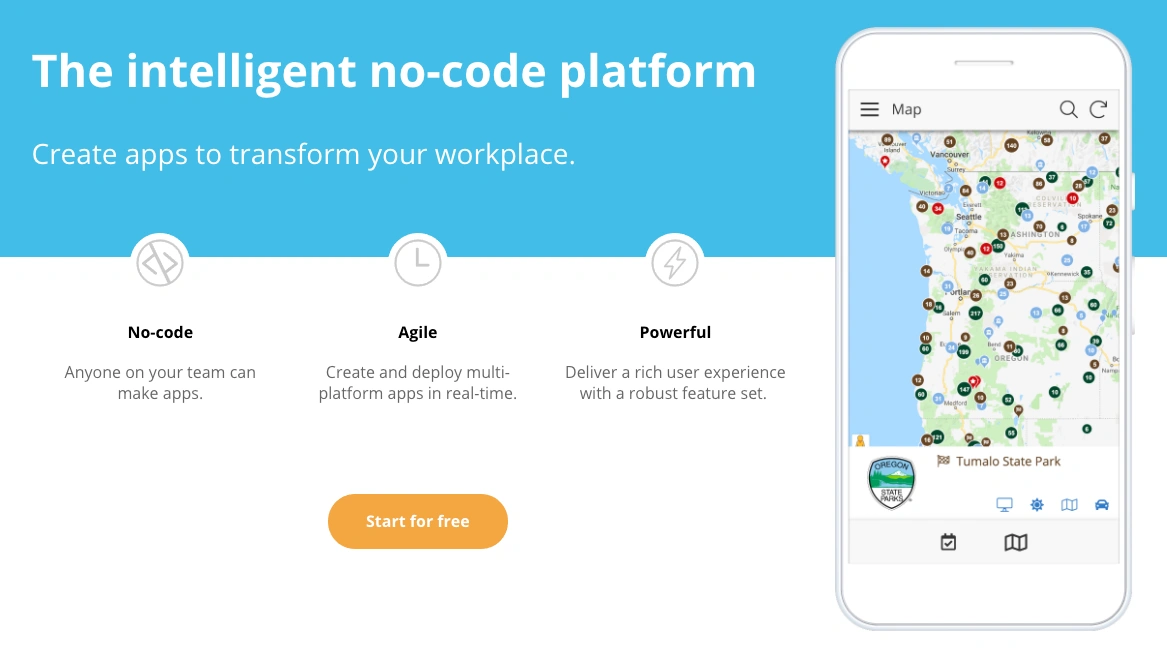 AppSheet, recently acquired by Google for an undisclosed sum. (AppSheet was valued at $60M at the time.)
Even productivity apps like Airtable and Notion are being used to create no-code applications and websites.
The low-code trend isn't going to make manual coding obsolete.
At least, not in the near future.
But its effects are hard to overstate, as it opens up new opportunities for applications and businesses that wouldn't exist otherwise.
3. More Camera-Focused Apps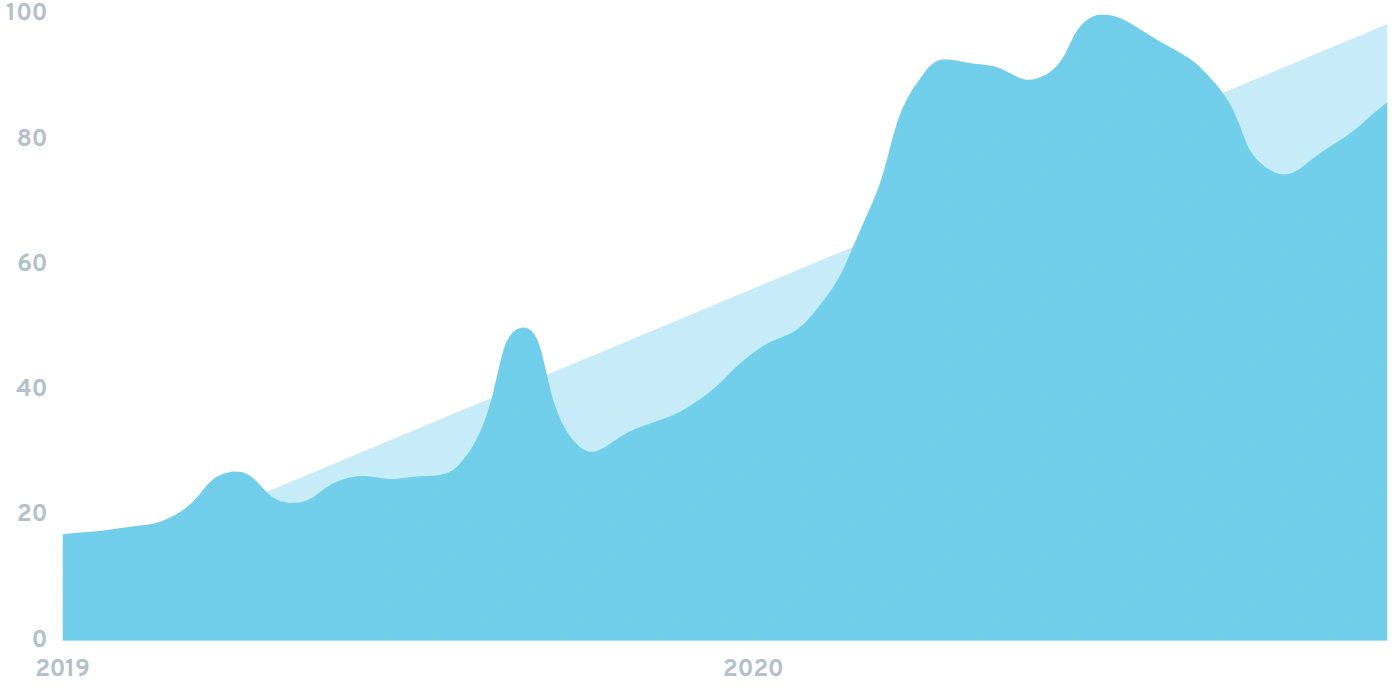 U.S. Google searches for "TikTok" exploded in 2020, and are still on the rise in 2021.
Part of the massive work-from-home trend means people are jumping on video calls a whole lot more than they used to.
In a single week in March last year, videoconferencing apps were downloaded a record-breaking 62 million times.
Google Meet, Zoom, and even old-school Skype have seen their usage skyrocket.
So have video-based social networks like YouTube and Facebook Watch.
But newcomers like TikTok are also giving the old stalwarts a run for their money.

Houseparty had its moment in 2020 - but lacked the staying power of the likes of TikTok.
People just can't get enough of apps that help them broadcast videos, connect with friends, and build followings.
Niche challengers are attacking the streaming entertainment space as well.
It will be interesting to see how this space continues to develop in 2021.
4. Premium Apps Challenge Google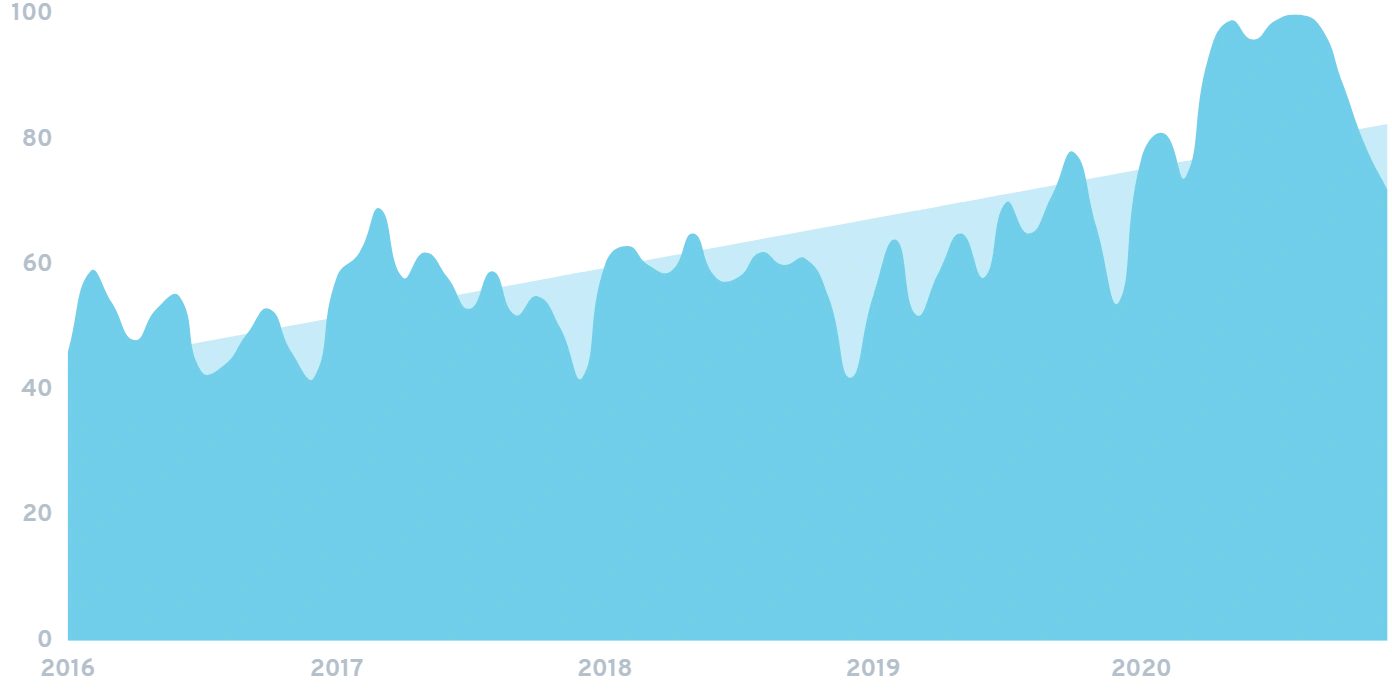 Search volume for "JotForm" has increased by 81% over 5 years.

It used to be a given that Google's free apps were the default.
Everyone used Gmail.
And if they didn't use Excel, they used Google Sheets.
But now, people are actively switching away from some of the most popular apps in the world.
Rather than relying on Google's free solutions, they're using paid apps that let them do the same things…
Only better.
Faster.
More easily.
This trend started years ago. But it's been accelerating lately.
For example, Gmail users are flocking to Superhuman, at $30 per month.
Why?
The promise of spending less time in their inboxes.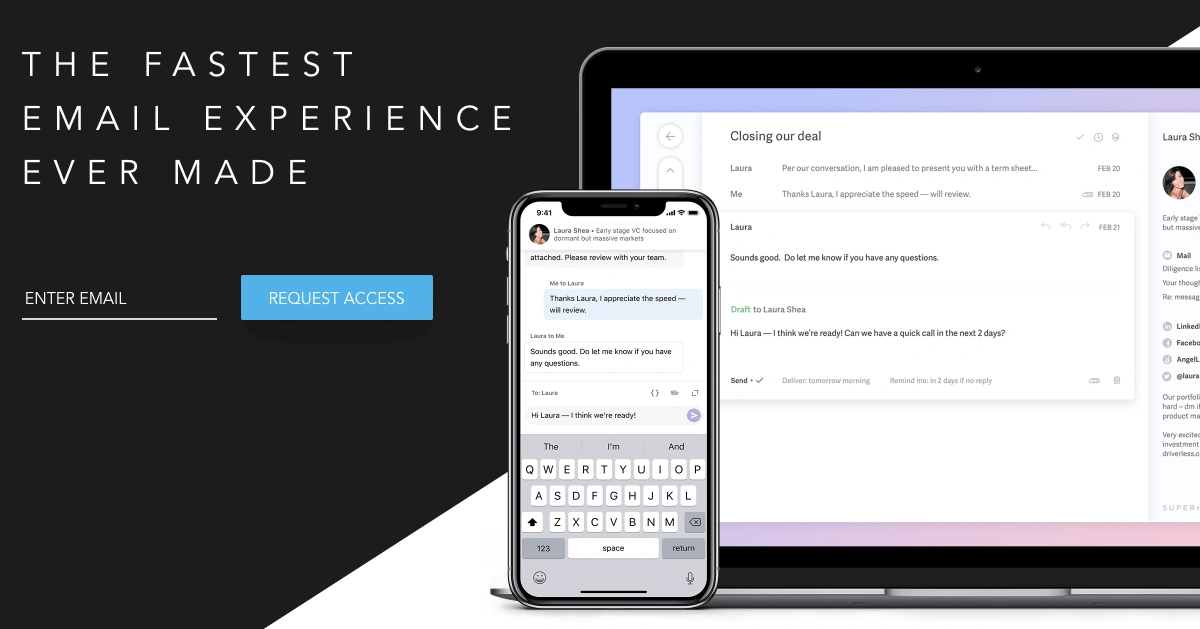 Superhuman touts itself as "the fastest email experience ever made".
Another example:
Many Google Hangouts (now Google Meet) users have switched to Zoom.
In fact, Zoom has become the de facto standard video conference tool for business people.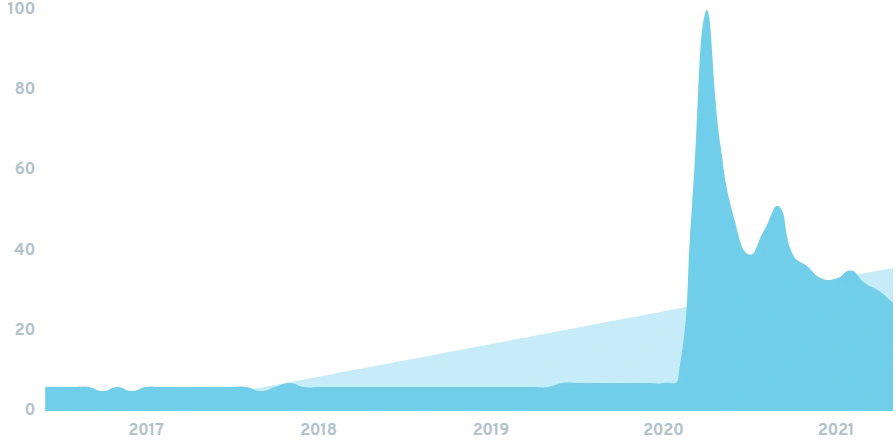 Google search growth for "Zoom".
It went from 10 million daily meeting participants in December 2019 to 300 million in April 2020.
Even Google Sheets is feeling the pain of this trend. More and more spreadsheet users are using Airtable to crunch data and get things done.
And if you've been asked to fill out a survey recently, chances are good you did it in Typeform instead of Google Forms.
Who knows what new threats to Google's services will emerge this year?
5. New Audio-Focused Social Media Platforms Emerge
Video apps may be "the next big thing".
But an older format is getting plenty of attention in the social space, too:
Audio.
The audio-based social network Clubhouse is valued at $4 billion.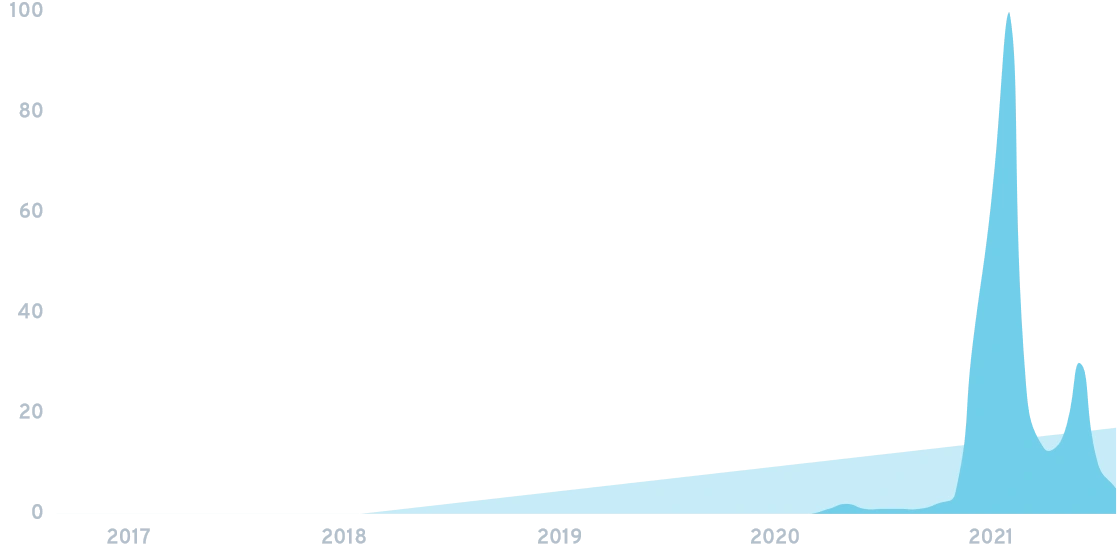 Searches for audio chat app Clubhouse looks to have spiked.

Clubhouse basically works like old-school AOL chat rooms.
Only using voice instead of text.
It's a spontaneous experience: just jump into a voice chat room and join the conversation.
Originally only available on IoS, Clubhouse recently launched an Android version of the app. Which should help grow their userbase.
But this audio trend has one main problem:
The biggest social networks natively support video, but not straight audio clips.
Wavve solves that problem by turning users' audio clips into short, shareable waveform videos.
So people can share their thoughts, music, or clips from podcasts on existing social networks like Facebook, Instagram and Twitter.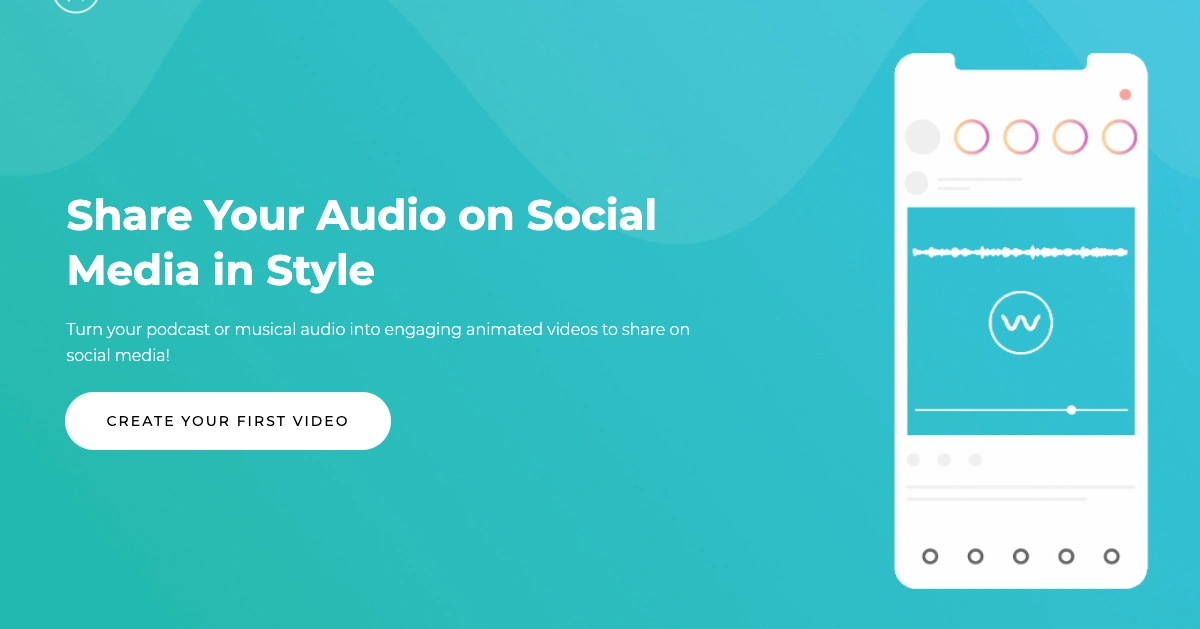 Wavve's homepage. Wavve has been exploding in popularity over the last 18 months.

Of course, audio is also a meta-trend that goes FAR beyond social media.
Podcasting is on the rise, with an estimated 104 million Americans listening in at least once per month.
While apps like Anchor are emerging to help people create new podcasts more easily.
And interest in audiobooks is growing every year too, as you can see from the search volume trends for the keyword "Audible" (Amazon's audiobook service).
6. Banking Is Going Mobile-First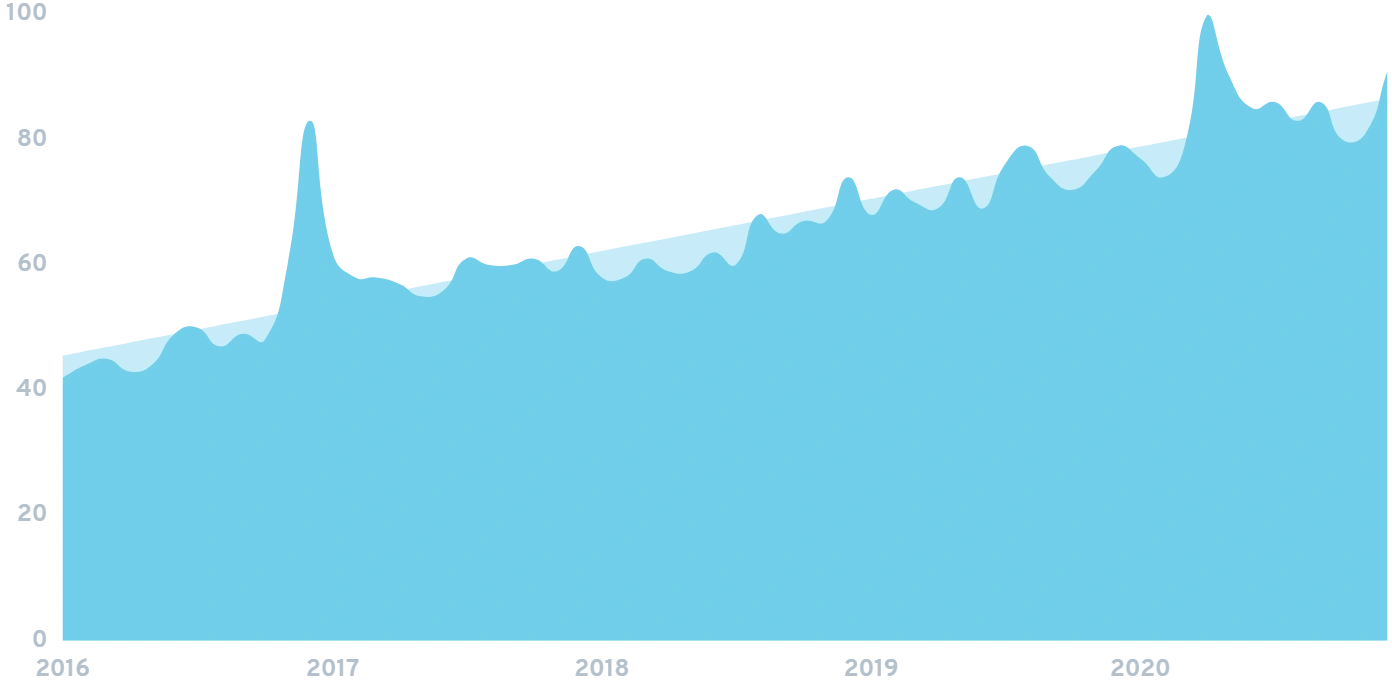 Interest in mobile banking has been growing for years.
What was once niche is now mainstream:
86% of US banks currently offer mobile bill-pay services.
And fintech startups like Chime Bank are competing for mobile-first banking customers, offering basic financial services with fewer fees.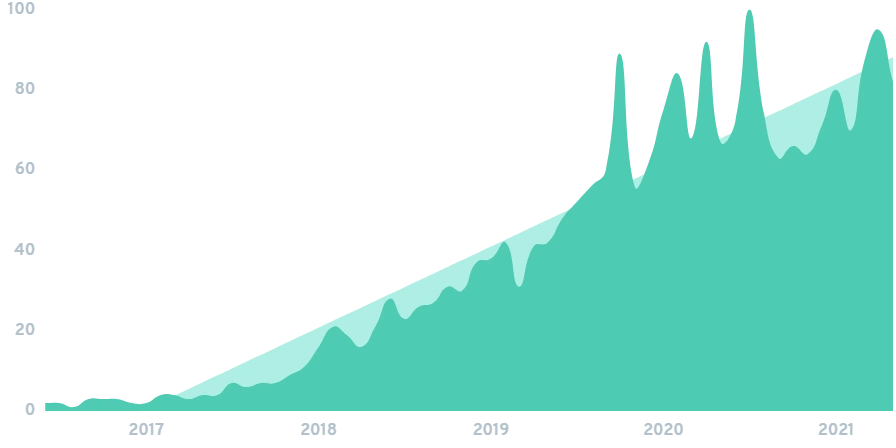 Google search growth for "Chime bank" since Jun 2016.
Mobile-first banking is a huge mobile app trend.
And it's global.
Indonesia's Payfazz has the backing of Y Combinator.
In Germany, they have N26.
In the UK: Starling Bank.
While one of China's most popular forms of payment for years has been WeChat Pay.
According to the latest known figures, 1 billion commercial transactions are made through the WeChat app every day.
And those are just a few examples.
There are also peer-to-peer payment networks like Venmo: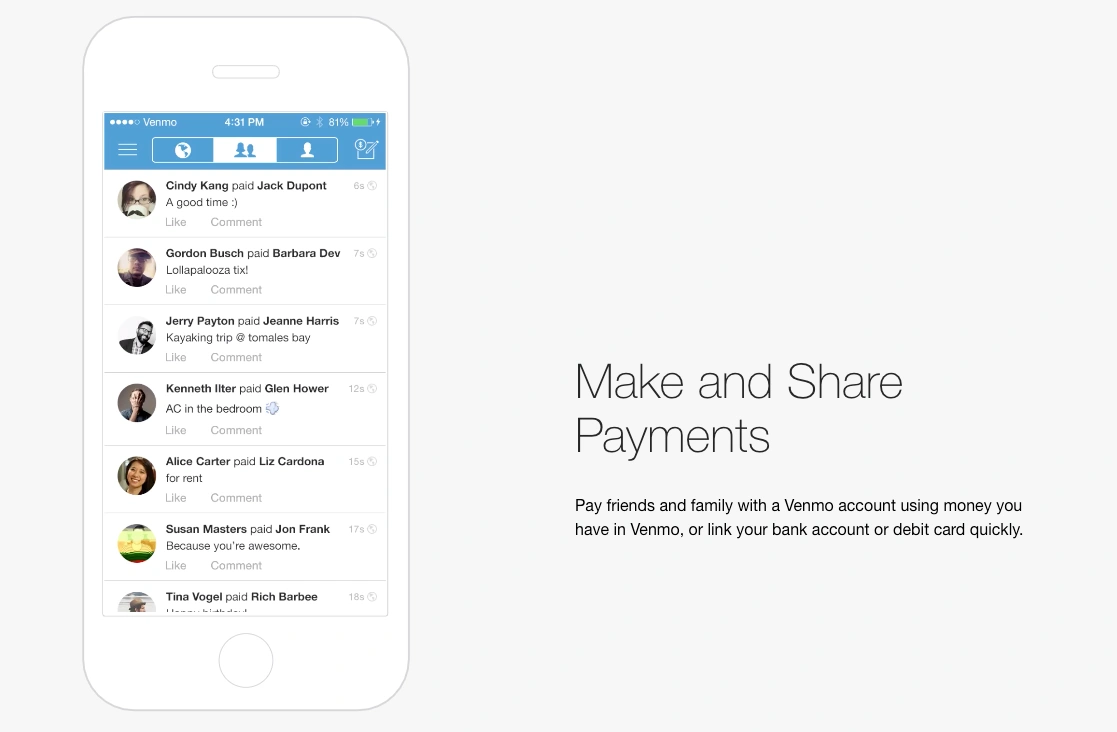 Venmo is a digital wallet service owned by PayPal.
Not to mention Apple Pay and Google Pay, which each boast tens of millions of US users.
Even Facebook has entered its apps into the mobile payments arena.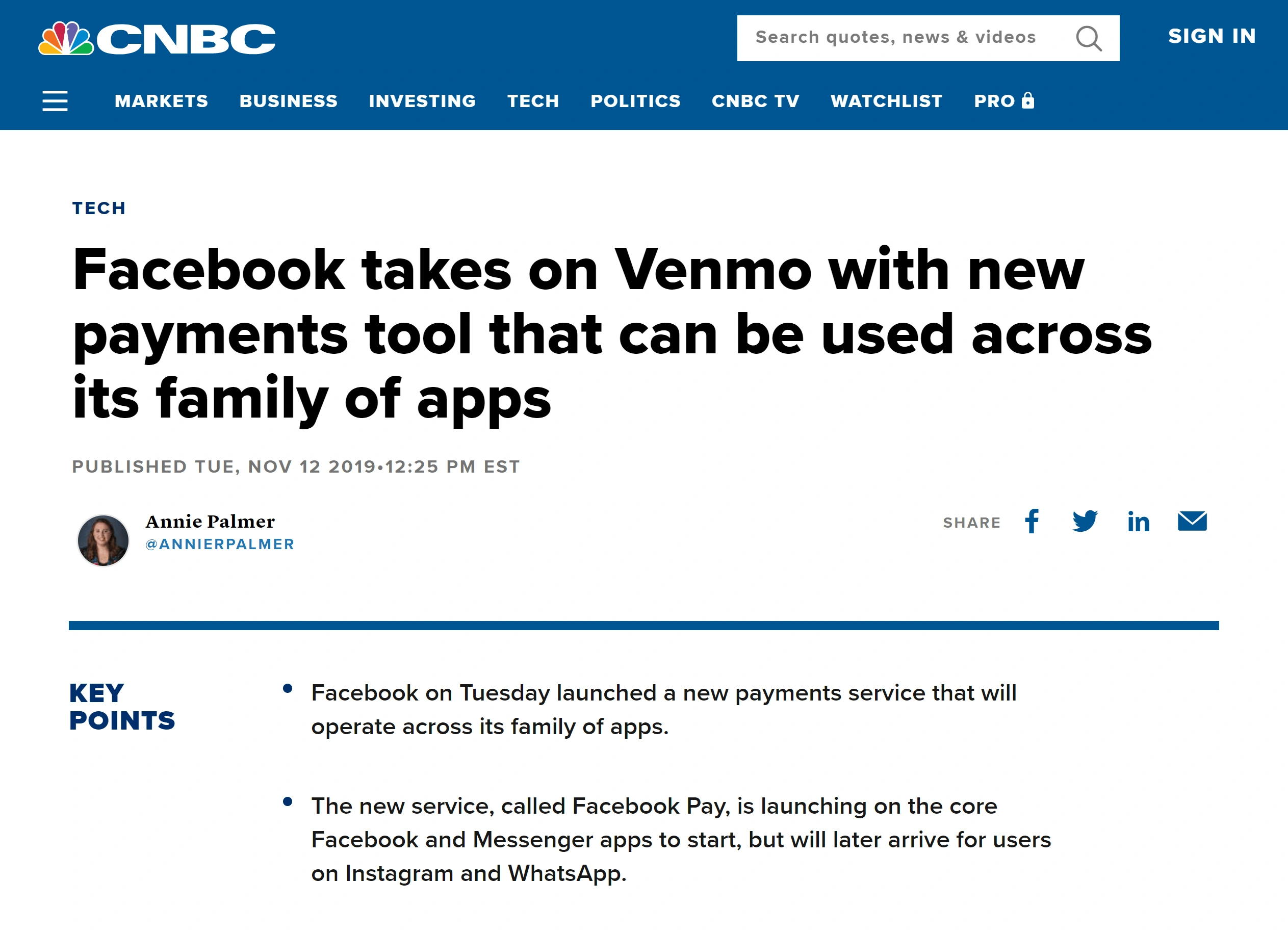 Facebook is adding payment functionality to Whatsapp and Messenger.
7. Apps Are Getting Smarter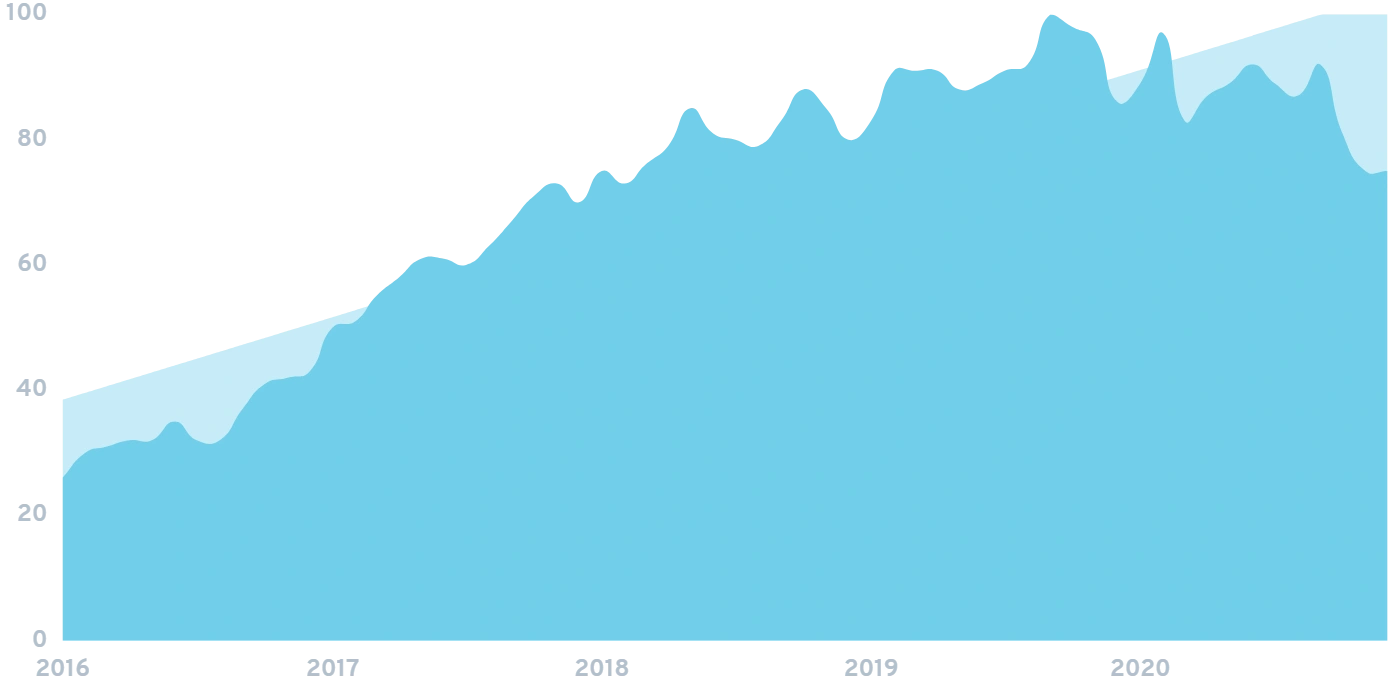 Search volume for "machine learning" over time.
AI has probably appeared on every list of technology trends published in the last decade.
But things are heating up even more in 2021.
How can you tell?
One clear metric is the number of AI startup acquisitions.
Here are just a few from last year alone:
Apple acquired Xnor.ai for $200 million as well as Inductiv, adding to over a dozen AI acquisitions they've recently made.
Snap snapped up AIFactory, the backbone of Snapchat's "Cameos" feature, for $166 million.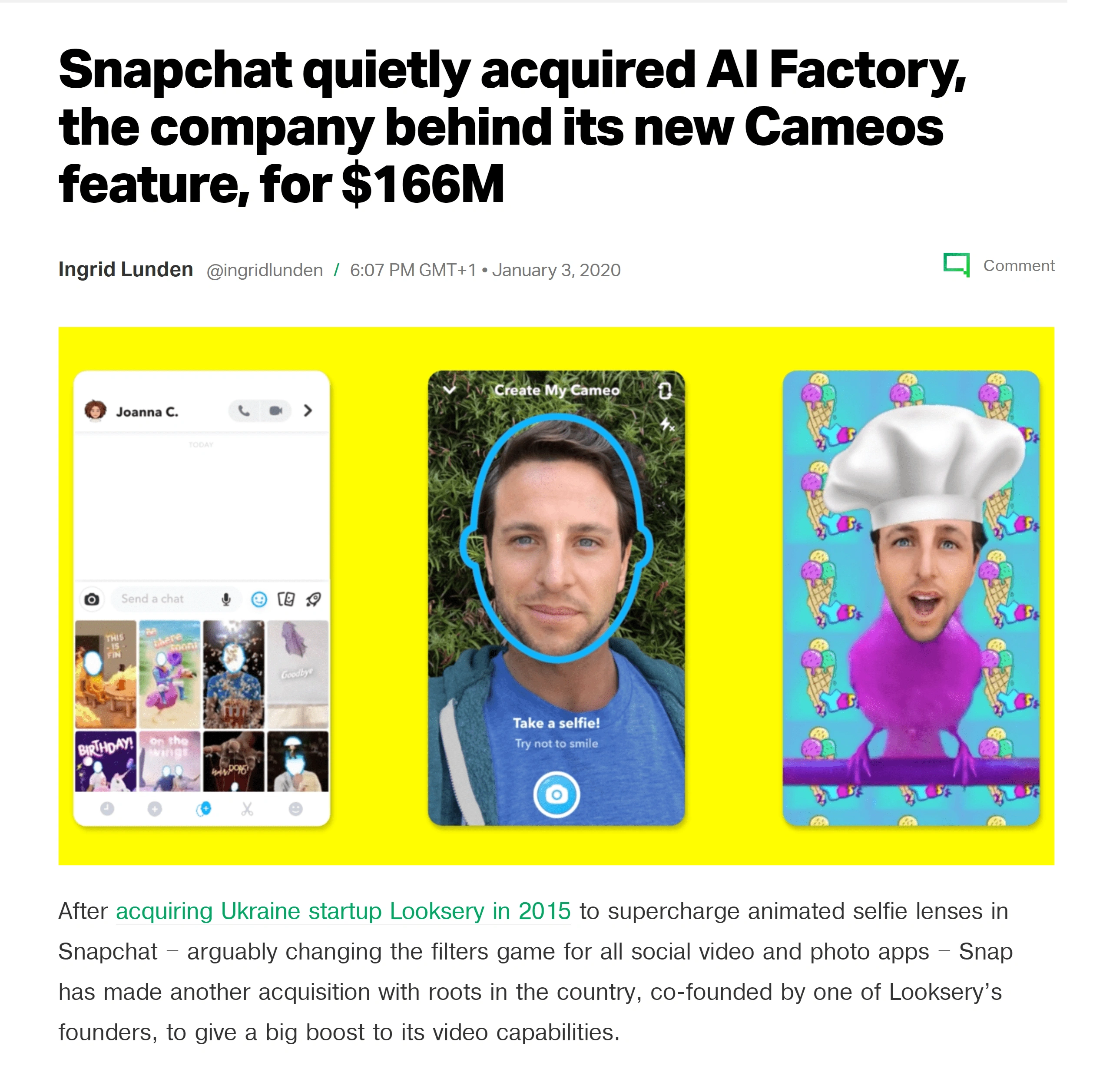 Snap Inc. made headlines with its acquisition of AIFactory.
Freshworks bought AnsweriQ to help power its "Freddy AI" machine-learning-powered predictive intelligence bot.
And even Ikea recently purchased an AI startup, Geomagical labs, to help improve their AR imaging capabilities.
Artificial intelligence is being used to power everything from smart assistants to journalism, Netflix recommendations and more.
And this trend shows no signs of stopping.
8. Augmented Reality Is Getting Real
Ask anyone what they think about augmented reality.
Assuming they're familiar with the term, they'll probably name one concern: faked videos.
"Deep fakes" have made the news recently for their use in spreading disinformation, adding female celebrities' faces to pornography, and more.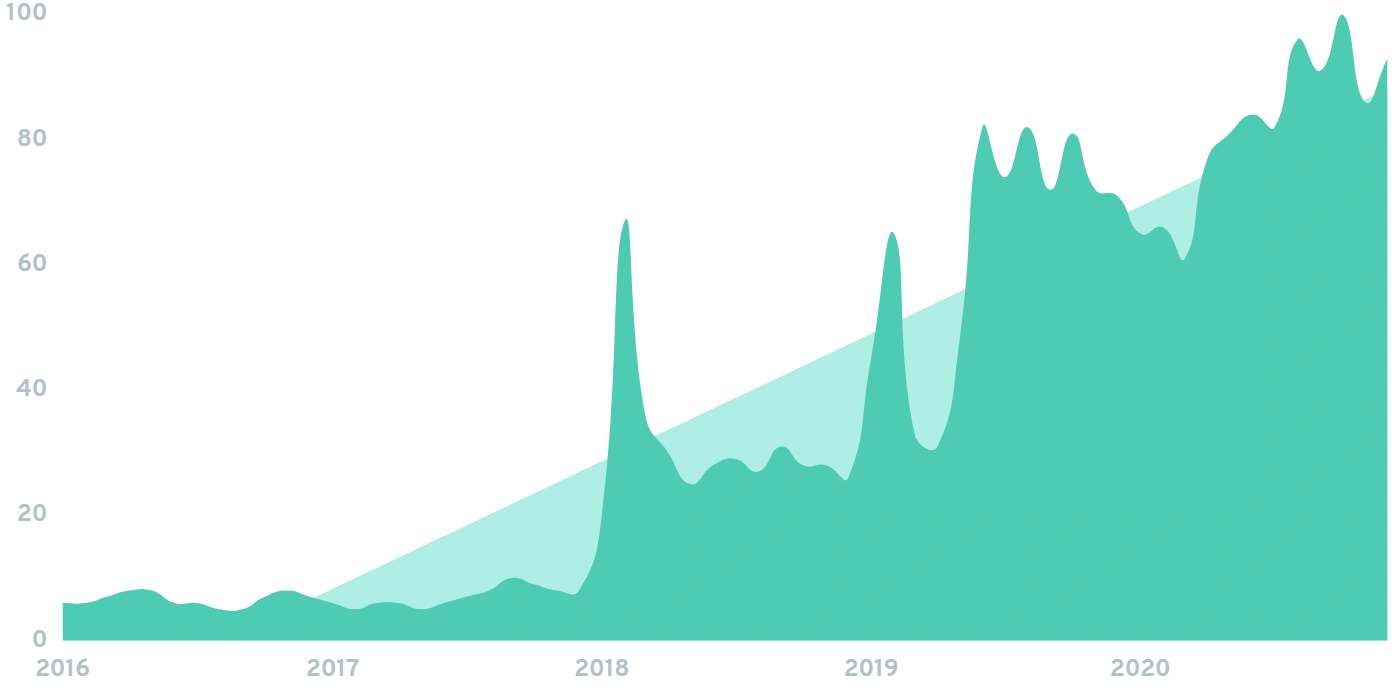 US Google searches for "deep fake" over time.
The Russian novelty app FaceApp is another recent example of the AR trend.
Before it came under fire as a potential counterintelligence threat, people uploaded tens of millions of photos to see how they might look in the future.
But there are plenty of legitimate uses for augmented reality in mobile apps.
In the AI trend we just discussed, we already mentioned efforts by Snapchat and Ikea to bolster their AR features. ("Cameos" and "Place", respectively.)
SketchAR gives iOS and Android users the ability to "lift" drawings from a piece of paper and apply them to another surface, using augmented reality.
Zoom's virtual backgrounds let people report to their videoconferences from the Starship Enterprise or the Simpsons' couch.
And if you search Google for "tiger" on an AR-enabled phone, you'll see an option to view it in 3D.
(It also works with some other animals, like wolves, pandas and ducks.)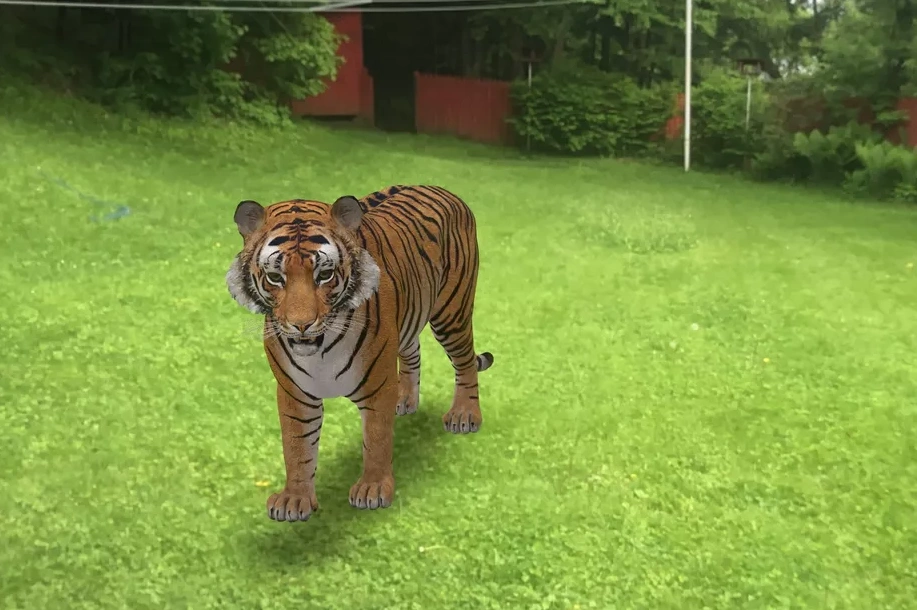 Google's AR Tiger (Image credit: The Verge)
Google Maps has joined the trend too, with Google Maps AR. This feature puts augmented reality directions on your screen as you use Google Maps to navigate while walking.
It will be interesting to see what other AR features and apps get released between now and 2025.
Conclusion
That wraps up our list of the 8 hottest mobile app development trends happening right now.
The world of mobile app development is changing rapidly.
But these trends seem to have staying power: they'll probably continue through this year and beyond.