7 Top B2B Market Research Tools (2023)
There's no one-size-fits-all approach when doing B2B market research.
Depending on your reasons for exploring your market—developing products, business launches, marketing campaigns, and more—you may find that you need to use a mix of tools to get the job done.
Ultimately, you'll probably want to look for solutions that provide quantitative or qualitative research on:
Trends that are important to B2B buyers and key decision-makers
B2B customers' needs
Key competitors in your B2B market
Potential economic factors with an impact on your industry
How your audience views your products or services
These seven B2B market research tools are a great place to start, as they offer a mix of data, features and ideal use cases at various price points.
1. Exploding Topics
Exploding Topics is a trend spotting tool that's ideal for identifying growing B2B trends.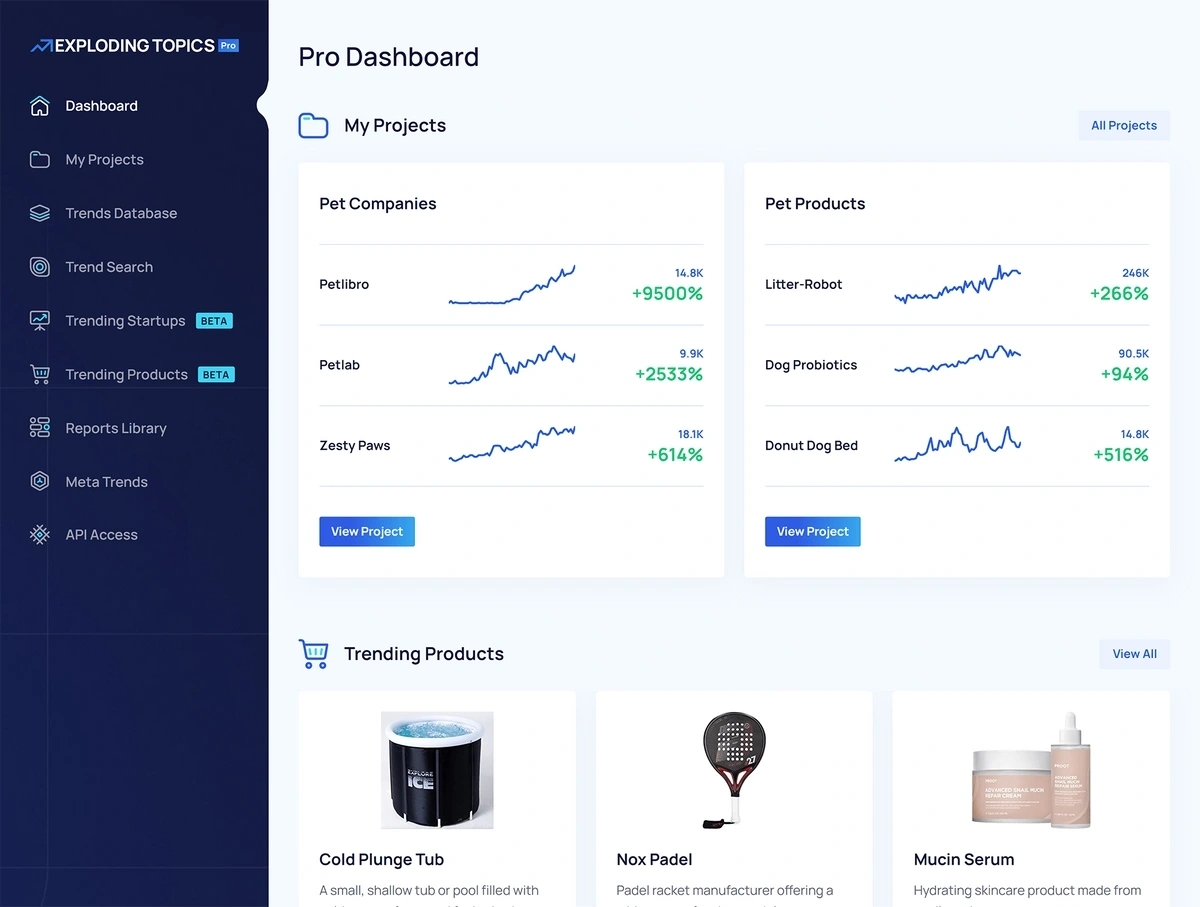 You can also use it to:
Discover new competitors
See what kind of funding startup competitors or clients have received to date
Learn more about products launching—and selling—in your market
See how interest in different trends has fluctuated over the past 15 years
Get historical Google Search volumes for trend terms
This means that you can use Exploding Topics during the market research process to support your:
Content marketing
Sales
Customer outreach
Plus, we update our trend database every day. There's no waiting for panel respondents to get back to you or trying to estimate how data may have changed since a report's publication date—it's always fresh.
We're able to do this thanks to a blend of AI tools and human data analysis.
First, our AI "listens" to conversations online—across forums, websites, news reports, and other places your B2B customers may gather—and identifies the topics people are currently talking about.
Then, our data analysis team reviews the trends and decides what's going to be most useful to our users.
You can explore our database on your own, or read through insightful reports that our team puts together regularly.
We make a portion of this information free for anyone to browse—to get access to all our features, including instant reports on the topics that are most important to you, you'll need an Exploding Topics Pro subscription.
2. Wynter
Wynter helps companies quickly and effectively test their brand messaging.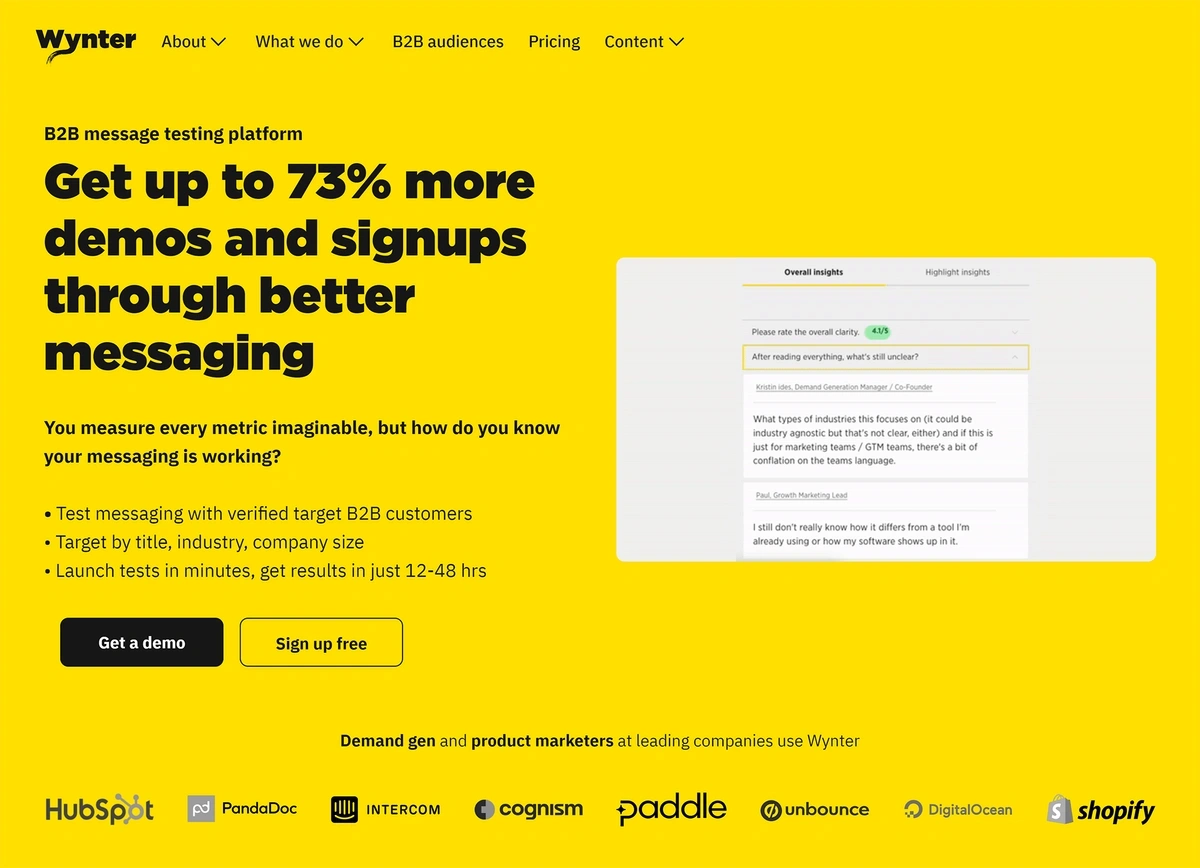 When using Wynter, you'll have access to a group of B2B customers that are similar to your target audience.

You can then leverage this group to:
Evaluate potential customer satisfaction around new launches
Survey people similar to your target audience
Get recordings of audience testers interacting with your website
Allow audience voting on different options
The way it works is simple: Wynter maintains a database of B2B professionals that they've scouted through various industry outlets. Each person's credentials are checked against their LinkedIn profile, and they receive payment for taking part in tests.
As a Wynter user, you can tap into this database and build focus groups based on demographic data about your target market:
Company size
Industry
Job title
Seniority
Each focus group may contain between 15 and 30 people, and you'll have results in 12 to 72 hours.
To use all of Wynter's segmentation and testing features, you'll need to subscribe to a paid plan, which starts at $999 per month.
If you opt for the annual plan, which works out to $1584 per month, you also get access to a dedicated research strategist. Pay-as-you-go options are also available.
3. QualtricsXM
The QualtricsXM market research platform lets you build your own panels by recruiting from groups like your:
Email subscribers
Website visitors
Social media followers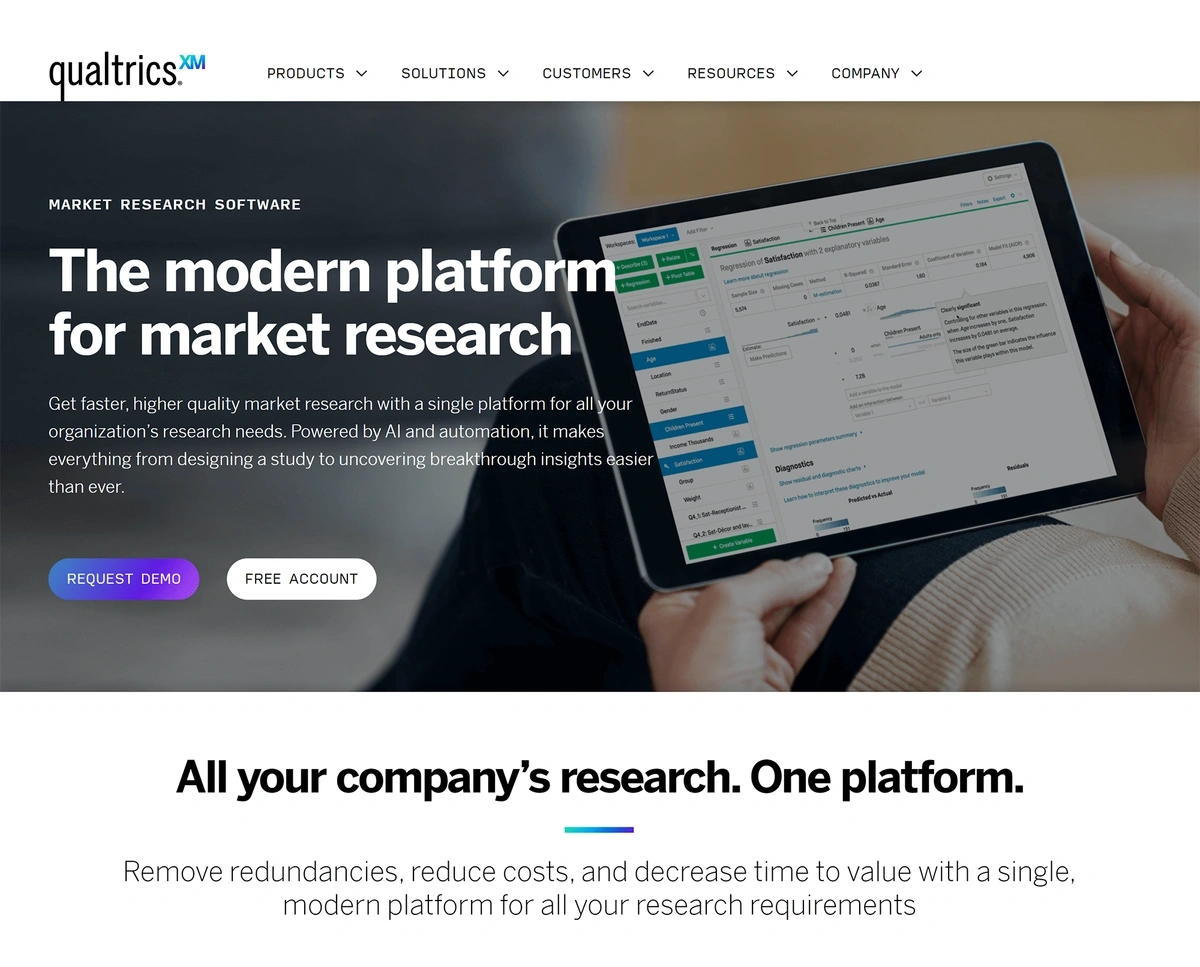 Once recruited, you can track the activities and feedback of each person in a panel—and reward them for their participation.
With these audiences, you can then:
Run surveys
Get feedback on new products
Analyze purchase behavior
Conduct A/B tests
Assess audience ad perception
Test website optimization
If you don't want to use your own customers for panels, or don't have a large following, you can also purchase access to target audience groups assembled by Qualtrics.
QualtricsXM uses a custom pricing model, so you'll need to get in touch with their sales team for a demo and a price quote.
4. Statista
Statista provides global market research statistics for 170 industries, including:
Advertising
Agriculture
Construction
Energy
Media
Real Estate
Telecommunications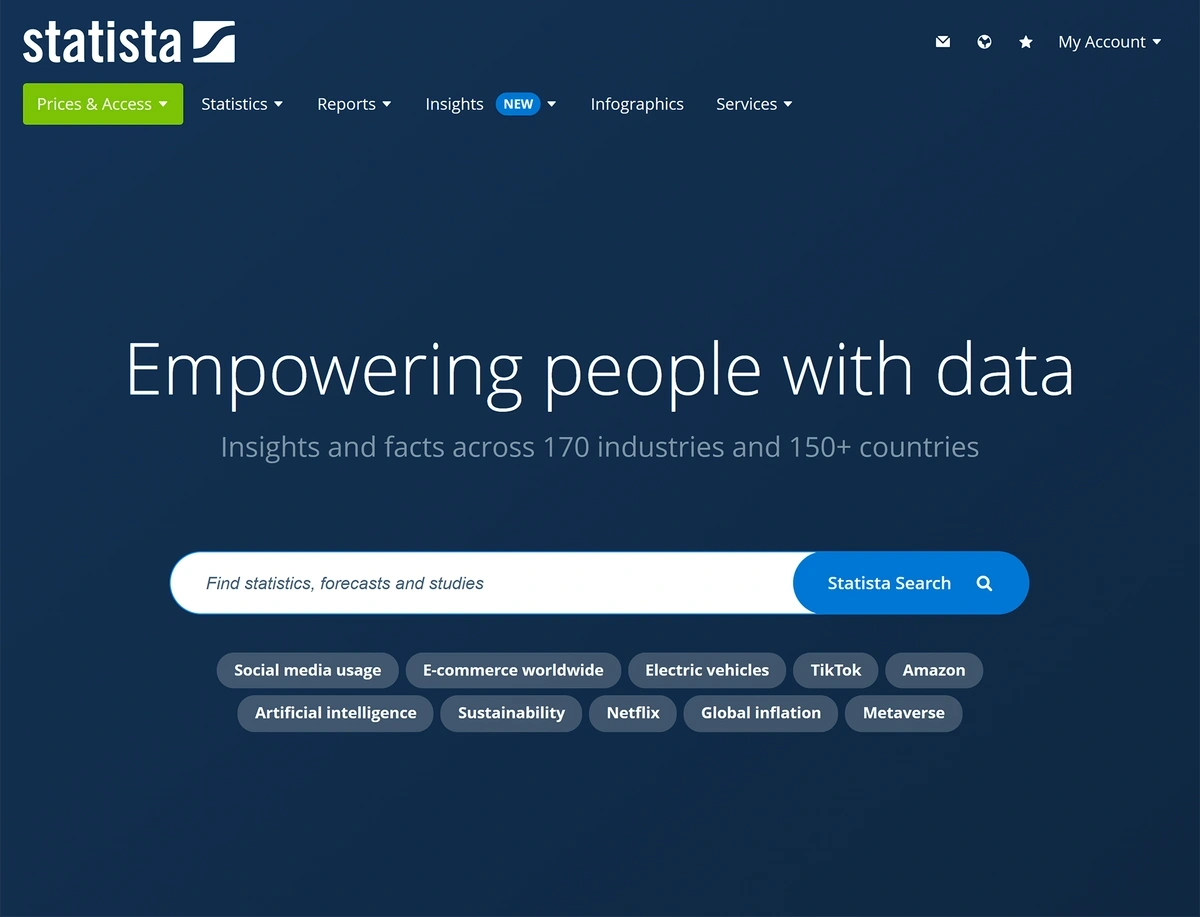 The core of the platform is its searchable database, which includes reports and infographics. You can use this database for in-depth research on:
Projected market growth in over 190 regions
The makeup of over 100 private and public companies
Key performance metrics for leading e-commerce companies
Various political topics and societal issues that may influence business
Statista offers limited free access to its charts and graphs. To access the entire stats database—and download data in multiple formats—you'll need a paid plan. Subscription options start at $99 per month (billed annually). Some Statista research reports may still incur an additional cost to purchase.
5. Semrush
Semrush is a digital marketing tool often used for search engine optimization—but it also has market research capabilities.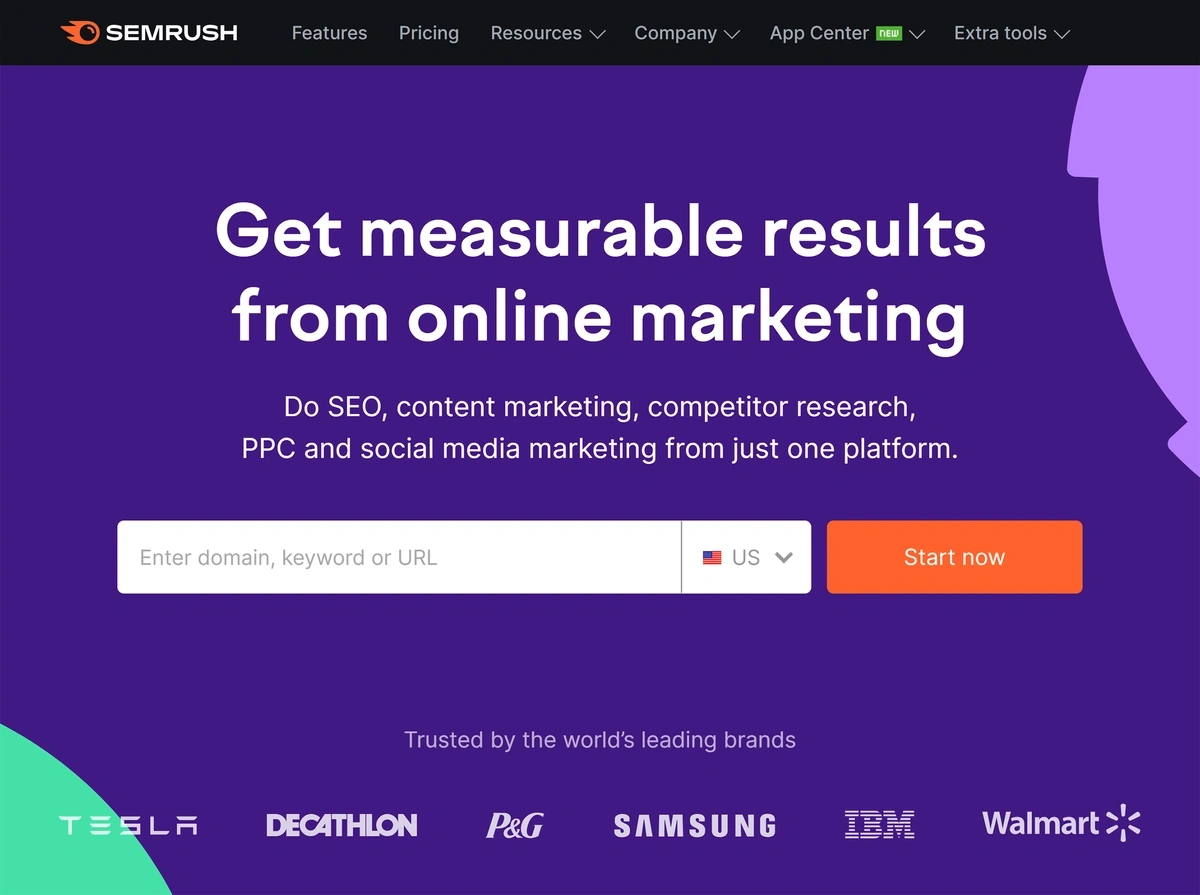 You can use Semrush to:
Research your market share and see your biggest competitors
Estimate how much traffic your competitors' websites get
Find out what kind of content your competitors and target customers are creating
Track competitors' online mentions
Analyze your competitors' ads
Post social content to various platforms frequented by your potential customers
The platform offers a few limited competitor and keyword searches per month, but to unlock the full power of Semrush for market research you'll need to pick a paid plan. These plans start at $129.95 per month or $108.33 per month when billed annually.
6. The Census Bureau
The Census Bureau is well known for surveying U.S. households every 10 years, but it's also responsible for compiling business data.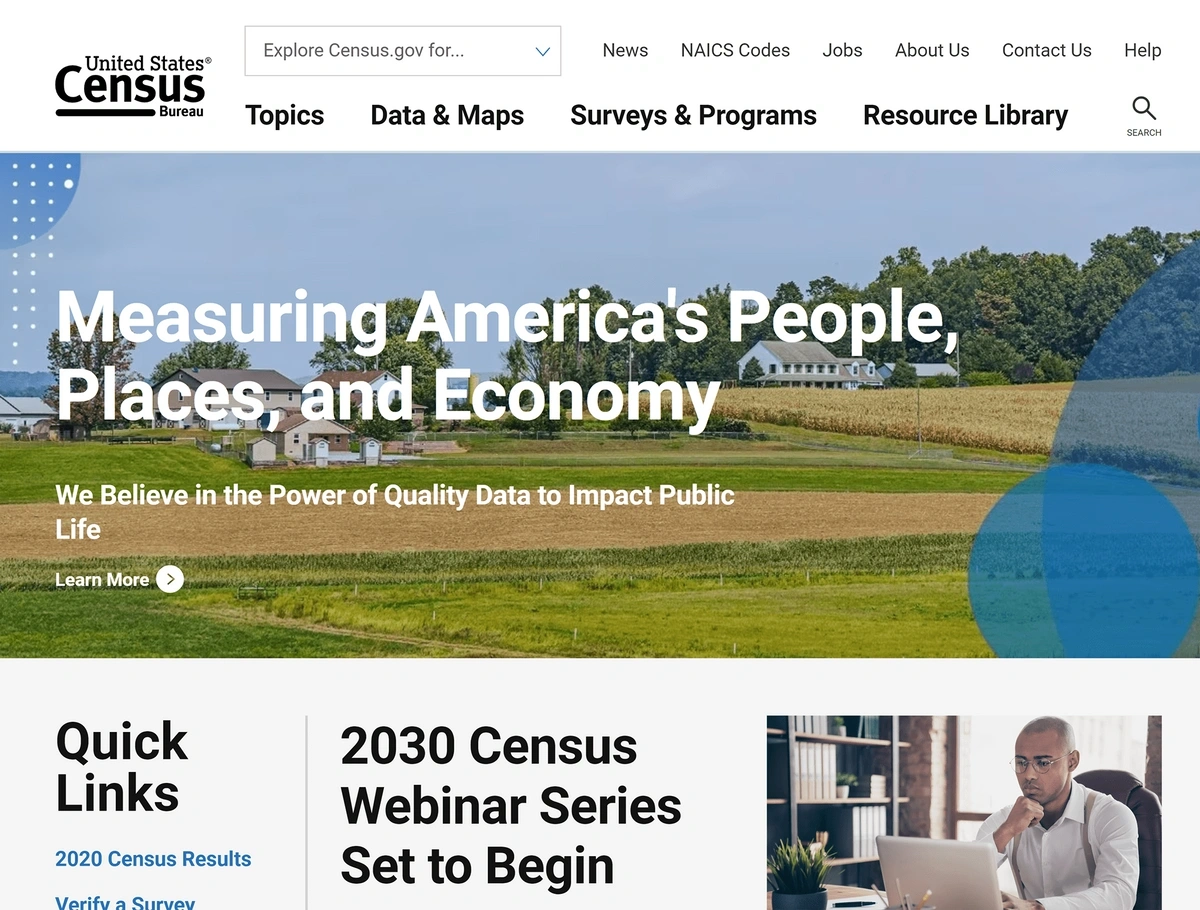 Entrepreneurs, small businesses, trade organizations, wholesalers, exporters, and more respond to Census Bureau questionnaires every year.
You can explore the Census Bureau's data to build a picture of how your competitors and target customers operate. This data includes market insights like:
The businesses operating in a specific region
Economic factors affecting business activity
Management trends across different industries
Changes in employment rates
Manufacturing rates
There's no cost to access Census Bureau data. It only pertains to U.S. businesses, though. If you need to research markets in other countries, then the Bureau isn't the best option for you.
7. Dynata
Dynata is a first-party data provider with access to information about 70 million consumers and business customers.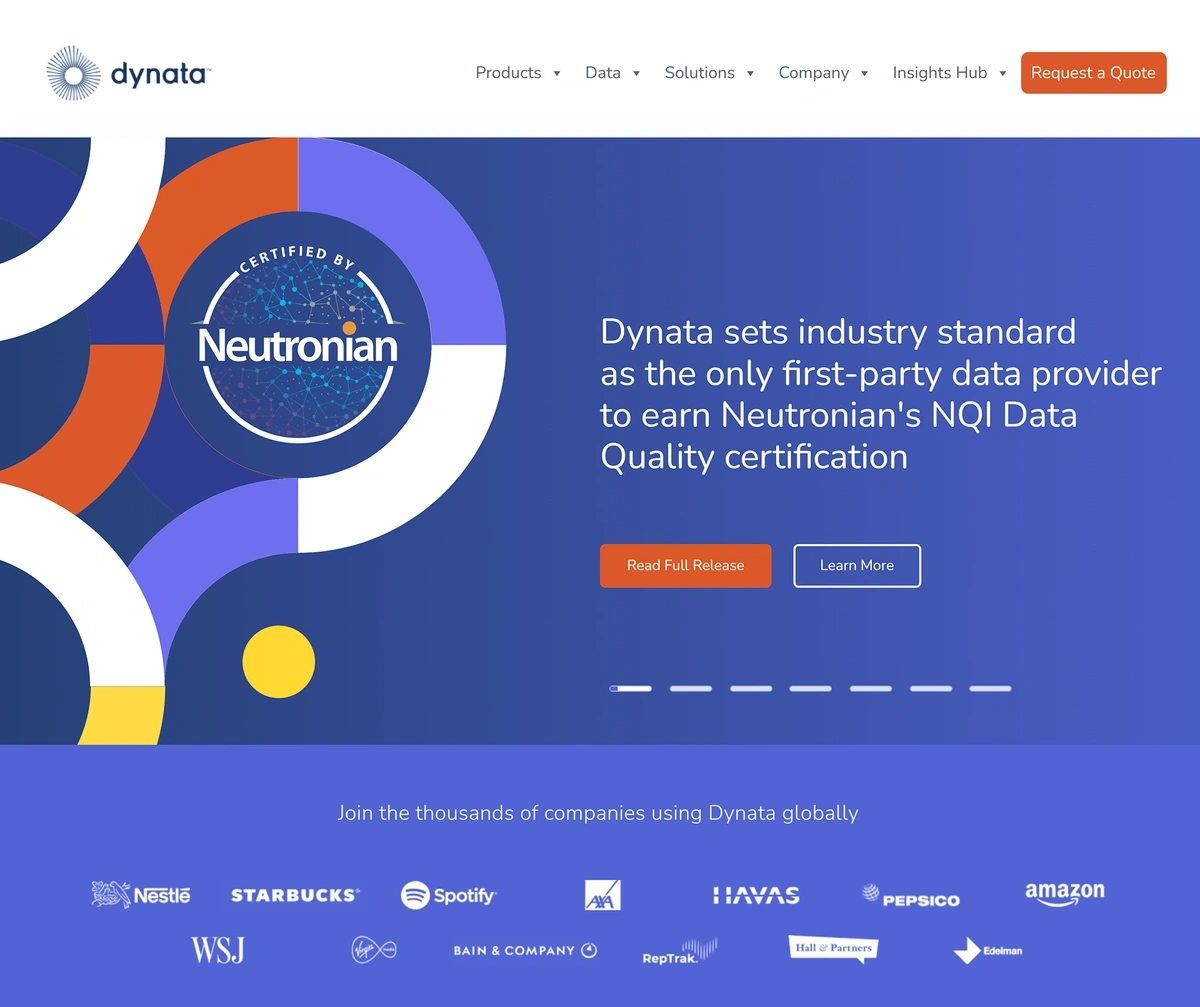 When using Dyanta's software, you can:
Develop custom surveys and audience groups
Integrate your company's customer data with Dynata's
Remove silos between sources of data within your organization
Search through data quickly and generate charts, graphs, or other data visualizations
These tools—and the related data insights—can help you improve customer communications and advertising effectiveness.
While rules around the use of first party data can vary by region, Dynata says that they have privacy-compliant permissions to collect all the verified user data in their system.
If you're interested in using the Dynata platform, you'll need to get in touch with their sales team to learn more about options and get a price quote.
Conclusion
If you feel like your B2B market research is lacking some direction—or you aren't sure where to begin—looking at industry trends can help.
Once you have a solid understanding of what your target audience needs, wants, and is interested in, you can then build out your business and marketing strategies with economic data, industry statistics, consumer panel insights, and more.
Which is where these B2B-focused market research tools come into play.