30+ Incredible Big Data Statistics (2023)
Big data, data so large that traditional data processing methods just can't handle it, is a big business.
Billions of people in the world now have internet access. Every action they take online generates new data. Businesses across every industry want to use that data to collect customer information, track inventory, manage human resources, and more. In fact, we create data at such an alarming rate that we've had to invent new words like zettabyte to measure it.
All those trillions of gigabytes of data need to be stored, analyzed, and kept secure. Enter Big Data.
The Big Data industry has many facets, from data centers and cloud services to IoT devices and predictive analysis tools. But what does the industry look like from a raw numbers perspective? That's what we'll cover in this big data stats roundup.
Contents
Top 2023 Big Data Statistics
Here are a handful of the most notable Big Data statistics to get started with:
The global Big Data and Analytics market is worth $274 billion
Around 2.5 quintillion bytes worth of data are generated each day
Big Data analytics for the healthcare industry could reach $79.23 billion by 2028
There are currently over 44 zettabytes of data in the entire digital universe
70% of the world's data is user-generated
Cloud computing end-user spending totals around $500 billion annually
Keep reading to see all 32 Big Data statistics.
Overall Big Data Industry Statistics
How much is the Big Data industry worth? How much data is out there? How are companies implementing Big Data in their day-to-day business? This section examines the Big Data industry as a whole.
The global Big Data and Analytics market is worth $274 billion (SiliconANGLE, Wikibon)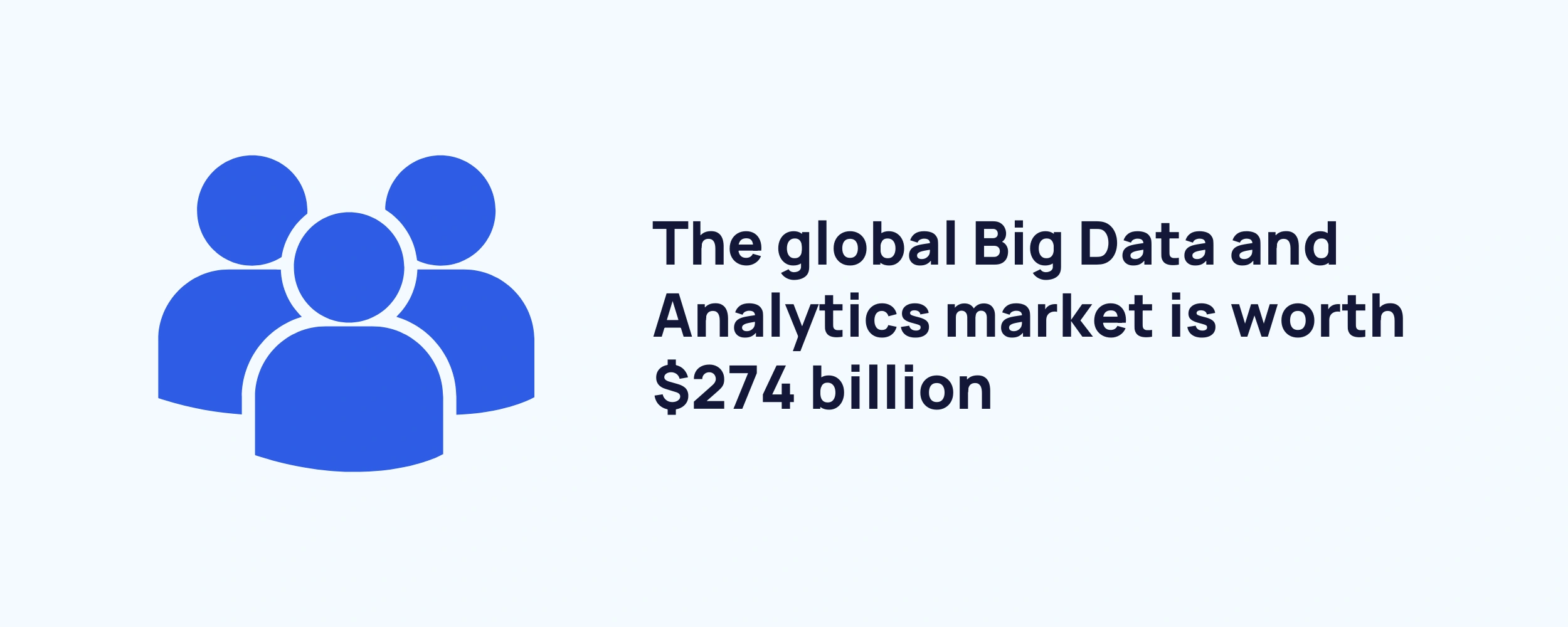 The Big Data industry has seen tremendous growth in just a few years. It shot up from $169 billion in 2018 to $274 billion in 2022 — a 62% increase.
The global Big Data market is projected to generate $103 billion in revenue by 2027 (SiliconANGLE, Wikibon)
The continuous expansion of mobile data, cloud computing, machine learning, and IoT powers the surge in Big Data spending. Big Data revenue is expected to double its 2019 numbers by 2027.
Approximately 2.5 quintillion bytes of data are created each day (LinkedIn)
Today's best estimates suggest that, worldwide, internet users create 2.5 quintillion bytes of data per day.
Across a year, that's over 900 quintillion bytes of data.
The United States has a 51% market share in Big Data and Analytics Solutions (IDC)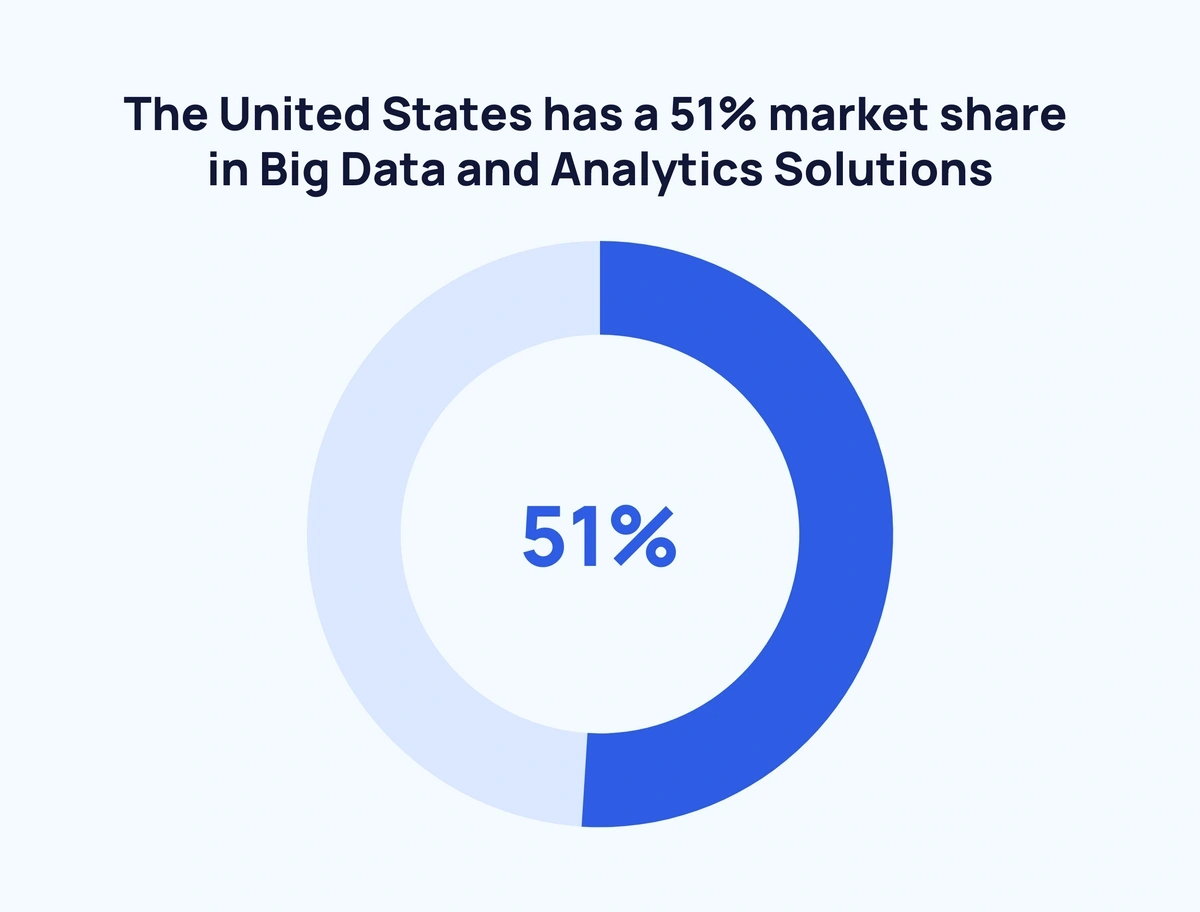 When it comes to Big Data spending, the US leads all other countries by a wide margin. American companies spent $110 billion in 2021. Japan and China were the two next largest markets, spending $12.4 billion and $11.9 billion respectively.
There are currently over 44 zettabytes of data in the entire digital universe (PWC)
The amount of data created by humans grows at an exponential rate. In 2019, there were 4.4 ZB of data in the digital universe. In 2020, that figure increased tenfold — up to 44 ZB. Just how much is a zettabyte? One trillion gigabytes. That's a lot of data.
Investments in Big Data cost savings and regulations have quadrupled since 2019 (NewVantage Partners)
While companies spend most of their Big Data budget on transformation and innovation, "defensive" investments like cost savings and compliance take up a greater share every year. In 2019, only 8.3% of investment decisions were driven by defensive concerns. In 2022, defensive measures made up 35.7% of Big Data investments.
27% of business executives say its company's Big Data initiatives are profitable (Capgemini)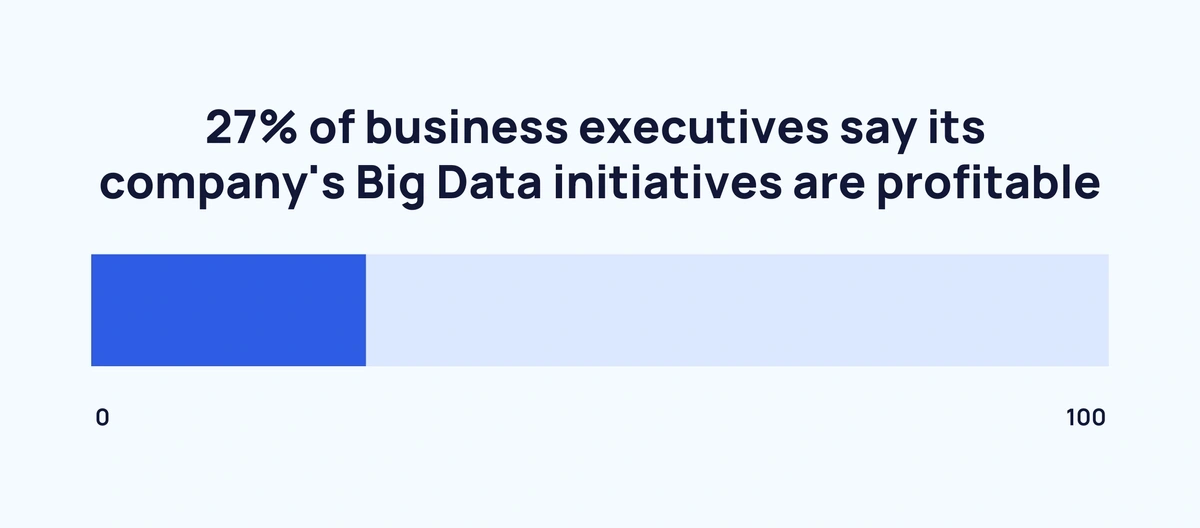 Global tech consulting firm Capgemini surveyed 210 executives — half from the US, half spread across Europe — to gain insights into how they view their Big Data initiatives. Just over a quarter reported profitability, while 45% say they "break even" on Big Data. Only 12% reported losing money on their Big Data initiatives.
The biggest challenges companies face when implementing Big Data are budget constraints (Capgemini)
50% of US executives and 39% of European executives said budget constraints were the primary hurdle in turning Big Data into a profitable business asset. Rounding out the top 5 challenges were data security concerns, integration challenges, lack of technical expertise, and proliferation of data silos.
Colocation data centers generate over $50 billion in revenue each year (Statista)
Third-party data storage is a growing industry. For companies too small to afford their own data centers, "colos" offer an affordable way to stay in the Big Data game. While data centers are clearing over $30 billion today, revenue is projected to hit $136.65 billion by 2028.
The US has almost twice as many data centers as the UK, Germany, and China combined (Cloudscene)
Big Data couldn't exist without data centers to store and transmit data from all over the world. There are 2,749 data centers in the US alone. These data centers offer vital cloud, managed, and colocation data services.
43% of IT decision makers fear their IT infrastructure won't be able to handle future data demands (Dell Technologies)
The amount of data generated by humans and machines is growing exponentially. According to Dell Technologies, companies will need to leverage several technologies — including 5G, edge computing, and machine learning — to manage their data in the future.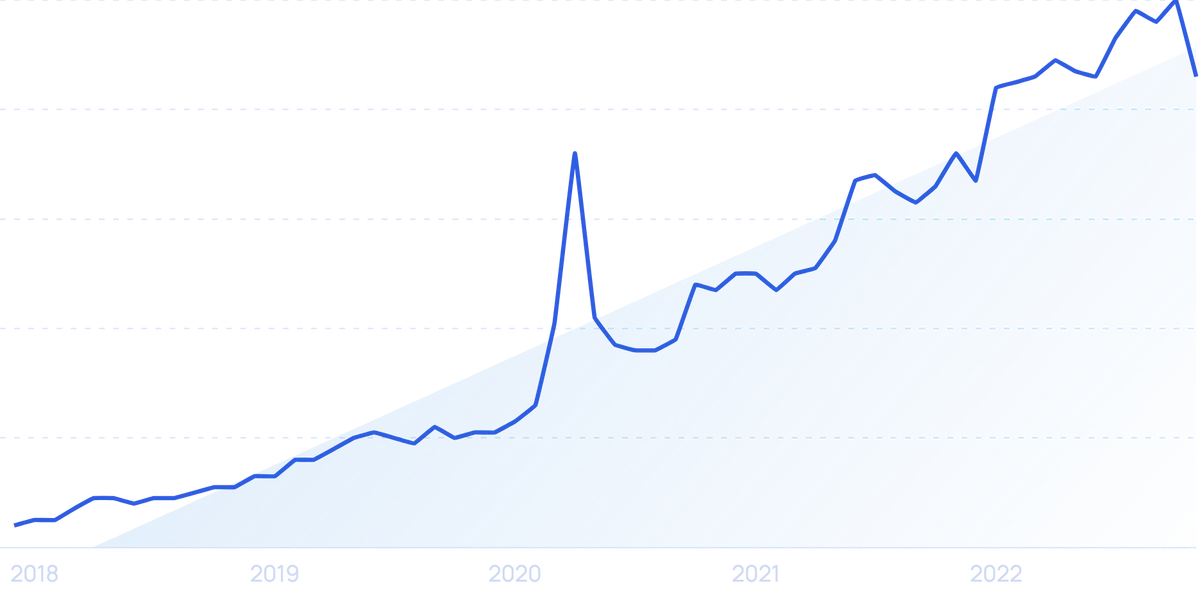 Average monthly searches for "5G" are up over 2,050% from 5 years ago.
The average salary for data and AI professionals is $146,000 (O'Reilly)
Big Data jobs might offer a tempting 6 figures, but salary growth has stalled to an average of just 2.25% per year. Taking 2021's 7% inflation rate into account, data and AI professionals are actually losing spending power.
Industry-Specific Big Data Statistics
Big Data is vital to almost every industry today. It's used by media companies, manufacturers, hospitals and universities. This section takes a look at how specific industries are utilizing Big Data solutions to stay competitive.
Netflix saves $1 billion per year thanks to its recommendation algorithms (Inside Big Data)
Netflix is a case study of just how powerful Big Data utilization can be. The media company reports that its recommendation algorithm influences about 80% of all content watched on the platform. The result? Better retention and $1 billion in savings.
68% of travel brands say they plan on investing in predictive analytics or business intelligence (Statista)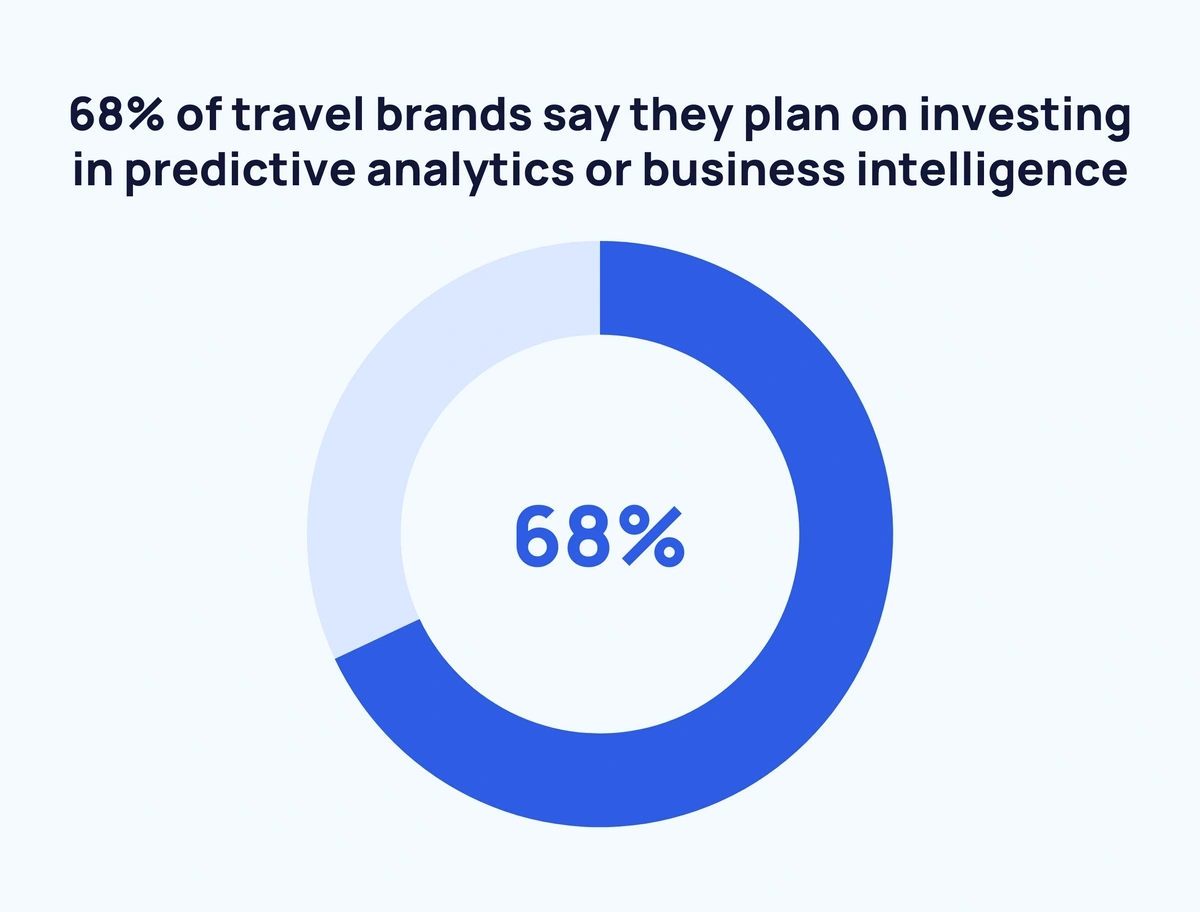 Travel companies that learn how to make sense out of Big Data can benefit in a number of ways. Using predictive analytics, they can better fine-tune their pricing strategies, work on reputation management, and improve customer experience.
72% of manufacturing executives say they rely on advanced data to improve productivity (BCG)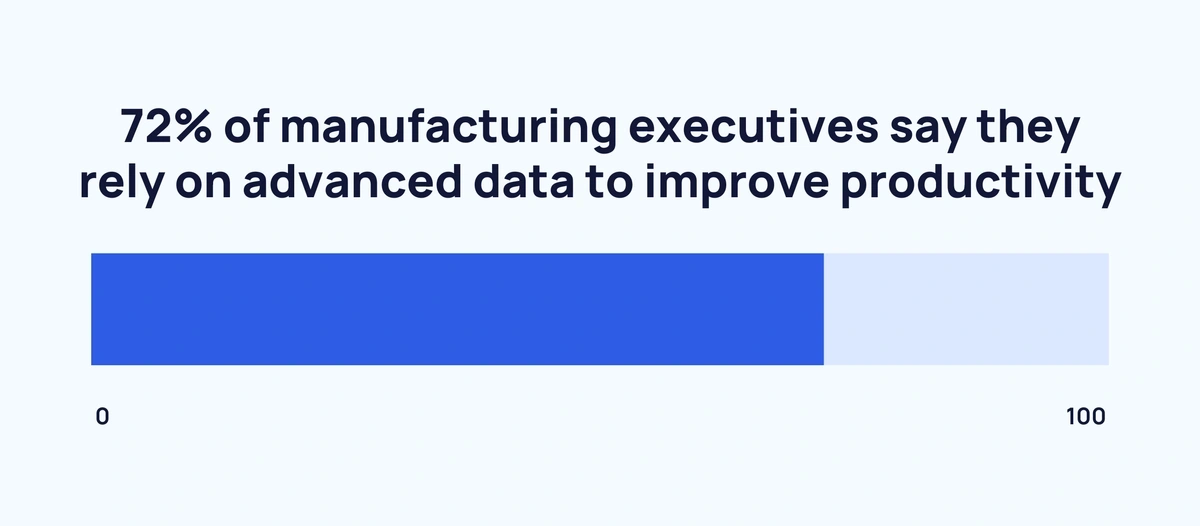 Manufacturing execs know the power of Big Data analytics, but they haven't yet figured out how to implement them. Only 17% of executives polled in the BCG-WEF survey claim they take advantage of data analytics.
Around 1,400 universities use predictive analytics to help address low graduation rates (Hechinger Report)
Around half of all college students never complete their degree programs. Colleges with low graduation rates are turning to Big Data to help spot trends and predict students' future struggles. With the help of predictive analytics, Georgia State has raised its graduation rate by 23% since 2003.
Big Data analytics for the healthcare industry could reach $79.23 billion by 2028 (Vantage Market Research)
Healthcare is a potentially huge growth market for Big Data thanks to the growing demand for business intelligence solutions. The market generated $20.12 billion in revenue in 2021 and should grow by an average of 28.9% per year.
Big Data in Supply Chain Management (SCM) could surpass $7.1 billion globally by 2027 (Research & Markets)
Supply chains were in a much-publicized state of chaos throughout the COVID-19 pandemic. In response, SCM companies are turning to Big Data analytics to better manage their inventories and react to demand fluctuations.
Big Data User Statistics
Big Data deals with almost unimaginable amounts of data. Trying to figure out exactly how much data is out there is almost pointless because so much new data is being created every second of every day. The source of all that data? Users.
57% of the world's population uses the internet (The Next Web)
Over 4 billion out of the nearly 8 billion people in the world spent time online in 2019. In that same year, 67% used mobile devices and 45% used at least one social media platform.
70% of the world's data is user-generated (Baseline)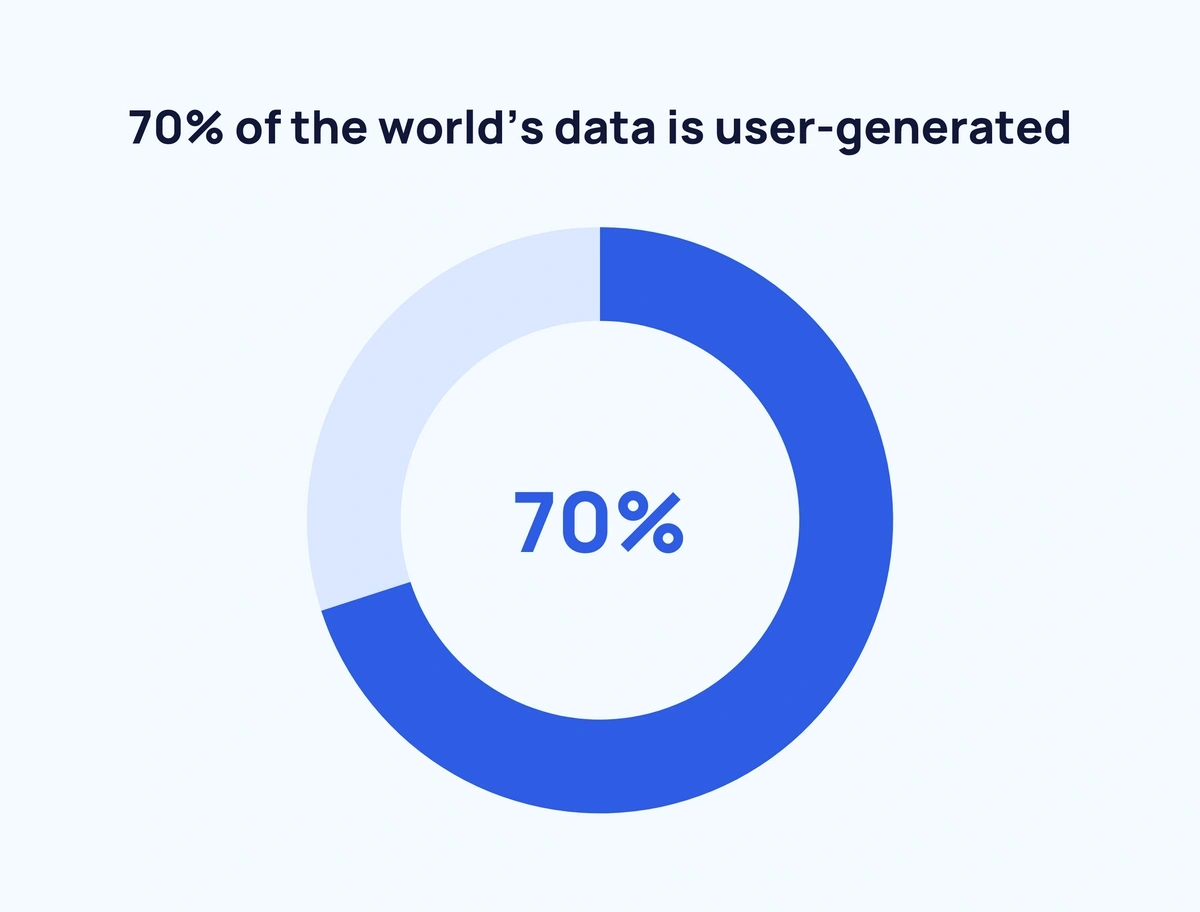 User-generated data is everywhere, from social media posts to emails to customer reviews. There are over 900 exabytes of this user-generated data according to Baseline.
There are over 100,000 Google searches every second (Internet Live Stats)
That's over 6 million searches per minute, 350 million searches per hour, and 3 trillion searches per year. Google continues its search engine dominance with an astonishing 91.9% share of the global search market.
The average internet user spends 6 hours and 58 minutes per day online (DATAREPORTAL)
The internet is the world's most powerful addiction. More apps, devices and platforms mean this number is only going to keep climbing in the future. In fact, the average time online goes up by 4 minutes every day.
72% of US adults think that companies have too much control over their personal data (YouGov)
Data privacy is a hot-button issue in the US. Data breaches, the Facebook-Cambridge Analytica scandal, and pervasive cookie tracking have all contributed to a general air of mistrust among internet users.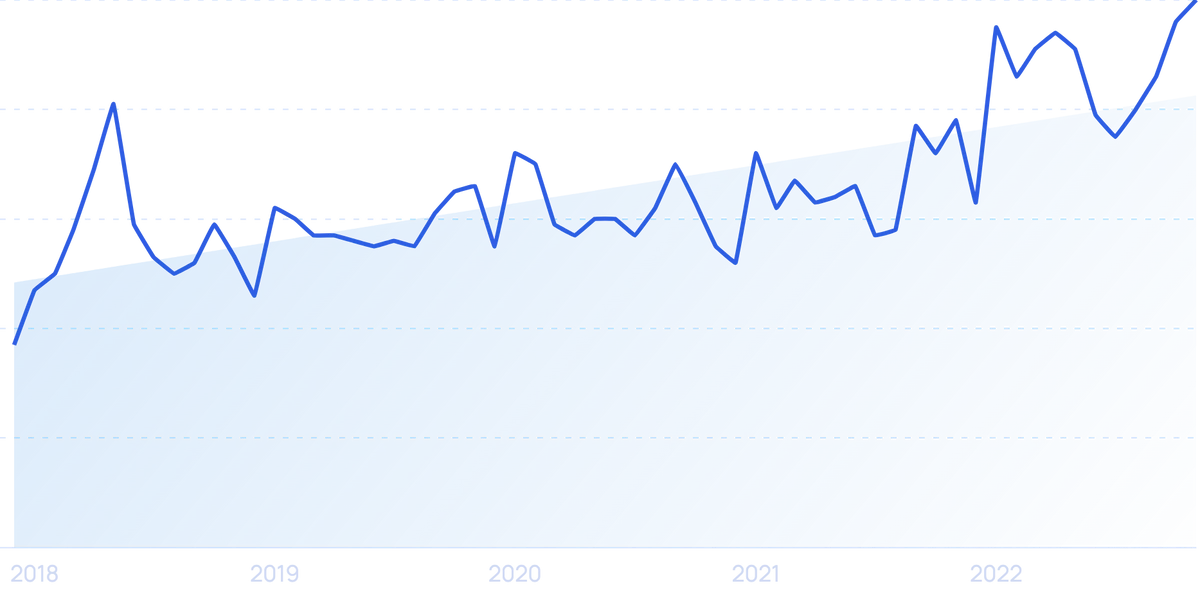 Searches for "data privacy" have gone up 170% over the past 5 years.
80-90% of all digital data is unstructured (CIO)
Unstructured data is any type of digital file that can't be stored in traditional databases. Text messages, images, emails, videos, and social media posts are all unstructured. But behind all that data are analytics and insights that can help companies gain a competitive edge.
Cloud, Hybrid, Edge & IoT Statistics
As the size of the world's data footprint continues to grow exponentially, new technologies revolutionize the way we send, receive and store data. Meanwhile, more and more devices are contributing to big data via the Internet of Things (IoT).
Global spending on the Internet of Things (IoT) could surpass $1 trillion in 2023 (Statista)
IoT — the name for smart devices that are always online — is an important aspect of Big Data. What started in the smart home market has branched out to cover everything from agriculture to healthcare. It's estimated that there will be over 30 billion IoT-connected devices by 2025.
Cloud computing end-user spending totals nearly $500 billion annually (Gartner)
The cloud computing market can be divided into three segments: Software as a service (SaaS), led by companies like Salesforce, Microsoft, and Adobe, is the largest segment with a $172 billion market size. Infrastructure as a service (IaaS) has a $122 billion market size and platforms as a service (PaaS) has a $101 billion market size.
End users spend $92 billion every year on public cloud infrastructure (Gartner)
Cost savings and efficiency are primary concerns when it comes to Big Data, giving IaaS service providers an important role to play in the future of digital business. Public cloud gives companies the option to only pay for the resources they need.
The hybrid cloud market is worth over $85 billion (Statista)
Hybrid cloud offers the scalability of public cloud with the security of the private cloud. It's become an industry standard used by companies like Microsoft, Amazon, Netflix, and Hulu. Forecasts see the hybrid cloud market hitting $262 billion by 2027.
45% of businesses use the cloud to handle part of their Big Data workload (ZDNet)
Most businesses don't have the computing power to handle vast amounts of data on their own. The cloud gives them a way to process Big Data without investing serious capital in software and infrastructure.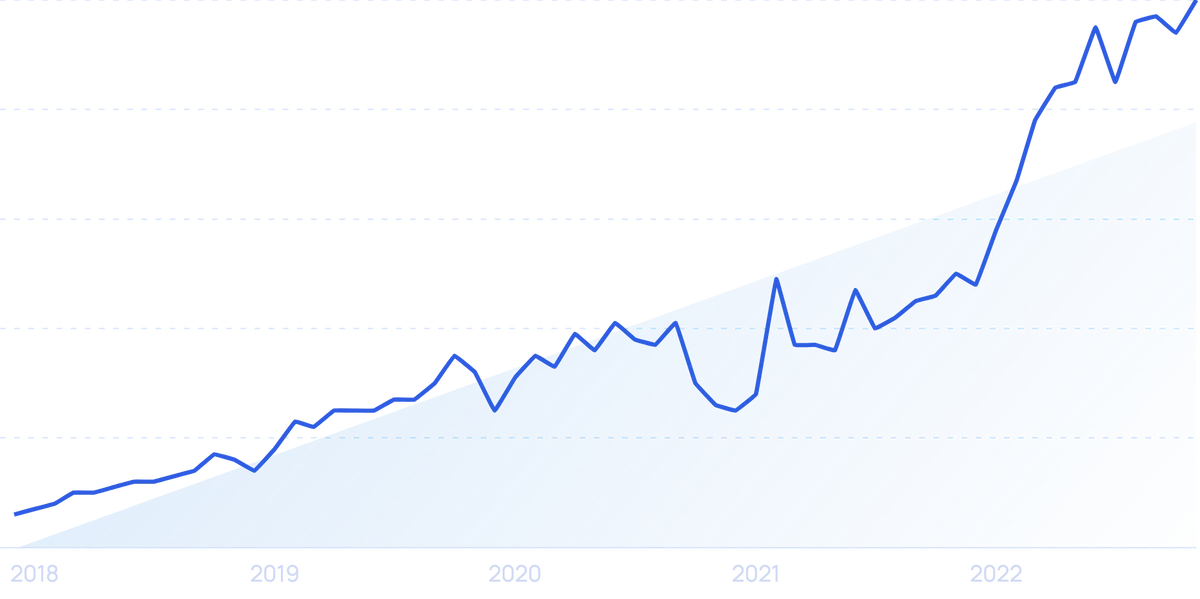 Databricks, a cloud-based Big Data analytics platform, gets around 60,000 searches per month.
The edge computing market is expected to grow 33% per year (Next MSC)
Decentralized data processing isn't new — cloud technology has been around for years — but edge computing is fast becoming a reliable way to deal with bandwidth, congestion, and latency challenges. The edge computing market was only worth $2.49 billion in 2020. By 2030, it could be worth as much as $68.71 billion.
Companies waste up to 30% of the money they spend on cloud computing (Flexera)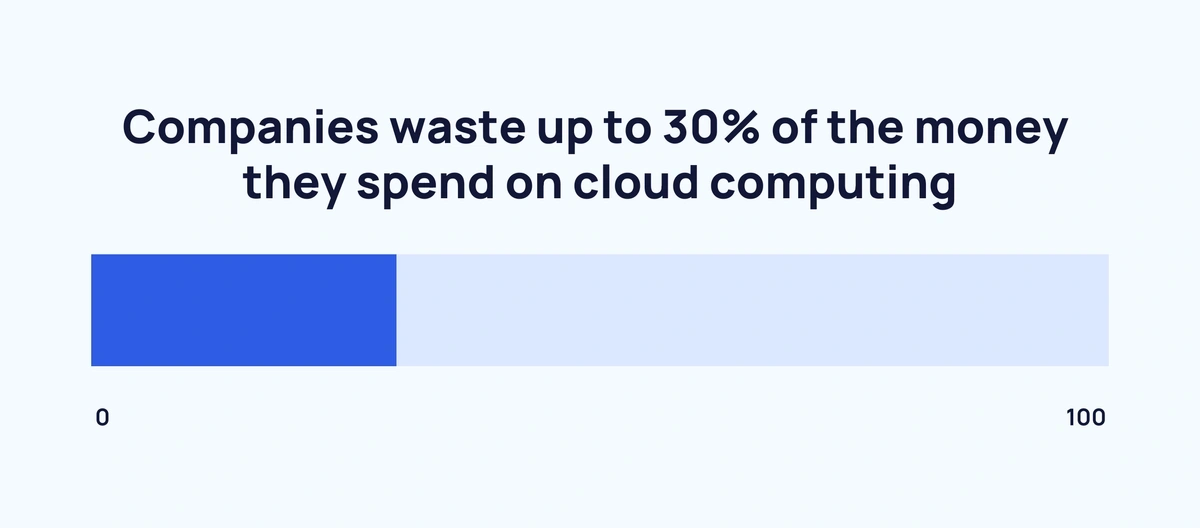 A 2021 survey of 750 respondents showed that only 70% of companies' cloud computing budget was spent "efficiently".
Amazon Web Services (AWS) owns a quarter of the IaaS and PaaS market (ITCandor)
Infrastructure as a service (IaaS) and platform as a service (PaaS) generate $179 billion every year. AWS has carved out the dominant share of that market, with IBM (14.9%) the runner-up.
The insurance and telecommunications industries plan on using an average of 11.4 clouds in 2023 (IBM)
Most enterprise companies, regardless of industry, use around 8 clouds on average. This number is expected to grow, with insurance and telecommunications leading all industries in future cloud utilization.
Wrap Up
Since you started reading this, humans have generated roughly 4.8GB of brand new data.
The Big Data industry is likely to continue its rapid growth as long as people keep generating data. New developments in data processing and analytics will give companies more ways to better serve their customers and boost revenue.
While companies rush to implement new Big Data technology, they'll need to learn how to do so without spending more than they need to. And they'll have to find a way to win back the trust of a public jaded by data breaches and privacy scandals.
If you enjoyed these stats, check out these related pages: 7 Key Data Science Trends and 7 Important Computer Science Trends