33 New Branding Statistics and Trends for 2024
No matter what industry you're in, It takes more than an amazing product or service to stand out. That's where branding comes into play.
Branding goes beyond marketing and advertising. It's a combination of design, messaging and reputation management. When it's done right, it gives businesses a distinct identity.
And when customers gel with that identity, smart branding can create lifelong loyalty and advocacy.
But smart branding takes hard work. Marketers, executives and employees must all work together to stay "on-brand" and win people's trust.
So what does branding look like in 2023?
Find out with these latest branding statistics.
Content
Top Branding Statistics
The world of branding is huge, so here are some of the top stats to get you started:
81% of consumers need to a trust a brand to consider buying
77% of consumers prefer shopping with brands they follow on social media
65% of consumers say a brand's CEO and employees influence their decision to buy
55% of brand first impressions are visual
There are over 10,000 branding & positioning agencies worldwide
Gen Zers mainly use Instagram to research brands
Baby Boomers primarily to use Google to research brands
Here are all 33 branding statistics and trends to watch out for in 2023.
General Branding Statistics
How much are brands worth? How do consumers decide which brands to shop for and which brands to ditch? These stats examine the brand value and consumers' attitudes toward them.
Around 4 in 5 consumers need to trust a brand to consider buying from it (Edelman)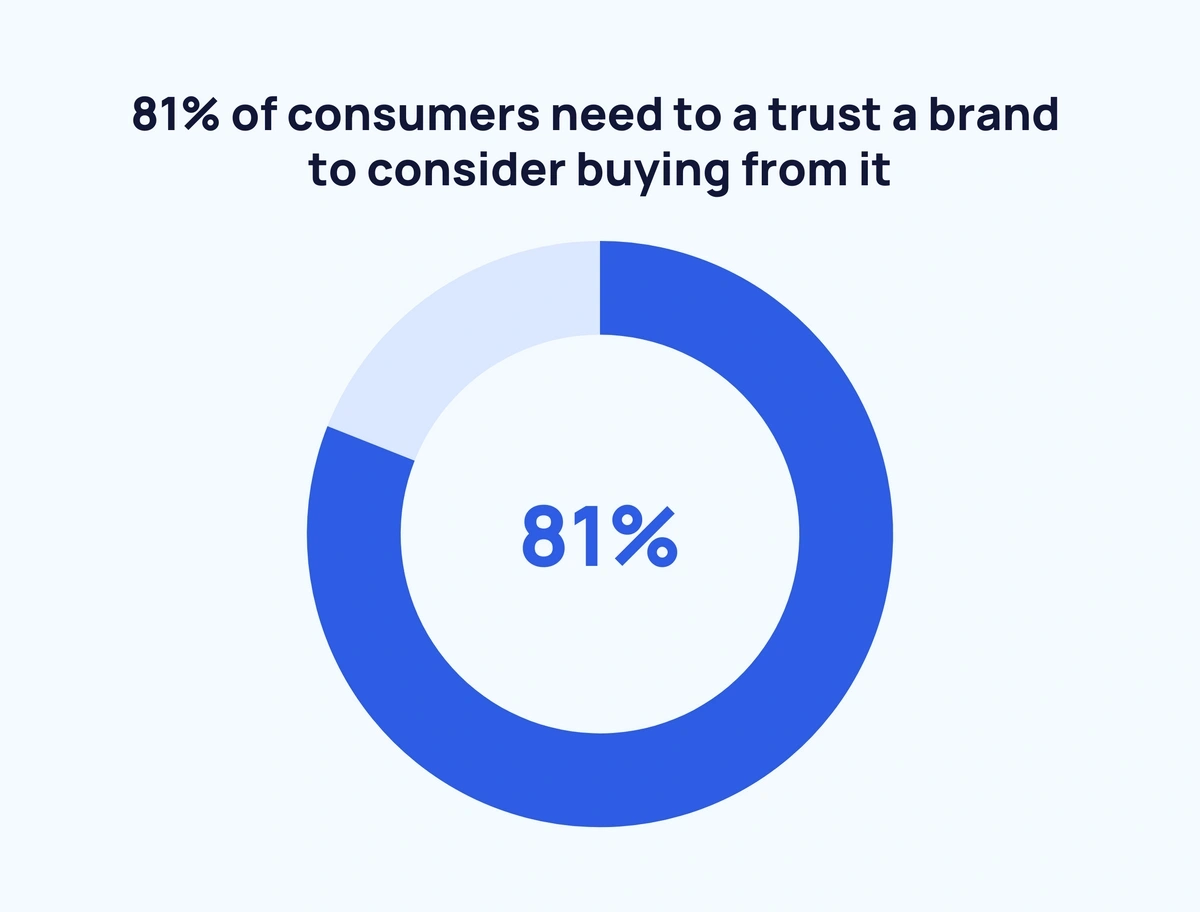 Shoppers have a lot of options, which means brands must do more than offer valuable products to win them over. Shoppers need to trust that brands will do the right thing before they make a purchase. 53% of consumers say they need their brands to take a stand on at least one social issue.
77% of consumers prefer shopping with brands they follow on social media (SproutSocial)
Without fail, people spend more time on social media each year. Brands should take note. Social followers are more likely to download the brand's apps and visit their websites. Which is a sound recipe for future sales.
Apple is the world's most valuable brand (Interbrand)
Nearing $3 trillion in market cap, Apple is easily the largest company in the world. But how much is their brand worth? The value of Apple's name and logo is over $408 billion. That's more than Microsoft and Google's brand values combined.
Of the top 100 global brands, Tesla had the highest brand value gain in 2021 (Interbrand)
Tesla's brand value almost tripled in 2021, shooting up 184% to $36 billion. If it keeps up that pace, it could overtake Toyota, Mercedes-Benz, and BMW to become the most valuable automotive brand in the next year.
Tech is the world's largest industry in terms of brand value (Brand Directory)
Tech companies make up $1.3 trillion in total brand value in the Brand Finance Global 500 index. The second most valuable industry is retail, which passed the $1 trillion benchmark for the first time in 2022.
Hyundai is the world's most misspelled brand (Statista)
The top three misspelled brands are all car manufacturers. Online searchers misspell Hyundai an average of 605,000 times every month. Lamborghini gets 365,000 monthly misspellings. Ferrari comes in third with 123,000.
Around 1 in 3 consumers say they trust most of the brands they use (Edelman)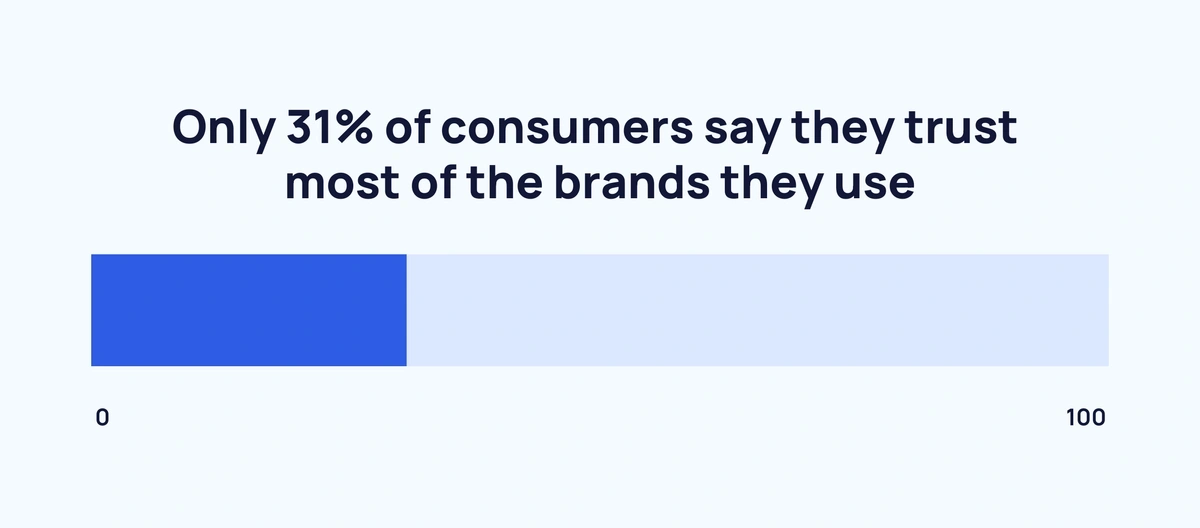 While trust is pivotal to selecting new brands, lack of trust is pervasive in the brands consumers already use. Income plays a role here — only 29% of low-earners trust their brands as opposed to 38% of high-income shoppers.
Consumers are more than twice as likely to buy first, stay loyal, and advocate for brands they trust (Edelman)
A trusting customer is a loyal customer. When brands strive for trustworthiness, they can benefit from recurring revenue. Brands benefit the most when they earn trust in three areas — product experience, customer experience, and impact on society.
65% of consumers say that a brand's CEO and employees influence their decision to buy (Accenture)
People want to know that the brands they interact with have values that align with their own. When executives or employees do things that are off-brand, customers pay attention.
60% of consumers have taken an action — either positive or negative — based on a brand's actions (Weber Shandwick, KRC Research)
In response to negative brand actions, 30% of consumers have stopped buying that brand's products or services. For positive actions, 34% of consumers talked about the brand with their family, friends, and co-workers.
Two-thirds of consumers think it's annoying when brands make fun of their competitors (Sprout Social)
In the Twitter age, it's not uncommon to see a brand taking shots at the competition. Even if the messaging isn't meant to be mean-spirited, it can be a turn-off for consumers. What else do social media-savvy consumers find annoying? Using slang, talking politics, and — worst of all — making fun of customers.
Branding Design Statistics
Think about your favorite brands. What do their logos look like? What colors do they use?
The brand design combines strategy, psychology, and story to nail one of the most important elements of branding: the first impression.
Over half of brand first impressions are visual (US Chamber of Commerce)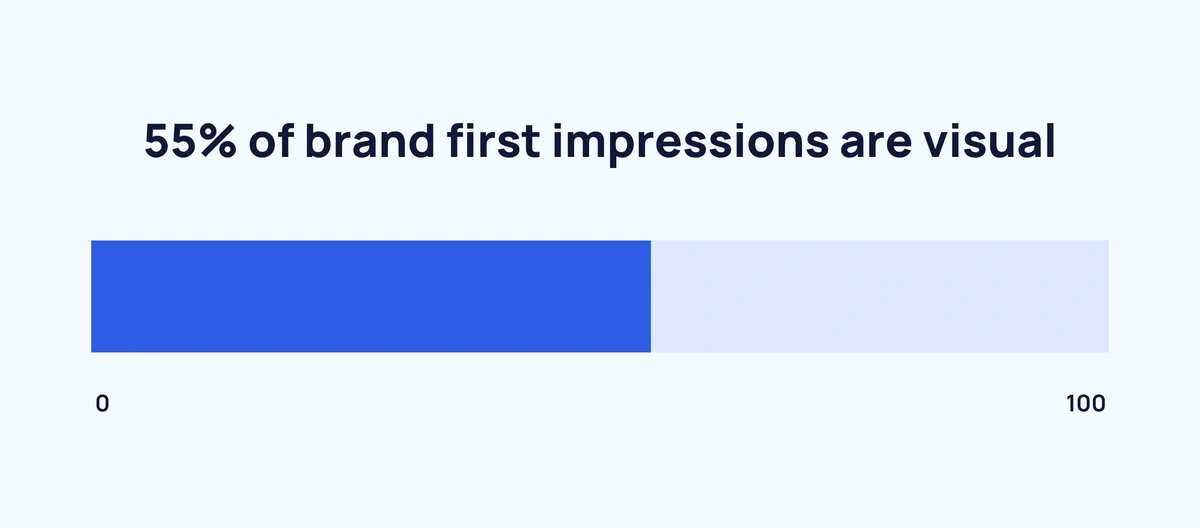 Whether people are meeting a new person or a brand, first impressions are mostly visual. Smart design choices not only give brands a better chance at grabbing attention, but they also leave a lasting impression.
Color increases brand recognition by up to 80% (Loyola)
Could you identify a brand just by looking at its color palette? Reboot presented 2,500 consumers with 10 branding palettes and asked them to guess the brand. 91% correctly guessed Google just from its iconic shades of blue, green, yellow, and red.
Consumers are 81% more likely to recall a brand's color than remember its name (Reboot)
Reboot created names and logos for 5 fictional brands and gave participants 10 minutes to study them. 78% remembered the brands' primary colors while only 43% remembered the names.
2 in 5 Fortune 500 companies use the color blue in their logo (Website Planet)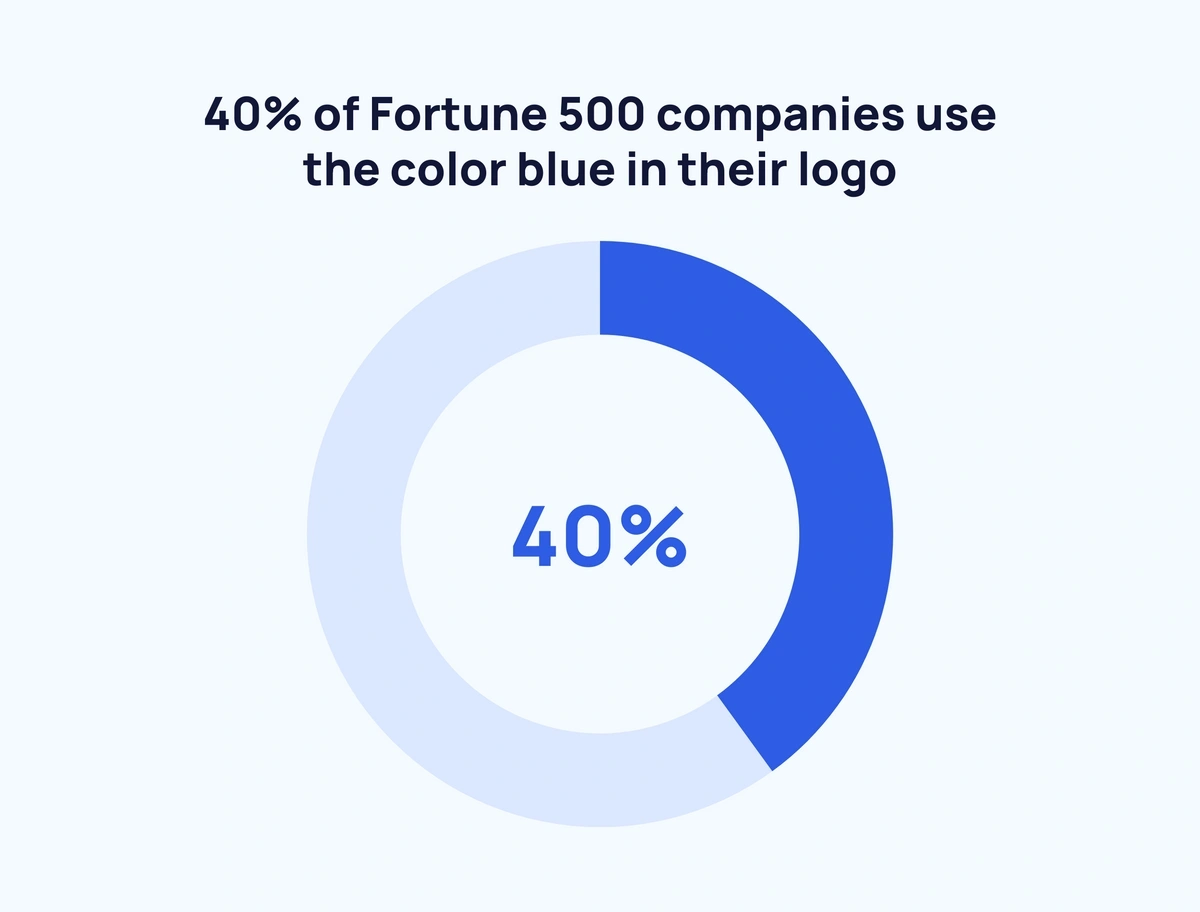 We have psychological reactions to color. Blue can invoke feelings of calmness and trust. It's often associated with professionalism and stability. No wonder it's the most popular color in brand design.
Pepsi spent $1 million designing its logo (Business Insider)
The amount brands spend on logo design can range anywhere from absolutely nothing to millions. Pepsi is in the million-dollar logo club, while Coca-Cola — using the same logo since 1886 — got theirs for free.

Whether dirt cheap or crazy expensive, there's always demand for logo design.
It takes between six and nine months to trademark a logo (99designs)
The typical wait time for a trademark — from the time a company files to the moment the trademark gets issued — typically takes up to nine months. More complex cases can take as many as three years.
Stella Artois has the world's oldest logo (Time)
Branding's been around for centuries. Belgian brewery Stella Artois has used the same logo since 1366. Levi Strauss and Coca-Cola have both used their logos since 1886.
Employer Branding Statistics
Branding isn't just about attracting new customers. It's also used to attract top talent. A damaged employer brand can lead to an expensive and drawn-out hiring process.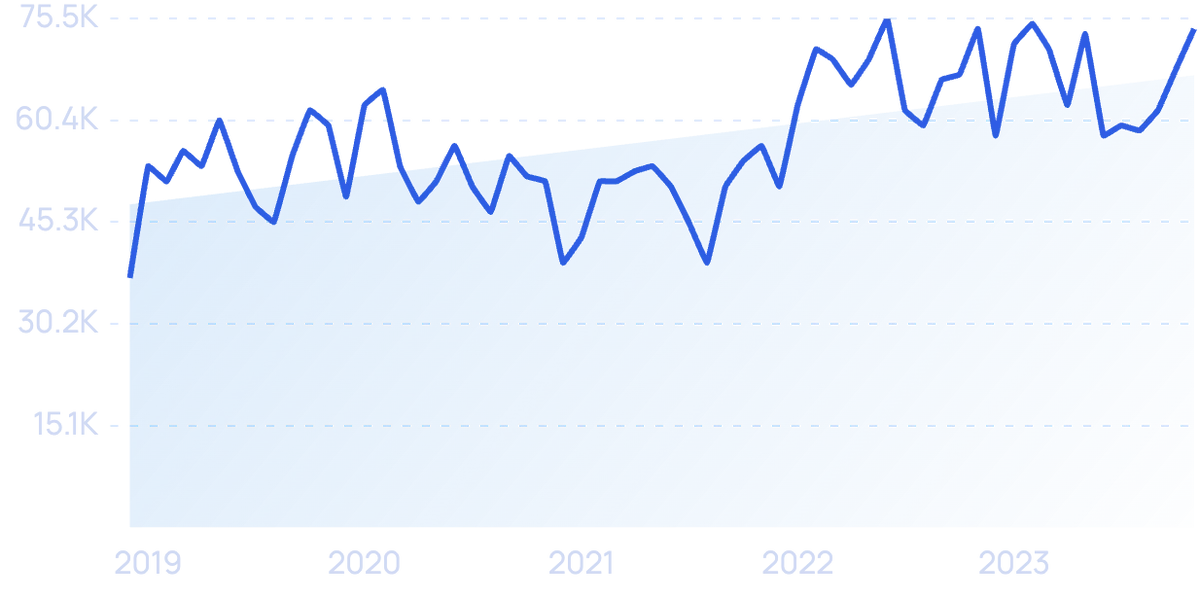 A growing number of companies are recruiting new hires with "employer branding" campaigns.
86% of job seekers read company reviews before applying for a job (Glassdoor)
With sites like Glassdoor and Indeed providing anonymous employee reviews, nearly 9 out of 10 candidates are getting the inside scoop before sending out resumes.

4 in 5 job seekers won't apply to a one-star-rated company (Career Arc)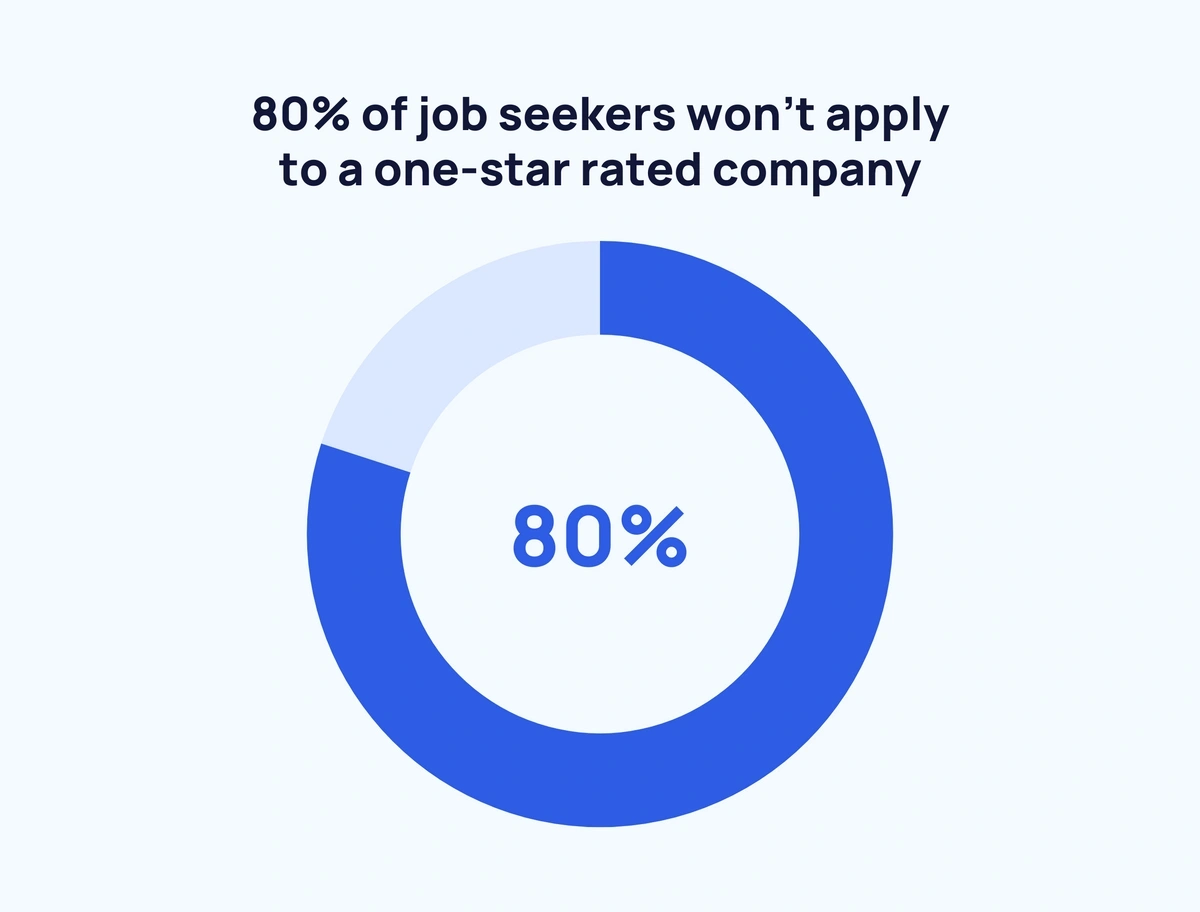 Bad reviews could be robbing brands of serious talent. Only one in five candidates would apply to a one-star-rated company. Only one in three would apply to a two-star rated company.
Women are more likely than men to avoid applying to poorly rated companies (Career Arc)
Those one-star rated companies? Women are 33% less likely to apply to them than men. They're also 25% more likely to visit company review sites during their job search.
64% of shoppers have stopped buying from brands with poor employer reputations (Career Arc)
Another reason why employer branding is critical: poor employee reviews can damage a brand's overall image. Brands are aware of this too. 96% of brands believe negative employee reviews impact revenue.
On average, companies with strong employer branding receive 1.5x more applicants (LinkedIn)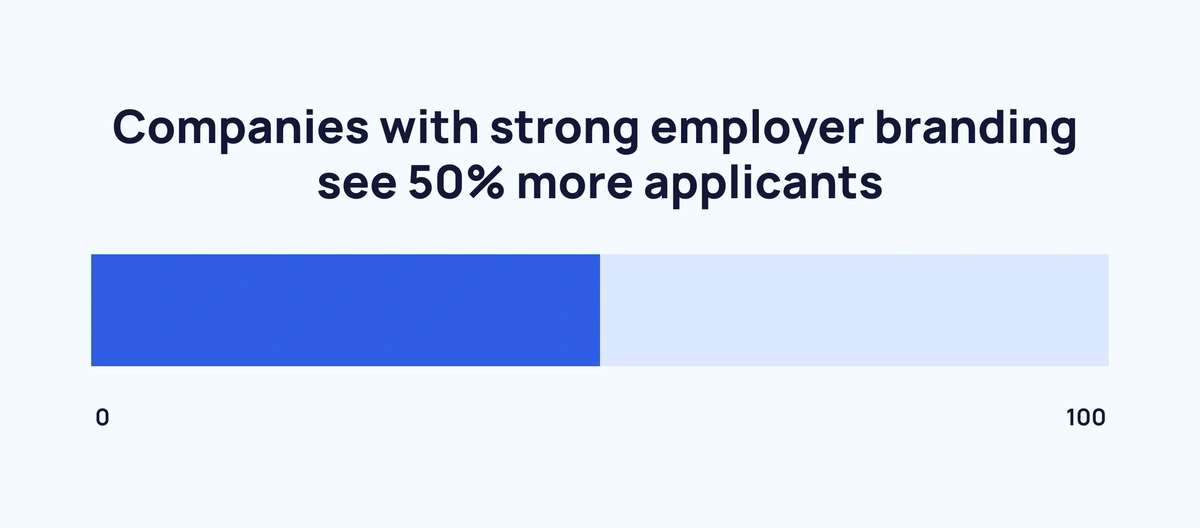 Job candidates are drawn to employers with rock-solid online reputations. Good branding not only increases applicant turnout but can also make time to hire twice as fast.
Strong employer branding can increase retention by as much as 28% (LinkedIn)
With an average new hire cost of $4,000, brands can save a lot of money by keeping the talent they already have. Successful employer branding can even reduce new hire costs by 50%.
Branding Marketing Statistics
Content marketing, social media, and TV ads are all part of the branding ecosystem. Here's how branding and marketing work hand-in-hand to win over new customers and build customer loyalty.
It is estimated that there are more than 10,000 branding & positioning agencies worldwide (Sortlist)
Sortlist, a marketing and communications agency database, listed 10,698 branding & positioning agencies in their 2021 industry report. 3,079 branding agencies operate in the US alone.
94% of marketers believe that personalized marketing has a positive effect on brand-building (Salesforce)
People crave connection with the brands they love. Personalized marketing allows brands to better connect with current and future customers. 82% of marketers believe it can even increase customer advocacy.
Facebook is the top overall platform for brand research (TINT)
The king of social media is the leading platform for brand research, but the picture changes when you consider different demographics. Gen Z is more likely to use Instagram for research, while people 55 and older prefer an old-fashioned Google search.
70% of brand marketers list building brand awareness as their top goal for social media (SproutSocial)
Despite that, 47% say they struggle to create social media strategies that support their brand's goals.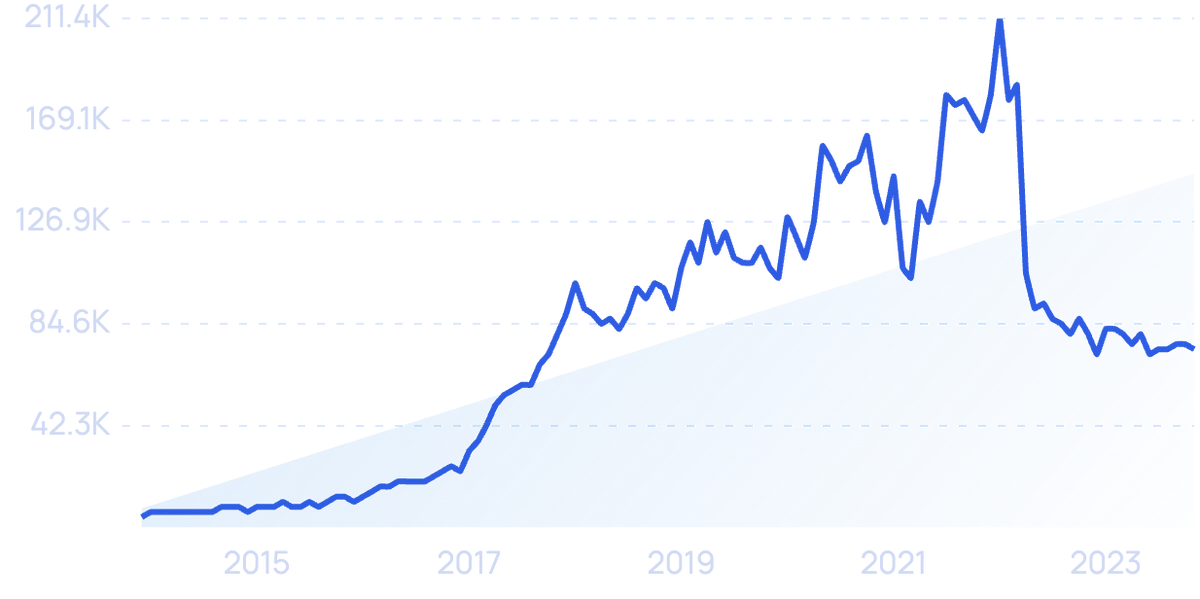 1,650% of marketers use "influencer marketing" to help build brand awareness on social media.
64% of consumers have tagged a branded hashtag on social media (TINT)
User-generated content can do some branding work of its own. Social media users promote brands all the time with branded hashtags. Users are also more likely to share branded content when brands share user-generated content.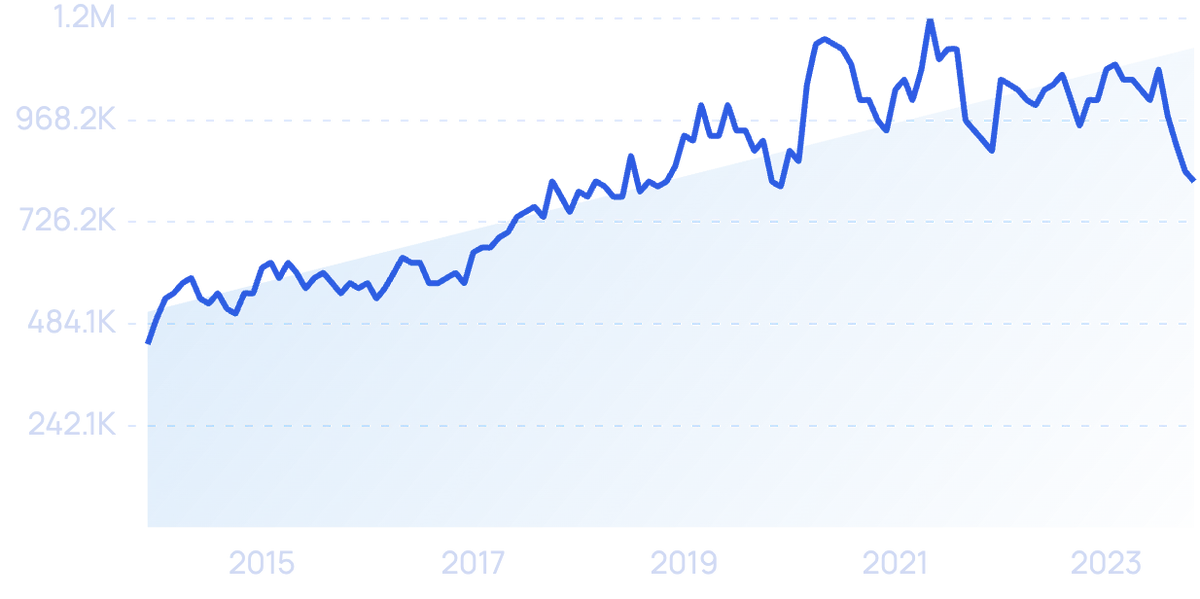 Searches for hashtags have increased by 89% over the last 5 years.
Brands spend 46% of their mobile ad budget on branding objectives (Forrester)
Ad campaigns typically have one of two objectives: direct response or building brand awareness. While direct response — clicking a link, placing an order, or opting into an email list — has more immediate results, branding makes up almost half of the advertising investments.
Brand consistency can increase revenue by 10-20% (Lucidpress)
Staying on-brand can boost companies' bottom lines. Lucidpress surveyed 452 industry pros for their insights on brand consistency. 32% reported that consistent messaging increased brand revenue by over 20%.
15% of companies don't have brand guidelines (Lucidpress)
With employees spending more time on social media, company-wide brand consistency should be a top priority. But only 30% of brands have guidelines that are well-known and accessible to the entire organization.
Almost half of brands publish off-brand content at least a few times per year (Lucidpress)
13% of brands don't enforce their brand guidelines, but even more, hit "publish" on off-brand content. Only 23% of brand professionals report never publishing off-brand content.
Wrap Up
This wraps up our list of up-to-date branding statistics for 2024. As you can see from the data, times are changing brands. Consumer expectations are high. They need to know what their brands stand for and see those brands follow through on their promises.
Branding without a human element just isn't going to work. Brands need personalities, opinions, and values to compete in today's market.
Consistent messaging across advertisements, social media platforms, and professional networks like LinkedIn is essential to branding in 2023. When a brand breaks character, it sends a red flag to current and future customers.
As Ben Franklin said, "It takes many good deeds to build a reputation, and only one bad one to lose it".