How to Find Trending Products in 2023
​​There are a few problems with most product discovery methods:
They're inefficient: You can spend hours aimlessly scrolling through different Amazon categories or social media platforms for product ideas, but how do you know which products are most profitable and still have more growth potential?
They surface saturated products: Most product discovery methods focus on finding trends that are hot right now. However, to stay ahead of the curve and capture the first-mover advantage, you need to know about trends before they peak (especially if you're developing your own products).
They lack quality supporting data: Many product discovery methods are based on popular products from a small set of sampled data (e.g., a single supplier's data) or a single person's opinion.
So here are a few of our favorite product discovery methods to find better product ideas.
1. Use a Trend Discovery Tool
The easiest way to find trending products is to use a tool designed to uncover under-the-radar trends.
Exploding Topics is a trend discovery tool with a database of over 13,000 manually vetted trending topics. Just sort by category (ecommerce, pets, fashion, fitness, etc.) and then browse emerging trending topics along with a graph of its historical Google Search volume: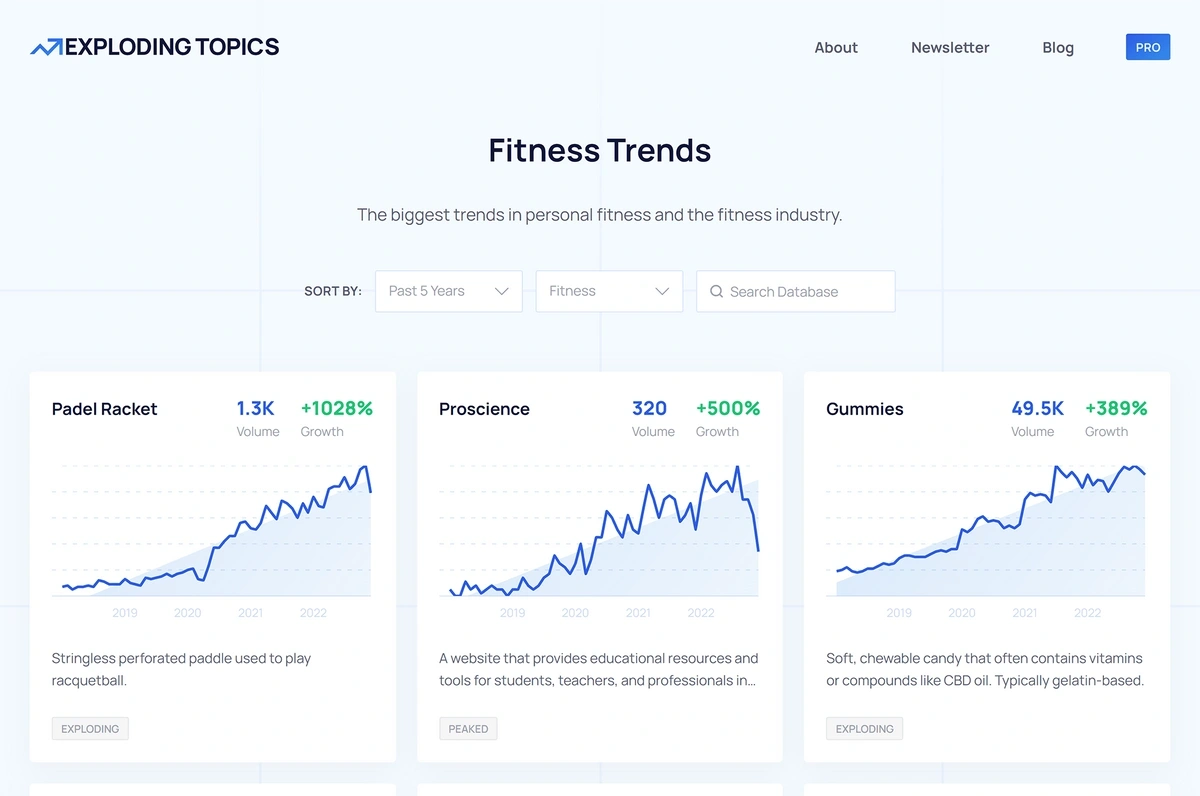 You can also click on each product to see a definition and discover other related popular products.
For example, when you click "padel racket," you can see that "padel backpack" is another relevant trending item you might want to offer in your ecommerce store.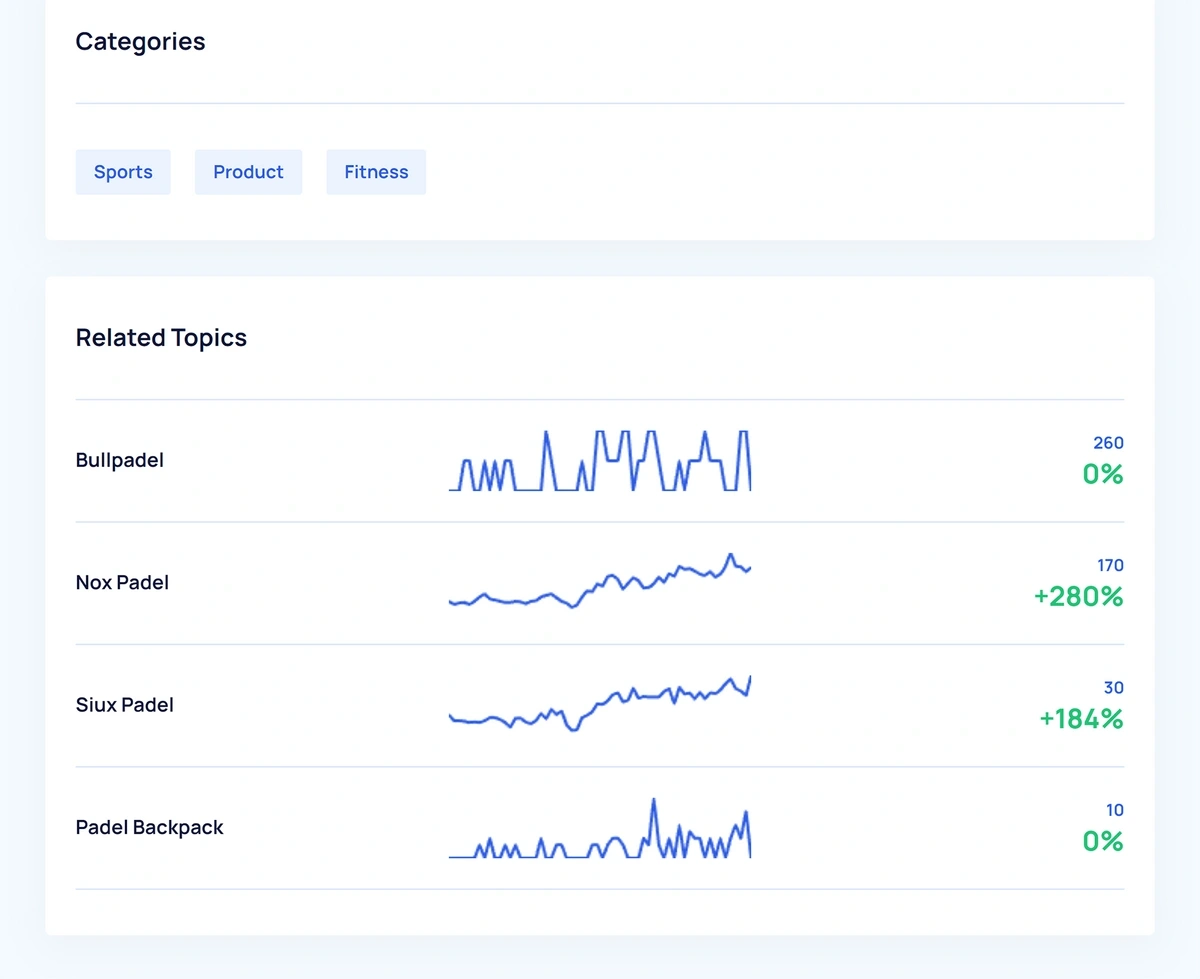 I can also see the Nox Padel, Siux Padel, and Bullpadel are some of the top brands selling padel rackets. This information is excellent for product research because I can read their customer reviews to learn what customers like/dislike and develop a better product.
The best part? The basic Exploding Topics Trends Database is free. To see for yourself how easy it is to discover new trending products, try it out.
Or, if you decide to upgrade to Exploding Topics Pro, you'll have access to our premium Trends Database, which offers exclusive trending topics, more filters, and other advanced features.
For example, when you find an interesting product, you can save it by clicking "Track Topic" and add it to a Project.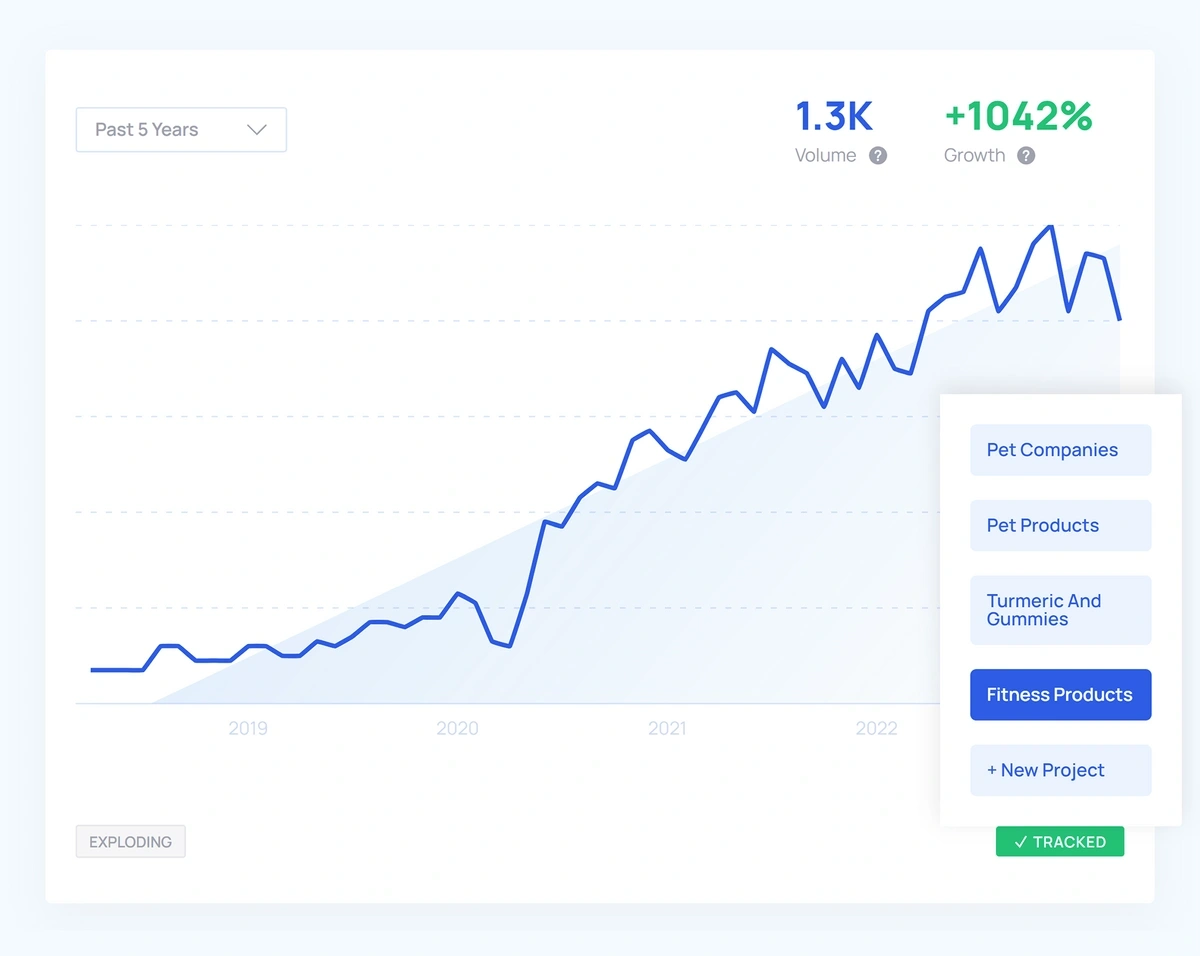 Projects live inside the Exploding Topics dashboard, making it super easy to organize and track them over time: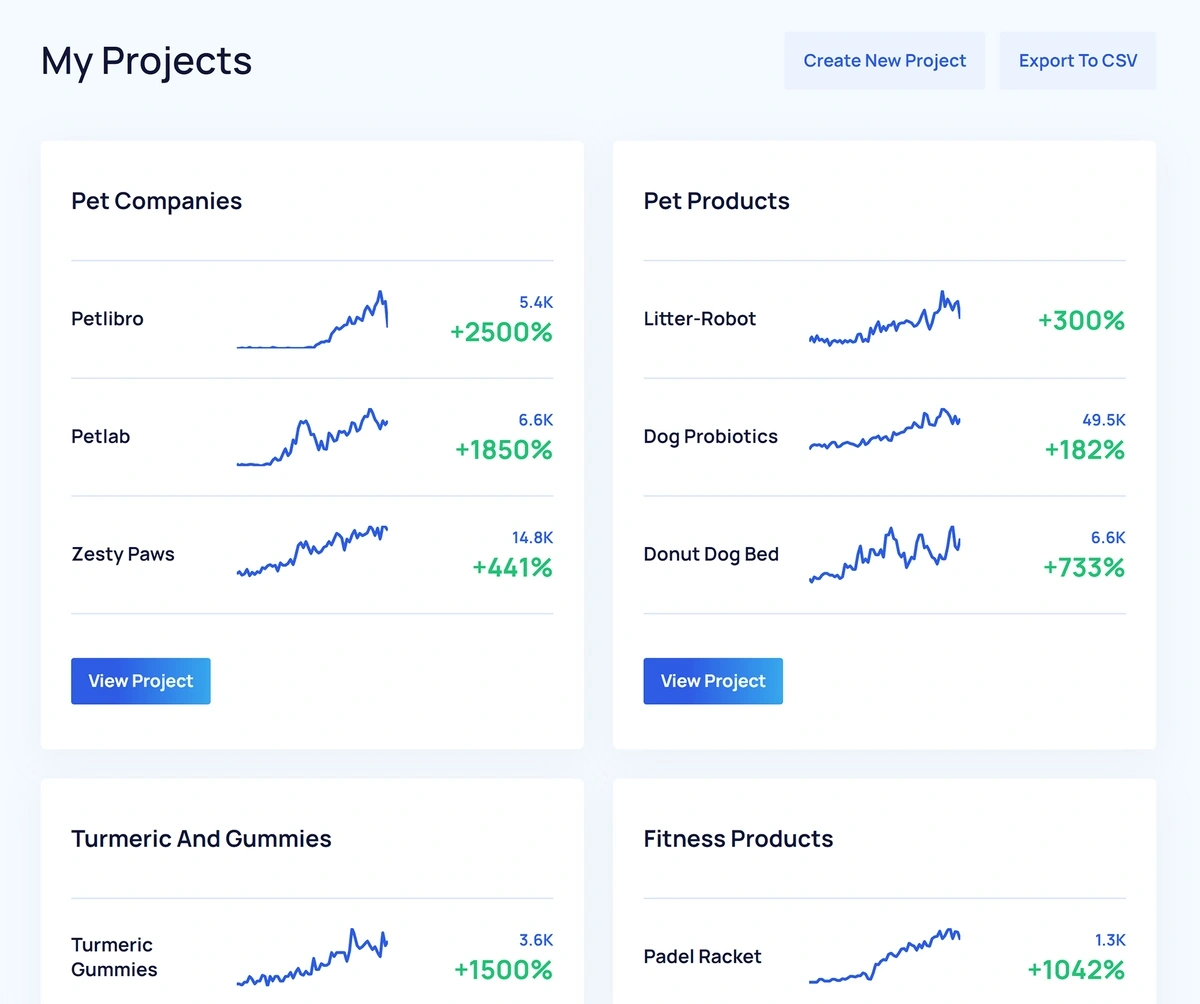 Objection: How do I know that these trends are high quality? If I'm going to put a product into R&D for six months, I want to be sure the trend will still have strong demand in the future.
Great point.
We have a three step trend qualification process that ensures each trend inside the Trends Database is high-quality and backed by reliable data. Here's how we do it:
Step 1: Machine learning and AI scans the web (Google search, Reddit, Amazon, etc.) and various media sources (YouTube, Spotify, etc.) to find trending topics.
The advantage of using technology to discover trends is that it can scan billions of content pieces, making it unlikely to miss critical rising trends. Humans simply can't scan that many data sources.
Step 2: Each trend is qualified by Google Search volume data.
If you're planning to put a product into R&D for six months, you want to be sure that there will still be strong demand for that trend when your product launches.
So to eliminate fads from the Trends Database and ensure each trend shows promising long-term growth potential, we look at historical Google Search volume data and check that it shows steady compounding growth over the past several months/years.
Step 3: A human analyst vets trends for business relevancy.
There are plenty of trending topics that have no value to business professionals. So instead of making you sort through irrelevant topics, we have a human analyst manually approve each topic before adding it to the Trends Database.
This three-step process keeps trend quality high for four reasons:
Machine learning and AI are constantly scanning billions of sources, making it highly unlikely to miss the next under-the-radar trends.
Each trend is qualified based on a large, unbiased, and reliable data set directly from Google.
Qualifying trends based on search volume growth over several months/years weeds out the fads.
Each trend is relevant to business because a human analyst vets each one before adding it to the Trends Database.
In addition to the Trends Database (our flagship feature), Exploding Topics offers a handful of other helpful features to identify new product ideas.
Trends Search
If you already know of a product and just want to check its Google Search volume growth trend, you can type that keyword into Trends Search.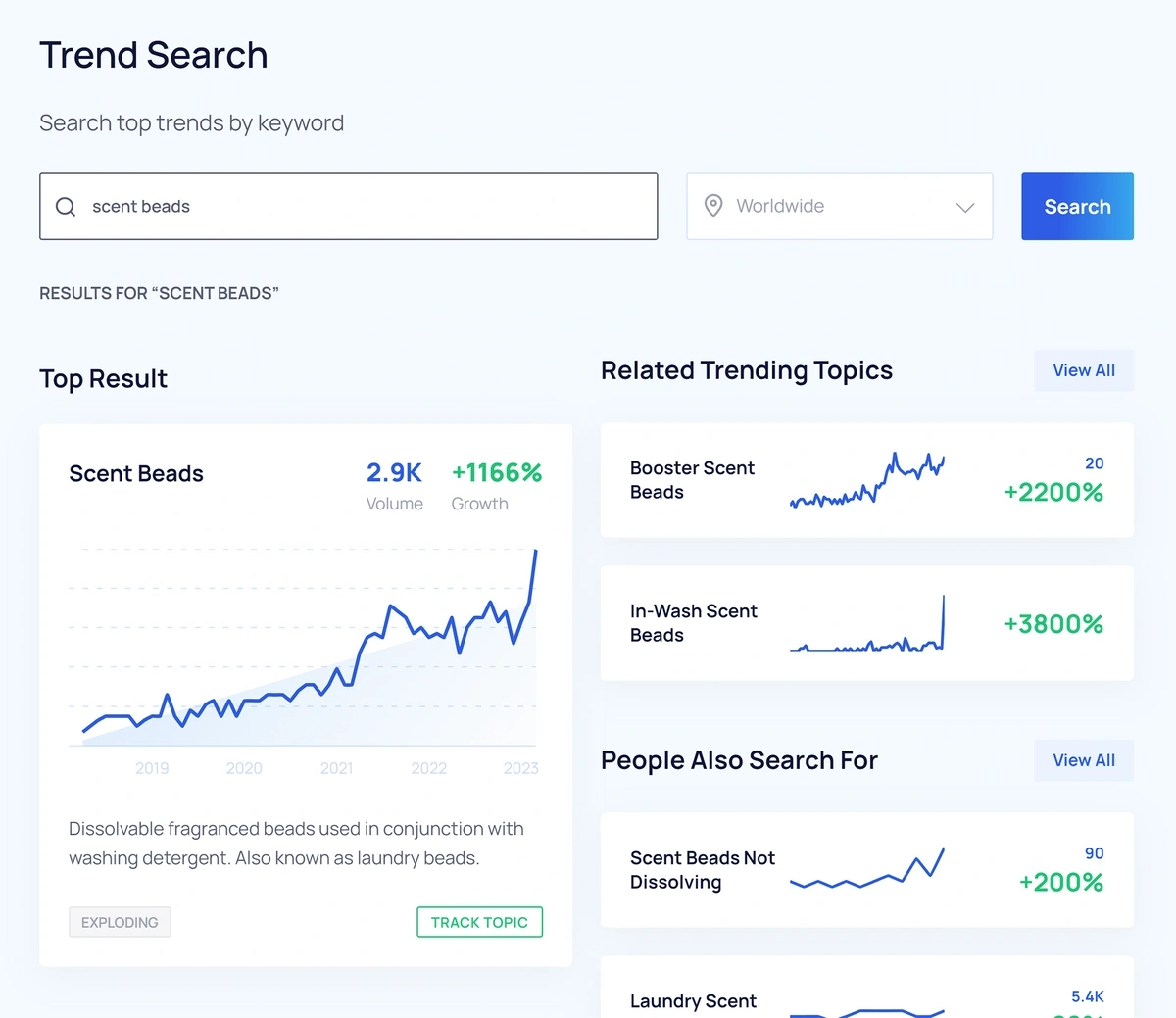 This feature is similar to Google Trends, though you'll also receive other (arguably more relevant) related trending topics and "people also search for" ideas.
You can also easily add these keywords to your Projects by clicking on "Track Topic."
Meta Trends
Most trending products or brands are part of a broader industry meta trend. So instead of just searching for random products, you can make your product research process more efficient by first identifying a key meta trend and then searching for products within that meta trend.
So we created a Meta Trends category in Exploding Topics.
You can click on any Meta Trend category, and it will give you:
A description of the meta trend
A map of trending topics that fall under that meta trend
A handful of other related meta trends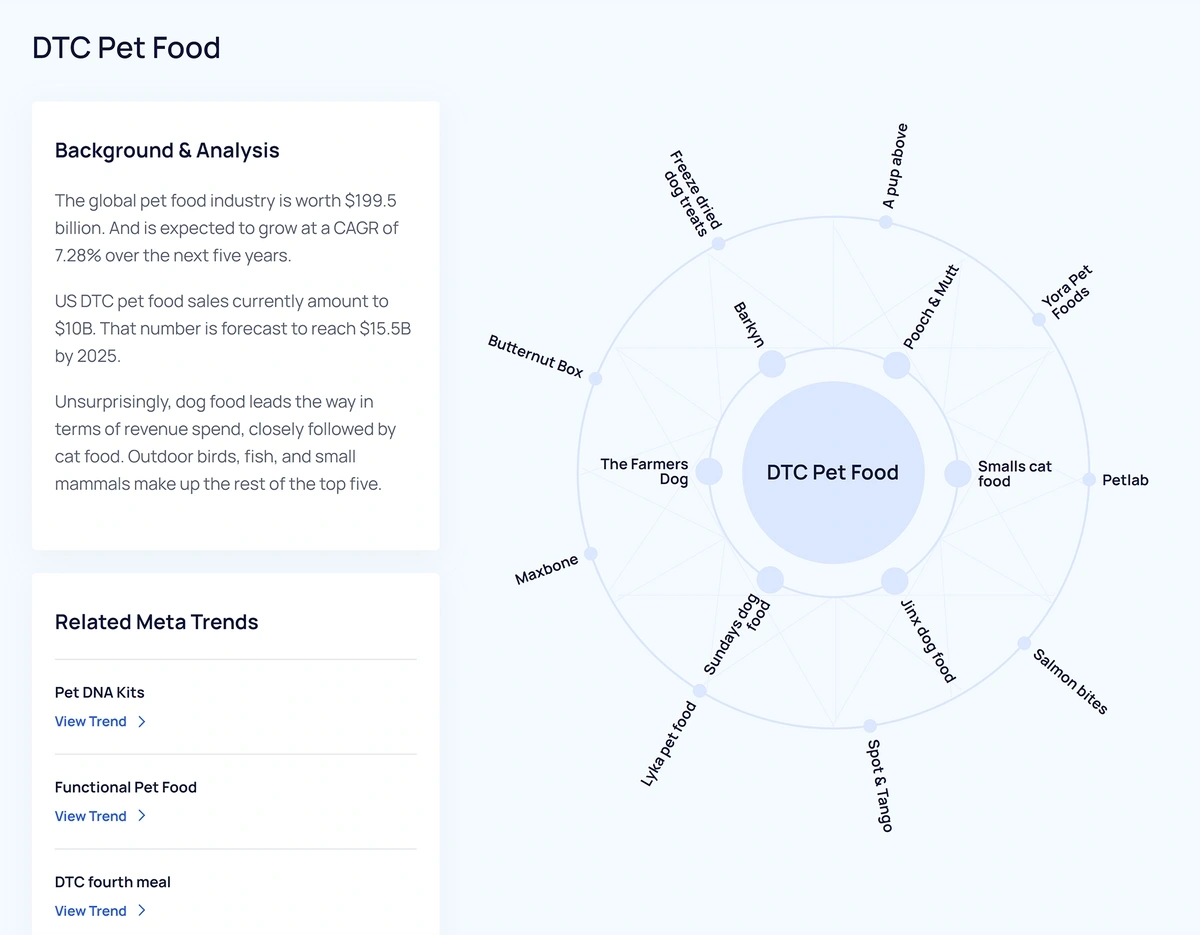 This makes it easy to quickly find a selection of related trending products and brands to add to your Project board.
Weekly Reports
To keep you up-to-date with the latest trending products, we send Weekly Reports directly to your inbox.
Each report covers five trending products and five trending companies, and you can always view past trends in the Exploding Topics dashboard.
If you want to bypass manually searching for promising products, sign up for Exploding Topics Pro today.
2. Best Sellers Categories
Most stores place their most profitable trending products in a "best sellers" category to make it easy for new customers to find.
So to find popular products, make a list of your top competitors' websites and track the best sellers product pages weekly.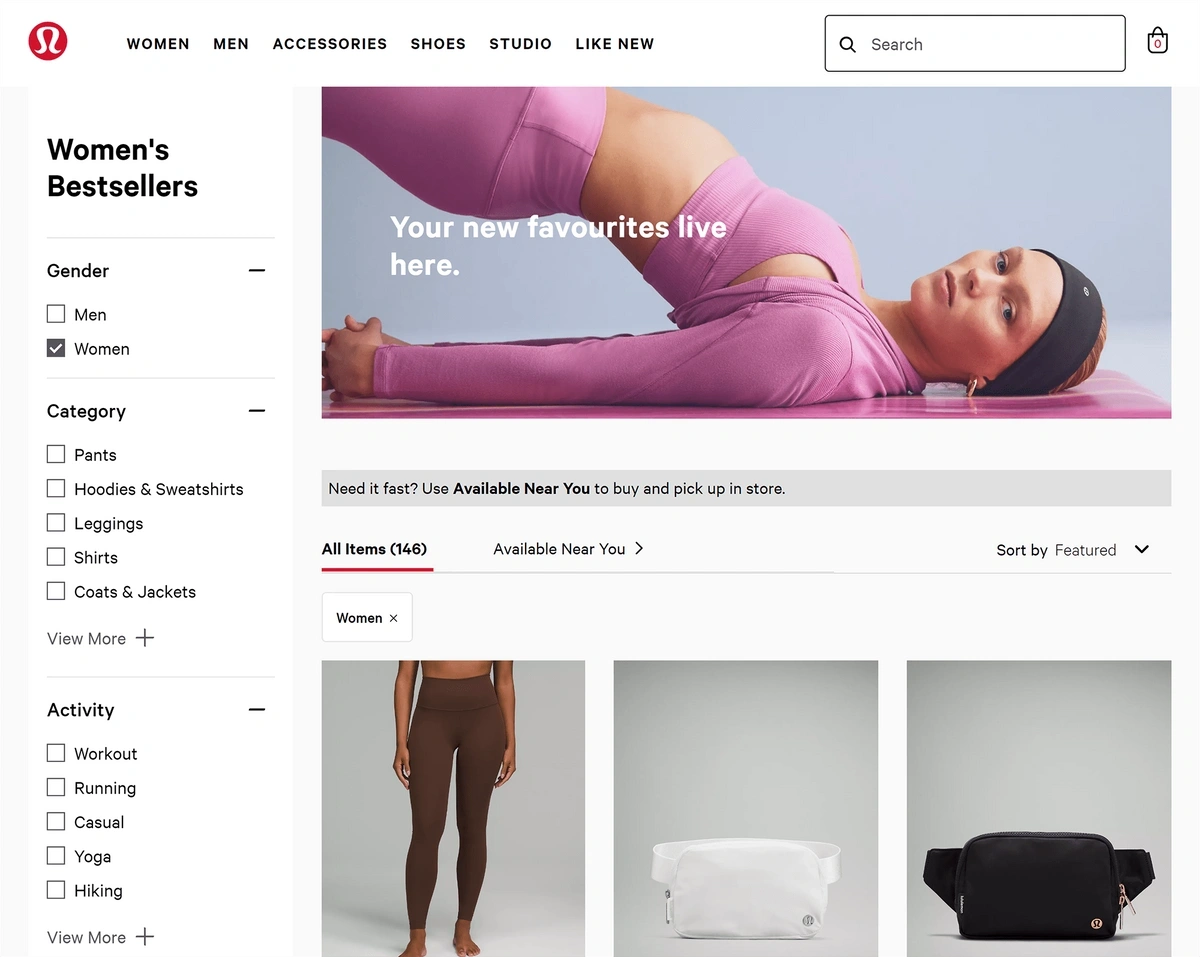 Amazon also has a Best Sellers category that lists the best-selling products based on sales volume. To find products relevant to your niche, just sort by department: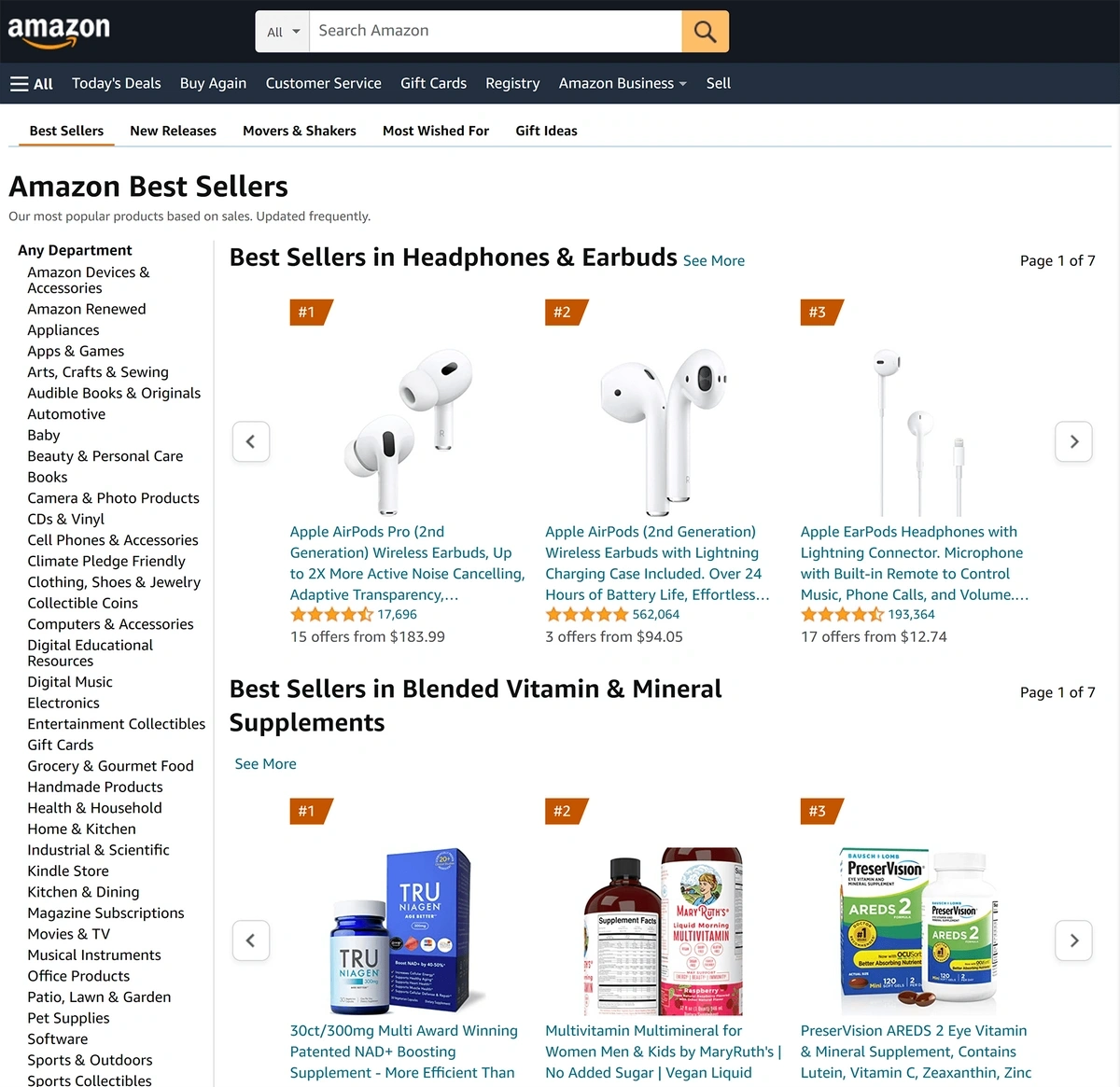 The Amazon Movers and Shakers category is also a useful resource for dropshippers.
It shows a list of products that saw the biggest boost in sales rankings on Amazon over the last 24 hours: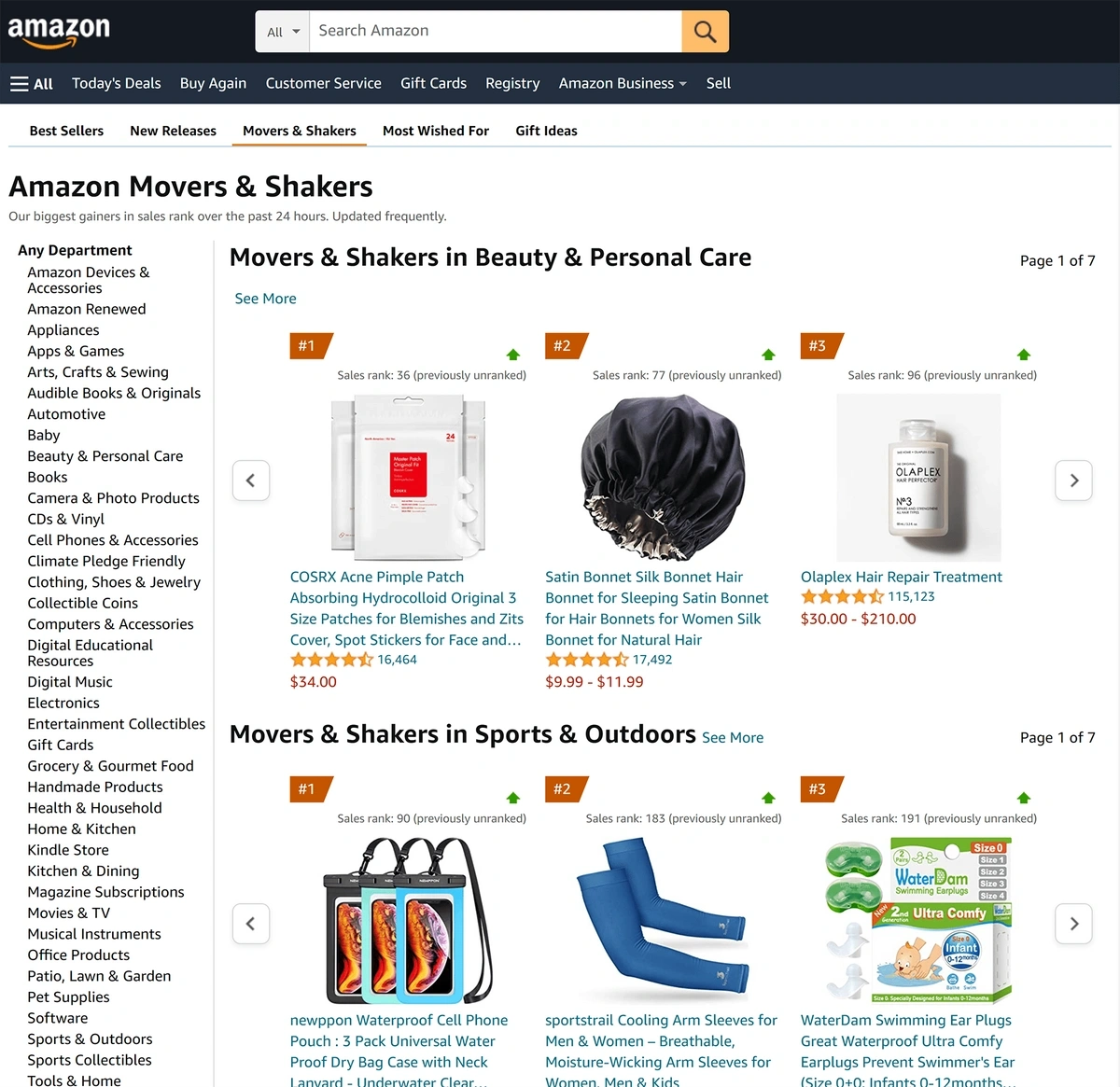 While this category is great for dropshippers that want to quickly add high-demand products to their online store, it's not the best for retailers and other ecommerce businesses that develop their own products for two reasons:
These products are often fads, and demand might die quickly.
The market for these products tends to become oversaturated quickly.
Nevertheless, it's a great resource for dropshipping business owners that want to quickly find trendy products and add them to their stores.
3. Related Product Suggestions and Bundles
If you find one trending product, you can find more trending products by looking at:
Related product suggestions
Bundled product offers
Amazon is a great resource for discovering related products and product bundles.
To get started, search for a trending product (maybe one from a Project in Exploding Topics) and then scroll down to see the other product suggestions and bundles.
For example, let's say a trending product you found in Exploding Topics was "cat water fountain."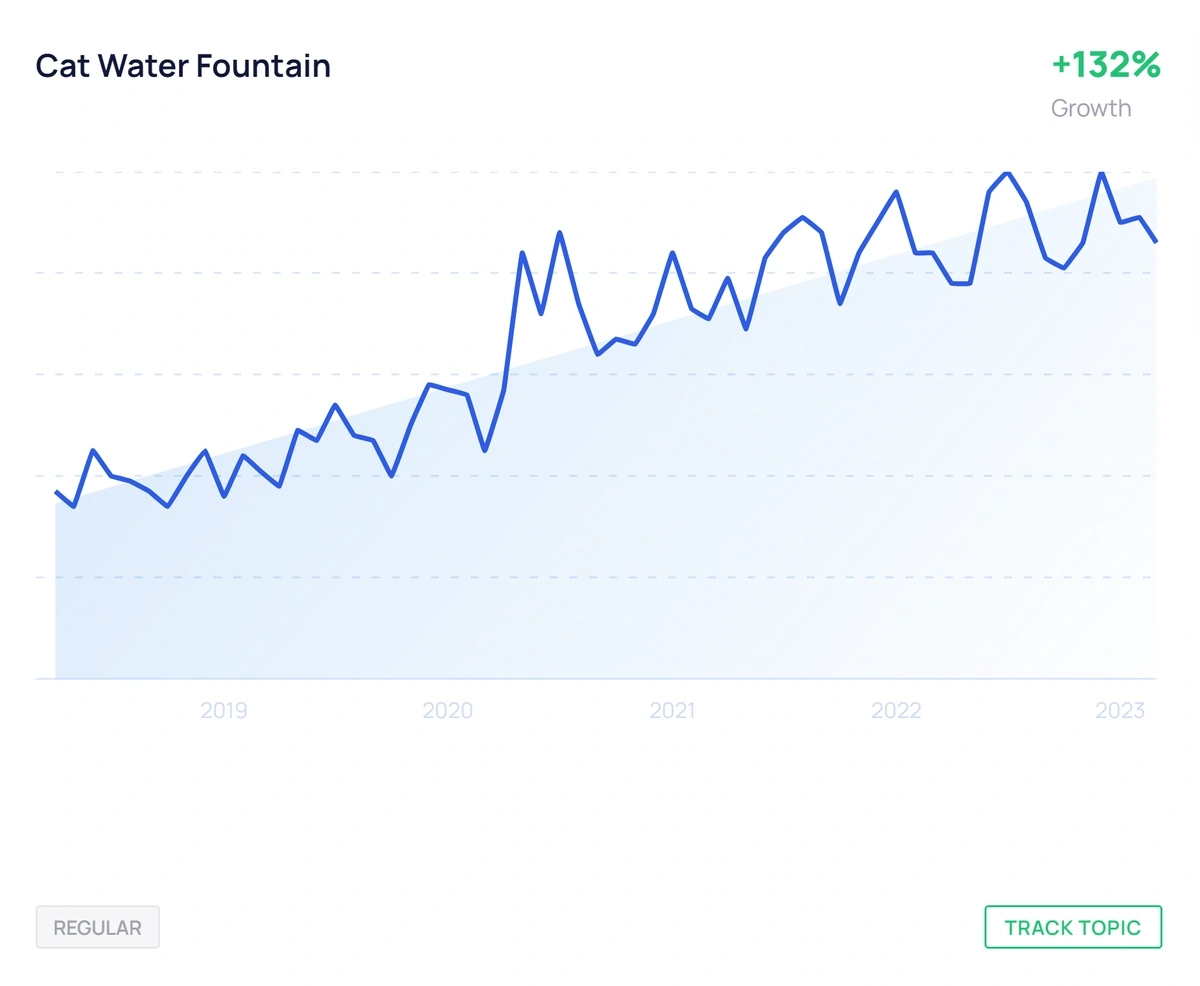 You could type "cat water fountain" into Amazon's search bar, click on a competitor's listing, and scroll down to see related products you could offer in a bundle: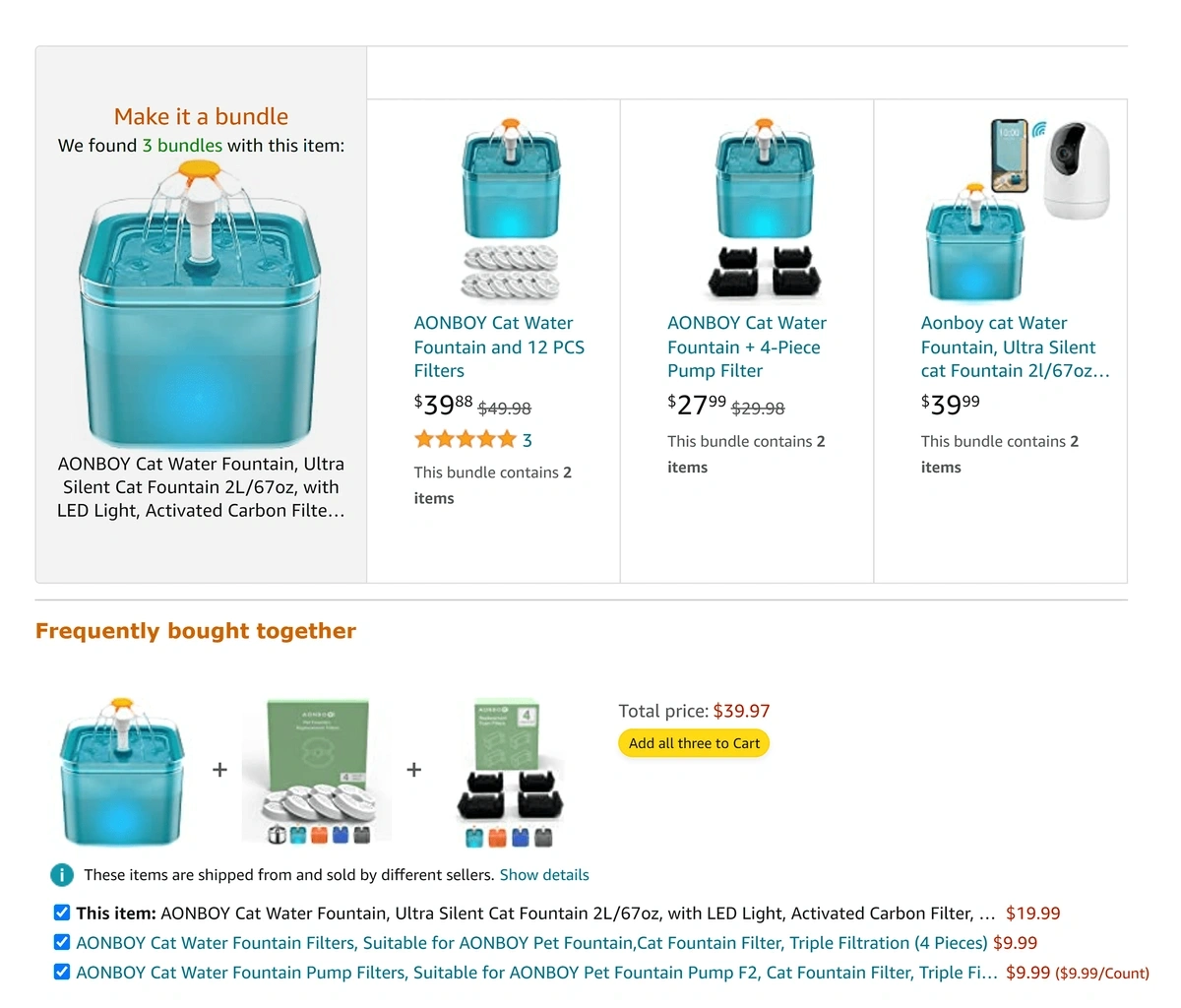 So another topic you might want to research is "raised cat bowls."
You could then type this topic into the Trends Search tool in Exploding Topics to see if it's a trending topic worth adding to your store: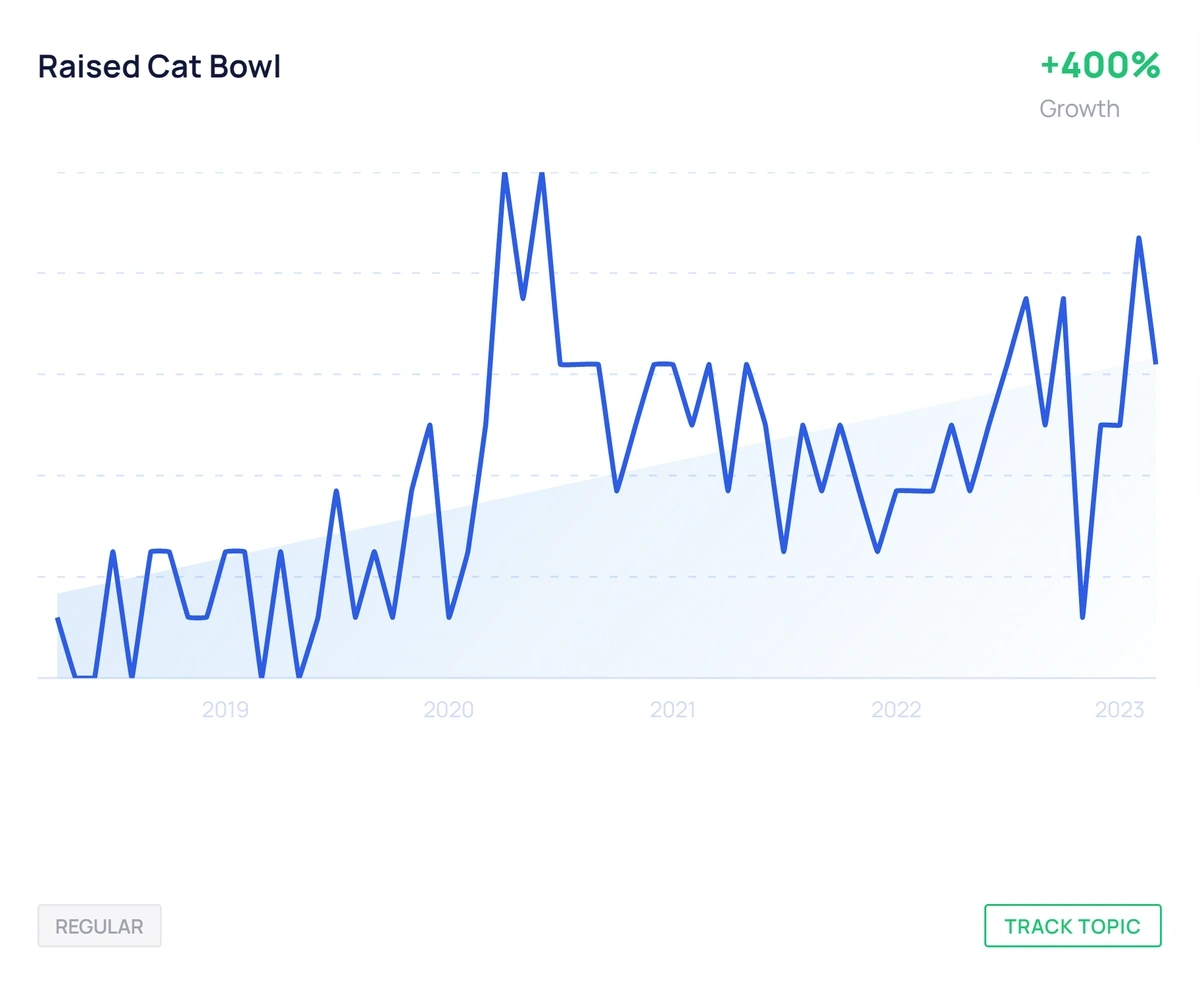 This is an excellent product research hack because it surfaces products that your ideal customers already buy. So it's an easy way to increase your average order value without spending any more on marketing.
4. Track Competitors' Ads
If your competitors are running ads to a particular product, there's a good chance that it's highly profitable.
To track your competitors' Facebook and Instagram ads, you can use the free Facebook Ads Library. It shows all your competitors' ads, each ad version, and how long the ad has run.
For example, if you have an athleisure brand, look at Lululemon's ads and see which products they promote heavily.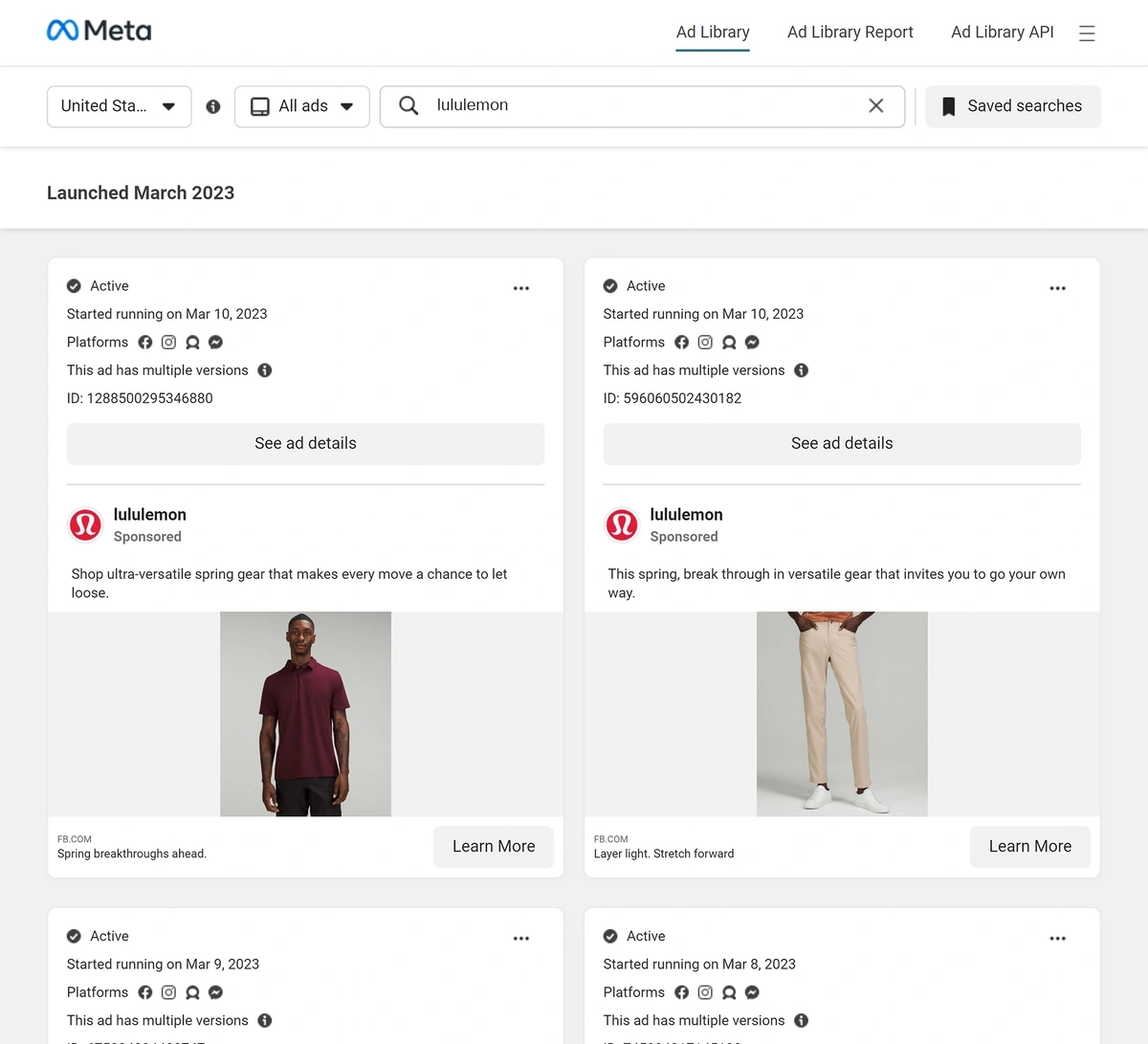 Once you find a product your competitors are promoting heavily, analyze its long-term growth potential.
So looking at Lululemon's ads, you can see that they're actively promoting oversized hoodies.
A quick search for the term "oversized hoodie" in Exploding Topics confirmed that this is a trending product that has shown steady growth over the past several years. So this might be a great product to develop.
Exploding Topics also shows a handful of other related trending topics, like "blanket hoodie," which you could also add to your store.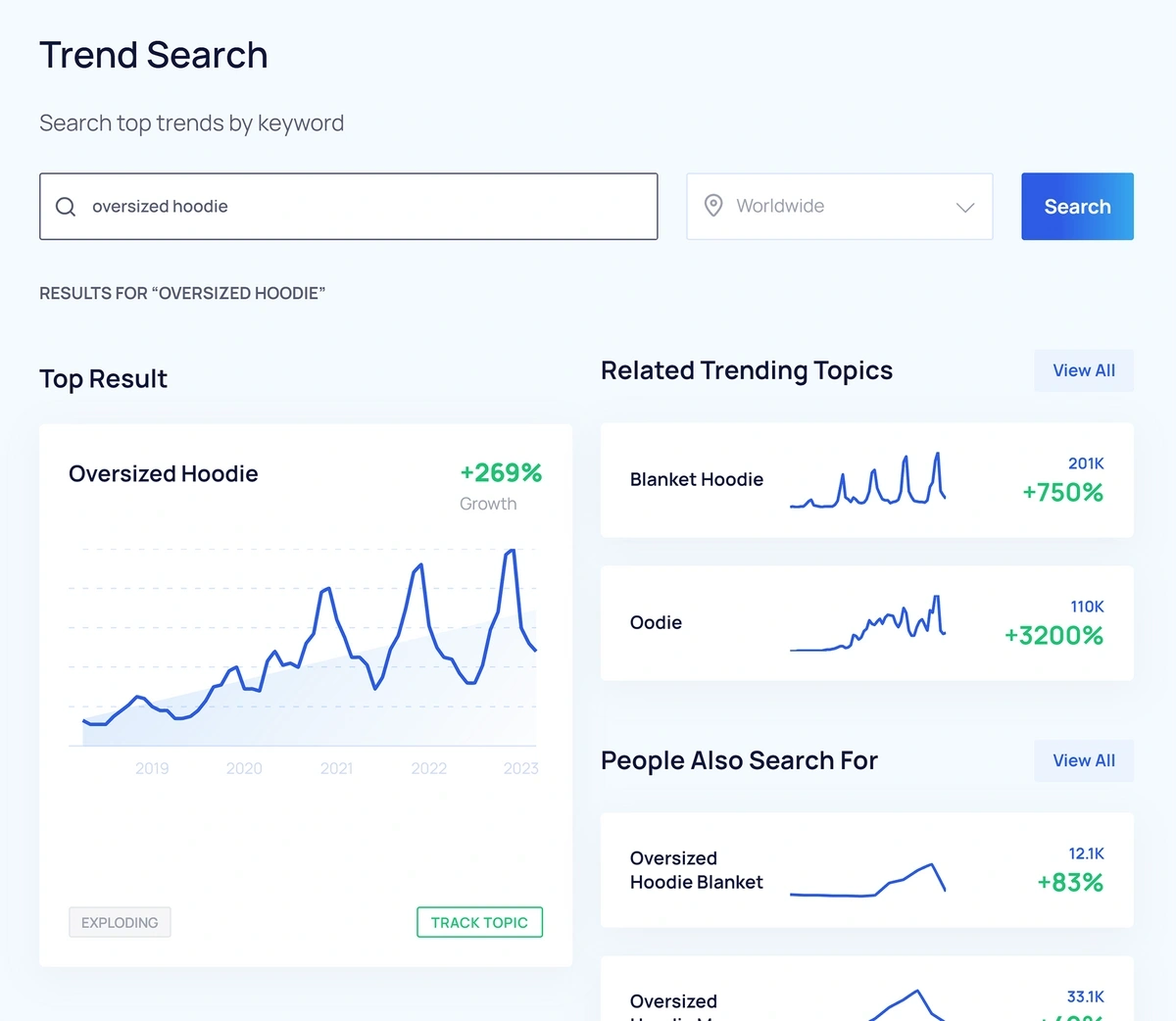 In addition to Facebook and Instagram ads, you can also use Ahrefs or SEMrush to track the keywords your competitors are targeting with Google Ads.
Just enter their URL and sort by paid keywords or paid ads.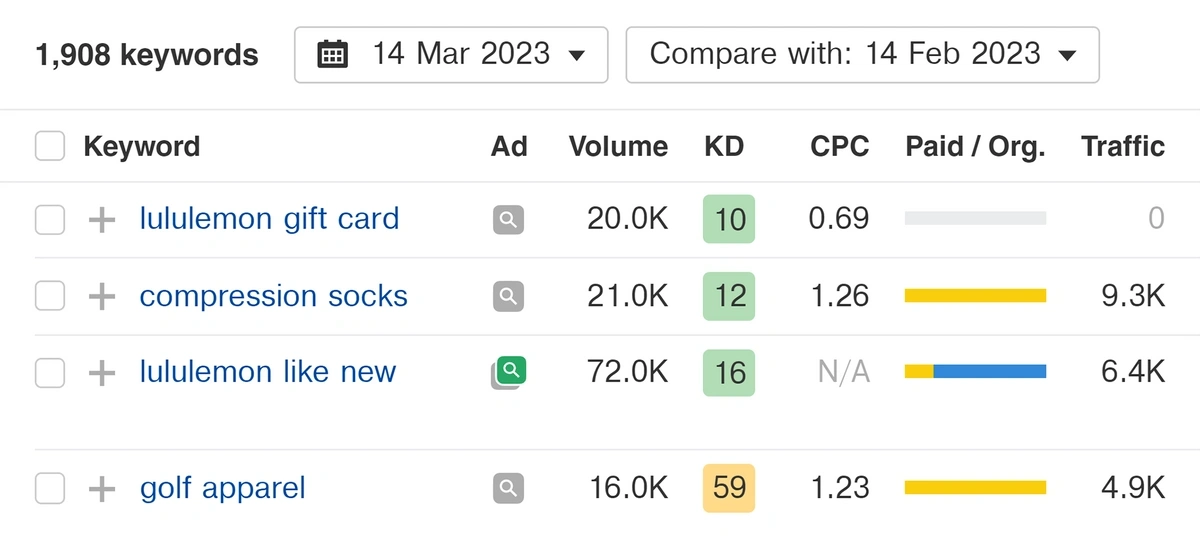 Using the Lululemon URL, I quickly found yet another trending product – compression socks. From there, I can confirm the that it's a trending product in Trends Search: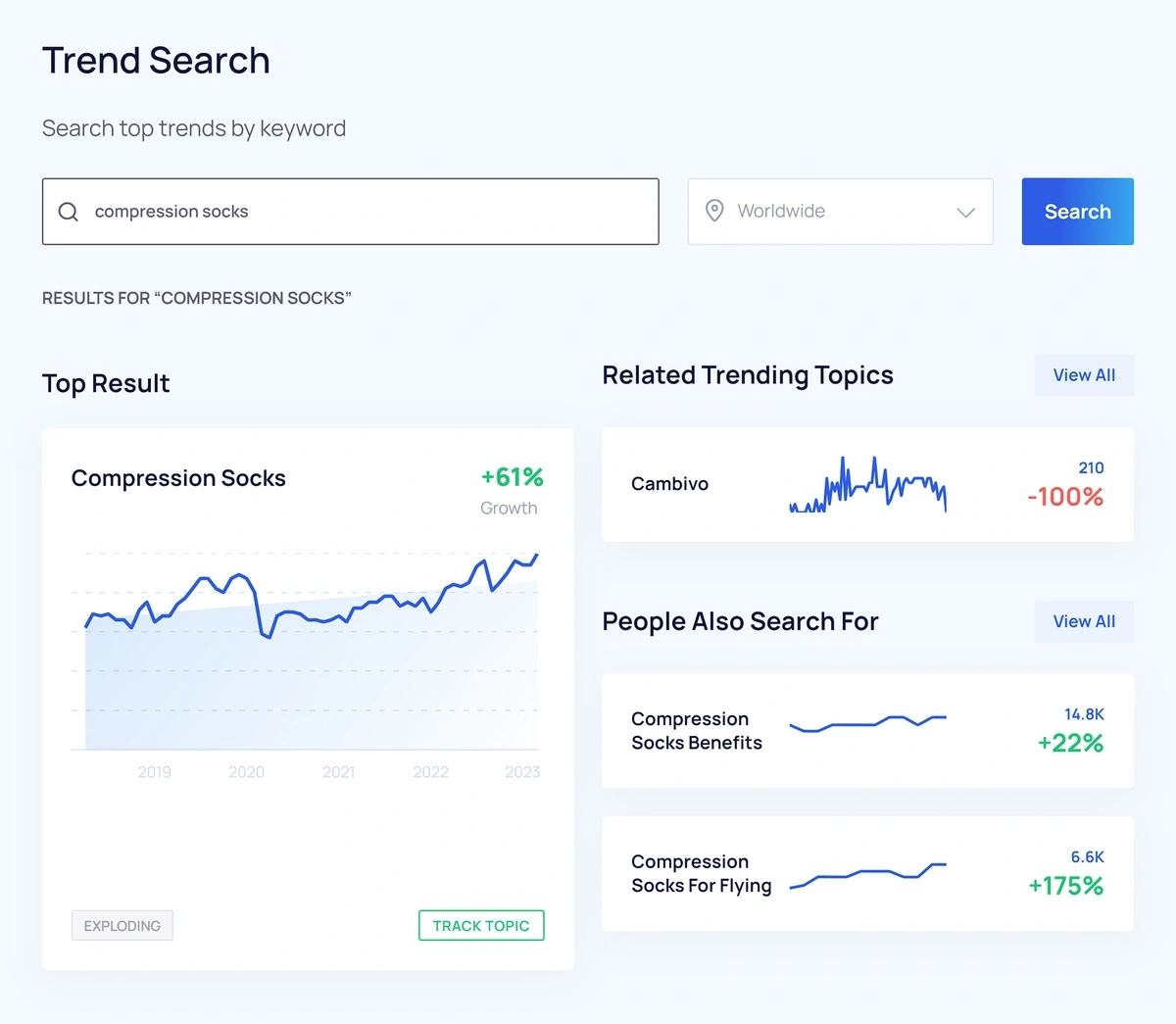 5. Social Media Influencers
Social media influencers are incentivized to promote cool trending products because novel product recommendation posts tend to generate high engagement.
So start following relevant influencers to stay up-to-date with trending products.
You can use an audience intelligence tool like SparkToro to discover relevant influencers your audience follows.

Another option is to follow your competitors' partner influencers.
This will help you stay up-to-date with your competitors' best products, and you'll probably also discover new products from other parallel brands those influencers are promoting.
You can find relevant influencers by scrolling through your competitors' social media pages (most influencers tag the brand in their posts).
Unboxing videos are also excellent tools for discovering new trending products. You can find these videos by searching your competitor's brand name on YouTube and "unboxing."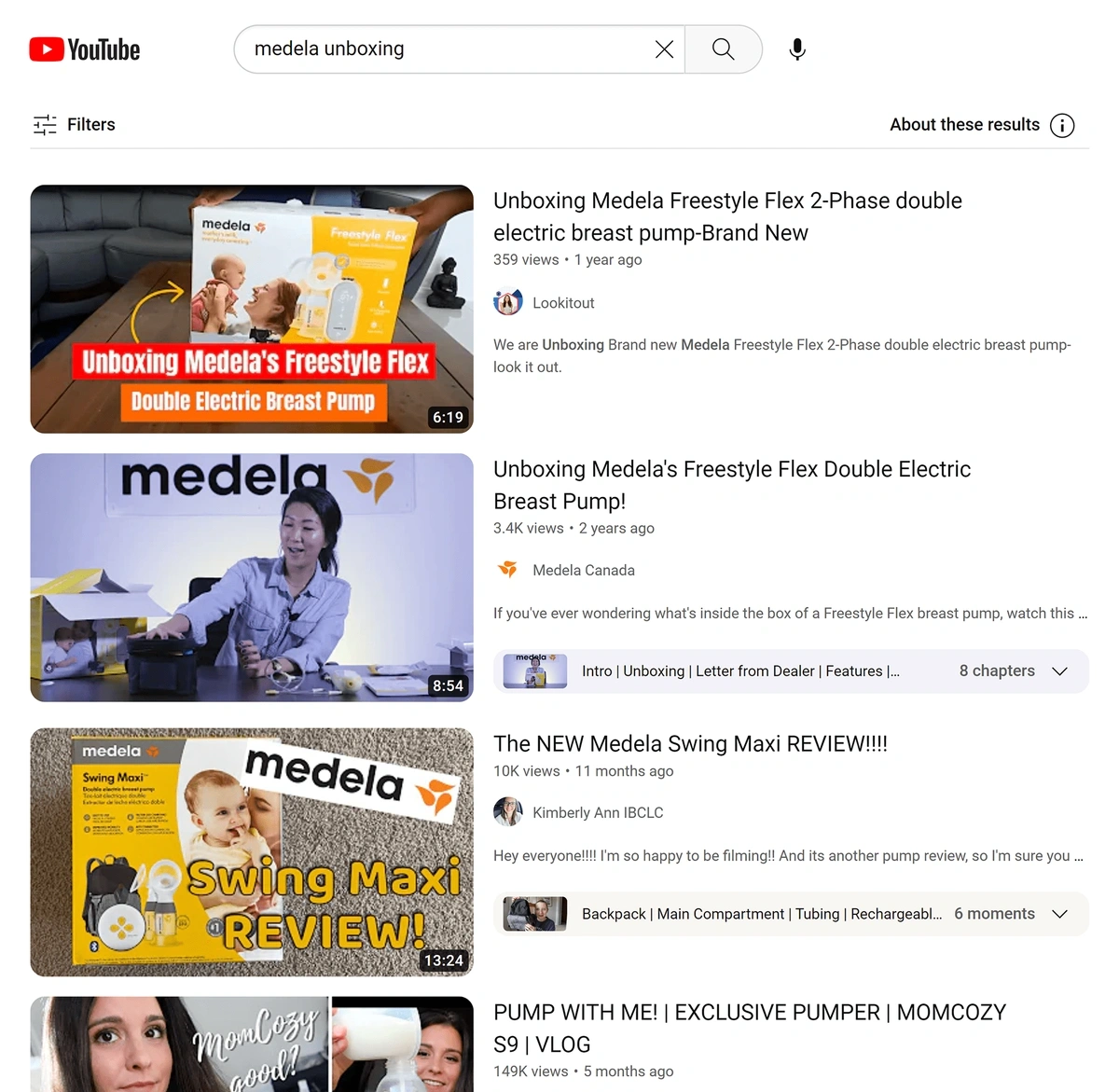 This is a great way to track your competitors' products and other related products the influencer is promoting.
You can also gauge consumer sentiment for each product by reading the comments.

If you follow influencers to find trending products, thoroughly research each product's growth trend to be sure it isn't just a fad.
You can do that by searching the product keyword in our Trends Search feature to view its Google Search volume trend. If the search volume for that product keyword has steadily grown over the past several months, it probably has long-term growth potential.
6. Survey Your Customers
While tracking competitors, influencers, and other third-party sources is a great way to estimate a product's general popularity in your industry, each customer base is slightly nuanced.
For example, Nike and Lululemon are both athletic apparel brands, but Nike's audience is probably more interested in the latest running shoe trends than Lululemon's audience.
So instead of relying entirely on competitive intelligence to source new product ideas, ask your existing customers what new trending products they enjoy.
You can do this with a survey tool like Typeform or SurveyMonkey and incentivize customers to complete it by offering a discount code or points.
Pro Tip: As you survey your audience, avoid asking broad questions like "what new trending products do you enjoy?"
Most people draw a blank when you ask broad questions, so be specific. Here are a few example questions:
What cool athleisure products did you recently see on social media? What did you like about it?
What other athleisure brands do you shop at?
What products do you typically buy from those athleisure brands and why?
These questions will help you generate more specific responses and give you higher-quality feedback.
7. Reddit Forums and Social Media Groups
Most ecommerce industries have a handful of subreddits/social media groups dedicated to your target audience (and sometimes even your exact product).
For example, this subreddit covers everything about Padel sports and has an excellent guide on choosing a padel racket. So if you're considering adding padel rackets to your store, it's a great resource to learn what customers look for in a padel racket so that you can design the best product possible.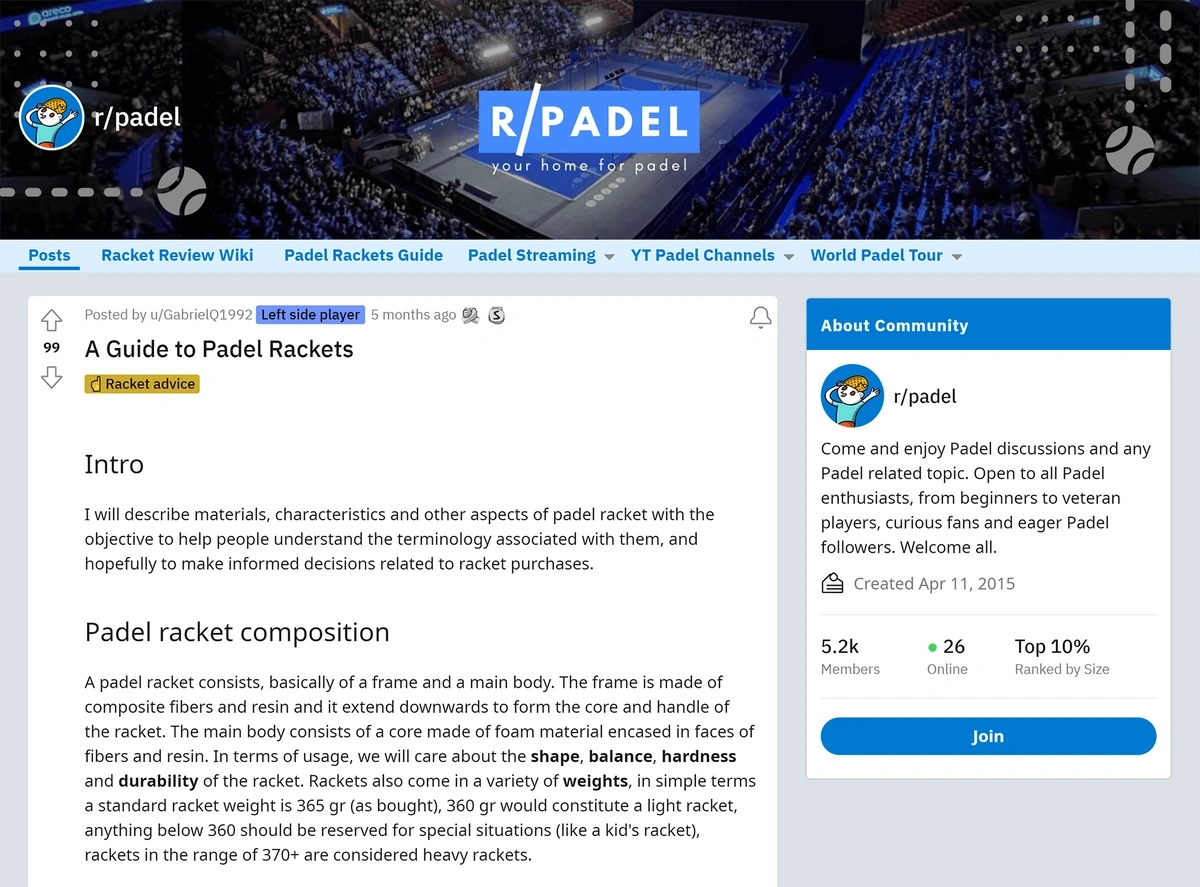 While reading these forums regularly to find trending product ideas might seem time-consuming, it's a good way to stay up-to-date with consumer needs and improve your marketing messaging.
There are also plenty of social media groups that make it easy to connect with your ideal audience and learn what they want in a product. You can also use social media to follow trending hashtags for more product ideas.
8. Analyze Historical Product Data
Most beginner entrepreneurs focus on finding the latest trending products to sell online. However, more experienced entrepreneurs understand that doubling down on promoting the most profitable product categories you currently offer usually leads to faster business growth.
So even though this post is about finding the next trending product, analyze your historical sales data to see which products are most profitable.
In fact, specializing in a particular product category can help you become a leading brand in that niche.
For example, Nike was known specifically for selling the best running shoes for a long time before it expanded into other sportswear products. When it did expand and offer other products, it already had a loyal customer base and an excellent reputation for quality products and service, which gave them an immediate edge over the competition.
If you're still eager to add new products, you can add upsells, downsells, and bundles to accompany your best-selling products.
This is a great strategy because you can increase the average order value of your customer without increasing marketing spend to acquire an entirely new customer.
Take Action and Find Trending Products Now
Instead of aimlessly browsing marketplaces like Etsy, eBay, Alibaba, or Amazon for new product ideas, Exploding Topics offers a database of trending products with strong long-term growth potential.
So whether you're trying to find trending products to sell online or searching for new trends to develop your own product line, check this task off your to-do list now by jumping into the free Exploding Topics Trends Database.
If you want access to premium trends and other advanced features, try Exploding Topics Pro.