57+ Freelance Statistics, Trends and Insights (2023)
The freelancing world has seen significant growth over the last 36 months. From the global pandemic to the rise of remote work, societal and technological shifts are causing major changes to the freelance space.
Today, most modern freelancing activity takes place on freelance platforms such as Upwork, Fiverr, Freelancer, Toptal, and Flexjobs.
Let's take a deep look at some up-to-date freelancing stats and trends that tell a pretty interesting story.
Contents
Top 7 Freelancer Statistics (Editor's Picks)
Approximately 1.57 billion people in the global workforce are freelancers.
Worldwide, the total freelance platform market is estimated to be worth $3.39 billion.
Last year annual earnings by US freelancers grew by $100 million, now totaling $1.3 trillion.
Worldwide, the average freelancer earns $21 per hour.
Over half of freelancers have postgraduate education, up 6% from 2020 to 2021, while freelancing for those with a high school diploma or less declined from 37% to 31%.
Web design is the freelance service with the highest demand.
Globally, nearly 70% of freelancers are 35 y.o. or younger.
Global Freelancing Market Stats
Nearly 47% of workers worldwide are freelancers (World Bank)
World Bank data shows that 46.7% of all workers worldwide are self-employed.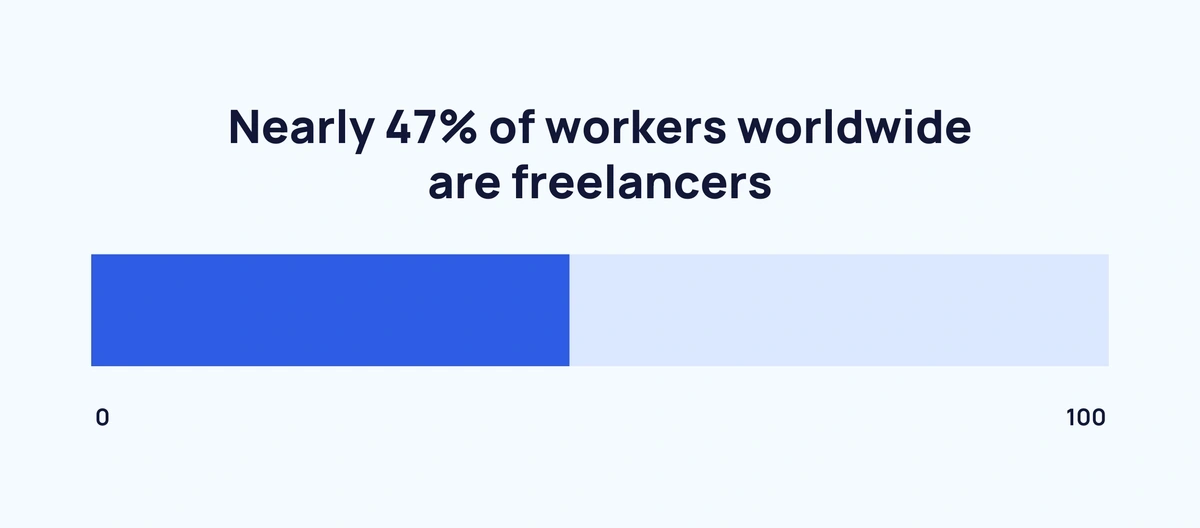 The total number of freelancers globally is estimated to be 1.57 billion people out of a total global workforce of 3.38 billion.
The global freelance platform market is worth $3.39 billion (Absolute Reports)
Freelancing on digital platforms has surged in the last few years. In 2018, the global freelance platforms market was worth $2.35 billion. In 2020, the value expanded to $3.39 billion.
Despite the robust growth in freelance work, freelance platforms are responsible for only 1-3% of total global employment. This means there's plenty of room for continued growth.
By 2027, the global freelance platform market is projected to reach $9.19 billion.
The freelance market CAGR is predicted to be 15.3% during 2021-2027.
Worldwide, freelancers earn an average of $21 per hour (Payoneer)
The hourly rate for freelancers averages $21 per hour (up from $19 per hour in 2018).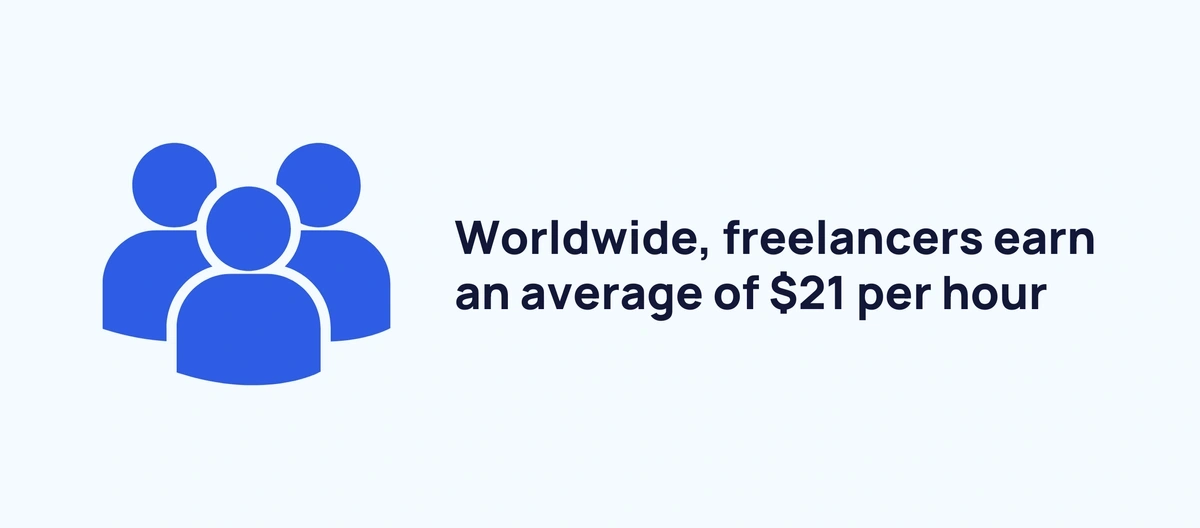 On average, freelancers working in web/mobile development, marketing, legal, accounting, and other skilled services earn $28 per hour. This rate is higher than 70% of all hourly wages in the US.
Upwork is the world's largest freelancer platform and generates over $2 billion in yearly revenue (VCBay)
Upwork was incorporated in 1999, and it makes over $2 billion in revenue each year across over 8,000 skills with over 3 million jobs posted annually.
Fiverr processes more than 3 million jobs in over 100 categories across 196 countries worldwide each year.
Freelancer has over 31 million users globally and has an annual revenue of $43.1 million.
Freelance Wage Stats
In the US, programmers, data analysts & mobile developers earn average annual salaries of up to $120,000 (Upwork)
The market for skilled freelancers is growing. From 2020 to 2021, the percentage of freelancers working in skilled services (computer programming, marketing, IT, and business consulting) grew from 50% to 53%.
Overall, more technical and specialized freelancers tend to earn higher wages.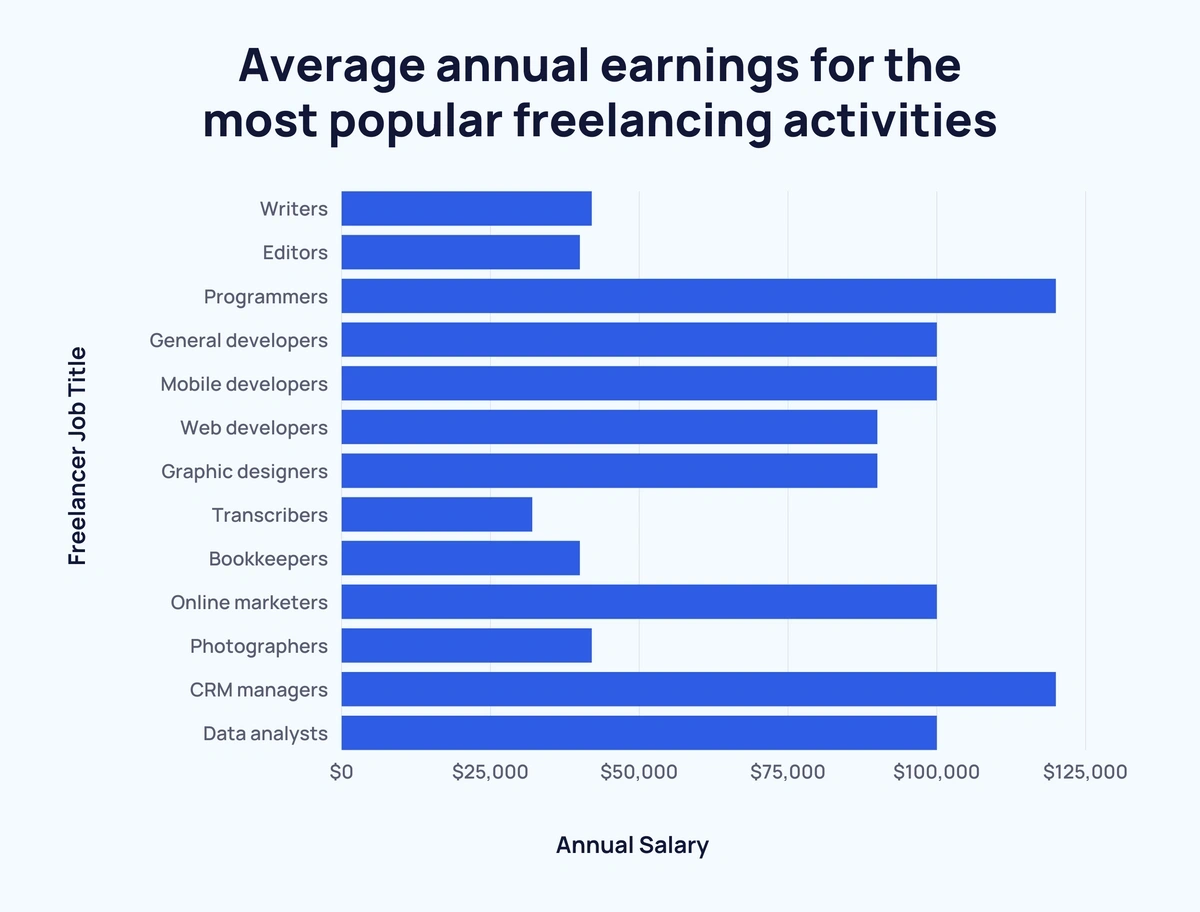 In the US, programmers earn the highest average wage at $60-70 per hour, with an annual salary of around $120,000. Data analysts and mobile developers make $55-65 per hour, with a yearly salary of $100,000.
Here's a list of the average salaries and annual earnings for the most popular freelancing activities:
| | | |
| --- | --- | --- |
| Freelancer Job Title | Hourly Wage | Annual Salary |
| Writers | $30-40/hr | $42,000 |
| Editors | $25-35/hr | $40,000 |
| Programmers | $60-70/hr | $120,000 |
| General developers | $50-60/hr | $100,000 |
| Mobile developers | $55-65/hr | $100,000 |
| Web developers | $50-60/hr | $90,000 |
| Graphic designers | $40-45/hr | $90,000 |
| Transcribers | $20-25/hr | $32,000 |
| Bookkeepers | $30-35/hr | $40,000 |
| Online marketers | $50/hr | $100,000 |
| Photographers | $35-45/hr | $42,000 |
| CRM managers | $50-60/hr | $120,000 |
| Data analysts | $55-65/hr | $100,000 |
Regional Freelancing Stats
The US has seen freelance work grow by 78% (Payoneer)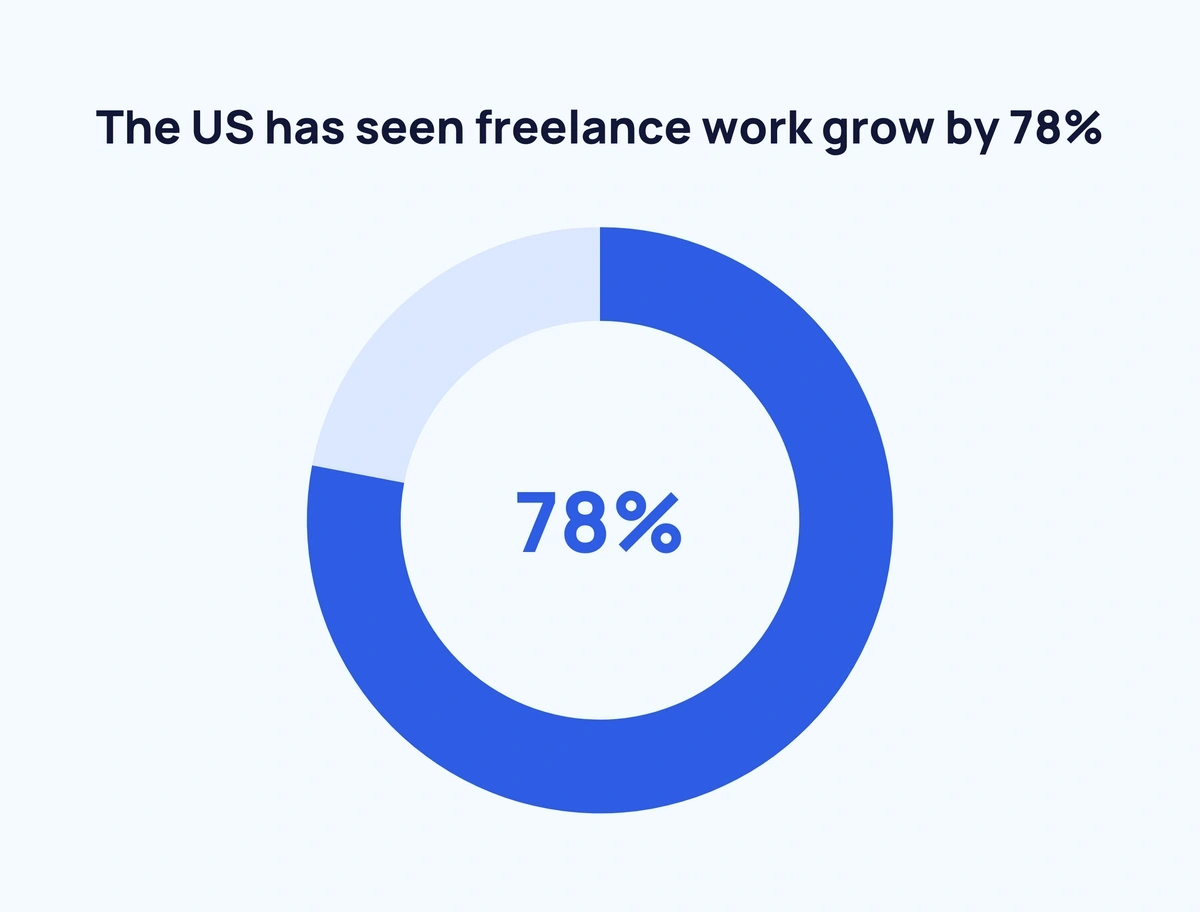 Here's a list of the top 10 countries for freelancers & year-over-year earnings growth rates in 2019.
United States (78%)
United Kingdom (59%)
Brazil (48%)
Pakistan (47%)
Ukraine (36%)
Philippines (35%)
India (29%)
Bangladesh (27%)
Russia (20%)
Serbia (19%)
In 2020, the Philippines had the highest year-over-year growth rate for freelance revenue at 208% (Payoneer)
The countries with the highest growth for freelance work can change dramatically and rapidly. We see this when we compare 2019 to 2020.
In 2020, emerging market countries took the lead. Also, a stronger Latin American presence was observed. The previous year's leader, the US, wasn't even in the top 10 for 2020.
Here are the top 10 fastest-growing countries based on freelance year-on-year revenue growth in 2020:
Philippines (208%)
India (160%)
Japan (87%)
Australia (86%)
Hong Kong (79%)
Mexico (72%)
Canada (71%)
Pakistan (69%)
Argentina (66%)
Spain (66%)
In the US, freelancer earnings total $1.3 trillion per year (Upwork)
Freelancing continues to hold an important place in the US labor market and economy. From 2020 to 2021, overall earnings from freelance work in the US grew by $100 million, with total earnings of $1.3 trillion.
There are over 4.2 million freelancers in the UK (Statista)
In the UK, 4.2 million say that freelancing is their main job. That's down from over 5 million in January 2020. But up from around 3.3 million 20 years ago in November 2002.
It's estimated that UK freelancers contribute £162 billion to the overall UK economy.
The number of freelancers in France, Germany, and Spain totals around 3 million (Malt + BCG)
In most of Europe, the number of freelancers has grown, except in Germany which has seen a 7% drop in the number of freelancers since 2009.
| | | |
| --- | --- | --- |
| Country | Total Number of Freelancers | % growth since 2009 |
| France | 1.028 million | +92% |
| Germany | 1.238 million | -7% |
| Spain | 753 thousand | +40% |
The average age of freelancers in France is 37 years old. In Germany, it's 45 years old, and in Spain, the average freelancer is 40 years old.
In Europe, 65% of freelancers are men and 35% are women.
Women continue to have a greater presence in the European freelance workforce. Still, there is plenty of room to improve. Here's a list of the top freelancing jobs and the percentages of women working in each category in 2020 vs. 2016.
| | | |
| --- | --- | --- |
| Job Type | Percentage of women workers in 2020 | Percentage of women workers in 2016 |
| Technology and data | 8.5 | 6 |
| Communication | 67 | 57 |
| Project managers & agile coaches | 30 | 23 |
| Marketing | 32 | 32 |
| Web and graphic design | 50 | 40 |
| Business consulting | 27 | 23 |
| Picture and sound | 24 | 17 |
By number of freelancers, India is the second fastest-growing country in the world (Payoneer)
From Q1 to Q2 in 2020, the number of freelancers in India jumped by 46%. There are approximately 15 million freelancers in India.
The pandemic hit freelancers in India hard with a 13% revenue decline in April 2020. As restrictions eased, nearly two-thirds of freelancers in India received more work in June 2020 compared to the prior two months.
In the Asia Pacific, nearly 85% of hiring managers outsource to freelancers (Asean Post)
According to a recent survey, 84% of companies surveyed in the Asia Pacific have outsourced work to freelancers. The same survey showed that hiring freelancers can save over 20% in labor costs.
Africa is home to just over 10% of the global freelance workforce (Africa.com)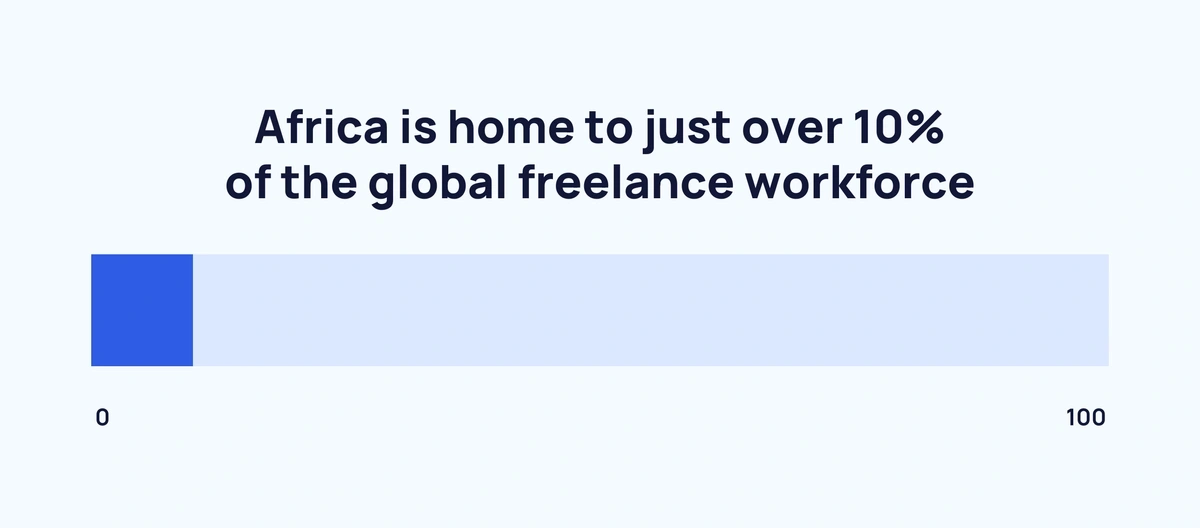 Africa holds 10.1% of the world's freelancers, and it's anticipated that this number will grow.
Freelancer Demographics Stats
Globally, over two-thirds of freelancers are under the age of 35 (Payoneer)
Millennials (born between 1981-1996) and Gen-Z (born between 1997-2012) represent the majority of the global freelance workforce, with nearly 70% under the age of 35.
In Asia, 82% of freelance workers are 35 y.o. or younger. In North America, less than half of freelancers are under 35.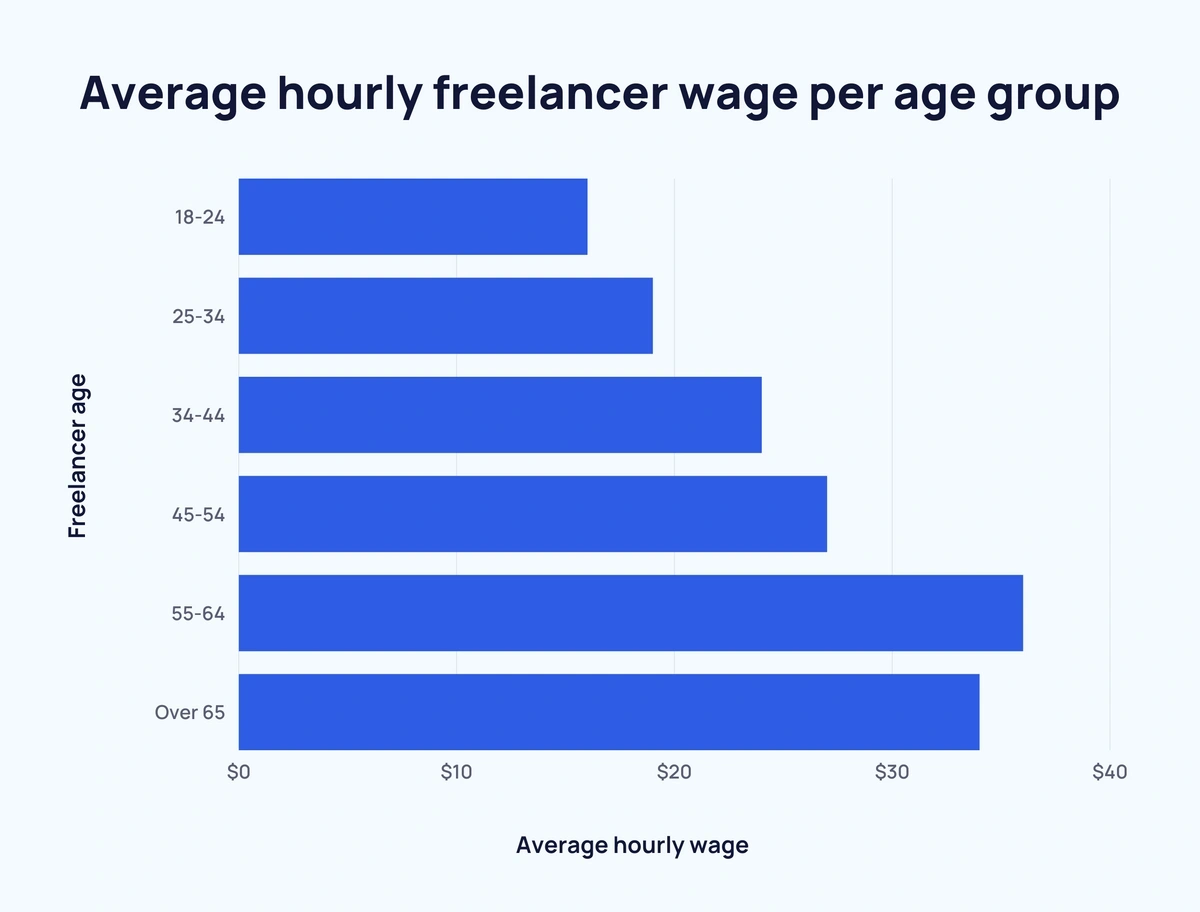 Here's a breakdown of the average hourly freelancer wage per age group:
| | |
| --- | --- |
| Freelancer age | Average hourly wage |
| 18-24 | $16 |
| 25-34 | $19 |
| 34-44 | $24 |
| 45-54 | $27 |
| 55-64 | $36 |
| Over 65 | $34 |
Freelancer Education Level Stats
Just over half of freelancers have a postgraduate degree (Upwork)
The number of freelancers with higher education is growing. In 2020, 51% of freelance workers had a post-grad level of education. This is a 6% increase compared to 2019.
Freelancers with a high school degree or less made up 31% of the freelance workforce. This was a 6% decline compared to 2019.
Freelancers with a high school level of education earn $22 per hour on average (Payoneer)
On average, high school graduate freelancers earn $22 per year.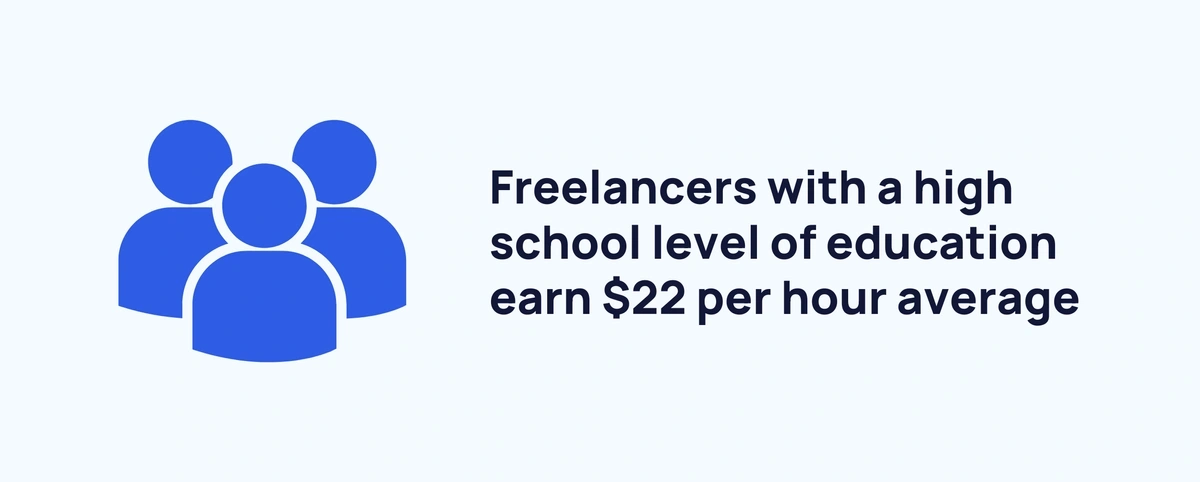 Surprisingly, freelancers with a bachelor's degree earn less at $19 per hour on average. Postgraduate degree holders earn an average of $24 per hour freelancing.
Freelancer Job Satisfaction Stats
Full-time freelancers rate their job satisfaction an average of 4.1 out of 5 (Payoneer)
Freelancers who dedicate their work time exclusively to freelancing have a 4.1 out of 5 lifestyle satisfaction rating. Those who use freelancing as supplemental income have a 3.8 out of 5 rating.
Nearly 70% of freelancers work exclusively freelancing with no other source of income. In Europe, this number goes up to 77%. In Central America and the Middle East, just over 40% of freelancers work freelance exclusively.
Over 8 out of 10 freelancers work from home.
Nearly 80% of workers choose to freelance in order to have more independence and be their own boss (FreelancerMap)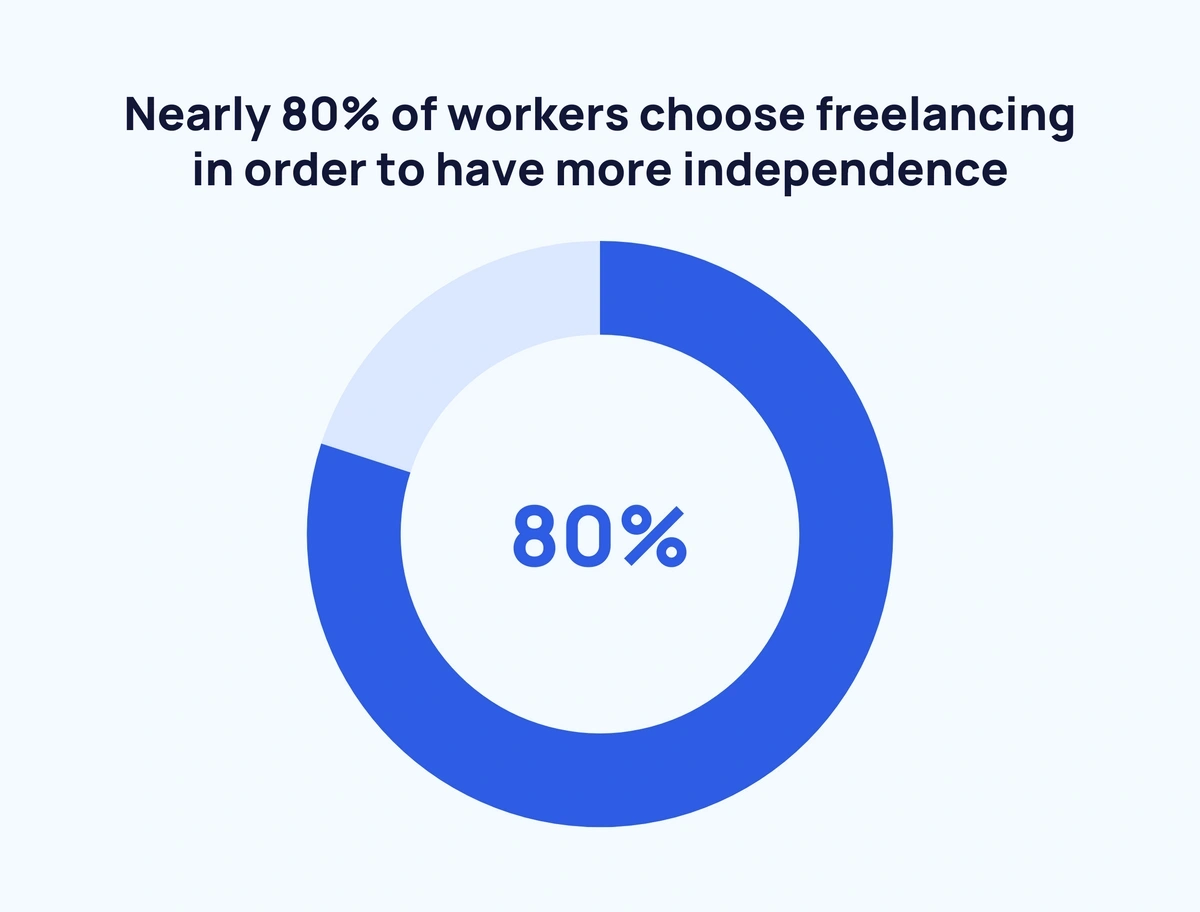 Over half of freelancers feel that project acquisition is the biggest challenge they face.
Nearly 90% of freelancers believe that expertise and know-how are essential for success.
When it comes to soft skills, 7 out of 10 freelancers say that communication skills are key. And 60% believe proper motivation is essential.
The working life of the average high-end freelancer (who earns $100 per hour) looks like this:
12 years of experience
11 years freelancing
45 hours of work per week
9 projects per year
25 days of vacation per year
Freelancer Hourly Work Stats
Almost 40% of freelancers work 41-50 hours per week (FreelancerMap)
Nearly 4 in 10 work 41-50 hours per week.
Almost 20% work over 51 hours per week freelancing. Also, over 25% of freelancers work between 31-40 hours per week.
How Freelancers Benefit Companies
Hiring a freelance senior software engineer can save a company over $17,000 compared to hiring a full-time employee (Huffington Post)
The total cost (salary, benefits, taxes, etc.) of a full-time senior software engineer is approximately $311,535 per year.
A freelance software engineer working at $150 per hour costs a company $294,000 per year. Hiring a freelancer instead of a full-time worker could save a company $17,535 per year.
8 out of 10 IT managers say freelancers help them get more work done (Upwork)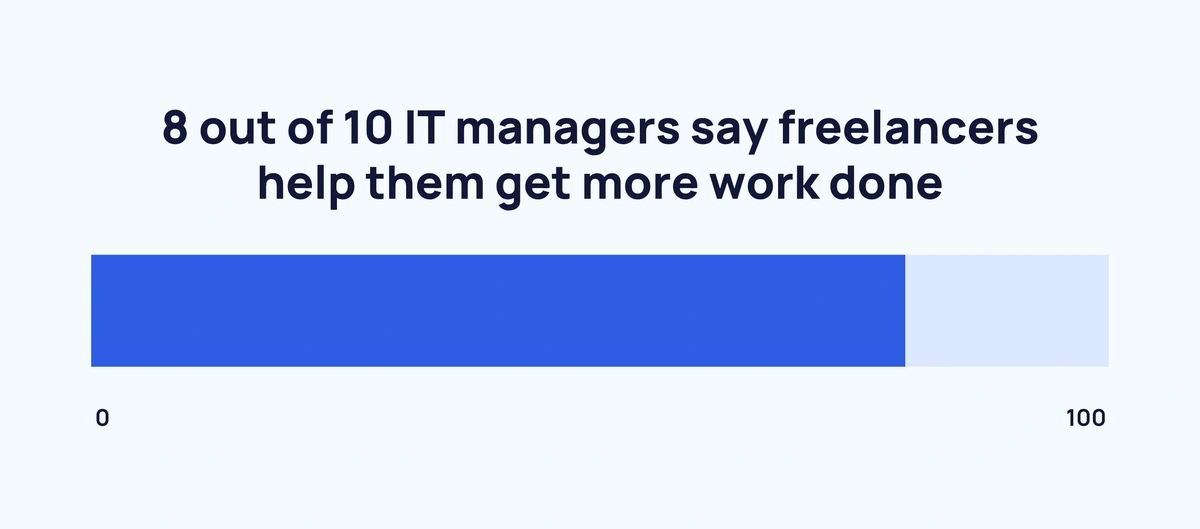 9 out of 10 IT managers say they would have been forced to delay, cancel, or extend project workloads if they didn't have freelance help.
Nearly 7 out of 10 IT leaders say the most common reason for hiring freelancers is to scale to meet project needs.
Over half of IT teams use freelancers to find skills not currently available in-house.
Conclusion
It's clear that freelancing has become an integral part of the world's workforce. This is especially true due to the increased amount of work that can be accomplished remotely.
Freelancing offers job opportunities to anyone in any location. Plus, freelancers help resolve problems, especially for IT teams, many times at a fraction of the cost.
The lifestyle benefits for freelancers are attractive, with independence topping the list. Judging from these stats, it's more than likely that more workers and companies will be choosing freelancing as an advantageous solution.
If you enjoyed these stats, take a look at these related pages: 30+ Incredible Creator Economy Statistics and 7 Remote Work Trends.