8 Key Remote Work Trends (2021)
2020 was a transformative year for remote work.
Based on Gartner research, 48% of employees will work remotely at least partially post COVID-19, compared with 30% before the pandemic.
With such fundamental change to workplaces, let's take a look at 8 trends set to influence remote work in 2021 and beyond.
1. Mass adoption of remote work
In 2020 remote work went from a Silicon Valley perk to a necessity for many companies.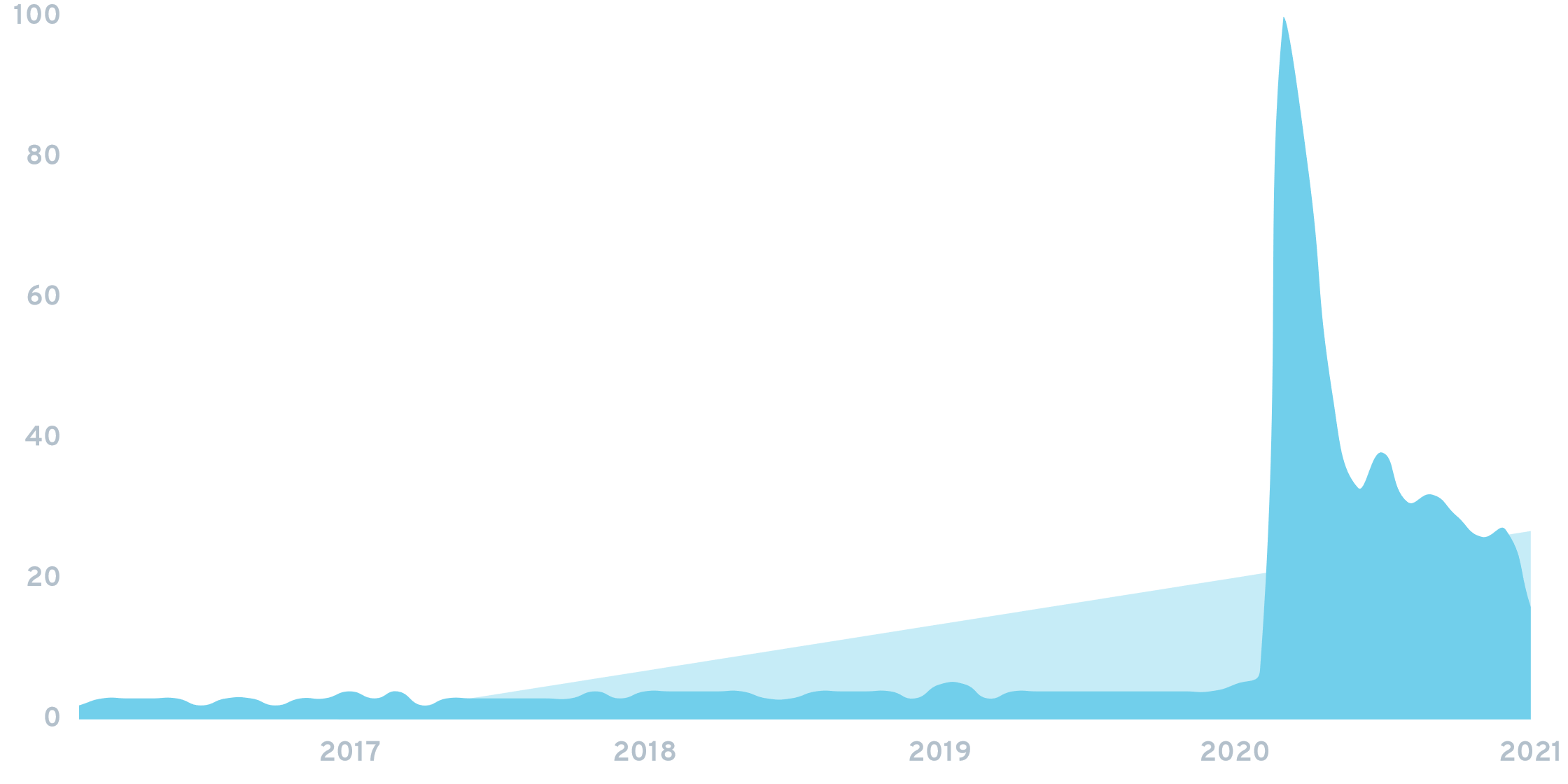 Search volume for work from home ("WFH") has increased by four times over the last 2 years.
And this wasn't a temporary shift. The pandemic changed long-term expectations of where and how we work.
A Pew Research Center survey found that 54% of U.S. employees would prefer to continue teleworking after the pandemic is over.
And according to a Gallup report, 6 in 10 managers will allow their employees to work remotely more frequently than they did before the pandemic.
A McKinsey survey of corporate business leaders, 38% of respondents believe their employees will work more than two days a week remotely after COVID-19, (compared with 22% before the pandemic).
All of this data suggests that a hybrid or 100% remote work model may start to become the norm in 2021.
2. Freelance platforms gain traction
Companies are increasingly interested in an "on-demand workforce". Which comes at the same time that millions of people are starting to seek out freelance work for the first time.
(Upwork data shows that the number of Americans that freelance has increased from 53 million to 59 million since 2014)
According to a Harvard Business School research, nearly half of senior corporate executives expect their usage of digital talent platforms to increase substantially in the future.
Also, almost 90% of business leaders consider remote talent platforms important to their organization's future competitive advantage.
Which is leading to surging growth of platforms that offer access to skilled remote talent.
Back in 2014, there were roughly 190 freelance platform companies (with an investment of apx. $600 million).
This number has grown to 330 companies in 2019. And investment in the space has now reached $1.9 billion.
(This represents a 75% growth in a number of freelance companies since 2014).
Some of the leading digital freelancing platforms include Fiverr, Upwork, which are now publicly traded companies.

Search growth for Fiverr over the last 5 years.
Fiverr and Upwork have a combined market cap of over $11 billion (compared with less than $2 billion in 2019), based on YCharts data.
The freelance platform market may have a few giants (like Fiverr). However, there's still plenty of interest in the space from VCs.
That's because many emerging freelance platform players have viable business models, solid go-to-market fit, or specific features that separate them from the Upworks of the world.
A recent example of VC funding in the space includes startup Catalant. Catalant offers a talent marketplace of expert consultants on demand. The startup raised $35 million in Series E earlier in 2020, which has brought their total funding to over $110 million.
3. Increased use of video-based communication
2020 was also the year that "Zoom" went from a company name to part of our everyday vocabulary.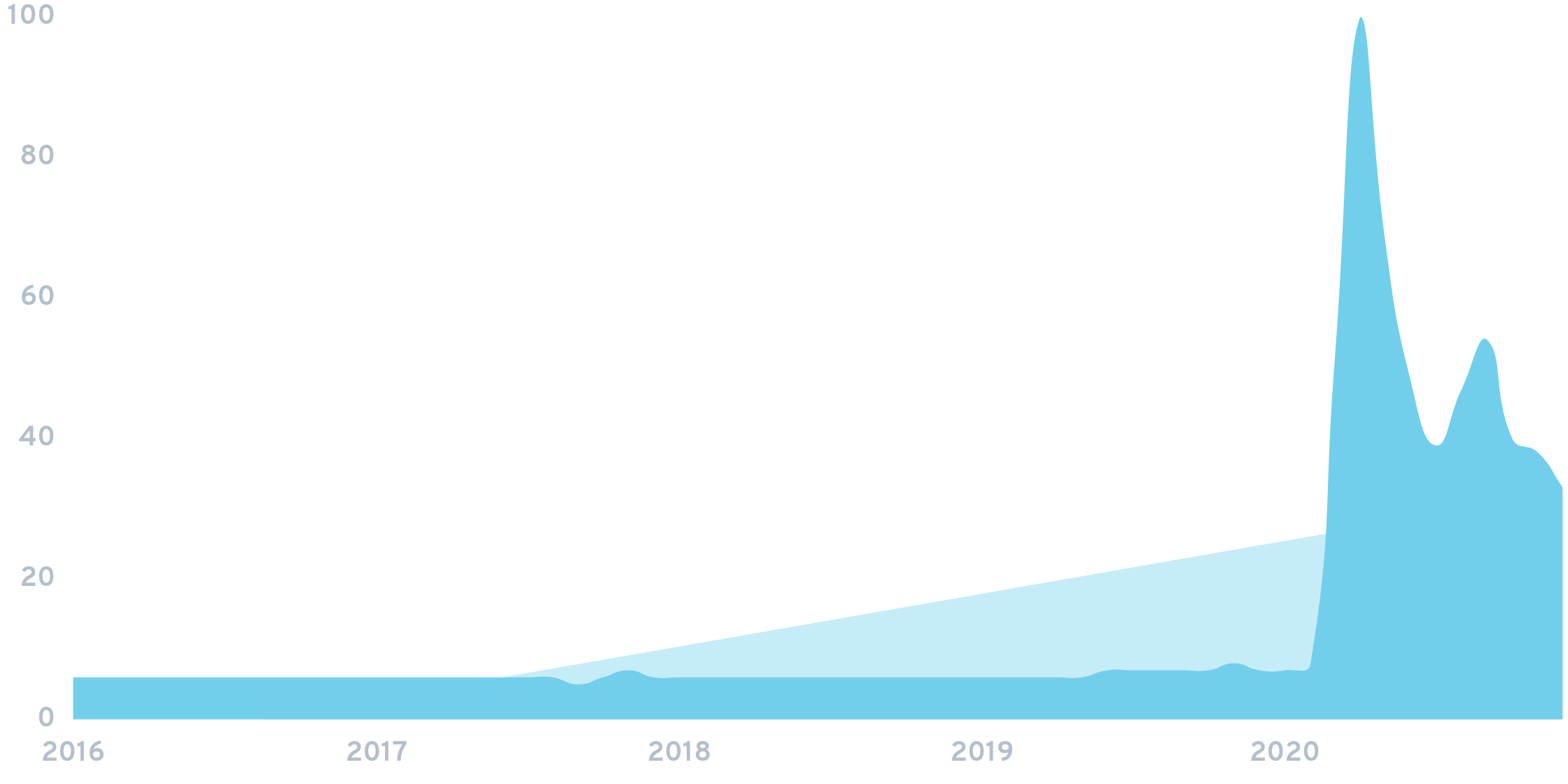 Search interest in Zoom has experienced explosive growth over the last 5 years.
In fact, the New York Times named Zoom as one of the phrases that defined 2020.
In particular, Zoom went from having 10 million daily meeting participants in December 2019 to over 300 million in April 2020.
Introduction of Zoom Apps, which aims to enhance video conferencing platform experience with 20 categories available from analytics to transcriptions.
However, Zoom isn't the only company in the workplace video conferencing space.
Loom, a platform for sending video recordings, recently raised close to $29 million in Series B funding (with a reported valuation of $350 million).
Another player in the space is the recently-launched Loop Team. Loop Team is specifically to help remote teams to keep tabs on each everyone's activity, meet via video chat, and receive important status updates.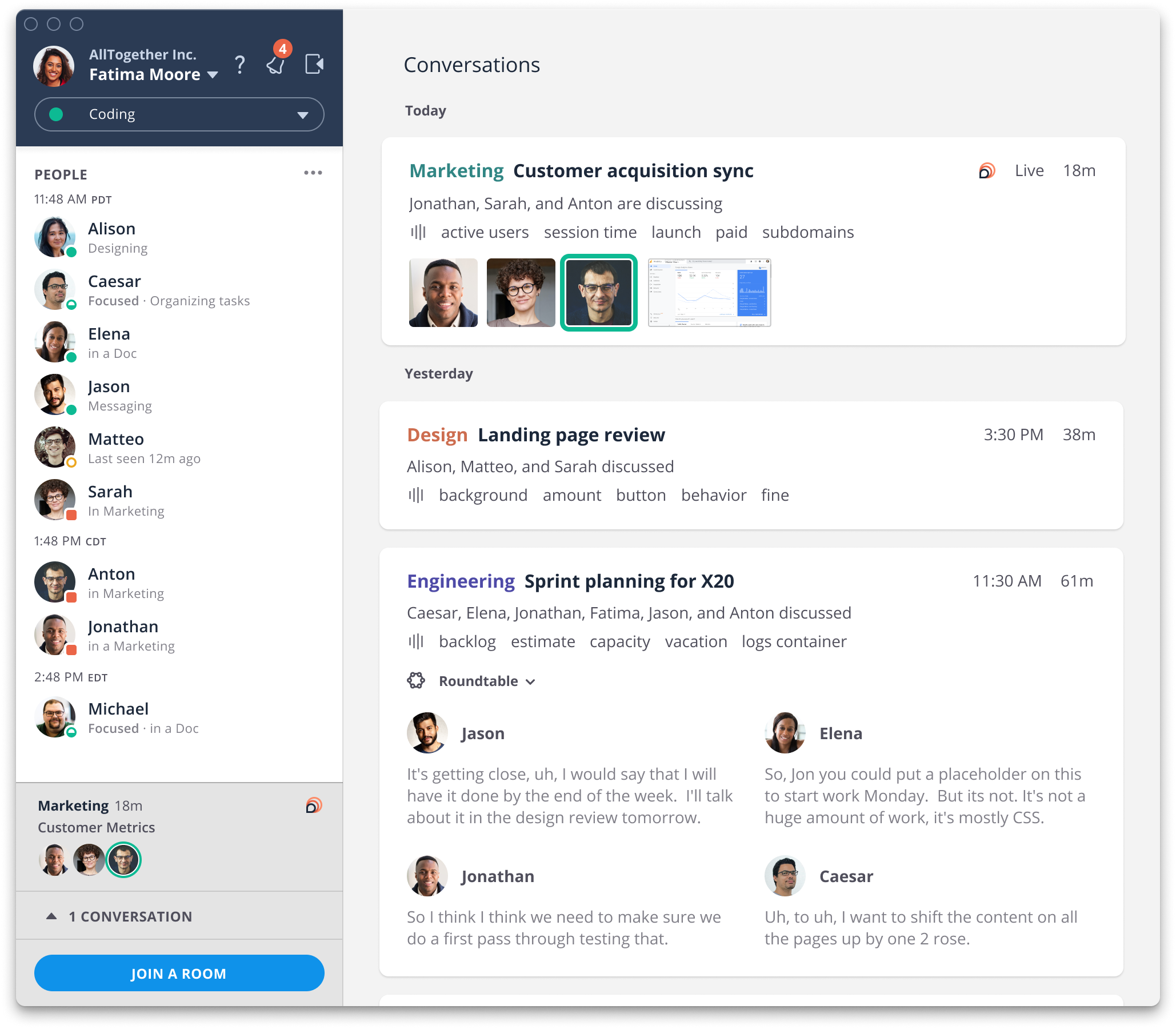 Loop Team app screenshot.
At a high-level their platform attempts to replicate working "side-by-side" in a physical office. Loop Team raised their first seed funding for $4.7 million led by Eniac Ventures.
Will the exponential growth for video-based communication continue in 2021 and beyond?
Based on Gartner predictions, the spending on video conferencing may fade in 2021. Largely due to the mass adoption of video conferencing platforms in 2020.
Yet at the same time, it's expected that in 2024 in-person meetings will account for just 25% of enterprise meetings (a decrease from 60% prior to COVID-19).
Which signals that there's significant room for growth in the video conferencing software space.
Tools like Bluejeans, Whereby and others facilitating communication over video can expect an upward trend in usage during this transition period.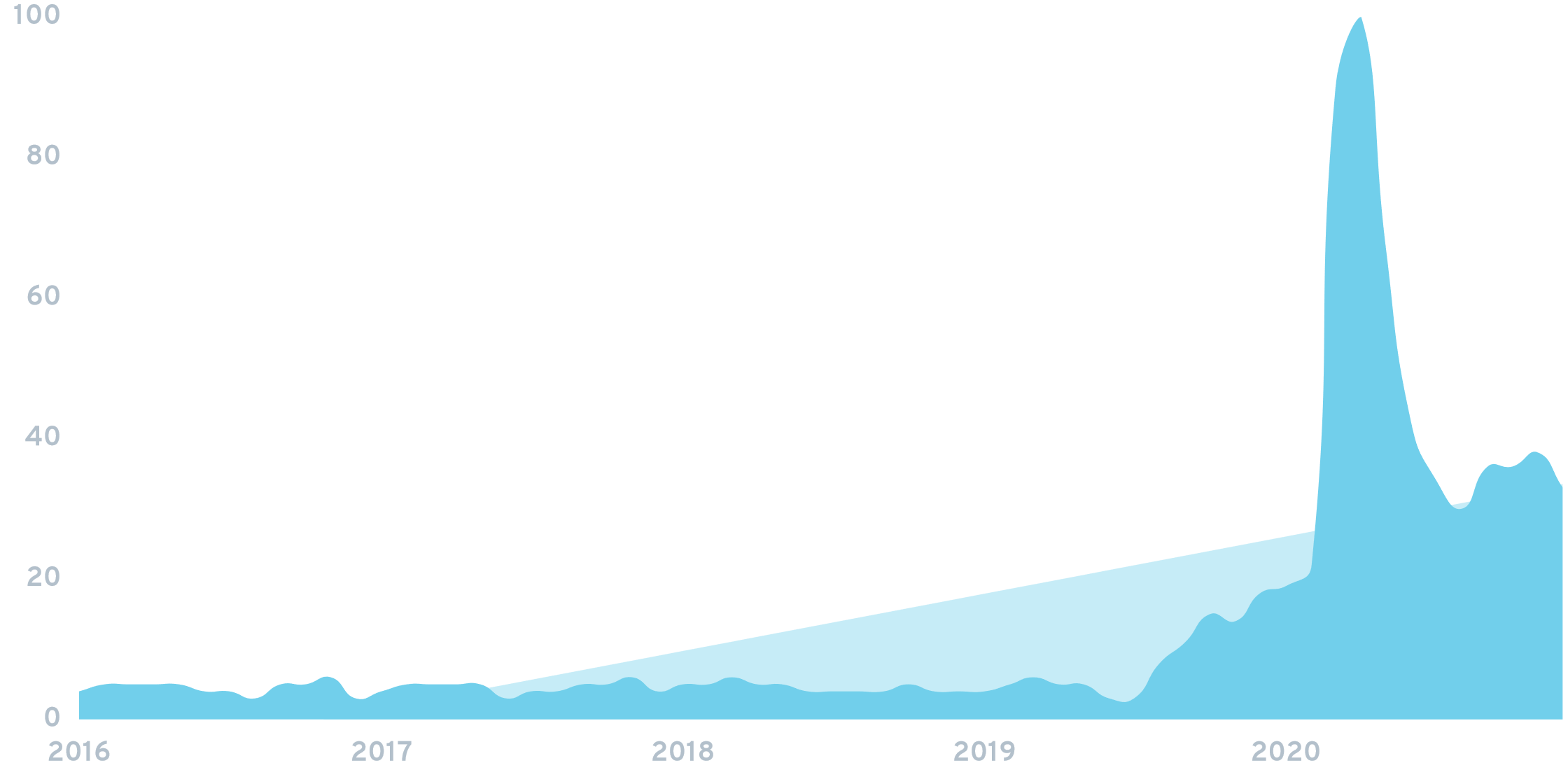 Searches for "Whereby" since 2016.
4. Greater attention to employee wellbeing
In a Deloitte survey, corporate executives named "improving employee wellbeing" as one of the important priorities that they hope to achieve in the next 1 to 3 years.

Search interest in employee wellbeing has increased 4x over the last 5 years.
And workers prioritize employee wellbeing as the 3rd highest priority in work transformation efforts over the next few years.
Similar findings are reported in a Willis Towers Watson's report, which cites employee wellbeing as one of the 6 key themes on the agenda for HR leadership in 2021 (the importance of which was further accelerated by the pandemic).
According to a Buffer study, remote workers in the particular report increased feelings of loneliness. Remote workers also stated that they struggle to "unplug" after work.
And a Slack report found that both experienced and new remote workers struggle to experience a sense of belonging at work.
To tackle these types of remote work challenges, corporate wellness efforts are commonly focused on mental health and meditation.
According to Pitchbook data, VC funding of US mental health startups grew from $1.06 billion in 2019 to $1.37 billion in the first nine months of 2020 alone.
Many companies are on board with meditation apps such as Headspace, which reportedly has 600 businesses (including Google, LinkedIn, Adobe) among its customers.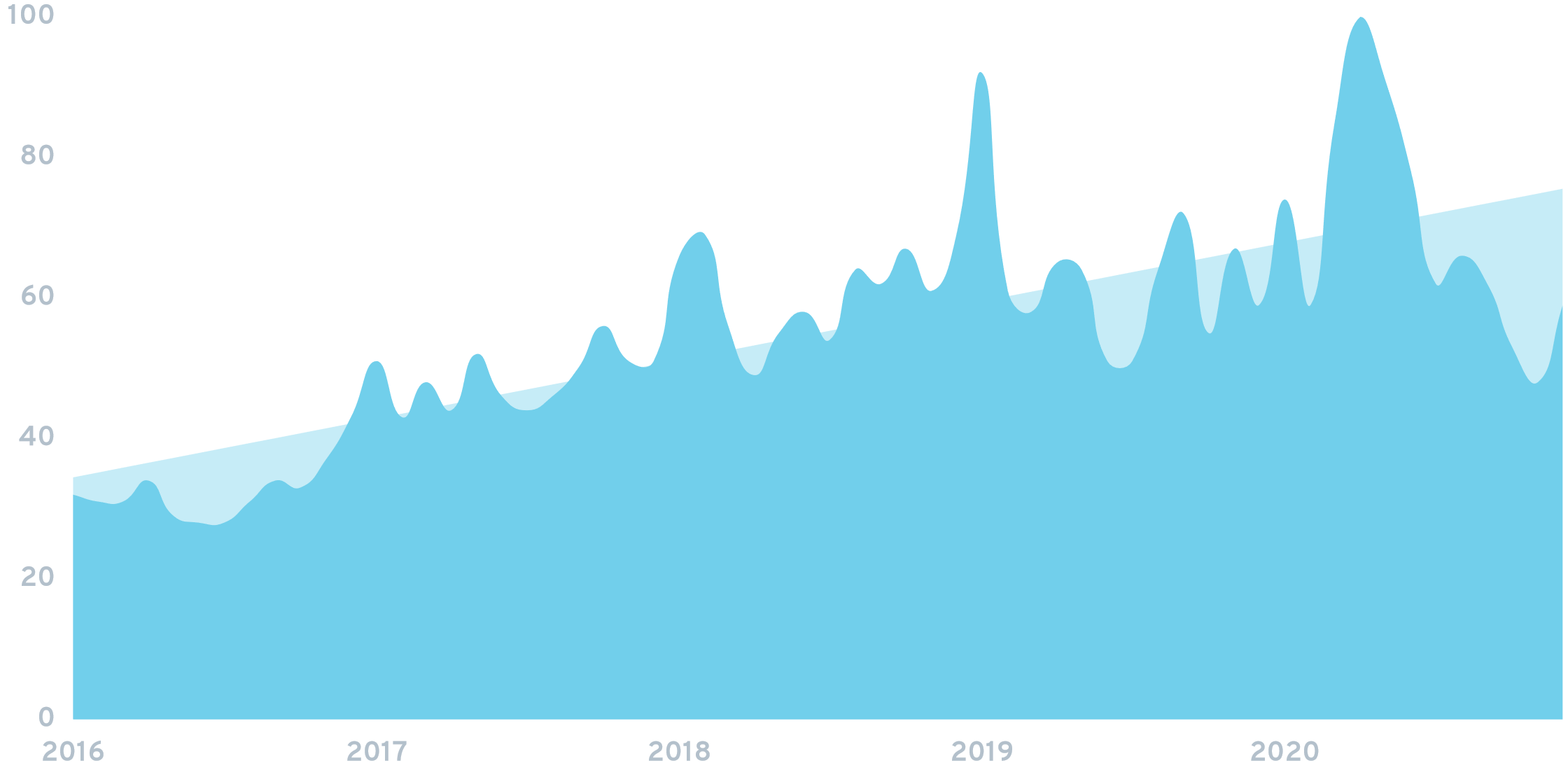 Headspace has a growing enterprise customer base.
5. Growing importance of cybersecurity
According to the global Cisco survey of organizations, 85% of respondents say that cybersecurity is more important than before the pandemic.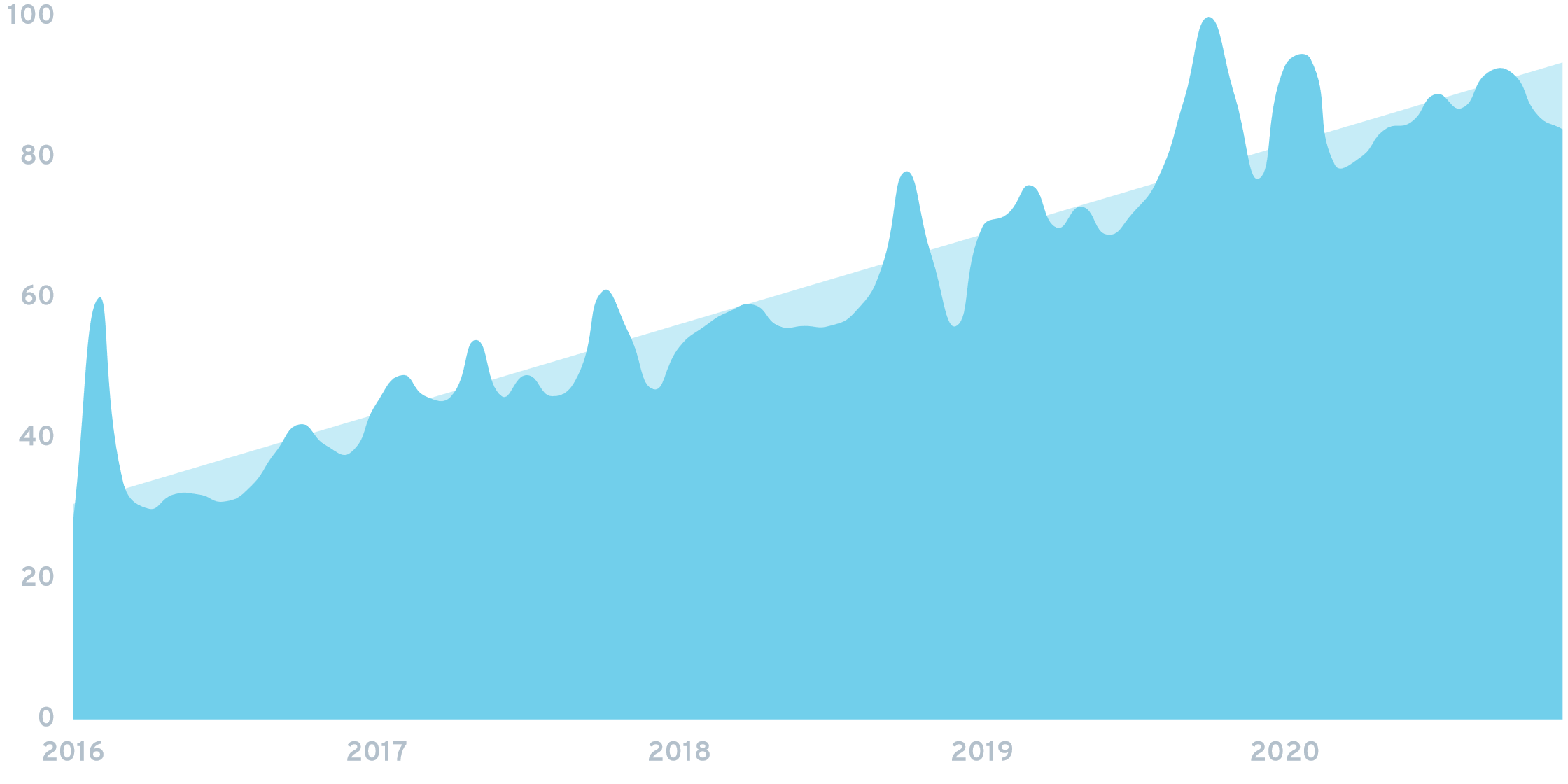 Search interest for cybersecurity has more than doubled over the past 5 years.
What's more, many organizations weren't fully ready for remote work transition. An EY poll found that the majority (71%) of respondents reported that remote work support was their most significant security challenge within their organization.
There's a noticeable shift in cybersecurity teams' perceived importance now that remote work is starting to go mainstream.
70% of boards believe there will be increased importance of cybersecurity (compared to only 43% of boards pre-COVID-19).
With close to 1,200 startups in the field, cybersecurity may be a somewhat saturated market.
However, funding with "Smart Money" participation in IT security startups reached an all-time high of $4 billion in 2019. And that number is estimated to have grown to $4.5 billion in 2020.
6. Rise of collaboration tools for remote teams
Based on a BCG survey, employees have reported the most difficulties in maintaining productivity levels when working at home with collaborative projects.
(Interestingly, employees in that survey stated that they find individual and managerial tasks easy to do while working remotely)
With employees working remotely now more than ever, software designed to enhance collaboration of distributed teams are quickly gaining momentum.
For example, remote work collaboration platform Dingtalk developed by tech giant Alibaba is growing in popularity.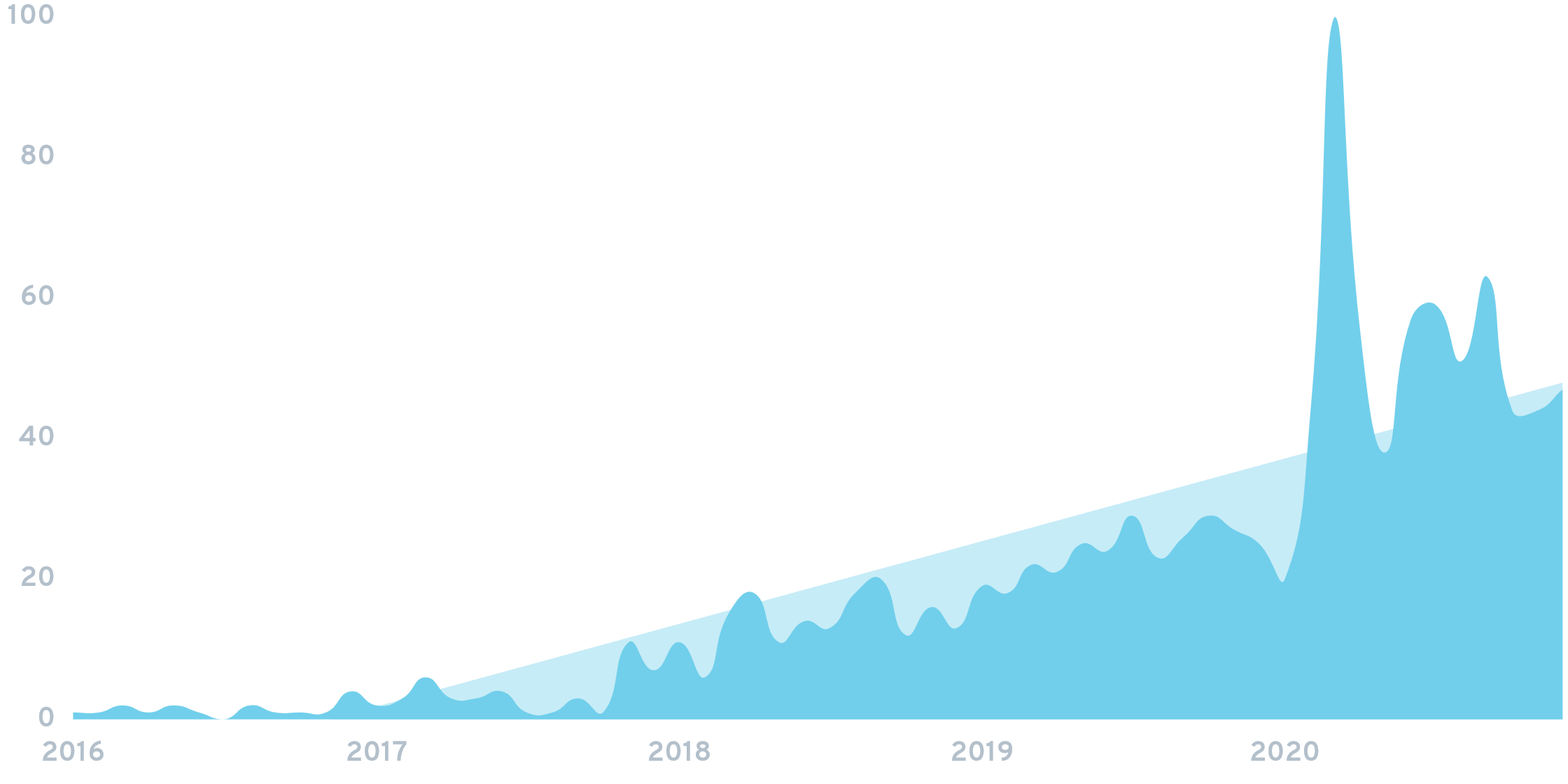 Searches for Dingtalk have grown over the last 5 years.
One of the growing subcategories includes the online whiteboard software market. Some of the examples in it include Conceptboard, MURAL, Miro.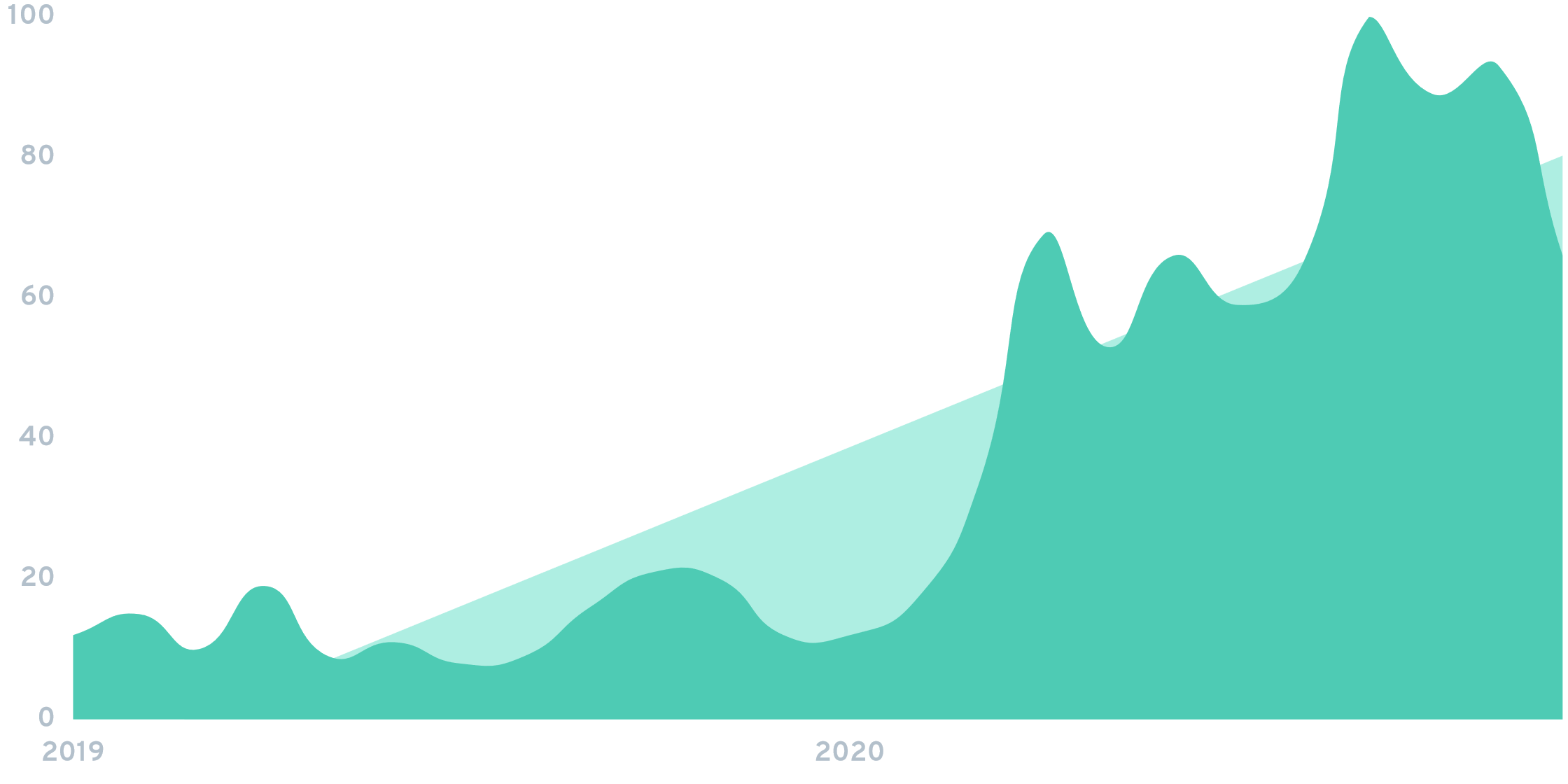 Google searches for "Conceptboard" has surged over the last 2 years.
Miro offers an online collaborative whiteboard platform and raised $50 million in Series B funding in April 2020.
Another startup in the space, MURAL, is focusing on facilitating visual collaboration at work. MURAL raised a $118 million funding round in August 2020.
7. Explosive growth of virtual team building
Based on a McKinsey study, company culture is key to an organization's success. The report found that a strong company culture strongly correlates with performance and enhanced company agility.
For many, team building is considered an essential element of building company culture. And, thanks to the growth of remote work, companies are now shifting their team building activities online.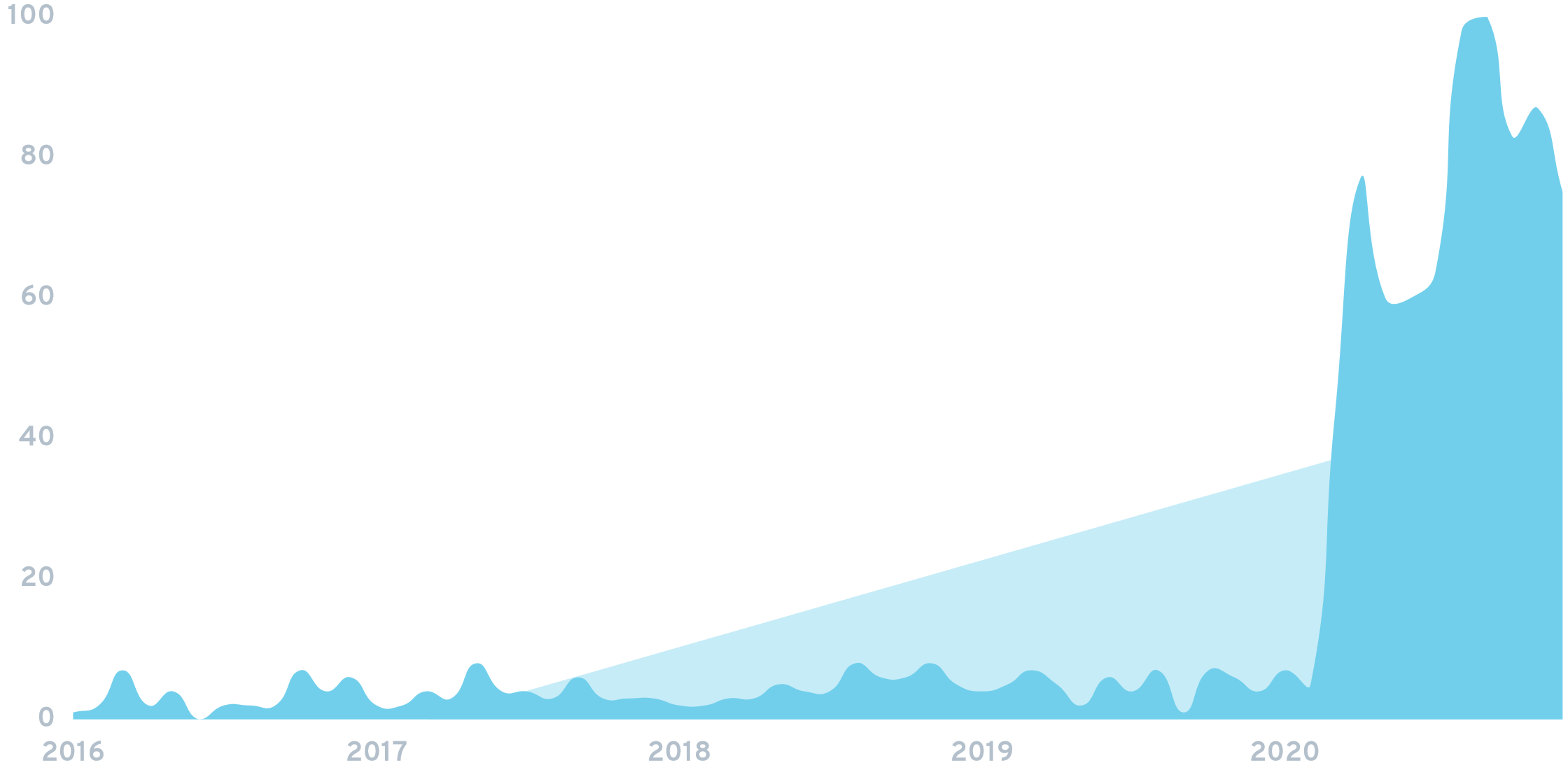 Search interest in virtual team building skyrocketed in the beginning of 2020 and has sustained growth since then.
According to a Grand View Research report, the virtual events industry is forecasted to achieve a robust CAGR of more than 20% between 2020-2027.
Corporate spending on virtual events are due to make up a sizable part of this growing pie, including team building activities.
VCs are starting to fund virtual event platforms, including those that focus on or have features for team building. In November 2020, London-based startup Hopin raised $125 million at a valuation of over $2.1 billion marking it as a unicorn.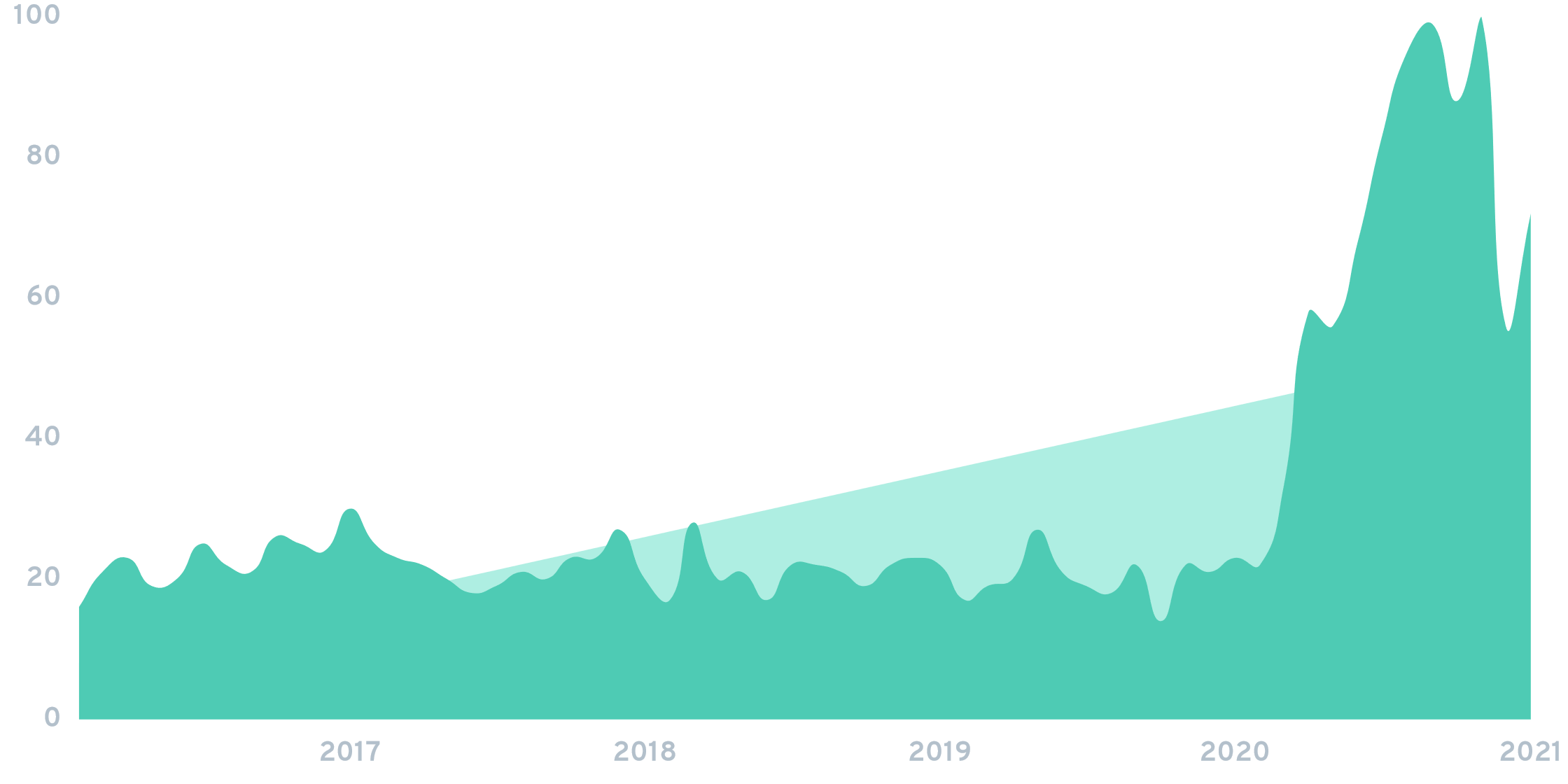 Searches for "Hopin" over the last 5 years.
Another example in this category, New York-based startup Bizzabo, which provides a platform for hosting remote and in-person events, raised $138 million in its latest funding round.
Billion-dollar startups aren't the only growing companies in the virtual team building space. Smaller, niche products aiming to connect remote employees are on the rise too.
For example, Icebreaker provides video-guided conversation games to connect remote employees and foster company culture.
8. Virtual interviews gain widespread acceptance
Since the start of the pandemic, companies have embraced virtual technology for conducting job interviews.
Based on Gartner poll results, 86% of organizations have switched to virtual recruiting due to concerns about COVID-19.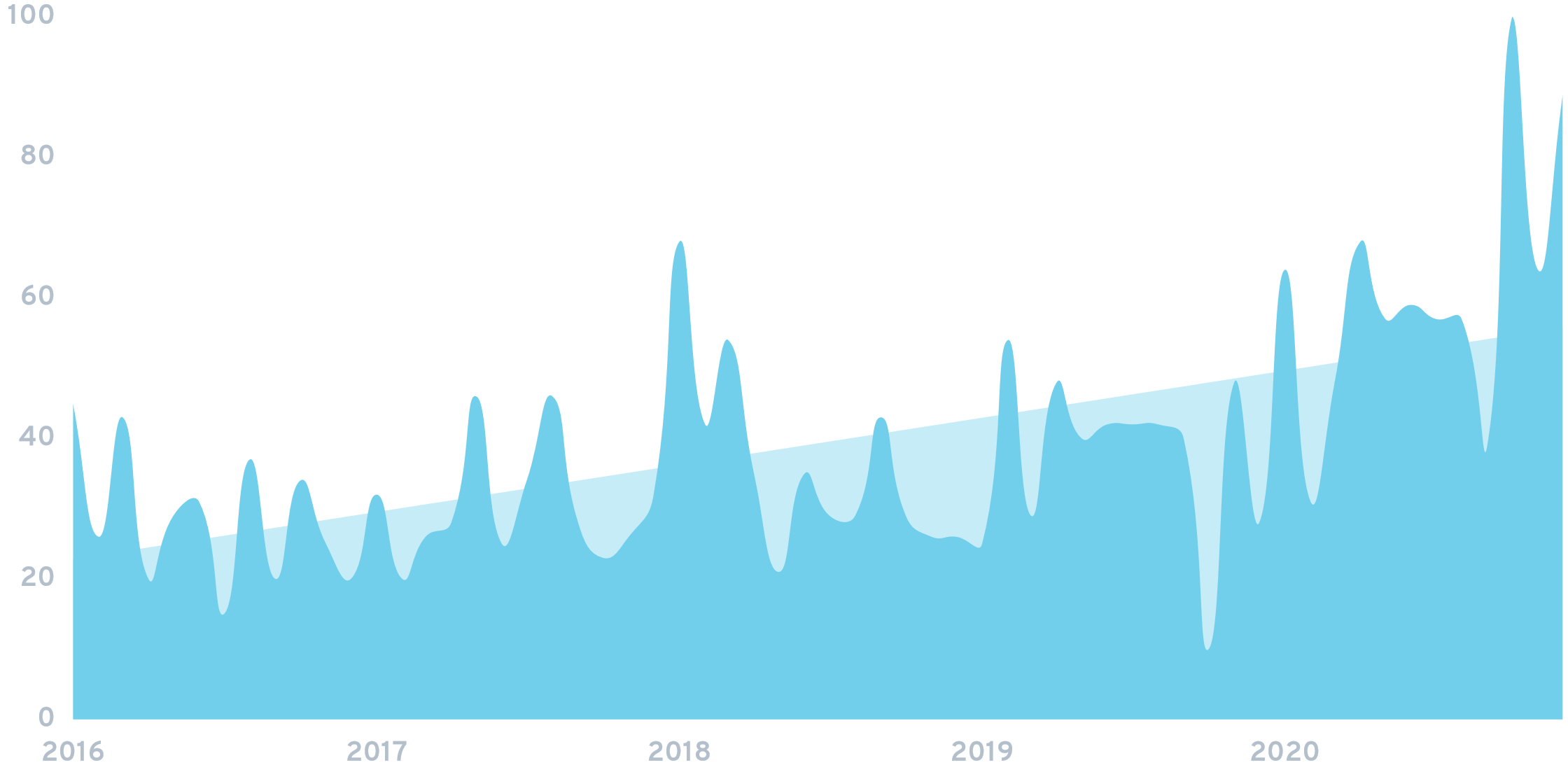 Search volume for remote recruitment has significantly increased over the last 5 years.
Many business leaders are reportedly satisfied with the remote hiring process, maintaining pre-pandemic interview success levels. Many leaders expect that some of their recruiting operations will continue in a virtual environment post-pandemic.
That's because hiring managers note that online interviews have simplified logistics, reduce costs and shorten process times compared to in-person interviews.
Candidates themselves also seem to see virtual interviews in a positive light. According to RecRight survey findings, over 80% of candidates report satisfaction with video interviewing methods as a part of their recruitment process.
As of January 2021, there are over 80 products in the video interviewing software category in Capterra. That number will likely grow with further adoption of video-based technology for remote interviewing.
An example of it includes Sydney-based startup myInterview, which offers a video screening platform for recruiters. The startup recently raised a $5 million seed round.
Conclusion
That's it for our list of 8 remote work trends that are redefining the future of work.
2020 introduced the advantages, challenges and opportunities of remote work to millions of individuals and businesses.
And we can expect more change and adoption of remote work in 2021.
Last Updated: 
January 11, 2021