The Future of Ecommerce
The next few years could be blockbuster years for ecommerce.
Experts say the market value has the potential to hit $5.4 trillion by 2026 and account for 27% of all retail sales.
Many factors are at play in the ecommerce sector right now. In this report, we'll discuss future revenue opportunities in ecommerce like livestream shopping and social commerce. Plus, we'll take a look at how brands are leveraging new technology innovations like AI and XR with the aim of improving the customer experience in the future.
Future Revenue from Livestream Shopping
A 2023 report predicted revenue from livestream shopping will top $31 billion by the end of the year.
That's almost three-times the value of the market in 2021.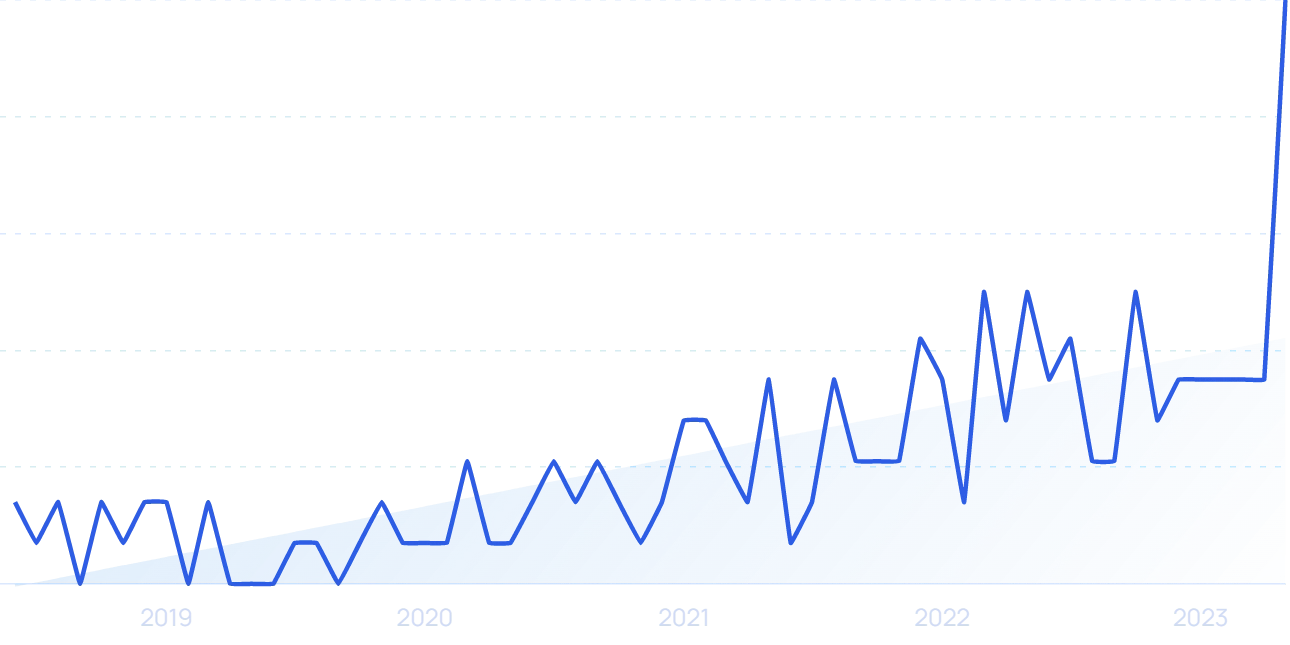 Search volume for "livestream shopping" has increased 450% in the past five years.
By 2026, the report says livestream shopping could bring in $67.8 billion and account for more than 5% of total ecommerce revenue.
Livestream shopping has been popular in China for a number of years.
In 2022, annual revenues there reached more than $500 billion.
In 2023, that number is expected to increase by 40%, hitting $723 billion.
That represents more than 24% of all ecommerce in China.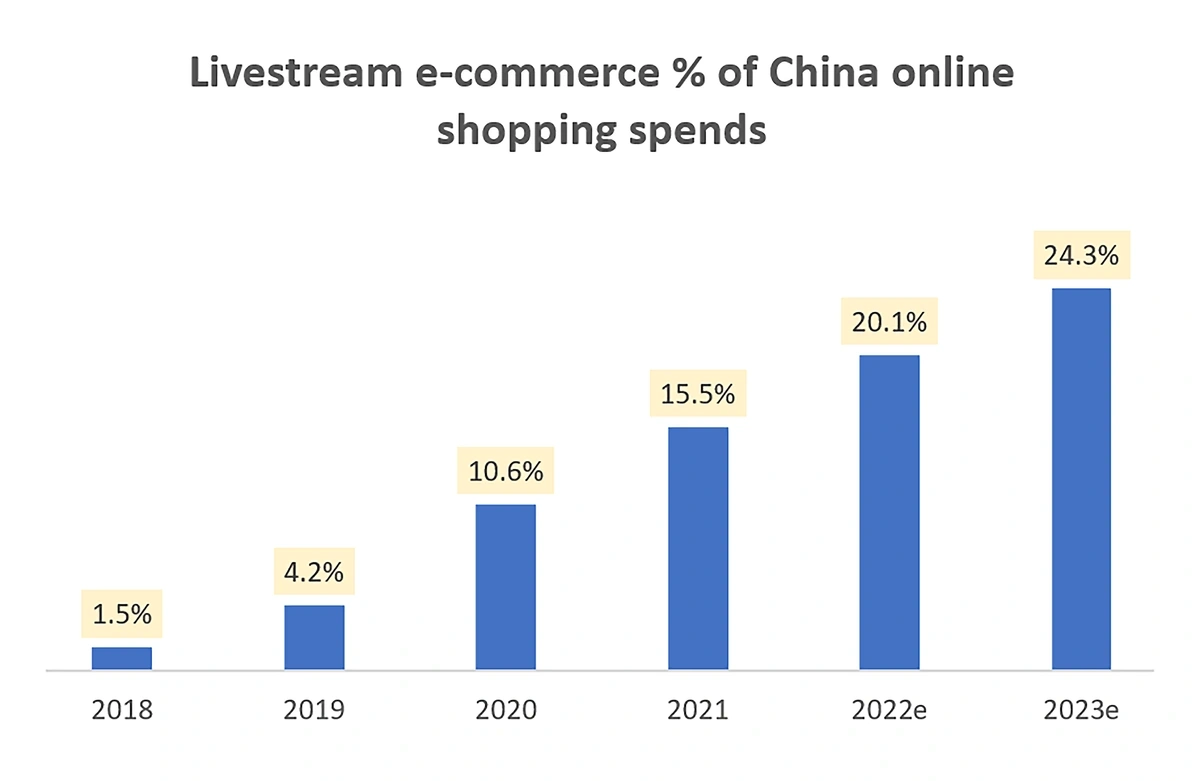 Livestream shopping is predicted to account for nearly one-quarter of all ecommerce spending in China by the end of 2023.
Adoption in the United States has been slow to catch up with China, but predictions say interest from brands and consumers is likely to grow in the coming years.
Much of that future growth is expected to come from younger generations.
Although 31% of adults in the United States aren't aware of live shopping events, 45% of Gen Z and 42% of millennial shoppers are aware.
These younger generations also plan to shop via livestream in the future—56% of Gen Zers, 54% of millennials, and 50% of Gen Xers say they'll "probably" or "definitely" consider attending a live shopping event in the future.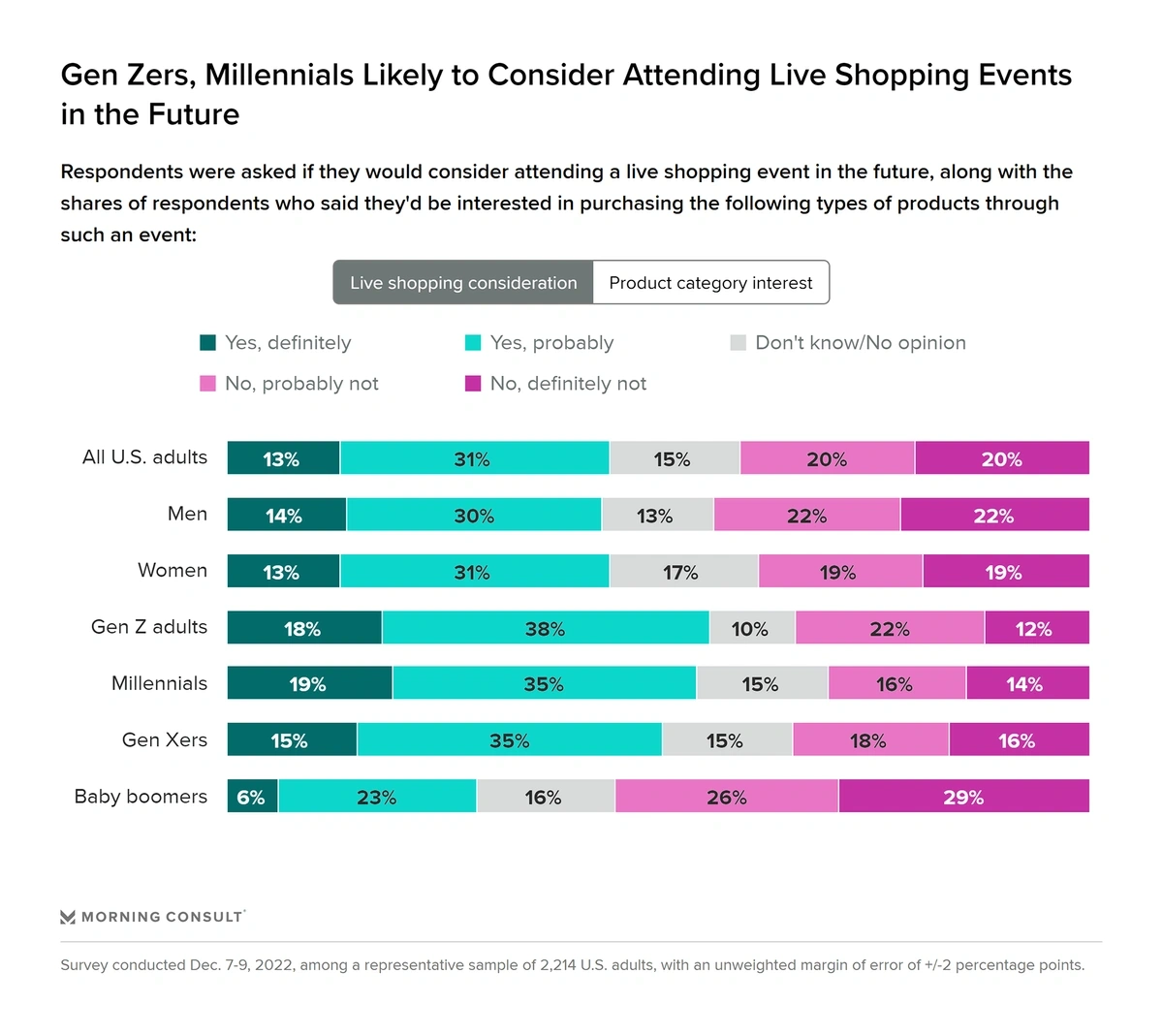 Livestream shopping is most popular among Gen Z and millennials.
The most popular products featured in livestreams are fashion items (36% of total livestream events).
Beauty (7.6% of livestreams) and fresh food products (7.4% of livestreams) rank in the next two slots.
The 2023 New York Fashion Week was a prime example of livestream shopping.
DTC lingerie brand Adore Me livestreamed their runway show and offered viewers the chance to purchase the looks directly from the stream.
They also host livestreams on their website about three times per month.
In a broader example, ecommerce platform Whatnot showcases live shopping for products like collectibles and fandom specialty items.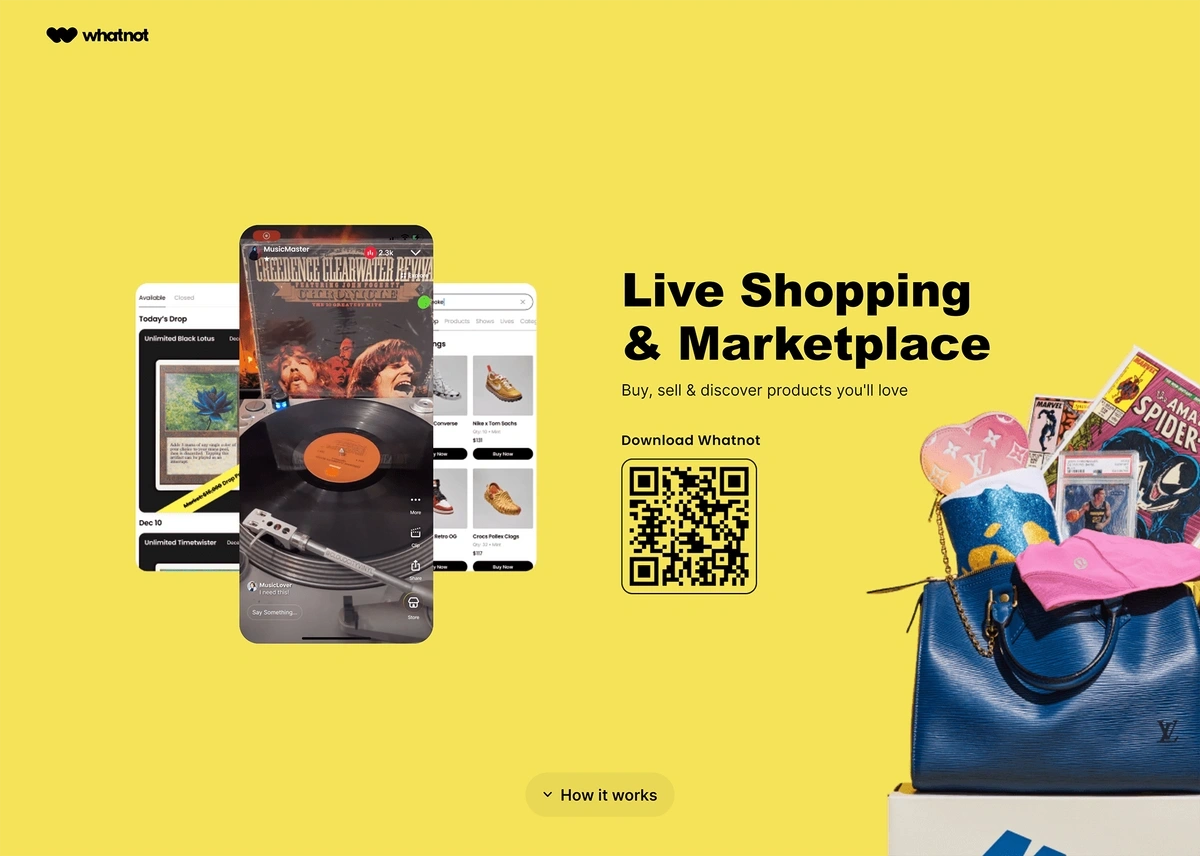 Whatnot's marketplace sells sports cards, toys, and collectibles.
The marketplace was launched in 2019 and functions a bit like eBay, but with more personality and connection between buyers and sellers.
Whatnot's consumer following is growing.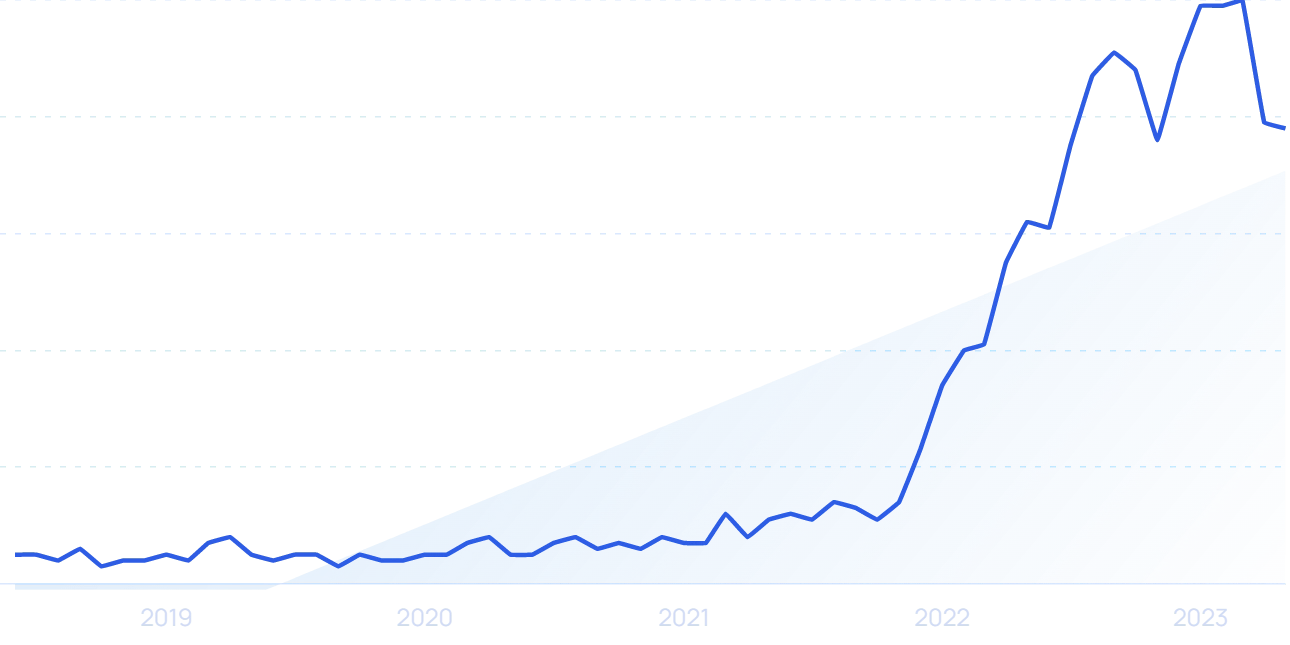 Search interest in "Whatnot" is up more than 1,000% in recent years.
Their highest ever month of revenue came in February 2023, and company executives say they'll increase hiring by 50% this year.
In July 2022, the company was valued at $3.7 billion, an increase of 147% over September 2021.
Whatnot's type of engaging, fun, and experiential approach to online shopping is the future, experts say.
Future Revenue from Social Media
April 2023 data from DataReportal showed that nearly 25% of individuals say one of the main reasons they use social media is to find products to buy.
In 2021, 68% of consumers made at least one social commerce purchase.
By 2022, 98% of consumers said they planned to do the same in the next 12 months.
The average spending on social commerce is increasing, too.
In 2021, each social buyer spent just shy of $400 annually.
That number jumped more than 26% in 2022 to $518.
Estimates show it will climb even higher in the coming years, reaching an average of $938 per buyer by 2025.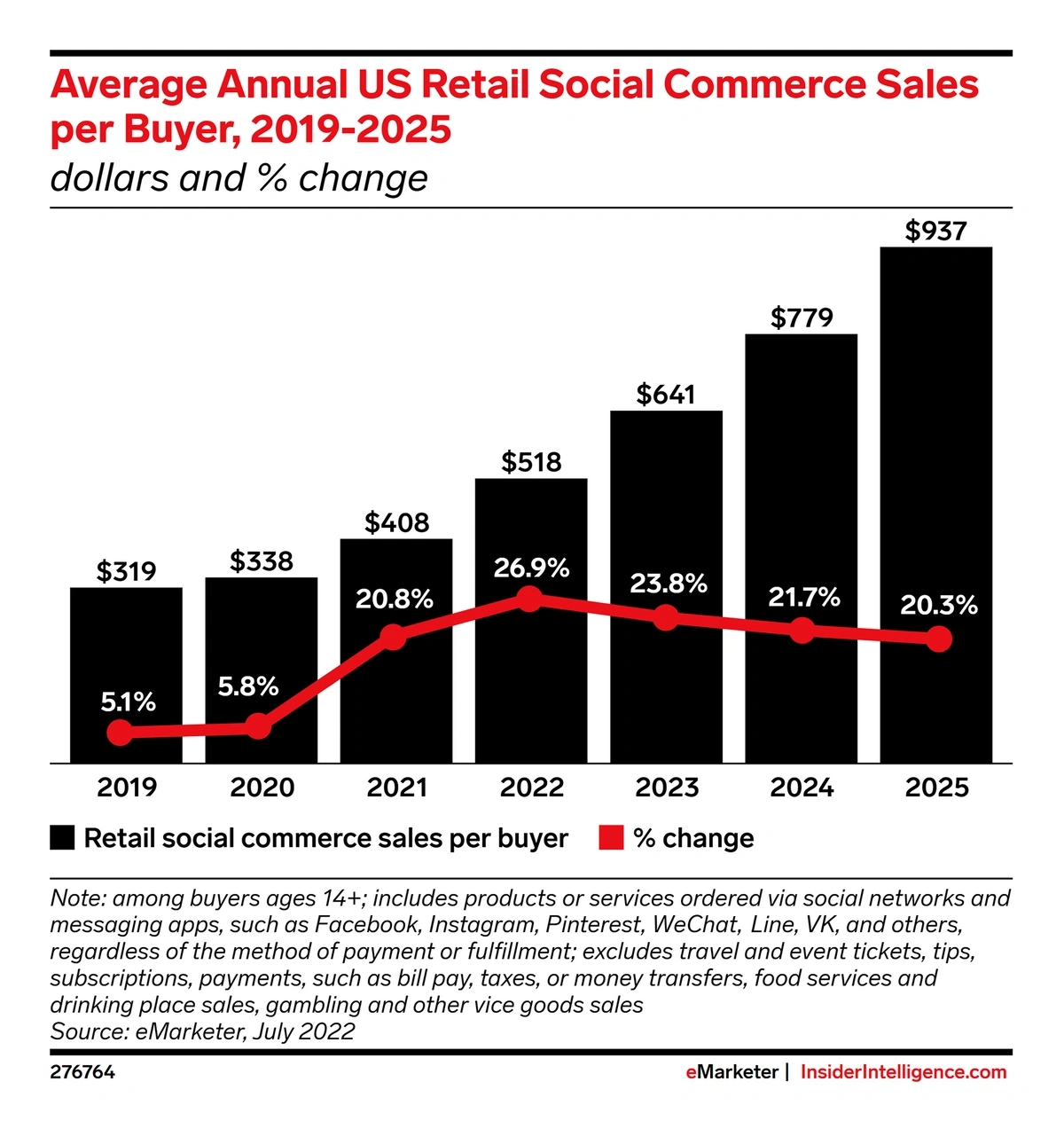 By 2025, estimates show the average spend per buyer on social media will top $930.
And, even if they don't make a purchase, many consumers use social media as the main channel for researching brands.
According to DataReportal, more than 48% of 16-34 year olds say social networks are their top channel for getting information about brands.
It's not surprising that many ecommerce brands see social media as a critical part of their advertising and marketing strategies in the future.
Shopify reports that nearly one-third of businesses intend to increase social media marketing over the next few years.
By 2026, the total value of the social media ad spending is expected to top $358 billion.
In particular, Pinterest is seeing a surge in shopping ads.

Search interest in "Pinterest ads" has increased sharply in recent months.
In the last year alone, Pinterest's shoppable ad revenue grew more than 40%.
By 2026, the platform is expected to hit more than $4 billion in ad revenue.
Beyond the usual ads, the site has recently given brands the ability to upload digital catalogs to the platform and the opportunity to buy Premiere Spotlight ads that appear at the top of the screen on the search page.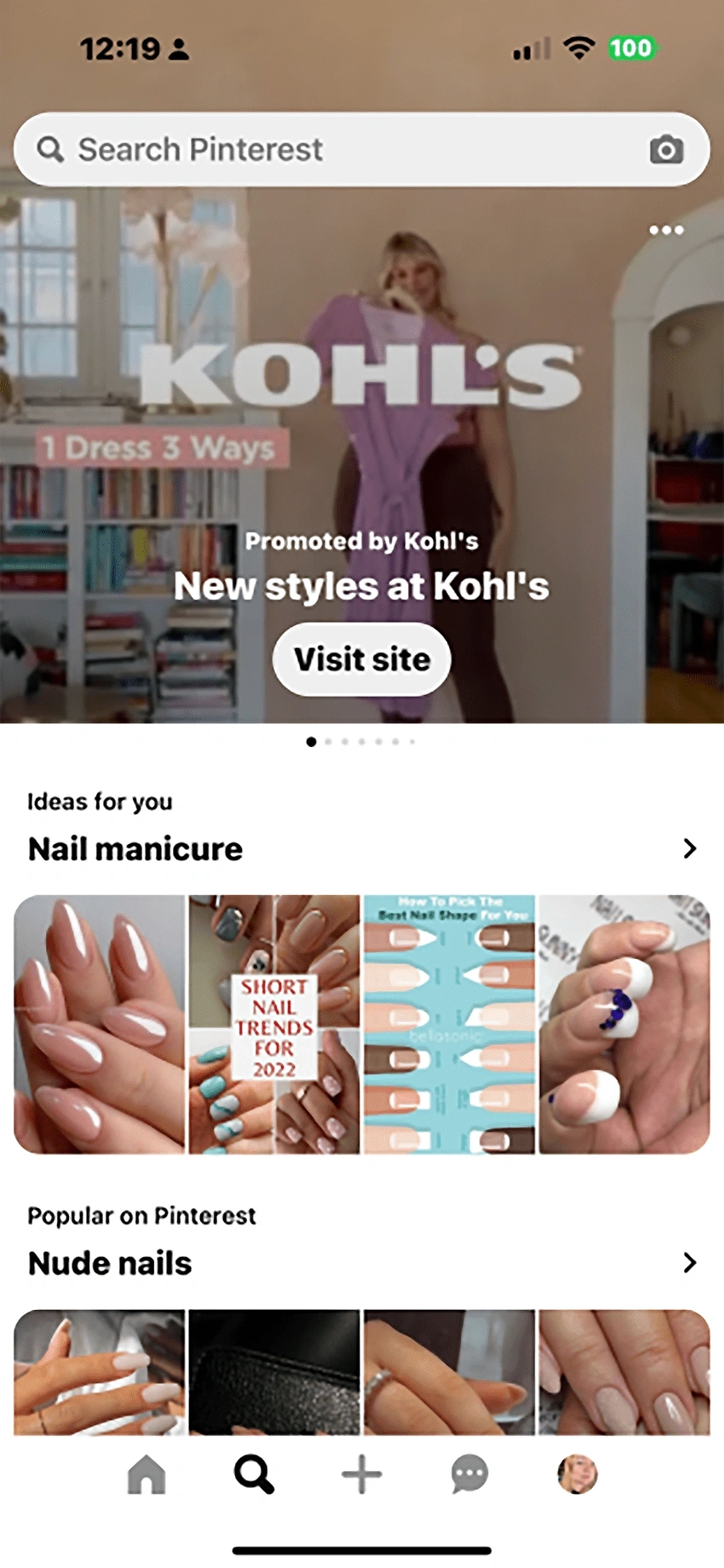 Since the vast majority of Pinterest searches are unbranded, the Premiere Spotlight ads have the potential to drive revenue in the coming months.
The brand has also been rolling out new features and shoppable integrations for their Shuffles app, which was launched in late 2022.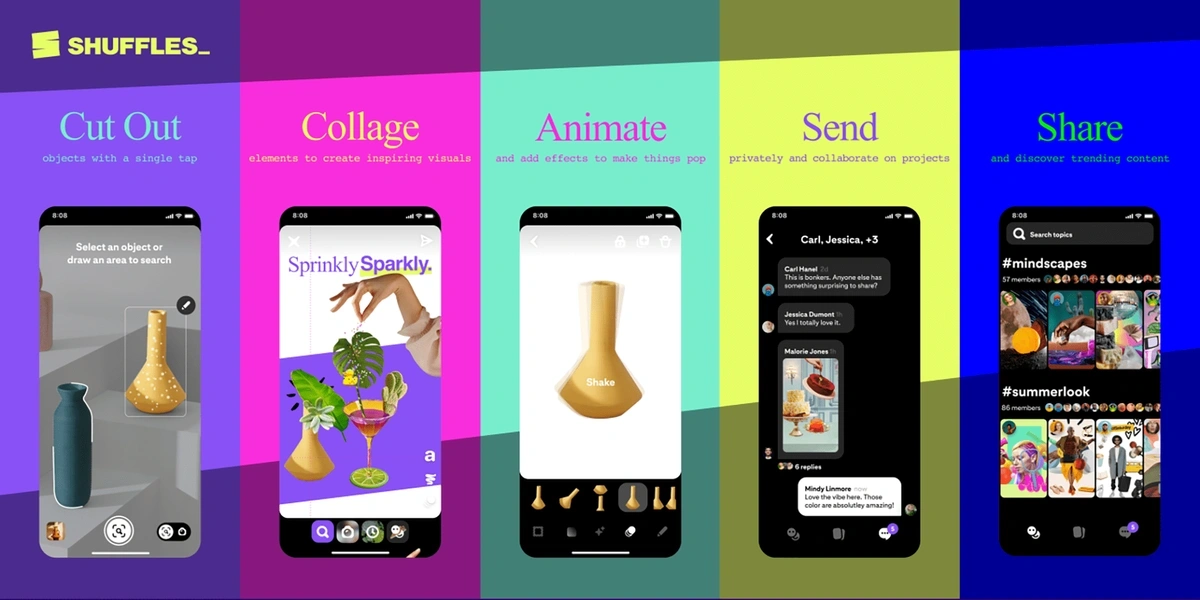 Pinterest's Shuffles app has been downloaded more than 600,000 times.
This app enables users to build collages and bring them to life with animation and other special effects.
Each image in the collage is shoppable. Users can tap items to see the brand, price, and other information.
With these recent investments in ecommerce, it's likely that Pinterest will continue to focus on shoppable features of their site in the coming years.
Future AI Innovations
The current capabilities of AI are already sending shockwaves through several industries.
The ecommerce sector is no different, and it looks as though AI will dramatically influence the future of ecommerce.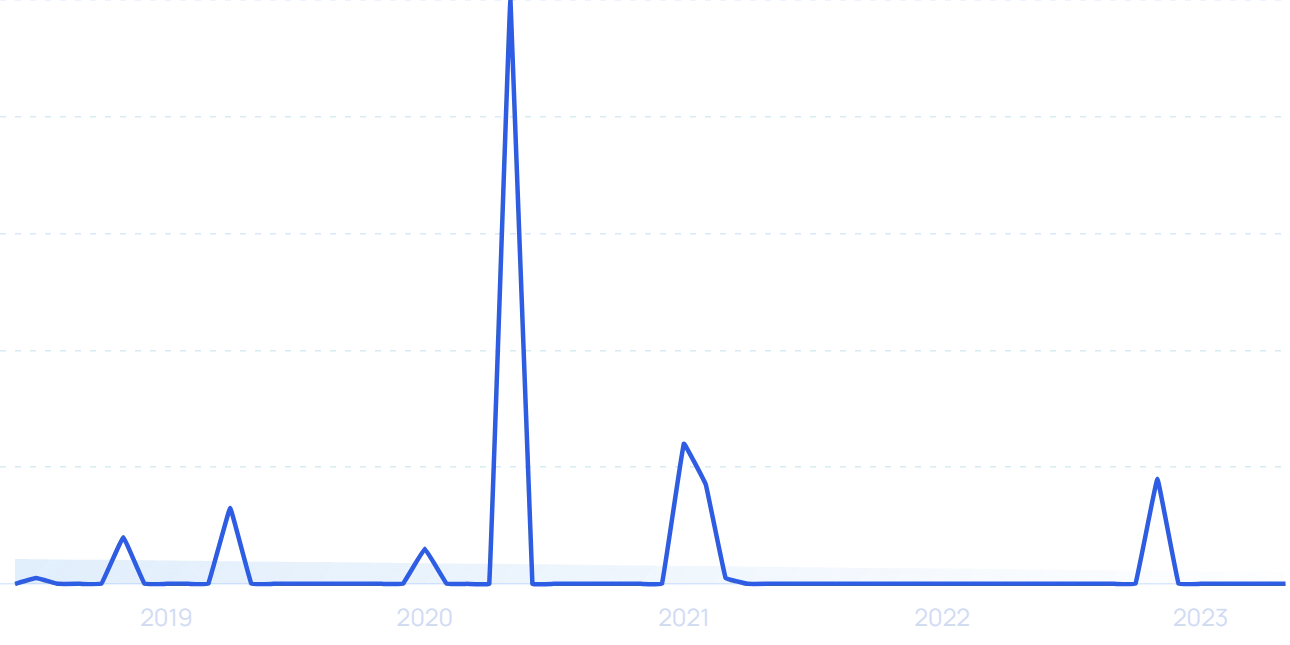 Search volume for "ecommerce AI" is up more than 400% in the past five years.
AI is providing ecommerce retailers with a type of visibility into the consumer journey that they've never seen before.
These platforms can collect data on every move a customer makes on an ecommerce website and automatically trigger actions that will encourage a customer to stay on the site and make a purchase.
This includes metrics like browsing behavior, add-to-cart rates, time to purchase, and cart abandonment.
For the consumer, this all boils down to personalization.
McKinsey reports that more than 70% of consumers expect a personalized experience.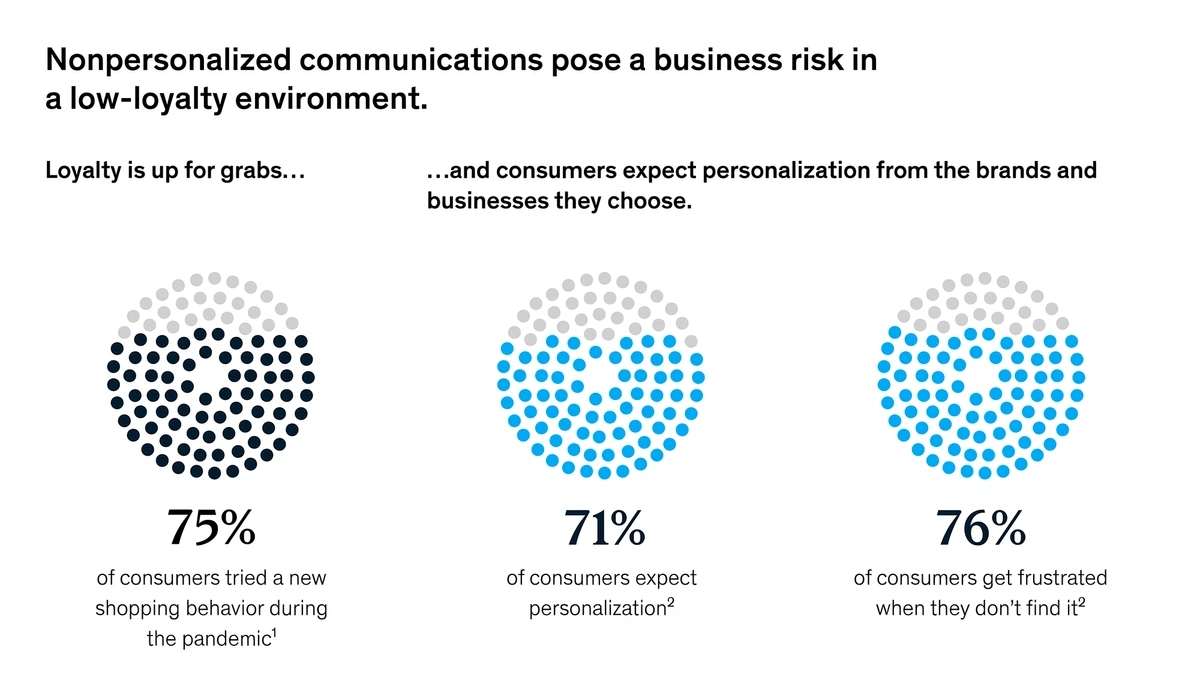 McKinsey's research shows nearly three-quarters of consumers expect personalization during the shopping experience.
And, brands that get it right bring in more revenue—40% more revenue, according to McKinsey.
But another survey reported that 32% of consumers say lack of findability is a key issue when shopping online. Nearly 25% say irrelevant recommendations are a problem.
AI can remedy these issues.
For example, instead of typing a query into a search bar and hoping to find something they like, AI can truly understand what an individual customer really wants. AI can match the natural language in the search bar to the correct products.
Another type of AI offers a personal shopping assistant for consumers.
This functions much like a chatbot. The customer tells the assistant what they need, why they need it, what the budget is, and so on.
The assistant then brings up the appropriate products along with blogs or other brand content that's related and may be helpful to the consumer.
Companies like Shopify, Mercari, and ShopWith AI have recently debuted this kind of technology.
Mercari's version is called Merchat AI and is powered by ChatGPT.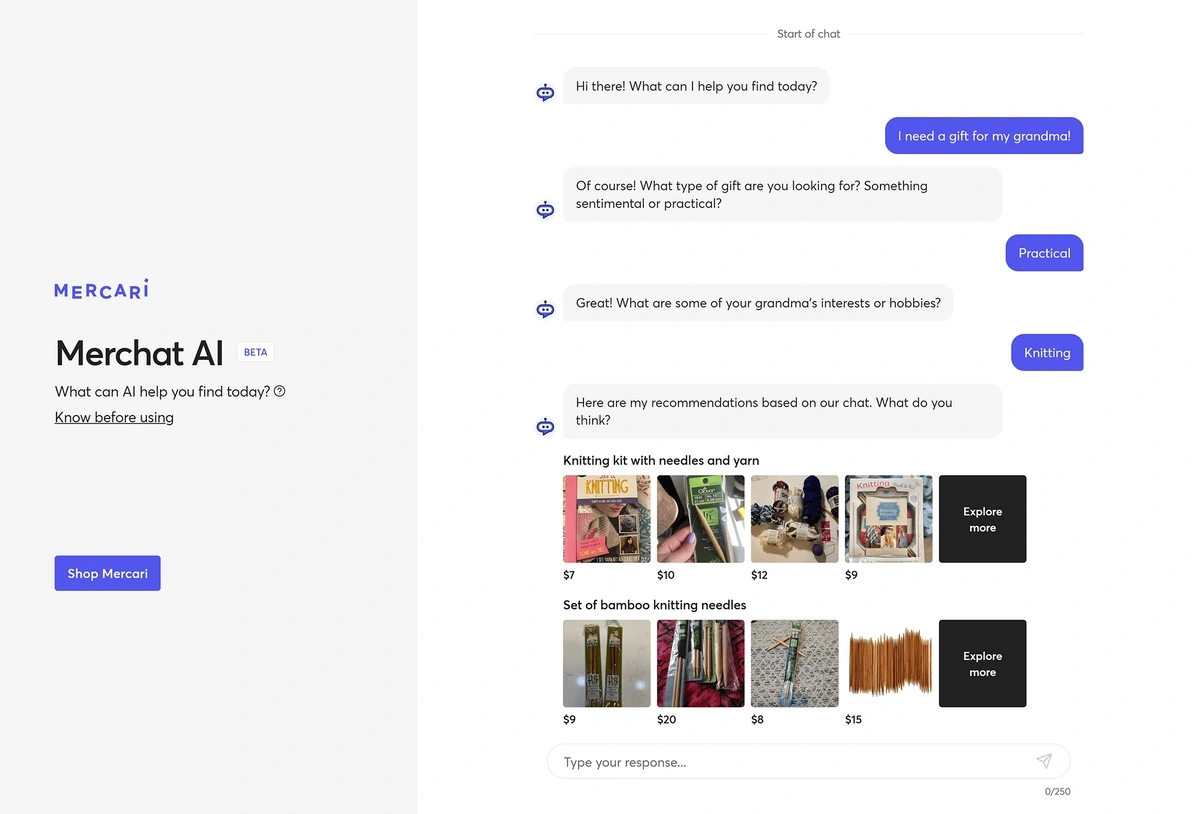 Merchat AI engages in conversation with consumers in order to provide a personalized list of products.
It's still in the beta phase but is available to all customers.
Consider generating images or product descriptions. Some retailers are already looking to generative AI platforms to take over these tasks.
For instance, Copy.ai generates copy for blogs, social media, and email marketing.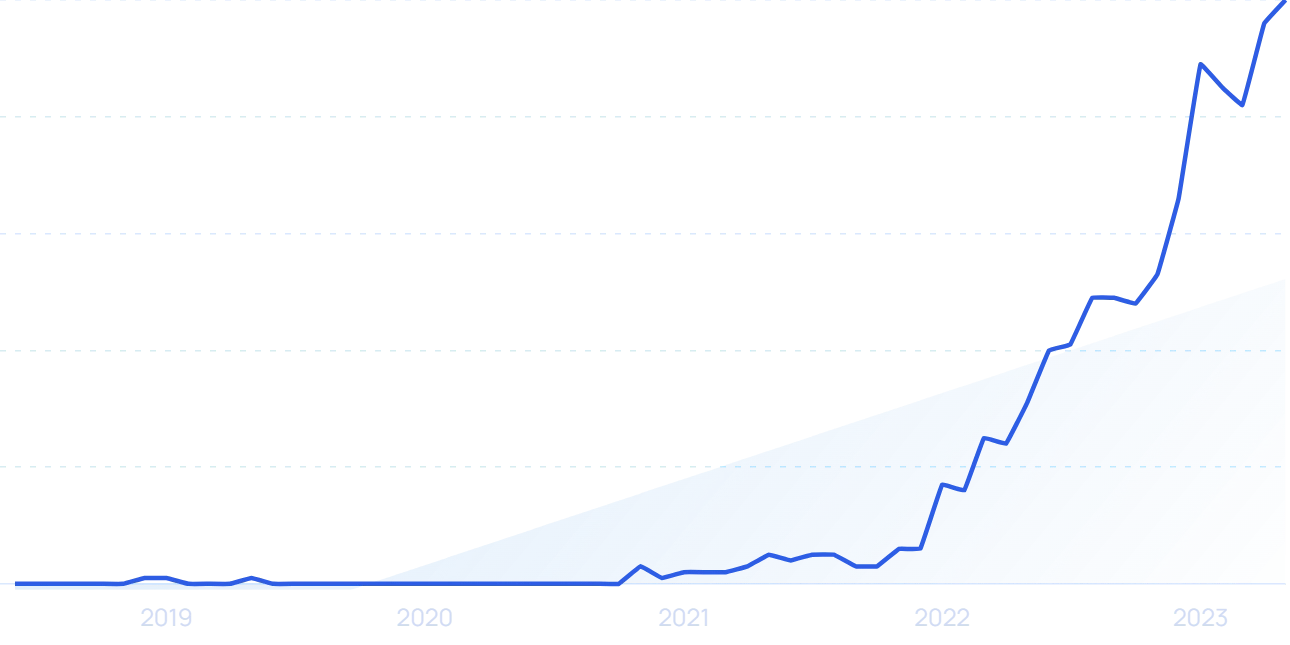 Search volume for "Copy.ai" has exploded in the past year.
Jasper is another generative AI platform that looks to be a promising tool for ecommerce leaders in the future.
The AI platform is able to create production descriptions and website content that match a site's brand voice. It also offers an AI art generator.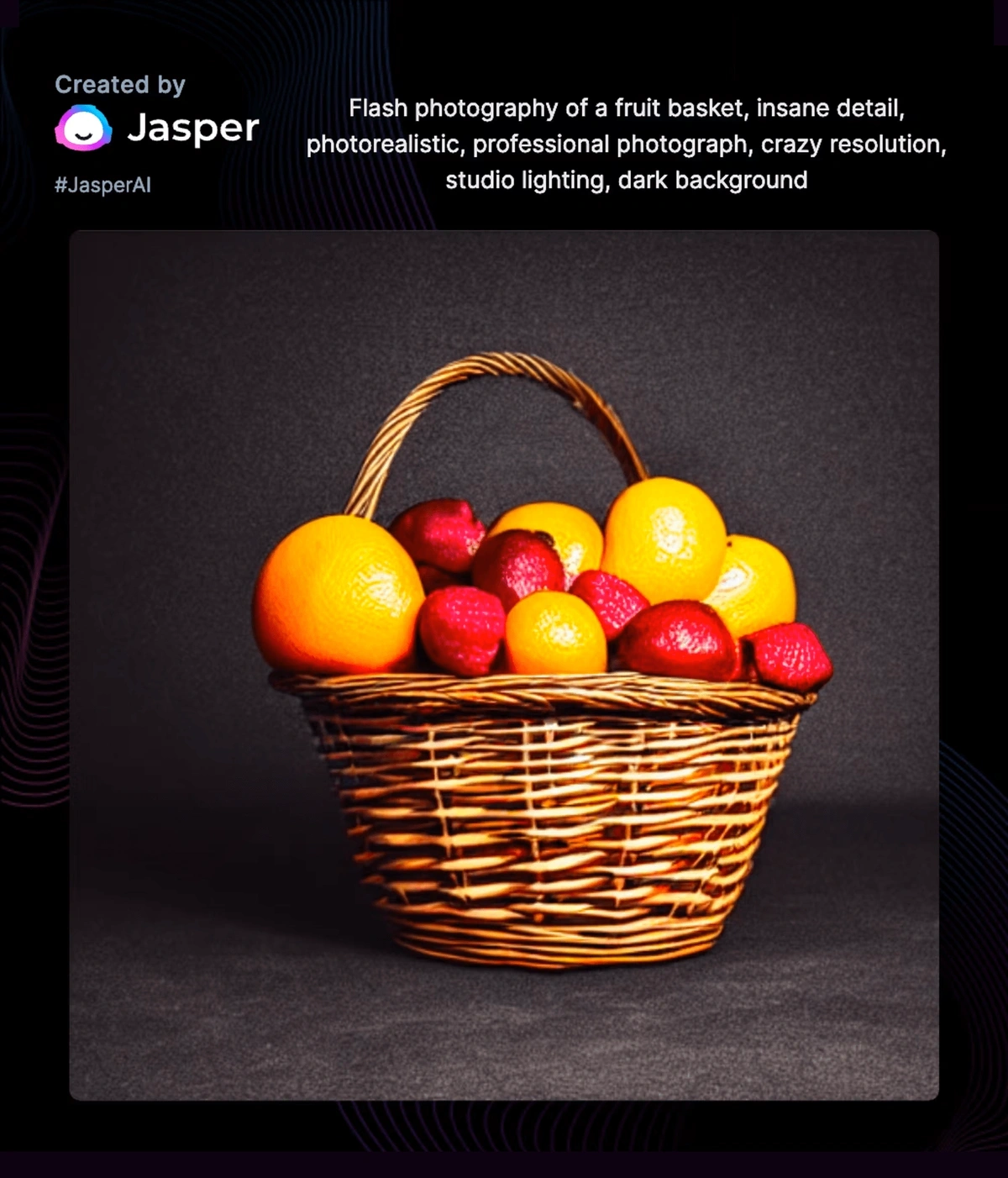 Ecommerce companies can benefit from generative AI in a number of ways including image generation.
As of late 2022, Jasper was valued at $1.5 billion.
Future XR Innovations
Extended reality (XR) technologies, including virtual reality (VR) and augmented reality (AR), are a critical point of future investment for ecommerce companies.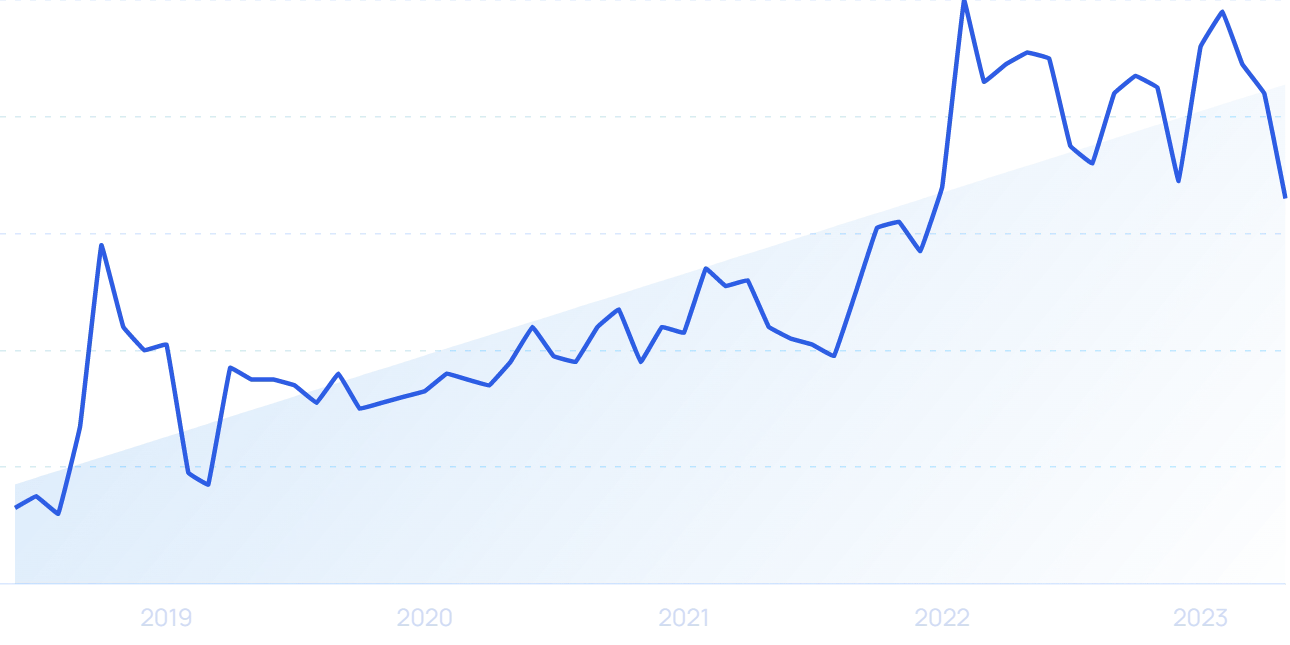 Search volume for "extended reality" is up more than 800% since 2019.
Sprout Social reports nearly 50% of marketers plan to use some form of XR in 2023, and 43% of consumers say this type of technology will play a significant role in their engagement with brands in the coming year.
In fact, a PwC survey from July 2022 showed 32% of consumers had purchased products within the previous six months after browsing them and testing them via VR.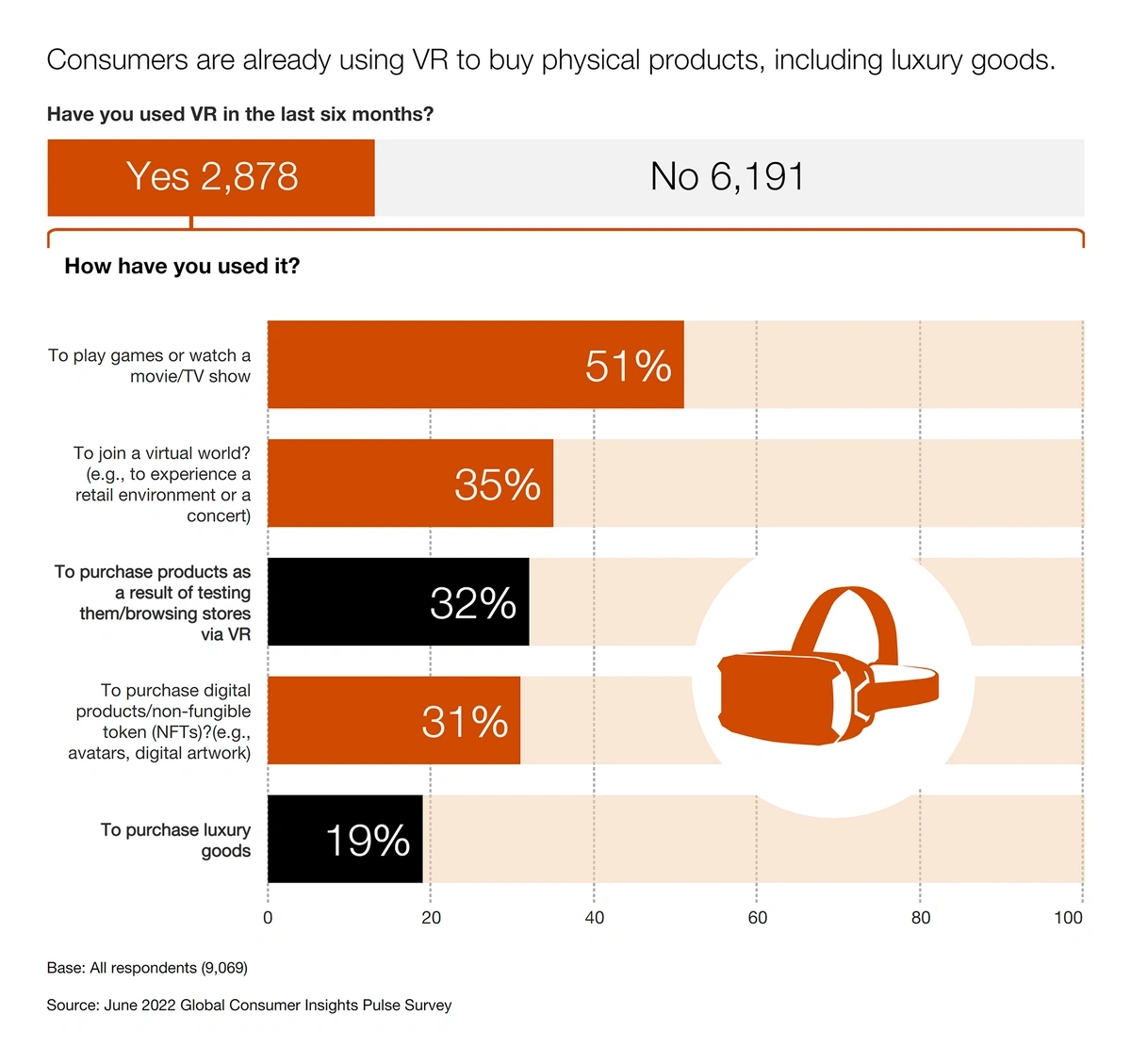 The survey showed that more than a third of consumers had recently used VR to visit a virtual world.
This technology is giving ecommerce brands the opportunity to interact with customers in a new way.
Consumers can get a feel for products without leaving home and, because they're getting more experience with a product right away, returns are less likely.
Current applications include things like virtual try-ons, superimposing furniture items into consumers' spaces, and setting up virtual stores in the metaverse.
Virtual try-on technology is especially important for ecommerce retailers in the beauty space.
Today's AR solutions can virtually apply foundation, blush, eye shadow, and other products to a consumer's face in real time.
This feature is becoming a must-have for luxury ecommerce sites like Lancome and YSL Beauty but also for ecommerce sites with lower price-points like Target.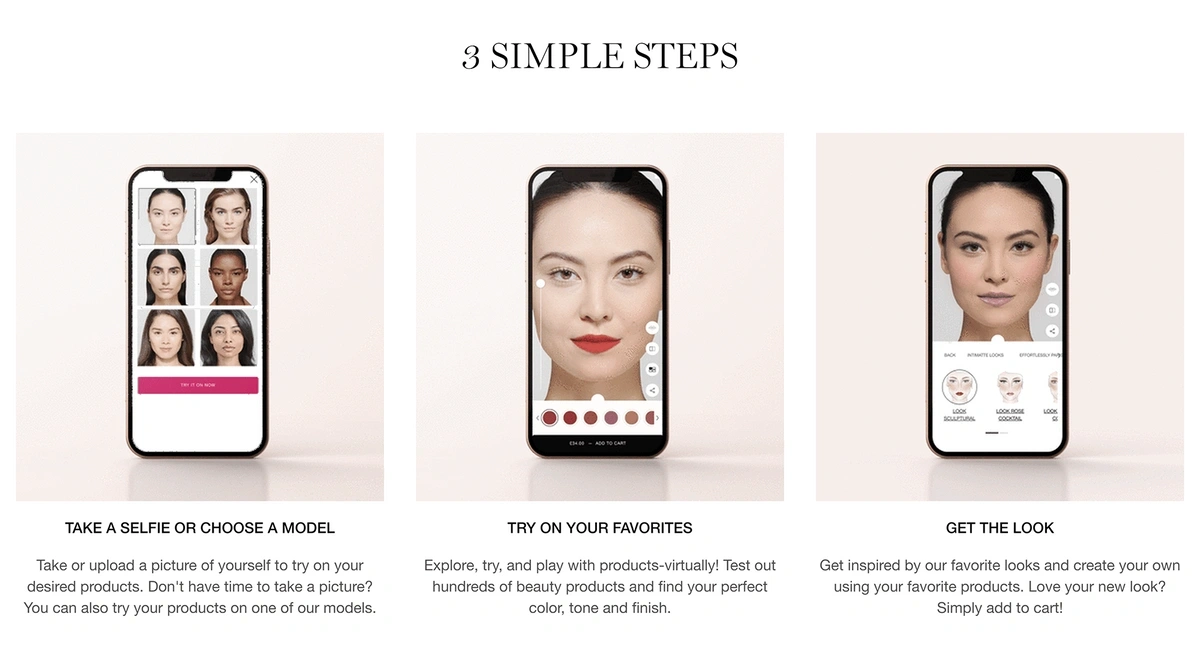 Lancome's virtual makeup try-on platform includes more than a dozen products.
Yet, ecommerce brands that are really embracing the future are going even further with XR technologies and setting up virtual stores.
Emperia is one of the most notable companies in this space.
They've created virtual stores for brands like Tommy Hilfiger, Dior, Bloomingdales, and others.
Ralph Lauren partnered with Emperia and Bloomingdales to launch a virtual store in late 2022.
The store was set up in a virtual ski chalet complete with snowy mountains visible through the windows.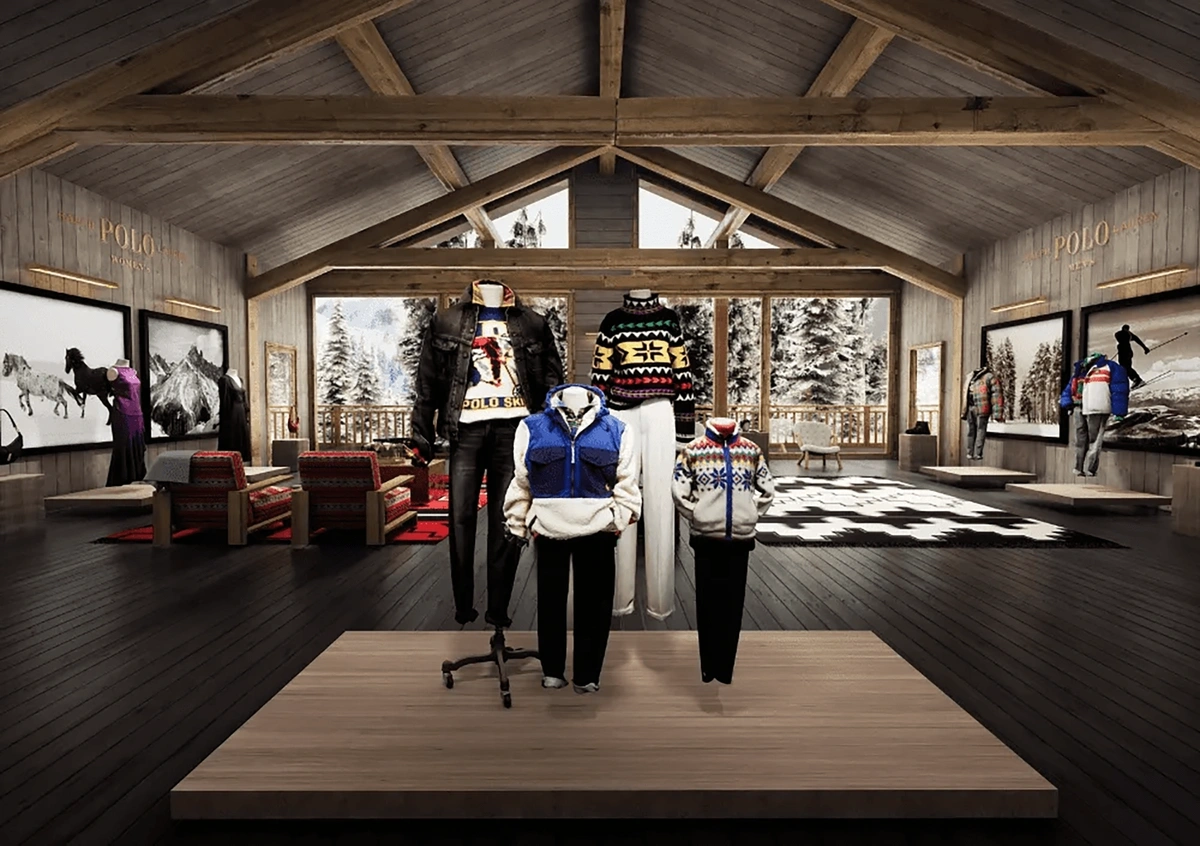 Ralph Lauren's virtual store offered holiday shoppers a unique ecommerce experience.
In total, Emperia's client list includes 45 ecommerce retailers across sectors like sports, luxury fashion, and beauty.
Adoption of XR in other ecommerce categories has been slower, but growth is expected in the coming years.
For example, Pinterest just debuted AR Try On for Home in early 2022.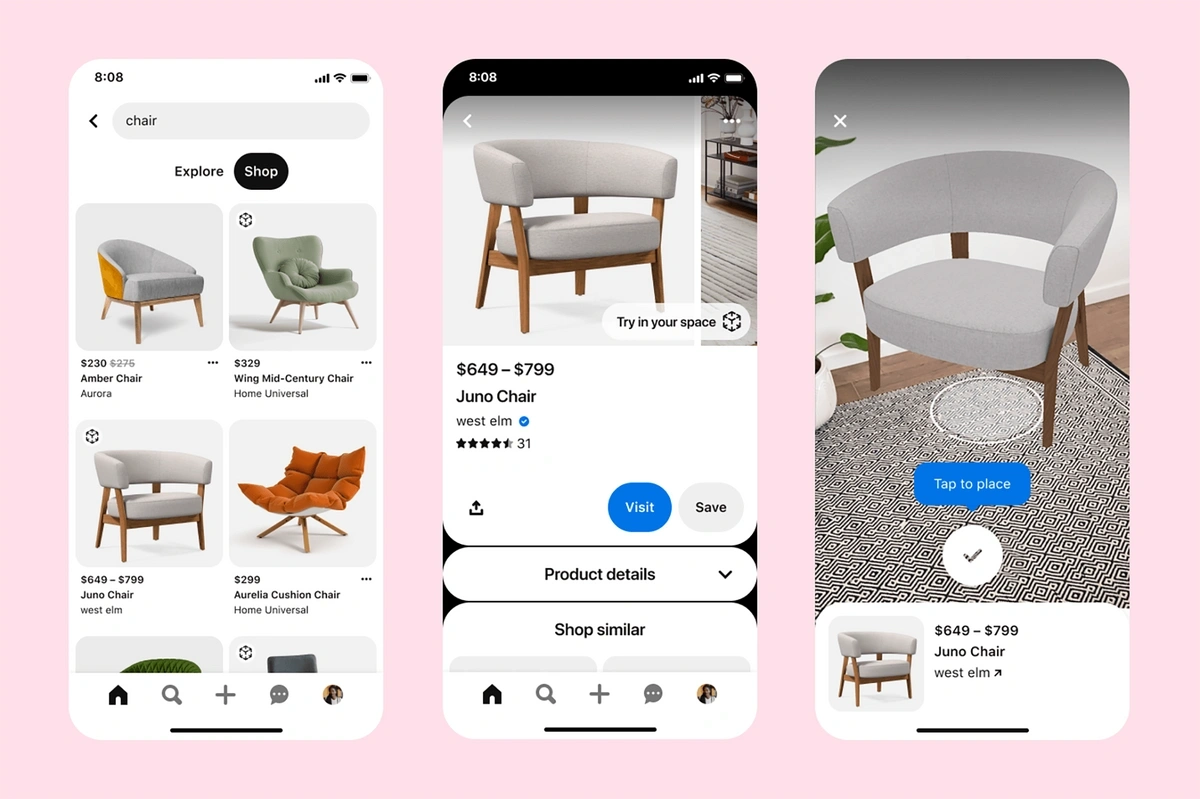 Try-On for Home pins allow Pinterest users to visualize furniture in their own space.
The site reports that users are 5x more likely to make a purchase from Try On-enabled pins than standard pins.
In the coming years, watch for value to continue to pour into this market.
Data from Statista shows that the market value of XR in retail will increase from $3.8 million in 2021 to $17.9 million in 2028.
Future Delivery Innovations
Increasing delivery demands are causing many ecommerce retailers to look for new ways to improve on logistics. Each one is racing to be among the first brands to adopt delivery innovations in the near future.
Right now, survey data shows just 3% of ecommerce businesses believe they're "very capable" of meeting current delivery expectations among customers. The vast majority (70%) say they're "somewhat capable."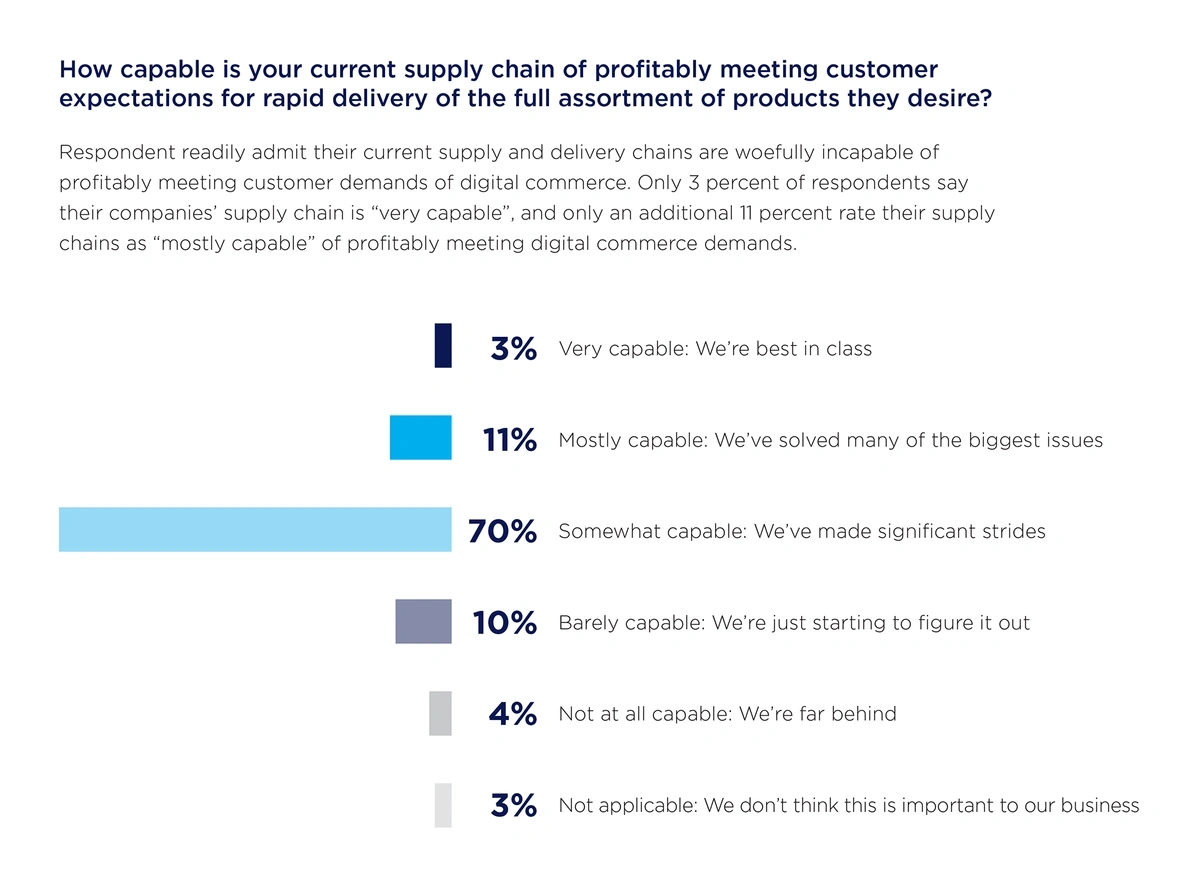 The majority of ecommerce brands say they are not fully confident in meeting consumer delivery demands.
But that's a problem. Many consumers are unwilling to compromise on their delivery expectations.
Surveys show that 66% of consumers have switched from one retailer to another because of the available delivery choices.
Brands that can meet the delivery demands of consumers in the future are likely to see major benefits in terms of revenue.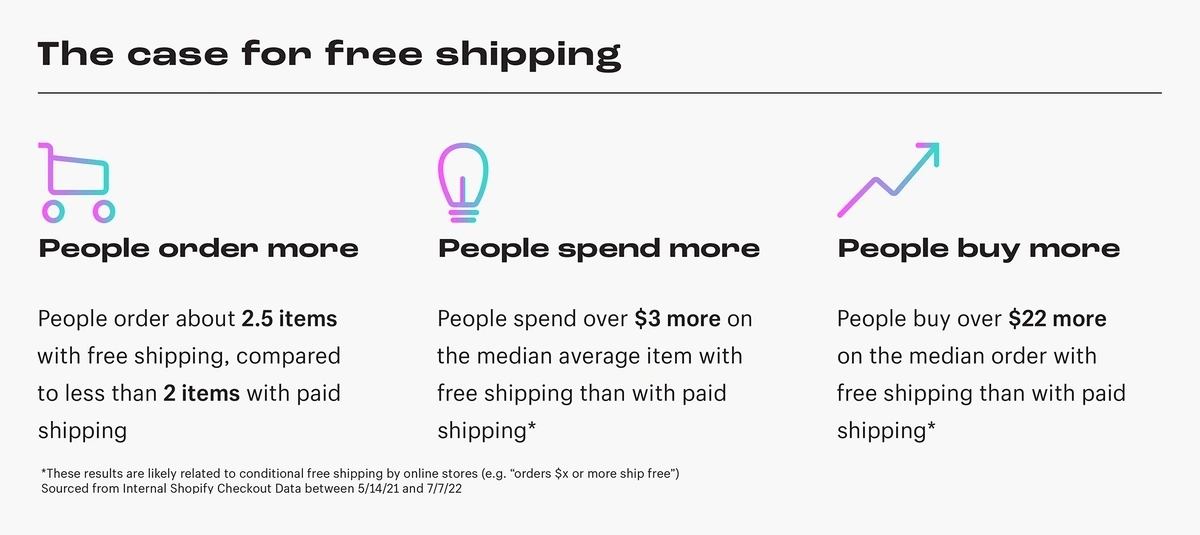 Shopify data shows that free shipping brings in more revenue for brands that offer it.
Customers order more and spend more when they're offered free shipping.
Shopify reports that the median order for customers who've taken advantage of free shipping is $22 more than orders with paid shipping.
Same-day delivery is quickly becoming a differentiating factor in ecommerce.
According to Gartner, only about 8% of fashion, apparel, and footwear retailers currently offer same-day delivery.
But many ecommerce brands are beginning to invest in same-day and next-day capabilities.
In February 2023, Amazon announced it would be expanding its network of fulfillment centers in order to keep up with consumer demand and pressure from the competition.
They've opened 45 same-day sites since 2019 and plan to expand that number to 150 in the coming years.
Target is investing in their next-day delivery strategy, as well.
As of early 2023, the company plans to put $100 million toward expanding local delivery options.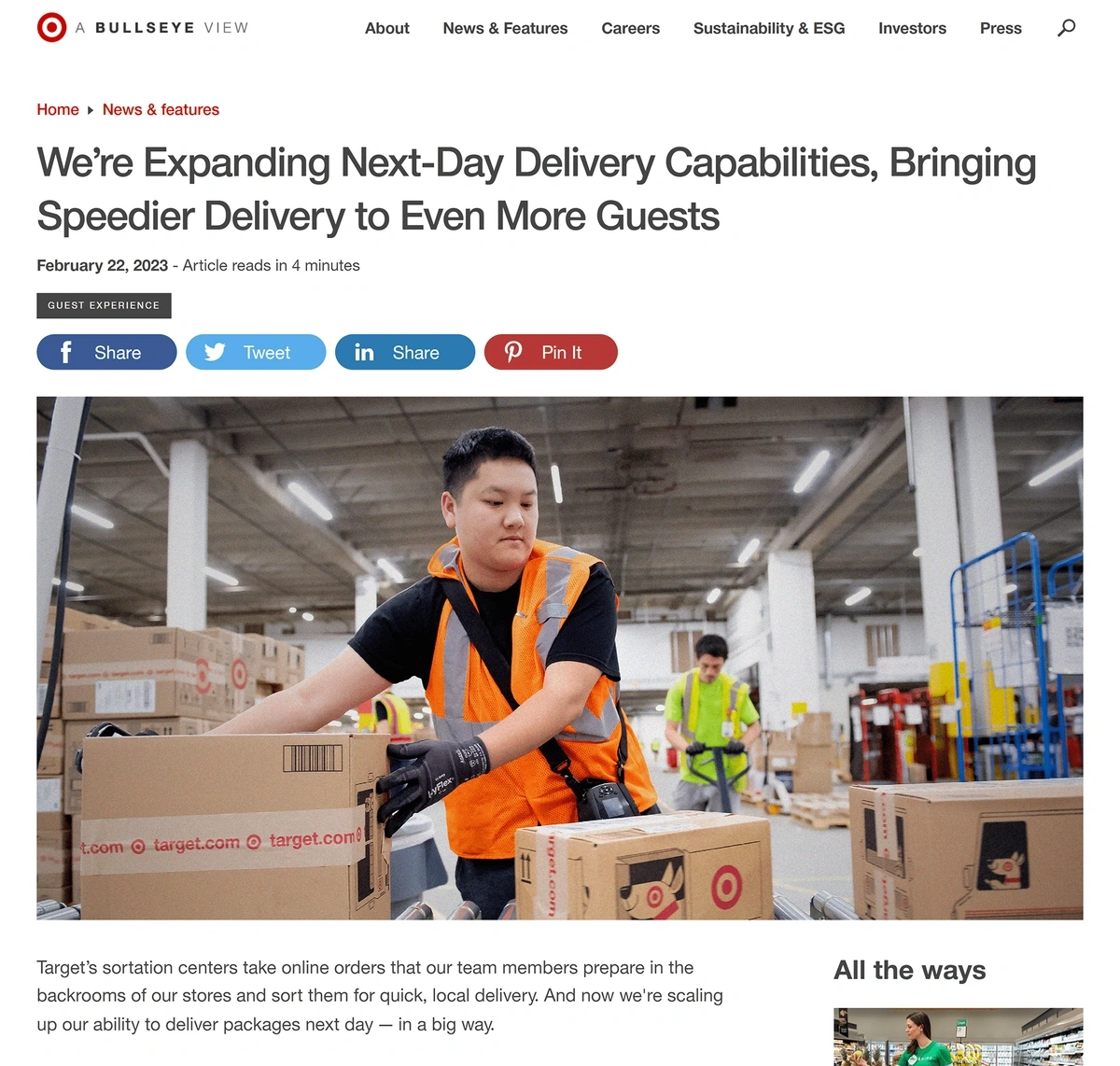 Target most recently opened sortation centers in Denver and Chicago.
They say 15 new sortation facilities will be up and running by the end of 2026.
In 2023 alone, Target expects the number of packages in their sortation centers to hit 50 million. That's double the amount processed in 2022.
In another example, Walgreens announced it would fulfill ecommerce orders with same-day delivery in 2021 and in late 2022 they announced that service would expand to 24/7 availability.
Sephora is also offering same-day delivery and is offering it as a subscription service much like Amazon Prime.
Consumers can pay $49 for an annual subscription that provides unlimited same-day deliveries.
A company-sponsored survey found that 63% of Sephora customers would use same-day delivery if they ran out of their favorite beauty product and needed it fast.
But all of these delivery innovations come with significant expenses for brands, and those costs are likely to grow well into the future.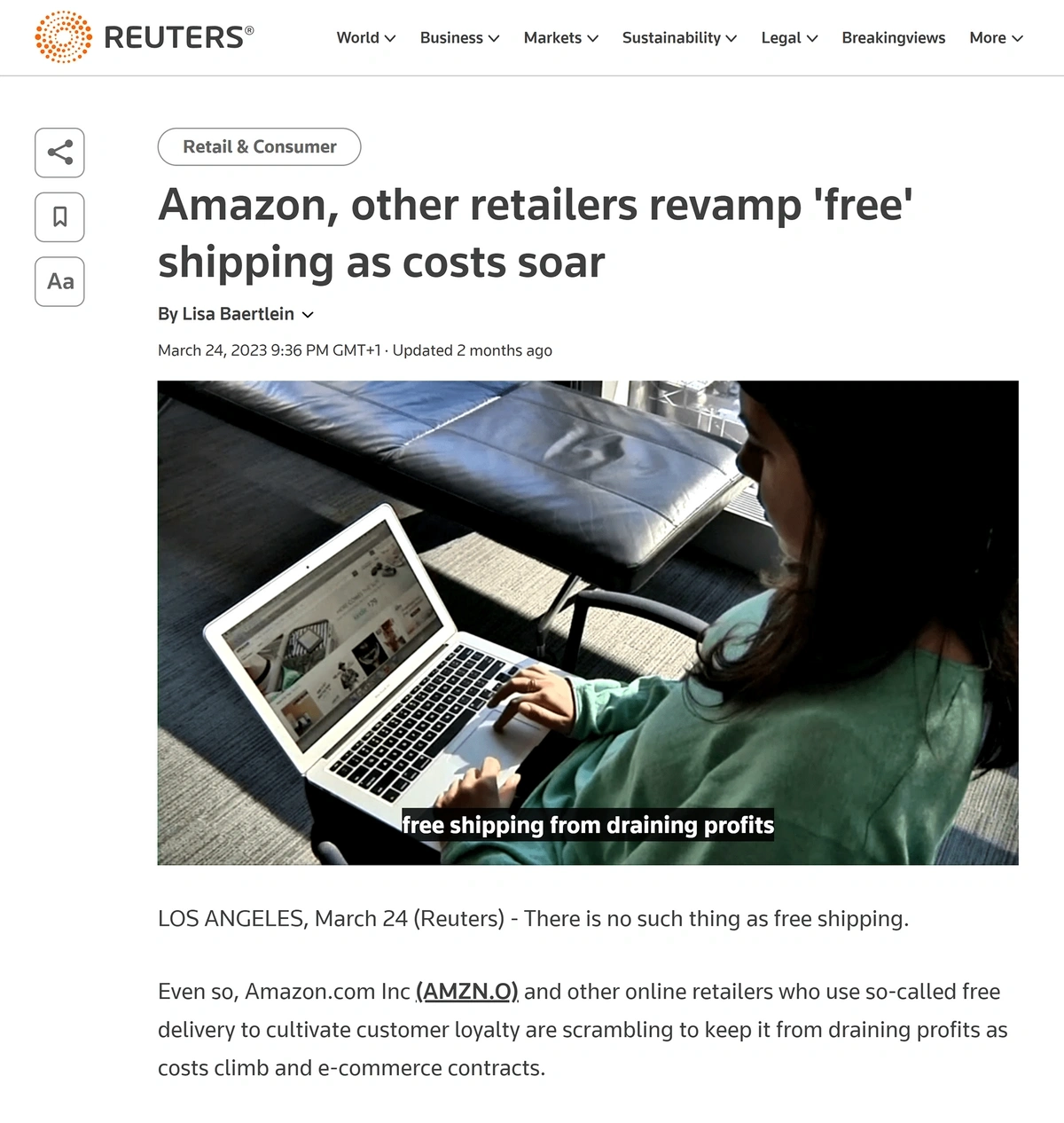 Many ecommerce brands are struggling to balance delivery demands with the cost of shipping.
Last-mile delivery alone accounts for 53% of the total cost of shipping.
This is a segment of ecommerce that's long been dominated by legacy providers like UPS, FedEx, and the USPS.
In fact, Insider Intelligence reports that these carriers are responsible for delivering 95% of all ecommerce orders in the United States.
But there are many more software companies creating platforms to streamline the shipping process for ecommerce brands with the goal of saving them time and money.
Take Shippo, for example.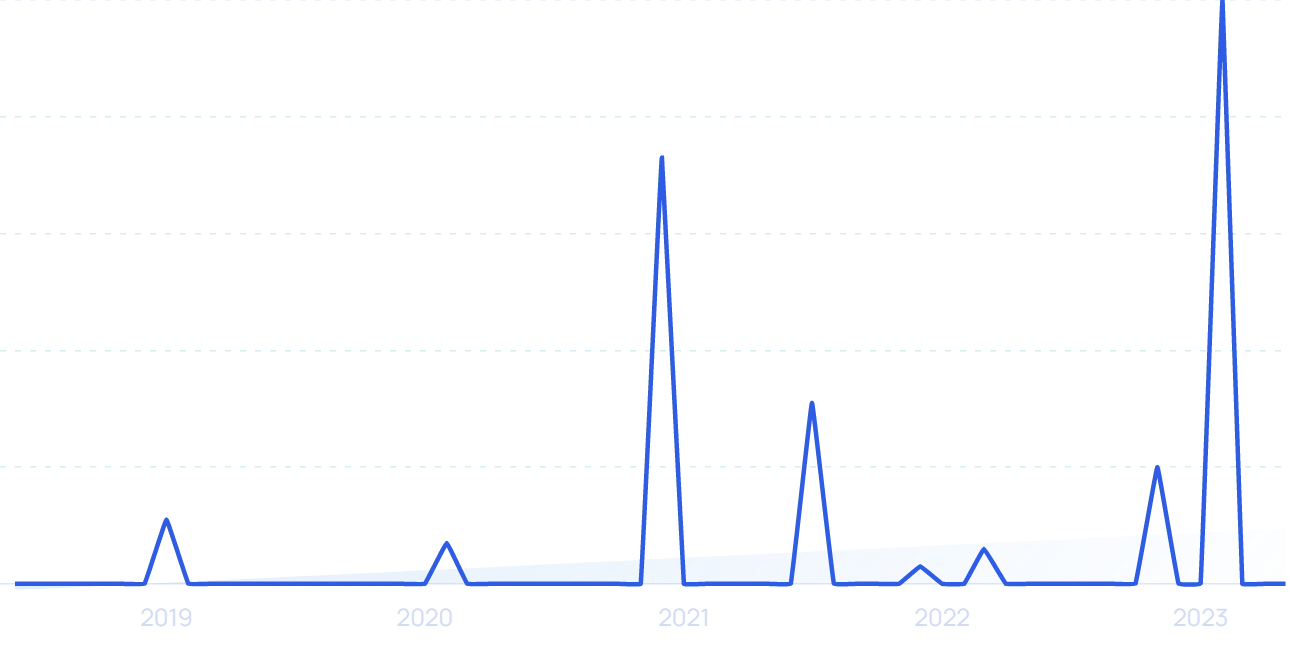 Search interest in "Shippo" is up more than 200% in the past five years.
Their software solution automates a large portion of the shipping process.
On the platform brands can do things like compare carrier rates, integrate orders with platforms like Amazon, eBay, and Shopify, and schedule pickups.
Shippo has raised more than $154 million in financing to date and is valued at $1 billion.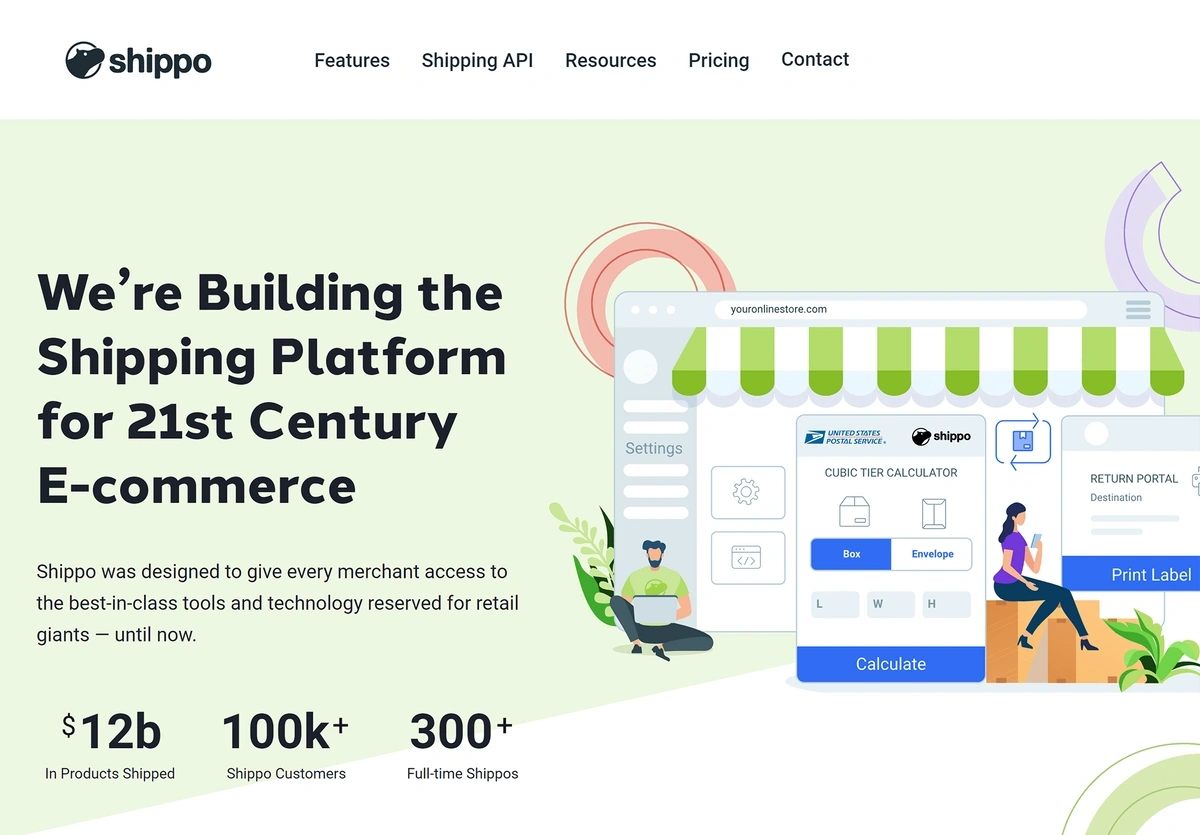 More than 100,000 ecommerce brands use Shippo.
Conclusion
The pandemic ushered in a new era of ecommerce and brands are continuing to ride that wave of consumer demand into the future.
There's no doubt that brands are doing everything they can to differentiate themselves from the competition and jump ahead to grab a portion of the billion dollars in revenue that the ecommerce sector is expected to generate in the coming years.
AI and XR are two types of technology that have the potential to unlock new opportunities for brands. Livestream shopping and social commerce provide additional platforms for brands to use in engaging with consumers.
Companies that can leverage these new tools are likely to gain a key advantage in the digital marketplace of the future.