Future of Retail (2023-2026)
Retail generates approximately $27.3 trillion in sales each year.
Whether it's via new technology or creative marketing approaches, companies of all shapes and sizes are looking to disrupt this massive industry.
With this in mind, we present five ways the retail industry will likely change in the future.
1. Shopping In The Metaverse
In the US, the e-commerce market, with annual sales of $871 billion, now makes up approximately 15% of total retail sales.
Seeing this success, retailers are looking to tap into new channels that will be as impactful as e-commerce.
And the metaverse is one technology to keep an eye on.

Searches for "metaverse" have grown by 2,100% in the last 5 years.

Specifically, retailers are trying to understand how big shopping in the metaverse might become.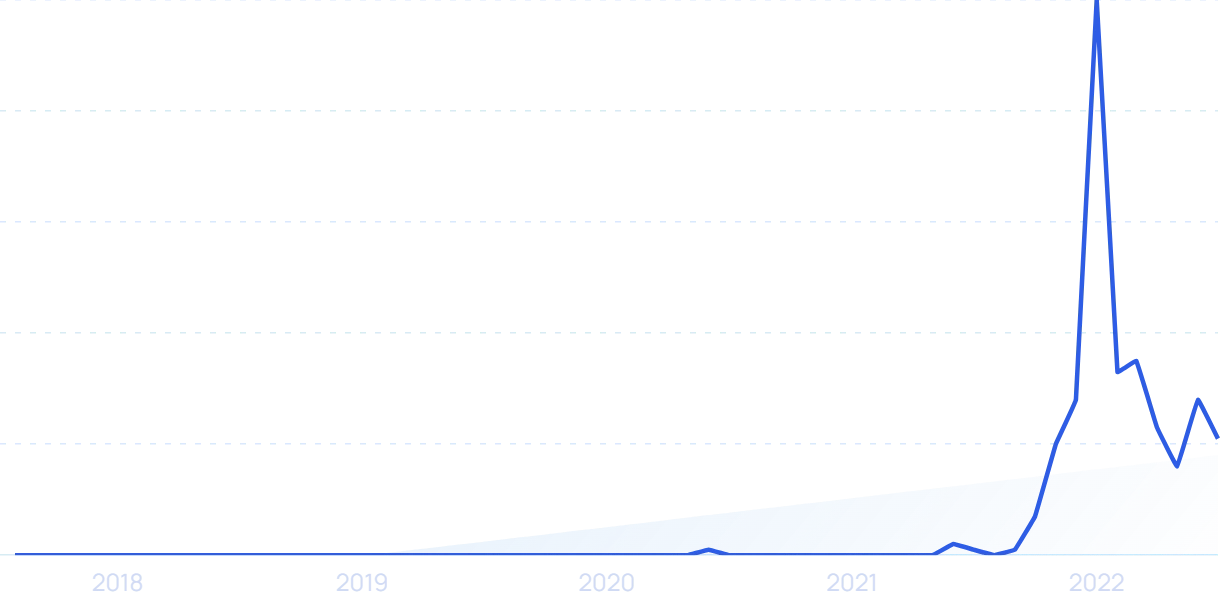 Searches for "metaverse shopping" have grown by 2,200% in the last 5 years.
The metaverse adds a 3D component to online shopping.
Companies can set up stores in a virtual world, and people can visit these stores and view the items they are interested in buying.
While any retailer can theoretically use the metaverse, the idea is seeing rapid adoption among fashion brands and retailers.
That's because metaverse enables fashion brands to reduce the number of fakes in circulation.
Metaverses use NFTs, which are blockchain-verified assets. This means that brands can tokenize their products and sell them as NFTs. Therefore, only the NFTs authorized by the brands can circulate around the metaverse, meaning that the number of fakes can be significantly reduced.
Furthermore, metaverse shopping allows retailers to incorporate a virtually unlimited number of experiences designed to incentivize people to buy a product.
For instance, a person could try a new pair of sneakers on a whole new planet.
All of this allows brands to attach experiences to the process of shopping in the metaverse, something that is difficult to do through retail or DTC.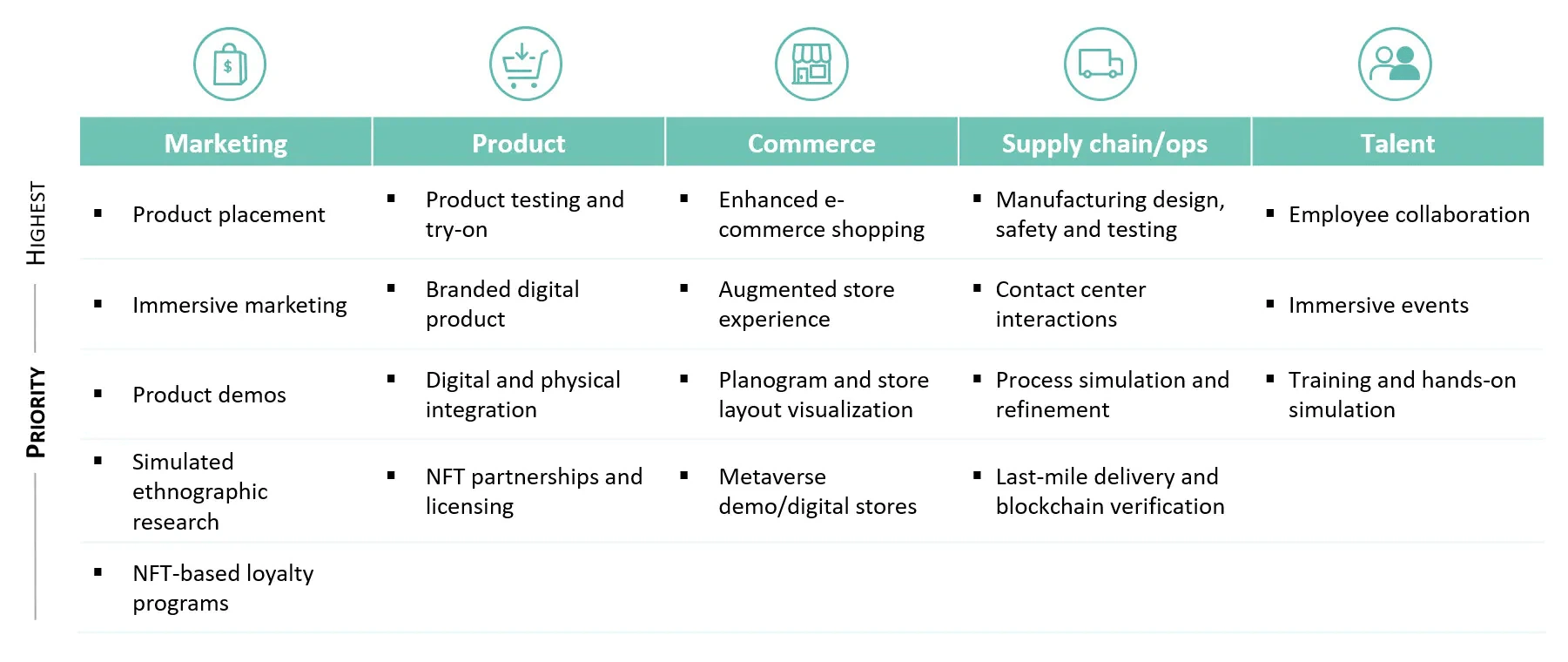 Use cases of the metaverse for retail.
Therefore, it is not surprising to see major companies like Nike and Samsung test how they can incorporate the metaverse in their sales process.
2. Hyper-Personalization
Personalization is already on many retailers' minds.
According to McKinsey, personalizing the customer experience is one of the most cited strategic initiatives among retailers.
However, current personalization solutions often involve a system where a customer's online data is used to show them more relevant content and products.
While simple personalization solutions have their benefits, they might be just the tip of the personalization iceberg in the near future.
In fact, the desire for personalization is giving rise to hyper-personalization.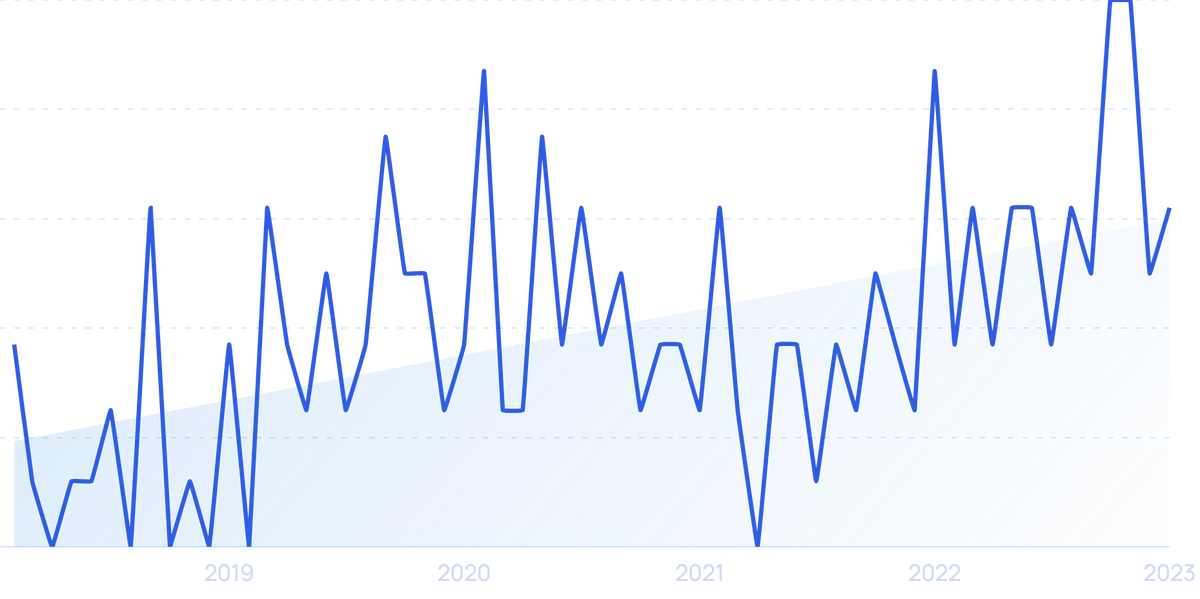 Searches for "hyper-personalization" have grown by 66% in the last 5 years.
Hyper-personalization is a strategy where companies market to a segment of one.
This means that each individual buyer is treated as a unique customer segment.
Why the shift towards hyper-personalization?
75% of consumers have tried a new shopping behavior over the last two years.
This illustrates that consumer loyalty is up for grabs.
And hyper-personalization will likely become a tool retailers will use to generate, and maintain, a high level of consumer loyalty.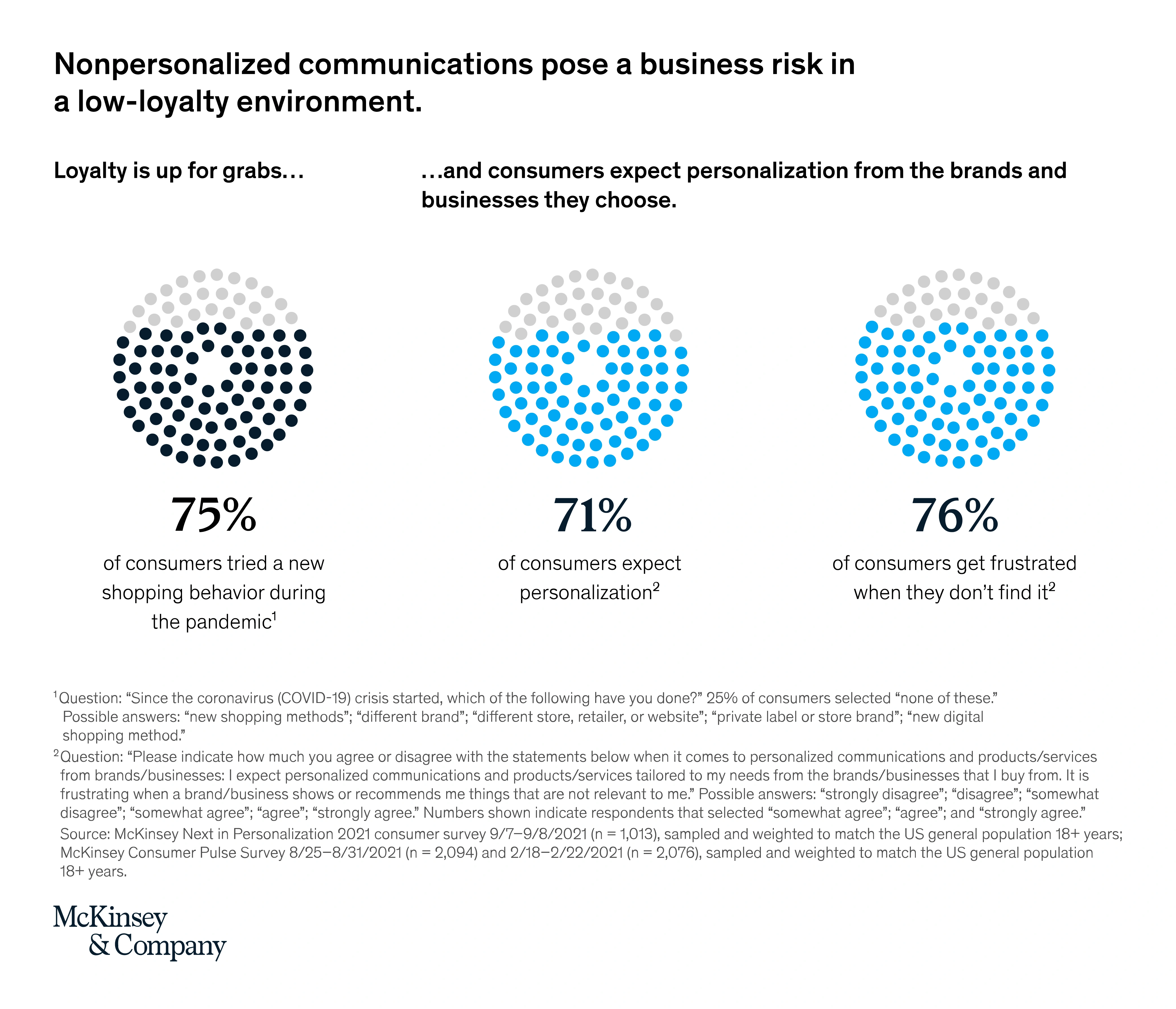 Loyalty is up for grabs.
Entering a hyper-personalized store will "feel like the store knows you like a close friend".
Retailers will continue to pursue this concept mainly because it makes sense financially.
Personalized programs can reduce marketing costs by up to 20%.
Furthermore, a personalized experience yields a 15% boost in conversion rates.
All this means that retailers see a positive impact on their bottom line when properly implementing hyper-personalization programs.
3. Retail To Become More Circular
We are witnessing the rise of the conscious consumer.
More than 60% of consumers are willing to pay more for eco-friendly products and services.
And more importantly, 78% of buyers are more likely to purchase a product that is clearly labeled as environmentally friendly.
This is why more and more companies are implementing sustainable initiatives.
And one important retail trend related to sustainability is the adoption of circular economy principles.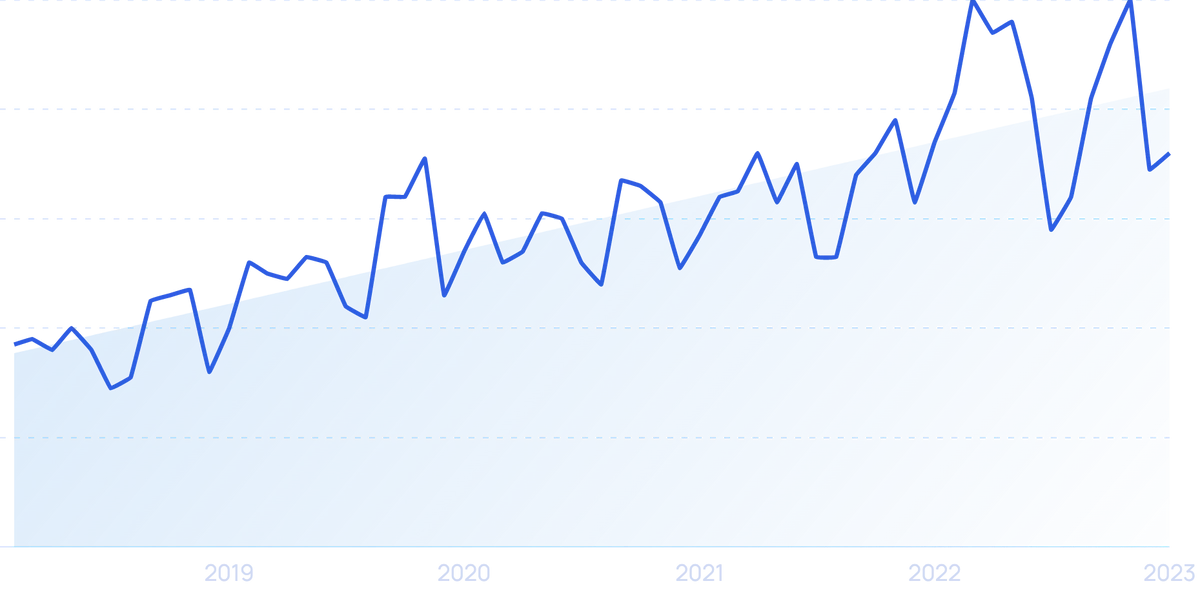 Searches for "circular economy" have grown by 94% in the last 5 years.
In fact, we are already seeing glimpses of circular initiatives.
In 2021, Nike launched the "Nike Refurbished" program designed to circulate people's footwear.
Patagonia, often considered a pioneer in circularity among fashion retailers, has implemented programs incentivizing people to circulate their pieces of clothing.

How the circular economy works.
Estimates show that the circular economy will become a $4.5 trillion market by 2030.
Therefore, it makes sense for retailers to try and capture part of this new market.
Furthermore, increasing governmental regulations on how retailers deal with unsold inventory is also driving this trend.
With all this in mind, it will be interesting to see how retailers adjust to this.
Some aggressive estimates predict that the role of retail stores will completely change in that they will serve as marketplaces where people go to pick up/drop off their items.
(Essentially a retail version of Ebay.)
4. Instant Shopping Becomes Truly Instant
Instagram has rolled out a shopping program where people can tap on a product and quickly be redirected to a page where they can immediately purchase it.
This form of shopping is designed to make the entire process as seamless as possible.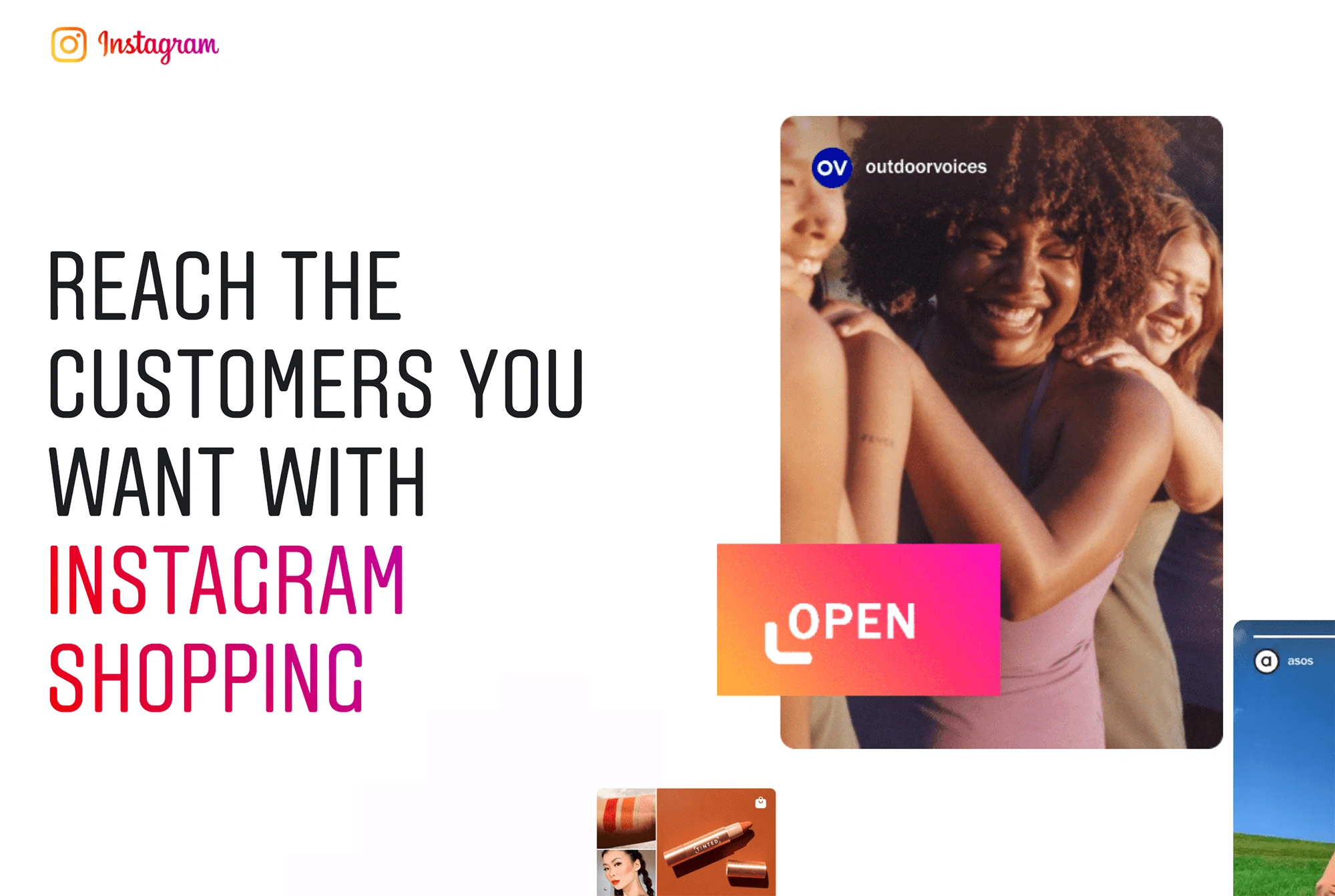 Instagram's shopping program.
Retail is heading to a place where barriers to shopping are basically non-existent.
This means people will no longer have to waste time searching for a brand's product they saw on a Netflix show.
Instead, viewers will be able to stop the show, click on a product they like, and access the link to buy that product.
This way, retailers can deliver instant gratification and thus, take full advantage of people's impulsive buying behavior.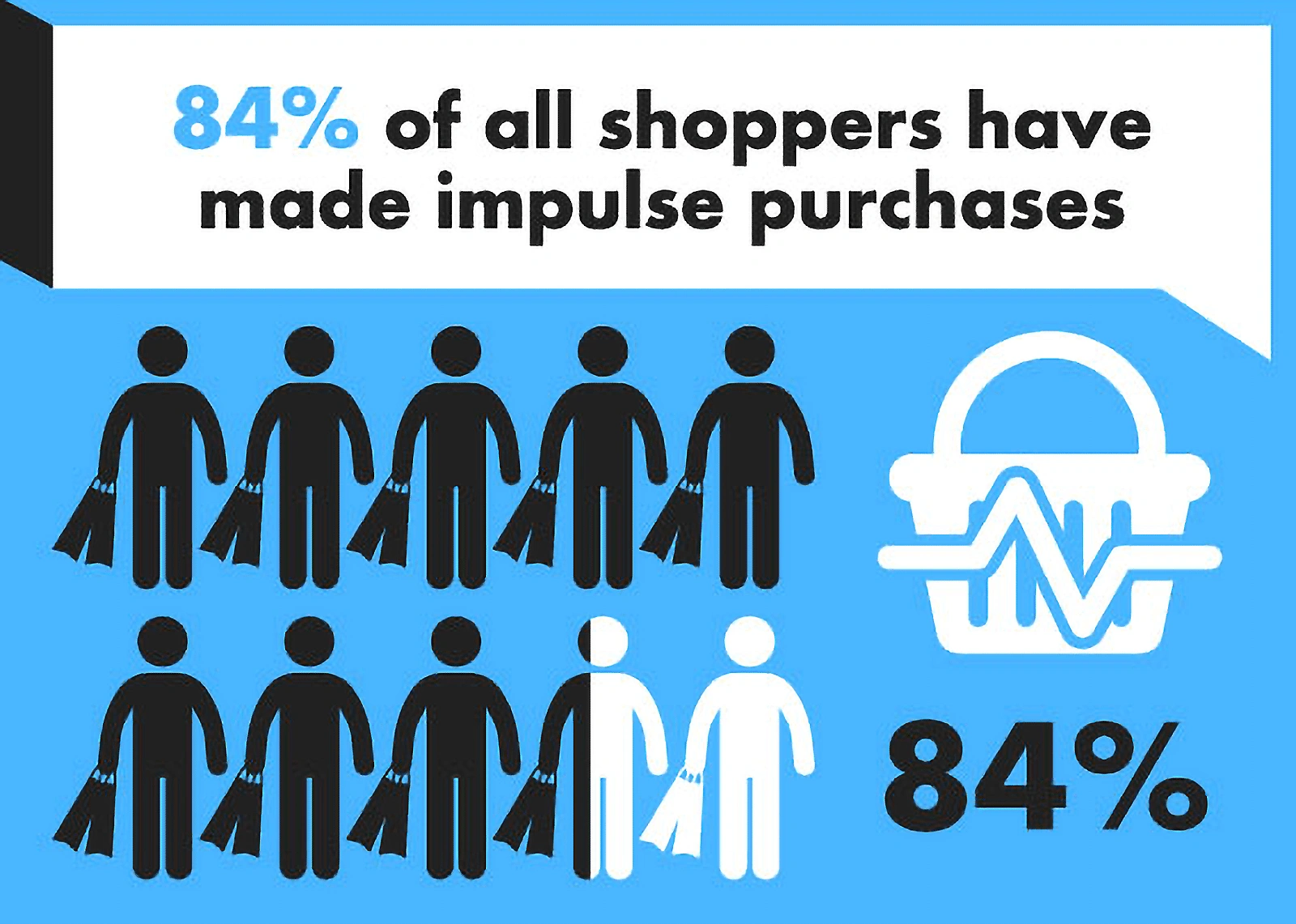 Percentage of e-commerce sales classified as impulsive purchases.
Instant shopping will likely be supported by a rapid delivery system that can deliver any product to any place within hours, if not minutes, of ordering.
In fact, startups such as Jokr, are looking to change the grocery order fulfillment game by introducing 15-minute grocery deliveries.
Interestingly, the instant delivery trend is not necessarily driven directly by consumers.
In fact, most people do not expect same-day deliveries by non-grocery retailers.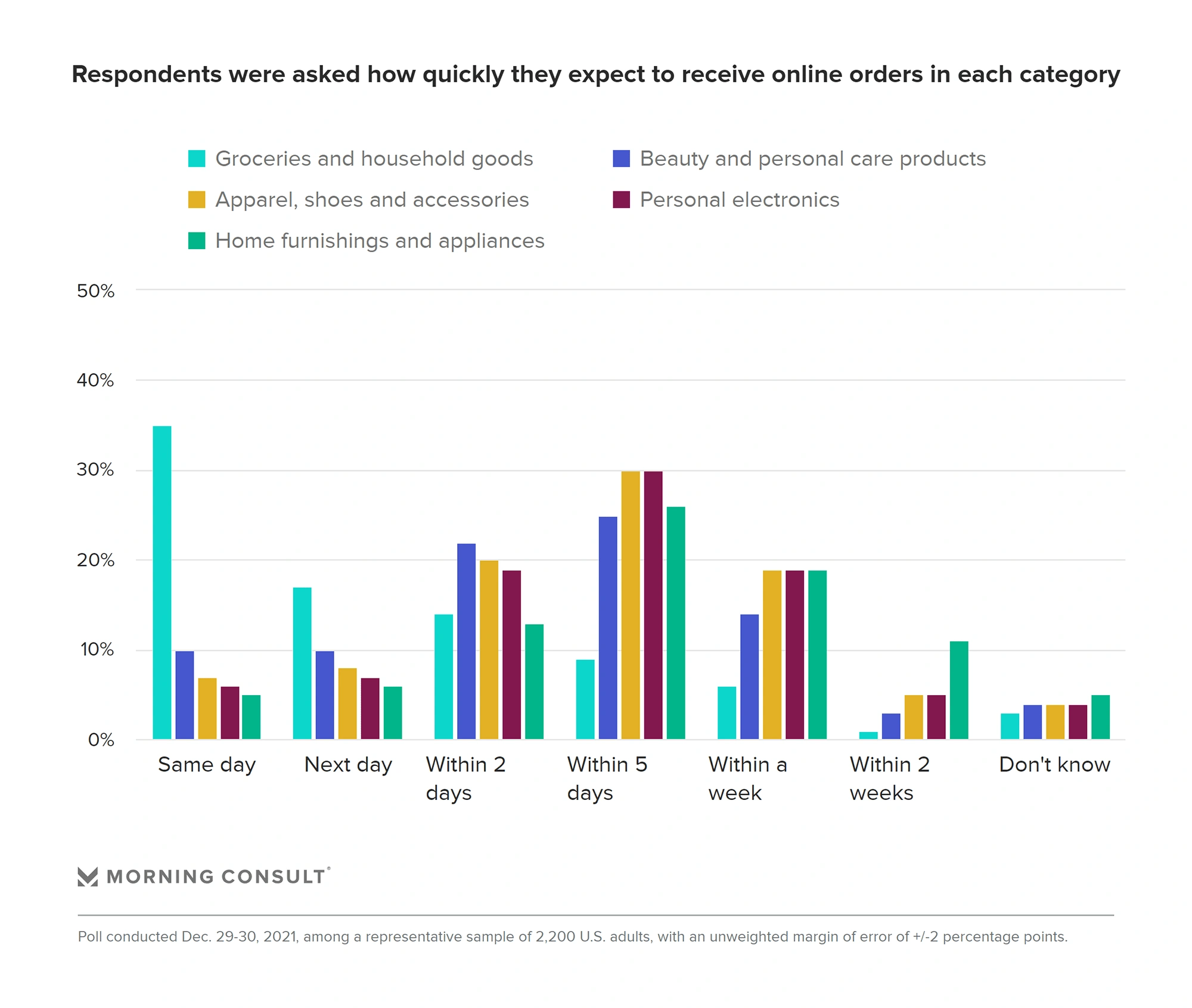 How quickly people expect to receive their online orders.
But many retailers are working toward implementing this system as they want to gain a competitive advantage, and more importantly, they do not want to be left behind when customer expectations change.
5. Automated Stores Of The Future
Robotic fulfillment, contactless checkout, AR, and IoT are technologies already being used in retail.
As these technologies keep advancing and new technologies emerge, they will give rise to fully automated stores.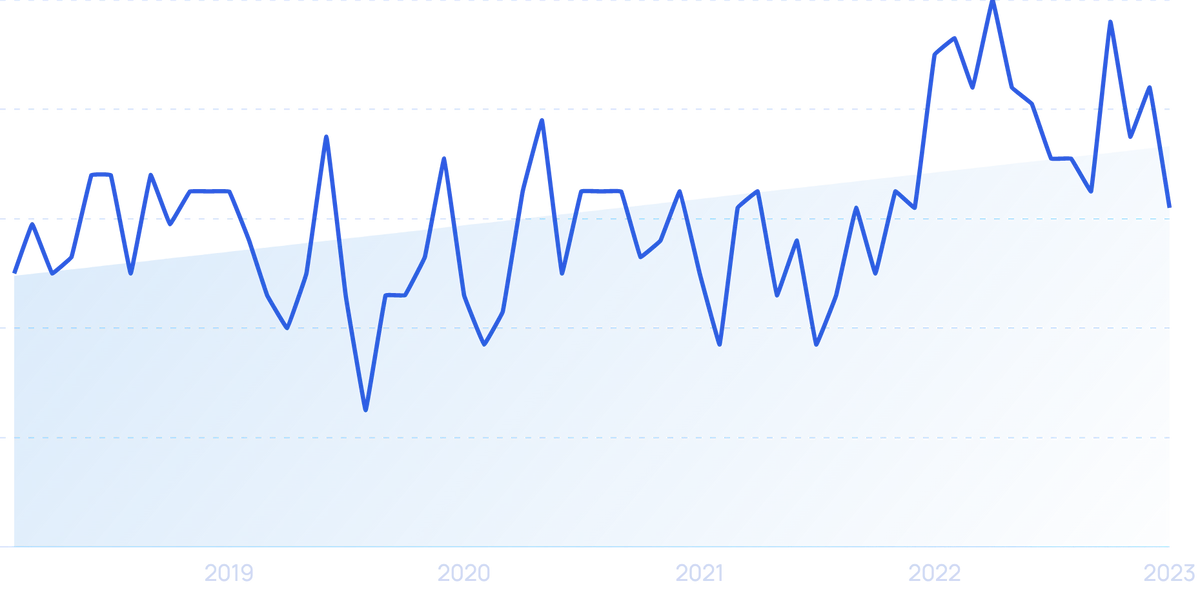 Searches for "automated store" have grown by 25% in the last 5 years.
A common theme among automated stores will be the lack of store employees.
This is mainly because consumers now have a preference for zero employee assistance.
In fact, 70% of shoppers that tried self-checkout for the first time say they will use it again in the future.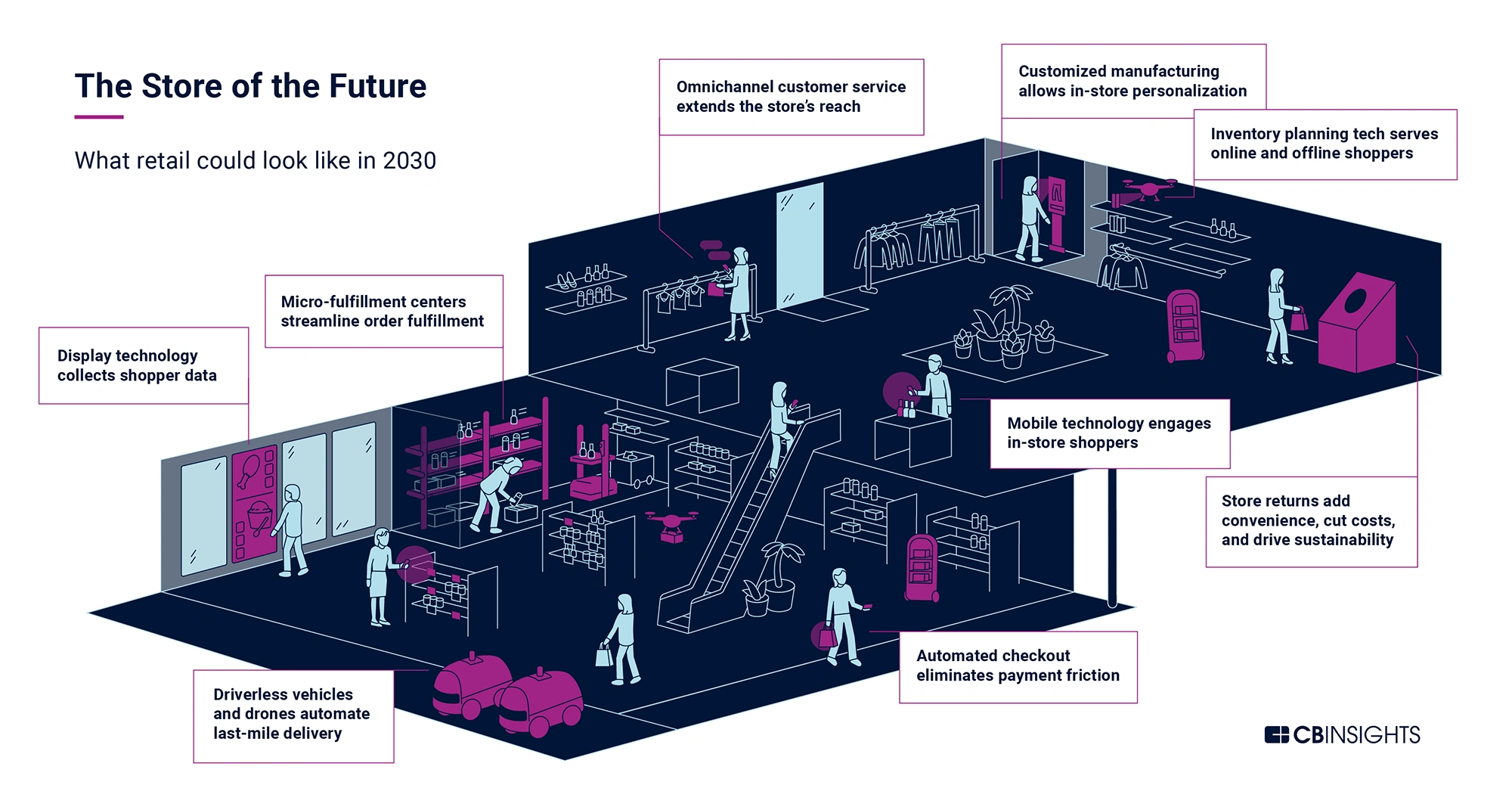 The store of the future.
With automated stores, the experience will go far beyond self-checkout. The entire in-store customer journey will change.
Instead of going to a store and receiving services from a human, shoppers will now navigate the store using various integrated technologies.
For example, if they want a specific-size shoe, they can just scan their feet via an in-store scanning device.
Then, the device will automatically find the right-sized shoe, which then directs the customer to where the shoe is.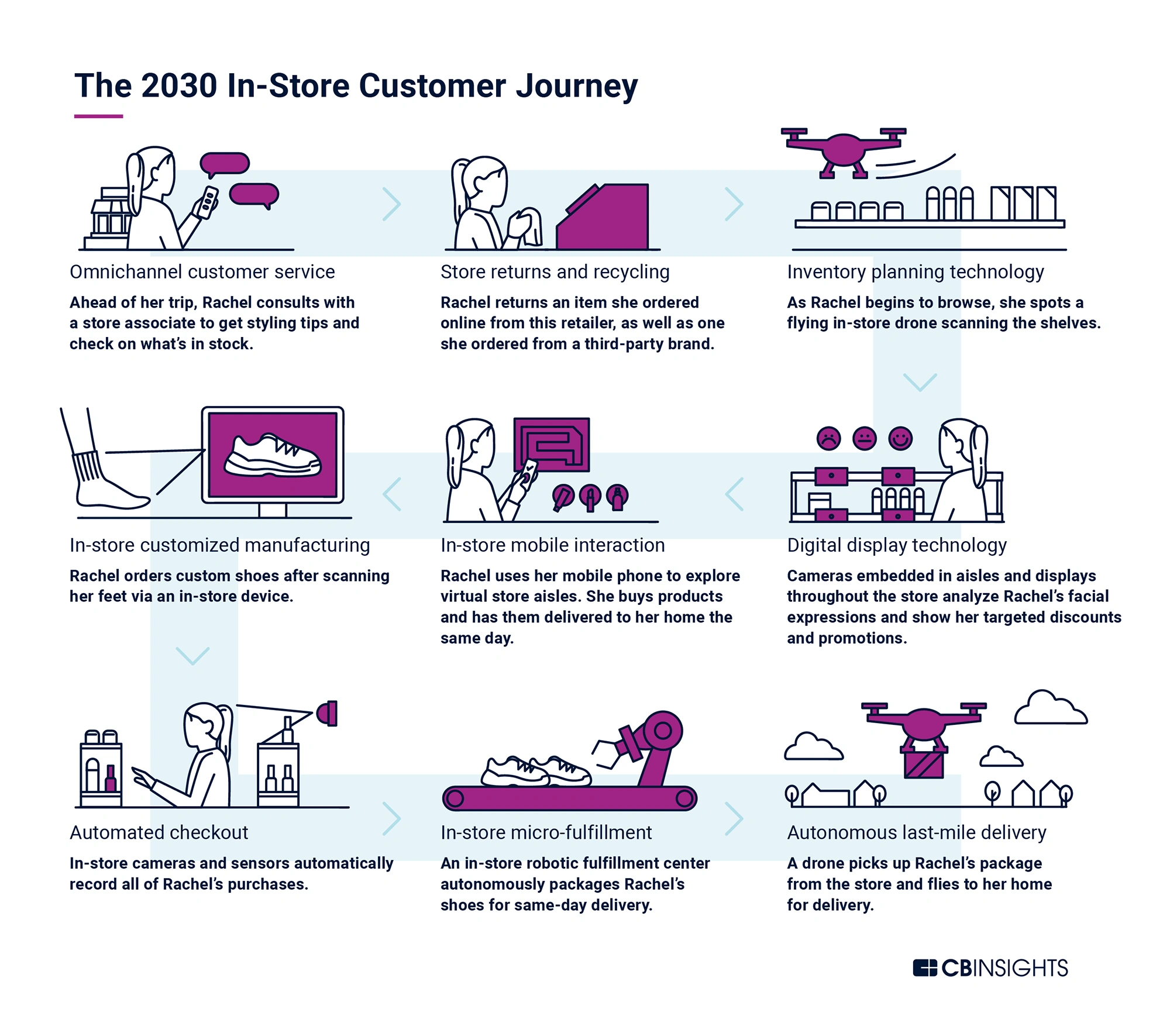 Future in-store consumer journey.
Finally, the consumer can pay for their products and the store will automatically load it to a delivery drone.
This way, the consumer wastes zero time waiting and looking for their items.
Conclusion
This completes our analysis of the future of retail.
Technology will likely continue to have a major impact on this industry and be a catalyst for significant changes.
It will be exciting to see how retail companies incorporate new experiences into the traditional shopping journey.
If you found this page interesting, have a look at our 11 Important Retail Trends.