11 Important Retail Trends For 2022-2025
You may also like:
Retail is one of the largest contributors to the U.S. economy.
(In fact, the retail space is forecast to generate $5.5 trillion in revenue in 2021).
With changes in consumer behavior and technology, the retail landscape has been in constant flux over the last decade.
From supply chain issues to business models being upended, the pandemic only accelerated the course of change.
Many of which are expected to impact retail for years to come.
From curbside pickup to interactive displays, here are the key trends impacting the retail space right now.
1. Checkout-free shopping finally arrives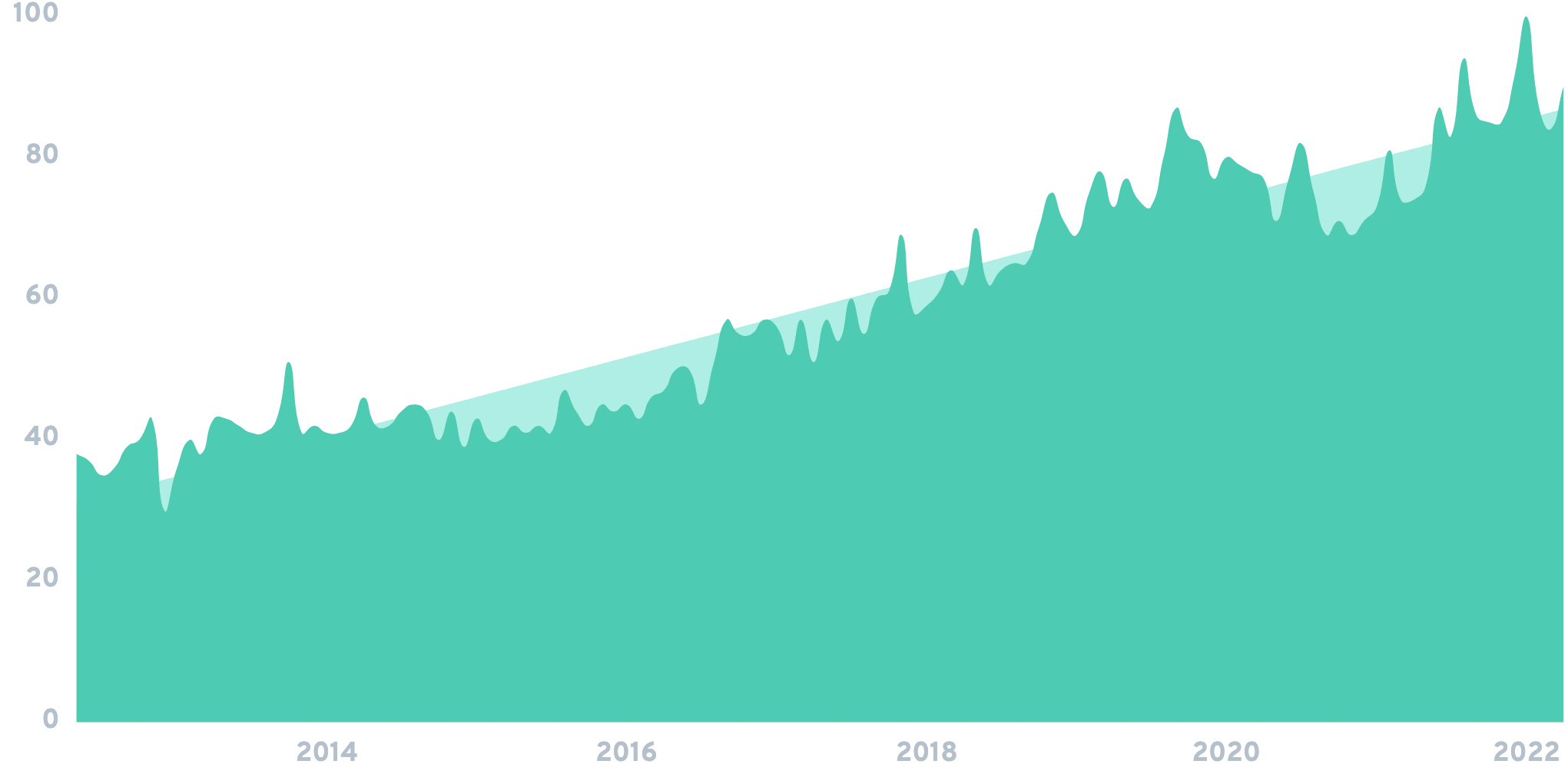 Google searches for "self-checkout" are up 136% in 10 years.
According to a Capgemini industry study, 60% of customers cite long lines for payment and checkout as a major in-store experience pain point.
What's more, based on a Chain Store Age analysis, retailers have lost more than $37 billion per year in potential sales due to consumers leaving a store because of long checkout lines.
This is why retailers are increasingly offering frictionless checkout experience options.
Perhaps the best-known example of a store with cashier-less checkout is Amazon Go.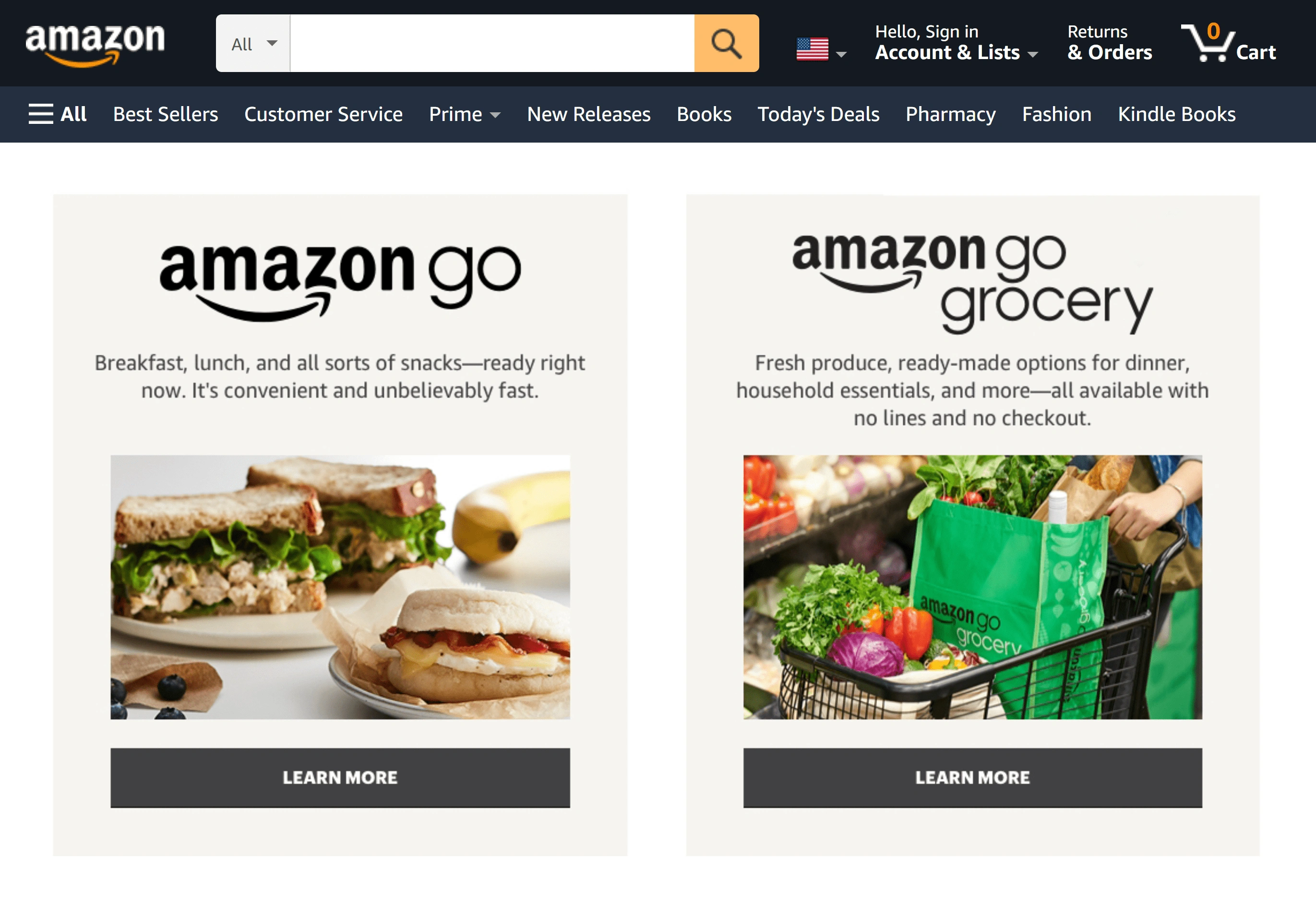 Amazon Go is one of the first self-checkout brands currently being used at scale.
It's "Just Walk Out Shopping" experience means that customers are only charged once leaving the store.
No lines or checkouts required.
While starting out with convenience stores, Amazon is looking to leverage this technology into grocery stores (namely, Whole Foods).
At the same time, a category of checkout-eliminating technology startups is cropping up, including Standard Cognition, Trigo, Grabandago, and SandStar.
Tel Aviv-based startup Trigo was founded in 2018 and has raised $60 million in its funding round led by 83North back in December 2020.
Trigo's system uses a combination of hardware (sensors, cameras) and software (AI, computer vision) to enable contactless checkout.
2. Interactive displays start to become mainstream
Despite the growth of online shopping, the vast majority of retail transactions continue to take place at brick-and-mortar stores.
Last year, e-commerce accounted for only around 15% of total retail sales in the U.S.
That number is expected to grow to 19.2% by 2024, eMarketer data suggests.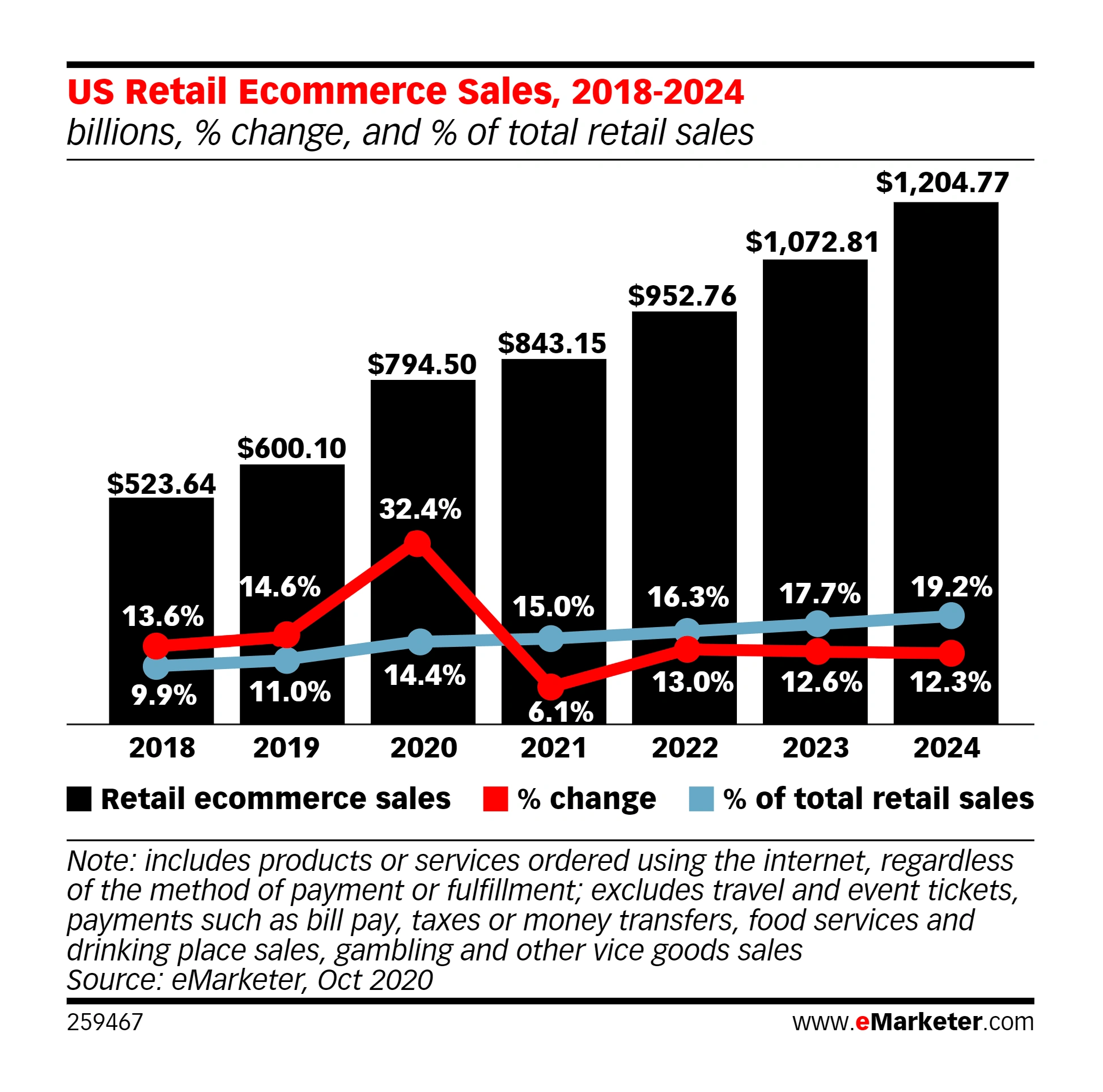 Ecommerce continues to see rapid growth. But physical store sales still make up the vast majority of retail purchases.
And we're seeing brick-and-mortar stores turning to technology in an effort to compete with e-commerce.
Interactive displays are one example of retail tech that can help physical retailers meet a range of objectives.
Specifically, interactive displays can help increase customer engagement, provide relevant offers to increase conversions, and boost in-store data collection.
One of the fastest-growing startups in this space is Chicago-based adtech startup Cooler Screens.
Cooler Screens replace conventional glass doors with interactive, digital screens.

Search volume for "Cooler Screens" has increased by 525% over the last 5 years.
Apart from delivering offers and product info to shoppers, these screens can also collect real-time data.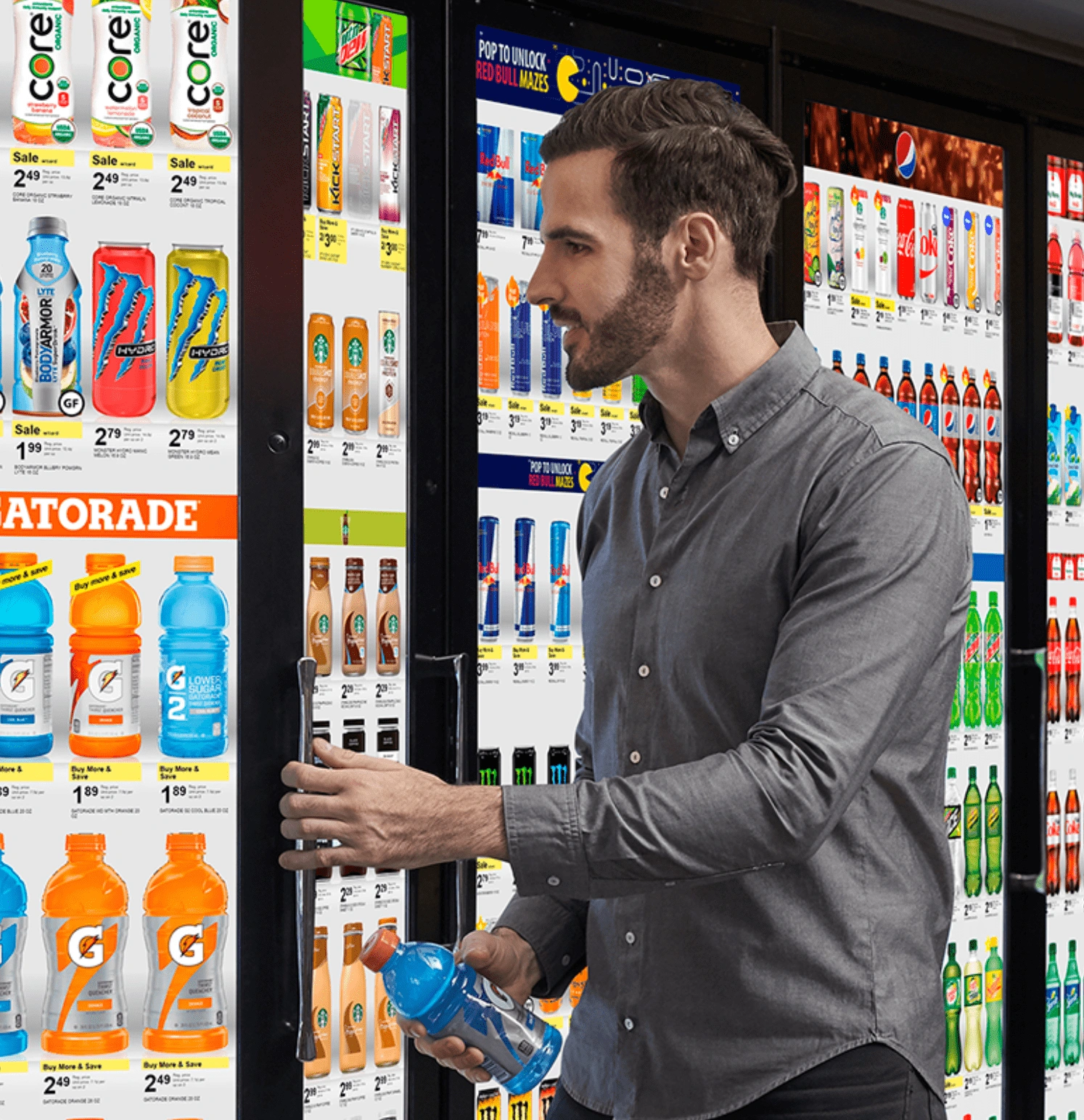 Demo display of Cooler Screens
Cooler Screens raised $80 million in Series C funding in 2020 — one of the largest in-store retail tech deals of the year.
Walgreens plans to bring this technology to 2,500 stores based in the U.S., with the long-term goal of reaching 75 million store visitors per month.
3. Paid loyalty programs boost retention
Based on a Bazaarvoice study, 39% of respondents purchased from different brands than usual during COVID-19 lockdown.
With consumer preferences changing so rapidly, paid loyalty programs are becoming a more attractive option for many retail businesses.
In fact, a McKinsey report suggests that loyalty programs become more valuable during periods where consumer brand loyalty is in flux.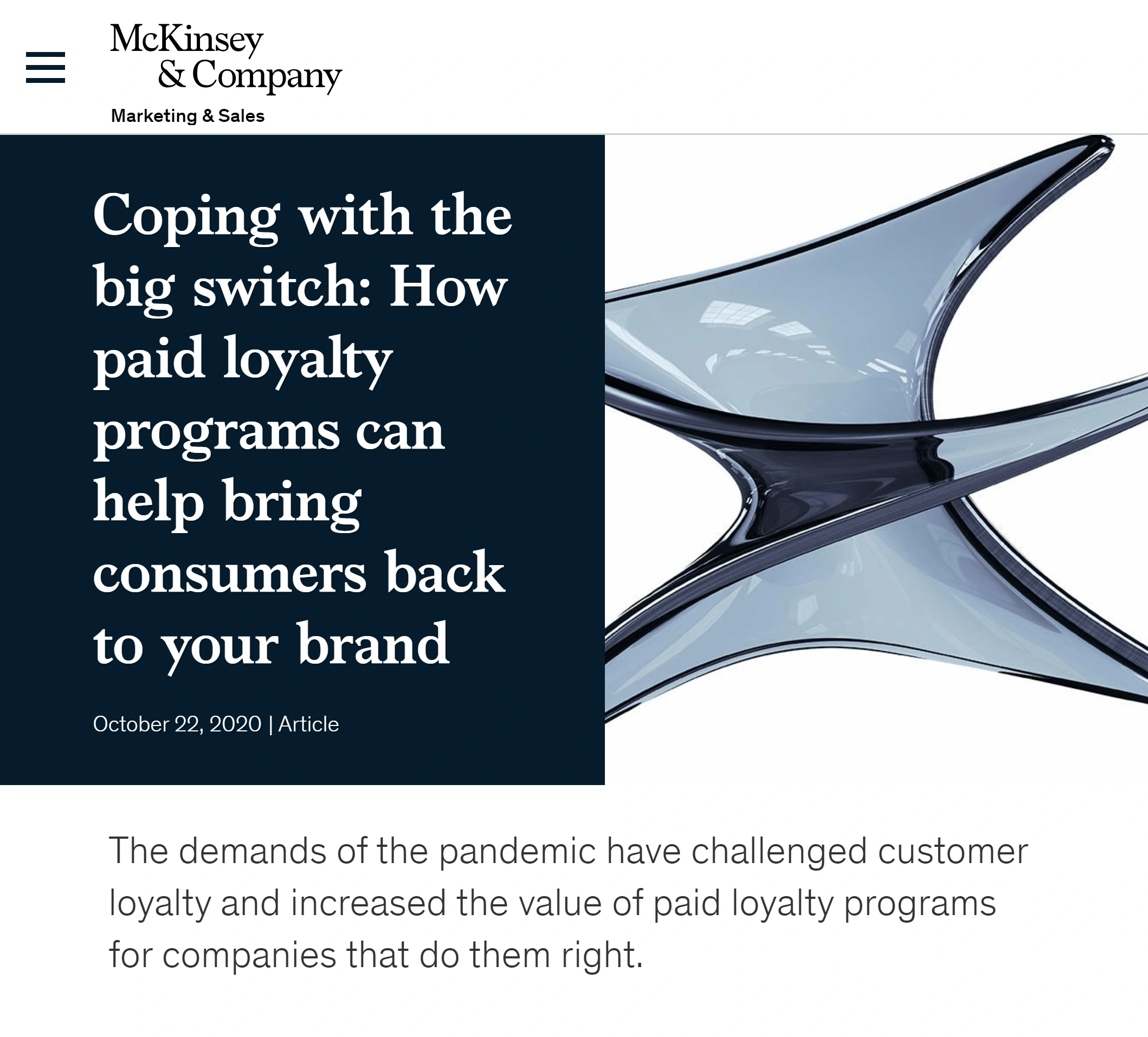 McKinsey found that brand loyalty programs are especially effective in times where consumers are trying different brands.
Regardless of the time period, loyalty programs have been shown to help boost the bottom line by increasing purchase frequency and increasing average basket size.
In fact, fee-based reward programs are already being used by the majority of Americans.
63% of consumers in a McKinsey survey indicate that they pay for at least one program (Amazon Prime being by far the most popular).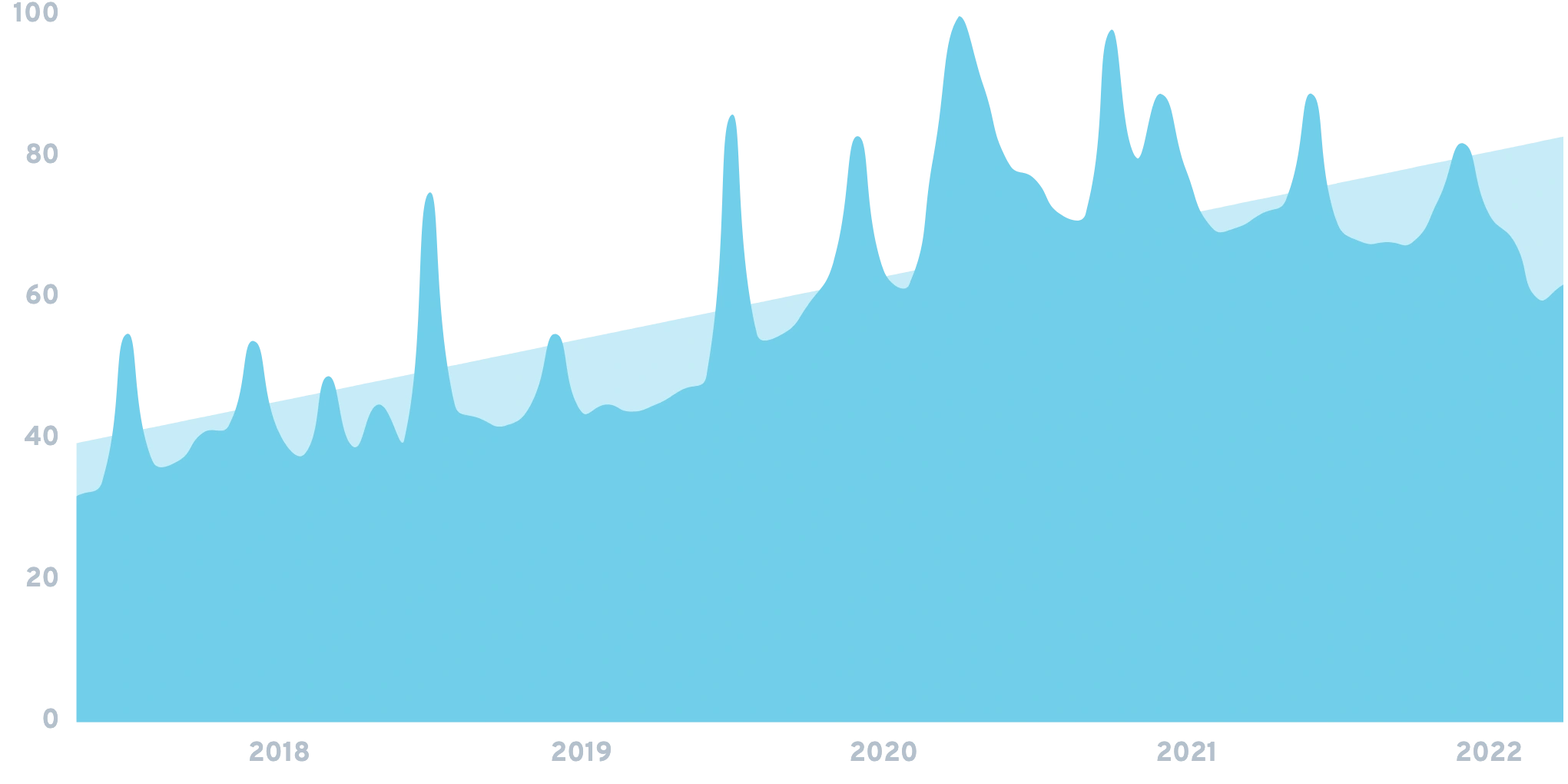 Search interest in "Amazon Prime" has grown by over 93% in the last 5 years.
In the retail segment alone, 9% of respondents claim that they subscribe to at least one paid shopper rewards program.
4. buy online, pickup in-store continues post-pandemic
According to Shopify research, 30% of respondents had their first experience with BOPIS (buy online, pickup in-store) during the pandemic.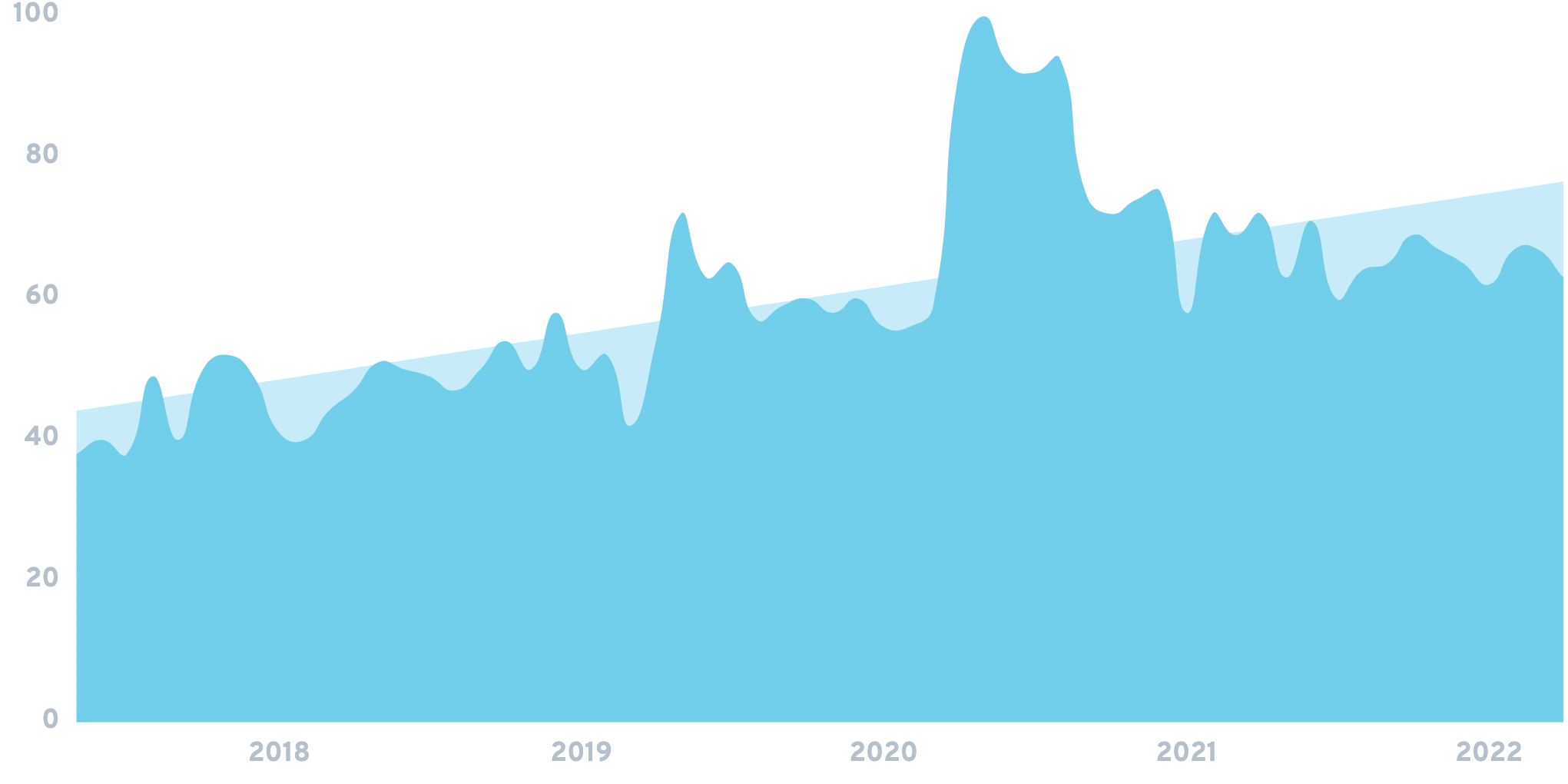 Searches for "BOPIS" are up 65% in 5 years.
And 59% of respondents in a McKinsey survey report that they intend to continue using curbside pickup approaches in the future.
Besides COVID-related concerns, over 90% of consumers state that they find curbside pickup convenient.
With a new wave of shoppers opting for alternative pickup options, retailers are rushing to offer curbside pickup across 100% of their store locations.
As of August 2020, 76% of the top 50 retailers are currently offering curbside pickup to their consumers.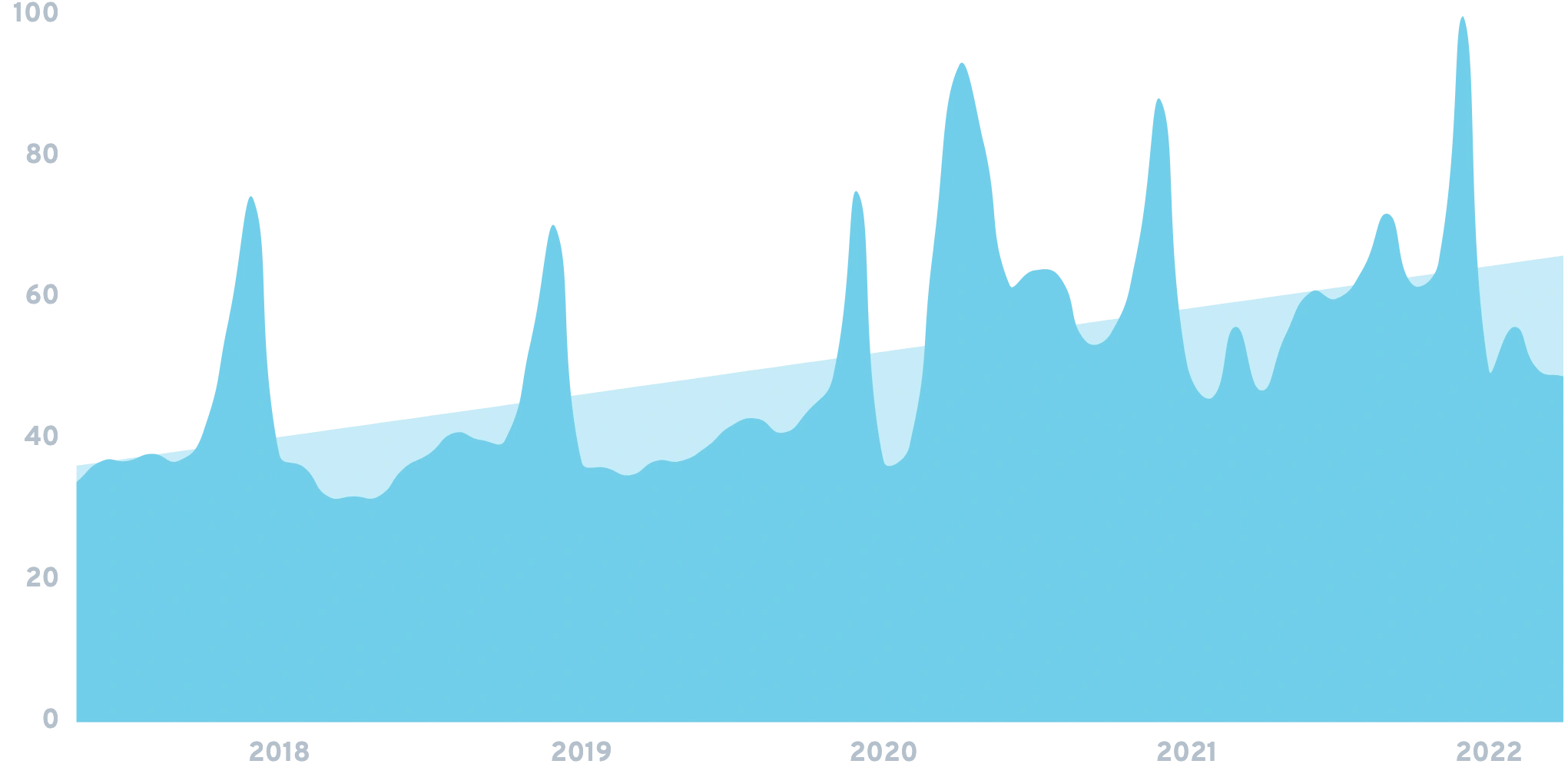 Searches for "in store pickup" have increased 44% in half a decade.
Interestingly enough, a survey by Coresight Research found that 37% of U.S. consumers expect to retain the habit of reducing physical interactions after COVID-19.
Which suggests further growth of BOPIS over the long term.
Some retail experts predict that curbside pickup will outlast the pandemic.
For example, retail industry veteran Oliver Chen thinks this model works especially in the U.S. as "Americans are used to their cars and actually do like stores, so this is kind of a hybrid where you're getting the best of both worlds".
5. Importance of workforce optimization grows
Workforce optimization has always been an important part of maximizing retail store performance and ROI.
Largely due to pandemic disruptions, interest in the practice is on the rise.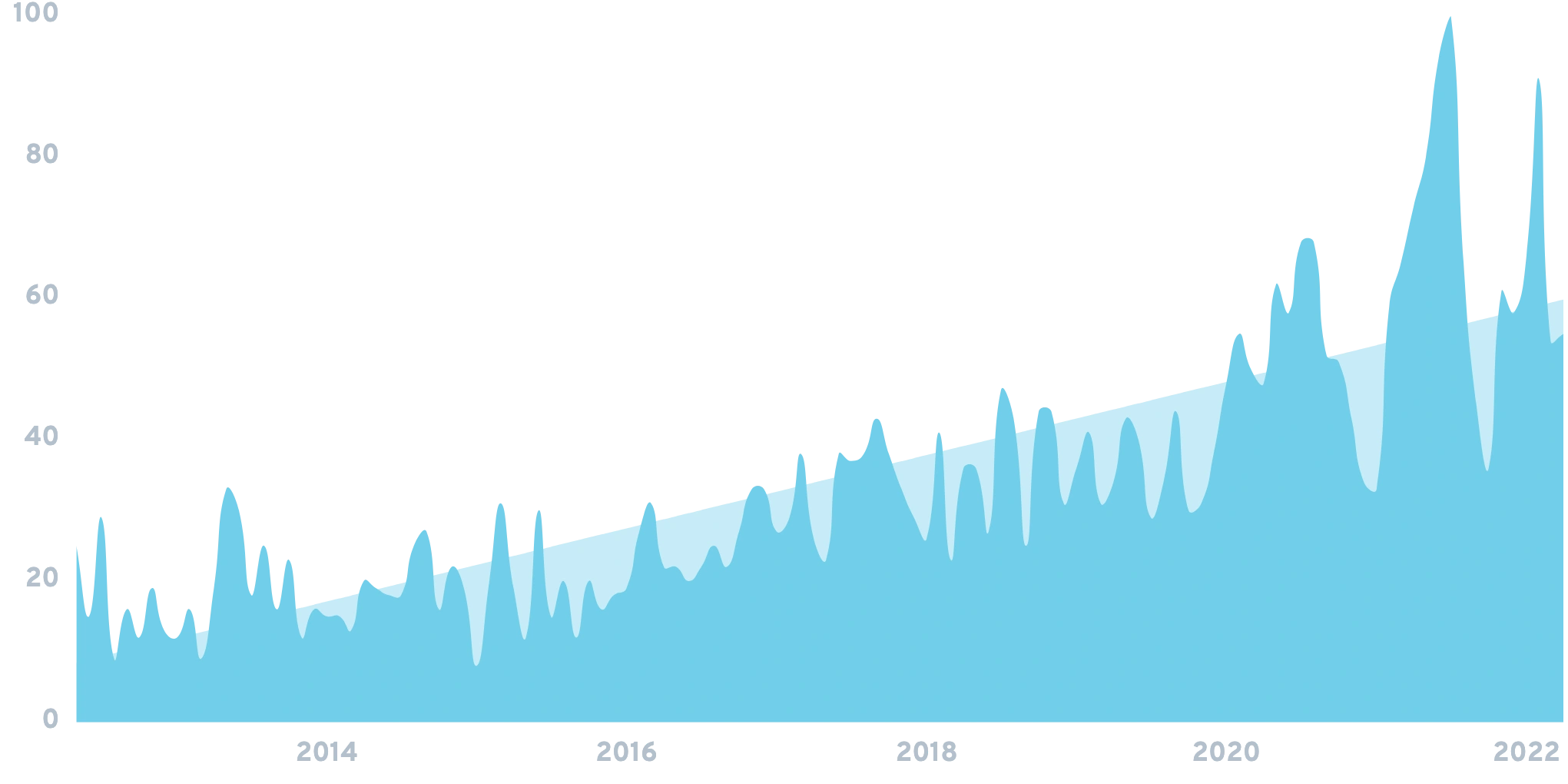 Search interest in "workforce optimization" has seen consistent, upward growth equating to 122% since 2012.
A growing number of startups are using data in order to further improve workforce optimization efforts.
For example, Legion is a startup that provides a cloud-native platform that leverages artificial intelligence.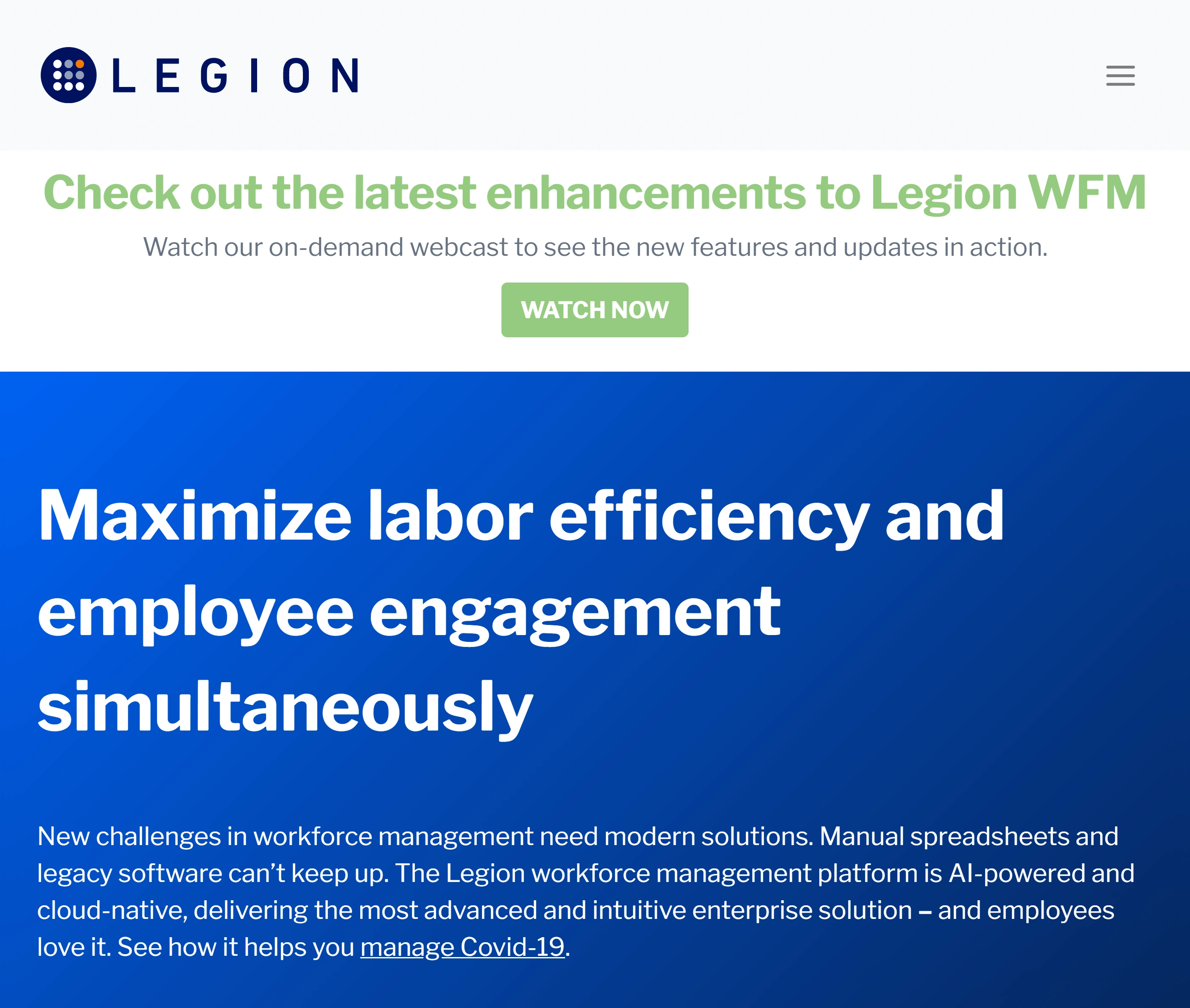 Legion is one of a growing number of startups using AI to optimize retail workforce efficiency.
The AI is designed to help retailers with workforce scheduling, labor forecasts, and more.
Another software provider, Paris-based SaaS startup Andjaro, pivoted during the COVID-19.
Specifically, they now provide dynamic workforce management with a focus on short-term, urgent staffing needs.
According to research by Bain, this company handles 250,000 employee transfers yearly and brought €20 million in savings to its clients.
6. Consumers increasingly choose to shop at small businesses
Based on Salesforce survey results, 56% of US consumers state that they're spending more money at small businesses now than before.
And millennials are reporting even great support for mom and pop shops (62%).
However, this isn't just a US retail trend: according to a Shopify survey, 65% of global consumers state that they're supporting small businesses.
Besides supporting small businesses during tough times, consumers state that they prefer to shop at independent retailers in order to purchase unique products and for a positive customer service experience.
As Lennart Wehrmeier (Managing Director Expansion at Woolworth Gmbh) pointed out, "2021, the year after COVID-19 will see a renaissance of local, sustainable shopping".
7. Pop up stores tap into a unique retail environment
During the pandemic, nearly all shoppers went online. And brands adjusted accordingly.
But now, as retailers adjust to a post-pandemic world, they're bringing back a different kind of physical shopping experience: pop-up shops.
This trend was popular in the years following the Great Recession, and it's making a comeback now.
A Shopify survey recently found that nearly 1/3rd of brands said they'll be "establishing or expanding their use of pop-up and in-person experiences in the next year."
One retail expert put it bluntly: "Pop-ups are going to become a marketing necessity in the future."

Pop-up stores are one way retailers are looking to boost post-pandemic revenue.
These pop-up shops give brands a physical presence without a 100% commitment. The spaces are usually temporary and only display a portion of the brand's product offerings.
Retail pop-ups also allow brands to take their products directly to consumers in a way that feels new and exclusive while creating a sense of urgency among consumers.
Wilson Sporting Goods is one brand that's taking advantage of this trend.
The company opened a pop-up store and tennis museum in New York City during the summer of 2021, leading up to the US Open.
This pop-up was part of a broad consumer-oriented strategy at Wilson. The brand opened its very first store in Chicago just a month prior to its pop-up in NYC.
The brand offered exclusive equipment and apparel at the store, as well as racket customization services.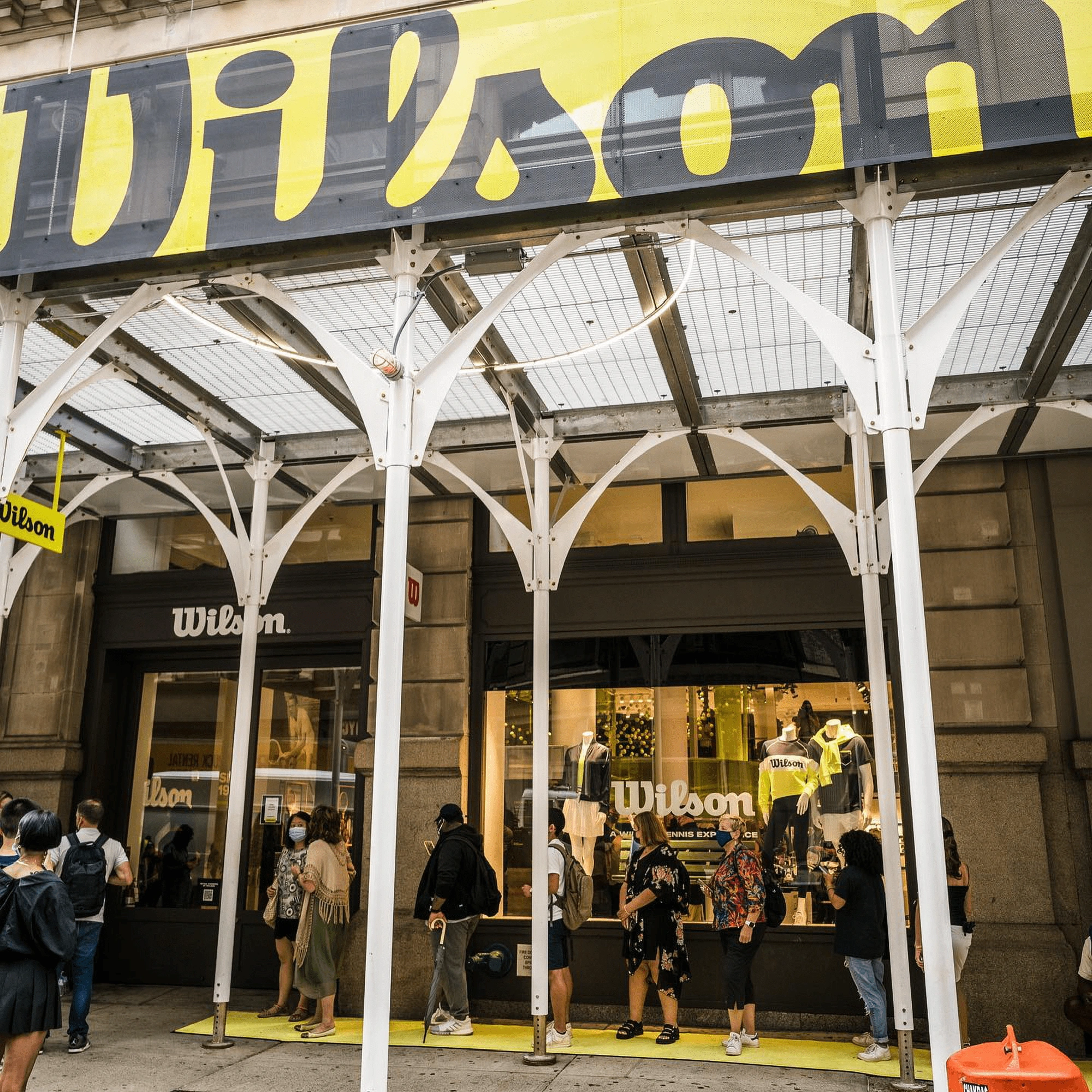 Wilson's pop-up shop in NYC is part museum, part retail experience.
Turning to the retail fashion space, ThredUp is an online-only brand that recently partnered with Madewell to create a physical presence for shoppers.
Since ThredUp is an online consignment shop it made perfect sense for the company to partner with Madewell's concept for recycling their jeans, Madewell Forever.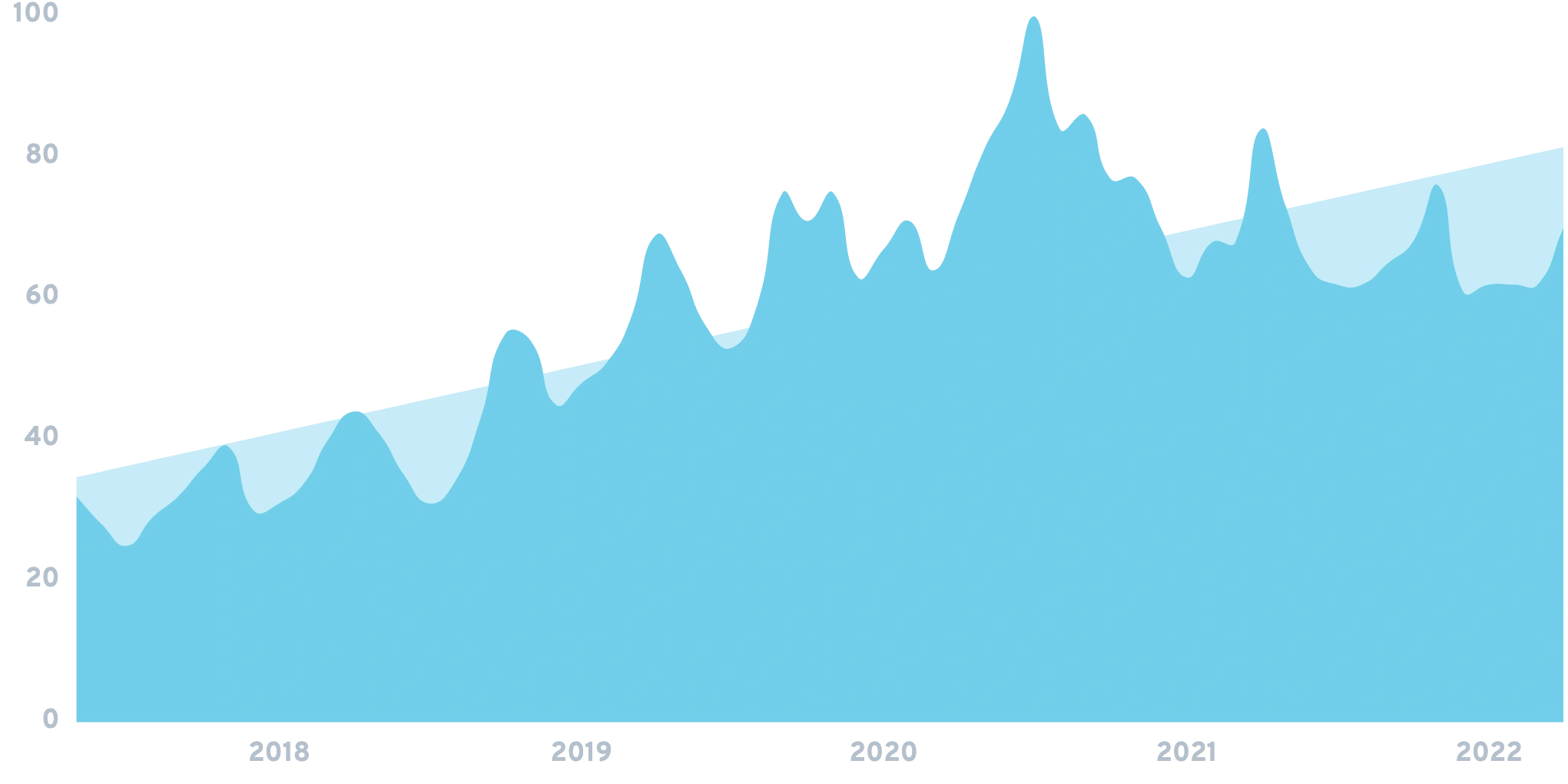 Searches for "sustainable fashion" have been steadily rising over the past 5 years (118%).
The ThredUp and Madewell Forever pop-up in Brooklyn is the first to not offer a single piece of new clothing. It's filled with second-hand Madewell clothing sourced via ThredUp.
Keeping in line with the exclusive feeling of this trend, the store was only open for one month.
Even luxury fashion brands are hosting pop-ups. In the summer of 2021, Dolce & Gabbana released The Sicilian Cart traveling pop-up shop in the Hamptons.
The shop was an intricately decorated Airstream that was meant to evoke the relaxed, but luxurious, beach vibes of the Mediterranean island.
It sold an extremely limited number of summer items and only stuck around for one month.
Another clothing brand, Todd Snyder New York, also recently set up pop-ups in the Hamptons and reported that 50% of the customers he saw were first-timers.
The pop-ups enabled the brand to engage current customers, draw in new shoppers, and test the retail market all with one marketing strategy.
8. Hyper-personalized customer experiences become the norm
A survey from mid-2020 reported that 96% of customers will leave a brand if they receive bad customer service. On the flip side, 62% of people are willing to pay for good customer service.
In just the past few years, the bar for "good customer service" has been raised higher and higher.
Today, shoppers expect retail brands to give them what they want exactly when they want it. This boils down to understanding and predicting the customers' wants and needs.
In a word, it's hyper-personalization: using data, AI, and marketing automation to create targeted experiences for customers.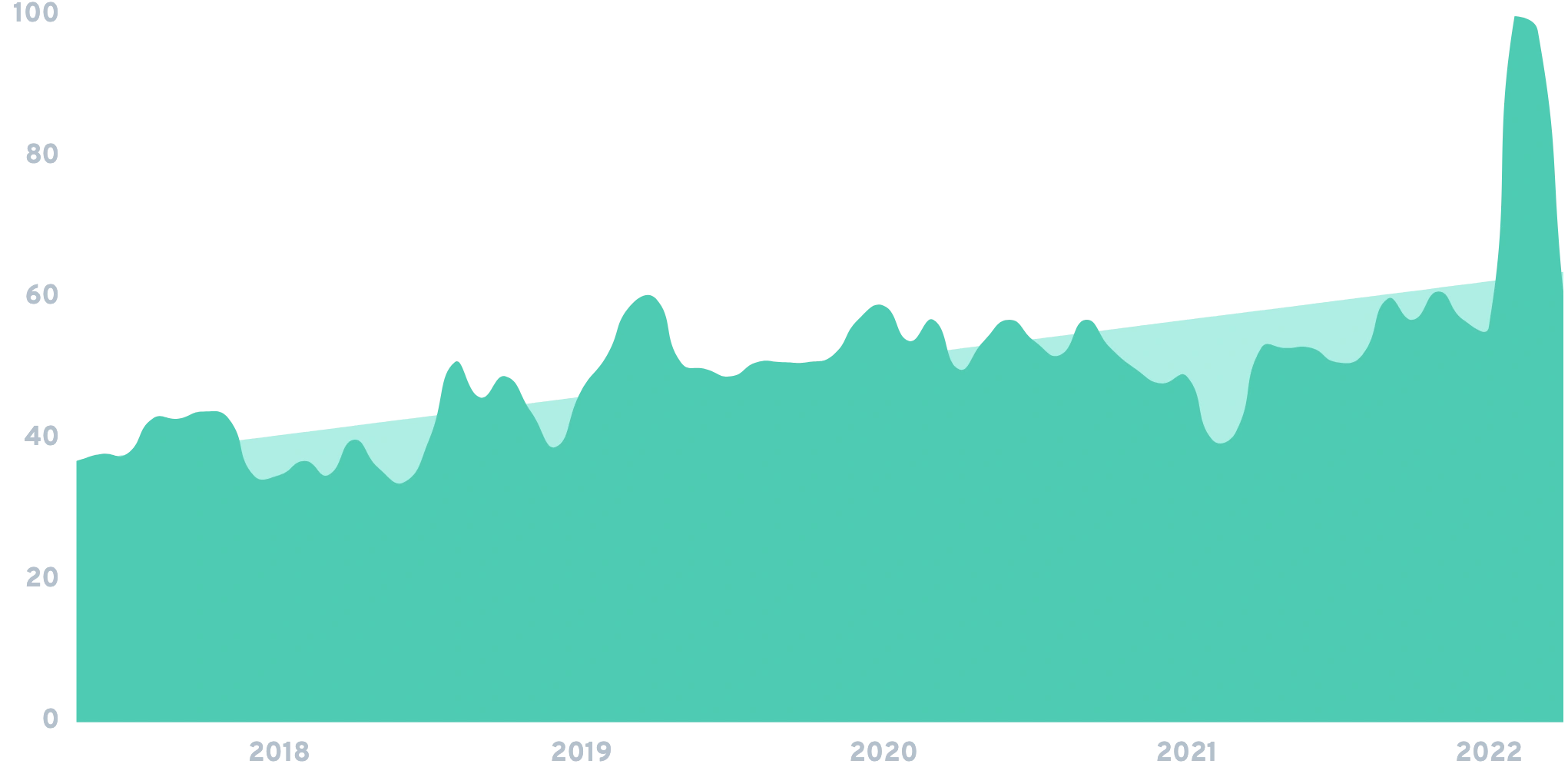 Interest in "marketing automation" continues to grow.
Retailers are currently investing only 0.7% of their revenue on personalization, on average.
But, the best-in-class retailers are investing more right now, about 0.9%, and expect to increase the amount by 30% in the next three years.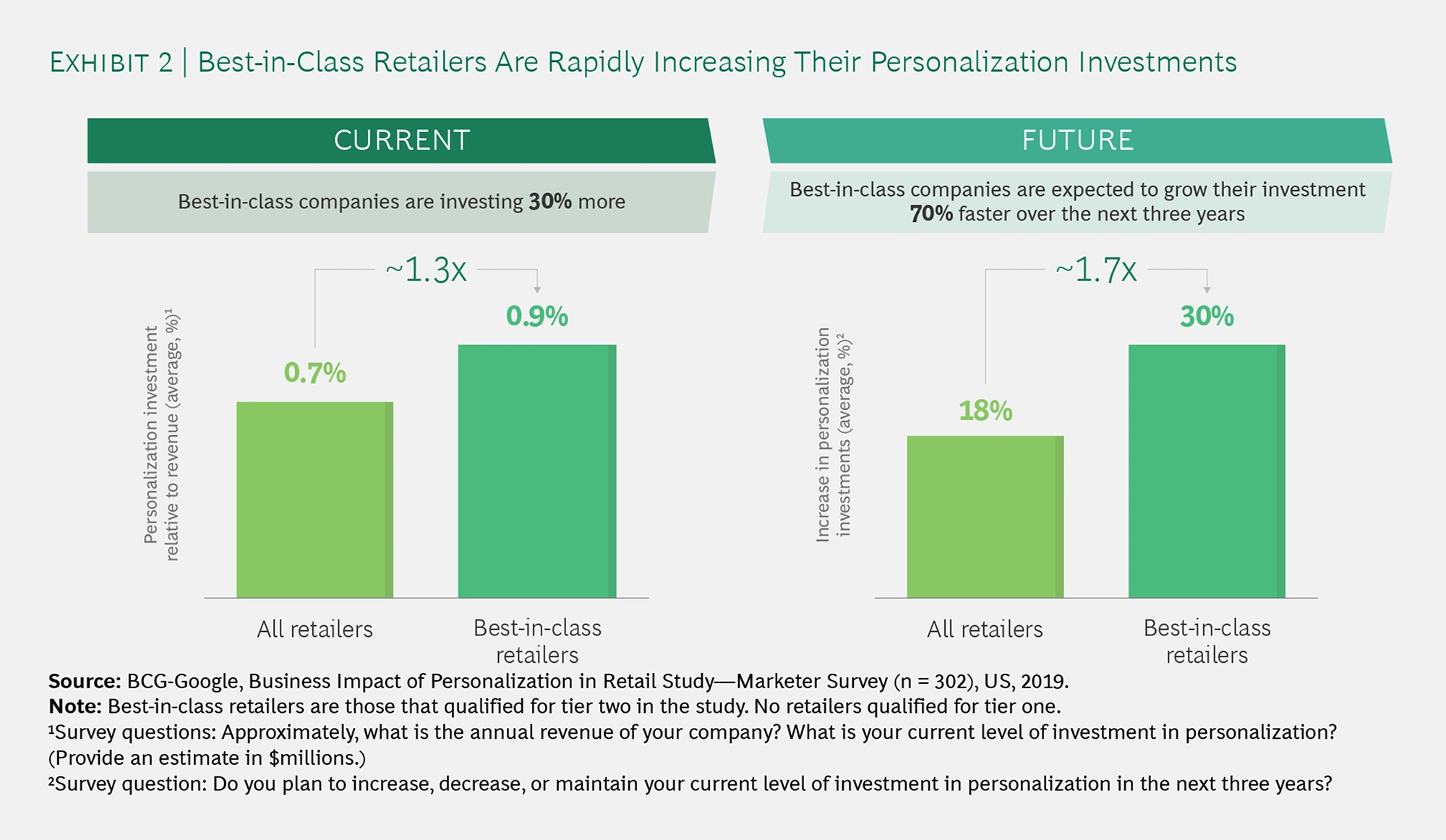 A survey by Boston Consulting Group showed the gap in hyper-personalization investments between average and best-in-class retailers.
An analysis from Epsilon reported that shoppers reliably respond to hyper-personalization, driving revenue for brands that implement the strategy.
The data showed that 80% of retail customers are more likely to make a purchase if the company offers personalized experiences and 90% of people find this personalization appealing.
Skimping on personalization may be devastating for brands in the near future. Nearly 40% of customers may walk away from a brand due to poor personalization efforts.
What types of personalization grab shoppers' attention? Product recommendations based on their previous history and on their interests.
Sephora, the international beauty-products retailer, is hitting its customers with both types of personalization.
When joining the retailer's loyalty program, shoppers fill out an online profile. Then, they receive customized recommendations based on their responses. In-store associates can also access shoppers' profiles and make personalized recommendations.
After that, the history and interests of Sephora customers are constantly tracked and hyper-personalization automation takes over.
In-store associates record the samples they try. Makeup artists record the products they use on customers. The app records the products the customer tries on digitally.
These products are then marketed through a variety of channels.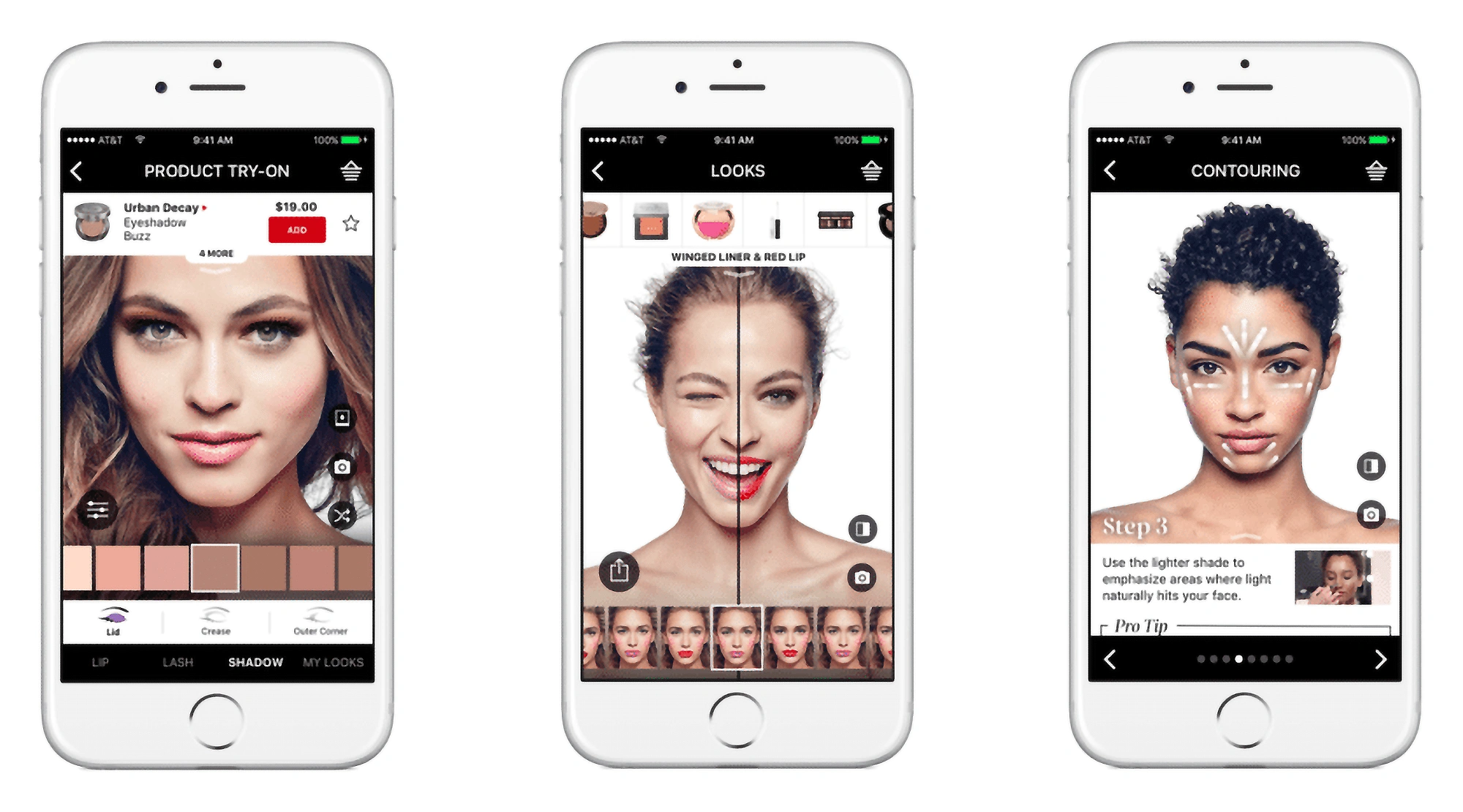 Sephora's app provides virtual makeovers, another touchpoint for hyper-personalization.
Sephora's efforts are clearly best-in-class. For the past four years, the company has been one of the highest-rated companies in the Retail Personalization Index released by Sailthru.
9. Consumers demand ethical, sustainable practices
In 2022 and beyond, we expect customers will be taking more interest in the values and responsibilities of companies. In particular, customers are interested in the environmental impacts and ethical practices of companies.
Google searches for "ethical brands" increased 300% between 2019 and 2020.
Sustainability, environmental responsibility, and recycling are brand attributes that nearly 50% of consumers say are very important.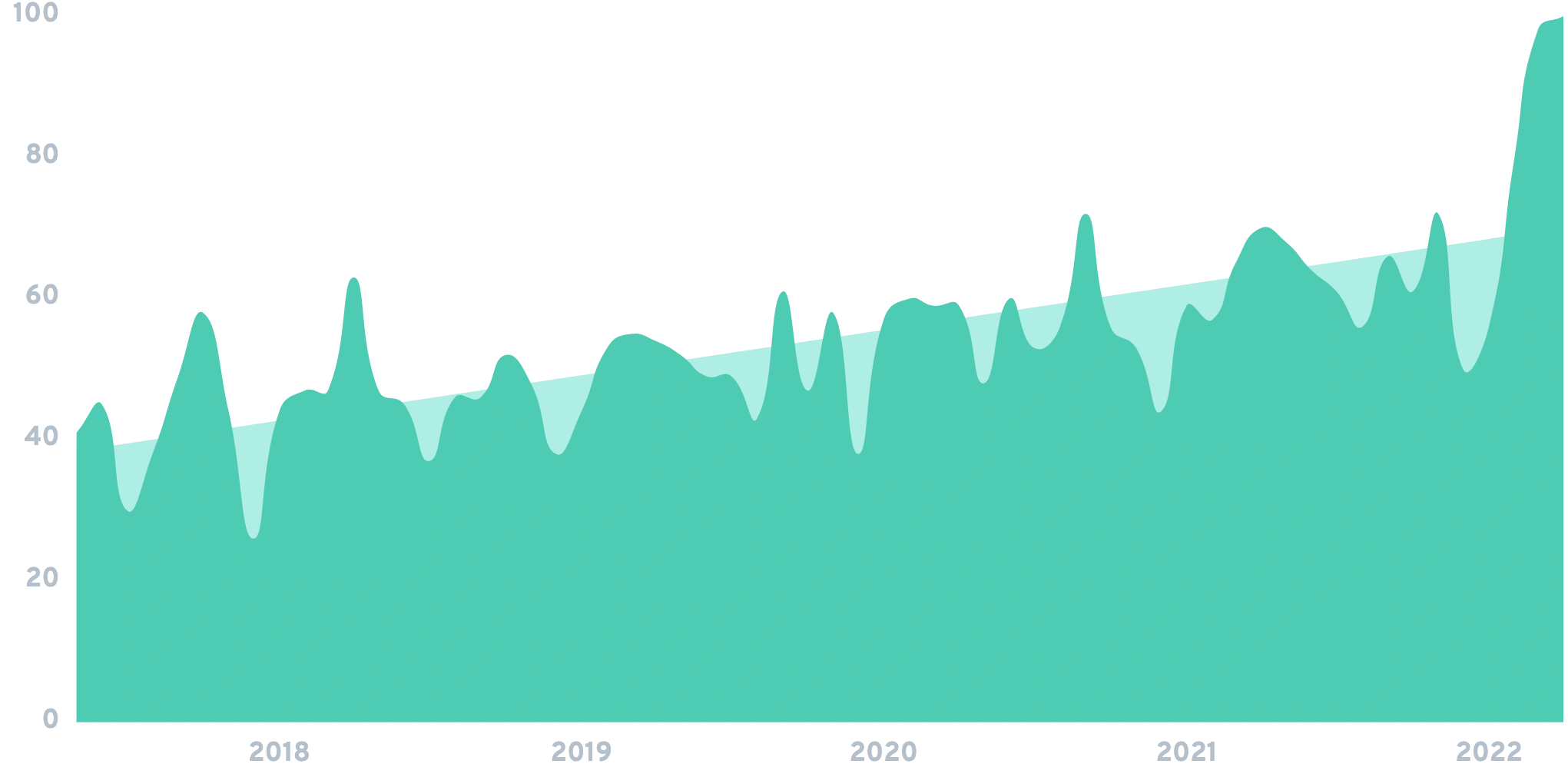 Searches for "corporate sustainability" have risen 143% over the course of the past 5 years.
These consumers are using their wallets to make their voices heard.
Forrester reported that one-third of US consumers say their concerns about climate change impact their purchase decisions. Two out of five say they prefer to buy environmentally sustainable products.
In the coming years, experts predict companies are going to be implementing serious measures to lessen their environmental impact.
According to one consulting firm, nearly 80% of investors say sustainability is more important than it was just five years ago.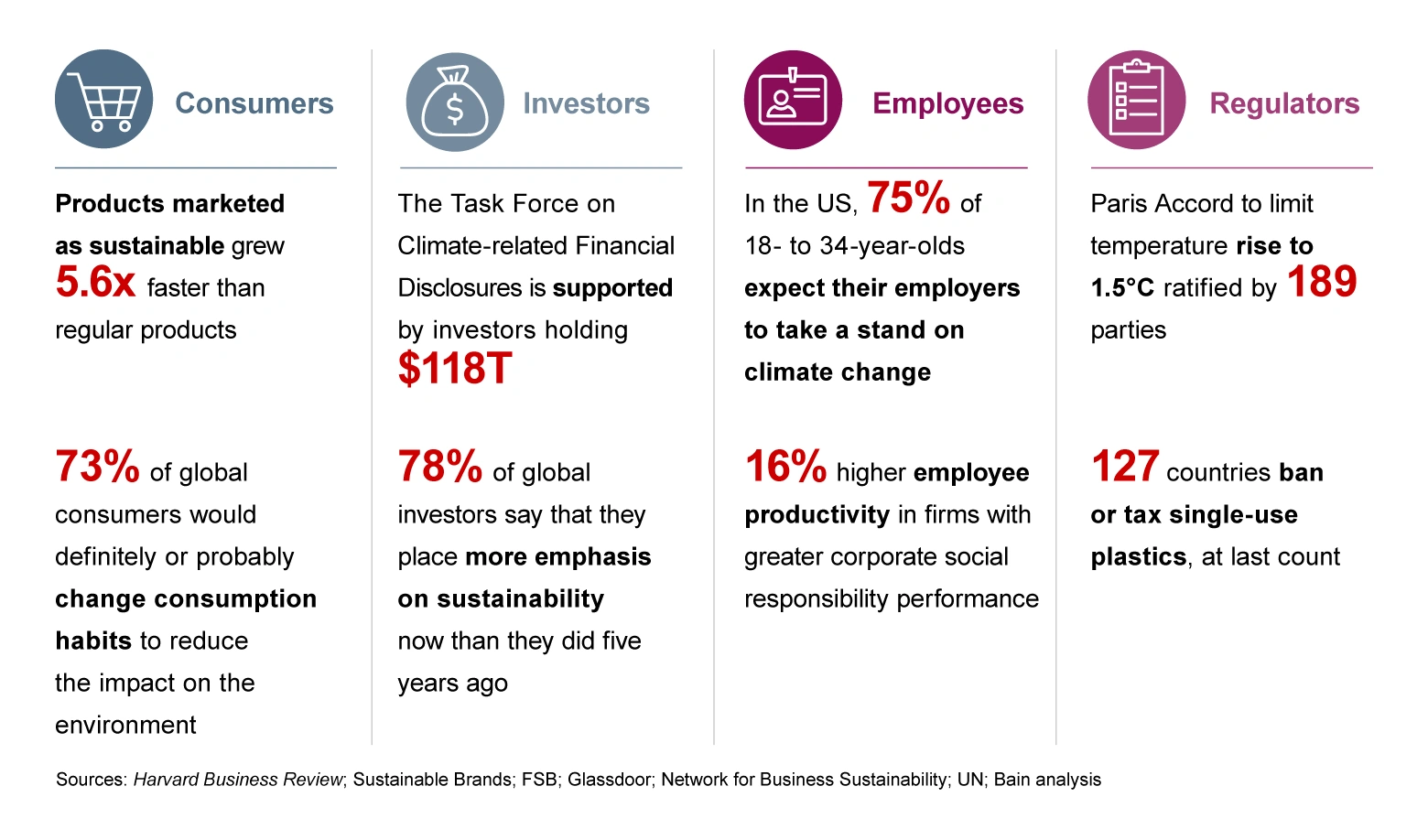 "The sustainability revolution is arriving faster than many companies expected," reported by Bain & Company.
For example, by 2025, IDC predicts that 75% of retailers will make changes in their supply chains to improve carbon emissions and environmental factors. IDC says this will result in a 45% increase in customer loyalty.
Ingka Group, a holding company that controls the majority of IKEA stores, recently made a sizable pledge to sustainable forestry.
The company purchased more than 10,000 acres of forestland in southeast Georgia. They have agreed to legally binding requirements for the management of the land: protecting the land from fragmentation, restoring the longleaf pine, and defending the habitat of the gopher tortoise.
Starbucks is another well-known establishment that's accelerating its pledge to the environment.
In 2018, the company started the "Greener Store Framework." The goal is to reduce carbon emissions, water usage, and waste produced in their stores.
There are currently 2,300 Greener Stores in North America and the company plans to create another 10,000 Greener Stores across the globe by 2025.
Even the retail giant Amazon has signed on to participate in The Climate Pledge. The company says they're working toward achieving net-zero annual carbon emissions by 2040.
Still, they have a long way to go, especially when it comes to packaging waste.
A report from Oceana estimated that Amazon produces more than 465 million pounds of packaging waste in just one year.
Environmentally-oriented companies are coming up with packaging alternatives for Amazon and other e-commerce businesses.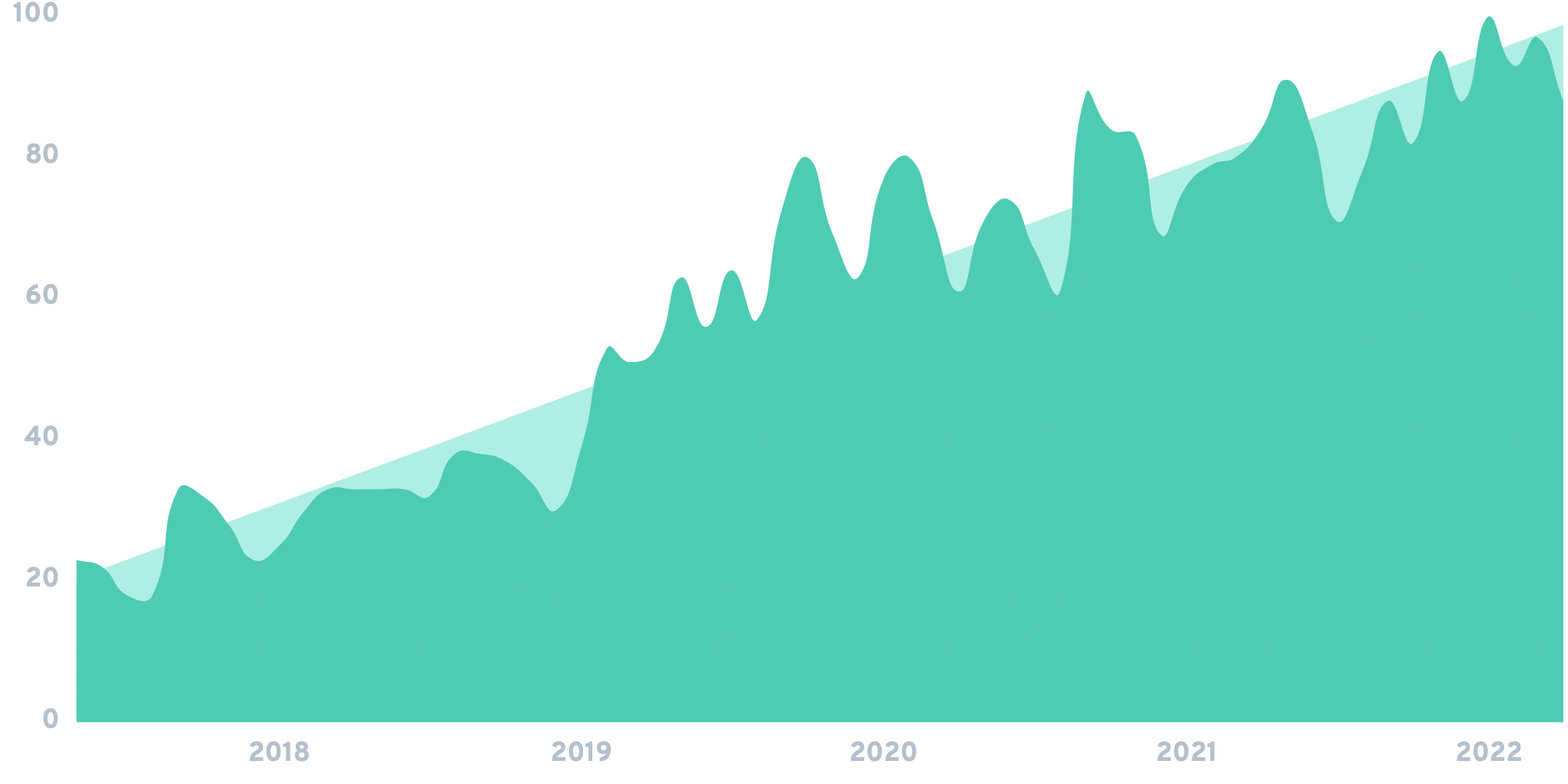 Interest in "sustainable packaging" continues to show steady growth.
Lumi, a Los Angeles-based packaging and supply chain company, sells cornstarch foam as an alternative to styrofoam.
Mushroom packaging is another renewable material that's being suggested as an alternative shipping material.
10. Livestream shopping goes mainstream
Livestream shopping is a dynamic retail experience based on engagement and community. Typically, an influencer or celebrity will go live to review and discuss a product while customers ask questions or make comments.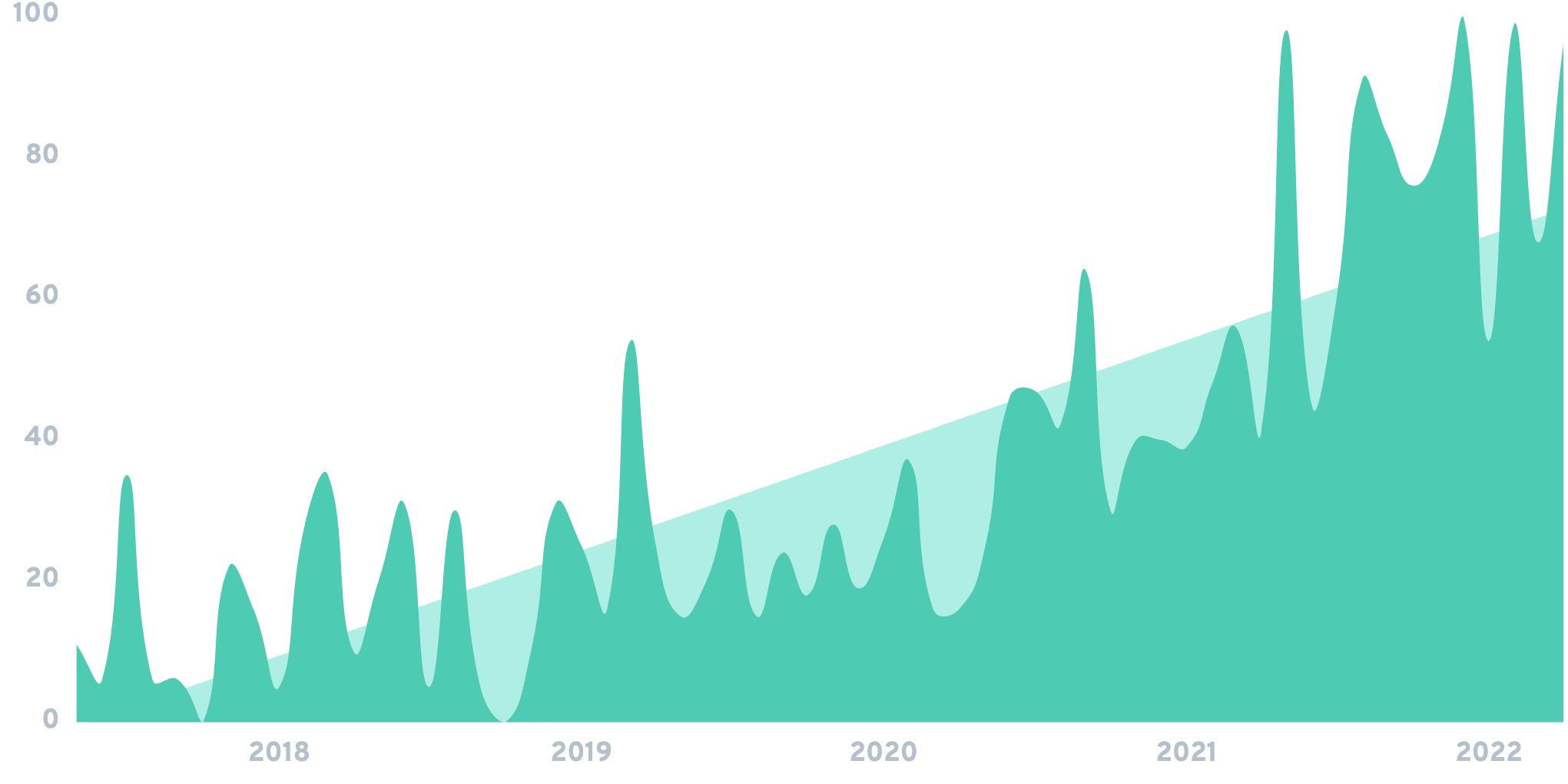 Searches for "livestream shopping" have grown more than 772% in the past 5 years.
The trend has already seen incredible success in China. There, the industry has reached $66 billion and accounts for more than 20% of the country's total online sales.
In 2019, America's livestream market only accounted for $1 billion in sales.
However, the trend is expected to take off in the United States in the coming months, reaching $25 billion market value in the next year and climbing from there.
The research firm McKinsey predicts that live-commerce sales could make up 20% of all e-commerce by 2026.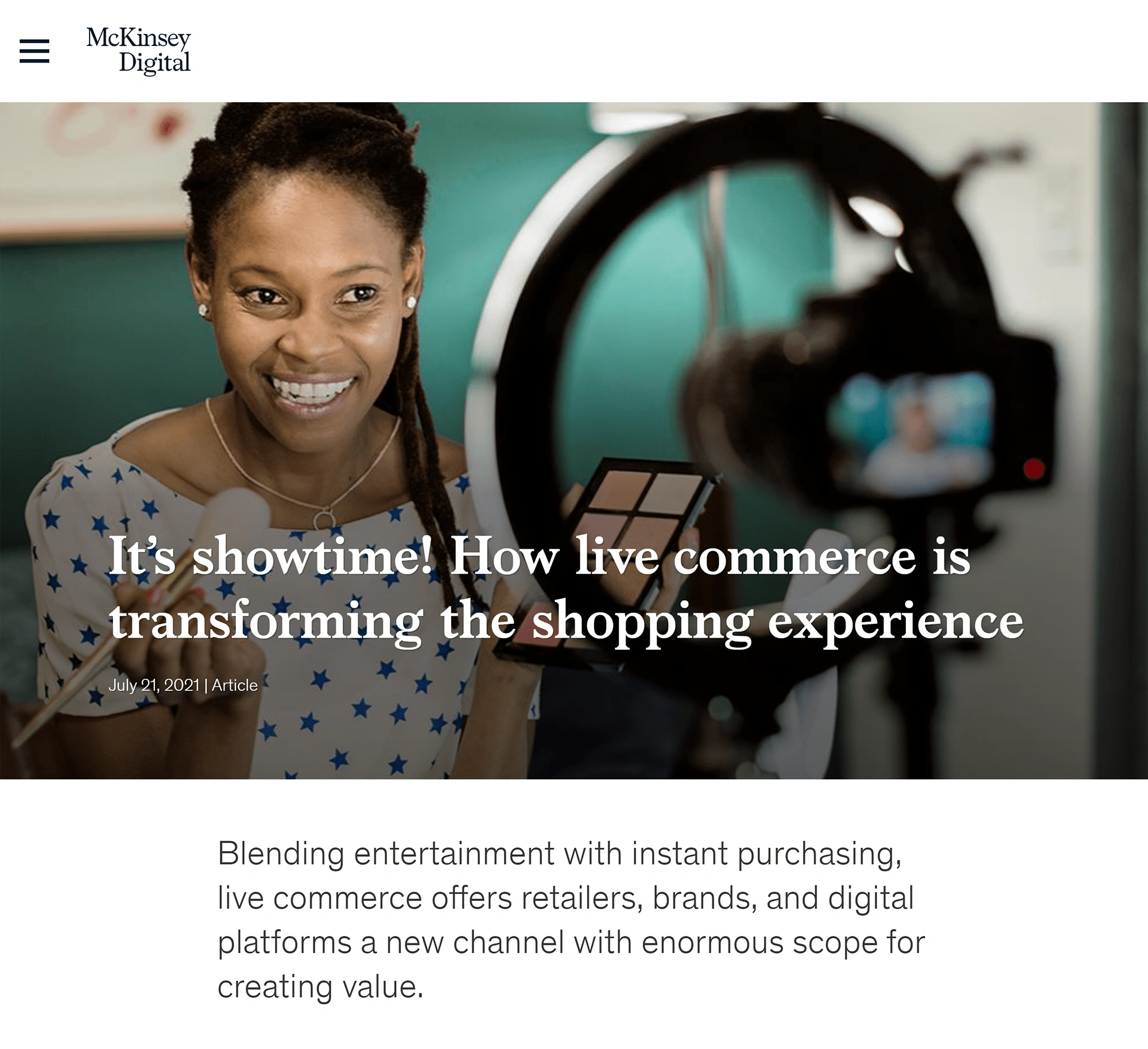 Livestream shopping is expected to make huge gains in the market share of e-commerce during the next three years.
With the market surging, livestream shopping platforms are exploding in popularity.
One company, NTWRK, offers an app that streams live shopping events with exclusive products backed by celebrities.
The company recently partnered with Snapchat for an exclusive release of a money counter from a celebrity jeweler. The live shopping episode sold $100,000 worth of products and brought in 4,300 subscribers in the first 24 hours.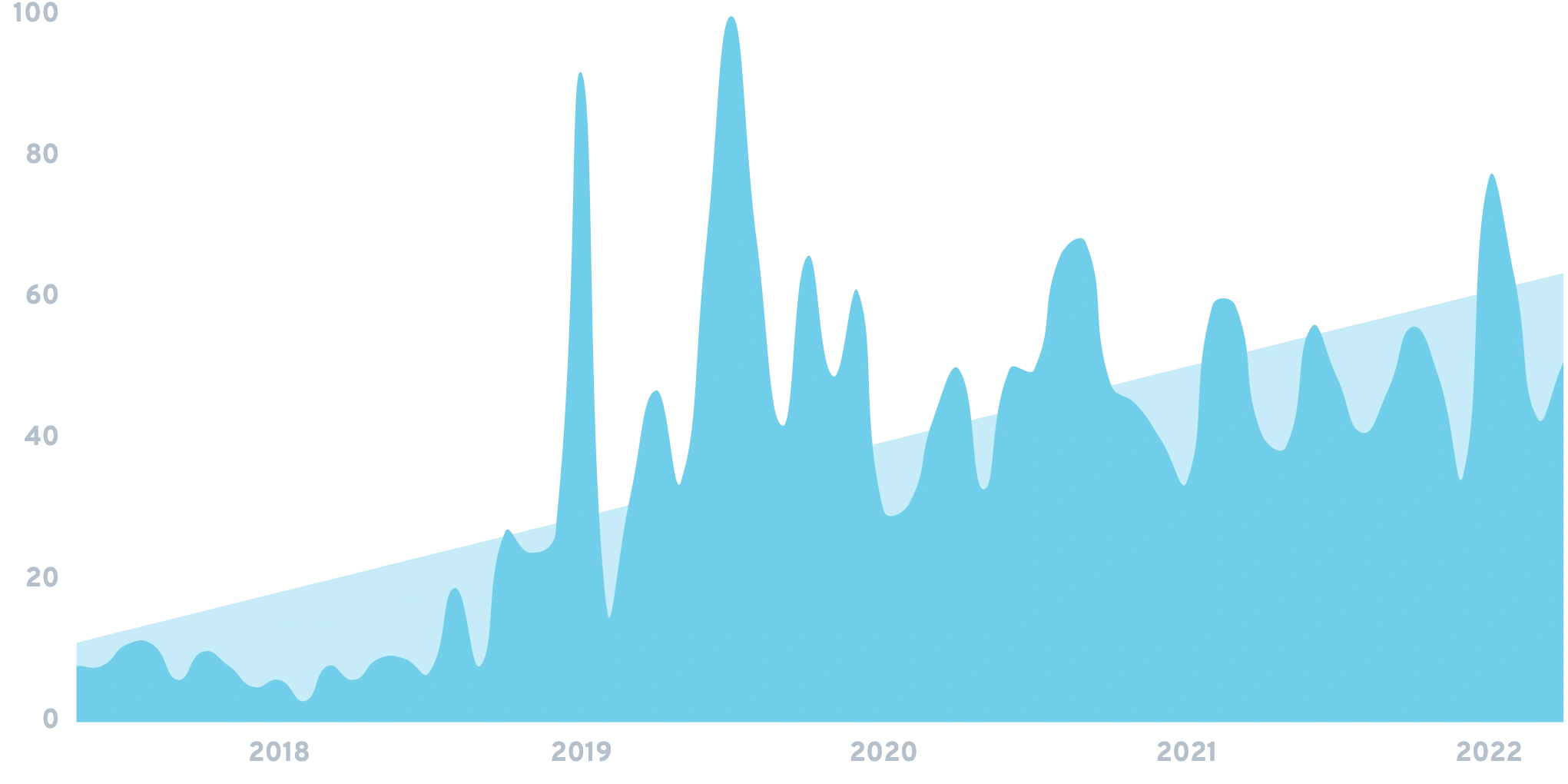 Search volume for the livestream shopping app "NTWRK" is exploding.
While the fashion and beauty industries are the most popular when it comes to livestream shopping, other retailers are picking up on the trend, too.
Coresight Research conducted a survey that showed more than 40% of potential customers watch livestreams regarding home products and more than 37% watch live shopping events for electronics.
The Home Depot is just one example.
The home improvement retailer hosted in-person workshops pre-pandemic. In 2020, they turned these experiences digital and launched live streams on their website.
Before the pandemic, The Home Depot hosted five in-store events per month. With livestreams, they are engaging with customers over the course of 40 shows per month.
Quivr, a specialized coffee and tea retailer, livestreams on the Amazon Live platform.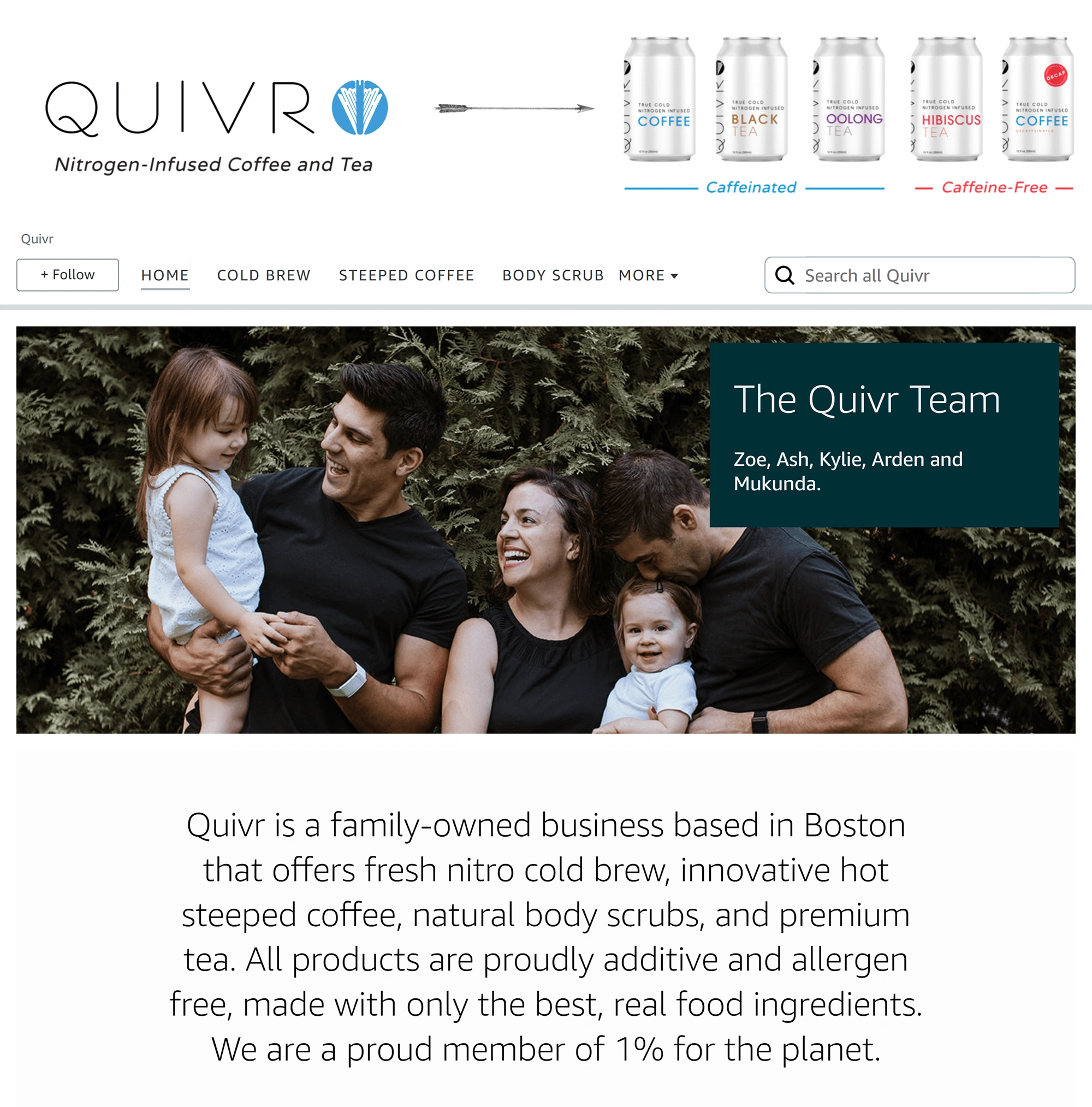 Quivr is just one specialty brand that is reaping the benefits of livestream shopping.
The owner started in 2020 with just 50 viewers on his first live event. Now, he reports that it's "guaranteed" that his sales increase by 150% in the 24 hours following a livestreaming event.
11. Private labels drive record revenue
Far from the low-quality generics of years past, private labels and store brands are poised to move to the forefront of retail sales in the coming years.
In the consumer packaged goods sector, private label products are outpacing the sale of branded alternatives by three times.
One report showed that 25% of products sold carry the retailer's own brand.
In 2021, sales of private label products were up nearly $2 billion over 2020. Altogether, more than $199 billion in private label goods were sold in 2021— an all-time record.
Costco's private label, Kirkland Signature, is valued at $75 billion. The brand drives $39 billion in profit annually.
Private labels at Kroger drove $26.2 billion in sales in 2020. Their brand, Simple Truth, grew 18% during
the year and brought in $3 billion — the highest amount ever for the brand.
In the grocery sector, the private label products seeing the most sales growth are varied. The top three are frozen baby food, refrigerated ham, and shelf-stable egg substitutes.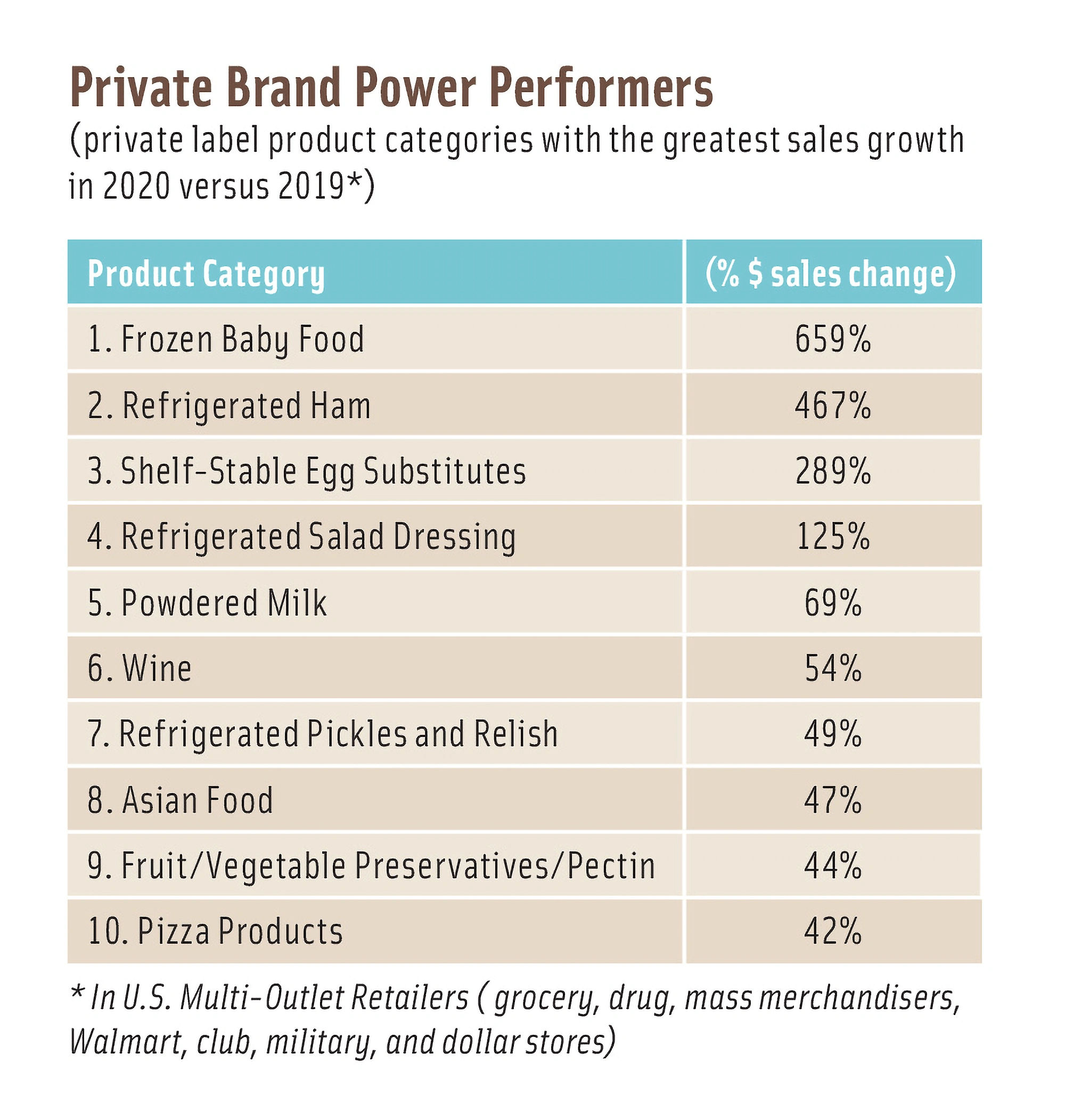 For some products, private label brands have grown by more than 600% year-over-year.
With 45 private labels, Target is just one example of a retailer that's continually working to improve their customers' perception of store-owned brands.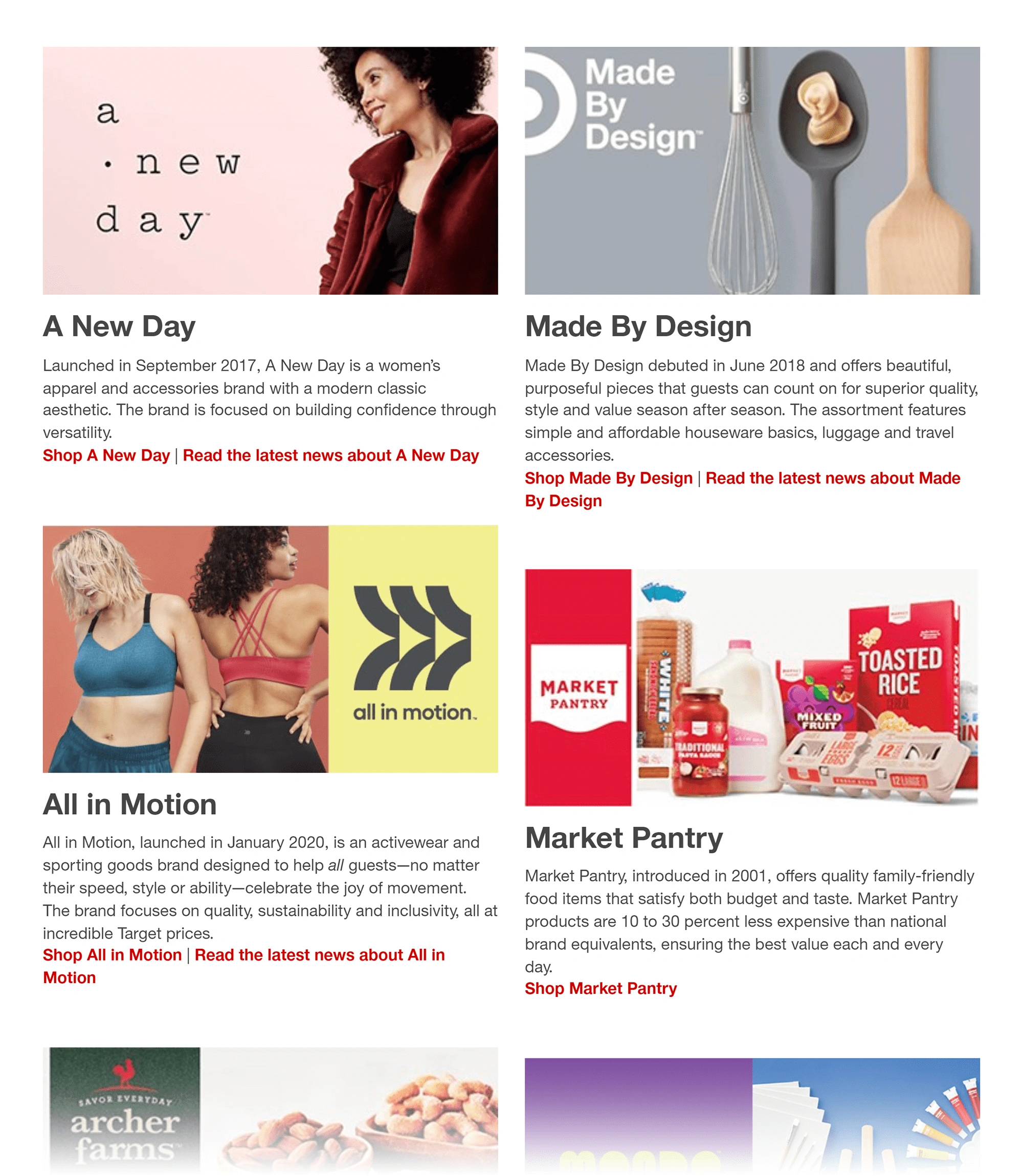 Target's private label brands are popular with shoppers who want the latest products without the high prices.
Target has leaned into their cheap-chic perception and developed brands that offer everything from premium luggage to value-priced home organization pieces.
In all, Target boasts 10 private labels that surpass $1 billion in revenue.
Dick's Sporting Goods continues to release new private labels in the retail sector, as well.
The brand released a men's apparel line, VRST, in early 2021 and brought NFL wide receiver DeVonta Smith on board to be the face of the brand.
Carrie Underwood has been the face of its brand of women's apparel, CALIA, which now ranks as the second most-popular women's apparel brand in its stores.
Conclusion
That's it for this report on the top retail trends of 2022.
Retail was impacted by COVID-19 perhaps more than any other space. While retailers took a hit during the pandemic, brick-and-mortar is still far ahead of e-commerce in terms of total sales.
This means that we should see more innovations in the retail landscape moving forward.