25+ New Generation Z Statistics (2023)
Generation Z, the generation of people born between 1997 and 2012, is a wholly unique generation.
They grew up with multiple screens, in households where streaming, social media, and one-day shipping were the norm. To top it off, they experienced a global pandemic during their formative years.
As the oldest members of Gen Z make their way into the workforce, they're considering their long-term goals and helping to shape the future of work.
Ready to get to know Generation Z? Read on for all the latest Gen Z stats.
Contents
Top 2023 Generation Z Statistics
Before getting into the complete list, here's a look at Gen Z in 6 key statistics:
There are 68.6 million Gen Zs living in the United States.
64% of Gen Zs use Instagram at least once per day.
Climate change is Gen Z's greatest fear.
Gen Z is more likely to receive therapy or mental health treatment than any other generation.
Over one-third of social media influencers are Gen Zs.
40% of Gen Zs say they plan on leaving their job within the next two years.
Generation Z Demographics
Falling between Millennials and Generation Alpha, Gen Z is at a turning point. The youngest among them are still in primary school, while the oldest are leaving college, entering the workforce, and starting families.
There are 68.6 million Gen Zs living in the United States (US Census)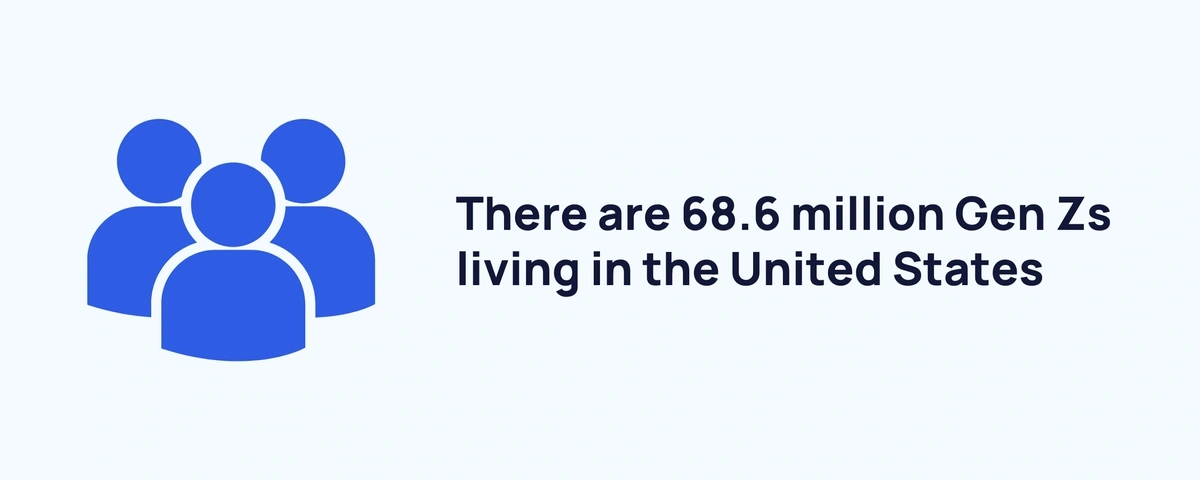 Gen Zs already total over 68 million in the United States alone. That's 20% of the US population.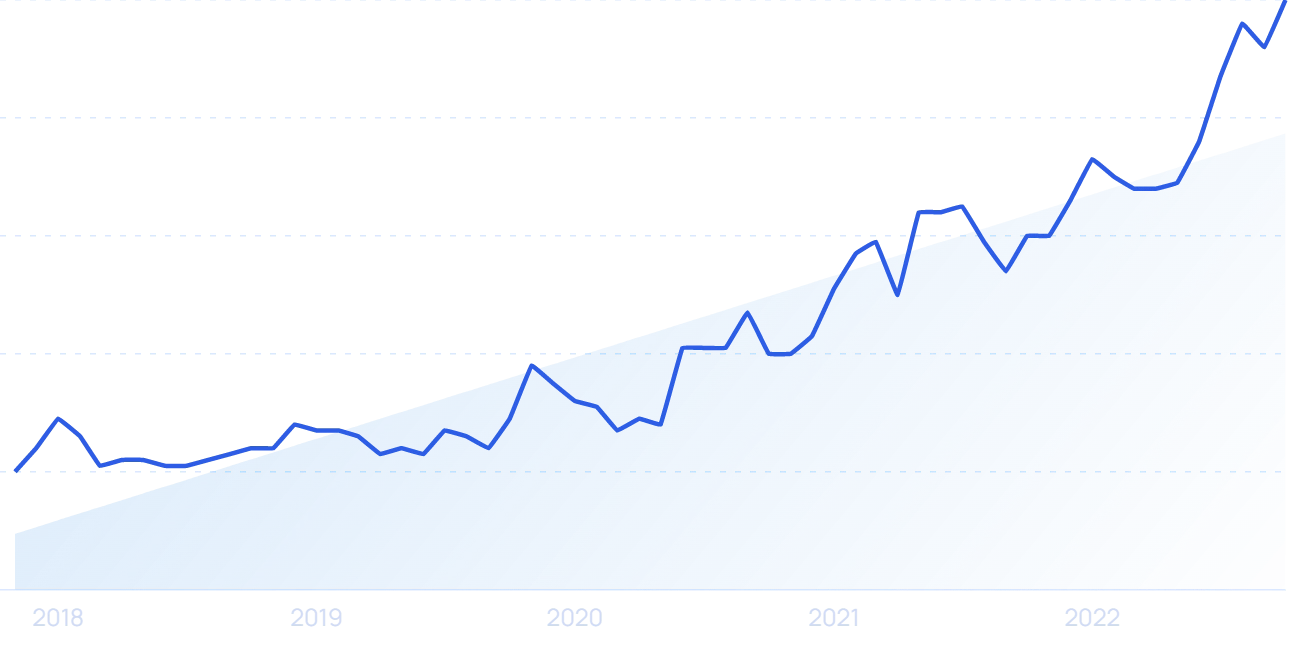 Google searches for "GenZ" over the past 5 years.
Gen Z will become majority non-white in the US by 2026 (Pew Research)
As of 2019, 52% of Gen Zs in America were non-hispanic white. As immigration continues, that number will dip below the 50% threshold over the next 4 years. 22% of American Gen Zs have at least one immigrant parent.
57% of American Gen Z adults are enrolled in college (Pew Research)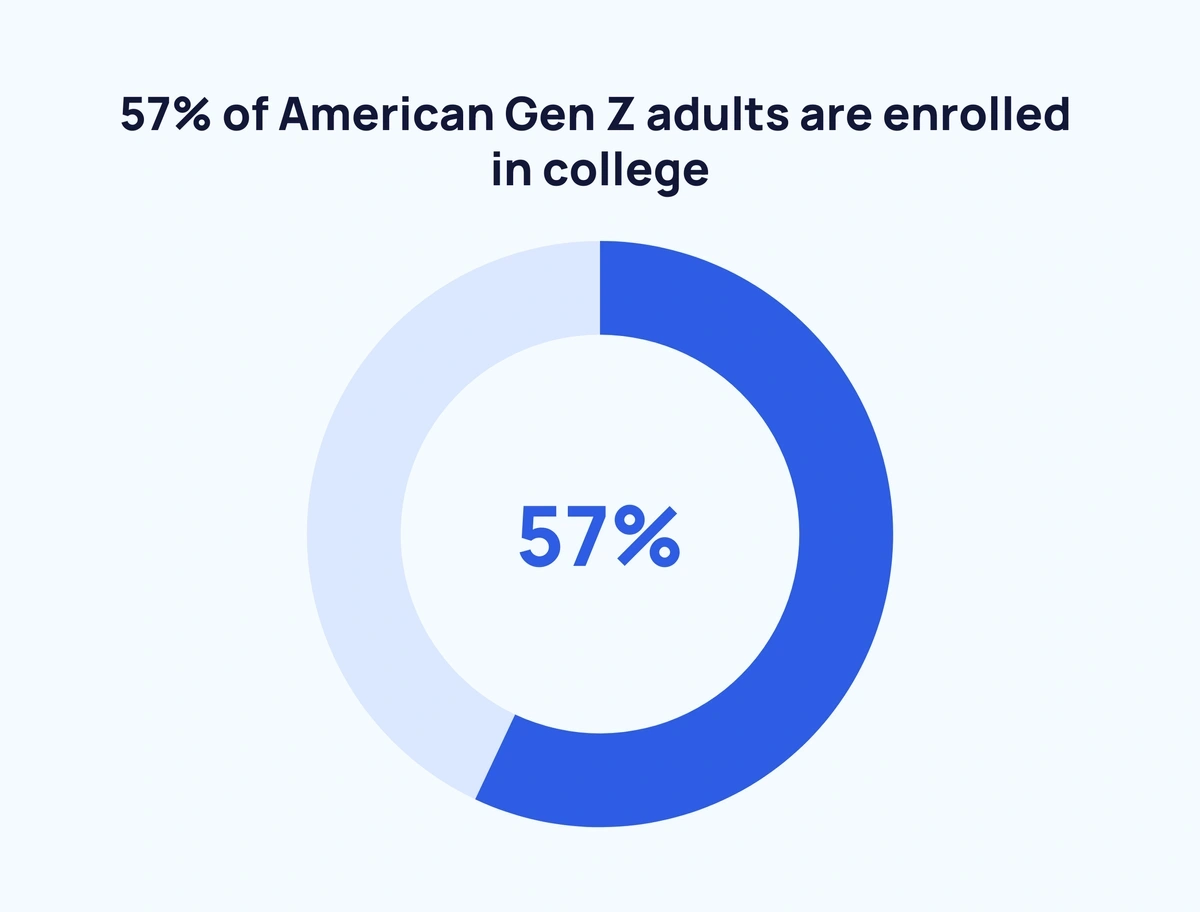 Gen Z is set up to become the most educated generation in history. Part of the reason is that their parents are more educated, too. 44% of Gen Zs lived with a parent who had a bachelor's degree or higher in 2019, compared to just 33% of millennials in 2003.
38% of Gen Zs have entered the workforce (GWI)
Gen Z is growing up. Over a third of them either hold jobs (part-time or full-time) or are self-employed, while 51% are still students. As they enter adulthood, Gen Zs are also delaying starting families. Only 11% are married or have children.
Generation Z and Social Issues
Gen Zs are growing up in a world that is changing at a break-neck pace. It's only natural that they have strong feelings about the environment, politics and social justice. Here's how Gen Zs view some of today's most pressing social issues.
Climate change is Gen Z's greatest fear (GWI)
When asked about their concerns on a variety of social issues, 44% of Gen Zs said they were concerned about climate change — the highest percentage on any issue. 43% are concerned about racism, 41% about gun violence, 40% about police brutality, and 38% about pollution.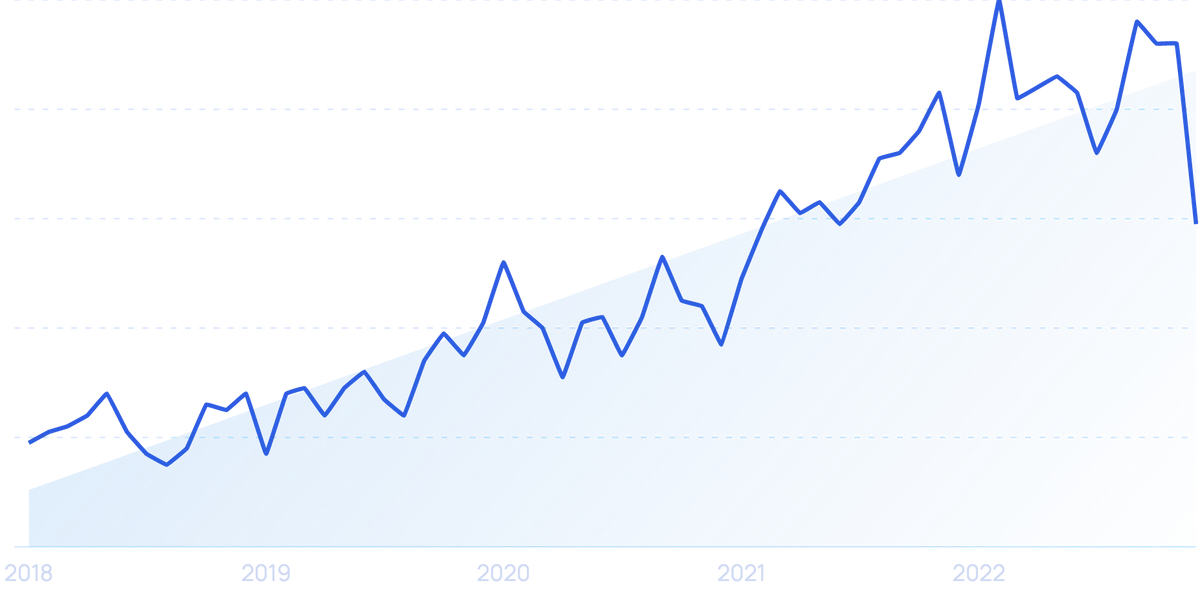 Google searches for "climate risk" is up 210% over the past 5 years.
55% of Gen Zs say they're "extremely interested" in environmental issues (EY)
Gen Zs buying habits reflect their environmentally-conscious views. 71% have purchased at least one article of pre-owned clothing. 61% recycle regularly. 57% believe in the importance of buying from brands that do good for the environment.
36% of Gen Zs engaged in some form of political activism in 2020 (EY)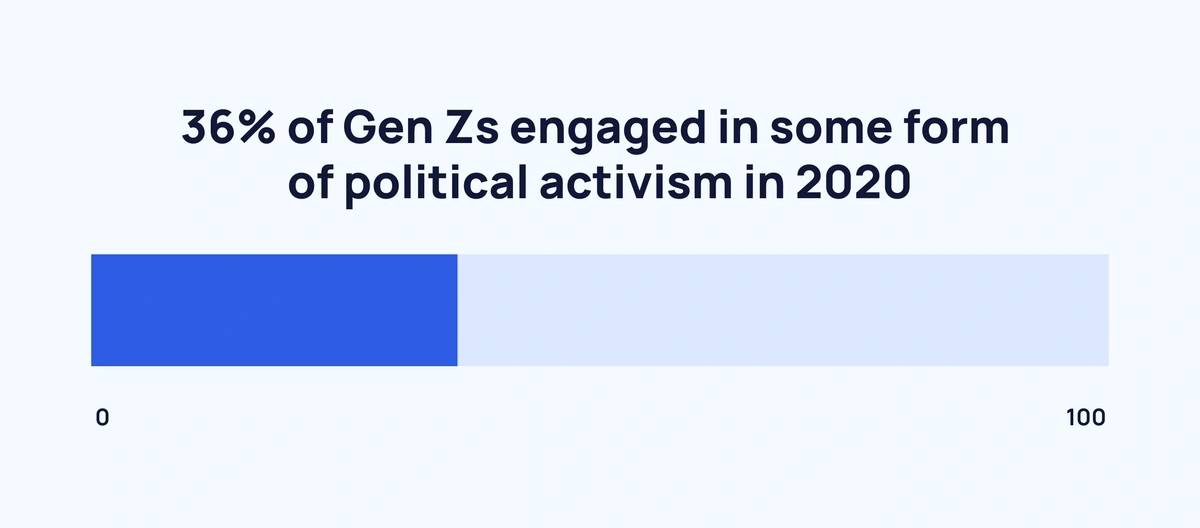 Gen Z participation in activism went up 9% from 2019 to 2020. 36% either attended a political rally, joined a protest or signed a petition advocating for social change.
Most Gen Zs don't believe life will get better for future generations (EY)
EY asked 1,509 Gen Zs if they think life will be better, worse, or the same for future generations of Americans. 43% said life would get better, 32% that life would get worse, and 25% that things would stay the same for Generation Alpha and beyond.
Generation Z Mental Health Statistics
Gen Zs are at a critical age where mental health issues begin to affect their lives. As they head into adulthood, millions of Gen Zs struggle with anxiety, depression, and other challenges. Here are the numbers behind Generation Z and mental health.
61% of Gen Zs report feeling "nervous, anxious, or on edge" over the past two weeks (Murmuration)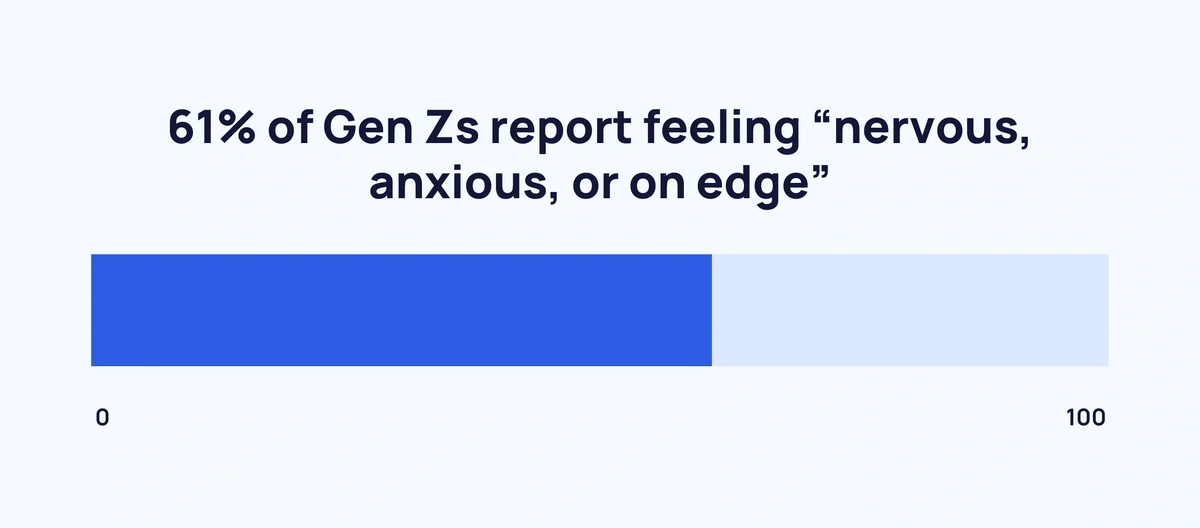 42% report feeling "down, hopeless, or depressed" over the same time period. Collectively, only 23% of individuals from older generations (those over 25) reported the same feelings.
Only 45% of Gen Zs describe their mental health as "excellent" or "very good" (APA)
Gen Z is the least likely out of all generations to report positive overall mental health. 18% of Gen Zs report having an anxiety disorder and 23% report being diagnosed with depression — all higher rates than other generations.
Gen Z is more likely to receive therapy or mental health treatment than any other generation (APA)
37% of Gen Zs have sought out treatment for mental health issues. How does that stack up to previous generations? Millennials show similar numbers, with 35% receiving mental health treatment. Only 26% of Gen Xers, 22% of Baby Boomers, and 15% of the Silent Generation have done the same.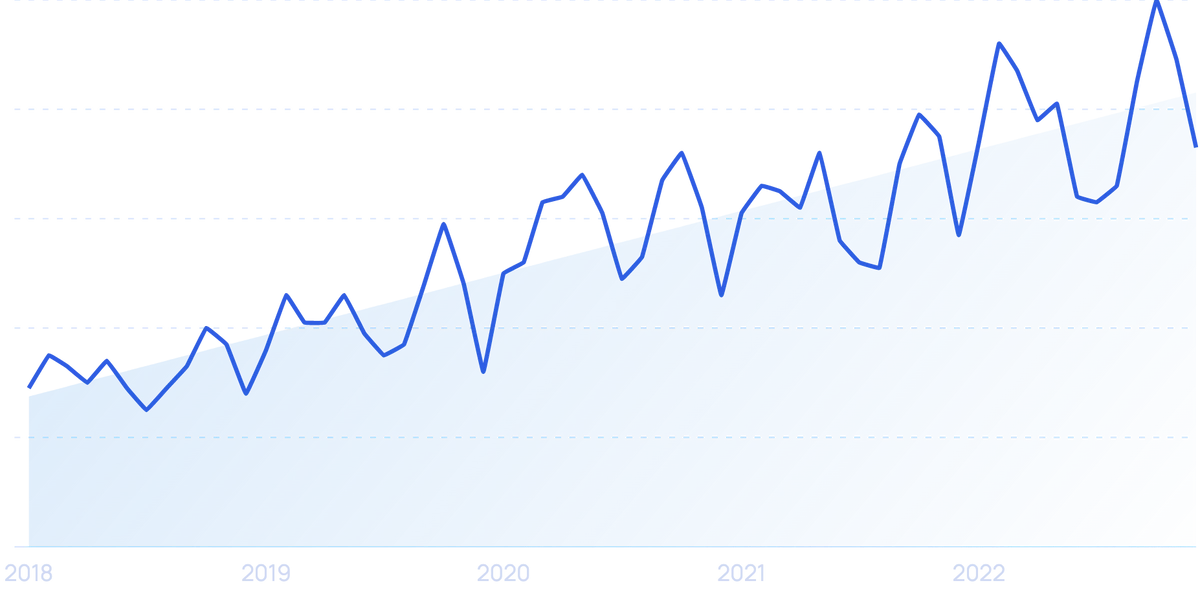 Google searches for "mental wellbeing" is up 151% over the past 5 years.
Nearly 1-in-5 Gen Z high school students have seriously considered suicide (CDC)
18.8% of Gen Z high school students say they've struggled with suicidal ideation. 15.7% have made a suicide plan, 8.9% have attemplted suicide. 2.5% made a suicide attempt which required medical intervention.
Generation Z Social Media Statistics
The oldest Gen Zs were 7 years old when Facebook launched in 2004. They're the first generation to grow up with social media. For many, it's a multipurpose tool offering connection, entertainment, and brand exposure.
64% of Gen Zs use Instagram at least once per day (GWI)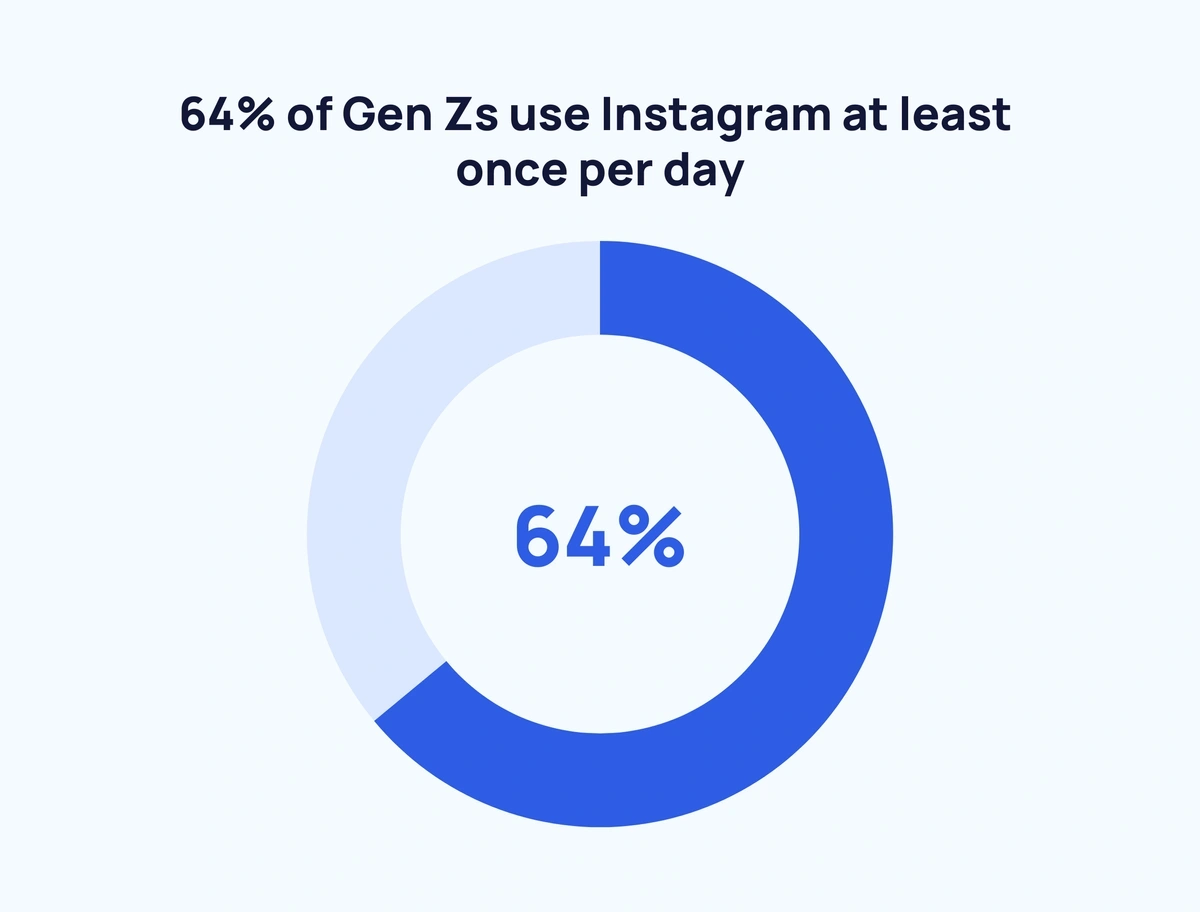 Instagram is still the top social media platform for Gen Zs globally. Whatsapp is the #2 platform, with 59% of Gen Zs reporting daily use. Facebook takes the #3 spot, with 45% of Gen Zs logging into the platform on a daily basis.
42% of Gen Zs have taken a break from social media for at least 24 hours (EY)
When asked how long they typically take breaks from social media, 58% of Gen Zs said "less than a day." But many are blacking out social media for longer periods of time. 22% said they've taken social media breaks that last a week or longer.
Over one-third of social media influencers are Gen Zs (Klear)
Gen Z's "influencer market share" increased 9% from 2019 to 2020. By the end of 2020, 34% of influencers were Gen Zs aged 18-24.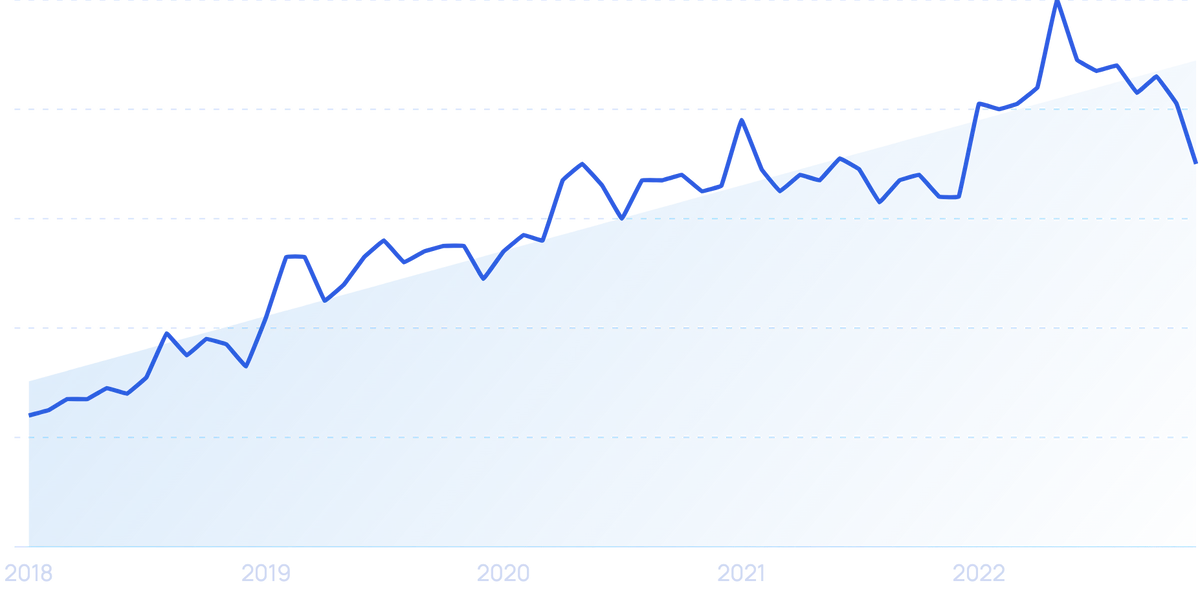 Google searches for "influencer marketing" have risen 191% over the past 5 years.
Gen Z influencers command the highest fees for sponsored posts (Klear)
Klear's 2021 Influencer Marketing Survey found that Gen Z was the most in-demand — and highest-paid — influencer demographic. Their average sponsorship rates? $245 for a story, $520 for a post, and $807 for a video.
Gen Zs prefer Instagram over TikTok for most social activities (GWI)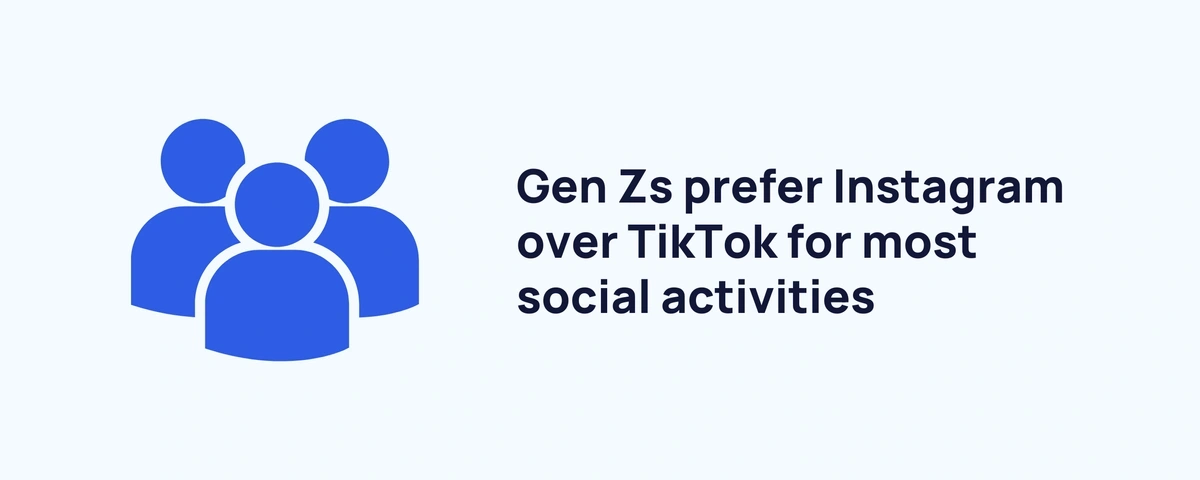 TikTok has experienced a meteoric rise in recent years, but Instagram is still the gold standard for many social activities among Gen Zs. 76% of Gen Zs use Instagram to post or share content compared to just 45% who use TikTok to do the same.
When it comes to product research, 69% of Gen Zs turn to Instagram while just 46% use TikTok. There's an even greater disparity between platforms when it comes to messaging family and friends. 56% use Instagram as a messaging platform, while only 21% send messages via TikTok.
TikTok does have Instagram beat in one area: entertainment. 81% of Gen Zs use TikTok to find funny or entertaining content, compared to 67% seeking entertainment on Instagram.
1-in-3 Gen Zs follow their favorite brands on social media (GWI)
34% of Gen Z social media users follow at least one brand they use or are considering using in the future. Gen Zs are actually more likely to follow brands (34%) than influencers (30%) on social media.
Funny or light-hearted content is the most sought-after by Gen Z (GWI)
58% of Gen Zs say they want to see funny or light-hearted content from the social media accounts they follow. 52% look for content they find inspirational, and 51% seek content that provides helpful information.
Generation Z Workforce Statistics
Over one-third of Gen Zs are already part of the workforce. Many began their careers during COVID and have only ever experienced remote or hybrid work environments. As a result, they have expectations that employers will have to grapple with in the future.
30% of Gen Zs say they don't feel financially secure (Deloitte)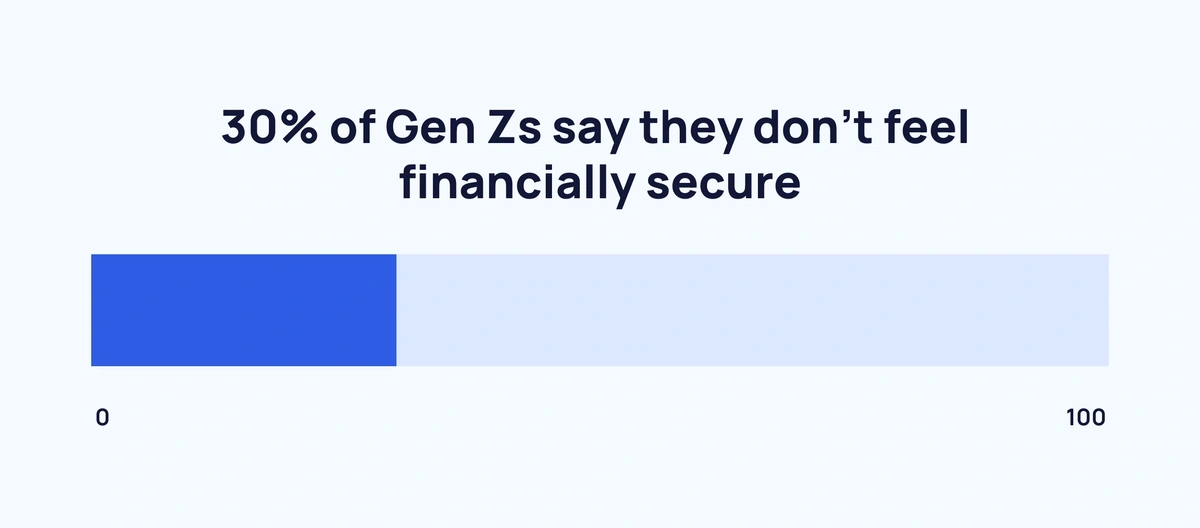 Working Gen Zs are worried about their financial futures. 46% say they live paycheck-to-paycheck. 26% say they don't believe they'll earn and save enough money for retirement. That lack of financial confidence could be the reason why 43% of Gen Zs are working a second job.
40% of Gen Zs say they plan on leaving their job within the next two years (Deloitte)
Generation Z is far more likely to participate in the Great Resignation than Millennials. 40% of Gen Zs say they'd like to leave their jobs in the next two years, compared to 24% of Millennials. 35% of Gen Zs say they'd leave their jobs even if they didn't have another job lined up.
Work-life balance is the top factor Gen Zs use when choosing an employer (Deloitte)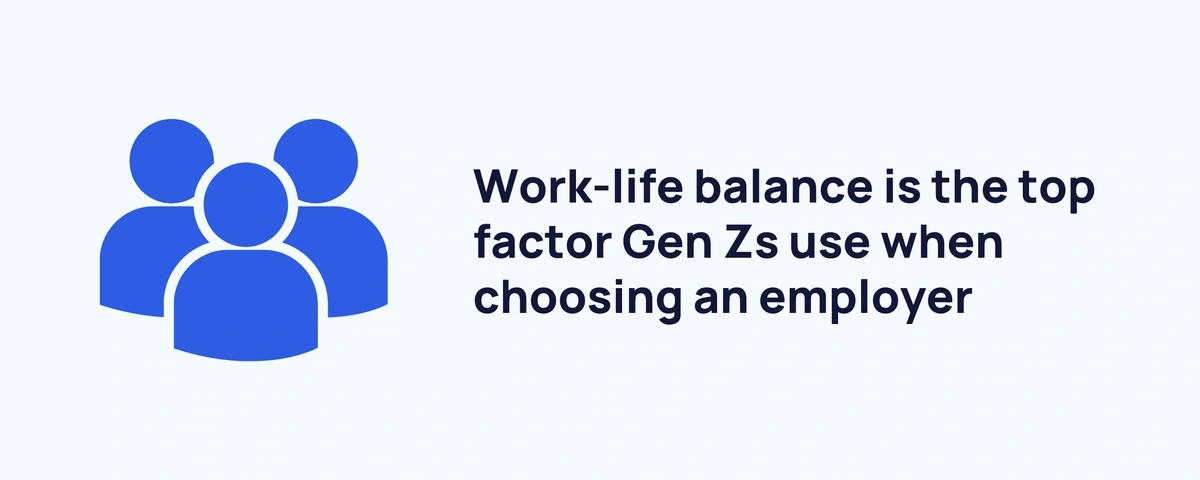 32% of Gen Zs say that a good work-life balance is a top reason they work for their current employer. Other top reasons? Learning and development opportunities (29%), high salary (24%), positive workplace culture (23%), and career advancement opportunities (23%).
Most Gen Zs who plan on leaving their jobs within the next two years say they're not satisfied with their organizations' impact on society (Deloitte)
57% of Gen Zs who plan on switching careers say they're not satisfied with their employers' efforts to make a positive societal impact. 52% also say they're not happy with their employers' efforts to create a diverse and inclusive work environment. Finally, 56% say their employers fail in their commitment to sustainability.
3 in 4 Gen Zs say they'd prefer hybrid or remote work arrangements (Deloitte)
Gen Zs are ready to make remote and hybrid work the gold standard. 63% say they'd prefer a hybrid work environment, while 12% want to work 100% remotely. Spending more time with family, getting work done more efficiently, and mental health concerns are all reasons Gen Zs want to keep working from home.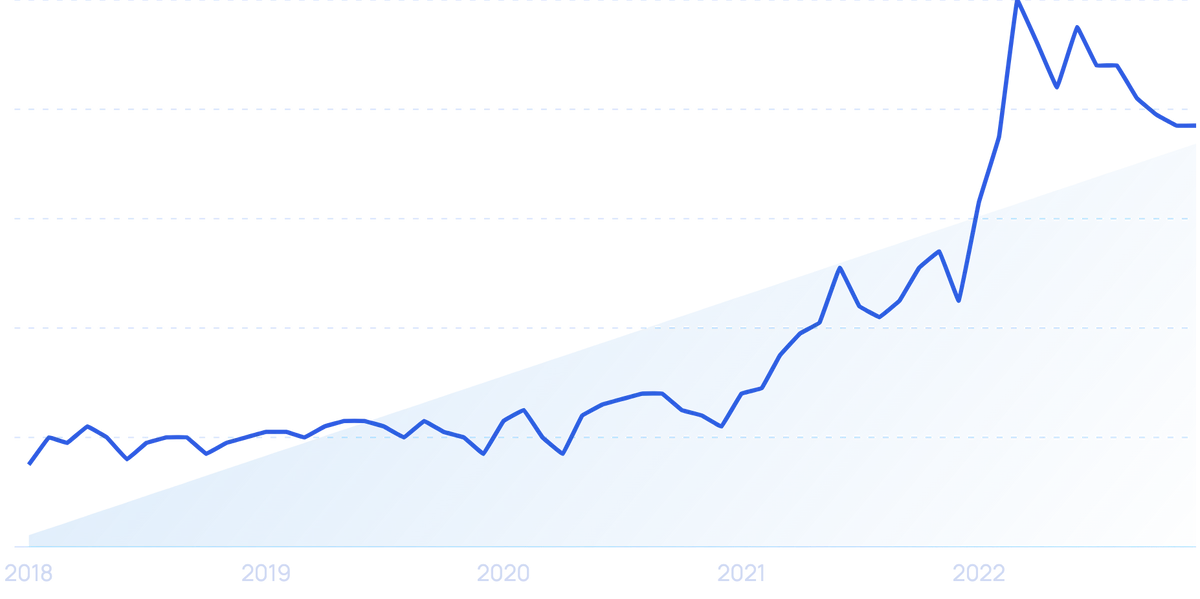 Google searches for "hybrid work" are up 413% over the past 5 years.
1 in 5 Gen Zs say being financially independent by age 30 is their #1 goal (Murmuration)
When asked what they'd like to achieve the most by age 30, 22% of Gen Zs said financial independence. 15% said they'd like to work in a career they find fulfilling, and 11% said they want to be surrounded by friends and family.
Wrap Up
If there's one word to sum up Gen Z, it's more.
They're more diverse and more educated than previous generations. And while mental health and job dissatisfaction are struggles for people of all ages, Gen Zs are more likely to take action — either by seeking treatment or changing jobs.
Gen Zs see both the opportunities and challenges of today's world. They're willing to express their demands to their governments and employers. Over the next several decades, we'll witness just how large an impact Gen Z will have on the world and future generations.
Check out our other related posts: 7 Key Gen Z Trends and 7 Millennial Trends.