How to Track Trends Efficiently In 2023
Most people track trends by scanning industry publications, scrolling through social media platforms, and talking to industry experts. Then, they compile that information into a spreadsheet or Google doc for further analysis.
This process might help you uncover a handful of trends, but it's inefficient for a few reasons:
It's time-consuming to read through high volumes of content.
You have to separate signal from noise.
Your sources might not discuss emerging trends just yet, as emerging trends, by definition, aren't widely known.
To help you find high-quality trends quickly, here are a few trend tracking tools we recommend for different use cases:
Exploding Topics – Best For Discovering Emerging B2B and Consumer Trends
Plenty of tools show current trends, but we wanted a simple method to identify emerging trends before they become popular.
So we built Exploding Topics to be that solution.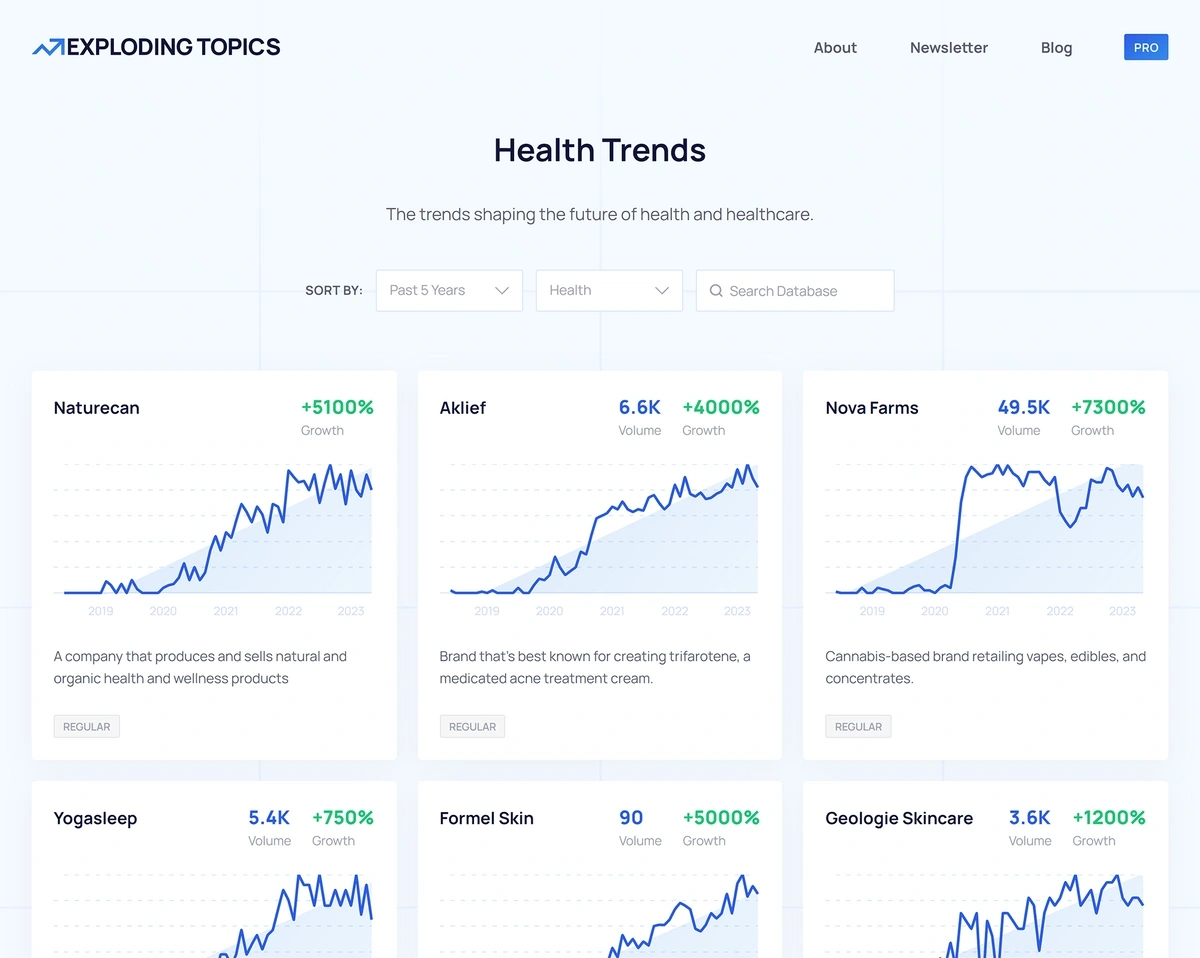 The flagship feature is the Trends Database, which has thousands of manually vetted, under-the-radar trends.
You can sort the database by one of the 31+categories (fitness, pets, marketing, tech, food, gaming, design, travel, etc.), and Exploding Topics will show you hundreds of growing brand names, products, and industry keywords in that category.
You'll also see a graph of each topic's historical Google Search volume trend, which helps gauge the trend's growth rate and stability over time: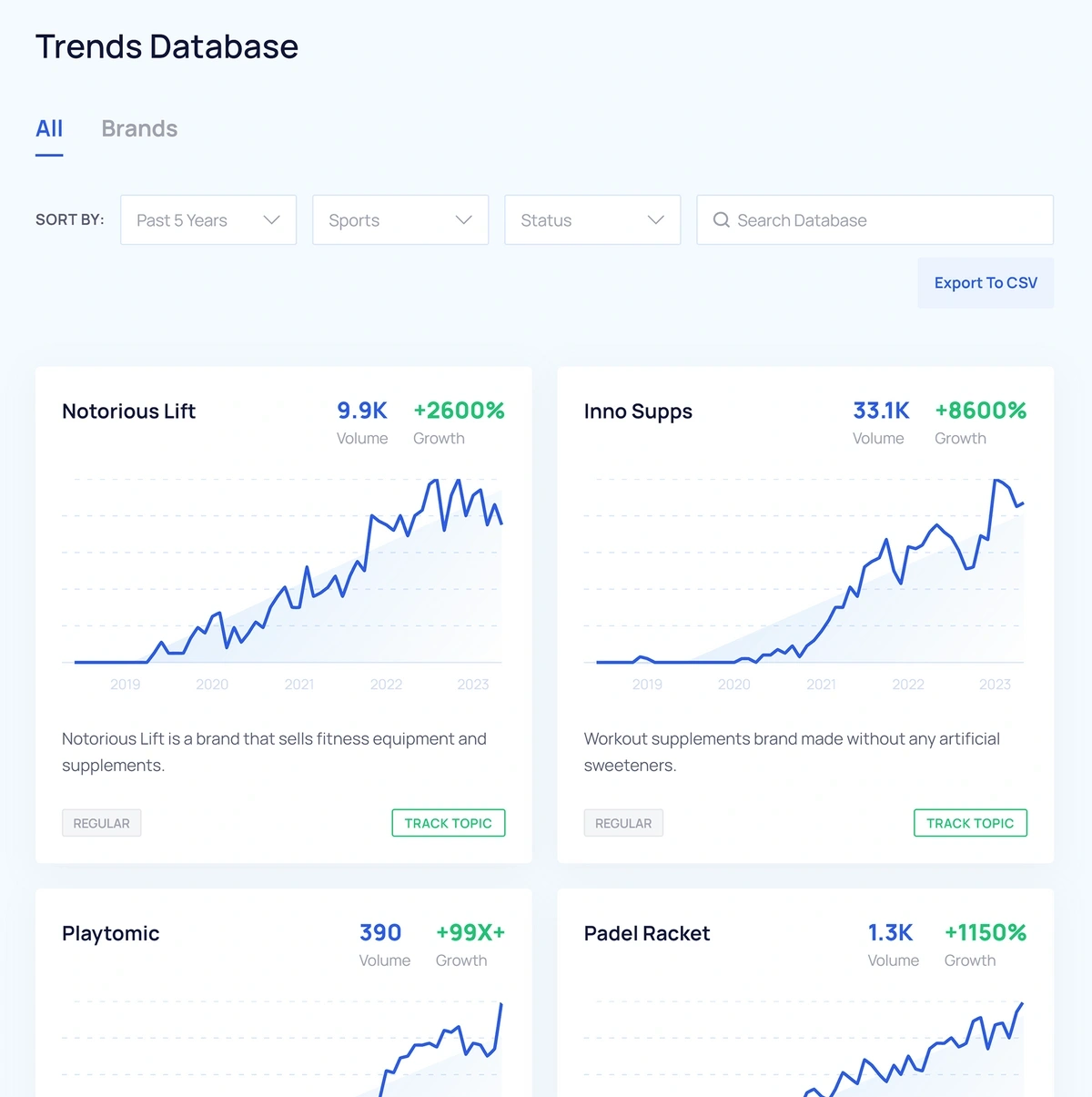 When you see an interesting topic, you can save it by clicking "Track Topic" and then add it to a Project.
You can create as many Projects as you want, name them whatever you like, and track unlimited topics. This feature makes it easy to organize your trend research without creating a separate spreadsheet, and it tracks saved trends in real-time.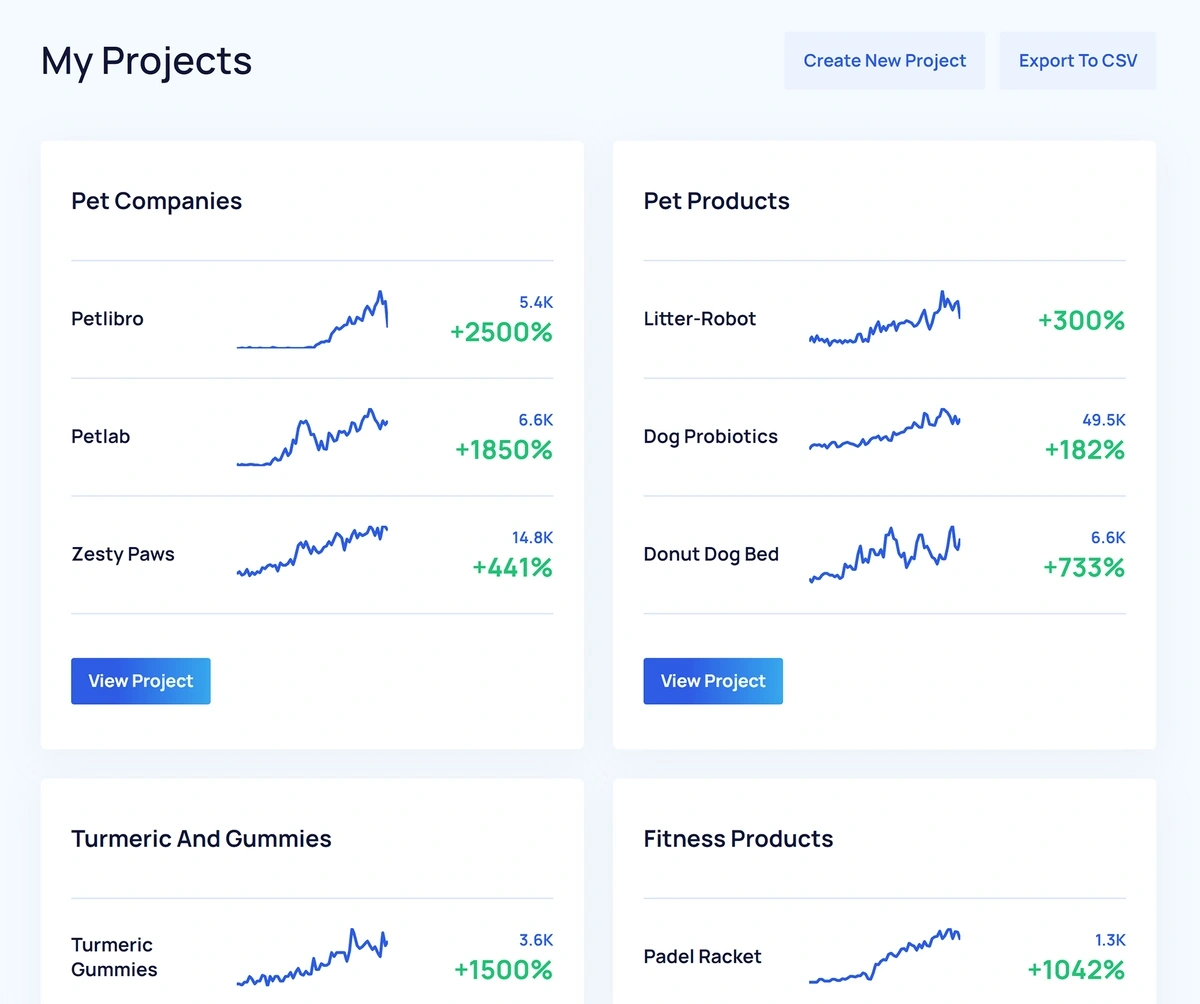 So how accurate are the trend suggestions in Exploding Topics?
It's easy for anyone to guess future trends, but we realize you might be making critical investment decisions based on these trend suggestions. Therefore, we use a data-driven trend identification and qualification process to eliminate human bias and improve trend accuracy.
Here's an overview of our three-step process: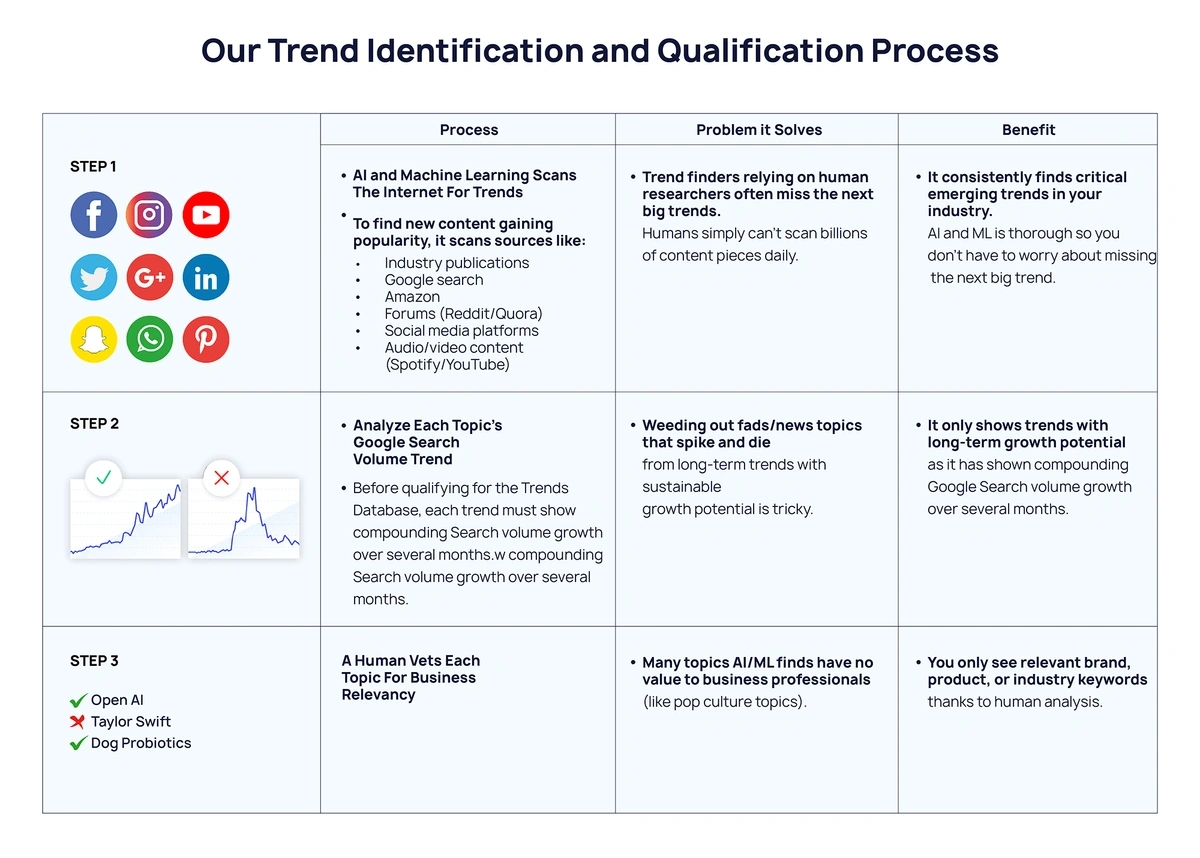 In addition to the Trends Database, Exploding Topics also offers several other features to aid your trend research process.
Meta Trends: Instead of searching for individual products or brands across a broad industry, the Meta Trends feature shows you fast-growing niche trends within a larger market. It also shows you a list of growing keywords, brands, and products in that niche.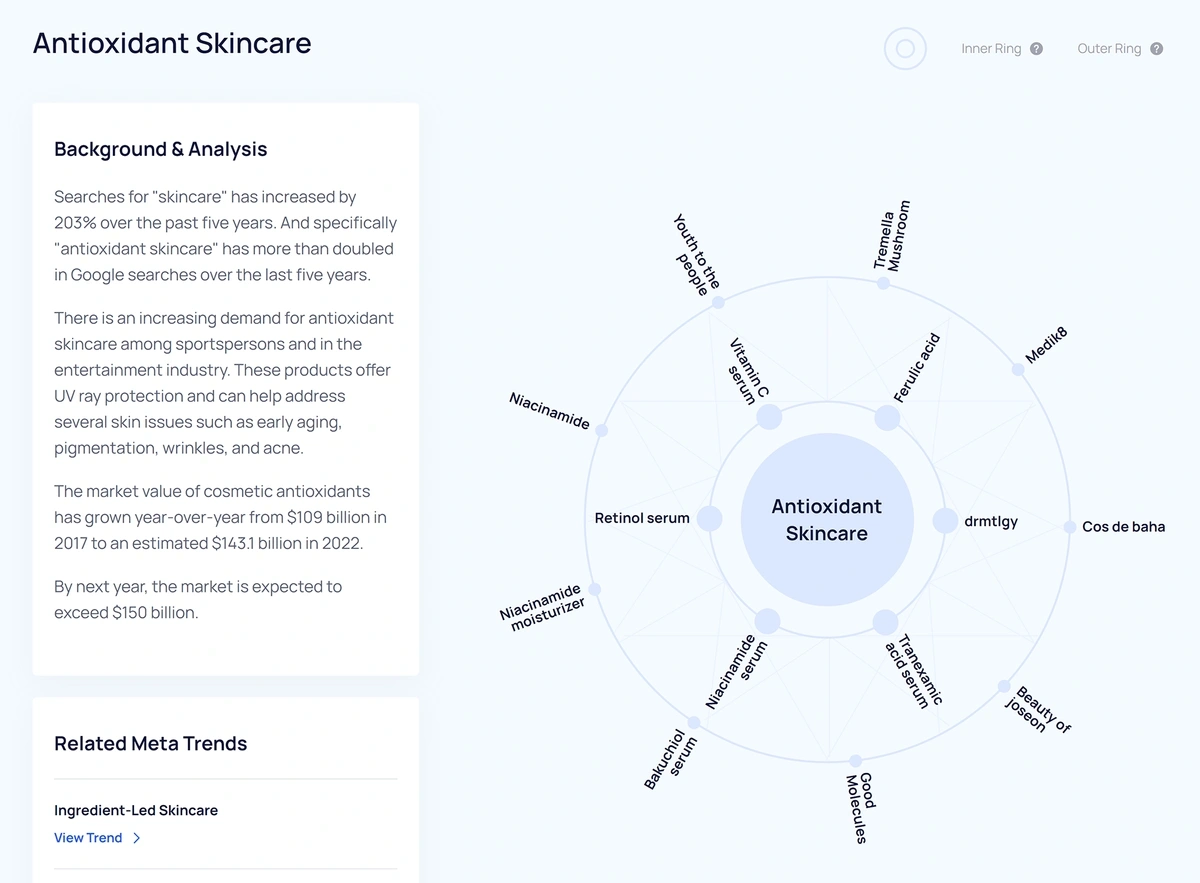 Trends Search: Trends Search allows you to type in any keyword and gives you a graph of that keyword's historical Google Search volume trend and a list of related trends and similar searches.
Trend Reports: To make it easy to stay up-to-date with the latest trends in a few minutes per week, we send weekly trend reports to your inbox that cover four trending companies and four trending products.
You can use the free Trends Database now, or if you want to leverage more advanced features like Meta Trends, Trends Search, and Trend Reports, you can try out Exploding Topics Pro for $1 today.
Pricing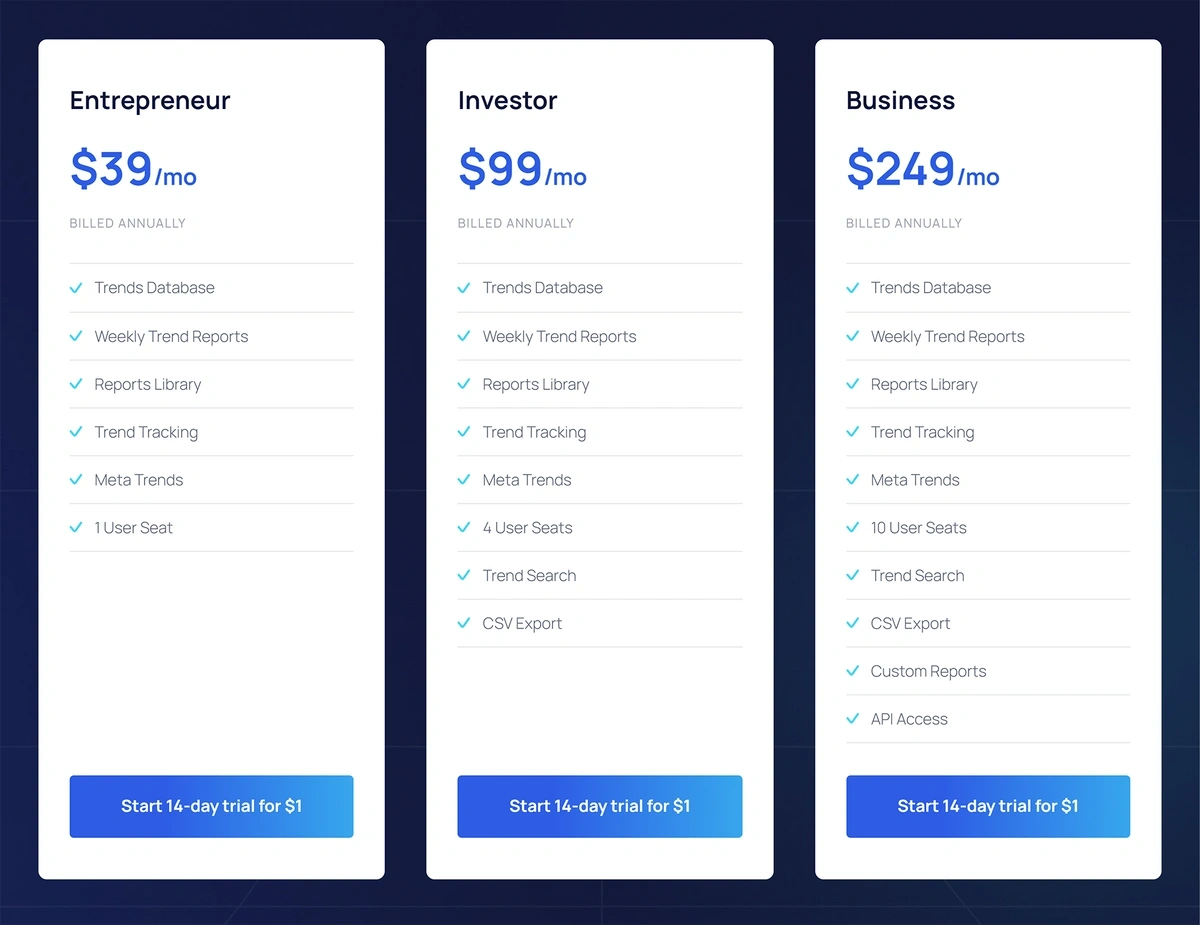 Feedly – Best For Curating A Personal Trends Newsfeed
If you enjoy reading a wide range of online industry publications, Feedly allows you to create a personalized newsfeed of all the articles from these various publications in one dashboard.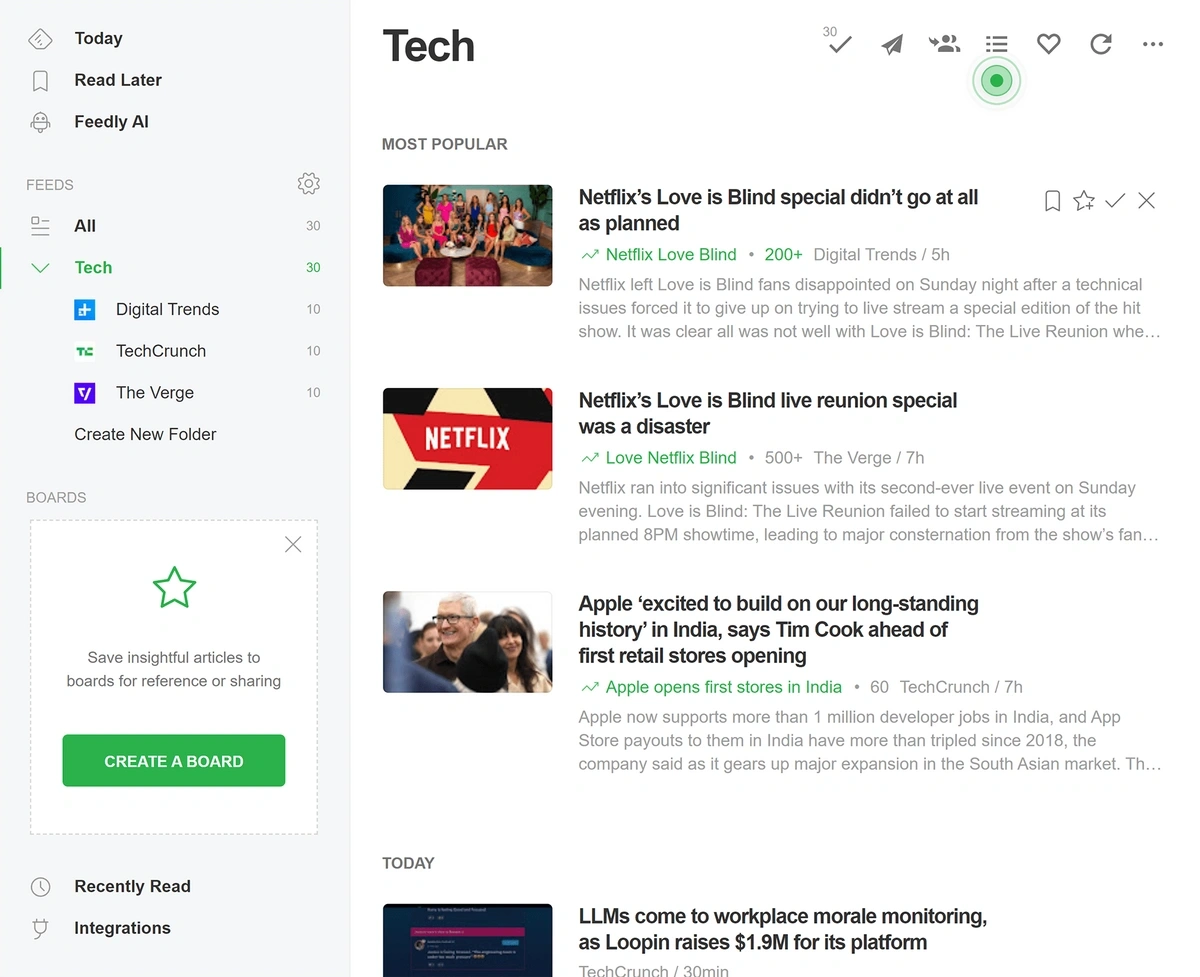 If you see an interesting article you want to read later, you can click "save for later" and come back to it when you have more time.
You can also create customized feeds by topic (like tech, sports, or politics) or use Feedly AI to track specific keywords to identify the latest news about a particular topic for more relevant news.
If you upgrade to a higher pricing tier, Feedly also lets you track newsletters and subreddits.
​​The main drawback with Feedly is that even though it organizes your newsfeed, reading through each industry publication can be overwhelming. While it's a great tool to quickly scan headlines from your favorite publications, it isn't designed to deliver an organized list of trending topics.
Pricing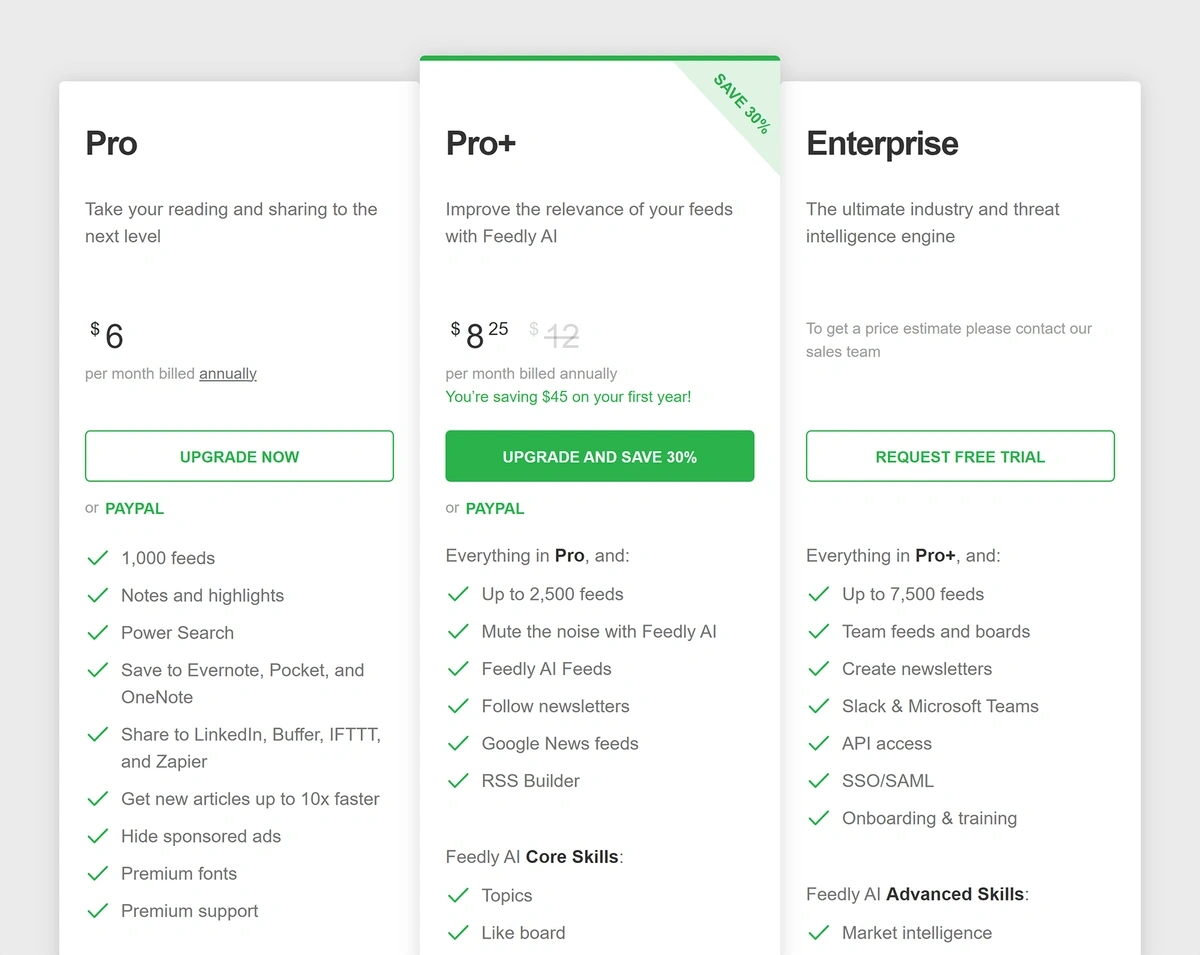 Google Trends – Best For Analyzing a Trend's Growth
Google Trends allows you to type in any keyword and then provides a graph of its historical search volume trend over the past several years.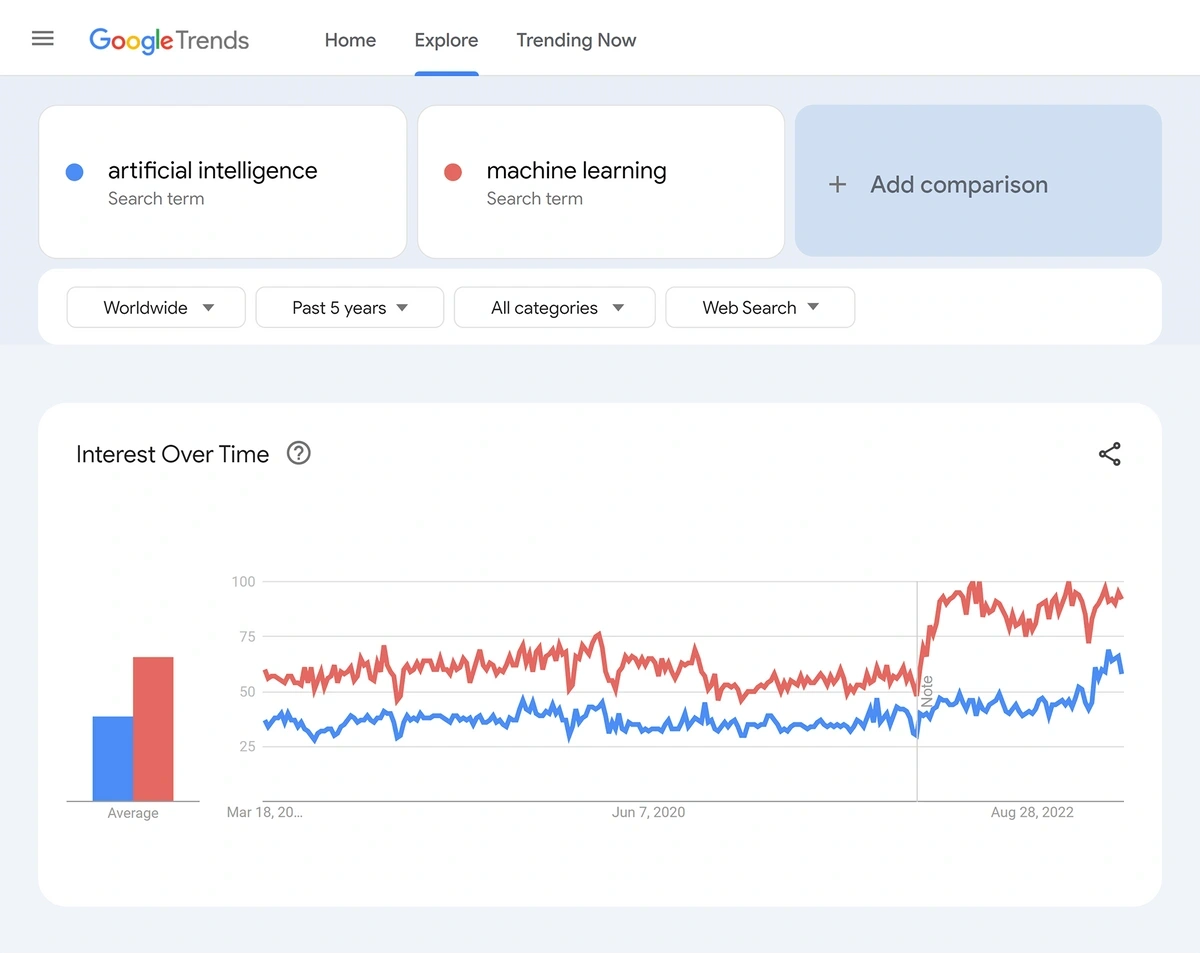 This makes it easy to gauge a topic's general growth rate and stability over time, and you can also segment the results by region.
It also offers a list of other related queries and topics, though the relevancy of these suggestions varies.
Google Trends recently launched a new feature, Trending Now, which shows a newsfeed of the most popular trending searches of the day.
Unfortunately, you can't sort this feed by topic, meaning that most of the top searches are related to pop culture and aren't very useful for tracking specific industry trends.
In general, Google Trends is a great tool for tracking a topic's popularity over time, but it doesn't provide new trend ideas for you.
Pricing
Google Trends is completely free.
Trends.co – Best Community For Brainstorming Trends
Talking to industry experts is another excellent method to identify new trends, but finding great industry experts to connect with can be challenging.
To solve this problem, Trends.co is a community for business professionals and entrepreneurs that want to learn about the latest industry trends and connect with like-minded individuals.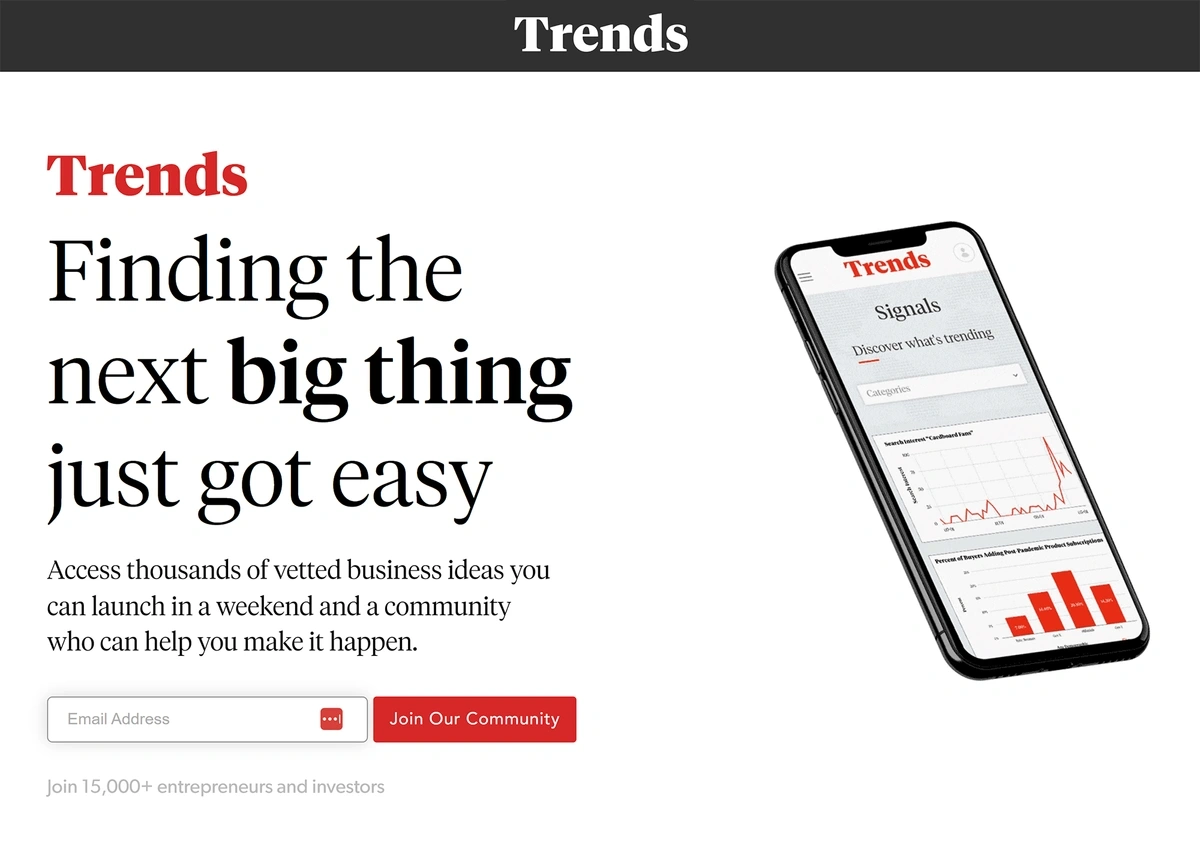 While the platform publishes some content, like founder stories and the occasional trend report, the Facebook group is the main value of Trends. It's highly engaged and has many highly successful members who are happy to help new entrepreneurs and business owners.
So if you're looking for a tool that delivers a list of specific trends in your industry, it might not be the best fit. However, it is an excellent resource to connect with other entrepreneurs and discuss any trends you've heard about from other sources.
Pricing
Trends.co is $299 annually and here's an overview of what's included in the membership:
Brandwatch – Best For Tracking Trend Mentions on Social
To stay up-to-date with the latest news on a specific trend, you can use a social listening tool like Brandwatch to identify popular conversations about that topic.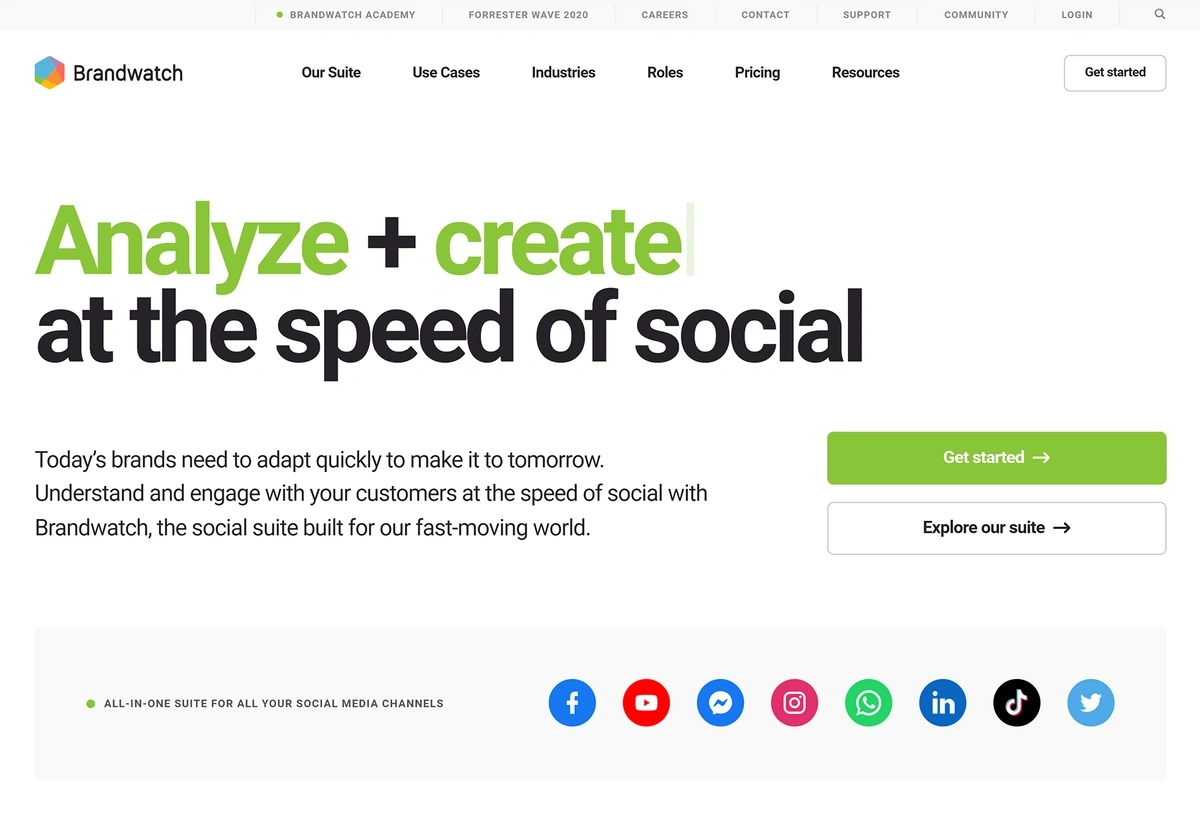 For example, you can type in any keyword (like "dog probiotics"), and Brandwatch will track that search term across websites, social media channels, forums, and other sources.
This makes it easy for you to find the most popular conversations on the web around that topic, and it also provides sentiment analysis so that you can see how your audience feels about the trend.
Then, it compiles these conversations into a single consolidated news feed. You can also set up custom alert notifications and reports to stay up-to-date with the latest mentions in just a few minutes per day.
Brandwatch also helps you identify the most popular influencers in your industry so that you can collaborate with them directly or just follow them to stay up-to-date with the latest trends they discuss.
Brandwatch also offers many other features, like the hashtag tracker, competitive monitoring, and sentiment analysis.
In general, it's an excellent tool to track conversations around a given topic in real-time, though it won't provide a specific list of emerging trends in your industry.
Pricing
Brandwatch does not offer any public pricing information.
Buzzsumo – Best For Tracking Trending Content
Buzzsumo is a content discovery tool that makes it easy for you to find the most popular content on any given topic.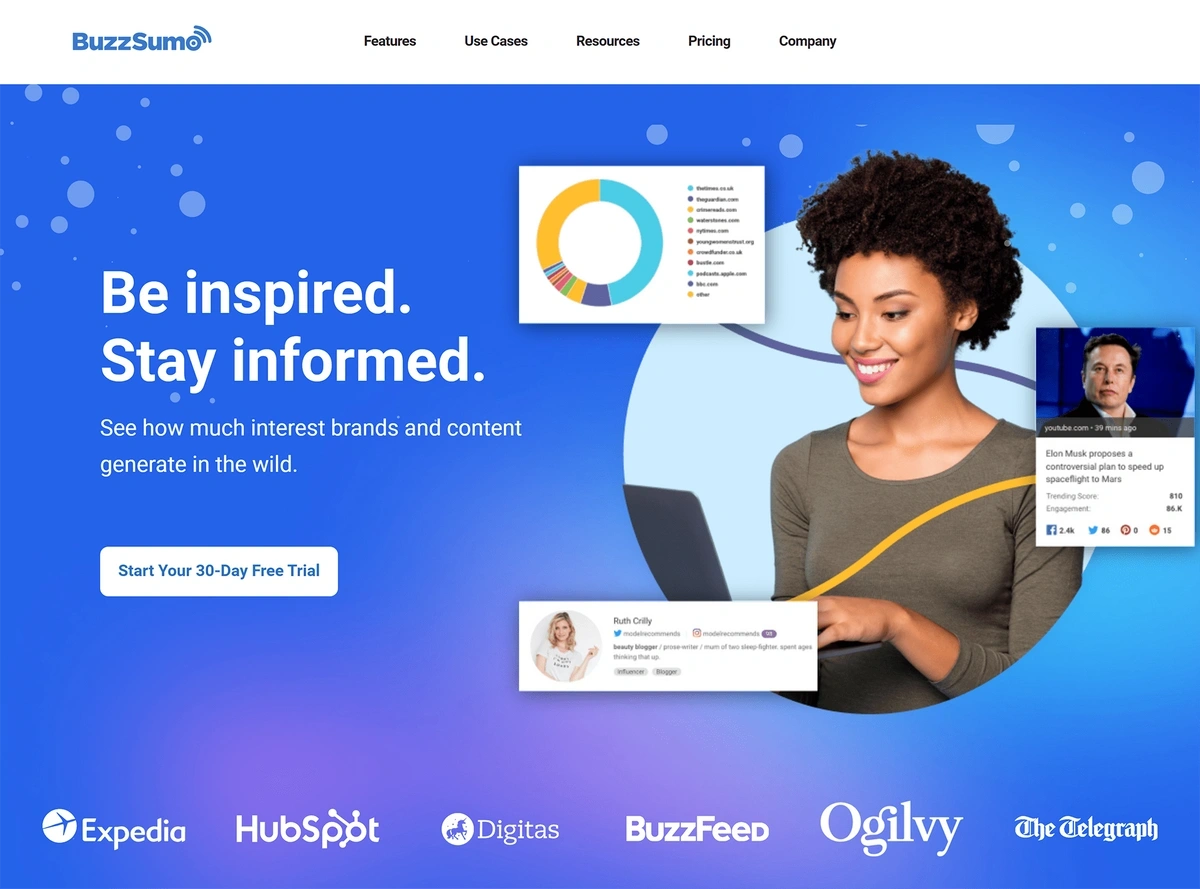 Its trends feature lets you create a feed on any given topic (like "SEO" or "NFTs"), and it shows you a list of recently published articles on that topic that received high engagement on social media.
You can also segment results by country or language.
Buzzsumo also lets you create RSS feeds and even integrates with Feedly if you want to use both tools.
Buzzsumo is an excellent tool for finding the latest trending content on a given topic, but it doesn't provide a concise list of emerging or current trends.
Nevertheless, it's a great tool for topic inspiration and offers plenty of features to aid your general marketing strategy, like a keyword research tool, brand and competitive monitoring, and influencer discovery features.
Pricing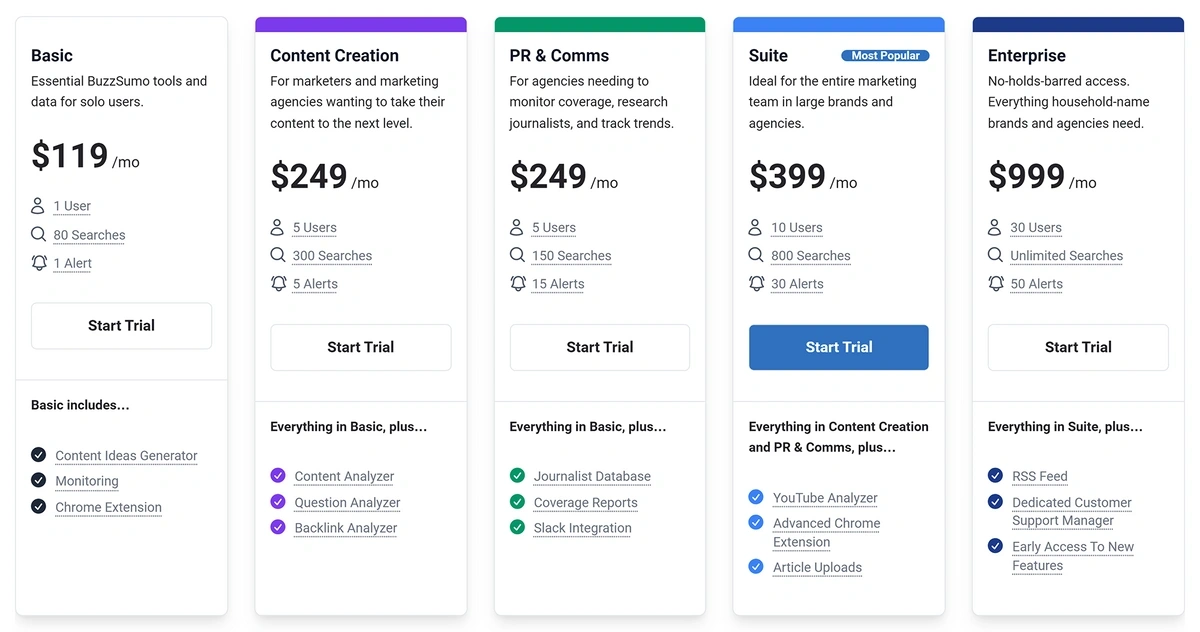 Crayon.co – Best For Tracking Competitor Trends
Crayon.co is a competitive intelligence platform that tracks your competitors' every move.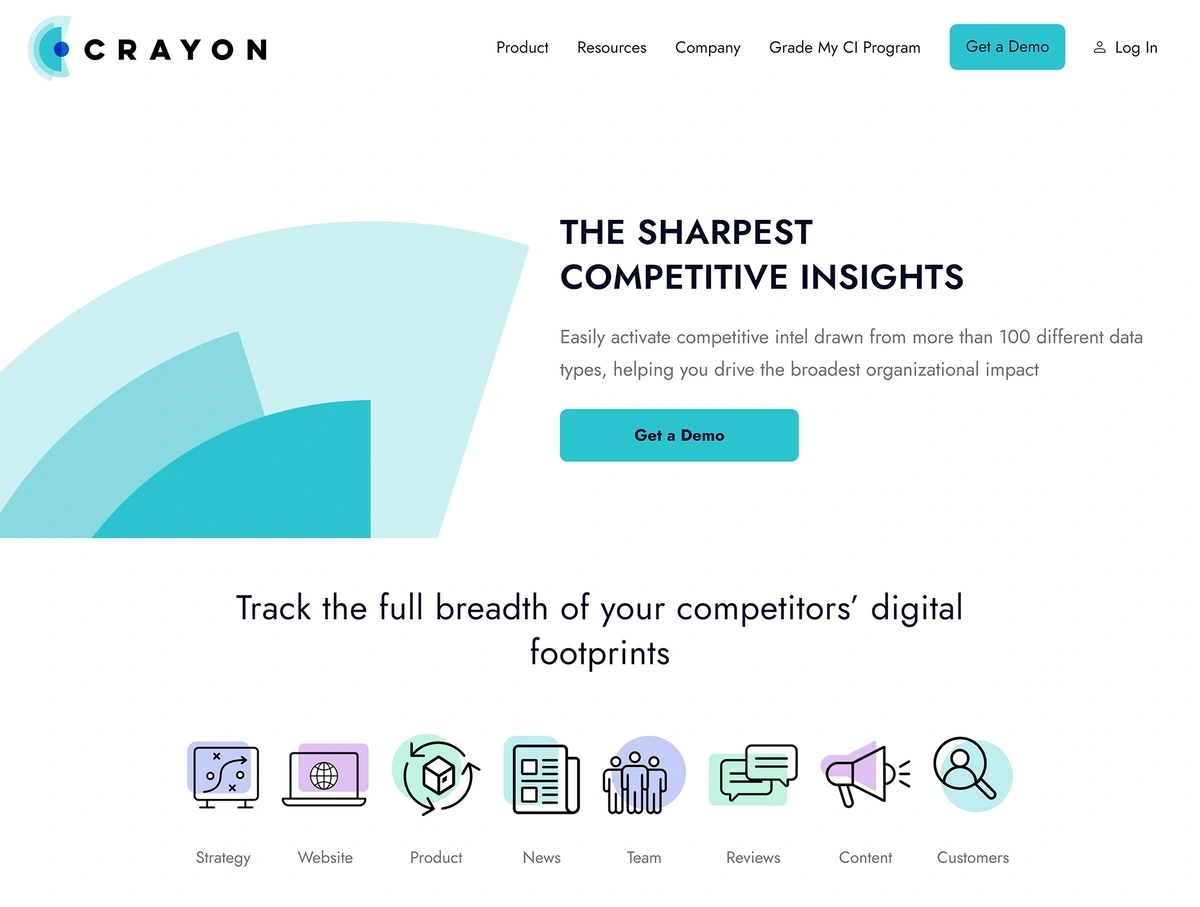 A few specific trends that Crayon tracks include your competitors' marketing strategies (blog posts, social media campaigns, and general marketing messaging), product updates, pricing adjustments, partnership changes, executive team changes, and job posts.
It's an excellent trend tracking tool because if multiple competitors make a similar change, that's clearly an important trend your team needs to know about.
For example, Crayon will alert you if a competitor recently launched a new AI functionality or if they're posting jobs for more AI engineers.
While a competitive intelligence platform is excellent for identifying the most relevant industry trends, the drawback is that it's also a reactionary trend identification platform. Nevertheless, it's still useful to track competitive movements so that you can iterate quickly rather than waiting to be one of the last companies in the industry to innovate.
Pricing
Unfortunately, Crayon doesn't offer any public pricing information.
SurveyMonkey – Best For Collecting Primary Trend Data
​​Talking to your customers is one of the most overlooked methods to keep a pulse on industry trends.
Whether you're thinking about launching a new product/feature or adjusting your marketing messaging to fit a new trend, you can use SurveyMonkey to send your audience a feedback survey.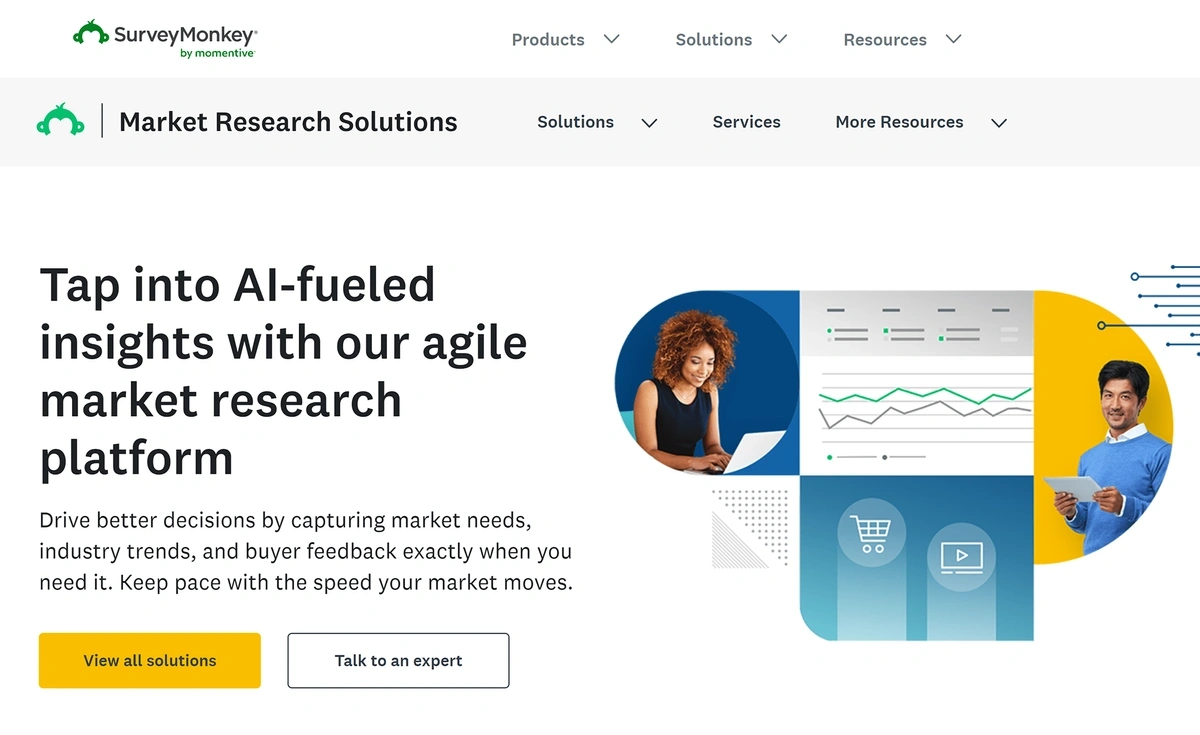 SurveyMonkey offers hundreds of customizable survey templates, and you can distribute them to your audience via email, messenger, social media, website embed, or a link.
If you don't have an audience, you can leverage their market research offering to survey a specified target audience crowdsourced by SurveyMonkey.
When you finish collecting responses, you can use SurveyMonkey's customizable dashboards to segment the data and quickly identify trends.
Even though SurveyMonkey doesn't hand you a list of industry trends, it's a great tool to track your target audience's sentiment around a particular trend, which can help you understand how to best implement that trend into your business.
Pricing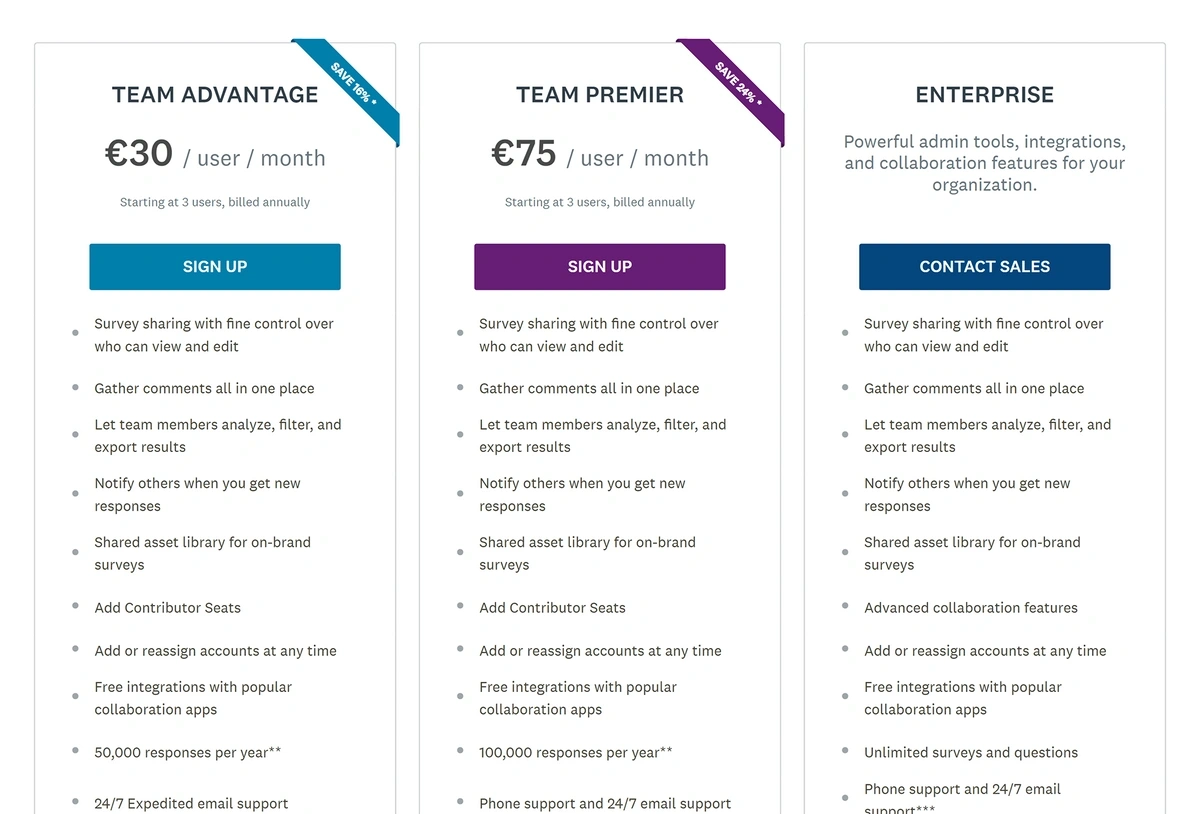 IBIS World – Best For Finding Trend Reports
IBIS World is an industry research platform that provides market research reports on various market trends across 13 countries.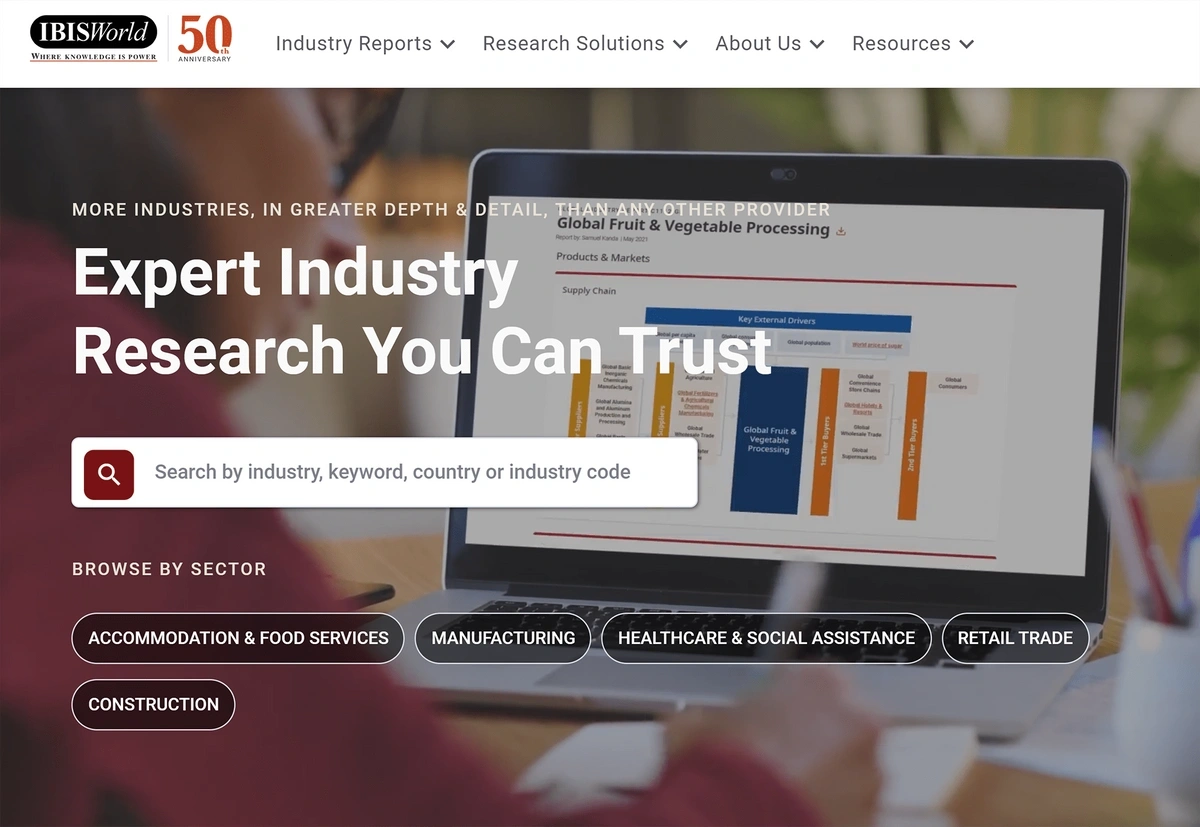 While most industry reports are paid, it offers a handful of free metrics for each industry, like market size, growth trends, and employment history.
The market trend reports are IBIS World's primary offering, though it also has a handful of other products, like iExpert summary reports (4-6 page reports with key trend data like market share, key external drivers, industry performance, major markets, etc.), financial ratios, risk ratings, and business environment profiles.
Most IBIS World users are commercial bankers, consultants, and sales teams, so the general trend data is geared towards those personas.
Pricing
IBIS World doesn't publicly offer membership pricing information, though here's pricing information for particular reports: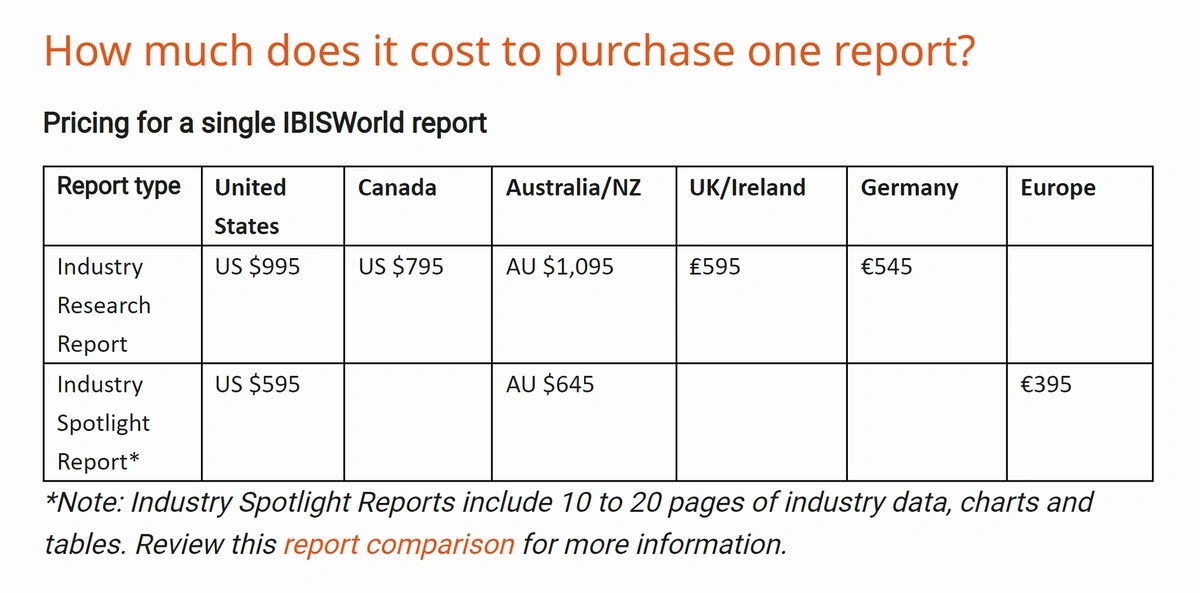 Start Tracking Trends Today
Reading industry news sources, talking to experts, and participating in social conversations around current trends are excellent methods to learn more detailed information about trends.
However, the tools above can help you find and analyze trends more efficiently to enter industry conversations with a deeper understanding of each trend and extract more value from these discussions.
If your main goal is to find emerging B2B or consumer trends as quickly as possible, try out Exploding Topics' free trends database today. Or, if you want more advanced features, like the ability to save and track trends, discover meta trends, or perform more advanced trend analysis, you can try out Exploding Topics Pro.