How to Track Industry Trends (Plus Trend Discovery + Analysis)
You can use social media sites, Google Trends, industry newsletters, media outlets, etc., to learn about new trends, but tracking trend growth is an entirely separate challenge. In most cases, you're stuck throwing together your own methods for checking on trend data, and many teams' processes are imperfect because 1) they're time-consuming — you can spend hours browsing social media channels and only find a few industry trends worth tracking. And, 2) they're error-prone — there isn't a consistent way to do trend research and you're often checking multiple platforms when you want an update.
If you want to save time and simplify your approach, you need a trend tracking platform like Exploding Topics. Exploding Topics lets you:
Learn about new trending topics, products, and startups in their early growth stages with our database and trend discovery tools — so not only do we let you track trends, but we show you what's up-and-coming in your industry (taking the legwork out of trend research).
Save trends to a private dashboard and organize them by category or topic so you can easily check in on trends that interest you.
Analyze the most current trend data in the overview graph and track trend growth over different timelines.
And rest assured, you're always working with high-quality, verified trend data: Exploding Topics AI monitors hundreds of online sources (including search engine activity, industry news, eCommerce platforms, podcasts, forums, and more) to pinpoint emerging trends. Then, analysts review data to identify trends that have indicators of long-term interest and growth. We add all new trends to our database so you can discover, track, and analyze upcoming trends across dozens of industries, from one centralized hub.
In this post, we show you how to use the Exploding Topics trend research platform to find and track industry trends. You can also demo our trend analysis tools and see how the trend tracking dashboard works when you start an Exploding Topics Pro Trial.
4 Ways to Find New Industry Trends: Trends Database, Trend Search, Meta Trends, & Weekly Trend Reports
Exploding Topics offers multiple ways to explore industry and market trends and find early opportunities before they're well-known. You can start broad and search by category in the trend database, or you can look up specific products, brands, and services (the list goes on) in the trend search and view related opportunities. Let's explain how these work.
1. Trends Database
First, you can explore all trend data from the database. You can filter trends by category (these include popular industries like fitness, health, software, marketing, eCommerce, and technology), date, or status to tailor database results according to your industry research.
For example, if you wanted to browse the newest beauty trends, you could narrow the results down to "Past 3 Months," choose "Beauty" from the category dropdown menu, and change the status to "Regular."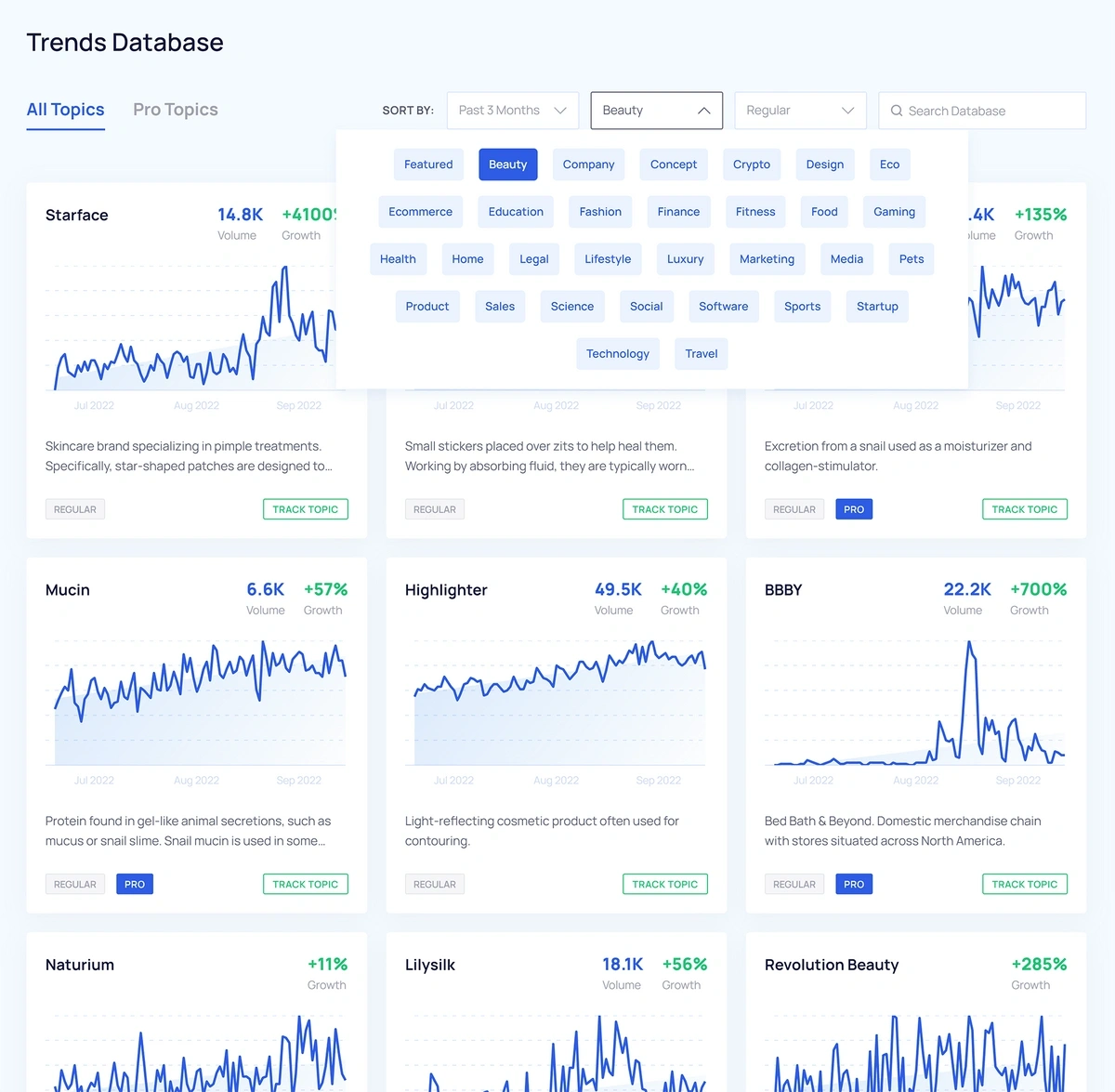 The convenient part of using our trend database (vs. other research methods and free tools like Google Trends) to find new trends is that you don't have to know exactly what to look for — our platform monitors dozens of online sites and shows you what's relevant.
2. Trend Search
On that note… Exploding Topics database does have a search functionality so you can look up and analyze trends that are already on your radar — maybe you heard about them through colleagues, webinars, influencer posts on Facebook or LinkedIn, etc.
Our trend search feature is convenient because you can dig into trends you already know and see a list of related opportunities, all in one fell swoop. We show you all of the data we've gathered about your search term, as well as other products, technologies, brands, and services that may be relevant to your interests.
For example, let's say you wanted to get a little more specific in your beauty trends research and explore new products and opportunities around acne skincare treatments. You can type "acne skincare" in the search to gauge interest in the general product category and see related searches.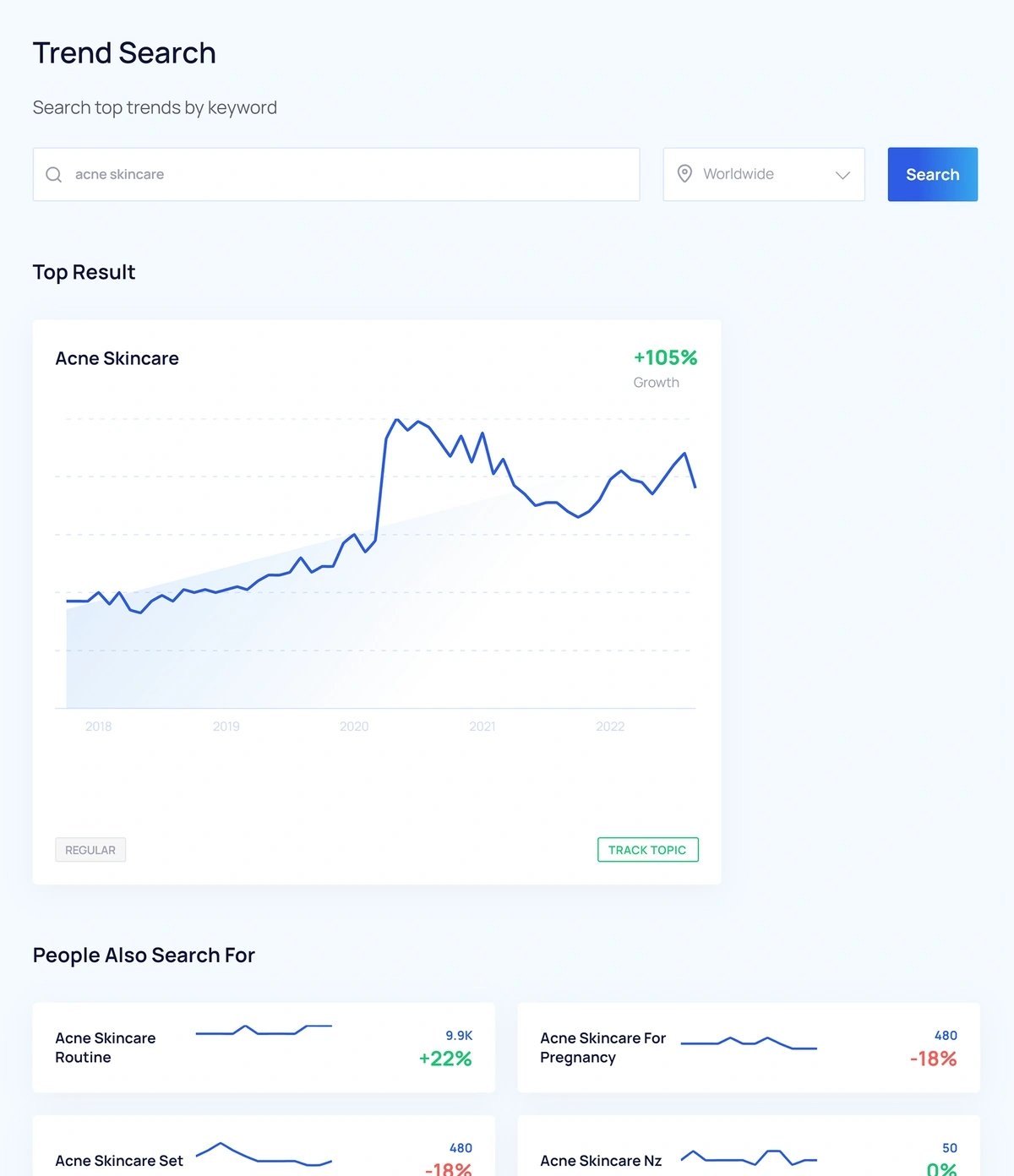 Then, we show you related trends so you can learn about other brands (like Breylee and Hero Cosmetics) and products (like Mandelic Acid) that have become more popular for target audiences shopping for acne skincare.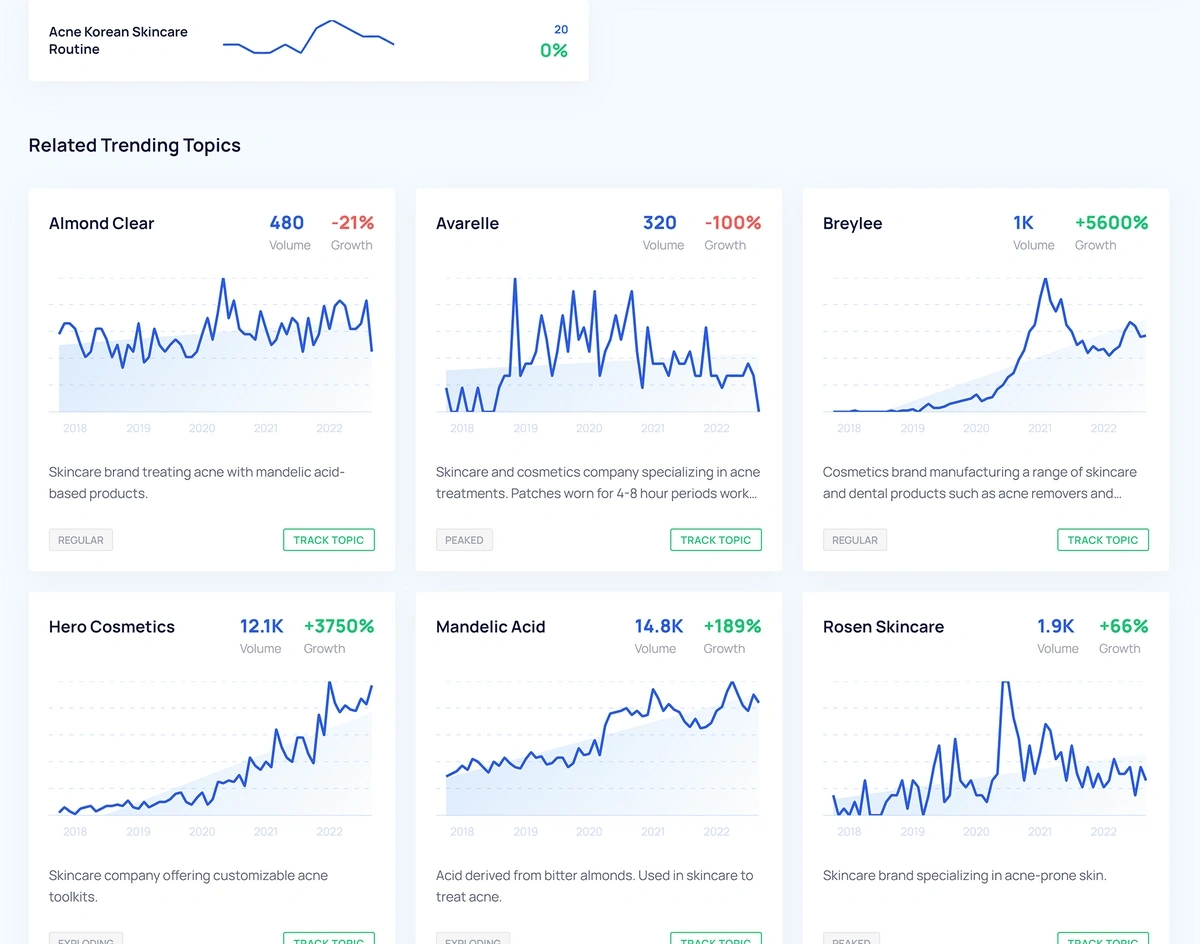 As you can see from our snapshots, we also display a preview of the trend overview graph so you can get a glimpse of how the trend has evolved since we first discovered it.
Read More: Best Market Trend Analysis Tool for Detailed Insights & Tracking
3. Meta Trends Collection
You can also discover new trends from the Meta Trends tab. Meta Trends are collections of related trends that make up and influence higher-level topics — in other words, the Meta Trends tab is where you can explore trends by type of product or service, like "Non-Alcoholic Alcohol."
We include a detailed analysis for every Meta Trend so you have more background on the trends listed within. For example, when you click on the "Non-Alcoholic Alcohol" Meta Trend, you find:
Statistics on how the market is expected to grow.
Brands and products that are popular in this category, like Athletic Brewing Company and Curious Elixirs.
List of related topics and Meta Trends that serve a similar niche or target market (for example, Monday Gin produces a vegan, zero-calorie non-alcoholic gin).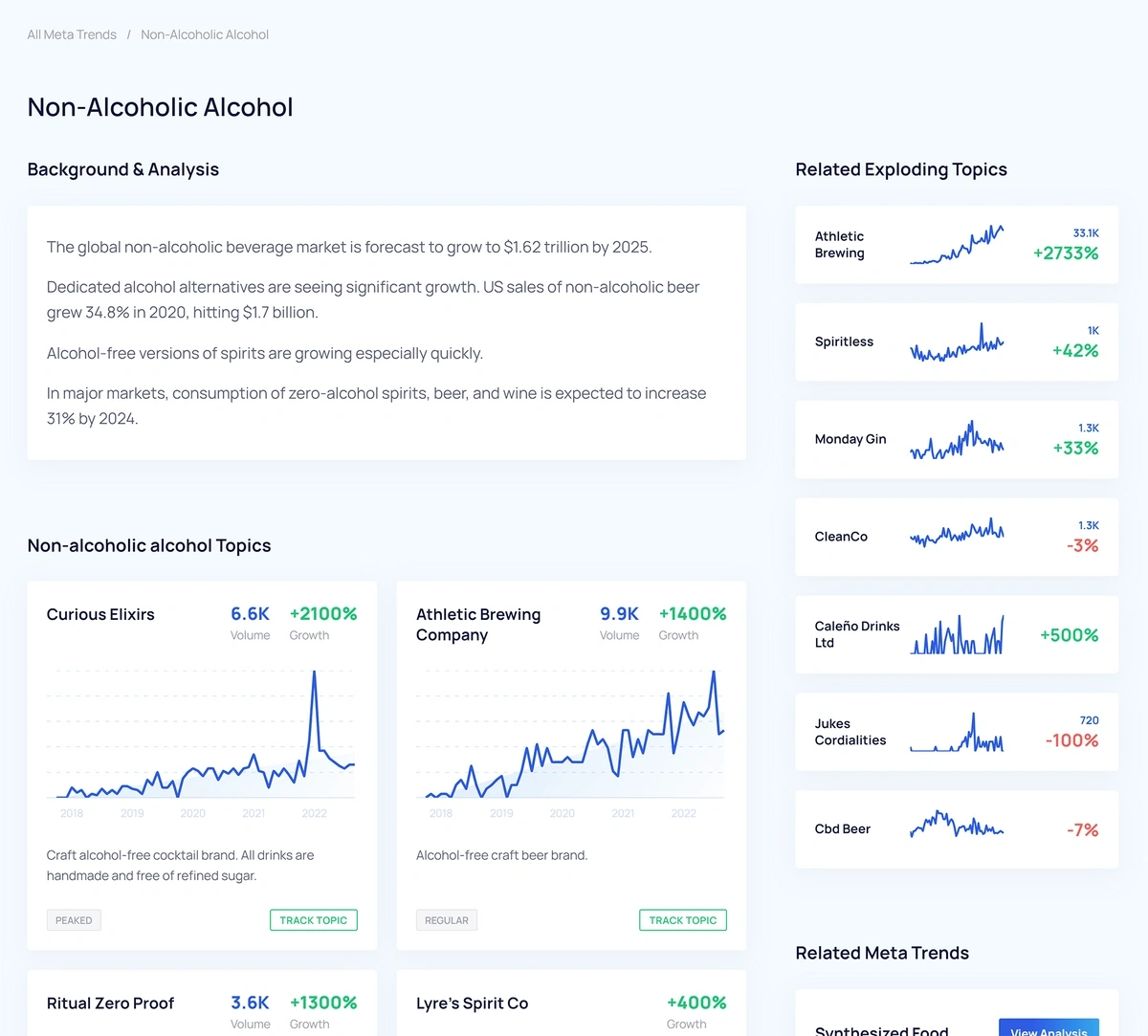 4. Weekly Industry Trend Reports
Lastly, we email you industry trend reports each week with information on 10 of the newest trends we're most excited about. We include trends across all industries — for example, our trend report below features startups, health supplements, fitness products, and software, to name a few — and we include a detailed write-up for every company and product featured in our newsletter. This way, you can learn enough about trends to decide if you want to keep tabs on them.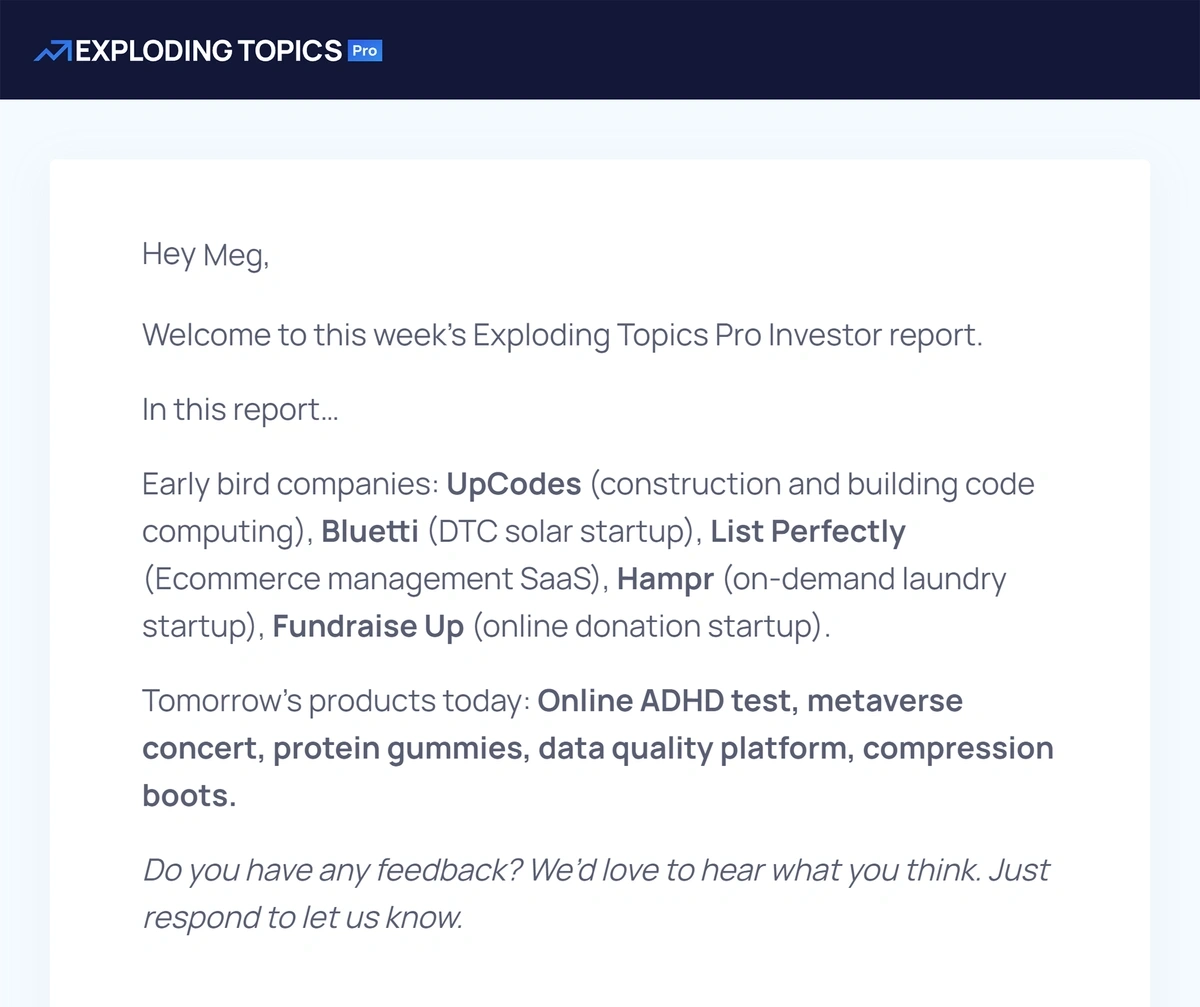 For example, one trend report covers Bluetti, a startup that sells solar-powered generators directly to consumers.
In our analysis, we link to sources that confirm Bluetti's rising success, including an article from Indiegogo reporting how much their most recent crowdfunding campaign has raised, and an Amazon product page featuring 5-star consumer reviews.
We also forecast Bluetti's future growth within the context of our existing research (found in the Solar Storage meta trend), which covers search engine activity and consumer behavior driving demand for solar energy storage systems.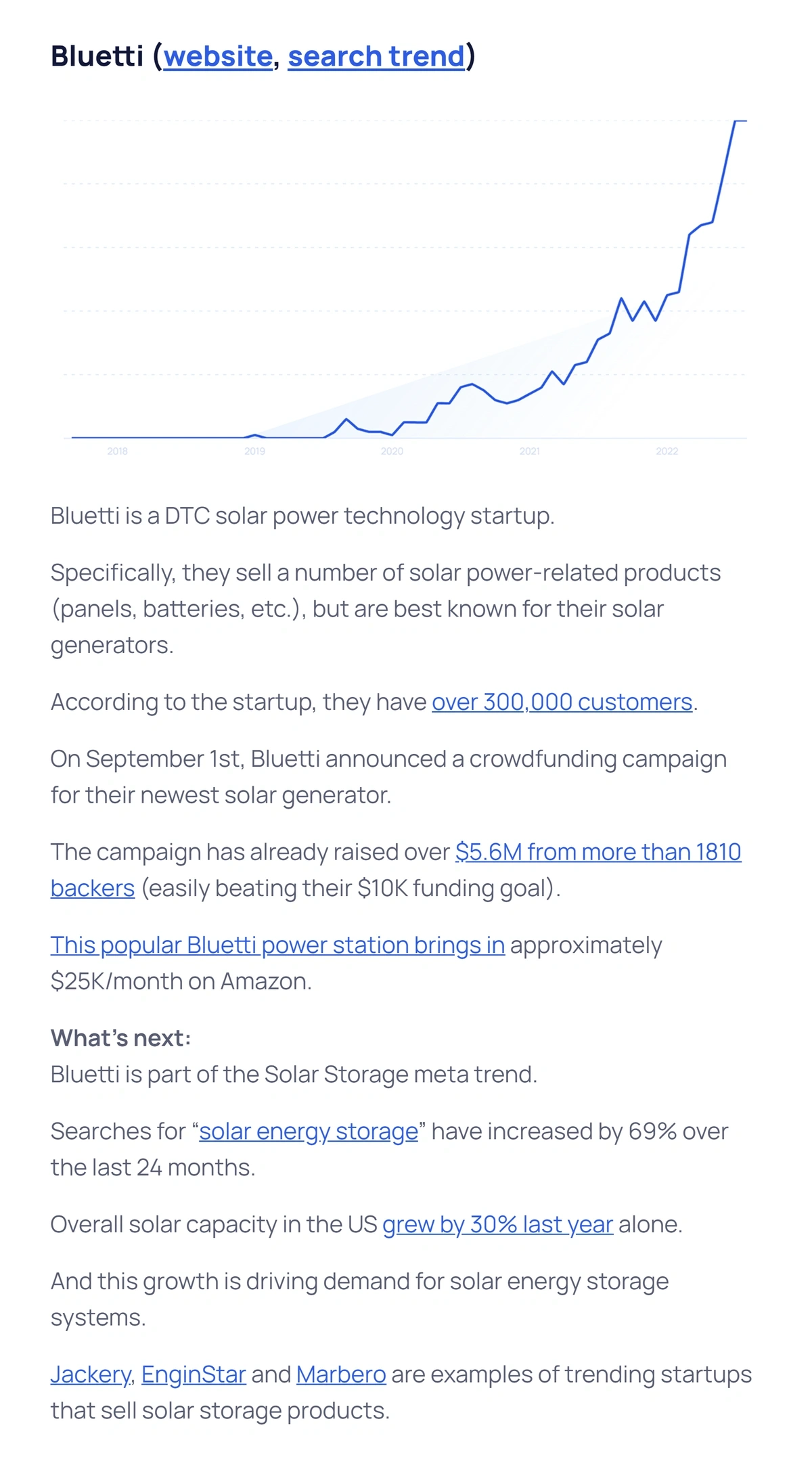 Read More: How to Find New Trends (Super Early) With Trend Spotting
Exploding Topics Trend Tracking Tool: Monitor, Analyze, & Organize Industry Trends in One Hub
Now that we've explained how to identify new trends in Exploding Topics, let's delve into our features to analyze and track trend data.
We simplify trend tracking and analysis by centralizing and organizing saved trends into a private dashboard — you can log in and navigate to saved trends in seconds. We also compile trend data in an interactive graph so you can analyze search volumes and growth rates over different timelines, benchmark trend growth, and visualize trend changes.
Save & Organize Trends in the Project Dashboard
It takes just a few clicks to save and organize the trends your team is researching. Once you discover a trend you're interested in, click "Track Topic." You'll see a prompt to add the trend to an existing project or create a new one. Projects let you organize saved trends by topic or category, they keep your dashboard neat and make it easy to find saved trends (especially when you're tracking hundreds of trends).
For example, we'll save a trend we discovered during our search for acne skincare treatments — Mandelic Acid — to a project we created named Luxury Organic Skincare. Then, we can watch how interest in this ingredient develops alongside related skincare ingredients, products, and brands.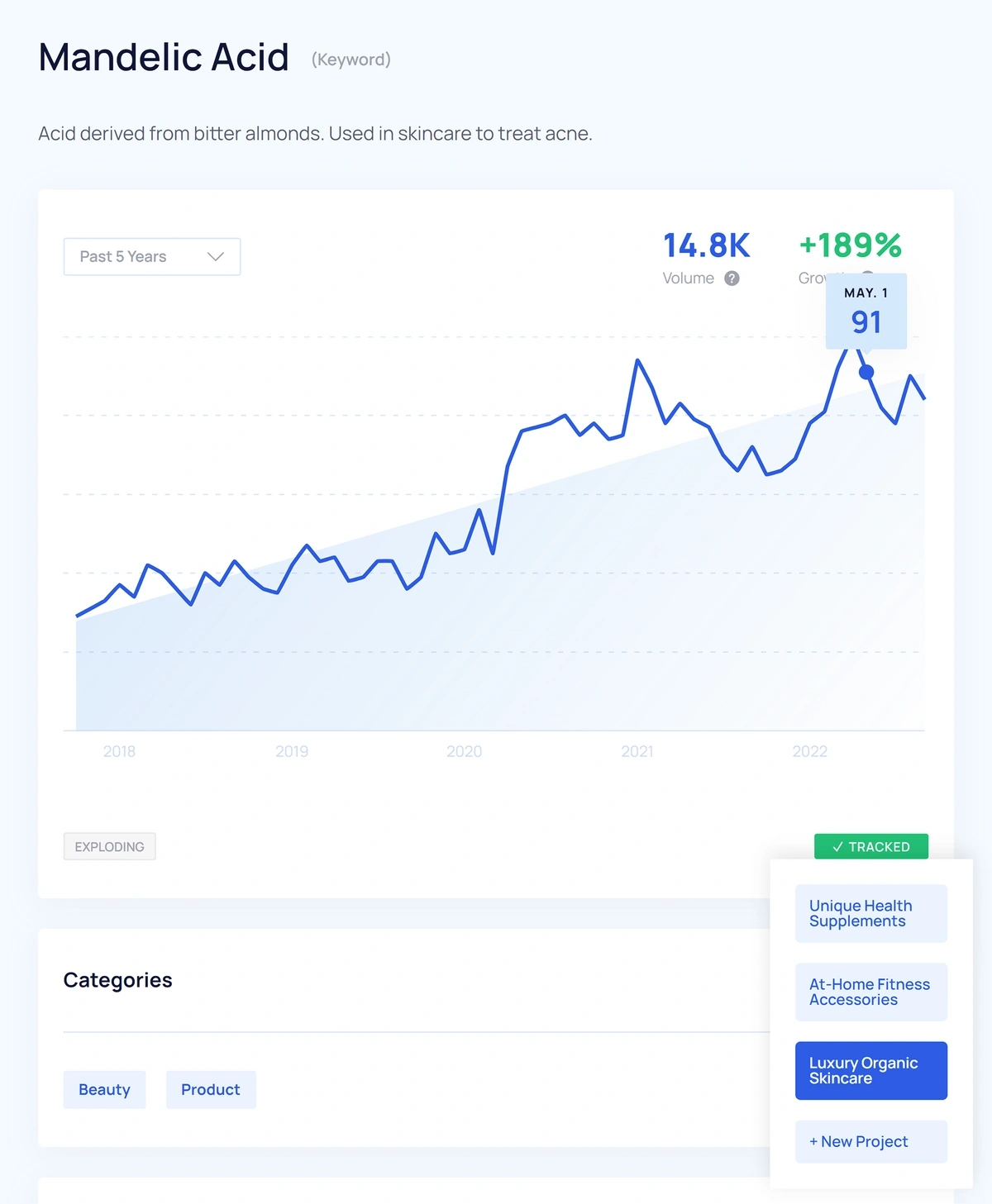 Upon opening the project dashboard, you can see all saved trends are neatly organized under two projects — Luxury Organic Skincare and Design & Home Decor; this allows us to track beauty and home trends separately.
From this view, you also see trends and Meta Trends that relate to saved projects — these lists let you quickly find new opportunities in your area of interest, without starting your search from the database or Meta Trends tab every time you log in. We also provide links to the latest trend reports in the bottom-right corner so you can refer back to reports without leaving the dashboard.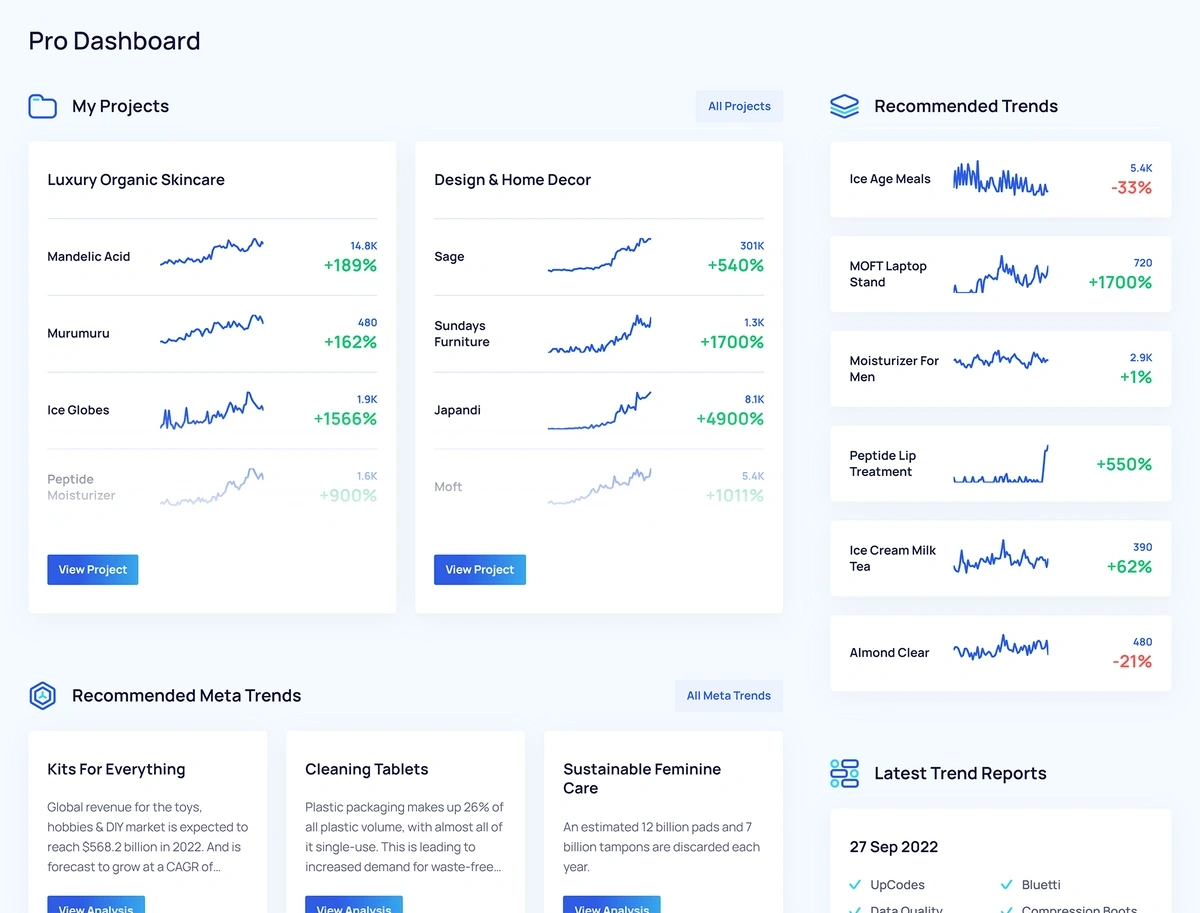 Analyze Trend Growth in the Trend Overview
You can analyze trend data by opening the overview window. We make trend analysis simple by consolidating all available trend data and displaying metrics like search volume and growth rate in a clear graph — you can even hover your cursor over the graph to view search volume by day. We collect up to 15 years of historical trend data so you can get a full picture of the trend lifecycle, understand exactly how interest has gone up and down, and forecast future trend growth.
For example, let's look at another skincare product that's become increasingly popular over the last few months: Niacinamide Body Lotion.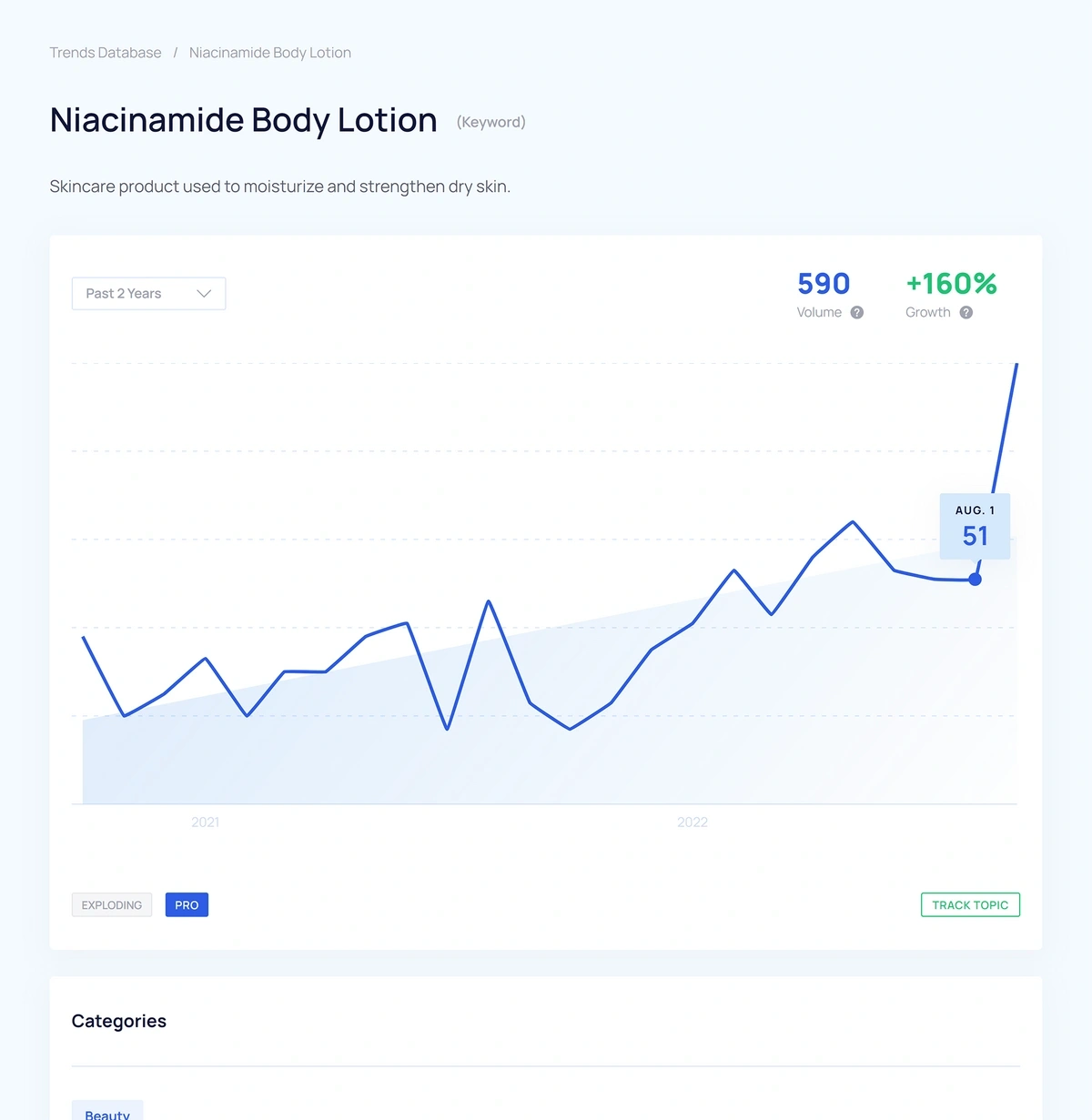 Here, the trend overview shows changes over the past two years, but you can also use the dropdown menu to display data from just the most recent months. We can see interest in the product has fluctuated since the beginning of 2021, but interest recently started to take off in July of 2022. The current growth rate is 160% and this trend falls into the "Exploding" category.
A quick note on trend status:
The "status" of a trend will tell you where a trend is at in its lifecycle — is it still an early trend, has it already gained some popularity, or has it seen its peak?
Regular trends are in early growth stages, which means your audience probably hasn't heard of them yet and now's the best time to start tracking these trends.
Exploding" trends are taking off and could be on your competitors' and customers' radars. It's best to keep an eye on these trends as you might want to leverage these opportunities soon.
Peaked trends are already pretty popular, but you can still find valuable new opportunities by looking at related topics.
Monitor Trend Changes with the Project Dashboard and Email Alerts
Exploding Topics trend dashboard makes it easy to check on trends without having to collect data from multiple sources or wait weeks for updates. Just log in to your account and you can view the most up-to-date data for each trend.
We refresh our website daily so trend updates appear in your dashboard as soon as our system refreshes. You can also set up real-time email alerts to monitor your saved trends — you don't have to make it a point to log in all of the time and you won't miss any important updates.
Try Exploding Topics Pro to Track the Newest Industry Trends
With Exploding Topics Pro, you can build a more manageable trend-tracking strategy that doesn't involve scrambling between market research tools or scrolling through forums to analyze consumer behavior. Our platform removes the most time-consuming aspects of the tracking process with easy-to-use trend analysis tools and an organized, project-focused dashboard. You also get access to discovery tools that let you find early trends, analyzed by experts, so you never run out of new trends to save and track.
Start a Pro trial of Exploding Topics to discover, analyze, and track industry trends all in one user-friendly platform.
Related Read: #1 Site for Business Trends Research: Identify + Track Trends