5 Top Lifestyle Trends (2023-2025)
The pandemic drastically altered the lifestyle of nearly every person in the United States.
Now that we're living in a post-pandemic world, some lifestyle trends have faded out while others have gained momentum.
An emphasis on mental health and functional fitness are two lifestyle trends that emerged during the pandemic, but many more are based on culture and social media influences happening right now.
Keep reading to see five key trends that will influence American lifestyles in the months to come.
1. Americans Sober Up
While alcohol has played a prominent role in American culture for the past several decades, many people are deviating from this norm and adopting a damp lifestyle—limiting the use of alcohol for a temporary or prolonged period of their lives.
This lifestyle trend is known by a few different names: sober curious, semi-dry January, and mindful drinking, just to name a few.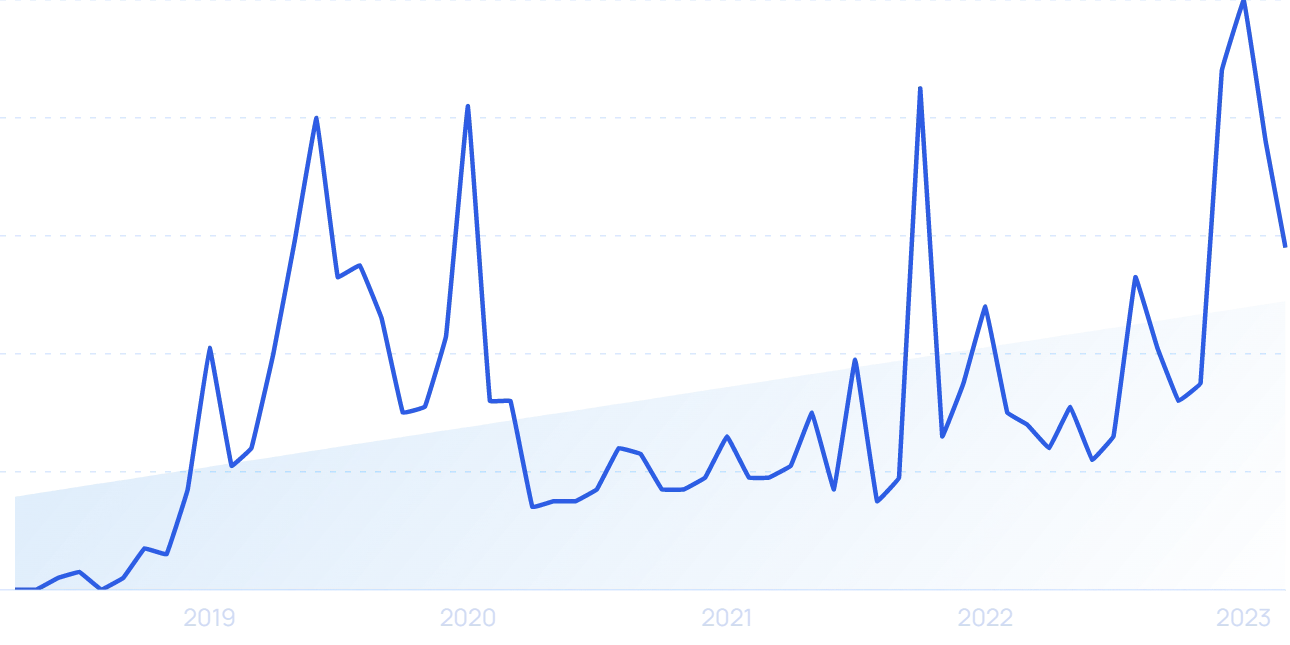 Search volume for "sober curious" is up 3,500% in the past few years.
A 2021 Gallup poll found that 60% of American adults drink alcohol. That number was down five percentage points since 2019.
The poll also reported that the number of average weekly drinks is down. Levels in 2021 were on par with lows seen in the late '90s and early 2000s.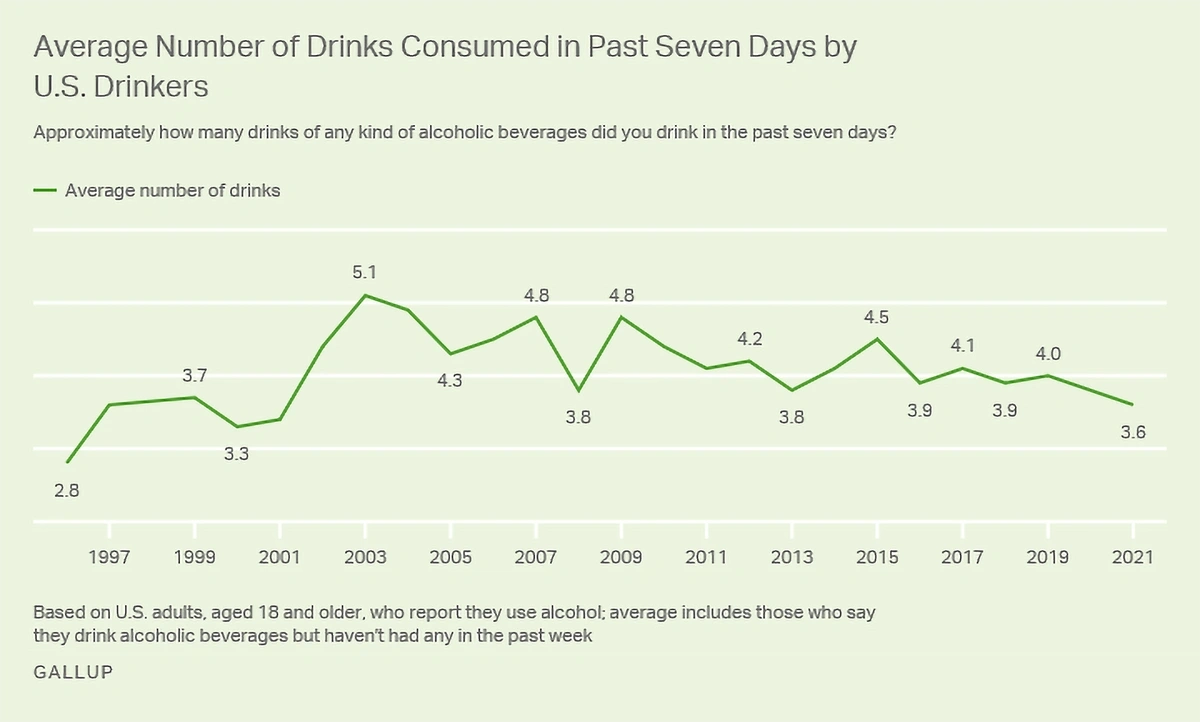 The number of weekly drinks consumed by Americans reached a high in 2003.
Some individuals give up drinking because they suffer from alcoholism, but that's not what this trend is.
Instead, this lifestyle trend focuses on people actively questioning their relationship with alcohol. Then, the next step is limiting alcohol for a month or longer in order to improve mental well-being, find other ways to cope with stress and anxiety, and simply be in the moment with friends and family.
Whatever their reasons may be, these sober curious individuals are having an impact on the market.
Neilsen's 2023 Consumer Outlook reports that spending on alcohol will be down 14 points this year.
The damp lifestyle is also being promoted by many celebrities and influencers on social media.
Alison Wu is a naturally-minded influencer who went sober for four months and documented her journey on Instagram.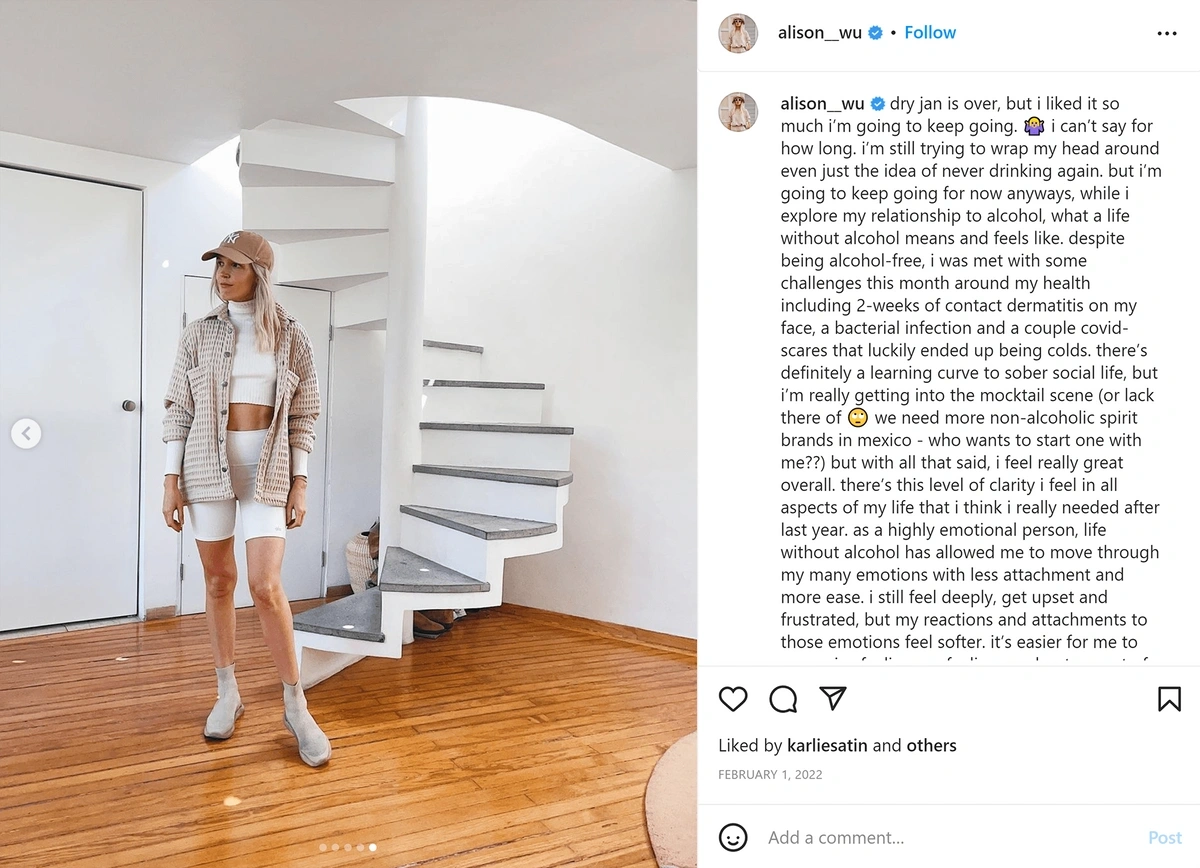 Alison Wu documented her sober-curious journey for nearly 150k followers.
TikTok videos with the hashtag "sobertok" have more than 1.1 billion views.
This may be one of the reasons why a sober-curious lifestyle is so popular among younger generations.
Individuals between the ages of 35 and 54 are the most likely to drink in the U.S., with Gen Z notably drinking less.
As many as 28% of college kids don't drink at all.
Interest in non-alcoholic beverages is also up among Gen Zers and Millennials.

Nearly 40% of Gen Zers are choosing to drink more non-alcoholic beverages than they have in the past.
2. More Americans Adopt "Slow" Lifestyles
A slow life is considered one that's mindful, meaningful, and free of unfulfilling busyness.
Individuals following this trend are intentional with their time and resources. Notably, slow life advocates are mindful of the time they spend on tech devices.
The hashtag "slowlife" has nearly 5.5 million posts on Instagram and 555 million views on TikTok.
The slow lifestyle doesn't look the same for every person, though.
Some may simply focus on putting family before work while others may go so far as to focus on building a life around homesteading.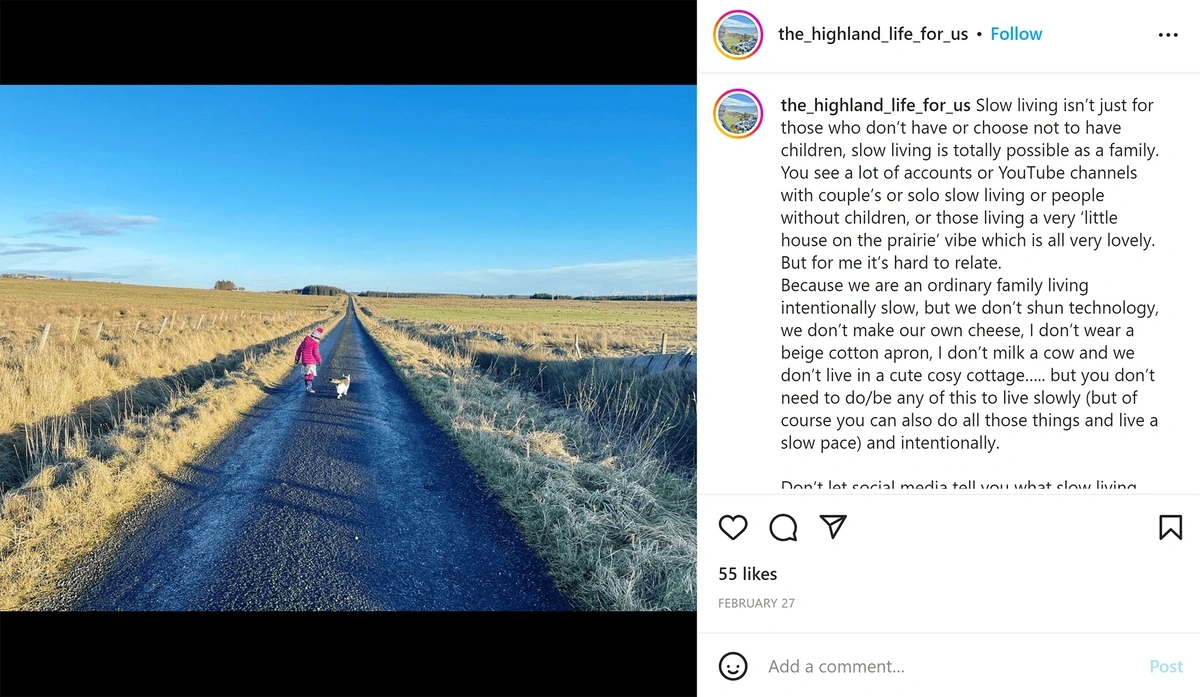 Slow living doesn't have an exact definition. Many people are adapting the trend to fit in with their own life circumstances.
Two of the of the main reasons this trend is growing are the rise in burnout rates and the rise of toxic productivity.
Individuals have gradually become more pressured by society's push to always be productive and never have downtime. This concept has become known as toxic productivity.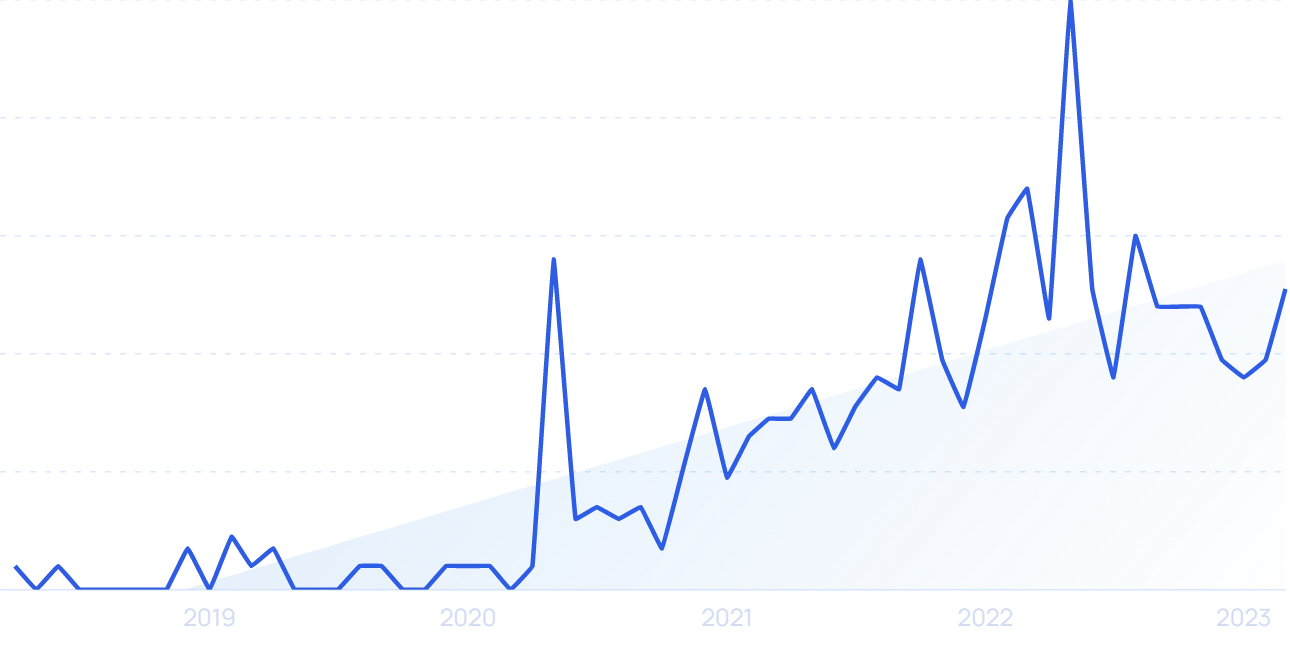 Search volume for "toxic productivity" is up 1,300% since 2019.
Slow living is in direct opposition to toxic productivity.
Instead of always finding some way to fill their time, those who follow the principles of slow living stay in the present and rest their bodies and minds (without feeling guilty) whenever necessary.
Toxic productivity and burnout go hand in hand.
The American Psychological Association reports that 80% of employees experience work-related stress at least once a month and three-in-five employees experience negative impacts from work-related stress—44% report physical fatigue and 36% report cognitive weariness.
Slow-living staples like meditation and minimalism aim to shift the focus of life to a place of rest instead of a place of busyness.
Some of the principles of slow living come from the Japanese concept of ikigai.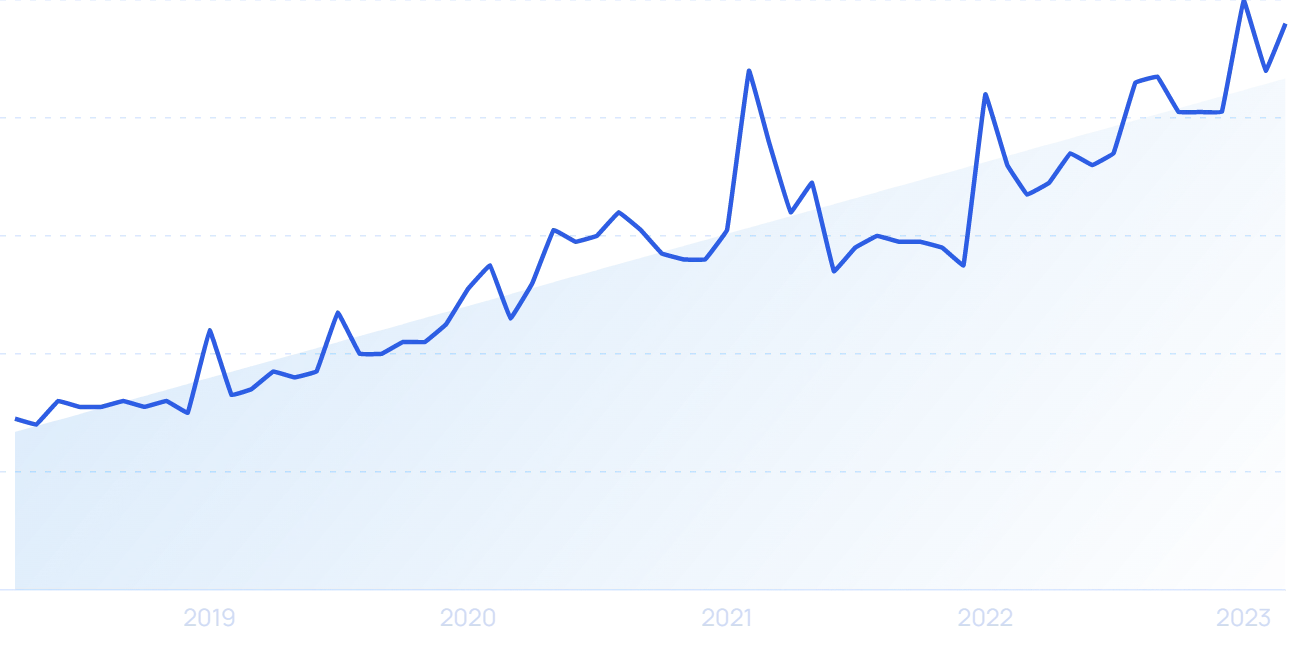 Search results for "ikigai" are up more than 260% in the past five years.
The general idea of ikigai is living a life worth living and knowing your reason for being.
People are active, but not rushing. They connect with nature and find joy in everyday things. They live in the moment.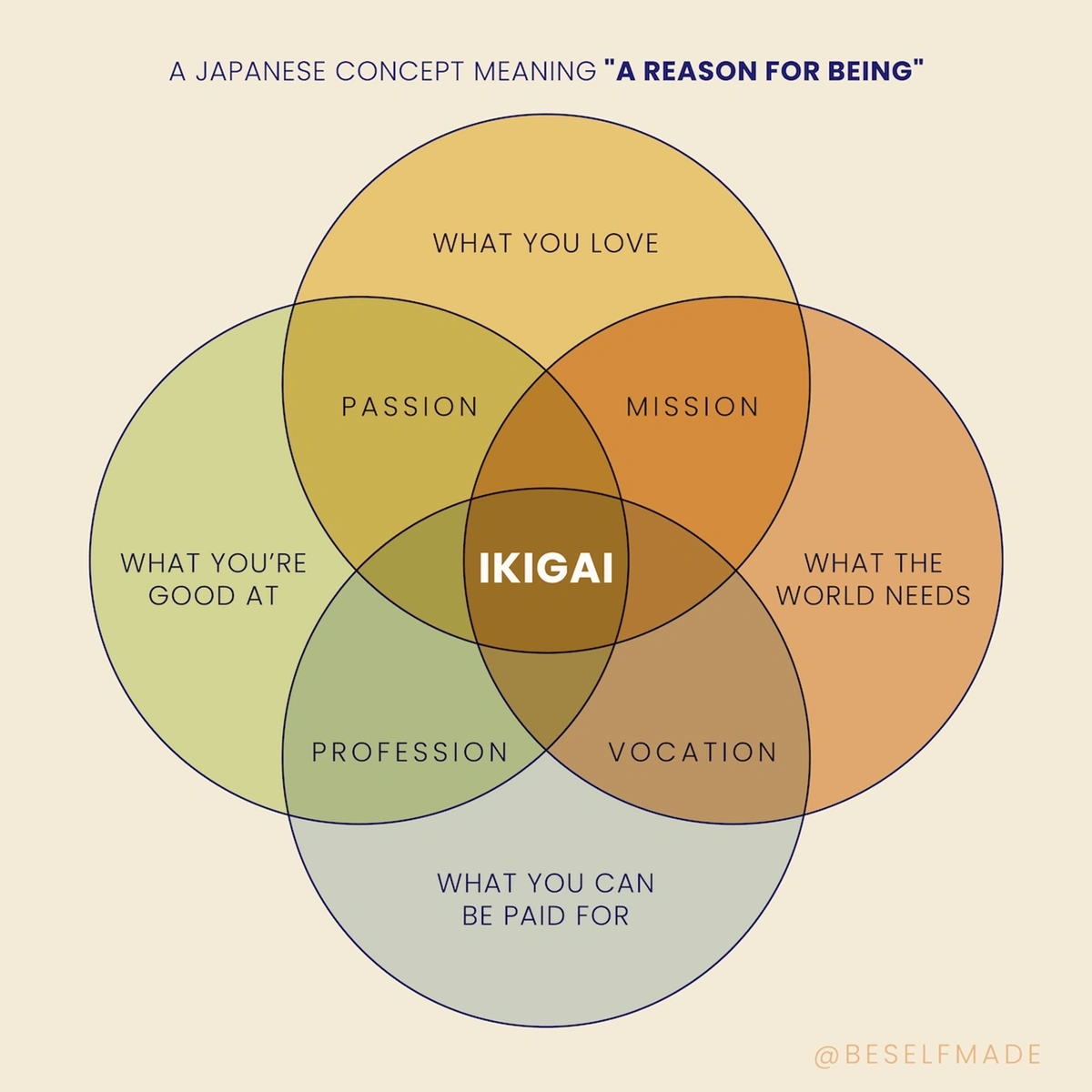 Ikigai originated on the island of Okinawa.
3. Growth of Mental Health Apps Continues Post-Pandemic
According to the 2023 State of Mental Health in America report, 21% of Americans are suffering from a mental illness. That equates to more than 50 million people.
A positive focus on mental health has been building for the past few years as the stigma surrounding mental health issues has been easing.
In the coming months, consumers and companies are likely to continue that focus and invest in new ways to improve mental health.
Many are making lifestyle changes like eating healthier, sleeping better, and exercising to boost their mental health.
Others are enlisting the help of apps in order to improve their mental well-being.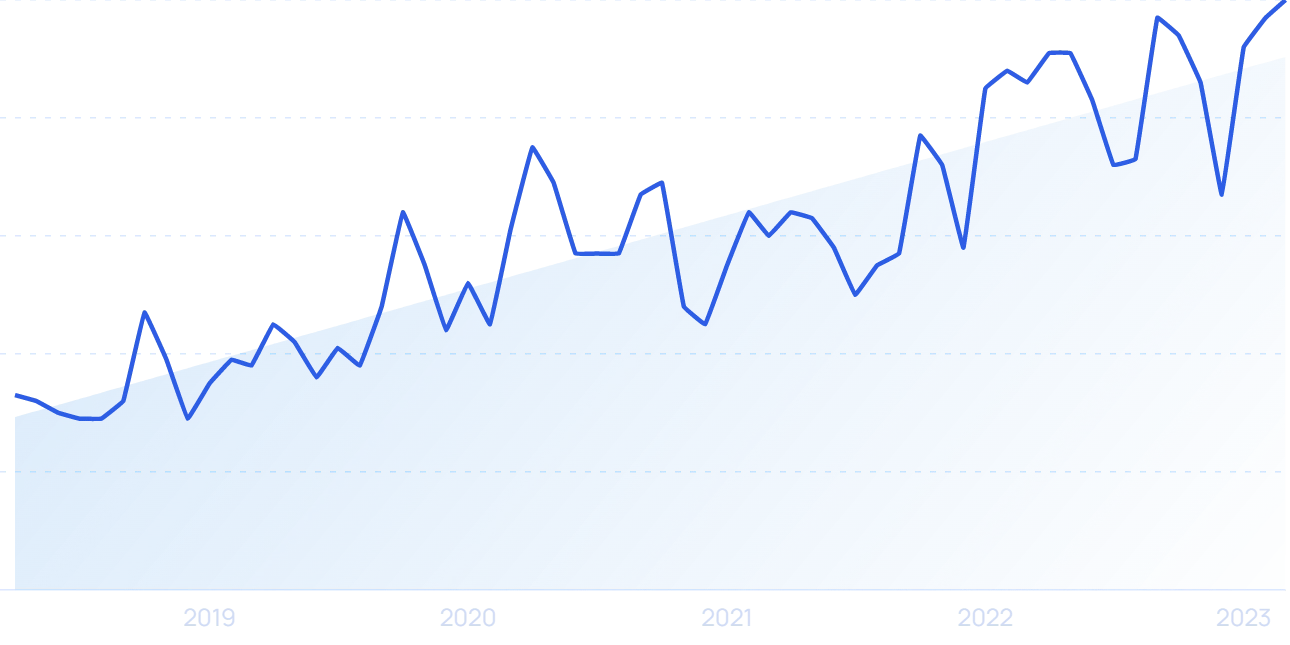 Search volume for "mental health app" is up nearly 250% since 2019.
The use of mental health apps soared during the pandemic. A digital health company in the U.K. reported the use of these apps increased 6,500%.
Current estimates show there's anywhere from 10,000 to 20,000 mental well-being apps available.
And downloads are still growing.
In a Forbes Health poll, more than 50% of people said they were going to use an app to keep on top of their New Year's resolutions like improving their mental health.
Most commonly these apps provide mental health education, help the user set goals, and encourage mindfulness.
Sanvello is an app focused on cognitive behavioral therapy principles.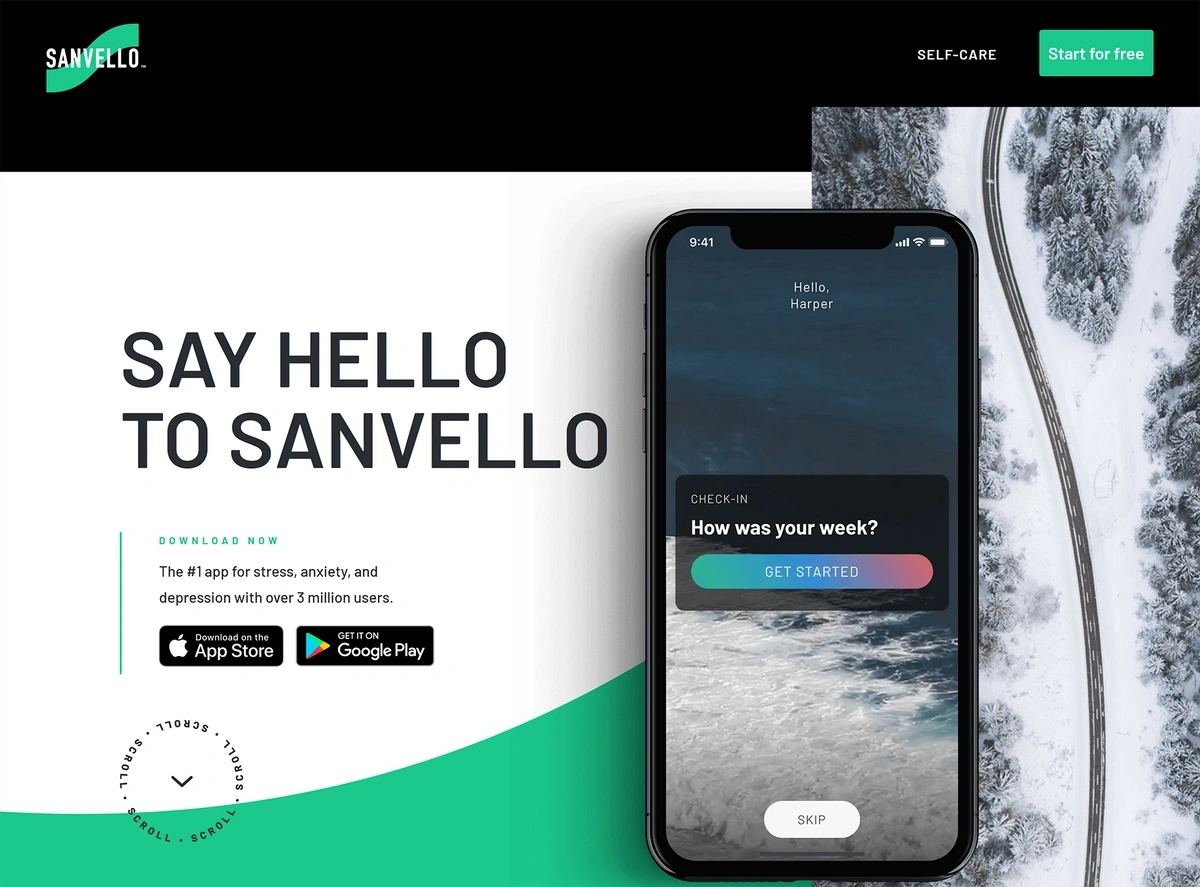 Nearly 3 million people use Sanvello.
The basic version of the app is focused on self-care and offers health and goal tracking and mental health exercises.
There are also premium versions with coaching and therapy options, some of which are covered by some employers, colleges, and insurance companies.
Most mental health apps aren't scientifically proven to improve symptoms, but Sanvello is.
In fact, a study of the app found that adults with mild/moderate anxiety and depression saw their symptoms decrease while using the app and those effects lasted even after they stopped using the app.
Instead of specifically treating symptoms, other mental health apps aim to provide people with a direct line to accessing therapy.
BetterHelp is one example.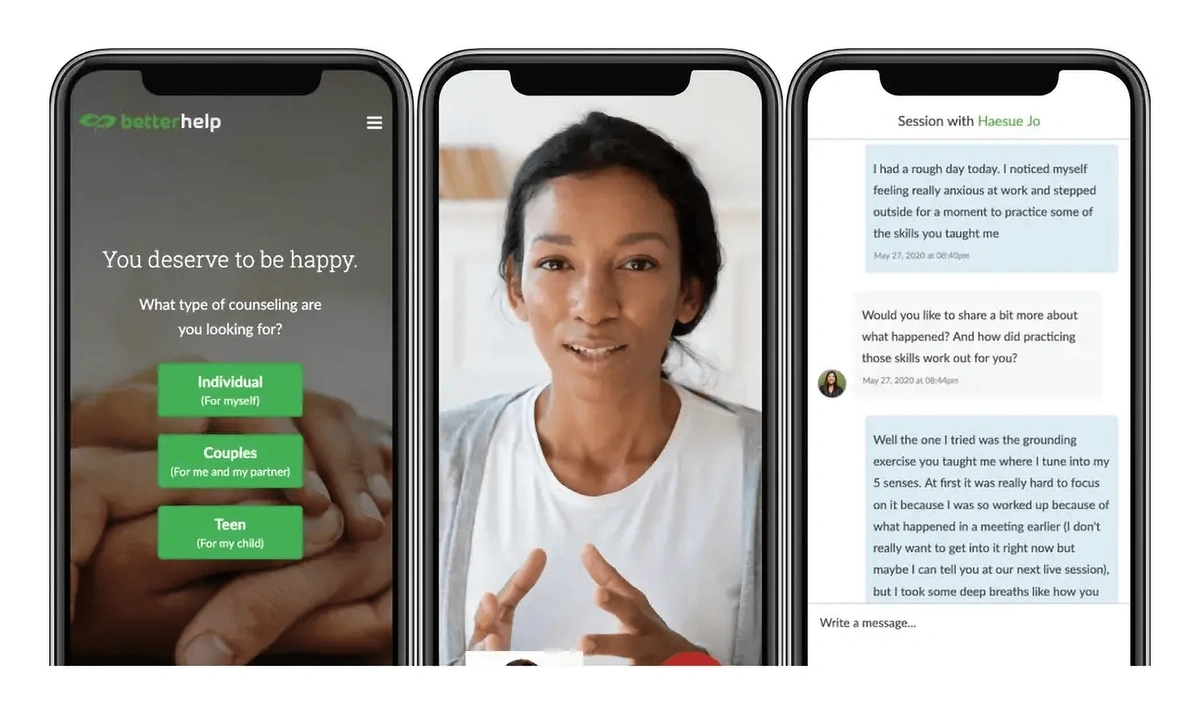 The BetterHelp platform hosts more than 30,000 licensed therapists.
With 3 million users and nearly 300 million therapy-patient interactions, the company brands itself as the largest therapy platform in the world.
After being matched, individuals can communicate with their therapist over text, phone, or video call.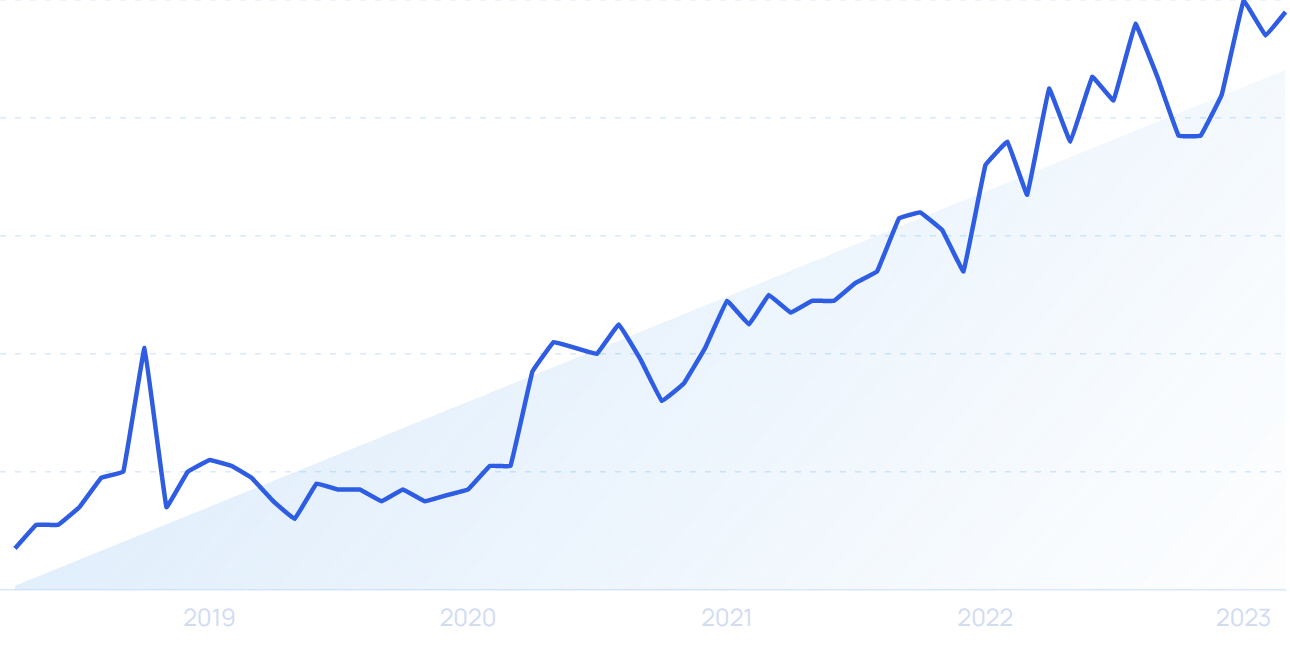 Search interest in "BetterHelp" is up more than 800% in the past few years.
However, some patients and mental health experts aren't sold on therapy-on-demand apps.
One doctor compared app-based therapists to Uber drivers, saying they may be great therapists but the platforms and conditions make it impossible to provide the kind of therapy people need.
With millions of users, it seems like many patients are getting what they want from app therapy and that trend is predicted to grow into the next decade.
The market for mental health apps is expected to grow at a CAGR of nearly 16% though 2030, topping out at $17.5 billion.
4. Consumers Seek a Natural Boost from Functional Beverages
Eating healthier is a top goal of more than 50% of Americans. That number soars to nearly 60% when considering just Baby Boomers.
But, the top barriers to adopting a lifestyle of healthy eating are the expense, the time commitment, and a lack of knowledge.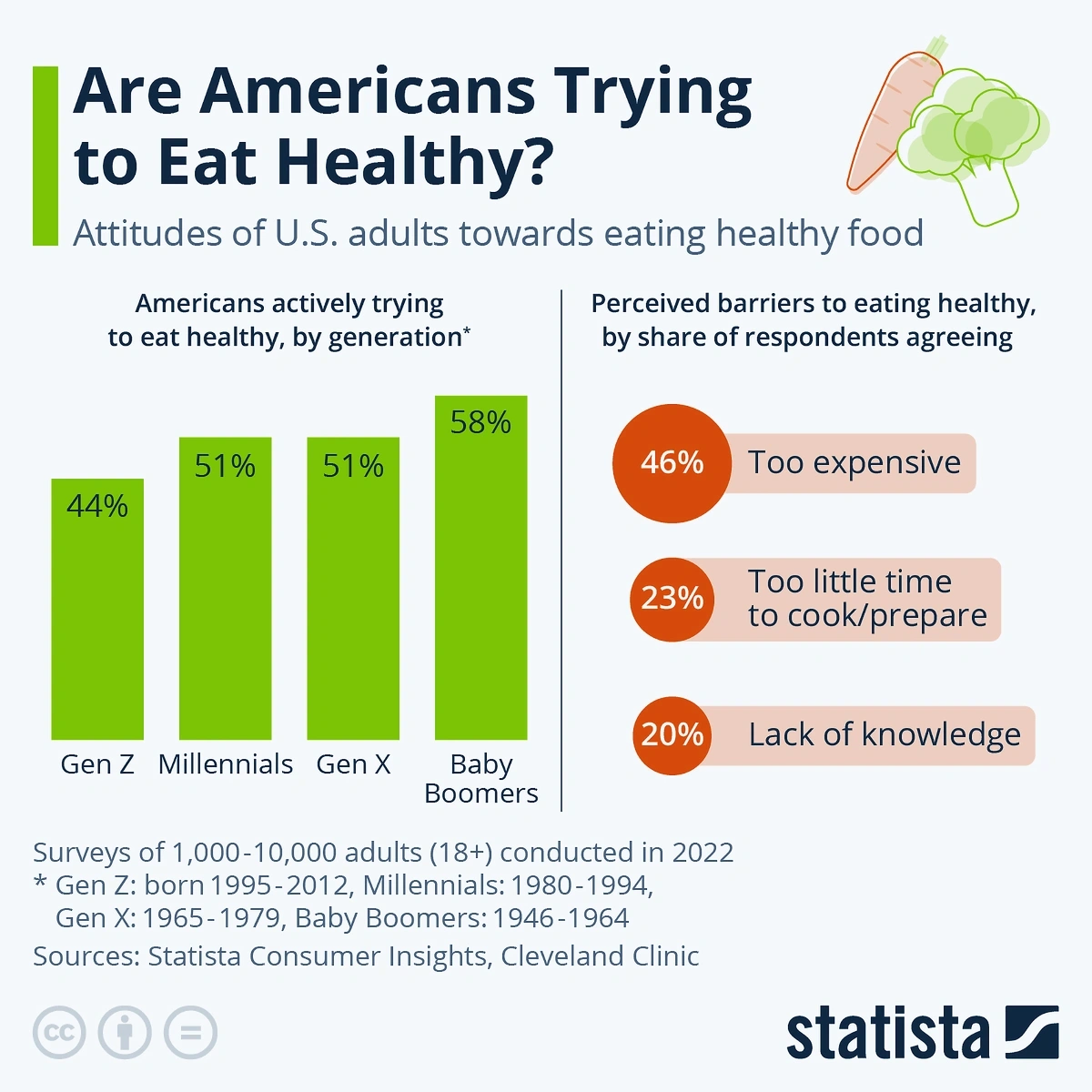 Recent data shows more than half of Americans want to eat healthier.
Functional beverages are one way in which many individuals are improving their nutrition.
Although these products aren't a low-cost option, they don't require any prep work and they offer the benefits that many people are after.
For example, sales of beverages to support metabolism are up more than 43% and beverages to support the immune system are up more than 21%.
Stress-relieving drinks are trending upward too.
In a 2022 survey from KeHE Foods, a wholesale distributor, 41% of consumers reported buying foods and drinks that support relaxation.
While some of the growth in recent years was due to people becoming more health conscious in the wake of coronavirus, consumers continue to be drawn to new ingredients like caffeine replacements and mood-boosting compounds.
The fastest growing segments of this $120-billion market are dairy beverage alternatives, energy drinks, and functional carbonates.
OCA is a new company (launched in 2020) that's jumping on this trend by producing a plant-based energy drink.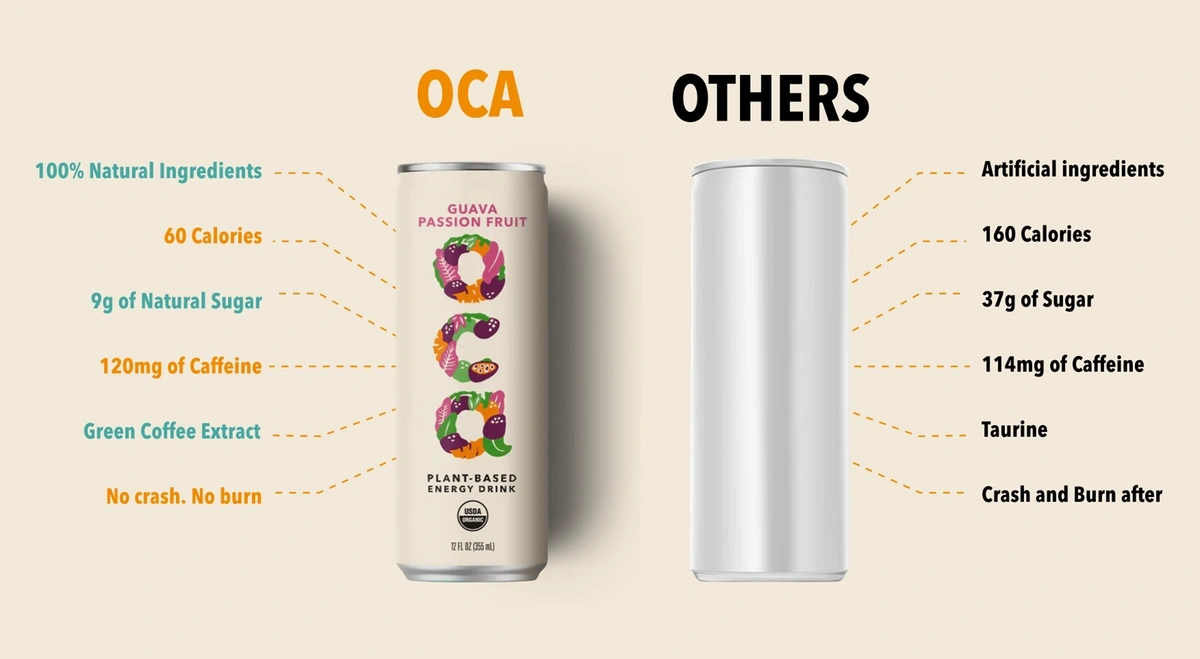 With natural ingredients and a low calorie count, OCA appeals to those who are adopting a healthier lifestyle.
Tapioca (cassava root extract) is responsible for the 120-milligram dose of natural caffeine that comes in OCA's drinks.
Last year, they expanded into 2,000 Kroger stores in the U.S.
Along with clean energy drinks, research from ADM predicts drinks that aim to improve digestive health will be trending in the coming months.
Matcha-infused drinks offer gut-boosting benefits along with anti-inflammatory properties.
California-based Clevr Blends offers several superfood lattes that aim to improve the emotional, cognitive, and digestive health of their customers.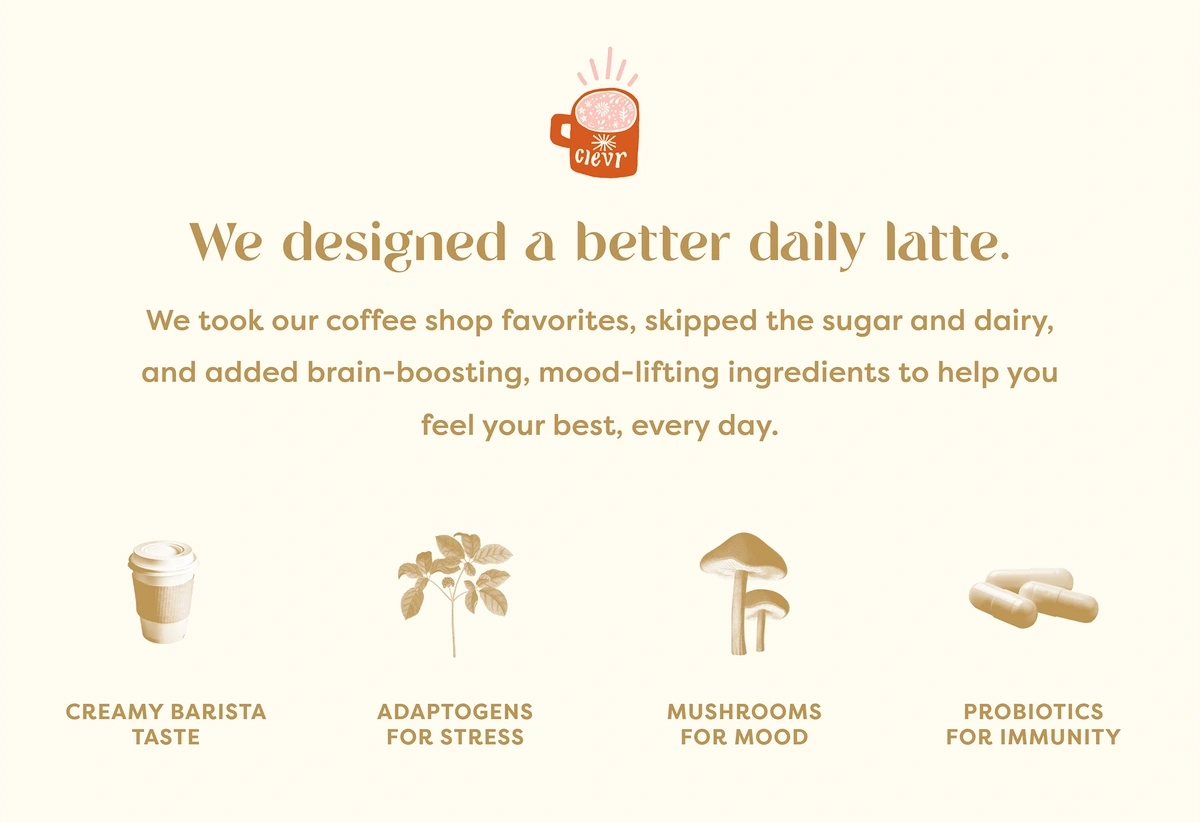 Clevr Blends' powders blend with water to create a drink with the taste and texture of a coffee shop latte.
Instead of being a ready-to-consume drink, they sell their product as powders.
Their matcha latte powder combines gut-healing probiotics with other popular functional ingredients like reishi and ashwagandha.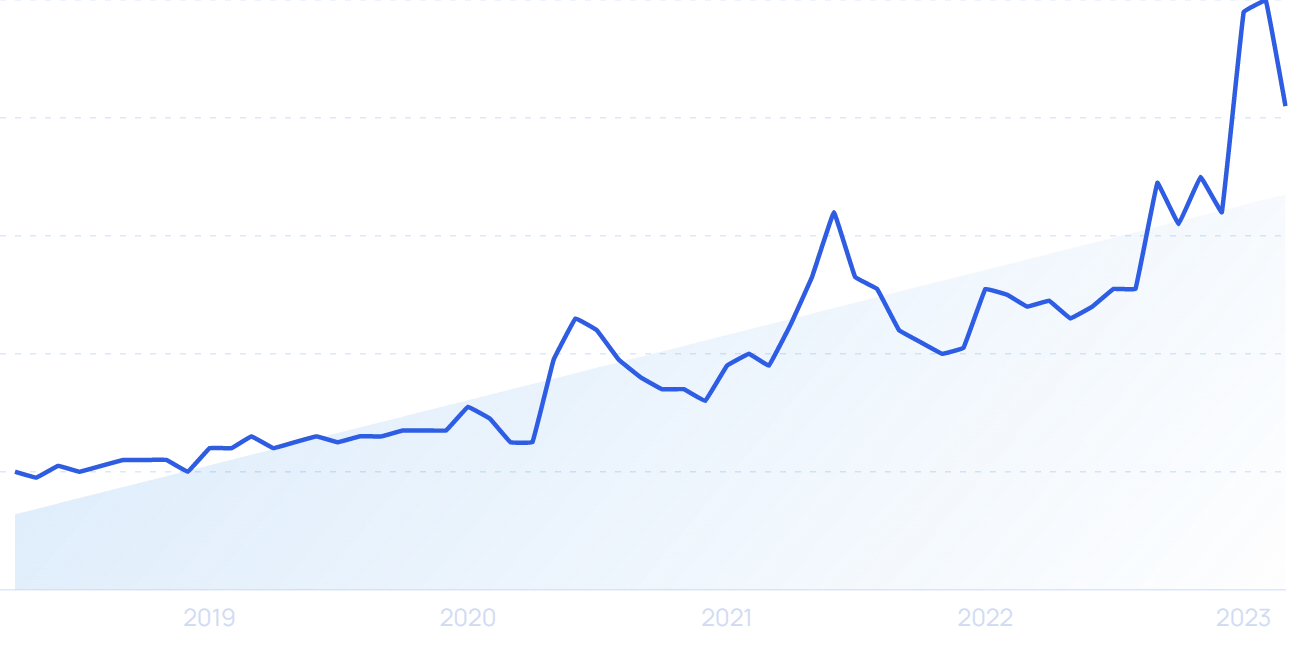 Search interest in "Ashwagandha" has grown more than 300% in recent years.
As an indication of just how popular these types of drinks have become in today's culture, Clevr Blends' Instagram recently featured Megan Markle drinking their lattes.
5. Primal Fitness Offers New Ways to Exercise
Each year Pinterest predicts the top trends of the upcoming 12 months. This year, the concept of primal fitness made the list.
The platform reports searches for the term are up 120%.
Searches for other functional fitness terms are up too: a 140% increase for mobility stretches, a 210% increase for neck hump exercises, and a 135% increase for knee mobility stretches.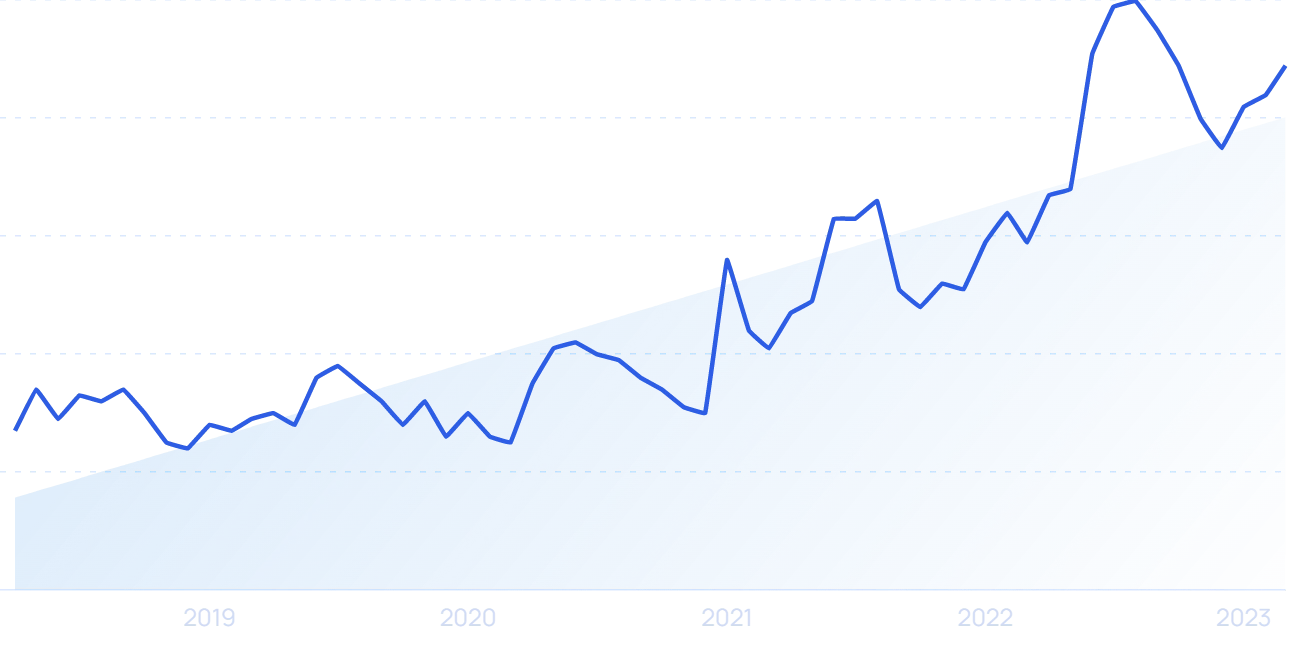 Search volume for "neck hump" is trending upward.
People are adopting primal fitness as a way to create a healthy lifestyle without the need for fancy equipment or special trainers.
Instead, this fitness category focuses on natural movements that we all need to do in our everyday lives. This includes lifting, carrying, heaving, squatting, and the like.
It's essentially everything that Americans aren't doing as they sit at a desk all day.
The term "primal" is used because these are activities humans have been doing for thousands of years. And, many are based on animal movement patterns.
It's an anti-tech workout that aims to get back to the natural way of exercising for health.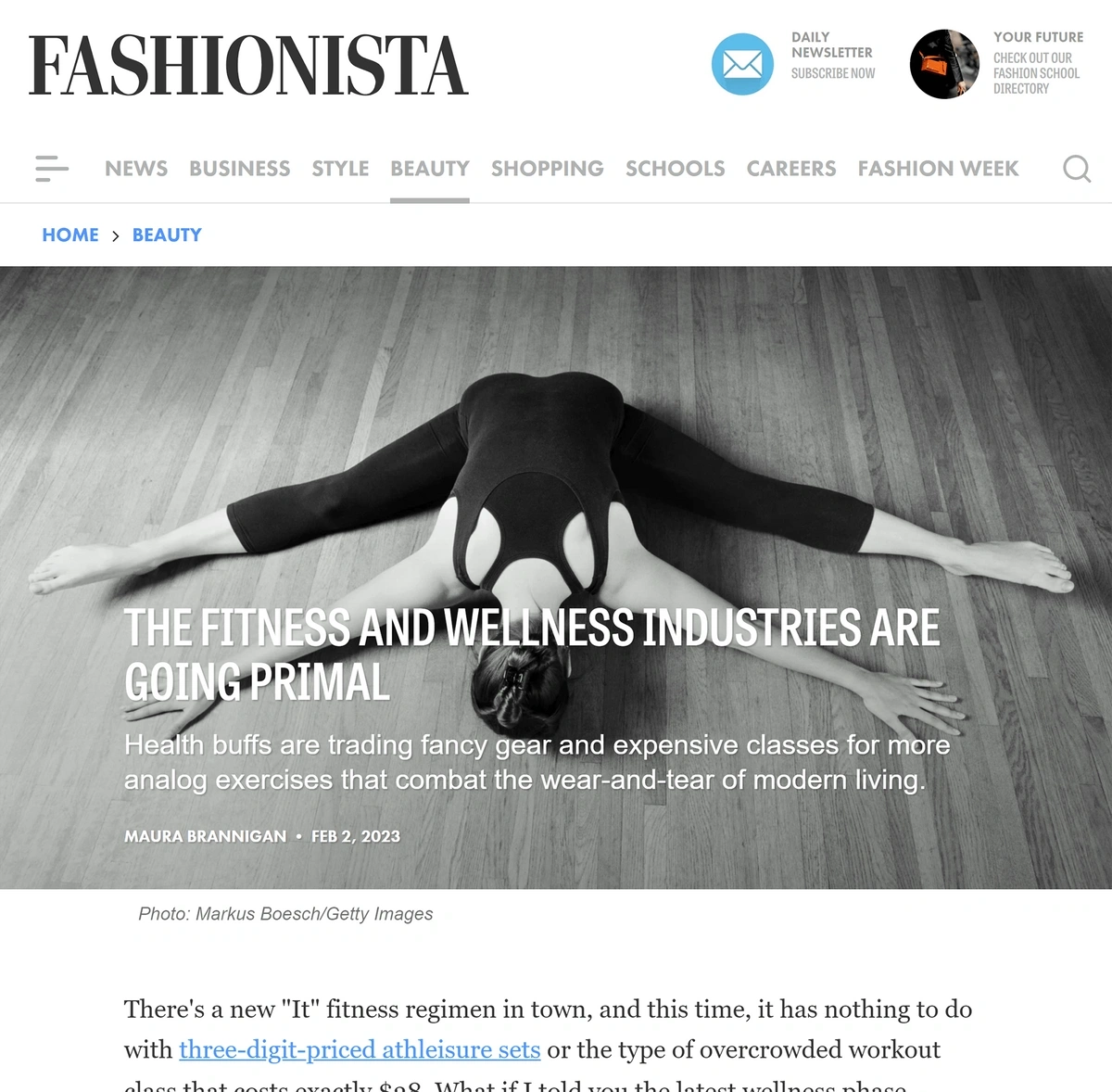 Incorporating primal fitness and mobility is one way Americans are adopting healthier lifestyles.
According to recent data, the percentage of people who exercise purely for health reasons, as opposed to simply wanting to lose weight, is growing. Being healthier and living longer are the main sources of motivation for 30% of people who exercise today.
Joe Holder, a Nike master trainer and wellness expert, runs an Instagram account focused on primal fitness. It's called Exercise Snacks.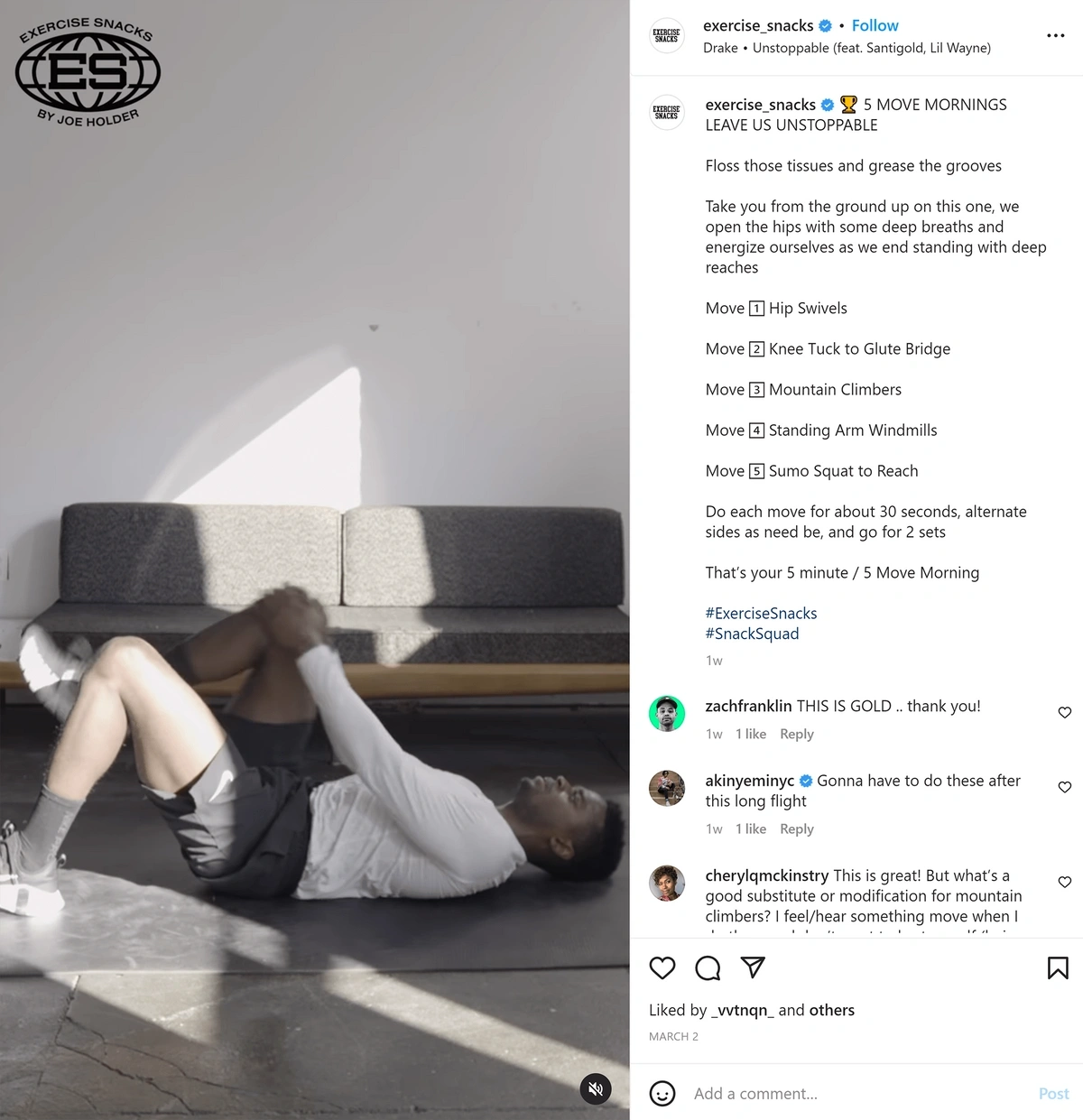 Joe Holder's "exercise snacks" Instagram account has more than 30,000 followers.
His slogan is simple: Make Movement a Movement.
His posts cover a wide variety of primal movements that don't require any equipment.
Primal fitness is a trend that many older Americans are adopting, too.
Studies show functional fitness exercises can increase muscle strength, mobility, and balance in older adults.
Conclusion
That wraps up our list of the top five trends that are expected to influence the lifestyle choices Americans make in the coming months.
Overall, studies and polls show that people want to live healthier lives. For some, that means changing their eating or drinking habits, or at least taking a closer look at what they're putting into their bodies. For others, it means putting a priority on mental health and time spent with loved ones.
As these lifestyle trends take shape, the influence of social media, apps, and pop culture will continue to impact the changing priorities of Americans.