Top 15 Marketing Podcasts in 2023
Are you looking to stay on top of the latest marketing trends? Get ahead of your competition by tuning into podcasts with insights from established industry experts.
We've put together a list of 15 of the best marketing podcasts, covering topics like digital media, branding, lead generation, and more. Read on to stay informed and be one step ahead.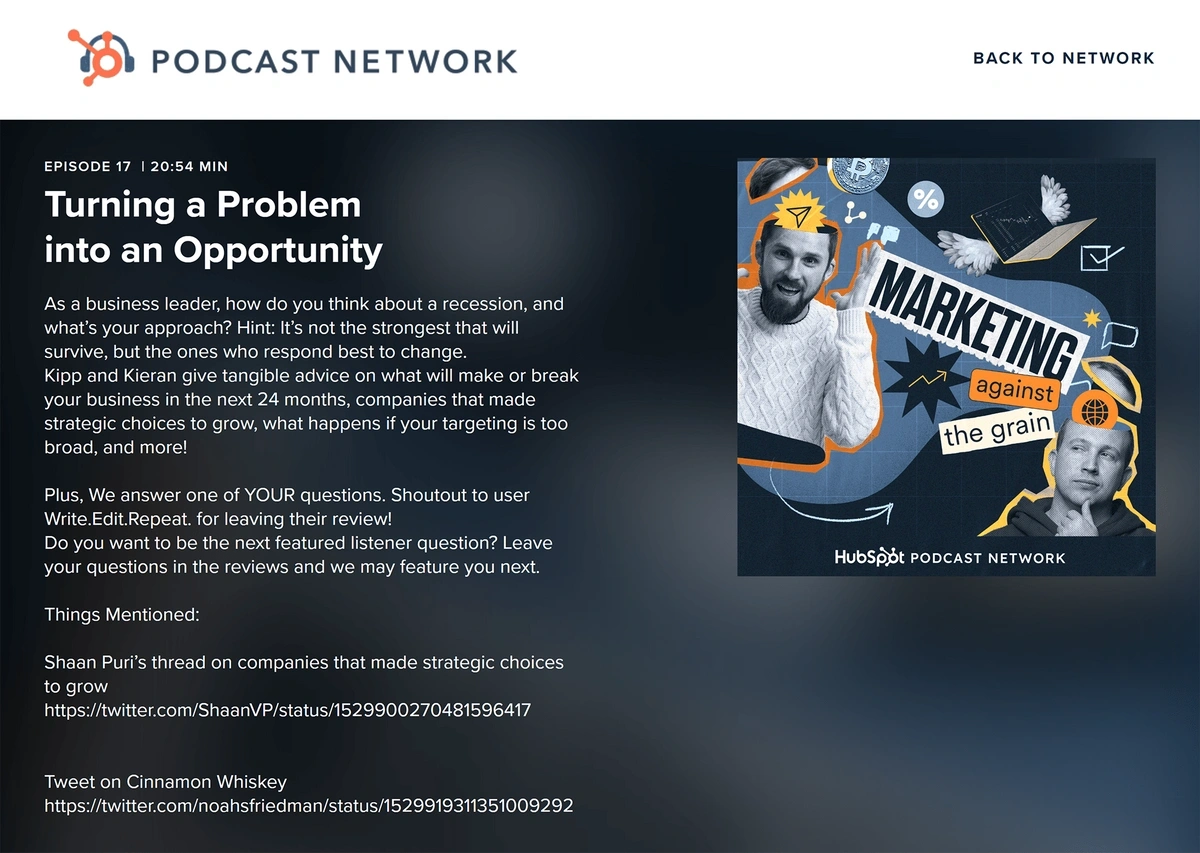 Year started: 2022
Number of episodes: 113
Posting schedule: A few times a week
What it is: A Hubspot podcast hosted by marketing powerhouses Kipp Bodnar (Hubspot's CMO) and Kieran Flanagan (Zapier's CMO), this relative newcomer to the podcasting game focuses on more unconventional takeaways and strategies to give you an edge as a marketer. Listeners love their marketing breakdowns and tangible advice. Since they post a few times a week, there are plenty of episodes to catch up on so you can grab some fresh, innovative ideas for your marketing toolbox.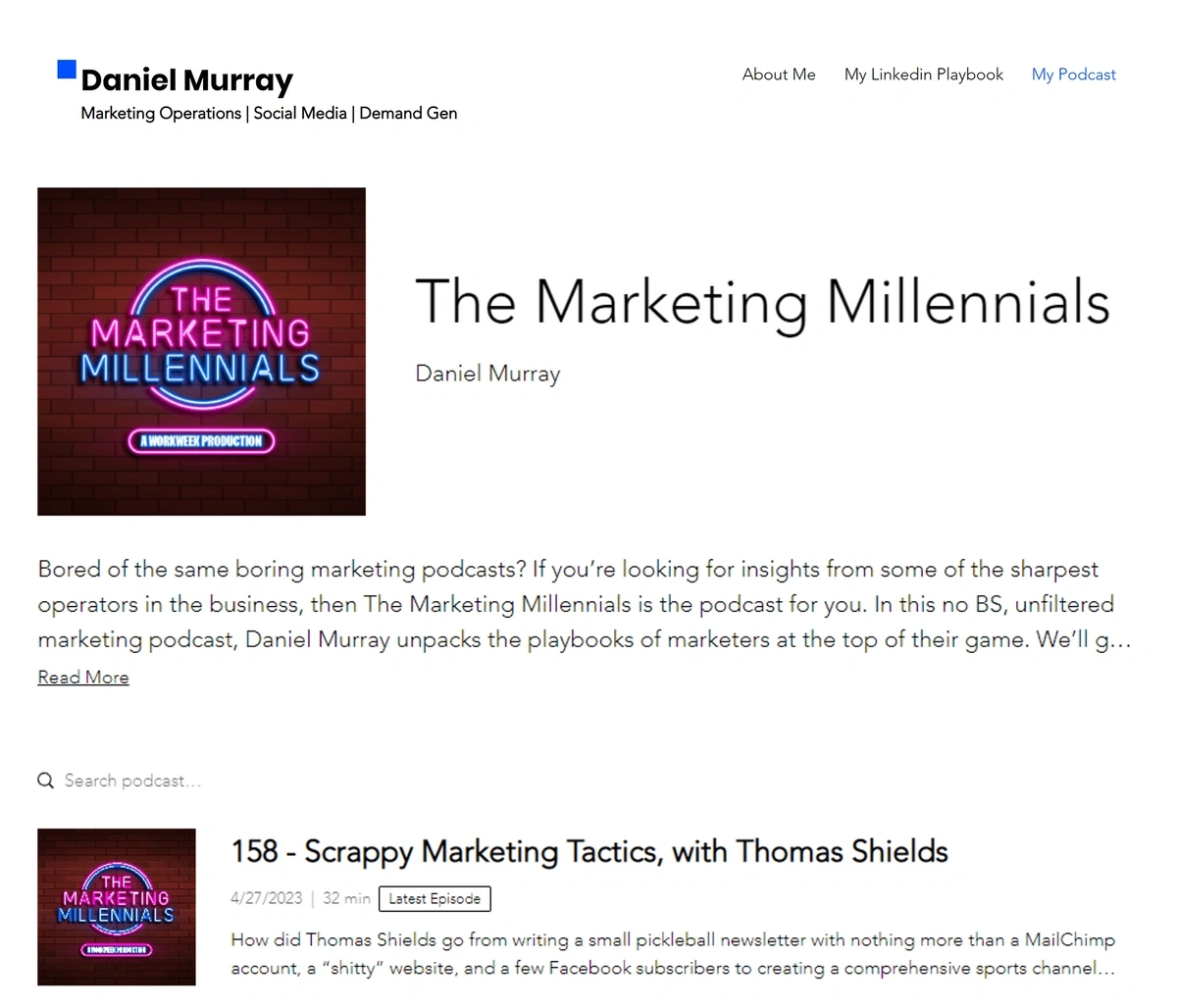 Year started: 2020
Number of episodes: 200
Posting schedule: Three times a week
What it is: Stay up-to-date with modern marketing trends and enjoy a fresh perspective from a millennial point of view. Host Daniel Murray brings you no BS, engaging conversations with leading experts in digital marketing. Get inspired by stories of success and gain valuable insights on topics like lead generation, content creation, and building profitable newsletters so you can revolutionize your approach to digital marketing.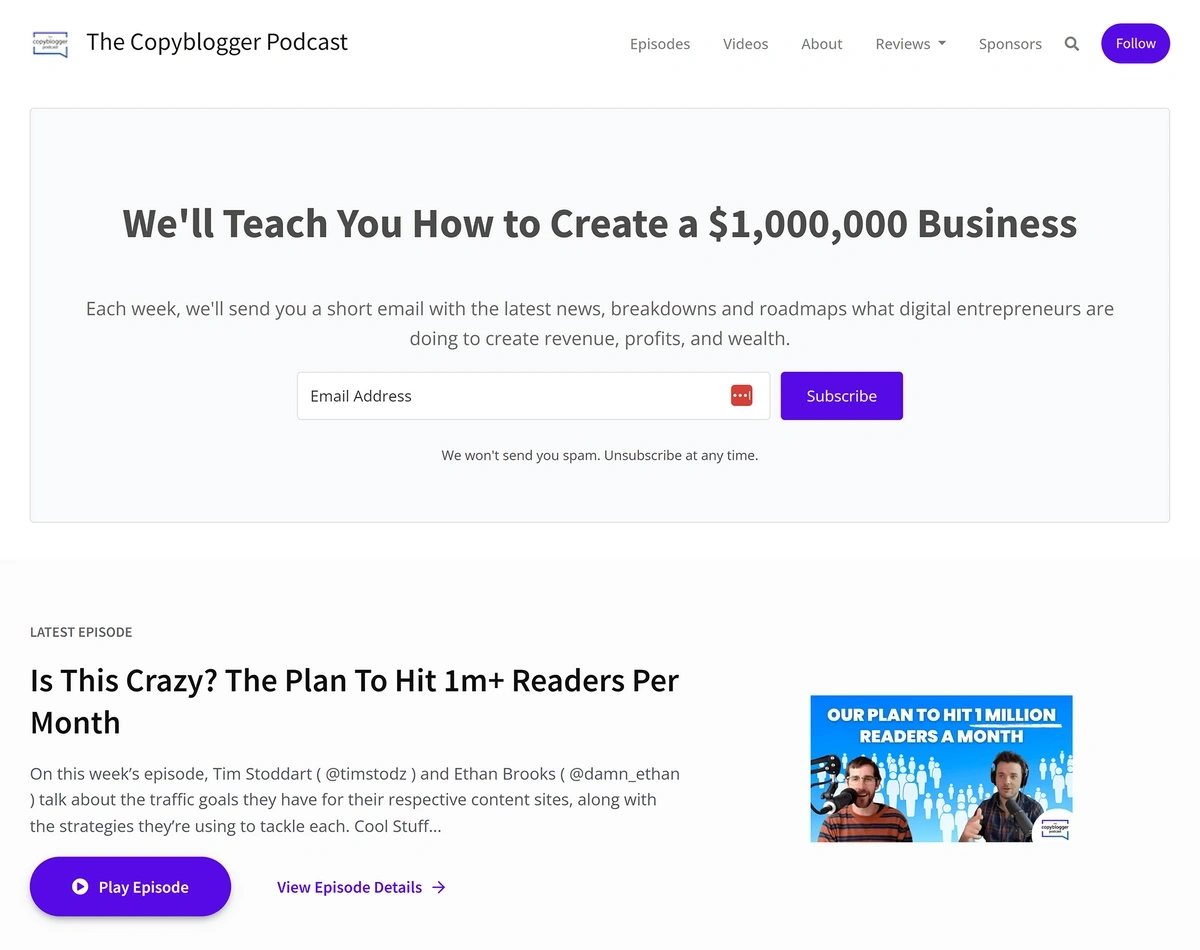 Year started: 2016
Number of episodes: 225
Posting schedule: Weekly
What it is: One of the leading shows on digital content creation, Copyblogger is full of informative conversations with some of the best authors, marketing experts, and entrepreneurs from around the world. A great option if you'd like to discover new strategies to improve your content marketing efforts, the discussions always provide actionable advice and tips on how you can craft the highest quality content on a consistent basis for your brand.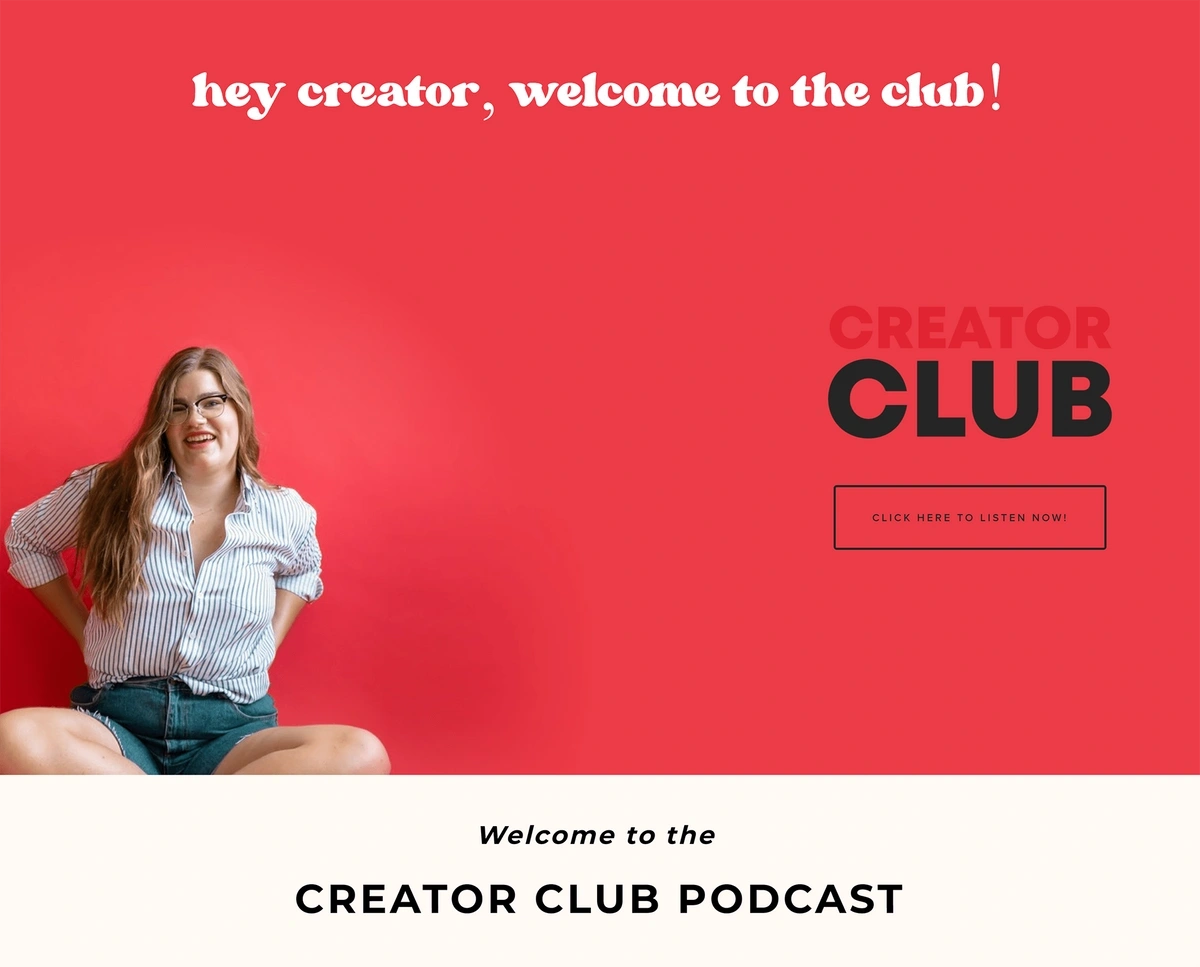 Year started: 2019
Number of episodes: 134
Posting schedule: Weekly
What it is: Hosted by social media marketer Katie Steckly, every episode of Creator Club centers around a workshop-style presentation or special guest interview. Check it out if you're interested in exploring how to create engaging content for online platforms and leverage your brand's presence on social media. The show dives deep into the creative journeys of its guests, with thorough analysis and thought-provoking discussions.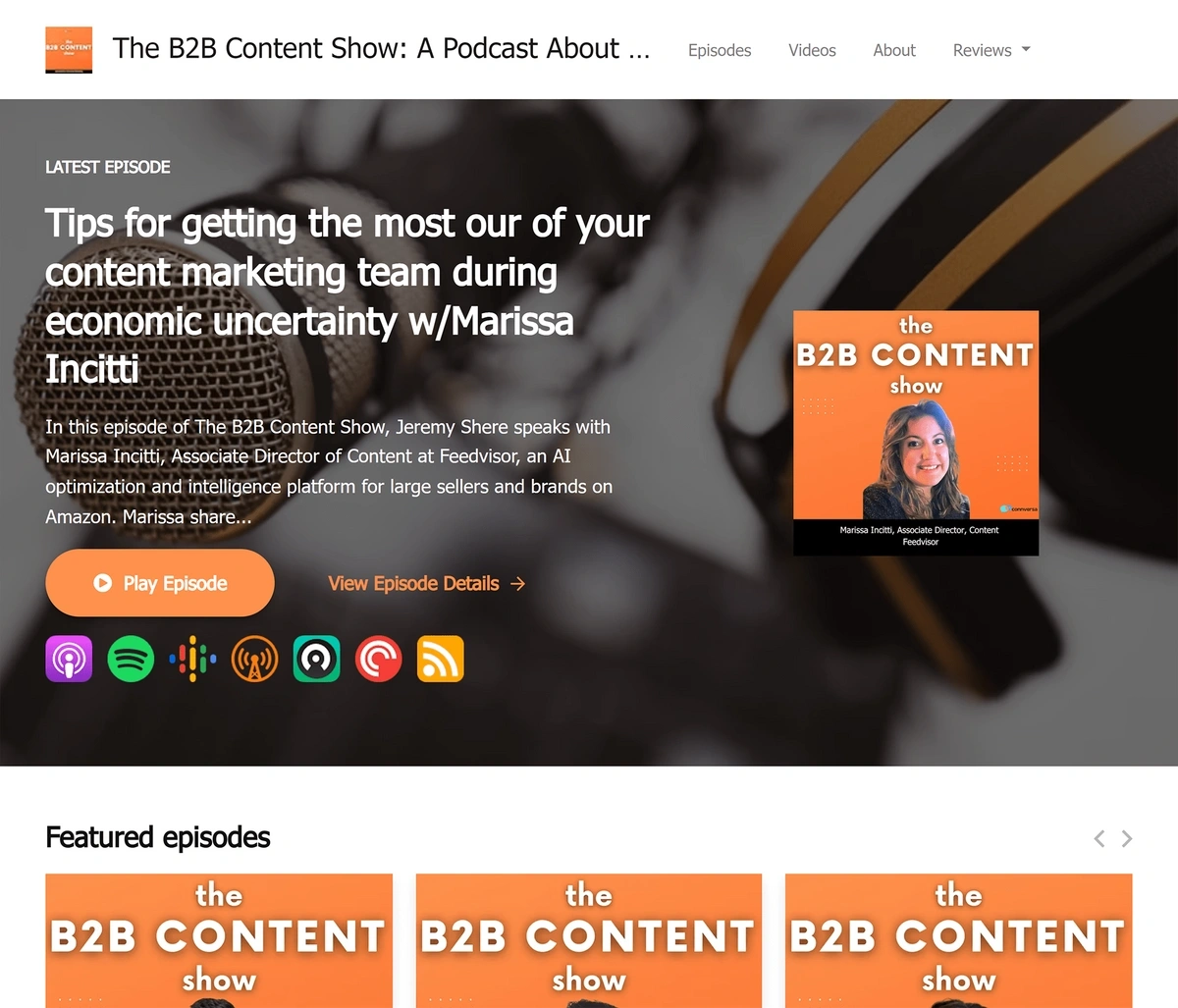 Year started: 2021
Number of episodes: 309
Posting schedule: Three times a week
What it is: The B2B Content Show is uniquely positioned as a podcast focused solely on marketing in the B2B world. Hosted by two experts in the field, this show takes you on an exploration of the how, what, and why of successful content strategies. Diving deep into interviews with top industry influencers and studying detailed case studies across the best practices from real-world applications, the B2B Content Show ensures businesses are equipped with all the knowledge they need to truly succeed in their content marketing efforts, including creating compelling campaigns that stand out from competitors and optimizing content for maximum digital reach.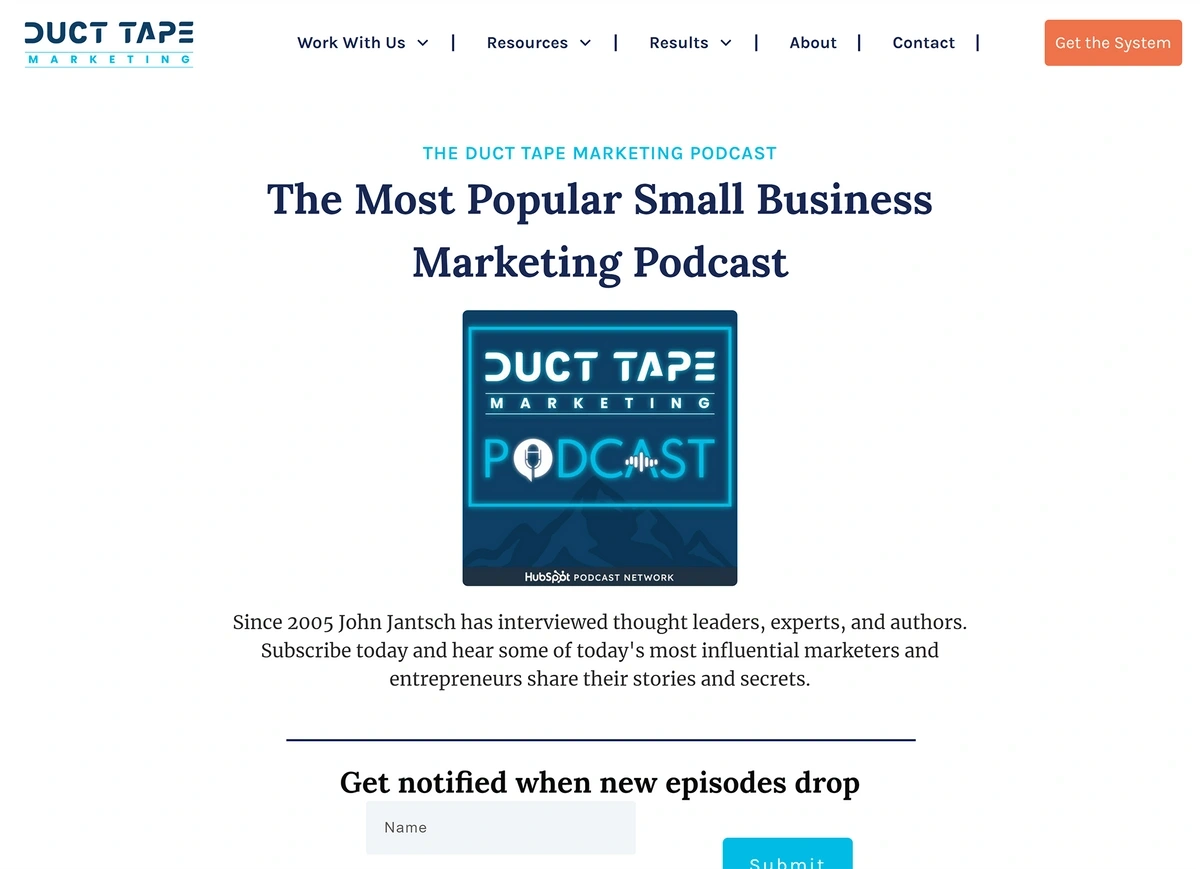 Year started: 2005
Number of episodes: 913
Posting schedule: Weekly
What it is: Duct Tape Marketing emphasizes the importance of understanding the customer journey and their emotions, while providing the tools and strategies to create meaningful relationships between businesses and customers. Host John Jantsch is a proven expert in relationship marketing, corporate storytelling, content marketing, branding, and more. His insights are great fuel for launching and growing your businesses successfully by focusing on the customer experience over promotional messages or sales tactics.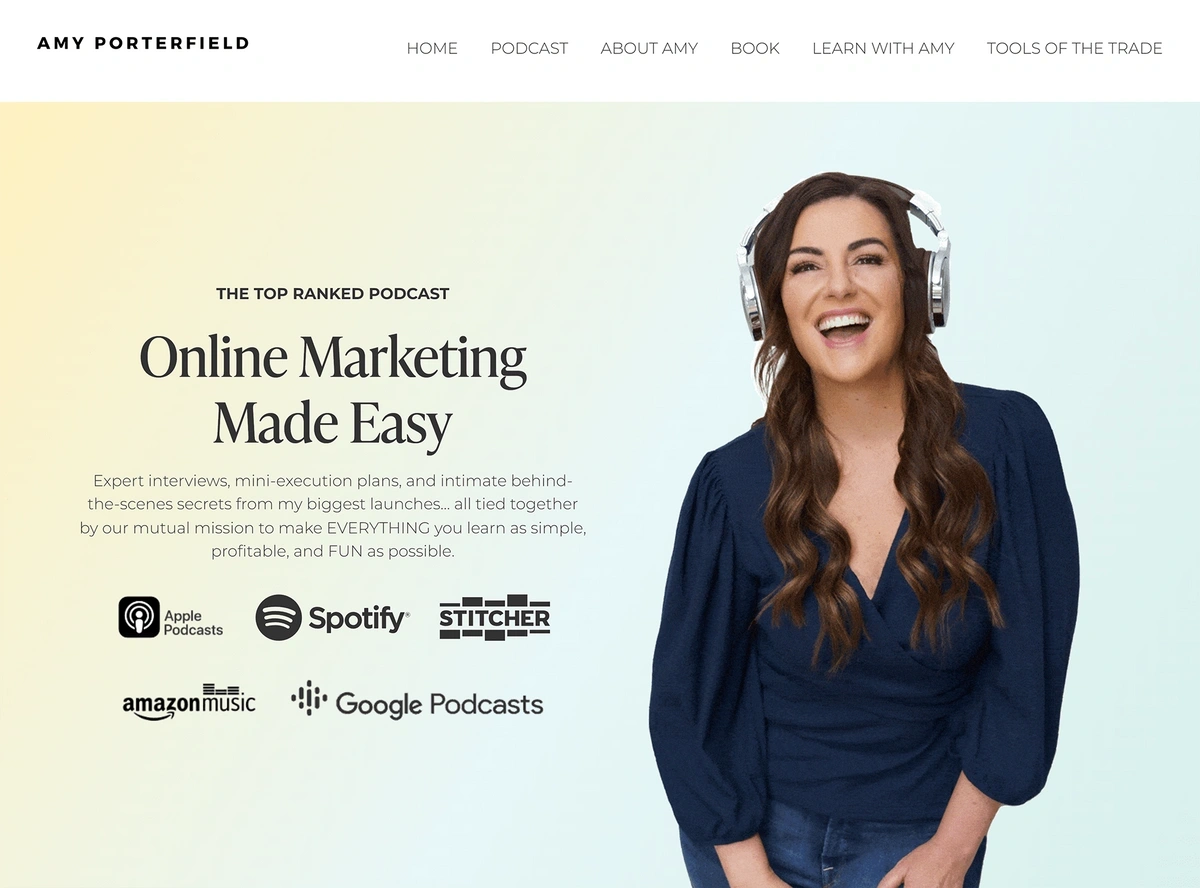 Year started: 2013
Number of episodes: 604
Posting schedule: Twice a week
What it is: In Online Marketing Made Easy, New York Times bestseller Amy Porterfield assumes the unique position of a virtual marketing mentor walking you through practical steps to success in a way that's accessible and inspirational. She blends expert interviews, actionable execution plans, and golden nuggets from brand launches from her 10+ years of experience, making this show ideal for someone looking to take immediate steps toward growing their business today.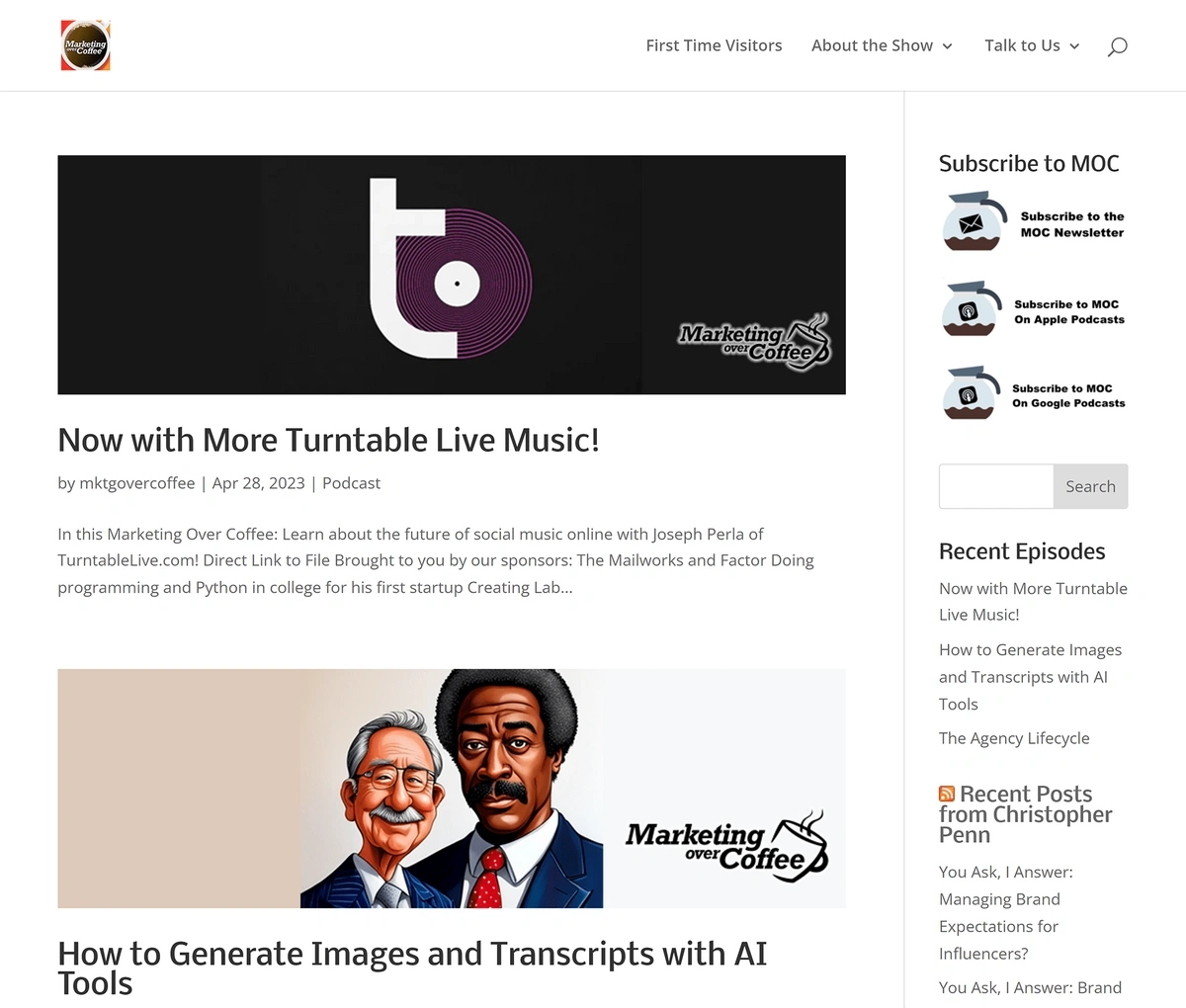 Year started: 2007
Number of episodes: 100
Posting schedule: Every Thursday morning
What it is: Jonn and Chris are naturals at having discussions around marketing that are up-to-date and insightful with a pleasant vibe. Many reviewers call this the one podcast they turn to when they want to catch up on marketing trends. Topics have included keeping up to date with social media, "old school" offline marketing campaigns, listener Q&As, testing versions of your marketing, and more.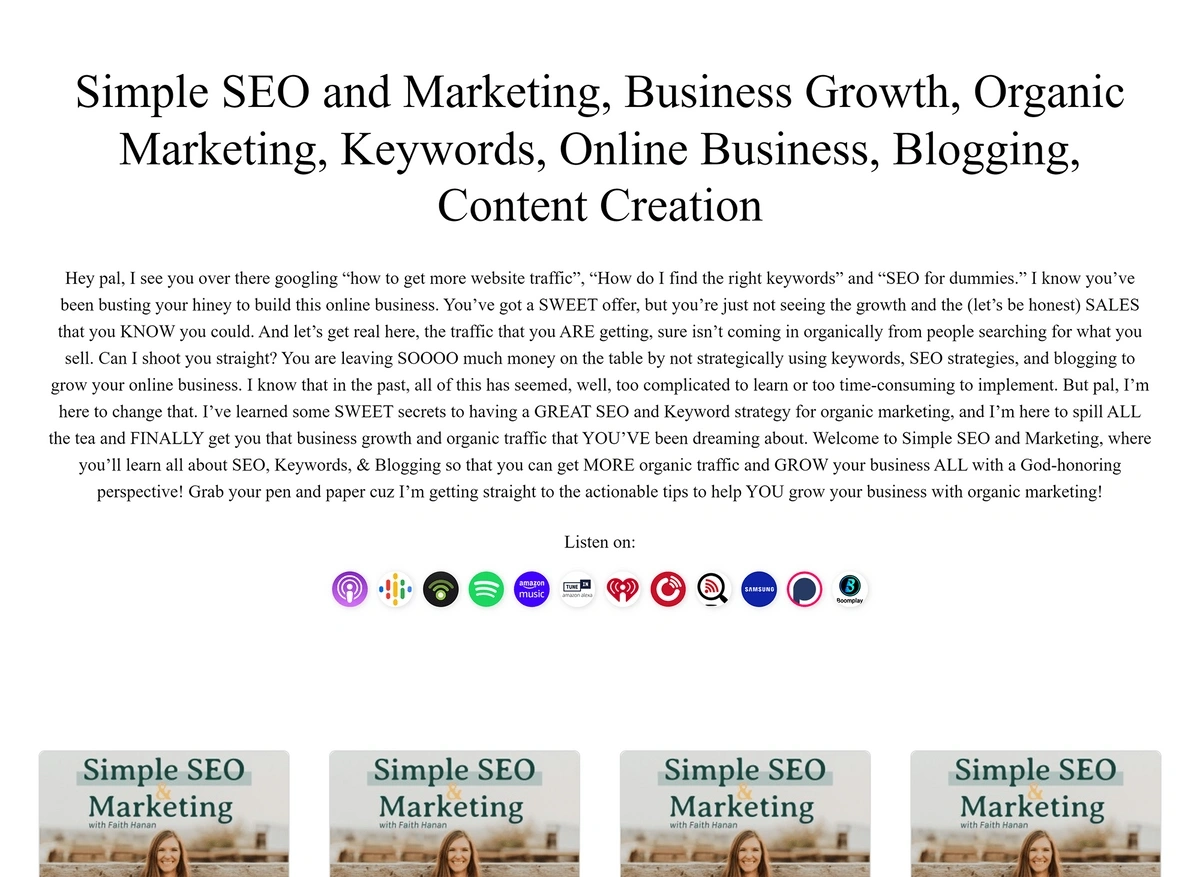 Year started: 2022
Number of episodes: 81
Posting schedule: Twice a week
What it is: Yes, SEO is always evolving. But that doesn't mean it has to be overwhelming or highly technical. Described as friendly and warm, host Faith Haran's simple approach to SEO and marketing is what makes this podcast stand out. She is upfront about what really works and shares her wisdom in a way that's engaging and gets listeners hooked. If you feel stuck in a rut or aimless when it comes to approaching SEO, this is a fine place to start so you can grow your brand.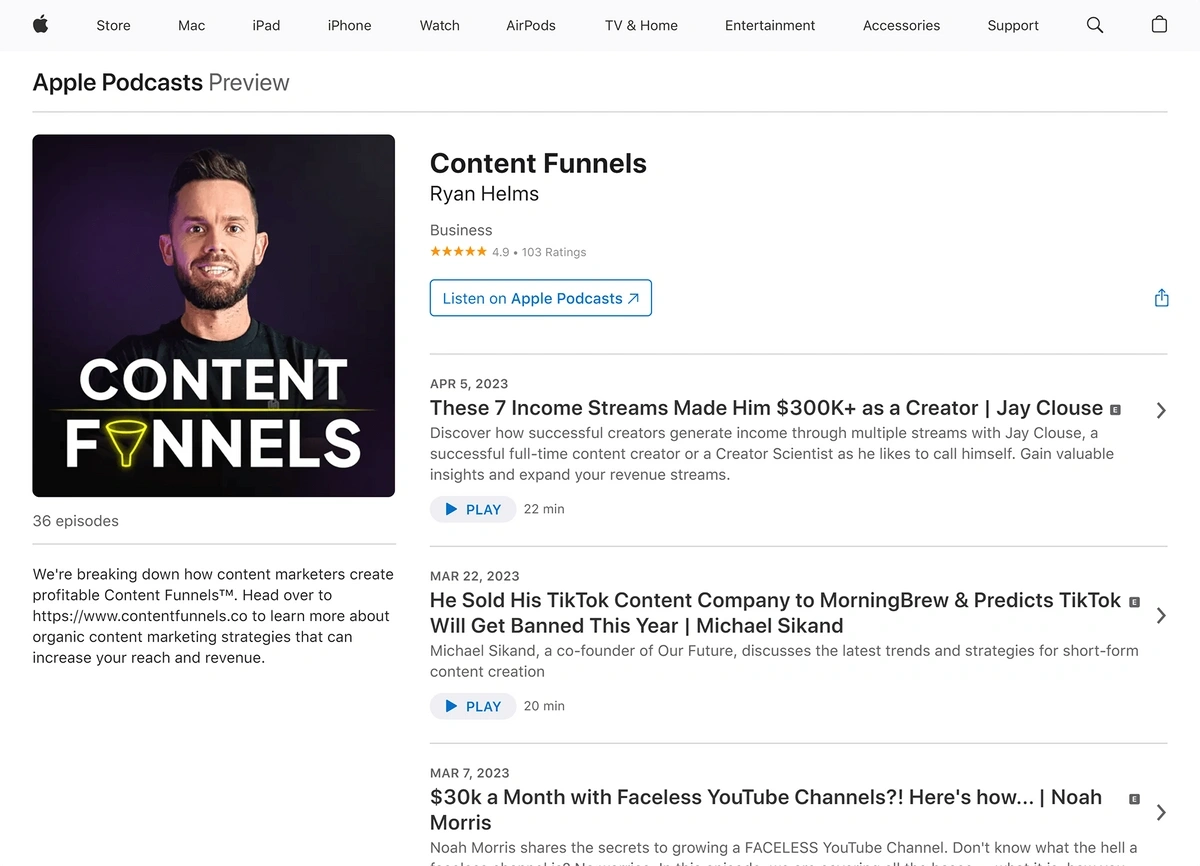 Year started: 2022
Number of episodes: 36
Posting schedule: Twice a month
What it is: Content funnels are essential in any effective marketing strategy, and this is the only podcast on the list that focuses specifically on funnels and their importance across each stage in the buyer's journey. Host of the show Ryan Helms digs into the process of creating different kinds of content for different stages and varying target audiences. Listeners have noted their appreciation for Ryan's ability to break down how businesses create content that works and what happens when it doesn't.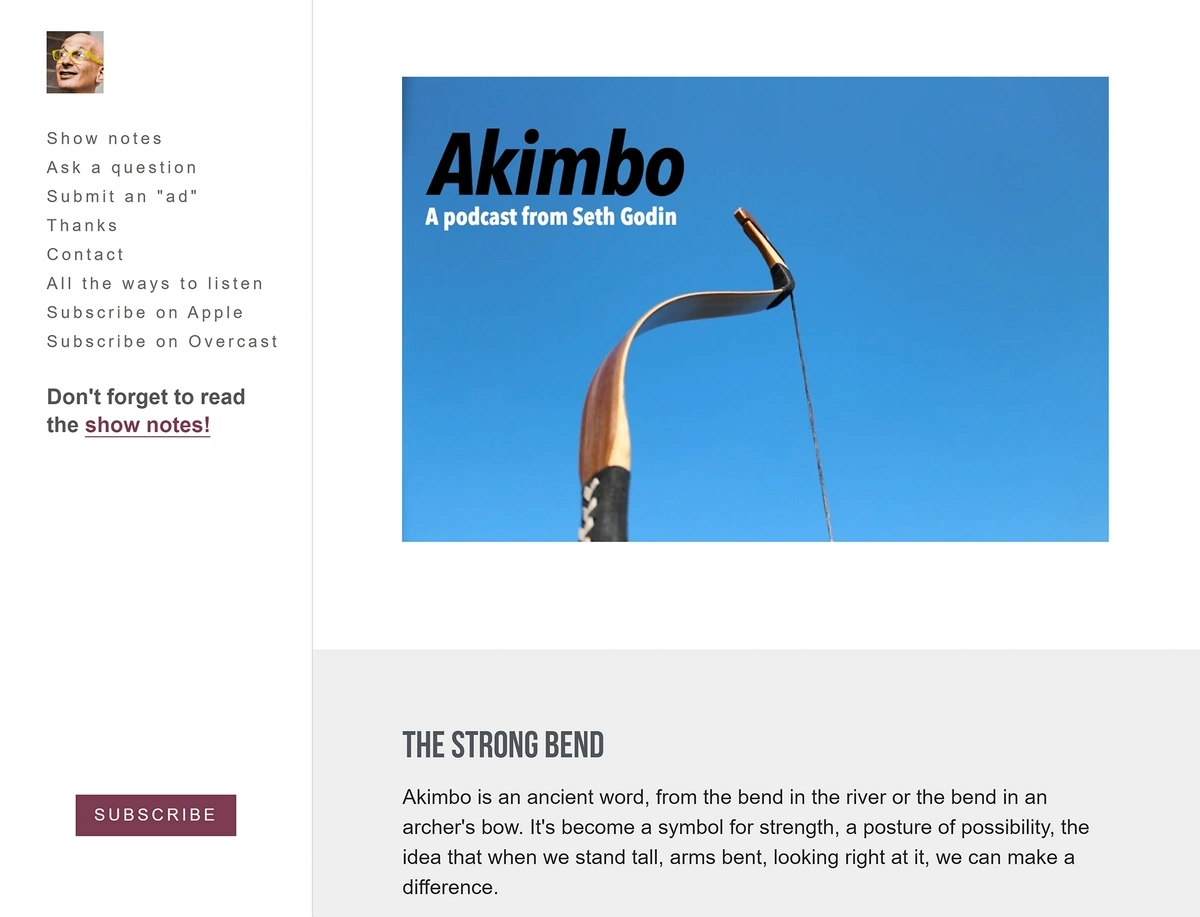 Year started: 2018
Number of episodes: 271
Posting schedule: Weekly
What it is: Best-selling author Seth Godin is a legend in the marketing community and a thought leader with 20 published books to his name. His podcast is an inspired look at culture and how we may or may not be able to change it by thinking outside the box. While not always focused on marketing per se, Seth regularly shares marketing war stories and insights from his extensive background in marketing. This might just be the breath of fresh air you need in between other marketing podcasts without missing out on valuable analogies and marketing know-how from a true expert.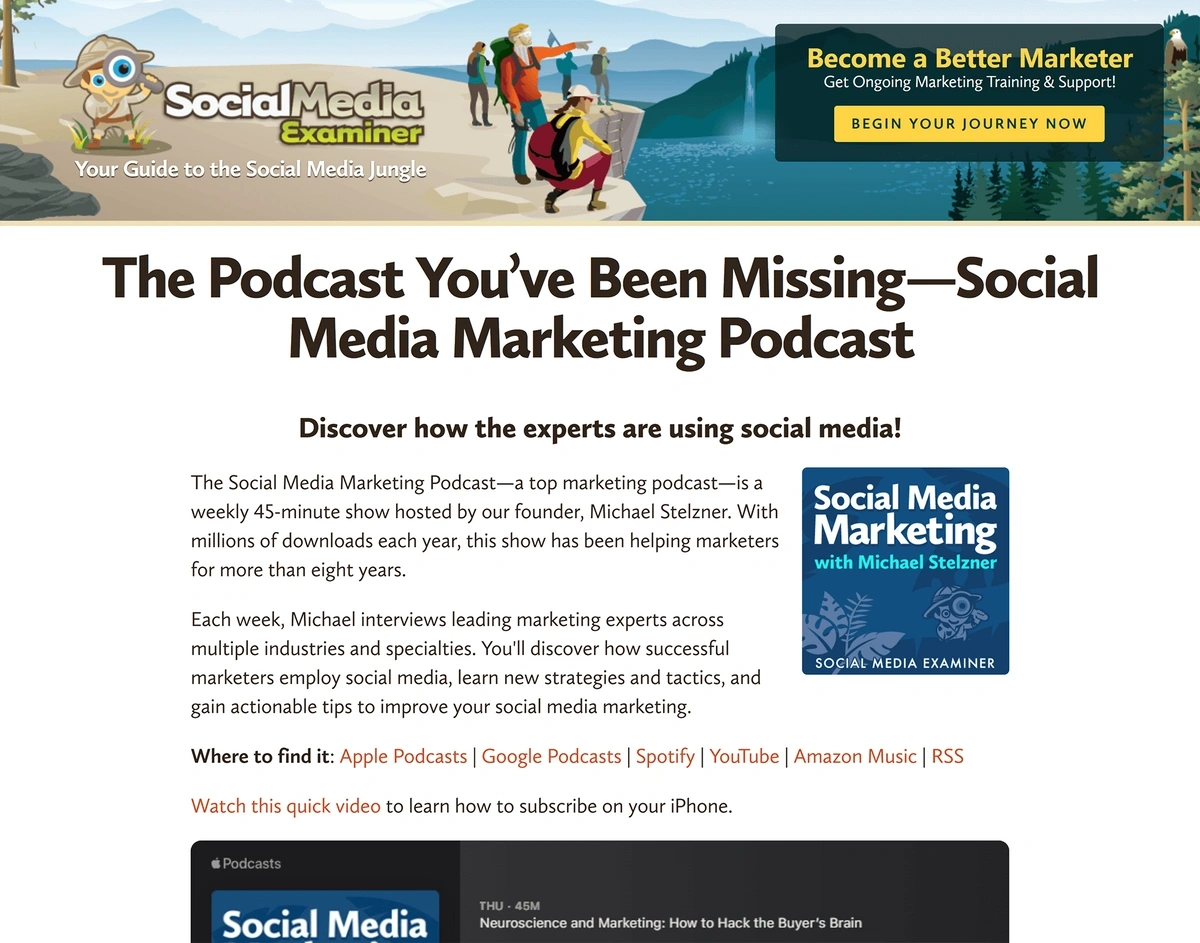 Year started: 2012
Number of episodes: 569
Posting schedule: Weekly
What it is: Social media has always been a tricky landscape to navigate, especially since it seems to be ever-changing. With Social Media Examiner, you don't have to worry about that. By walking you through real-life examples of how businesses and individuals are using social media to grow their presence, learning strategies and tactics is easy, as long as you keep in mind they only work if you apply them. Now more than a decade old and with millions of downloads, Social Media Examiner holds a special place as one of the best podcasts on practical social media advice.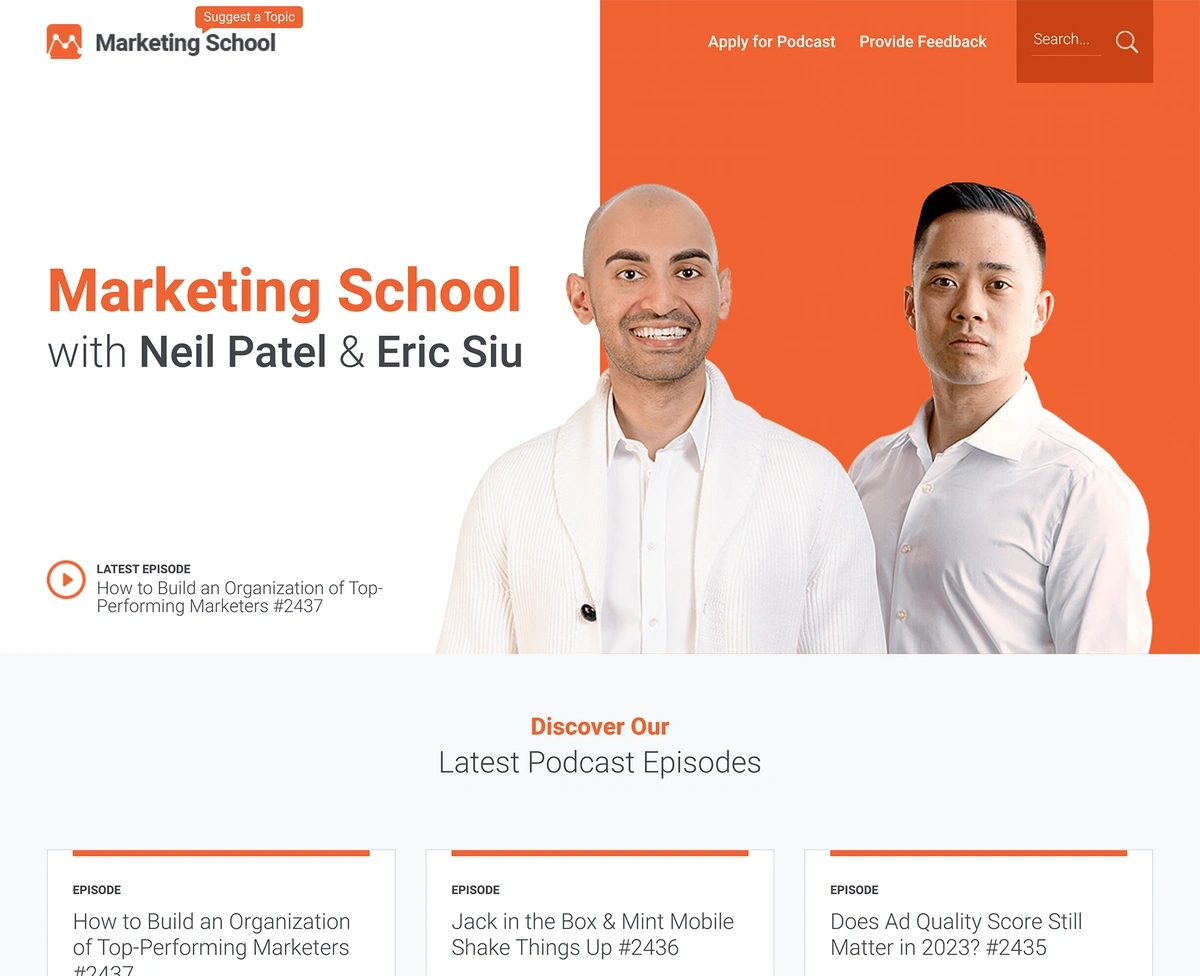 Year started: 2017
Number of episodes: 2,442
Podcast schedule: Daily
What it is: Boasting the shortest and sharpest show on marketing on this list, each episode of Marketing School is 10 minutes or less and touches on trends in the field plus quick tips on tactics you can implement. This makes them easy to squeeze into a busy schedule and might be a great place to start if you're new to listening to podcasts. And, since succeeding in marketing relies on your ability to apply what you learn quickly, this show can be your springboard for taking action now.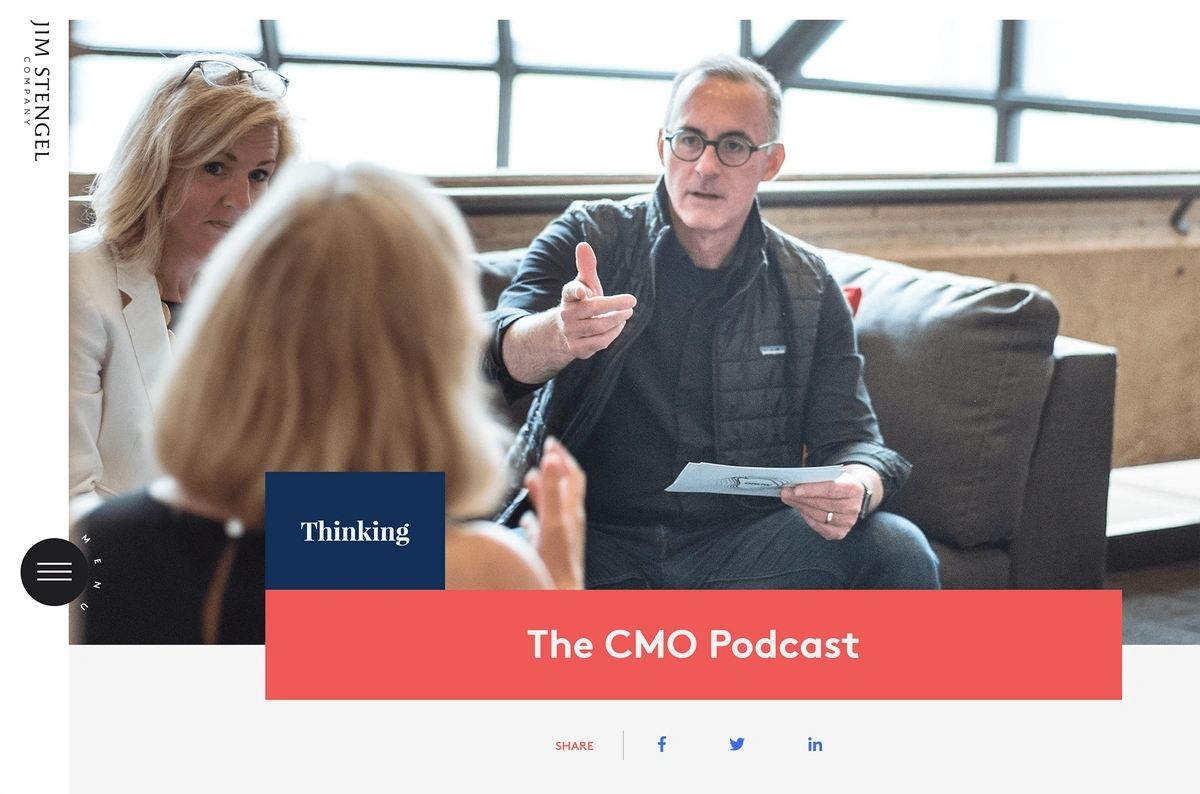 Year started: 2022
Number of episodes: 255
Posting schedule: Weekly
What it is: Jim Stegnel is the host of the CMO podcast and offers an interesting look into the world of a former CMO (Proctor & Gamble) from his seasoned background. Unafraid to share details about his thoughts, mindset, and personal experiences, Jim dives into what CMOs really do, how they operate, and why the role is uniquely demanding. Whether it's from his own insight or from those offered by the other CMOs he interviews, there is something interesting to learn for every marketer, from entry-level marketing positions to entrepreneurs and small business owners looking for actionable advice.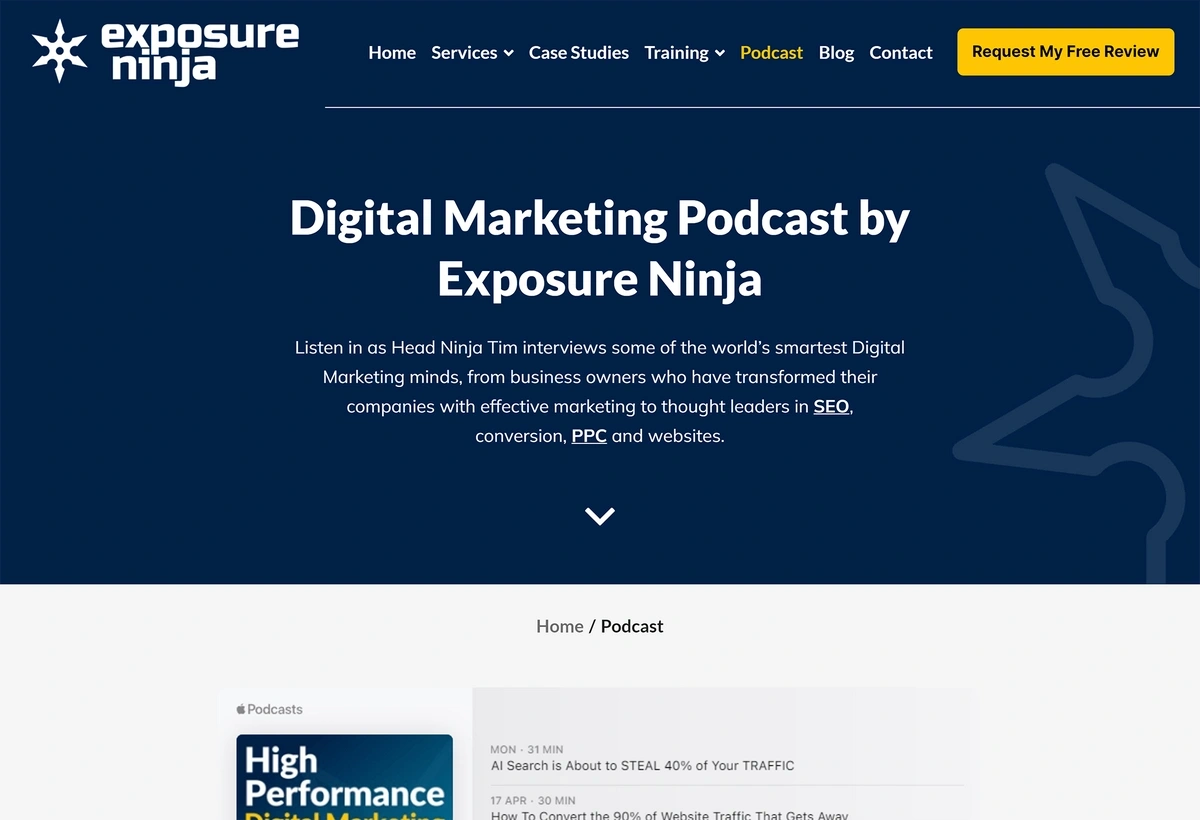 Year started: 2016
Number of episodes: 286
Posting schedule: Weekly
What it is: Covering a wide range of marketing topics from SEO and PPC to Google Analytics and conversion-optimized web design, this show is centered around "real life" marketing tips and how-to guides on different ways to increase your brand's visibility and grow your audience and sales. Recent episodes include "How to Convert 90% of Website Traffic That Gets Away," "How To Market a 'Boring' Business," and "Beginner's Guide to AI Marketing."
Conclusion
Whether you're looking for tips on improving your content funnels, staying up-to-date on emerging trends in digital marketing, or getting advice on crafting highly relevant content that resonates with customers at each stage of the buying process, these podcasts have something for everyone.