14 Important Social Media Trends (2024-2027)
You may also like:
According to the latest data, there are approximately 4.89 billion social media users around the world. That's up from only 2.5 billion users in 2017.
In the coming years, social media use is projected to increase even more. However, experts predict that the most popular platforms may lose a considerable amount of their users as new platforms eat away at their market share.
And in this report we will cover the most important social media trends to keep an eye on over the next few years.
1. Popularity of TikTok surges with Gen Z
Facebook is the most popular social media platform overall. But TikTok is the app of choice for younger generations. And it's gaining popularity even faster than experts predicted.
eMarketer estimates the percentage of Facebook users under 25 years to now be under 15%.
That's strongly contrasted with their predictions about TikTok: approximately 44% of that platform's users are under 25.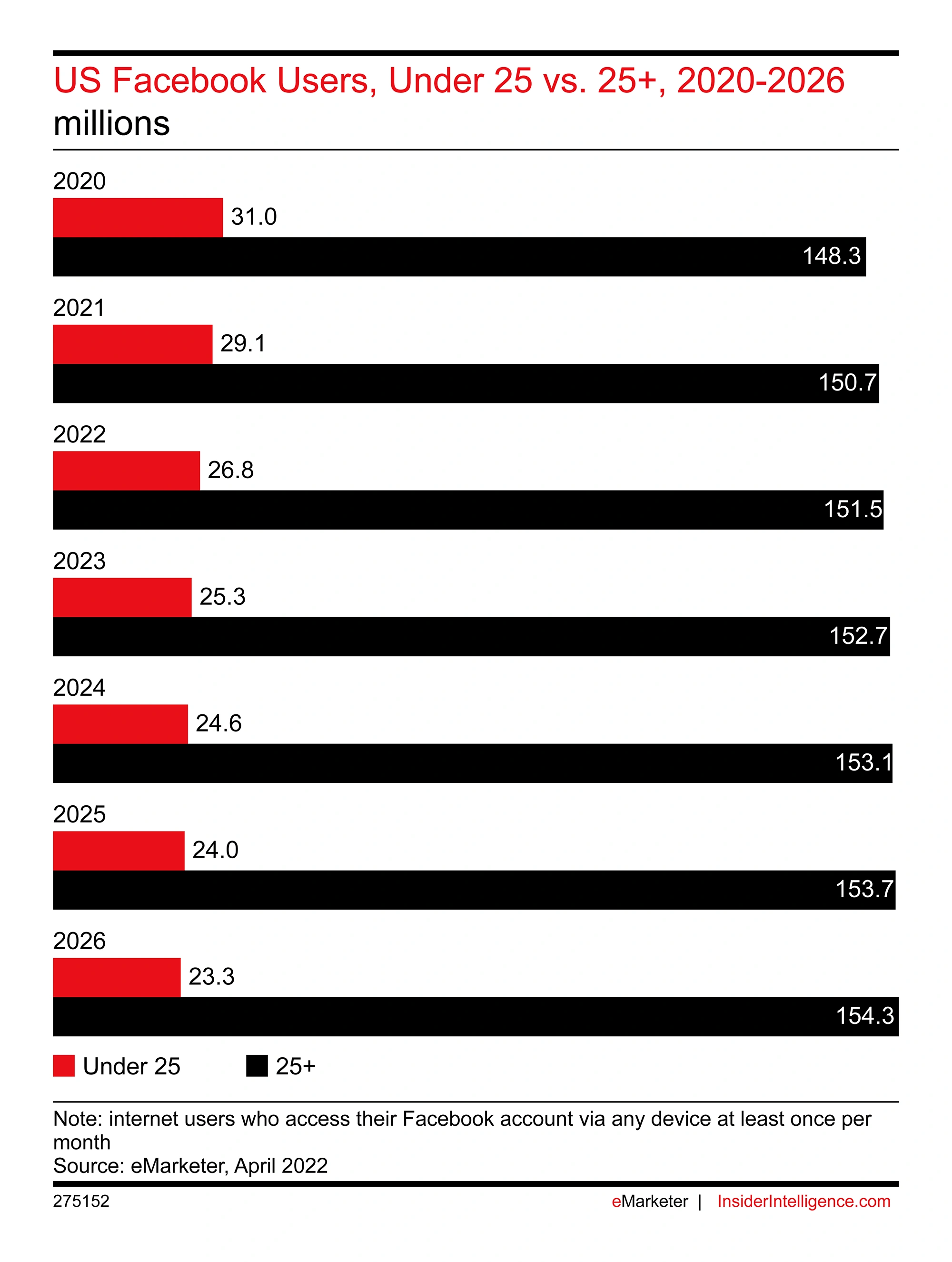 By 2026, experts say only 23.3 million Facebook users will be younger than 25. That's compared to 154.3 million users who are 25+.
One-fifth of Generation Z (people between the ages of 10 and 25) is spending more than five hours per day on TikTok.
A 2021 survey found that TikTok videos are extremely effective for brands who want to market their products to Gen Z.
Nearly 40% of people in Gen Z say TikTok videos are where they go to learn about new products and buy new products.
Having such a captive audience means marketing money is flowing into TikTok at a never-seen-before rate.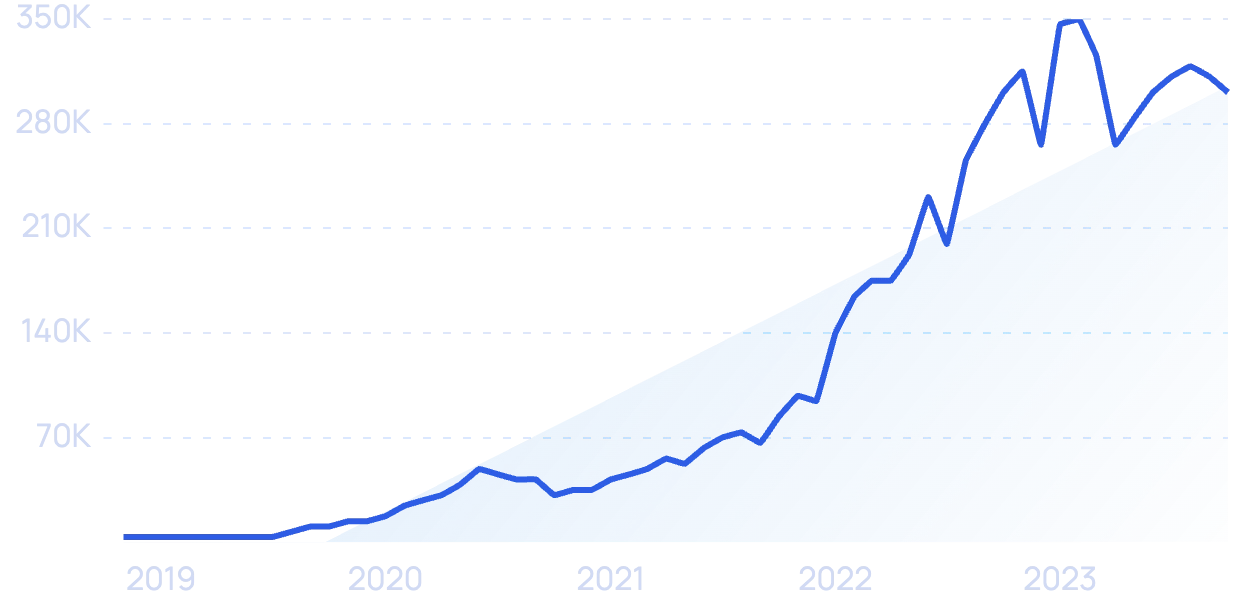 Search volume for "TikTok ads" has seen a huge jump in the past 2 years.
In early 2020, only 16% of marketers said they were using the platform. In 2021, that number was already up to 68%.
Market predictions show that TikTok's ad revenue will surpass that of YouTube in 2024. Estimates show that TikTok will pull in more than $11 billion in US ad revenue that year.
The platform has also seen a huge jump in effectiveness, according to marketers.
In 2021, only 3% of marketers said it was the most effective platform for reaching their business goals. In 2022, that number shot up 700% with 24% saying the platform was the most effective.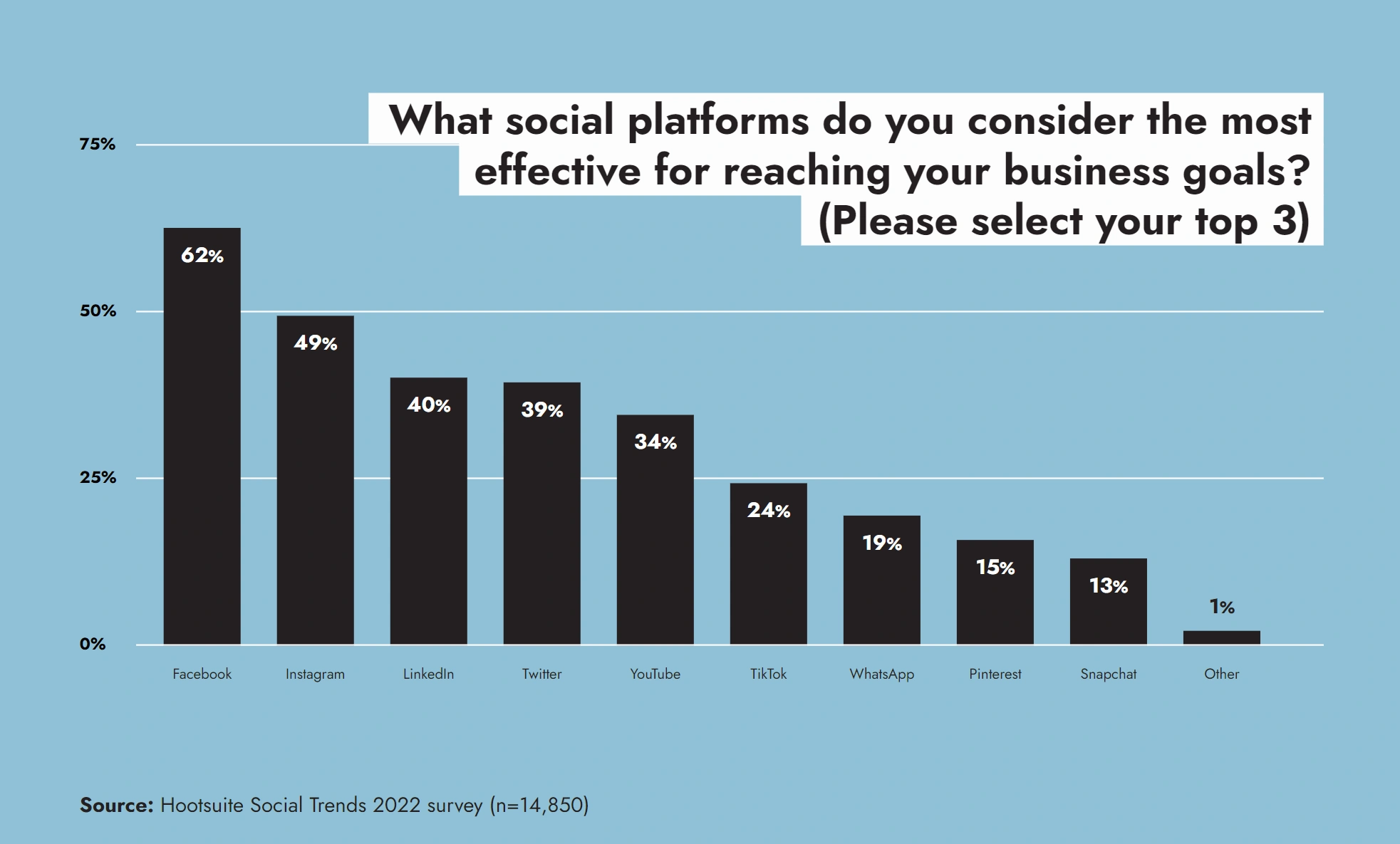 While the effectiveness of Facebook and Instagram decreased, TikTok saw a large increase.
Gen Z has also been known to use TikTok to further social causes.
In 2020, Gen Zers used TikTok to encourage other users to buy tickets to a Donald Trump rally, but not show up.
One survey found more than 75% of Gen Zers say they learn about social justice and politics on TikTok.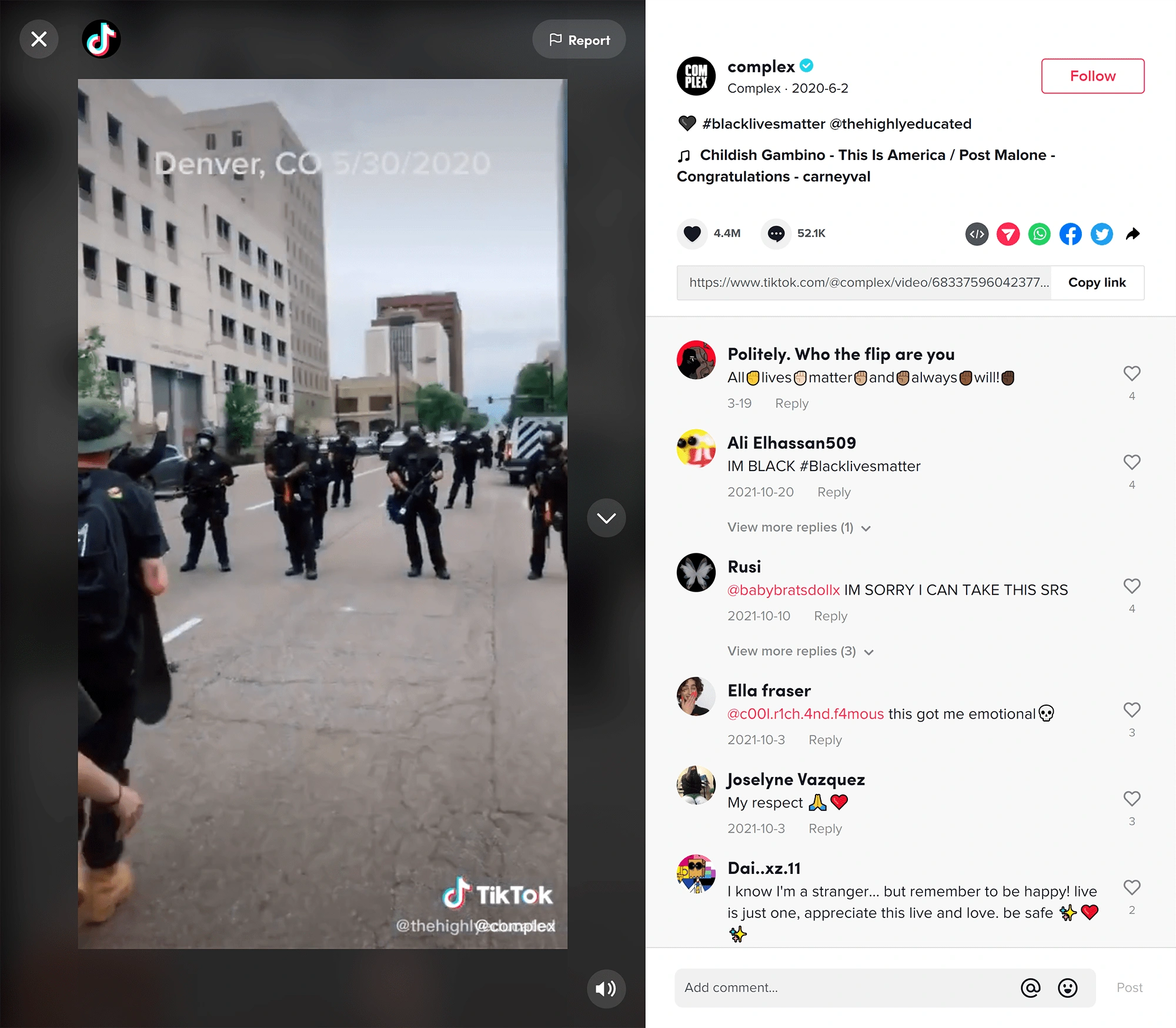 #blacklivesmatter is just one example of a social cause that's generated billions of views on TikTok.
2. Brands use social media to provide support to impatient customers
Today's consumers are not patient. They want a response to their problems immediately.
A HubSpot poll found that 90% of consumers look for an immediate response from a brand when they have a customer service question.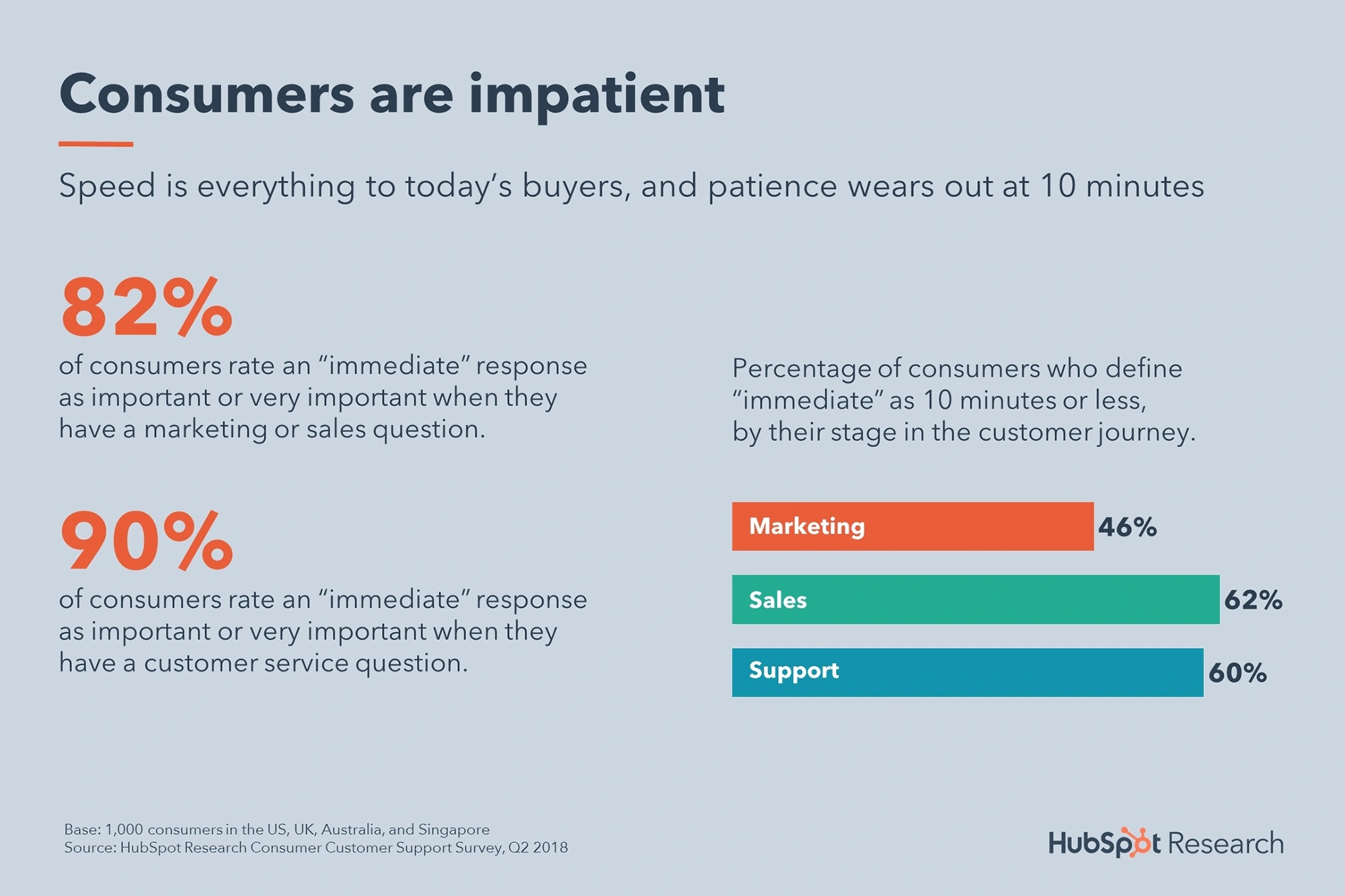 Survey results show consumers are demanding quick responses to their marketing, sales, and support questions.
This demand for speed and personal attention is leading many brands to offer customer service and support via social media.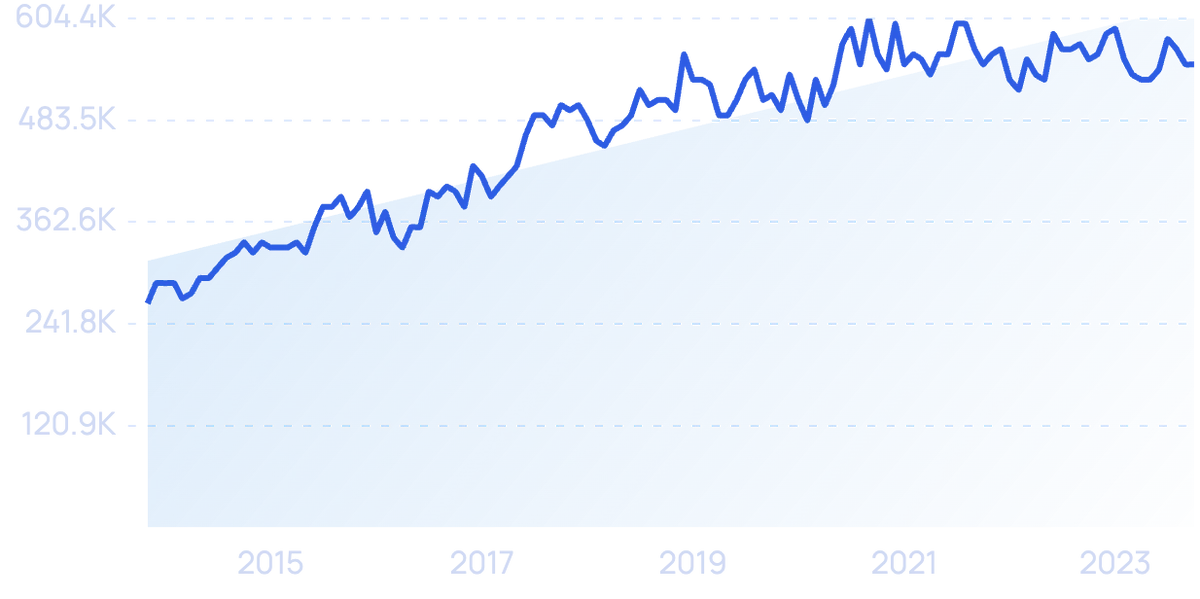 Search volume for "customer service" is increasing.
Zendesk reported that customer service ticket volume on social media increased 20% from 2020 to 2021.
As of 2017, 33% of Americans had used social media in order to complain to a brand.
A 2022 survey found that 75% of Twitter users, 59% of Facebook users, and 34% of Instagram users reach out to brands on the social platforms. About half of those people are reaching out about customer service issues.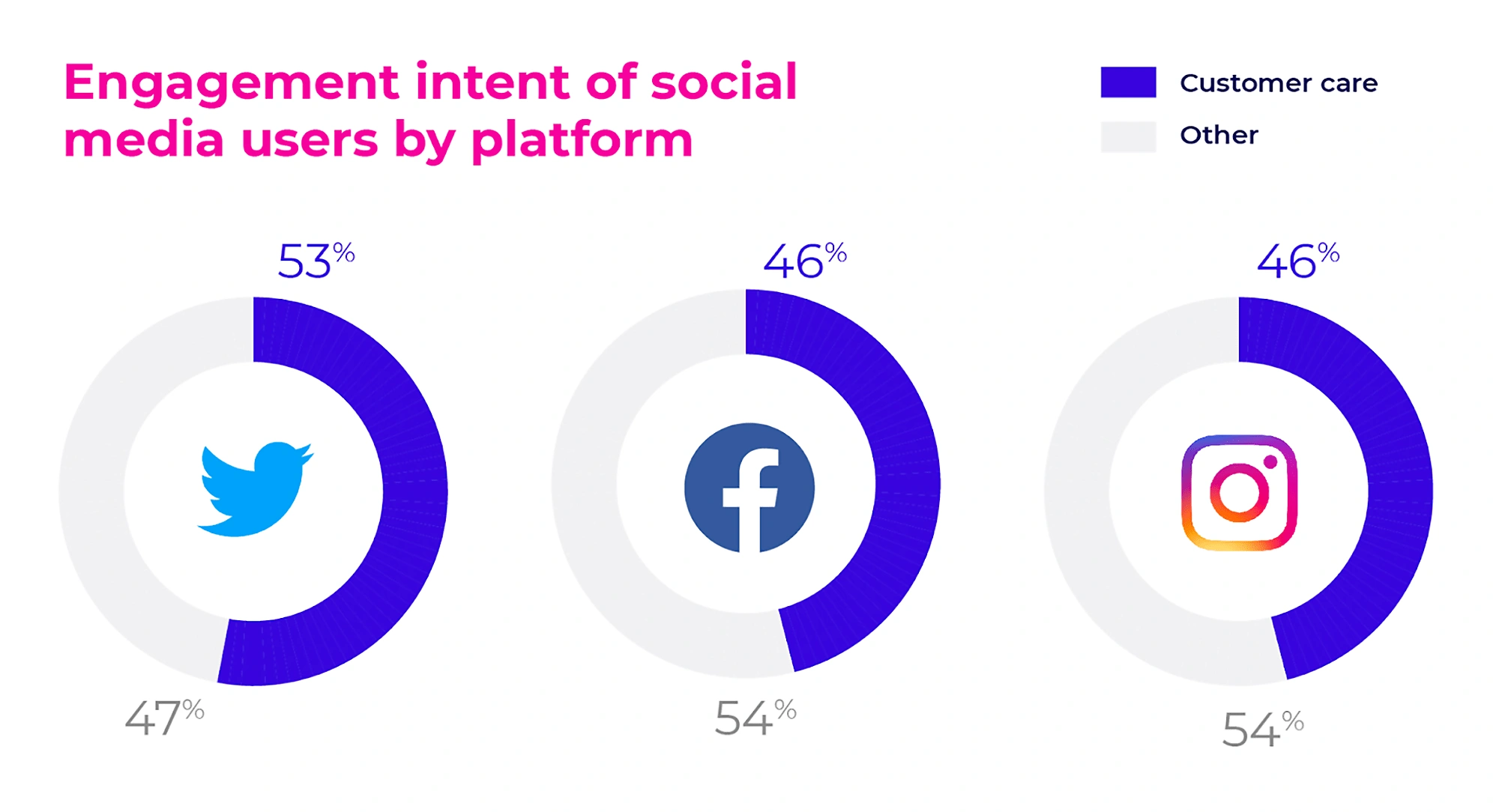 Close to half of those who engage with brands on social media are doing so in order to bring up a customer care issue.
While some may be quick to think that those public complaints are decreasing brand value, many companies act fast to respond and turn it into an opportunity. By responding, the brand shows that it's actively listening to customers and that can build brand loyalty.
Nearly 50% of Americans have a more favorable view of brands that respond to customer service issues via social.
Just how fast is fast when it comes to responding on social media?
A Sprout Social survey said that 22% of consumers want to hear back in 1-2 hours and another 22% said they expect a response within 2-12 hours.
However, only about half of brands are meeting customer expectations in terms of response times.
Ecomm retailer Zappos responds to customers via social media with lightning speed — within 20 minutes of posting.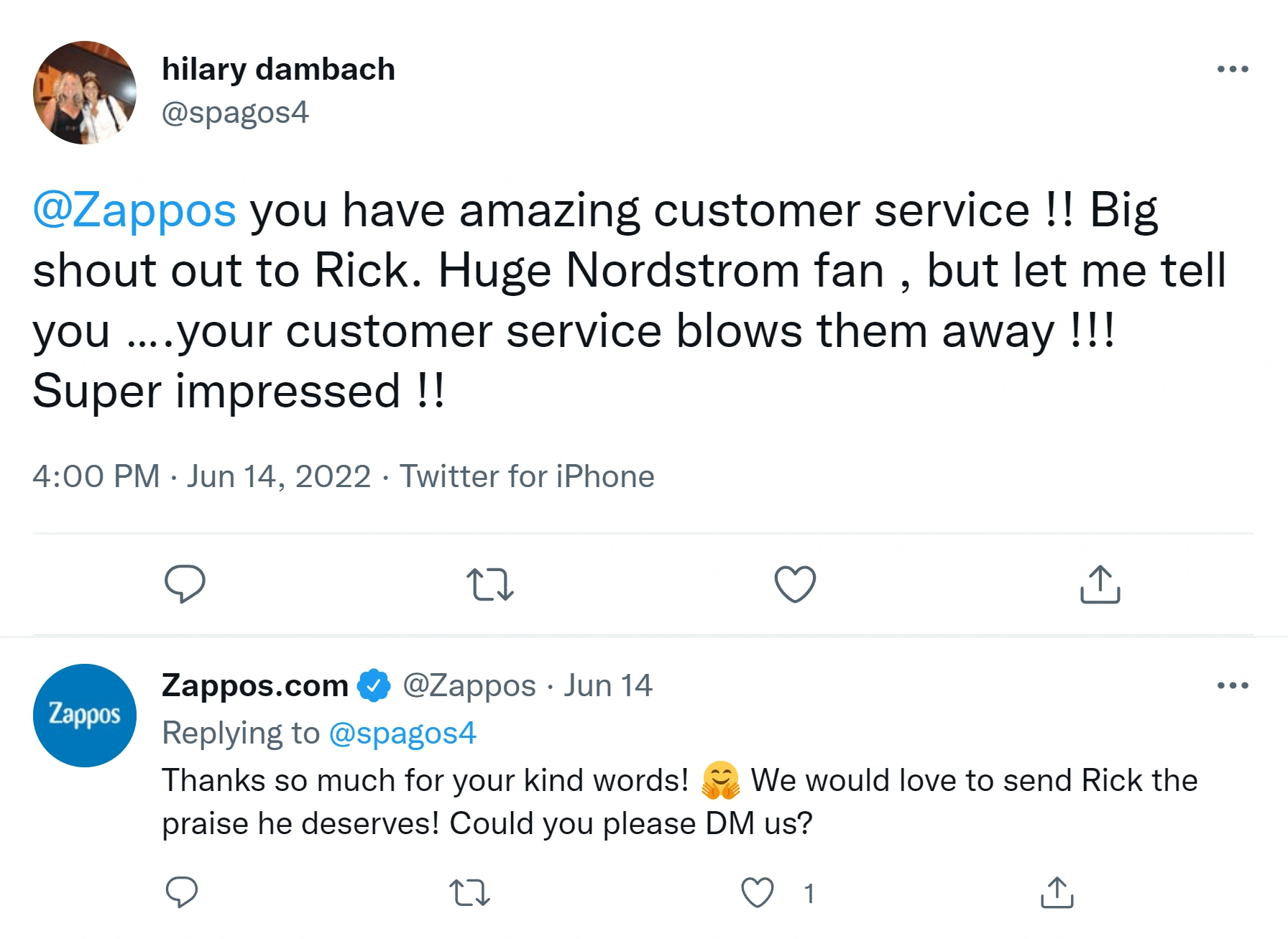 A recent customer post with a same-day reply from Zappos.
The brand has even made customer service part of its Facebook bio.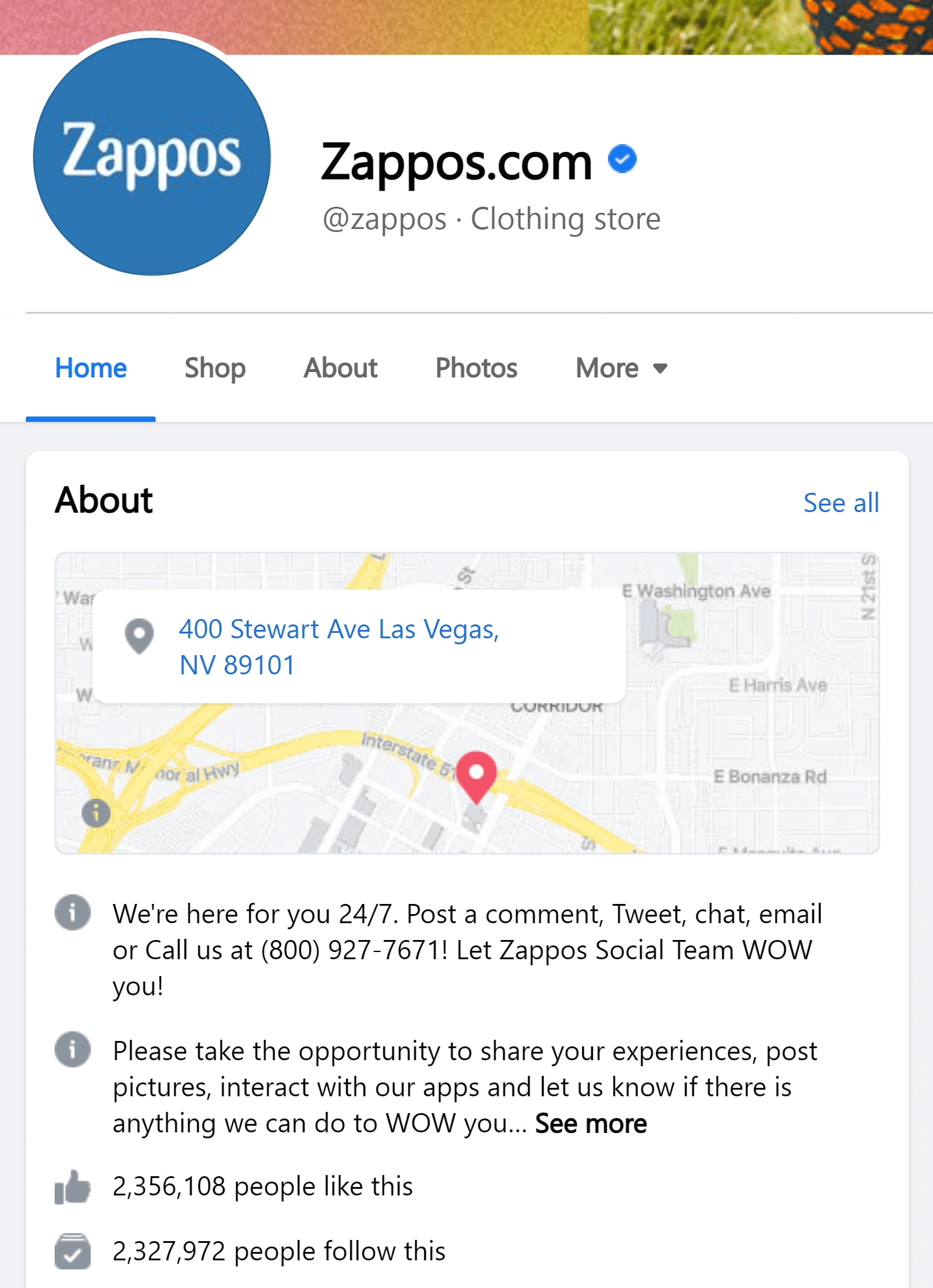 Zappo's Facebook bio invites customers to be "wowed" by their social team.
3. Social media crisis management becomes a must-have
More than 95% of businesses expect to experience a crisis within the next two years, but fewer than 40% of United States business leaders had a "very relevant" crisis plan in place as of 2020.
Because so many consumers use social media, many of these crises will play out on social platforms.
Information spreads quickly on social media, meaning that a relatively minor issue can blow up into a crisis if brands aren't monitoring their social channels.
According to a 2022 PRWeek survey, 88% of respondents reported needing help with social listening and 89% want to improve their ability to assess potential crises.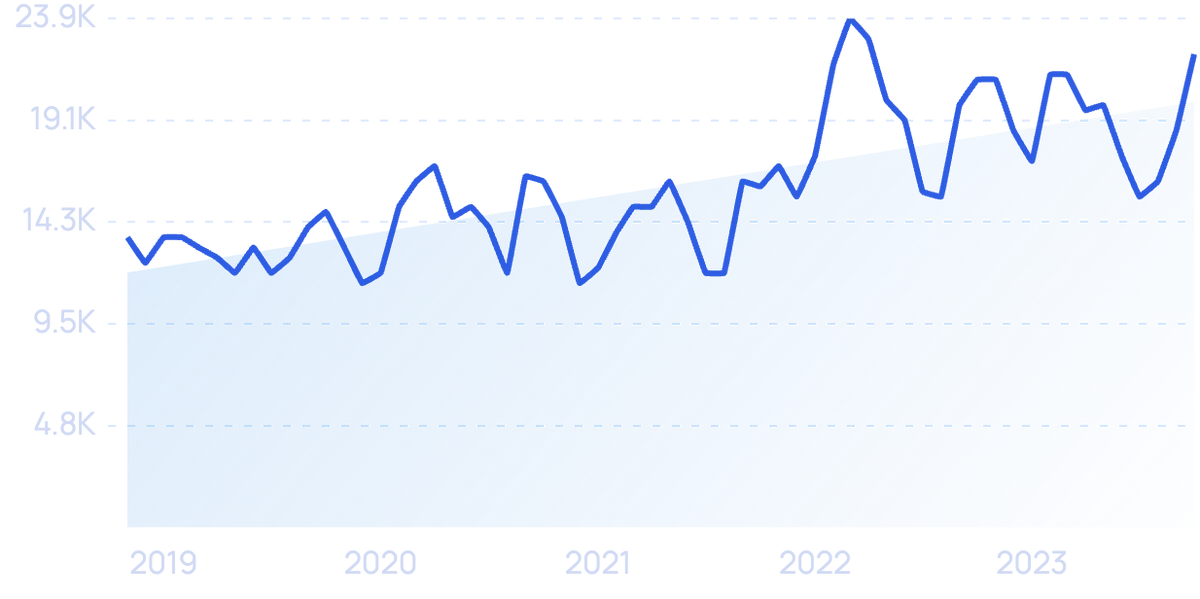 Search volume for "social listening" has increased 63% in the past 5 years.
In the midst of a crisis, consumers today are looking for brands to be transparent and honest.
One survey reported that 34% of consumers expect brands to respond to a crisis within 30 minutes on social media.
In a survey commissioned by Twitter, 61% of users said that brands should acknowledge moments of crisis in their advertising and communications when they are occurring.
Nearly 90% of social media users say that businesses can regain their trust during a crisis by admitting the mistake and being transparent about the steps they're taking to resolve the problem.
In early 2022, Weber found itself amid a crisis when the marketing department didn't act quickly enough to stop a scheduled email from going out. The email featured a "recipe of the week" for meatloaf. The crisis? Meat Loaf, the singer, died on that same day.
The company was quick to send an apology email and subscribers went to social media to share it.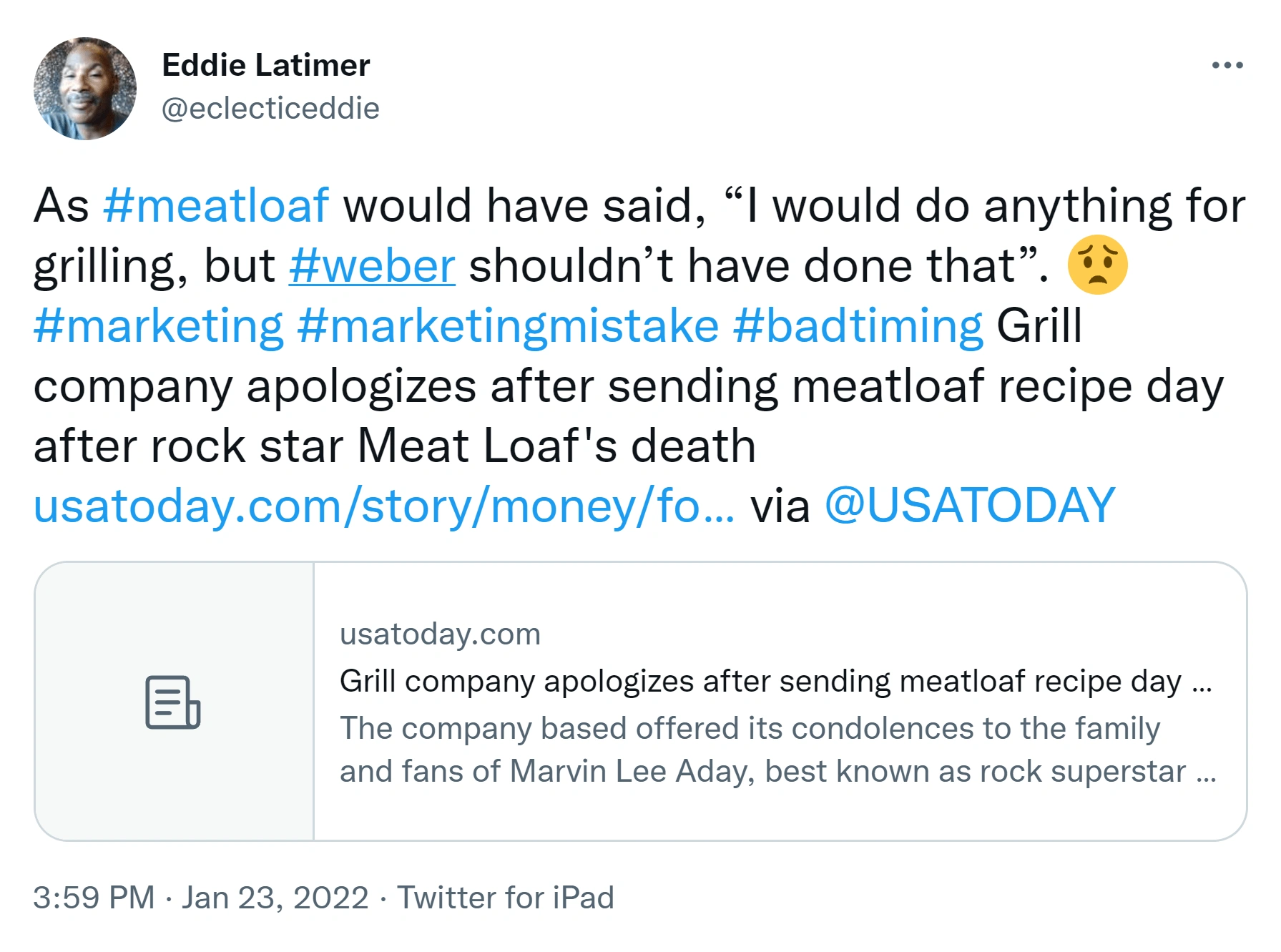 Weber's social media team stayed ahead of the crisis with an immediate apology.
One brand that has not fared well in handling social media crises is Peloton.
In just one example, the company's treadmills were recalled after the death of a six-year-old in 2021.
The brand waited more than a month to recall the treadmills and begin managing the crisis.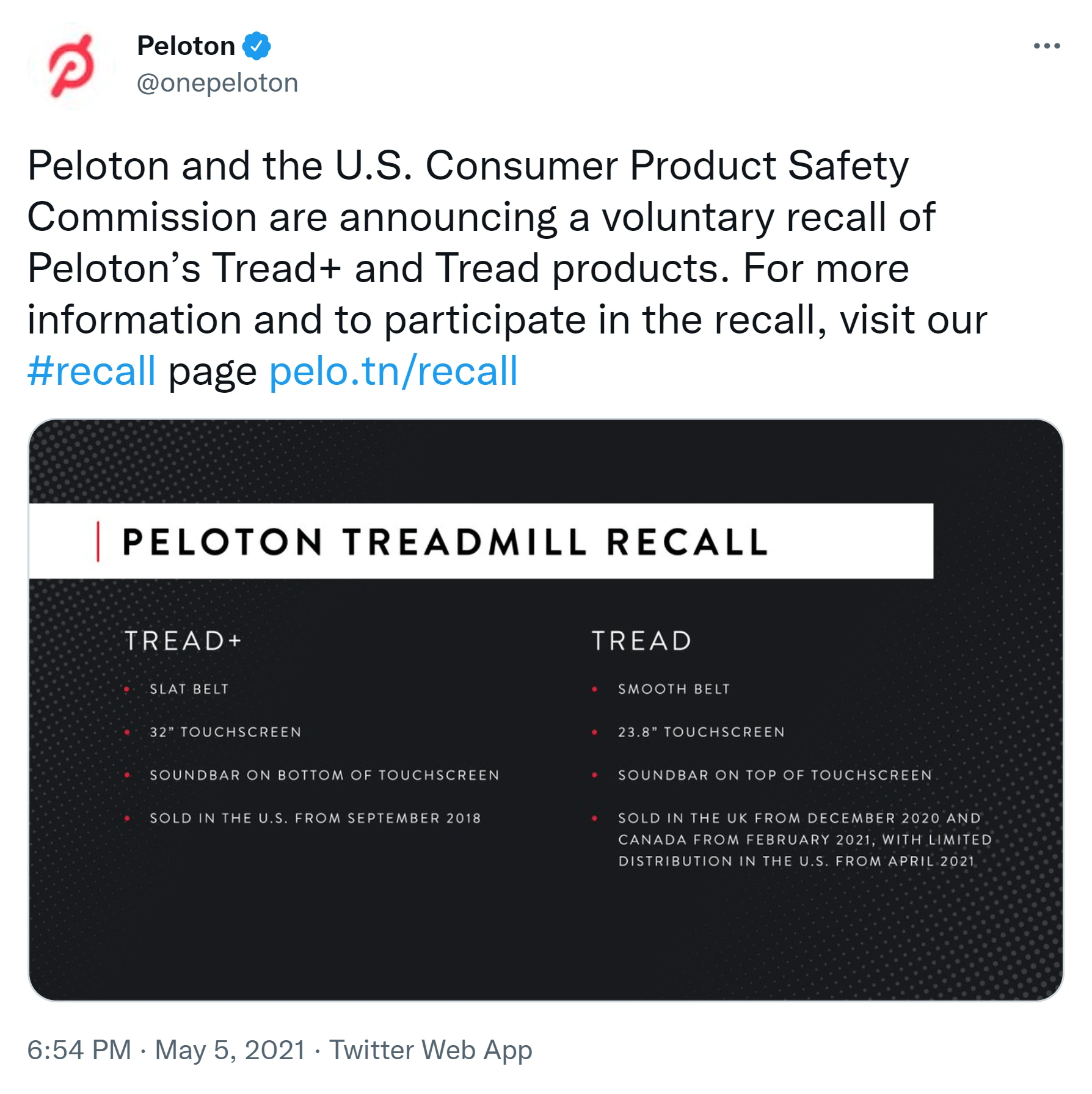 Peloton's Twitter response announcing the treadmill recall.
Many of the replies on Twitter bashed the brand and criticized them for not addressing the issue sooner.
4. Social media becomes king of the advertising world
Digital ad spending is soaring.
More than $521 billion was spent on digital ads in 2021. And experts say that number could reach $876 billion in 2026.
Social media ads are a big part of that spending.
In 2022, it's expected that companies will spend $177 billion on social advertising in the United States, surpassing the amount of ad spend directed at television for the first time in history.
One survey showed that 71% of marketers planned to increase their social ad budget in 2021.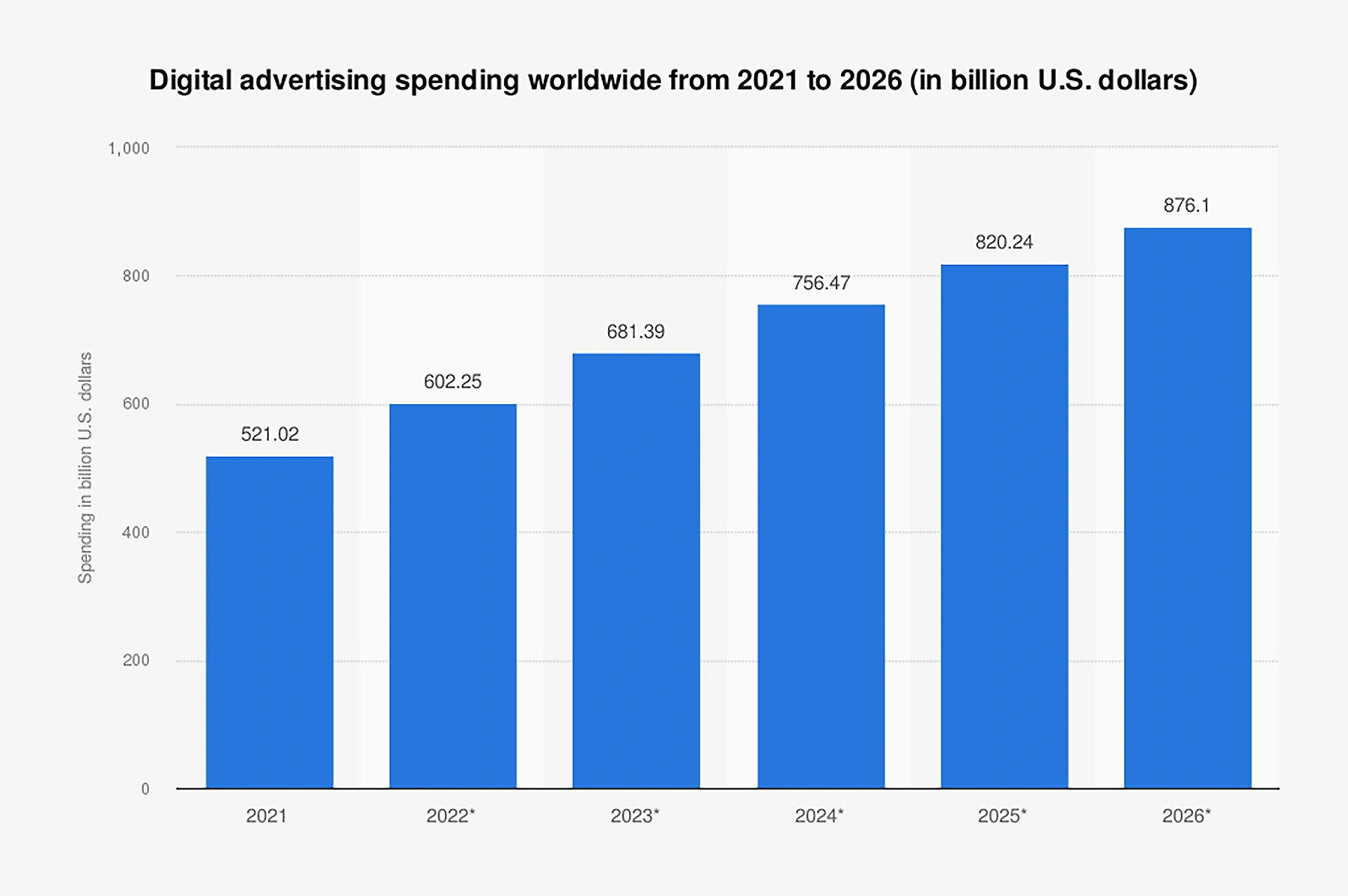 The money spent on social media ads has been climbing steadily since 2016.
More than half of marketers say they spend 50% or more of their marketing budgets on social media ads.
Statistics show that these ads are bringing in revenue.
The GWI Social Report showed that 28% of internet users typically find out about new products and brands via social media ads, and nearly 80% of users say they turn to social media when they're looking for information about brands.
SurveyMonkey data shows that 48% of social media users have bought a product after seeing an ad.
According to a 2021 survey, marketers say that Facebook and Instagram have the highest ROI.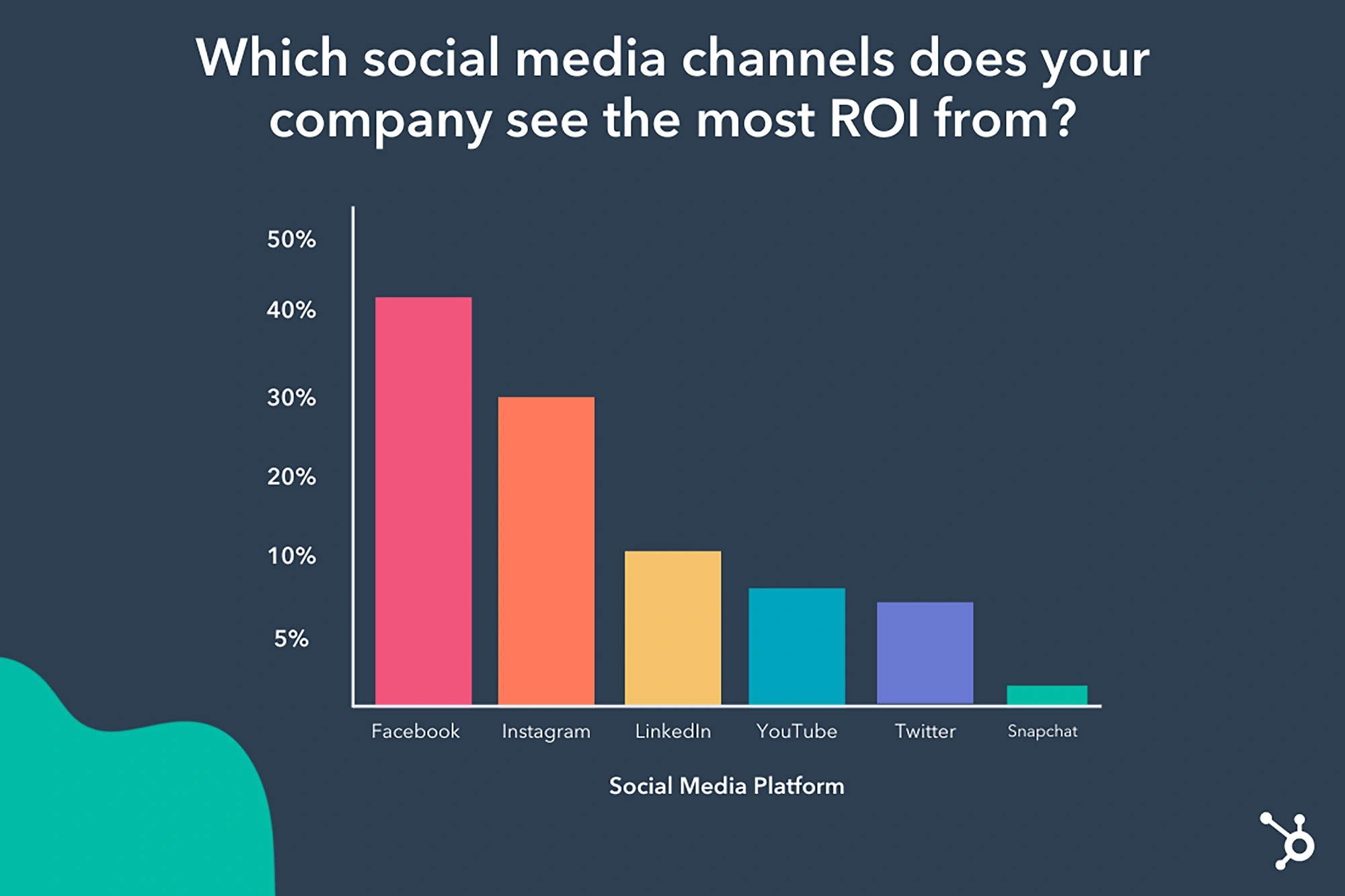 Approximately 40% of marketers say they see the best return on money spent on Facebook.
Targeting is one of the biggest reasons social media ads are so successful.
For example, Facebook has roughly 52,000 data points for each user on the platform.
Marketers can use these data points to segment audiences and craft hyper-relevant ad messages.
However, Facebook recently announced it would remove "sensitive" targeting that pertains to things like race, religion, political beliefs, and sexual orientation.
Tracking-based ads are facing increasing restrictions with Google saying that third-party cookies would be removed in 2023.
Apple has also removed the ability of apps to track users across other apps.
In one successful example of digital ads and targeting, Fujifilm partnered with a creative agency to create a series of 12 paid social ads to promote their new Instax camera in 2020.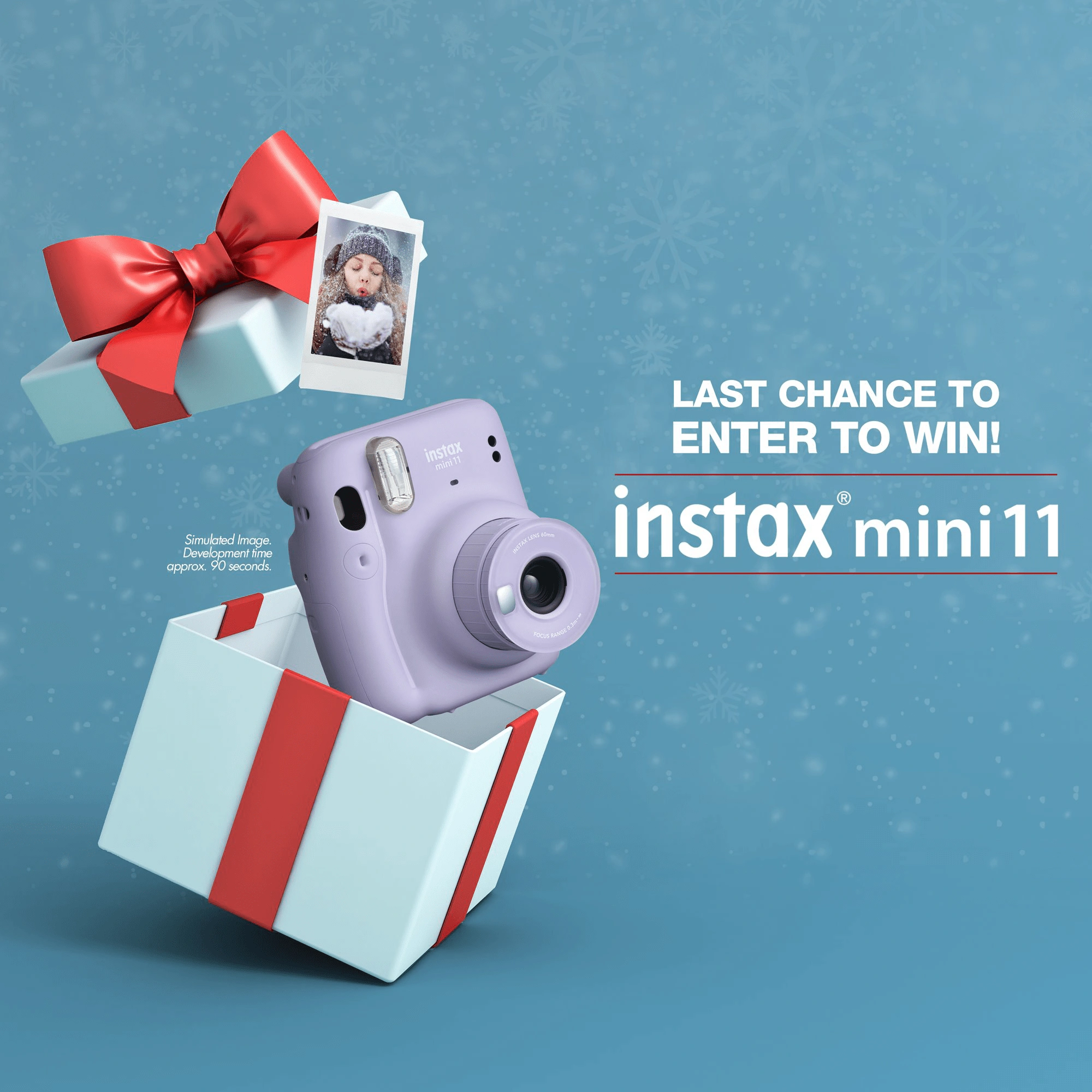 The Instax social ad campaign was cleverly designed to fit in with the holiday season.
The campaign targeted six audience segments through a prize giveaway.
The first ad drove in 500 leads in the first 12 hours.
By the end of the campaign, they had more than 13k new contacts with a cost-per-pead of just $0.37.
5. Trust and authenticity are the new ways to sell on social media
The days of hard-selling, brand-forward promotions on social media are over.
People won't connect with brands that only talk about themselves and their products.
People want useful information that they can use in their lives. They want an emotional connection to a brand. They want to know that a brand is human and shares their values.
On social, brands are tailoring their content so that it tells a genuine story and builds brand authenticity.
Brand authenticity means that a business is true to itself and to its customers.
A few trends stand out when it comes to building brand authenticity.
Encouraging company leadership to have an active presence on social media and discuss current events is one trend.
A 2020 survey showed that 92% of people want their CEO to speak out on controversial issues.
Research shows that 38% of consumers say a CEO's transparency would inspire them to be more loyal to a brand and 32% say it would inspire them to purchase from that brand.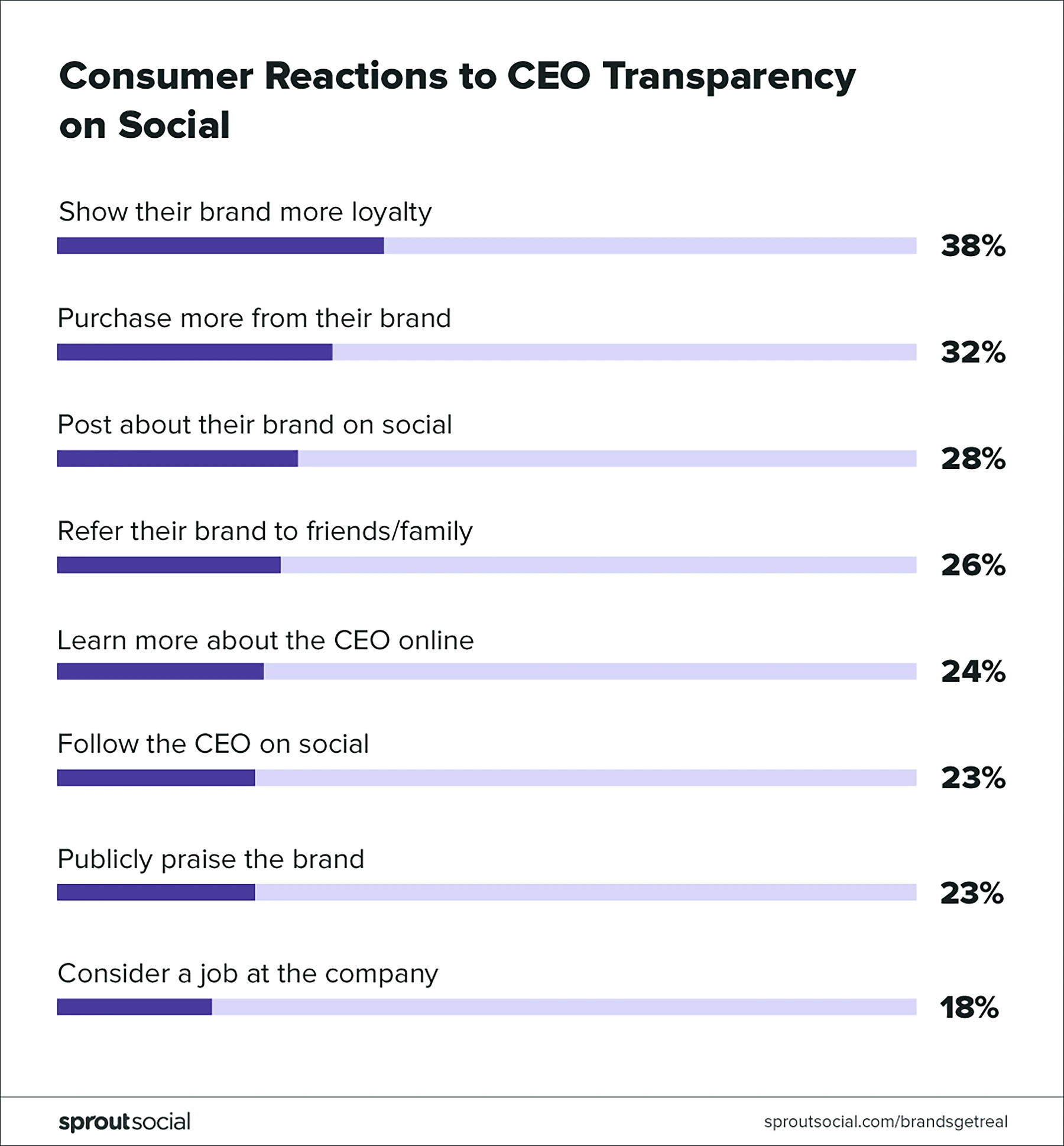 When CEOs have a positive presence on social media, it increases brand authenticity.
Consumers are willing to reward businesses they see as authentic and trustworthy.
Sprout Social reports that when customers feel connected to a brand, 57% are willing to increase their spending with that brand and 76% will buy from that brand instead of a competitor.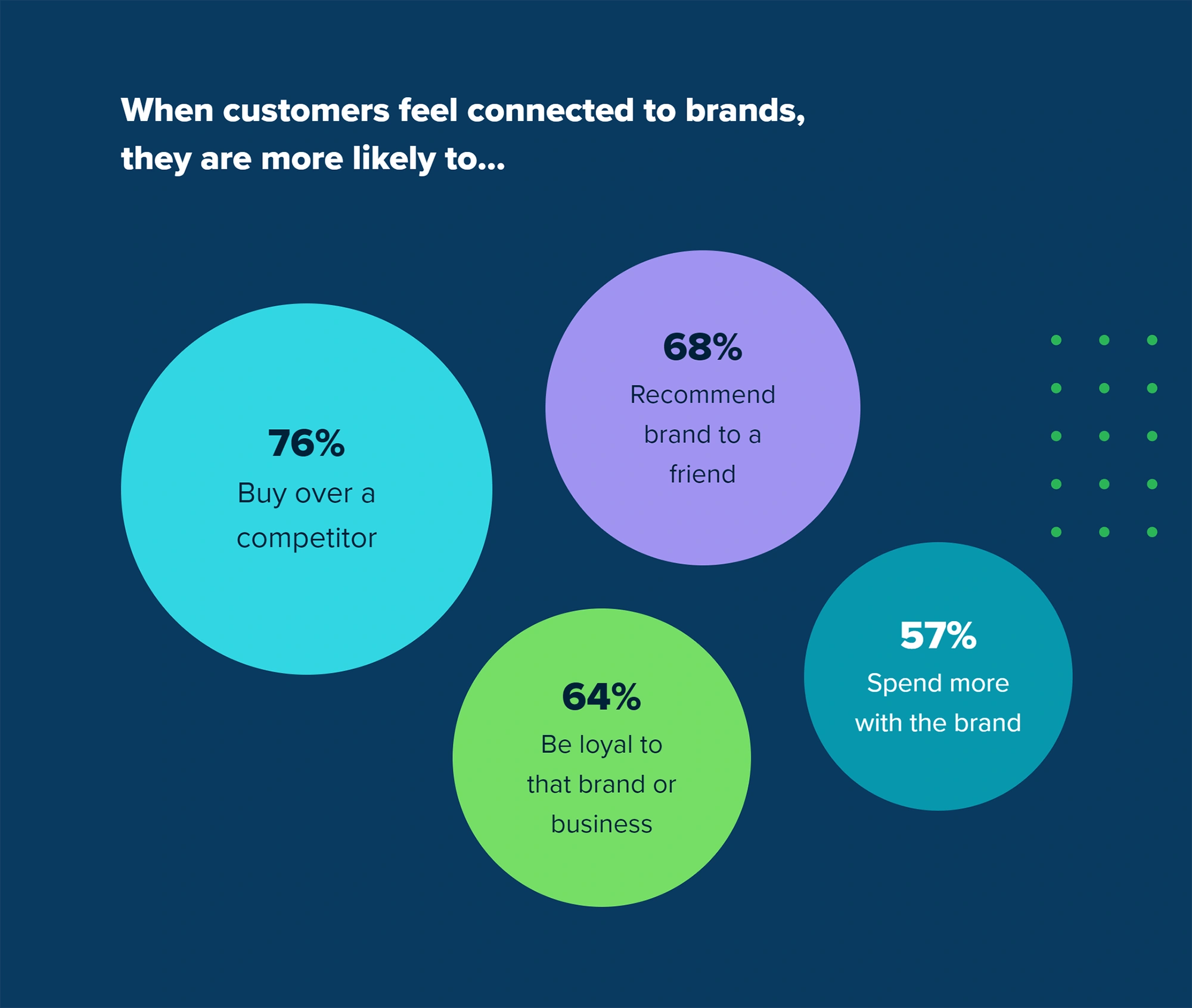 Customers who feel connected to a brand are valuable in many ways.
Nani Swimwear is one brand that's using social to communicate an authentic brand message and build trust with its consumers.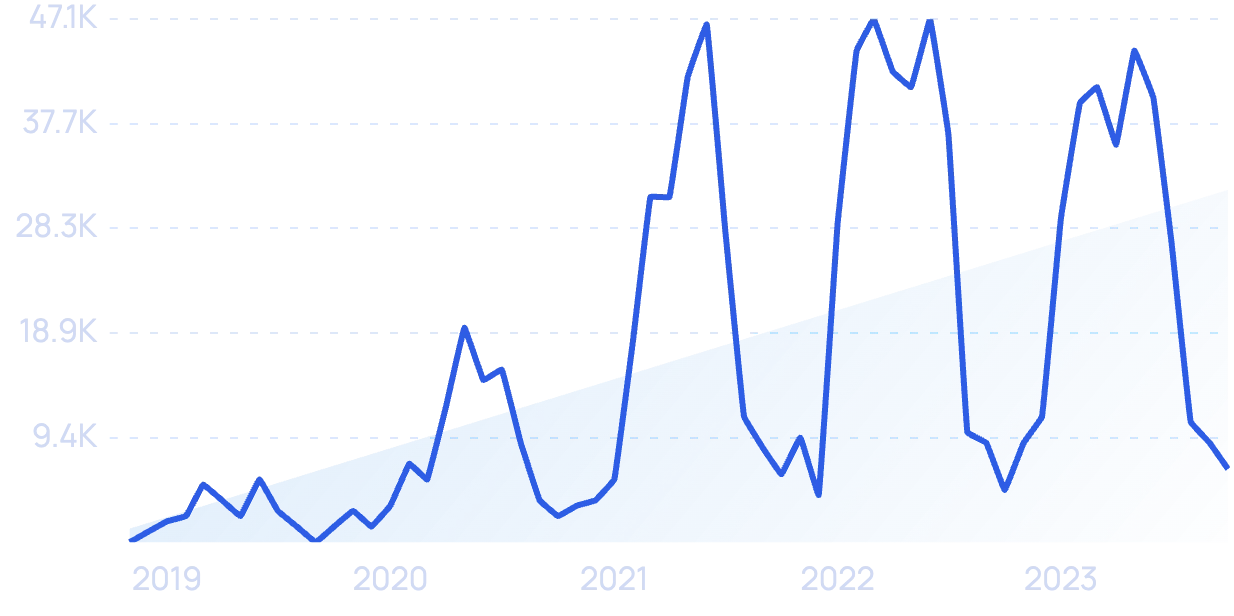 Search volume for "Nani Swimwear".
The brand frequently features its founder in Instagram videos.
They also post about body positivity and use models of all sizes and abilities, showing that they identify with the core values of their consumers.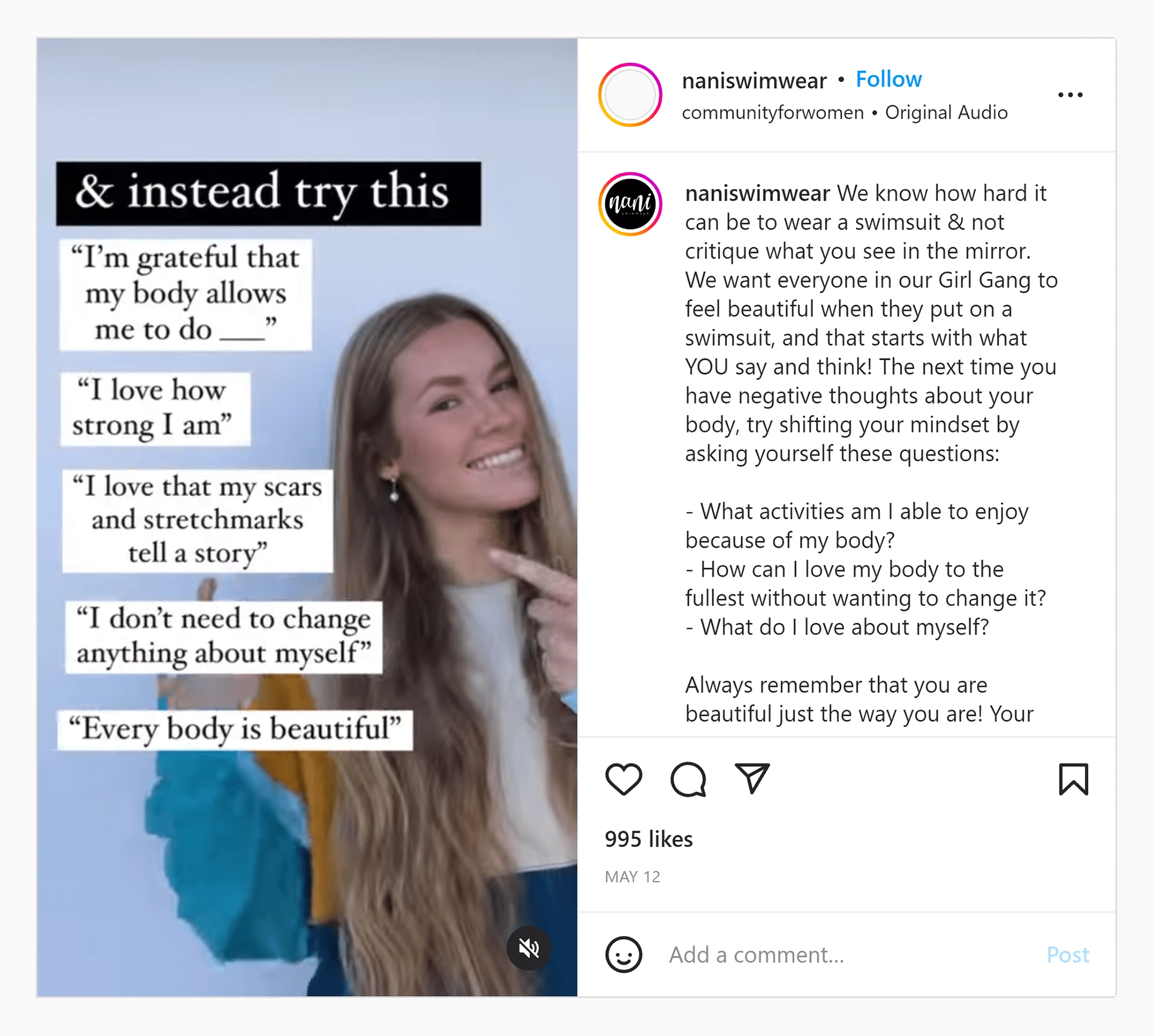 Nani Swimwear uses Instagram videos to reiterate its mission of empowering women.
6. New platforms and social media giants launch audio options
The popularity of podcasting has been increasing for the past 15 years.
In 2021, 41% of Americans over the age of 12 listened to at least one podcast in the last month.
In the coming months, social media platforms are hoping to capitalize on users' willingness to consume audio content.
One tech analyst says social audio is the Goldilocks medium. "Text is not enough, and video is too much; social audio is just right. It represents the opportunity for social connection and empathy without the downsides of video," he says.
Discord is one of the best-known audio platforms. During the peak of the pandemic, it had more than 140 million monthly active users.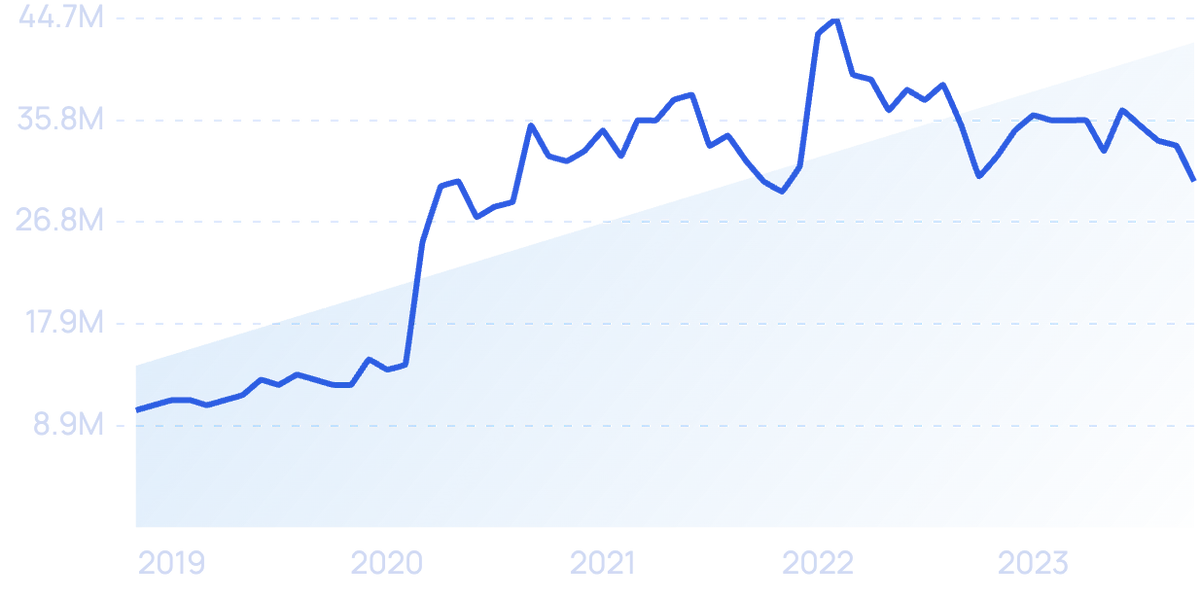 Search volume for "Discord" is up 196% in 5 years.
The platform uses VoIP technology to translate spoken words into text. There are also the usual text-based chats, too.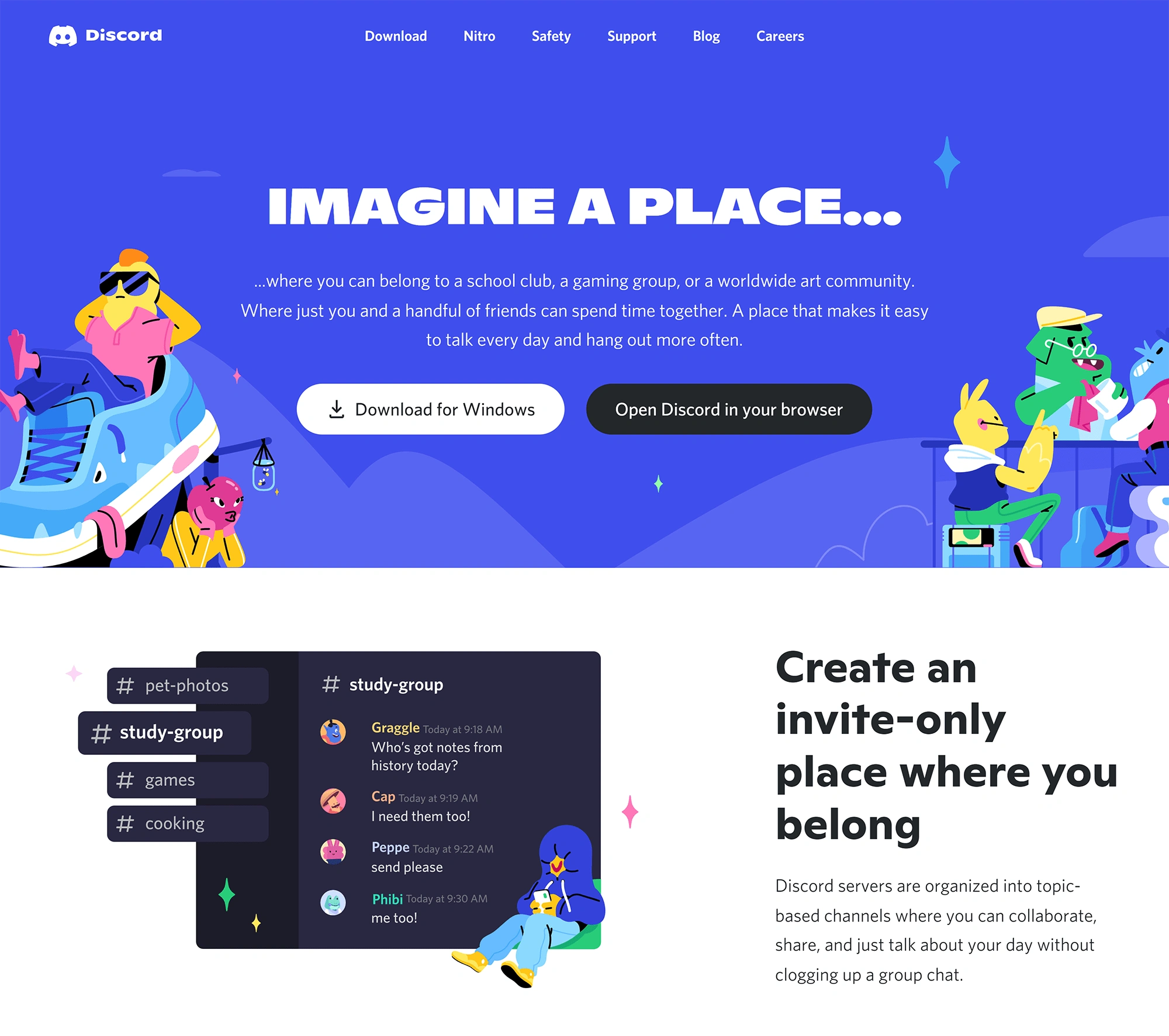 Discord can be downloaded to iOS, Android, or desktop computers.
Discord began as a software for video gamers who couldn't stop playing in order to type. There are now millions of topic-based servers on the platform.
Wavve takes a bit of a different approach to social audio.
This software allows podcast or music creators to select a snippet of their audio and create a professionally designed video for social media using that audio.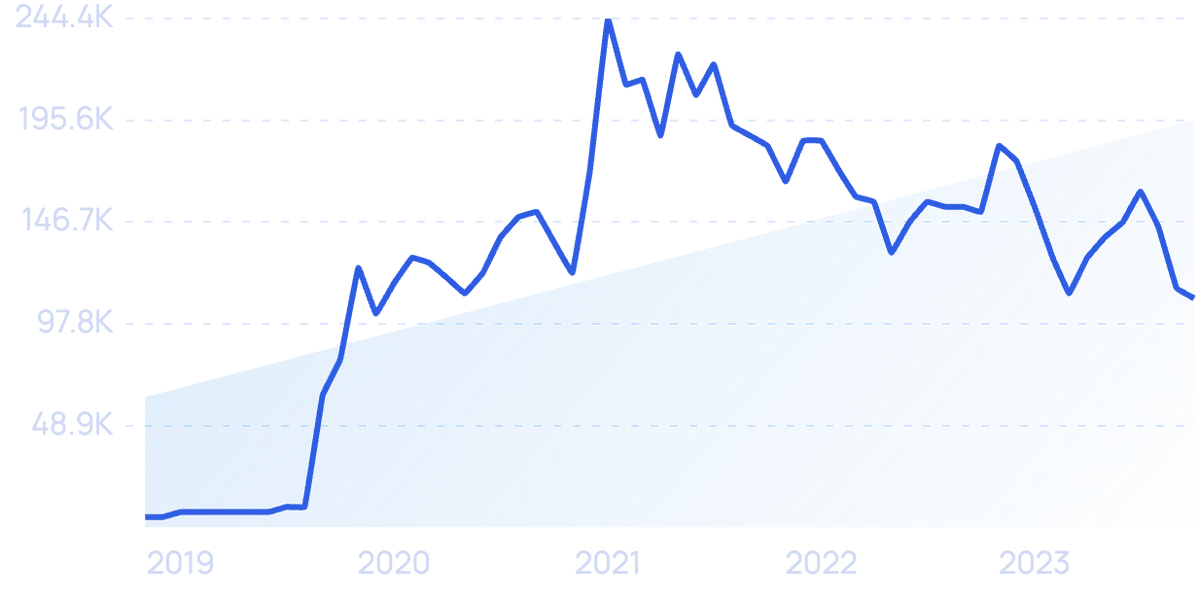 Search interest in "Wavve" is up 2,150% in 5 years.
The social media powerhouses are also rolling out their own audio-focused platforms.
Twitter has voice tweets and Twitter Spaces, which allow users to create live conversations with other users.
Facebook is building new audio creation tools. This will allow users to create Soundbites, short-form audio clips, and launch Live Audio Rooms.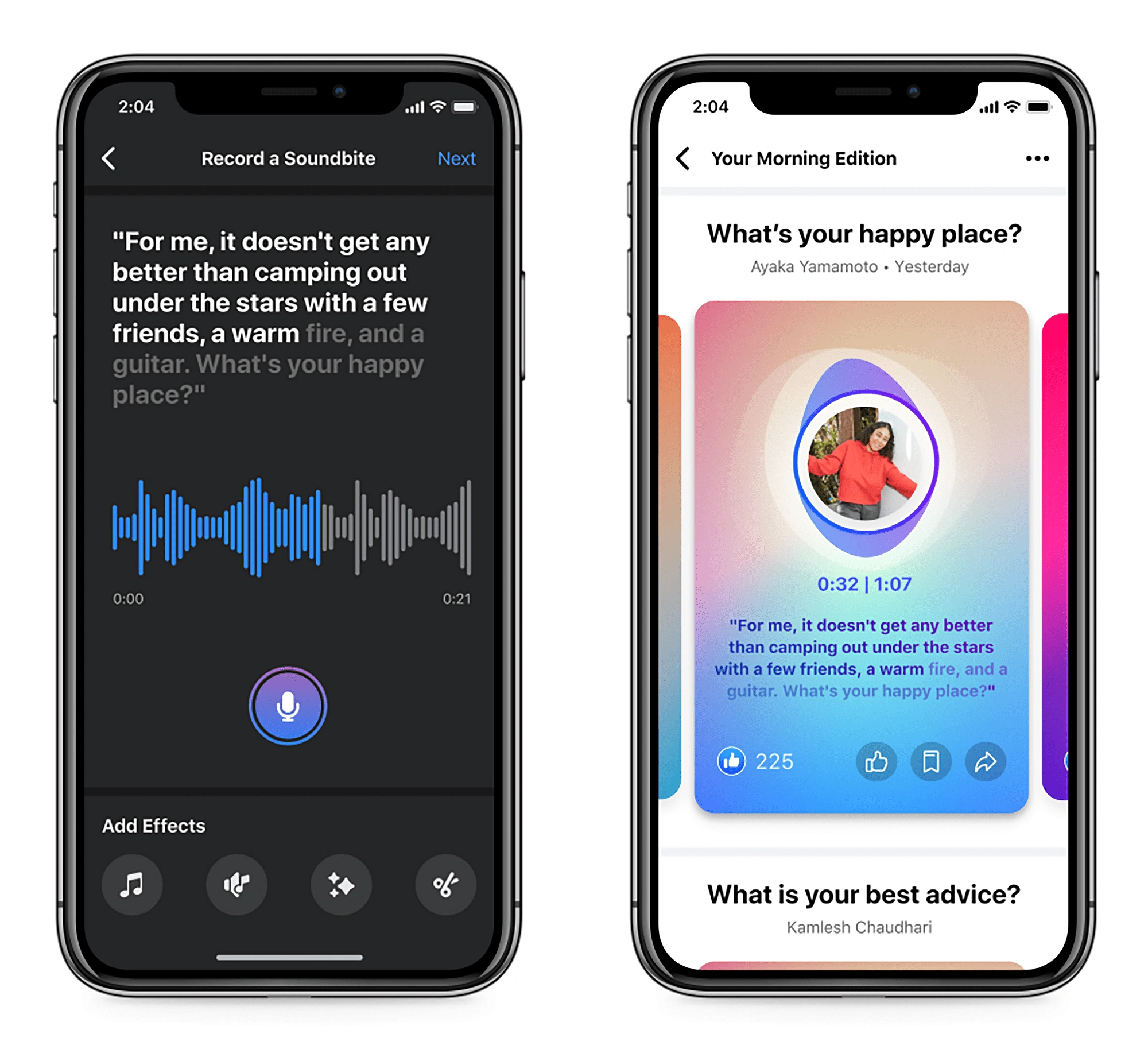 Facebook is currently testing its new audio features and will roll them out to the general public in the coming months.
7. Social media emerges as a shopping platform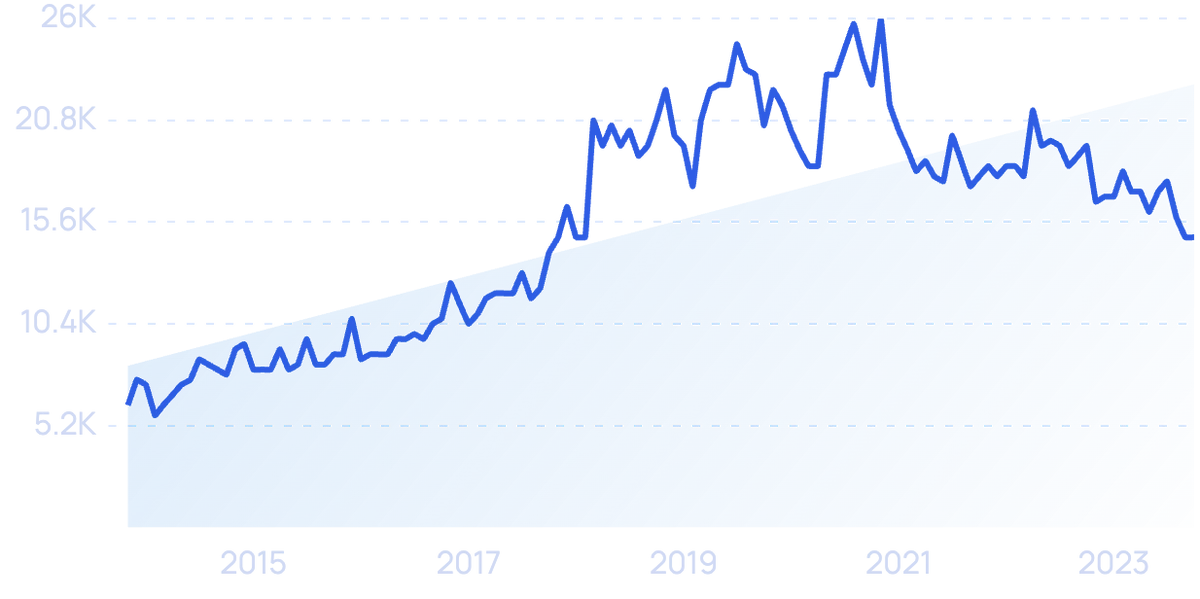 Searches for "Instagram shopping" increased 138% over the past 10 years.
As shopping became more virtual during the pandemic, social media platforms became an increasingly popular shopping outlet.
In fact, the number of social commerce buyers in the US has increased by 25.2%, reaching over 80 million.
And that number of forecast to exceed over 100 million in 2023.
As many as 18% of US consumers hit a "buy" button on a social media platform in 2020, compared to 13% in 2019.
Also, 6% of US consumers purchased something from a shoppable social media story in 2020, compared to only 12% in 2019.
Younger people are significantly more likely to shop on social media platforms.
Approximately 37% of shoppers ages 15-22 used the "buy" button on social media, and 30% purchased something from a shoppable social media story.
Instagram is one of the leading social ecommerce outlets.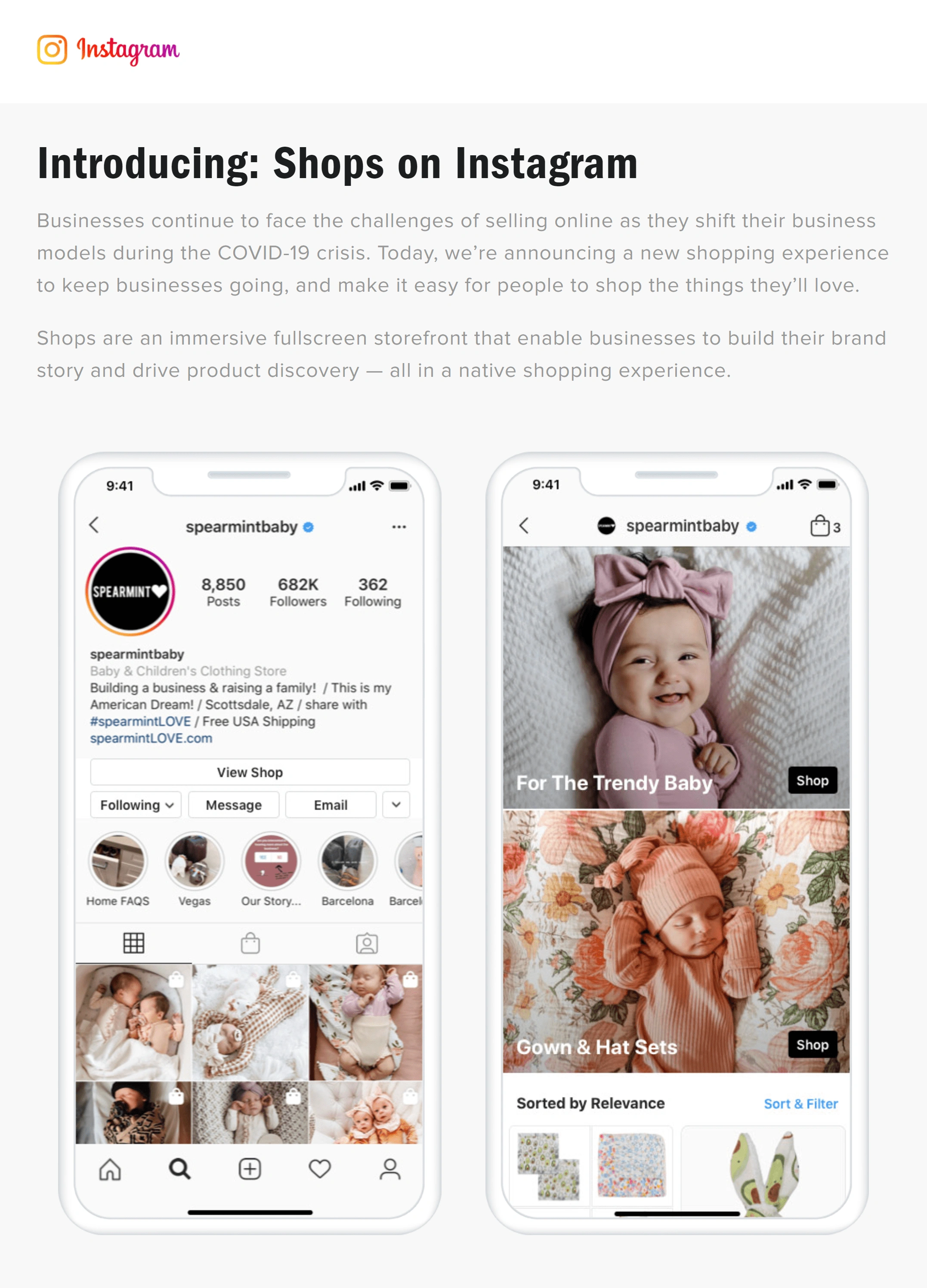 Instagram shopping is now an integral part of the app's experience.
In fact, as many as 70% of consumers look to Instagram to discover a product.
And approximately 90% of Instagram users follow at least one business page.
However, Facebook leads the way as a top choice for social commerce.
In 2020, Facebook added Facebook Shops to its range of shopping tools, which include Facebook Marketplace and shoppable ads.
Facebook Shops allows users to create a single online store that is shoppable from Facebook or Instagram.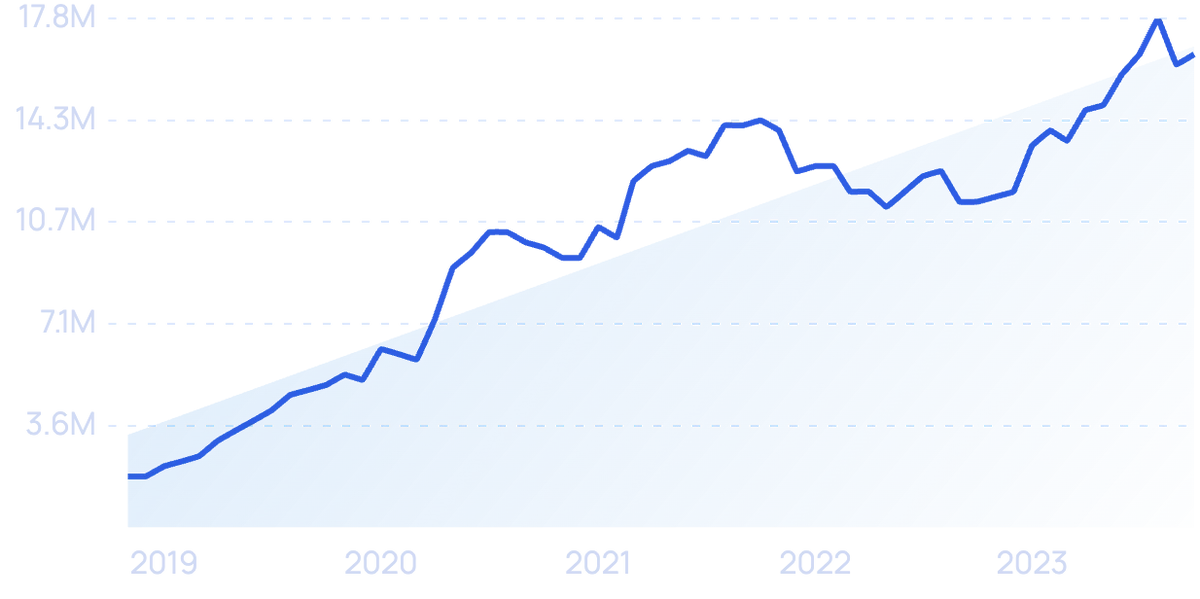 Online searches for "Facebook Marketplace" increased by 830% in the past 5 years.
Other social media platforms are projected to enter the playing field in the future.
For example, at the end of 2019, TikTok started experimenting with product links.
As the social commerce space expands, social media platforms are likely to adapt features that make shopping easier for users.
For example, Instagram currently has Instagram Checkout, which allows users to shop from the platform without having to go to a third-party site.
Social media platforms are also likely to introduce features to allow for easier conversational marketing.
For example, Facebook Messenger enables over 2 billion messages to be exchanged monthly between consumers and businesses.
Facebook Shops enables consumers to contact businesses via Messenger, WhatsApp, or Instagram Direct and to make purchases directly from these chats.
Consumers are becoming more reliant on social shopping and purchasing features.
An estimated 33% of consumers prefer to have a customer service interaction on social media versus the phone or email.
About 42% of users who submit a customer service request on social media expect a response within an hour.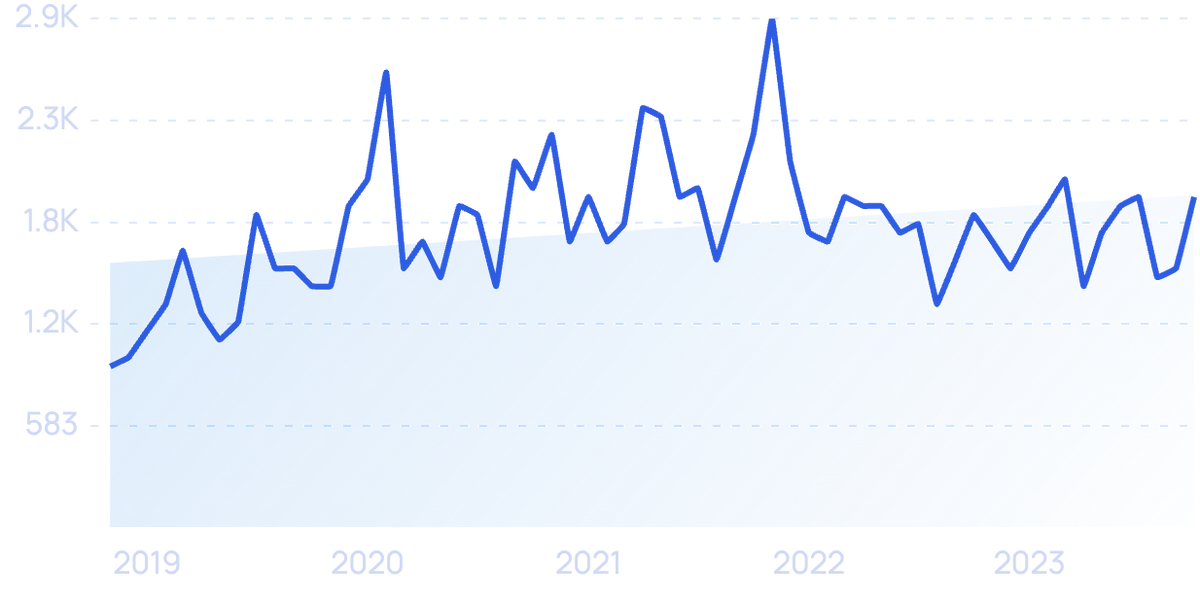 Searches for "conversational marketing" increased by over 100% in the last 5 years.
8. Proliferation of short-form video content
In many cases, video posts perform better than static photo posts on social media.
In some cases, Instagram videos received twice as much engagement as photo posts.
According to one study, as much as 82% of online content will consist of videos this year.
TikTok is a social media platform that is dedicated to short-form videos.
In the first three months of 2020, TikTok was downloaded 315 million times around the world, setting a record for quarterly downloads by any app.
Other social media companies are creating more options for short-form video posts.
To compete with TikTok, Instagram launched Instagram Reels in 2020.
Reels allow users to record and post videos up to 30 seconds in length. This is on top of Instagram's two other video options: IGTV and Stories.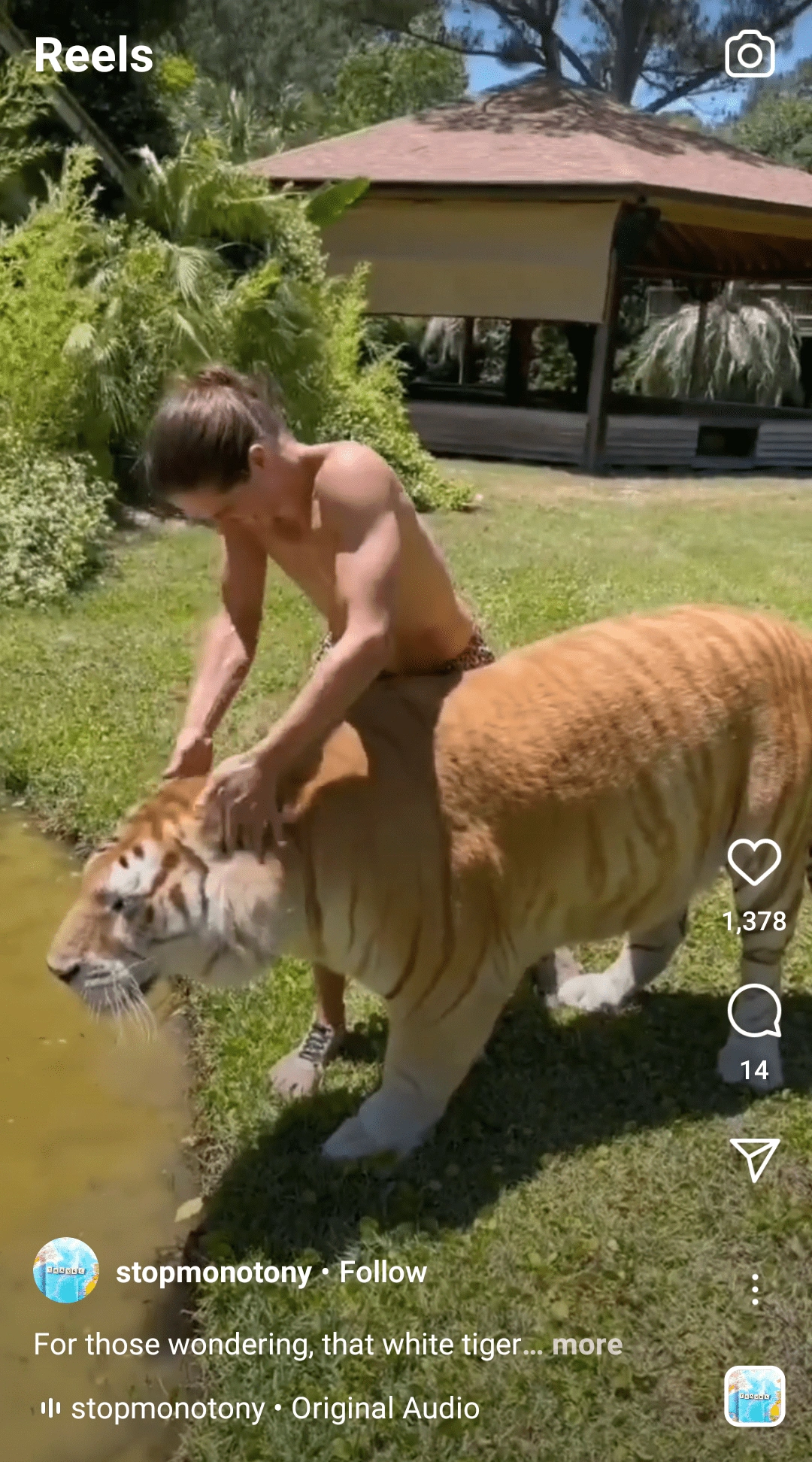 Example of an Instagram Reel.
The NBA found that engagement with their Instagram Reel posts was in some cases twice as high as with their regular video posts.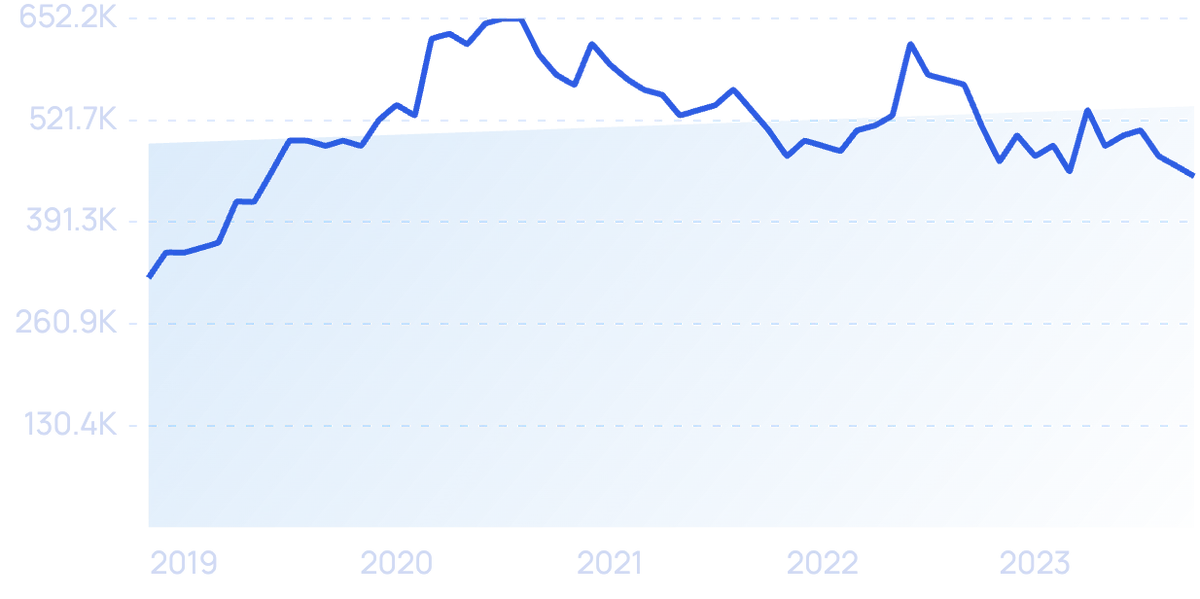 Although they did not keep up with TikTok search numbers, online searches for "Instagram Stories" still saw a 41% increase in the past 5 years.
YouTube also rolled out a new feature in 2020, YouTube Shorts, as a TikTok and Instagram Reels competitor.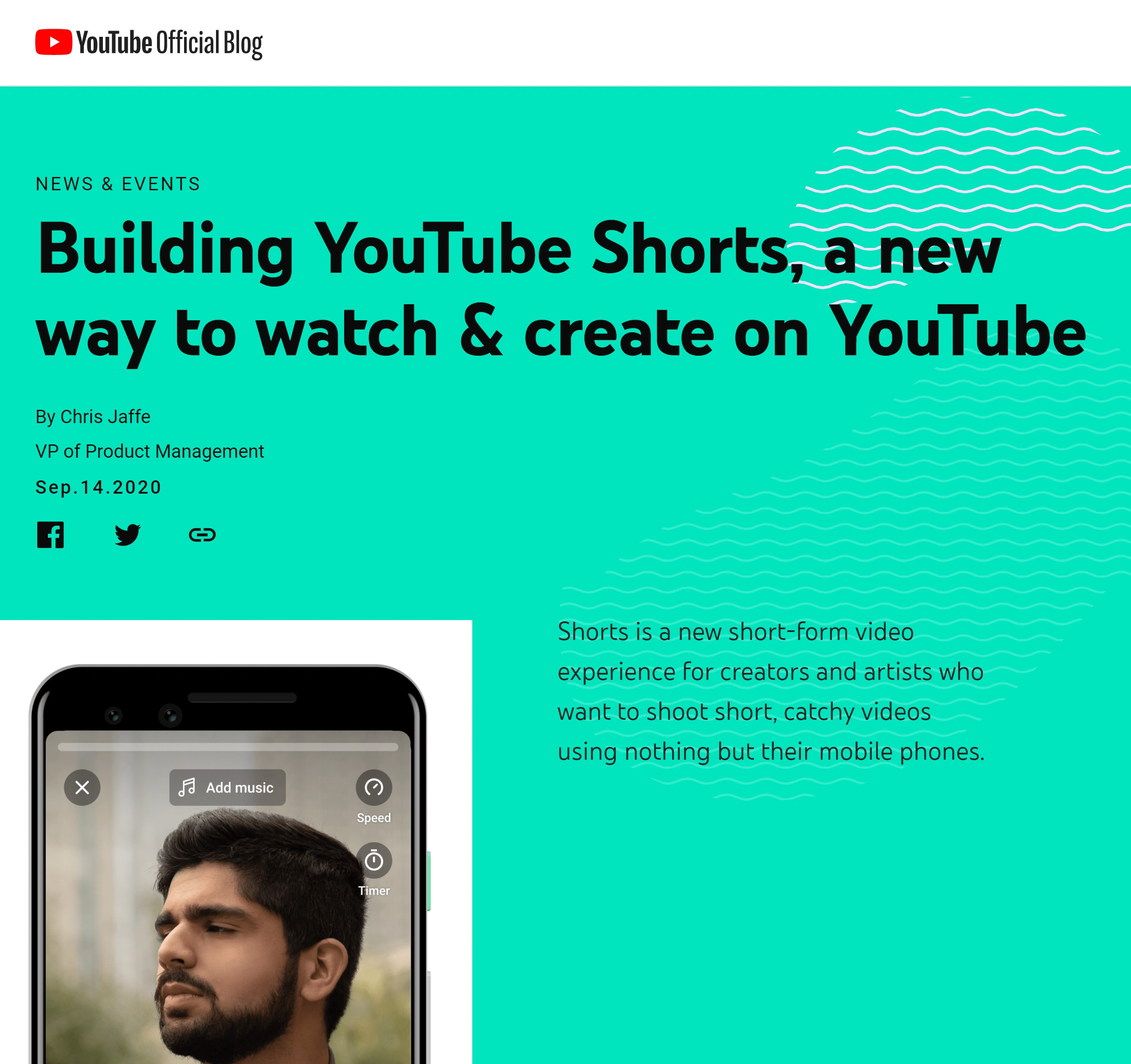 YouTube Shorts is YouTube's answer to TikTok.
YouTube Shorts allows users to post 15-second videos.
YouTube Shorts gets over 30 billion views daily worldwide.
While short-form video options are growing, longer videos are not going anywhere just yet.
As more people shifted online during the pandemic, live streams were increasingly used to host public events and meetings.
The live-streaming industry grew by 99% in 2020 and is expected to continue growing.
The most popular live video platform of 2020 was Twitch, which grew 50% from March to April alone and 101% over the year.
Users are spending approximately 1.645 billion hours watching videos on the platform per month.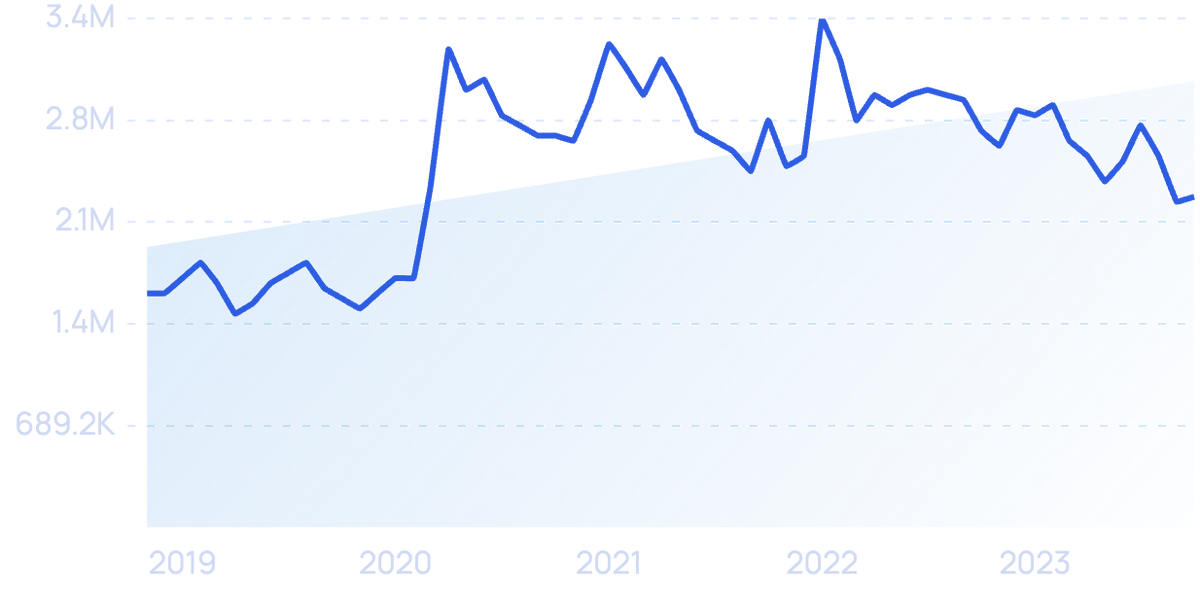 Online searches for "Twitch" increased 41% in 5 years.

9. Social media becomes part of daily life
More than 72% of Americans were on social media by the end of 2020, a 4.3% increase from the year before.
Social media use in Canada is even higher, with over 84% of Canadians reporting that they use social media.
Not only is the number of social media users growing.
The amount of time that users are spending on social media platforms is growing too.
On average, people spend about 151 minutes on social media every day. This is about one hour longer than people were spending on social media in 2012.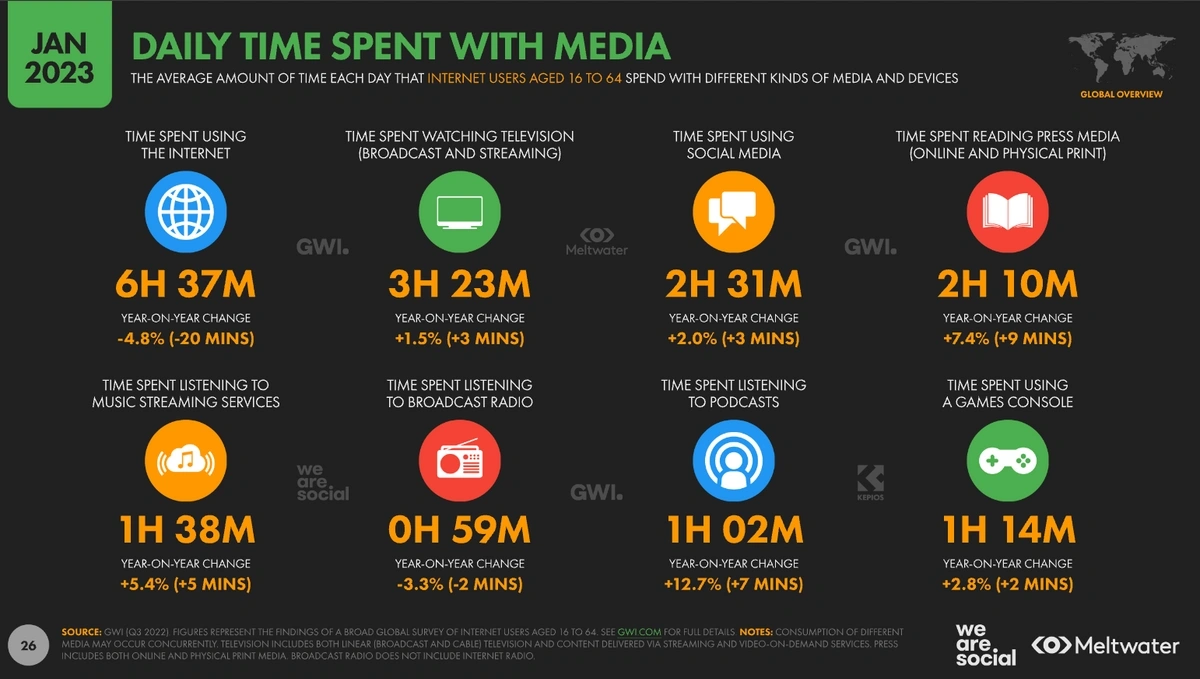 Social media users are spending more time using the platforms than ever before.
Overall, social media usage (including messaging apps like WhatsApp) went up 21% globally during the pandemic.
Which is making social media an increasingly popular channel for marketers.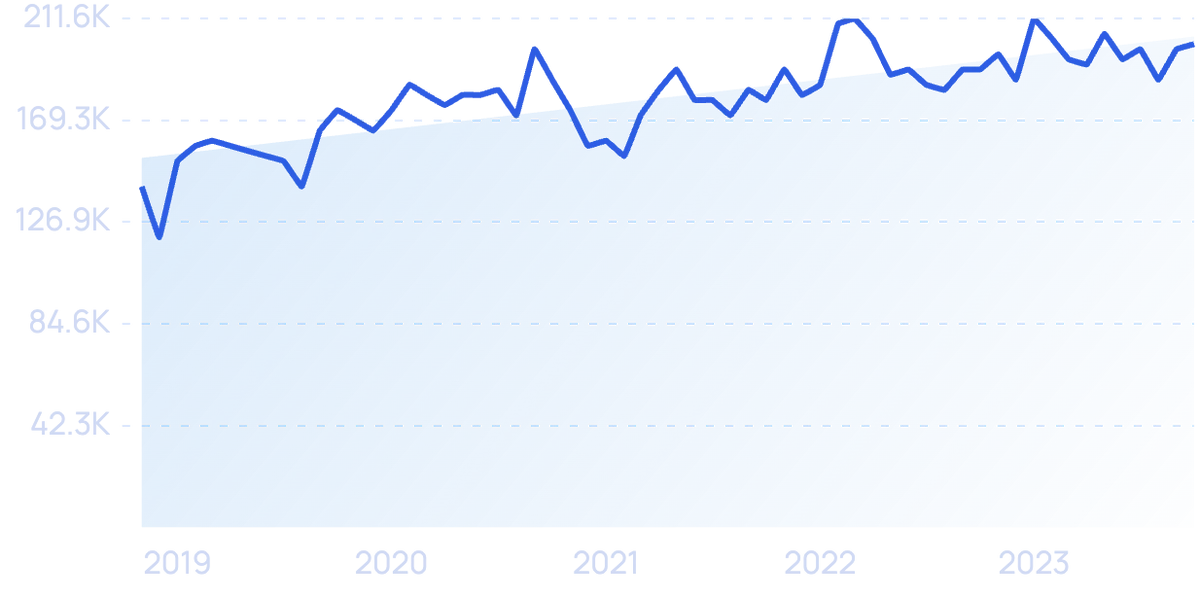 Online searches for "social media marketing" have increased by 88% over the past 5 years.
The world's growing dependence on social media (and their underlying algorithms) has fueled calls to disconnect and initiatives to reduce social media reliance, like National Day of Unplugging and Digital Minimalism.
However, these campaigns are unlikely to reverse social media's upward trajectory in the near term.
There's also the growing trend of social media influencers.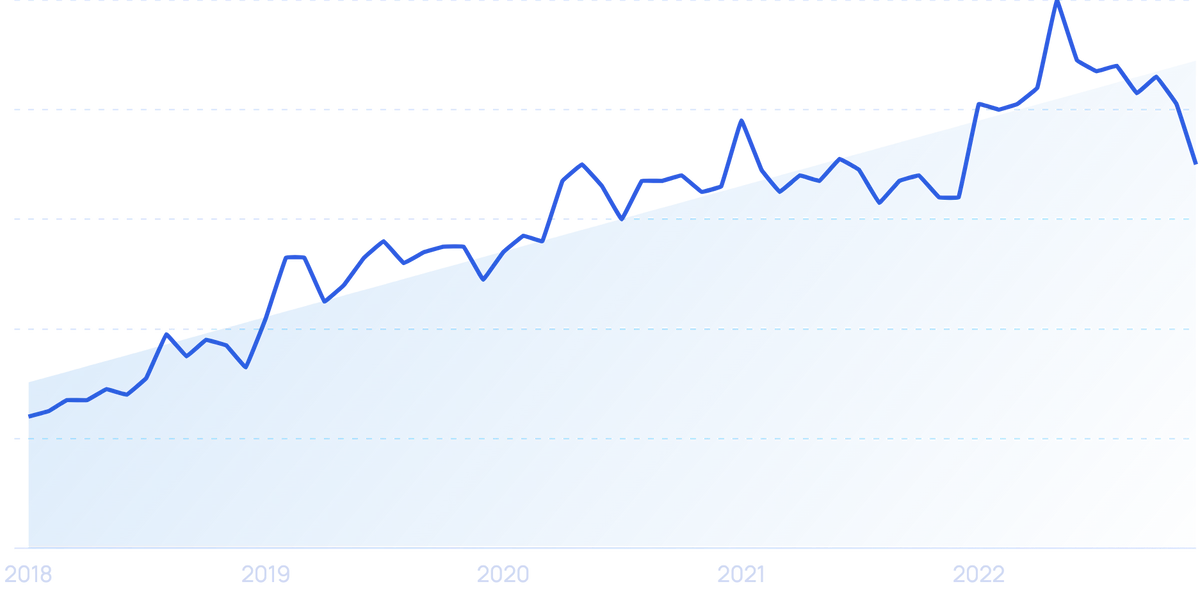 Search growth for "influencer marketing" has increased by 191% over 5 years.

Which is not just impacting how businesses approach digital marketing.
But this social media trend is also creating millions of mini empires for folks with large followings on Instagram and YouTube.
10. Facebook remains on top (for now)
Facebook remains the most used social media platform in the world, followed closely by YouTube.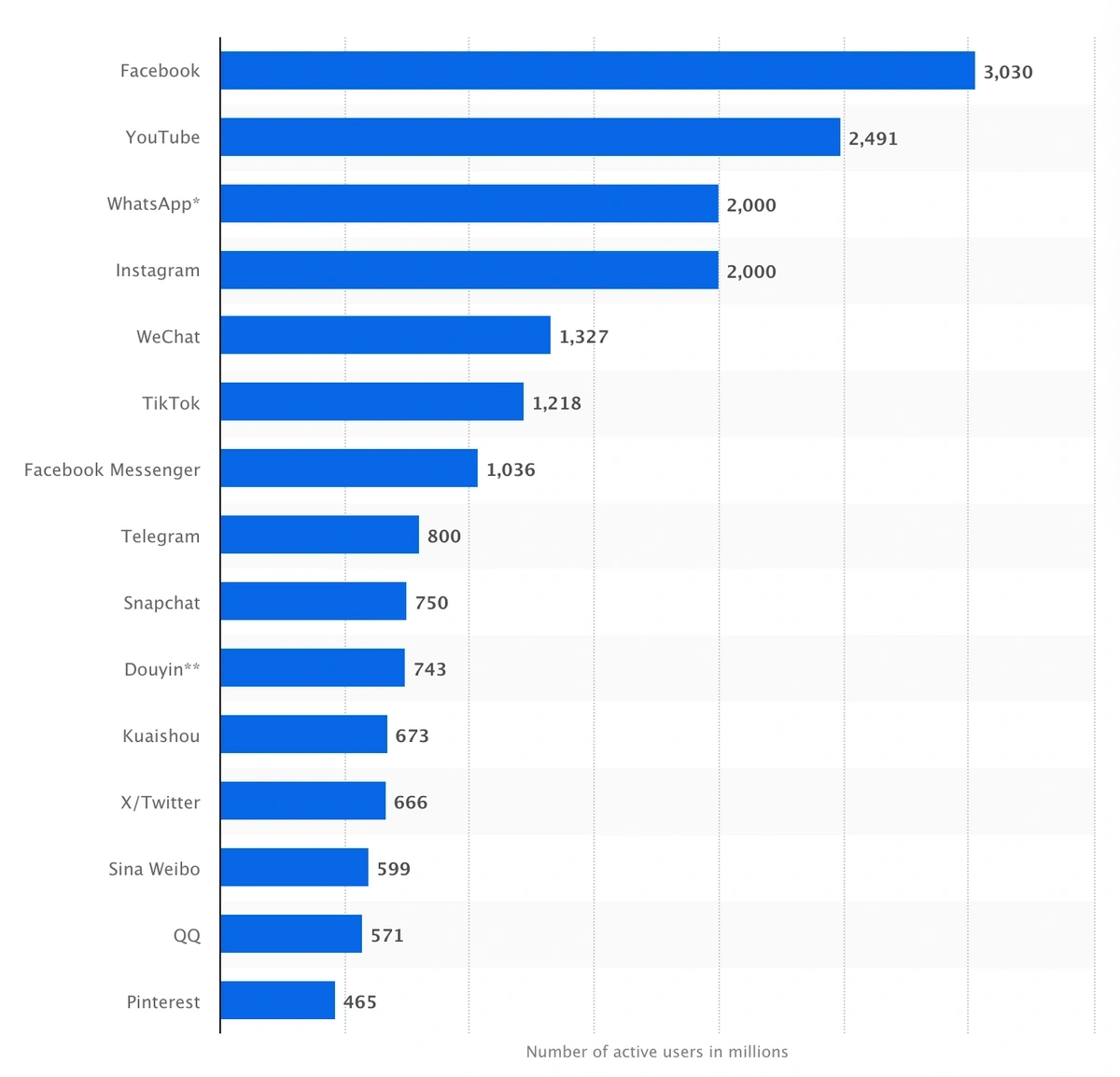 Facebook remains the #1 most-used social media platform on the planet.
Instagram and TikTok were the fourth and sixth most popular platforms in the world.
Despite some negative press coverage, Facebook's growth is not letting up.
The platform currently has about 3 billion monthly users and had about 16 billion total visitors in September 2023.
The average user spends about 58 minutes on Facebook each day.
On the other hand, the average YouTube user spends about 40 minutes using the platform.
YouTube has an estimated 30 million daily users and had about 32 billion total visitors in September 2023.
Instagram has 500 million active daily users and had over 6.4 billion total visitors in September 2023. The average user spends around 53 minutes on Instagram.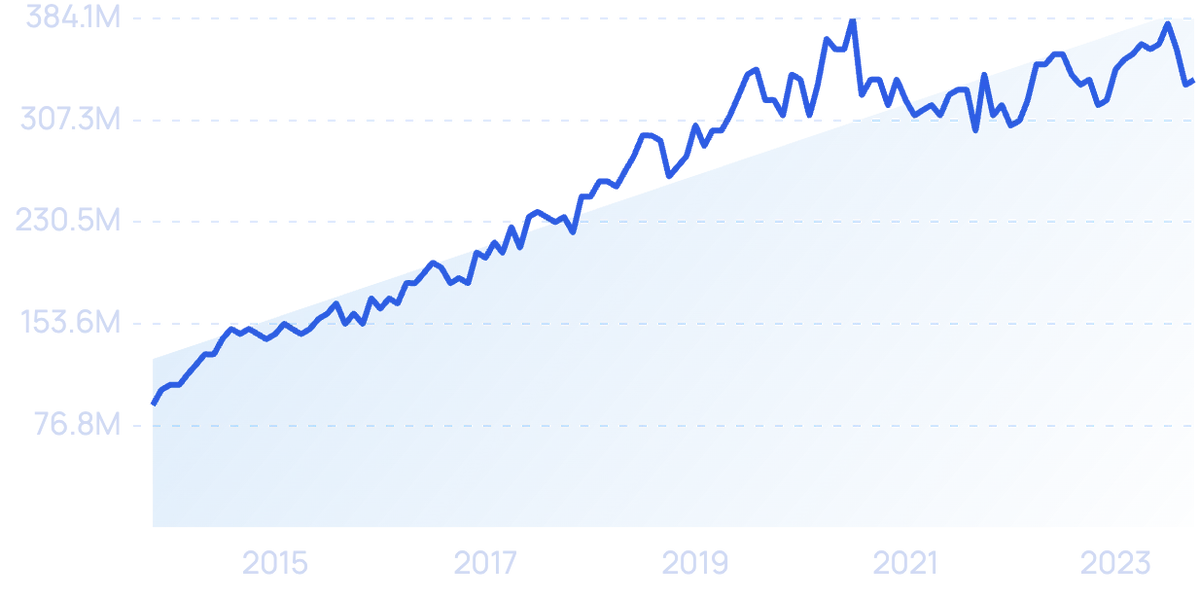 Google searches for "Instagram" have remained on an upward trajectory and have grown 267% in the past 10 years.
The average TikTok user spends approximately 52 minutes on the app daily.
While some younger users spend on average 80 minutes on the app daily.
There is no shortage of new social media platforms being launched each year.
Clubhouse, an invitation-only social network based on audio chats, has received widespread attention since it launched in 2020.
Despite the success of some new platforms, like Clubhouse, the major players outlined above are expected to continue to dominate the market in the coming years.
11. Shorter attention spans result in more bite-sized content
Yes, people are spending more time on social media.
But they're spending less time engaging with individual posts.
Studies suggest that the attention span of the average person today is 8 seconds - down from 12 seconds 20 years ago.
People who access social media content on their computers tend to spend slightly more time on each piece of content than those on mobile devices.
For instance, people who accessed Facebook from their computer spent on average 2.5 seconds on a piece of content.
While those who accessed Facebook from their phones spent 1.7 seconds on the same content.
12. More augmented reality options
The Augmented Reality (AR) market is still in its infancy.
But is projected to gain momentum in the coming years.
Approximately 48% of consumers were projected to use AR in some form by the end of 2021.
AR and VR are expected to become more mainstream as cell networks become stronger and faster.
In 2023, the AR market generated a predicted $70-$75 billion in annual revenue.
Social media networks are getting in on the trend early.
AR has been incorporated into Instagram filters since 2017. In 2019, Instagram stepped up the AR game even further with an option for users to create their own filters.
Usage statistics suggest that filters can quadruple the engagement time of videos.
User engagement with filters is approximately 75 seconds, driving brands to roll out their own filters that followers can interact with on social media.
Social media platforms and businesses are sure to find other ways to incorporate AR into their platforms.

And number of apps that feature AR is likely to increase in the coming years. Many of which will likely be dedicated to discovering (and virtually "trying on") new products.
Pokemon Go, which has been downloaded more than one billion times, was likely just the beginning.
Facebook is also set to launch its glasses sometime this year, with the goal of allowing people to more easily record memories without needing to use their phones.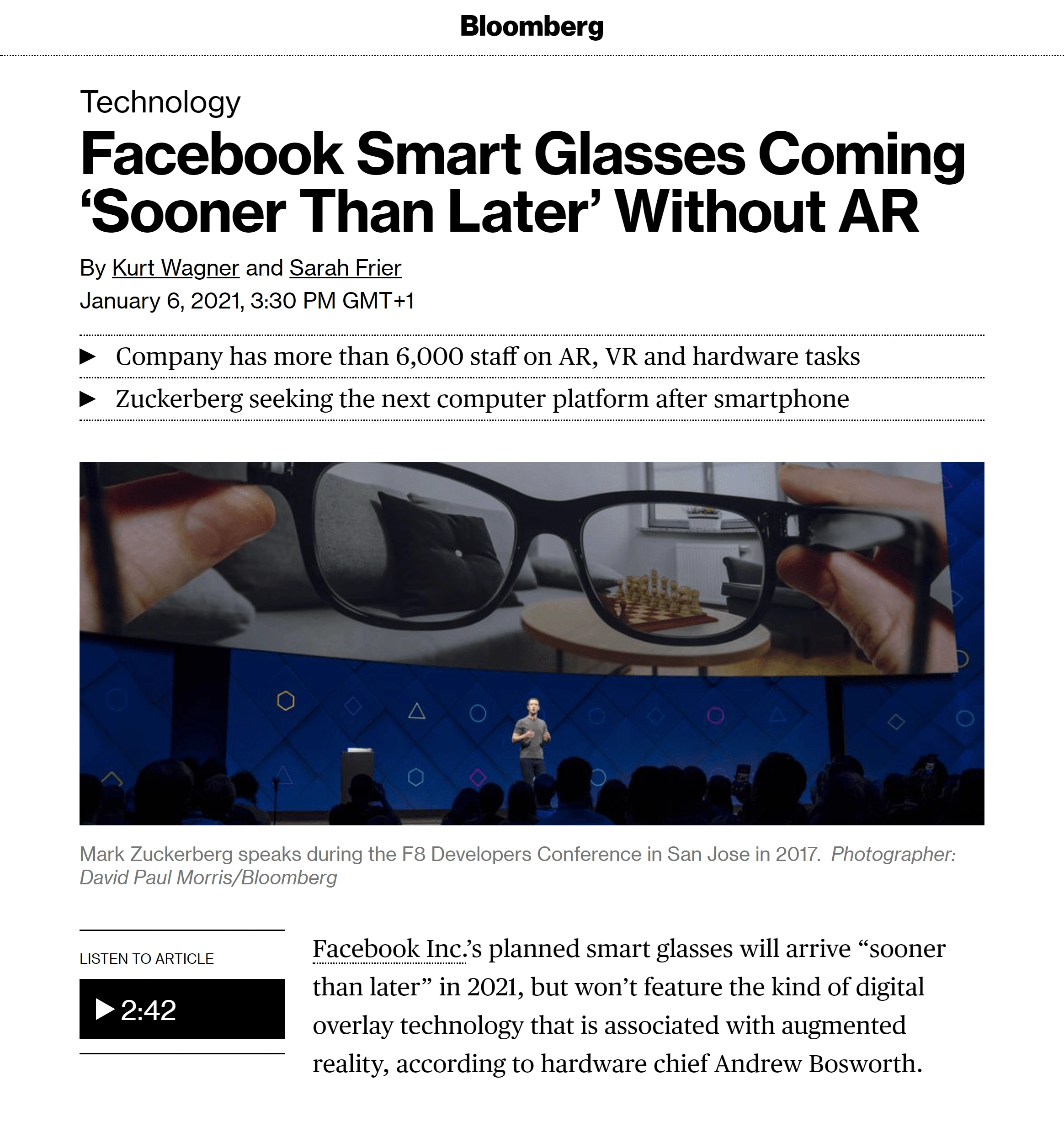 Facebook's glasses were released in September 2021.
13. Growing utilization of user-generated content
Businesses are increasingly incorporating user-generated content (UGC) into their social media marketing strategies.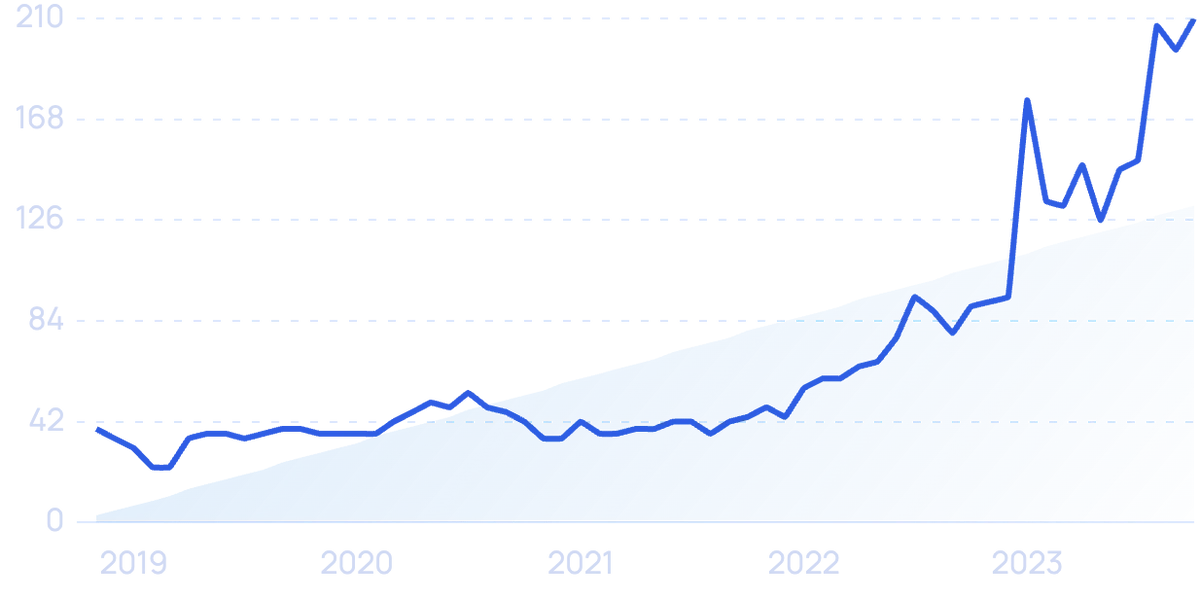 Online searches of "user-generated content" are up 426% over 5 years.
Brands that incorporate UGC have a 20% increase in return visitors and a 90% increase in the time that consumers spend on their websites.
UGC images are also 81% more likely to convert.
There are several upsides to UGC for businesses, including that it is cheaper than traditional advertising, more relatable, and can help brands to be perceived as more authentic and socially conscious.
Authenticity is increasingly important to consumers.
Approximately 90% of consumers reported that authenticity played a factor in their shopping decisions, up from 86 percent in 2017.
Consumers are 2.4x more likely to find UGC more authentic than traditional branding.
Approximately 92% of consumers report that they trust UGC more than any other type of marketing content.
UGC is thriving on Facebook and Instagram, which may lead other social media platforms to incorporate UGC in the future.
Approximately 78% of marketing companies find Facebook to be an effective marketing tool, and 70% find Instagram to be an effective marketing tool.
14. The "Unbundling" of Reddit
10 years ago the classifieds site Craigslist was essentially "unbundled" into dozens of separate niche verticals.
Dozens of huge companies were spawned, most notably Airbnb, Zillow, and Indeed (among many others). And now, the same is happening to Reddit.
Discord (now valued at $15 billion) carved the big first chunk out of Reddit as the "Slack for Gaming".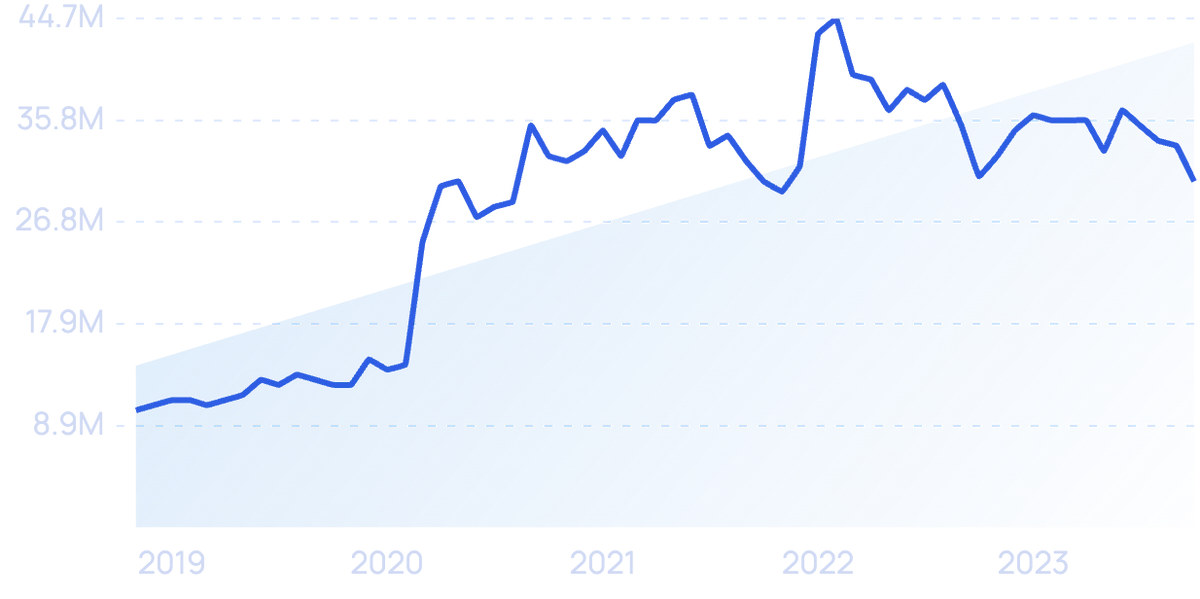 Search volume for "Discord" is up 196% (last 5 years).
It listened to the needs of the League of Legends gaming subreddit (r/LoL) and grew off the back of that community.
Their core offering became the de facto standard esports voice chat tool that gamers needed. And their branding really resonated with that specific community.

Which niches are next?
The subreddits that are most ripe are those that can benefit from custom features geared towards those specific users.
Another important factor is when a community is boosted by accountability, rather than the anonymity provided by Reddit.
Indie Hackers is a prime example of both of these things in play.
12k users flock to this online community made up of people that are "building online projects that can generate revenue" in public.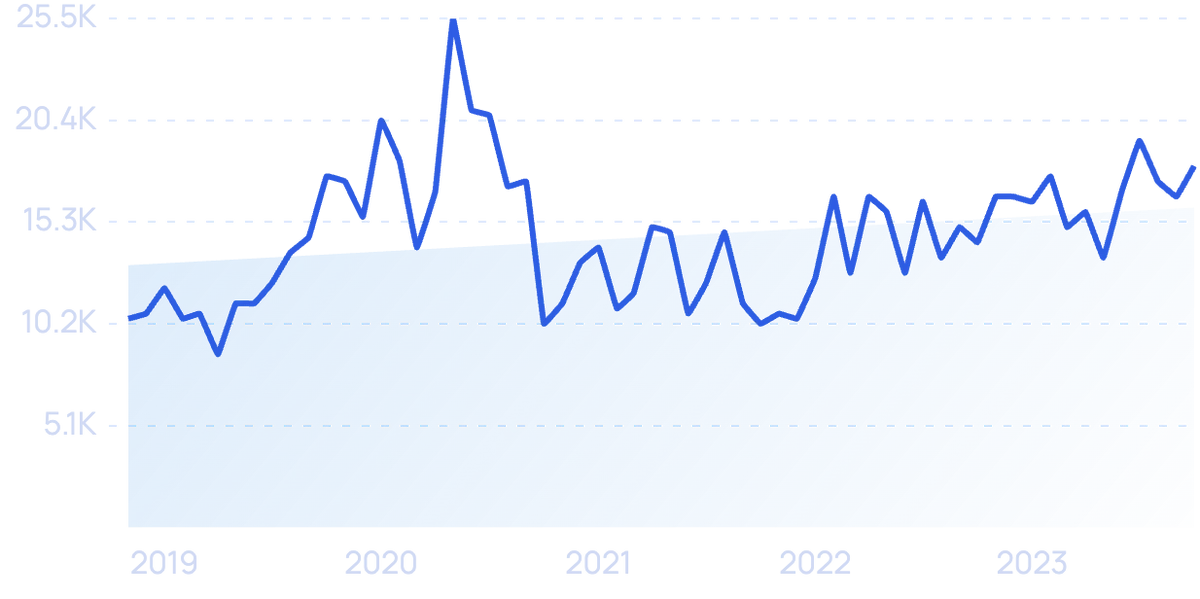 Searches for "Indie Hackers" have increased by 73% over 5 years.
Reddit has plenty of communities like r/Entrepreneur, r/Startups, and r/SideProject.
But many of the discussions that could happen in them are now happening on Indie Hackers instead.
This is because Indie Hackers has features that Reddit simply doesn't have.
For example, users can set up a custom page for their product, set goals, and document their business journey along the way.

Another successful niche social network with tailor-made features is Vivino. This online wine community has flavor profile selectors designed specifically for wine lovers.
Conclusion
Social media usage is expected to remain on an upward trajectory over the next 2-3 years.
And social media giants (like Facebook, Instagram, and Snapchat) probably aren't going anywhere, despite emerging competition.
New features, such as ephemeral content, short-form videos, and AR, are ensuring that users stay glued to these top social media platforms for longer periods of time each day.
Growing engagement is projected to continue to fuel social commerce and generate revenue for businesses.
As a result, companies are expected to look for more ways to tailor their social media strategy around changes that these platforms roll out.