75+ Metaverse Statistics (New 2024 Data)
This is a list of up-to-date metaverse stats for 2024 and 2025.
Roughly half of the technology experts and business leaders believe that the metaverse will be fully operable and offer immersive virtual experiences by 2040. The other half thinks the metaverse will never fully materialize.
In this report, we'll break down the latest data around the metaverse, including key facts, industry size, and trends.
Contents
Top Metaverse Statistics - Editor's Pick
The global metaverse market is expected to reach $936.57 billion by 2030.
31% of US adults have never heard the term "metaverse".
68% of tech experts think the metaverse will boom within the next 5 years.
The computer and IT sectors comprise 17% of all investments in the metaverse.
The virtual fitting room market is forecast to reach $13 billion by 2028.
By 2028, the market for extended reality will reach $252 billion.
Roblox remains the most popular metaverse game with 55 million active daily players.
60% of gamers have used the metaverse for non-gaming activities such as socializing and shopping.
More than half of internet users are concerned that their personal data will not be secure inside the metaverse.
Metaverse Market Size and Projections
The global metaverse market is expected to grow to $936.57 billion by 2030 (Grandview Research)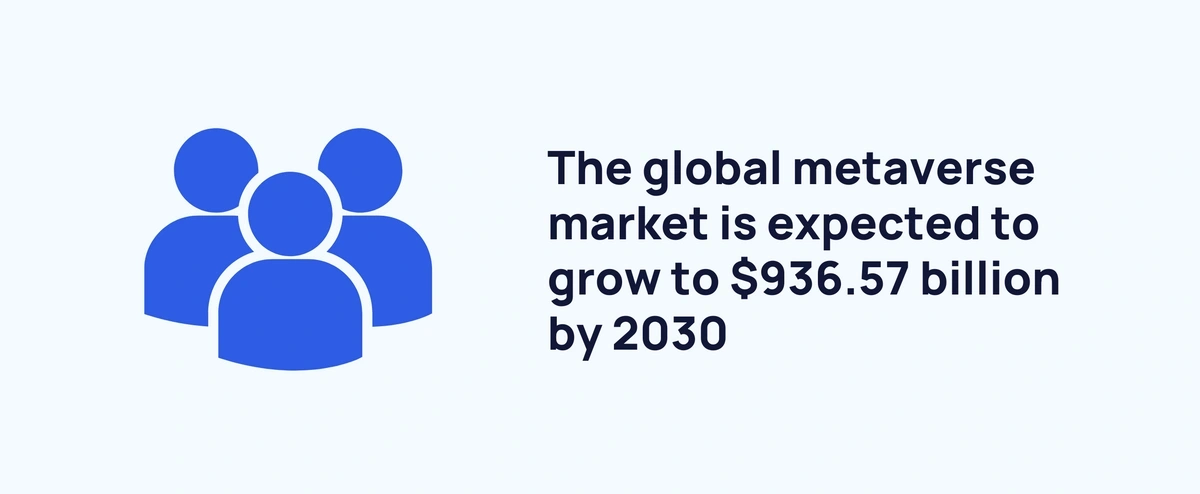 The metaverse market is expected to reach nearly $700 billion over the next 7 years. That's a 14x CAGR from 2022 through 2030.
This growth is expected to be driven by the metaverse being used in a slew of different sectors, including gaming, media and entertainment, eCommerce and retail, education, manufacturing, architecture, engineering, and more.
54% of technology experts anticipate the metaverse will offer immersive experiences by 2040 (Pew Research Center)
Experts are divided on the range of functionality and pace of adoption of metaverse technology. According to a Pew Research Center survey, more than half (54%) of tech experts think the metaverse will reach its promise of a fully immersive world by 2040. 46% think it will never reach broad adoption and will instead be limited to niche use cases, like gaming and entertainment. Others see metaverse technology used sparingly in other settings such as medical, education, and training.
The top sectors already aggressively investing in the metaverse include computer and IT (17%) and education (12%) (Sortlist)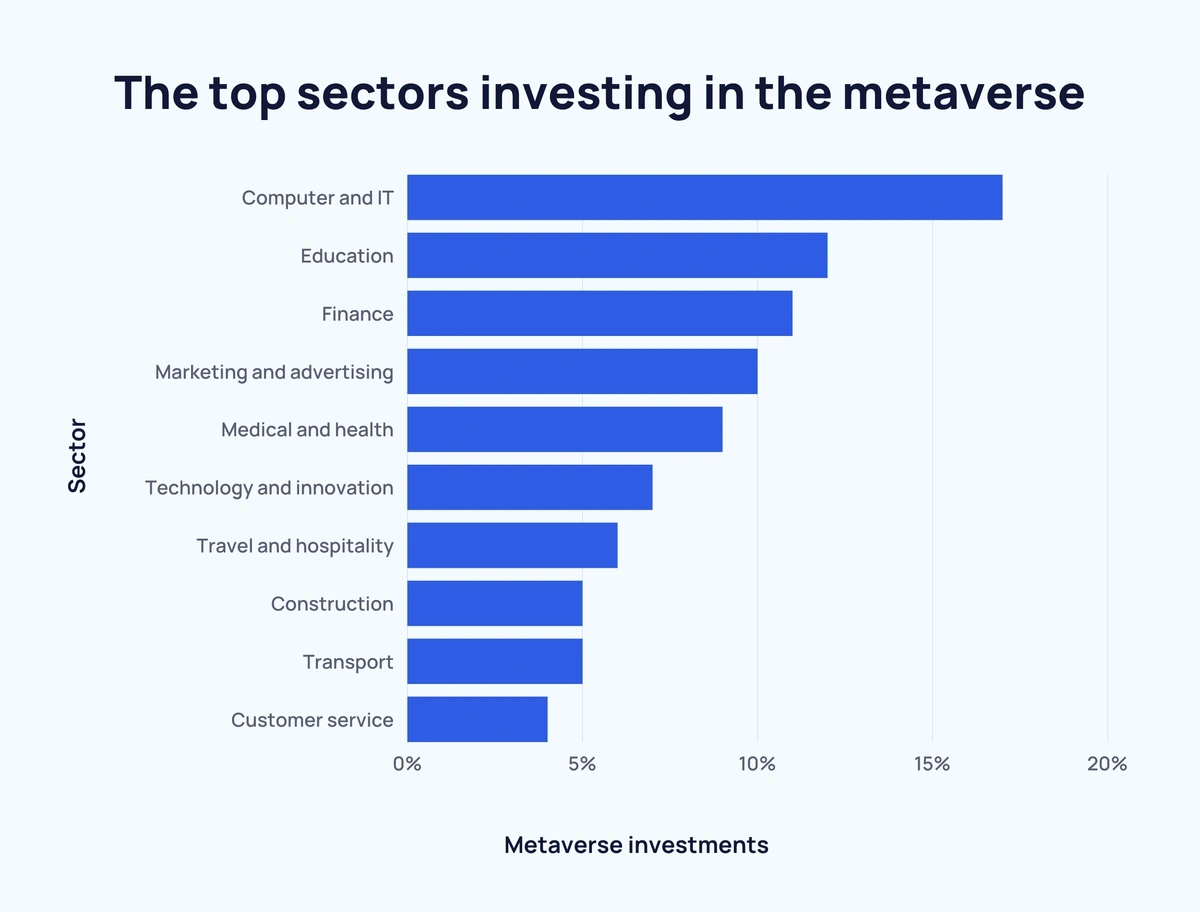 Computing and IT sectors are already aggressively investing in the metaverse, comprising 17% of all metaverse investments. The second largest sector, education, accounts for 12% of investments. Applications in that sector include flight simulation, anatomy and surgery, and digital learning collaboratives.
| | |
| --- | --- |
| Sector | Metaverse investments |
| Computer and IT | 17% |
| Education | 12% |
| Finance | 11% |
| Marketing and advertising | 10% |
| Medical and health | 9% |
| Technology and innovation | 7% |
| Travel and hospitality | 6% |
| Construction | 5% |
| Transport | 5% |
| Customer service | 4% |
400 million people worldwide are active users of the metaverse (Metaversed)
Although still very early, around 400 million people are users of the metaverse. Of those, 80% of metaverse users are younger than 16. Although many industries are pursuing opportunities within the metaverse, most current metaverse applications are geared toward gamers. Top virtual games include Roblox, Minecraft, and Fortnite, which have 210, 160, and 80 million active users, respectively.
Tech innovators believe the metaverse will reach rapid expansion within the next 5 years (Sortlist)
The word "metaverse" was largely unknown before Facebook changed its name to meta in October 2021. However, some businesses have been investing in the metaverse for years. Those already building in the metaverse are optimistic; almost seven in ten think the metaverse will take off within the next five years. The view among the general public appears much less optimistic. Only 16% of the population understands what the idea behind a metaverse is.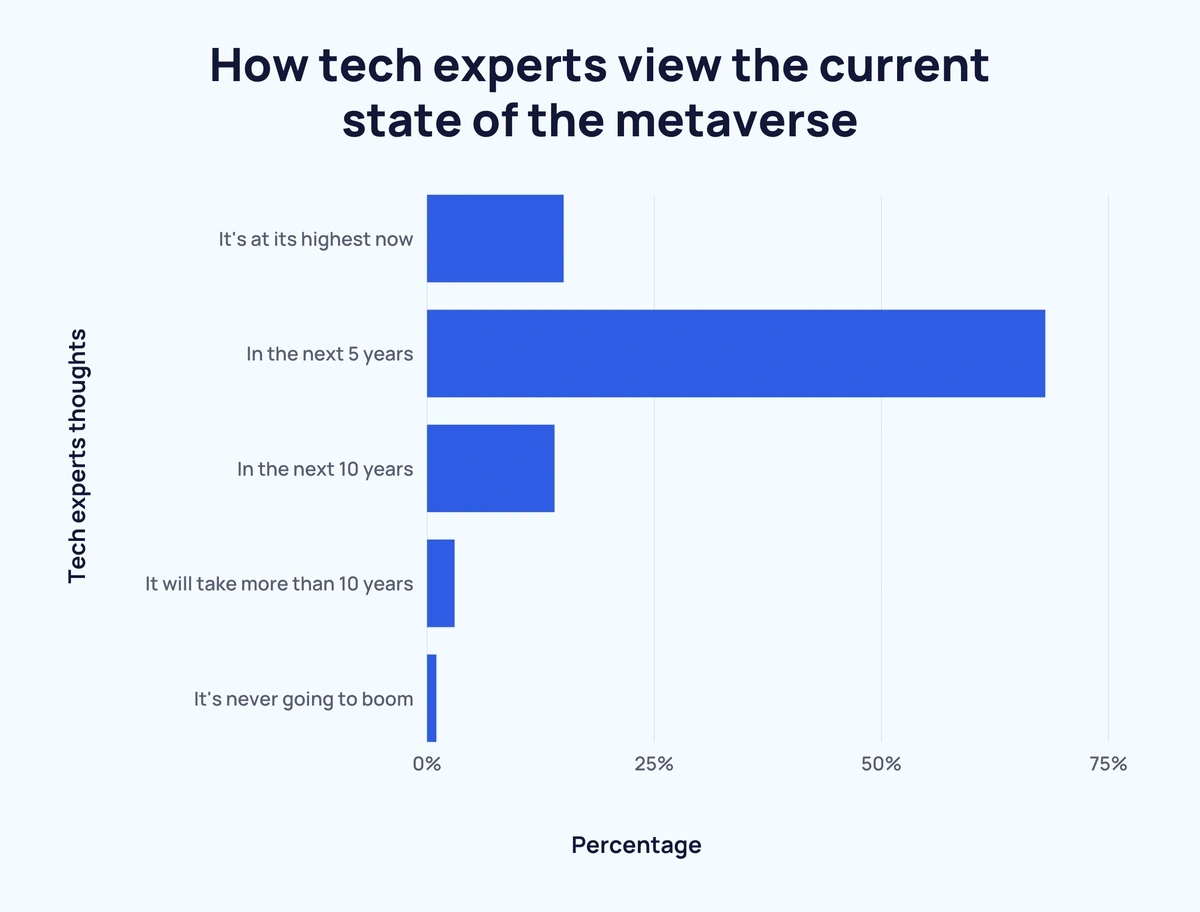 Here's a full breakdown of how tech experts view the current state of the metaverse:
| | |
| --- | --- |
| Tech experts thoughts | Percentage |
| It's at its highest now | 15% |
| In the next 5 years | 68% |
| In the next 10 years | 14% |
| It will take more than 10 years for this technology to start booming | 3% |
| It's never going to boom | 1% |
Metaverse Use Cases
US consumers see the major benefits of metaverse VR apps in fitness, real estate, and home goods (Vox Media and United Talent Agency)
Although the metaverse offers many potential benefits, US teens and adults expect to see the metaverse improving the world of exercise, real estate, and shopping for items (like furniture) for their homes.
The global virtual fitting room market size is forecast to grow from approximately $3 billion in 2022 to $13 billion in 2028 (Fortune Business Insights)
The COVID-19 pandemic significantly accelerated online shopping, but consumers still largely prefer to shop for clothes in person. But this may change once virtual fitting rooms start to see mainstream use. For businesses, a fully functioning virtual fitting room can facilitate proper sizing, mixing and matching outfits, upselling, and testing new designs.
Over 25% of global consumers are interested in trying virtual experiences (Dynata)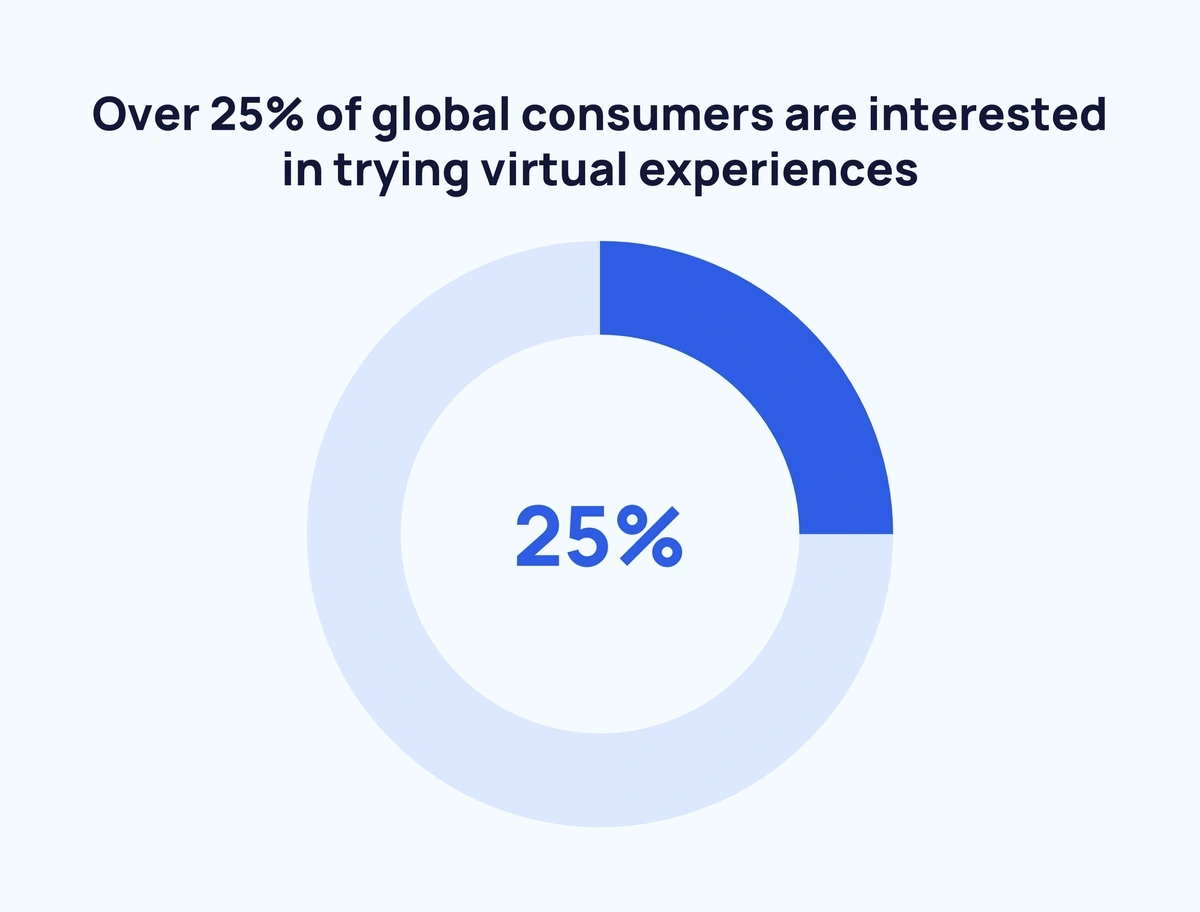 Consumers see the greatest potential of the metaverse in museum and art tours (28%), music concerts (28%), dance and cooking classes (28%), safari and zoo tours (27%), live performances (26%), travel (26%), and fitness (25%).
Almost one-quarter of US adults believe the metaverse could completely replace social media (NordPVN; Propeller Insights)
In a survey of US adults, 24% believe the metaverse could entirely supplant current social media platforms. However, 42% believe that it will be used for social media, but will not totally replace existing social media networks.
Metaverse Gaming
The metaverse gaming market is expected to increase by 38% each year through to 2027 (Global Market Estimates)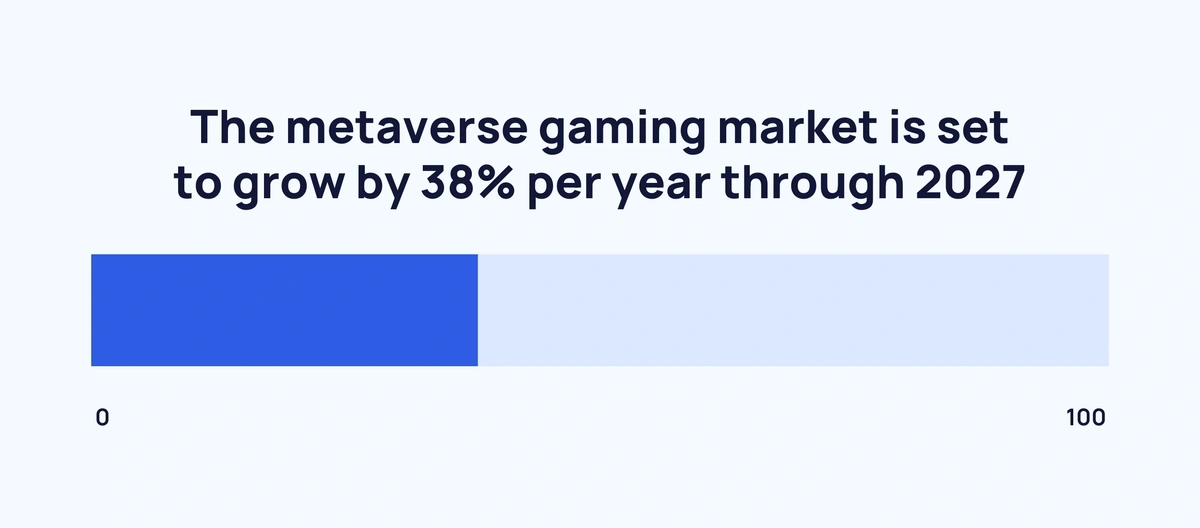 The use of AR & VR technology can create a truly immersive 3D gaming experience. Besides software and hardware, cryptocurrency tokens and NFTs are expected to be major drivers of the metaverse gaming market.
The majority of metaverse players are young males (Newzoo)
59% of metaverse gamers are males with an average age of 27, which is younger than the average age of the total gaming market.
| | |
| --- | --- |
| Metaverse gamers age | Share of gamers |
| 10-20 | 38% |
| 21-35 | 36% |
| 36-50 | 22% |
| 51-60 | 4% |
Roblox remains the most popular metaverse game with 55 million active daily players (GameSpot)
After Roblox, the metaverse games with the most players include VRChat, Horizon Worlds, Rec Room, Neos VR, Altspace VR, Chillout VR, Sansar, and Oasis VR.
Almost $18 billion is set to be invested in AR/VR gaming technology by the end of 2024 (Statista)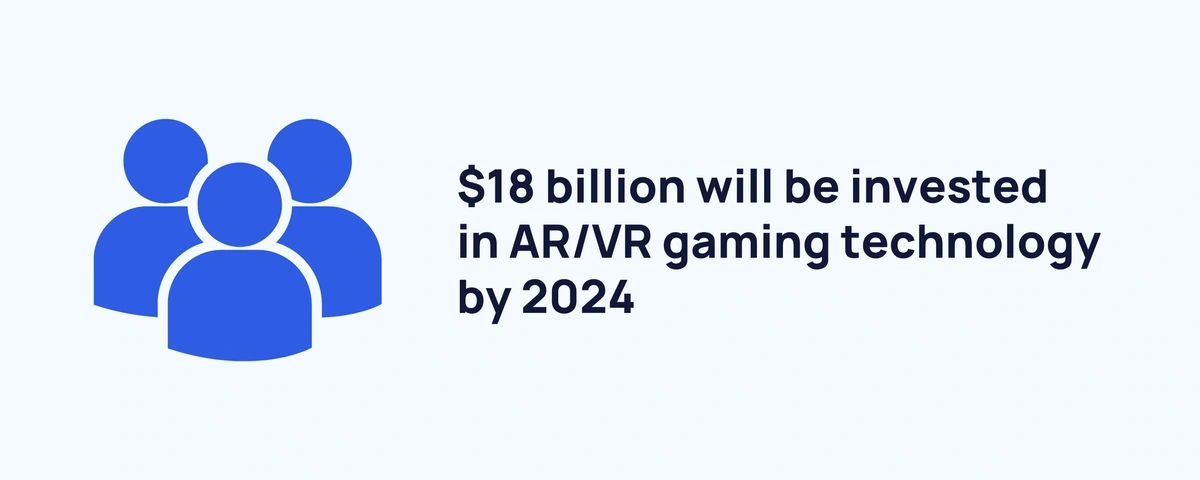 Nearly $20 billion is expected to be invested in gaming-focused AR and VR technology over the next year or so. This is set to comprise 62% of all AR/VR investments. Other applications will likely develop much more slowly, with anticipated investments in 2024 of $4 billion in training, $4 billion in industrial maintenance, and $3 billion in retail.
Factors Impacting Metaverse Adoption
A quarter of the global population will spend a minimum of 1 hour in the metaverse by 2026 (Gartner)
A Gartner report estimates that between work, shopping, social media, and entertainment, 25% of people worldwide are expected to spend an hour or more in the metaverse daily. In addition, at least 30% of organizations will offer products and services in the metaverse.
In a global survey, two-thirds of people think XR will have the most meaningful impact when applied to virtual learning (Ipsos)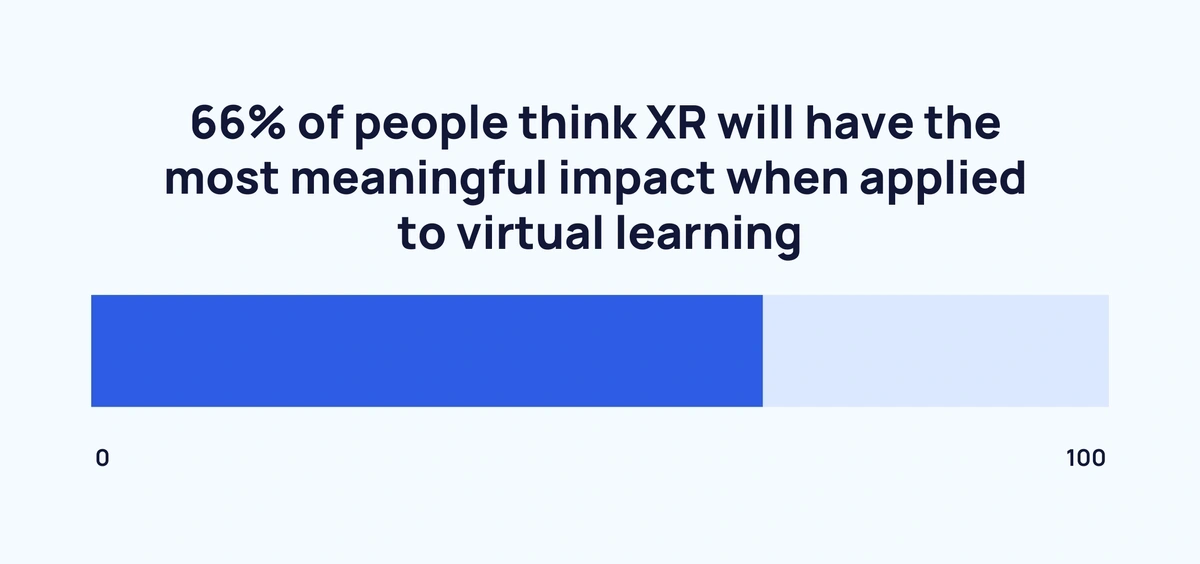 In a study across 29 countries, XR is expected to have the biggest impact on virtual learning (66%), entertainment in VR (64%), virtual work settings (62%), virtual/enhanced gaming (60%), virtual socialization (59%), digital health resources (59%), trading of digital assets (52%), and virtual travel and tourism (48%).
50% of US adults say lower-priced VR headsets are the primary factor driving the use of the metaverse (Morning Consult)
A survey of over 4,000 US adults found that the primary factor driving the use of the metaverse is lower-priced VR headsets. After pricing, the next most relevant factors, in order of importance, are larger amounts of content (40%), adoption by family and friends (39%), government regulations (36%), and use in the workplace (30%).
Roughly 60% of gamers have already used the metaverse for virtual experiences not directly related to gaming (Tidio)
While gaming is the major driver of metaverse adoption, it's notable that more than half of gamers have used the metaverse for non-gaming activities.
Over 50% of people say they plan to join the metaverse for work reasons (Tidio)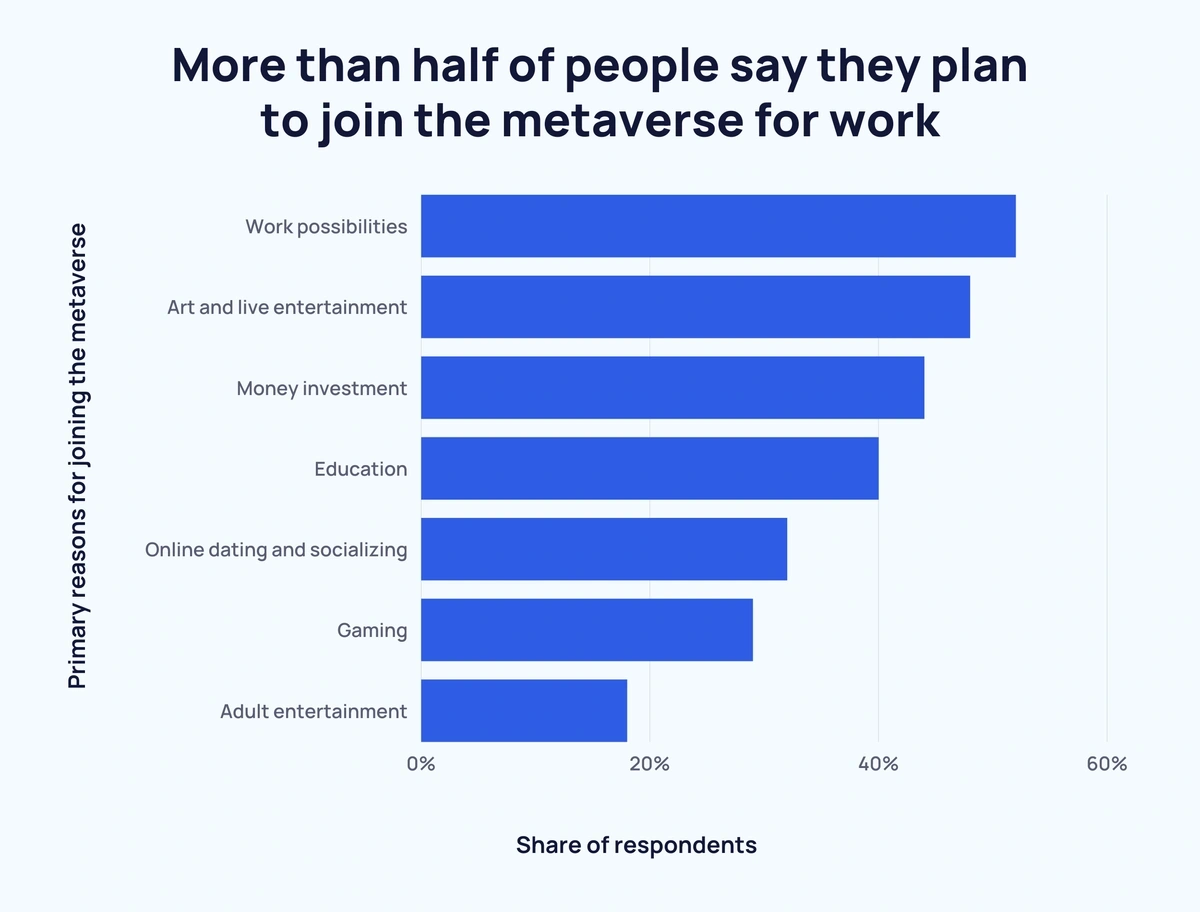 A survey conducted by Tidio found that many people's motivation to join the metaverse over the next 10 years will be to help with their jobs.
| | |
| --- | --- |
| Primary Reasons for Joining the Metaverse | Share of respondents |
| Work possibilities | 52% |
| Art and live entertainment | 48% |
| Money investment | 44% |
| Education | 40% |
| Online dating and socializing | 32% |
| Gaming | 29% |
| Adult entertainment | 18% |
Metaverse Apps and Devices
The market for augmented reality (AR), virtual reality (VR), and mixed reality (MR) is expected to reach $252 billion in 2028 (The Insight Partners)
The global market for the technology behind the metaverse (AR, VR, and MR) is projected to be valued at more than a quarter of a trillion dollars by 2028.
By the end of 2024, the mobile augmented reality (AR) devices industry is expected to have grow by over 23% (AR Insider; ARtillery Intelligence)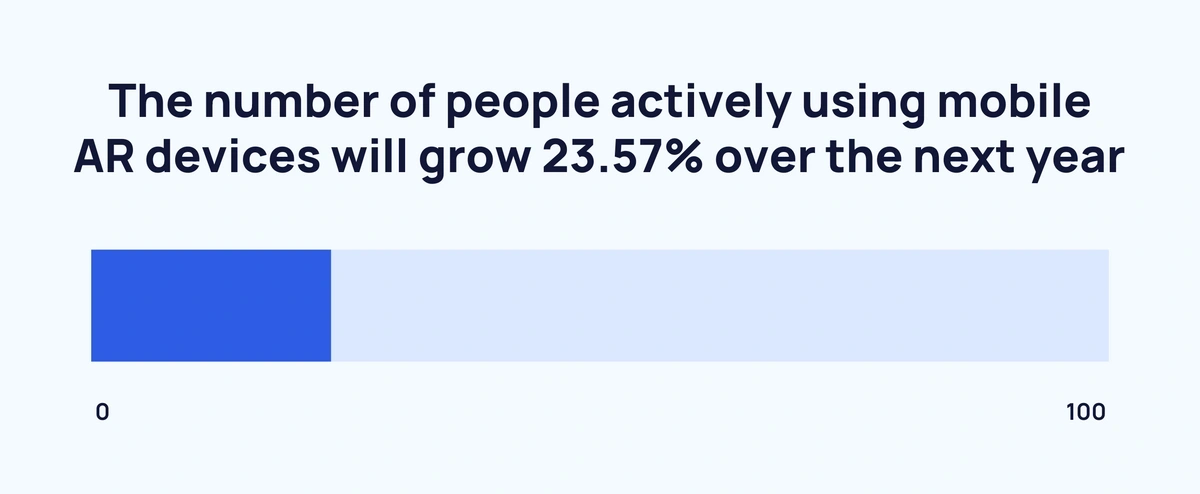 In 2022, nearly 1.1 billion people were actively using mobile AR devices. The number of users is expected to reach 1.4 billion in 2023 and 1.73 billion in 2024.
53% of people are willing to spend over $300 on basic VR headsets and controllers (Tidio)
More than half of consumers state they'd invest a modest $300 on basic VR products. 48% of consumers say they'd be willing to spend $700 or more on advanced VR gear, such as helmets, gloves, and sleeves (assuming the products enable the user to feel in life what their avatar is experiencing in the game.)
Worldwide sales of extended reality (XR) headsets are expected to grow 3x by 2025 (Counterpoint Research)
XR headsets are expected to be utilized in many applications beyond gaming. For example, XR has the potential to offer safer training in areas such as surgery and piloting. In addition, product prototypes developed and tested in the metaverse can save companies the time and cost of developing real-world models. In 2022, 30 million XR headsets were shipped. This figure is expected to grow by 3x and reach 105 million shipped headsets by 2024.
Public Opinion On the Metaverse
Almost one-third of the US population has never heard of the metaverse (Ipsos)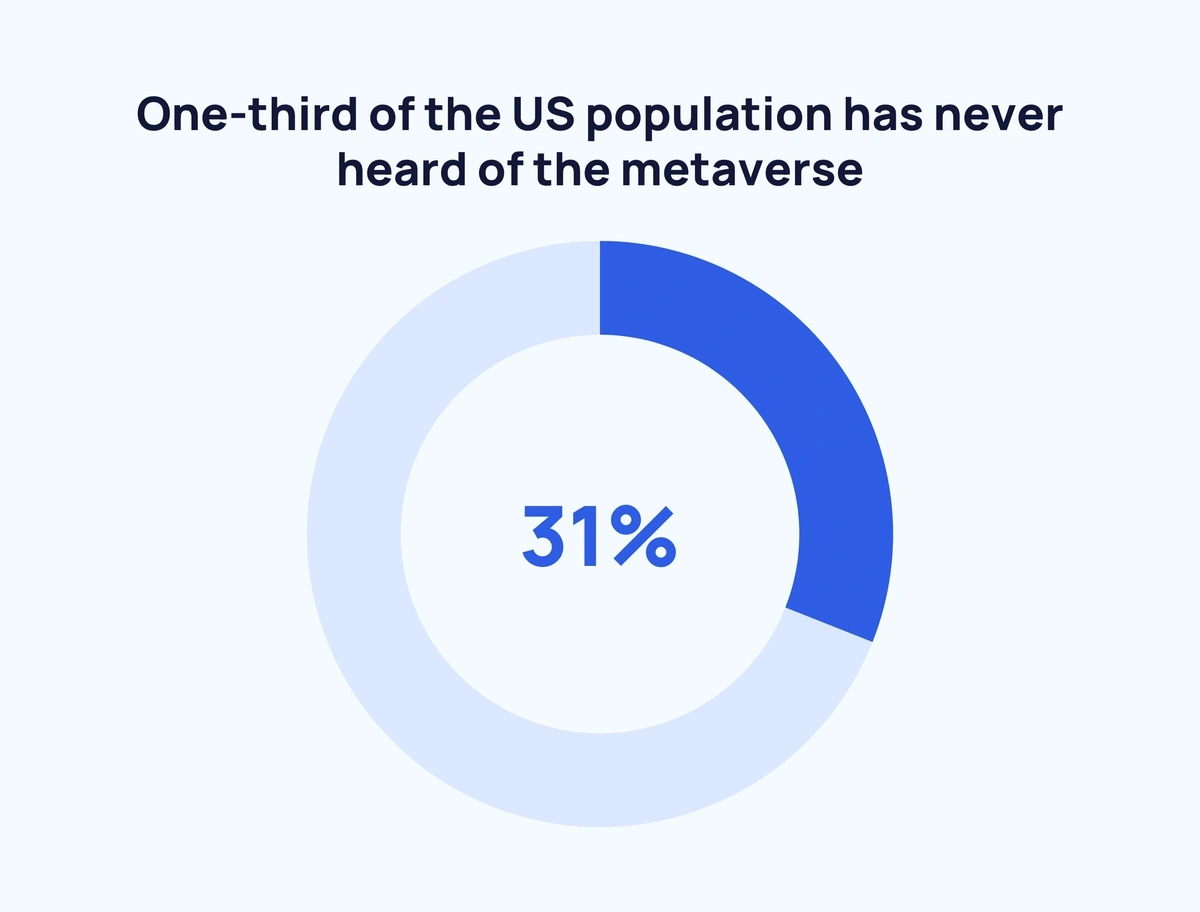 Thanks largely to Facebook's rebrand to Meta, the metaverse is becoming a well-known concept. However, there's still a long way to go before the majority of people are familiar with the metaverse. An Ipsos survey found that 31% of US adults have never heard the term metaverse. Another 31% have heard of it, but don't know what it is, 24% say they are somewhat familiar and 14% are very familiar.
The most common feelings about the metaverse are being curious, uninterested, and suspicious (Ipsos)
Ipsos found that consumers had a variety of different feelings about the metaverse. However, a third did report Beijing was curious about it.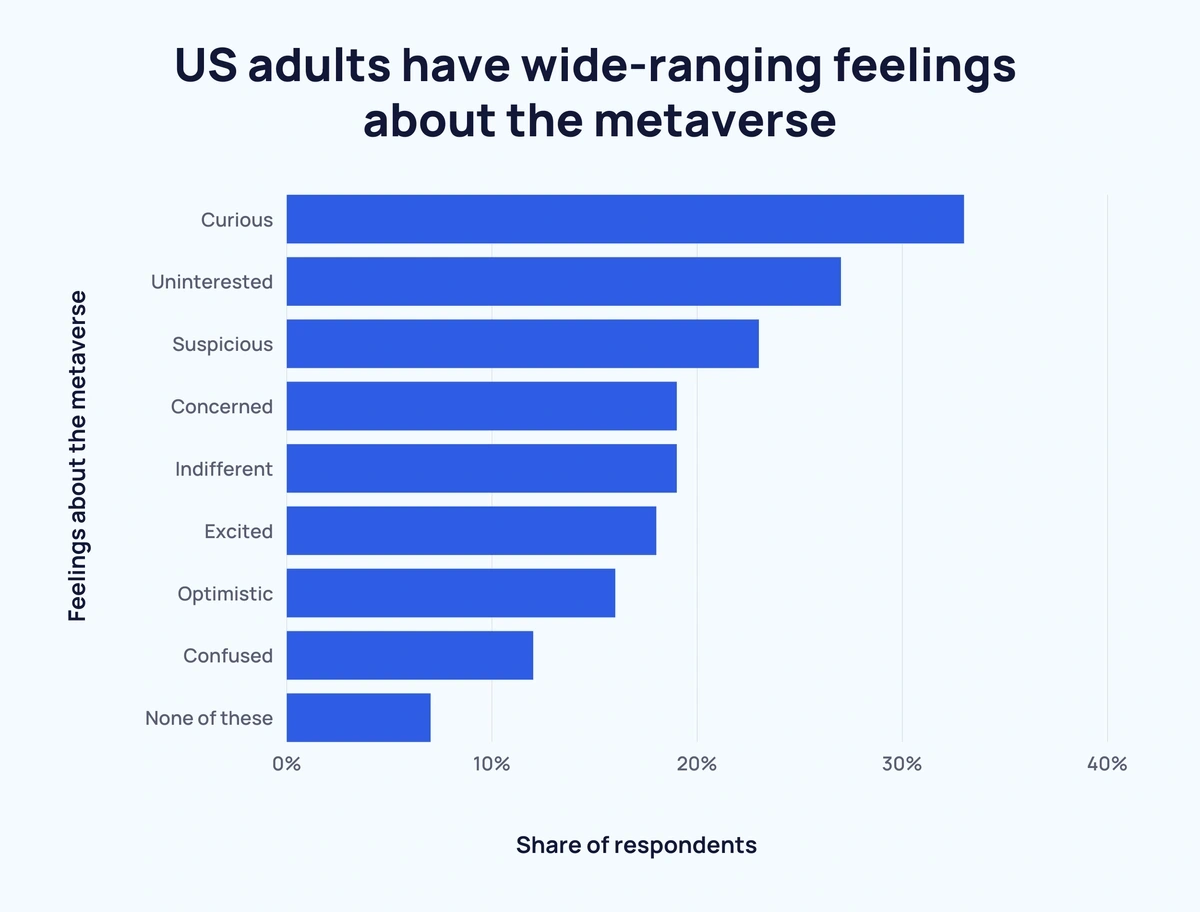 Here's a full breakdown of how US adults feel about the metaverse:
| | |
| --- | --- |
| Feelings about the metaverse | Share of respondents |
| Curious | 33% |
| Uninterested | 27% |
| Suspicious | 23% |
| Concerned | 19% |
| Indifferent | 19% |
| Excited | 18% |
| Optimistic | 16% |
| Confused | 12% |
| None of these | 7% |
39% of US adults see the metaverse helping them participate in activities that they couldn't in the real world (Tidio)
Tido looked into the potential benefits that consumers see the metaverse bringing to the table. The #1 benefit? Being able to pursue activities that they'd be unwilling or unable to do in real life.

Here's a full breakdown of what consumers see as the metaverse's top potential benefits:
| | |
| --- | --- |
| Metaverse's top potential benefits | Percentage |
| Overcoming obstacles or disabilities that prevent us from doing something in real life | 39% |
| Enhancing creativity and imagination | 37% |
| Traveling the world without moving | 37% |
| Increasing technological literacy and skills | 34% |
| Connecting with new people without feeling awkward | 34% |
| Creating completely new job opportunities | 30% |
| Meeting your loved ones whenever you want | 30% |
| More possibilities in education | 29% |
| Giving opportunities for self-expression | 27% |
Almost half the population perceives addiction to be the greatest potential danger of the metaverse (PC Magazine)
According to a survey conducted by PC Magazine, the biggest threat from the metaverse is the potential for addiction to a simulated reality, followed by privacy issues and mental health issues.
55% of internet users are worried their personal data will not be secure in the metaverse (Morning Consult)
Data in the metaverse may be more likely to be breached by a cyberattack than the web. The use of hardware, such as virtual glasses and sensors, means vendors will have access to enormous amounts of data that hackers can potentially infiltrate.
A survey by Morning Consult discovered that internet users are worried about this possibility, with half naming privacy as their top concern regarding the metaverse.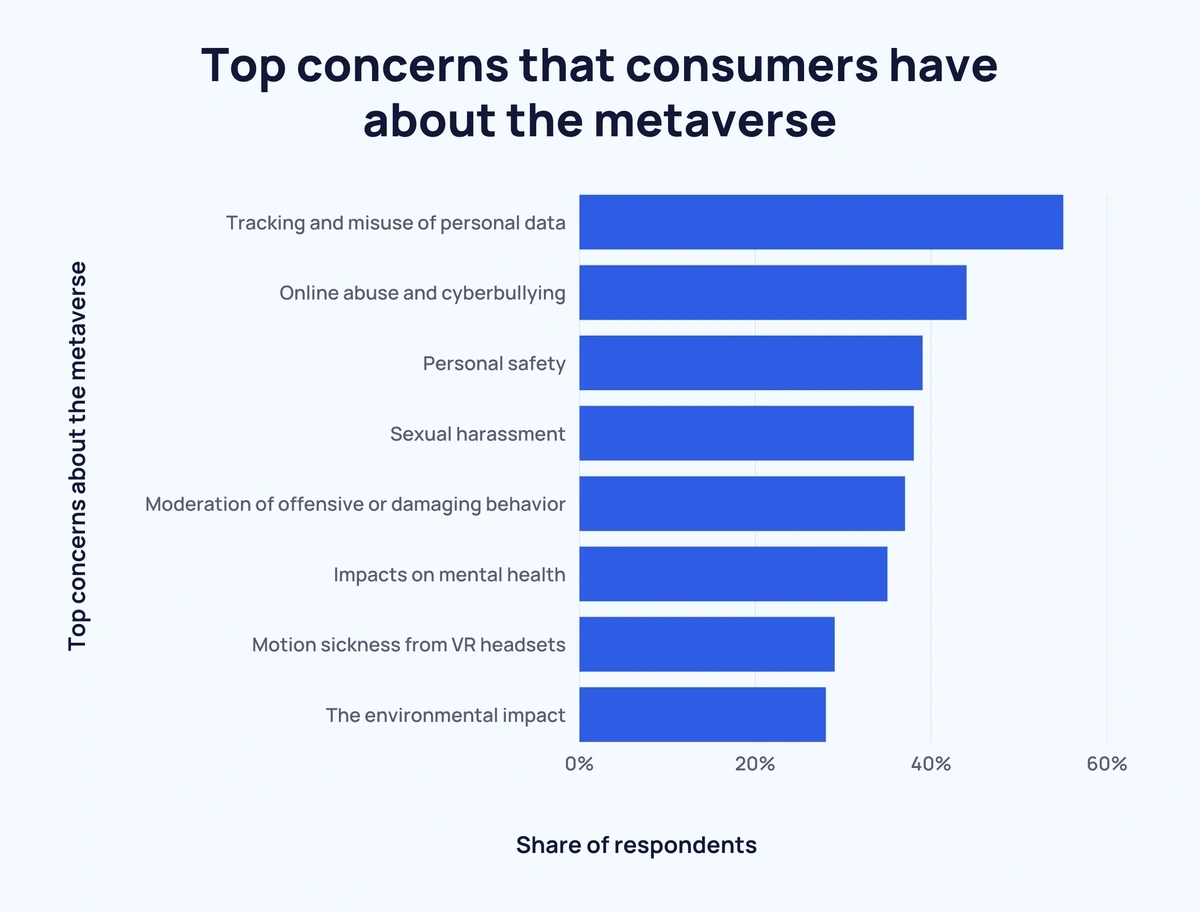 Here are the top concerns that consumers have about the metaverse:
| | |
| --- | --- |
| Top concerns about the metaverse | Share of respondents |
| Tracking and misuse of personal data | 55% |
| Online abuse and cyberbullying | 44% |
| Personal safety | 39% |
| Sexual harassment | 38% |
| Moderation of offensive or damaging behavior | 37% |
| Impacts on mental health | 35% |
| Motion sickness from VR headsets | 29% |
| The environmental impact of energy consumption | 28% |
Conclusion
That concludes our collection of statistics and data about the metaverse.
To summarize, the metaverse is at a crossroads. It currently has the potential to be a major technology trend. Or a hype-fueled concept that never sees mainstream adoption.
Because of its uncertain future, the metaverse will be an interesting space to monitor over the next few years.