81 Online Review Statistics (New 2023 Data)
Whether consumers are looking for something as mundane as a new pair of shoes or something life-changing as the perfect place to honeymoon, they are increasingly turning to online review sites to help guide them in the right direction.
Google is by far the largest portal for reviews. The search giant is home to six times as many reviews as its three nearest competitors combined. And the number of people reading Google's reviews continues to grow.
In this report, you'll see data on the most popular review platforms, and also learn how people and businesses are responding to fake reviews and negative reviews.
Contents
Top Highlights
Here are top stats from the online review space:
93% of users say online reviews had an impact on their buying decisions.
Nearly half of all internet users post online reviews every month.
81% of consumers use Google to evaluate local businesses.
Yelp receives 26,830 new reviews per minute.
The Federal Trade Commission (FTC) cited more than 700 businesses for deceptive endorsements in 2021.
In 2020, Google removed 55 million reviews.
Tripadvisor passed one billion reviews in 2022.
Sustainability is a top theme in Expedia online reviews.
The average online hotel review on TripAdvisor is 688 characters.
75% of businesses don't respond to negative reviews.
General Online Review Statistics
Almost every internet user now views online reviews, with many saying reviews have a significant impact on their buying decisions. See how users are responding to what they read on online review platforms below.
93% of users have made buying decisions based upon an online review (Podium)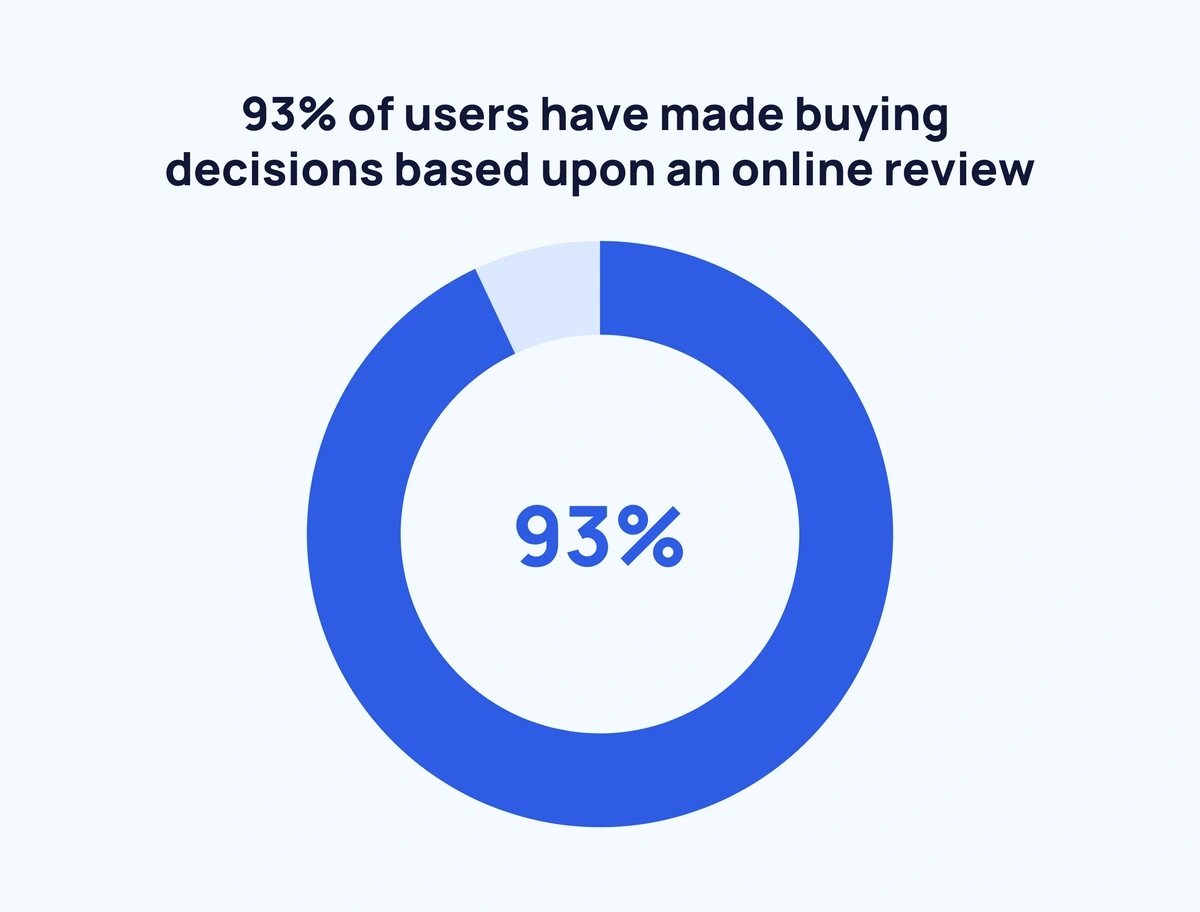 Nearly everyone (93% ) say that an online review has impacted their purchase habits. Consumers expect high standards from the brands they do business with, with most saying they won't engage with a business or product that has less than a 3.3-star rating.
Only 2% of consumers have never read an online review (BrightLocal)
Nearly every consumer now reads online reviews. 98% say they read online reviews at least "occasionally" while 77% say they read them "frequently" or "always." The number of people who "never" read online reviews has decreased significantly, falling from 13% in 2020 to 2% in 2021.
Consumers are 50% more likely to be motivated by an online review than by a discount offer (Bizrate Insights)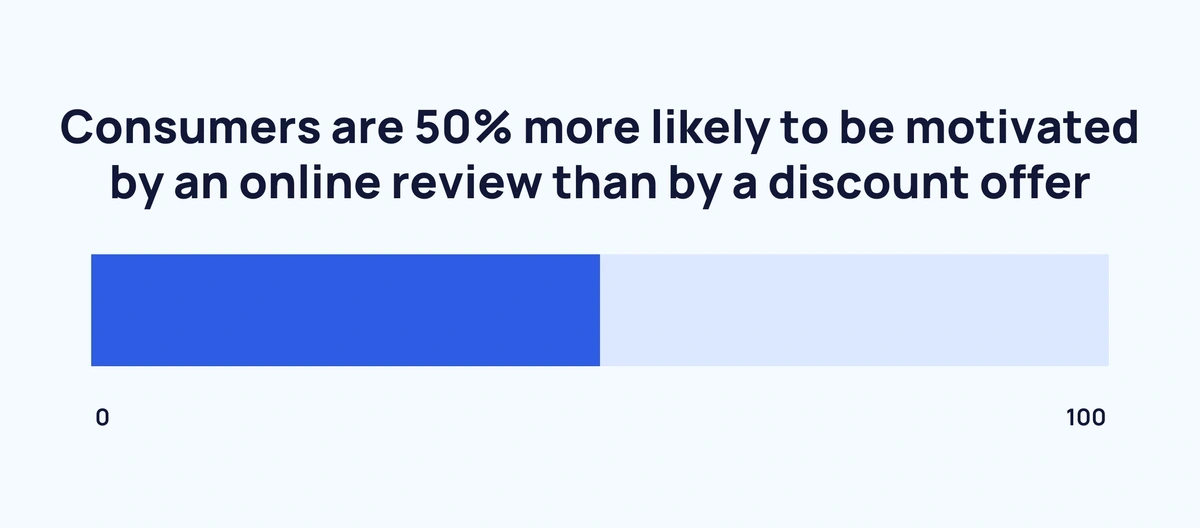 Shoppers are more likely to be motivated by online reviews than by coupons or discount offers. In fact, online reviews (32%) are the most important factor in driving a purchase although consumers are also motivated by free shipping (24.5%), coupons or discounts (22.1%), and loyalty or rewards programs (6.5%).
Nearly half of all internet users post online reviews every month (GWI)
While younger consumers are more likely to post online reviews, nearly half of all consumers around the world post at least one online review a month. Consumers in the 25-34 age group are the most likely to post, with 53% of that age group has posted an online review within the past 30 days.
At least half of online shoppers say they trust third-party review sites more than reviews on retailer sites (Bizrate Insights)
16.6% of shoppers wholeheartedly trust third-party review sites – like Yelp – for product reviews, while 41.7% of shoppers somewhat trust third-party sites more. 7.9% of consumers need to believe a reviewer "actually uses and likes the product" before they place their trust in that online review.
Top Online Review Platforms
While there are plenty of online review sites to be found, four sites house nearly 9 in 10 of all online reviews. New reviews are being posted more frequently than before as more consumers look to these user-generated reviews to inform their purchase decisions. Learn more about which online review platforms consumers turn to the most.
88% of all online reviews are contained on just four sites (reviewtrackers)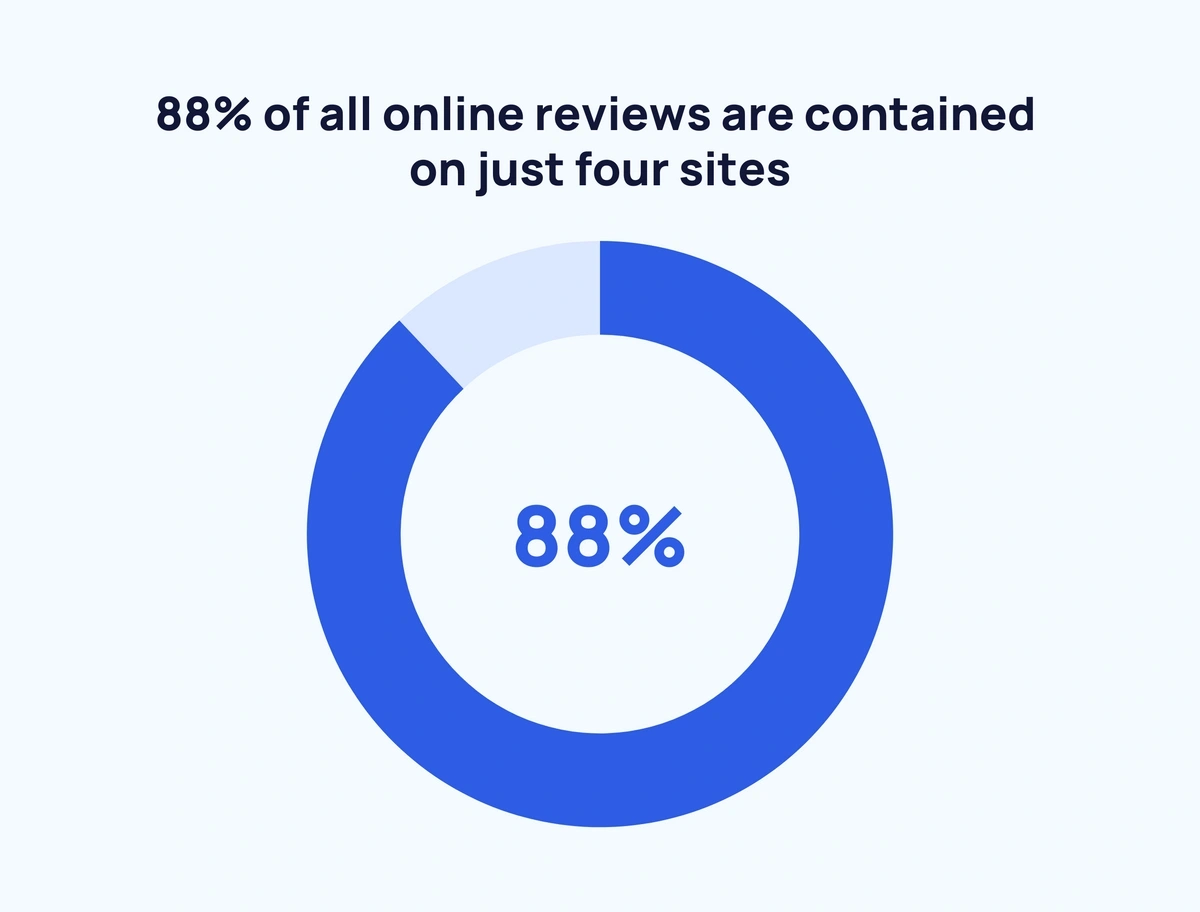 Collectively, Google, Yelp, Facebook, and TripAdvisor are home to 88% of all online reviews. Google is the clear winner, housing 73% of all online reviews or more than six times as many as its closest competitors combined. The other top sites each house a fraction of Google's content: Yelp (6%), Facebook (3%), and TripAdvisor (3%).
81% of consumers use Google to evaluate local businesses (BrightLocal)
Not only does Google have the most reviews, but it also attracts the most readers of all review sites. In 2021, 81% of consumers said they read Google reviews which is a significant increase over 2020 when just 63% of consumers read the site's reviews.
More than half of consumers use Yelp reviews (BrightLocal)
Among the four most popular review sites, Yelp saw the largest year-over-year growth. 53% of consumers reported using Yelp in 2021 – a 21-point increase over the 32% of consumers who used the site in 2020. The increase might be related to the fact that users are also "less suspicious" of fake reviews on that site than they are on Google or Amazon.
Fewer consumers are reading Facebook online reviews than a year ago (BrightLocal)
Facebook is the only major review site seeing a decline in people reading reviews. In 2020, 54% of consumers used Facebook for online reviews. By 2021, that number had dropped to 48% of consumers. The drop might be related to Facebook's declining trust factor, as 93% of consumers said they are "a little suspicious" of fake reviews on Facebook.
Yelp receives 26,830 new reviews per minute (Invespro)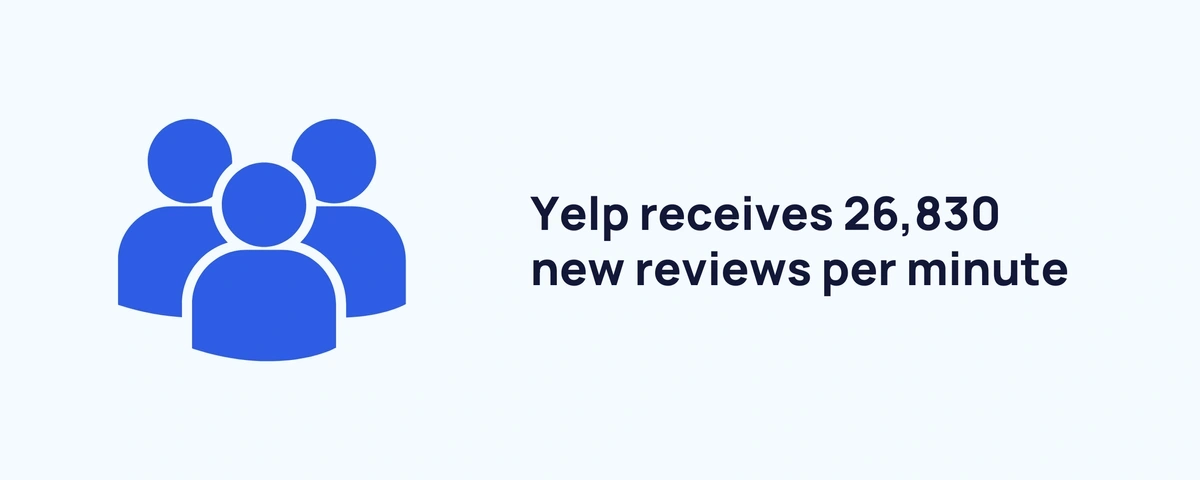 The world's second-most prolific review site reported having 220 million reviews at the end of 2020. Today, nearly 27,000 new reviews are posted to the site every minute.
Fake Online Reviews
Fake reviews are a growing problem on all online review platforms, but especially among the top three. Most consumers say they can now spot a fake review and yet there seems to be little done to slow the problem. Even the Federal Trade Commission is looking to crack down on fake reviews, and the federal agency issued hundreds of citations for deceptive endorsements in 2021. Learn more about the impact of fake online reviews below.
82% of consumers have read a fake review in the last year (Invesp)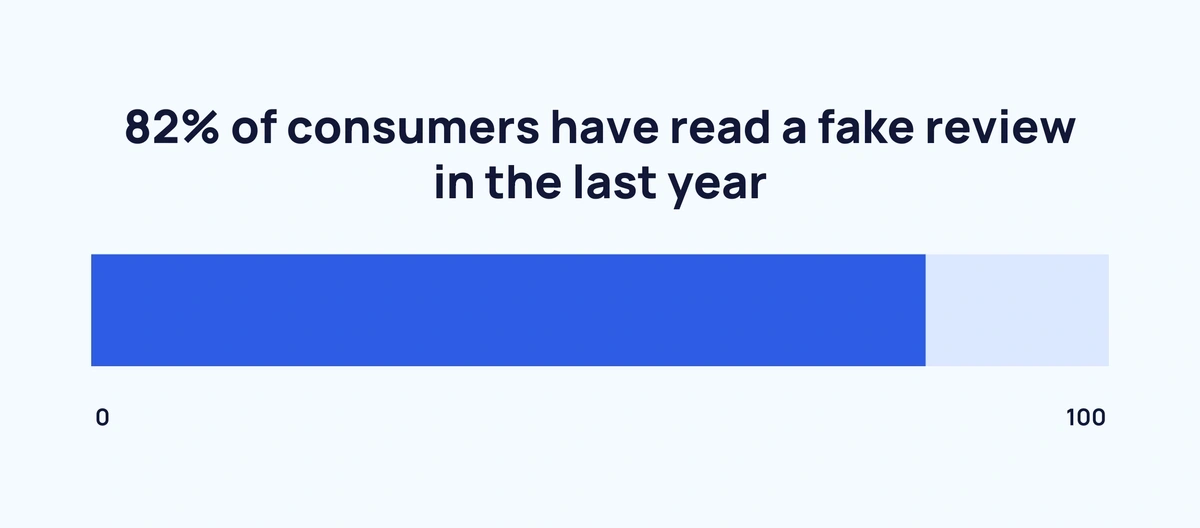 More than half of every age group say they have seen fake reviews in the past year, although younger people report identifying the greatest number of fake reviews. Broken down by age group, 92% of 18-34-year-olds, 74% of 35-54-year-olds and 59% of consumers over the age of 54 reported seeing a fake review last year. Not only are more people spotting fake reviews, but many (72%) also believe fake reviews have become "the norm".
67% of consumers think fake reviews are a problem (Agility PR)
With fake reviews increasing across all platforms, nearly seven in ten consumers now say authenticity is a growing problem. Not surprisingly, the largest platform, Google, reported the greatest percentage (10.7%) of fake reviews. Next, by percentage, were Yelp (7.1%), Tripadvisor (5.2%) and Facebook (4.9%). Fraud rates also vary by city. While Miami-Ft. Lauderdale reports the largest percentage of fake reviews at 9.7%, and Boston clocked the lowest share of fraud at 3.9%.
The Federal Trade Commission (FTC) cited more than 700 businesses for deceptive endorsements in 2021 (FTC)
Major businesses, including Walmart, the Walt Disney Company, Ford Motor Company and more than 700 others were cited by the Federal Trade Commission in October 2021. While the FTC says, "the fact that a company is on this list is NOT an indication that it has done anything wrong" it also notes that "advertisers will pay a price if they engage in these deceptive practices". Penalties could cost companies up to $43,792 per violation.
In 2020, Google removed 55 million reviews (Near Media)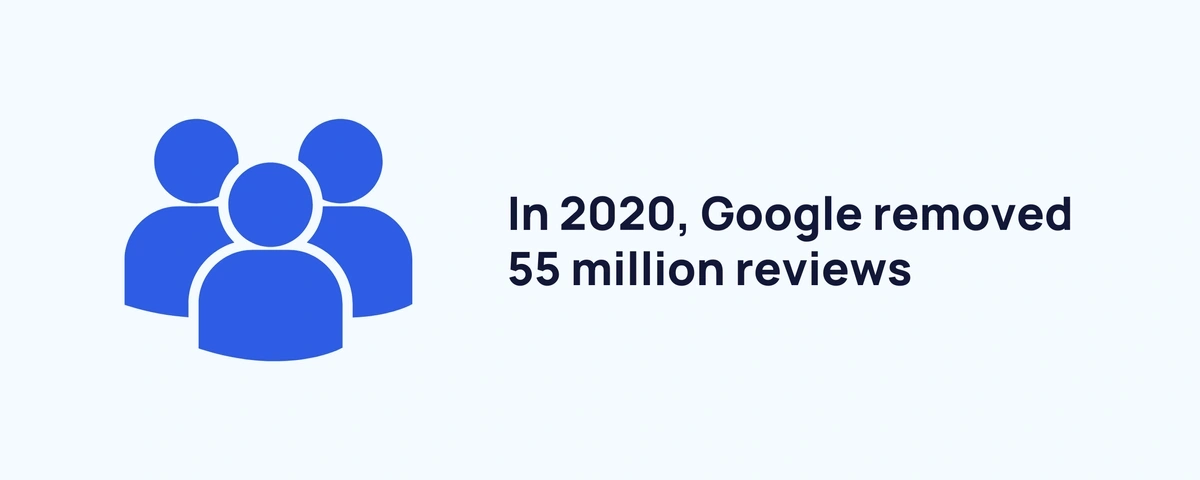 Google blocked or removed 55 million reviews that violated its policies in 2020, and the site also eliminated nearly 3 million fake business profiles that same year. Despite the global increase in fake reviews, Google removed 27% fewer reviews in 2020 than it did the year prior when it removed 75 million reviews.
The FTC has coined the term "own-dorsements" for some types of fake reviews (FTC)
The FTC is cracking down on unproven testimonials, calling the fake reviews "own-dorsements." In a recent case, the FTC filed an $8.8 million action against a Nevada-based telemarketer, in part for posting "heartfelt testimonials from purported customers" despite the fact that the reviews were posted by employees.
Travel and Tourism Online Review Sites
As consumers look to restart their travels, travel and tourism review sites like TripAdvisor are seeing significant growth in the number of reviews and the number of users reading those reviews. Interestingly, travelers appear to search reviews for themes like "sustainability" and "tourist trap" as much as they are about the quality or experience of their hotel and destination. See how travelers are using travel review sites below.
Tripadvisor passed one billion reviews in 2022 (TripAdvisor)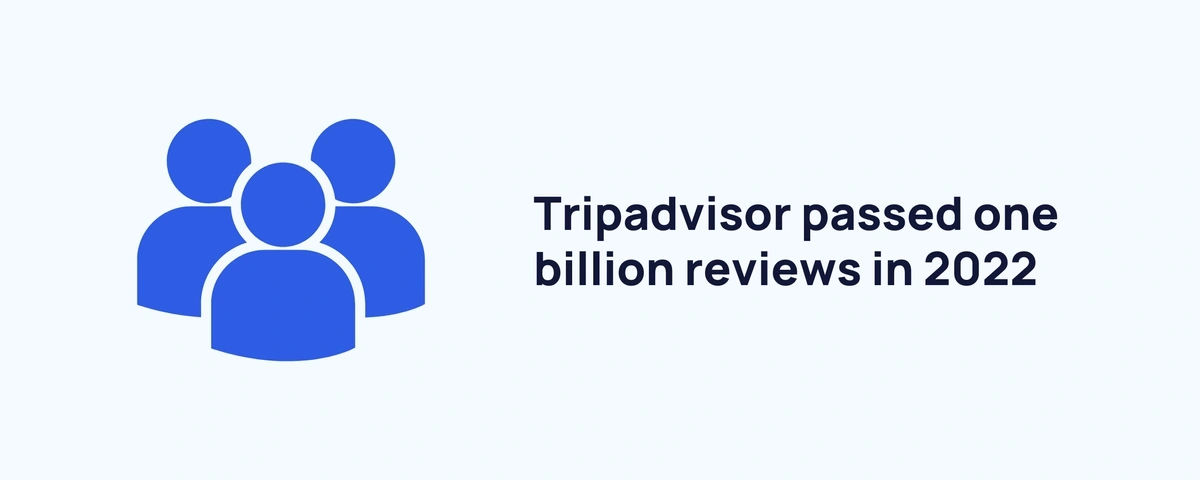 Online travel review site, TripAdvisor reached one billion reviews in February 2022. The site, which was founded in 2000, took 17 years to accumulate its first billion reviews and only five additional years to double that. The most-reviewed hotel on TripAdvisor is the Luxor Hotel & Casino in Las Vegas, Nevada, which has more than 48,000 reviews.
One of the top themes in Expedia's online guest reviews are related to sustainability and the environment. Some of the most-used terms found in reviews are single-use plastics and recycling, with electric car charging, LED light bulbs and renewable energy also used frequently. Gen Z and millennial travelers are more likely to consider eco-friendly travel according to Expedia.
Only 22% of travelers will post an unsolicited online hotel review (Stratos Jets)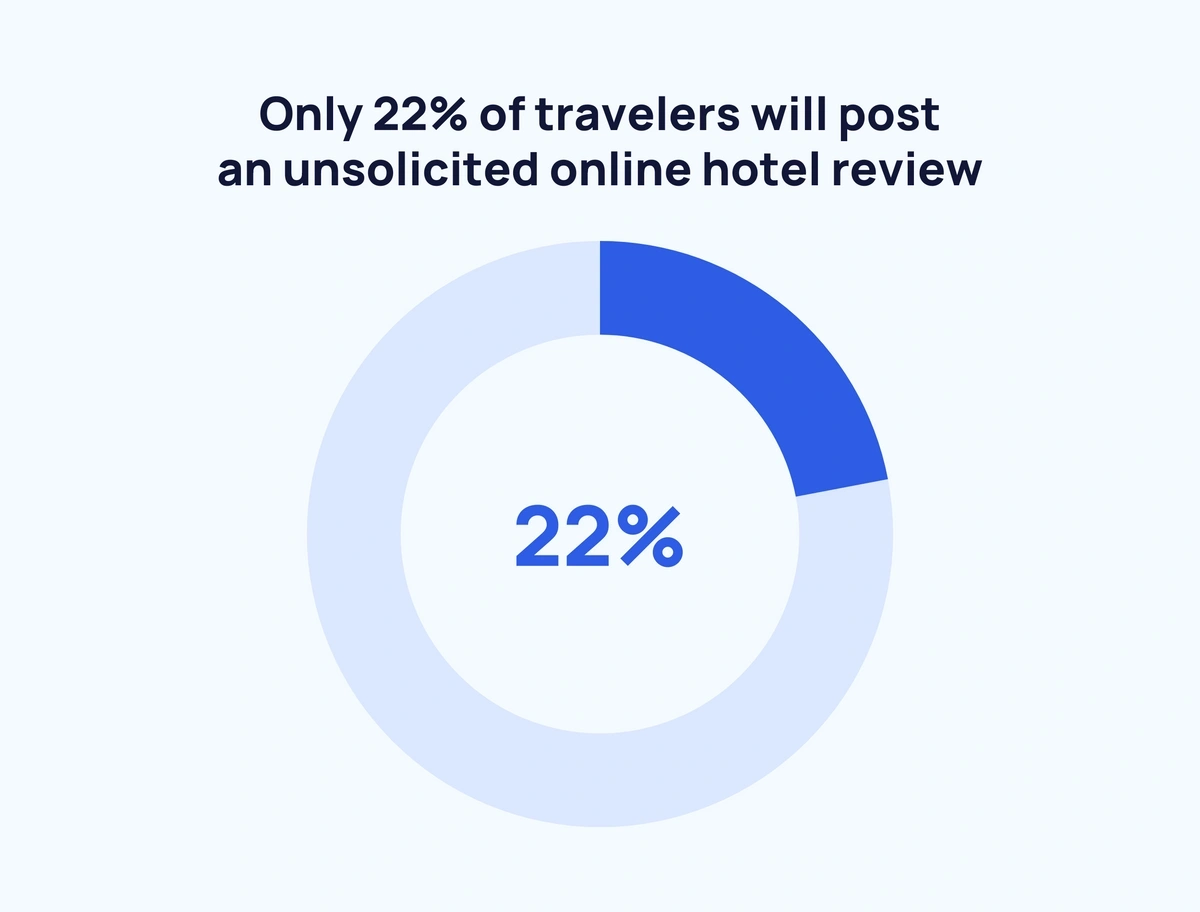 Less than one in four travelers post unsolicited hotel reviews. That number skyrockets when hotels ask guests to leave a review. 80% of consumers said they post a review only when "encouraged" to do so by the hotel they stayed at. Brands, across all categories, are increasingly asking for reviews. Consumers say the top ways they've been asked to make a review are by email (41%), on a receipt or invoice (35%), in-person/during the sale (35%), and by SMS text (27%) (BrightLocal).
The average online hotel review at TripAdvisor is 688 characters (TripAdvisor

)
76% of consumers prefer to read a longer review to help make their hotel booking decisions, with 68% of consumers saying they are more likely to book after reading a long review. The average hotel review on TripAdvisor is 688 characters long or nearly the equivalent of a single, double-spaced page.
68% of travelers decide against visiting an attraction or excursion because it appears to be a tourist trap (Breaking Travel News)
Online booking and travel review site GetYourGuide.com reports that 68% of travelers will avoid an attraction if it appears to be a tourist trap. More than four in ten (41%) travelers will avoid an entire destination because of the same fear. The travel site also calls real travel reviews "table stakes for today's travelers."
The Cost of Negative Online Reviews
When it comes to doing business, negative reviews can really hurt a small local company or large, national brand. Just as users rely upon positive online reviews to make their purchase decisions, they will avoid businesses that have negative comments or low star ratings. The below stats indicate just how expensive a negative review can be.
86% of users will think twice about buying from a company with negative reviews (Invesp)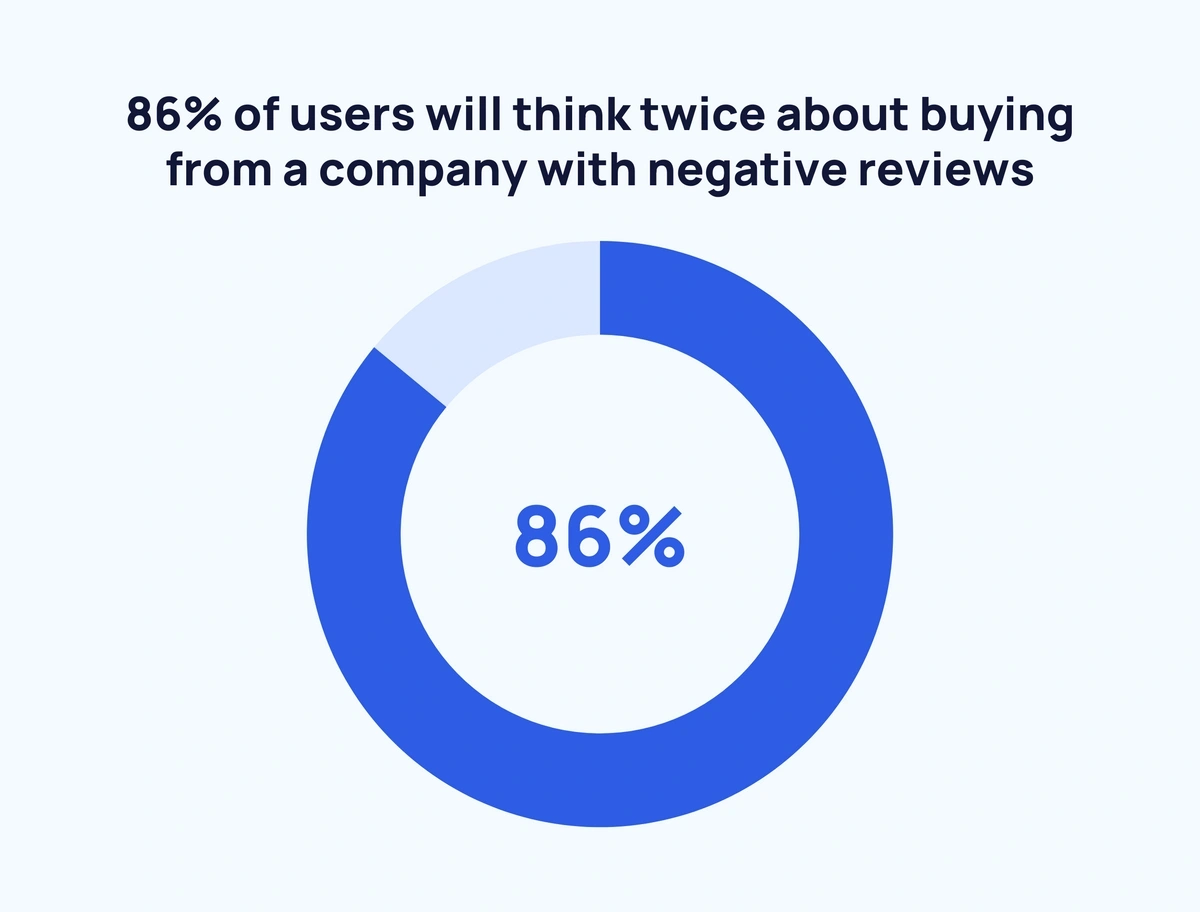 Users take online reviews seriously, with 86% saying they would think twice about making a purchase from a company with bad reviews. 92% of users say they will only visit a business that has at least a four-star rating or higher.
One negative review can cost a business up to 30 customers (Online Reputation Management)
Negative reviews can be costly, with one study reporting that a business can lose up to 30 customers just based on one bad review. Making up the deficit can take time and up to 12 new positive reviews to reduce the sting of the one bad review.
75% of businesses don't respond to negative reviews (Keeping)
The majority (75%) of businesses do not respond to their negative reviews. In doing so, they could be leaving valuable business on the table, as companies who respond to at least 25% of their reviews make 35% more in earnings than unresponsive businesses.
53% of consumers want a fast response to negative reviews (ReviewTrackers)
More than half (53%) of consumers want a response to a negative review within a week of posting. One in three (33%) customers expect a response within three days. Two-thirds (63%) of users said that at least one business has never responded to their online review.
Wrap Up
Online reviews are having a greater impact on how consumers make buying decisions and how businesses are responding to consumer reviews.
While fake reviews are a growing problem, shoppers also seem to be able to spot them more quickly, which leaves many consumers asking, "if I know this is a fake review, why don't the review sites?" To crack down on this "endorsement fraud," the Federal Trade Commission is looking to roll out new regulations if review sites don't take better care in ensuring review authenticity.
If you found this page interesting, take a look at 7 Important UX Design Trends and 6 Global Consumer Trends.