6 Trends Shaping Digital Payments in 2024
You may also like:
The way customers pay for things is rapidly evolving. The rise of digital payments makes credit and debit cards feel like a thing of the past. Yet they still dominate the payment arena (for now).
The last few years have seen the rise of contactless payments, deferred payment programs, and continued digitization.
Is any of that going to change in 2023? Here are 6 payment trends that give us an idea of what to expect this year.
1. BNPL Adoption Continues to Grow
The idea of getting a product first and then paying for it later isn't exactly new. But it's made a major resurgence as of late, especially with so many consumers shopping online due to the pandemic.
Right now, Buy Now Pay Later (BNPL) is the fastest-growing eCommerce payment method in the world.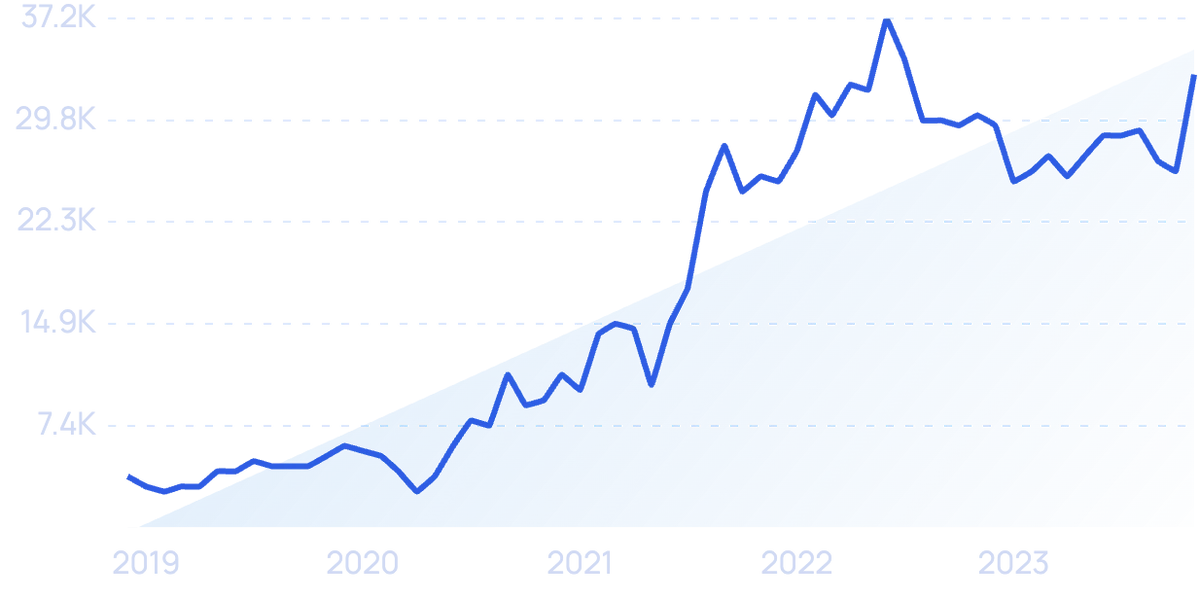 Searches for "BNPL" have grown by 790% over the last 5 years.
According to Insider Intelligence, one out of three American shoppers likely used some form of BNPL program in 2022.
According to Fool.com, 41% say that they used a BNPL service to tuck money away in case of an emergency. Another 25% use it because they've lost income.
BNPL purchases already represent a grand total of 1% of US. retail eCommerce spending, which is a much more significant amount than it sounds.
The average BNPL purchase is around $200, according to Hans Zandhuis, president of Ally Lending.
And while growth has been accelerating for years, by 2021 it had exploded.
In March of 2021, over half of all consumers surveyed by the Motley Fool's Ascent service said they had used a BNPL service. That's compared to about a third mid-way through 2020.
This makes sense, considering American consumers now better understand how BNPL services work.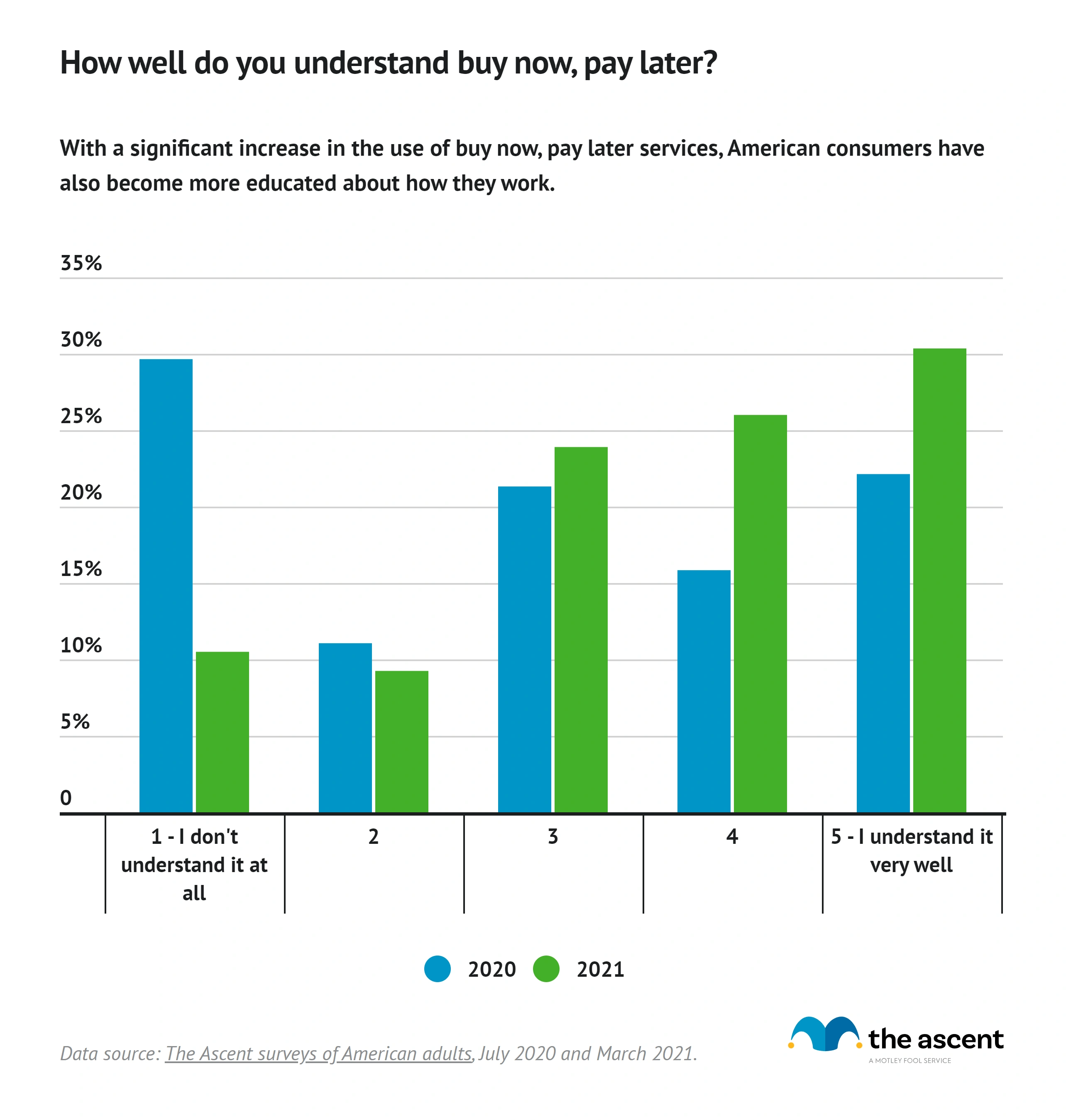 On average, American's understand BNPL much better than they did a year ago.
In response, eCommerce heavy hitters like Amazon and Wal-Mart have added options to pay later.
While the BNPL payment method has been adopted by multiple generations, it's mostly popular with millennials and generation Z, who weren't raised on traditional credit cards.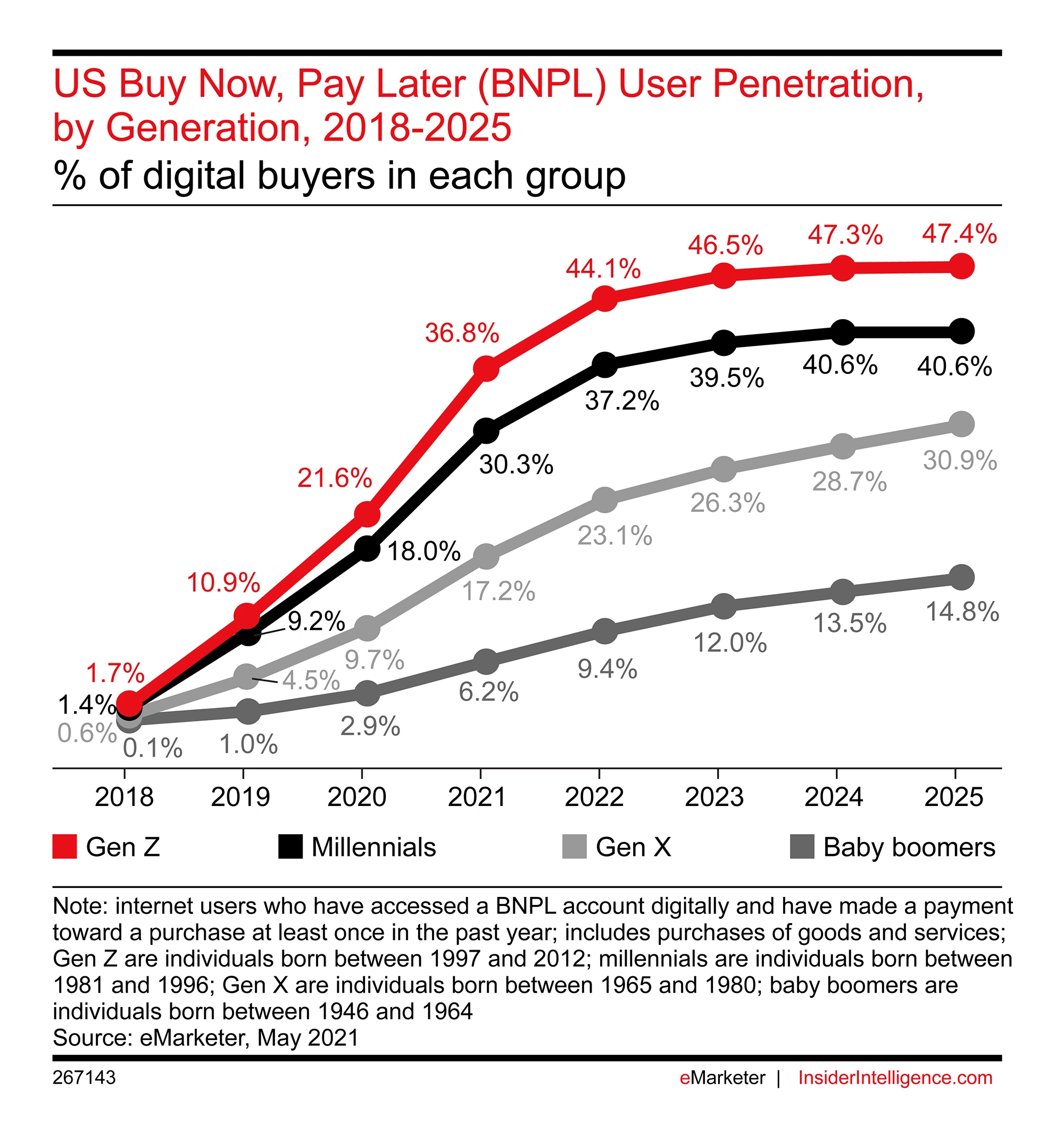 Gen Z leads the BNPL market, with Millennials following closely behind.
CBInsights predicts that global Buy Now, Pay Later spending could top $1 trillion by 2025. For comparison, total US spending, in all forms, hovers around $8 trillion every year.
Payment processing company Worldpay estimated that BNPL purchases would hit $166 billion annually in 2023. That would account for roughly 5% of worldwide eCommerce outside of China.
These services aren't just attracting the attention of consumers. The Consumer Financial Protection Bureau is asking Affirm, Afterpay, Klarna, PayPal, and Zip - five major BNPL providers - detailed questions on their products, practices, and how and if they're adhering to consumer protection laws.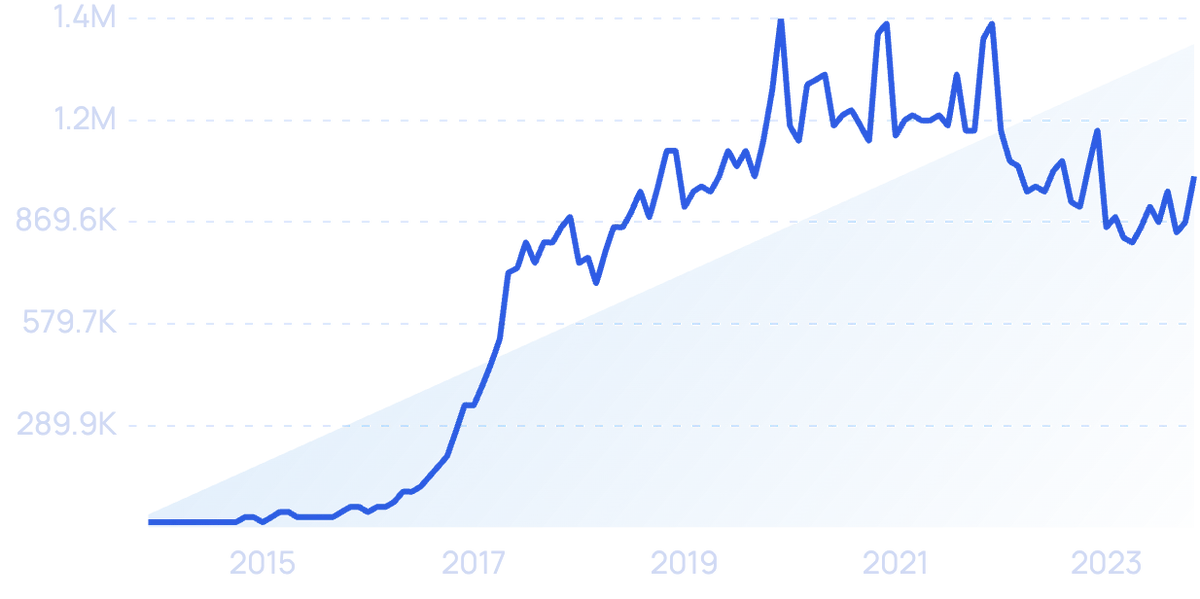 Searches for "Afterpay" have grown by 6,800% over the last 10 years.
Over 40% of Americans have used a BNPL service. Of those, 38% have missed at least one payment, and three-quarters of those who have missed a payment have had it negatively impact their credit score.
In addition, according to those who responded to a March 2021 survey, 53% of people who haven't used some sort of BNPL service are, at least, somewhat likely to in the following year.
Klarna was the first Buy Now, Pay Later service, but PayPal remains the most popular.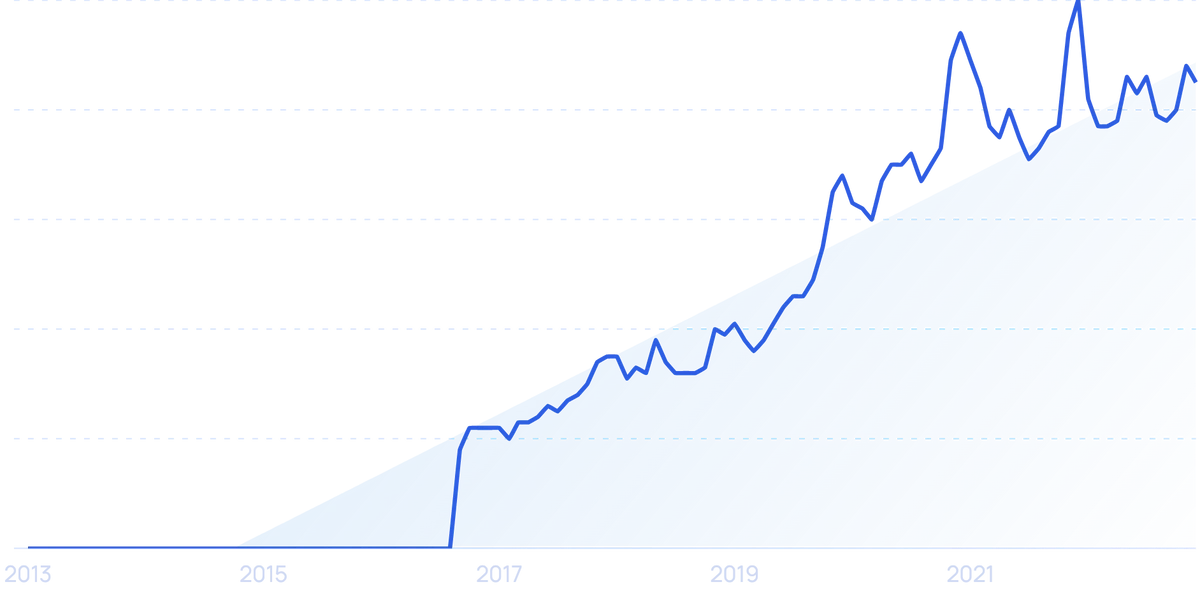 Search interest in "Klarna" has grown by 1,011% over the last 10 years.
As of 2022, PayPal had 435 million active users, so they already have a massive pool of users to offer the service to.
2. Contactless Payments and Tap-to-Mobile Technology are Changing Retail
Even in rural areas, more consumers are tapping their cards and phones at checkouts than ever before.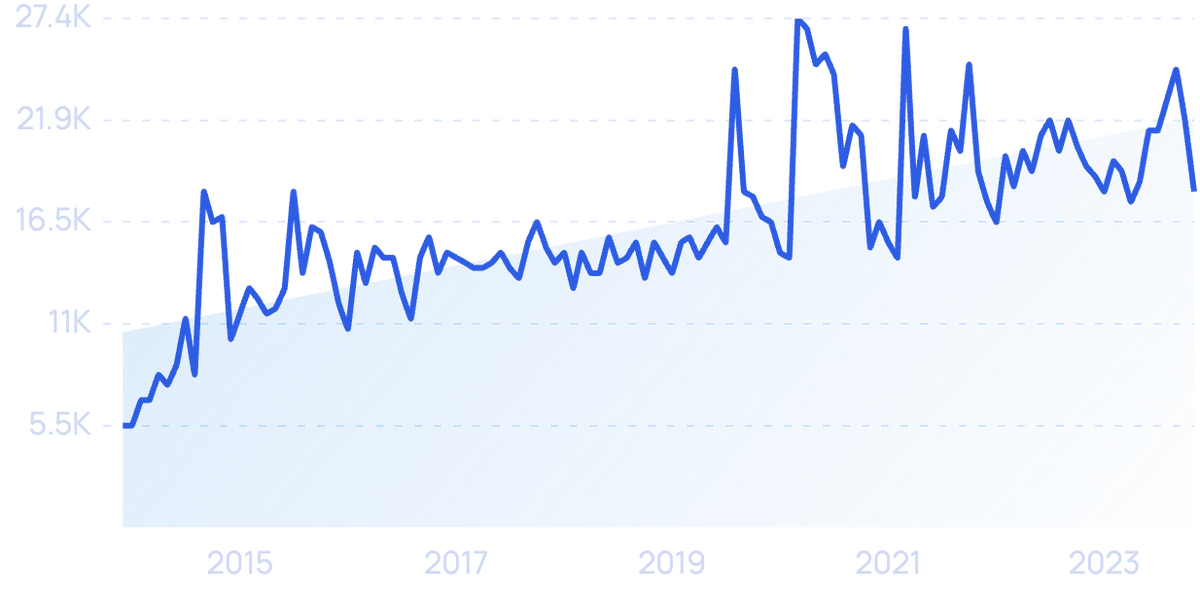 Search interest in "Contactless Payment" has risen by 230% over the last decade.
Everyone is accustomed to seeing the symbol on a card reader that tells you it accepts tap payments.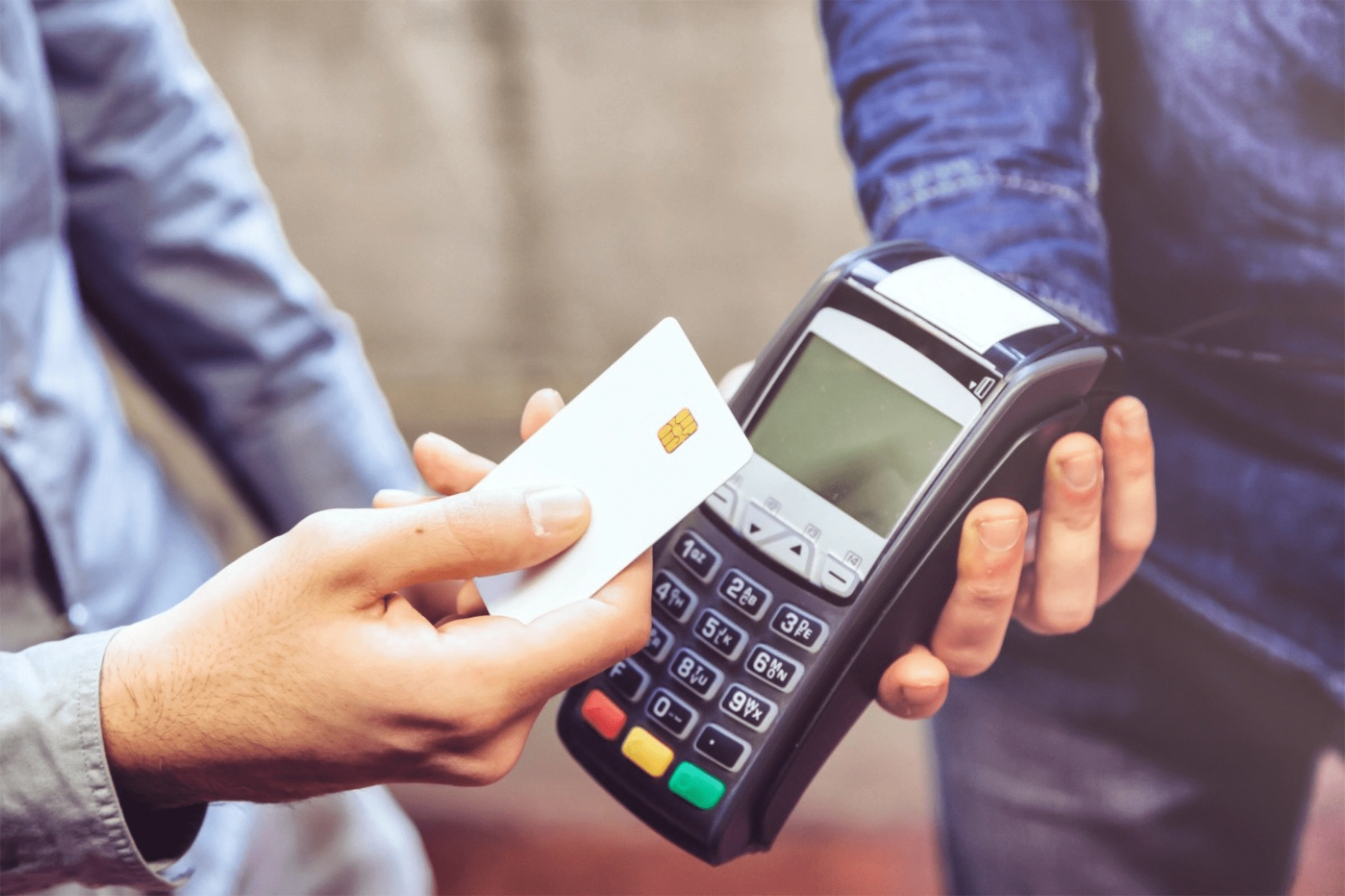 Typical contactless card reader.
And the COVID-19 Pandemic is pushing this trend to grow even faster.
According to a survey by Visa, around 50% of all consumers feel that contactless payments are one of the most important safety features now offered in a retail store.
In addition, over half of millennial shoppers said they will avoid a store if it doesn't offer a contactless option.
This has come through in the numbers as well.
Visa contactless card usage grew by about 150% in the first half of 2020. And mobile user payment penetration is expected to increase year-over-year, reaching 114.8 million in 2023.
What about small merchants that aren't equipped with POS systems?
Tap-to-Mobile technology will allow consumers to send a payment directly through the merchant's phone using a contactless card or mobile wallet.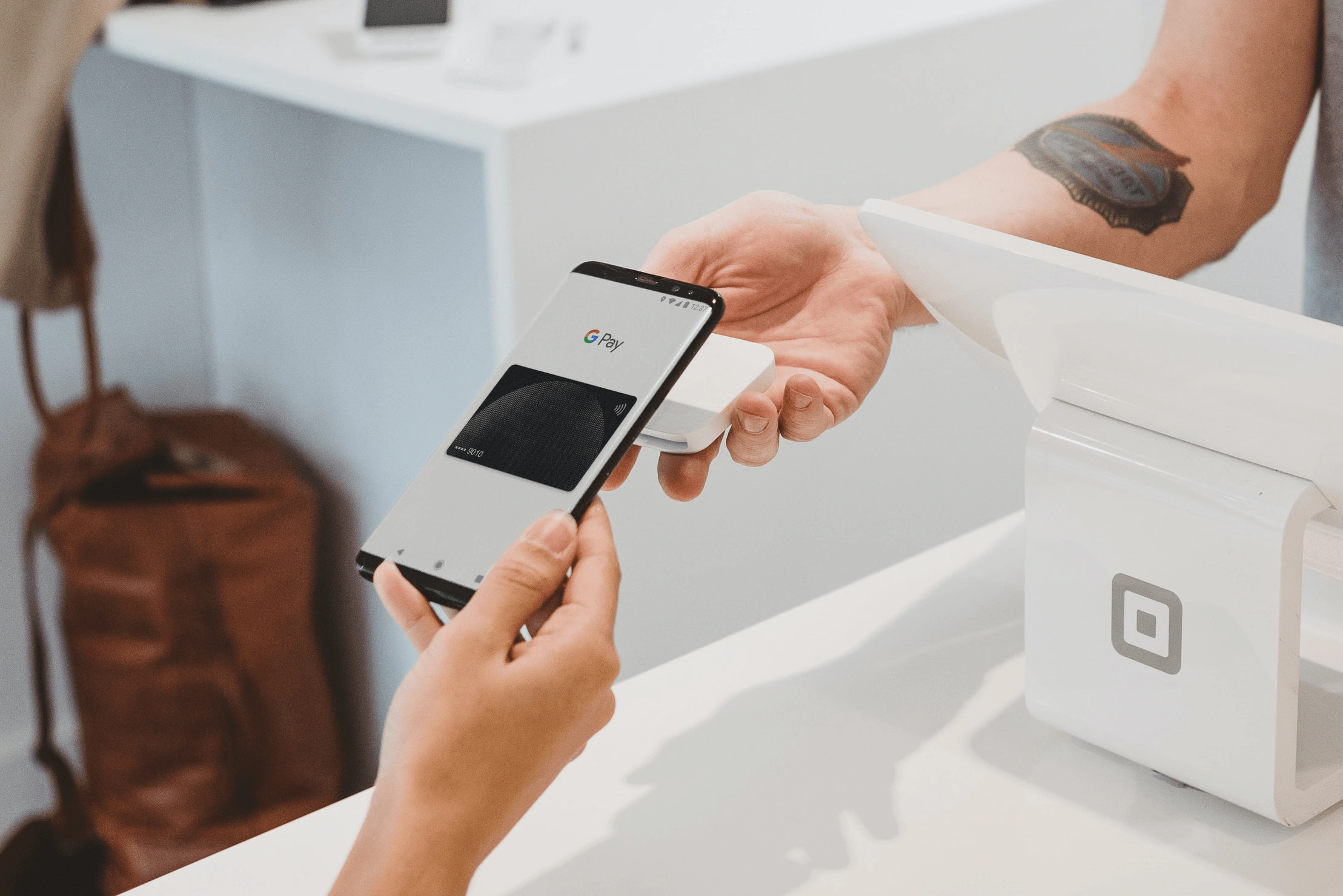 Customer making a contactless payment with their phone
Experts predict that 2022 will be the year that Tap-to-Mobile truly arrives, bolstering small business sales.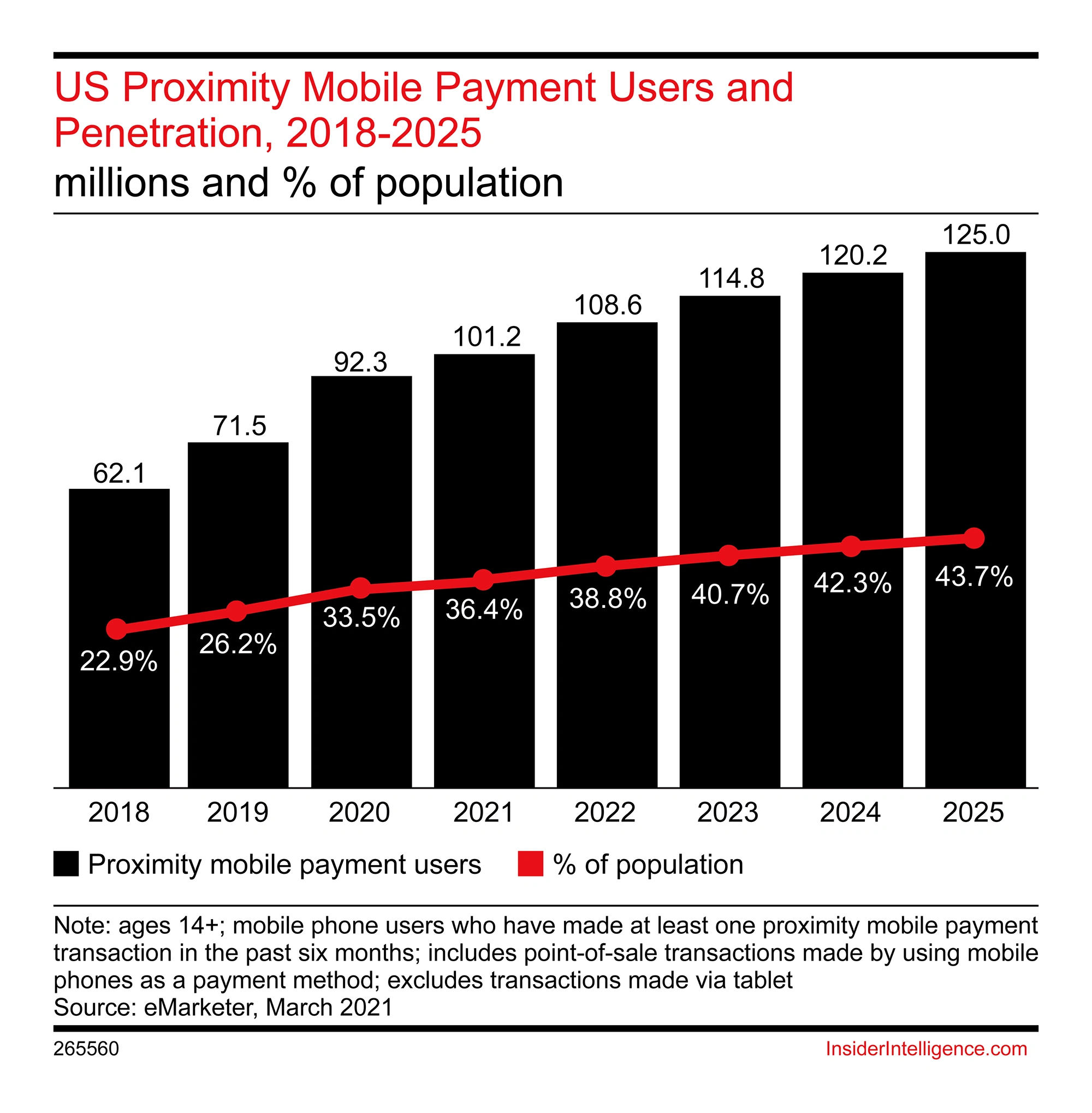 Around 125 million consumers are expected to use proximity mobile payment methods (payments with phones while in-store) by 2025.
We already see it rolling out with companies like Mastercard and Visa, who have introduced initiatives called Tap on Phone and Tap to Phone, respectively.
In fact, Visa already reported that tap-to-mobile transactions on its platform grew by 30% in 2021.
Any mobile device equipped with an NFC chip can act as a mobile point-of-sale terminal.
Shipments of these mPOS terminals are expected to reach 32 million by 2026.
China is the global leader when it comes to mobile proximity payments, with 87.3% of smartphone users in China making payments this way in 2021.
3. More People Are Paying Through Smart Speakers
More and more people are using their smart speakers and similar devices to make payments and send money with voice commands.
It's estimated that Americans now own over 120 million smart speakers. That's compared to just 20 million in 2017.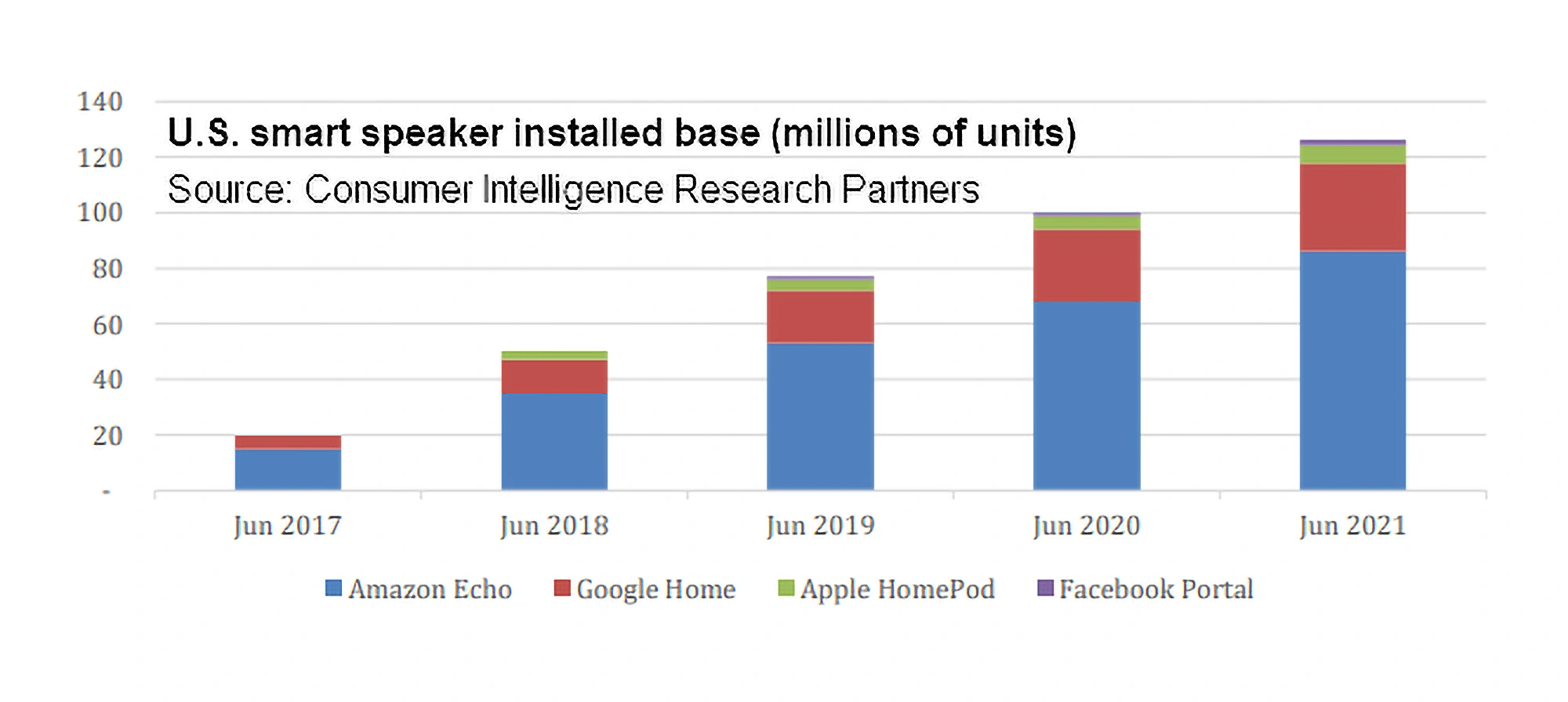 The number of smart speakers in American homes over the past 5 years. The Amazon Echo still has the majority of the market share.
Even back in 2017, however, 28% of smart speaker owners were using voice commands to send money and make payments.
As more and more people continue to shop through their smart speakers, the number of those making payments through them is only expected to grow.
PwC conducted a survey that found half of voice assistant users used their device to make a purchase in 2021.
Of those, 40% buy products through their smart speaker on a monthly basis. While 10% do it every day.
Total transaction volume through smart speakers currently sits at around $19.4 billion.
It's no wonder then that Business Insider predicted that the 18.4 million users who made payments over their smart speakers in 2017 would grow to 77.9 million by the end of 2022.
This is all despite the fact that many users have concerns over the security of paying through voice assistants.
A recent study by PaySafe Group found that 33% aren't comfortable using voice commands to make a payment.
The findings also suggest that people are the most comfortable using voice commands to make smaller payments, such as when purchasing groceries or paying for public transportation.
Expensive purchases, such as furniture and vacation packages, are unsurprisingly at the bottom of the list.
Despite users' hesitation to use voice commands to make payments, some companies are leaning towards more voice payments, because of the security of biometrics.
4. More Businesses, Services, and Products Use Embedded Payments
If there's one thing we can learn from the rise of rideshare services, delivery apps, and omnichannel retail, it's that consumers love convenience. This helps explain why embedded payments have become so commonplace.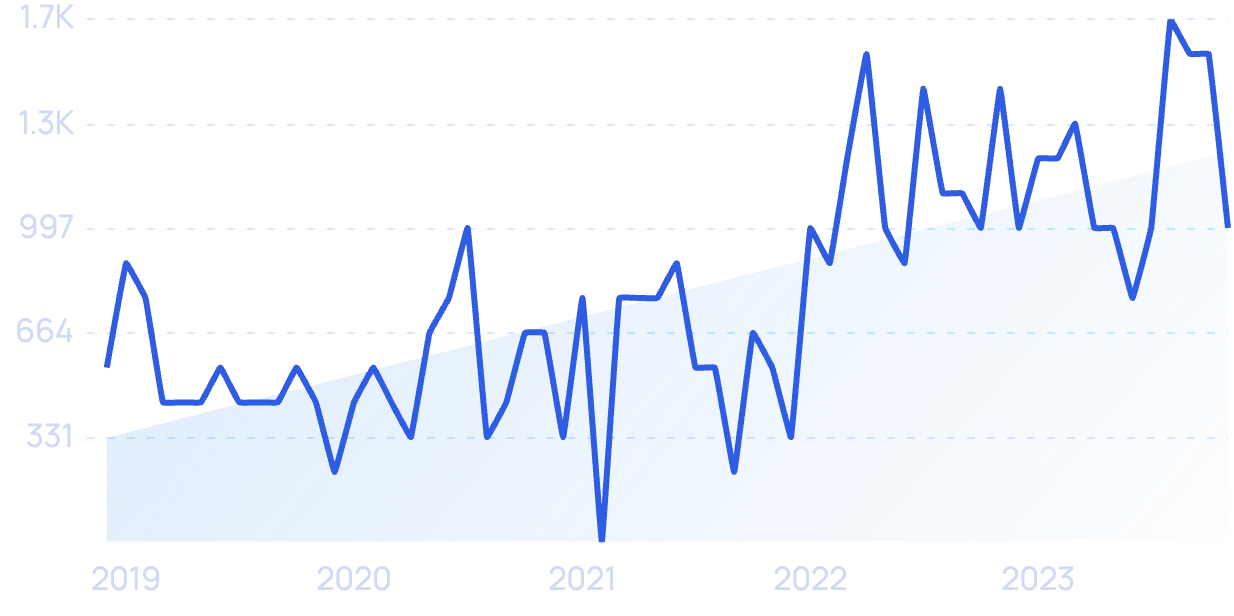 Searches for the term "Embedded Payment" have risen 80% over the last 5 years.
Embedded payments are payments that are folded into a service or product.
These are usually digital services or products (think websites, eCommerce stores, mobile apps, ride-sharing apps), but they don't have to be (think restaurants, Teslas, etc.).
And, considering almost one-fifth of all retail sales are now done online, embedded payments are becoming more essential every day.
It's no surprise then that, in a recent study conducted by Omdia, almost half of the merchants interviewed claimed that improving integration with their payment gateway would be the most effective way to reduce friction in digital payments.
The overall market generated roughly $22 billion in revenue in 2020. But it's expected to grow faster than most other payment/fintech industries out there.
Statista predicts that the embedded finance industry will bring in about $230 billion by 2025.
Even more impressive, PYMNTS.com estimates that the embedded finance industry will be worth $7 trillion by 2031.
Even outside of the world of high-tech innovation, embedded payments are changing how consumers purchase.
Take Starbucks for example. As of the second quarter of 2021, the coffee giant reported that mobile orders made up more than a quarter of total sales.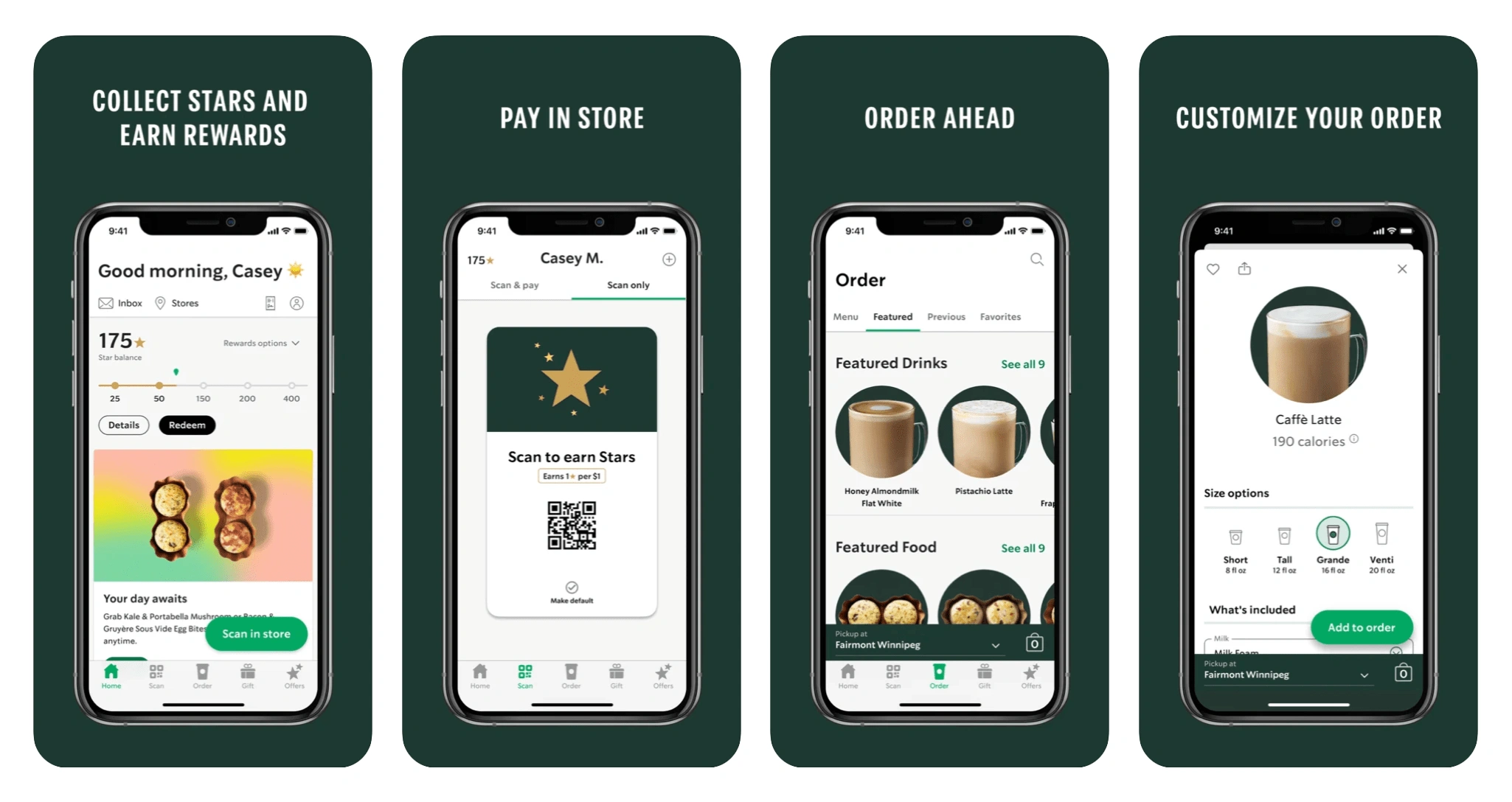 The Starbucks Mobile App.
In fact, the Starbucks app is the second-largest proximity mobile payment app in the US right now.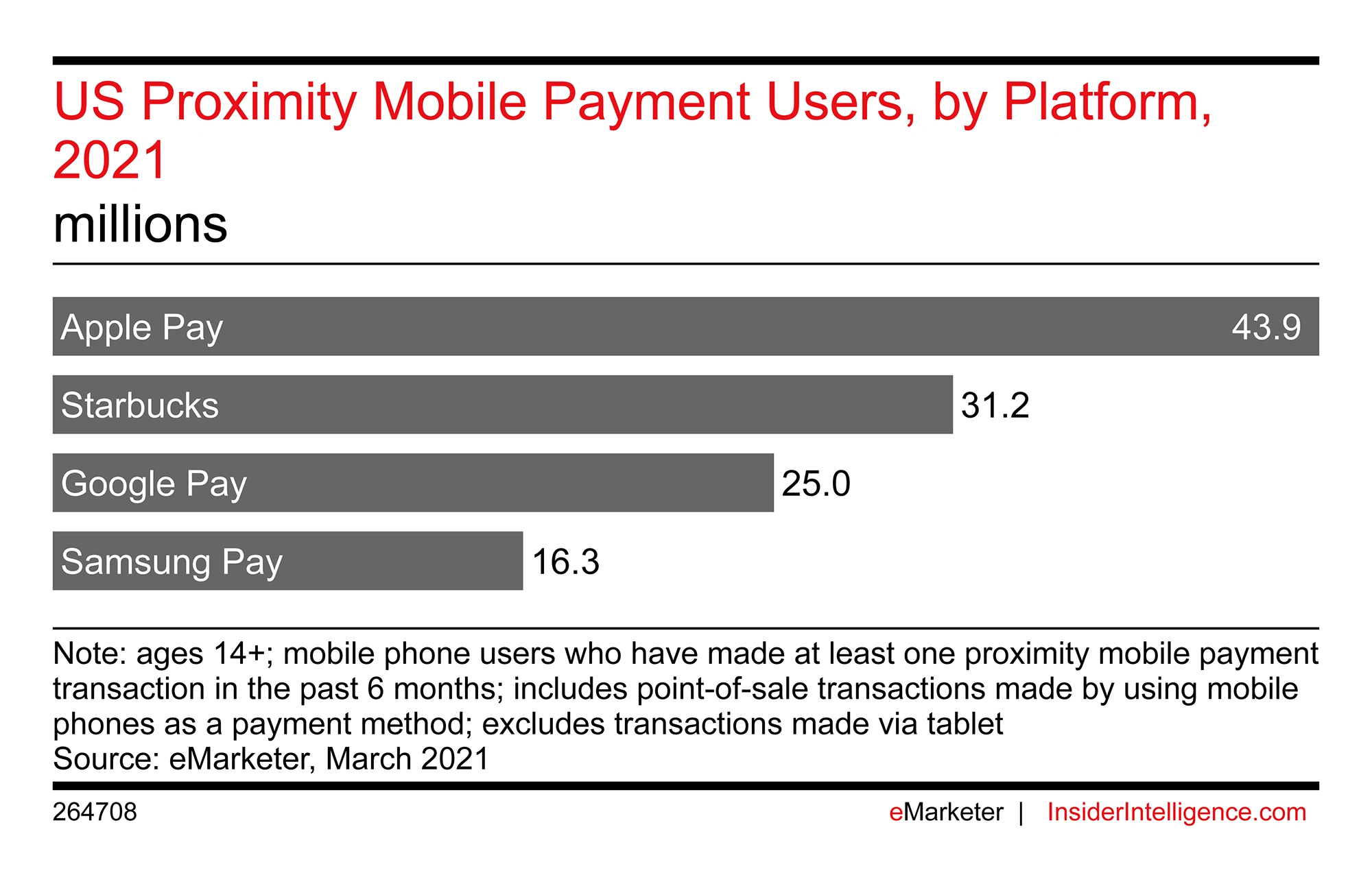 The Starbucks app has over 30 million proximity mobile payment users, second only to Apple Pay.
That's the future of embedded payments in most cases: retail stores embedding payment options in some kind of digital environment like a mobile app.
5. Digital Wallets Continue to Increase in Popularity
There was a time when a person wouldn't dream of leaving the house without their wallet.
Now people are intentionally doing just that.
According to McKinsey & Co., 15% of digital wallet users don't even bother grabbing their physical wallets when they leave the house.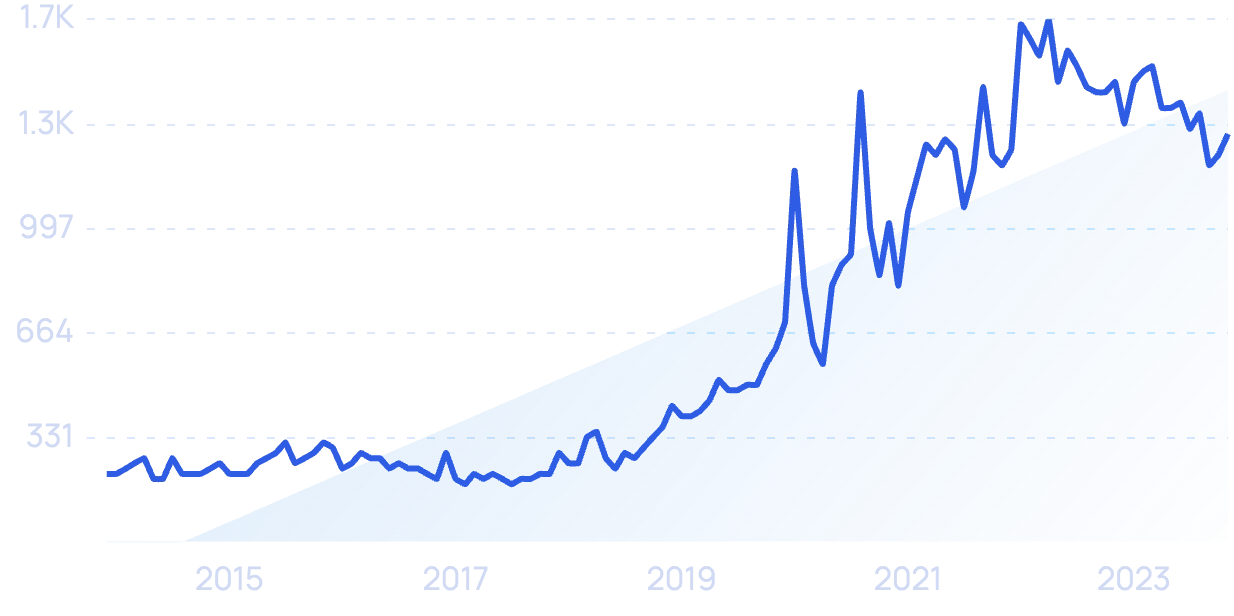 Searches for "Digital Wallet" have grown by 500% over the past 10 years.
Another 11% consider leaving their wallets behind if they don't intend on making a purchase.
Most users have multiple cards loaded into their digital wallets. Among those who have several payment options loaded, 40% switch between cards every few weeks.
Card issuers want to be on top of that pile, so they've been encouraging users to load their cards into their mobile wallet.
Most consumers switch payment cards based on which cards have funds on them, but many do so because they want to use specific cards for specific purposes.
Others pay with different cards based on promotions and discounts that the card companies offer.
In 2020, 46% of consumers used their digital wallets. In 2018, this number was only 18.9%.
According to Juniper Research, payments made using digital wallets will exceed $10 trillion by 2025, almost doubling 2020's $5.5 trillion.
In the near future, expect to see a lot more biometric authentication used to secure digital wallets.
6. Peer-to-Peer Payments are Expected to Take Off
Although there aren't necessarily merchants involved, peer-to-peer (P2P) payments have become an important part of the digital payments ecosystem.
These apps (and they're mostly all mobile apps) allow users to seamlessly transfer money between each other.
It's hard to get a handle on current usage numbers across all P2P platforms. But, according to eMarketer, the top three providers (Zelle, Venmo, and Square's Cash App) were estimated to have a combined 165.7 million users as of 2021.
That's roughly 50% of the US population.
eMarketer also predicts that the P2P industry will generate over $1.26 trillion in transaction volume in 2024 (up from $785.9 billion in 2021).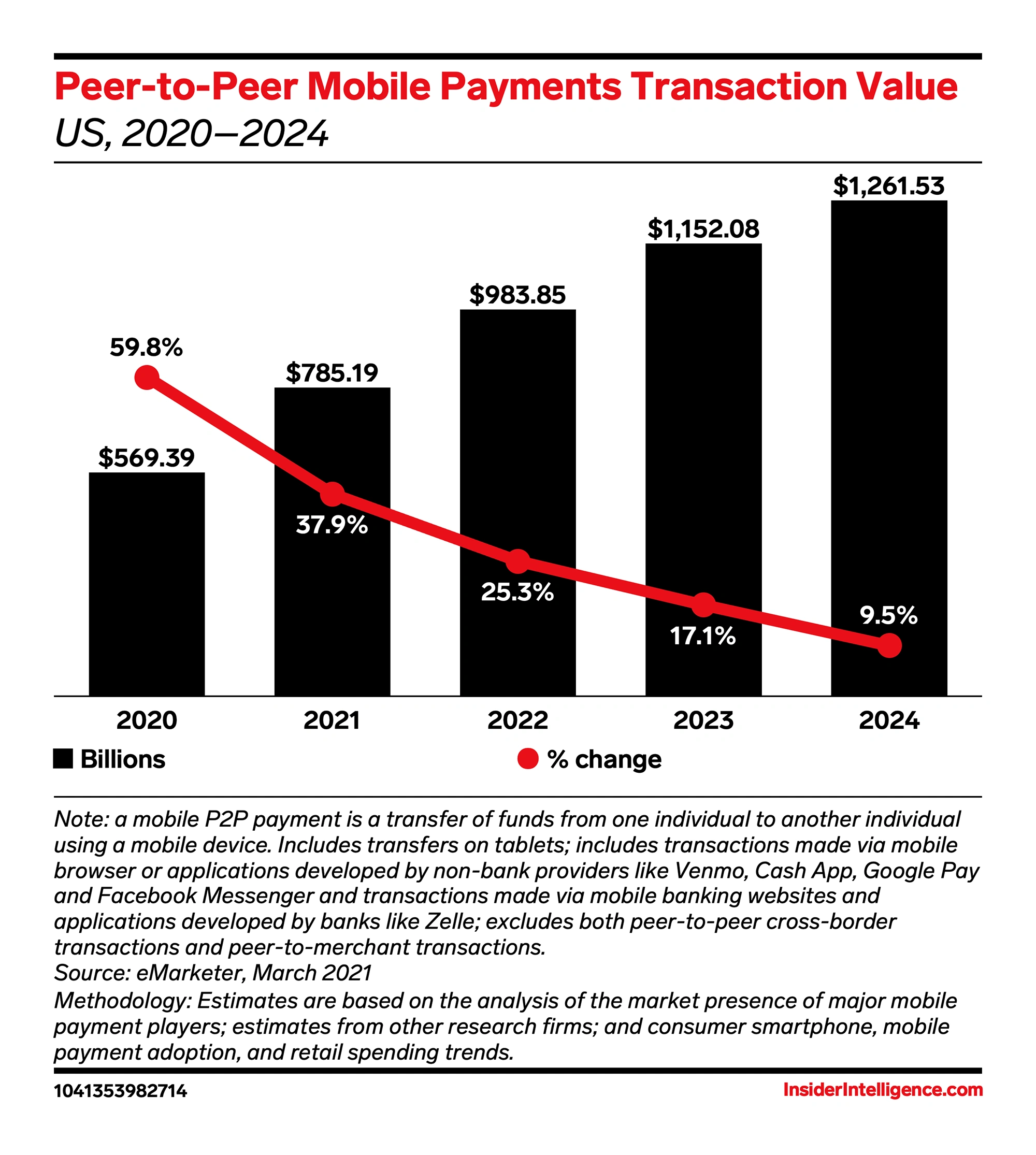 The P2P mobile payments market is expected to exceed $1.26 trillion in 2024.
As indicated above, this kind of growth is driven by the top three players.
Venmo, the largest of the three, is expected to grow by more than 50% annually for the next four years.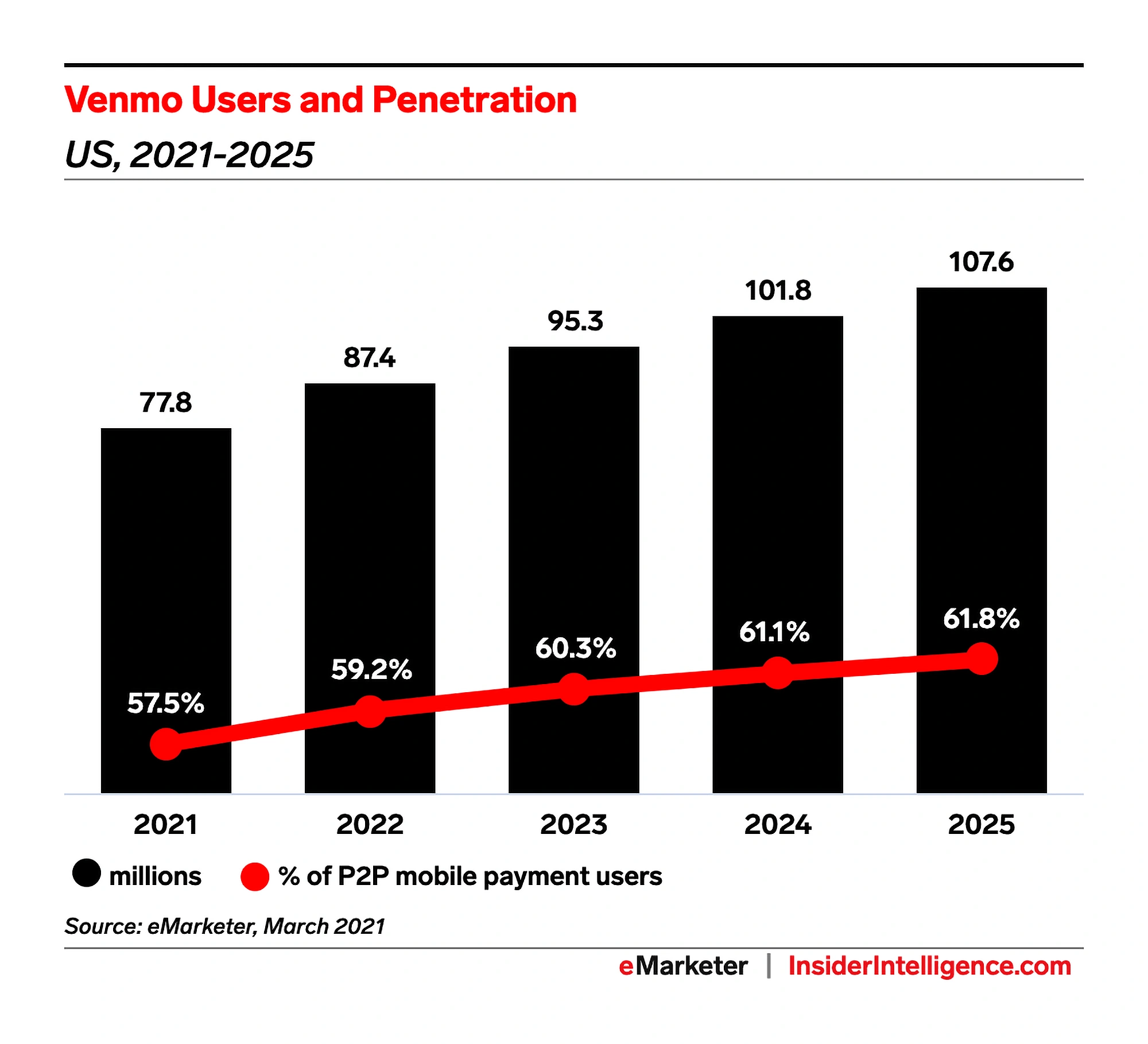 The number of total Venmo users is expected to be more than 100 million by 2025.
As the oldest of the big three, Venmo was founded in 2009.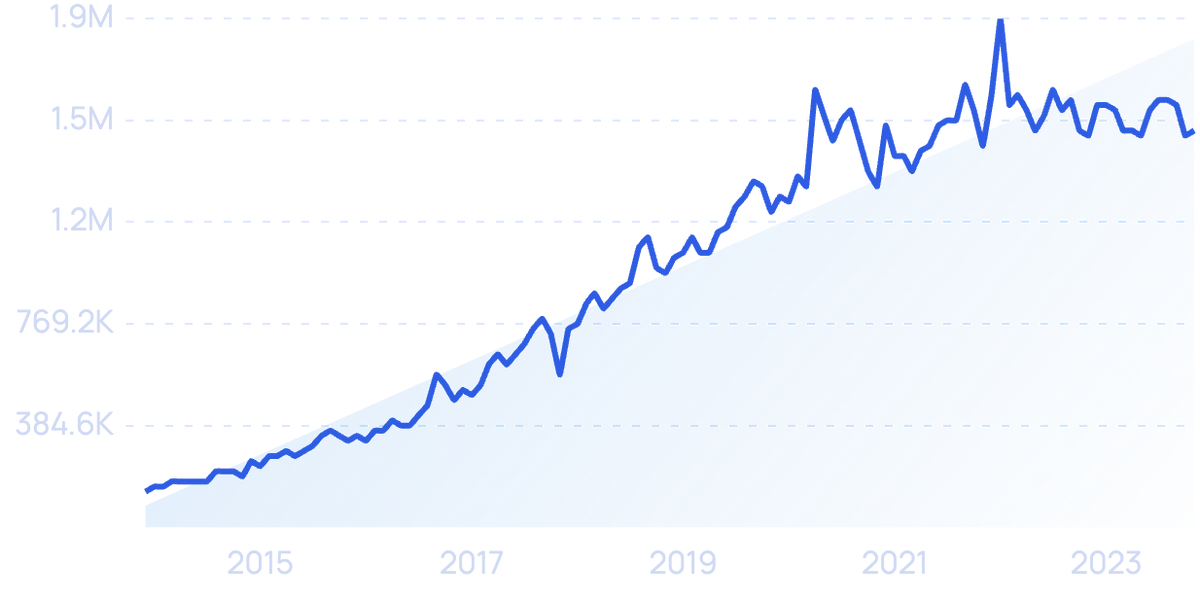 Search interest in "Venmo" has exploded by 1,014% over the last decade.
It was acquired by Paypal for $800 million in 2012 and has retained the top spot ever since.
Venmo traditionally focused on the social aspect of P2P payments, acquiring and retaining the largest number of users throughout its history.
Zelle, on the other hand, was founded by a consortium of banks.

Searches for "Zelle" have grown by 115% over the last 5 years.
It has focused on the higher end of the market, and users have to connect a Visa or Mastercard associated with a supported bank account.
Zelle's average transaction value was over $270 in 2020. Venmo's average transaction value, on the other hand, is around $60.
Because of the higher transaction volume, Zelle has traditionally processed a larger transaction volume than its competitors.
In 2020, it processed over $300 billion. And was forecast to handle over $500 billion by the end of 2022.
This is compared to an estimated $304 billion in 2023 for Venmo.
Overall, Zelle's user base is expected to grow at a slower rate than Venmo's. But it's still predicted to grow at a respectable 30%+ per annum.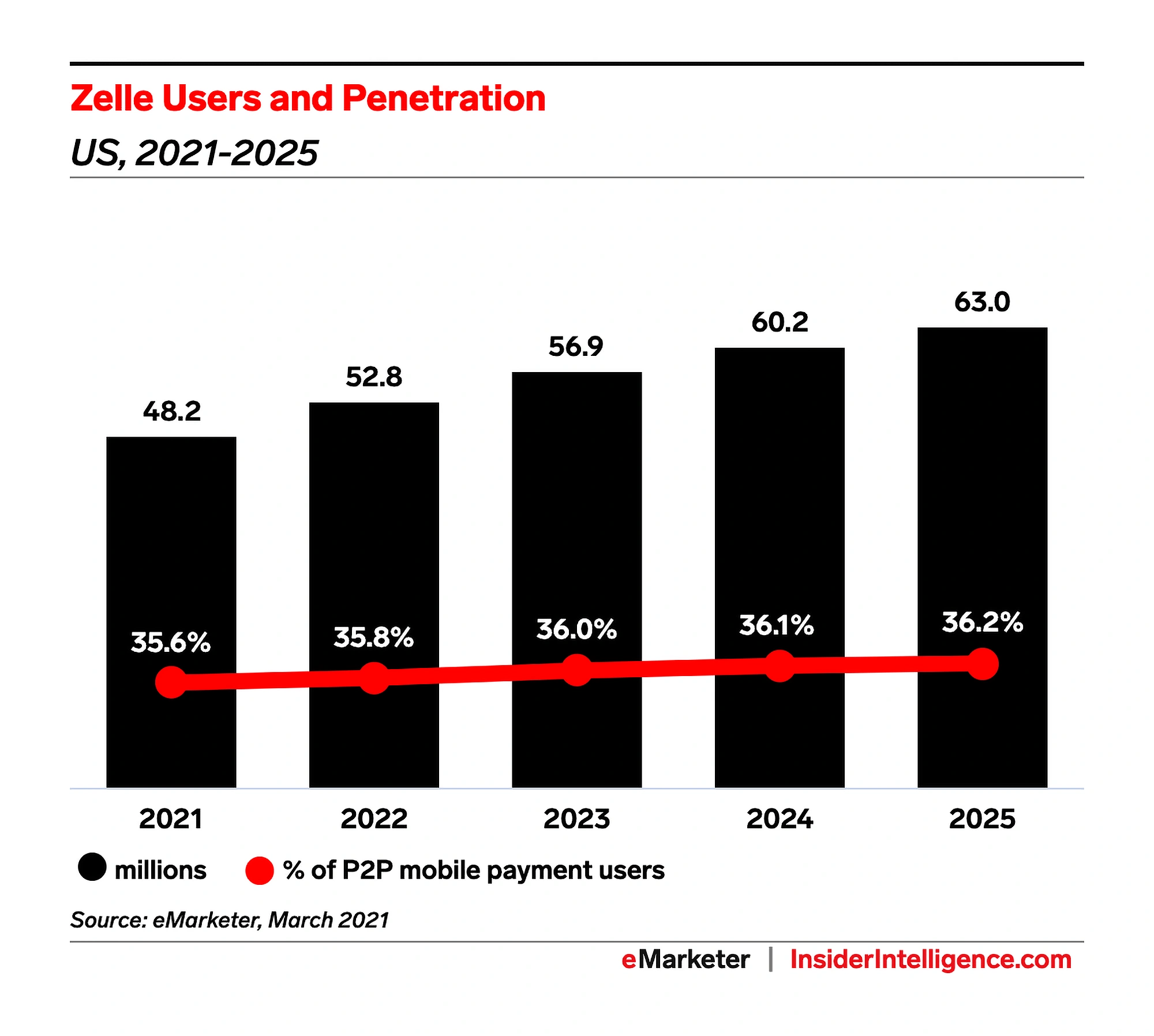 Estimated user growth on the Zelle P2P platform.
A lot of this growth is expected to be driven by the upcoming Gen Z class of users.
Currently, just over a third of Gen Z uses some kind of P2P payment app. But by 2025, it's expected that closer to two-thirds of the Gen Z cohort will be using a P2P payment app.
Conclusion
Overall, the payments industry is rapidly changing.
The digital world is bleeding into the physical, and consumer needs are taking center stage.
Whether it's paying in different ways, financing small purchases at the point of sale, or transferring money to friends, the payments industry is constantly adapting to how people shop.