5 Trends Shaping the Credit Card Industry (2023-2025)
You may also like:
As we shift to a more digital world, the credit card industry is playing a larger role every day.
Industry data shows that 80% of consumers prefer credit or debit card payments over cash.
(And that more and more consumers want to pay with credit cards.)
If you want to learn more about the biggest trends in the credit card industry, read on.
1. Contactless Payments Go Mainstream
For years, many people were saying that contactless payments were the future.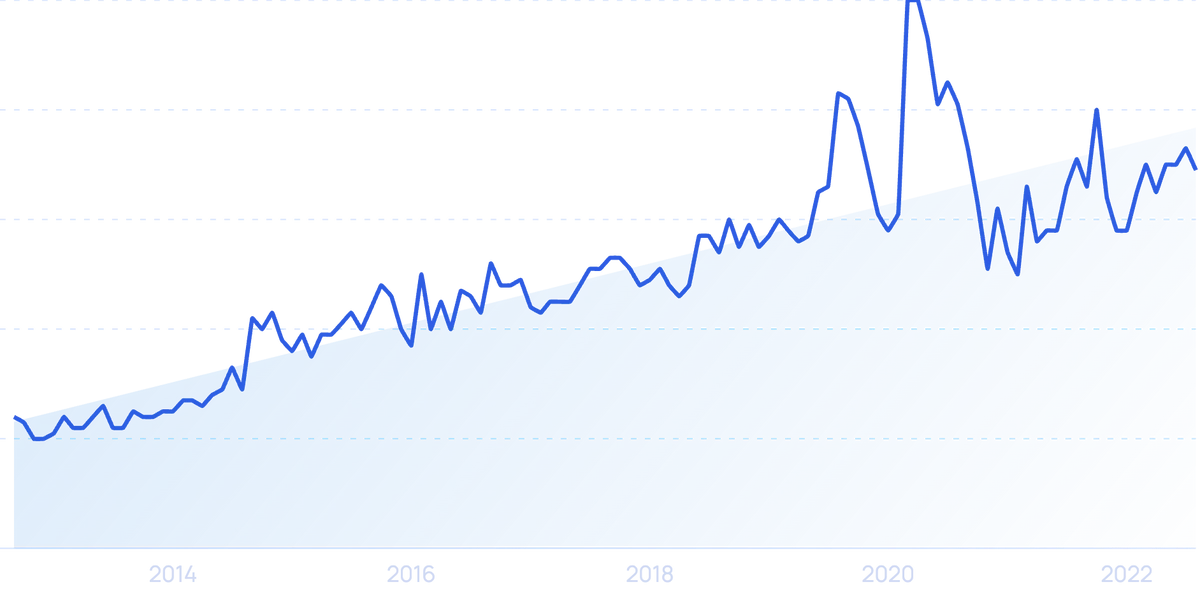 Searches for "contactless payment" have increased by 187% over the last decade.
Outside of the US, the concept had already gained traction.
In China, by 2018 83% of all payments were made via mobile apps.
And in Australia, more than three-quarters of all in-person Visa transactions were made via tap-and-go or contactless methods.
This trend had even taken hold in the US's neighbor to the north.
In Canada, over 95% of all credit cards enabled contactless payments by 2016. And 75% of Canadian retailers had the ability to handle contactless payments.
While about 70% of merchants had the ability to accept contactless payments in the US by 2018, only 0.18% of all point-of-sale transactions were contactless payments.
2021, however, pushed contactless payments into the mainstream.
In a study conducted by Mastercard, the credit card giant found that 79% of its global respondents used contactless payments in 2020.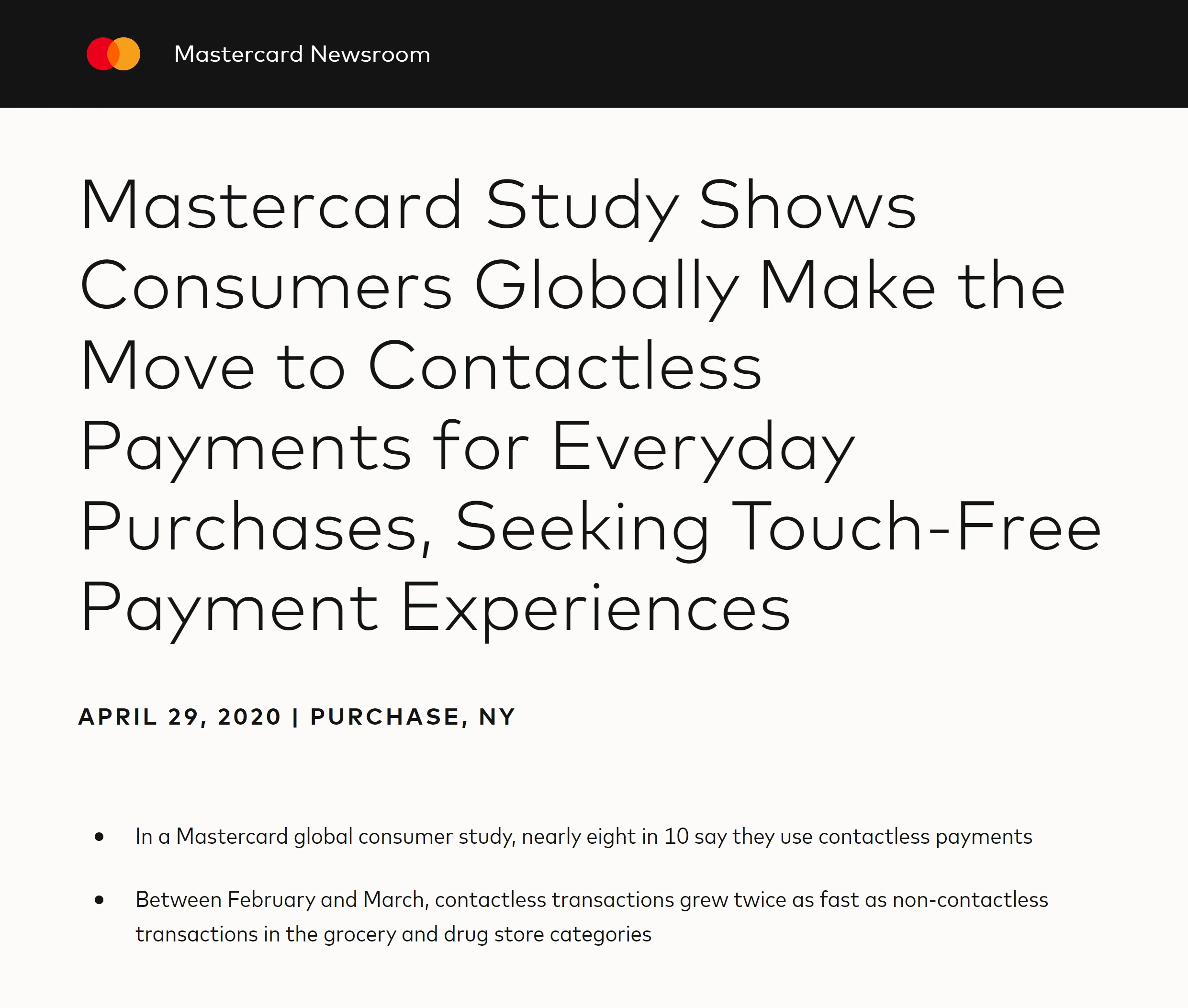 A recent survey discovered that nearly 8 out of 10 cardholders use contactless payment options.
And this isn't just a passing fad: 74% of those same respondents said they plan on continuing to use contactless payment methods after the COVID-19 pandemic.
Even in the US, the infrastructure is already in place.
More than 95% of all merchants are now able to accept contactless payments in the US.
And major banks like Chase, Wells Fargo, and Bank of America have been issuing credit cards that allow for contactless payment since the end of 2019.
Taking this one step further, companies like Amazon are now allowing for voice payments through their in-home assistants.
In addition, payments through wearables like an Apple Watch or Fitbit are also becoming more common.
Apple's CEO Tim Cook even said in an earnings calls in October that he thinks wearables are the next contactless payment frontier.
A potential rival to Apple is Purewrist. The company offers a $25 rubber armband that has one job: payment.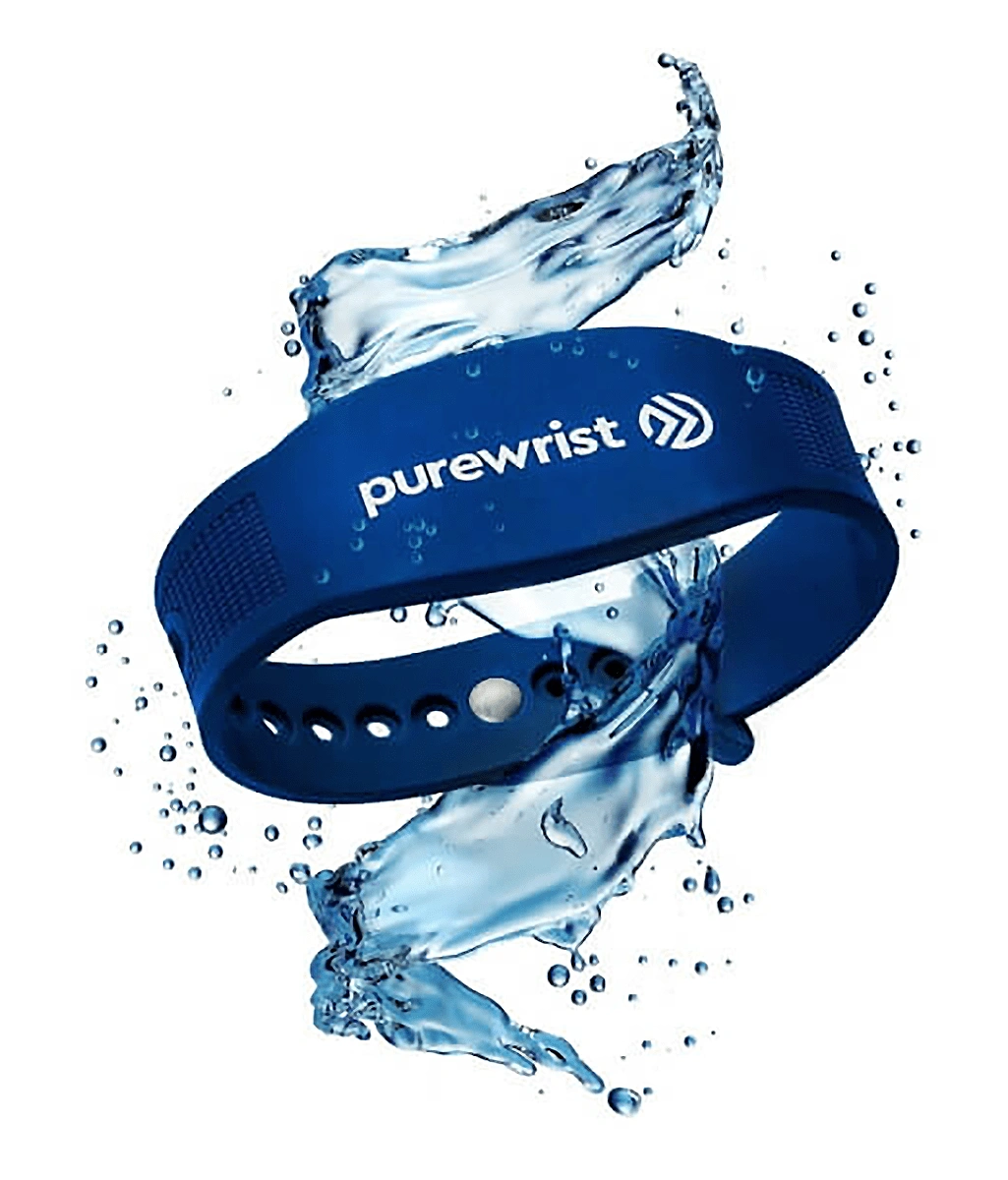 The Purewrist band
The device is connected to an app that lets you manage your finances.
But once it comes time to purchase, all you have to do is place your wrist in front of an NFC scanner.
The device lets you spend up to $1,000 at a time.
Finally, biometric payments are set to increase from 2021 through 2023.
Biometric identification generally makes payment safer, faster, and easier.
And as mobile phone usage increases, biometric payments may bypass the need for physical cards altogether.
A study by Juniper predicts that biometric systems will authenticate roughly $2 trillion in payments by the end of 2023.
2. Virtual Credit Card Payments Grow
Contactless payments is trending alongside the rise of QR code-based payments and virtual credit cards.
While virtual credit cards have been around for a while, adoption in the US didn't noticeably increase until 2020 – when many consumers began to prefer contactless payments.
Most major payment providers and technology companies now offer their own virtual credit cards.
For instance, in 2021, PayPal began offering a Visa-branded card through its Venmo app.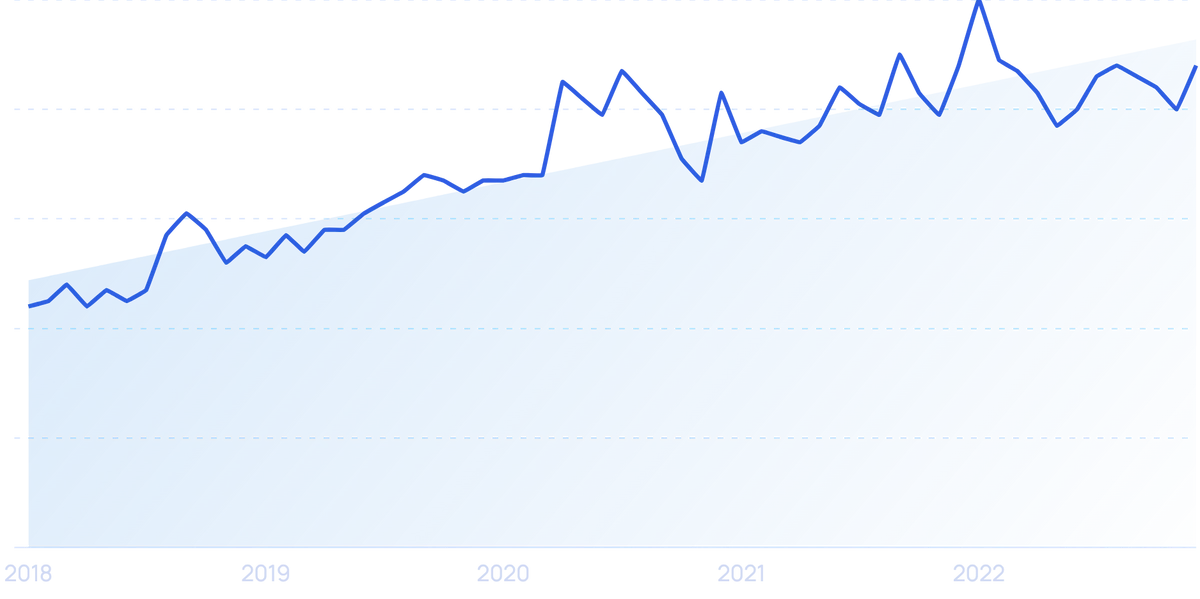 Searches for "Venmo" have increased by 100% in 5 years.
In addition, Apple Pay issued a virtual credit card (that launched with 3% cash back) at the end of 2019.
In its first six months, roughly 2.2% of all US credit card users were using an Apple Credit Card.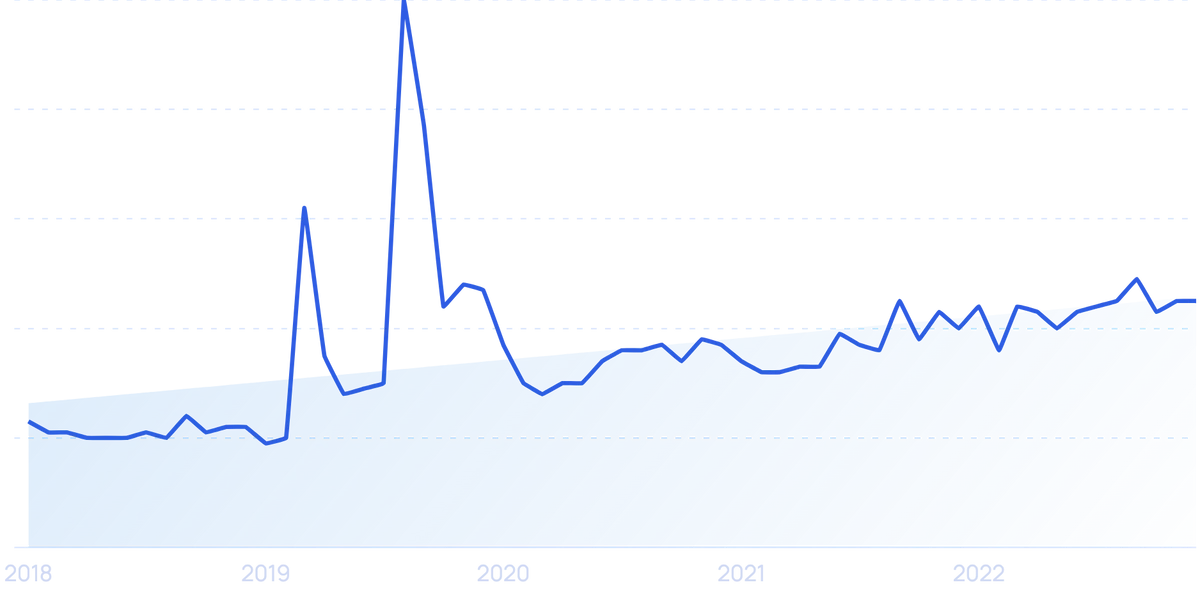 Search interest in "Apple Credit Card" is up 95% over the last 5 years.
As of 2020, there were 507 million active Apple Pay users.
And 60% of Apple Credit Card users had reported that the card was their primary credit card.
Payment company Stripe has taken this one step further.
In April of 2020, it launched Stripe Issuing – an API that allows businesses to create their own virtual or physical commercial credit card program.


Stripe Issuing Commercial Credit Cards.
Businesses can now create virtual cards for 10 cents and physical cards for $3 each.
Stripe Issuing allows a merchant to customize their card and set limits on spending as well.
Much of this has been enabled by QR Codes.
The technology has been around since 1994 but didn't find real, widespread use until 2020 when virtual payments were a must.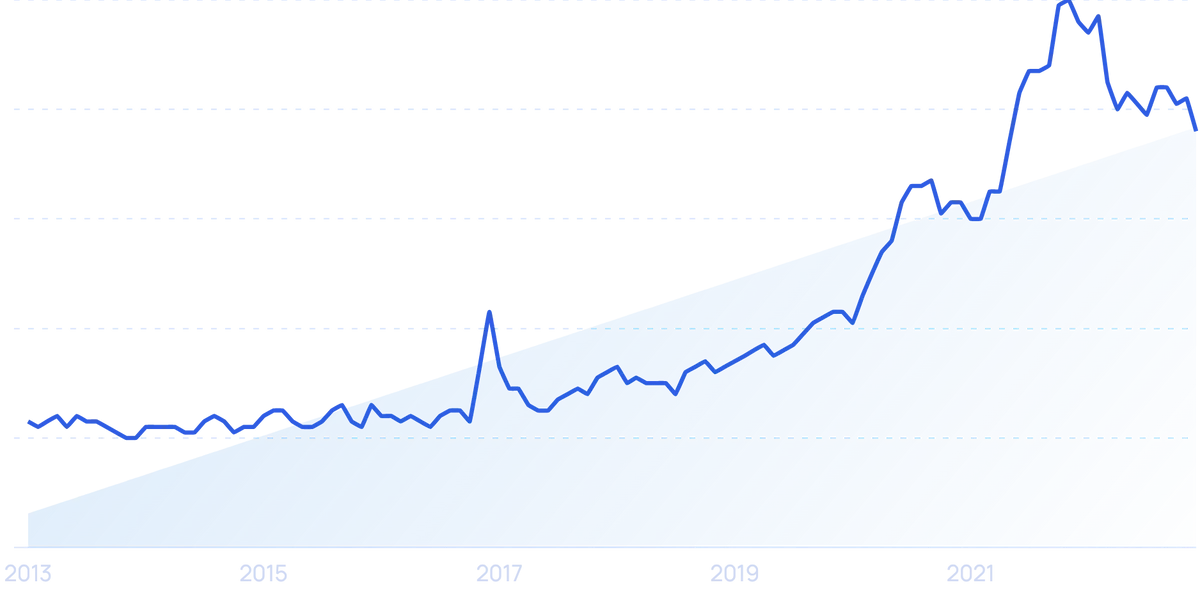 "QR Code" search volume is up 230% in 10 years after being relatively flat until 2020.
QR code technology allows consumers to scan a code in person and automatically pay for a product if their virtual payment provider supports the technology.
A 2020 survey found that 84% of respondents said they had scanned a QR code at least once in 2020.
And 34% of QR code-based shoppers say they would avoid merchants that don't offer the technology.
Because of this, merchants are scrambling to integrate QR code technology with their current point-of-sale payments systems.
CVS is rolling out the technology in 8,200 locations that will support QR code payments from PayPal and Venmo.
And this has apparently paid off. The pharmacy/retailer reported that in-store contactless payments increased by 43% in 2020.
3. BNPL Changes the Credit Card Landscape
Buy-now-pay-later is one of the biggest trends in the consumer finance ecosystem.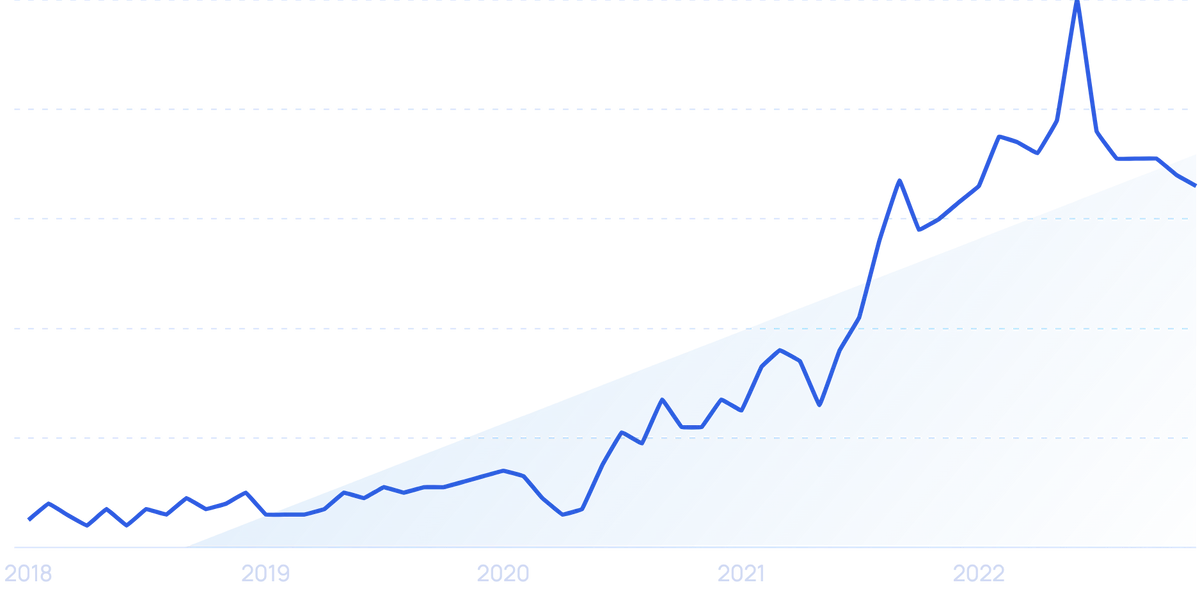 Searches for "BNPL" have grown by 1,220% in the last 5 years.
The Motley Fool found that, in just half a year, the number of US consumers using a BNPL service has increased by 50%.
According to its study, over half of the consumers surveyed have now used a BNPL service.
(Compared to 37.5% in July of 2020.)
Afterpay, an Australian BNPL company, said its number of US enrollees increased by 239% in 2020.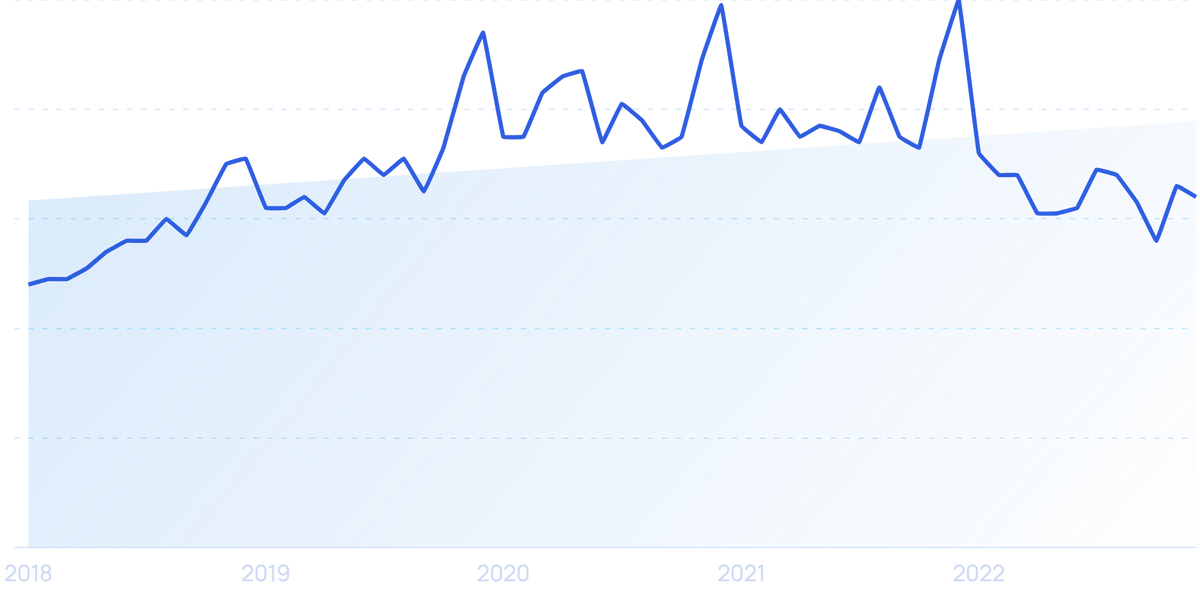 Search interest in "Afterpay" has grown by 33% in 5 years.
And another competitor, Klarna, increased its consumer base by over 1 million in just the first half of 2020.
It reported that the number of daily downloads reached 20,000 in 2020.

Searches for "Klarna" have risen by 8,400% over the last decade.
Another BNPL company, Affirm, went public in 2021.
It has also created a BNPL debit card. Yes, you heard that right – a BNPL debit card (aka a credit card).
This method of payment is obviously starting to encroach on the credit card industry's turf.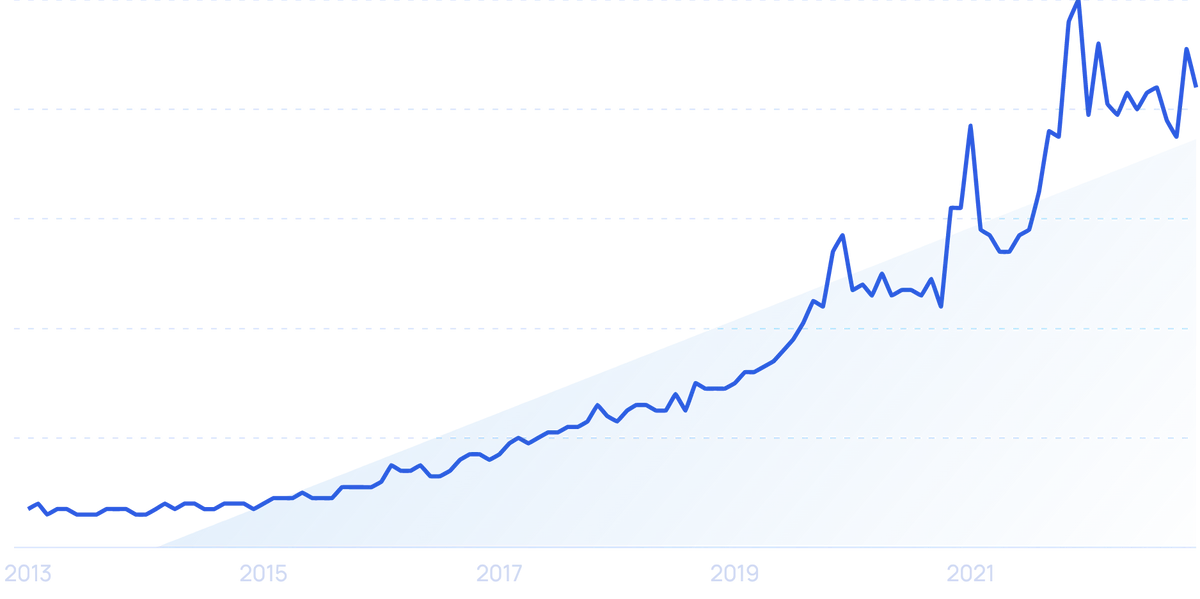 Searches for "Affirm" have increased by 1,100% over the last 10 years.
This is an interesting development considering 62% of BNPL customers think the concept could replace their credit cards.
And just under half say they plan to use a BNPL program more than they use their credit cards in the future.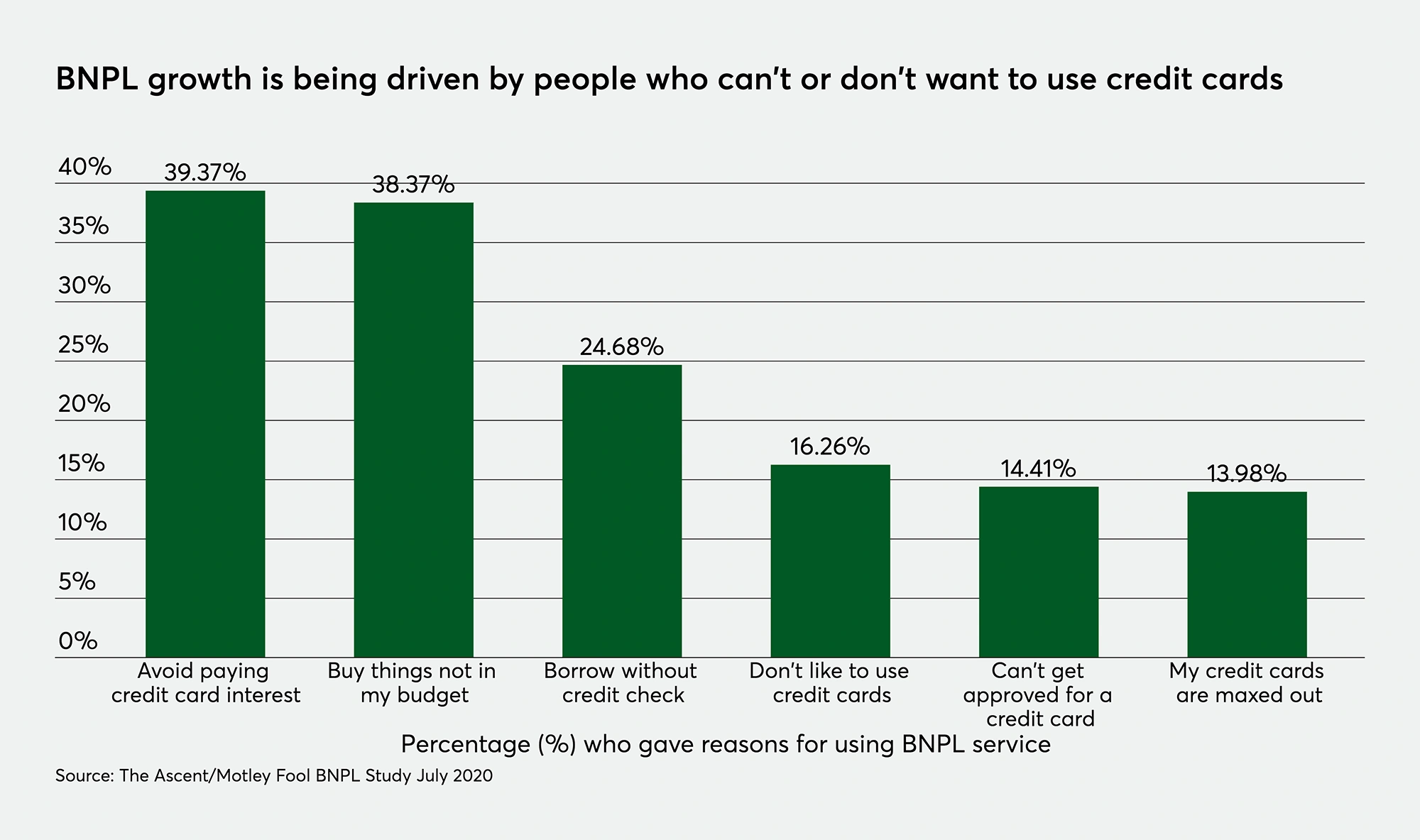 According to a 2020 study, the number 1 reason for using a BNPL service was to avoid interest on credit cards. And many of the other reasons involved credit card dismay.
Also, as digital wallets and virtual cards become more common, consumers may be more likely to adopt BNPL as a primary form of payment.
According to PYMNTS.com, 38% of millennials who don't currently use BNPL said they would be interested in using it inside a digital wallet.
So, how is the credit card industry handling this?
Well, American Express had already launched a BNPL-style service back in 2017.
Since then, its members have established close to five million installment-style payment plans, representing roughly $4 billion in purchases.
In addition, Mastercard is working with payments processor TSYS to give credit card users a choice of paying by installment plan with certain purchases.
4. Masked Cards Allow Consumers to Protect Their Data
Virtual cards are offering something that has long evaded the credit card industry – consumer privacy.
Many online services are now offering consumers a way to create a "virtual burner card" that hides their data from merchants and other data brokers.
This technology is commonly referred to as a masked credit or debit card.
It works like this:
A company like Privacy.com allows users to generate a "fake" virtual debit card
Consumers can then use this card to purchase items or subscriptions online
If a business is hacked or the customers' data get out in some way, users of masked cards can rest assured that their information is safe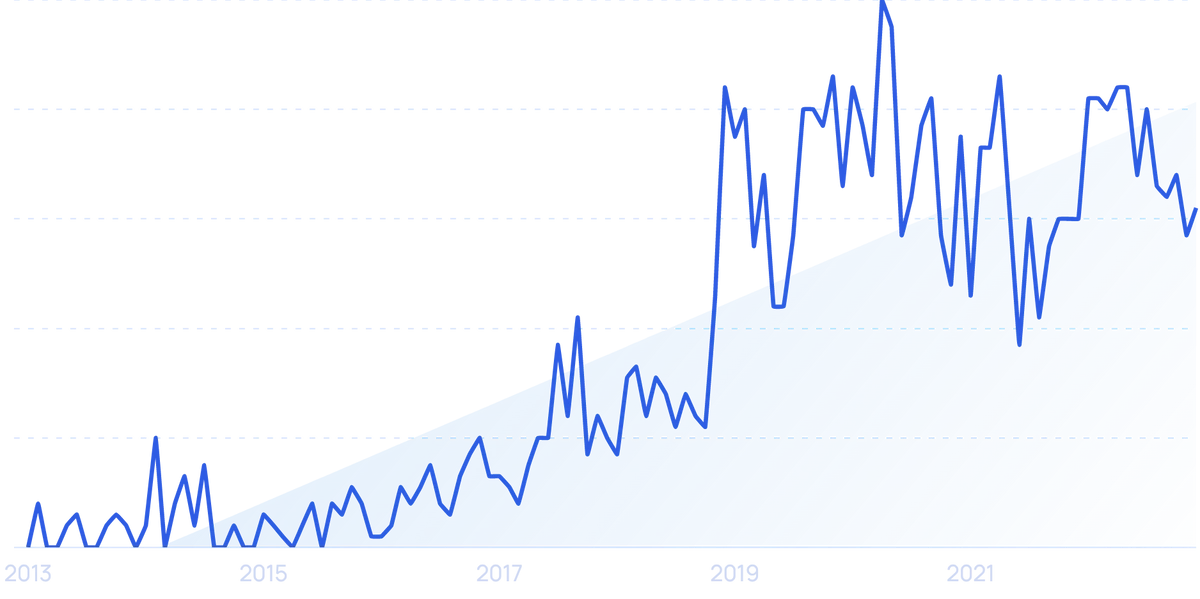 Searches for "Privacy.com" have increased by 2,700% over the last decade.
Even businesses can use these virtual cards to manage expenses like online advertising and lock a merchant into one virtual card.
Other companies in this ecosystem include Figleaf and Abine.
Even Apple has jumped on board.
Its new virtual Apple Credit Card has no number or consumer information attached to it when used.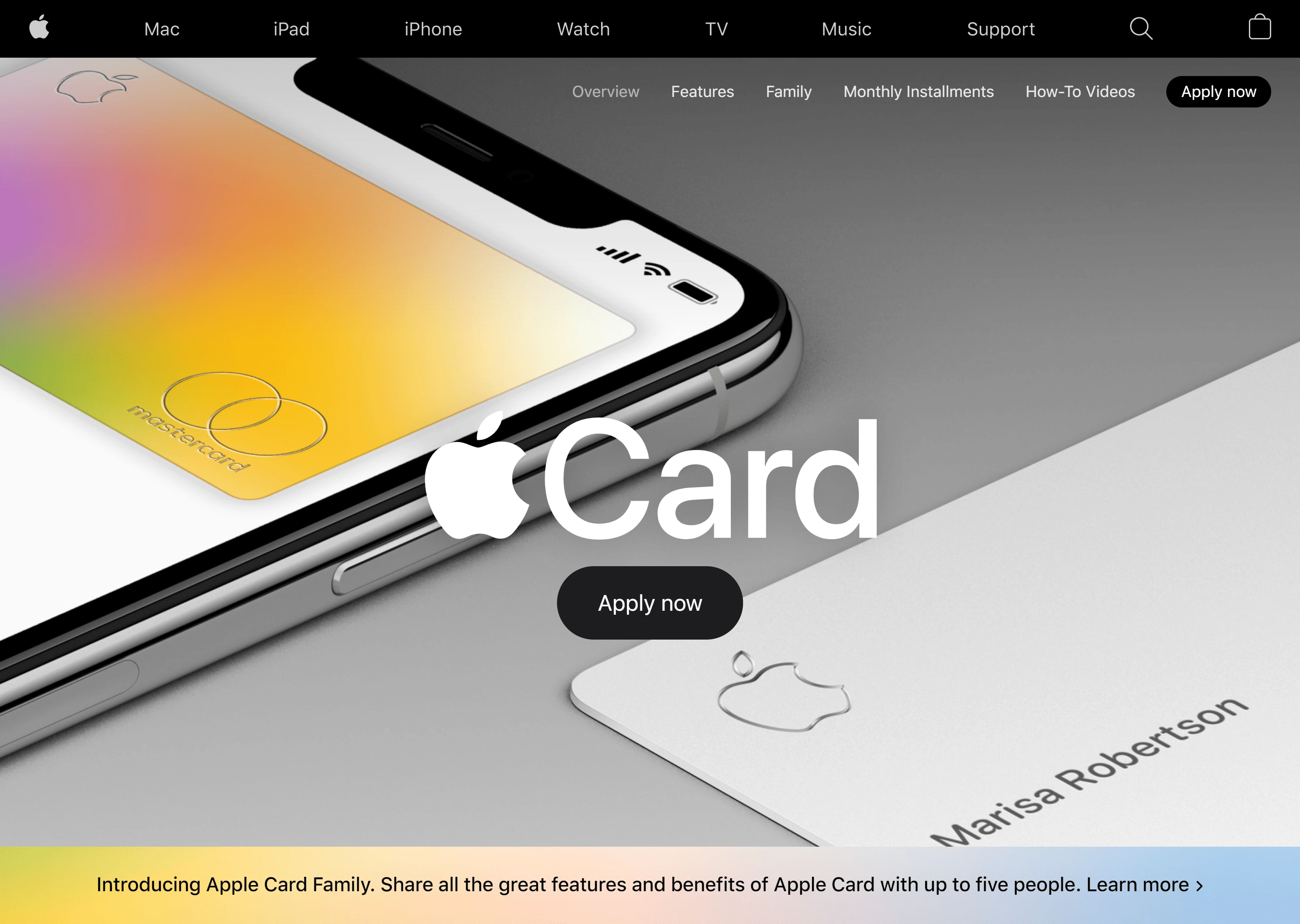 Apple's virtual card is branded as one that protects cardholder private data.
And Apple prevents Goldman Sachs (the issuing bank) from using customer data for marketing purposes.
This kind of protection is becoming even more important in a world where "card not present" (CNP) fraud is occurring more than ever.
CNP fraud takes place when credit or debit card information is stolen without the card being present.
(This usually occurs in phishing scams or data breaches.)
As more purchases take place online, CNP fraud is becoming more of a threat.
One study even found that CNP fraud is 81% more likely to happen than point-of-sale card fraud.
And with massive data breaches occurring every year, some studies even suggest that more than 80% of cards are already compromised.
5. Alternative Data Sets Allow Credit Card Issuers to Better Underwrite Loans
According to FinRegLab, close to 20% of adults can't be scored for borrowing purposes based on traditional credit metrics.
But about 96% of them have a bank or prepaid accounts.
With customer permission, alternative data can be used to better underwrite loans for consumers who fall outside of traditional credit metrics.
While this area is still in the early days, FICO has already using alternative data to inform credit scoring.
Its FICO Score XD service uses utility, phone, and cable bill data to better enhance its credit underwriting.
And its UltraFICO Score system uses deposit account information to calculate more accurate credit scores.
According to Experian, 80% of lenders already rely on a credit report plus other, additional information.
But just 16% of lenders surveyed by Experian said they plan on using rental or utility payment data to score borrowers.
Consumers, on the other hand, are ready for a change.
Almost half of the consumers surveyed by Experian believed that their credit score does not accurately represent them as a borrower.
And 53% are of the opinion that additional data will have a positive effect on their credit score.
Conclusion
That's all for the top credit card trends happening right now.
The industry is set to transform the way payments are made, cards are issued, and credit is scored.
Watch this space – it may be changing faster than ever.