PitchBook vs. CrunchBase: Which Research Tools is Right for You?
Stuck between PitchBook and CrunchBase?
In this post, we'll do a detailed breakdown of both leading market intelligence platforms to help you make a more informed decision as an investor.
PitchBook: Product Overview
PitchBook is a private capital market intelligence platform that provides data, research, and news on venture capital, private equity, and M&A.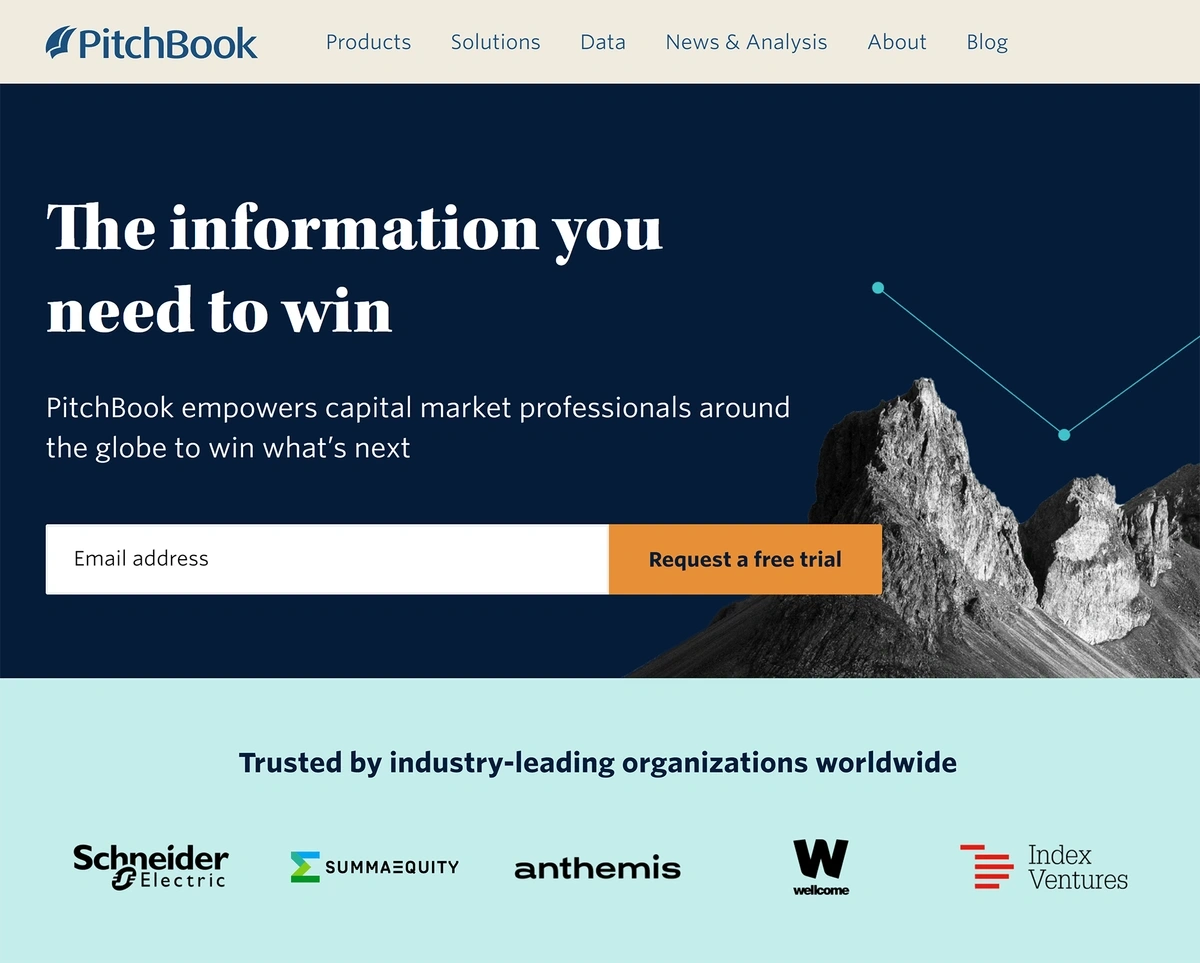 It's ideal for investors, corporate development professionals, and other market participants to make smarter, well-researched decisions about their investments.
PitchBook's key differentiator from other investor research platforms is its comprehensive data coverage, as well as its proprietary research and analysis. Not only does it allow you to find potential investments and opportunities, it also offers portfolio management tools to keep track of performance metrics over time.
PitchBook: Key Features
Hard-to-find Company Data and Analysis
PitchBook gives you detailed profiles of private companies, including their financials, executive team, investors, fund performance data, and more. Its unique set of tools allows you to search for public and private company information from around the world, across many different industries.
This makes it easy to find specific data on a company or to compare companies side-by-side ( more info on the comparison feature below). With its analytics, you can gain insights and make informed decisions about your investments as well as easily track and analyze fund performance, create detailed reports, and perform due diligence on potential investments.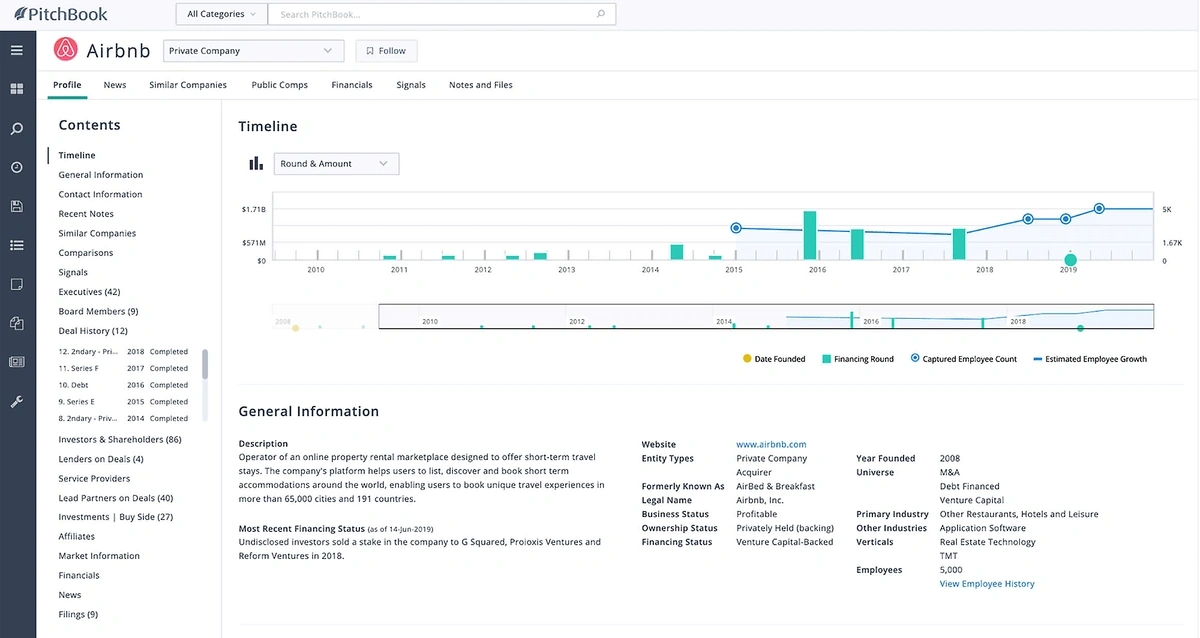 Deal Intelligence
PitchBook provides comprehensive data and analytics on past, current, and potential deals. It includes over 40,000 private market transactions from the past 10 years and offers industry-specific insights into major sectors of the economy.
The platform also features an advanced filtering system and keyword search tool to help you quickly narrow your results. Plus, you can save your research as a personalized watchlist to track certain deals or investors over time.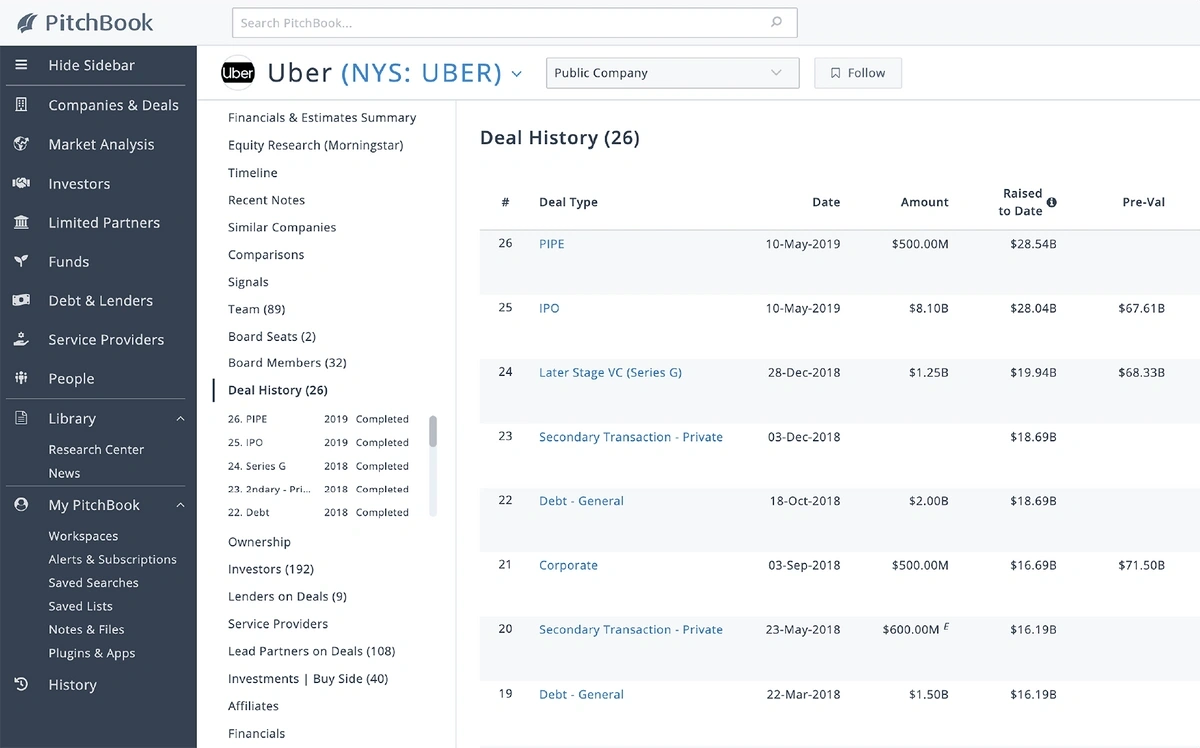 Comparisons
PitchBook makes it easy to compare two companies to see how they stack up against each other. You can instantly compare company data points side-by-side, see recommended comparisons, save comparisons, and export your comparison to a CSV or PNG file for easy sharing and presentation.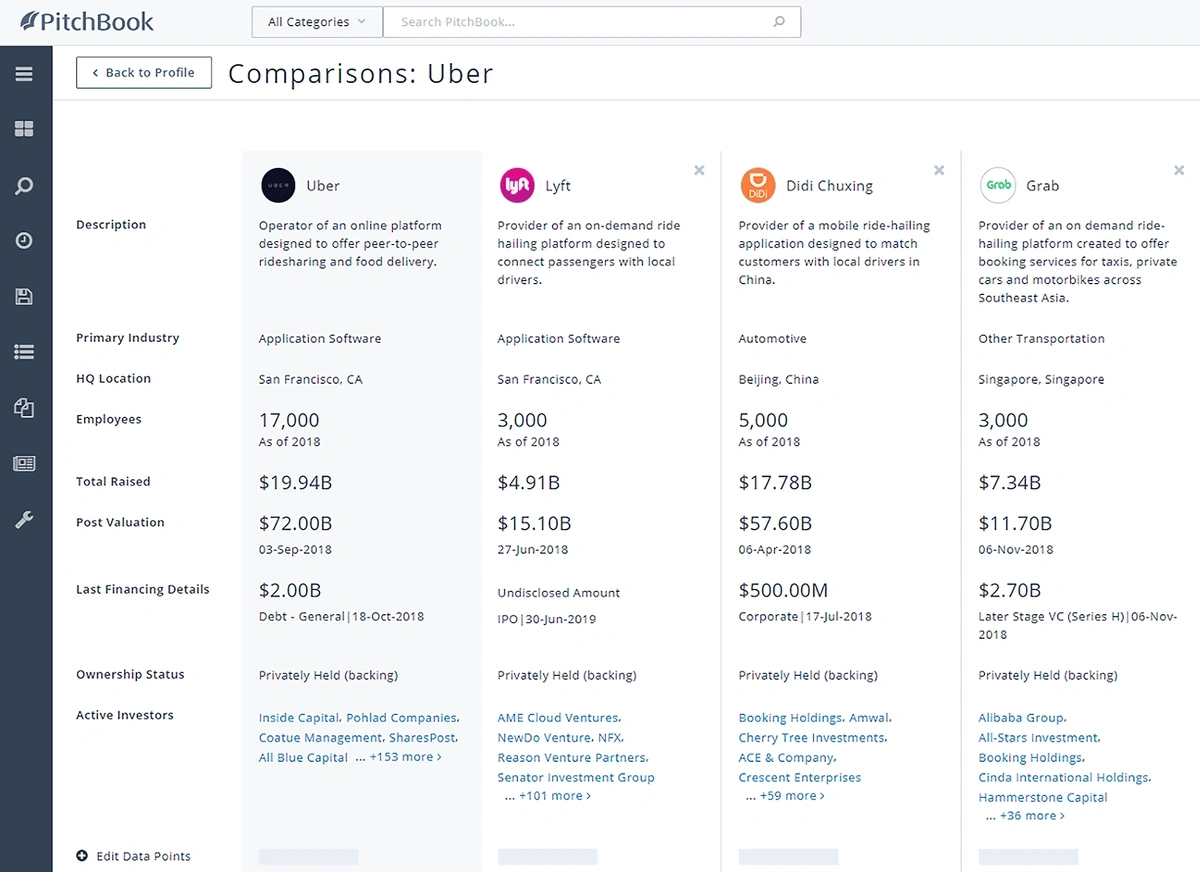 Data Visualization
With PitchBook, you can put together charts, maps, and graphs with its easy-to-use data visualization tools. With just one click, you can visualize important trends, valuation levels, investor information, deal activity, market maps, growing industries, and more.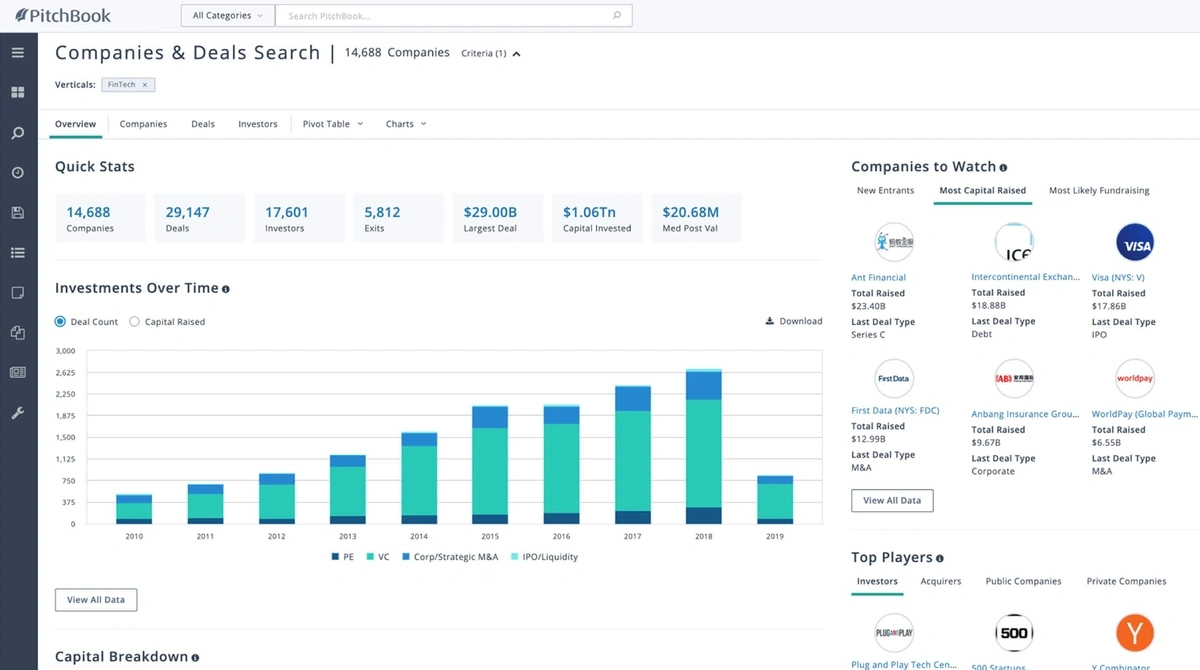 Mobile Access
Thanks to its mobile app, PitchBook enables you to access its data and tools anytime, anywhere, on any device. You can get insights on the go, such as quick stats at the top of every profile, and easily accessible contact information so you can make connections from wherever you are. Plus, you can sync your calendar to the app and get critical news updates.
Custom Alerts
Pitchbook's custom alerts feature helps you stay informed on events and changes related to the companies, industries, and deals that interest you. You can tailor your alerts according to your interests, choose how often you receive them, and get in-depth information about the involved parties, transaction values, and other key deal terms.
Collaboration Tools
If you'd like to share your saved lists with collaborators, you don't have to download, store, and share massive data files. Pitchbook simplifies the process by allowing you to invite the user directly to the platform. You can share lists, update in real-time, track changes, and set permissions for each invited user so you can collaborate more efficiently.
Research Center
PitchBook's Research Center is a hub for private market research that provides you with timely, institutional-grade insights and analysis. Its research is built on sophisticated frameworks that apply an investor-first approach, and it offers a variety of features to help you navigate the entire investment process. Whether you're looking for information on new investment strategies, benchmarking fund performance, or mapping company ecosystems, PitchBook's analyst-prepared research can provide you with the information edge you need to be successful.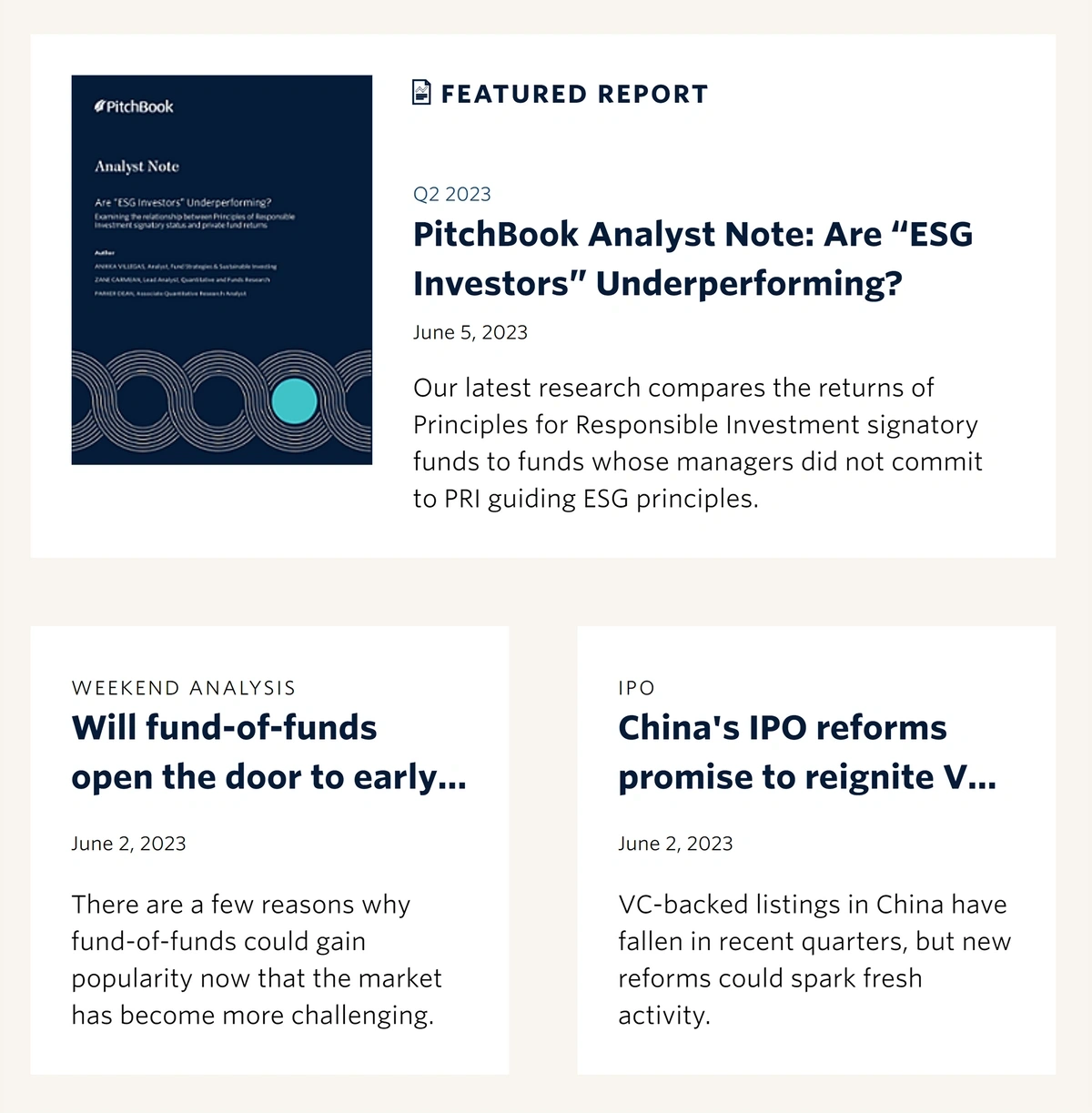 Chrome Extension
PitchBook's Chrome Extension allows you to access its data and analytics directly from your browser. With the extension, you can quickly and easily find the information you need to make informed decisions. You can also track companies, deals, and investors, and receive alerts on new developments without needing to switch between tabs.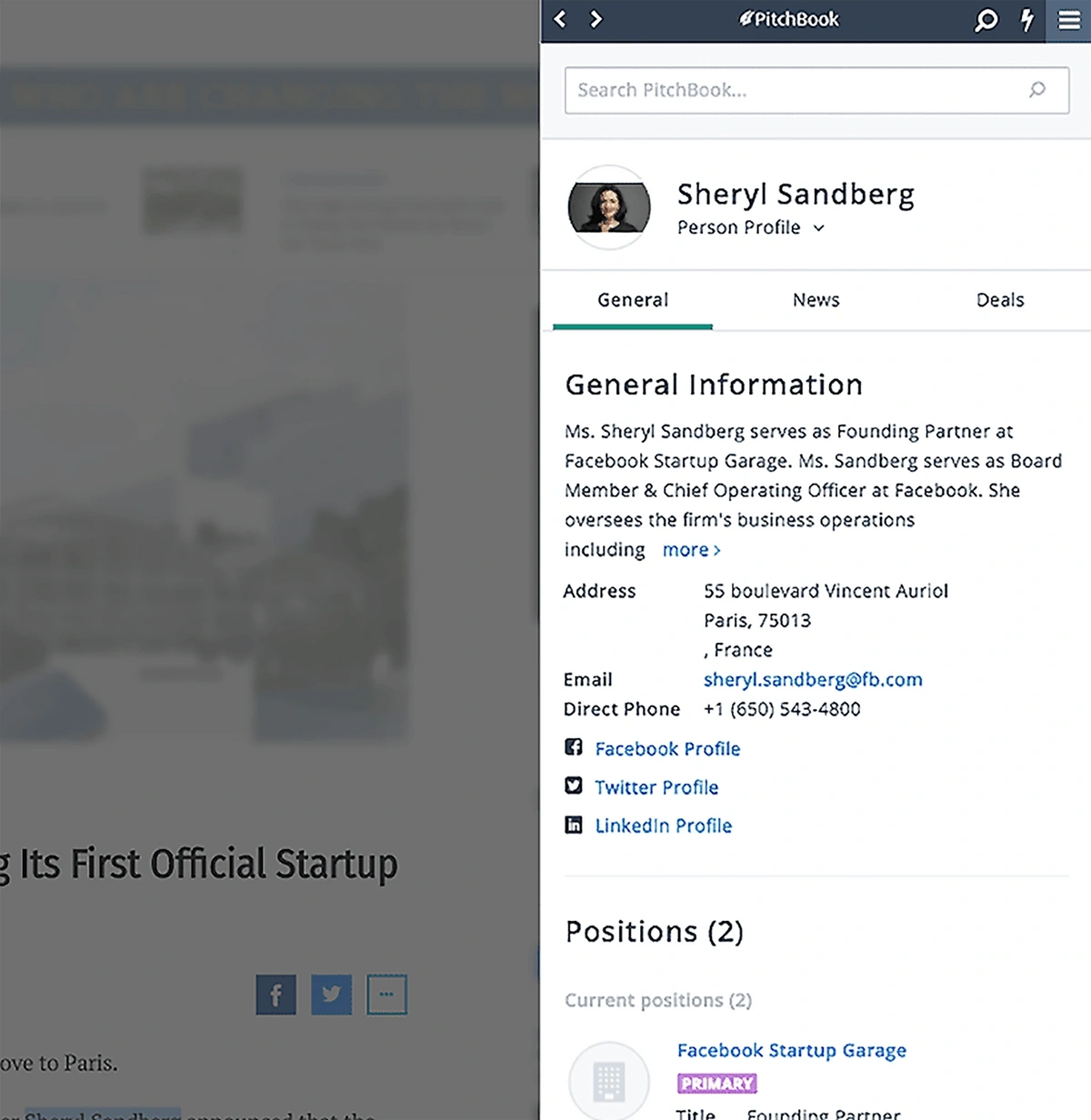 Private Company Database
PItchbook's private company database is over 220,000 companies strong, making it easy for you to filter and segment based on funding history, financials, and so on to help you easily find the next best investment opportunity that sets you up for success.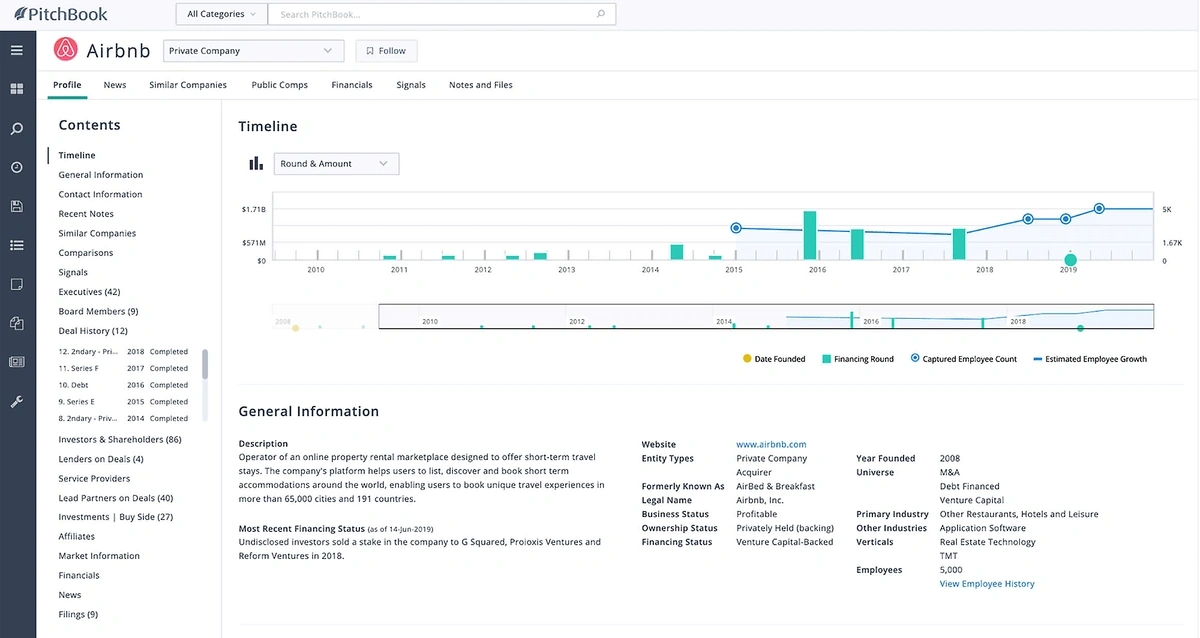 PitchBook: Reviews
Scores
G2 score: 4.3 out of 5 (based on 43 reviews)
TrustRadius score: 8.2 out of 10 (based on 38 reviews)
3 Things People Like
1. Accuracy and Comprehensiveness of Data
"This product provides huge customer investment details for a study which traditional fin service providers lack. Customization possibilities with industry and segment us available for display."
"The feature of Pitchbook that appeals to me the most is that it is a thorough database with details on several startups, financiers, and venture capital agreements."
"Fantastic and extremely thorough database for background research needed for M&A transactions. Ability to search within personal queries, investor links, company links, and other transactional resources is a tremendous advantage for us and our clients."
2. Highly Informative Reports and Research
"Pitchbook frequently publishes informative reports. These studies include in-depth analysis on subjects like the busiest VC firms, the most valuable startups, and the biggest VC transactions. The reports are a reliable source of information on the venture capital business because they are based on Pitchbook's extensive data."
"Pitchbook immediately improved my ability to research and find data and build visual graphs from the data. The industry reports from analysts and market reviews are beneficial in quantifying the VC/PE spaces and useful for pitches."
"Very robust information system. The reports and research offered very good summaries of industry dynamics."
3. Private Market Details
"Pitchbook is our primary data provider to help source private market funds and run essential investment screening. We have saved time and gained efficiency using this provider."
"Pitchbook has an extremely clean interface with an abundance of data available on private company and startup transaction data."
2 Things People Dislike
1. Out-of-date, Incomplete Data
"The data can often be stale and dated. Information such as contact information especially is unreliable."
"The material on Pitchbook is not always current or correct, so you might need to conduct further investigation to confirm the data you discover."
"The data for companies and investors is either incomplete, missing, or well out of date."
2. Learning Curve
"The vastness of the data is a little daunting at first, but is quickly forgotten as the user's comfort increases with each usage."
"Finding the information you need may take some time due to the difficulty of the navigation and search processes."
PitchBook: Pricing
PitchBook's pricing isn't public so, like most enterprise solutions, you will have to schedule a demo before proceeding. While some sources have indicated pricing to be around $12,000 per year per seat, we don't have a full picture of what exactly is included in that plan or how long of a commitment comes with it.
CrunchBase: Product Overview
CrunchBase is a platform for discovering innovative companies, people, and investments in the business world.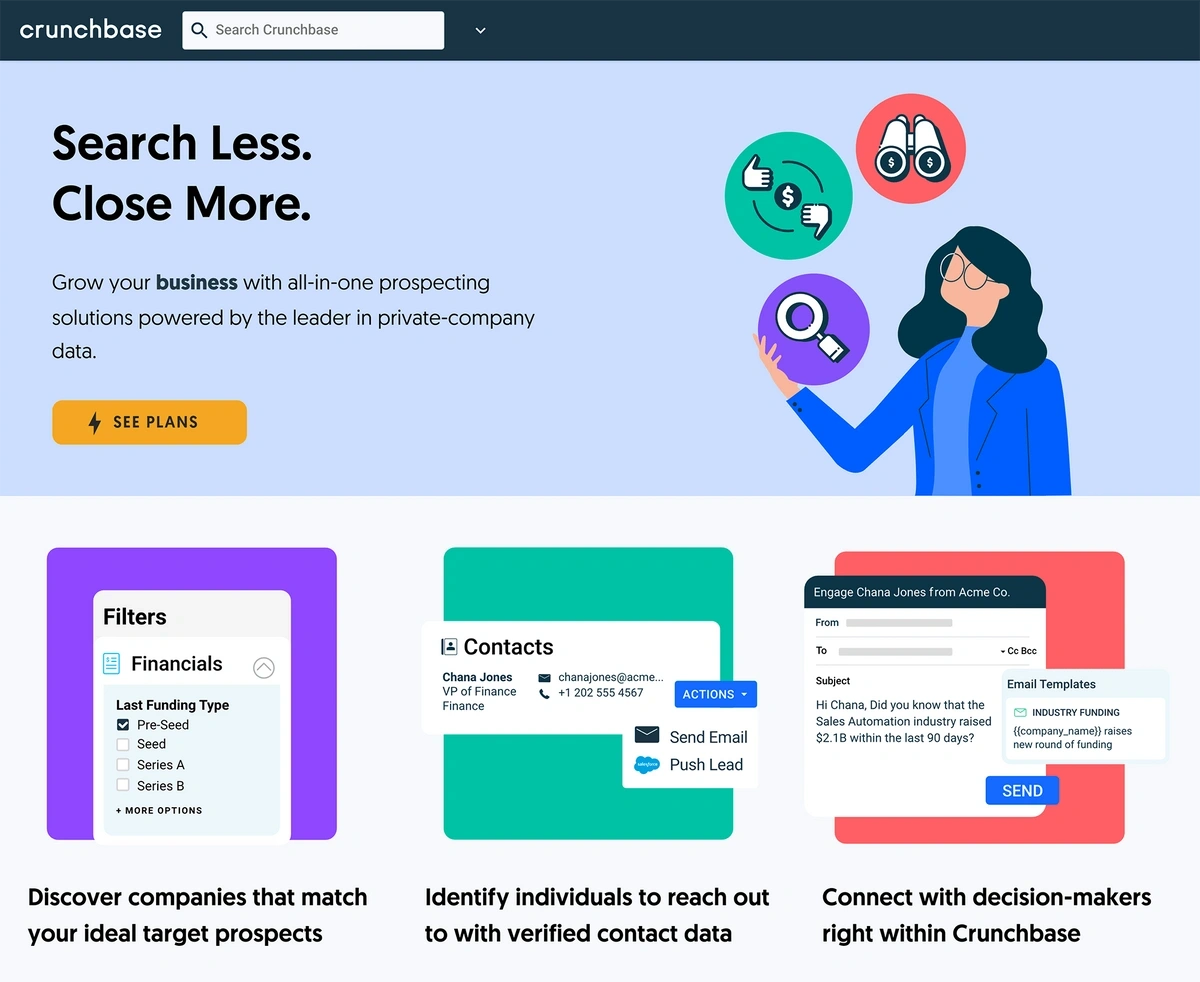 It provides detailed profiles on over 150 million organizations and more than 600 industry verticals to help entrepreneurs, investors, market researchers, salespeople, job seekers, and other professionals gain insights into the businesses they care about most.
With CrunchBase's comprehensive data sets and tools, users can gain a clear understanding of the markets they operate in, find new opportunities, and make smarter decisions.
CrunchBase: Key Features
Search Function
You can use up to 38 search filters in CrunchBase Pro to find specific companies that meet your criteria. The platform also makes it easy for you to dive into accounts similar to the ones you're searching for and compare similarities in insights like company size, location, funding stage, and revenue range to help you qualify more quickly. With Pro, you can also reach out to decision-makers right from within the platform using prepared templates.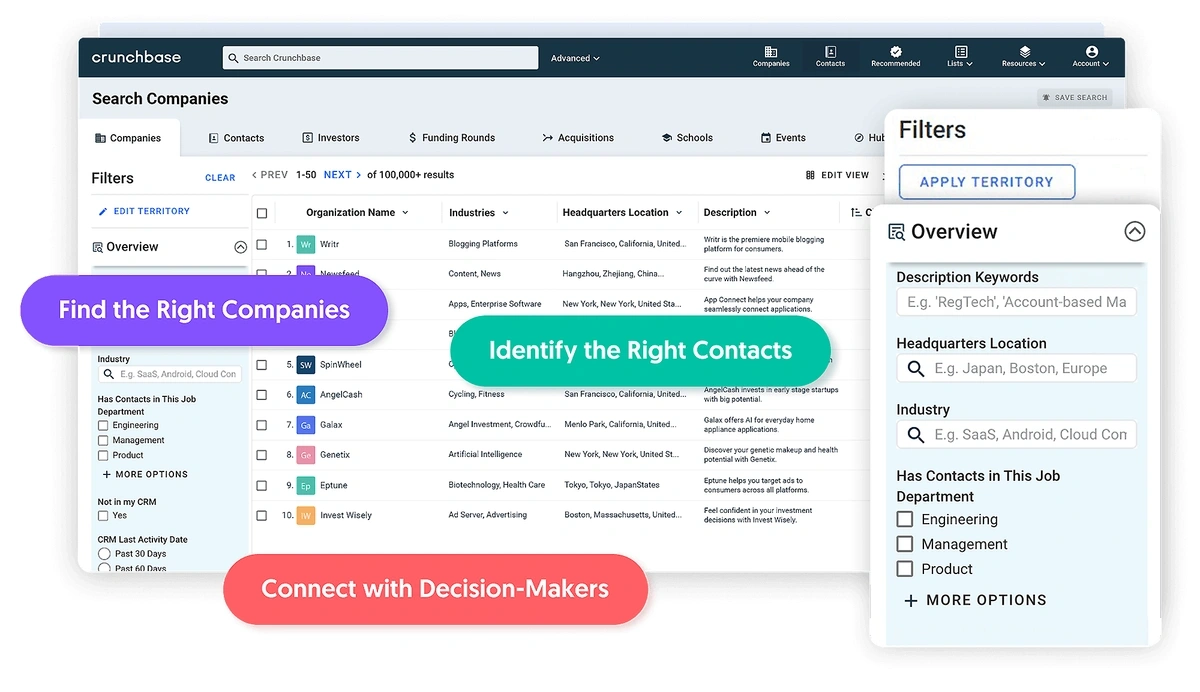 AI and Machine Learning Enrichment
To ensure that CrunchBase is using only the most accurate data, it combines AI machine learning with human verification. CrunchBase uses AI machine learning to identify potential errors in its data, such as typos, and missing or inaccurate information. Once potential errors have been identified, they are reviewed by a team of human reviewers for verification. The human reviewers review the information and make sure that it is accurate, and then they'll update the data in CrunchBase.
Recommended Emails
CrunchBase's recommended emails can help you stay up-to-date on the latest news and trends in the startup ecosystem, discover new companies, and save time.
Track and Set Alerts for Industry Trends
Keep track of industry trends and set up custom alerts so that you'll be the first to know about changes in the market and important updates about your industry. Once you have followed an industry, you will be able to see a dashboard that shows the activity of companies in that industry. The dashboard includes information on the number of companies in the industry, the amount of funding raised, and the number of news articles published.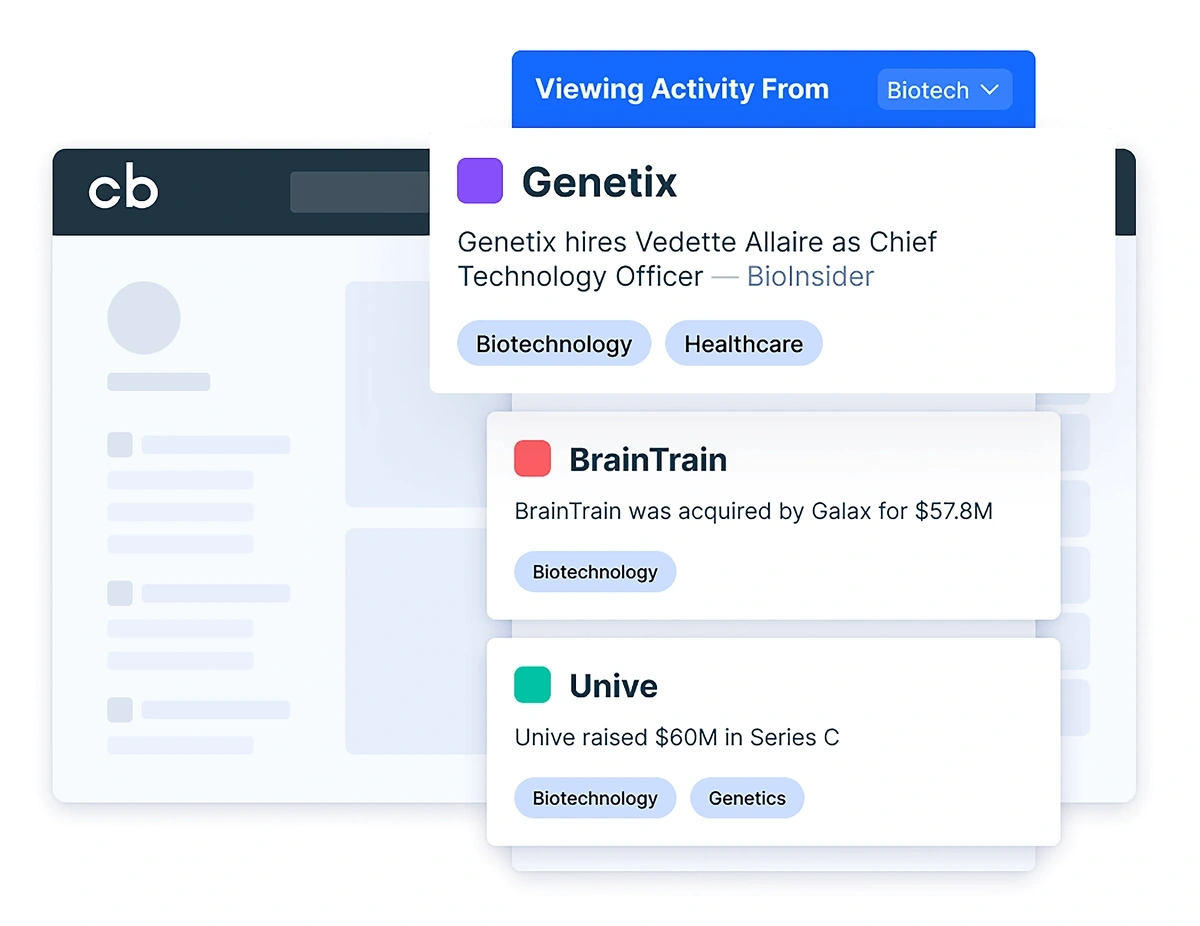 Track Your Portfolio
You can either build lists within CrunchBase or import them from a CSV so you can keep track of your portfolio, funding amount, and more.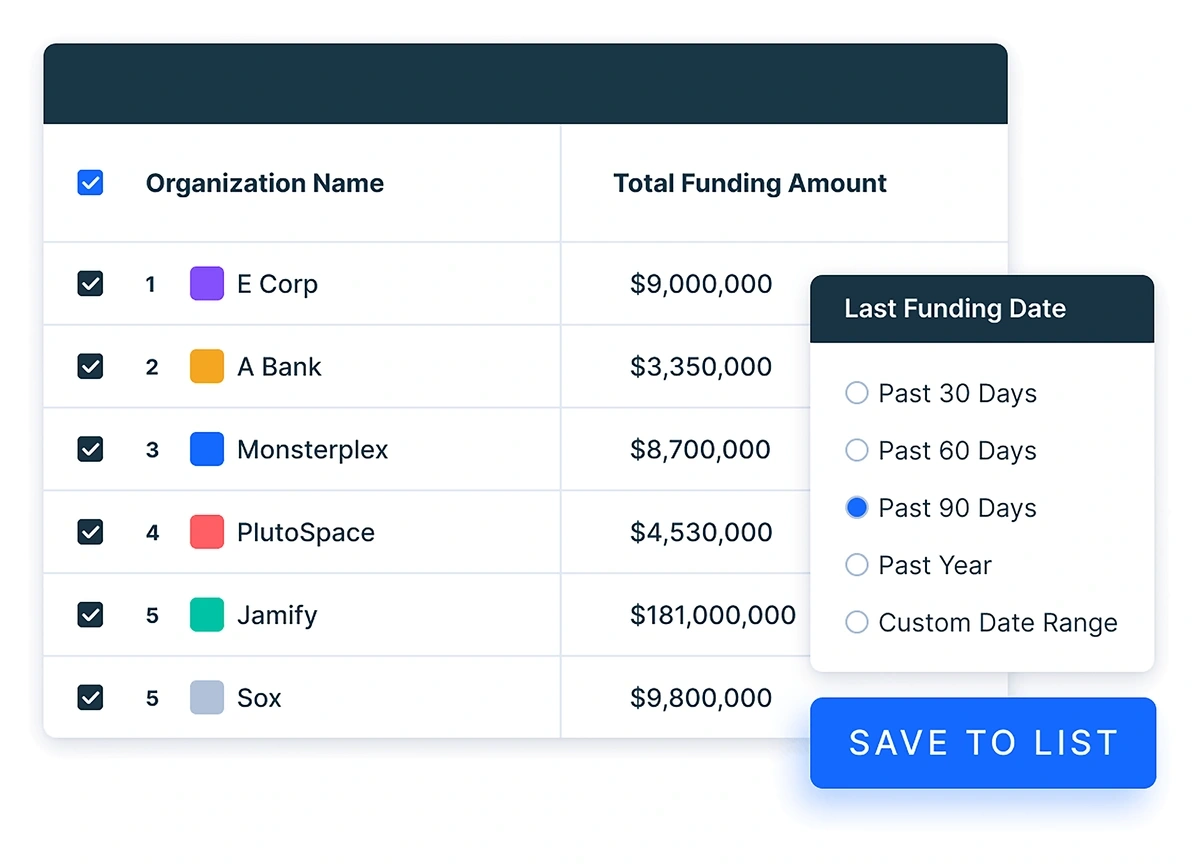 Insights and Analysis
CrunchBase provides investors with insights and analysis on the startup ecosystem through its blog, research reports, and data visualizations. This information can help investors identify emerging industries and opportunities, assess the risk and potential of a company, and gain a deeper understanding of the startup market.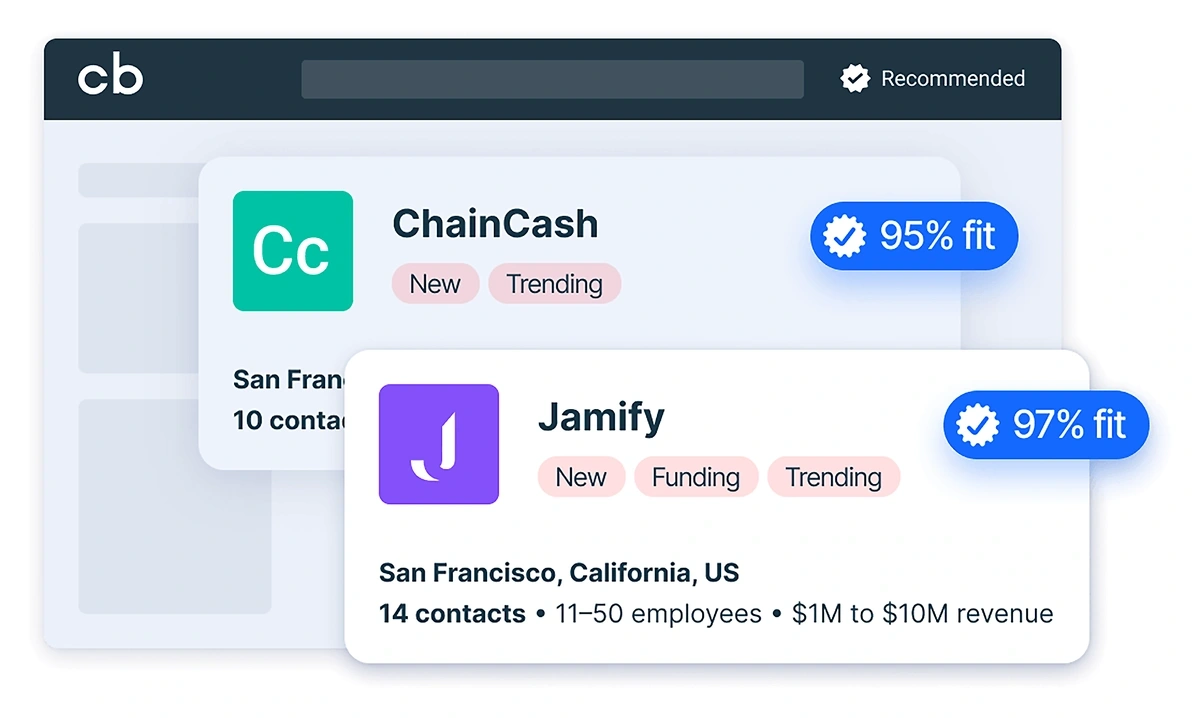 Active Community Contributors
CrunchBase's active community of contributors includes anyone who wants to help make CrunchBase the best resource for information on startups and venture capital. Contributors can add (or edit) new information to the database, such as company profiles, funding rounds, and news articles. In addition to making the data more reliable, it also helps to create a sense of community among users who are interested in the startup ecosystem.
CrunchBase: Reviews
Scores
G2 score: 4.5 out of 5 (based on 289 reviews)
TrustRadius score: 7.6 out of 10 (based on 54 reviews)
3 Things People Like About CrunchBase
1. Comprehensive Database
"It's an extensive database of information on companies, investors, and startup activity. This makes it a valuable resource for an analyst like me who is looking to keep track of the latest trends and developments in the startup ecosystem."
"I like CrunchBase's comprehensive company information, startup tracking capabilities and valuable investor insights."
"Provides a comprehensive database of information on companies, investors, and startup activity. This allows me to stay up to date with market trends while doing research."
2. Easy-to-use UI
"It is really easy to use, and the platform has a clean and intuitive interface, making it easy to find and access the information I need."
"The search functionality on CrunchBase is effective and flexible. I can search for companies based on a relevant variety of criteria, which allows me to quickly identify potential clients who are a good fit for our product."
"Great resource for finding detailed information about companies and their executives. It's comprehensive and user-friendly, with easy-to-navigate menus and search functions."
3. Extensive Search Filters
"CrunchBase provides a level of detail on each company which is helpful for refining the sales funnel. We can see their funding history, their leadership team, their competitors, and much more. This information helps me craft a more compelling pitch and understand the competitive landscape in which my clients operate."
"I like the filters CrunchBase provides to help build/map territories and discover new companies. There are many options to filter companies by industry and you can get pretty granular with the company / industry filters."
"I love that it helps me find new companies to send cold emails to in order to have new clients. There are a ton of filters you can use in order to find the exact type of company you want to find."
2 Things People Dislike About CrunchBase
1. Outdated or Lacking Data
"While CrunchBase does make an effort to verify information, there are occasional errors or outdated data that can lead to confusion or inaccurate conclusions."
"Some of the data is not always up-to-date or accurate. For example, I noticed that sometimes a company's funding history may not reflect the most recent round of funding, or a key executive's employment status may be out of date."
"Sometimes it doesn't have the information I need, like sometimes it won't list the round or amount of money invested, but I can find that information elsewhere (like another database or through press/social media)."
2. Pricing
"While CrunchBase offers many valuable features, some users may find the platform's pricing higher, particularly for its more advanced plans."
"Another thing is its pricing. I believe its pricing is too high compared to the value provided."
"CrunchBase follows a free payment system, but the price increase is quite significant once you decide to move from the free version to a paid one. It would be more desirable if you could make monthly payments instead of yearly ones and if there was a less expensive entry-level option for startups in their initial stages."
CrunchBase: Pricing
CrunchBase offers a free but very limited plan with the only requirement being that you need to register with an email address. This free plan allows you to preview CrunchBase profile pages to learn more. Otherwise, here are the paid plans:
1. Starter
$29/ user/ month billed annually
Track and monitor the companies you care about
Best for individuals
Free trial available
2. Pro
$49/ user/ month billed annually
Full suite of prospecting tools fueled by sales intelligence
Best for individuals and small teams
Free trial available
3. Enterprise
Contact sales team for pricing
Custom billing
A custom solution that scales as teams do
Best for large teams
PitchBook vs. CrunchBase: Detailed Breakdown
Let's have a closer look at how both platforms perform across specific areas.
Target Users
PitchBook might be a better fit for the following:
Venture capitalists

VCs require detailed data on private companies, including funding rounds, valuations, and financials. Pitchbook's extensive coverage of private market data makes it a valuable resource for them.

Private equity investors

These investors need granular details about deals, fund performance, limited partners, and more. Pitchbook offers data on more than 200,000 private market deals which can be instrumental in decision-making processes.

Investment bankers

Investment bankers often require in-depth information on companies, industries, and investors for tasks like lead sourcing, deal origination, and due diligence, so Pitchbook's detailed, verified data can be a crucial tool.

Angel investors

Although Pitchbook might be overkill for some angel investors, those who invest regularly and seek deep insights into company performance, competitive landscape, and market trends could find it useful.
CrunchBase might be a better fit for the following:
Angel investors

CrunchBase provides a vast array of information about startups, including founding members, funding rounds, and related news. It can be a great tool for angel investors looking to identify promising startups in their early stages.

Early-stage VCs

For VCs interested in early-stage startups, CrunchBase is an invaluable resource. It offers detailed data on these companies and can be used for prospecting and tracking potential investment opportunities.

Startup founders and entrepreneurs

While not investors in the traditional sense, startup founders and entrepreneurs can use CrunchBase to research investors, keep tabs on competitors, or understand market trends to better position their startups for funding.

Market researchers

For people looking to understand market trends or get a high-level overview of industries, CrunchBase's user-friendly interface and easily accessible data make it a convenient tool.
Key Differentiators - Quick Summary
PitchBook's key distinguishing feature is its in-depth, vetted data and analytical tools, making it more suitable for professional investors seeking comprehensive private market insights. Of course, this comes at a price.
CrunchBase's standout features are its startup-focused data, user-friendly interface, and affordability, making it more appropriate for those interested in early-stage companies or for users who value a simple, intuitive platform.
Private Market Data
PitchBook has the edge over CrunchBase because it's known for its extensive amount of private company information, a lot of which is simply unavailable anywhere else. If private company info is important to you and you have the budget, PitchBook is the way to go.
Ease of Use
CrunchBase has been noted by many to be easy to use while, in contrast, several reviewers have mentioned PitchBook's daunting amount of information and extended learning curve. If your priority is a simple, straightforward interface, CrunchBase is the better choice for you.
Data Accuracy
The thing about data accuracy is it's difficult to take two platforms and compare their data side by side. Perhaps the closest we can get is to look at users who have used both (but keep in mind, this can be highly subjective) and they seem to agree that PitchBook's database is more reliable, especially for private companies.
Pricing
CrunchBase is more affordable and has more transparent pricing than PitchBook, and many users have noted they chose CrunchBase over other platforms because of its value.
| | | |
| --- | --- | --- |
| | PitchBook | CrunchBase |
| Key differentiators | In-depth, vetted data and rich analytical tools, comprehensive private company insights | Affordable, user-friendly UI, tech and startup-focused data |
| Target users | VCs, private equity investors, investment bankers, angel investors | Angel investors, early-stage VCs, startup founders/ entrepreneurs, market researchers |
| Private market data | Extensive amount of private company information | More focused on startups and tech companies |
| Ease of use | Overwhelming amount of info, steep learning curve | Known for its easy-to-use and intuitive interface |
| Data accuracy | Typically more accurate than CrunchBase | Typically less accurate than PitchBook |
| Pricing | Custom quote only | Starting at $29 per month |
Conclusion
This detailed comparison was designed to help you make the best and most informed decision. Please feel free to check out each company's website for further information on features, benefits, and other finer details that we haven't covered here.
You may also find a third option beneficial, especially if you're interested in getting ahead of market trends.
Your Third, Bonus Option: Exploding Topics Pro
The third option is Exploding Topics Pro, a platform that helps you discover emerging trends will take off up to six months in advance. This is done through a series of AI-driven algorithms that detect trends that are then analyzed and verified by a human team of analysts.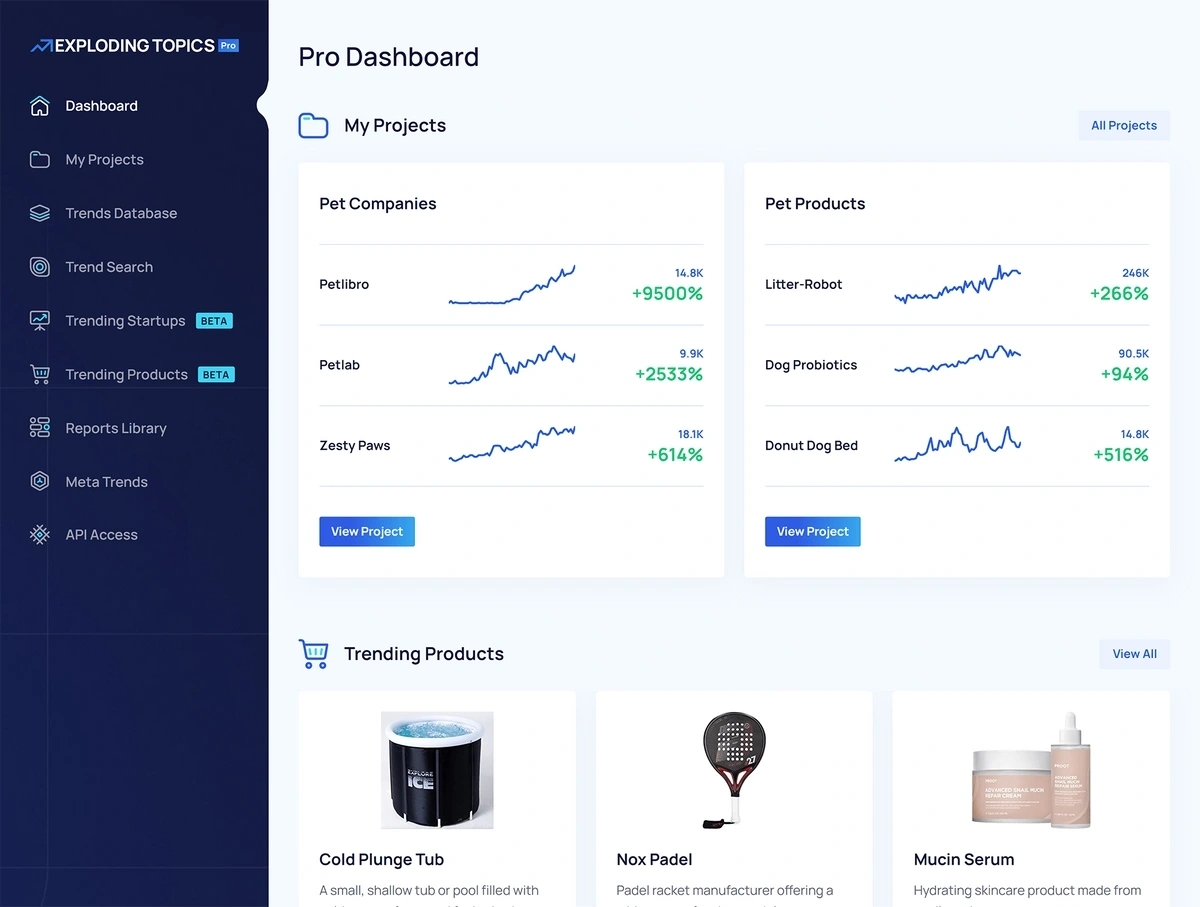 Exploding Topics Pro is the ideal choice for someone who wants to get in on that next great investment opportunity before anybody else. It offers detailed information on the companies or trends that are taking off, and is reasonably priced at $99 per month. With it, you can track trends, monitor meta trends in broad categories, or search its extensive trends database. This makes it an ideal supplement to incorporate into your strategy alongside CrunchBase or PitchBook so that you can track trends and companies in the platform you choose.