The Definitive Guide to TikTok SEO (2023)
Learn everything you need to know about TikTok SEO in this comprehensive guide.
In this guide you'll:
Understand how the TikTok algorithm works
Learn what kind of content will and won't rank
Learn how to optimize your TikTok content to rank better
Much more!
Let's dive in.
Contents
Chapter 1: TikTok SEO Basics
In this chapter, we'll cover the basics of TikTok SEO. What is it? How does it work? And what are the most important things you need to know as you get started?
What Is TikTok SEO?
TikTok SEO (aka TikTok search engine optimization) is the process of optimizing your TikTok content in an effort to rank higher for searches performed on the app.
Let's say you produce content about "parenting tips" or "how to play the piano." TikTok SEO strategies will help your videos appear at the top of the search results when someone types in those terms.
SEO can also help improve how well your content shows up in users' FYPs (For You pages).
Let's take this account as an example: @nanouasmrofficial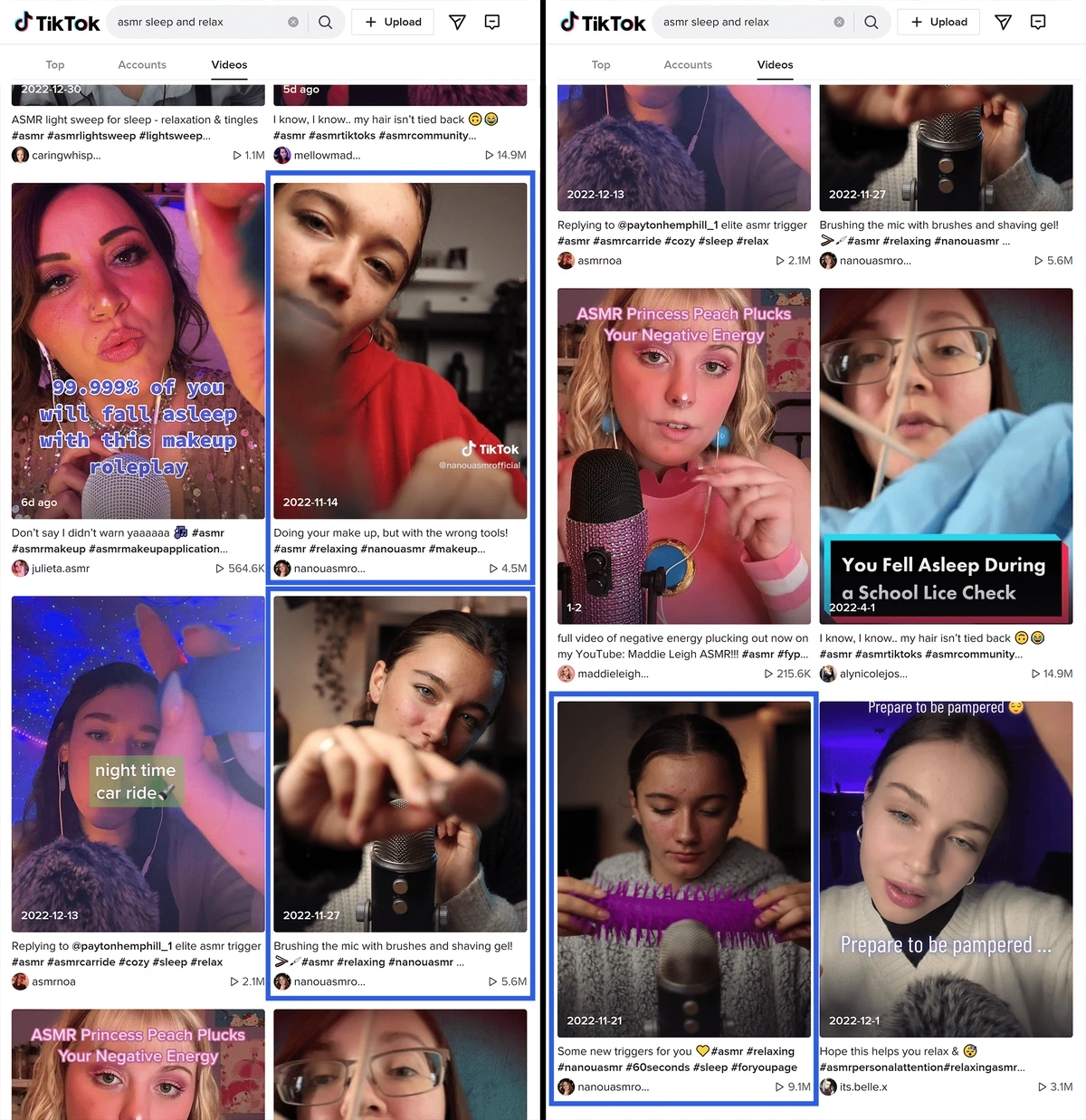 They hold three of the top ten results on TikTok's search for the phrase "asmr sleep and relax." Clearly, they're doing something right. A few things we can see right off the bat that they are doing well:
High engagement (likes, follows, comments, shares)
Hashtags
Good content
We'll dive more into TikTok ranking factors in the next chapter. But needless to say, engagement hashtags and high-quality content are key.
Why Is SEO Important For TikTok?
According to Google's own data, nearly 40% of Gen Z default to searching on TikTok and Instagram over Google when looking for a place to eat lunch.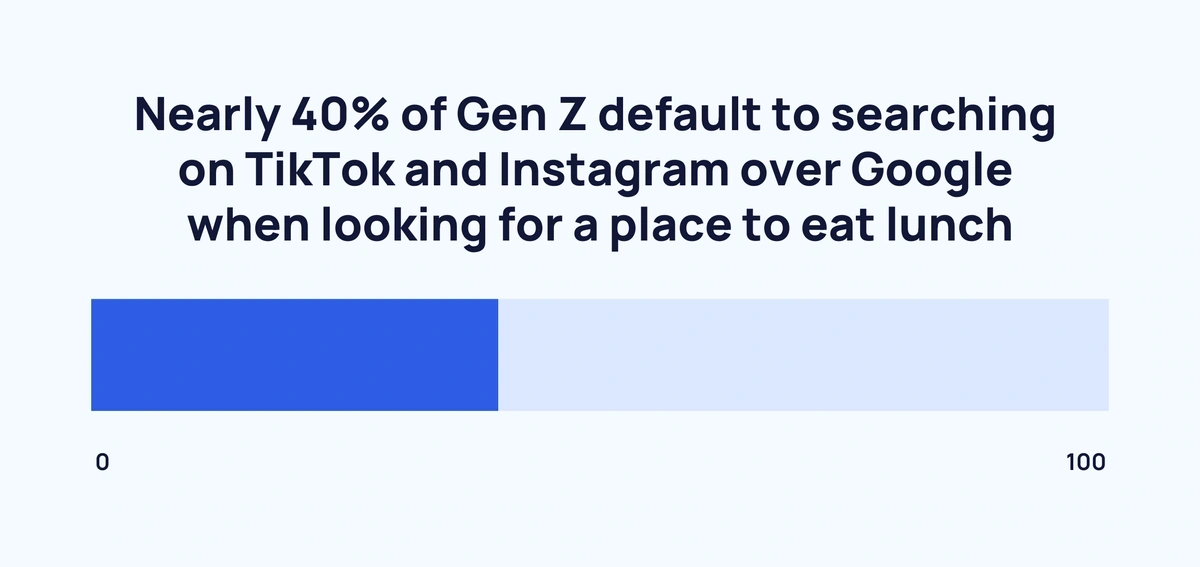 For many members of Gen Z TikTok is their go-to search engine. Instead of taking their searches to Google, they will go to TikTok to find educational resources for information on health, fashion, careers and more.
Because TikTok is such a widely used platform, with over 1.5 billion monthly active users, businesses also use it to create brand awareness and sell their products and services.
If you are trying to get more engagement on your channel, SEO is crucial for increasing your visibility on TikTok so it can reach your target audiences–whether that's customers or followers (or both).
Tiktok is only getting more competitive. From Q1 of 2018 to Q3 of 2022, TikTok's average monthly users have grown from under 100 million users per month to over 1.5 billion. And it's still accumulating more.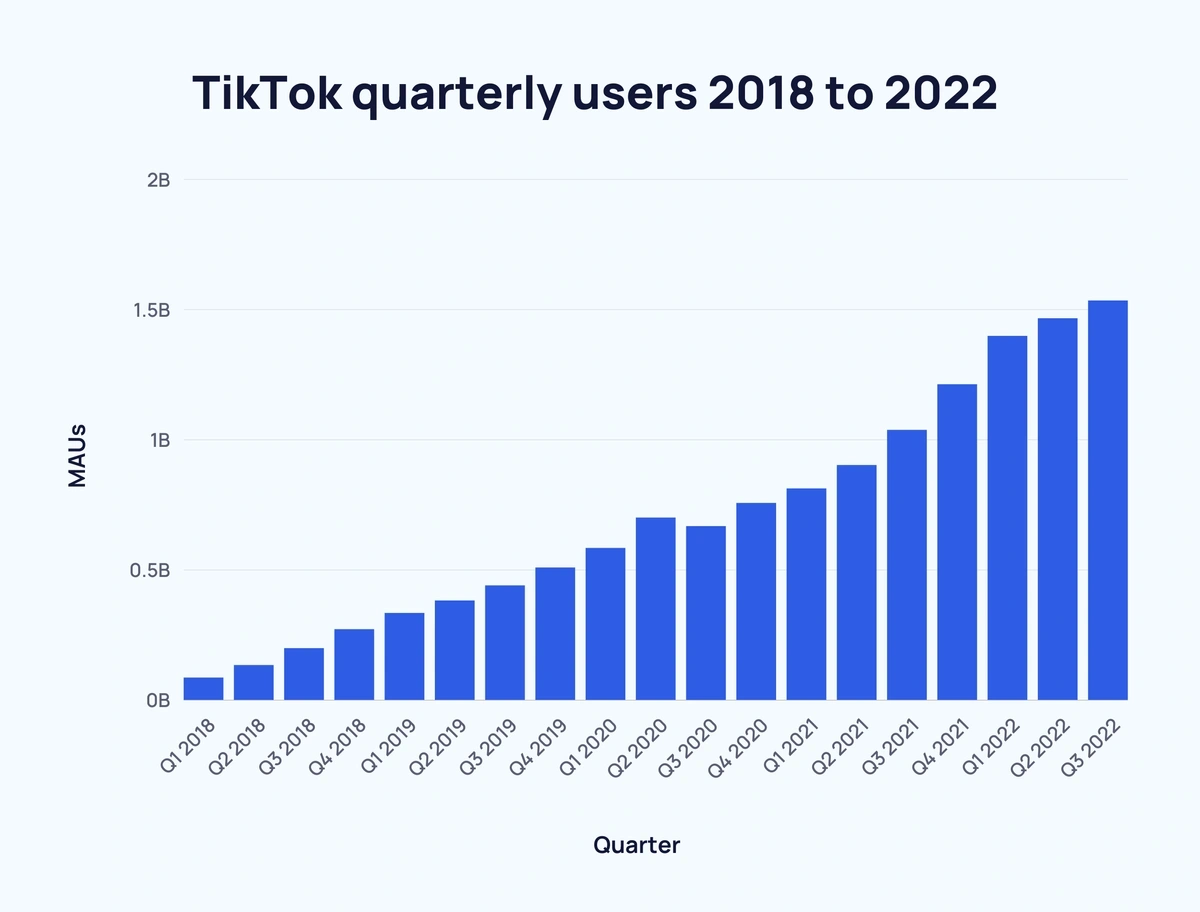 In short: if you want the right audiences to see your content, you need to engage in SEO tactics for your account.
Do Keywords Matter for TikTok SEO?
Even though TikTok is not quite the search engine Google is, keywords are still important when it comes to SEO on the platform. It can be extremely helpful to understand the terms people search to find content similar to yours. This will help you optimize your content to show up at the top of those search results and in relevant FYPs.
Below, we'll dive more into keywords and how to use them in your content.
Chapter 2: The TikTok Algorithm
Understanding the TikTok algorithm is important not only for SEO but also for getting your content onto the For You pages of relevant audiences. In this chapter, we'll briefly introduce the fundamentals of the TikTok algorithm before we dive into the specific ranking factors.
How Does TikTok's Algorithm Work?
Although TikTok doesn't publicly share their algorithm. We do know some of the high level strategies that they use to get relevant content in front of their users.
This process starts with demographics.
When someone creates a TikTok account, the app will show them content based on their demographics and location (if they've allowed it), along with any categories they've selected when setting up their account.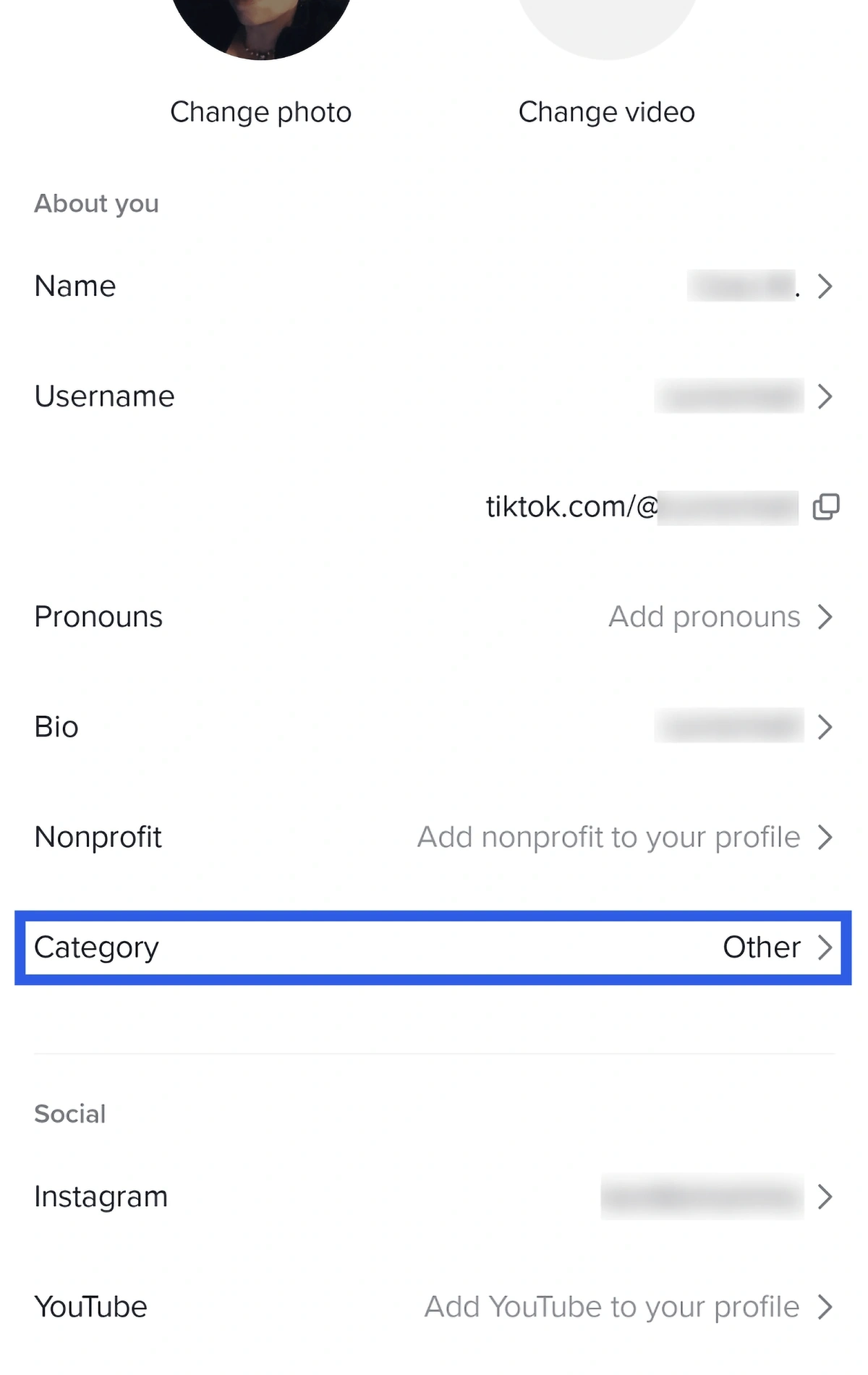 Let's say I'm a 21-year-old male in California. TikTok might start by showing me videos of women in bikinis, party games, how to make cocktails, surfing, and other similar videos solely based on my age, pronouns, and location.
Those things may or may not appeal to my interests. So how does TikTok get me to stay on the app?
As I start to interact with the app, scrolling past the content I'm not interested in and engaging with the videos that appeal to me, TikTok tracks that information. It starts showing me more content similar to the videos I liked and watched all the way through and stops showing me content that doesn't interest me.
For example, I've searched on TikTok, Google, and Pinterest for "how to make a snowglobe," and this video showed up in my FYP.
That's another cool thing about the TikTok algorithm–through the use of cookies, it can tie into a user's browser history from the various web pages they have visited across their devices. TikTok takes this information to further curate an experience tailored to each user's interests.
The more a user engages with the app, the more TikTok learns about that user so it can create the perfect stream of entertainment in their feed.
So, the primary goal for marketers should be to appeal to their audiences to get more engagement on their videos. We'll discuss this in more detail in the next chapter.
Chapter 3: TikTok Ranking Factors
Ranking factors come into play in two areas: the search function on TikTok's app and the For You pages.
In this chapter, we'll cover TikTok's ranking factors–what they are and their importance in helping your videos show up in these two crucial locations.
Video Engagement
Video engagement is HUGE for TikTok SEO. If users aren't interacting with your content, your videos aren't going to get much traction.
But what counts as engagement?
Engagement with your content includes any of the following:
Watching your video all the way through
Liking your video
Saving your video
Following your page from your video
Clicking on your page from your video
Sharing the video
Leaving a comment (even negative comments can help increase engagement and visibility, though that's probably not a goal we'd recommend)
As you can see, there are many ways people can interact with your content to help boost its visibility in both the search and FYPs. It's your job to create content that will inspire people to interact with it.
Video engagement on TikTok is the primary factor you should focus on. The more engagement your content gets, the more people it will reach. And that's how a video can snowball and go viral on the platform.
Take this TikTok from Lizzo, for example.
Not everyone will have Lizzo-level engagement, but it's a great example of a high-engagement post, and that's what you want to aim for.
And the biggest way you will get high engagement like this (or as close to this as any non-Lizzo account can hope to achieve) is to hone in on your target audience and the kind of content they like to see.
Discover Tab Engagement
TikTok has a Discover tab on the app. This is basically its search engine.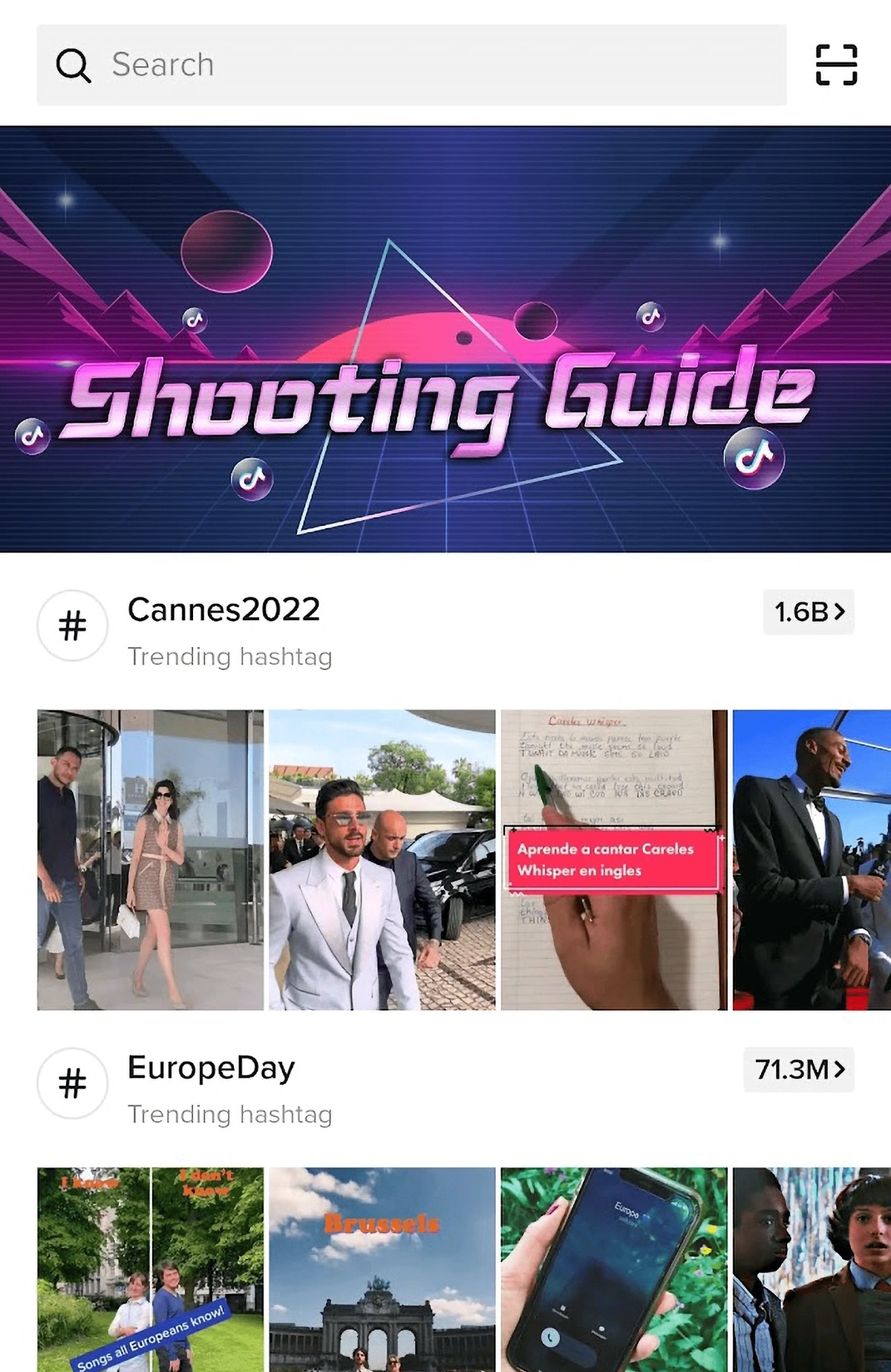 Users access this by tapping on the search icon in the top right corner.
This search page is where you want your content to rank well. Plus, ranking well in searches here can help you show up better in your ideal audience's FYPs.
When users input search queries on the Discover tab, TikTok watches that. It pays attention to the key phrases people search for, the hashtags they click on, and the trending topics they peruse.
The Discover tab also recommends specific topics users may like based on their search history and the videos they watch.
One key takeaway you can gain from this chapter is that the better your content ranks on this Discover tab, the more opportunities it has to reach the right audiences.
Optimizing your TikTok content for search can help you achieve that. So keep these other ranking factors in mind, and don't skip our chapter on how to optimize your content.
Let's look at an example of showing up well on the Discover tab.
This post is from a local business owner who shares content about the work he does every day. And it got a lot of attention. He has almost 27,000 followers, and this video alone received nearly 12,000 likes.
From sharing content that appeals to his target audience of homeowners, builders, and contractors, Built By Travis has amassed great engagement and shows up at the top of the TikTok search results for "concrete cracks repair."
Content of Your Videos
The actual content of your videos is the primary factor that drives good engagement rates.
Which is why it's important to plan well-thought-out content.
As TikTok has stated, its mission is to "inspire creativity and bring joy."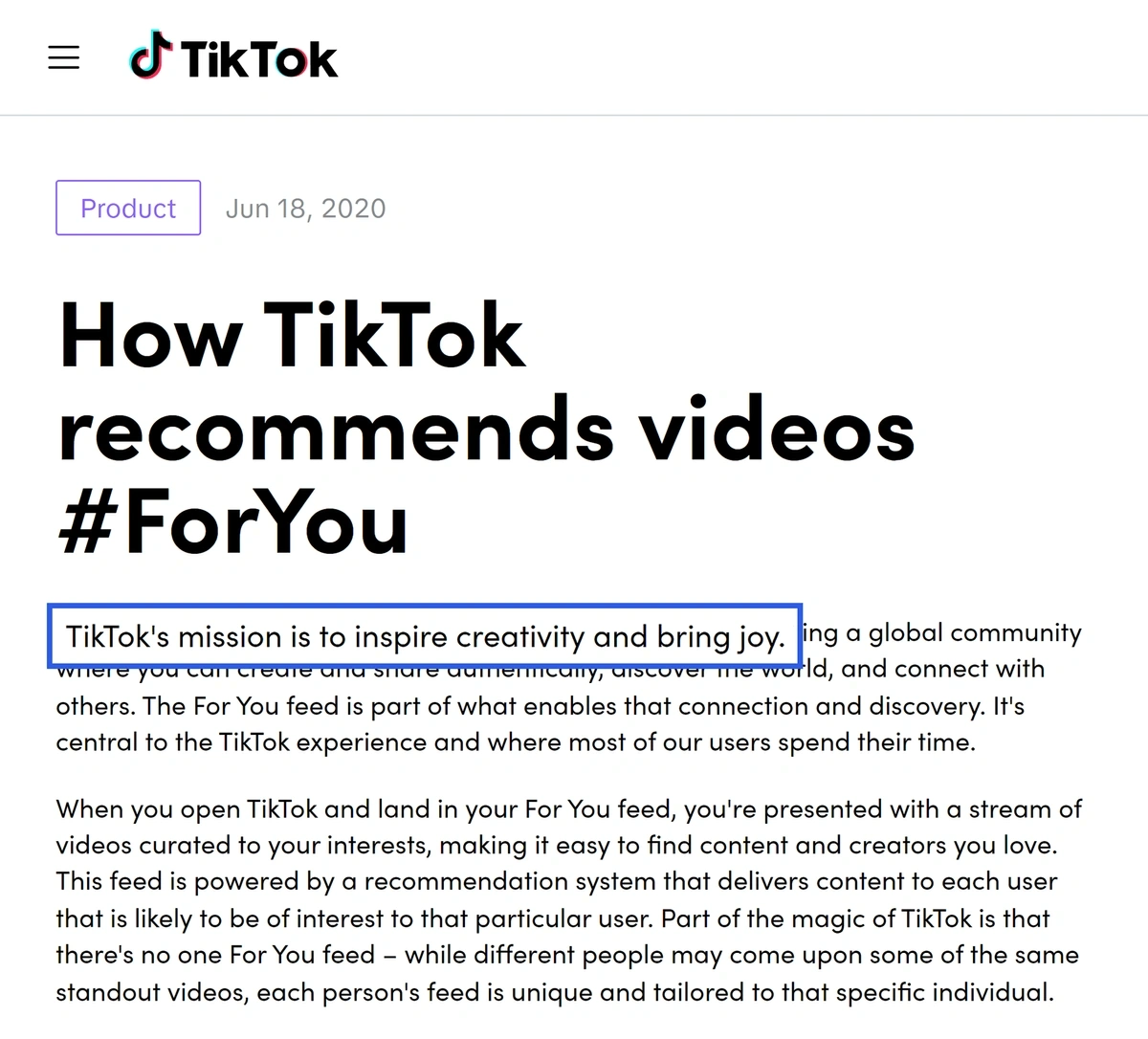 And they will only achieve that if their users enjoy watching the content on their platform. Therefore, TikTok prioritizes showing content people enjoy and want to see.
Beyond the videos themselves, other aspects of each TikTok that can impact a video's rankings include:
The audio
TikTok sounds
Text over the video
Title and hashtags
Titles, hashtags, and text over the video are great places to include keywords and more information about your video. TikTok considers this content to help provide more relevance to the topics it shows.
A great example of adding more content to your posts is this video I found when searching for "lazy lunch ideas for work."
They use the text overlay feature to add more context to the video, like "lazy girl work from home lunch idea," "let's make a buffalo chicken wrap," and "only two minutes of prep."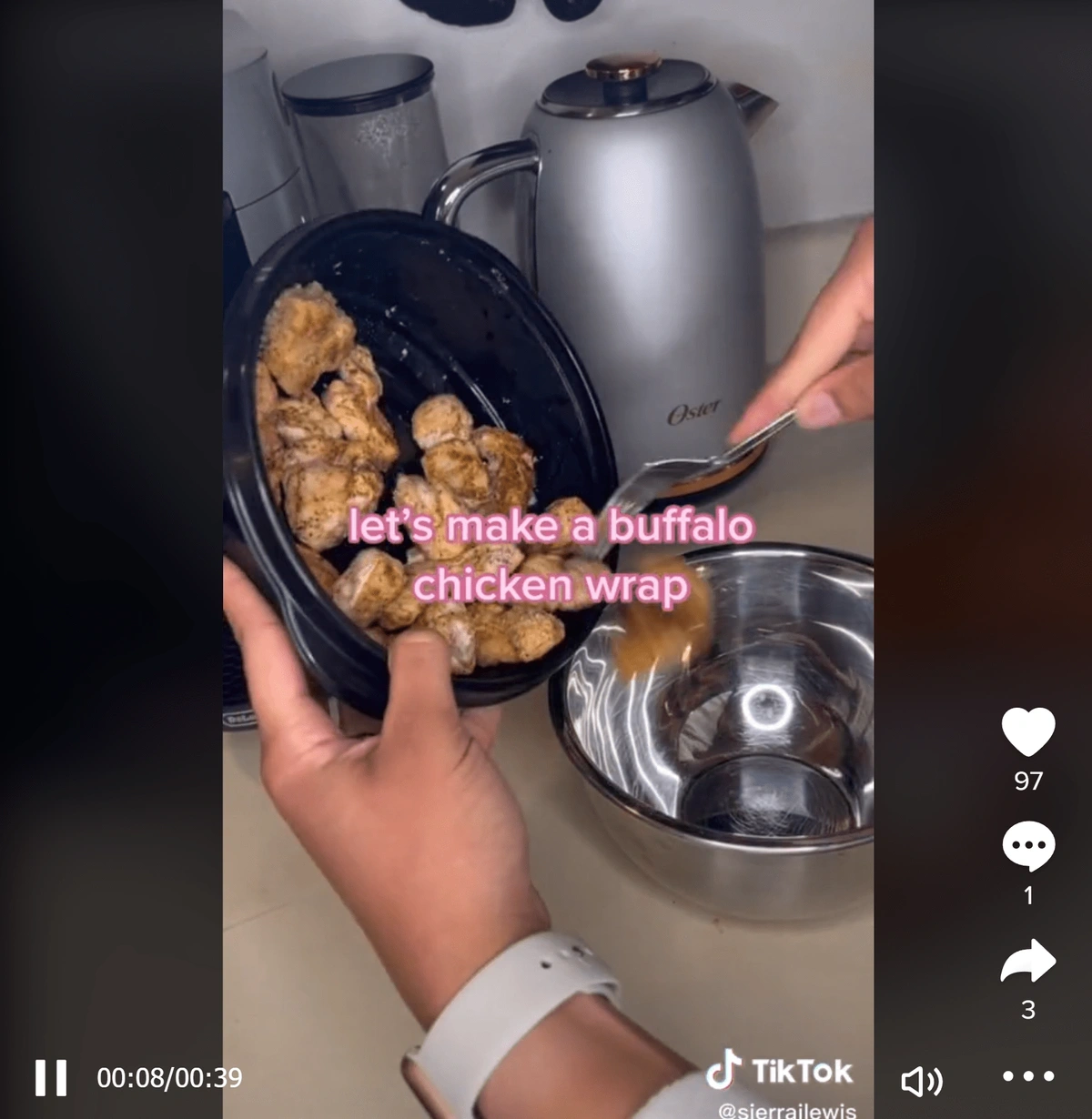 They also use their description/title and hashtags to give the user more information about the video. In this case, they are telling us that we can find instructions and ingredients at the end of the video.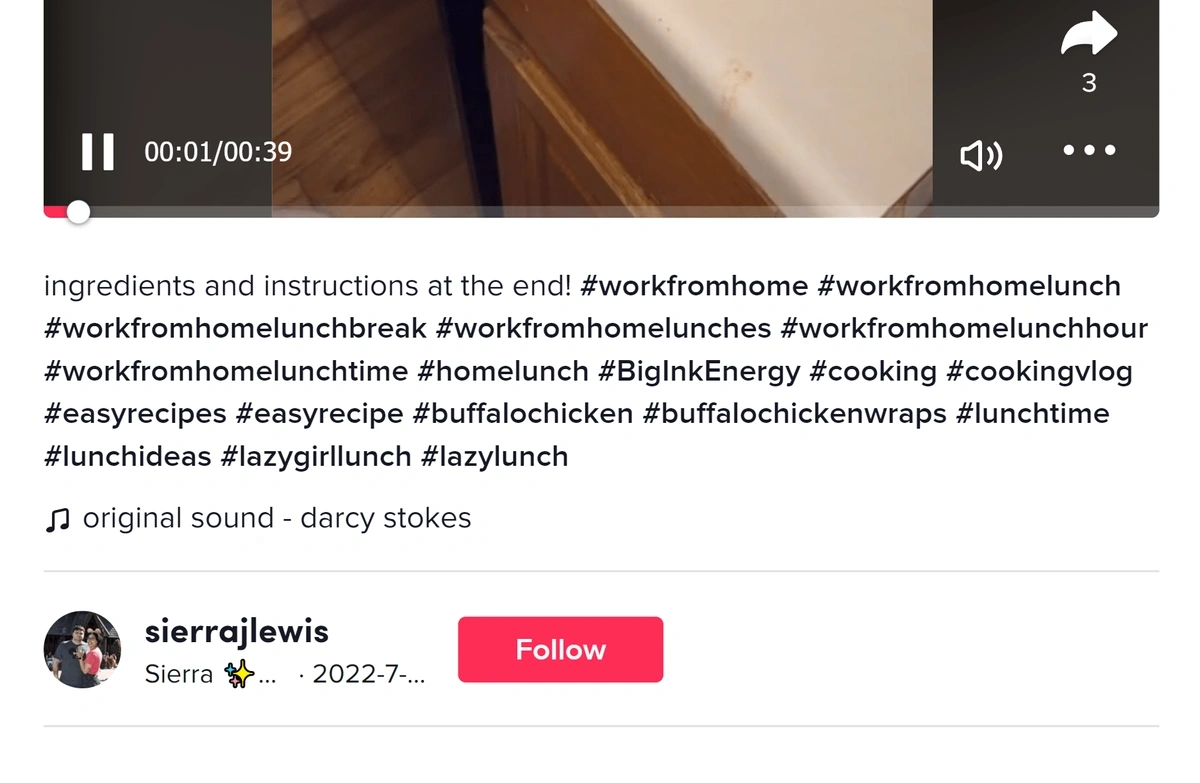 That's helpful information to keep their viewers watching.
The audio and TikTok sounds in the content are also important to consider. Trending audio clips will make their way through the TikTok-verse. Finding opportunities to use those in your own videos can help improve your TikTok rankings.
One example in the millennial sphere is the "Teenage Dirtbag" sound. It's also a trending hashtag. #teenagedirtbag
Even Bill Nye hopped on this trend, and it became his 7th most-liked post at 2.2 million likes.
Find opportunities to create posts around trends that resonate with your primary audience.
Language of the Content
TikTok is worldwide, so of course, it caters to dozens of different languages.
Specifically, TikTok will show content to users in their preferred language on the app. It will also prompt users to select the languages they understand so it can curate content that might interest them, even if it isn't in their primary language.
Device Suitability
With the vast array of devices out there, TikTok must consider each user's device when showing content to them.
Some things that come into play here:
Mobile carrier
Time zone settings
Operating system
Model of the device
Network type
Screen resolution
Audio settings
State of the battery
Slower and older devices may be shown shorter and lighter videos to help prevent excessive load times and keep a good overall user experience.
Think about your primary audience when creating your content. Would they have newer devices that can handle longer videos? Or would most of them have older phones that need lighter content to perform better?
Proximity Between Creators and Viewers
TikTok tells us that the physical location of creators and viewers is a weaker indicator in its algorithm than whether a user watches a video from beginning to end, but there is still some weight here.
Like with local SEO, your physical proximity to the people viewing your content can impact who sees your videos.
For example, I have a friend who was traveling in Germany recently, and a video from a German band showed up on her FYP:
Your physical location can definitely impact who sees your content.
The level to which TikTok tracks proximity between users isn't totally clear, but TikTok can track location through SIM card data, IP address, and even GPS if permissions are granted.
Native Content Creation
Native content creation means that you're creating content using TikTok's app. Rather than pre-recording something with your phone or camera and then uploading it to the app, you'd create content directly on TikTok.
Note that native content isn't an official ranking factor from TikTok. But seeing as other social media platforms tend to favor native content, it doesn't seem like a far stretch that TikTok would too.
TikTok themselves even shared data that companies that used its creative tools saw 14x more engagement than those that didn't.
What TikTok Doesn't Consider a Ranking Factor
Your number of followers is one key factor that looks good on your account but does not directly contribute to how well your content ranks.
That said, gaining followers is still helpful because those who follow you are more likely to see your new content.
It's just that having a large number of followers won't give your content an automated boost.
The reason for this is that TikTok wants to have variety and diversity in each user's FYP. So, it might show someone a video from an account with few followers or likes. It does this to allow users to discover new content creators and experience new perspectives as they scroll through their feeds.
When this post came through my feed, it only had 3 likes and 1 share, and the user only had 173 followers. This is the perfect example of TikTok trying to diversify my FY feed with content that isn't typically on my radar.
The takeaway: Strive for great content that engages new users rather than the sheer number of followers you have.
Chapter 4: What Kind of Content Won't Rank on TikTok?
TikTok designed its algorithm with trust and safety in mind. To curate an enjoyable experience, TikTok wants its users to feel safe as they scroll through content.
So if any content is suspected of going against its Community Guidelines, it won't rank well or will be removed altogether.
Here's a list of some of the big issues as far as Community Guidelines are concerned:
Anything that perpetuates abuse, harm, endangerment, or exploitation of minors
Dangerous acts and challenges (including inappropriate use of professional tools and equipment)
Anything that depicts, promotes or normalizes suicide, self-harm, or eating disorders
Adult nudity and sexual activities
Bullying and harassment
Hateful behavior
Violent extremism
Spam and fake engagement
Impersonation (this does not include content that is clearly a parody, commentary, or fan of the entity which is being imitated)
Harmful misinformation
Illegal activities and regulated goods (including firearms, drugs, controlled substances, alcohol, and tobacco)
Violent and graphic content
Copyright and trademark infringement
Another type of content that TikTok specifies will not make it onto FYPs is "unoriginal, low-quality, and QR code content."
Unoriginal content includes content that is copied and uploaded from other sources, like TV, movies, or webcasts–without the addition of creative edits.
Low-quality content generally consists of super short clips, static images, or gif-based videos.
And any content that includes a QR code is ineligible because it could lead to harmful websites or apps (although, in low-risk situations, there are sometimes exceptions to this).
Make sure you contribute to TikTok's overall mission of creativity and joy by providing valuable content for your audience, and avoid these Community Guideline no-go's.
Chapter 5: How to Optimize Your TikTok Videos for SEO
In this chapter, we'll give you actionable steps for optimizing your TikTok content. You'll want to implement these strategies to improve your content's visibility on the app.
Time to get into it.
Know Your Audience
Before you start creating a ton of content for your TikTok channel, you need to hone in on the audience that you want to reach.
Some questions you should ask:
Who are they?
What are their interests?
What do they like?
What do they dislike?
What kinds of problems do they have?
The answers to these questions will help drive the content you produce. Once you understand your audience well, you can produce quality content that speaks to their needs, wants, and emotions.
Here's an example of a TikTok user who really understands her audience: @elysemeyers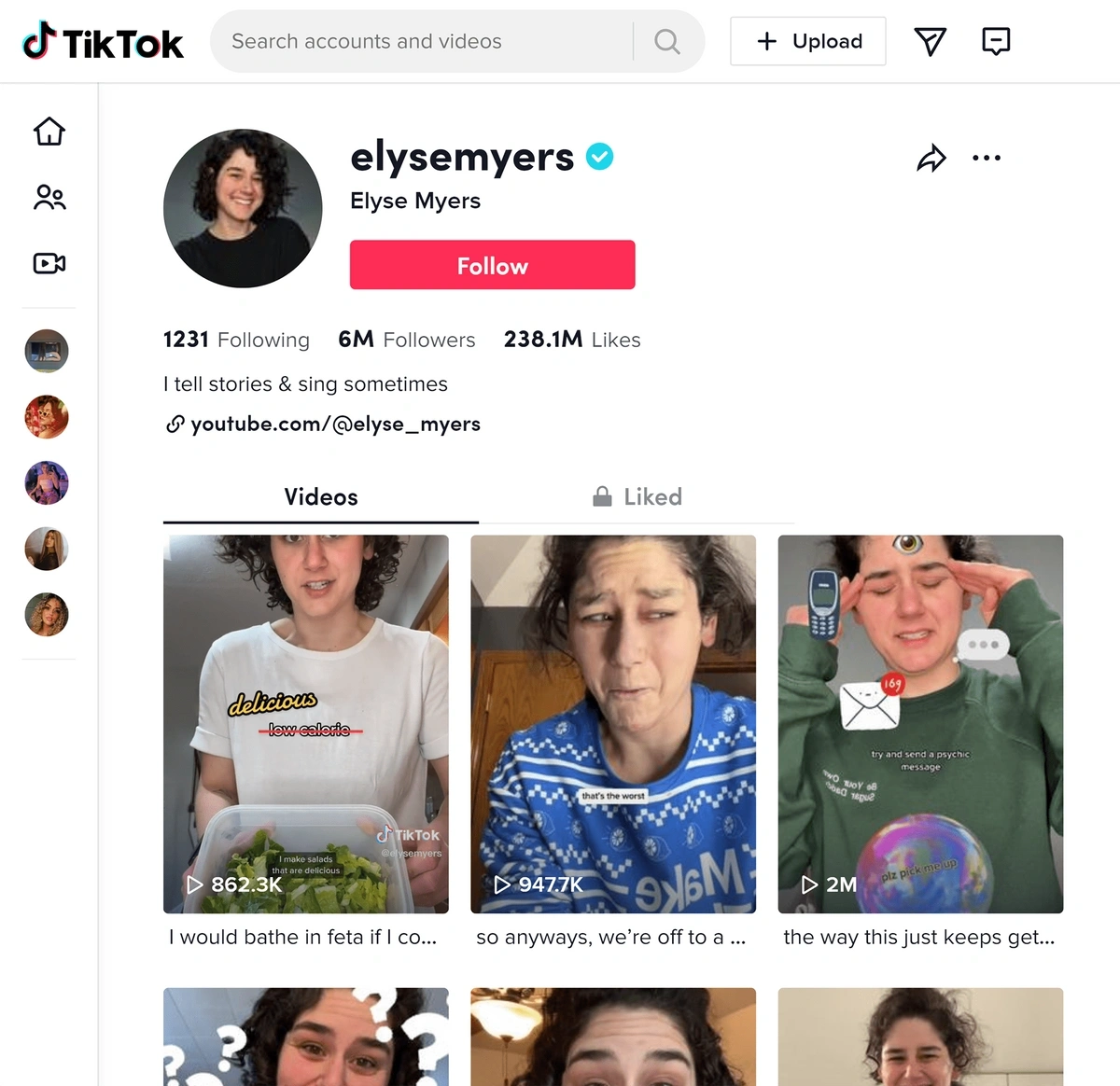 Elyse gained her name to TikTok fame with a hilarious video where she recounts her worst date ever; the guy made her buy 100 tacos from Taco Bell.
Since then, her account has blown up.
She has continued to produce comedic content similar to this post, and her followers can't get enough. She also promotes mental well-being and compassion through her content, another niche that she has honed in on. She currently has over 5.9 million followers, with an average of 1.6 million views on each of her ten most recent videos.
Perform Keyword Research
Keywords are the phrases a user types when they perform a TikTok search, like "easy crockpot recipes" or "how to do a kickflip."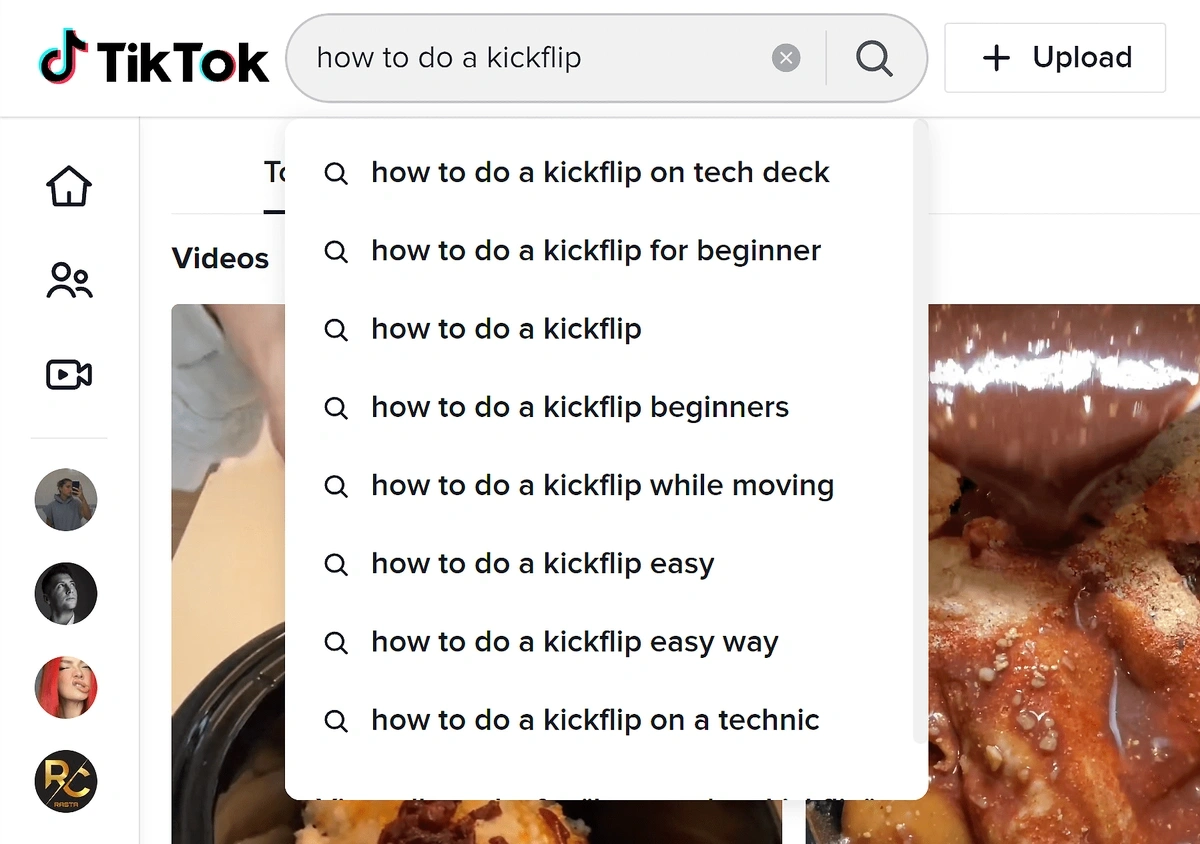 And keywords are just as important in TikTok SEO as they are in traditional (Google) SEO.
As you start to plan your content and generate ideas about what you want to create, do some keyword research.
To do this, go on TikTok and look up the keywords that are relevant to your content ideas. Also, look up other keywords your audience might be searching for.
As you perform a search, you'll notice that TikTok automatically generates some ideas based on the phrases you are typing. This can give you more ideas about the specific keywords users search for.
Let's use the "easy crockpot recipes" example. In this first screenshot, I typed the word "easy," and I'm already getting keywords generated based on that word.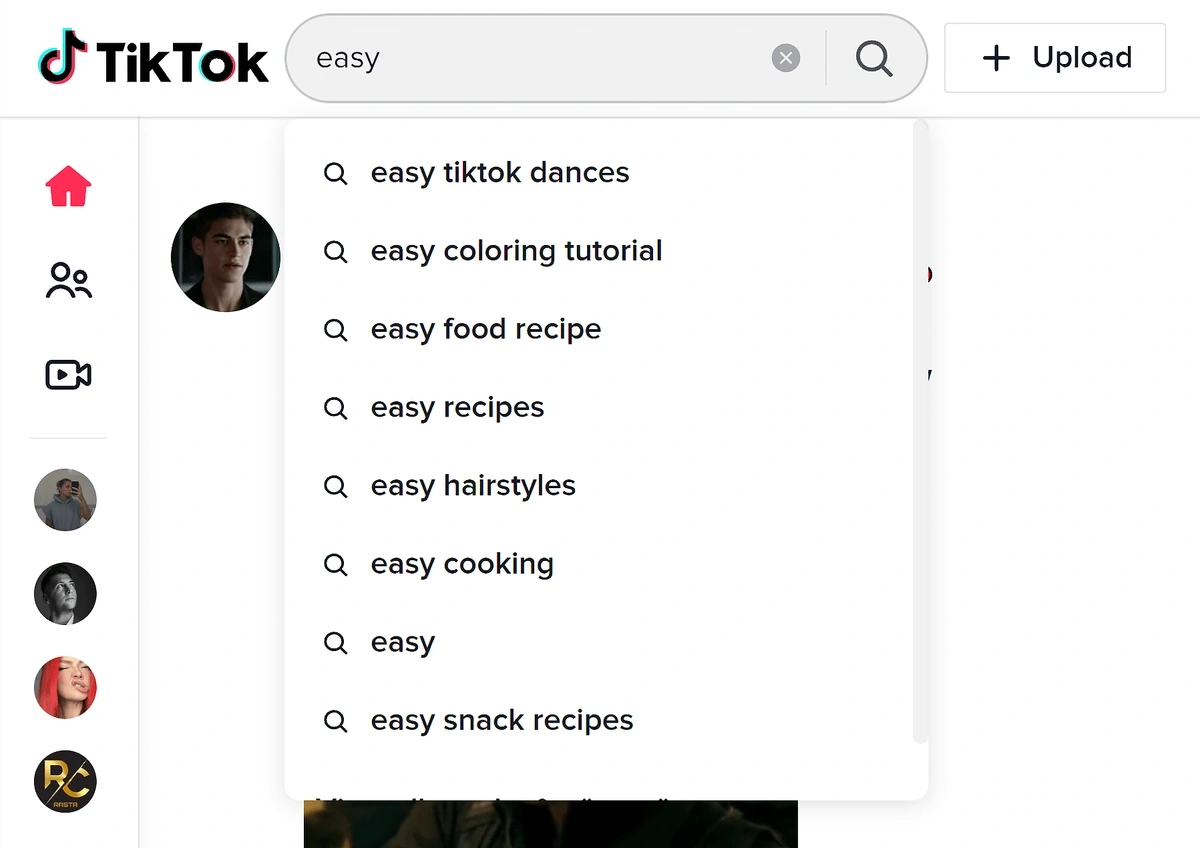 Now, some of these phrases may not be relevant to your content, or they may be too broad. But it's possible to get some inspiration here.
Let's see what happens when we type in "easy crockpot." Now, we're getting more keyword ideas that are directly related to the type of content we want to create.
For even more ideas, type in your entire phrase, "easy crockpot recipes." This can give you longtail keywords for more specific content ideas.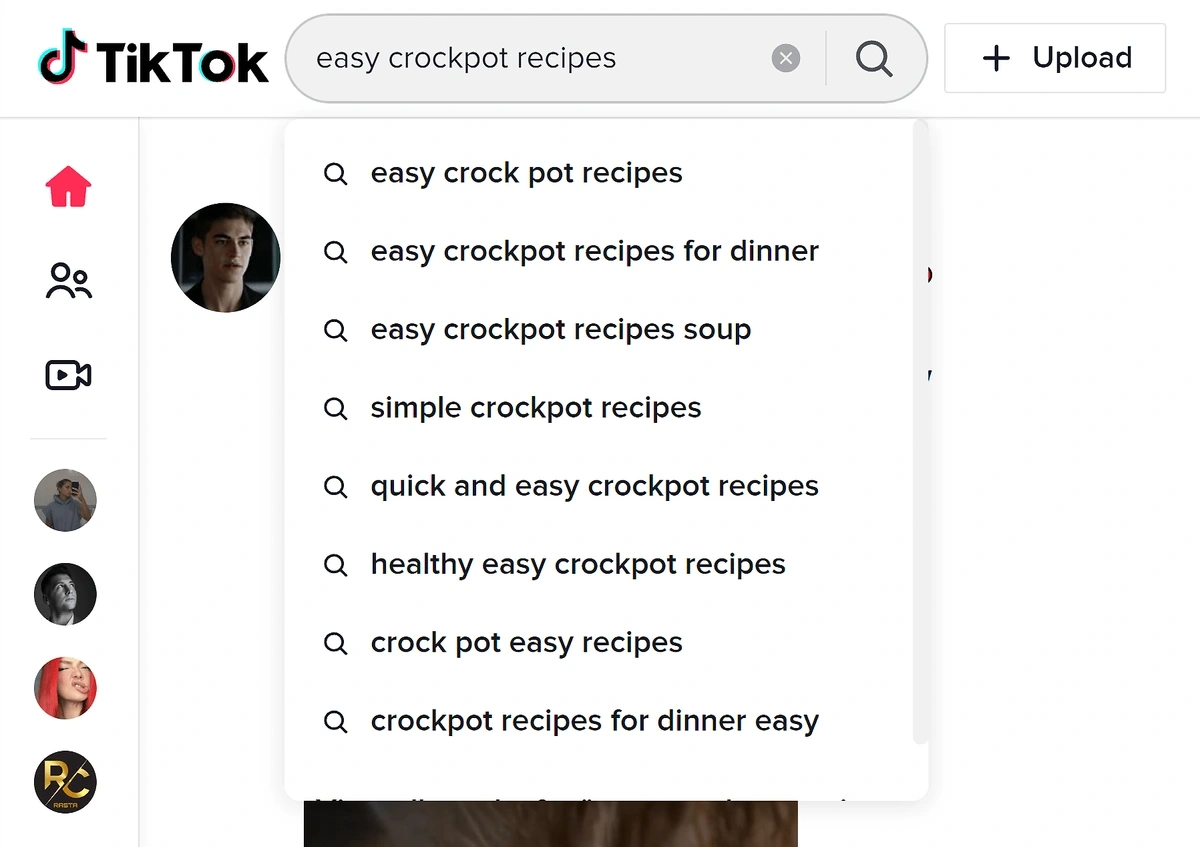 In this last example, TikTok shows "quick and easy crockpot recipes" and "healthy easy crockpot recipes." Seeing these longer phrases can give you ideas for the kinds of videos people are already searching for.
Make a list of keywords you want each post to show up for and use that to help fuel your content and video optimization.
Include Keywords in Your Content
Alright, you've done your keyword research. Now it's time to incorporate those keywords into your content.
A few tips for creating keyword-optimized content for TikTok:
Use keywords in your hashtags.
Place keywords in your title/description.
Mention your keyword in your voiceovers (this can pull it into closed captions).
Add your most important keyword to a text layover.
Make sure your video relates to your keyword. It's super annoying to see keyword hashtags and text overlays that have nothing to do with the content of the video. Don't use trending hashtags and keywords just to get views, unless they are relevant to the video.
Don't overstuff your content with keywords. Keep the placement natural, and don't overwhelm your viewers with tons of keywords. You don't need a keyword in each place mentioned on this list.
Test out your keyword placement. Switch it up and see which videos get more views.
Let's search for "easy crock pot recipes for dinner chicken."
The top-ranking video in this particular search was:
Notice how this video doesn't overwhelm the user with keywords everywhere. They don't even mention the entire longtail keyword we typed in.
But they do utilize keywords in their description and hashtags.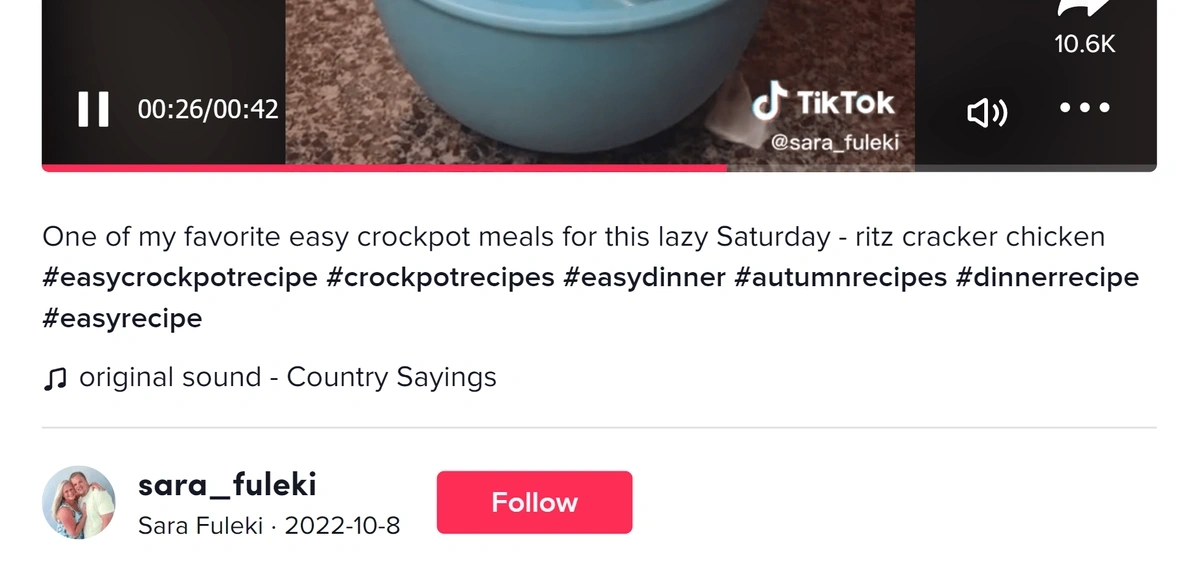 The description mentions "easy crockpot meals" and "chicken."
It also includes the following hashtags, which relate to the keyword we typed into the search:
#easycrockpotrecipe
#crockpotrecipes
#easydinner
#dinnerrecipe
#easyrecipe
Utilize your description and hashtags to the fullest to optimize your content with helpful keywords.
And always keep the user experience in mind. Hashtags and descriptions are important for helping users find your content and quickly see what it is about, but you don't want to annoy them to the point where they scroll on by.
Produce Content that People Want to Consume
At the end of the day, TikTok SEO comes down to creating videos that your audience wants to consume.
So make sure your content ideas are purposeful and based on research and topics in which your audience will find value.
In general, the best types of content provide education, inspiration, and entertainment (or even all three!).
When it comes to entertainment, one post that broke the charts on TikTok was the corn kid.
Julian Shapiro-Barnum hosts a YouTube channel, Recess Therapy, where he interviews kids by asking the big questions and seeking their advice.
One of his interviews blew up on TikTok:
Since this was posted, the sound bites and interview have been used in many parodies and altered video renditions.
Content creators all across the platform hopped on this #cornkid trend and created videos to appeal to the masses.
One such video was the autotuned rendition of the interview-turned-song by The Gregory Brothers (@shmoyoho on TikTok):
Now, I'm not saying to hop on every TikTok trend. But there is value in contributing content that the majority of people enjoy.
Hone in on your audience and create content that will add value to that niche–whether that's educational, inspirational, or entertaining.
Share Your Content on Other Platforms
TikTok may cater primarily to its own platform when it comes to SEO on the app. But to make the most of your content, you should share it across your social channels.
If you are making TikTok content first, consider making longer versions for YouTube. And if you are creating video content regularly on YouTube, share snippets of that content on TikTok.
Since you're already making the videos, share your TikTok content in reels on Instagram and Facebook.
That way, you can reach additional audiences that may not be on TikTok yet.
Remember Elyse Meyers? She's on Facebook, Instagram, and YouTube too! And you can bet she's sharing similar content across each of her platforms.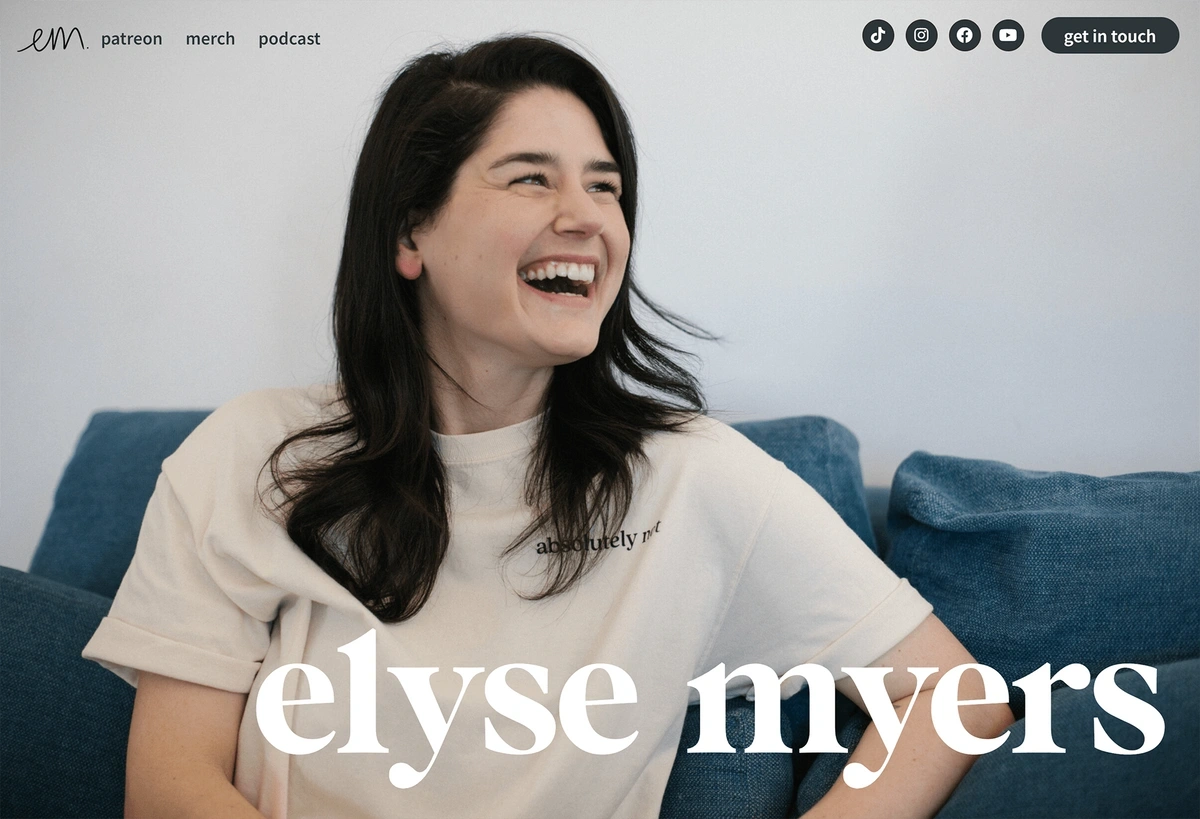 This may not directly contribute to your TikTok visibility, but it will help create awareness of your brand across your various social channels. And it can even drive more followers to your TikTok account.
Analyze and Measure Your Progress
When you are looking to grow on any platform, you need to measure your progress.
Take note of the things that are doing well and replicate them. Take note of the things you didn't see as much growth from and try different methods.
TikTok gives creators access to various analytic data on its platform so that they can see how well their content performs.
To access your analytics on TikTok:
Go to your profile
Tap the menu icon
Tap "Creator Tools"
Select "Analytics"
Analytics are separated into three main categories: Overview, Content, and Followers.
In the Overview tab, you can see video views, profile views, follower growth, likes, comments, and shares for custom date ranges of up to 60 days.
In the Content section, you can view data on each of your videos. This can help you identify the things that are working well based on which videos have the most engagement. Pay attention to metrics like average watch time and the percentage of users who watched the full video.
In the Followers tab, you can learn more about the users following your account and watching your videos. Learn where your audiences are from and the most popular times they view your content.
Keep Testing
The final step is to continue to test and post great content. Keep testing new strategies and different types of videos to see what resonates the most with your TikTok community.
Follow the advice outlined in this article, optimize your content, develop a plan, and post content regularly. Of course, not every video will go viral, but you can grow your TikTok account and reach new masses through good SEO and a regular posting schedule.
Time To Get Optimizing
We've covered a lot in this guide, and you can always keep researching the best ways to optimize your TikTok content for SEO.
But, like anything in digital marketing, the best way to learn is to dive in and get started.