Trend Finders: 9 Tools That Show You Emerging Trends
While your social media feed and industry publications often contain plenty of trends, it's time-consuming to comb through each of these resources and identify trends.
In addition, if your entire industry is already talking about a trend, it might have already peaked.
So to help you gain a competitive edge and learn about emerging trends before they explode, here are some trend finder tools that make it easy to discover new trends.
Exploding Topics – Best Business Trend Finder (Free and Paid)
Most trend finders show topics that are currently trending, so how do you find trends before they become popular?
We couldn't find a good answer to this question, so we built Exploding Topics to spot under-the-radar trends.
The flagship product is the Trends Database which contains over 14,000 emerging trends relevant to business use cases.
Each trend is either a product, brand, or industry keyword, and you can sort by category (fashion, marketing, tech, fitness, pets, etc.) to quickly find trends relevant to your industry.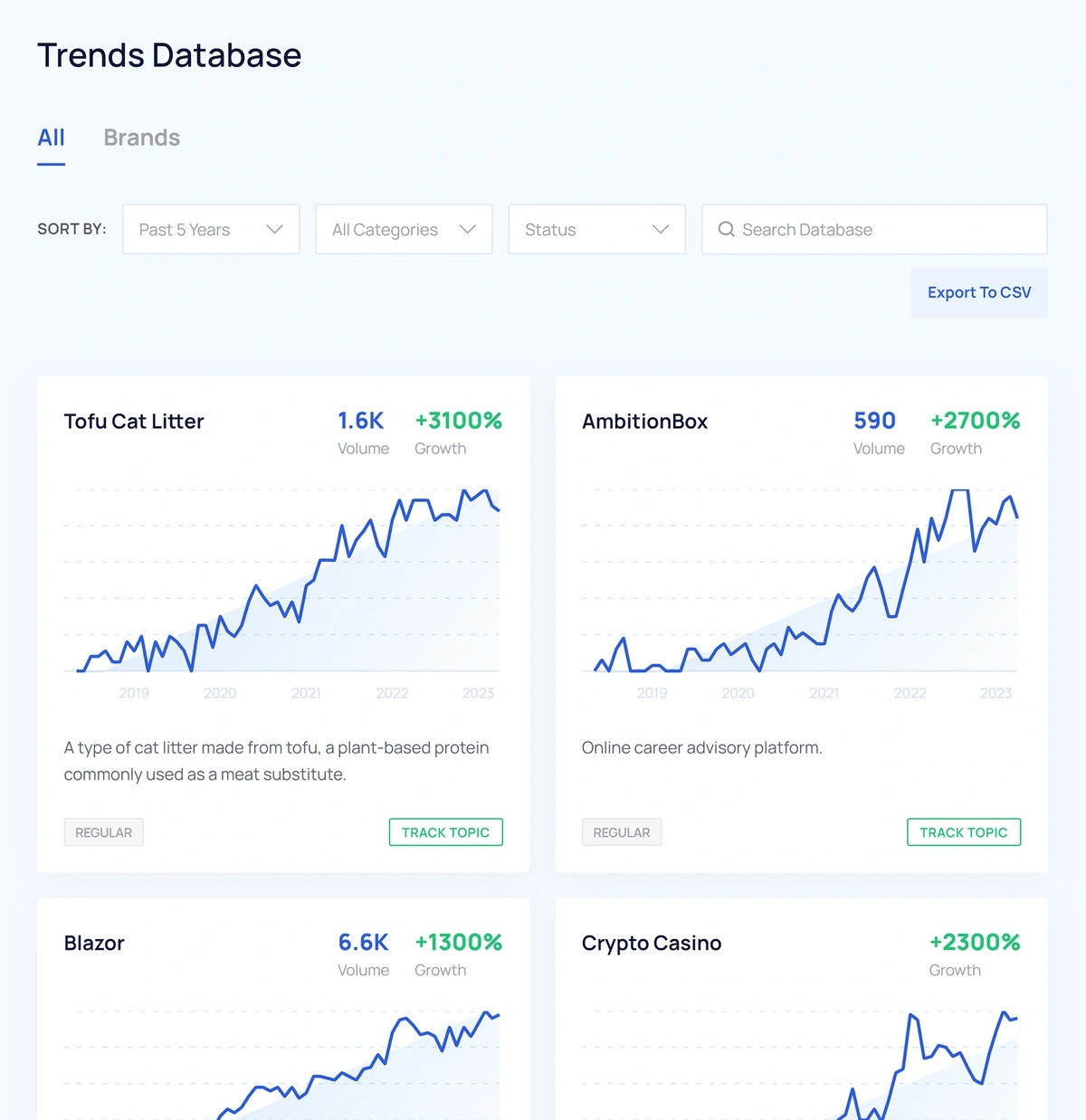 You'll notice that each trend also has a graph that represents the keyword's historical Google search volume over time (you can adjust the timeframe, though the default is five years).
When you find an interesting trend, you can save it for further analysis by clicking "Track Topic" and then add it to a Project. You can create as many Projects as you like, and you'll be able to access them from the main dashboard: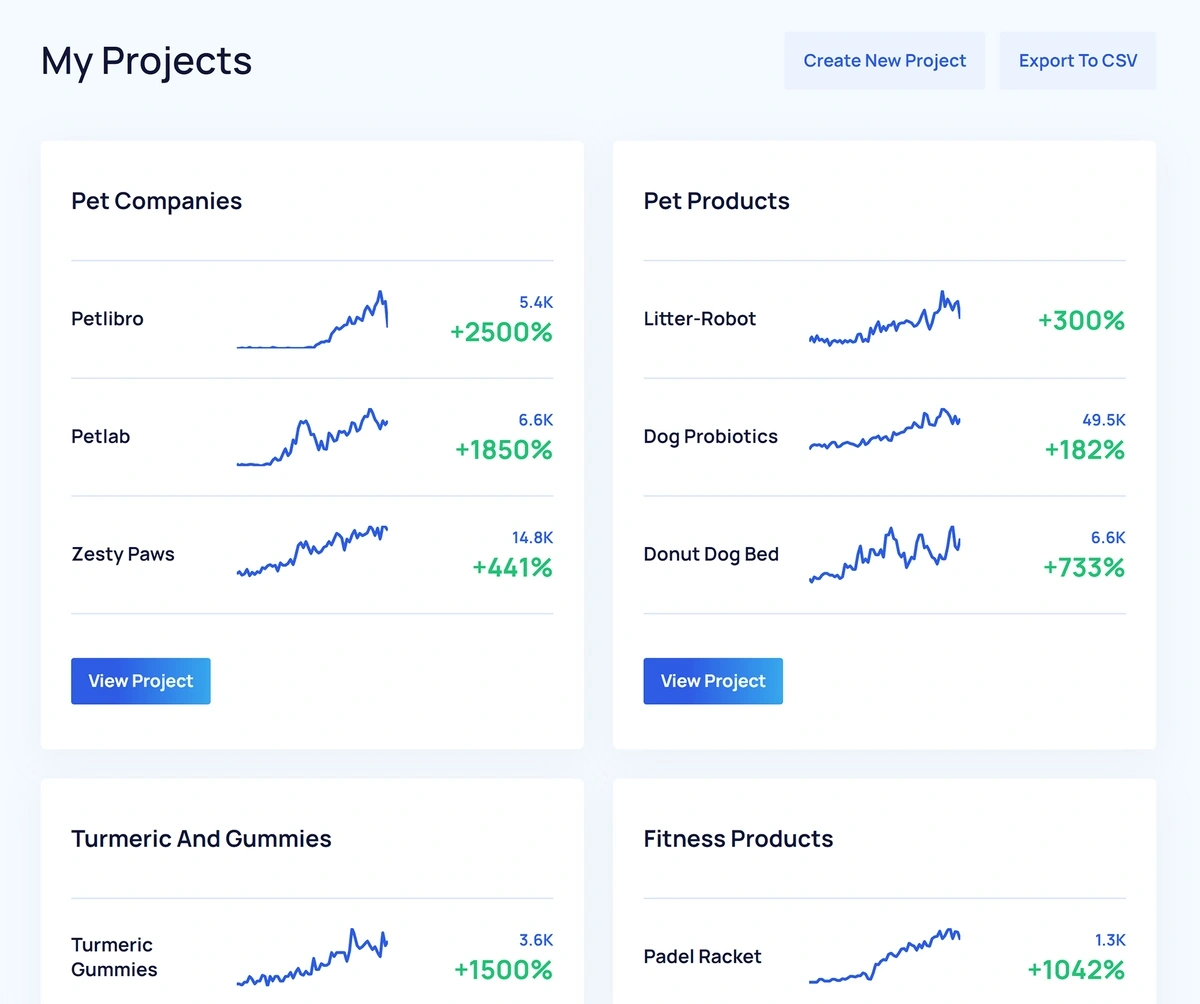 So how good is the quality of trends in Exploding Topics?
Are they selected based on data or an analysts' subjective opinion? Is there any data suggesting that topics still have more growth potential? And how can you be sure it won't miss the next big trend in your industry?
To answer these questions, here's a snapshot of our trend identification and qualification strategy: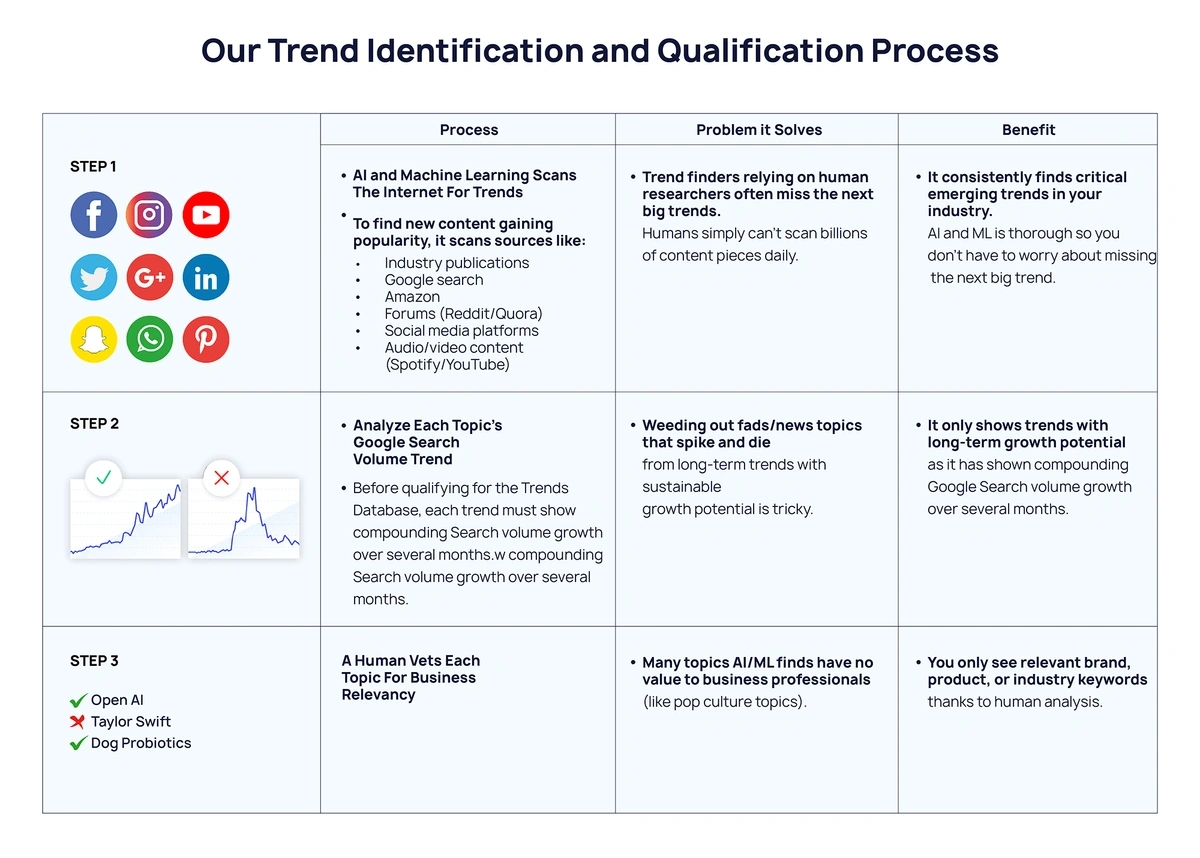 Exploding Topics also has a handful of other features that you can use to find and analyze trends. Here are a few of them:
Meta Trends: The Meta Trends dashboard shows you growing niches within a larger industry and the top products and brands associated with those niches. An example of a Meta Trend is "Kid-focused fintech."


Weekly Reports: Weekly Reports cover five trending startups and five trending products, so it's super easy for you to stay up-to-date with the latest trends in just a few minutes per week. You can also view past Weekly Reports in the Exploding Topics dashboard.
Trends Search: The Trends Database is excellent for finding new trends, but if you already have a topic in mind and want to gauge its growth potential as a trend, you can use Trends Search to view its historical Google Search volume data. Trends Search also shows related trending topics and "People Also Search For" keywords.
You can try out these features for free today by joining Exploding Topics Pro now. Pro members also receive access to premium trends and advanced search features that aren't available in the free Trends Database.
How to Use it To Find Trends

Find under-the-radar brands, products, and keywords in seconds using the Trends Database.
Identify meta trends and then find the emerging brands, products, and terms within that market niche.
Find historical Google Search volume data on any topic and other related topics by entering the keyword into Trends Search.

Who is it For?

Investors that want to identify new companies in emerging trends to invest in.
Founders looking for new trends to start a business in.
Business owners and executives that want to keep an eye on emerging competitors and products.

What Data Sources Does it Use?

Google's proprietary search volume data

Pro/Con Considerations

It's completely free.
Easily gauge a keyword's long-term growth potential with historical search volume.
Data is reliable as it's based on a global data set directly from Google.
It does NOT help you find new trends.

Free Plan?
Yes – It's entirely free
Pricing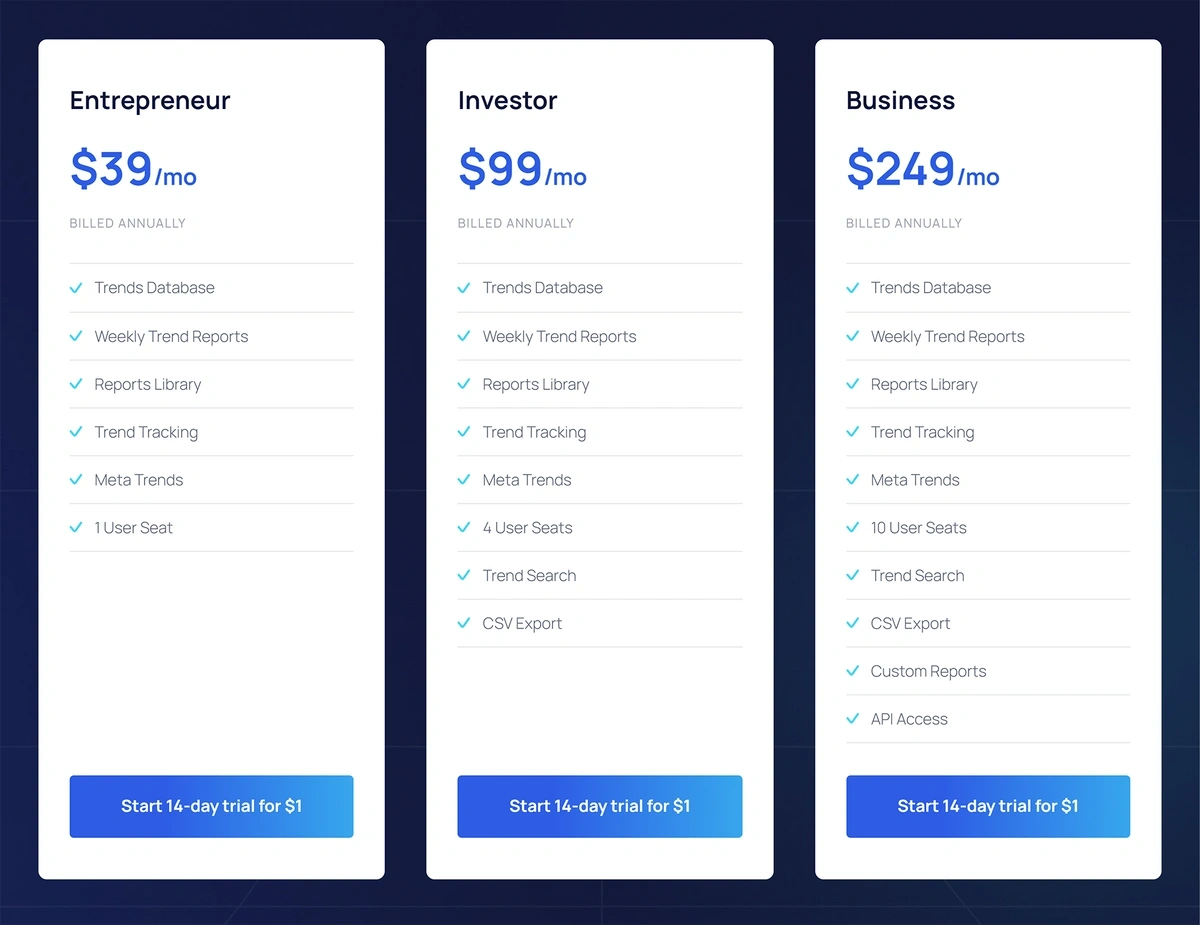 Google Trends is a free trend tool that allows you to type in any keyword and quickly pull up a report on its historical Google Search volume.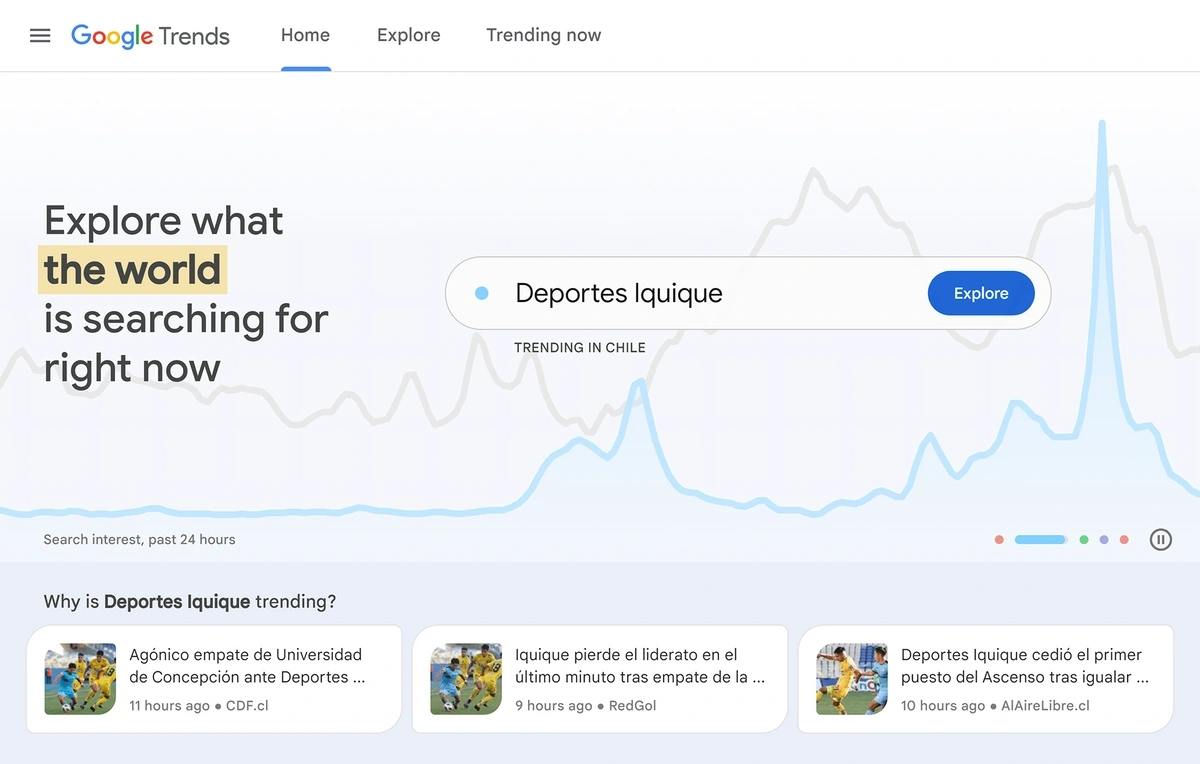 You can use this historical search volume data to assess a topic's long-term growth potential.
The main drawback of Google Trends is that it isn't very helpful for trend discovery because it doesn't provide trend suggestions – it only shows you data on keywords that you enter.
While it offers a "related searches" tab, many of these topics are either irrelevant or so close to the main keyword you typed in that none of the suggestions are new to you.
How to Use it To Find Trends

View historical Google Search volume growth for any keyword.
Compare trend growth for multiple keywords.

Who is it For?

Anyone looking for general growth trend data on a keyword.

What Data Sources Does it Use?

Google's proprietary search volume data.

Pro/Con Considerations

It's completely free.
Easily gauge a keyword's long-term growth potential with historical search volume.
Data is reliable as it's based on a global data set directly from Google.
It does NOT help you find new trends.

Free Plan?
Yes – It's entirely free
Pricing
Google Trends is free to use.
Trend Hunter – Best Pop Culture Trend Finder
Trend Hunter has a large database of topics ranging from trending beauty items to the latest diet fads.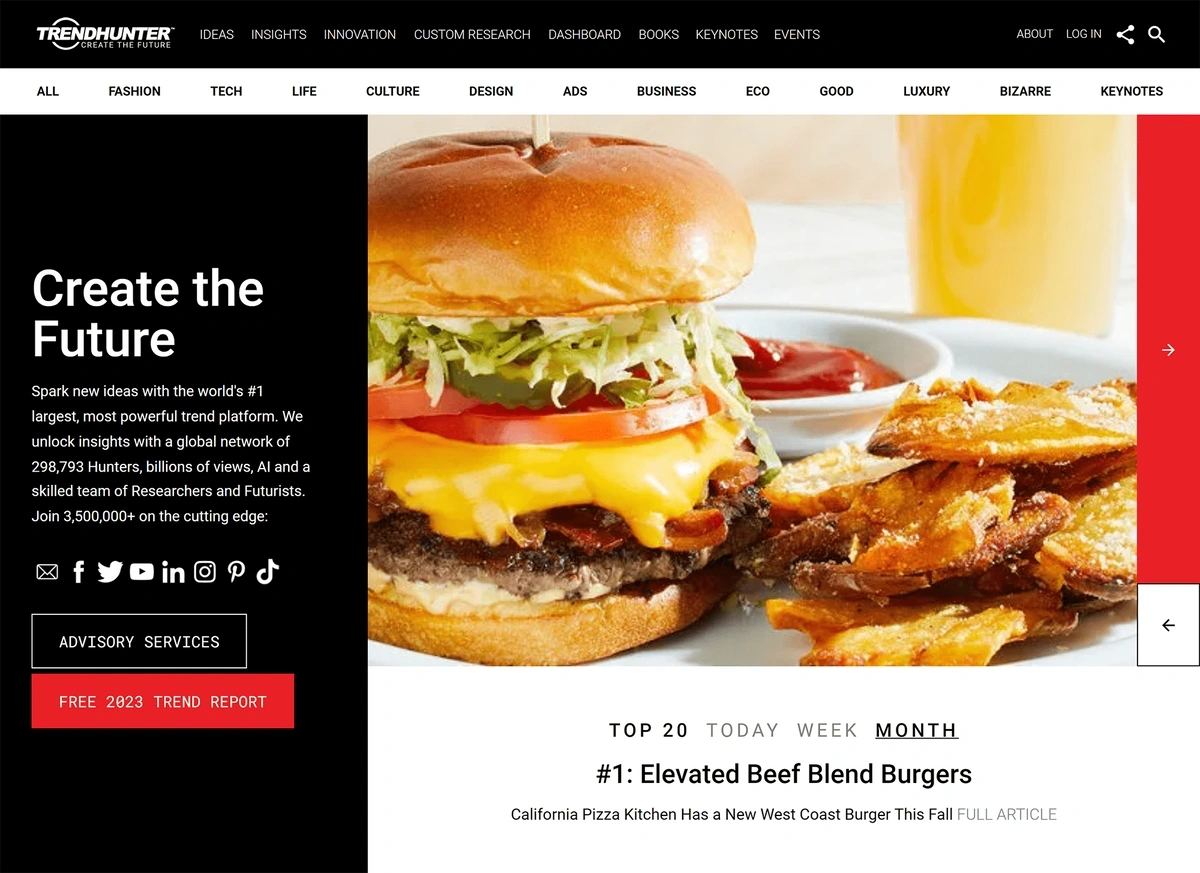 It's great for consumer brands and social media content creators looking for the hottest new trends from the past week.
You can sort by categories like fashion, luxury, and culture, and each topic has its own page with a description, images, and trend score. The trend score, which is used to rank trends in the database, is calculated based on three criteria:
Freshness
Activity
Popularity
The engagement and popularity scores are derived from Trend Hunter's website visitors' engagement with that trend in comparison to their engagement with other trends in the Trend Hunter database.
So it's a fun website to find unique trending pop culture topics, but it's not the best for business professionals looking for reliable data to make investment decisions as the Trend Hunter website visitors probably aren't perfectly aligned with your target audience.
It also isn't designed to find long-term trends, as a key part of the overall score is freshness. If you're only looking at recent trends, they may have already peaked, or they might be fads that disappear in a few weeks.
How to Use it To Find Trends

Find new trending topics in the trend database.
See a description, images, and trend score for each topic.
Find paid reports related to the topics you want more information on.

Who is it For?

Consumer brands looking for products and ideas trending in pop culture.
Social media content creators looking for novel and noteworthy topics.

What Data Sources Does it Use?

Trends are discovered by AI and ML.
Trend scores are based on the average of three metrics (popularity, engagement, and freshness).
Popularity and engagement metrics are based on the Trend Hunter community's activity with a particular topic in comparison to other topics in the Trend Hunter database.

Pro/Con Considerations

Easily find new trending topics in pop culture with descriptions and images
Not ideal for discovering emerging trends with long-term growth potential as freshness is a key metric they use to rank topics
Metrics aren't necessarily reliable as it's an arbitrary score created based on Trend Hunter's website visitors' engagement

Free Plan?
Yes – You can look at trending topics for free, but reports are paid.
Pricing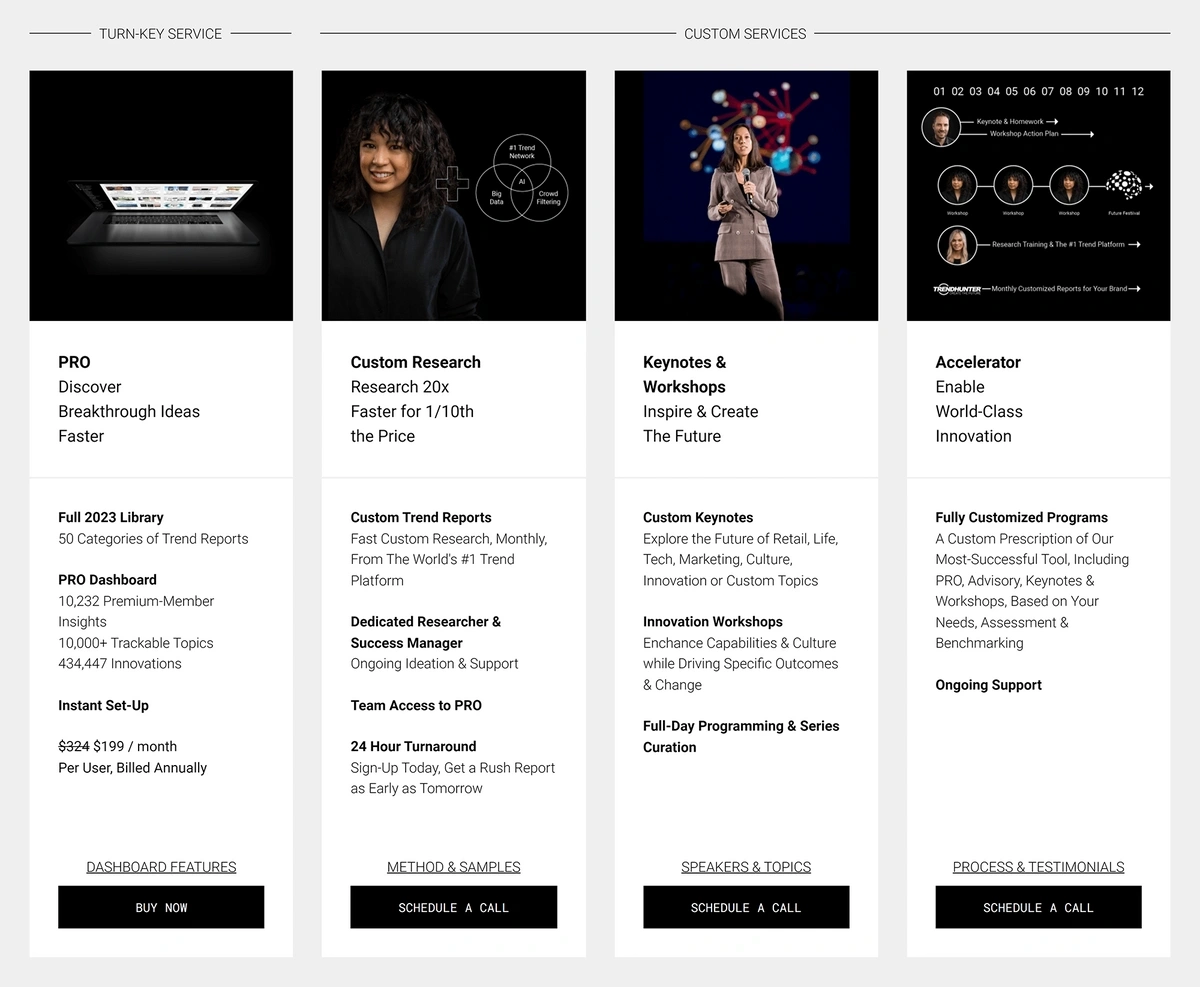 Axios Pro is a news source outlet, and they recently released a Policy offering that provides detailed coverage of healthcare, energy, and tech policy trends.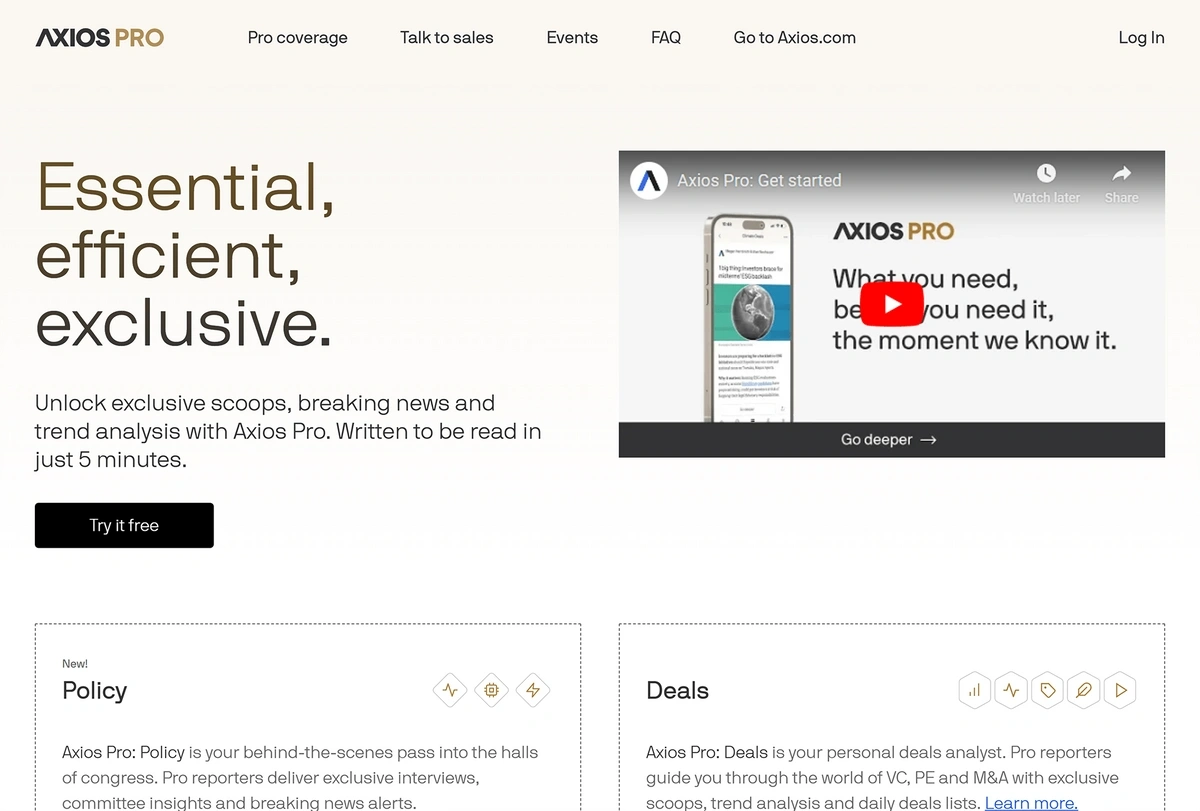 This makes it easy for healthcare, tech, and energy professionals to stay up-to-date with the latest news and industry trends.
When you sign up for Axios Pro Policy, you'll receive newsletters, alerts, and exclusive stories from their journalists, who have insider access to exclusive news coverage inside congress.
Several sources say that Axios leans slightly left, though it's one of the less biased news sources.
How to Use it To Find Trends

Read political trend newsletters.
Set alerts to receive critical, industry-specific news in real-time.
Browse archived stories to read past news.
Attend webinars and virtual events to hear expert opinions on the latest policy news.

Who is it For?

Politicians and business professionals impacted by government policy.

What Data Sources Does it Use?

Data is sourced by Axios journalists scanning news sources and talking to industry experts.

Pro/Con Considerations

Exclusive expert insights as Axios journalists talk to many experts who typically aren't accessible to smaller publications.
It's time consuming to read through their longer reports to identify trends.
Trends are selected based on a journalist's opinion rather than a data qualification system.
You can ask real experts specific questions during virtual networking sessions and webinars.
Like any news source, it is slightly biased (leaning left).

Free Plan?
Yes
Pricing
There's a 14-day free trial and $1,199 for annual subscription after that.
Trends.co – Best Trend Finder Community
Trends.co is for startup founders and tech enthusiasts looking for new business ideas and trends.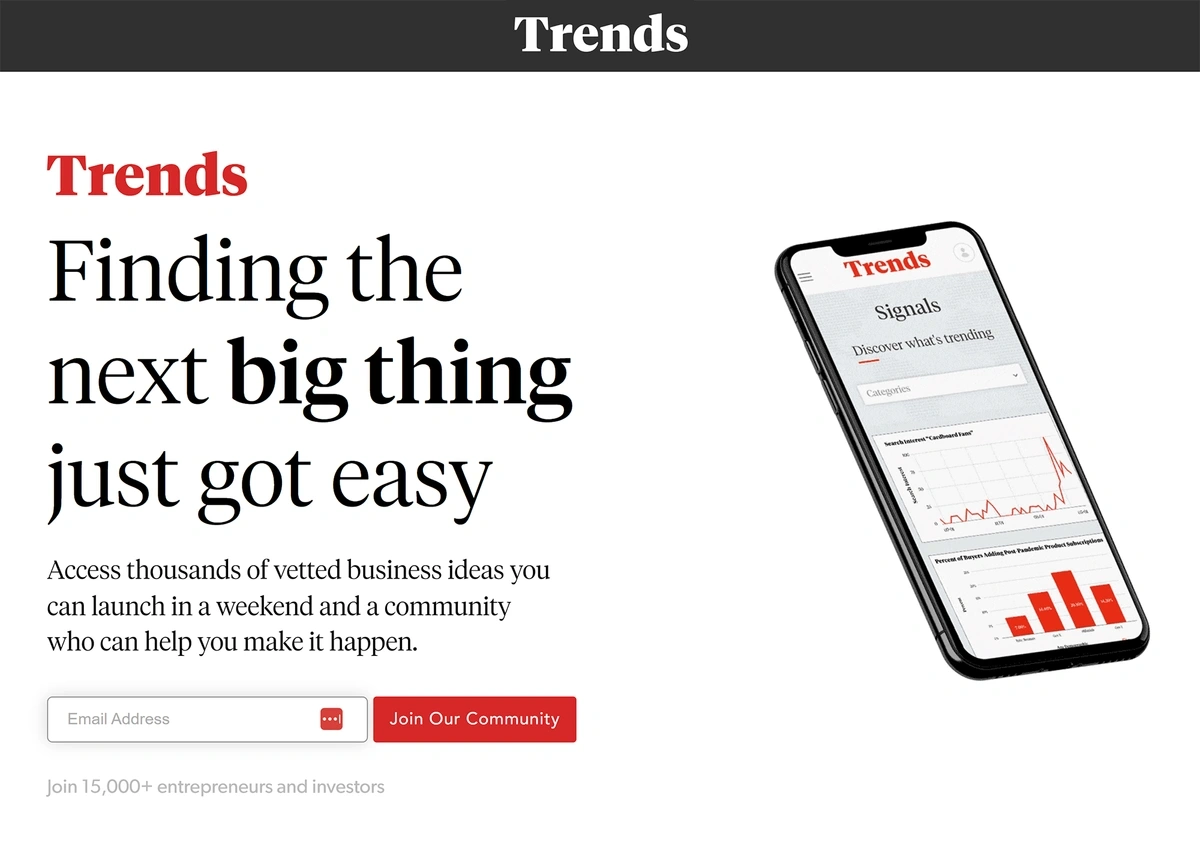 While most trend finder tools are structured as databases or news sources, Trends.co is the only trend finder on this list that is primarily a community.
The active Facebook community has plenty of successful entrepreneurs, making it a great resource to ask for feedback and brainstorm ideas with other like-minded individuals. The Trends.co team also interviews successful entrepreneurs and writes breakdown blog posts explaining how these founders built their businesses.
The downside of Trends.co is that the value you receive from it correlates directly with how much effort you put into engaging with the community. So there isn't just a simple database where you can extract trend ideas.
How to Use it To Find Trends

Engage with the community to ask for idea feedback and general business advice.
Read business breakdowns from successful entrepreneurs with unique business stories.
Read the community newsletter that contains business trends.

Who is it For?

Entrepreneurs that want new business ideas and a community to ask for feedback

What Data Sources Does it Use?

There isn't a database of trends, so trend ideas come from community members' experiences

Pro/Con Considerations

Connect with other like minded entrepreneurs and brainstorm trending business ideas
The quality level of entrepreneurs is high
Trends aren't necessarily backed by data as they're mainly based on community member ideas
The value you receive correlates with the effort you put into collaborating with other community members

Free Plan?
No – It's a paid community
Pricing
Trends.co is $299 per year.
The Pulsar platform is excellent for brands and marketers that already have a product/service and want to stay up-to-date with the latest trends their audience is discussing.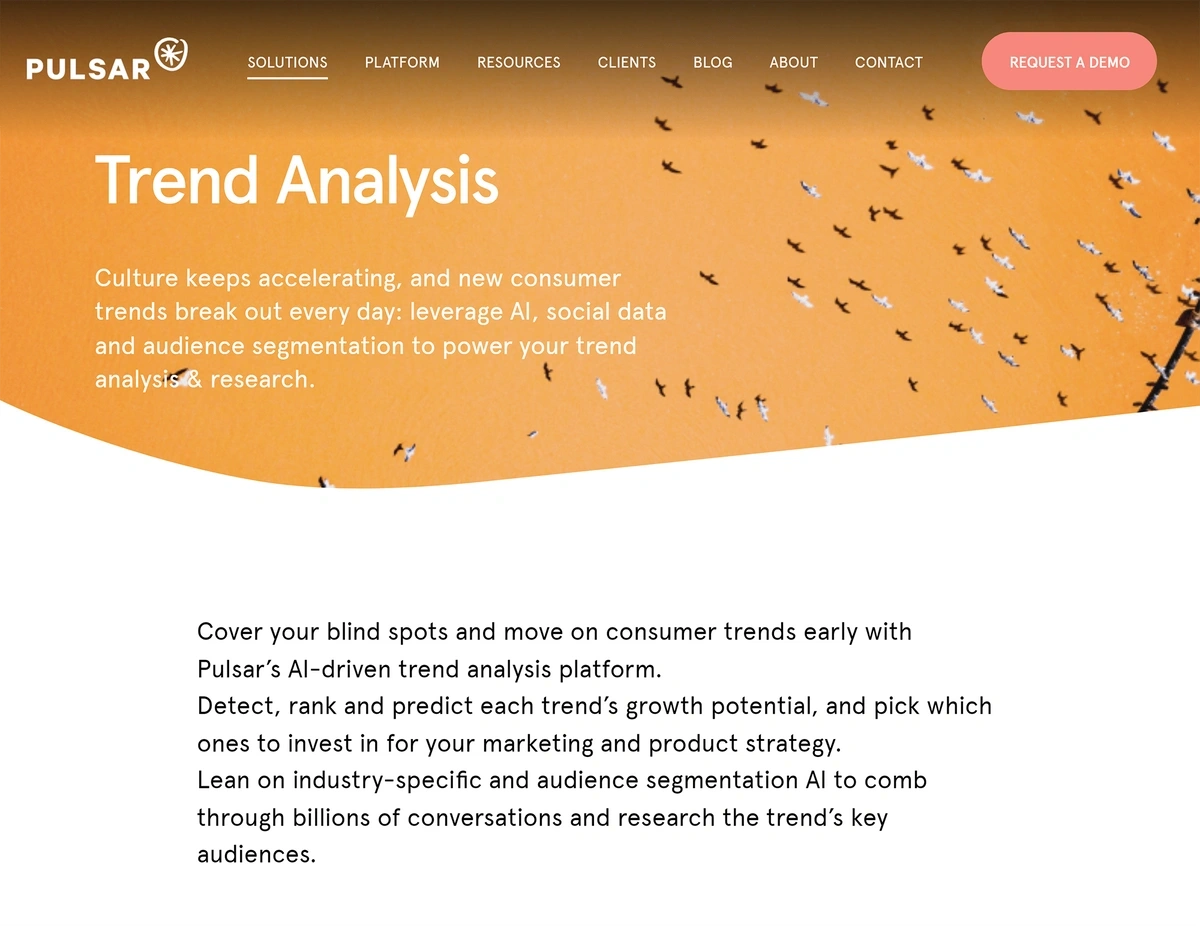 You can monitor specific communities, and Pulsar will give you detailed insights into topics and trends they're discussing. Or, you can take the reverse approach and determine which audiences are discussing a particular trend you're researching. It even surfaces specific influencers talking about the trend you're monitoring.
Pulsar platform also gives you analytics of trend history so that you can see interest in a specific trend over time. This is helpful if you want to gauge the long-term growth potential of a trend.
Audience data is pulled from all the mainstream social media platforms you'd expect (Facebook, LinkedIn, Twitter, TikTok, etc.), as well as industry-specific social media channels like Sermo.
How to Use it To Find Trends

Track your audience on social media and learn what they're talking about.
Segment audiences by interest, demographics, and digital behaviors.
Analyze trend growth over time by comparing several different topics' mention history over time.
Find a trending topic and then work backward to find the community (and influencers) talking about that trend.

Who is it For?

Marketing professionals that need to keep an eye on customer trends create relevant messages on the right channels.
Content creators that need new, trending content ideas that they know will resonate with their audience.
Executives that need to stay on top of customer trends to continue offering relevant products and services.

What Data Sources Does it Use?

AI tracks audience behavior across mainstream social media platforms (LinkedIn, Facebook, TikTok, etc.) and industry specific social platforms (like Sermo).

Pro/Con Considerations

Find trends your audience is talking about rather than generic market chatter.
One of the most advanced audience intelligence tools with social listening, monitoring, and audience segmentation.
Find communities and influencers to match a trend.
It's an enterprise platform and unaffordable for smaller teams.
It's much more complicated to onboard and use than a traditional social listening tool.

Free Plan?
No – It's a paid community
Pricing
Pulsar platform does not offer its pricing information publicly, though it is an enterprise tool.
Crayon.co – Best Competitive Intelligence Trend Finder
Your top competitors also monitor industry trends, so one easy way to stay on top of trends is to use a competitive intelligence tool to watch the competition's every movement.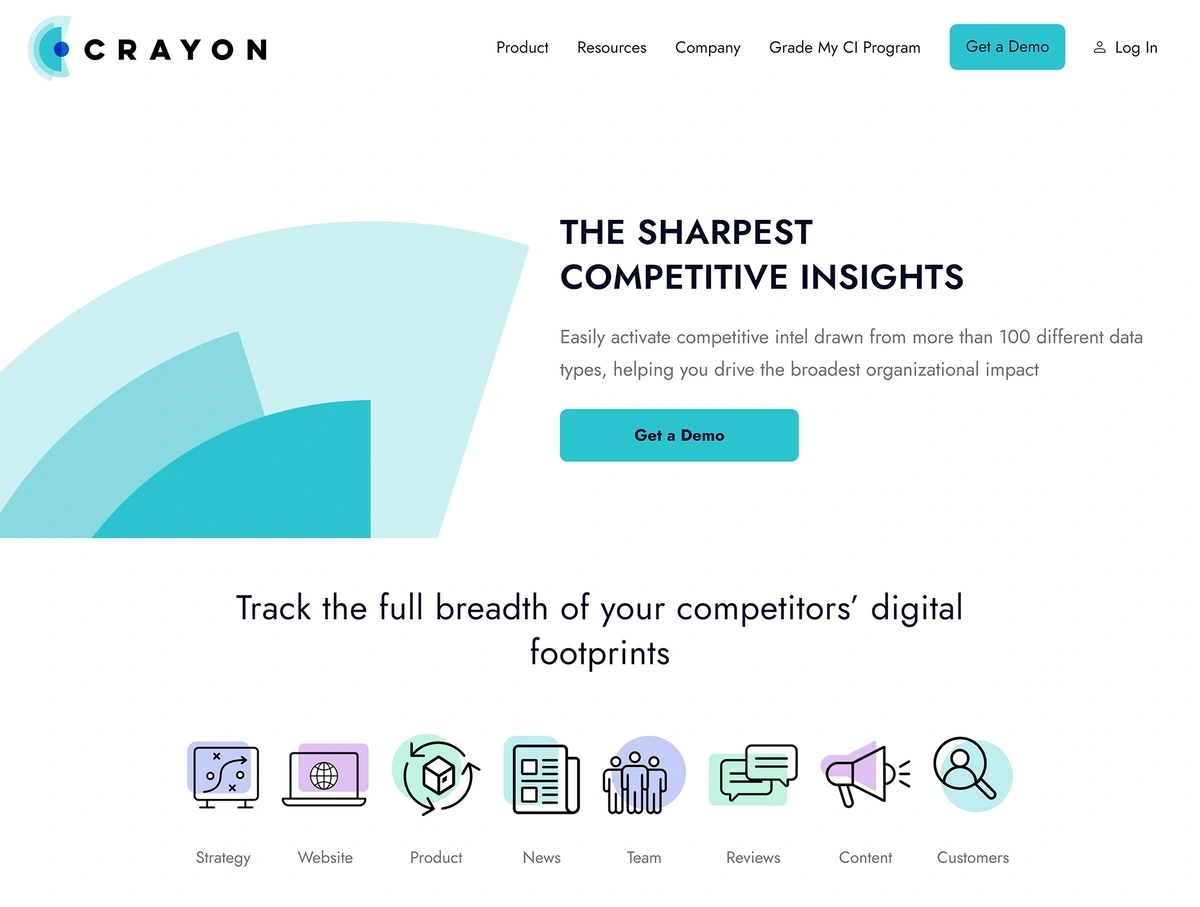 Crayon.co makes this easy. It allows you to track your competitors':
Messaging and positioning
Product, pricing, and packaging strategy
Team shifts and hiring activity
News and press releases
Customer reviews
Partners and clients/customers
Competitive intelligence is an excellent method to find the highest quality trends because it shows which trends companies are actively investing in.
It's easy for people to say they believe in a particular trend, but it's much more meaningful when you see companies investing in a trend.
For example, suppose you see that all of your competitors are hiring AI engineers. That's much more substantial evidence that AI adoption will probably be an important long-term trend in your industry than if you just see them talking about it on Twitter.
How to Use it To Find Trends

Track your competitors' strategy and monitor trends they're following.

Who is it For?

Executives that want competitive insight into trends their competitors are following.
Marketing professionals monitoring customer trends to improve marketing messaging.
Content creators that need new content ideas and want to iterate on trending ideas that worked well for competitors.

What Data Sources Does it Use?

AI tracks competitors' websites for changes in positions.

Pro/Con Considerations

Competitor trends are often most relevant and meaningful as they show trends brands are implementing – not just talking about.
Competitive intelligence data is a reactive approach to trend discovery, so it's important to use it in conjunction with other trend discovery tools.
You have to piece together trend ideas as Crayon just shows you disparate data points (hiring trends, marketing messaging, etc.)
It's an enterprise competitive intelligence tool, so it might be too expensive for smaller brands that just want a simple trend finder

Free Plan?
No
Pricing
Crayon.co does not offer pricing information, though it is an enterprise product and might not be appropriate for smaller companies.
Podcast Notes – Best Podcast Trend Finder
Podcast Notes is like SparkNotes for podcasts – it extracts key insights from podcast episodes and presents them in easy-to-read notes.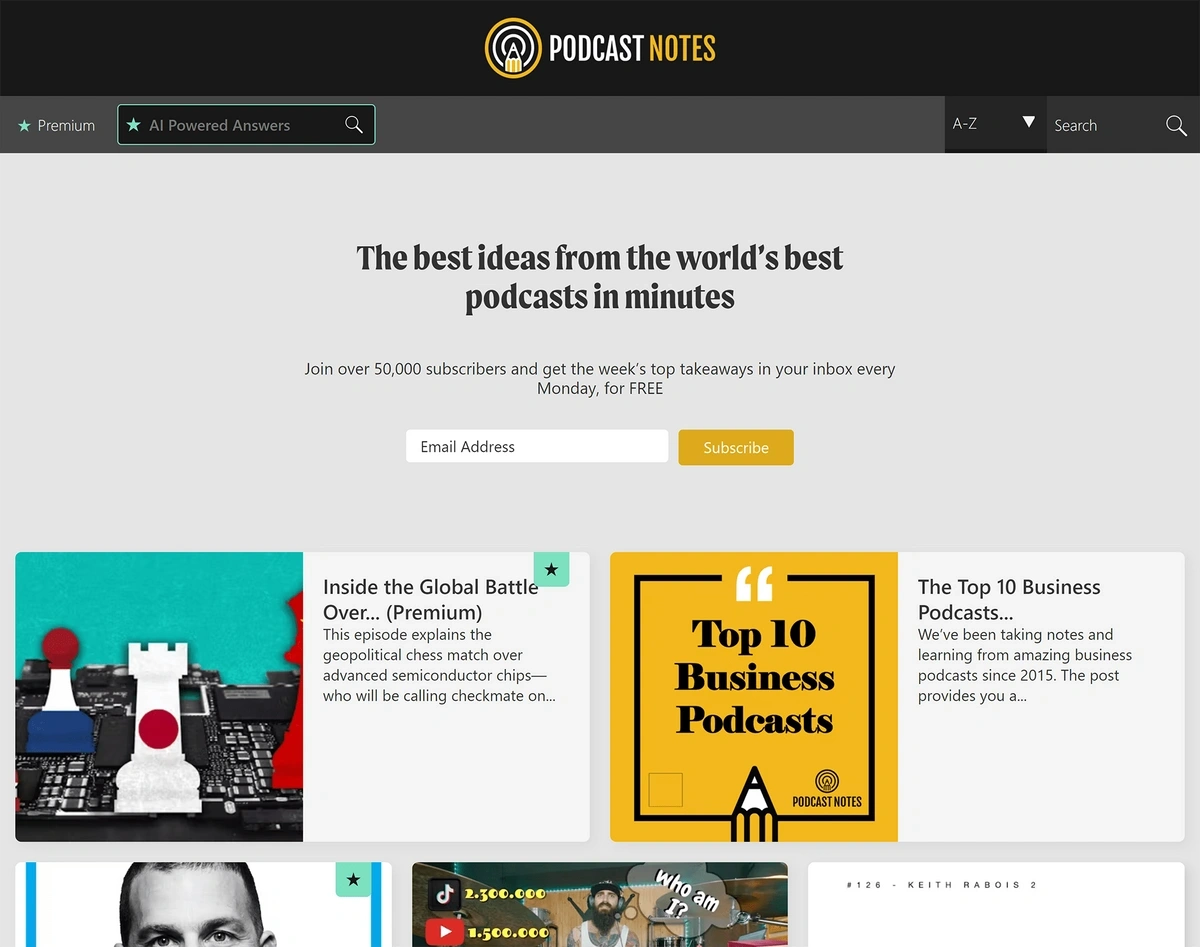 So if you have a broad topic idea in mind, like "how to pitch an idea," you can type it into Podcast Notes, and it will quickly pull up a list of popular podcasts that mention that trend or idea.
This is a great resource to find quotes from influencers like Peter Attia, Andrew Huberman, or Tim Ferriss in seconds.
The downside is that it doesn't really find trends for you. Instead, you must have a general idea of the topic you want to search, and then Podcast Notes shows you relevant podcast episodes on that topic and corresponding notes.
How to Use it To Find Trends

Type in any topic and see a list of important notes from podcasts discussing that topic.
Find a particular podcast episode and scroll through a SparkNotes–style summary of the episode.

Who is it For?

Content writers that need to support their claims with influencer quotes on a particular trend.
Business leaders that want other thought leaders' opinions on a specific trend.

What Data Sources Does it Use?

All data is directly from podcast episodes (mainly the most popular podcasts).

Pro/Con Considerations

Quickly see a list of influencer quotes and opinions on trending topics rather than listening to hours of podcast episodes.
It doesn't help with trend discovery as you have to already know of a trend topic to search it.
The database is still limited to the most popular podcasts as it takes the team a while to create notes for each episode.

Free Plan?
Yes – It offers a handful of free podcast episode notes, but the topic search feature is exclusively offered in the premium plan.
Pricing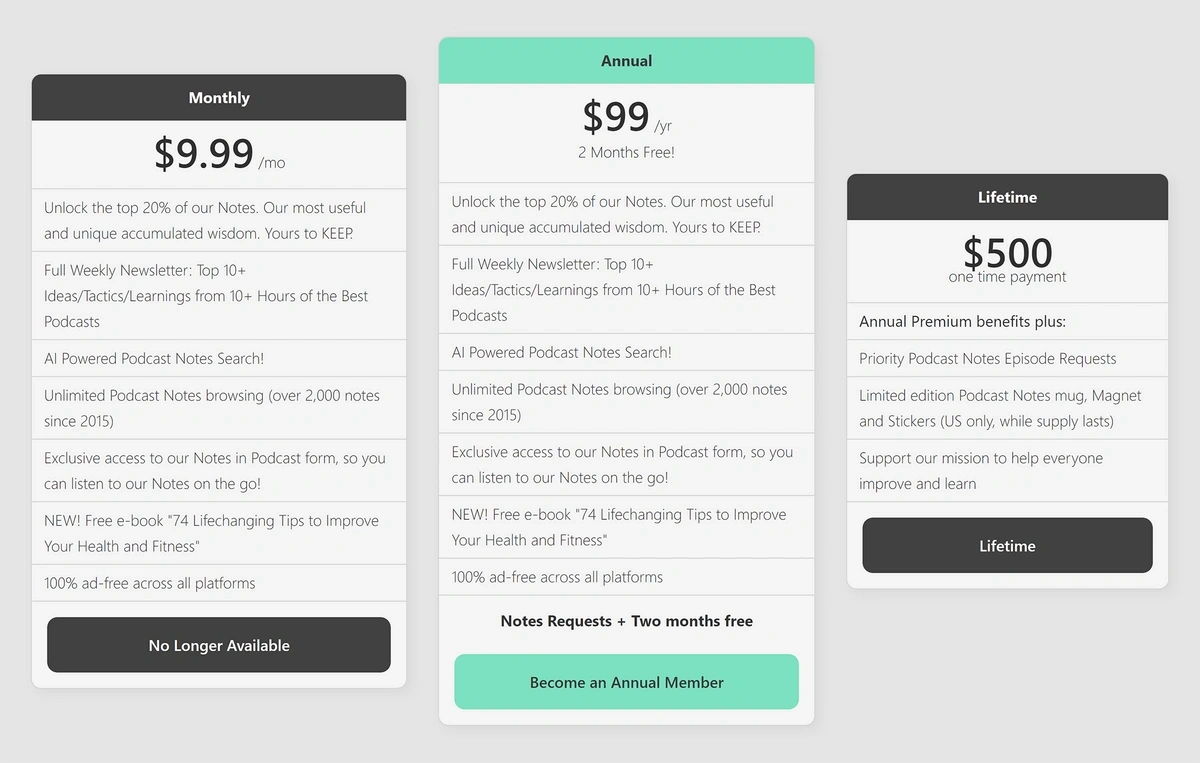 TikTok recently released its Trend Discovery platform, which lets creators see the latest trending:
Songs
Videos
Creators
Hashtags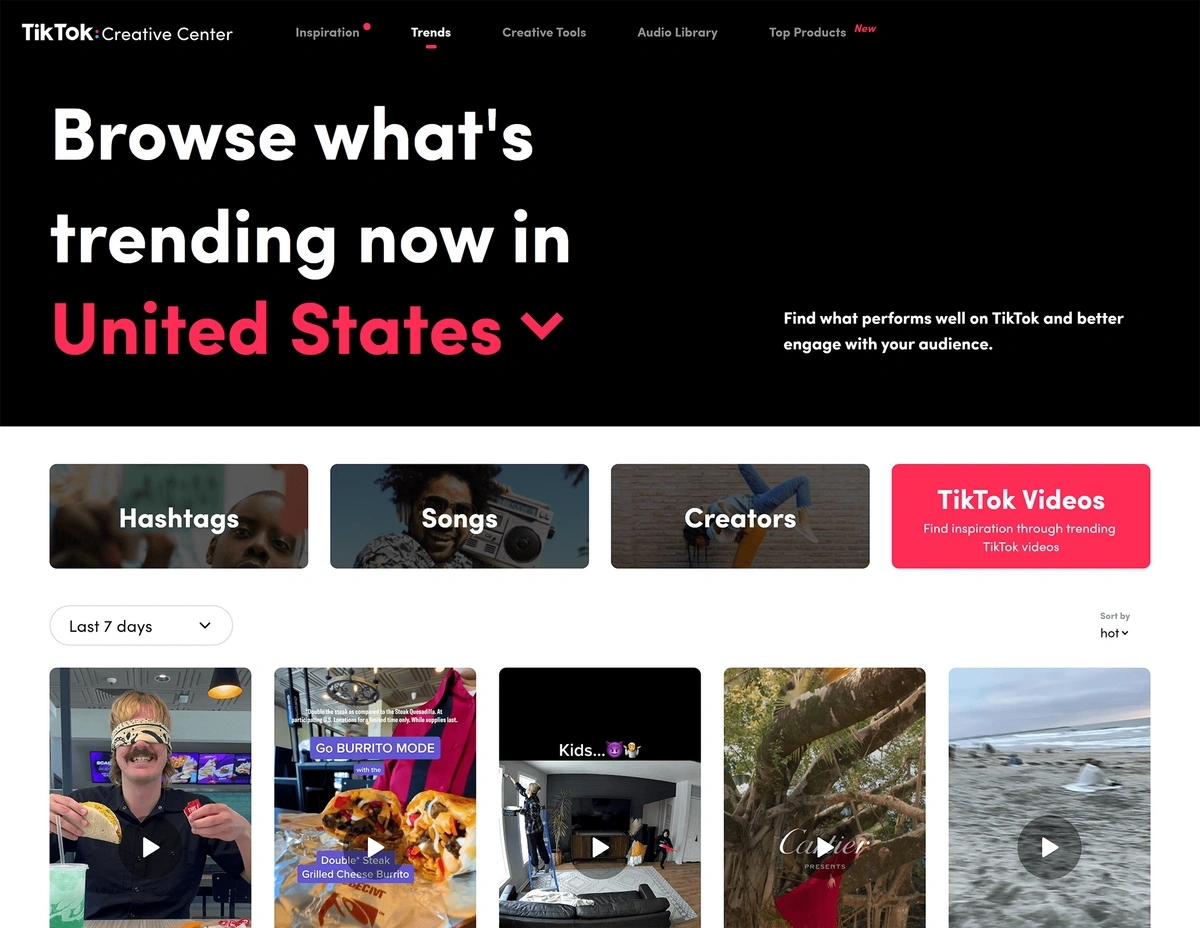 It's a useful tool for TikTok content creators to find trending topics and create their own unique spin on a popular trend.
It's also great for consumer brands that serve Gen Z audiences, as they can use it to improve marketing messaging and even think of new product ideas.
However, it's not as relevant for B2B brands and anyone looking for long-term trends.
How to Use it To Find Trends

Quickly find trending songs, videos, creators, and hashtags on TikTok.

Who is it For?

Content creators that want to find the latest trending ideas to create their own spin on the topic.
Consumer brands selling to a Gen Z audience that want to learn more about audience trends.

What Data Sources Does it Use?

All data is based on TikTok engagement.

Pro/Con Considerations

Best tool for TikTok content creators that want to stay up-to-date with the latest trends.
It's free
It's mainly useful for consumer brands selling to Gen Zers as that's TikTok's main audience.
Not great for finding emerging trends as it's designed to show you trends that are currently hot.
Trends based on total engagement, though it doesn't account for engagement quality.

Free Plan?
Yes – It's a free tool
Pricing
TikTok's Trend Discovery tool is free.
Selecting The Best Trend Finder For Your Needs
Each of the trend finders above are designed for different use cases, but if you're an investor, entrepreneur, or business executive looking for emerging trends with long-term growth potential, consider Exploding Topics.
You can see for yourself how easy it is to find hundreds of high-quality, relevant emerging trends in seconds by jumping into the free Exploding Topics database now.
Or, if you want to unlock thousands of premium trends, save them to projects, and access more advanced trend finding features, try Exploding Topics Pro today.