50+ Amazing Video Game Industry Statistics (2022)
This guide will highlight over 50 video game industry statistics worth knowing.
Importantly, these stats are completely up-to-date. We regularly go back and check this page, updating the all of the data on a quarterly basis.
So if you want up-to-date stats about the gaming industry, this list is perfect for you.
Contents

Editor's Picks - Top Video Game Industry Stats
The US gaming market is worth almost $100 billion.
Over one third of the world's population are active gamers.
China and the US dominate the gaming market.
Most US game purchases are now made digitally.
Global Esports audiences are set to rise above half a billion by 2024.
Video Game Industry Growth Statistics
The US gaming market is currently worth $95.4 billion (IBISWorld)
Since 2012, the video game industry has increased in value in eight of the last 10 years. In fact, the gaming space is now more than 3x what it was in 2012 ($31.23 billion).
Some of this growth can be attributed to the COVID-19 pandemic. US gamers averaged 45% more time playing video games during the first week of the pandemic.
This is further emphasized by the fact that global video game sales increased notably in March 2020.
There will be 3 billion active gamers by 2023 (SportHiatus)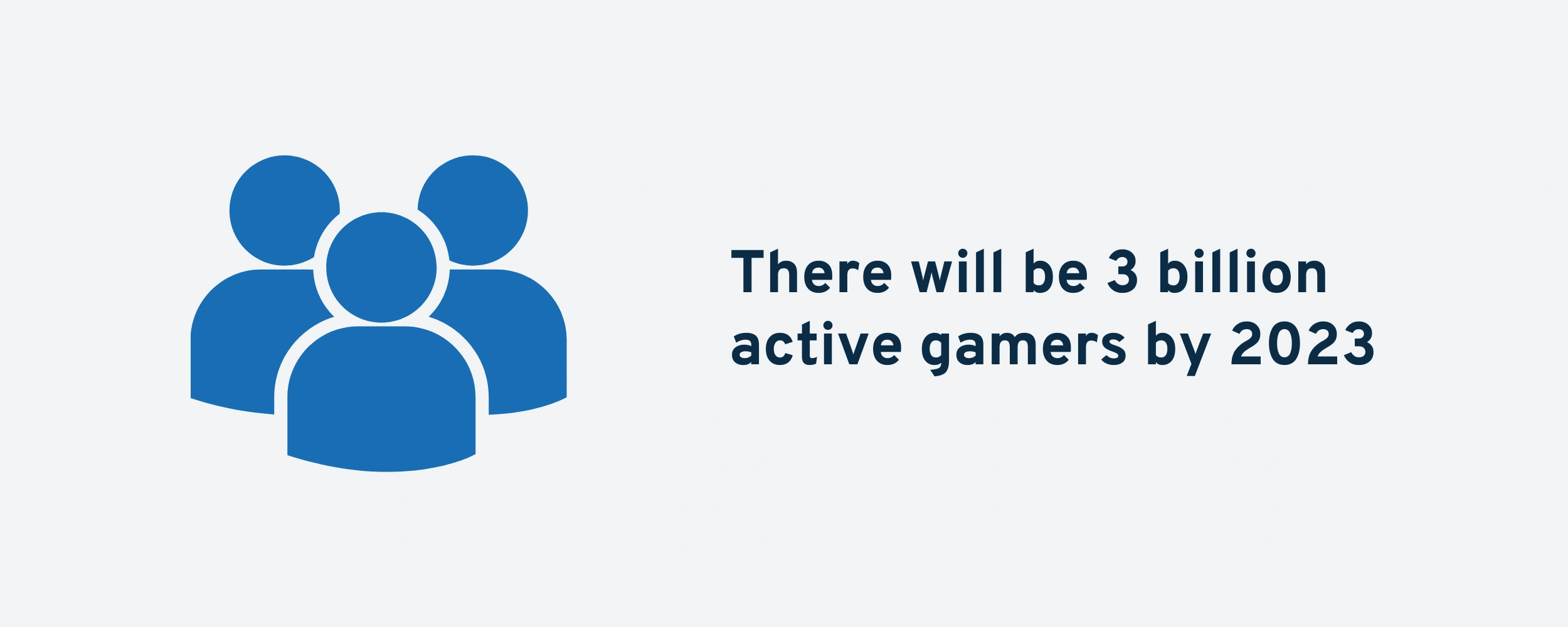 In 2015, there were a reported 1.99 billion people considered "active gamers". This number has grown year over year, reaching 2.69 billion in 2020. That is an increase of approximately 35% in five years. Notably, of those 2.69 billion gamers, 2.5 billion played on mobile.
This overall growth is predicted to continue, surpassing 3 billion active gamers in 2023 (3.07 billion).
China and the US dominate international gaming markets (newzoo)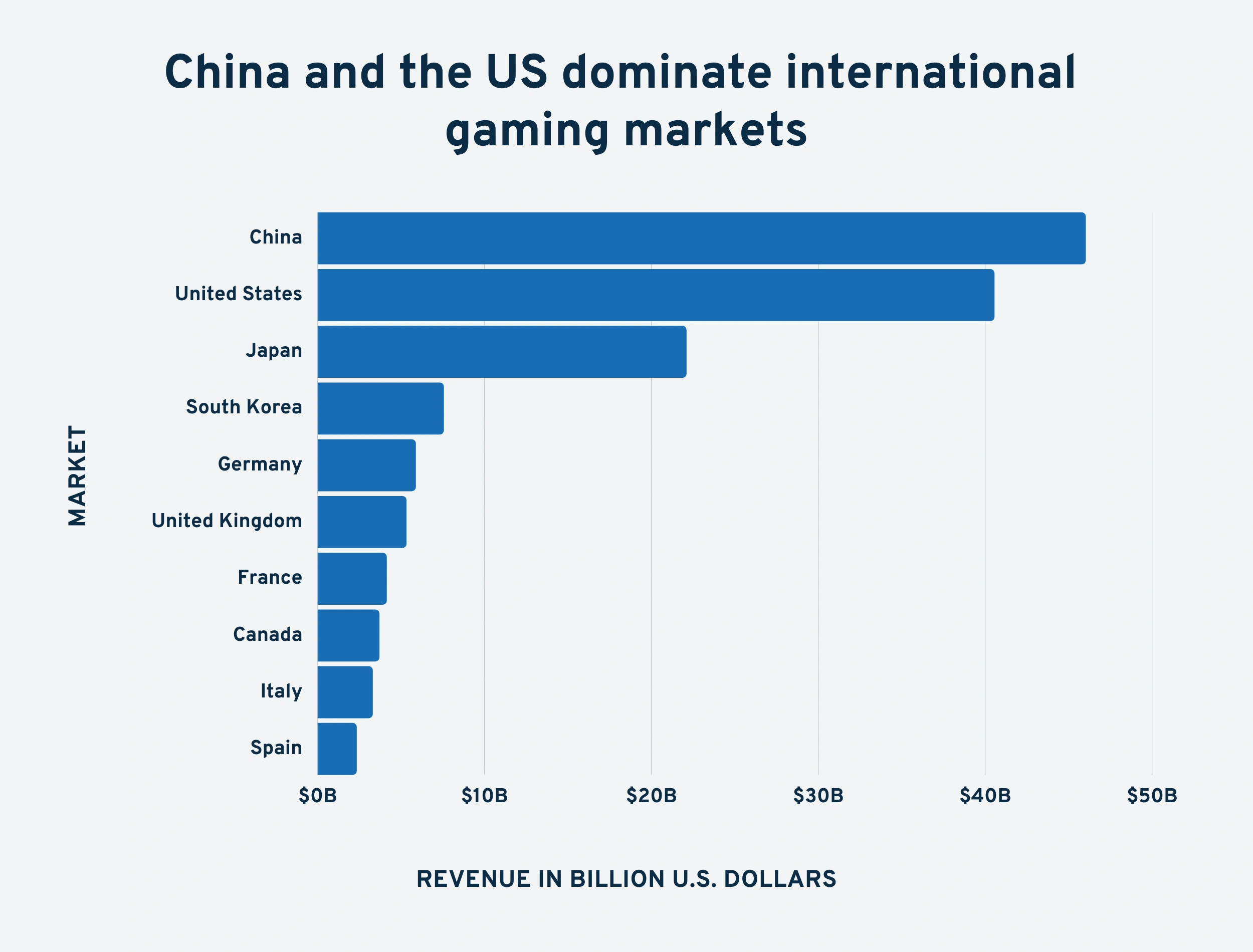 | | |
| --- | --- |
| International Market | Revenue in USD (Billions) |
| China | 46.01 |
| United States | 40.54 |
| Japan | 22.09 |
| South Korea | 7.55 |
| Germany | 5.87 |
| United Kingdom | 5.31 |
| France | 4.13 |
| Canada | 3.69 |
| Italy | 3.29 |
| Spain | 2.33 |
The Chinese gaming market generated an estimated $46.01 billion in 2021. The US gaming market produced $40.54 billion during that same year. Together, gaming revenue generated by China and the US outperforms the rest of the top 10 leading markets combined by some distance.
The third biggest international gaming market was Japan, bringing in $22.09 billion. This figure stands at less than half of China's.
However, Japan's share of gaming revenue is almost 3x the amount generated by 4th-placed South Korea. And more than all of the top five European nations (Germany, the United Kingdom, France, Italy, and Spain) combined.
Three of the top four international gaming markets are based in Asia. Meanwhile, two of the top 10 international gaming markets are situated in North America. The remaining half of the top 10 are European.
Video Game Demographic Statistics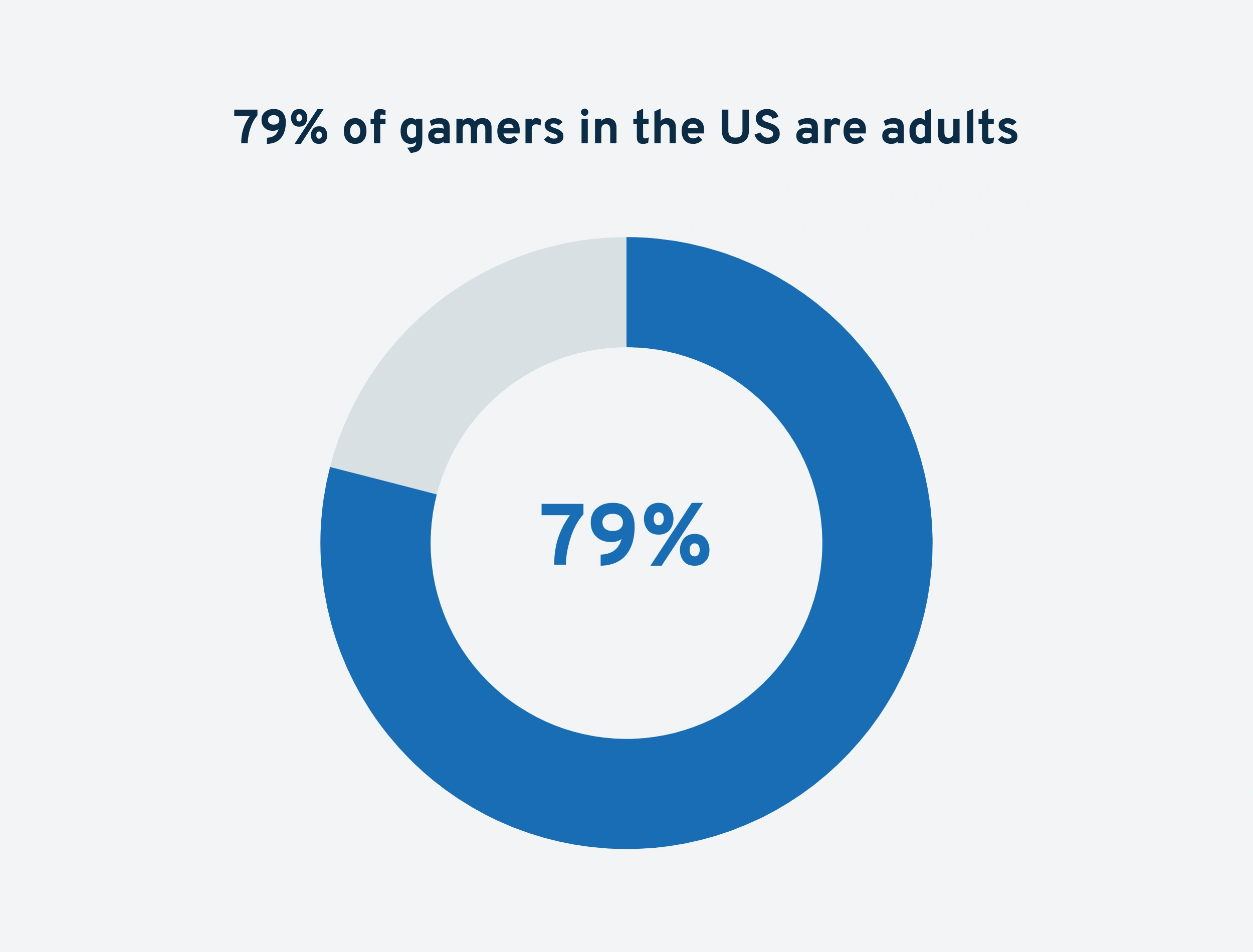 Video games are considered by many an activity for kids and teenagers. But according to recent data, only around one in five gamers are children.
Of the five age groups, 18 to 34-year-olds make up the largest proportion of gamers with 38%. On the other hand, the 65+ age group accounts for just 6% of US gamers.
It is estimated that 64% of US adults play video games regularly. By comparison, this figure stands at 70% for under 18-year-olds.
The proportion of male to female gamers has remained largely unchanged over the last 15 years.
Since 2006, female gamers have made up between 38% and 48% of all gamers, peaking in 2014. The current distribution of video game consumption by gender shows that only 41% of gamers are female.
Males are also more likely to purchase video games and in-game content. A 2018 questionnaire found that males were more likely to make in-game purchases in four of six categories. However, female gamers were more likely to buy power-ups and time-savers.
Mobile Gaming Stats
Mobile gaming is responsible for over half of total gaming revenue (newzoo)
Mobile gaming's share of total gaming revenue has climbed significantly over the past decade.
In 2012, mobile gaming claimed only 18% of the gaming industry's overall revenue. That figure has grown year-over-year, surpassing the 50% mark in 2018.
That same 2018 study forecast mobile gaming's revenue share to reach 59% in 2021.
The mobile gaming content market value in North America is estimated to have surpassed $25 billion.
PUBG Mobile was the highest-grossing mobile game in 2021 (AppMagic)
PlayerUnknown's Battlegrounds, better known as PUBG, grossed $2.01 billion between in 2021. The app has continues to be enormously popular despite being released back in March 2017.
The second highest-grossing mobile game in 2021 was Honor of Kings, bringing in $1.65 billion.
This was followed by Genshin Impact with $1. 34 billion total gross revenue.
In 7th was Candy Crush Saga. The confectionery-themed puzzle game will turn 10 years old this year but grossed a combined $856.57 in 2021.
Home Gaming Console Statistics
Worldwide home console revenue reached $49.2 billion (newzoo)
Home consoles made by the likes of Sony, Microsoft, and Nintendo and their accompanying games, accessories, and merchandise were responsible for approximately 28% of all gaming revenue last year.
Mobile gaming generated considerably more revenue ($90.7 billion) than either console gaming or PC gaming ($35.9 billion).
That said, all types of gaming have seen a marked increase in in-app purchases during the COVID-19 pandemic.
Here's a breakdown of annual revenue by platform:
| | |
| --- | --- |
| Platform | Annual Revenue (Billions) |
| PC | $35.9 |
| Console | $49.2 |
| Mobile | $90.7 |
There are more than 100 million Xbox Live Users worldwide (Microsoft)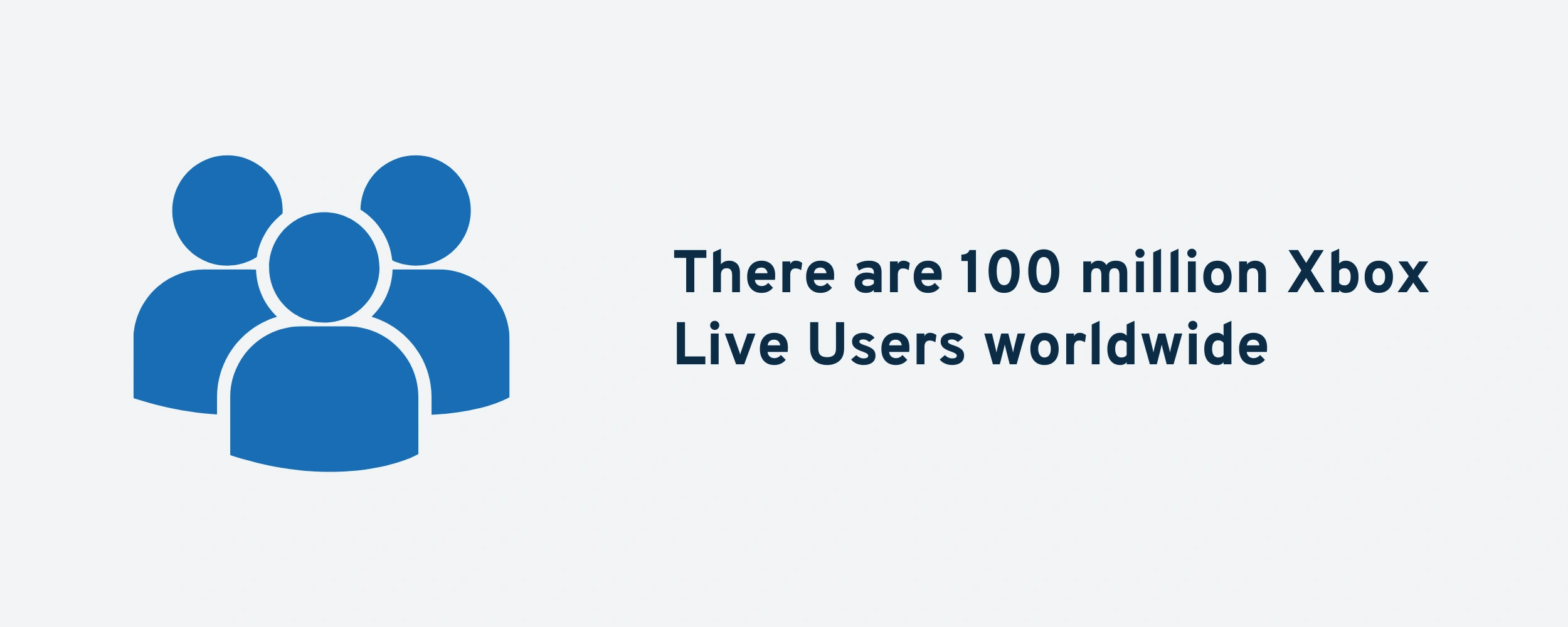 Xbox Live is needed in order to gain online multiplayer access to Xbox games. Although Xbox Live is a free service, many of its most desirable features (including online gaming) are locked behind a paid tier system.
The number of Xbox Live users has increased by more than 2x between Q1 2016 and Q4 2020.
In 2016, Xbox live users rose from 39 million in Q1 to 49 million in Q4. This trend has continued in the following years seeing a rise of 6 million in 2017, 4 million in 2018, and 8M in 2019.
Since Q4 2019, users have soared from 65 million to 90 million in April 2020 and 100 million in December 2020.
PlayStation Plus users are set to reach 50 million (Sony)
Sony introduced a paywall to restrict online access to PlayStation Plus members in 2013, matching Microsoft's model for the Xbox. Since then, PlayStation Plus users have steadily climbed.
In March 2021, there were a reported 47.6 million subscribers to PlayStation Plus. This is a 6.1 million rise from March 2020 and an 11.2 million rise from March 2019.
Between October 2014 and March 2021, PlayStation Plus subscribers increased by 39.7 million.
The Nintendo Switch has sold over 92 million units to date (VGChartz)
Since its release in March 2017, the Nintendo Switch has sold 92.87 million units. This vastly improves on Nintendo's prior release, the Wii U, which peaked at 3.9 million units sold in 2014.
First-party titles have been a driving force behind the console's success. Popular franchises such as The Legend of Zelda, Pokémon, and Super Mario are all exclusive Nintendo properties.
As of March 2021, Mario Kart 8 Deluxe is the best-selling Switch game with 35.39 million copies sold. The game has narrowly outsold Animal Crossing: New Horizons by 2.76 million copies.
Free-to-play (F2P) games generate over $70 billion of market revenue per year (SuperData Research)
F2P games have become increasingly popular in recent years. Recently PES, FIFA's main rival in soccer simulation games, announced a rebrand to a F2P format under the name eFootball.
In 2020 F2P games generated $73.8 billion - a $15 billion increase on 2018's figures.
Gamers spend more money on in-game downloads and streamer support than on full games (SuperData Research)
Between February and March 2018, gamers spent an average of $36.31 on in-game downloads and $38.09 streamer support per game. Combined, this usurps the average spend of $49.14 on each full game release.
In total, gamers across the globe spend an average of $123.54 per game.
Popular Video Game Statistics
Wii Sports is the best-selling game of all time by a considerable margin (VGChartz)
Nintendo Wii titles continue to dominate the best-selling console games chart 15 years after its initial release.
As of January 2021, Wii Sports sold 82.65 million copies worldwide, over 2x as many as its closest competitor, the original NES's Super Mario Bros. (40.24 million copies sold). Wii Sports sales figures no doubt benefited from being sold as part of a bundle with the popular Wii console.
Mario Kart Wii and Wii Sports Resort make up the rest of the top four spots with a combined 69.88 million copies sold between them. In total, seven different Wii exclusive games make the top 20.
Another notable trend in the top 20 is the presence of six Super Mario titles, two Pokémon titles, and two Grand Theft Auto titles.
Here's the top 20 list of best-selling video games of all-time:
| | | | | |
| --- | --- | --- | --- | --- |
| Rank | Title | Publisher | Units Sold (Million) | Year of Release |
| #1 | Wii Sports | Nintendo | 82.65 | 2006 |
| #2 | Super Mario Bros. | Nintendo | 40.24 | 1985 |
| #3 | Mario Kart Wii | Nintendo | 35.98 | 2008 |
| #4 | Wii Sport Resort | Nintendo | 32.90 | 2009 |
| #5 | Pokémon R/G/B | Nintendo | 31.37 | 1998 |
| #6 | Tetris | Nintendo | 30.26 | 1989 |
| #7 | New Super Mario Bros. | Nintendo | 29.85 | 2006 |
| #8 | Wii Play | Nintendo | 28.92 | 2007 |
| #9 | New Super Mario Bros. Wii | Nintendo | 28.51 | 2009 |
| #10 | Duck Hunt | Nintendo | 28.31 | 1985 |
| #11 | Nintendogs | Nintendo | 24.68 | 2005 |
| #12 | Mario Kart DS | Nintendo | 23.26 | 2005 |
| #13 | Pokémon G/S | Nintendo | 23.10 | 2000 |
| #14 | Wii Fit | Nintendo | 22.70 | 2008 |
| #15 | Kinect Adventures! | Microsoft Game Studios | 22.10 | 2010 |
| #16 | Wii Fit Plus | Nintendo | 21.81 | 2009 |
| #17 | GTA: San Andreas | Rockstar Games | 20.81 | 2004 |
| #18 | Super Mario World | Nintendo | 20.61 | 1991 |
| #19 | GTA V | Rockstar Games | 20.32 | 2013 |
| #20 | Brain Age | Nintendo | 20.16 | 2006 |
Grand Theft Auto V is the most streamed video game on Twitch (newzoo)
From data collected in November 2021, Grand Theft Auto V was the most streamed game on Twitch, with over 20% more streams compared to second-placed League of Legends. Despite being originally released in September 2013, GTA V has experienced enduring success, amassing 128.8 million hours of views per month.
The massively multiplayer online role-playing game (MMORPG) League of Legends totaled 102.3 million hours of views while Counter-Strike: Global Offensive managed 79.8 million hours.
Only three of the top ten most-streamed games (Valorant, Apex Legends, and Teamfight Tactics) were released after 2017.
EA Sports' FIFA 21 was the most-streamed sport game in April 2021 on Twitch with 32 million streams. No sports game features in the November 2021 stats.
Casual single-player games are the most-played type of video game worldwide (Animation Xpress)
A 2021 survey found that casual single-player games were played by 87.9% of those surveyed, more than any other type of game.
Popular games in this space include Candy Crush Saga and Clash of Clans, both of which are mobile apps.
Casual single-player games were the top genre across the board in all surveyed countries. India (93.8%), China (93.6%), and Vietnam (92.6%) had the highest approval ratings for this type of game.
First-person shooters ranked second globally with 74.2%, followed by casual multiplayer games and MMORPG each with 73.6%
Video Game Innovations Statistics
The proportion of video games sold digitally has rapidly increased over the past decade.

In 2009, just one in five video games were sold digitally in the US.
Since then, the percentage of digital video games sold has increased year-over-year.
In 2013, annual digital sales overtook physical sales. A total of 83% of all video games were sold digitally in 2018 in the US, a then-record.
In 2021, video game subscriptions were estimated to be worth $7.5 billion worldwide (Juniper Research)
Video game subscriptions ("Games as a Service") are one of the fastest-growing segments within the industry.
As a result, an estimated 13.5% annual growth is predicted for this year. A smaller 4.5% growth is predicted in 2022 followed by 9.4% the following year.
This rate of growth is likely to grow further in 2023, reaching 13.7%. The accelerated growth is then predicted to continue for a fourth successive year with an estimated 14.7% industry growth.
Global online gaming revenue now totals over $18 billion (Statista)
Revenue from online gaming has continued to grow, reaching $18 billion in 2020.
The recent increase is partly attributed to the increased overall spend on home entertainment as a result of the pandemic.
And it is predicted that annual online gaming revenue will exceed $24 billion by 2025.
The global virtual reality (VR) gaming market is worth an approximate $6.26 billion (Fortune Business Insights)
Since 2017, VR gaming has seen consistent year-over-year global revenue growth. In 2017, the industry generated a reported $0.4 billion.
This figure grew to $0.6 billion the following year and $0.8 billion in 2019.
In fact, VR gaming revenue is expected to grow at a CAGR of 31.4% between 2021 and 2028.
By 2028, this figure is estimated to reach $53.44 billion showing significant development.
Esports Growth Statistics
Annual global Esports revenue is now over $1 billion (dotesports)
Esports global market revenue fell from $957.5 million in 2019 to $947.1 million in 2020.
Naturally, this can be attributed to the COVID-19 pandemic as several major Esports events were canceled.
However, global market revenue has seen a significant increase in 2021, exceeding $1.08 billion.
This figure is predicted to continue rising. It is estimated that the Esports industry will generate approximately $1.62 billion in 2024.
The world's top Esports events have prize pools exceeding $30 million (e-Sports Earnings)
The International has offered the largest prize pools in the Esports space since 2015. The prize pool had grown year-over-year from $18.43 million in 2015 to $34.33 million in 2019.
After cancellation due to the COVID pandemic in 2020, The International returned in 2021 with a prize pool exceeding $40 million.
Since 2013, The International has been crowdfunded through a battle pass structure.
After The International, the 2019 Fortnite World Cup Finals boasted the largest prize pool in Esports. The solo and duo events combined for a prize pool of $30.39 million.
The global Esports audience is expected to exceed 500 million by 2024 (VentureBeat)
Esports is a fast-growing segment in the gaming industry. And this is reflected in global viewership numbers.
A recorded 397.8 million people watched an Esports event in 2019. In spite of canceled events due to the pandemic, this figure climbed to 435.9 million in 2020.
This year there are a reported 474 million viewers of Esports events. And in 2024, this number is expected to rise by over 100 million to 577.2 million viewers.
Several Esports organizations are worth over $100 million (Forbes)
The boom in Esports interest has led to increasing values in Esports organizations.
The elite Esports organizations can now rival major sports teams in terms of value.
In 2020, TSM was adjudged to be the most valuable Esports organization, worth approximately $410 million.
Three other Esports organizations were valued at over $300 million: Cloud9 ($350 million), Team Liquid ($310 million), and FaZe Clan ($305 million).
In total, nine different organizations had an estimated value of over $150 million last year.
Conclusion
That's all for our round-up of up-to-date gaming industry stats for 2022.
It's clear the video game industry is going from strength to strength. And shows no signs of slowing down.
Considering how huge the industry already is, it's hard to imagine it growing. But with new platforms launched (like the PS5), and new gaming technology (like AR/VR) going mainstream, there's little doubt that the space will see upward growth over the next 4-5 years.