7 Best Amazon Product Research Tools
Choosing the right Amazon product research tool for your business can be tricky. Ideally, you want a tool that can:
Find products before they become mainstream
Spot up-and-coming niches that are ripe for new product development
Perform in-depth competitor research
Provide up-to-date Amazon product information
This post will discuss how to use seven of the best Amazon product research tools to make your FBA life easier - and more profitable.
1. Exploding Topics
Exploding Topics helps you find trending topics before they become mainstream. Our proprietary algorithm scans the internet and gathers data outside of Amazon by analyzing social feeds and consumer behavior signals across the web.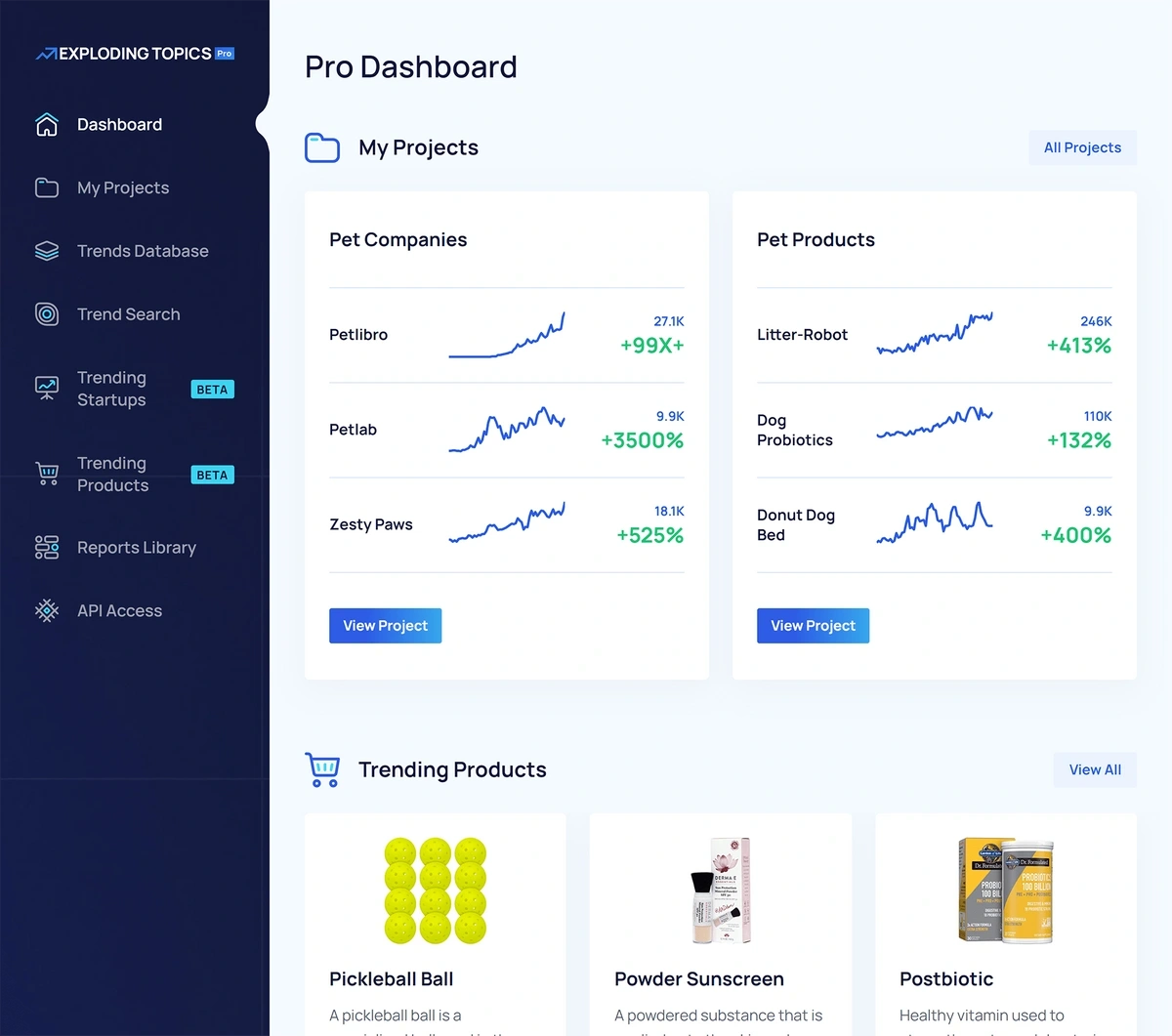 Then, our tool contains a database of products with growing consumer interest before Amazon sellers flock to the platform and the market becomes saturated.
What does this mean? Well, you can beat your competitors to the punch and be the first to find winning products.
This trend data can be used in a few ways:
Sort the trends database by date and category to find underserved markets
Search for trending brands to find product gaps in the market
Use the trending products tool to scrape product data directly from Amazon
Spot a trending product category 6-18 months before it takes off
Export CSV data in one click
If you don't have any product ideas in mind, Exploding Topics does the thinking for you with the trending products database. You can sort by timeline, product category, monthly Amazon sales, etc.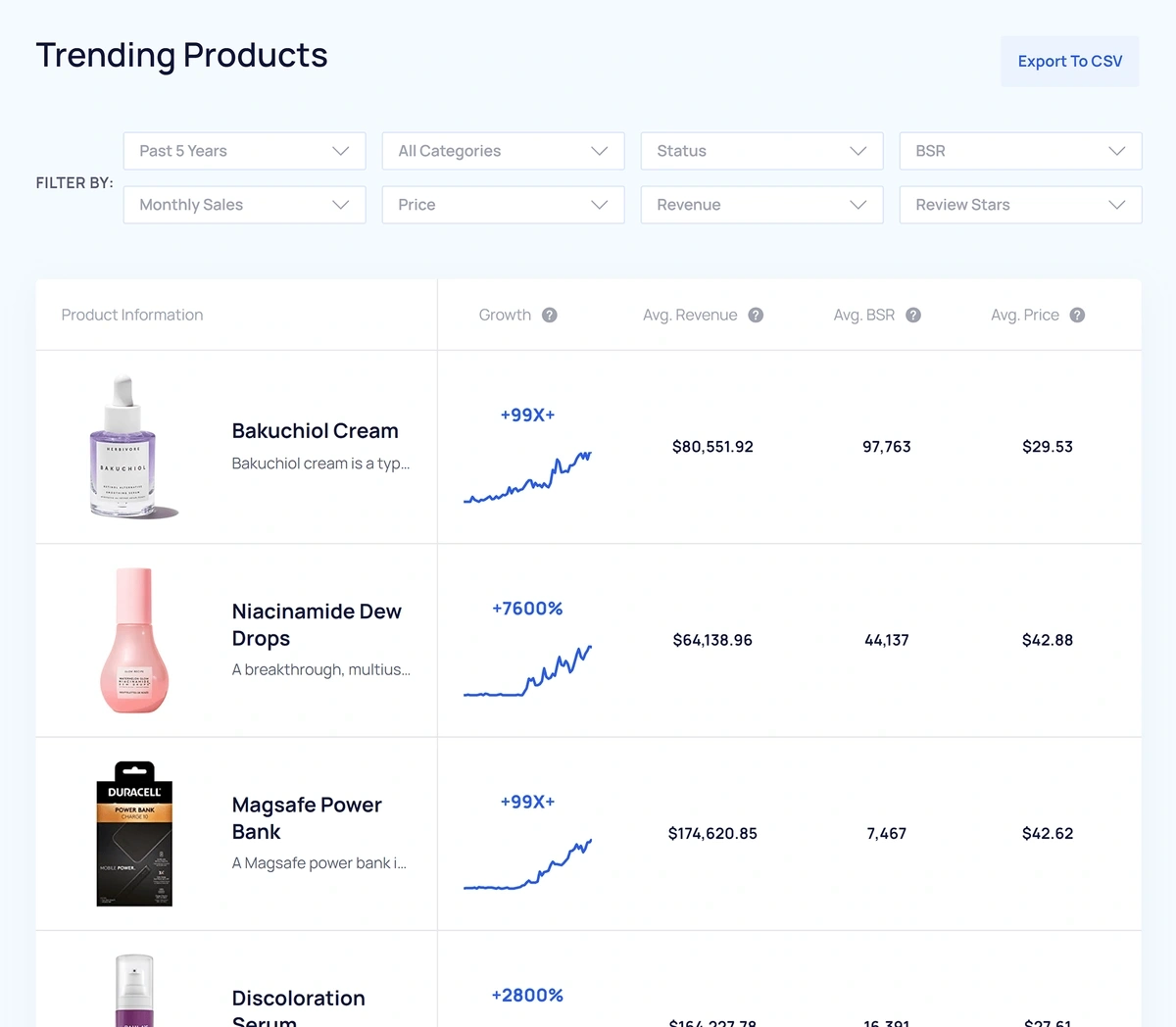 Plus, this product research tool is enriched with other key Amazon metrics. Here are a few you'll need to know when sorting and exporting data for potential product ideas.
BSR (Best seller ranking)
Review Stars
Status
Revenue
After you find a product with a solid ranking, strong reviews, intriguing growth, and steady revenue, you can click to see a more detailed view. This includes the search volume, search growth, and the keyword or product chart. Ideally, you want to see steady search volume growth rather than many peaks and valleys. That indicates the product has longevity rather than just a quick fad.
Here is an example of a product we spotted in November 2021 before it exploded on Amazon: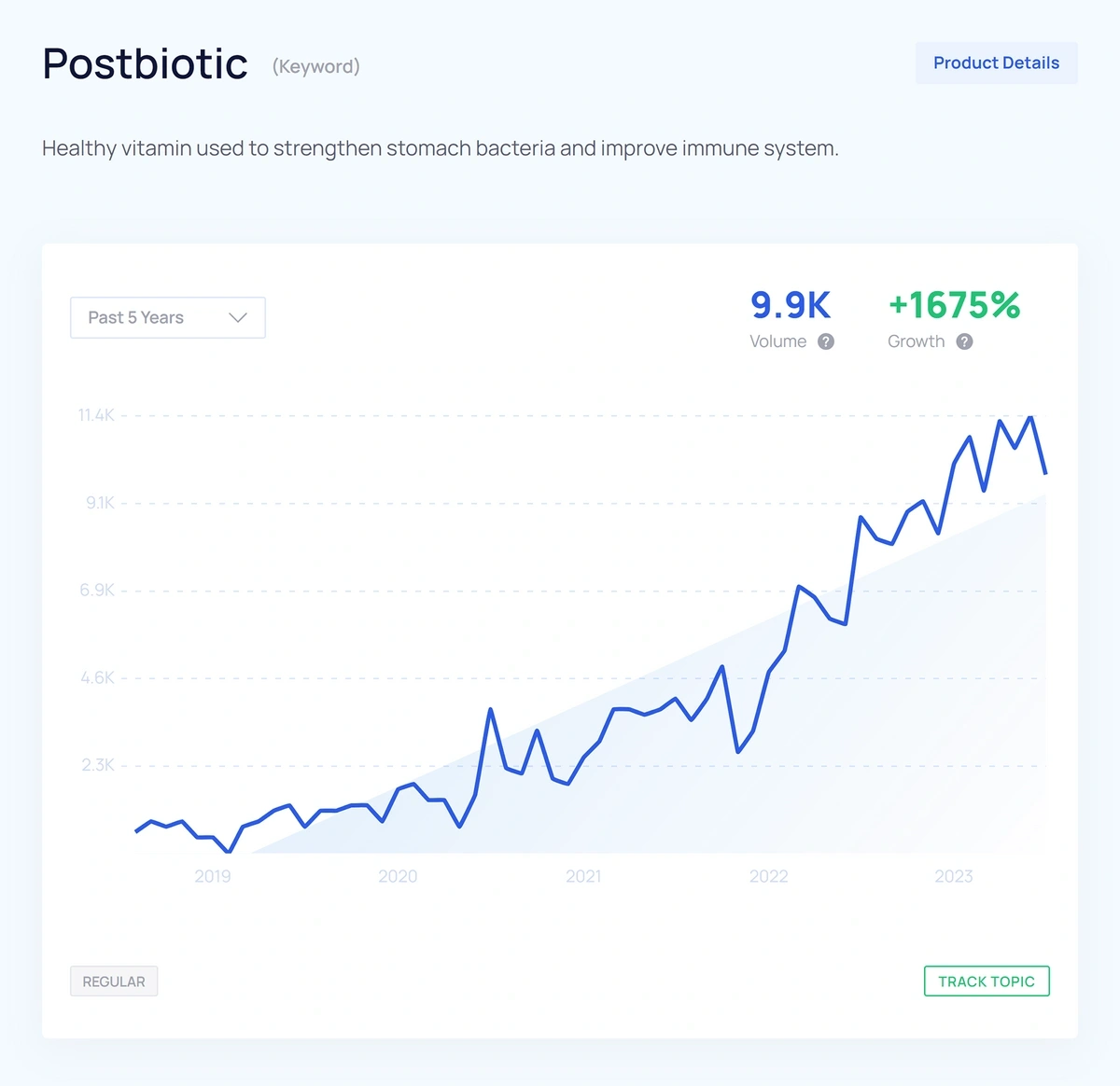 Exploding Topics users were ahead of this trend and beat the market to get this product into their Amazon stores before it became competitive. Now, the top sellers of products on Amazon are averaging $62,817.99 per month in revenue.
If you have $1 to spend, you can start testing the Exploding Trends Pro product research tool to increase your Amazon sales. A Pro user plan includes:
Trends database access
Trending products CSV exports
Weekly access to the premium trends reports
Meta trends reports
Unlimited trend database searches
Pricing
Entrepreneur - $39/mo Billed Annually
Investor - $99/mo Billed Annually
Business - $249/mo Billed Annually
2. Helium 10
Helium 10 is an Amazon FBA and Walmart WFS product research tool that can integrate with your seller accounts. The platform also offers a suite of free and paid tools to help with product research.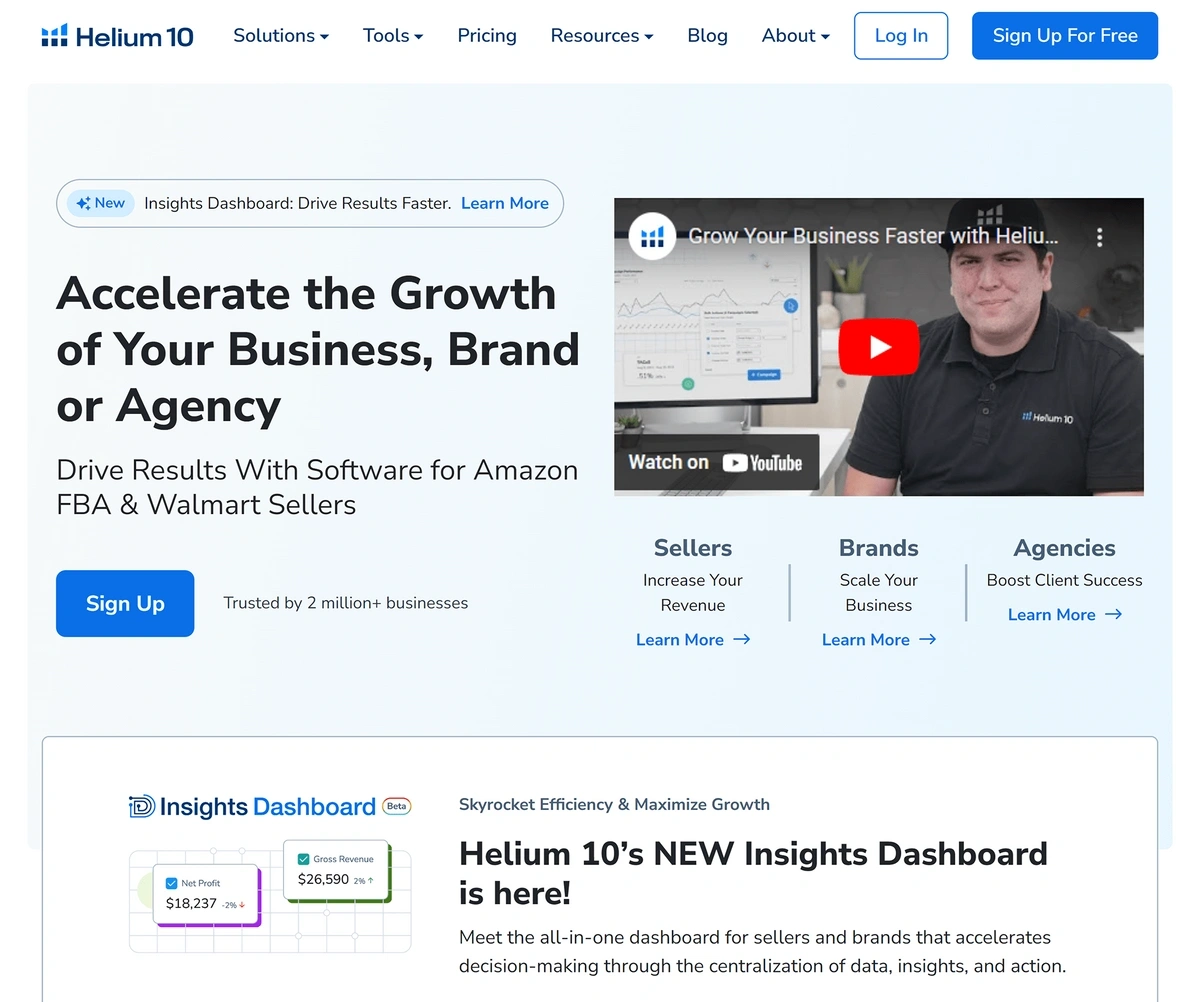 You'll mainly use the Black Box feature when using Helium 10 for Amazon product research. After setting your parameters, it generates hundreds of qualifying products currently selling on Amazon you can compete with. You can then sort your searches by:
Product category
Product improvement range
Competition
Price range
Monthly revenue
Helium 10 is a full suite of product research, keyword research, and Amazon FBA seller tools. With Helium 10, you can:
Use the Demand Analyzer feature with the Chrome extension for Amazon keyword search volume
Analyze over 450 million ASINs with the Xray feature
Generate keyword ideas from high-performing ASINs
Get in-depth insights using keyword and market-tracking analytics
Helium does offer a limited free plan, but you won't get much use from the platform until you upgrade to a paid tier. The free plan offers limited access to the Helium 10 Chrome Extension, 5 Black Box product searches per month, and the ability to track 20 keywords.
Pricing
Starter: $29/mo Billed annually
Platinum: $79/mo Billed annually
Diamond: $229/mo Billed annually
3. Jungle Scout
Jungle Scout is another Amazon product research tool used primarily by FBA sellers to manage their Amazon stores in one place.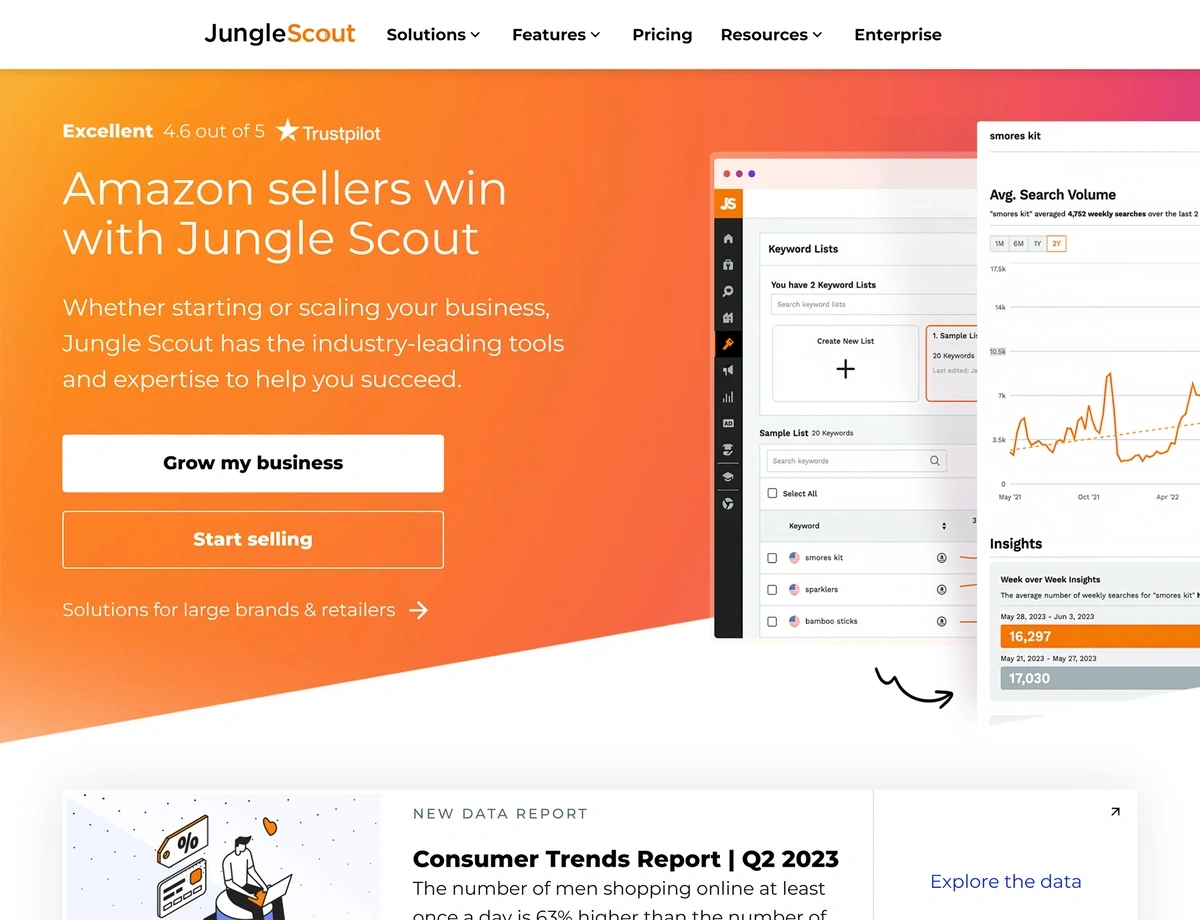 You can use this intuitive platform for:
Finding generating product ideas using the searchable product database
Tracking competitor's products, sales, and inventory
Forecasting Amazon keyword search volume with the Keyword Scout feature
Identifying profitable niches by locating high-demand, low-competition keywords
Jungle Scout also has a free Chrome Extension to see live product data while searching the Amazon website. But you will need to update to a premium account to access the extension's full set of features.
After finding products to sell, Jungle Scout can also assist in building your Amazon listings, optimizing the listings for Amazon SEO, generating customer reviews, and tracking sales data and other advanced analytics.
Jungle Scout offers a risk-free 7-day money-back guarantee.
Pricing
Basic: $29/mo billed annually or $49/mo billed monthly
Suite: $49/mo billed annually or $69/mo billed monthly
Professional: $84/mo billed annually or $129/mo billed monthly
4. ZonGuru
ZonGuru is a collection of Amazon seller tools, including a niche and product finder feature. It's considered the cheaper Helium 10 alternative.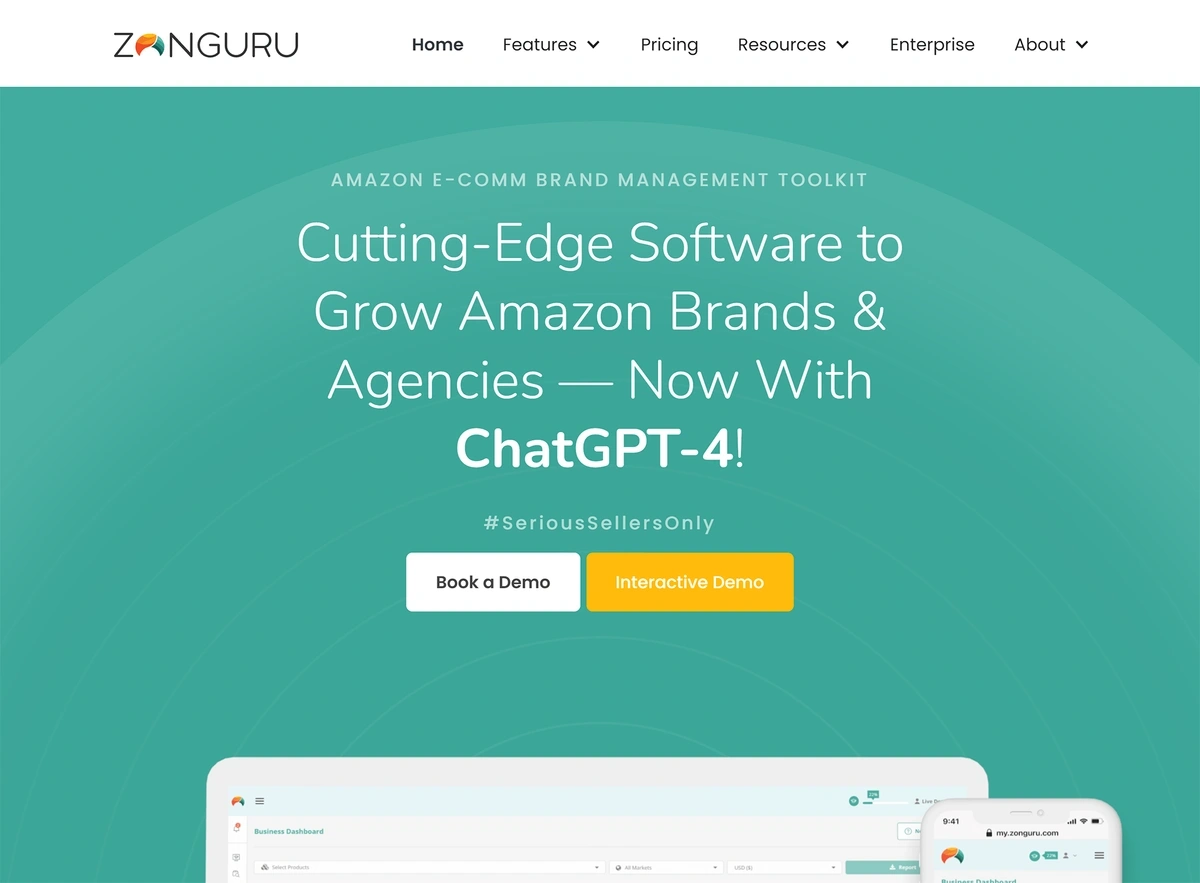 This tool is useful for Amazon sellers who want to:
Discover potential product ideas with the Niche Finder and Sales Spy feature
Track competitors' sales, pricing, and inventory strategies using the Product Pulse tool
Enhance their product listing's SEO and discover high-traffic keywords with the Keywords on Fire feature.
Automatically scan Amazon reviews to understand what customers love or hate about products using the Love/Hate tool. This allows you to reposition products and improve listings.
ZonGuru is the ideal tool for new sellers trying to start a Private Label Amazon business. Arbitrage, drop shipping, and wholesale sellers would benefit more from other options on this list. The 7-day free trial allows you to test the service first, risk-free.
Pricing
Researcher: $29/mo billed annually or $49/mo billed monthly
Seller: $49/mo billed annually or $79/mo billed monthly
Enterprise: Custom pricing
5. Dropship
Dropship is another tool that helps Amazon sellers "discover winning products" while reducing wasted time and money. The platform tracks millions of products in a database that allows you to search and filter your searches by key metrics.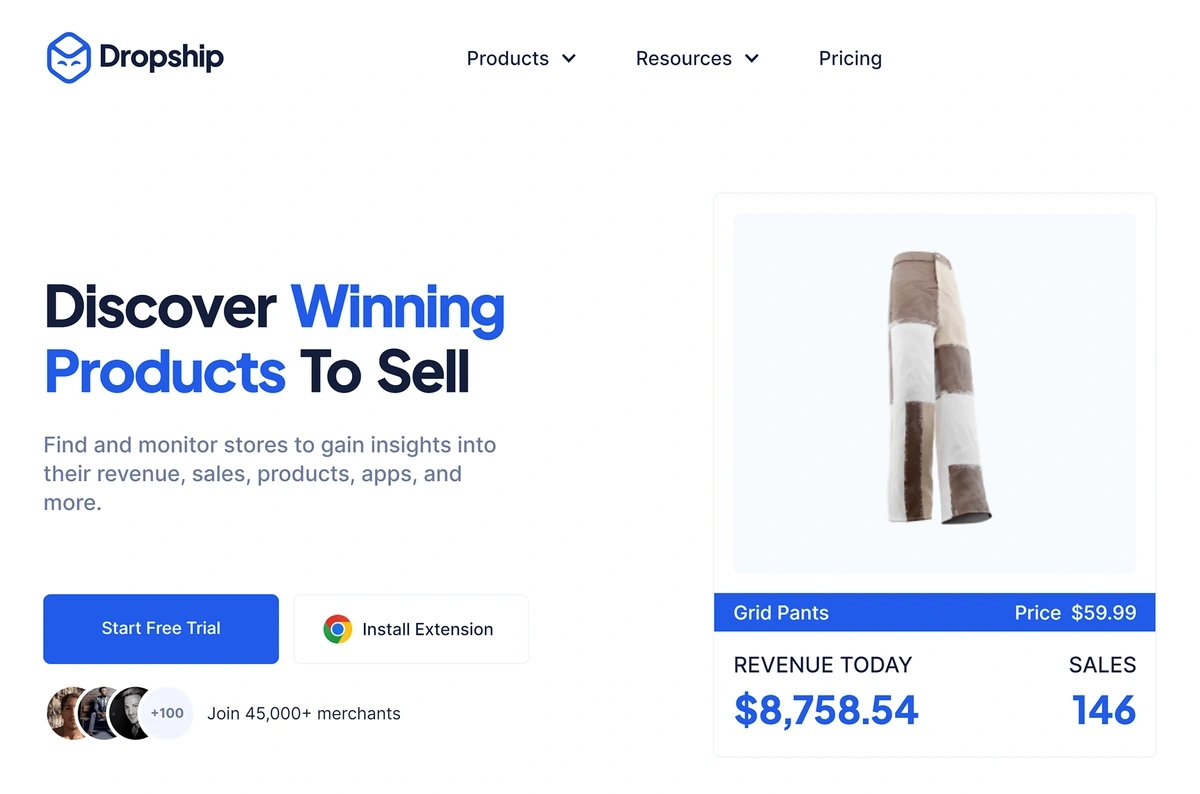 When using Dropship, you can:
Look through high-performing products based on demand, product category, price, etc.
Spy on your competitors using the competitor research and sales tracker tools
Receive handpicked 40 products into your portfolio from a Dropship team of experts
Explore hidden Facebook interests with the free Interest Explorer tool
Dropship stands out from other similar tools because the platform monitors Facebook Ads and dropshipping stores on other platforms like Shopify. This means you can find a competitive advantage in identifying trending products on other platforms before they make their way to Amazon.
Dropship essentially gives you a sneak peek into the product trends that are likely to hit Amazon next. And you can get started with the free 7-day trial.
Pricing
Basic: $29/mo billed annually or $19/mo billed monthly
Standard: $49/mo billed annually or $29/mo billed monthly
Premium: $79/mo billed annually or $49/mo billed monthly
6. Viral Launch
Viral Launch is a market intelligence tool that helps you find profitable products to sell on Amazon. The platform uses AI-powered insights to help users source products and find untapped opportunities.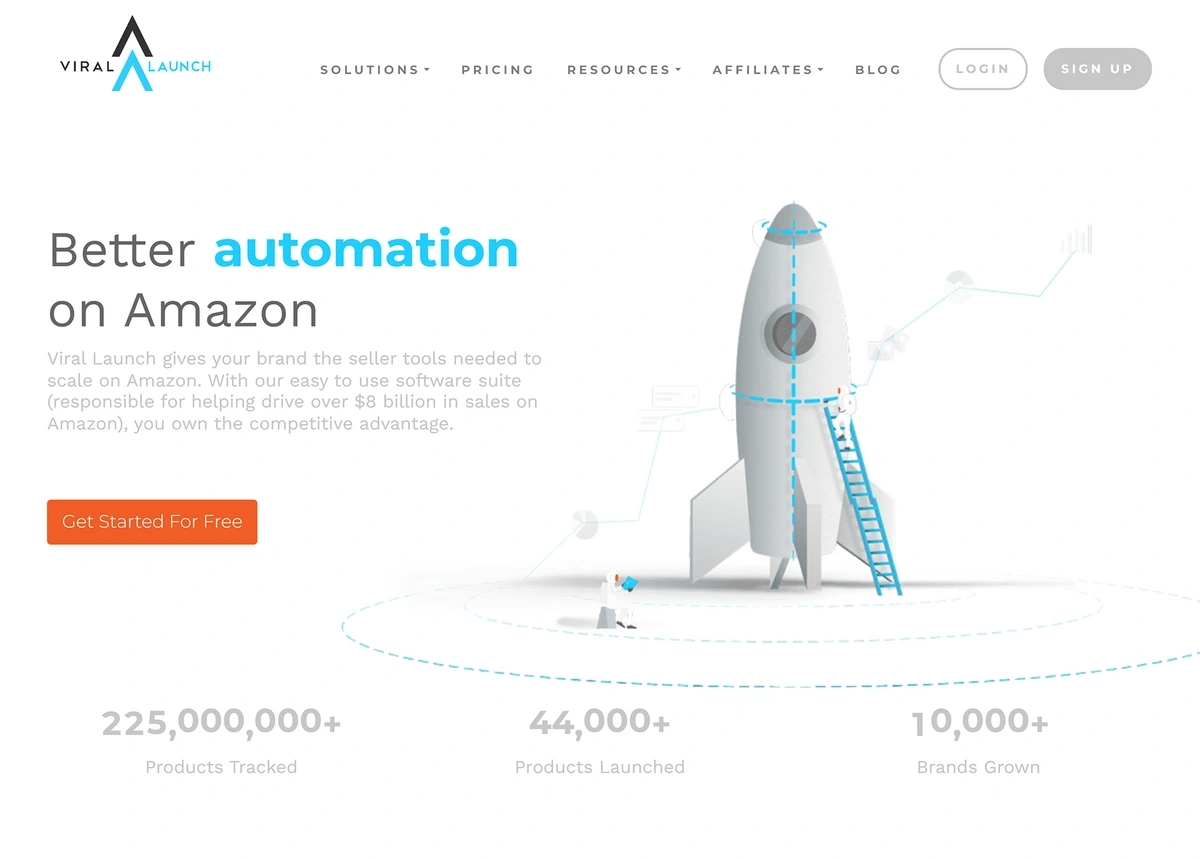 Some of the key Viral Launch features you can use to find products include:
Product Discovery finds undercover markets and product opportunities using real-time and historical data
LaunchGPT uses AI to automate the creation of Amazon listings and improves listing SEO performance and conversions
Competitor Intelligence is an advanced reverse ASIN lookup feature to show you how competitor products perform. The tool tracks advanced analytics like indexation, keyword rank, sponsored ad rank, etc.
Viral Launch also has an impressive Chrome Extension that connects the platform's Market Intelligence tool to Amazon. This gives you real-time insights into product pricing, sales volume, and keyword rankings for your competitors' listings.
Viral Launch has a 14-day free trial and three pricing tiers.
Pricing
Essentials: $58/mo billed annually or $69/mo billed monthly
Pro: $83/mo billed annually or $99/mo billed monthly
Pro Plus Ads: $166/mo billed annually or $199/mo billed monthly
7. AmazeOwl
AmazeOwl is an Amazon product and keyword research tool. It's the perfect first tool for new sellers with no previous Amazon selling experience.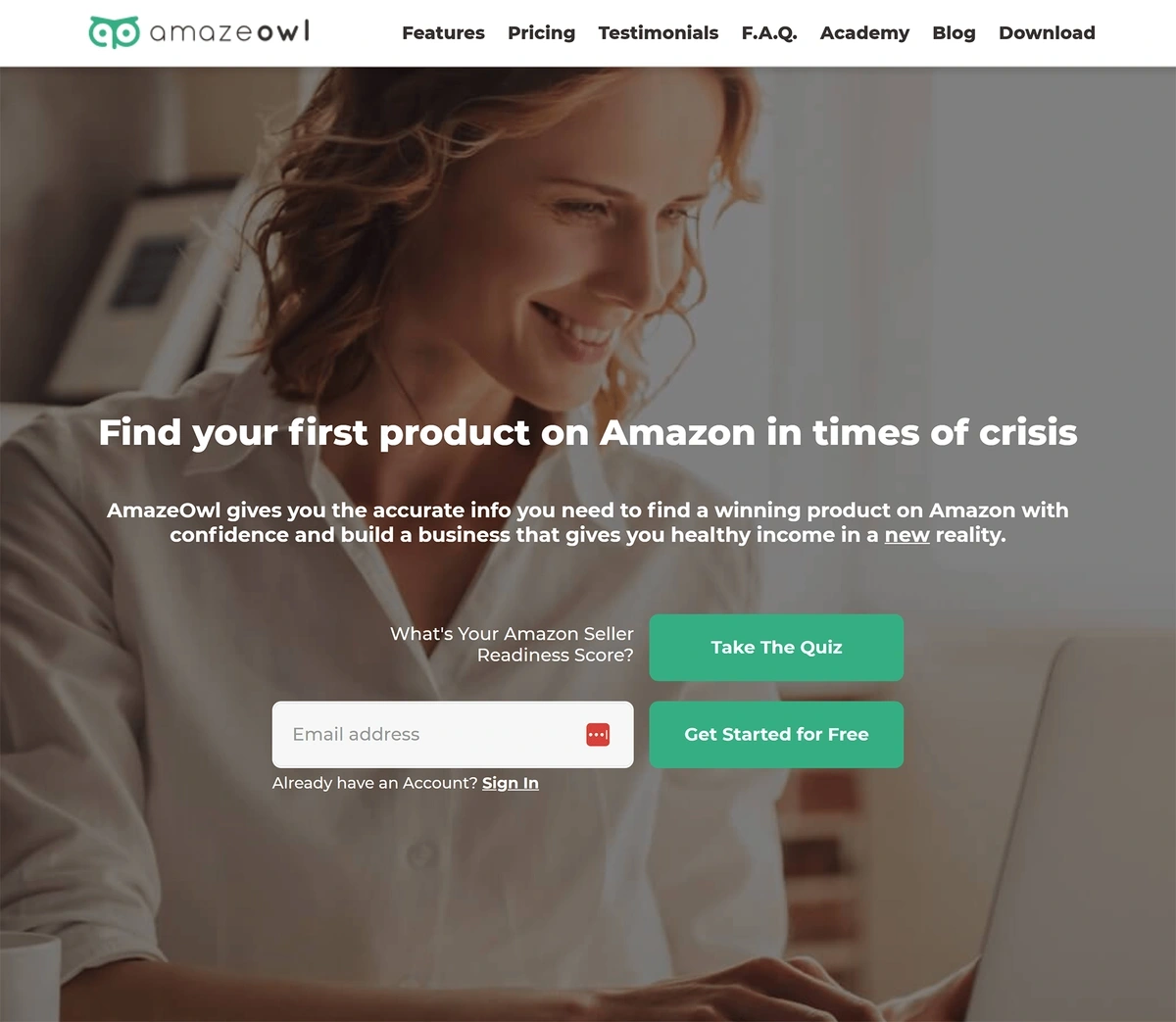 AmazeOwl gives you access to 11 different Amazon marketplaces and over 600 million products. You can search through these and filter by key performance metrics, price, and product category to find a potential winner.
This platform does a lot of the heavy lifting for you. Inside the database, you can hunt for products, save potential products, and perform keyword research. Plus, AmazeOwl will grade products with a 5-star system to indicate whether they are strong potential products or not.
You won't have a full suite of Amazon tools at your disposal, but the low price and free starter plan are enticing for new sellers just getting started on Amazon.
Pricing
Starter: Free
Growth: $12.99/mo billed annually or $19.99/mo billed monthly
Established: $19.99/mo billed annually or $29.95/mo billed monthly
Choosing The Best Amazon Product Research Tool For Your Needs
Most Amazon product research tools are built specifically for Amazon with listing, keyword research, and Amazon review features. This can work if you're ready to spend big right away or already have an established store.
But if you're thinking outside the box and looking for a new product discovery method, then you'll want to mix in tools that use outside data points as well.
Exploding Topics is a good example of this. Pro users can access the trending products feature, which grants access to Amazon and key Amazon metrics. But the tool can also find under-the-radar products and niches before any Amazon seller.