Top 8 AMZScout Alternatives (2023)
Looking for alternatives to AMZScout? You'll want to read this.
Whether you're white-labeling, dropshipping, wholesaling, or selling your own brand, It's easier than ever to launch an ecommerce business.
But to actually succeed, you need all the help you can get. That's why ecommerce brands of all shapes and sizes rely on tools (like AMZScout) to identify promising products.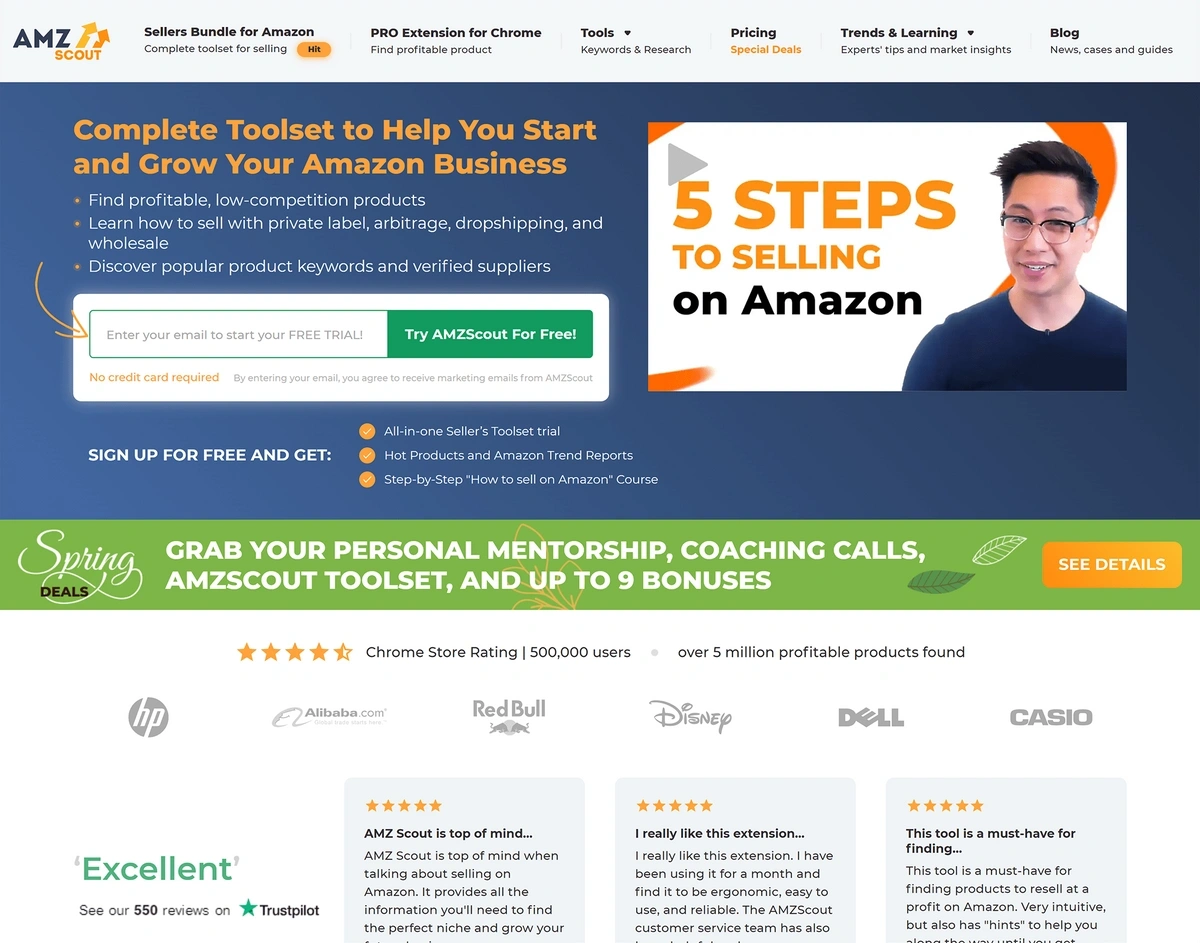 AMZScout offers Amazon sellers insights into top-performing products with low competition.
So, why look for alternatives?
If you're not exclusively on Amazon, AMZScout might feel too narrowly focused. All of the sales data, keyword analysis, and product research live on Amazon.
In other words, If you're looking at other retail channels, you may need something a little broader.
So here are some alternatives you'll want to look into.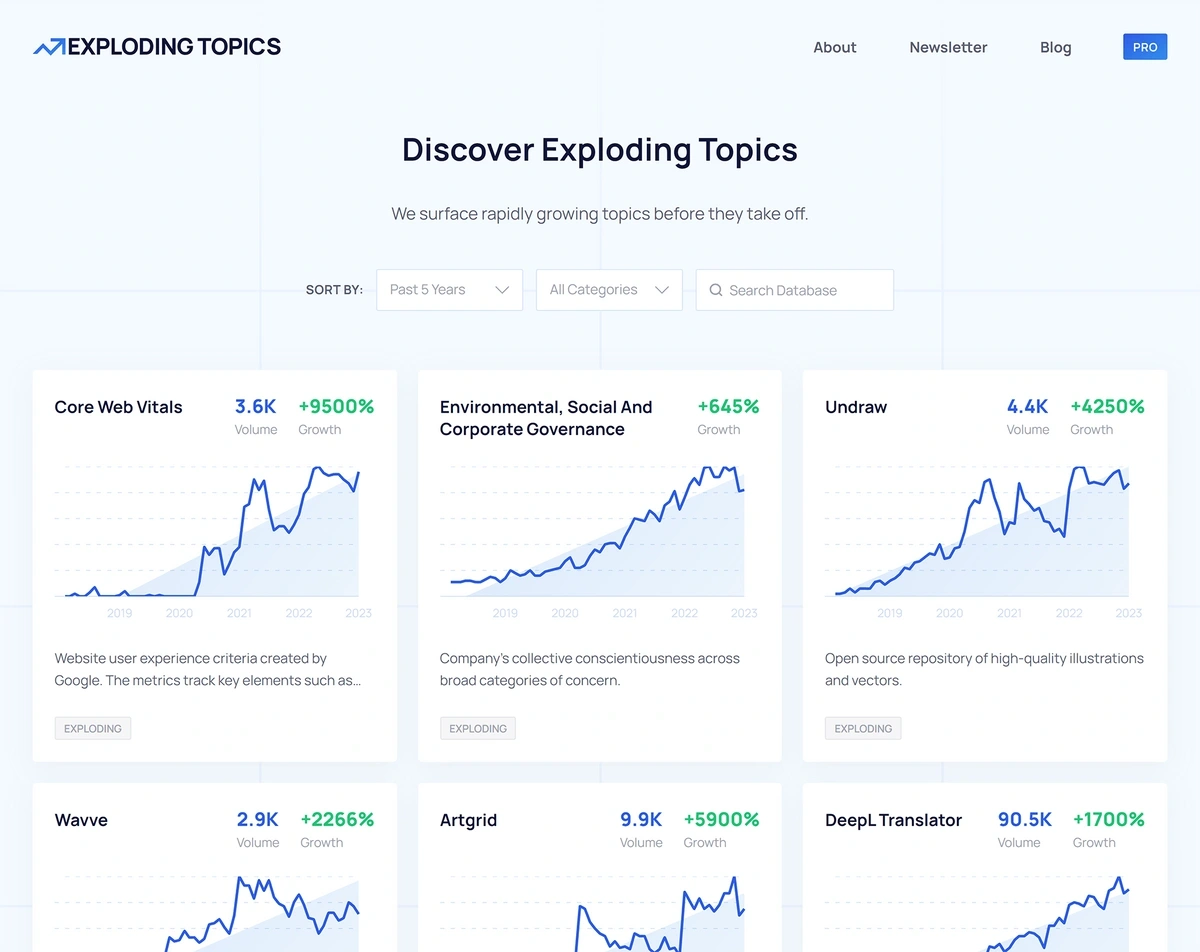 Unique Selling Point: Surfaces trending products before they take off.
Exploding Topics analyzes millions of social feeds, websites, searches, and conversations to surface product trends before they blow up.
For example, before air frying was a thing, we honed in on early trend signals to discover this trend over a year before it really took off.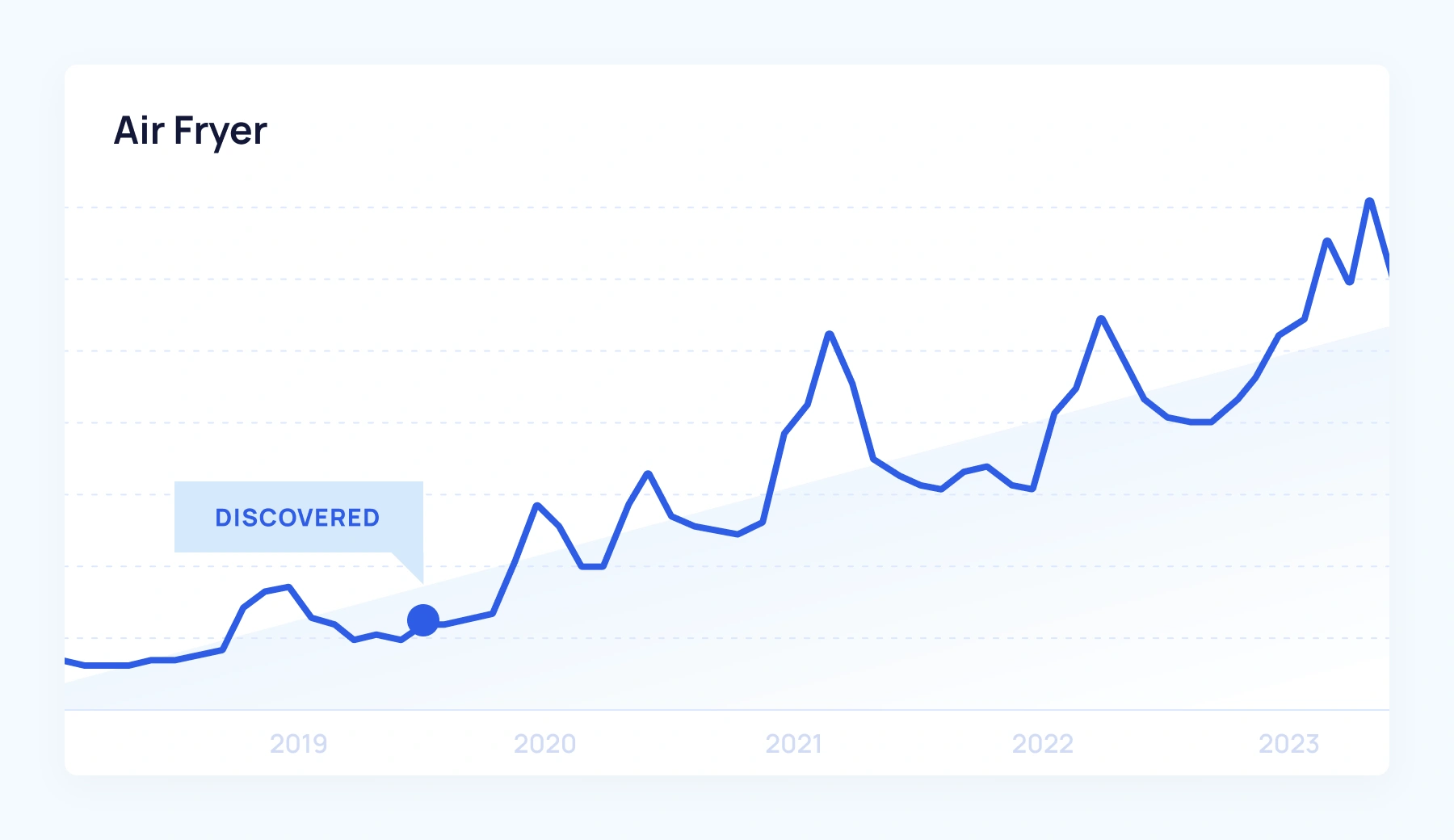 With Exploding Topics, you can explore a massive database that analyzes trends across dozens of categories.
Say you run an online pet store and want to find a trending product to offer.
We head over to Exploding Topics and select the "pets" category. And you'll see hundreds of trending products, categories and startups in that space: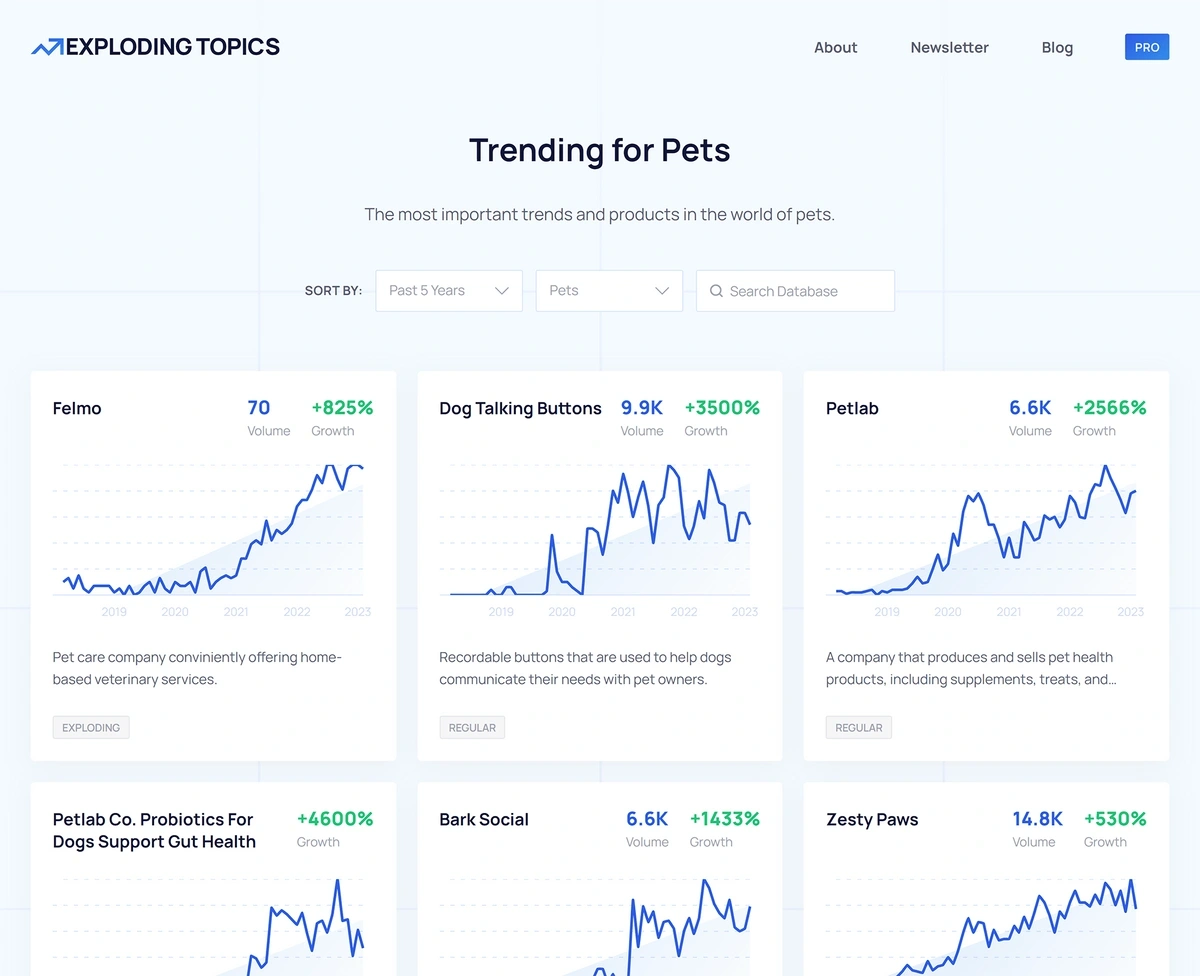 With Exploding Topics Pro, you can even filter by "exploding" so you only see what's rapidly gaining popularity.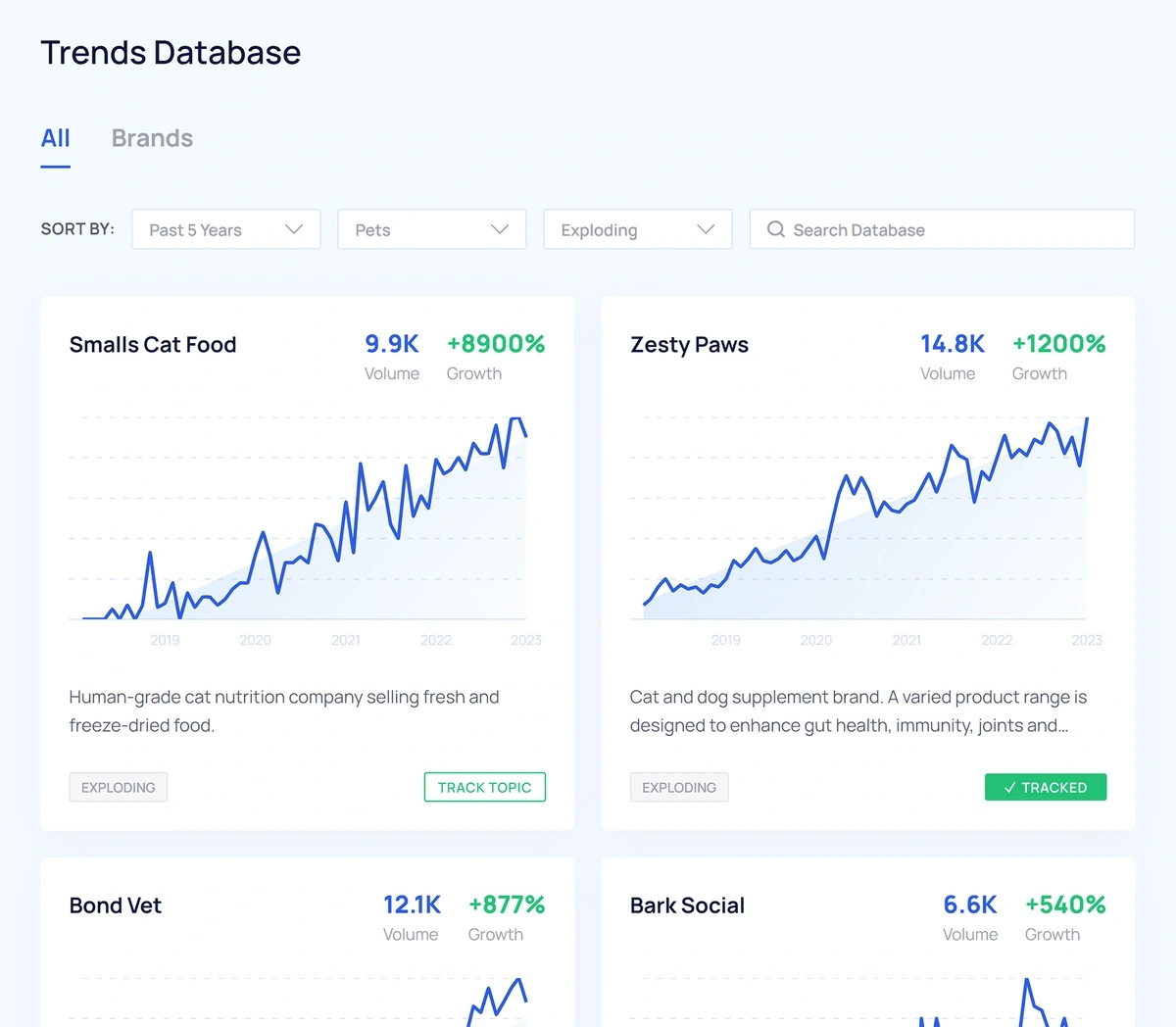 Once you identify a promising trend or product, you can also drill down to see related topics.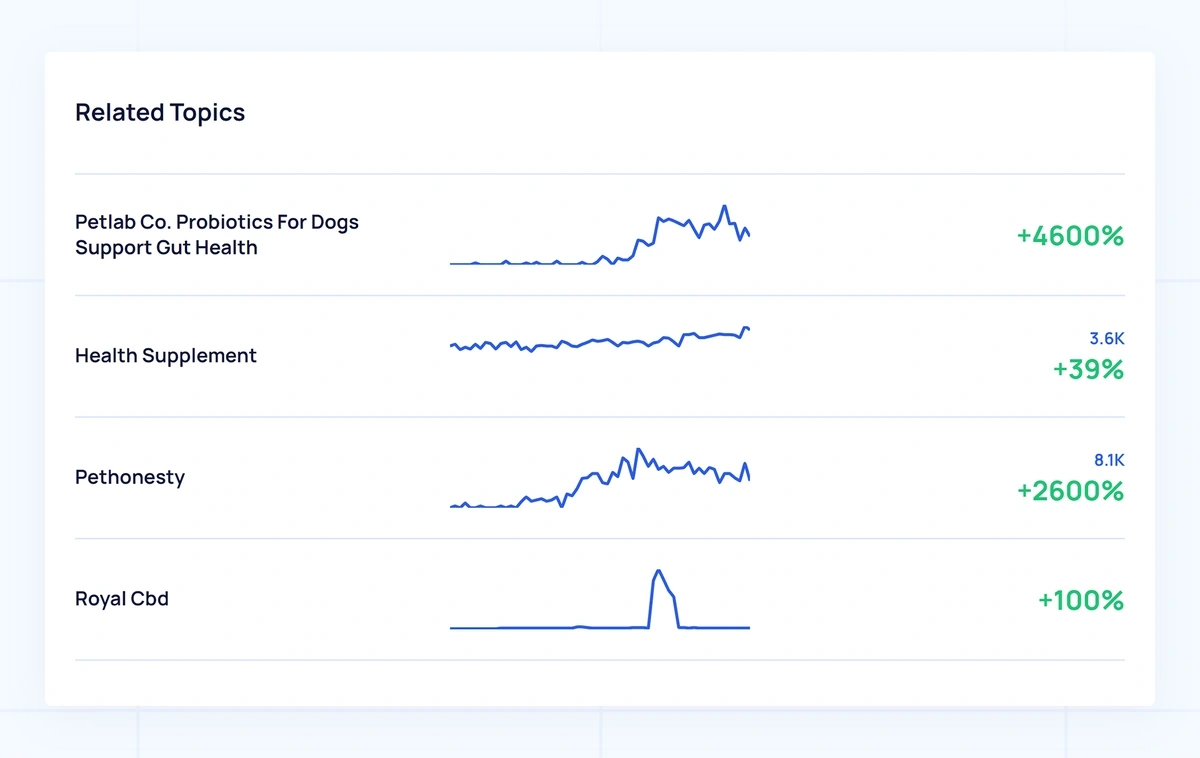 With Exploding Topics Pro, you can create your own project and track these over time, receiving curated weekly reports on top-performing trends.
And our recently-added trend search allows you to drill down to related products.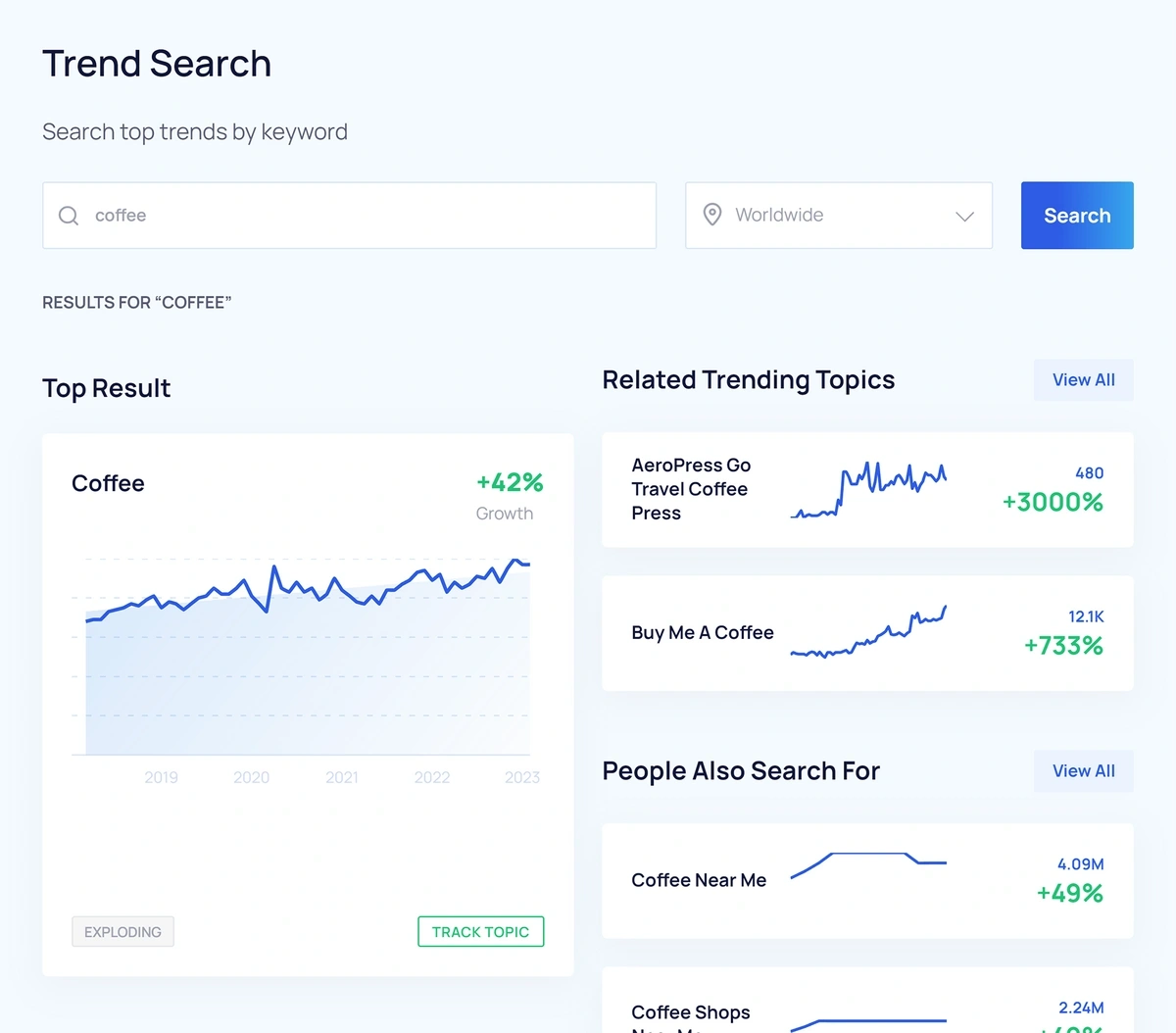 Meta Trends reveal larger discussions and meta-analyses of growing trends.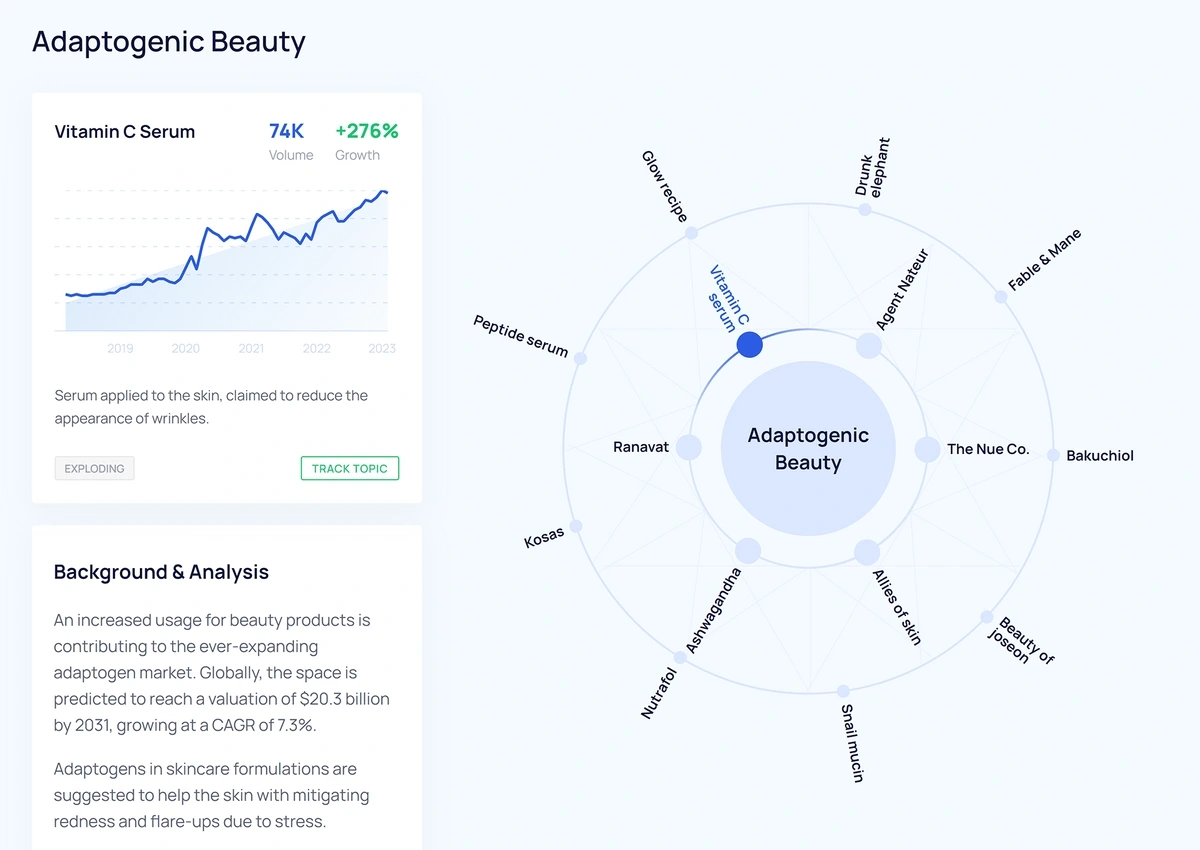 How we do what we do
With a proprietary algorithm (and help from AI), we crawl the web to gather search data, social feeds, mentions, and conversations to identify possible trends.
Our team of data analysts reviews the findings to make sure only legitimate long-term trends are surfaced.
Pricing
Exploding Topics Pro has three tiers: Entrepreneur, Investor, and Business. You can start a 14-day trial for any of these for just $1.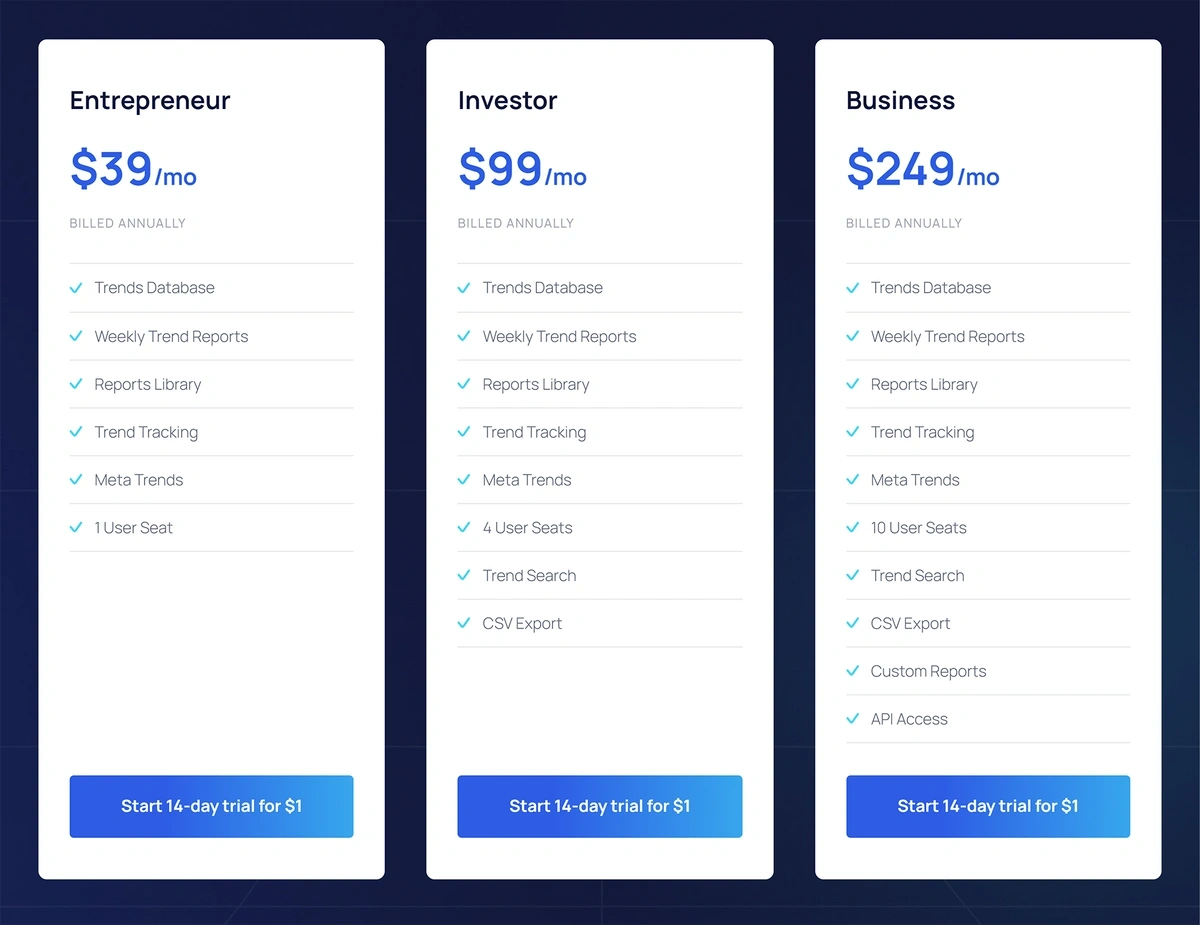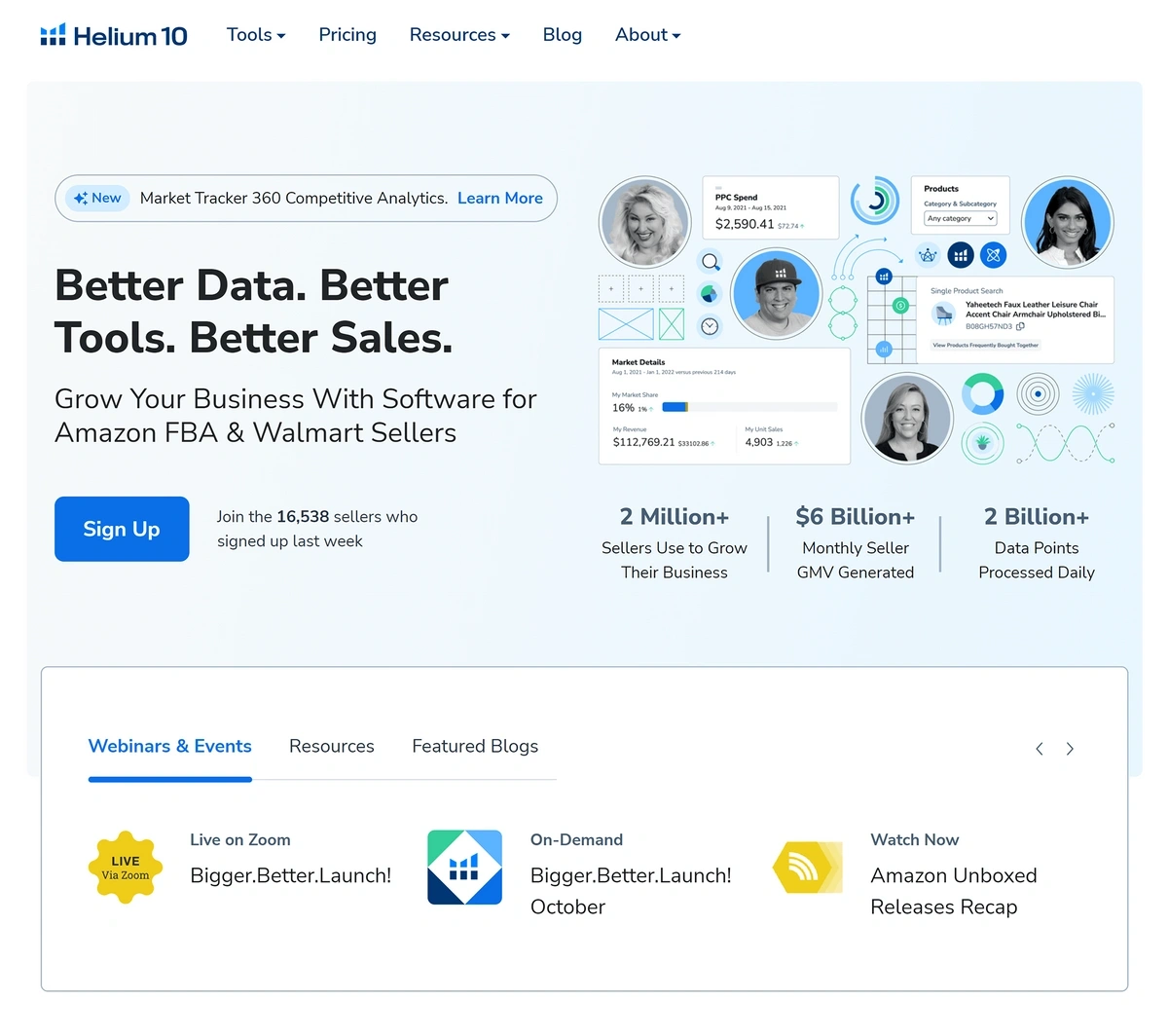 Unique Selling Point: Integration with Walmart Marketplace.
Helium 10 is another product research tool for ecommerce brands with an added layer of marketing functionality. It also offers a comprehensive operations toolkit to help sellers manage the day-to-day of running a business.
You can use X-ray, an all-in-one research tool that finds both Amazon and Walmart products by analyzing direct competitors and sales data. Access 450,000,000 ASINs, filter, sort, slice, and dice.
Leverage marketing tools like product portal builder, affiliate partnerships, and PPC campaign builder to grow your audience.
With Helium 10 you can also manage inventory, order products, track stock, and initiate FBA refunds in one place.
Key Takeaways
Inventory management and marketing tools make Helium 10 a well-rounded platform.
Helium 10 offers integration with Walmart, supporting more than one retail channel.
Why you'd look for an alternative
Helium 10 has more features than AMZScout, but it may be a bit overwhelming - especially for new sellers.
Pricing
Helium 10 offers three monthly pricing tiers that are paid annually.
Starter - $29/mo
Platinum - $84/mo
Diamond - $209/mo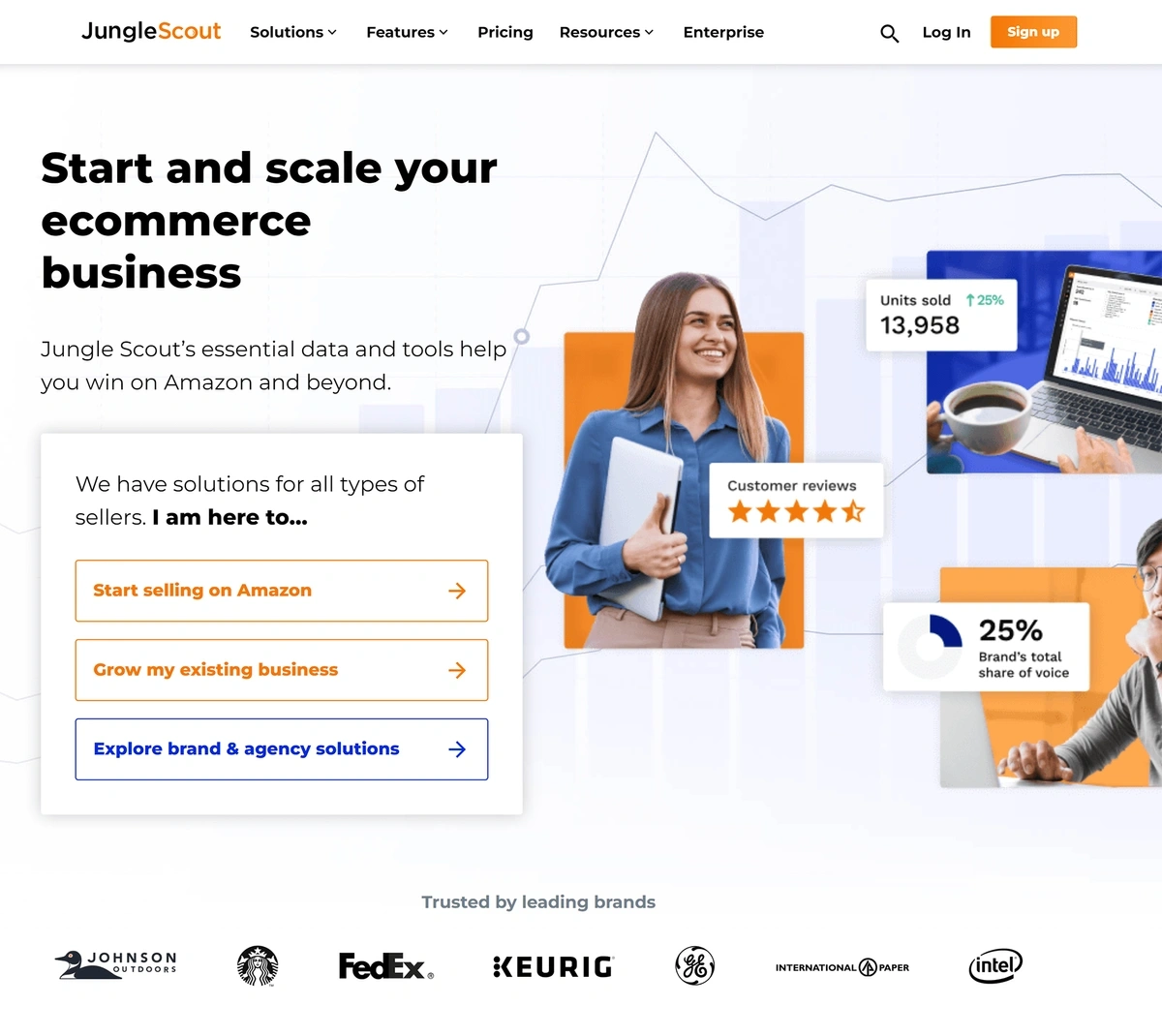 Unique Selling Point: Easy to Use
Jungle Scout is a direct competitor of AMZScout that offers product and keyword research for Amazon sellers.
It has most of the tools that AMZScout has like inventory management, supplier database, and alerts. One key difference with Jungle Scout is that it lets you get real quotes from suppliers and generate purchase orders.
The recently updated Chrome and Firefox extension helps you quickly research products and make data-driven decisions. Jungle Scout's extension provides an "opportunity score" for each product, a proprietary metric that blends various success indicators.
Key Takeaways
Jungle Scout is an all-in-one platform for selling on Amazon.
Its ease of use attracts lots of first-time sellers.
It supports the operational side of Amazon selling.
Why you'd look for an alternative
Like AMZScout, Jungle Scout is limited to Amazon sellers. In addition, there are no marketing features with Jungle Scout which might make it a more well-rounded tool.
Pricing
Jungle Scout offers three pricing tiers - Basic, Suite, and Professional.
Basic - $29/mo
Suite - $49/mo
Professional - $84/mo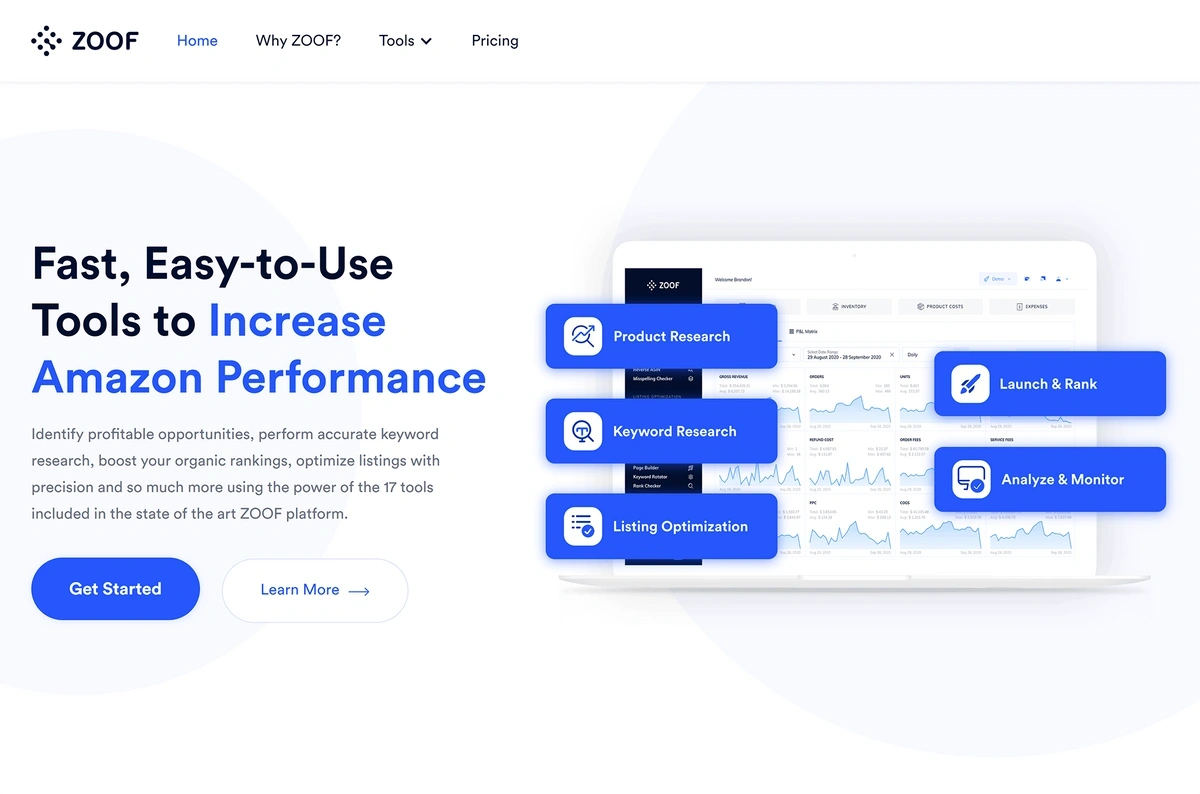 Unique Selling Point: More features for less.
While Zoof doesn't deliver anything extraordinarily different from AMZScout, it claims to have a more sophisticated product research and listing optimization algorithm.
As an Amazon product research tool, it offers some pretty cool features. The reverse ASIN search lets you analyze profitable keywords by examining their sales data, PPC cost, average review information, and pricing history.
It also lets you check and monitor your listing rank with Rank Checker and identify popular keywords that your competitors are missing.
One particularly fun feature is the Mispeller Checker, which helps you rank for commonly misspelled terms that your competitors might not.
Zoof is missing some of the marketing and operation features that competitors have, but they make up for it in other areas.
For example, they have an extensive alert feature that helps you keep tabs on new reviews, review rating changes, and price changes. They also monitor fraudulent listings by detecting if someone is using your product images and text.
Key Takeaways
Zoof is competitively priced, with low-tier subscriptions having a great selection of features.
Since Zoof is strictly focused on product research and opportunity tracking, the features go a little deeper.
Why you'd look for an alternative
Zoof doesn't offer the marketing, operations, or sourcing features that AMZScout and others do. Also, like others on this list, insights are limited to Amazon.
Pricing
Zoof offers three pricing tiers.
Essentials - $29/mo
Platinum - $67/mo
Enterprise - $157/mo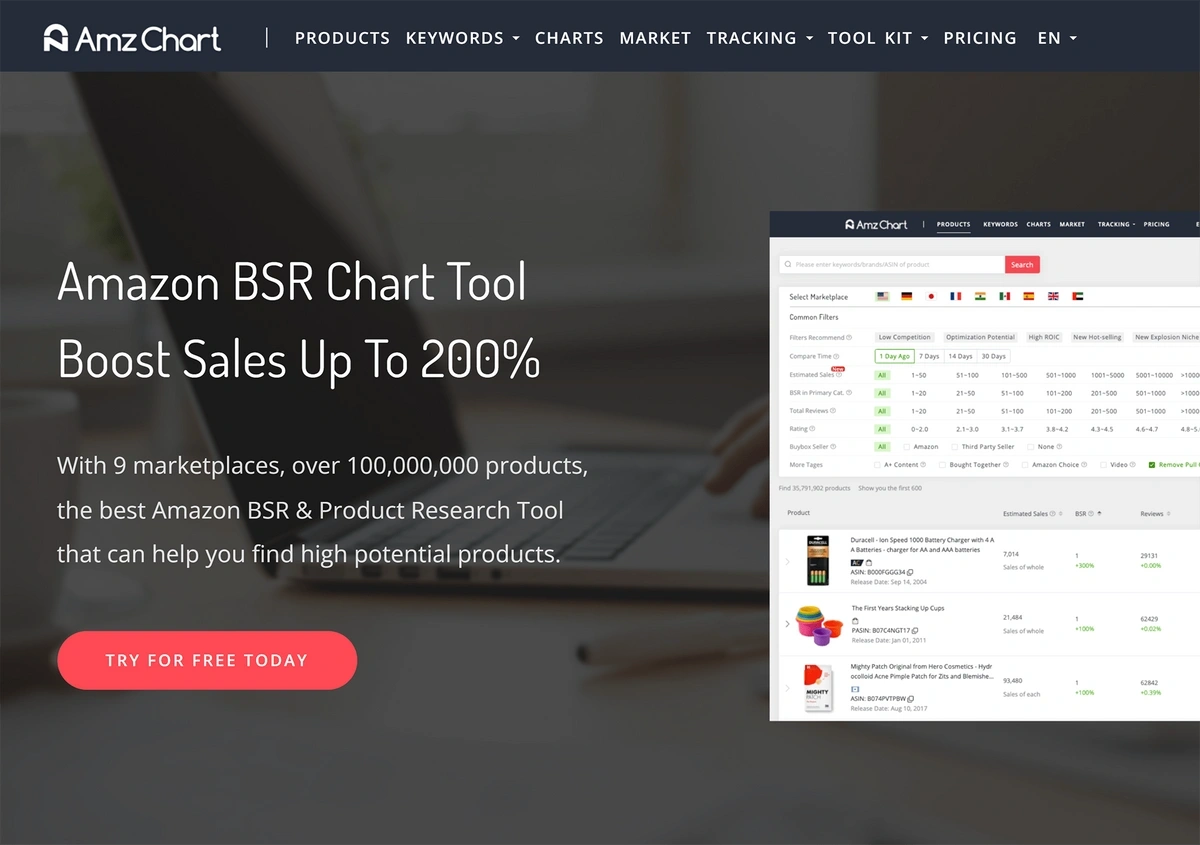 Unique Selling Point: Buy Box price tracking helps you spot pricing trends earlier and increase your chances of winning.
AMZChart analyzes Amazon's Best Sellers Rank (BSR) across nine different marketplaces. BSR gives insight into top-selling products and their sellers. Consider BSR as a combination of metrics, including reviews, historical sales data, and other trends.
Like the other tools, AMZChart offers product research, keyword, and competitor tracking.
One stand-out is the market insights, which show you the high and low seasons for various categories by analyzing reviews and sales.
Key Takeaways
AMZ chart offers a unique approach to product research by heavily utilizing BSR.
It's easy to use with many features offered for free.
Great trend and category reporting.
Why you'd look for an alternative
You might be looking for an alternative if you need help with post-research activities like list optimization, or review management.
Also, like the other tools, data is limited to Amazon and doesn't apply to other retail channels.
Pricing
Basic - $9/mo
Pro - $49/mo
VIP Enterprise - Custom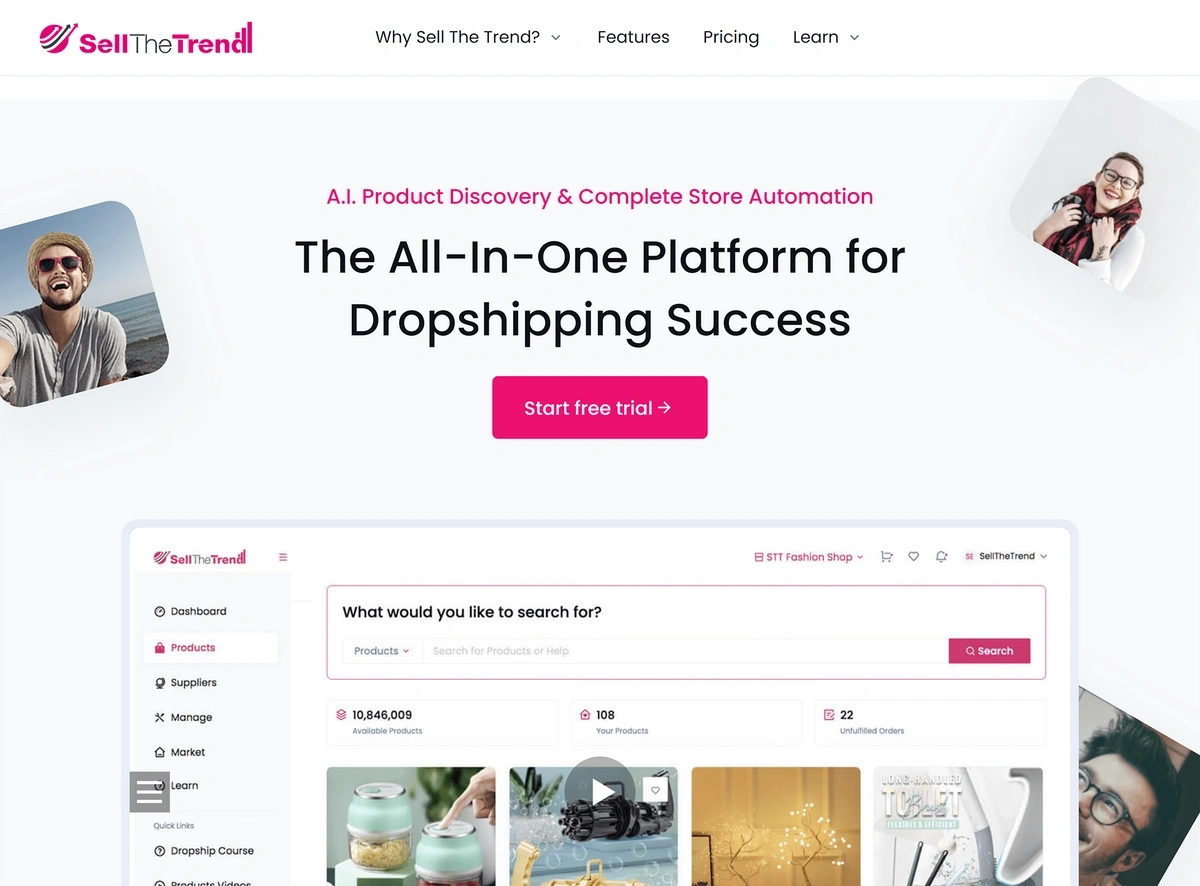 Unique Selling Point: Focus on Dropshipping
Sell The Trend is a dropshipping product research tool that lets sellers identify profitable products by analyzing trends such as sales volume and social engagement.
Tools like the Nexus product explorer combines insights from some of the largest online Amazon and Shopify stores so you can research top-performing products.
It also lets you find, compare, import, and manage products from AliExpress and automate order fulfillment to avoid running out of stock.
Sell The Trend has some pretty awesome marketing capabilities. For example, you can automatically generate product videos, landing pages, and build a Facebook audience.
Key Takeaways
Nexus Product research tool searches top-performing Shopify and Amazon stores.
Manage the entire dropshipping cycle in one tool.
Nifty marketing features help you target the right audience.
Why you'd look for an alternative
Sell The Trend is a product research and fulfillment tool for dropshipping only. If dropshipping isn't your strategy, it's likely not for you.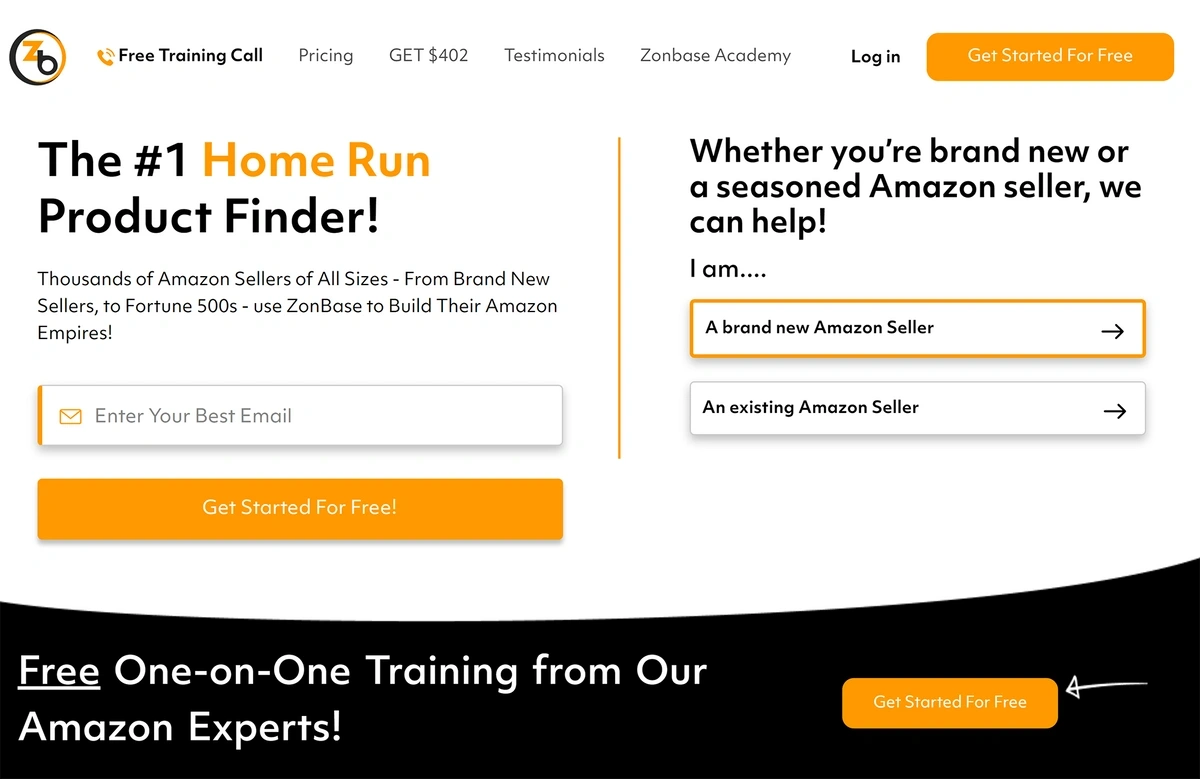 Unique Selling Point: 5 Day Challenge is a course that helps you launch an Amazon FBA store in less than a week.
Zonbase offers product research, keyword research, listing optimization, and PPC advertising for Amazon sellers.
The product research filters are pretty extensive, letting you find the product that fits even the most specific requirements. If you don't know where to start with product research, you can start with one of ZonBase's many presets.
If you are stuck trying to think of a product idea, Hot Products provides an hourly updated list of the most trending products on Amazon. Once you have an idea, you can connect directly to Alibaba to find a trusted supplier.
With their Chrome extension, you can quickly examine a product's sales estimates, history, and top-ranking keywords.
Key Takeaways
ZonBase is streamlined to help new sellers ramp up as quickly as possible.
Hot Products is a great launching point for product ideas.
Why you'd look for an alternative
Zonbase is focused on the Amazon marketplace, so it does not discover product trends from other marketplaces.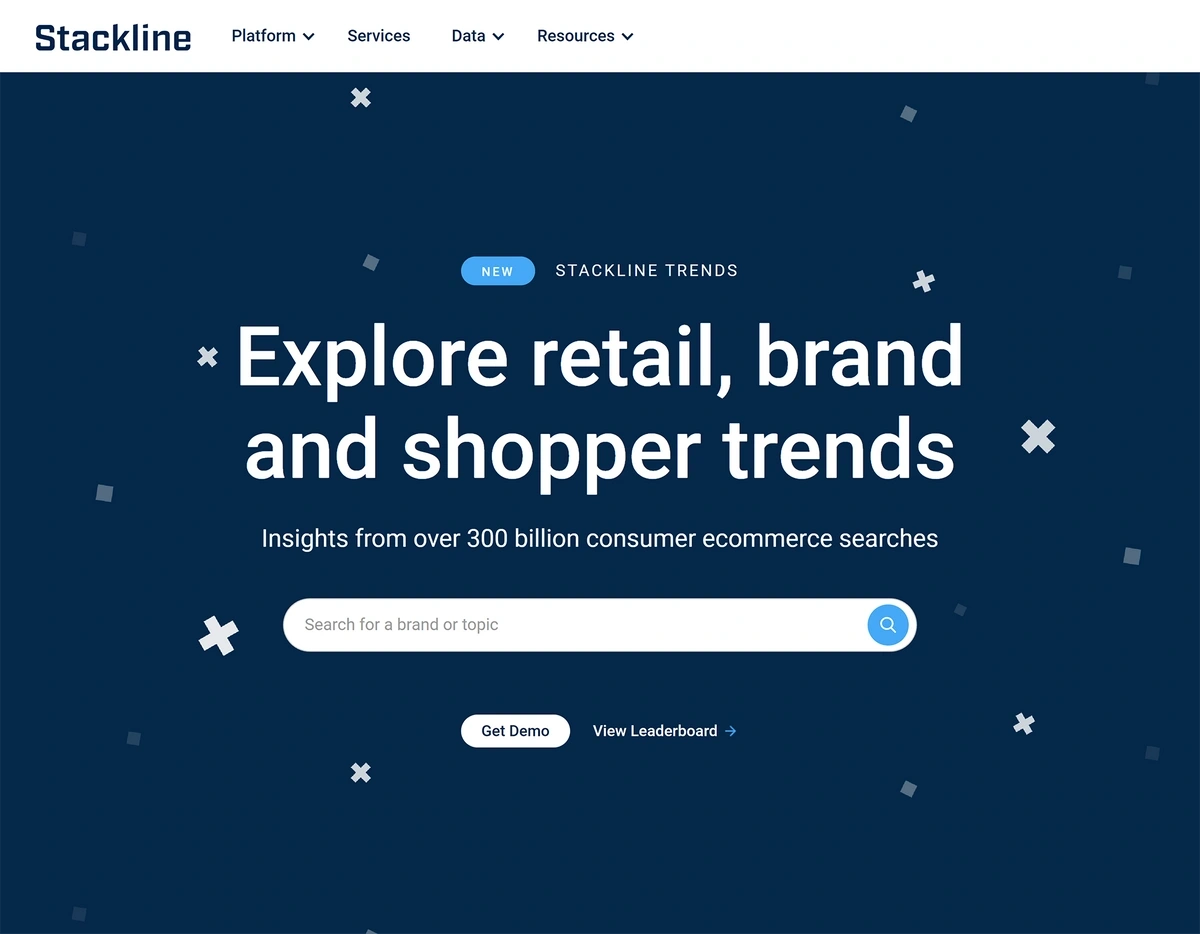 Unique Selling Point: End-to-end insights across multiple ecommerce channels.
Browse insights from over 300,000,000,000 ecommerce searches. Stackline combines searches from multiple platforms to rank the most popular consumer brands.
Stackline offers multiple products across intelligence, operations, and advertising functions.
Here are a few of those products:
With Atlas Market Intelligence, sellers can view ecommerce market trends, track keyword search volume, and dive into pricing and sales data.
With Beacon, sellers can see a unified picture of their retail channels to make better decisions and manage resources.
Drive lets you automate advertising campaigns, build audiences, and predict ROI.
Key Takeaways
Stackline is great for seasoned sellers in multiple retail locations.
You can monitor global commerce trends to find the next big product.
Why you'd look for an alternative
Stackline is more comprehensive than AMZScout. It might be more appropriate for established brands with multiple retail channels to take advantage of all their features.
Conclusion
AMZScout is popular with ecom brands because of its deep focus on finding profitable products to sell on Amazon. Its extension and product research capabilities are among the best in the market.
Many alternatives offer features that AMZScout simply doesn't have - especially ones that support operation, marketing, and advertising. Another obvious downside is that it's strictly an Amazon tool. If you're looking for trending products across every marketplace, we recommend checking out Exploding Topics.