Top 5 AnswerThePublic Alternatives (2023)
AnswerThePublic helps businesses improve their content marketing and SEO by identifying topics that people are actually searching for. You simply provide the tool with a topic or keyword, and it will supply a myriad of questions that Google users are searching for.
But there are plenty of other solutions to find trending searches, perform keyword research, and generate untapped content ideas?
In this guide, we'll review five alternatives to Answer The Public that can help you amp up your digital marketing and SEO efforts. Starting with our site, Exploding Topics, we'll outline what each alternative does, the price points, and how they can help your business.
1. Exploding Topics

By the time a topic is trending, there's already a lot of good content out there. Which makes it difficult to produce content that a) stands out and b) ranks in Google.
Exploding Topics can help you identify trending topics before they have a ton of search competition. Or you can use it to make sure you're tapping into topics that have the potential for future growth.
With a trend database that covers virtually every industry, your team can utilize Exploding Topics to generate a full content calendar around trends your customers care about.
What does Exploding Topics do?
Exploding Topics is a one-stop shop for discovering new and emerging trends.
It all starts with our trends database. Here, you can search for trends by date and category. Browse trends within your industry to find new opportunities for growing your content and business.
Our database provides you with key metrics to help you determine which trends are gaining momentum. You can see the volume of monthly Google searches for any given topic, and we provide you with the growth that topic has seen over the time period you select.
Let's take the "Core Web Vitals" topic in the screenshot below. In the selected time period of the past 5 years, this topic currently has 3.6K in monthly searches on Google and has seen a 9500% increase in global searches.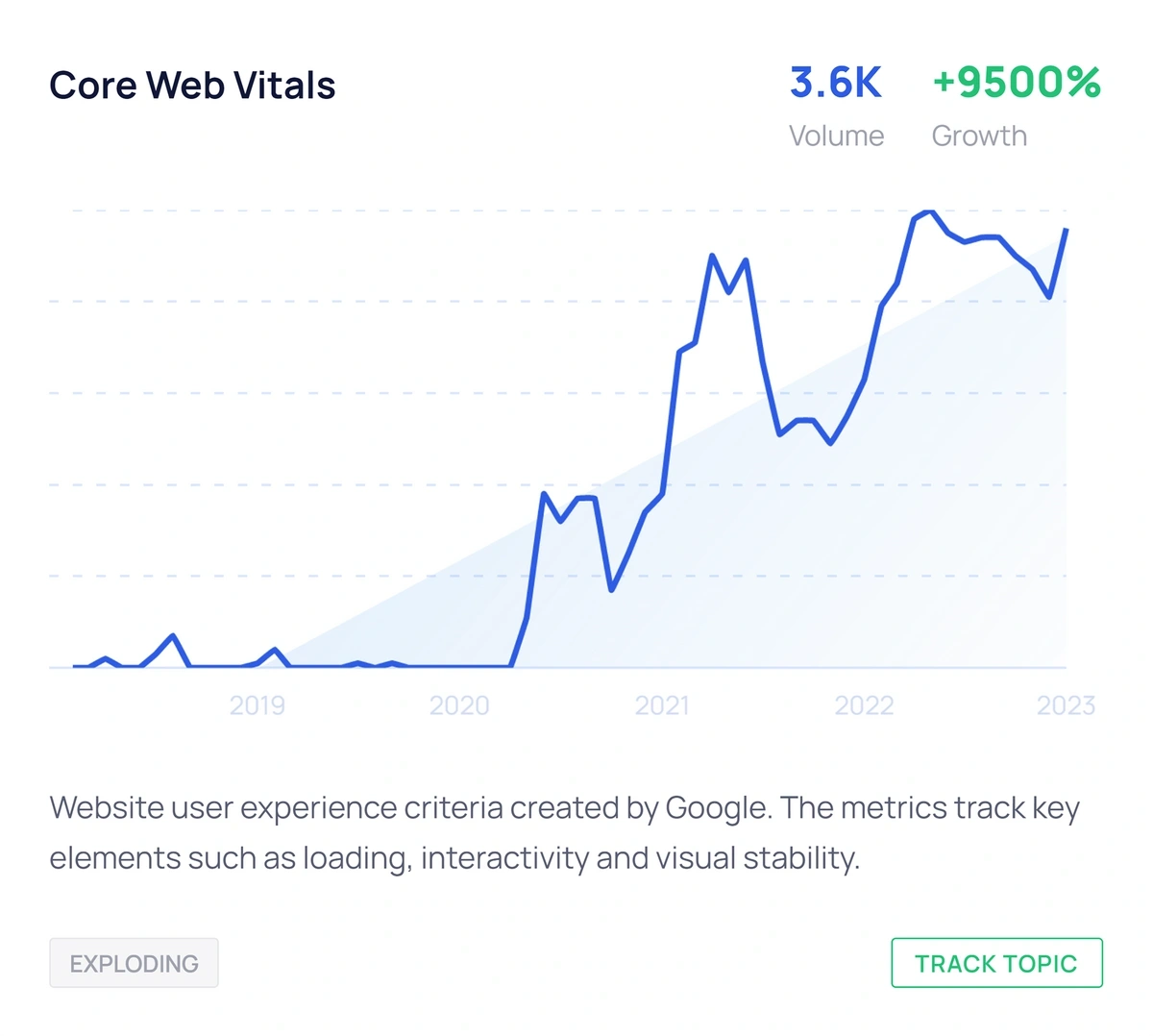 This current and historical data can help you identify promising trends in your industry.
Plus, when you use a Pro account, you get your own private dashboard to save trends and monitor their growth. We'll even send you email alerts as topics gain momentum.
How does it work?
As you dive into this tool, you'll see we don't track every topic under the sun. That's because not everything has trend longevity.
We identify early trends along with their long-term business value before adding them to our database.
This generally happens in two phases: our techs scrape online sources and our analysts determine which trends show potential. We scrape hundreds of online sources–news sites, social media posts, comments on online forums, user behavior on marketplaces, and much more–to identify trends early. This allows us to discover hundreds of new trends every day.
Our analysts will then review these trends to see which ones have the potential to stay relevant long into the future. Those are the trends we add to our database.
For example, we discovered the trend "AI writing tool" in May of 2020. Over a year before it really started to take off: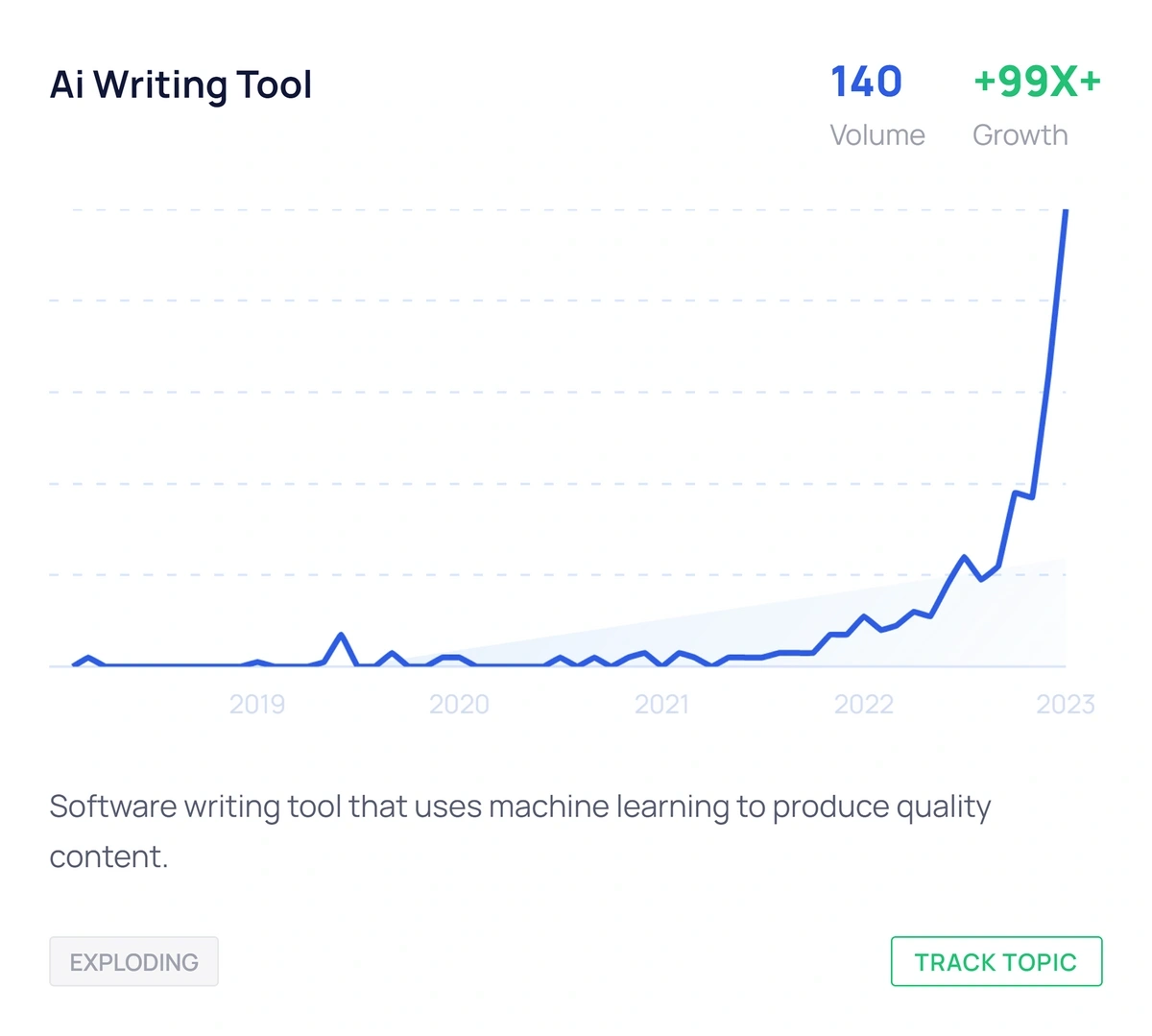 How can Exploding Topics help your business?
You can use our trends database to identify new content ideas. But people also use Exploding Topics to discover new product ideas, emerging technologies, and business opportunities that are still in the early stages of growth.
Exploding Topics is ideal for business with an in-house marketing team that's ready to scale up their content output.
Exploding Topics Pricing
You can browse glimpses of our database for free to get an idea of how it all works. But to unlock the full features, we have three different Pro accounts.
1. Entrepreneur – $39/month
Features include:
Full access to our database
Weekly email reports
Access to reports library
Meta trends
1 user seat
2. Investor – $99/month
Features include:
Everything from Entrepreneur account
Trend search
CSV exports
4 user seats
3. Business – $249/month
Features include:
Everything from Investor account
Custom reports
API access
10 user seats
Start a 14-day trial for any of our Pro accounts for just $1.
2. Keyword Tool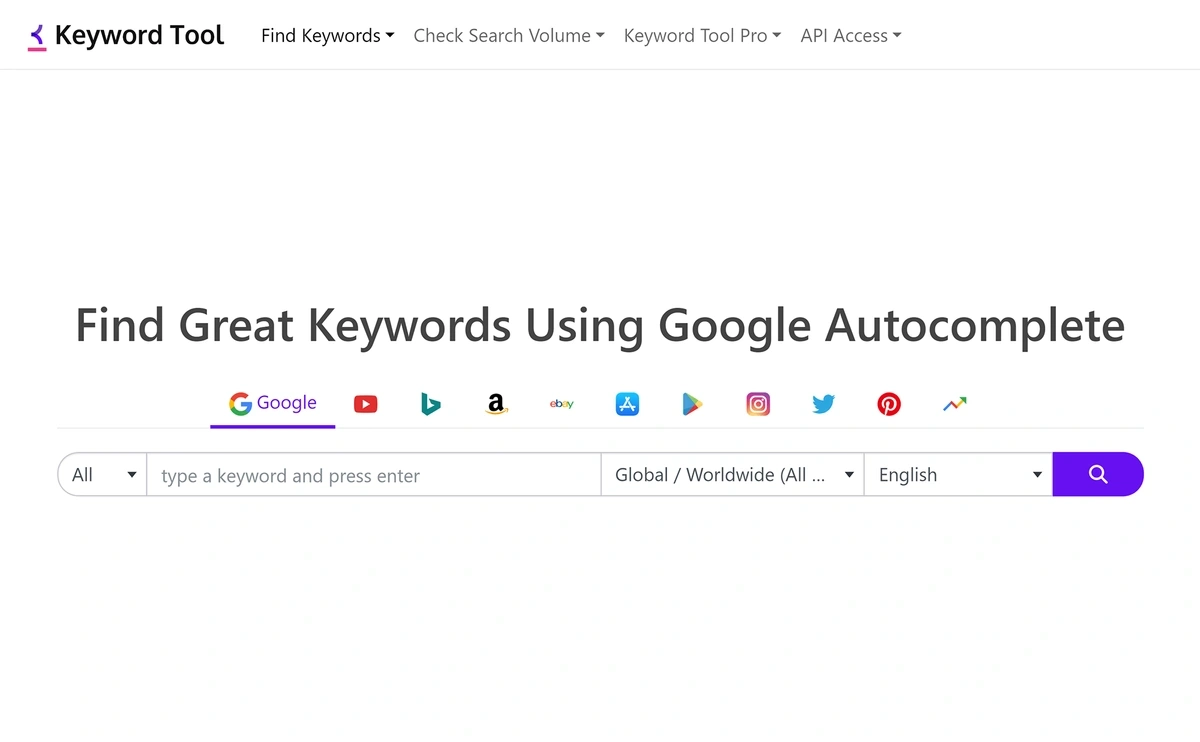 Like AnswerThePublic.com, Keyword Tool is a keyword research tool. However, Keyword Tool mostly uses autocomplete to help you find new keyword opportunities.
This unique keyword research tool allows you to perform any search query in over 47 languages from any location. And you can gather data for your queries from various search engines (like YouTube and Amazon).
What services does Keyword Tool provide?
Keyword Tool provides the following services designed specifically to help with keyword research:
Find keywords across a variety of search engines–including, but not limited to, Google, Bing, YouTube, Pinterest, Amazon, eBay, and Twitter.
Check the search volume for your keywords across each relevant search engine.
Discover Google Ads keyword CPC and competitor data.
Integrate Keyword Tool's API with your own systems.
How can Keyword Tool help your business?
Keyword Tool provides keyword data–including search volume, whether a keyword is trending, average CPC, and competition rates–across several different search engines, in each of their supported languages and locations.
Using this data, you can identify new keyword opportunities for your content marketing efforts.
For example, if you type in "how to cook" in Keyword Tool, it will provide top-searched suggestions that relate to that keyword, along with all of its corresponding data.

Keyword Tool Pricing
Keyword Tool offers its services for free, but they're limited. To access its full capabilities, they have three Pro solutions:
1. Pro Basic – Starting at $69/month
Features include:
Search volume data
2 times more keywords (than the free version)
Competitor keyword analysis
Bulk search volume analysis (10,000 keywords per day)
1 user account
2. Pro Plus – Starting at $79/month
Features include:
Everything from Pro Basic
Cost-per-click data
Google Ads competition data
Bulk search volume analysis (50,000 keywords per day)
5 user accounts
3. Pro Business – Starting at $159/month
Features include:
Everything from Pro Plus
Bulk search volume analysis (100,000 keywords per day)
50 API requests per day
10 user accounts
3. Semrush

Semrush is a full-featured digital marketing platform. Whether you need to do market research, keyword planning, advertising, content marketing, or SEO, Semrush has the tools to help you perform each of these different strategies.
What does Semrush do?
Semrush offers a plethora of tools and features:
Keyword research: Search and identify new keyword opportunities.
On-page SEO: Receive instructions to optimize your website's content.
Competitor analysis: Discover how your competitors' websites are performing.
Content marketing: Gain new ideas for content marketing.
Local SEO: Manage local listings and track your local SEO performance.
Rank tracking: Keep track of your keyword rankings in the SERPs.
Social media management: Schedule social media posts and get recommendations for social ads.
Link building: Find new opportunities to acquire backlinks to your website.
Paid advertising: Discover new keyword opportunities and view competitor ad copy.
Market analysis: Gain unique insights on established markets.
How can Semrush help your business?
Semrush is designed to be a "one stop shop" for a number of different digital marketing channels. For example, let's say that your team has a great process in place for social media management, but you want to automate more of your SEO processes. Semrush can help you get up to speed with SEO quickly.
Semrush is a useful resource for agencies that help multiple clients or businesses with multiple locations, brands, or websites. You can keep track of your digital marketing metrics and efforts in one place and use the tools that best suit your needs.
This is quite different than Answer The Public, which is more focused on topic and keyword discovery.
Semrush Pricing
Semrush offers three premium solutions for its customers.
1. Pro – $119.95/month
Features include:
5 projects
500 keywords to track
10,000 results per report
SEO, social, and PPC tools
2. Guru – $229.95/month
Features include:
15 projects
1,500 keywords to track
30,000 results per report
All Pro tools, plus Content Marketing Toolkit, historical data, multi-location and device tracking, Looker Studio integration, and more
3. Business – $449.95/month
Features include:
40 projects
5,000 keywords to track
50,000 results per report
All Guru tools, plus Share of Voice, extended limits, API access, PLA analytics, free migration from third-party apps, and more
4. Google Trends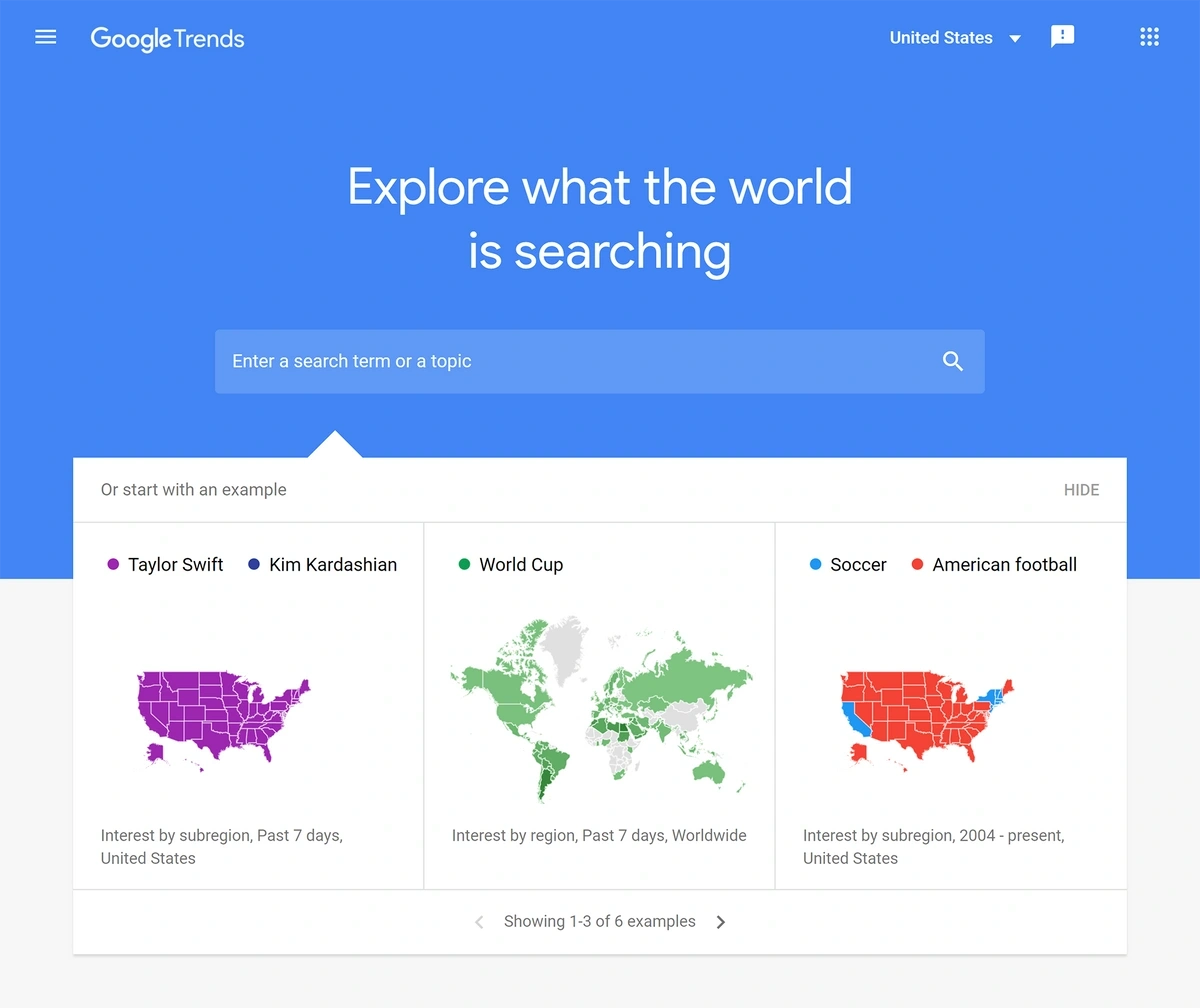 Google Trends is a free service that allows you to discover current trending topics across the globe.
What does Google Trends do?
Google Trends shows you global data to gauge the interest levels of any given topic (you can also view data by country/region). You can enter your topic or keywords into the search bar, and Google Trends will provide several data points for each term, including:
Interest over time–this includes a graph of search volume data.
Interest by subregion–this allows you to see which locations your term was the most popular in.
Related topics–this shows other popular topics related to your query.
Related queries–this shows you additional keywords that relate to yours, along with their levels of interest.
You can compare two search terms to see which is the better phrase to go after, sort by different locations and time frames, and also browse by categories and different types of Google searches.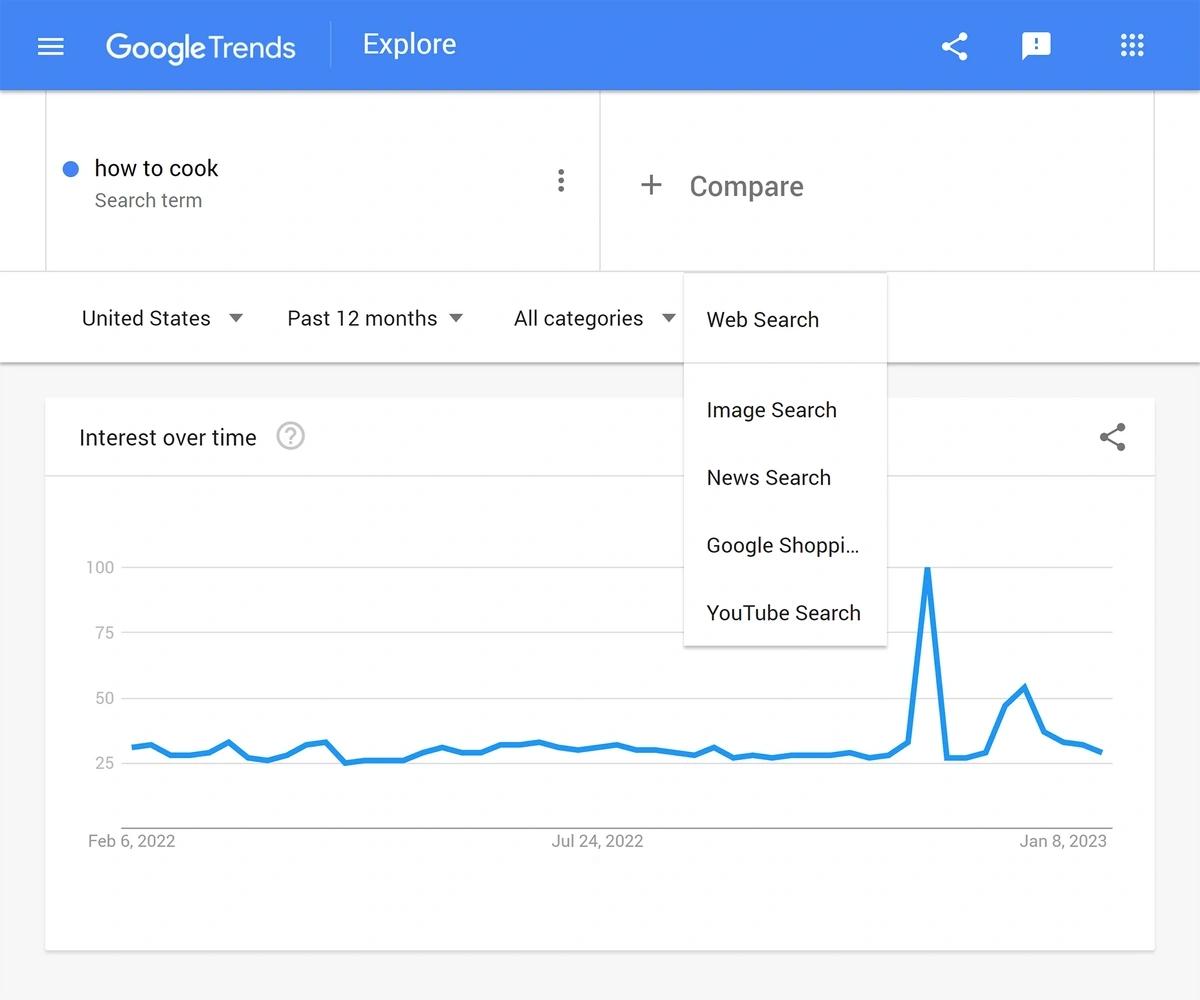 How can Google Trends help your business?
Google Trends can help you determine the trending topics and keywords in your industry.
You can then use the data that you gather to drive new ideas and enhance your content marketing strategies. Unlike the other Answer The Public alternatives on this list, Google Trends is a free too. So it doesn't have any plans or pricing to choose from.
5. Ubersuggest

Ubersuggest's keyword research tool allows you to find new keyword opportunities by analyzing the competition and current top-ranking results.
What does Ubersuggest do?
Ubersuggest focuses on five different areas to enhance your keyword research and content planning:
Domain overview–analyze data for your competitors' domains over the last 30 days, like organic and paid traffic, organic and paid keywords, and ad spend.
Top SEO pages–review data for your keywords, like whether it's trending, search volume, estimated visits, CPC, buyer intent, and probability to rank. And see what pages are already ranking.
Keyword suggestions–discover hundreds of new keyword opportunities with relevant data, like SEO difficulty, search volume, and more.
Content ideas & backlink data–see which pieces of content receive the most social shares and backlinks.
How can Ubersuggest help your business?
Ubersuggest's data can help you can see what the competition is doing well and replicate those efforts.
You can also analyze your own content and domain to see how your site performs so you can continue to make improvements.
Ubersuggest Pricing
Ubersuggest allows you three free domain or keyword searches per day. To get the most out of this tool, Ubersuggest offers three premium solutions.
1. Individual – $29/month or $290/lifetime
2. Business – $49/month or $490/lifetime
3. Enterprise –$99/month or $990/lifetime
Each plan includes the following features (with varying amounts of searches according to each plan):
SEO training and support
Rank tracking
Site audit
Keyword research
Competitive analysis
Backlinks
You can also purchase add-ons, like additional searches, projects, or tracked keywords, for any plan for $5/month per add-on.
Conclusion
That covers our list of Answer The Public alternatives.
As you can see, you aren't limited to just one keyword research tool. In fact, many marketing pros utilize several different SEO and keyword research software tools.
We hope you've found some useful tools to help you drive your content marketing efforts forward.
Interested in testing out Exploding Topics' trend discovery platform? Get our Pro Trial today to receive weekly reports on trending topics in your industry.